TABLE OF CONTENTS 41 VEHICLE
41 FEATURED PRODUCTS 43 RIGGING MAP 45 WINDSHIELD MOUNTING 45 RAM ® TWIST-LOCK TM
RAM ®
TM 47 DASHBOARD MOUNTING 47 RAM ®
49 FLEX
51 RAM ®
RAM
BASE 53 MAGNETIC
55 CUP HOLDER MOUNTING 55 RAM ® STUBBY TM & RAM-A-CAN TM II 57 SEAT MOUNTING 57 RAM ® TOUGH-WEDGE TM 59 RAM ® TOUGH-TRACK TM 61 RAM ® TOUGH-TRACK TM FOR JEEP JLS & GLADIATORS 62 RAM ® HAND-TRACK TM 62 TOP-LOADING COMPOSITE 63 RAM ® TRACK MOUNTS 65 FLOOR MOUNTING 65 RAM ® NO-DRILL TM 67 RAM ® TELE-POLE 03 NEW PRODUCTS 05 INTRO 07 HOW IT WORKS 07 DOUBLE BALL MOUNTS 09 RAM ® NO-DRILL TM VEHICLE MOUNTS 11 GDS ® TECH ® 13 DEVICE HOLDERS 13 PHONE 13 WIRELESS CHARGING 15 RAM ® X-GRIP ® 17 RAM ® QUICK-GRIP TM 19 FORM-FIT PHONE HOLDERS 21 TABLETS 21 RAM ® X-GRIP ® 23 RAM ® TAB-TITE TM & RAM ® TAB-LOCK TM 25 RAM ® EZ-ROLL'R TM 27 LAPTOPS 27 RAM ® TOUGH-TRAY TM 29 CAMERA ADAPTERS 31 GPS 31 FORM-FIT HOLDERS 33 RADIO HOLDERS - CB-, HAM, & HANDHELD 35 MICS & MICROPHONE CLIPS 37 RAM ® TOUGH-BOX TM 39 PRINTER HOLDERS SEEN IN THIS PHOTO: RAM-B-166-UN14W RAM® Quick-Grip™ Waterproof Wireless Charging Suction Cup Mount 1
MOUNTS
&
MIRROR-MATE
DRILL-DOWN
ADHESIVE MOUNTS
PORTABLE FRICTION DASHBOARD BASE &
® ADHESIVE DASHBOARD
MOUNTING
GALAXY TAB A
ACTIVE3/2
ACTIVE
GAS TANK BASE
69 ENTERPRISE
FOR
XP5S & SONIM XP8 113 OTTERBOX UNIVERSE SOLUTIONS 115 MOTORCYCLE
115
117
119
119
124
125
125
127
129
130
131
132
133 ACCESSORIES & MORE 133 ARMS 135 ARM ACCESSORIES 137 DRINK HOLDER MOUNTS 139 BICYCLE MOUNTS 139 RAM
EZ-STRAP TM
EZ-ON/OFF TM 141
LOW PROFILE 143 RV/MOTORHOME 145 PRODUCT CHARTS INTRO NEW PRODUCTS DEVICE HOLDERS VEHICLE MOUNTS ENTERPRISE SOLUTIONS MOTORCYCLE MOUNTS ACCESSORIES & MORE BICYCLE MOUNTS RV/MOTORHOME PRODUCT CHARTS Patented and Pats. Pend. rammount.com 2
SOLUTIONS 69 FEATURED PRODUCTS 71 ELD MOUNTING 71 SAMSUNG
8.4 & TAB A 8.0 (2019) 72 SAMSUNG TAB
& TAB
PRO 73 RAM ® TOUGH-CASE TM 75 RAM ® TOUGH-CASE TM HOLDER 77 INTELLISKIN ® & INTELLISKIN ® NEXT GEN 79 GDS ® ERGO TM 79 ACCESSORIES THAT GET THE JOB DONE 81 GDS ® VEHICLE DOCKS TM 83 FUTURE PROOF 85 GDS ® TOUGH-DOCK TM & GDS ® COOL-DOCK TM 87 GDS ® VIEW TM 87 EXPAND THE CAPABILITIES OF YOUR WORKSTATION 89 GDS ® KEYBOARD TM 89 RUGGED AND DURABLE KEYBOARD SOLUTION 91 GDS ® AUDIO TM 91 AMPLIFIED AUDIO ON THE GO 93 GDS ® TOUGH-HUB TM EXPAND YOUR WORKFLOW 94 GDS ® ECOSYSTEM TM 95 GDS ® CHARGE TM 95 CHARGERS FOR ANY SITUATION 97 RAM ® SKIN M 99 FORM-FIT HOLDERS 101 SAMSUNG XCOVER PRO 103 SAMSUNG DEX IN-VEHICLE 105 ZEBRA 107 SCANNER SOLUTIONS 108 PANASONIC AND HONEYWELL 109 SONIM 111 SONIM BUNDLE
SONIM
MOUNTS
FEATURED PRODUCTS
RIGGING MAP FOR MOTORCYCLES
HANDLEBAR MOUNTING
U-BOLT HANDLEBAR BASE 121 RAM ® TOUGH-CLAW TM 123 RAM ® TORQUE TM
FORK STEM
SURFACE MOUNTING
BRAKE/CLUTCH RESERVOIR BASE 126 RESERVOIR COVER BASE
HANDLEBAR CLAMP BASE 128 BOLT HEAD ADAPTER BASES
THREADED BALL ADAPTERS
RAM ® TOUGH-BALL TM FOR HARLEY DAVIDSON
RAM ® TWIST AND TILT TM
®
&
RAM ® TOUGH-CLAW TM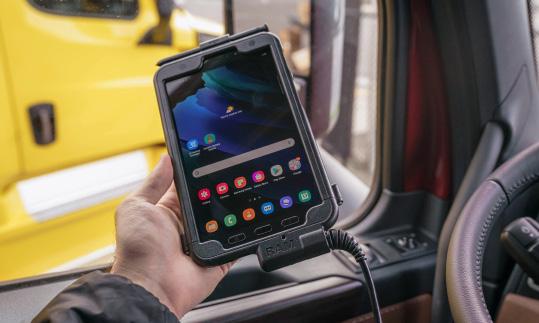 SEEN IN THIS PHOTO:
RAM® Tough-Case™ with USB Type-C for Samsung Tab Active3 and Tab Active2 NEW PRODUCTS RAM-HOL-AP33U RAM-HOL-AP34U RAM-HOL-AP35U Apple iPhone 12 SeriesForm-Fit Holders RAM-GDS-SKIN-SAM75-NG RAM-GDS-DOCKLF-SAM75U Samsung Tab A7 10.4 - GDS® Tough-Dock™ & Cool-Dock™ RAM-HOL-ZE14U RAM® Form-Fit Powered Holder for Zebra TC21 & TC26 RAM-GDS-SKIN-AP32-NG, RAM-GDS-DOCKLF-AP32CU Apple iPad Air 4 & Pro 11" - GDS® Tough-Dock™ & Cool-Dock™ RAM-GDS-CHARGE-V3FCA2U Hardwire Chargers with Power Delivery and Dual USB Data RAM-TC-SAM29CU RAM® Tough-Case™ with USB Type-C for Samsung Tab Active3 and Tab Active2 3
RAM-TC-SAM29CU
RAM-TC-SAM50U
RAM® Tough-Case™ for Samsung Tab A 10.1, Tab A7 10.4 & Tab S6 LITE 10.4
RAM-TC-SAM67-387U RAM® Tough-Case™ for Samsung Tab A 8.0 (2018) SM-T387
RAM-TC-SAM67-307U RAM® Tough-Case™ for Samsung Tab A 8.4 SM-T307
RAM-TC-SAM67-290U RAM® Tough-Case™ for Samsung Tab A 8.0 (2019) SM-T290
RAM-HOL-TABL-SAM29U RAM® Tab-Lock™ Holder for Samsung Tab Active3 and Tab Active2
RAM-SKIN-SAM73 RAM® Skin™ for Samsung Tab Active3
RAM-SPEAK-A02
RAM-TC-SAM54U RAM® Tough-Case™ for Samsung Tab Active Pro - Type A Male USB
RAM-GDS-SKIN-SAM74-NG, RAM-GDS-DOCKLF-SAM62U IntelliSkin® Next Gen for Samsung Tab Active3, Samsung Tab Active3 & Tab Active2GDS® Tough-Dock™ & Cool-Dock™
INTRO NEW PRODUCTS DEVICE HOLDERS VEHICLE MOUNTS ENTERPRISE SOLUTIONS MOTORCYCLE MOUNTS ACCESSORIES & MORE BICYCLE MOUNTS RV/MOTORHOME PRODUCT CHARTS
VISIT RAMMOUNT.COM/NEW TO SEE ALL NEW RAM ® AND GDS ® PRODUCTS
GDS® Audio™ Amplified Speaker with PTT Breakout Feature
4
and Pats. Pend. rammount.com
Patented
RAM-GDS-SKIN-SAM62-NG
IntelliSkin® Next Gen for Samsung Tab Active2
RAM-GDS-DOCKL-V9-OMT1U
GDS® Type-C Vehicle Dock for IntelliSkin® Next Gen Tablets
RAM-101U-B
RAM® Universal Double Ball Mount with Two Round Plates
SEEN IN THIS PHOTO:
5
ABOUT RAM ® MOUNTS
RAM® Mounts manufactures rugged and versatile mounting systems for phones, tablets, and other mobile devices that can be attached nearly anywhere. Unlike other mounts on the market, RAM® allows you to secure devices where you need them most. The unique design of the RAM® Mounts system provides quick installation, adjustability, strength, vibration damping, and durability—all at a low cost. Backed by a lifetime warranty, RAM® uses powder-coated, marine-grade aluminum with lightweight and high-strength composites, stainless steel hardware, and rubber balls.
THE RAM ® DIFFERENCE
PREMIUM DESIGN
The rubber ball and socket design of our mounting systems offers a secure hold, with near-infinite adjustability and vibration damping for the most demanding environments. With thousands of components trusted by users around the world, we've been able to design and develop mounting solutions that consumers and companies previously only dreamed were possible.
CUSTOMIZABLE
Take your phone mount from your truck to your boat, or mix and match components to create your ideal mount. Because of the modularity of the RAM® system, you can customize your solution to fit your specific needs in almost any application.
QUALITY MATERIALS
A premium design deserves the highest quality materials available, from rubber and stainless steel to highstrength composites and marine-grade aluminum. Our facilities— including powder coating, die casting, rubber injection molding, and shock and vibration testing—help us deliver on this promise to bring you inventive mounting solutions.
LIFETIME WARRANTY
It's simple. Our reputation as the leader of premier mounting systems means if we build it, then we guarantee it. We're confident in the quality of our products, and with our warranty, you can be too.
NATIONAL PRODUCTS INC. (NPI)
Introduced in 1995, National Products Inc. (NPI) quickly became the leading manufacturer of rugged and versatile mounting solutions. RAM® Mounts has grown to offer approximately 5,000 modular components—the most innovative product line of its kind for nearly any application and device, including phones, tablets, GPS systems, laptops, marine electronics, printers, radios, and much more.
In addition to RAM® Mounts, NPI is also the creator of award-winning IntelliSkin® sleeves and GDS® Technology™ products. IntelliSkin® sleeves ruggedize a wide range of consumer phones and tablets, while the GDS® Ecosystem™ provides users the ability to securely charge, dock, and sync devices in the most demanding environments.
NPI is proudly located in Seattle, Washington in the same neighborhood where the company was started.
PARTNER WITH RAM ® MOUNTS
Here at RAM® Mounts, we believe that unfathomable things are possible with ingenuity. With a portfolio of more than 5,000 SKUs paired with innovative engineers and in-house product experts, we have the tools and expertise needed to create solutions that you didn't know were possible. We have the ability to solve your mounting challenges quickly, efficiently, and cost effectively.
INTRO NEW PRODUCTS DEVICE HOLDERS VEHICLE MOUNTS ENTERPRISE SOLUTIONS MOTORCYCLE MOUNTS ACCESSORIES & MORE BICYCLE MOUNTS RV/MOTORHOME PRODUCT CHARTS Patented and Pats. Pend. rammount.com 6