ANALYSIS
Payment provider cashes in after acquisition deal
New owners move to take advantage of pioneering technology
Card processing solutions provider PAYA
Group has completed its acquisition of B2B card payment provider Interactive Transaction Solutions, ITS.
The new owners are keen to exploit the potential of technology developed by ITS at its headquarters in Northampton. The firm's existing management team have transferred to PAYA.
ITS has developed new services to enable B2B digital payments since it was founded more than three decades ago. It is known for developing innovative card payment products, with a particular focus on enhanced data including Level 3 Purchasing Cards.
The business is now part of PAYA, which runs the PayaCardServices, PayaCharity, LibertyPay and QixPay brands among a range of card acceptance services to organisations across numerous sectors, supported by in-house technology, online applications and portal customer support facilities.
The combined group aims to take advantage of ITS' payment gateway, which performs its own acquirer and terminal accreditations through its PCI DSS certification,which ensures the security of card data in a business. PAYA believes strengthening
the IT capabilities will provide greater control of timings, agility and speed to market for the group's payment products.
PAYA Group's chief executive Bill Thomson will take up a leadership role at ITS to drive initiatives, supported by the existing management team of ITS, who will strengthen the senior leadership of the group.
Mr Thomson said: "We are delighted to announce the acquisition of ITS, a business that has built a fantastic reputation in the market. The group will benefit through its valuable technology-based payment gateway, which will provide an opportunity to build out our customer base even further.
>>To page 3.
Investment expert: PM faces an unenviable challenge. P12-13
Exhibition deal: Publishers prepare to put on a show. P11
Revealed: All the Chamber Business Awards finalists. P4
HR expert Greg Guilford steps into the Q&A chair. P19
Helicopter firm wins major Air Ambulance contract. P7
county's
Northamptonshire Police has become the first emergency service in the world to place a pilot fleet order for a new generation of hybrid police vehicles designed and built by an engineering company based in the county. Northamptonshire's Chief Constable Nick Adderley describes the three-wheel vehicles as 'innovative and incredibly efficient'. Full story: Page 3.
NEWS
AWARDS
Q&A
NEWS
Business TimesOctober 2022 Est. 1991 In print and online Business Times is published in Northamptonshire for the
business community www.Business-Times.co.uk
New networking group brings a buzz to town businesses
There is a new networking buzz in Wellingborough… Welcome to the first meeting of the Wellingborough Business Buzz.
Some 35 businesspeople, including Business Buzz sponsor Business Times, were at the Castello Lounge in the town for the launch meeting.
The branch is the newest to join a series of monthly networking events across Northamptonshire and
neighbouring counties. Host Adam Fox, of Evolve Business Coaching, said: "With its no fuss, informal and relaxed, mix 'n' mingle style of networking, Business Buzz meetings do not feel like you are at a networking event, rather that you are having great conversations with genuine people and are able to make meaningful connections."
Business Buzz is already a regular in the networking calendar for businesses
in Northampton and Brackley. Wellingborough Buzz runs on the second Tuesday of every month, 10amnoon, at Castello Lounge.
n Find out more at https://app. business-buzz.org/app or email Adam at adam@evolvebusinesscoaching.co.uk.
For details of all the business networking events in Northamptonshire this month, turn to page 18.
Stories aim to inspire a change
The story of a mother torn between the expectations of a corporate career and family life is the first to be told in a new podcast series.
The Brand New Business Podcast, hosted by graphic design and branding specialist Trudie Avery, focuses on real-life stories designed to encourage and inspire. The series, which launched last month, has weekly episodes featuring businesspeople telling their stories of start-up pitfalls and successes.
The aim, says Trudie, is to encourage anyone trying to find the courage to make a career change or start a business.
The first episode focuses on Sam, a working mother who decided to set up her own business as a virtual assistant after having to fly to a business meeting only hours after her 18-month-old daughter's emergency operation.
"I love Sam's story as it
speaks to so many mums in a corporate world," said Trudie, who runs her own agency Avery Creative at Broughton near Kettering. "She is such a lovely person, her work ethic is incredible but the sacrifices that she had to make in her personal life became too much for any mother to bear."
Trudie, whose work helps entrepreneurs to realise their full potential through her expertise in branding and logo creation, has recorded six podcast interviews so far, including conversations with a former teacher, a one-time prison worker, and a RAF officer turned business coach.
"I am really excited as they are all really great stories," she says. "For example, the RAF officer said her self-worth was in tatters by the time she left her 17-year career in the Armed Forces. She has had to completely rebuild her self-confidence to become the coach she is now."
The podcast is about people
who never really thought they could... but did anyway. "People like you and me who have a passion or an idea and a little bit of hope. I want this series to motivate anyone who thinks they would like to do something different but do not think it is possible. It is.
"I want people to find the confidence and inspiration to take that dream and make that leap."
n Listen to The Brand New Business podcast at www.brandnewbusiness. buzzsprout.com
Trudie Avery
For Northamptonshire's business news visit www.Business-Times.co.uk Business News 2 Business Times | October 2022 Business Times Distributed by Royal Mail to more than 9,500 key executives and decision makers every month. To book space in a future edition or talk to us about your advertising plans call 01604 259900 or email news@pulsegroupmedia.co.uk Stay in touch with business across Northamptonshire and read previous editions online at www.business-times.co.uk Disclaimer Lunar Publishing Limited cannot take responsibility for the content of the advertisements, editorial or the services provided by the advertisers. Advertisements are accepted on the understanding that descriptions of goods and services are accurate. All artwork is accepted on condition that permission has been given for use in Business Times. Reproduction, in whole or in part, is strictly prohibited. ©Lunar Publishing Limited TARGET KEY DECISION MAKERS 9,500 DELIVERED EVERY MONTH MORE THAN The deadline for advertising in the next edition of Business Times is MONDAY 17 OCTOBER Connect with us on social media and join the conversation /BusinessTimesNorthamptonshire @BusinessTimes91 Business-Times 17 Stilebrook Road, Olney, Bucks MK46 5EA Editor Andrew Gibbs news@pulsegroupmedia.co.uk Sales Director Martin Lewis-Stevenson martin@pulsegroupmedia.co.uk Advertising Sales Jan Lewis jan@pulsegroupmedia.co.uk Feature Editors: Annie Roberts Sammy Jones Graphic Design: Simon Goodger Photography: Steve Brill Publisher Kerry Lewis-Stevenson kerry@pulsegroupmedia.co.uk Advertising Sales Jenny Homeshaw jenny@pulsegroupmedia.co.uk Advertising Sales Sharon Maplethorpe sharon@pulsegroupmedia.co.uk • Build your business connections • Meet key decision makers • Increase brand awareness • Generate leads and forge relationships • Meet new suppliers and become a new supplier Business Expo YOUR2023 Reach, engage and connect with the local business community ENTRY pre register YourBusinessExpo.co.uk NORTHAMPTONSHIRE'S BUSINESS NEWSPAPER Business Times Sponsored by: For more information call 01604 259900 Expo.co.uk code to
Police go hybrid as county force sets a world first
Production is under way of the first generation of hybrid police vehicles in the UK.
The electric hybrid motorcycles, designed and built by Northamptonshire engineering company White Motorcycle Concepts, are expected to go to work on the streets of the county this month. Northamptonshire Police has become the first emergency service in the world to place a pilot fleet order for the WMC300FR machines.
The company, based at Brixworth, has been developing the concept for four years assisted by other British engineering innovation companies and Northamptonshire Police, whose Chief Constable Nick Adderley is also UK Lead for Motorcycles.
Unveiled as a prototype in June 2021, the bike has been optimised and developed into production specification and is now being manufactured to order.
The three-wheeled WMC300FR, which costs around £14,000, is designed specifically for use as an operational first response and community patrol vehicle.
Fully prepared for frontline use, it also meets the climate change objectives of a modern
emergency service and is cost-effective to the taxpayer, WMC says.
Mr Adderley said: "The transport infrastructure is changing for everyone and we need to ensure we are prepared for the future with a sustainable fleet that not only meets the green agenda but also enables us to deliver the policing service our communities need and want."
"We very much welcomed the opportunity to work with WMC in the development of this innovative and incredibly efficient vehicle for emergency service use, and I look forward to seeing the new additions to our operational fleet on the streets of Northamptonshire as we continue to fight crime and protect those living and working in our communities."
Ongoing development since the bike's unveiling last year has also allowed WMC to optimise the electric drive so that the hybrid motor delivers all the vehicle's power from standstill, when it is most effective.
Once the bike reaches more than 30mph, in order to avoid the battery draining rapidly the conventional petrol power source takes over when it is at its most efficient and can benefit from the additional drag reduction at a higher speed.
The use of detachable batteries also means that the bike is not subject to charge waiting. The addition of a mobile power source and inverter to the production version of the bike means that the WMC300FR can become a mobile work station, complete with three-pin plug and USB ports - important in modern policing with regard to rapid evidence capture and witness statement gathering.
WMC chief executive Rob White said: "I am incredibly proud of the final production WMC300FR. A great deal of work has been put in by a number of great British companies to reach this point."
Since its unveiling, the motorcycle has undergone 12 months of evaluation and development of repeatable, sustainable manufacturing techniques and a full suite of advanced product quality planning - a framework of procedures and techniques used to develop products, particularly in the automotive industry.
The result is a motorcycle fit for purpose, said Mr White. "The prototype was a fantastic starting point but we have now refined this model to be more compact, incorporating new features and I cannot wait to see these on the streets of Northamptonshire."
Police and Crime Commissioners across the UK are under increasing pressure to reduce carbon emissions within budgets.
Maintaining operational requirements has become increasingly hard to do, with millions of pounds required to create the necessary charging infrastructure to fully equip police forces with electric
vehicles, particularly with the technology still evolving rapidly.
The WMC300FR has been designed to bridge the gap with its pioneering and innovative hybrid scooter as an immediate viable solution both environmentally and economically. It is the result of years of research into drag reduction aerodynamics.
This, paired with the latest generation of hybrid technology, aims to reduce carbon emissions by 50 per cent of that of comparable conventional motorcycles and scooters.
The vehicle's development has been funded in part by government grants from the Office for Zero Emission Vehicles.
>>From page 1.
"We are thrilled that we will be able to leverage the synergies to the benefit of our clients, giving assurance to customers that we will be there to deliver service in the long term."
Legal advice on the transaction was provided by associate partner Holly
Threlfall and solicitor Justin Wilson at Franklins Solicitors, based in Northampton and Milton Keynes. PAYA Group was advised by Kevin Steven of Pierce Corporate Finance.
ThinCats, an alternative lender to mid-sized SMEs, supported PAYA Group in the acquisition. Its director, regional business
development, Ben Kimball said: "It is great to support a growing and ambitious business like PAYA, whose work in the charity sector has had such a significant and positive impact. ITS is the perfect fit and will enhance the group's proposition and delivery. We look forward to seeing the group continue its strong growth trajectory."
FULLY SERVICED MODERN OFFICES & TECHNOLOGY UNITS TO LET
Based on Moulton Park, Northampton OFFICES FROM 170-400 sq ft
All inclusive, including electricity, business rates extra.
TECHNOLOGY UNITS FROM 380-1,900 sq ft
Electricity and business rates extra Business rates may not be applicable for certain small businesses.
Check our website for availability. www.northamptonsciencepark.com or call 01604 654100
NORTHAMPTON
Northamptonshire Chief Constable Nick Adderley has been involved in the development of the WMC machines from the start in his role as the police's UK Lead for Mototcycles
To feature or comment email: news@business-times.co.uk Business News Business Times | October 2022 3
SCIENCE PARK
'We will leverage synergies to clients' benefit'
Criminal defence law specialist opens town centre office
National law firm Reeds Solicitors, which specialises in criminal defence law, has opened a new office in Northampton.
The office in Fish Street is Reeds' 23rd. It is headed by criminal defence solicitor Waqar Ali, who has moved from the firm's office in Milton Keynes. He is joined
by solicitor Angela Lewis and manager Emma Downes.
Mr Ali said: "Opening in Northampton at a time of crisis in the legal system is not only brave but also a testament to the firm's tenacity to provide the very best services for all."
Reeds managing partner Jan Matthews added: "Despite all the problems facing the profession in relation to legal
aid, we are determined to expand. As one of the UK's leading and largest legal aid firms in the country we are having to adapt our strategy but not dampen our ambitions.We believe everybody deserves top-quality legal defence and we are determined to continue to provide such services by also expanding our private criminal practice."
Awards finalists begin gala countdown
The finalists in this year's Northamptonshire Chamber of Commerce Business Awards have been revealed.
Are you ready for the big switch-off?
The UK's analogue network will be switching to digital in 2025
If you are not ready, this is how it could affect your business:
Your phone lines won't work
Your Internet will stop working
You won't be able to take card payments
Your alarm monitoring will stop working
You may lose your existing business phone numbers
Be prepared for the switch in advance and ensure your business doesn't lose vital, potentially costly connectivity.
2025?
That's ages, I have time!
Wrong, 2025 might seem like a long way away. But starting April 2025 there will be a forced migration period for all businesses. So, the most cost-effective time to transition is now!
The names on the shortlist were announced to an audience of businesspeople at the Park Inn Northampton during the Chamber's Business Exhibition last month.
Now the countdown has begun to the date when the winners will be unveiled: November 3 at a glittering gala ceremony at the Park Inn.
Find out more about the ceremony and book your place at www.northants-chamber.co.uk
High Growth Business of the Year
Sponsor: Azets
Mannol UK; Global Health Tests Ltd; Competitive Edge Training & Consultancy Ltd
Best New Business of the Year
Sponsor: Business & IP Centre
Beccy Hurrell Voice & Arts Ltd; Haus of HR Ltd; Dunore Connections
Employer of the Year
Sponsor: Business HR Solutions (Consultancy) Ltd
Artemis Adjusting; Pragmatiq; Nene Group plc
Charity of the Year
Sponsor: Business Times
Northampton Leisure Trust / Trilogy Leisure; Northamptonshire Health Charity; Northampton Town FC Community Trust
International Trade Business of the Year
Sponsor: RS Global Health Tests Ltd; 20/30 Labs; Nene Solutions Warehouse Ltd
Customer Commitment
Sponsor: qoob Big Bear Trailers; HR Solutions ; Global Health Tests Ltd
Workplace Wellbeing
Sponsor: Commsave Credit Union
Paradigm Shift Consulting Ltd; Spokes Education; 24/Three Consultants
Small Business of the Year
Sponsor: Global Health Tests DB Shoes Ltd; Competitive Edge Training & Consultancy Ltd; Paradigm Shift Consulting Ltd
North Northamptonshire Business of the Year
Sponsor: North Northamptonshire Council
hireful; TUTS (UK) Ltd; Beccy Hurrell Voice & Arts Ltd
Business Person of the Year
Sponsor: Learning and Skills Academy
Jessica Pilkington: Pilkington Communications Ltd; Sean Maher: hireful; Kerry Leese: Food for Thought Northants
West Northamptonshire Business of the Year
Sponsor: West Northamptonshire Council Competitive Edge Training & Consultancy Ltd; Pilkington Communications; Northampton Leisure Trust / Triliogy Leisure
Young Business Person of the Year
Learn more about the switch off by visiting bttcomms.com/switch-off or call 0330 222 0330
Sponsor: University of Northampton
Thomas Pearson: Nene Group plc; James MacPherson: Risk Fluent Ltd; Ryan Stewart: 123 Internet Group
For Northamptonshire's business news visit www.Business-Times.co.uk Business News 4 Business Times | October 2022
www.business-times.co.uk for the latest Northants business news
Chamber leads region's skills improvement plan
Northamptonshire Chamber of Commerce is to play a key role in the development of a Local Skills Improvement Plan for the South East Midlands region.
It, along with Milton Keynes and Bedfordshire Chambers, has been confirmed as the Designated Local Employer Representative Body working on the plan.
The South East Midlands Local Enterprise Partnership and every LEP in England are preparing to start work on a plan for their area. It aims to give employers a stronger voice in shaping
Fun day puts logistics firm
on cloud nine
Afamily fun day organised by Panther Logistics in Northampton has raised thousands of pounds for children's charity Over The Wall UK.
Over The Wall provides free activity camps for seriously ill or disabled children and their families at several sites in the UK. Through its Camp in the Cloud, the charity also provides online camps for young people unable to attend camps in person.
"We chose the charity because we wanted to ensure everything we donate will help to make a difference to the children and their families that Over The Wall support," said Panther Logistics managing director Gary McKelvey.
Panther has pledged to match the £1,350 total raised by staff on the day that every penny raised by our employees will be matched by our company to help further boost all fundraising efforts."
"Having partners like Panther Group on board with us really supports our work in a challenging time," said Over The Wall's chief executive Kevin Mathieson.
local skills provision by working closely with further education providers and engaging with local leaders and other stakeholders to become more responsive to the skills needs of employers in local labour markets.
Development of the LSIP is due to start in November. The government approved a joint bid from the three Chambers in September after applications were submitted earlier this year.
Northamptonshire Chamber's chief executive Louise Wall, pictured, who also is chief executive of Milton
Keynes Chamber of Commerce, said: "Government recognises that employers know what is needed for
their businesses and, through the Local Skills Improvement Plan, the Chambers across our region will be diligently gathering the information and then presenting a 'living' report that identifies the true needs of employers and maps out a plan that can deliver the skills provision that businesses require."
The plan will build on work already under way across the South East Midlands to increase skills levels, she said.
"We also have great links with our education providers, trade bodies and Local Authorities so it will be
exciting to be working with them on the LSIP and to be speaking to businesses of all sizes and sectors on what their skills needs are."
Bedfordshire Chamber's chief executive Justin Richardson added: "Skills shortages are regularly highlighted by businesses as a key recruitment issue and the Local Skills Improvement Plans are an exciting opportunity for Chambers of Commerce across the region to bring together employers and key stakeholders to set out the priorities needed to ensure local provision is reflective of emerging skills needs."
Business park launches car share scheme for tenants
Anew car sharing scheme has launched to help employees and business occupiers at Silverstone Park to reduce fuel costs and emissions.
Using the Kinto Join app, commuters can find their ideal 'travel buddies' based on location and working hours.
Ruth Williams, asset manager at Silverstone Park's operator MEPC, said: "People are rightly concerned about the effects that travelling to and
from the workplace is having on their personal finances. A car sharing scheme provides a contemporary method of travel for people and helps address those concerns."
Research by Silverstone Park of car sharing at other workplaces has shown positive feedback. Users have begun to see the benefits, particularly in terms of money saved.
"We are really excited to see what patterns emerge," said Ms Williams.
Housebuilder names new MD for Midlands region
Homes builder
Persimmon Homes has appointed a new managing director for its Midlands region.
Zac Hurst has taken over
the reins at the Northampton office, where he will be responsible for the 125 strong team and will oversee all the company's regional operations. He joined the
company in 2016 as a quantity surveyor before moving through the ranks to become operations director. "I aim to grow the business in an area of great opportunity," he said.
Jennie Jahina is a specialist employment lawyer, helping all sizes and types of private sector business, and public sector organisations. Jennie deals with strategic projects (restructuring, compliance, business relocations and outsourcing/insourcing exercises), day-to-day operational and people management matters, and employment tribunal representation.
If you need help with employment issues, call Jennie on 0800 088 6004.
"I pride myself on providing practical and clear advice, striving for outcomes that save businesses time, money, stress and reputation… It's what I do."
Jennie Jahina Head of Employment
To feature or comment email: news@business-times.co.uk Business News Business Times | October 2022 5 0800 088 6004 enquiries@wilsonbrowne.co.uk wilsonbrowne.co.uk
IT'S NOT JUST A JOB.
UK/IE/EU ROAD FREIGHT LOGISTICS FREIGHT FORWARDING CONTAINERS AMAZON +44(0)1536 533544 sales@knpgroup.com www.knpgroup.com Business Times small add 2019.qxp_Layout 1 21/09/2022 10:07 Page 9
Early-stage businesses often struggle to secure cost-effective funding, but sometimes funding alone is not enough to help them thrive. A business angel could be a good solution to explore, says commercial solicitor Anna Horrell.
Business acumen, affordable finance: Angels offer an attractive mix
Business angels can offer an attractive combination of affordable financing and business acumen. It is important that the advantages should outweigh the disadvantages and the business deal should be appropriately documented for a small business to secure the benefits.
Typically, a business angel is a high-net-worth individual who manages a portfolio of investments made in early stage businesses.
Funding is offered in exchange for equity in the business and depending on the business angel's expertise, they may also offer mentoring as part of the package.
Angel investors can offer several notable advantages, namely:
■ Pitching opportunities. Arguably, pitching to a business angel to invest in your business could be easier than when seeking other sources of funding like a bank loan.
■ Interest and repayment free investment. Depending on what is negotiated, it is usual that investment from a business angel will not require interest payments to be made
and should the business fail to be successful, the investor's money (unless secured) may not need to be repaid.
■ Added value. The knowledge, insights, access to resources and contacts could be a huge benefit to making the business a success.
The advantages can seem so attractive that it is easy to ignore any pitfalls. However, there are several disadvantages that you should consider, including:
■ Equity transfer. The price of any angel investment means giving up equity in your business - typically at a minimum of ten per cent - but they
may use their leverage to increase this up to 50 per cent.
When giving up any equity, it is always important to consider how your business may look in the future.
■ Management of the business. Depending on the equity stake the business angel takes on, they could end up getting more involved in the day-to-day running of the business.
Any commercial agreement you reach will need careful documentation to ensure there is a balance in bargaining powers. At Borneo Martell Turner Coulston, we have a strong team of experts across company and commercial which will allow us to deliver you streamlined, comprehensive advice on how to work with your chosen business angel successfully.
n For an informal discussion, contact Anna Horrell on 01604 622101 or email anna.horrell@ bmtclaw.co.uk. Borneo Martell Turner Coulston have offices in Northampton and Kettering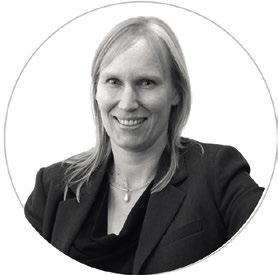 This article is for general information only and does not constitute legal or professional advice.
Radio stations prepare joint bid for DAB multiplex service
Radio stations and community organisations across Northampton are being invited to prepare a joint bid for the local DAB Radio Multiplex that is currently open for applications by UK regulator Ofcom.
The round closes later this month and will see a new Small-Scale DAB platform launch across the town, giving dozens of radio stations the opportunity to broadcast across Northampton.
Martin Steers, station manager of NLive Radio said "As a communityfocused station, we are keen to bring the community together for a bid that will benefit all the local community of Northampton."
NLive Radio and fellow Northampton station Embrace are in talks over an entirely community owned and operated application
bid for the multiplex and have invited other local stations such as Inspiration FM and Revolution Radio to join them. Embrace director Jim Byrne said: "As a local guy I believe in local radio and bringing people together to celebrate and promote Northampton."
Their vision is for the multiplex to be owned by the community via not-for-profit community-focused stations so that it is run to provide a platform for local stations and other local services. Paul Moore, station manager of Embrace, said: "Working alongside other local radio stations in collaboration makes perfect sense"
They have brought in the experience and expertise of Samuel Hunt from Leicestershire community station Maxxwave as technical consultant and technical provider.
EQUIPMENT SOLUTIONS SPECIALISTS
Pictured: (from left) Jim Byrne, Paul Moore, Martin Steers, Samuel Hunt
For Northamptonshire's business news visit www.Business-Times.co.uk Legal Briefing 6 Business Times | October 2022 Short Term Hire Forklifts | Powered Access | Telehandlers
bennieequipment.co.uk | 01536 720444
Helicoper firm flies high after Air Ambulance contract win
The new contract with The Children's Air Ambulance furthers a 23-year working relationship with the organisation for Sloane Helicopters
The new contract expands the total helicopter orders by Sloane Helicopters this year to seven, all scheduled for delivery within 2023. The deal demonstrates the strong market demand in the UK for the class-leading light twin type, the company says.
Logistics firms receive M1 boost
Four lanes on the M1 in Northamptonshire are now available to traffic, National Highways has announced.
All four lanes on the ninemile stretch between Newport Pagnell Services and junction 15 Northampton are available for use with a 60mph speed limit along the stretch which carries on average 125,000 vehicles a day. New lanes will also open between
junction 15 and junction 16 Upper Heyford Interchange next month. Both upgraded sections are expected to be fully open, with the 70mph speed limit, before the end of the year.
A 60mph speed limit, temporary additional CCTV from the roadworks and a free recovery service will remain in place while final technology tests are carried out.
Sloane Helicopters, based at Sywell Aerodrome in Northamptonshire, has won a contract from The Children's Air Ambulance to supply two new helicopters.
The EMS AW169 aircraft, along with pilots and aircraft maintenance, are due to land later this year. The service, which began in March, currently operates with an EMS AW109SP GrandNew until the new AW169s arrive.
Sloane has worked with The Air Ambulance Service for 23 years. A spokesman said the new contract is an excellent step forward for Sloane's helicopter emergency medical service operations as the company expands into the AW169 HEMS sector. The addition
of the helicopters supports Sloane's growing HEMS fleet which has doubled in size over the past four years, including two new AW109SP EMS helicopters delivered early in 2021.
Sloane is also to remain sole UK and Ireland distributor and authorised service centre for Leonardo Helicopters after renewing the agreement between the two companies until 2024. The deal was signed at the Farnborough Air Show in July.
Leonardo is the leading twin-engine helicopter manufacturer. The agreement covers the AW109 GrandNew, AW109 Trekker and AW169 types and foresees a minimum of seven new helicopters purchased by 2024.
The Distributorship Agreement has cut delivery times and provided customers with product expertise and a full range of support packages. Leonardo launched its new Agusta model VIP brand late last year.
Sloane Helicopters chairman David George said: "We are delighted to continue and further develop our close partnership with Leonardo. The new Agusta branding focuses on an enhanced VIP customer experience."
Sloane Helicopters and Leonardo have worked together since 1995, when Sloane became the sole distributor of Leonardo VIP/corporate helicopter in the UK and Ireland. Under the collaboration, more than 100 Leonardo commercial helicopters have been delivered to operators and private users.
MAKING THE COMPLEX SIMPLE
n Board level risk management advice and solutions n Value based insurance... the right cover at the right price n Commercial insurance experts
With more than two decades of experience, we work with an array of clients from private individuals to SMEs, large fleets and the public sector. We are dedicated to providing insurance that provides real value.
We are part of a larger group of companies specialising specifically in commercial insurance. Every element of our group of companies has been built to provide service behind the premium you pay, ensuring your policy is there when you need it most.
Everyone on our team has the professional experience required to give you the very best service and advice in all areas of commercial risk management.
www.motum-services.com 0345 034 4542 contact@motum-services.com
Kettering NN15
ON A
AFTER AGREEING
To feature or comment email: news@business-times.co.uk Business News Business Times | October 2022 7
Unit 3 Brooklands Court Kettering Venture Park
6FD
PUBLISHERS PUT
SHOW
EXHIBITION PARTNERSHIP Read all about it on page 11
£14m scheme to boost town's connectivity
Vital for business success: Council welcomes investment
Wellingborough is set for a £14 million investment in a new full fibre broadband network.
The town is to join the growing list of those across the UK to receive new digital infrastructure installed by CityFibre. It is preparing to start work on a new townwide network that will bring fast and reliable full fibreenabled internet services within reach of almost every business and home.
CityFibre has already installed similar infrastructure in Northampton and work is well under way in Kettering.
North Northamptonshire Council says that strong commercial investment is critical to boost much-needed full fibre coverage. Coverage
has increased from 19 per cent in August 2021 to more than 35 per cent.
Cllr David Howes, executive member for rural communities and localism, said: "Full fibre connectivity is increasingly important for business success and innovation, for improving the quality of life of our residents and enabling environmental benefits."
Full fibre networks, unlike many of the copper-based fibre broadband services available, use 100 per cent fibre optic technology to carry data at light speed from the home to the point of connection. This gives users speeds of up to 1,000 Mbps for upload and download (up to 1,000 Mbps), near limitless bandwidth and connectivity
on which users can depend.
CityFibre says it will drive a range of economic benefits, such as increased productivity and innovation.
Its Northamptonshire area manager James Cushing said: "Our full fibre network will transform Wellingborough's digital capabilities for
New full fibre broadband infrastructure is coming to Wellingborough.
Left: James Cushing, CityFibre's area manager
decades to come. Our builders will get to work on the network roll-out this autumn and as properties are linked up to the network, we cannot wait for residents and businesses to see what is possible with digital connectivity that propels you forward rather than holds you back."
Work is under way to connect around 3,000 businesses and homes in Brackley to ultra-fast broadband.
Provider Gigaclear specialises in providing its full-fibre network to market towns and rural areas across central and southern England.
Regional manager Tony Smith said: "This is going to be a game-changer for Brackley. Having access to reliable and fast broadband speeds is no longer a luxury but is necessary in order for many people to live their lives fully."
In Wellingborough, services will be available from an increasing range of broadband providers. Across the UK, CityFibre is working with launch partner Vodafone to supply full fibre infrastructure for customers on selected Vodafone Pro Broadband plans, as well as TalkTalk, IDNet, Giganet and Zen. Other providers are expected to join the network soon.
Cllr Howes said: "Getting the right digital infrastructure in place is a big priority for the council. This needs to be fit for the longer term."
For Northamptonshire's business news visit www.Business-Times.co.uk Business News 8 Business Times | October 2022
To feature or comment email: news@business-times.co.uk Business Times | October 2022 9
For Northamptonshire's business news visit www.Business-Times.co.uk10 Business Times | October 2022 LOGISTICS FOR LIFE UK/IE/EU ROAD FREIGHT n Pallets/Part Loads/Full loads n Contract distribution LOGISTICS n BRC AA warehousing n Fulfillment solutions FREIGHT FORWARDING n Air freight / Sea freight n Intermodal AMAZON LOGISTICS n Dedicated Amazon depot n 24/7 Operation CONTAINERS n Container transport n Container devanning CUSTOMS n Customs brokerage n ETSF facilities Contact the team to discuss your requirements +44(0)1536 533544 sales@knpgroup.com www.knpgroup.com Business Times large 17032020.qxp_Layout 1 21/09/2022 09:50 Page 3
Real estate giant acquires logistics consultancy
Global real estate services firm Cushman & Wakefield has acquired UK logistics and industrial consultancy Burbage Realty Partners Limited, BRPL.
The move is part of Cushman & Wakefield's expansion programme in the UK and in Europe.
Founded in 2017, BRPL provides services including strategic land, development funding, investment, lease advisory and occupational agency. It operates across the UK and is a leader in the Midlands logistics market - an important location for distribution centres and online retail fulfilment. Clients include many major developers and investors.
The acquisition will see eight BRPL colleagues joining Cushman & Wakefield. Cameron Mitchell, George Underwood and James Harrison will join as international partners, while Franco Capella, Mark Thomas and Tom Kimbell join as partners and Sophia Cooper as an associate. The team will continue to be based at its office in Northampton but will become part of Cushman & Wakefield's national sector team.
BRPL managing director James Harrison said: "We are thrilled to join forces with Cushman & Wakefield which is a great fit for us culturally. Its global platform brings scale, insight and additional services, meaning we are better placed than ever before to deliver for our clients across the UK. We are all excited about the opportunities ahead."
BRPL is owned separately to Burbage Realty Limited. The latter, founded in 2003 by John Burbage as a UK logistics and industrial property consultancy, remains an independent business under the ownership of Burbage Capital Limited.
George Roberts, head of UK & Ireland at Cushman & Wakefield, said: "This acquisition is another important milestone for the firm and reflects our ambitious growth plans in the UK.
"The BRPL team is highly experienced and hugely respected while their client focus is a perfect match for our own way of working. This deal significantly enhances our scale and capabilities in a strategic growth sector."
Publishers put on a show with exhibition deal
The publishers of leading business newspapers Business Times and Business MK have added a new string to the company's bow after agreeing a partnership with the organiser of two major annual business exhibitions.
Pulse Group Media, which also publishes lifestyle magazines MK Pulse and NN Pulse, has joined forces with Your Business Expo and will co-host exhibitions in Northamptonshire.
"Joining forces to organise these exhibitions is a logical bolt-on to our current publishing business in print and online," says Pulse Group Media
director Kerry Lewis-Stevenson
"There is so much synergy with what we are already expert in and, in the current climate, diversification into a complementary sector makes an awful lot of sense."
Your Business Expo is run by Sheila Smith. She launched a networking group in 2010, from which the Northamptonshire Business Expo evolved. It continues to attract dozens of exhibitors from Northamptonshire and beyond and has enabled Sheila to launch Business Expos elsewhere in the UK, including in Leicester.
"We have known Sheila for some time and know that she is hugely
respected in the exhibition sphere," says Kerry. "When the opportunity came up to team up with her on the exhibitions, we felt it was a chance not to pass up."
Sheila will continue to contribute to the expos as a consultant. "I feel that it is time for them to benefit from a fresh set of eyes and ideas," she says. "I am delighted that Pulse Group Media have come on board. They are hugely respected regionally for the quality of their publications and online offer and I have no doubt they will bring the same level of quality, positivity and innovation to the expos. We cannot wait to get started."
Your home is where you feel the most comfortable and the happiest.
Your home is where you feel the most comfortable and the happiest.
It is the place you know the best. If you want to stay living comfortably at home, Home Instead ® can help make that possible.
It is the place you know the best. If you want to stay living comfortably at home, Home Instead ® can help make that possible.
Home Help Companionship
Home Help
Companionship
Personal Care
Personal Care
Dementia Care
Dementia Care
Live-in Care
"
With a full legal service offering, we're here to back the region, helping businesses grow and supporting individuals with the moments that matter to them. The region's leading law firm
Dominic Hopkins, Partner, Joint Head of Northampton Office
No CQC Logo inc Live In Care
Pulse Group Media director Kerry Lewis-Stevenson (left) and Your Business Expo founder Sheila Smith
To feature or comment email: news@business-times.co.uk Business News Business Times | October 2022 11 HCR Hewitsons is a trading name of Harrison Clark Rickerbys Limited. Harrison Clark Rickerbys Limited is authorised and regulated by the Solicitors Regulation Authority
"
Each Home Instead franchise is independently owned and operated. Copyright © Home Instead® 2021.
Each Home Instead franchise is independently owned and operated. Copyright © Home Instead® 2021. 01933 678775 sheri.brown@homeinstead.co.uk www.homeinstead.co.uk/east-northants
Most of the people we meet say "I never expected my business to fail" or "I did not consider the consequences of insolvency" when making a particular business decision.
Cashflow is difficult for many businesses to manage and maintain, especially during these challenging and uncertain times and so some business owners may consider providing an unsecured loan to their company to help.
If you are considering providing a loan to your limited company or limited liability partnership, the bestcase scenario is that your loan will be repaid by an agreed date in the future in accordance with any agreed repayment terms. However, the worst-case scenario is that your business fails and enters into an insolvency process, meaning that any unsecured loan will not be repaid in full or at all.
This is why it is important to plan and make decisions with the worst-case scenario in mind in order to try to mitigate potential future losses.
A number of directors whom we have advised have loaned considerable amounts to their business - and in some cases, their life savings. However, if that business subsequently fails and enters
Hope for the best... but plan for the worst
In times of uncertainty it is the only sensible course of action, says Lauren Auburn, director at business recovery specialist BRI.
Revive an ailing economy:
After six long weeks of campaigning, the Conservative leadership battle culminated in Liz Truss being appointed as the UK's Prime Minister. While there was no shortage of candidates vying to succeed her predecessor Boris Johnson, the new PM is now tasked with the unenviable undertaking of reviving the UK's ailing economy.
Facing soaring inflation and a looming economic recession, OCM Wealth Management's deputy chief investment officer Gina Stone assesses the potential impact that the policies of Number 10's newest resident will have on the UK economy.
into an insolvency process, the loan, unless secured in some way, will be considered an unsecured debt and the director will be classed an unsecured creditor. In that scenario, after the costs of an insolvency process, and depending on level of secured and preferential creditors, unsecured creditors usually receive little or no return.
There are ways to protect a new loan. A charge over the assets can be registered, which is what most financial institutions will do when providing a loan or overdraft
facility, or assets can be purchased providing that market value is paid.
However, if there is any uncertainty about whether or not a business is solvent, before providing a loan and considering security, seek professional insolvency advice from BRI in order to ensure that the correct steps are followed to avoid any criticism or risk.
n The team at BRI are happy to provide free, confidential advice and guidance. To find out more, call 01604 754352.
Plans to tackle the UK's ongoing cost of living crisis remained the focal point throughout the campaigning process, as the UK consumer faces the deepest living standards squeeze for 60 years. Liz Truss's campaign centred around a significant fiscal policy support package thought to contain tax cuts, handouts to those on lower incomes and a freeze in utility costs.
In her first week as Prime Minister, Truss announced a package worth £130 billion for households to supersede the Ofgem energy price cap raise in October, capping prices at £2,500 per household for the next two years - £1,000 below the expected increase
and halving the forecasted £5,000 rise expected next year as natural gas prices continue to soar.
For businesses, a further £40 billion has been pledged to cap prices. As a result, economists have been quick to
Liz Truss: The new Prime Minister's measures must prioritise control of inflation
revise down their expectations for peak UK inflation.
As a key driving force behind soaring headline inflation in the UK, the latest cap on energy prices has reduced peak inflation expectations to between ten and 11 per cent, down from the 14 per cent previously forecast. A lower headline inflation figure is expected to support growth and reduce some of the pressures on consumers and businesses in the near term.
While the measures are
Lauren Auburn
12 Money Matters
New Prime Minister faces an unenviable challenge
Froman investment perspective, headwinds clearly remain for the UK economy in the near term, with quick action required to address the cost of living squeeze and targeted measures to revive economic growth while keeping a close eye on inflationary pressures.
So far, we are encouraged by the early actions of the Truss government, contributing
to a cautiously optimistic approach on the medium- to long-term outlook for UK equities.
Overall, despite rising interest rates remaining a headwind for markets in the short term, it is our view that following a rerating of risks, UK assets are becoming more attractive, with opportunities arising as the medium- to long-term outlook improves.
unlikely to be enough to see the UK avoid a recession, they are expected to limit the depth of the recession, allowing the UK economy to recover at a faster pace than previously anticipated. As I write, Truss is yet to announce more detailed plans to stimulate the economy through this challenging period and the devil will be
in the detail. However, it is clear that measures must be carefully targeted to avoid stoking inflation.
With UK debt levels recently crossing 100 per cent of GDP following stimulus throughout the pandemic, concerns are being raised as to how the new PM's plans will be funded.
The PM has ruled out a
further windfall tax on energy company profits, stating that this would go against her government's plans to spur investment in growth. Instead, the plans look to be funded by further borrowing, which, although is acceptable during a crisis, suggests that some fiscal discipline will be required in the longer term, tempering the UK's growth expectations for 2023 and onwards.
Another key issue which must be considered if the UK is to revive its growth hopes in the future is the nation's productivity issue,
with ONS data observing UK productivity figures among the lowest of the G7 owing to years of low investment.
The PM has campaigned to spur economic growth by a variety of tax cuts to promote investment in technology and business. As the nearterm focus remains on the immediate cost of living crisis, there has been little development on Truss's proposed tax cuts at this stage.
However, as it is currently understood, the Prime Minister may look to reverse the National Insurance hike that took effect this year, as
well as next year's planned Corporation Tax hike in a bid to stimulate investment. It has also been reported that the PM may be looking into research and development tax incentives to encourage growth in the years ahead.
n Gina Stone is deputy chief investment officer at OCM Wealth Management in Northampton. www.ocmwealthmanagement. co.uk
Business advice firm Elsby & Co has completed its acquisition of chartered accountancy practice The RJB Partnership.
As part of the deal, RJB partners Bill Warfield and Rita Bull and most of the existing staff have moved to Elsby & Co's office in Rushden. The current RJB office in the town have been retained and have helped Elsby to manage their expansion, with the office now fully rebranded and housing the Elsby payroll team.
Elsby & Co partner Claire Emery stressed the importance of the shared values and the opportunities the deal is likely to create. "It came about quite by chance, following a meeting with Bill in our Rushden office," she said.
"It was warming to find the owner of
another local practice who shared our values of going the extra mile for our clients and our people. I have no doubt our expertise and range of complimentary services will add further value to the clients of RJB."
The purchase of The RJB Partnership is one of a series of small acquisitions made by Elsby in the past few years.
"Acquisitions are a key element of our five-year plan and have been made possible by building a business and brand that is recognised and respected by clients and the local business community," said Ms Emery. "We continue to be acquisitive and remain open to discussions with those who share our values and where opportunities in accounting or complimentary product areas can add value to stakeholders, our clients being the most important of all."
Gina Stone
OUR VIEW: OCM
'So far we are encouraged by the early actions of the Truss government'
Elsby
partners Leona Bateman and Claire Emery (right) flanked by Bill Warfield and Rita Bull
To feature or comment email: news@business-times.co.uk Business Times | October 2022 13 Money Matters
WEALTH MANAGEMENT
& Co
Accountancy firm completes acquisition Opportunities will come... just give it some time LOOKING FOR HELP WITH ACCOUNTING SOFTWARE? Moore can help you choose the right cloud or desktop accounting software package for your business. We will guide you through the set up process and can provide training and ongoing support as and when you need it. We are Sage, Xero and QuickBooks accredited. www.moore.co.uk Get in touch today T +44 1733 397300 east.midlands@moore.co.uk
Food supplier promotes manager
Frozen foods supplier
Central Foods has promoted Oliver Sampson to commercial manager.
Mr Sampson joined the business, based in Northampton, in 2013, working in sales and business development. His new appointment has been made to support the catering sector's gradual bounce back from the pandemic.
He will oversee Central Foods' business with Brakes, the UK's largest frozen food distributor, as well as taking on additional commercial duties within the company.
"Central Foods is an inspiring place to work and somewhere I can make a real difference," said Mr Sampson pictured below. "I am very
proud to have been appointed to the position of commercial manager. The food service sector has gone through challenging times in recent years but this is an exciting point to be taking on a new role as we look to the future."
Central Foods, founded more than 25 years ago, supplies hotels, restaurants, bars, universities, schools, pubs, care homes, garden centres and leisure outlets. It currently sells to more than 180 independent wholesalers, as well as larger national and regional wholesalers.
The company is in a 'strong and buoyant position', said managing director Gordon Lauder. "Oli will play a key role in supporting the directors as we move forward."
Tool firm welcomes sales manager
Machine tool specialist
Graham Cherry has joined Towcesterbased WH-Lead and the company's UK sales manager.
The firm is the sole sales and service agent in the British and Irish markets for the Taiwanese-built Leadwell range of vertical machining centres and CNC lathes. Mr Cherry pictured above has spent his entire career in the sector since he started a four-year
mechanical engineering apprenticeship at the age of 16 at a subcontracting firm in Leicester. "This is a fantastic opportunity for me to bring my long experience of CNC technology to promoting and selling the Leadwell brand," he says. "Everything is in place to allow that to happen.
Leadwell was one of the first makes of CNC machining centre sold in the UK. There are currently more than 250 user companies.
Consultancy opens new division
The team of experts at health and safety consultancy
Acorn Safety Services in Northampton continues to grow with the appointment of legionella and fire consultant Adam Midson, right He is to develop a new division dedicated to legionella risk assessments and testing.
"Acorn has bold ambitions for the future, particularly around its legionella services, and I cannot wait to be part of it."
Legionella is a naturally occurring bacteria in water supplies. If left untreated,
it cause the potentially fatal Legionnaires' Disease.
"Adam will play a leading role in the development of this side of our business," says director Neil Munro.
Director aims to bring out the best
Building products manufacturer Forterra has welcomed Steve Jeynes to its senior team as production director.
Mr Jeynes, pictured, joined Forterra, headquartered in Northampton, in 2014 when the company was Hanson Building Products as plant manager and has risen through the ranks since. "Throughout my career I have always loved making things and making people better so this role fits my profile perfectly," he says.
"People are the most important component of every business,
and my biggest motivator is watching them progress."
Says chief executive Stephen Harrison: "Steve is a great asset to Forterra and we are delighted that he has stepped into the role of production director."
For Northamptonshire's business news visit www.Business-Times.co.uk Appointments 14 Business Times | October 2022 0800 088 6004 | enquiries@wilsonbrowne.co.uk | wilsonbrowne.co.uk You are at the centre of our legal advice - we are all the help you need. ABOVE ALL ELSE... YOU MATTER MOST.
To feature or comment email: news@business-times.co.uk Business Times | October 2022 15 Create Your Marketing Plan In A Day! 26th October BOOK HERE! Kettering Park Hotel Call us today 03303 801 651 A clear, up to date marketing plan will give your business focus and ensure maximum return on investment. Fail to plan and you will plan to fail! Scan here to book upir place! Limited spaces available so book now!
Kettering Conference Centre is to host a major regional awards ceremony celebrating workplace and diversity and inclusion across the Midlands and East of England.
Entries are coming in for the This Is Us Awards, which will be the climax of a special conference at the conference and exhibition centre in January.
The awards aim to raise awareness and celebrate diversity and inclusion in the workplace, highlighting the initiatives of businesses across the region and companies' commitment to equality and their positive impact on the workplace.
A total 12 awards will be presented, in categories including Recruitment Policy and Implementation, Training and Development and Gender Empowerment.
Awards founder Meena Chander said: "Prioritising diversity and inclusion should be a genuine business basic and, while the energy for more noteworthy diversity and inclusion consideration is making headway, genuine advancement is still moderate for many companies.
"There has never been a more crucial time to bring these issues to the forefront for business owners throughout the UK, regardless of their sector. Overlooking diversity and inclusion can provoke reputational hurt for companies, while grasping it provides so many advantages."
The awards form part of the wider This Is Us Conference, managed by events company Events Together. Now in its fourth year, the conference will bring together business leaders from across the Midlands and East of England to provide a full programme of resources, talks, panels and workshops, hosted by prominent organisations and thought leaders.
The event will showcase best practice, offer training materials, and address and facilitate important conversations around diversity and inclusion, enabling companies to support and improve corporate cohesion and productivity within their teams,
"The This Is Us Awards, part of the wider This Is Us Conference, are about championing businesses and individuals that are already getting it 'right' and
recognising their achievements on a local level," said Ms Chander.
"I look forward to reviewing the entries and giving those leading the way in diversity and inclusion the recognition they so truly deserve."
Conference chair Jacqui Gavin, chief of culture at low carbon battery developer Britishvolt, said: "In today's world it is not just about acknowledging the visible differences in our society. It is about actually listening and being willing to take on board the lived experience and embedding it at the heart of everything we do. Truly embedding inclusion for all is the ethos of the This Is Us Conference and Awards."
n To find out more visit: www. thisisusconference.co.uk/conferenceawards.
Home improvements firm awards UK transport partner contract
Freight transport specialist
XPO Logistics has won the contract to be primary UK transport partner for home improvements firm Anglian Windows Limited.
The new network uses a dedicated fleet of trucks, trailers and on-site shunters to move Anglian Windows' range of double and triple glazing windows, front and back doors and conservatories. The Anglian product portfolio has expanded to include porches, orangeries, single storey extensions, garage doors and roof trim for the B2B and B2C markets.
XPO, based at Crick, has been working with Anglian Windows for some time at its manufacturing facility in Norwich. "It is critical that
we earn the loyalty of our customers by making their experience satisfactory in every respect," said Paul Jackson, head of production control and logistics. "We are very pleased to have XPO as the transport partner for Anglian Windows. XPO's commitment to our success has been evident throughout our collaboration."
XPO Logistics' managing director - UK and Ireland Dan Myers said: "Anglian Windows is a values-driven company with a strong commitment to British quality. Using our experience in the building sector, we have designed a scalable distribution model that will elevate service and support Anglian's expansion for years to come."
'Diversity should be a genuine business basic'
'Prioritising diversity and inclusion should be a genuine business basic' Meena Chander, pictured front right
For Northamptonshire's business news visit www.Business-Times.co.uk Business News 16 Business Times | October 2022
to landlords in pandemic rent disputes
The first award under The Commercial Rent (Coronavirus)
Act 2022 - a binding arbitration scheme for landlords and tenants to resolve disputes over commercial rent arrears accrued during the pandemic - offers a positive indication for landlords, says a Northamptonshire commercial property expert.
London property fund manager First Property Group has won nearly £0.5 million in rent arrears from Signet Trading, the operator of jewellery retailers H. Samuel and Ernest Jones, after the jewellers withheld payment during pandemic restrictions.
Signet Trading applied for relief for office premises in Borehamwood in Hertfordshire after its main retail jewellery business was forced to close in line with government regulations at the time of the pandemic. Staff working at the company's office premises were instructed to work from home and the majority of those were subsequently placed on furlough, with 35 colleagues continuing to work during the pandemic and only two staff remaining in the offices; a post room worker and a security guard.
The question for the arbitrator was whether or not the tenancy was 'adversely affected by the coronavirus', such that the rent payable was a 'protected rent' under the Act.
When handing down the ruling, the judge said that although its retail stores had
been protected under the Act, its offices were not. Because two workers remained in the office while the rest of staff worked from home, the office space 'was not adversely affected by coronavirus' and that there was 'no protected rent debt in this case.'
Samantha Jones, associate director at Prop-Search in Northampton, says: "Too many businesses have tried to use the cover of the Act to avoid paying rent that was rightfully due. This case signals that even if a tenant's main business has been subject to a closure requirement and is not operating, if other parts of the business have not been subject to the same closure requirement, those parts may still be liable for the rent."
The Commercial Rent (Coronavirus) Act 2022 became law earlier this year and, unless an extension is granted by the Secretary of State, any referrals must have been made by September 23.
"Any party eligible to use the scheme should now consider whether it is in its commercial interests to get a referral in before the deadline or wait for the remaining restrictions on enforcement action for protected rent debts to fall away," said Ms Jones, pictured
Warehouse plan aims to ease demand for industrial space
Construction of a new industrial warehouse on the site of the former Weetabix factory on the Earlstrees Industrial Estate in Corby has been given the green light by councillors.
Copley Point Capital, on behalf of its Block Industrial programme and Pembury Real Estate Ltd, submitted a planning application to North Northamptonshire Council earlier this year having purchased the eight-acre site on one of the town's prime industrial parks.
Demolition of the existing building is close to being completed and the construction of the new 160,800 sq ft unit will start shortly, with completion scheduled for Q3 2023.
Copley Point Capital director Nimit Oberoi said: "We are very pleased to have obtained planning permission for Earlstree160 just seven months after our acquisition. This is a testament to the hard work of our team and the positive and pragmatic attitude of North Northamptonshire Council.
"The development is in an excellent location where there is very little supply of new, high-specification industrial units. Earlstree 160 is best placed to help satisfy the strong demand for Grade A urban logistics and industrial space from businesses
operating locally, regionally and nationally."
Commercial property agents Prop-Search, Cushman & Wakefield and Potter Learoyd have been appointed to market the building.
space in the region remains high and this development will further support local economic growth and offer new job opportunities."
The unit will be BREEAM Very Good rated and will feature a 12.5m minimum
The new warehouse planned for the site of the former Weetabix factory on Corby's Earlstrees industrial estate
To feature or comment email: news@business-times.co.uk Property Portfoilio
1-0
For the latest property sector news from across the county, visit: business-times.co.uk Chartered Surveyors and commercial property consultants www.chowncommercial.co.uk 1 Saxon Court, Northampton. NN1 1SX For enquiries call 01604 604050 or email: info@chowncommercial.co.uk 18/20 THE DRAPERY, NORTHAMPTON £ CONTACT US • Town Centre Retail 2,300 Sq.Ft. Plus Basement • Upper Floor Offices 4,800 Sq. Ft. 24 Bridge Street, Northampton NN1 1NT TOLET PIONEER HOUSE, 7 RUSHMILLS, OLD BEDFORD ROAD • 9,475 Sq.Ft. • Prestigious Office Building • Air Conditioning • Ample Onsite Parking 45 GOLD STREET, NORTHAMPTON NN1 1RS £215,000 • 1,598 Sq.Ft. • Prime Town Centre Location • Two Floors Over a Basement FORSALE 11 CIRRUS PARK, MOULTON PARK • 1837 Sq.Ft. • Parking for Seven Cars • Well Maintained Development £24,000 PAPRIME LOCATION TOLET £ CONTACT US TOLET Business Times | October 2022 17
The business networking events this month across Northamptonshire
A group for networkers looking for referrals, introductions, opportunities and sales. A tried and tested model offering dynamic weekly online meetings and an experienced management team:
Northants and surrounding areas
Every Tuesday at noon.
National networking
Every Wednesday at noon. Contact Gary Thorpe for all events. Email:gary.thorpe@debt-doctors.co.uk Tel: 07963 766052 or 01536 333425
With the right support at the right price it is possible for any small business to succeed. Members believe there is so much to gain with a positive attitude of mutual face-to-face. All monthly breakfast meetings, 7.30am9.30am.
WELLINGBOROUGH
1st Thursday: Great Doddington Club, Lower Street, Great Doddington Price: £16.
NORTHAMPTON
3rd Wednesday: The Turnpike, Harpole. Price: £16.
VIRTUAL MEETINGS
Price: £6
Brunch
2nd Tuesday 9.30am-11am: Online Breakfast
If you are serious about growing your business, BNI works. Last year BNI members in the UK generated more than £482 million worth of business for each other. To find out how, visit a local chapter meeting and see for yourself. Each chapter has a personality of its own and finding where you fit best helps you get connected.
Elite BNI (Kettering)
Tuesday 6.45am-8.30am: Online Ignite BNI (Daventry)
Tuesday 6.45am-8.30am: The Turnpike, Harpole Northampton
Pioneer BNI (Northamptonshire)
Wednesday 9.30am-11am: Online Pavilion BNI (Northampton)
Thursday 6.45am-8.30am: The Old Northamptonians RFC, Sir Humphrey Cripps Pavilion, Billing Road, Northampton
Prosperity BNI (Kettering)
Thursday 6.45am-8.30am: The Kettering Golf Club, Headlands, Kettering, Sterling BNI (Northampton)
Thursday 11.45am-1.30pm: The Old Northamptonians RFC, Sir Humphrey Cripps Pavilion, Billing Road, Northampton
Lighthouse BNI (Northampton)
Friday 6.45am-8.30am
Franklin's Gardens, Weedon Road, Northampton
Contact: Duncan Webster. e: duncan@ bnibreakfast.co.uk or call 07977 422220
4th Wednesday 7.30am-9am: Online
3rd Thursday 7.30am-9am: Online
2nd Friday 7.30am-9am: Online
Afternoon
Fridays 3pm-4pm: Online
Money back guarantee if you do not find a meeting of value. Visitors welcome.
THE ACCOUNTABILITY CIRCLE Monday 10am-11am: Online
A regular virtual meeting helping small businesses get tasks from 'to do' to 'done'. Advice and tips on time management and productivity.
Price: £6 per session or £12 per month. Find out more at buscomm.co.uk/ourevents
Law firm means business as it launches new town networking group
Anew networking group open to business of all types and sizes has launched in Daventry. The group Daventry Means Business is organised and managed by Rollasons Solicitors with a new bi-monthly meeting, to be held on the third Wednesday of the month at Daventry Town Football Club.
There is no membership fee or commitment, just pay as you go.
Rollasons Solicitors joint managing partner Kam Vara, whio is the host of Daventry Means Business, said: "We wanted to bring a relaxed, fun and highly effective networking group to the Daventry area,
where business can be done and professional contacts made."
The aim of Daventry Means Business is to provide a platform where mutually beneficial business relationships with other professionals can be cultivated, enabling businesses to build strong networks within Daventry and the wider area to aid business and career success, in an informal and relaxed atmosphere.
n To receive details of future meetings email info@dmb.co.uk with contact details and join the Daventry Means Business LinkedIn Group.
The FSB has 2,000 members across Northamptonshire. These include a monthly FSB Northampton virtual networking at which everyone is welcome - you do not have to be an FSB member to join in.
Northamptonshire
October 27 10am-11am: Online
Hosted by Sally Wood, director of Sally Wood Consultancy Limited and FSB area leader for Northants, Leics & Rutland.
To book and for details of other networking, support and webinar events online, visit www.fsb.org.uk/events.
No fuss, no membership, pay as you go...
The Business Buzz format is relaxed, informal, conversational B2B networking. Our town focused events meet face-to-face, allowing visitors to build better and more robust relationships. These are complemented by regional virtual events.
All Business Buzz events run 10am-noon
Brackley Buzz
October 6: Paisley Pear, Northampton Road.
Price: £8.
Northampton Buzz
October 19: Fox & Hounds, Harborough Road.
Price: £8.
NEW Wellingborough Buzz
October 11: Castello Lounge, Market Street
Price: £8.
For more details, download the Buzz App or visit www.business-buzz.org/about/locations. Book and pay for your favourite Buzz at https://app. business-buzz.org/app or at the event.
Networking events provide a platform to meet and build relationships with peers and fellow members. The group also hosts personal development sessions, with talks from business leaders
EVENING NETWORKING
October 26 5.30pm-7.30pm: Northamptonshire Chamber of Commerce, Northampton Hosted by the Next Generation committee. Free event for Next Generation Chamber members. To book, visit www.nextgenerationchamber. co.uk For more information, visit www.nextgenerationchamber.co.uk
businesses in the North Northants area recover, build and grow for a brighter future
ONLINE NETWORKING October 13 9.30am-10.30am: Online via Zoom Free event for NNBN members; visitors £4.99.
EVENING BUSINESS NETWORKING October 20 7pm-8.30pm: Kettering Park Hotel & Spa
An evening of open networking, member presentation, testimonials, 60-second business intro and more. Free event for NNBN members; visitors £10.
MAKE THE MOST OF YOUR MEMBERSHIP
October 27 9.30am-11am: NNBN HQ at Poppy Design Studio, Elgee Works, Victoria Street, Desborough Members only. Free event for NNBN members. For more information and to book, visit https:// nnbn.co.uk/events/
business support forums. Free event. To book, visit www.ukbfevents.co.uk
NNBN is a business membership for North Northamptonshire which aims to help
BUSINESS BEFORE HOURS
October 4 8.30am-10am: Enterprise Centre East Northants - BizSpace, Michael Way, Warth Park Way, Raunds Informal networking over breakfast. Price: £10 + VAT Chamber members; non-members £15 + VAT. Contact: Visit www.northants-chamber.co.uk/ events
Practical support to help businesses grow their business. The Business Room is a one business area group for business owners, those in employed positions, MLMs and franchised businesses.
BUSINESS ROOM
Attendees maximise their time out of the office and in the room by ensuring all the attendee information is shared in advance.
This gives attendees time to plan their networking session so they can get more out of each meeting, therefore making it as profitable as possible. Each meeting involves structured networking, a session where a member will share their knowledge, business story or insight and a Business Exchange, where members respond to the requests for help and contacts.
These are lock out groups so only one business area is represented.
KETTERING
October 11 12 noon-2pm: Kettering Park Hotel
NORTHAMPTON
October 13 12 noon-2pm: Old White Hart, Far Cotton
WELLINGBOROUGH October 19 12 noon-2pm: The Stanwick Hotel, Stanwick
SOUTH NORTHANTS
October 18 12 noon-2pm: The White Horse, Silverstone
THE CONNECTIONS CLUB - NORTHANTS
UK BUSINESS FORUM NORTHAMPTON
2nd Wednesday 5.30pm-9pm: Delapre Abbey, London Road
A friendly, informal and relaxed networking event for small business owners in the area to come together, make connections and build relationships. Each event features a short educational presentation on topics to support business owners followed by casual socialising. First drink of the evening is on us (or our drinks sponsor).
UK Business Forums has been the home of small business community support and advice for nearly 20 years. Membership is not necessary but join for free and maintain the business relationship you make at our networking evenings through our free online
Only open to business owners, influencers and decision-makers, this is a structured and professional group, which gives people the opportunity to connect with other business owners who are serious about growth.
It allows you to take away a valuable skill, learning or insight from every meeting and meet valuable contacts. It is not lock-out but each session is limited to a maximum of three business areas.
NORTHAMPTON October 4 11.45am-2pm: Delapre Abbey, London Road, Northampton.
Contact: Barbara Hodgson 07504 946 585 / 01933 652884 email barbara@yourbusinessmatters.co or visit www.yourbusinessmatters.co
www.business-times.co.uk for the latest Northants business news
For Northamptonshire's business news visit www.Business-Times.co.uk18 Business Times | October 2022 Networking Feature your networking group in future editions of Business Times. email details to news@business-times.co.uk
If you say you're going to do something, do it
What was your first job?
My first job was as a kitchen porter at the Kettering Park Hotel when I was in sixth form. After a series of part-time jobs at university I moved to London and worked for Camden Council in their education personnel department looking after schools within the borough.
Why did you choose your particular career?
My mother was a HR director at a local F1 team and then set up her own HR consultancy, which I naturally then followed.
After studying a Business and Human Resources degree at the University of Derby, it felt right to follow what I was best at, which is HR.
What's the best job you've had and why?
I worked for BAE Systems in Dhahran, Saudi Arabia for just over three years. At the time I was 26 and it really opened my eyes to the world. I was teaching Saudi nationals in relation to HR as well as supporting the expat managers.
…and the worst?
One of my first jobs in London was a temporary role for Guy's and St Thomas' NHS Trust and I was tasked with walking around the hospital trying to find locums to issue contracts to.
What's the best advice you have received in business?
Focus on what you are good at and the rest will follow.
What has been the highlight of your career so far?
Where to start… I'm super proud of the company we've built. We've also recently been acquired by WorkNest, a leading provider of outsourced employment law, HR and health and safty support, who were interested in us because of our fast growth and having a reputation for service excellence.
This was a highlight for me as it was recognition of the great work that we do.
…and the low point?
When I first joined HR Solutions in 2008, we went straight into a recession. This delayed the
ambitious plans that my mother and I had at the time and we focused on survival as opposed to growth.
Who in business do you respect the most?
I think it would have to be Richard Branson. He had many failures before succeeding, which just highlights that you don't have to get it right in business all the time. He also places a high value on his people and that having great people makes the company, which is definitely something that's close to my heart.
What annoys you the most in business?
Broken promises. I pride myself on my integrity so if you say you're going to do something, it should be delivered.
What's the best thing about where you work?
My team - they are all amazing. This resonates from their knowledge but also from their focus to help support our clients.
What's your career ambition? Right now, my focus is supporting
the continued growth of HR Solutions under WorkNest.
…and your life ambition?
I am a keen traveller and have already visited several countries around the world but this is something I want to continue now that we are able to travel a bit more freely again now.
One place I haven't visited is Cuba, which is definitely on my wish list.
What's the best moment of your life?
When I married my wife Toni. …and the worst?
In 2008, it was a tough year having just left a corporate role to work with the family business. It did make me question if I had made the right decision.
How do you relax?
I have three children so relaxing is not something that comes easy...
A nice holiday, with a mix of sightseeing, sea and sun is where I get to relax the most.
What's your guilty pleasure?
I am a bit partial to cake… What's your worst fault?
Eating too much cake… What's your most treasured possession?
My family. They are what I treasure the most.
What are you afraid of?
Failure. The success of HR Solutions is important to me because it was a family business that
we have grown but also the team rely on me to make the company a success for their own security.
What annoys you most in life?
To be honest, the state of UK politics at the moment.
Tell us something you regret?
Life is all about making choices and I don't have any regrets. I'm a firm believer that things always happen for a reason.
Tell us a secret about yourself? I can be partial to playing computer games.
Which two historical figures would you most like to talk to and why?
Genghis Khan. He united a nation though overcoming adversity, building relationships and fosetering loyalty.
Julius Caesar. He built the Roman Empire and achieved so much. It would be really interesting to find out where the scope of his ambition would have ended.
What are the first three things on your bucket list?
n To visit South Africa. My wife is from South Africa but I haven't been
n To go to the Carnival Celebration in Rio de Janeiro. It just looks so colourful
n To set foot on each of the seven continents. Only two to go…
What song / music would you like to be played at your funeral?
Always look on the bright side of life - Monty Python.
Where business people discuss their motivation, ambition, experience - and themselves. In the spotlight this month is Greg Guilford, chief executive of HR specialist HR Solutions
FOOD A Thai Red Curry
MUSIC / SONG Play God by Sam Fender
BOOK Gai-Jin, James Clavell
FILM Edge of Tomorrow
TV PROGRAMME Mandalorian RESTAURANT Wagamama's DESTINATION Somewhere in Asia
'Life is all about making choices and I have no regrets.
I'm a firm believer that things happen for a reason'
To feature or comment email: news@business-times.co.uk Business Times | October 2022 19 Feature: Q&A
Q&A
MY FAVOURITE...
Who knows what the future might hold but it is clear if you fail to plan you plan to fail writes Steve Rees, commercial director at Square Media. Daily pressures and demands can mean there is little time given to the big questions that will make a real difference.
Just take a moment to answer these simple questions.
n Why do you exist?
n What problems will you solve today?
n Why do people buy from you?
If you do not have the answers or have not got time to come up with an answer, it is time to listen to those alarm bells.
The fact is the world is changing and businesses will need to adapt more than ever before to survive the next few years which are going to be tough.
Take back control. Create a marketing plan in a day at a workshop run by experts from Square Media working with people specialists HR Solutions.
At the end of the workshop each delegate will take away a workbook containing their bespoke marketing plan.
The sessions will guide people through stages using a tool known as PESTLE
P olitical: What political changes, and mandates are in place that will impact your business? So, what are the implications for your business?
MOTUM INSURANCE SERVICES
Economic: What stage of the cycle are we entering? Recession threatens with low grown, high-interest rates, high inflation. So, what are the implications for your business?
Social: How do people behave and communicate; we are experiencing a social revolution right now around diversity and inclusiveness. So, what are the implications for your business?
Technological: Huge development here in digital, more work from home, selling online and through mobile, electrification. What are the implications for your business?
Legal: What's coming down the track that could stop the way you do things…. So, what are the implications for your business?
Environmental: Climate change and sustainability is huge. So, what are the implications for your business?
We will focus on:
Purpose Help to determine why you exist, what problem you solve and why
people buy from you;
People Your audience and who you need to reach to fulfil your purpose;
Plan This is the key part of your day:
n Audience;
n Message;
n Media;
n Data capture;
n Nurture;
n Conversion;
n Onboarding and wowing new customers;
n Upselling and cross selling;
n Creating advocates for your business who generate fresh referral.
Take back control. Create a marketing plan in a day at a workshop run by experts from Square Media working with HR Solutions.
n There are a few spaces remaining for the next marketing workshop on October 26 at Kettering Park Hotel. Call 03303 801 651 to book yours.
Cyber attack: We are here to help you to fight back
Business today is more reliant than ever on digital technology, with IT infrastructures being used to some degree to improve efficiency, secure client data and manage national and/or global resources.
A business is responsible for its own cyber security but in the event of a cyber attack having the right cover in place will ensure you are not alone. Cyber liability cover will provide crucial support to protect your business today and for the future.
It is no secret that cyber attacks are becoming part of our everyday lives with the impact of these varying by nature as defence mechanisms become more sophisticated, so do the attackers. According to the government's Cyber Security Breaches Survey 2022, in the last 12 months 39 per cent of UK businesses identified a cyber attack - a similar figure to the previous five years. However, the survey
also identified that enhanced cyber security leads to higher identification of attacks, suggesting that less cybermature organisations may be underreporting.
At Motum, we believe that essentially businesses that do not consider themselves to be a likely victim or that place cyber at a low risk are not actually aware when an attack has occurred nor of its impact. In essence, less cyber-mature organisations are at greater risk of attack and not being able to recover.
Of the 39pc of UK businesses that identified an attack, the most common threat vector was phishing attempts (83pc). Of the 39pc,
around one in five identified a more sophisticated attack type such as a denial of service, malware or ransomware attack. Despite its low prevalence, organisations cited ransomware as a major threat, with 56pc of businesses having a policy not to pay ransoms.
Within the group of organisations reporting cyber attacks, 31pc of businesses and 26pc of charities estimate they are attacked at least once a week. One in five say they experienced a negative outcome as a direct consequence of a cyber attack, while one third of businesses (35pc) and almost four in ten charities (38pc)
have experienced at least one negative impact.
Analysis of the organisations reporting a material outcome such as loss of money or data gives an average estimated cost of all cyber attacks in the last 12 months of £4,200. Concentrate on medium and large businesses and the figure rises to £19,400.
We acknowledge the lack of framework for financial impacts of cyber attacks may lead to underreporting.
How much does a cyber liability policy cost?
Like any insurance, the cost of cyber liability is relative to the business, the business revenues, the space within which the business operates and the level of risk relevant to data loss. At Motum we focus on value. In our view, the priority when asking this question is actually: 'How much would a cyber attack cost my business?
'
n To find out more, visit www.motum-services.com or call 0345 034 4542.
HOME INSTEAD SENIOR CARE
Workshops support the heart of our comunity
Home Instead East Northants provides a range of care services across East Northants and North Bedfordshire. Our services are bespoke to the needs of our clients, including home help, personal care, dementia, Parkinson's and companionship. We also offer live-in care for people who need around the clock care and want the comforts of their own home.
We know that when people start looking for care for family members, it can be a difficult time. This is why we have decided to hold open mornings once a month for families to pop into our offices and talk to a client experience manager to discuss the care needs they are looking for without any pressures to sign up but start the discussions on how the care system works. Join us to find out more.
OPEN MORNINGS
Find out how to care for a loved one, how to navigate the care system or learn more about the sector as a career over a complimentary cuppa and a biscuit.
Home Instead is hosting Open Morning events at its office in Wellingborough on the Park Farm industrial estate, 10am-12 noon on: October 26 November 30 December 21 January 25 February 22
Before the pandemic we were always out in the community, and we are happy to say that we are starting our workshops up again with our accredited
trainer Margaret Brown for families and friends supporting a loved one with dementia. The workshiops include guidance on nutrition, the nutrients that elderly people need and fluid intake and other methods of introducing it if they do not like drinking water.
We have suggestions showing there are other ways you can keep yourself hydrated... for example, eating cucumber. We can look at a person's wellbeing and look at things that can be changed to keep them at home.
FAMILY WORKSHOPS
Dementia October 21, 10am12.30pm
Free workshop offering help, advice and support for those caring for loved ones suffering from dementia.
Fluid and Nutrition
November 25, 1pm-3.30pm
Free event offering advice for those caring for elderly loved ones on how to ensure they eat and drink during the winter months.
Older Persons' Wellbeing December 16, 10am12.30pm
Free workshop for families looking after older people. Dementia
January 20, 10am-12.30pm
If you notice a change in your elderly family over Christmas or are already looking after a loved one with dementia, join our free dementia family workshop for support and advice.
n For more information on the workshops and to book your place, contact Marie on 01933 678775.
To find out more about Home Instead East Northants, visit www.homeinstead.co.uk/eastnorthants or call 01933 678775
The world is changing... now it's time to take back control
Steve Rees
For Northamptonshire's business news visit www.Business-Times.co.uk20 Business Times | October 2022 Your Business Times
SQUARE MEDIA
Celebrating 23 years of the services that modern buildings require
October 2022 marks the 23rd anniversary for Griffiths Air Conditioning & Electrical Contractors, the Burton Latimer-based business that now involves itself in a lot more activities than the business name suggests.
Over the years, the business has expanded to become a provider of the full range of building and engineering services, meeting the needs of domestic, commercial and industrial clients throughout Northamptonshire and the seven surrounding counties.
With modern town centre offices housed in a Grade II listed building that dates back to the 18th century, Griffiths works with homeowners, architects, builders, plumbers and commercial clients who all appreciate the benefits of working with just one provider to install
all the services that today's buildings require.
Griffiths are a D1+ approved installer of Daikin air conditioning and heat pump systems, NICEIC approved electrical contractors, MCS certified installers of heat pumps, solar thermal and solar PV, Gas Safe registered for domestic work, Polypipe underfloor heating approved installers, and holder of several other certifications and accreditations relating to their work with plumbing and ventilation.
Griffiths was the first installer of heat pumps in Northamptonshire to be approved under the Microgeneration Certification Scheme back in 2008 and has carried out hundreds of heat pump jobs since then. With the government's plans to
phase out fossil fuel burning systems in new homes over the next few years, Griffiths is well placed to assist developers with the design and installation of heat pump systems.
Energy efficiency is at the top of everyone's agenda these days and Griffiths' Energy Efficiency Centre showroom has working examples on display of heat pumps and a wide range of energy-saving products.
One of the main factors to ensure low running costs of air conditioning, heat pumps and ventilation is regular maintenance.
The Griffiths service team carry out planned regular visits to clients to make sure the installed equipment is running at its maximum efficiency as well as responding to any potential problems.
Equipment specialist invests in its fleet
Bennie Equipment Ltd, a family-run Northamptonshire-based equipment solutions specialist, continues to invest heavily in its hire fleet to meet rapidly growing customer demand for highperforming materials handling equipment.
As the logistics and warehousing industries continue to see unprecedented demand across the country, Bennie Equipment has invested circa £0.5 million in additional fleet to ensure that the business has the right equipment, readily available for both short- and long-term hire to meet customers' needs.
Building on a 400-strong equipment hire fleet, the company has made a significant investment in additional Doosan counterbalance forklifts, including the exceptional new Series 7 electric counterbalance range pictured above
Doosan is widely considered to produce one of the best-value counterbalance forklifts on the market, combining quality, reliability, function and economical operating costs. As an approved dealer of Doosan for more than two decades, Bennie Equipment has plenty of confidence in the machine's reliability to get any job done right, every time.
Bennie Equipment has also invested significantly in a truck-mounted forklift fleet of Terberg Kinglifter TKL models. Bennie Equipment is the official UK
distributor of Terberg Kinglifter truckmounted forklifts, renowned for their power-to-weight ratio, high-quality components and outstanding build quality. With growing demand for shortterm rental trucks in this sector, an additional seven machines have joined the fleet, including a trailer and truckmounted forklift package available for hire UK wide.
"We pride ourselves on being able to deliver equipment for any project, any requirement and deliver it to anywhere in the UK," says Simon Burton, Group Director at Bennie Equipment. "While we continue to focus on delivering the very best equipment solutions to our customers, our continued investment in our fleet capabilities ensures that we continue to exceed our customers' requirements.
"Our forklift hire success has been built by caring for our customers and providing a quality, price competitive service to every client no matter how large or small their requirements."
NORTHAMPTON SCIENCE PARK
Purpose-built park is your perfect base
Welcome to Northampton Science Park, home to more than 40 companies, some of which have been based at the purpose-built park since it opened in 2005.
With these challenging times, businesses need secure and well-serviced premises, in which to work. So, whether you are looking for an office or technology unit, Northampton Science Park at Moulton Park has the perfect solution for your business.
Its workspaces all have modern category 5E or Category 6 wiring for telephone and internet requirements, and individual security systems so tenants can rest assured their business will be well protected.
Northampton Science Park is fully serviced and extremely well managed. There is allocated parking and reception services Monday to Friday, with gated access control and key fob operation outside normal working hours. Office rents include all utilities, with
the exception of business rates which means you can avoid those future electricity and gas bills.
Electricity is an extra cost in the technology units but the park is installing heat pumps and LED lighting to improve economy.
n If you are looking to take your first business space, moving or downsizing, call 01604 654100 or email info@ northamptonsciencepark.com to book a tour of Northampton Science Park.
Bennie Equipment has a full range of forklift trucks and powered access equipment available for short-term rental or long-term hire, from as little as one day up to seven years. With flexible hire terms and a quick and agile response guaranteed, contact the team to discuss your materials handling requirements.
n Contact Griffiths Air Conditioning on 01536 420666, visit www.griffithsaircon.co.uk or call into its Energy Efficiency Centre showroom at 111 High Street, Burton Latimer - open Mon-Fri, 9am-5pm.
To feature or comment email: news@business-times.co.uk Business Times | October 2022 21 Your Business Times
Advertisement Feature
01536 720444 | sales@bennieequipment.co.uk www.bennieequipment.co.uk GRIFFITHS AIR CONDITIONING & ELECTRICAL CONTRACTORS
Keep compliant or face disaster, HR specialist warns employers
Businesses across Northamptonshire are at risk of huge fines and legal action if they fail to comply with employment laws.
The warning comes from a HR expert in the county, who stresses that small businesses in particular are not keeping up with the regular changes to employment law and changing crucial documents.
Should there be a dispute with an employee, business owners risk an employment tribunal that costs tens of thousands of pounds.
"Employment law is changing all the time," said Rachel Collar, owner of Haus of HR in Towcester. "The thing that business owners need to keep in mind is that employment law is there to keep everyone's best interests at heart. If documents are not updated to reflect changes in the law, if ever there is a dispute the business may find that it is not backed by its own policies and that has the potential to end in disaster."
Business owners should review their documents at least once a year to make sure everything is still compliant with current employment law.
"It is not only employee disputes that can cause trouble either," Ms Collar said. "You can be fined if you do not handle certain situations, like hiring new employees, in the correct way.
"As an HR professional, I understand that it is a mammoth task to keep up with employment law updates. Business owners understandably do not always have time with everything else they have to do but in cases like this, they should find ways that
will make it a bit easier to keep track of changes, either by using outside help or by creating a system to make sure nothing is missed."
Haus of HR, which Ms Collar launched last year, outsources a full range of HR services to businesses across the region. The company has created an employment law compliance checklist, available free on the Haus of HR website hauspfhr.
com
Rachel Collar: A business may find that it is not supported by its own policies in the event of a dispute
For Northamptonshire's business news visit www.Business-Times.co.uk Business News 22 Business Times | October 2022 • Great Music • Local Bands • Entertainment • Local Events • What's On • Great Guests • Local Voices with great music from today and the hits of yesterday Your customers are listening! What do you want us to say? Email: sales@nliveradio.com Advertise on the local radio station for all of Northampton Harness the power of local radio to boost your business. With over 14k regular listeners we can help spread your message. Radio advertising is cost effective, book a campaign with us for as low as £100 per month.
Gi someone the wonderful experience of made-to-measure with a Gi Certi cate 01604 589907 enquiries@saintcrispin.co.uk instagram.com/saintcrispin_bespoke saintcrispin.co.uk 22 Kents Road | Northampton | NN5 4DR
Charity chief heads to Africa on mental health mission
Teachers, prison staff and healthcare professionals in Ghana are to learn on how high-quality physical healthcare can make a real difference to patients who suffer from serious mental illnesses.
The training is to be provided by Northampton charity St Andrew's Healthcare in a bid to empower and enrich people's lives in the African country.
Martin O'Dowd, head of physical health from the psychiatric hospital on Billing Road, is travelling to the African country this month to help promote and educate the link between physical and mental healthcare.
He will be carrying out the work to promote the hospital's charitable purpose while helping to support the
Peak practice makes perfect
Colleagues at Milton Keynes and Ketteringbased architects GSSArchitecture have taken part in the Lakes 24 Challenge in the Lake District to raise money for Macmillan Cancer Support.
Staff from all five GSSArchitecture offices took on one of the most demanding mountain walking challenges in the country, targeted to scale 24 of the highest peaks within a target hiking time of 24 hours.
The team walked 29.5
Besstel Foundation, an organisation enhancing awareness of mental illness in Ghana and other parts of Africa.
St Andrew's Healthcare has also donated clinical equipment, such as examination couches, thermometers, blood pressure machines and pulse oximeters.
"Providing a high standard of physical healthcare is an important part of our patients' treatment plans at St Andrew's Healthcare as the benefits directly address the increased mortality gap faced by many," saID Martin.
"I am passionate about addressing the health inequalities faced by people with mental illness, cognitive impairment and learning disabilities as they are a very vulnerable group
and have such a small voice in society. To be able to extend this work to a country like Ghana, that is trying to give a platform to mental healthcare even when they face such difficulties in providing more basic care to their population seems like a great thing to be part of."
His role is part of an annual project run by the Besstel Foundation,
which oversees mental health professionals from the UK travel to Ghana to share their expertise. The consultants deliver a programme of teaching, learning and professional development to support staff in mental health institutions.
According to the World Health Organisation, around 13 per cent of Ghana's 30 million population suffer from a mental disorder, of which 3pc have a severe mental disorder.
"As a charity, we are always looking ways to help, enrich and improve people's lives by promoting wellbeing, giving hope and enabling recovery," says St Andrew's Healthcare chief executive Dr Vivienne McVey. "We are excited and inspired by this opportunity and we hope Martin's work will encourage
and empower the Ghanaian citizens to make meaningful change.
"During its period of sustained growth, Ghana has made significant strides in improving conditions for its people but, like many other places, mental health education is not a priority. We want to change that and hope that Martin's training sessions will form part of some long-term solutions which will help tackle the increasing burden of mental health."
Besstel Foundation chief executive Stella Agyeman added: "Mental health is seldom discussed in Ghanaian culture because it makes people uncomfortable. There is widespread stigma, discrimination and a basic lack of understanding, which is why the work we carry out is so vital."
miles with 11,660 ft of ascent in the 24 hours.
"We love to push ourselves in everything we do, whether that be projects or staff challenges," says GSSArchitecture partner Jonathan Hunter, team captain for the challenge.
"It is important that members from our five offices have the opportunity
to get together throughout the year and if we can raise money for charity while we do it, then even better. This was not an easy challenge but I am proud of our team members and the amount of money we have raised."
So far, GSS has raised £2,800 for Macmillan from the challenge, with the figure set to rise again after
offices in Milton Keynes, Kettering, Gloucester, Harrogate and Newcastle hosted a Macmillan Coffee Morning last month.
It was an honour for the practice to be commissioned to design and deliver the new Macmillan Cancer Support Centre at Kettering General Hospital which completed earlier
Campaign aims to take on the stigma of suicide
Suicide prevention and mental health charity We Mind and Kelly Matters has launched a new campaign aiming to overcome the stigma around suicide and mental illness.
The Stamp Out Stigma campaign aims to set a new world record by obtaining 20,000 signatures in order to change perceptions.
"Mental illness affects one in four of us, yet much of the public is ashamed to talk about their disorder or seek treatment," said the charity's chief executive Sherry Adams. "Does a loved one need support? Can you be their hero by starting the conversation, removing the stigma and helping them on their way to a healthier life? By participating in the Stamp Out Stigma initiative, we hope to open up the
conversation."
Signatories to the pledge commit to:
n Speak up if you need support;
n #Ask Twice, if your gut tells you someone needs help, ask them 'Are you OK?... Are you really OK?'
n Be aware of warning signs, risk factors and protective factors;
n If someone expresses suicidal thoughts, ask if they have plans to act on them or if they have made previous suicide attempts;
n Do not be afraid to ask direct questions
- asking about suicide is the best option;
n Promote openness and non-judgement in talking about suicide;
n Let other know that they are #Not Alone
Attention and support for mental health
continues to grow but the stigma around suicide continues, the charity says. The impact of stigma around suicide is people not seeking help when they need it, while those who have lived experience of suicidal distress and suicide internalise their feelings of shame because of the perception of how their peers and society view them.
"One in four adults will face a mental illness in a given year," said Ms Adams. "Even if you are not living with a mental illness, you can make a lasting impact by speaking up for those who do. "
n The campaign runs until October10. To make your pledge and for more information about the campaign, visit https://bit.ly/3DhGEAE
this year, said Mr Hunter. The new centre, the first of its kind in Northamptonshire,
provides support, resources and therapeutic services to people who are living with, or are affected by, cancer.
Martin O'Dowd
To feature or comment email: news@business-times.co.uk Business Times | October 2022 23 In the Community
Northamptonshire's Business Newspaper is FREE every month Call to advertise or submit editorial 01604 259900 MONTHLY BUSINESS NEWS FROM ACROSS THE COUNTY news@business-times.co.uk | www.business-times.co.uk Delivered byRoyal Mail Also available online Join our community and signup here: www.bit.ly/BUSINESSTIMESSIGNUP Or scan the QR code... 0800 088 6004 enquiries@wilsonbrowne.co.uk wilsonbrowne.co.ukRecognising that charity is serious business
THE POWER of Three
The Power of 3 runs through the core of OCM as we have three professional disciplines brought together allowing us to deliver such a powerful client focused proposition.
As an Independent Chartered Financial Planning Firm, a Discretionary Asset Manager and Tax planning specialist, we utilise the power of 3, to ensure we deliver a seamless and first class, cost and time efficient service to clients. This is because at OCM we truly believe Our Clients Matter.
ocmwealthmanagement.co.uk
The Financial Conduct Authority does not regulate the activities of tax planning, estate planning or IHT planning. OCM Wealth Management Limited is authorised and regulated by the Financial Conduct Authority (www.fsa.gov.uk/register/home.do). FCA Registration No: 418826. OCM Asset Management is a trading name of OCM Wealth Management.
CHARTERED Financial Planners TAXATION & Accounting DISCRETIONARY Asset Managers