for building safe, fun and memorable experiences for luxury and premium mass patrons
Metropolitan Gaming CEO, Michael Silberling, on affinity
Volume 18: Issue 152 The magazine for the owners and management of international casinos THE SILVER LINING FOR METROPOLITAN GAMING
his
© 2022 IGT. The trademarks and/or service marks used herein are either trademarks or registered trademarks of IGT, its affiliates or its licensors. Elevate Multi-Game Player Experience The new intuitive chooser interface of IGT's popular USwitch™ Multi-Game guarantees the most enjoyable gaming experience! The latest 40-games pack includes 10 brand new game titles and also features Glorious Roulette™ Deluxe with all popular bet options. The USwitch™ Black Edition is exclusively available on PeakSlant™ cabinets. For more information on our versatile Multi-Game Packs, proven Hardware and exciting Mystery Progressives visit IGT.com and contact your Account Manager today. USwitch™ Black Edition on PeakSlant32™ Cabinets
Remember Macao? Once the gambling capital of the world, now it is a blip and Las Vegas is king again. Actually we know what happened and it's a cautionary example of what occurs when big government has its hands on the levers of the gaming industry. In 2020, a bagatelle called Covid-19 struck and Beijing leaders promptly began running Macao like the burners on a stove, turning them up and down willy-nilly and making life a living hell for casinoCompleteoperators.shutdowns were followed by partial reopenings, then cautious reopenings, then more crackdowns. In June gambling revenue was practically nil and July was worse yet. Industry boffins keep predicting that "pent-up demand" is going to have Macao "roaring back" any day now. Yep. Just roaring back. Any day now. But Covid-19 is still abroad in the land and until Beijing sees reason – if ever – and renounces its impractical 'zero Covid' policy, Macao is going to be kneecapped. Authorities say that, once the current round of casino license renewals is completed, they want to see gaming execs draw their customers from beyond the Mainland, Hong Kong and Taiwan. But when your average Chinese can't visit Macao, how are you going to bring them in from (say) Japan?
Associate Editor EMEA: Aydin
Editor EMEA: Damien damien@outsourcedigitalmedia.comConnelly Associate Editor Asia:
International Correspondent: Lyudmyla Production:digitalmedia.comlyudmyla.kyrychenko@outsourceKyrychenko Designer: Stewart Hyde www.de5ign.co.ukstewart@de5ign.co.uk Accounts: Helen accounts@outsourcedigitalmedia.comHolmes IT Director: Pasha pasha@outsourcedigitalmedia.comKuzminskiy Publisher: Peter White Tel: +44
Editor:Editorial:
273714 peter@outsourcedigitalmedia.com Welcome... David McKee Editor DMcKee Editor's Note 3Volume 18: Issue 152 CASINO The magazine for the owners and management of international casinos Published OutsourcebyDigital Media Ltd
MGM Resorts International CEO Bill Hornbuckle made headlines this August when he disclosed the company was no longer placing all its chips on Macao but looking beyond it to Thailand (having already made an abortive run at Singapore). Said Hornbuckle, "the idea of a significant investment [in Macao] would have to be something we would really understand and study," especially with only a 10-year, highly conditional concession on offer. Cautious verbiage to be sure but revolutionary amid the speak-no-evil orthodoxy of the industry toward Chinese policy. Unfortunately, the gaming industry has no political sway in China. Says former Macanese academic Nelson Rose, Beijing "has always hated the massive amounts of cash, estimated at US$150 billion a year, much of it escaping through Macau." The frequent tightenings of the access funnel to Macao are a way of showing who's boss. "Punishing highrollers is exactly the goal. The Marxists who run the PRC believe that all social problems arise from conflicts between classes. The rich are to be shunned, not admired." By contrast, the paternalistic regime in Singapore has no ideological axe to grind with gaming, and its anti-Covid policies, while initially severe, have been staggered in implementation and sensibly stepped downward as the crisis abated. The reward is a dramatic rebound of gambling revenue, some at Macao's expense (poetic justice). Gaming can live in harmony with big government...when the latter appreciates it. David david@outsourcedigitalmedia.comMcKee Bill victor@outsourcedigitalmedia.comInternationalVictorbill@outsourcedigitalmedia.comHealeyH.RoyerFeaturesEditor media.comaydin.guney@outsourcedigitalGuney (0) (0) 7973
1892 740869 Mob: +44
156 Contents Editorial Policy: The views and opinions expressed in Casino Life remain principally the views of contributors and do not necessarily reflect those of the editor or publishers. The publishers wish to avoid inaccuracies and, whilst every precaution has been taken to ensure that information contained in this publication is accurate, no liability is accepted by the editor or publishers for errors or omissions, however caused. Unless otherwise stated, articles appearing in this publication remain the copyright of the publishers and may not be reproduced in any form without the publisher's written consent. Printed in the UK by Severn Print. 3 Editor's Note David McKee 5 EMEA Editor Foreword Damien Connelly 6 Globe-trotting CEO Michael Silberling brings a cosmopolitan experience to Metropolitan Gaming By David McKee 15 Best Gaming & Leisure offering north of Manila Bill Healey chats with the senior management team at Hann Casino Resort in Clark Freeport, Pampanga Manila 23 Las Vegas Concours d'Elegance™ Automotive Exhibition and Competition By Damien Connelly 28 RemotePlay Dan Ciobanu Co-Founder & CEO Remote2all chats with Peter White 35 Update Report on Gaming Legislation in Portugal, Ireland and France By Law Firm Anđelović, Siketić & Tomić d.o.o. 39 Despite the Circumstances, CRGL Helps Preserve Legal Gambling By: Anton Kuchukhidze Chairman, Ukrainian Gambling Council 42 Velvix Headed to Las Vegas; In Running for 'Slot of the Year' 44 Batumi Gaming Fest 2022 Preview Lavrenty Gubin, Managing Director, Plasma 8, the organiser of the Batumi Gaming Fest 2022 talks with Damien Connelly 49 Elephants Can Dance By Raymond Chan 23 28 44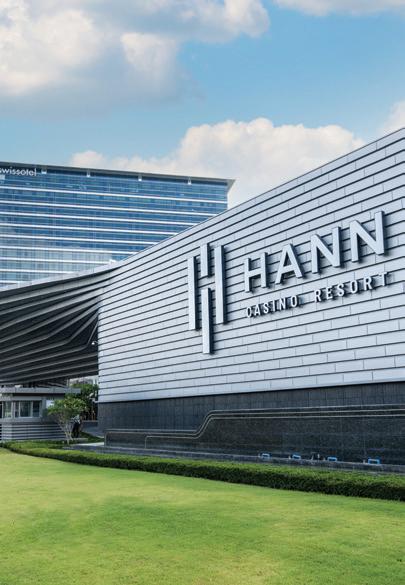 Damien Connelly Damien Connelly, Editor EMEA
Foreword: Damien Connelly Volume 18: Issue 152 5
Ukraine faces challenging times, as our friend Anton Kuchukhidze, Chairman of the Ukrainian Gambling Council explains on pages 39-40. Our publishing house has had an office in Ukraine for 15 years and we know this region intimately. My colleague, Peter White, has been invited to share his industry expertise by presenting at the conference of the Batumi Gaming Fest, being held on 30 September and 1 October. Following the Batumi Gaming Fest, we will be at G2E Las Vegas. Our team looks forward to seeing new and old friends soon. Please join our LinkedIn Group and engage with our high-quality, industry-relevant https://www.linkedin.com/groups/1813053/community.
he yearly electricity bill for a small, multisite operation will increase from €45,000 to €170,000 – its annual gas bill will also increase significantly. Challenging times present opportunities to change and innovate. Casinos spend a reasonable percentage of their operating expenses on energy, with lighting, HVAC, and slot floors all major costs. As noted by Geoff Davis, CFO of Melco Resorts & Entertainment, in its recent 2Q filing, "Our teams remain focused on cost containment in this challenging operating environment."*
* Melco has reduced its daily OpEx by over 40% compared to pre-COVID times. There are pincer pressures on both top-line revenues and bottom-line profits. Consumers' disposable incomes are declining at the same time operating costs are increasing (gaming revenues across EMEA have not matched the record runs recorded in America). EUwide inflation was 8.9% in July according to Eurostat, the highest since eurozone records began in 1997, with energy prices driving inflationary pressure. Inflation in Australia and France was 6%, South Korea and Singapore 6.5%, South Africa and Germany 7.5%, and the U.S. 8.5%. Predictions are not buoyant for consumer leisure spend, and a recent update from a leading Silicon Valley venture capital firm strongly advised cost containment. So intense is the pressure of increased prices that even energy-rich countries across EMEA are implementing measures to reduce their national energy consumption in order to contain costs, including turning off city lights and reducing HVAC use in public buildings.Greatexamples of positive change are the renewable energy projects launched by Wynn Resorts in 2018 and MGM Resorts in 2021, as well as Las Vegas Sands' focus on LEED and Better Buildings. For organisations who wish to learn from what others have
done, one famous old building has retrofitted in spectacular fashion. Its transition to energy efficiency achieved a three-year payback, showing what can be done even with old properties.
Editor EMEA
Wynn Las Vegas Solar Panels
Cost HeatsControlUp T
www.casinolifemagazine.com6 Feature: Metropolitan
By David McKee
Volume 18: Issue 152 7 Feature: Metropolitan Globe-trotting CEO Michael Silberling brings a cosmopolitan experience to Metropolitan Gaming.
Entertainment's international assets? I can't take credit for that, unfortunately. I don't think it was any secret that Caesars were looking to exit the UK and that there had been many suitors. Our owners, Silver Point Capital, had been involved with Caesars in the past, saw the opportunity and decided to act. It was a competitive sale process with a number of bidders, but Metropolitan had the right balance sheet coupled with a keen interest in the business and were quickly able to close on the sale.
I was at Affinity and I was working with Silver Point Capital, the owners of Metropolitan Gaming. As you say, I'm now back in the UK with a similar property portfolio to the last time I was here with Caesars' European, Middle Eastern and African (EMEA) properties. The difference is that this time we have the support of Silver Point and a renewed focus on growth through acquisitions, refurbishments, and product investment. I think it's obvious that Caesars' focus was largely on their domestic U.S. business and balance sheet, which didn't leave much time for the EMEA business. Could you walk us through the process through which Metropolitan Gaming was born? How were you able to swoop in and capture Caesars
www.casinolifemagazine.com8 Feature: Metropolitan or a new company looking to make an impression on the international stage, Metropolitan Gaming could hardly have chosen better than to tap Michael Silberling as its CEO. Not only is he vastly experienced in operations around the world, he is intimately familiar with Caesars Entertainment, from whose empire Silver Point Capital snapped up a far-flung portfolio of assets to form Metropolitan, reaching from the banks of the Nile to the snows of Glasgow. Silberling got his start as a general manager and regional president within Caesars' precursor, Harrah's Entertainment. From there he went to London Clubs International, where he oversaw the Playboy Casino in London, and gambling venues as far-flung as Beirut and Johannesburg. When London Clubs was folded into Caesars, the latter saw the value of Silberling's experience and rewarded him with the presidency of its international operations. In 2014, Silberling struck out on his own as CEO of locals-oriented Affinity Gaming in the Southern Nevada region. A stint as Chief Operating Officer of Mohegan Gaming Entertainment followed before the pandemic ensued. In August of 2021, Metropolitan beckoned and Silberling is back at the helm of many of the same casinos he steered for Caesars. They run the gamut from locals-oriented Manchester 235 to London's locals/international Empire Casino, where table games dominate, to international-players-only Ramses Casino in Cairo, with its narrower repertory of games on offer. Silberling spoke to us about his new remit from his home in London. Michael, when last we spoke, you were at the helm of Affinity Gaming. Now you're steering one of the industry's most cosmopolitan companies. How has the change been for you?
Michael Silberling CEO Metropolitan Gaming
F
Metropolitan has a wide geographic scope, from a zoo in a game park in South Africa to a business on the banks of the River Nile, but our main focus at the moment is the UK and, as you'll have seen from our recent acquisition of the Park Lane Club, London in particular. How much do your gambling offerings differ, depending on the local culture?
9Volume 18: Issue 152 Feature: Metropolitan
You have 11 distinct properties, too many to walk us all through. Which are the most exotic?
Even in London our target markets vary widely, from the Empire, which sits on the edge of Chinatown, to the Sportsman, where the customer base is primarily from the Middle East, and our largely international Mayfair Casino. We tailor the operation to these markets and vary gaming, our food offering and the environment to suit the primary cultures. Perhaps the most significant differences though are determined by the regulatory environment. Staying safe, secure and compliant is always a primary focus for us, wherever we are.
What about marketing? Are there nation-specific constraints with which you have to deal? There are, particularly in Egypt, but we are active across all channels and therefore have a whole range of tools available, whatever the restrictions, to be able to deliver against our strategic objectives.
We continually review our marketing technology and our digital and customer-relationship management programmes to ensure that we are adapting and evolving in the digital world. One of our most recent developments which is proving very popular with customers is our new app. Since it launched a number of weeks ago we've been able to reach a whole new group of customers in a more targeted way, delivering offers and information directly into their hands. We'll be continuing to develop the app as a key communications channel moving forward.
"
11Volume 18: Issue 152 Feature: Metropolitan
Metropolitan takes particular pride in the Empire Casino in Leicester Square. What makes this property so iconic? The Empire, one of the largest casinos in London, opened in 2007, and was designed by renowned hospitality and gaming architect Paul Steelman. With a diverse customer base, it is iconic in the London market and occupies a fantastic position in the West End, one of the most visited places in London and home to Soho and theatre-land. The casino is located right next to the bustling Chinatown district in the heart of Leicester Square, the home of film in the UK. And the club's Icon Balcony Bar has played host to many famous faces over the years at glitzy premiere parties. I'm very excited about refurbishing and breathing new life into the venue and evolving our offering to deliver the best gaming, dining and entertainment venue in the West End.
London is our most cosmopolitan market with a strong mix of international and domestic, but there's no hard and fast rule as our customer mix varies not only by club, but time of year. Our provincial UK casinos are largely domestic and in Egypt it's international, as customers require an international passport to enter the casinos.
London is our most cosmopolitan market with a strong mix of international and domestic, but there's no hard and fast rule as our customer mix which varies not only by club, but time of year. Our provincial UK casinos are largely domestic and in Egypt it's international, as customers require an international passport to enter the casinos."
Is your player base international or local? If it varies, how much by casino to casino?
You have three casinos in Egypt. First, how stable is the political situation there and, secondly, how do you differentiate the three properties in their appeal? I'm definitely not a geopolitical expert but, having worked in the region, I do think the Egyptian government has stabilised and is committed to the region's future as a business hub; the huge levels of construction in the area are definitely indicative of that. Our three properties are quite diverse in terms of geography and brand with two in Hilton Hotels, one near the Pyramids and one on the banks of the River Nile, and the third near the airport, ideally positioned for international travelers. Emerald Casino in South Africa is clearly oriented for the vacationer. What do you have on offer besides gambling? Emerald is an amazing property with fantastic staff who deliver great service and a fabulous range of amenities on a beautiful river. There's a zoo and game park too, so there's enough to keep even the most curious traveler occupied during their visit.
Feature: Metropolitan www.casinolifemagazine.com12
The UK government has a unique opportunity to modernise an industry which is languishing with regulation from a couple of decades ago. So we are working collaboratively with others in the industry to lobby for positive outcomes from the review, whilst ensuring that the industry is safe and protects the vulnerable. Their choice is clear: Modernise the industry or take it back to the dark ages and destroy it. Ignoring this opportunity to progress will do damage to the taxpayer and stifle employment, tourism and capital investment in the UK.
Closer to home, how would you differentiate the appeal of, say, Rendezvous Brighton or Alea Glasgow from your London properties? At Metropolitan we tailor all our properties to their local market and that will continue as we rebrand them locally to Metropolitan. Casinos all have similar games, machines and food offerings, but what differentiates them is the welcome you get from the team and the attentive and efficient service they deliver.
In the UK, how much cross-play are you able to generate with the new Met Card?
The Met Card launched earlier this year and the feedback from our customers has been fantastic. We've moved away from our legacy card tiers and created a brand-new structure to the programme, giving our top-tier Ace, King and Queen customers an unrivaled benefits package. Crossover is obviously strongest in London and, as we grow, we know that this will increase even further. Do you have any apprehensions about the Conservative administration's forthcoming White Paper on gambling?
There have been so many unprecedented challenges over the last few years: a world pandemic, the war in Ukraine, the cost-of-living crisis and Brexit to
As we move forward our focus will be on building the new Metropolitan brand. Whilst our diverse brand portfolio has been important in their local markets, now is the time to build an international brand and leverage the strength that comes with it.
Having just emerged from the pandemic, the team's current focus is definitely on organic growth. How was business in 2021 and what are your projections for 2022?
13Volume 18: Issue 152 Feature: Metropolitan
We have a largely European focus at present and, as you can see from the Park Lane Club acquisition, we are very open to selectively exploring a variety of strategic options. Would Metropolitan's growth be organic or done via merger and/or acquisition?
Are there new territories you would like to enter?
The Met Card launched earlier this year and the feedback from our customers has been fantastic. We've moved away from our legacy card tiers and created a brand-new structure to the programme, giving our top-tier Ace, King and Queen customers an unrivaled benefits package." "
Do you have any expansion plans, either within the Metropolitan infrastructure or in terms of new casinos? So I'm sure you've seen that we acquired the Park Lane Casino just a few weeks ago and we're currently working up plans to refurbish and rebrand the venue. Adding to our portfolio is always a possibility and we will selectively review any new opportunities as they arise.
What is the significance of the Alea brand?
Finally, looking ahead, what about Metropolitan's future should we anticipate? It's a very exciting time for us. There is an energy in our business that has been missing for years. We have a new owner that is very experienced in the gaming sector and is willing to invest in our people, technology, refurbishments, and acquisitions. It couldn't be a better time for us. But specifically? Well, we anticipate launching online for the first time in early 2023 and there's much more to come.
www.casinolifemagazine.com14 Feature: Metropolitan
name a few. We are very happy to be back open and trading again and our focus remains on stabilising and growing the business this year.
15Volume 18: Issue 152 Feature: Hann Casino
The Best Gaming and Leisure Offering
Bill Healey hosts a roundtable with four top executives at Hann Casino Resort in the Philippines he Philippines is known for its growing casino and leisure sectors, particularly in the greater Manila metropolitan area. Casinos, spas and golf are plentiful in the area. We were fortunate to speak with four directors at the new integrated resort, Hann Casino Resort in Clark Freeport, Pampanga.
What is your position and what do your daily responsibilities entail?
Liway Alba – Director of Gaming Operations
North of Manila
I'm basically in charge of table games. I create and amend policies, ensuring that it is aligned to the vision of the company as well as to Pagcor regulations; I introduce gaming initiatives (both administrative T
I take care of casino marketing, which includes player development, events and promotions, etc.
I'm in charge of overseeing brand compliance under Hann, and spearheading public relations and communications from and with Hann.
Could you give us a bit on your background, how you got your start in the gaming industry and what brought you to Hann Casino?
Liway Alba: I've been in the industry for almost 30 years. I remember myself looking for a part-time job back then, which turned out to be a career. Most of my work experience is overseas, both cruise- and land-based (mainly in Asia). I gained my managerial experience from Macau and Singapore when I joined Las Vegas Sands. My last working experience was at Marina Bay Sands, where I got the casino manager position. After Marina Bay Sands, I took a year's break to settle myself and the kids here in the Philippines.
www.casinolifemagazine.com16 Feature: Hann Casino and operations) focusing on the enhancement of processes for better guest experience and enjoyment; and I coordinate with other casino heads for better and smoother casino operations.
Cheryl Tiglao – Director of Slots
Ryi Lim – Director of Casino International Marketing
Joining Hann, or should I say Widus, was an invitation from Ms. Tiglao. That time, I was actually applying at the other property and she asked me to try sending my CV to Widus. And here I am, after four years.
I oversee the slot operation and technical aspect of the department.
Sheryl Mamangun – Branding and Communications Manager
Cheryl Tiglao: I started my career in Clark, particularly in Fontana, as a slot attendant, then slot supervisor, two decades ago. I went to Venetian Macao as a shift manager in 2007 and stayed for two years. I went back home and was hired as assistant slot manager of the pre-opening team at Resorts World Manila in 2009. I was eventually promoted to slot operations manager, and was in charge of hiring and training people. After a short stint in Resorts World Manila, I was hired in Marina Bay Sands as a slot shift manager. I spent eight years living in Singapore. I left Marina Bay Sands as assistant slot manager overseeing the slot operation. I permanently went back home to the
Ryi Lim: I started out in Marina Bay Sands as a VIP host, which is part of the team of international marketing, taking care of the premium direct players playing in the club called Paiza. I took a break after working for around eight years in this industry, including in Macau and the Philippines, and was then invited to join Hann Casino in 2019.
Cheryl Tiglao: The majority are locals and foreigners, particularly Koreans. Ryi Lim: It's primarily the Filipinos. However there is very strong attraction for the Korean market, be it the serious gamers or the tourist-occasional gamers
What makes Hann Casino unique? What draws guests to the property?
Feature: Hann Casino www.casinolifemagazine.com18 Philippines in mid-2017 and took a break for about a year. Fate led me to Hann (formerly Widus) in 2018 when a friend encouraged me to apply for a slot operations manager position and the rest is history.
Liway Alba: Its strategic structure. Curiosity is one thing as it is new, of course, but also because of the integrated-resort feel, with its excellent service, and variety of table games and slot machines.
Where does Hann Casino draw its guests from?
Sheryl Mamangun: The resort stood as the first fully integrated resort north of Manila. It has undeniably added value to the community, with Hann being one of the top investors in Clark. This is alongside the almost 2,000-person workforce employed in the property.
Sheryl Mamangun: Prior to working at Hann Casino Resort (formerly Widus), I had 12 years of sales and marketing experience at Holiday Inn Clark from 2000 to 2012. I moved to Hann Casino Resort in 2012 as a sales executive and eventually was promoted to marketing manager. My main role is managing the day-to-day operations of the marketing department. I monitor and implement various marketing initiatives, developing marketing strategies and partnering with branding agencies for branding development projects. I also oversee branding, advertising and public relations.
What impact is the resort expected to have on the local community?
Liway Alba: Hann Casino caters to neighboring provinces and, of course, the Korean community.
Cheryl Tiglao: With its first-of-a-kind IR of Central Luzon, Hann Casino showcases modern facilities, sophisticated design, exquisite F&B outlets and fivestar star hotels minus the traffic of the city.
Ryi Lim: It is the only integrated resort in the Philippines where you can be away from the traffic, and the hustle and bustle of the city life, embracing the serene surroundings while enjoying an impeccable guest experience comparable to that of the IRs in Entertainment City.
Sheryl Mamangun: The property boasts modern architecture aesthetically complemented by nature and lush green landscapes, with an elegant façade that showcases lines and contours flaunting structural impressions of the Banaue rice terrace.
What are the preferred table games and gaming machines?
Tell us about the unique architecture of the recently opened property.
Liway Alba: Baccarat of course, Super 6 in particular, but we have a fair share of games in poker and craps. Which social media platforms does Hann use to reach out to its guests?
19Volume 18: Issue 152 Feature: Hann Casino
Cheryl Tiglao: Progressive machines, particularly JJBX.
Cheryl Tiglao: We also have 868 combined EGM/ETG.
Could you give us a feel for the size of the casino, the floor space, the number of table games and gaming machines?
Sheryl Mamangun: Hann Casino Resort is very active on the social media scene through its channels on Facebook, Instagram, Tiktok, Youtube and LinkedIn.
Liway Alba: Currently, we have 149 tables which break down as follows: Mass - 49, H club -15, H Circle - 29, Junket level, two to 56. We offer 10 different gamesbaccarat, blackjack, pontoon, roulette, money wheel, sicbo, craps, Texas hold'em, Hann Poker, lunar poker.
Ryi Lim: We had two baccarat tournaments this year, mainly on the main gaming floor for the mass players. The exclusive baccarat tournaments will be coming up very soon for the premium mass players. At the same time, we are also preparing for the slot tournaments and we hope to bring this to our players by first quarter of 2023. Current promotions are centered mostly around raffle draws, and item giveaways which are a big hit among our players.
What type of non-gaming activities will be available for guests and their families?
Sheryl Mamangun: We currently have the Hann Foundation Inc. (HFI). Formerly known as the Widus Foundation Inc., it is the corporate foundation of Hann Philippines Inc., owner and proprietor of Hann Casino Resort.Established in June 2017, HFI envisions to cultivate a culture of care and compassion by uplifting communities through timely, efficient and collaborative projects, each centered on creating better opportunities and building a brighter future for all. It is also the implementing body of the company's corporate social responsibility (CSR), alongside being the platform for social development practices together with both the private and public sectors. These empowered partnerships actively foster "Bayanihan"
Sheryl Mamangun: Hann Casino Resort is deemed the ultimate playground north of Manila. Aside from our world-class casino, we currently house the first Swissotel in the country and the first DOTaccredited five-star hotel in Central Luzon, which is Clark Marriott. These brands offer luxury amenities and facilities ranging from a wide array of food and beverage outlet options, top-notch recreational facilities like spas, pools and lounges, and elevated weekend entertainment, among others.
We have started out slowly in introducing special events since Covid has become much more manageable nowadays. Just recently, we concluded a concert in Clark Marriott's ballroom, exclusively for our players only. We are also looking into Oktoberfest, shopping events, food and maybe even golf tournaments in the future.
www.casinolifemagazine.com20 Feature: Hann Casino
What is Hann's commitment to corporate social responsibility? How does it contribute and support the local community?
Soon, we will also see the rise of Hann Resort golf courses and other international luxury-hospitality brands as well. Does Hann Casino have tournaments on either the table games or slots? If so, what are the more popular types of tournaments? What are your current promos?
PORTRAIT TABLETOP October 10-13, 2022 Las Vegas Booth 4233 Your Trusted Hardware Partner! Sports Betting ∙ Cashless ∙ Gaming ∙ Amusement SUZOHAPP.COM/SPORTSBETTING From start to finish, SUZOHAPP can build a complete solution to fit all your sports betting hardware needs.
or the Filipino spirit of teamwork between Hann employees and volunteers alike. Since 2017, HFI has notably implemented various social, educational, health, disaster relief, and cultural heritage projects that have helped rebuild, sustain and develop communities across the country. HFI is committed for the long haul to bringing hope and enhancing quality of lives through sustainable and impactful projects, one local community at a time.
www.casinolifemagazine.com22 Feature: Hann Casino
Casino Life would like to thank Liway Alba, Cheryl Tiglao and Ryi Lim for their feedback on Hann Casino Resort the newest IR north of Manila.
23Volume 18: Issue
152Las Vegas Concours
The automobile has been closely associated with the history of Las Vegas since...well, I'd place it as starting with the opening of El Rancho Vegas in 1941, which was on Highway 91 (now Interstate 15). One of my earliest cinema memories was from a rerun of Viva Las Vegas when Elvis Presley was in a 1961 Elva* Mk VI. That is an appropriate memory given the entertainer most associated with Las Vegas has a movie about them on Y
Feature: Wynn Las Vegas Concours d'Elegance
d'Elegance™ Automotive
Exhibition and Competition
Las Vegas Concours d'Elegance - 1955 Mercedes 300 SL
Wynn Las Vegas hosts the third annual Las Vegas Concours d'Elegance, 28-30 October, with Jay Leno serving as the grand marshal. By: Damien Connelly ou're driving a 1955 Mercedes 300 SL along the Las Vegas Strip. Are you listening to music, singing out loud with a crazy-happy laugh and a huge smile on your face? I would be. What songs would you be listening to? Elvis' "Viva Las Vegas" would have to be one of those songs. Others on your driving playlist might include: "Born To Be Wild" by Steppenwolf; The Black Eyed Peas' "I Gotta Feeling;" Journey's "Don't Stop Believin'" and "Dream On" by Aerosmith; "The Gambler" by Kenny Rogers; The Weekend's "Blinding Lights," whose video was partially filmed on Downtown's Fremont Street, and... One thing is for sure – we would have enough songs on our driving playlists to cover the entire length of the old Highway 91 in that 300 SL; although if I could, I'd suggest we drive it in a 1966 Shelby 427 Cobra S/C –Caroll Shelby was an automotive genius, n'est-ce pas? Or maybe an S1 1963 Jaguar XKE (known as an E-type in the UK) as owned by none other than Jay Leno. Reputedly (and this will start an argument in pretty much any car enthusiast club in the world!), Enzo Ferrari stated at the 1961 Geneva Auto Show that the E-type was the most beautiful car in the world.
The Concours d'Elegance in the U.S. originated in 1950 when it was hosted at the renowned Pebble Beach Golf Links in Monterey, California. Concours d'Elegance Exterior during the daytime.
Brian Gullbrants, president of Wynn Las Vegas
Las Vegas Concours d'Elegance
Photo: Barbara Kraft
** The Aston Martin DBR22 is designed partially in homage to the DBR1. The DBR22 two-seater, opencockpit, concept car was introduced at the 2022 Monterey Car Week in California, and was displayed at the 71st Pebble Beach Concours d'Elegance from 19 through 21 August...which apparently was a doozy of a show (with the Best of Show won by a Duesenberg). Saturday 29th sees the Concours d'Elegance exhibition showcase a breathtaking collection of rare and unique automobiles from around the world.
Saturday, October 29, will also see the Chairman's VIP Tasting and the Concours Cookout. On Wynn Golf Club there will be fairway tasting tents allowing guests to experience a selection of the fine- and casual-dining options Wynn Las Vegas is known for. The pièce de résistance might be on Sunday, 30 October: the Tour d'Elegance. Le Tour du Boulevard de Las Vegas offers perhaps the most memorable of the weekend's experiences with a motorcade down the legendary Las Vegas Strip. Leno will be the grand marshal.
Exceptional collector cars will be on display and Jay Leno will be one of the 'petrolheads' in attendance. Ferrari F40 will be the marque highlighted at the 2022 Las Vegas Concours d'Elegance. From 2 p.m. judges will present Best of Show winners and standouts with Helene Award statuettes.
"The Concours d'Elegance and its legendary display of design, craftsmanship and grandeur is precisely the type of elevated experience that our guests will thoroughly enjoy for years to come. Rare and priceless automobiles displayed upon the fairways of our Wynn Golf Club is a perfect match for this annual Wynn Las Vegas event."
current release: Elvis (2022) starring Austin Butler and Tom Hanks. * The McLaren Elva is designed in tribute to 1960s sports cars. Watch the video of the McLaren Elva in Monaco. Event Schedule Friday evening 28 October, the Gala Concours Dinner gives the green light to Las Vegas Concours d'Elegance festivities with live entertainment, tasting stations and curated cocktails at Wynn Las Vegas' premier nightclub, XS. The evening will showcase the Helene Awards™, a ceremony exclusive to the Las Vegas Concours d'Elegance that honors visionaries in the automotive industry. One such visionary was Caroll Shelby, who will posthumously be awarded an Helene Award. Shelby wasn't just an automotive designer turned entrepreneur – he was also a racing driver, and was co-driver on the winning 1959 24 Hours of Le Mans team driving an Aston Martin DBR1**.
www.casinolifemagazine.com24 Feature: Wynn Las Vegas Concours d'Elegance
25Volume 18: Issue 152 Feature: Wynn Las Vegas Concours d'Elegance
Forbes Travel Guide Five Star Awards than any other independent hotel company in the world. From lush greens to rushing streams, visitors to Wynn Golf Club may even forget they are in Las Vegas! The 18-hole championship course was redesigned in October 2019 after legendary course architect Tom Fazio revisited his original 2005 design, this time partnering with his son, Logan Fazio. Together they created a unique golf experience in the heart of Las Vegas. Off the gold tees, Wynn Golf Club is a 6,272-yard, par-70 course designed to challenge golfers of all skill levels – play off the black tees and it is 6,722 yards. Highlights include a 486-yard par 4 (no. 16) and a par 5 (no. 11) that tops out at nearly 600 yards. The signature 18th hole has been transformed from a par 4 to a par 3, which can be stretched to 249 yards, culminating on the green framed by a 35-foot-tall-by-100-foot-wide waterfall.
Wynn Golf Club, Hole 18.
Photo: Brian Oar Wynn Golf Club, Hole 5. Photo: Brian Oar Wynn Golf Club, Hole 12. Photo: Brian Oar
Wynn Golf Club Wynn Golf Club is the 129-acre championship golf course at Wynn Las Vegas. It will be on and around Wynn Golf Club that the 2022 Concours d'Elegance takes place. Noted by guests, locals and industry experts alike as offering an outstanding resort experience, Wynn Resorts is the recipient of more
arrived in Las Vegas in 2019. Las Vegas' dazzling architecture and reputation as the entertainment capital of the world offered the perfect vehicle (pardon my pun) to showcase the timeless beauty of exceptional automobiles. Located on the only golf course on the Las Vegas Strip, a property that dazzles and inspires beautiful vistas, and winner of more awards than I can recall, Wynn Las Vegas offers an excellent range of assets to host such a premium event, including the Wynn Golf Club.
It was previously the Desert Inn Golf Club. With such a storied history, many of the 7,000-plus trees are more than 70 years old and over 60 feet tall. In fact, there's one tree that, to me, looks a lot like the Eisenhower Tree that graced Augusta National. The Wynn golf course is designed with elevation changes and contains two marshland areas that are fed by natural groundwater; harking back to the historical formation of Las Vegas and, indeed, to the very meaning of those two words.
Amid the course's three lakes and meandering streams, players encounter water on 12 of the 18 holes.
Stefano Domenicali, president and CEO of Formula 1 "Las Vegas is a destination known around the world for its excitement, hospitality, thrills, and of course, the famous Strip. There is no better place for Formula 1 to race than in the global entertainment capital of the Theworld...Las Vegas Concours d'Elegance is an excellent addition to the gambolling attractions on offer in the city more famed for its gambling. As industry players know – and have known for many years – nowadays, there's a lot more to Las Vegas than the casino floors. Viva Las Vegas Concours d'Elegance!
Aston Martin DBR22 open cockpit concept car
www.casinolifemagazine.com24 Feature: Wynn Las Vegas Concours d'Elegance
Amenities include: Callaway loaner clubs at no extra cost; fully stocked electric golf carts; PGA-member caddies; a large practice putting green; a netted, fullswing, warmup area; full-service locker rooms for men and women; and a pro shop offering the latest in luxury golf apparel and accessories. Take a Gambol in Las Vegas Formula 1® is a Chairman Sponsor of the Las Vegas Concours d'Elegance. Formula 1 and the Las Vegas Convention & Visitors Authority (LVCVA) announced in March 2022 that the Las Vegas Grand Prix will join the FIA Formula One World Championship from 2023. The Las Vegas Grand Prix will happen in November 2023 – November looks like it is shaping up to become the 'car month' for a sojourn in Las Vegas. You can discover more about F1 in our article in our sister publication, Sports Betting Operator. Las Vegas will be the backdrop for Formula 1's third race in the U.S., emphasising the enthusiasm and excitement in Formula 1 as the sport continues to grow its global fan base. Founding Partners of the Las Vegas Grand Prix include Wynn Las Vegas, Caesars Entertainment, and MGM Resorts International and Presenting Partners include The Venetian Resort, Resorts World Las Vegas, and the MSG Sphere. In discussing the addition of Las Vegas to the global F1 Grand Prix schedule: Greg Maffei, Liberty Media president and CEO "Iconic Las Vegas and Formula 1, the pinnacle of motorsport, is the perfect marriage of speed and glamour...We could not be more excited to work with our local partners to create a marquee event."
BOOTH 2659
www.casinolifemagazine.com28 Feature: Dan Ciobanu Dan Ciobanu Co-Founder & CEO
Over the last few years, there has been a significant change in how land-based and online operations have been branded, marketed and operated. Can you summarise for land-based operators who also operate online gaming and for online operators how can Remote2All Solutions assist with increasing their online play?
In terms of availability, RemotePlay© Technology can be used on any electronic gaming machines.
The legality of remote play of slot machines varies by jurisdiction, as there are countries where this is legal, is in the process of being legalized or is not yet clear. Always innovation was ahead, so we are happy that we have where to sell now, and in the future, there will be more and more jurisdictions opened.
Absolutely! We have started with a concept, and ended up with a whole line of products and services that can power up an entire casino/arcade business, and take it to the next level. Our team and partner list increased, the problems we solve increased, and most importantly, we have a broader vision now, covering multiple implementation scenarios over an extended range of machines.
RemotePlay
29Volume 18: Issue 152 Feature: Dan Ciobanu
The integration process with legacy systems varies based on machine type. For slot machine integration,
What questions are you most frequently asked at exhibitions during your presentations?
That is very easy: legality, availability (by type of machine) and integration process.
Over the last 20 years, we have seen a massive shift of players to slot machine-types of games. The attractiveness is generated by very complex rewarding systems, high RTP and certainty of all sort of jackpots (mystery or progressive). With the emergence of online activities including gaming, implicitly, it was easy and mandatory to bring the slot games online, facilitating the access of their players to their favourite games. Now, with RemotePlay© Technology we take the paradigm to the next levels, by allowing players to access remotely their favourite machines. This is one of the "wow-factors" that an online operation can bring to their players and in the same time: a strategic move for land-based operations to facilitate the shift towards an online environment.
Dan Ciobanu Co-Founder & CEO Remote2all chats with Peter White W hat can you tell us about the services your Remote2All Solutions provides?
Over the past two years working with top international gaming expert Lucien Wijsman, we have completed the development and patented RemotePlay© Technology, which is a streamlined solution for allowing players to play remotely on electronic gaming and gambling machines. Our solution is changing the marketaddressability segments, by increasing the geographical availability of land-based casinos and also the time frames when machines can be operated, regardless of lockdown or any access restrictions. The players have now the possibility of playing their favourite machine from wherever they feel comfortable and they can remotely interact by "pressing" buttons or "touching" the touchpanel of theWithmachine.RemotePlay© Technology operators can switch the availability anytime of any gaming machine from land operation to remote operation. We actually help operators to increase the drop on slot machines and any electronic gaming/gambling machines and the impact of this action is well known in the industry. There must have been a lot of development since then. Would you say Remote2All Solutions is a totally different company to the one you started with?
www.casinolifemagazine.com30 Feature: Dan Ciobanu
The most important one is facilitating players' access to their favourite machine. An interesting statistic (well known to any casino) is the ratio between revenues generated by live roulette and online roulette. Extrapolating for slots can be a very good exercise to imagine a potential increase of revenues.
What are the unique factors of RemotePlay© Technology and how does it distinguish from the other systems on the market?
We strongly believe that this is the future. Based on our analysis, over the last 25 years the technology followed The most important feature is facilitating players' access to their favourite machine. An interesting statistic (well known for any online casino) is the ratio between revenues generated by live roulette and online roulette." "
our solution is already integrated with two slotmanagement systems: R/Evolution from Unigens and Rhino of Casino Technology. In the future, we look forward to integrating with other systems as this process is pretty straightforward and very well structured. In your opinion, what are the most important features and benefits of Remote2All Solutions that those in online casinos should be aware of with this product?
Except the fantastic feature of being able to emulate the touch panel by that allowing players to click on their smartphone, tablet or PC and transferring of that "click" to the corresponding position on the slot machine screen, I believe that our openness for integration with third-party management systems and adaptability to various management scenarios makes us very different than anything else on the market. What is your view of how technological innovations like virtual and augmented reality can enhance your offering?
31Volume 18: Issue 152 Feature: Dan Ciobanu almost precisely Moore's Law. I see no reason why it will not keep the same pace (recent global political events may slow it a little bit, but for sure will not stop the evolution of technology). In terms of hardware, we see every capacity almost doubling every two years (for the same monetary units) while the physical characteristics are getting smaller (weight and size) along with power consumption. Major companies are already in this space, developing VR (virtual reality), AR (augmented reality) and MR (mixed reality) at an incredible speed. For sure, these technologies will impact gaming and gambling.Thatiswhy we already partnered with another company in the process of building the world's largest entertainment Metaverse – BUGSY World Society – and together we bring a unique proposition for web3 gaming and gambling. We are convinced that future of gaming is in the metaverse, in blockchain technologies, in V/A/M reality technologies but also strongly connected with the real world. What do you think the secret of good collaboration is? The most important secrets to any good collaboration (not only in this industry), in our opinion are trust and communication. These are true foundation of any relationship, both in business and in private. These are Layer One "features" (using a crypto slang). On top of these, in the Layer Two secrets category I would include: competence, professionalism and pro-activeness. We strongly believe that this is the future. Based on our analysis, over the last 25 years the technology followed almost precisely Moore's Law. I see no reason why it will not keep the same pace (recent global political events may slow it a little bit, but for sure will not stop the evolution of technology)." "
www.casinolifemagazine.com32 Feature: Dan Ciobanu
What do you see as key benefit of RemotePlay© Technology for player engagement and retention?
What role will AI play in the development RemotePlay© Technology?
Not every line of code is AI. As a former AI PhD student, I can tell you that there are multiple facets of this, some of them pretty basic, and lately some incredibly advanced, like GPT-3 (Triple Generative Adversarial Networks). At this very moment AI is part of our lives in almost everything what we do, from driving, to health, to reading, to internet searching, to shopping...and for sure, gaming and gambling. We find using AI very beneficial for some wellcontained tasks, and we continue to use it and to deploy it in our different partnerships and special projects. What trends will we see developing in the future?
As mentioned before, we are strong believers in web3: metaverse, blockchain, remote-control and virtual/augmented.mixed-reality technologies. We see a convergence of players from gaming and gambling, and as demographics shows, a new generation is coming which all played in a metaverse sort of game (Fortnite, Roblox, Minecraft, etc). For them, gambling in that virtual environment etc. is just a tiny new feature compared with the rest of things they do. All these, combined with the socio, economic and political factors that are shaping our day-by-day activities, contributes with strong arguments to the
The most important factor, (especially for operators who run land-based and online casinos) is the fact that we help them shift players from land to online, by offering them the possibility to interact with machines they love. It's a win-win situation, because the access to the machine players know is unique –and they can't find it in another online casino (which is just a click away).
partnerships in Asia with Global Chain / NYCE, Harmen's Brenninkmeijer international sales network. Also, we are working hard on the BUGSY World Society Metaverse, by integrating more and more type of machines. So, I would say, we're pretty busy and getting crazy busy. Anyhow, already I can say that 2022 exceeded our expectations and next year is looking even better. development of the metaverse. We see BUGSY World Society contribute as the future of gaming due to its technology, business model and smart integration of the latest trends. Once slots have been produced and put out into the market, are they marketed correctly by operators? I am sure each operator has its own unique experience driven by specific market/cultural/ social and economic aspects. Our technology can assist in different ways, both operators as well as slot machine manufacturers – by allowing them to introduce (with minimal cost) immediately any machine to their players and clients. The experience generated by a physical machine cannot be replicated by any virtual environment. Gaming and gambling are strongly connected to entertainment and trust concepts, and in the human mind, physical devices are still "eligible providers."
What are Remote2All Solutions' main goals for the remainder of the year?
First, we will complete the last installation in Tanzania, we have developed exceptional strategic
33Volume 18: Issue 152 Feature: Dan Ciobanu
PRE-REGISTER TODAY AT G2E22.COM/CASINOLIFE Discover, connect, explore—G2E is the one place to see the people, products, and ideas to drive your business forward and define the future of gaming. Join the global gaming community at G2E 2022 in Las Vegas from October 10-13 (Education: October 10-13 | Expo Hall: October 11-13) at The Venetian Expo. WHERE THE GLOBAL GAM ING INDUSTRY COMES TOGETHER P RESENTED BY:
(a) social state games, including Euromillions, the National Lottery, scratch cards, pari-mutuel soccer betting (Totobola), Totogolo, Totoloto and Joker, as well as games of the same nature organised by other EU or EEA Member States; (b) pari-mutuel horse racing and sports betting (c) land-based, fixed-odds sports betting – those that require the physical presence of the bettor; (d) online gambling (fixed-odds sports betting, parimutuel and fixed-odds horse racing, games of fortune and chance, bingo and poker) (e) land-based bingo. Social state games and land-based sports betting are exclusively operated by Santa Casa da Misericórdia de Lisboa, i.e. as a state monopoly. Furthermore, land-based casino gaming can only be conducted in defined areas as provided in the gambling act (currently there are 10 such zones in the country). Gaming (land-based and online) is regulated and licensed nationally by the state, with the sole exception of the competency of the two autonomous regions (Azores and Madeira) to award land-based gaming concessions under their statutes. The licensing regime differs with respect to landbased and online games of chance whereby the number of licenses is not limited in either of these. Land-based casino gaming concessions are awarded through a public tender, one for each gaming zone, after which an administrative concession contract establishes the obligations of the concessionaire,
The latest amendment to the gambling legislation occurred in May this year when the crash games (one to maximum 100) were permitted. The Portuguese gambling regulator SRIJ has introduced a new rule banning the posting of odds for live sports events online or in-venue, as it was argued that the same could represent a form of advertising.
Portugal Games of chance are regulated in Portugal, with the act dating back to 1989 and the one arranging the online games of chance being enacted in 2015.
Portuguese regulatory authorities were empowered to control, inspect and regulate gambling activities in casinos and bingo halls (territorial concessions), as well as remote gambling (fixed-odds sports betting and mutual or fixed-odds horse race betting) through any electronic, computer-based, telematic or any other interactive means (online gambling and betting). The SRIJ is part of Turismo de Portugal and is subject to the authority of the Secretary of State for Tourism. The SRIJ has technical and functional autonomy and is bestowed with public authority powers to carry out its Portuguesefunction.
35Volume 18: Issue Update152
Report on Gaming Legislation in Portugal, Ireland and France
law recognizes the following types of games of chance that can be organized in the territory:
Feature: Lesgislation Report
www.casinolifemagazine.com Feature: Lesgislation Report including the duration of the same (usually from 15 to 20 years). Online gambling licenses are valid for three years and can be extended for equal periods of three years provided the operator meets the legal requirements for extension. The activities of the regulator in the recent period refer to numerous notifications to shut down illegal websites and the blocking of over 100 websites. Bearing in mind that the act regulating games of chance in the country was enacted over 30 years ago, and was only amended from time to time sporadically, it would be expected that the legislature shall consider updates of the same.
36
Ireland Currently work is underway on the drafting of a gambling act to comprehensively reform the regulation of gambling activities and to provide for an independent gambling regulator. At this moment, there are a number of different, parallel legislative regimes that control and regulate gambling in Ireland such as the Betting Acts, the Gaming & Lotteries Acts dating back in 1950s, and the National Lottery Act and Totalisator Act from 1929. There is currently no Irish equivalent to gambling commissions in the UK or in the rest of EU. The government is currently proposing that an independent regulatory authority should be established to regulate the gambling industry in Ireland. The Government's Statement of Strategy 2021-2023 set out the commitment to establish a gambling regulator focused on public safety and well-being, covering gambling online and in person, and with powers to regulate advertising, gambling websites and apps. At the moment, the bookmaker, remote-bookmaker and remote-betting-intermediary licenses are granted by the Irish Revenue Commissioners, who administer the licensing process and maintain public registers of those who have been granted a license. The Irish National Lottery is regulated by the regulator of the National Lottery, whose primary functions are to ensure that the Irish National Lottery is run with all due propriety, that participants' interests are protected and that the long-term sustainability of the Irish National Lottery is safeguarded. Gaming permits and licenses may be obtained from a Garda superintendent (Irish police) or the Irish Revenue Commissioners. It is to be noted that licenses are rendered for a period of one or twoIrishyears.law distinguishes between betting, gaming and lotteries. Casinos are illegal in Ireland if they promote or provide facilities for any kind of gaming that is deemed 'unlawful gaming' for the purposes of the Gaming and Lotteries Acts while private arrangements are excluded from the scope of the Gaming & Lotteries Acts. Thus, there are quite a number of private card and casino clubs that are not regulated in a uniform Remotemanner.betting and the provision of remote betting intermediary services are generally permitted in Ireland as of 2015 (whereby the legislation does not directly address online gambling and other games of chance), meaning that an operator that is licensed by the Irish Revenue Commissioners in Ireland may provide betting services to Irish citizens in Ireland by "remote" means using equipment which may be located in Ireland or abroad. Offshore operators are offering their products in the territory at the moment. As noted initially, with respect to the organization of games of chance in Ireland, massive changes are expected to occur in the coming two years, based on the publicly available information of the government. The same shall, in addition to establishment of a regulatory authority with extensive powers, for sure reflect the licensing regime in the country as well as other good practices already in place in certain EU member states.
To be licensed, gaming clubs used to have to be operated by a non-profit association. However, a 2017 reform introduced a three-year experiment in Paris for gaming clubs. The company operating a gaming club must be incorporated in accordance with French law and its registered office must be in Paris. It must also designate a statutory auditor. The duration of temporary authorization is determined by the Minister of Home Affairs and will not last longer than the three-year experiment.Anyoperator, whether foreign or France-based, that intends to market online gambling services targeting French players needs to apply for a gambling license with ANJ. Companies willing to obtain a license must submit a separate application for each gambling category in which they want to operate, but a single company can submit three distinct applications and attempt to obtain the three types of licenses from the ANJ. The decision to issue or refuse a license is taken by a specific ANJ committee, which can grant operators a non-assignable, renewable, five-year license. With the introduction of the new regulatory body, its activities increased in many ways, but mainly focused on control of advertisement of games of chance. The ANJ in the beginning of 2022 published guidelines and recommendations aimed at clarifying its interpretation of the existing rules on the content of commercial communications. It remains to be seen what will be further steps of the legislature with respect to organization of games of chance in the territory, both land-based and online.
Additionally, the ANJ has recently (as of March 2022) been granted the power to order internet service providers to block access to sites that offer illegal gambling and sites and that advertise it, under the control of the administrative judge. This new act replaced the previous judicial procedure for blocking illegal gambling sites with an administrative procedure.
The ANJ notably has the power to audit operators holding exclusive rights, to order an operator to withdraw commercial communication, impose sanctions on operators, issue framework decisions to authorize sets of games, define the terms and conditions for experimental exploitation of new games by operators, and suspend or withdraw the authorization for a particular game.
France Most regulations applicable to gambling and betting operations under French law are contained in the Civil Code, the Homeland Security Code and the Online Gaming Law, but the provision of a number of other gambling products is governed by specific laws and regulations. In general, French gambling law is built around the principle of a general prohibition, in which successive laws have carved various exceptions and exemptions.Frenchgambling regulation has recently been amended by the Ordinance of 2 October 2019 which was issued following the law of 22 May 2019 (Action Plan for the Growth and Transformation of Enterprises) (PACTE) that allowed the government to reform the regulation of gambling and games of chance.
37Volume 18: Issue 152 Feature: Lesgislation Report
As regards the licensing regime, sports betting and most lotteries fall under the monopoly of a stateowned corporation, La Française des Jeux. Licensing procedures for land-based casinos are long lasting, whereby the law allows even individuals to own and operate casinos. A license is obtained for a maximum term of 20 years and is subject to permanent control by various administrations. The operator must conclude an agreement with the city in which it intends to operate and receive an approval from the ministry of interior.
Managers and board members of said operator must obtain personal licenses from the ministry as well.
One of major changes under the new act was the introduction of a new regulator called the Autorité Nationale des Jeux (ANJ) and strengthening of its powers compared to the previous regulating authority.
Land-based gambling in France includes the national lottery, horse and sports betting, casinos, gaming circles and clubs, as well as currently less popular greyhound racing, and cockfight betting.
DISCLAIMER: Law Firm Anđelović, Siketić & Tomić d.o.o. wish to avoid inaccuracies and, whilst every precaution has been taken to ensure that information contained in this report is accurate, no liability is accepted for errors or omissions, however caused.
Anton Kuchukhidze Chairman Ukrainian Gambling Council
Feature: Anton Kuchukhidze
Despite152 the Circumstances, CRGL Helps Preserve Legal Gambling
S
The current situation has put most achievements of the gambling legalization reform at risk. And if six months ago we talked about what needs to be done to develop the market, today we are doing everything for it to exist.
The great advantage is that the national regulator understands the magnitude of the situation. From the beginning of the war, the Commission for Regulation
Commission for Regulation of Gambling & Lotteries (CRGL), like no one else, understands the challenges faced today by the Ukrainian legal gambling market.
39Volume 18: Issue
CRGL came up with a draft legislative initiative to help businesses overcome these challenges and preserve the achievements of legalization. The key goal is to help licensees survive the war and save the industry for post-war recovery ince Ukraine has been at war with Russia for almost half a year, the economy has suffered greatly. Gambling is no exception. Most land-based gambling representatives had to close their halls and casinos. Online companies also had to reformat their businesses, cut costs, and even relocate entire IT teams within the country or abroad.
The draft initiative also proposes to exempt companies from liability for non-payment of license fees in the form of license revocation for the period of martial law and 30 days afterward. That is, companies will have the right not to pay license fees and will not worry about spending time and money on lawsuits after the end of martial law. At the same time, for the license-suspension period, companies will not have the right to organize and conduct gambling. That is, the key objective of this initiative is to remove the additional financial burden on companies and their legal liability. This initiative will in no way help legal operators "make more money," as some opponents of legalization have already stated. The project proposed by CRGL will significantly reduce the financial burden on legal gambling and allow operators to save resources for the postwar restart of their business. I hope it will receive due support at the state level and will be soon implemented.
For instance, the draft initiative proposes to give licensees the right to apply to CRGL for suspension of licenses for a period of martial law. The licensesuspension period will not be included in its validity period, meaning that legal operators will not pay any license fees during the suspension period.
The Commission recently took a crucial step in this direction by proposing a draft legislative initiative to preserve the legal gambling market in Ukraine. The draft proposes to address two key issues faced by legal operators: settlement of the license-fee payment and liability for non-payment during martial law.
www.casinolifemagazine.com40 Feature: Anton Kuchukhidze of Gambling & Lotteries has clearly stated its position to support legal gambling in Ukraine. CRGL backs its words with concrete actions.
BaoBao King has been nominated for 'Slot of the Year'
www.casinolifemagazine.com42 Advertising Feature: Velvix
he company's flagship link progressive "BaoBao King" is listed as an awards contender for Global Gaming Awards 2022 Fresh off the launch of its American operations in Los Angeles, Velvix has confirmed its attendance in this year's Global Gaming Expo Las Vegas event, held October 10 – 13, 2022. What makes this year extra special is the fact that its prized link-progressive title, "BaoBao King," is up for 'Slot Of The Year' at the Global Gaming Awards.
Velvix plans to launch two brand new game titles at G2E 2022
Velvix Headed to Las Vegas; In Running for 'Slot of the Year'
T
"G2E is going to be very special for us this year," stated Velvix Managing Director Chris Wieners. "We are going to be showcasing two new game titles, announcing additional changes to our existing games, and of course, showcasing BaoBao King as a title that is getting some well-deserved accolades in the gaming community." Based on the Chinese zodiac, BaoBao King offers four linked games that each represent one of several mythical creatures, including the Tiger, Phoenix, Tortoise and Dragon. Each game offers its only unique 'Free Games' feature, making each theme a unique experience. The star of the show is the games 'Battle Feature,' whereby players are randomly selected to do battle against each other's characters for a chance at credit prizes that include bet multiples and flat credit awards. Spoiler alert: Both players win credits! BaoBao King's nomination is not the only thing Velvix has up its sleeves for G2E. Speaking with Wieners, he confirmed that the group is bringing its entire team –including overseas game development leads – to take part in the Additionally,show.and perhaps most exciting is the group's plan to unveil two new game themes at the show, "Show Me The Piggy" and "Forgotten Treasures." While the group has remained tight-lipped about these new titles, it did leak a bit of information.
"Show Me The Piggy features various piggy banks that the player will enjoy filling and, later, smashing to collect credit prizes and chances as various jackpots.
Velvix will be attending Global Gaming Expo Las Vegas from October 10 to 13, 2022. Visitors to their booth can expect a showcase of existing and enhanced products, as well as two new game titles never before featured in any show! Would you like to see more of what we have to offer? Contact us directly to setup a meeting at G2E or anytime at our Los Angeles showroom located 10 minutes from the Los Angeles International Airport. Velvix LLC 201 Continental Blvd. Suite 260 El Segundo, CA 90245 +1 212 729 8043
Forgotten Treasures is our pirate-themed game. Giving full control to players, the bonus game allows them to select which reels will be multiplied, offering a reward of up to 30x their bet!" Velvix is also expected to announce the initial launch properties at which its games will be placed, including multiple locations throughout both California and Oklahoma. When asked about their plans for the future, Wieners stated, "California and Oklahoma are definitely our first-focus markets. We have strategically placed ourselves in Los Angeles to ensure we can more easily serve our California clients and will work with partners to ensure we can successfully manage our Oklahoma operation. Our plan of expansion includes a variety of tribal gaming markets where Class III games are accepted. With that said, we do have plans to enter the Class II market with our exciting titles in the very near future."
43Volume 18: Issue 152 Advertising Feature: Velvix
SEE YOU IN LAS VEGAS!
Lavrenty Gubin, Managing Director, Plasma 8, the organiser of the Batumi Gaming Fest 2022
•
FestGamingBatumi2022Preview
Player EngagementGame
Lavrenty Gubin, Managing Director, Plasma 8, the organiser of the Batumi Gaming Fest 2022. Interview by Damien Connelly an you introduce to readers the Batumi Gaming Fest 2022? Batumi Gaming Fest will be a unique business forum in which to discover market entry and growth opportunities: a combination of a conference, a demo zone, a real estate area to promote opportunities for investors, and a series of entertainment events and networking parties.
•
•
Business Event Sections include: Regulators and Legal Firms; Equipment, Tech and Software Suppliers; Online and Offline Operators; Payment Systems and Crypto Providers; Tourism, Players and Junket Agents; Investors and Real Estate Experts.
•
www.casinolifemagazine.com44 Feature: Batumi Gaming Fest 2022 Preview
•
•
C
What has been the reaction from the industry to this new venture? I'm glad to say that the industry reacted positively and we had almost instant support from the local casino Eclipse, then our old friends CTC Holdings from Latvia joined, then the world-known slots producer IGT got interested, Coinspaid, Digitain, Casino Otium – great thanks to these companies, who believed in our idea and made this event possible. We see interest from the local businesses and from the international companies, and there is a reason behind it – now we know that Batumi is going to be a regional centre of gaming business. Exhibitors and sponsors are vital to the success of such events. How are the sales of booths and sponsorship? We almost sold out all the squares. Most of it is either already taken or reserved. Can you tell us about what is planned for Batumi Gaming Fest 2022?
The main goal of Batumi Gaming Fest is to help Batumi develop as the regional centre of gaming tourism and to attract new investment by creating a modern and transparent business atmosphere in the city. The event, which will gather local and international businesses, is the region's leading platform for operators, suppliers, regulators, lawmakers, the investment community, and industry advisors to exchange their experiences, and establish new connections and partnerships.
A broad business program is accompanied by a series of entertainment events, both for guests of the expo and for delegates. Expo visitors will be able to play a variety of free games and delegates will be able to network with each other in the more informal setting of sponsor parties.
Could you give us some background on the creation of this exciting new exhibition and conference? Plasma 8, the organiser of the Festival, is a marketing agency in the field of casino operations, located in Georgia and headed by me, Lavrenty Gubin. For the last 10 years I have lived and worked in Georgia, and was always carefully looking at Batumi and its effort to build a city of entertainment and casinos at the Black Sea. Today we see that due to many reasons it actually works out. The general rate of growth of real estate, tourism, entertainment, and gaming business in Batumi is so high and promising that we literally felt the need for such an event.
Feature: Batumi Gaming Fest 2022 Preview Volume 18: Issue 152 45
In addition to the opportunity for business people to make new connections and contacts, and expand their industry knowledge, ordinary employees associated with the gaming business, or those who are just thinking about a career in gaming, will benefit from the event, as many companies plan to organise a recruiting process at their expo booths.
Can you provide details on the conference topics and speakers?
Social responsibility – and the minimization of social risks – is another important topic, which will be highlighted during our forum. A well-known international gaming business expert, Peter White – the publisher of Casino Life – will be among the experts sharing their knowledge during our Batumi Gaming Fest.
The organisers have also confirmed the participation of Lucien Wijsman, a respected coach in the slots business and the founder of Electronic Gaming Academy, who will run a series of masterclasses on the second day of the Fest, which will combine theoretical concepts of the slots business and mix them with delegates' reality.
During the conference, government representatives and industry leaders will present their view of the local business environment and will exchange their opinions on how to improve it, providing everything needed to ensure stable and rapid market growth.
If you plan to expand your business to Georgia or you already have business related to casinos and gaming here - our event is a must for you. Here you will meet the main operators and other related businesses, their representatives, opportunities and new ideas.
Can you tell us more about what we can expect from attending Batumi Gaming Fest 2022?
www.casinolifemagazine.com46 Feature: Batumi Gaming Fest 2022 Preview
Can you tell us about the venue for Batumi Gaming Fest, its location and ease of access from the airport as regards train, bus and automobiles, along with its facilities?
Land-based casinos, equipment producers and suppliers, real estate, legal, crypto, sports book, etc.
This is going to be the major annual casino business event in Georgia. And finally, what key messages would you give to those organisations that, post-pandemic, are still a little reluctant about venturing out to shows?
There is a 20 percent delegate discount for your readers with promo-code BGF20-CL Use the promo-code with the link below by clicking
There are just a very few booth areas available now. Gaming suppliers will get access to all the management and decision-makers of all local operators, as everyone are expected to be there.
Ticket prices will be increasing closer to the event, so the earlier you buy, the cheaper the tickets.
What are your long-term ambitions for Batumi Gaming Fest?
"Enter promotional code" in the bottom of the ticket selection form: https://bgf.ge/tickets
For those organisations that are in the gaming supplies and services sector, can you provide them details as why they should exhibit at Batumi Gaming Expo and is there still time for them to book their booth?
If a few years ago someone could have doubts about the future of the gaming business in Batumi, today there are none - it is a promising, rapidly developing regional centre of tourism, entertainment and casinos. The need for our event has matured by itself. It makes sense for professionals from any country to visit the festival to establish new contacts, maintain old acquaintances and evaluate Batumi as a direction for their own activities. Batumi is a great new opportunity. Just come to see it yourself. How can readers interested in attending or exhibiting find out more about Batumi Gaming Fest 2022? Please visit our website https://bgf.ge
Feature: Batumi Gaming Fest 2022 Preview
Volume 18: Issue 152 47
Is there anything else you would like to add?
It is five to seven minutes drive from Batumi International Airport. The hotel is conveniently located opposite a park and a beach, next to a shopping mall. What are the key sectors of the gaming industry that will be the focus of Gaming Fest 2022?
5 design services under one roof We create high quality design to satisfy your print and digital marketing needs We organise both the print and delivery of all products designed to remove any hassle on your part T 0330 223 0550 E info@de5ign.co.uk W www.de5ign.co.uk BrandDesign BrochureDesign DigitalDesign EventDesignMagazineDesignde 5 ign Get Into Casino Life & Sports Betting Operator TV and gain insights from Presidents, CEO's, Owners and Senior Management at the World's Leading Resort Casino and Sports Book Operators along with latest developments from manufactures and Suppliers along with Gaming Equipment and Systems providers from Senior representatives at select number of leading organisations in the Global Gaming Industry. Subscribe today via YouTube www.casinolifemagazine.com48
How do the once-mighty companies like Nokia and Kodak fall? Can decline be detected early and avoided? Can an elephant ever dance like the internet unicorns? Volume 18: Issue 152 49 Column: Raymond Chan Raymond Chan
Elephants Can Dance
e shall first look at the fallen cases in its past and see if we may learn from the previous crisis.
Kodak management's inability to see digital photography as a disruptive technology, even though the digital technology was actually invented by its own researchers. Kodak's CEO conducted a very extensive research effort in 1981 that looked at the digital technologies and the results of the study produced both "bad" and "good" news. The "bad" news was that digital photography had the potential capability to replace Kodak's established film-based business.
ABOUT RAYMOND CHAN
The "good" news was that it would take some time for that to occur and that Kodak had roughly 10 years to prepare for the transition. The problem is that, during its 10-year window of opportunity, Kodak did little to prepare for the later disruption.
www.casinolifemagazine.com50 Column: Raymond Chan
Nokia emerged from Finland to lead the mobile-phone revolution in less than a decade. While its journey to the top was swift, its decline was equally so with the sale of its mobile-phone business to Microsoft in 2013. The company had begun to collapse from within well before Apple entered the mobile market. The company was trapped by a reliance on its unwieldy operating system, called Symbian. Management decisions, disorganizational structures, growing bureaucracy and deep internal rivalries all played a part in preventing Nokia from rescuing itself. However, I believe that those types of decline can beBackavoided.in2011, James Collins from Stanford Graduate School of Business had written a book "How the Mighty Fall: And Why Some Companies Never Give In." It confronts the question and offers leaders well-founded hope to reverse their course. Collins' research uncovered five step-wise stages of decline: Stage 1: Hubris Born of Success Stage 2: Undisciplined Pursuit of More Stage 3: Denial of Risk and Peril Stage 4: Grasping for Salvation Stage 5: Capitulation to Irrelevance or Death Collins suggested the leaders should understand these stages of decline and take signals. Some companies do indeed recover in some cases, coming back even stronger even after having crashed into the depths of Stage 4 before the company get entirely knocked out of the game. The path to recovery lies largely on the ability for the leader to get the footstep back onto the company core DNA. The decline is largely self-inflicted and the subsequent leaders were not more risk taking, more visionary or more creative; they were simply more disciplined, more empirical and moreHarvardparanoid.business school professor Dr. Clayton Christensen, who is best known for his "Innovator's Dilemma" theory also saw a similar solution. Those outstanding companies can do everything right and still lose their market leadership as new, disruptive technologies rise and take over. Leaders who are more disciplined and empirical shall not ignore small but emerging markets with less sophisticated customers who may eventually build the future business from ground up. Innovation by itself turns out to be the ability to scale the innovation itself and to blend creativity with discipline. Borrowing a word from Steve Jobs who was forced out once by his own company: "People think focus means saying yes to the thing you've got to focus on. It means saying no to the hundred other good ideas that there are. You have to pick carefully." Sometimes, being great actually means refusing to entertain all the distractions that will pop up along the way. That's exactly what he did when he returned to Apple after 12 years and made his elephant dance again until today.
Raymond is the management consultant serving an advisory role for the CFO office of WATAMI Co., a Japanese conglomerate in cooperate strategy and global expansion. During the period, the company international business has outperformed competitions in digital sales and led to yearafter-year revenue growth with 2 million customers served daily. Previously, Raymond co-founded two technology companies - TGG Interactive and Global Gaming Group in Asia, served as CEO to lead the in-depth customer intelligence business from 2007-2018. Earlier in his career, Raymond was a founding member of the data science team at E*TRADE from Morgan Stanley, and played a key role in the design of the TiVo customer intelligence system for the internet unicorn in Silicon Valley.
W
Sports Betting Operator provides new product and technology features and the latest Sports Betting News, keeping Online gambling companies up to date with the fastest growing Gambling Sector in the world. www.sportsbettingoperator.com OPERATORBETTINGSPORTS Subscribe to... • Sports Betting Operator • Casino Life • Casino Life Ukraine • Bingo Life By registering your email at www.casinolifemagazine.com by clicking the Subscribe tab OPERATORBETTINGSPORTS VOLUME 003 ISSUE 004 sportsbettingoperator.com OPINIONS • FEATURES • EVENTS • INTERVIEWS DEVELOPINGTHEFUTURE Volume 17: Issue 144 KaminskyEthanofCourtesyImage: CASINO The magazine for the owners and management of international casinos AGUA CALIENTE CASINOS WELCOMES THE WORLD WININGBIG INBINGO Bingo Spring 2021 - Issue 32LIFE The longest-running European and International bingo trade magazine GOOD TIMES, BAD TIMES IN BINGO Banging Bingo Times Ahead New Bingo 3апорука стабільності та якості Storm International Випуск 04 CASINOUKRAINE Журнал для власників та менеджменту міжнародних казино Volume 18: Issue 152 51
Outsource Digital Media Contact newbusiness@outsourcedigitalmedia.com or call +44 (0) 1892 Poweringwww.outsourcedigitalmedia.com740869connections