THE BIG BOOK OF BIG WINNERS 2022
PASSENGER TRANSPORT
Congratulations to all the winners and nominees
We're delighted to have picked up 20 awards - seven gold, six silver and seven bronze.
Supporting the environment
Gold Stagecoach East, 'Big Switch Of'
The ROSCO award for contribution to safer driving
Gold Stagecoach East and Volvo Bus
Bronze Stagecoach London
Bus and the community
Gold Stagecoach South East
'The Friendship Bus'
Bronze Stagecoach East Scotland's 'Sam's Wellbeing on wheels'
Top express coach operation
Gold Stagecoach Oxford Tube
Engineer of the year
Gold Jamie Stockton, Stagecoach
Manchester Silver Craig Mills, Stagecoach London
Unsung heroes
Gold Lesley Hester, Operations Manager, Stagecoach Manchester Commendations for Glenn Oldman (Stagecoach London), Louise Sills and James Third (Stagecoach South East)
Top national bus depot
Gold Stagecoach Cumbria & North Lancashire, Barrow depot
Silver Stagecoach North Scotland's Portree depot
Bronze Stagecoach East Scotland's St Andrews Depot
Leader of the year
Silver Joel Mitchell, Stagecoach South East
Top shire operator
Silver Stagecoach East Scotland
London bus garage of the year
Silver Stagecoach London's Bow garage
Young manager of the year
Silver Zachary McAskill, Stagecoach Manchester
Bronze Ben Houghton, Stagecoach London
Culture change
Bronze Stagecoach London, Safety Strategy Forum
Buses for pleasure
Bronze Stagecoach Cumbria & North Lancashire 'Explore the Lakes by Bus'
Top national bus driver
Bronze Gurnam Singh, Stagecoach West
It's not easy being excellent at the best of times. It requires a belief in the best possible outcome from the top of an organisation downwards and a refusal to compromise that goal no matter what. Tese are not the best of times, especially for a classic labour-intensive, customer-facing industry like the UK bus industry.
Having perhaps imagined that society would emerge from the huge disruption brought by the global Covid-19 pandemic and return to something close to the pre-2020 defnition of normality, the bus community is having to adjust to apparently permanent changes in daily life. Te move to online shopping was accelerated by the necessity of living in the periods of lockdown, as was the drif to private transport. Working from home, another necessity of lockdown, has become a permanent practice for some, for at least some of the working week. All of which have removed some of the need to travel.
Te need to practise the hitherto unknown art of social distancing has made some in society - older folk in particular - reluctant to risk putting themselves back into close proximity of others. For them, it is the desire to travel that has diminished. Tey no longer regard that as so much of a need as it was before.
Less expected, perhaps, was that a signifcant proportion of the hitherto economically active population would exit the labour market. Te pool of labour with the skills, experience and aptitude to drive buses has diminished. And with home delivery of internet shopping on the rise and businesses across all sectors of transport and logistics - and customer-facing employers in the retailing, hospitality and care sectors also in the market for that diminished labour pool - it has become a struggle for many to fll those vacancies and provide a service at a price its customers can aford.
Trow in the war in Ukraine and its impact on energy supplies, its infationary efect on the price of fuel, food and much else, and the likelihood of an economic recession lasting into 2024 or 2025, and the backdrop becomes even more daunting and gloomy.
It has been heartening, therefore, to see from this year's entries to the UK Bus Awards that the cream of the industry - operators large, medium and small - is continuing to defy those headwinds with the pursuit of excellence, which they - and we - are happy to share with the bus community as a whole as object lessons of how standards can be raised and maintained at a high level.
Tose who not only put themselves in their customers' shoes but make a strenuous efort to engage with an existing and potentially larger customer base to fnd out their needs and expectations are once again
demonstrating how good bus travel can be. Teir commitment to quality delivery, staf training and well-being, and awareness of the factors that afect demand will help them prosper even when times are tough.
Tese are businesses with inspiring leaders across all disciplines, who have developed recruitment, welfare and retention policies that acknowledge that the ways of the past are no longer relevant in a highly competitive labour market serving customers with changing and rising expectations of what constitutes good service. Leaders who also engage with all stakeholders in the provision of good public transport.
Tese operators - in both the private and public sectors - have once again demonstrated pride in what they have achieved in difcult circumstances, whether collectively as one organisation or on behalf of their highperforming individuals, to enter this year's UK Bus Awards. But we do not simply take their word for it.
Te experts on our judging panels bring their own knowledge and perspective to the rigorous process by which winners are selected - awarding Gold, Silver or Bronze where justifed - and for the awards for operating performance and individuals the fnal decisions depend on the fndings of mystery travellers riding unannounced and incognito aboard real buses on real routes in normal service, and on face-to-face interviews to draw out the candidates' true character.
If you are one of the winners, then hearty congratulations on your achievement. You have every reason to be proud of your success. If you are one of the others, we hope you are inspired by what they have achieved and are moved to emulate them within your own organisation. Tat is in large part what the UK Bus Awards is about: acknowledging high achievement and adding to the body of good practice that everyone can build upon for the future.
And if you think you already do some things better, then please do not hide your light under a bushel. Be proud and tell the world and start of by entering next year's UK Bus Awards. As we have said before, you've got to be in it to win it.
3 WELCOME
Welcome to Te Big Book of Big Winners 2022.
n Alzheimer's Society 0300 222 1122 www.alzheimers.org.uk
Facing enormous challenges, it has been heartening to see the cream of the UK bus industry continue the pursuit of excellence. Tey have added to the body of good practice that everyone can build upon
Well done colleagues We're proud of all of you! London Bus Garage of the Year GOLD - Putney Garage, Go Ahead London Top London Bus Driver of the Year GOLD - Koli Begum, Go Ahead London Marketing GOLD - Jobs with Purpose, Go North East Buses for Pleasure SILVER - Toon Tour, Seasider X11 and X75, Go North East Culture Change SILVER - One Team, Go North East Buses and the Community SILVER - Go North East Supporting the Customer Experience BRONZE - Freefow, Oxford Bus Company Marketing BRONZE - Cornwall Bus fares pilot launch, Cornwall Council & Partners (Go South West) go-ahead.com
BOARD OF DIRECTORS
Chairman: Alan Millar
Event Director: Jamie Cash
Non-Executive Director: Chris Cheek
TEG Chairman: Giles Fearnley
MANAGEMENT COMMITTEE
Convenor of Judges: Mark Yexley Sales Consultant: David Warrilow Management Committee Members: Alan Hill, Alex Hornby, Andrew Garnett, John Miller, Ray Stenning and Claire Walters
PROFESSIONAL ADVISERS
Accounts: Emma Steele Administration: Rebecca Worrall Press and PR: Andrew Garnett Event Catering: Party Ingredients Event Production: Paul Ashlee (Awesome Events) and the team at Troxy, London
PRODUCTION
Te UK Bus Awards 2022 - Te Big Book of Big Winners - has been produced by Passenger Transport magazine.
Managing Editor & Publisher: Robert Jack Designer: Keith Simpson (keith@one-creative.com).
Distribution:
Tis publication and the UK Bus Awards logo is copyright © Te Bus Industry Awards 2022. All rights reserved. No part of this publication may be reproduced in whole or in part without the written permission of the publisher.
Te Bus Industry Awards Ltd, organisers of the UK Bus Awards, 26 Tilekiln Lane, Hastings TN35 5EN
Telephone: 0300 010 3450 Email: admin@ukbusawards.org.uk Web: www.ukbusawards.org.uk
5
Courtesy of Coach & Bus Week and Passenger Transport
OPERATIONS AWARDS 9 UK Bus Operator of the Year 10 Top City Operator 11 Top Shire Operator 12 Top Independent Operator 14 Top National Bus Depot 15 Top Express Coach Operation UK BUS AWARDS 2022 ABOUT THE UK BUS AWARDS 34 Judging entries in the UK Bus Awards 35 Sponsorship LONDON AWARDS 24 London Bus Garage of the Year 25 Luke Rees-Pulley Charitable Trust Award for Top London Bus Driver PEOPLE AWARDS 27 Top National Bus Driver: Te
Moyes Memorial Award 28 Leader of the Year 29 Young Manager of the Year 30 Unsung Heroes 31 Engineer of the Year 33 Services to the Industry TECHNICAL & PROFESSIONAL AWARDS 16 Bus in the Community 17 Partnering for Delivery: Te Peter Huntley Memorial Award 18 Marketing 19 Culture Change 20 Buses for Pleasure 21 Customer Experience 22 ROSCO Award for Contribution to Safer Driving 23 Environment CONTENTS
Chris
By 2025, Newport Transport will be leading the UK with a fully electric bus and coach service. We're driving green for lower emissions, cleaner air and smarter transport. Are you? Join our green revolution. Newportbus.co.uk Newport Bus NewportBus
SPECIAL AWARD
PRESENTED TO TRANSPORT FOR WEST MIDLANDS, NATIONAL EXPRESS WEST MIDLANDS AND STAGECOACH MIDLANDS FOR PLANNING AND EXECUTION OF BUS TRANSPORT AT THE 2022 COMMONWEALTH GAMES
For only the ffh time in its history, the UK Bus Awards wanted to recognise and reward a project that is not an entry but nevertheless exemplifes excellence within the
UK bus industry.
Te Management Committee have given this Special Award for the Delivery of Bus Transport for the 2022 Commonwealth Games jointly to Transport for the West Midlands, National Express West Midlands and Stagecoach Midlands.
Te Commonwealth Games was the largest sporting occasion ever held in the West Midlands, featuring over 6,500 athletes from 72 diferent countries competing in 10 diferent sports. Over 1.5 million spectators attended the competitions
- a new record.
Between them, the operators deployed some 600 shuttle buses for the period of the Games, carrying more than 650,000 passengers to the venues.
Congratulations too to the other operators who contributed to the success of the transport operations at the games. Tey include Arriva, Chaserider, Diamond Bus, First Bus, Johnsons Coaches, National Express Coaches, National Express Coventry, RK Travel, Tandi Transport and Walsall Community Transport.
7
GOLD WINNERS
Representatives from Stagecoach, Transport for West Midlands and National Express West Midlands collect the Special Award
Left to right: Pete Bond, Ann Shaw and Danny Gouveia from Transport for West Midlands
Left to right: Andy Foster and David Bradford from National Express West Midlands
Left to right: Sanjeev Rampal, Alan French and Rupert Cox from Stagecoach
Next Stop: Net Zero Emissions
It's no secret that we're on our way to a fully decarbonised First Bus fleet by 2035. And we've made good progress already, with the recent development of the UK's largest charging hub. But the journey doesn't stop there, because we'll be rolling another 267 electric buses into regions right across the UK from March 2023.
Come with us on the journey!
UK BUS OPERATOR OF THE YEAR
Tis is the 'grand prix' of the UK Bus Awards. Pre-eminent amongst bus operators in the UK, the UK Bus Operator of the Year, more than any other, delivers consistently excellent customer service and demonstrates its success through sustained efort over the long term. Te crème-de-la-crème, the UK Bus Operator of the Year is selected from the highest-scoring contestants in the awards for Top Independent Operator, Top Shire Operator and Top City Operator.
BLACKPOOL TRANSPORT
It's the frst time that Blackpool Transport has won UK Bus Operator of the Year, and with excellent mystery traveller scores, it's a deserved winner this year.
From 2021, there were two overall targets - raising fare-paying customers to 110% and recovering concessionary travel to 65% of 2019's patronage. Key elements have included simplifying graduated fares into a two-zone structure and an m-ticket carnet called 'fexi10' for those customers who are loyal but infrequent bus users.
Te council-owned company has also invested in young adult customers as it says they ofer a long-term return on investment. Particular attention has been paid to Generation Z who are now aged between nine and 26 years old. Blackpool Transport has personalised communications and developed a customer relationship approach, which is building loyalty and providing new products to meet the expectations of this generation.
Te company has also invested in ticketing and since March 2021 the process to accept cashless transactions has been completed.
Te results are that only 13% of transactions involved cash and the balance is made up of m-tickets (33%), card payments (10%), paper passes and concessionary passes (both 22%). It has found ways to analyse its Big Data by creating QR codes for tagging tickets, mapping anonymised customer movements and averaging pass usage rates.
Te judges praised the company's many initiatives that enabled it to grow its fare-paying customer numbers to 109% of pre-pandemic levels last year. Tey also praised Blackpool's use of Big Data to analyse travel patterns and amend services. And our mystery travellers praised the company too!
SILVER WINNER
DIAMOND BUS NORTH WEST
Diamond Bus North West says it has positioned itself with simple fares, a reliable service, and routes spanning across Greater Manchester. Recent marketing eforts have been aligned to encouraging customers back on the bus following the pandemic with fare initiatives and assurances about the standard of cleaning. Other campaigns are promoting
the bus as a cost-saving opportunity in light of the current economic climate. Te company has also built partnerships with Bolton Council and Bolton College enabling the company to ofer positions of employment to people within the local community.
BRONZE WINNER
UNO
Uno says it is a people-focused and innovative bus operator that is dedicated to making every journey an excellent one. It has changed and adapted as it took on the challenge to balance the needs of its university customers alongside those of the local community following the global pandemic. Travel patterns changed extensively as students moved from on-campus learning to online studying and then progressively back to normal. Te company has made eforts to make extensive improvements to its service since the pandemic receded - by summer 2022 passenger numbers had reached 86% of preCovid levels, meanwhile, overall satisfaction has reached 99%, up 4% since 2018.
9 OPERATIONS
GOLD WINNER
Sponsored by
Blackpool Transport
Uno
Diamond Bus North West
Tis award is open to operators of registered bus services based in, or operating wholly or mainly in the city region areas and other major cities with populations of more than 250,000 and a population density greater than 15,000 persons per hectare.
BUS NORTH WEST
Diamond Bus North West has been doing a lot of work to create a reliable network spanning Greater Manchester and ofering simple fares. Te company, which has a feet of 200 buses and a team of 600 colleagues, prides it self on the fact that 'we're on our journey to everyday greatness'.
Its feet of 200 Euro 6 buses has been retro-ftted with audio-visual next-stop announcements, which also allow service announcements to be sent out from the control centre, keeping passengers up to date with any issues. And speaking of the feet, investment in new vehicles makes the operator 100% compliant with Euro 6 standards and it now has one of the youngest bus feets in the country.
Recent marketing has been aligned to encouraging customers back on the bus with fare initiatives and assurances about
cleanliness. Company campaigns are promoting the bus as a cost-saving opportunity in light of the current economic climate.
Partnerships with Bolton Council and Bolton College have created employment opportunities for local people with the company's training school delivering over three hundred and ffy drivers last year.
Diamond Bus North West aims to place itself at the heart of the local community. Following a tragic house fre in 2017 close to its depot, which led to the tragic death of four children, local charity Once Upon a Smile was engaged to work with the friends and family, providing bereavement support. It became a logical decision for One Upon a Smile to become the company's corporate charity. It has led to a specially liveried bus that has supported various charitable events, raising over £16,000.
Te judges noted the diference in the passenger experience on Diamond's buses and were
pleased to see that the company's eforts to grow the market had been rewarded with initiatives such as increased services to the Traford Centre.
SILVER WINNER
ABELLIO LONDON BUS
Te last 12 months have been challenging for the industry, but Abellio London says it has forged ahead with innovative improvements that beneft people and the environment.
Te company has partnered with Transport for London to introduce a feet of brand new higher specifcation electric buses on Routes 63 and U5 which deliver a step-change to the design of buses, actively contributing to TfL's vision to decarbonise and support climate resilience. Meanwhile, the company has also upgraded its infrastructure to ensure it is ready for the zero-emission revolution. Tat includes a brand new depot at Hayes and energy-saving initiatives at other sites.
10
GOLD WINNER
DIAMOND
OPERATIONS
TOP CITY OPERATOR
Sponsored by
Diamond Bus North West
Diamond Bus North West
Abellio London Bus
TOP SHIRE OPERATOR
loyalty and providing new products to meet the expectations of this generation.
Tis Award is open to bus companies operating service networks wholly or mainly outside the major conurbations
BLACKPOOL TRANSPORT
Tere's a big focus on young adult customers at Blackpool Transport as they ofer a long-term return on investment. Te age range for young person's tickets has been extended from 16 to 19 years to 21 years old, resulting in a signifcant growth in passenger numbers in this age group.
Te expectations of Generation Zbetween 9 and 26 years old - are quite diferent to traditional bus customers. Blackpool Transport has developed personalised communications and a customer relationship approach, which is building
Tis year a daily fare cap is being introduced for tap-and-go customers with a level specifc to the customer's age, giving young people a lower value cap than adult customers.
For all customers, the company simplifed its graduated fares into two travel zones and introduced a carnet m-ticket for infrequent users.
Blackpool has more anti-social behaviour incidents than Liverpool each week with the consequence that driving staf have to be ofered greater support. Tis has led the council-owned company to recruit three additional outside inspectors and equipped them with digital radios to locate any bus in need of assistance.
Te judges praised Blackpool Transport's many initiatives that enabled it to grow its fare-paying customer numbers to 109% of pre-pandemic levels last year. Tey picked out Blackpool's use of Big Data to analyse travel patterns and amend services, and its focus on attracting customers in Generation Z. Te
company has been able to maintain its high punctuality and received high scores from our mystery travellers.
SILVER WINNER
STAGECOACH EAST SCOTLAND
March 2021 saw Stagecoach East Scotland complete a major fare simplifcation project, with the aim of improving the customer experience when travelling by bus. Fares and ticket zones were evaluated alongside travel data, to demonstrate where improvements were required. A simplifed zone map was produced, to give clear indications of travel boundaries and to make it quicker and easier to fnd the right ticket. Meanwhile, a new range of fexible fares has been introduced in response to changing travel patterns.
Operational performance in 2022 shows 99.59% of scheduled mileage operated with reliability at 95%.
11
OPERATIONS
FINALIST n Stagecoach East
Sponsored by
Blackpool Transport
Blackpool Transport
Stagecoach East Scotland
GOLD WINNER
TOP INDEPENDENT OPERATOR
Tis Award is open to operators of registered local bus services which are independently owned and with operators' ('O') licences for up to 100 vehicles. Judges are fexible in accepting entries for otherwise eligible companies with larger numbers of discs within a margin of 10-15%.
In this context, 'independently owned' means not in the sole or majority ownership of a public limited company (plc), a local authority, or a holding company which owns three or more bus operating subsidiaries.
UNO
Owned by the University of Hertfordshire, Uno was originally a shuttle bus service for students between the university's sites, though with a policy that anyone could travel on its buses. Over the past 30 years it has grown to provide services from additional bases in Northampton and Cranfeld, as well as winning contracts to run Transport for London routes and the frst demandresponsive transport service in Hertfordshire.
Over the past few years it has changed and adapted its services as it balanced the changing needs of its university customers alongside those of the local community following the pandemic. It continues to invest in new, highspecifcation vehicles with bright liveries.
By the summer of 2022 passenger numbers had reached 86% of pre-Covid levels. Te team wanted to learn more about the impact Covid had on attitudes, travel patterns and the overall customer experience so undertook an in-depth passenger survey. It became clear that their efort and commitment had truly had the intended impact with the overall satisfaction of 99%; up 4% against 2018. Overall driver
satisfaction of 94%; was up 3% versus 2018. Uno says this is due to the continued focus on building a high-performance culture encompassing engagement, training and innovation.
Te judges were impressed with how focused the company is on its customers and staf, producing very high levels of customer satisfaction. Initiatives such as discounted gym membership, half-price university tuition fees, and discounts on shopping and days out have helped it recruit and retain staf
SILVER WINNER
ENSIGNBUS
Celebrating 50 years in the industry Ensignbus is a proud family-run independent operator running a fully commercial network. However, Ensignbus has other facets that are rarely seen in independent bus operations. Te company is stafed 24/7 with no automated switchboards. Tat means there will always be a human to answer enquiries all day, every day. Along with social media feeds, enquires are answered swifly beyond traditional ofce hours.
Being fully commercial Ensignbus says it constantly reviews its business responding quickly to business and passenger needs whilst embracing innovation, new ideas, and suggestions. Great pride is taken in operating and engineering standards and the company continued to impress our judges and our mystery travellers.
BRONZE WINNER
GRANT PALMER
Troughout Covid-19 Grant Palmer operated comprehensive services, ensuring customers in rural communities had access to healthcare, education and employment. Proactive safety measures were also put in place to keep staf safe, whilst operating business as usual timetables. Since the pandemic eforts have been focused on rebuilding patronage. Mail drops for our commercial services were completed across Bedfordshire, supported by online and print marketing. Meanwhile, on Saturdays in Bedford, a fat £1 fare has been ofered to all young people under 16. All of these moves have been supported by investment in vehicles, training and development.
12
GOLD WINNER
OPERATIONS
Ensignbus
Grant Palmer
Uno
ALL ABOUT PEOPLE people working in public transport... ...people like you! In times of need, hardship and distress TBF is here to support its members by helping them to keep the wheels of the public transport industry turning. TBF offers financial and medical benefits, a wide range of complementary and alternative therapies, bereavement grants and welfare advice. £1.25 a week covers you, your live-in partner and dependent children. Join online today www.tbf.org.uk Transport Benevolent Fund CIO, known as TBF, is a registered charity in England and Wales, 1160901, and Scotland, SC047016. less than 20p a day covers you, your live-in partner and dependent children.
TOP NATIONAL BUS DEPOT
Sponsored by
Tis category is designed to recognise and reward excellence by a particular bus depot whose staf work together to deliver excellent services, maintaining high operational, safety and customer service standards, and which plays an active role in the community in which the depot serves.
GOLD WINNER
BARROW STAGECOACH CUMBRIA AND NORTH LANCASHIRE
Consistently near the top of performance charts across the Stagecoach group, Barrow has an enviable reputation. Te depot has 83 staf and a strong sense of family, with a third of the drivers having been based there for more than 10 years, and more than 10% for over 20 years.
Te sense of family connection that they share was evident when they lost a longserving member of the family, Ray Jones, suddenly. Ray's colleagues clubbed together to buy a personalised number plate dedicated to their colleague and friend which reads BA60 RAY, BA for Barrow, 60 for his age followed by his name, ensuring he is always remembered along the routes he spent 35 years driving.
Te depot is also active in the community and fund-raising cofee mornings and other events are held in the newly refurbished canteen, from which all company notices have been banished to give staf a break from work.
Te team at Barrow have a major focus on safety, their 'Ecodriver' score, which measures safe and fuel-efcient driving is nine which is around 20% lower than the national average.
Te Barrow team also have 40% fewer blameworthy accidents than the average at Stagecoach Cumbria and North Lancashire.
Te judges were impressed with the caring work environment created at the depot, which has paid dividends in terms of staf retention, low accident rate and many other positive metrics that make Barrow a worthy winner.
SILVER WINNER
PORTREE STAGECOACH NORTH SCOTLAND
Stagecoach's Portree Depot is situated on the Isle of Skye in the Scottish Highlands and provides local bus services to just over 10,000 residents, plus several thousand visiting tourists each year, on Scotland's second largest island. Te feet of just 15 vehicles had only a 0.2% lost mileage rate in the past year, and the depot also proudly boasts a 100% PSV annual test pass rate. It's worth noting
that over the years Portree has produced a very high calibre of staf, which in turn has resulted in a large number of Portree staf progressing into other areas of the business - including Stagecoach Highlands managing director David Beaton, who started as a driver at the depot.
BRONZE WINNER
ST ANDREWS STAGECOACH EAST SCOTLAND
St Andrews Depot in North East Fife also runs the town's bus station, which serves as a hub to the local community of just over 18,000 people, including students from St Andrews University. Trough the latter part of the pandemic, St Andrews operated up to 88% of the pre-Covid mileage and patronage has returned to around 91%. Proactive campaigns have been created to let the public know that when they are ready to travel, St Andrews depot will be there for them.
14
OPERATIONS
Barrow
Portree
St Andrews
Scheduled express coach services are an integral part of our transport system, alongside local bus services and the rail network. Te winner of this category will demonstrate consistently excellent customer service, using vehicles of a high standard, and maintaining high operational and engineering practises. A successful operation will form efective partnerships, identify with and respond to the markets it serves, and continually strive to sustain and grow its market –especially important since the pandemic.
OXFORD TUBE
Operating for more than 35 years, Oxford Tube coaches run between the city and central London 24 hours a day, with an average weekday frequency of every 20 minutes.
Since closing for the pandemic, the company has invested in 13 new vehicles with wireless charging, reclining seats, extendable tables and improved information screens. It's also introduced a new app with live tracking and mobile tickets. With changed travel patterns, marketing has focused on leisure, and as of June, the company had achieved passenger levels back to 94% of pre-pandemic levels.
Te team pride itself on providing fantastic service. It's not hard to see why with over a 99% operating rate on a service that runs
up to every 10 minutes. Drivers strive to go the extra mile for customers and have been recognised in Stagecoach's annual Star Awards, despite competing with over 650 nominations from across the business.
Due to the successful return of 94% of its customer base, the Oxford Tube has recently improved frequencies with coaches running up to every 10 minutes. More frequent evening and weekend journeys have also been introduced to meet demand. Te success of the service was particularly evident during the recent rail strikes, as they transported nearly 10,000 customers in just one day.
Te judges commented that Oxford Tube has adapted well to changed circumstances, and with its high specifcation vehicles and good mystery travelling results, is a service to be proud of.
RAILAIR 1 AND RAILAIR 2
Since the easing of Covid restrictions, passenger numbers have bounced back on RailAir to an impressive and very signifcant extent. Te original service between Reading Station and Heathrow Airport was launched back in 1967 and expansion occurred in July 2019 with a new route, known as RailAir 2, from Guildford Station to the airport. It was necessary to reduce the timetables on both routes during the height of the pandemic, but since the easing of Covid restrictions, passenger numbers have bounced back. For the frst six months of this year, there were 51,744 passengers, an increase of around two and a half times compared to the frst six months of the previous year.
15 OPERATIONS
EXPRESS COACH
TOP
OPERATION
GOLD WINNER
Sponsored by
SILVER WINNER
Oxford Tube
Oxford Tube
RailAir
BUS AND THE COMMUNITY
Tis award is designed to recognise and reward a scheme, project or other activity which has provided benefts to the community in which the bus company operates. We're looking for nominations which place the bus industry (in its widest sense) at the heart of the local community in the area served.
THE FRIENDSHIP BUS STAGECOACH SOUTH EAST
Te Friendship Bus is an ongoing initiative by Stagecoach South East to help combat loneliness amongst the elderly, as part of an initiative to encourage this age group to get back on to buses afer the pandemic, giving them confdence that they can travel with ease.
Te company works with a retirement village, where residents don't necessarily know each other, to plan days out that allow time for the residents to spend time together and talk, while also enjoying a leisure activity. Research by the retirement village found that a third of residents said they felt disconnected from culture.
Te frst of two planned days out saw a group of 13 pensioners come together at a bus stop in Maidstone before hopping on board the 10X service to Ashford where they took in the scenic views on the hour-long journey and enjoyed each other's company. An itinerary planned by Stagecoach South East's marketing team saw them disembark in Ashford town centre, and enjoy a short
leisurely walk through a memorial garden before a game of bowling.
Stagecoach South East hope to have created a space for people to come together to let them know they aren't alone, whilst allowing them to make new friendships along the way.
Te judges praised this simple and efective scheme that could easily be repeated elsewhere. It hits the brief of embedding the bus in the community and passengers back to bus travel.
SILVER WINNER GO NORTH EAST
Go North East has always had a forwardthinking approach, putting the community at the heart of everything it does. In 2021 colleagues raised over £10,000 for charitable causes, and a further £12,000 was donated to local food banks, despite colleagues facing challenging times themselves due to the lasting impact of the pandemic. Go North East has also operated a 'Santa Bus' every year, a special open-top branded bus that tours the region allowing thousands of children to get a glimpse of the magical bus and a wave from Santa and his elves.
SAM'S WELLBEING ON WHEELS STAGECOACH EAST SCOTLAND
In the wake of the Covid-19 pandemic, Sam's Wellbeing on Wheels bus-based mobile dropin initiative provided people with access to information and one-to-one mental health peer support. Peer Support Practitioners from SAMH (the Scottish Association for Mental Health, Scotland's largest mental health charity) visit local communities in need of support, using a dedicated Stagecoach bus. Te project, which initially ran on a oneweek trial basis in Fife in 2021, was such a success that it is now running for six months in the Angus area, with the hope to extend beyond this.
FINALISTS
■ Bus Depot on Weston Street, Diamond Bus North West
■ Electric Bus Viewing, RATP Dev Transit London
■ Ensignbus
■ Forever Manchester, Stagecoach Manchester
16
BRONZE WINNER
GOLD WINNER
TECHNICAL & PROFESSIONAL
Sponsored by
Stagecoach South East
Go North East
Stagecoach East Scotland
PARTNERING FOR DELIVERY: THE PETER HUNTLEY MEMORIAL AWARD
Te importance of partnerships in the bus industry has steadily increased in recent years, especially with local authorities. Tis category is designed to recognise and reward initiatives, projects or innovations which add value to, or improve the attractiveness and efectiveness of, buses or bus services through partnerships with other organisations. Te award is presented in memory of Peter Huntley, former MD of Go North East and co- founder of the TAS Partnership.
WINNER
LEEDS PUBLIC TRANSPORT INVESTMENT PROGRAMME, FIRST WEST YORKSHIRE AND PARTNERS
First West Yorkshire is one of eight private and public sector organisations to have collaborated in the planning, implementation and delivery of the fve-year Leeds Public Transport Investment Programme, nearing completion. Te core aim was to transform the public transport system in Leeds, with a view to doubling bus passenger numbers within 10 years. To meet the challenge Leeds
City Council implemented a radical approach to public consultation, procurement, design and delivery, engaging with industry as delivery partners, instead of suppliers.
Despite the challenges and a global pandemic, there is a long list of achievements including the construction of the UK's frst fully solar-powered park and ride site; improvements to almost 1,000 bus stops; improved air quality such as a 10 to 15% reduction in nitrogen dioxide on one transport corridor; and reduced road congestion and new infrastructure on fve key transport corridors bringing modal shif, such as 13,000 extra journeys a week on one service.
First West Yorkshire has also invested more than £60m together with funding secured by local authority partners to introduce more than 200 new ultra-low and zero emission buses into the Leeds feet, including the frst all-electric feet in West Yorkshire, which began operating in October 2020.
Te judges were impressed with the size and scope of this ambitious scheme that brought so many partners together, not least the introduction of two hundred new buses. It just
shows what can be achieved when so many parties work together!
SILVER WINNER
THE FREEWAY APPROACH, TRANSDEV AND HARROGATE BID
Transdev's dynamic partnership with Harrogate BID, the Business Improvement District, enabled free rides on all four Jubilee holiday days this year on the operator's all zero-emission Harrogate Electrics network. Te move followed a £1.1m positive impact on the local economy through the provision of free buses on Sundays in 2019. Te results of that trial were impressive - free Sunday buses carried 70% more people than throughout the same month the previous year. Town centre retailers have praised the extra town centre footfall the initiative has generated.
BRONZE WINNER
ANALYSE BUS OPEN DATA, ITO WORLD
Since its introduction in December 2020, Ito World's Analyse Bus Open Data platform has supported the National Bus Strategy, empowering bus operators and partners in England to deliver against their Bus Service Improvement Plans. Te platform is open to over 650 users at 230 organisations, comprising 140 bus operators, 90 local authorities, the Driving Vehicle Standards Agency, and the Ofce of the Trafc Commissioner and in a typical month, the service monitors the performance of over 160 million stops made by over 20,000 buses. It's not a conventional partnership, but as the judges said: "Someone should do it!"
17
GOLD
■ Leicester Enhanced Bus Partnership, Leicester Bus Partnership ■ Nottingham Contactless, Nottingham City Transport and partners ■ Transport for Cornwall, Cornwall Council and partners
FINALISTS
Ito World
Transport
First West Yorkshire
Nottingham City
MARKETING
Sponsored by Tis award recognises marketing excellence through particular campaigns and initiatives which demonstrate fair, imagination and original approaches that lead to demonstrable outputs. As such entrants should include before and afer comparisons or some other way to bear out the efectiveness of the marketing activity.
GOLD WINNER
JOBS WITH REAL PURPOSE GO NORTH EAST
In an attempt to combat the problem of the driver shortage, Go North East launched its Jobs with Real Purpose scheme, which focused on attracting people to 'drive' into a greener future by helping to connect communities, bust congestion, and improve air quality.
Te campaign used a wide range of channels, including bus sides and rears, social media, Google Ads, radio, fyers, newspaper wraps, billboards, petrol pump and bus stop advertising, and much more. Te company also ran a series of drive a bus obstacle courses with many attending having no intention of becoming a driver but soon change their minds once they had experienced driving the bus. Te campaign was also featured on regional BBC TV with a reporter getting behind the wheel to test drive a bus.
Go North East has also developed this further with the launch of its 'Bus Factor' events. Tese are a series of free to enter, fun and no-obligation 'drive a bus' obstacle course events across the operator's patch.
Te events were a great success, delivering more applicants than a typical 'recruitment event' would. Te campaign has continued to fll up the company's driving school, with over 60 applications some weeks.
Te judges described this as a great new way to recruit staf, highlighting the innovative use of the drive a bus event and the importance of marketing the bus industry as a worthwhile career.
SILVER WINNER
TRANSFORMATION AT TEAM PENNINE TRANSDEV
Transdev's says its transformation of TeamPennine is a textbook example of an integrated relaunch programme. Internal and stakeholder communications campaigns began before the launch and led to a
high-profle marketing campaign with publicity at bus stops and bus stations, targeted mail drops and a new website and mobile app. Tere has also been investment with a remarkable 63% of the feet that came with the acquisition of the business now replaced. Investment in TeamPennine's buses, properties and people stands at over £2.5m, with more to come.
BRONZE WINNER
CORNWALL BUS FARES PILOT
LAUNCH CORNWALL COUNCIL
Cornwall Council secured £23.5m to deliver a four-year bus fares pilot which commenced in April this year. Research demonstrated users and non-users felt bus fares were too high
and the project has seen bus fares across the whole of Cornwall being discounted by up to 40% with the aim being to initiate and sustain modal shif. In the lead-up to the launch of Bus Fares Pilot a signifcant marketing campaign was developed with one strong overarching message 'Make Big Savings by Bus'. Subsequent focus group work identifed that the message had been well received, and in the frst 12 weeks of the pilot over 850,000 discounted tickets were sold.
FINALISTS
■ A Day in the Life series, Stagecoach South East
■ Saving Money for Salford, Diamond Bus North West
18
TECHNICAL & PROFESSIONAL
Transdev
Go North East
Cornwall Council
CULTURE CHANGE
Te general environment for bus companies has been changing rapidly for some years. Customers have come to expect the high standards of service which they fnd elsewhere and so the traditional skills in bus companies of providing reliable operations and properly maintained buses, crucial though they are, brings businesses to the starting grid and not much further on. Increasingly bus companies must change the way they work to match up operational excellence with innovation and fresh ideas created and brought to life by engaged, motivated and fully trained employees.
Te Culture Change award is intended to recognise particular eforts to change the outlook of a whole company towards the way it has done things traditionally.
printed copies also available; and TalkShopa programme of visits by the senior leadership team to the company's operating centres.
Transdev's Academy recruits, trains and develops staf. A total of 200 recruits have been welcomed so far this year, up from 42 last year. Te training staf has also been expanded to include 12 driving instructors (up from fve in 2021) and two new administrators. Te success of the academy can be shown in Transdev's drivers being given the highest customer satisfaction scores in the region (93%) in a recent Transport Focus survey.
Another initiative - the StepUp programme - promotes opportunities for career progression with the company. Ten the G22 is a quarterly of-site gathering of over 40 managers to hear about Transdev's business plans as well as presentations from guest speakers.
themes selected by members of its workforce - mental health and well being; disability and inclusion; community engagement; gender equality; ethnicity; and LGBTQ+. 'One Team GNE champions' has been drawn from across the business and they have devised four underpinning principles for colleagues as part of One Team GNE - be kind; respect individuality; value diferences; and work well with communities. Go North East also uses the initiative as a platform to reach out and engage with diverse communities across the region.
BRONZE WINNER
SAFETY STRATEGY FORUM STAGECOACH LONDON
THE TRANSDEV SPIRIT TRANSDEV
Te Transdev Spirit sums up the company's three key internal messages; we talk, we listen, we make it happen. Te company says it values interpersonal relationships and uses online written and video presentations as well as in-person visits. A variety of communication channels are also used to keep staf in touch. Tese include Transdev Talk - an in-house magazine; SmallTalk - a three-page PDF colour document emailed fortnightly across the organisation with
Te judges noted that these various schemes are having a very positive impact on service delivery and customer satisfaction. Tey also commented that in the current climate, customers valued the company's honesty about its ability to deliver services.
SILVER WINNER
ONE TEAM GNE GO NORTH EAST
In recent years, Go North East has worked hard to change the culture of its workforce, and this has been largely driven by the 'One Team GNE' initiative it launched in 2020. Te company's initiative addresses six key
Stagecoach London's Safety Strategy Forum evolved from health and safety meetings -peer-to-peer interactions being seen as the most efective way to embed the company's safety agenda. 'Life Saving Rules' deliver core safety messages, the underlying message being that a breach of any of these could actually endanger life. Tese have evolved to include Covid-19 messaging, 'Speaking Up' and 'Near Miss' reporting. All are backed by the message, 'If in doubt shout.'
FINALISTS
n Learning and Development Team, Abellio London Bus n Let's talk equality, diversity and inclusion, Stagecoach London n Service Delivery Team, Stagecoach South East
19
GOLD WINNER
Transdev
Stagecoach London
Go North East
BUSES FOR PLEASURE
Te increase in the number of people taking holidays in the UK, together with more emphasis on green travel, has brought opportunities for bus operators to run services linking visitor attractions and tourist honey pot areas with accommodation, parking areas and other transport networks. Buses for Pleasure recognises schemes that encourage the use of registered local bus services by visitors within an area, town or city, or travelling to one or more visitor attractions.
GREETINGS FROM YORKSHIRE TRANSDEV
"Greetings from Yorkshire" is not just a snappy slogan nor words on a leafet, says Transdev. It says it is an integrated strategic marketing campaign across multiple brands, turning bus routes into desirable leisure products while boosting ticketing, visibility, and accessibility to woo sceptical car users and discretionary leisure travellers onto a feet of high-spec buses.
Te company already has form in this area - its Coastliner route 840 over the Yorkshire Moors to Whitby was crowned Britain's Most Scenic Bus Route in 2018 amid global TV coverage, while it had forged new partnerships with attractions, promoting admission discounts using a 'Transdev Treats' voucher alongside bus tickets bought from drivers and via the Transdev Go app.
Te campaign has seen a map developed that highlights where those Transdev Treats discounts can be used along bus routes throughout Yorkshire, and the Scenic Route Guides series highlights views and landmarks.
In York, a feet of high-spec, low-emission
buses with new interiors was launched on the City Sightseeing service, with combined tickets available for those arriving in the city on other Transdev routes.
Te judges praised Transdev's comprehensive approach to promoting so many of its routes for tourists, as well as partnering with many visitor attractions to add discount vouchers. Tey also liked cross-selling its sightseeing services with other bus tickets as one product.
SILVER WINNER
TOON TOUR, SEASIDER X11 & X75 GO NORTH EAST
Go North East has always played an active role in destination marketing and following the pandemic it launched seasonal services to tap into the local 'staycation' market. One of these services is the Toon Tour, a hop-on hop-of sightseeing bus, which allows users to see the sights of Newcastle and Gateshead from an open-top bus. Meanwhile, the Seasider X11 express service to Whitby and Scarborough linked Newcastle, Gateshead, Heworth, Washington, Peterlee and Middlesbrough with the two Yorkshire resorts.
Stagecoach Cumbria & North Lancashire operates 13 routes in the Lake District for residents and visitors across the year, the only services which do not continue year-round are those afected by adverse weather. Buses carry a Lakes Connection brand in harmony with the local area and they connect the main tourist areas and visitor attractions. Before the pandemic, passenger numbers increased by an average of 1.6% per year, but since Covid and with continued investment and innovation, the operator has managed to recover passenger numbers to 85% of pre-pandemic levels with over 95% of paid for passengers returning.
FINALISTS
20
GOLD WINNER
BRONZE WINNER
EXPLORE THE LAKES BY BUS STAGECOACH CUMBRIA & NORTH LANCASHIRE
TECHNICAL & PROFESSIONAL
n 575A, Diamond Bus North West
n
Clipper Cabriolet, First Eastern Counties
n
Exmoor Coaster, First South West
n
Skegness Seasiders, Stagecoach East Midlands
Sponsored by
Transdev
Go North East
Stagecoach Cumbria & North Lancashire
SUPPORTING THE CUSTOMER EXPERIENCE
Since customer numbers dropped during the pandemic, it's more important than ever for bus operators to retain their existing customers and attract new ones. Bus companies need to up their game with services that will appeal to existing and new customers, especially non-bus users.
Tis category is designed to recognise and reward projects, schemes and facilities that enhance the customer experience and improve the perception of bus travel.
GOLD WINNER
PUSH MESSAGING GRANT PALMER
Given the difculties currently afecting the industry, the ability to keep customers up to date with delays and cancellations is more important than ever.
Grant Palmer was the frst independent operator to use push messaging through its smartphone app and also the frst independent to launch WhatsApp messaging. A daily service update allows customers to know of any planned cancellations, whilst ongoing updates reassure customers at times of disruption. Advertisement of this feature has been through internal coving panels on buses and the company's customer newsletter.
What really attracted the judge's attention was the acknowledgement that not all customers, especially concessionary pass holders who have been slow to return since the pandemic, use a smartphone. Some may be prohibited by data costs or access to a contract. So Grant Palmer added text messaging meaning that any mobile phone user can beneft from receiving up-to-date information.
Grant Palmer believes its notifcation system means customers not only stay informed regarding products and services, but that it also helps rebuild confdence about getting back on the bus.
Te judges particularly applauded this feature, as people without a smartphone are ofen overlooked by the drive to push customers towards an operator's app.
SILVER WINNER
SKY CLASS TRANSDEV
A great customer experience inspired by in-depth research and driving modal shif from cars and trains was behind the
decision to create the premium luxury Sky Class product on two fagship branded motorway express routes: Witchway between Burnley, Rawtenstall and Manchester, and Cityzap between Leeds and York. It saw new high-specifcation buses, described by manufacturer Alexander Dennis as the highest specifcation they'd ever been asked to build, introduced on the two routes in late 2020. Since then they have helped drive patronage recovery on Witchway while both routes seized modal shif opportunities created by rail strike disruption.
BRONZE WINNER
FREEFLOW OXFORD BUS COMPANY
Consumer research, particularly that published by passenger advocate Transport Focus, has continued to show a need for lower-friction payment of fares on buses. Tap-on, tap-of contactless EMV payments
(which Oxford Bus Company have branded as Freefow) solve this problem by giving customers a means of paying immediately using a bank card or smartphone. While the company has ofered contactless payments for many years, it followed a slower (and perhaps more daunting for some customers) 'retail' model. With Freefow, much like travelling on the London Underground, customers 'tap in' and 'tap out', and the best-value fare is automatically calculated for the customer and charged to their bank card.
FINALISTS
■ Flexible Contactless Capping, Brighton & Hove and Metrobus
■ Cornwall Bus Fares Pilot, Cornwall Council
■ Ticketing and Partnerships, Diamond Bus North West
■ Nottingham Contactless, Nottingham City Transport and partners
21
Transdev
Grant Palmer
Oxford Bus Company
Sponsored by
ROSCO AWARD FOR CONTRIBUTION TO SAFER DRIVING
Sponsored by
Tis award will go to the organisation, operator or employee who, in the opinion of the judges, has made the biggest contribution towards safety and safe driving during the past year.
GOLD WINNER
does not recognise the busway as a road. GPS coordinates had to be modifed for of-highway use.
As the vehicle approaches a speed safety zone, the vehicle automatically disconnects the throttle and (using complicated algorithms) calculates what brake retardation (through the internal gearbox retarder) is required to ensure the vehicle enters the speed safety zone at the correct speed. Tat speed is maintained throughout the safety section irrespective of the driver's throttle pedal position.
of hazards, particularly in the historic centre of York. Te company had previously been using a diferent road restriction alerts system, but drivers were getting frequent alerts where they weren't needed, so they were ignored or turned of. It led them to work with ticket machine supplier Ticketer to fne-tune its Road Restriction Alerts system to meet Reliance's requirements. Geo-fences were adjusted so alerts only went of in the right places and it means that the system has helped Reliance avoid over 8,500 potential incidents in the last year.
BRONZE WINNER
SAFETY STRATEGY FORUM STAGECOACH LONDON
INTELLIGENT SPEED ASSISTANCE STAGECOACH EAST
AND VOLVO BUS
In what it believes to be a world frst on a guided busway, Stagecoach East worked with Volvo to add its Intelligent Speed Assistance technology to automatically control the speed in each speed safety zone on the Cambridge Guided Busway.
Although the technology is common on vehicles in London, the ability to automatically reduce the vehicle speed using the vehicle's retarder is a frst.
Te system uses GPS to geo-fence the speed-restricted sections, which caused signifcant technical challenges to the Volvo engineers because current digital mapping
Te system has some serious safety benefts. Tey include an automatic speed reduction to enter safety speed zones at the correct speed; improved safety benefts for drivers, customers and members of the public along the Busway; and efective speed limit compliance.
Te judges were impressed not only by how an operator and manufacturer worked together to solve a safety issue, but also that the system can now be adapted for other busway operations around the world.
SILVER WINNER TAILORED TICKETER ROAD RESTRICTION ALERTS TICKETER AND RELIANCE MOTOR SERVICES
Reliance Motor Services were looking for a simple yet tailored solution to alert drivers
Stagecoach London's peer-to-peer Safety Strategy Forum is focussed this year on a 1% reduction in passenger injuries; infrastructure collisions; employee injuries in the workplace; and vehicle vs vehicle collisions. Over the next 12 months, the company says it will campaign around improving its carbon footprint with recycling initiatives, backed by a target of a 25% improvement in recycling. Tis positive culture change will involve 'buy-in' from all employees and contractors. Stagecoach London will also be launching a 'Fitness to Work Policy' encouraging the reporting of fatigue and maximising alertness without the fear of discipline or fnancial loss.
22
& PROFESSIONAL
TECHNICAL
Stagecoach East and Volvo Bus
Ticketer and Reliance Motor Services
Stagecoach London
To succeed in this category, a bus operator, public transport authority, manufacturer or other supplier, must demonstrate how their eforts are supporting the environment. Tis could be further improving the environmental credentials of the bus or improving the environment in which buses operate. Such improvements might be reductions in noise levels and vehicle emissions, improvements in air quality and energy efciency (in vehicles and premises) and a reduction in waste, alongside waste management policies.
BIG SWITCH OFF STAGECOACH EAST
Te Big Switch Of encourages staf at Stagecoach East to turn of all non-essential electrical equipment to reduce power consumption and carbon emissions.
Over Christmas Day and Boxing Day last year, the company reduced its electrical emissions to 29% of the previous year, saving over 1,000-kilowatt hours of electricity in just two days. Te best performing depot was Cambridge, whose eforts saw an incredible 37% reduction in CO2 equivalent compared to the previous year. It led the depot team to be highly commended for their eforts in the sustainability category of the internal 2022 Stagecoach Stars Awards.
Building on that success, various other initiatives such as Switch Of for the Weekend, have continued to reduce Stagecoach East's carbon emissions to what it expects will be a signifcant saving by the end of the year.
Te campaign has helped to raise overall awareness across the company. Staf are encouraged to think about their energy usage and how it directly afects our environment. Stagecoach East says the campaign has started some important conversations and initiatives in reducing waste in other areas of the business which it is hoping to launch this year.
Te judges loved this entry for its simplicity and efectiveness. It's something that every bus depot and operating base throughout the UK could be doing. It not only reduces the carbon footprint of the industry but in these days of high energy prices, saves money.
SILVER WINNER
ELECTRIFYING CALEDONIA FIRST GLASGOW
As part of Transport Scotland's new funding scheme, Scottish Ultra Low Emission Bus fund (SULEB 1/2), First Bus set out an
ambitious plan to electrify just under half of the feet at their fagship Caledonia Depot in Glasgow. A total investment of over £28m from Transport Scotland and a First Bus contribution of over £40m have helped to realise this ambitious project with the delivery of 148 fully electric buses and the relevant infrastructure to charge, operate and maintain the feet. Te project is predicted to remove 10,082 tonnes of CO2 per year, 112 tonnes of NOx per year, and 0.22 tonnes PM per year when all vehicles are in service.
BIGGEST ZERO EMISSION PARK & RIDE FLEET FIRST YORK
First York completed the introduction of the biggest zero-emission Park & Ride feet in the country in June 2021 when 21 electric double deck buses began operating in the medieval city. Tis achievement, with an investment of £9.3m, demonstrated the operator's shared ambition and partnership with City of York Council to create cleaner air in York and go further in meeting the Voluntary Clean Air Zone introduced by the council. Te Park & Ride feet now saves 1,600 tonnes of carbon emissions every year while continuing to support providing car drivers with an alternative means of accessing the historic city centre.
FINALISTS
■ New Vehicles for Manchester, Diamond Bus North West ■ Zero Emission Project, Translink ■ Nottingham's Green Euro Vl Fleet, Nottingham City Transport
23 ENVIRONMENT
GOLD WINNER
BRONZE WINNER
First York
Stagecoach East
First Glasgow
Sponsored by
TRANSPORT FOR LONDON AWARD FOR LONDON BUS GARAGE OF THE YEAR
Sponsored by
Tis Award is open to garages that operate buses on contract to Transport for London. Performance and monitoring data will be used by TfL to compile a short-list of garages reaching high levels of recorded performance. Each short-listed garage will be challenged to submit its own assessment of its achievements, emphasising the impact of local initiatives on customer service, staf well-being and the communities served.
GOLD WINNER
PUTNEY GO-AHEAD LONDON
Go-Ahead London operates Putney garage, one of the top performers, exceeding across almost all metrics with lost mileage and on-road performance being particularly exceptional.
Te 'Team Putney' ethos runs throughout colleagues at the garage and there is a strong bond between departments, meeting challenges and sharing success together. Tere's also a commitment to providing the best possible service for passengers.
Managers consistently engage with drivers and deliver workshops on topics such as passenger interaction and onboard
announcements, while drivers with high Driver Quality Monitoring scores share their knowledge and advice with colleagues. Success is also frequently celebrated, with a Wall of Fame congratulating colleagues on their performance.
Tere is a regular focus on communicating what driver colleagues can do to minimise lost mileage. Te garage supervisory team have also worked solidly to maximise duty coverage, despite the ongoing stafng challenges, along with a desire to assist other Go-Ahead London garages.
In engineering, a strong team bond ensures that everyone works together to achieve the best possible performance, in terms of minimising lost mileage and maximising health and safety performance. Te engineering team have a real focus on efective maintenance and stepping in to assist each other whenever required, ofen going above and beyond.
Te judges really liked how everyone across the garage worked together to make it a polished machine delivering excellent services for its customers. Truly a gold-winning London garage.
SILVER WINNER
BOW STAGECOACH LONDON
Bow prides itself on being a very multicultural garage in terms of ethnicity and is an inclusive place to work, being the
second home to 413 drivers, 18 engineers, six supervisors, three managers, catering, and cleaning staf, all of whom collectively work as one unit to keep London moving day in, day out, including during a pandemic. Te garage has a simple pledge for colleaguesBow - Working Together, a philosophy that has been adopted by all members of the team. Charitable eforts this year have seen £3,794 raised for Water Well, a charity that helps supply fresh water in countries such as Bangladesh and Te Gambia.
BRONZE WINNER
BRIXTON ARRIVA LONDON
Arriva London says what makes Brixton Garage incredibly special is the fantastic team, inclusive of drivers, garage supervisors, engineers, managers and the performance control team, who genuinely care about delivering the best service possible to customers. Te management team have created a culture of learning and education, encouraging questions related to metrics and providing regular feedback to all colleagues. Tey set the standard of teamwork and exceptional delivery standards.
FINALISTS
n Beddington, Abellio London Bus n Lea Interchange, Stagecoach London n Uxbridge, Metroline
24 LONDON AWARDS
Putney
Brixton
Bow
LUKE REES-PULLEY CHARITABLE TRUST AWARD FOR TOP LONDON BUS DRIVER
Te winner of the Top London Bus Driver prize will be the individual who best represents the customer's ideal; a driver who is friendly, helpful, conscientious and mindful of passengers' safety, comfort and well-being – in short, a true professional and worthy ambassador for the job.
making an impact was demonstrated by her promotion in October 2021 to the position of driver mentor, where she is inspiring the next generation of drivers to provide the best possible experience for passengers.
As part of National Apprenticeship Week in February, Koli gave an inspiring speech to the Industry and Parliament Trust telling her personal story and the career possibilities ofered by apprenticeship schemes. To inspire more women to join the bus industry, she also appeared in promotional videos for the government's national apprenticeship programme and Go-Ahead's driver apprenticeship scheme. Encouraging others to join the industry, Koli says you should "Never say no to an opportunity."
his customers. Customers commendations have highlighted his frst class driving skills, politeness and cheerful disposition. As one noted, "It was lovely to see him in such a good mood."
BRONZE WINNER
DOMINGOS
GONCALVES
RATP DEV TRANSIT LONDON
Koli Begum is based at Go-Ahead London's Northumberland Park garage and has made a huge impact since joining the industry in 2020 on Go-Ahead London's apprenticeship scheme.
Overcoming personal difculties, she has become a real ambassador for women in the bus industry and the driver apprenticeship scheme, leading the way for other women to join the bus industry, and challenging age, and gender stereotypes.
Koli's strong ethos of contributing and
With an excellent performance record and her passion for the job and bus industry, the judges were amazed at what Koli has achieved in two years. She's a real ambassador for Go-Ahead, Transport for London and the whole bus industry.
SILVER WINNER
WOLFGANG CHINDAMO METROLINE
Wolfgang joined Metroline in May 2003 afer a career in hospitality. Bringing with him his excellent customer service skills, in the nearly 20 years since he started, Wolfgang has consistently maintained a very good ethos toward the role and more specifcally
Every time Westbourne Park driver Domingos Goncalves pulls out of his garage he is proud to play a vital part in London's world-class public transport system. He speaks fve languages: his native Portuguese, English, Spanish, French and Italian and he wishes he could also speak German! Tose language skills have come in handy when it comes to helping his customers who have ended up in difculty. As well as possessing clear 'people' skills, Domingos is a highly competent driver - he has worked at Westbourne Park for 22 years and he has never had a blameworthy accident!
FINALISTS
n Aliya Aleskerova, Metroline
n Kellie Heard, Stagecoach London
n Nimish Jamnadas, RAPT Dev Transit London
n Mohamed Maow, RAPT Dev Transit London
n Porpin Owusu, Metroline
25
GOLD WINNER
KOLI BEGUM GO-AHEAD LONDON
Sponsored by
Wolfgang Chindamo
Koli Begum
Domingos Goncalves
Congratulations to all of the winners at the 2022 UK Bus Awards from everyone at CBW www.cbwmagazine.com/subscribe/ amy@cbwmagazine.com 01733 293482 *PriceshownisUKmainlandonlyandvaliduntil31stDecember2022 November, 2022 Issue 1550 £3.79 SEE PAGES41-59 VEHICLES NO.1 In the news: City Sightseeing Glasgow orders new StreetDeck Electroliner open-top fleet Equipmake continues on its UKmissiontorepower bus fleets EURO BUS EXPO VEHICLES SPECIAL LONDON ICON electrified with emissionzerodrivetrain SIGMA CELEBRATEDSUCCESS Mellor'snewelectricbusrangeon displayatEBEattractsmultipleorders ALEXANDER ELECTRIFIEDDENNISFull details of new Enviro400EV and 8.5m Enviro100EV models revealed AOSdelegationvisits EVM UK at EBE to seeandnewrangedebut ordersplaced 001_CBW1550_Cover.indd 07/11/2022 16:37 Subscribe for a whole year for only £109.99* UK Bus awards Advert.indd 1 11/11/2022 11:07:21
TOP NATIONAL BUS DRIVER: THE CHRIS MOYES MEMORIAL AWARD
PCV test and then as a friend throughout their career.
Tis Award is presented to the bus driver who has best demonstrated excellent performance from the customer perspective in the past12 months.
To win the title of Top National Bus Driver, entrants need to go that extra mile to provide the customer's ideal; a driver who is friendly, helpful, conscientious and mindful of customers' comfort and wellbeing - in short, a true professional and worthy ambassador for the job.
WINNER
JONATHAN SMALLMAN NOTTINGHAM CITY TRANSPORT
Jonathan Smallman joined Nottingham City Transport in 2019 and has an exemplary record with 100% attendance and a telematics score that consistently puts him in the top 1% of NCT drivers.
NCT says his excellent attitude and customer service see him help new drivers settle in as a Support Driver and Mentor, spending time with them during their frst two weeks on the road afer passing their
Outside of that role, Jonathan drives Orange Line services to the west of the city, passing the University of Nottingham and the busy QMC hospital. As destinations where many people make new and unfamiliar journeys, Jonathan's natural, friendly approach to customer service enables him to reassure passengers about what can ofen be stressful times on journeys to and from the hospital.
In fact, customers love Jonathan, with numerous commendations on his fle and this year he was crowned NCT's Driver of the Year. We were also very pleased to ofer him a fantastic present for his birthday, which fell on the day of this year's UK Bus Awards presentation ceremony - we named him Top National Bus Driver!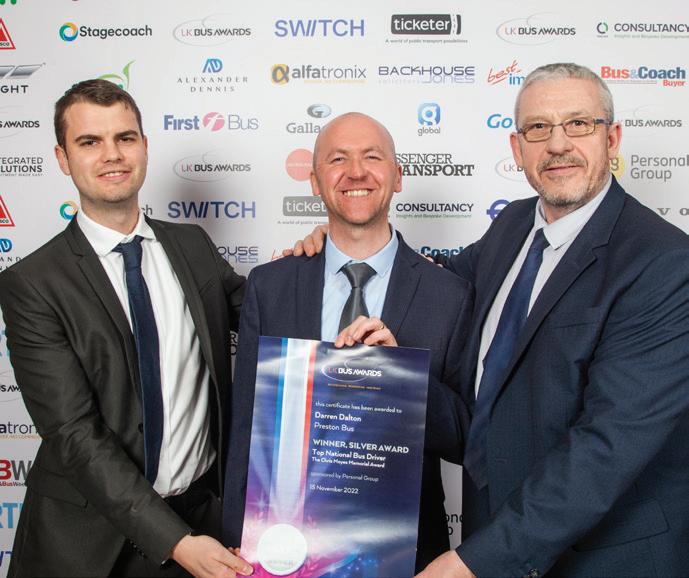 Our mystery travellers agreed with NCT's internal mystery traveller score where Jonathan scored an impressive 95%, making him a very worthy gold winner.
SILVER WINNER
DARREN DALTON PRESTON BUS
Darren Dalton has a passion and love for buses. He joined Preston Bus in 1998 and he is now a senior driver. Although he's only in his mid-40s, his employer says he is a credit to the business. Darren has proven himself
to be a safe and competent driver too with an excellent accident-free record which has led to him attending the Bus Driver of the Year competition this year. He fully understands the professional elements of working with the public, both in customer care and driver behaviour and he prides himself in operating a service that fts the needs of the customer and will always go 'above and beyond' in the pursuit of excellence.
BRONZE WINNER
GURNAM SINGH STAGECOACH WEST
Since joining Stagecoach fve years ago, Gurnam has generated a record-breaking 166 customer commendations and was named Stagecoach West's Customer Service Driver of the Year in 2018. Gurnam is a true role model for exemplary customer service, and safe and smooth driving and he is professional in all aspects of his behaviour. His safety and environmental credentials are evident in his fantastic on-bus telematic scores are second to none and demonstrate that he is the complete package. Customers comment on his ability to engage with passengers, provide assistance without being asked and most commonly, his sunny disposition.
Ama Adae-Bosmpra, Uno
Grzegorz Ranis, Uno
27
GOLD
PEOPLE
FINALISTS ■
■
Sponsored by
Jonathan Smallman (centre)
Darren Dalton (centre)
Gurnam Singh
OF THE YEAR
Tis award is designed to recognise and reward outstanding performance in middle or senior management in the UK bus industry. Te category is open to middle and senior managers who have worked in their current capacity for a continuous period of not less than twelve months at the closing date of the competition.
JIM THORPE UNO
Jim Torpe is the enthusiastic Managing Director at Uno. He is a leader that understands the importance of having an engaged and motivated team to meet targets and company objectives.
Having already taken over the St Albans operations and depot of Centrebus to its purpose-built depot in Hatfeld, under Jim's leadership, two further operating bases in Northampton and Cranfeld have been added. During Covid and the recovery period, Jim led the project to operate the frst rural DRT solution in Hertfordshire and to start a Transport for London school contract where Uno ofered a green solution - four electric vehicles, depot infrastructure and a fresh livery design.
He is a founder member of the Diversity and Inclusion Bus Group, part of Women in Transport, and dedicates time and funds to help accelerate inclusivity, something he is extremely passionate about.
Jim is a frm believer in staf development and motivates his team to produce outstanding KPIs, including a customer
satisfaction rating this year of 99%.
Uno says these impressive statistics are a direct consequence of Jim's leadership, and clearly demonstrate the continued commitment to building a high-performance culture encompassing engagement, training and innovation.
Te judges praised Jim for building Uno into an operator that punches well above its weight for the size of its operation. Tey identifed his excellent use of marketing and external consultants, and his own enthusiasm to create a great place to work and provide excellent services for his customers.
SILVER WINNER
JOEL MITCHELL STAGECOACH SOUTH EAST
Joel Mitchell joined Stagecoach South East as Managing Director in March 2019. In the three years he's been with Stagecoach South East, he has committed his work to bettering the business for everyone, before, during and afer the pandemic. Known by his colleagues in the South East for his approachable and caring nature, Joel is a leader who shows up
in every department and area of the business - and he even dressed up as the Easter Bunny in April 2022 to hand out chocolate eggs, spreading joy to communities afer the past difcult two years everyone has faced.
BRONZE WINNER
SAMANTHA TEGGART ABELLIO LONDON BUS
Since joining Abellio London in 2016, Samantha Teggart has swifly risen through the ranks building her industry expertise and insight. She is now the valued and respected Operations Manager for the Twickenham Depot responsible for over 400 employees. Te company praises Samantha, saying she has empowered and motivated her team while giving them the freedom to succeed. She has taken the time to build relationships within her team and the rest of the business and, tellingly, Samantha knows the name of every driver in her depot.
FINALISTS
n Bill Daly, Stagecoach London
n Ken Fennell, Abellio London Bus
28 PEOPLE LEADER
GOLD WINNER
Jim Thorpe (centre)
Sponsored by
Samantha Teggart
Joel Mitchell
YOUNG MANAGER OF THE YEAR
Tis award is designed to recognise, reward and inspire management talent in the UK bus industry. Te category is open to all managers who are under the age of 30 at the closing date of the competition and who have worked in their current capacity for a continuous period of not less than six months.
GOLD WINNER
HAYLEY RUSSELL FLIXBUS UK
Having worked at FlixBus for over a year, Hayley has played a key role in launching the global coach provider's intercity coach network in the UK, going from a standing start to national coverage in just a few months, during the pandemic. She remains instrumental in FlixBus' ongoing network growth, establishing the company as a major player in the UK, now serving over 40 destinations around the country.
Responsible for the company's operations strategy, she manages the launch of new lines, destinations, partners, and internal teams. In the last 12 months she has welcomed nine new coach operators onboard and works with
existing partners to continually improve and expand the network. Most recently she was a key leader in the launch of FlixBus' new Manchester-Paris route.
Hayley is a lynchpin of the operations team, coordinating a wide range of key internal departments including trafc control, customer service and legal, as well as liaising with external stakeholders. She has singlehandled negotiated signifcant contracts with key suppliers and developed the network's 'Go Live' process, now in place for the launch of all new routes in the UK.
Te judges think Hayley has real star quality, and considered her to be a passionate thinker with a thorough understanding of the business and the wider industry. Tey think Hayley has an exciting future ahead in the industry.
SILVER WINNER
ZACHARY MCASKILL STAGECOACH MANCHESTER
Zachary McAskill was promoted to the role of Operations Manager at Stagecoach Manchester's Hyde Road depot in early 2022. It is the largest Stagecoach depot in the UK with 600 staf and 220 buses and Zachary is Hyde Road's youngest ever operations manager at just 25. His employer says he is an integral part of the management team and
leads from the front. Tat has created positive change in depot performance and morale, supporting the training department in recruitment and training of staf, pioneering supervisory training and he even pitches in on the supervisory desk and with the driving of services.
BRONZE WINNER
BEN HOUGHTON STAGECOACH LONDON
Afer successfully attending a work experience project, Ben Houghton was fortunate enough to be ofered an engineering apprenticeship with Stagecoach London - he was just 16 at the time. His hard work and skill were recognised as he was nominated his for an award, 'Young Apprenticeship of the Year' - which he won! Since then he has taken on a number of engineering roles within Stagecoach London and his innovative thinking has helped to create signifcant improvements in engineering processes and vehicle availability.
FINALISTS
n Daniel Bowden, Stagecoach East Midlands n Tomas Calderbank, Diamond Bus North West n Michelle Doyle, Stagecoach West
29
Sarah Bartlett (centre), a colleague of Hayley Russell collected the award
Zachary McAskill
Ben Houghton
UNSUNG HEROES AWARD
Tis category is for one or more individuals who perform supervisory or junior management roles in the bus industry and who are known for their hard-work, loyalty and devotion to duty. Unsung Heroes are those who keep the wheels turning against all the odds. Tey ofen work for years with no recognition, save their own satisfaction in a service delivered and a job well done.
WINNER LESLEY HESTER STAGECOACH MANCHESTER
Lesley Hester has been in the bus industry in Manchester for over 30 years. Starting as a driver, she's gone on to manage most of Manchester's depots and is currently the Operations Manager at Stagecoach Manchester's Sharston depot.
Despite being a large depot with over 170 buses and 450 drivers, the time, empathy and support Lesley has for her team cannot be overemphasised. Her commitment to developing and recognising them means a lot to every one of them.
Lesley looks for opportunities for members of her team to develop skills and confdence. She is currently supporting
a team member to lead the group-wide Veterans Employee Network. Lesley is the company-wide Health and Wellbeing Champions lead, encouraging events and activities across all depots.
Te judges were hugely impressed with this real people person, impressed by the breadth of her activities, and her commitment to supporting her staf and customers. A real unsung hero.
SPECIALLY COMMENDED
n Aafreeda Merican, Abellio London Bus
n Kolawole 'Kola' Obasa, Metroline
n Glenn Oldman, Stagecoach London
n Louise Sills, Stagecoach South East
n Steph Smith, Diamond Bus North West
n James Tird, Stagecoach South East
30
GOLD
PEOPLE
Sponsored by
Lesley Hester (centre)
ENGINEER OF THE YEAR
GOLD WINNER
JAMIE STOCKTON STAGECOACH MANCHESTER
Tis award is designed to recognise, reward and inspire management talent in the engineering disciplines of the UK bus industry. It's open to all people employed at, or above, the supervisory grade in the engineering function of bus operation, maintenance or manufacturing companies or organisations, for a continuous period of not less than twelve months at the closing date of the competition.
Jamie Stockton is Fleet Engineer at Stagecoach Manchester's Ashton depot. He joined the company's Engineering Apprenticeship Programme in 2004 before successfully moving to the Graduate Scheme in 2012. He has since progressed in his career holding various supervisory roles, before moving to Ashton in November 2020.
Jamie has turned around the performance and staf engagement by focusing on developing teamwork. He also works closely with the operations team to bring both departments together.
He's been instrumental in changing the culture within the depot and promoting a culture of safety. Jamie set a clear vision, focusing on preventative maintenance, feet presentation, trend analysis and continual improvement. Tis ensures that our customers and communities can enjoy safe and reliable travel.
Alongside the Operations Manager, Jamie was recognised for his achievements in the Stagecoach 2022 Annual Star Awards, winning in the Top Team category and being awarded the overall Star of the Year.
He is also a strong advocate of Stagecoach's apprentice programme, mentoring two apprentices himself. Last year he helped to develop a new recruitment process with a practical element for apprentices which has resulted in 100% retention.
Te judges described Jamie as "a breath of fresh air" who uses his enthusiasm to get people on board and get things done. Tey also liked his efective change to apprentice recruitment.
SILVER WINNER
CRAIG MILLS STAGECOACH LONDON
Craig Mills career in the bus industry began in 2003 when he started working at Leyton Bus Garage as a trainee mechanic. Promotion followed and in January 2019 he was appointed as Engineering Manager at Romford Garage. Craig is a frm advocate of preventative maintenance and he has focused on trends and repeat defects in a bid to clamp down on breakdowns. It has paid obvious dividends as Romford has been the bestperforming garage in Stagecoach London for lost mechanical mileage and is always in the top four best-performing garages out of 75 in the whole of London. Te success has been such that Craig was recently promoted to Chief Engineer of Stagecoach London's east London garages. As his employer notes - he's one to watch.
BRONZE WINNER
MICK BRANIGAN DIAMOND BUS NORTH WEST
Mick Branigan is dedicated and hardworking, says employer Diamond Bus North West. He is organised and focused on continuously learning and developing best practices to manage routine activities efciently. He joined the company in late 2019, shortly afer Diamond acquired the Bolton operations of First Bus. Since then, he has used his vast experience and knowledge to both modernise and develop processes, bringing consistency to the business.
31
FINALISTS
n Darren Bull, RATP Dev Transit London
Sponsored by
Jamie Stockton (centre)
Craig Mills
Mick Branigan
BUILDING
"The technology is evolving very quickly. It is not yet suited to longer routes or for the smaller depots and outstations that support many lower-frequency rural services.
"Our recommendation is not to set an end date for the sale of nonzero-emission buses until there is much more clarity about the best technology; this was a key theme of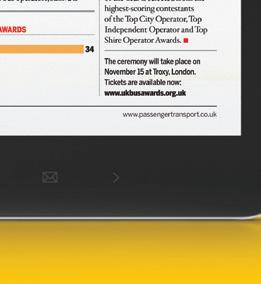 15 ownership meant that scope for a car-led recovery was always going to be limited. At the same time, as a destination for tourism, Blackpool Transport ciary of the relatively buoyant market for leisure travel. Concessionary travel has risen as older people visit the town and use their free travel passes. "Hopefully by this year we will be back at about 90% of 2019 and hope by the end of 2023 we are back to where we were in 2019," en we can start seeing growth beyond that." ere are other reasons to be positive. Gauge testing has just begun on the extension of the
get
f
leap of faith, it's a big risk, and I
that, but when you're gifed £19.6m you know that you're
the starting blocks. So why wouldn't you take this risk?" Te decarbonisation of the bus feet, alongside the electric tramway, will help Blackpool Borough Council with its goal to reach net zero by 2030. Cole adds: "It's going to help us to modernise again to reduce costs, to make us more productive and to shout from the roofops that we are now carbon neutral, which is ethically the right thing to do." She predicts that the government will push the industry to decarbonise at pace and she believes that her fellow operators need to have strategy in place for transitioning away from fossil fuels. Her belief is that they will be rewarded by a younger generation who are more conscious of environmental issues and cannot aford to buy cars and pay insurance for them.
to work less frequently. It ofers 10 single journey tickets
price
ticket
got
respond
Cole
locals, residents,
visitors
tram travel
our products
we may see a dip where we have to look at our prof margins and we have to give some stuf away to start with, because SPRING HAS SPRUNG FOR BLACKPOOL TRANSPORT We meet Jane Cole, managing director of Blackpool Transport, host of this year's ALBUM Conference, and hear why she is feeling optimistic about the company's future The ALBUM Report 2022 Jane
"Suddenly we are going, fippin' 'eck, the horizon's looking really busy," says Cole. "It's looking prosperous and we've got an opportunity to do what we did fve to six years ago and that is to transform the business once again. Tere's a real excitement in the business at the moment. We know what we want to do and we've got an idea about how we are going to do it." Cole expects that the ZEBRA funding will enable Blackpool Transport's bus feet to be replaced with completely brand new electric vehicles by 2026. Blackpool Transport already has a youthful feet, with vehicles ranging between three and six years old. Te company's plan was never to have a vehicle more than fve years old. But a rapid transition to electric is preferred, with Cole and her colleagues wishing to avoid having hybrid eet of diesel and electric vehicles. "From a business point of view, if we don't do it now and take this opportunity, we could end up never having the chance to do this," Cole explains. "So it's a big The passengers are returning: Bus use in Blackpool is now over 75% of pre-Covid levels while tram use is at 83% when people are coming to Blackpool as a visitor that they understand that Blackpool Transport are here and we provide really good, ethical, clean transport to get them around," she says. "So our marketing really has to win the hearts and minds of people before they arrive… We've got to make sure that we engage them." For example, the company is talking to train operator Northern about seamless ticketing, with new add-on fares in addition to the existing PlusBus scheme. It's also working with the coach operators. Cole served as president of the Confederation of Passenger Transport during 2021, the frst women to do so. During this period she lobbied government on behalf of these companies but she believes that they got a "bloody raw deal" during the pandemic, receiving comparatively little help as their revenues collapsed. To support them in a personal way, she and Andrew McGuinness, CPT's regional manager for the North of England, took a coach holiday to Durham with Bibby's of Ingleton. She was impressed to fnd ambassadors approach the coach and provide information about the city as well as onward travel by bus. "It's about informing the customers when they get here what they can do," says Cole. "[We have] a ticket for £5.50 for 24 hours of travel, you couldn't get into an attraction in Blackpool for that!" Te company is working with Alex Warner of Tracsis Transport Consultancy to fnd ways to market the bus as an attraction in its own right. T company will try some experimental 'pop-up' marketing and if it's successful Cole says that the company will go "all out" with its marketing next year. Tere's tons that you can do. We want to try and start marketing away from the promenade because our trams are full." Concluding her thoughts on marketing, Cole adds: "It's thinking about innovative ways and diferent things. Because every town and every region is diferent. What we do here will not suit Manchester, it will not suit Durham. We've got to fnd that sweet spot for Blackpool that really entices people to want to do things with Blackpool Transport." "There's a real excitement in the business at the moment. We know what we want to do and we've got an idea about how we are going to do it" LOCAL PRIDE Like many of the municipal and independent operators that make up the ALBUM community, Blackpool Transport excels at local engagement. Blackpool is a place where the community has good track record of coming together and working in innovative ways to improve their town. And the bus company is at the very heart of that. It's for this reason that prime minister Boris Johnson and his levellingup secretary, Michael Gove, chose to launch their levelling-up white paper in February with a visit to the company's new tram depot. "He was very impressed," says Cole of the prime minister's reaction to seeing the facility and hearing about the operation's progress. She adds: "We have been very lucky that government have taken an interest in Blackpool. think they are doing that because they see some examples of really good practice." A Lancastrian who has now headed Blackpool Transport for seven years, Cole is very familiar with the region and the issues that are important to it. "I think the unique part of being an MD for a municipal is the fact that we can scan the horizon," she says. "We can have the local relationships. So, for example, am the president of the North West Lancashire Chamber of Commerce... So understand the business perspective of the town. work very closely with the council and all the other businesses because I'm on the Blackpool Business Leadership Forum... sit on the Future Prosperity Board for Fleetwood. work very closely with Fylde. We have a great relationship with Lancashire County Council. So we are able to do a load of horizon scanning." From where Cole is sitting that horizon is looking bright. The past two years have been tough for everyone, but the passengers are returning and she believes that Blackpool Transport can look forward to a period of growth and prosperity. Boris Johnson launched the levelling-up white paper with a visit to Blackpool Transport think the most difcult thing is going to be to get people to migrate who are current car owners." Visitors have been identifed as key growth market. Cole believes that local people are already familiar with their locally-owned bus and tram company and are proud of it (92% of its customers were 'satisfed' in 2019 Bus Passenger Survey by Transport Focus, compared to 89% across England). "We want to make sure that WE'VE GOT YOU COVERED Subscribing to Passenger Transport is easy. You can call us on 020 3950 7992, email subs@passengertransport.co.uk, or go online now to www.passengertransport.co.uk Congratulations to all the winners and finalists at the UK Bus Awards 2022... SUBSCRIBE TODAY CALEDONIA IS COMPLETE Glasgow is now home to the UK's largest electric vehicle rapid-charging centre after First Bus completed the major transformation of its flagship Caledonia depot. Pictured above: Scottish transport minister Jenny Gilruth with First Bus Scotland boss Duncan Cameron during a visit to the site last week to mark the completion of works, which will allow 150 electric buses to be charged at the depot at the same time - hailed as "a game changer". www.passengertransport.co.uk ZERO EMISSION BUSES The ALBUM group of independent and municipal bus operators wants the government to resist setting an end date for the sale of non-zero-emission buses "until there is much more clarity about the best technology". Responding to the government's consultation on ending the sale of non-zero-emission buses, the group said that its members agree strongly that it's vital to tackle climate change. However, they warn that zero emission buses bring much higher costs. They are more expensive to buy and need infrastructure to support electric or hydrogen refuelling. A statement published by ALBUM pleads for time to make transition Operators need 'greater clarity' on shift to zero emission buses ALBUM
BACK Blackpool Transport has fgured its pricing to respond to a post-Covid world where travel behaviour have changed. For example, tickets for young people now cover anyone up to the age of 22, ofering substantial savings. So 24 hours of travel now costs £3.70 for a 21-year-old compared to the £5.50 previously. Unsurprisingly, this change has resulted in growth. Meanwhile, the company's new 'Flexi10' ticket is targeted at those travelling
for the
of eight. "We know that everybody is not using the bus on a seven-day
or monthly pass, so we've
to make sure that we react and
to the needs the market,"
explains. "Our strategy really is that we are just going to get under the skin of
commuters,
diferent demographics and segments and fnd out what it is that they really want from bus and
and make sure we tailor
to meet that demand. "And yeah,
Cole
this week said: "This means that financial support from central and local government is vital if we are to avoid higher fares or reductions in services, especially in the smaller urban and rural areas in which many ALBUM members operate.
the ALBUM Conference in April in Blackpool. Challenges have to be identified and solutions found. "We are sure that the government knows that this is a tough problem; the focus for all bus operators is survival as we build back passenger numbers after the pandemic." Between them ALBUM members operate over 5,500 vehicles: about 14% of the local buses operated across Great Britain. The collective size of the operating fleets of companies in which ALBUM members work, if taken as a single entity, would be Britain's third largest bus operator. ALBUM policy advisor Tony Depledge commented: "We are keen to work with the government to scope the challenges and to identify solutions that will benefit the communities that we serve. The transition to a low and zero-carbon future brings many financial, operational and technical challenges." "Our recommendation is not to set an end date for the sale of non-zero emission buses" WRIGHTBUS GERMAN DEAL Wrightbus has signed a deal with German Bus operator Regionalverkehr Köln GmbH (RVK) to supply up to 60 Kite Hydroliner single deck buses. The buses will be the first integral left-hand drive vehicles that Wrightbus has made and exported since entrepreneur Jo Bamford bought the Northern Ireland-based bus builder out of administration in 2019. All of the buses will be fully built at the Wrightbus factory in IN BRIEF PT266p10-11.indd 11 Jane Cole is enthusiastic about the green shoots that are starting to appear before her. T Blackpool Transport boss is now forecasting "a really prosperous and interesting future". Covid saw public transport use plummet as people were urged fnd other ways of travelling during the peak of the pandemic. However, in Blackpool they are now returning in greater numbers than in many parts of the country. At the time of our meeting in late March, bus passenger numbers in Blackpool were over 75% of what they were in the equivalent period of 2019. Tram use has recovered even faster at 83%. On some days tram use has even reached 123% of 2019 levels! Blackpool's relatively low car is a benefciary hope by the end of 2023 we are back to where we were in 2019," says Cole. Ten Tere tramway from the seafront to Blackpool North railway station - a missing link that will encourage greater use of public transport among holiday-makers, feet Furthermore, the council-owned company is buzzing about going all-electric. Tanks to a £19.6m grant from the government's Zero Emission Bus Regional Areas (ZEBRA) scheme, announced in March, the entire Blackpool Transport feet will be replaced by a new cohort of 115 electric buses. EBYD UK have delivered their 1,000th zero emission bus. The BYD ADL Enviro400EV double decker was part-funded by the Scottish Government and handed over to Stagecoach Bluebird in Aberdeen during Scottish Bus Week in the presence of Richard Lochhead, the Scottish Government's minister for just transition, employment and fair "This milestone demonstrates Ballymena. The first vehicles will Passenger Transport keeps you informed about what's going on in your industry, in print and online. We are the leading magazine for those who are interested in the new ideas and initiatives that will shape the future of transport. Find out about next year's winners today @passtrans Blackpool Transport Gold Winner UK Bus Operator of the Year @passengertransport Electrifying Caledonia, First Glasgow Silver Winner Environment Award Stagecoach Winners of 20 awards – seven gold, six silver and seven bronze Save 25% on new subscriptions with promo code UKBA22
SERVICES TO THE INDUSTRY
Te Award for Services to the Bus Industry recognises a signifcant and sustained contribution to the success of the industry by an individual who has consistently gone beyond the call of normal duty to improve and promote the bus industry for its users or the wider community over a period of years.
PETER CRICHTON
Peter launched Omnibus Solutions in 1989 using his industry knowledge as scheduler and programming skills to create tools that made the job of scheduling much easier and faster. As the company grew, so did the suite of sofware solutions that simplifed everything from roadside publicity, data compliance and staf management.
Peter carefully assembled and nurtured an expert team that possessed a wealth of industry knowledge as well as technical programming skills. Tis team worked alongside Peter, and operators across the bus industry, to ensure that every tool being developed would have the biggest impact,
saving thousands of hours by simplifying many back-ofce processes for bus operators, large and small across the UK.
Peter has always been keen to support the industry in other ways. He has been involved in various industry organisations for many years, including the Chartered Institute of Logistics and Transport (CILT) and the Omnibus Society. Peter has also encouraged his knowledgeable team at Omnibus to be actively involved in many organisations such as the Young Bus Managers Network and the CILT's Bus Mark scheme.
Peter really has made an outstanding contribution to the industry and is fully deserving of the Services to the Bus Industry award.
33
GOLD WINNER
PEOPLE
Sponsored by
Peter Crichton (left)
JUDGING ENTRIES
When I took over as chair of the UK Bus Awards in 2017, I was incredibly grateful to John Owen
for continuing to be the convenor of judges which allowed me time to push my feet under other tables. With Alan Millar taking on the chairing role - and I wish him every success with that - it has been a pleasure to stay on to oversee the judging which is always a fascinating exercise as well as being at the heart of the awards.
Te bus industry is on a very difcult journey to re-establish itself afer the huge disruption caused by the pandemic and, on a much smaller scale, the UK Bus Awards have also needed to survive two years with pretty much no income and then to work its way back to staging a live event at Troxy this year. We did produce a video tribute to the industry in 2020 and a virtual event in 2021 and you won't be surprised to learn that, like the bus and coach operators, we found diferent ways of running the awards more efciently whilst still ending up with a deserving set of winners, all of whom have been through a rigorous process.
We have made life easier and more streamlined for everyone. Entry by simple email was tried in 2021 and has been retained this year. In 2021 it led several businesses, which had never entered the awards previously, to put themselves forward and the number of entries was one of the highest ever seen. It also allowed the whole process to be managed afer that without chopping down
a forest on the way. Judges also preferred the approach and, inevitably, we used Zoom 100% in 2021 and to a degree in 2022 to avoid judges and interviewees from travelling down to London if that was not convenient.
What we have not lost is the rigorous process underpinning the awards, so the judging panels have had their robust discussions and the interview panels for Young Manager, Engineer and Leader of the Year, have continued unchanged. In addition, the small army of mystery travellers led, as usual, by Gavin Booth have continued to ride on the buses and express coaches of would-be drivers and operators of the year to match the fne words of entries to what actually happens on the ground.
Tis year's awards have been like a mirror of what is going on in the industry. On the plus side, the categories which touch on new ideas and outstanding bus and coach people have all had a long list of entries to challenge for the honours. Tat is healthy because nothing much is going to move forward without energy, ingenuity and determination from people at all levels - and, thankfully, they are out there in the businesses.
Te operator awards have had a diferent response, infuenced heavily by the cocktail of fare increases and service reductions which even the most customer focussed and expansionist businesses pre-Covid have had to contemplate. On top of that has been a shortage of drivers which, for the frst time, has afected pretty much the whole country with even traditionally excellent operations not being able to cover the full service. Te industry does not feel good about itself and this has fed through into a reluctance by some to step forward as potential operators of the year until these fundamentals have been overcome. Others were willing to enter despite the challenges and uncertainties and we have ended up with some worthy winners, even if in some of the categories we pulled back from awarding silvers and bronzes where the mystery travelling showed examples of unnecessary problems being set for would-be customers which had nothing to do with the UK-wide problems. It is all our hope that everyone will be further down the track next year in recovering more fully from stafng and fnancial difculties.
As ever, we are extremely grateful to the many who have given up their time to fll the judging and interview panels and to be the mystery travellers. Above all, we applaud those who have entered the awards this year despite all the difculties and distractions of daily life at the moment.
34
Mark Yexley, convenor of judges for the UK Bus Awards, explains how the process behind the judging of the scheme remains as rigorous as ever, with expert judges, mystery travellers and interview panels
This year saw the return to a live presentation ceremony in the magnifcent surroundings of Troxy in London, which was only made possible by our valued supporters, patrons and sponsors, despite them having had difcult trading circumstances during and since the world came to terms with our new post-pandemic working methods and practices. Coupled with the very real situation of ever tighter fnancial budgets, it was good to see the bus industry come together to show its support for its people and the innovative projects that are needed in a constantly evolving world. UK Bus Awards is very grateful to all our supporters, be they longterm or new this year.
Te UK bus industry is renowned for
providing some of the best customer satisfaction and service. Te UK Bus Awards is the only dedicated scheme to promote, showcase and reward the very people who make this possible. Te awards also serve as inspiration to others to improve and be the best at what they do.
Te 2022 presentation ceremony was attended by over 500 people from more than 130 companies making it a unique opportunity to meet and network with clients, customers and friends both old and new, all under one roof in a relaxed environment whilst enjoying excellent corporate hospitality. Bear in mind the cost of visiting all your customers separately for a minute, and then consider being involved and partnering with the UK Bus Awards scheme and it's a clear fnancial win-win with the added beneft of getting your message across in a public forum which is also widely covered by the trade press.
Te event has been cited as a huge success and it won't be long before the work starts on next year's scheme. Our sales consultant, David Warrilow, would be delighted to discuss the benefts of your involvement in the awards scheme. If you would like more information, or just an informal chat, then please contact David. E-mail: david. warrilow@transporteventsgroup.co.uk
Te UK Bus Awards is independent and managed as a not-for-dividend company.
www.ukbusawards.org.uk
35 EVENT PARTNERS SUPPORTING ORGANISATIONS EVENT PATRONS AWARD SPONSORS
SPONSORSHIP N E M O W IN TRANSPOR T
Industry support and sponsorship goes the extra mile to enable the 2022 UK Bus Awards to come back better and stronger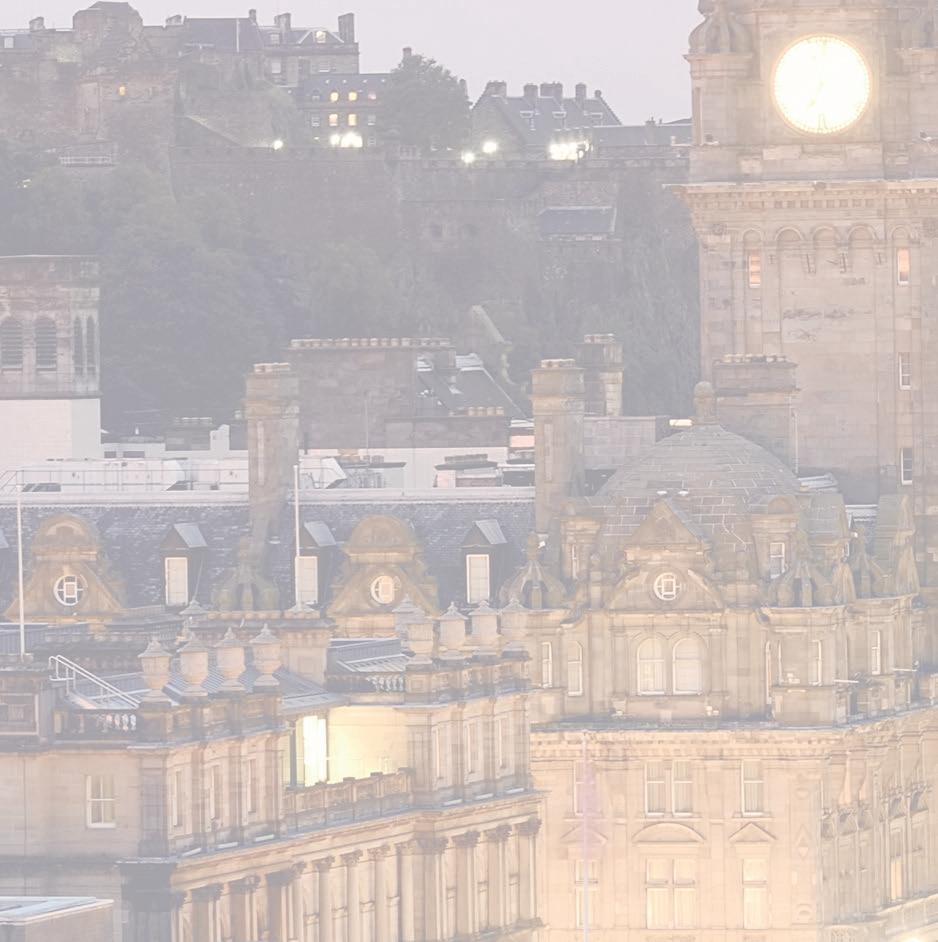 25-26 April 2023 Sheraton Grand Hotel, Edinburgh Hosted by albumconference2023.com
Conference 2023