58 QuarterlyArchitectLandscape 10/ Round Table Landscape Architecture Goes to the Polls Features 06/ The Impact of a Municipal Landscape Architect 16/ Balancing Act 20/ CSLA Awards 28/ OALA Awards Summer 2022 Issue 5840026106#Publication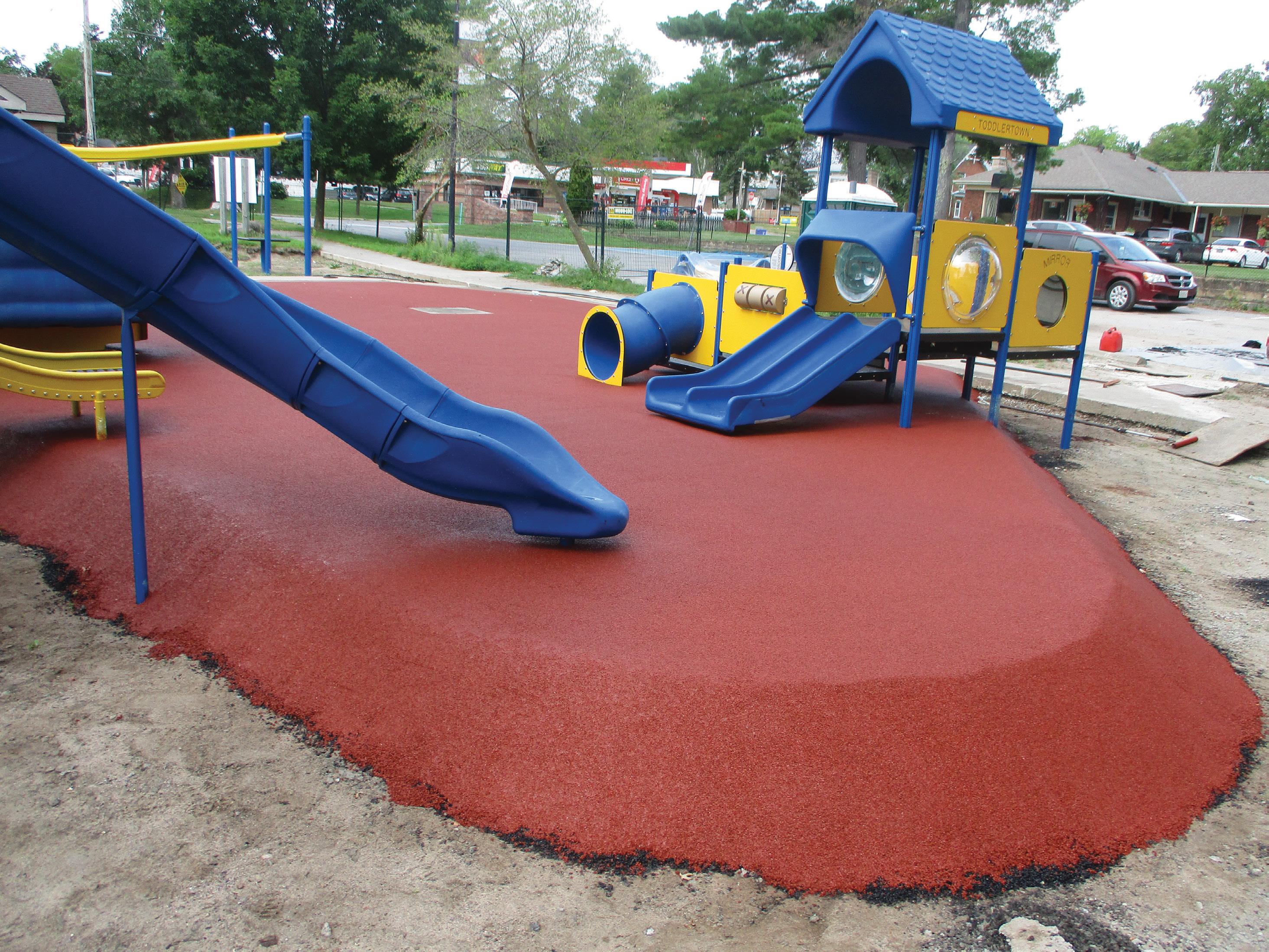 About the OALA The Ontario Association of Landscape Architects works to promote and advance the profession of landscape architecture and maintain standards of professional practice consistent with the public interest. The OALA promotes public understanding of the profession and the advance ment of the practice of landscape architecture. In support of the improvement and/or conservation of the natural, cultural, social and built environments, the OALA undertakes activities including promotion to governments, professionals and developers of the standards and benefits of landscape architecture. Panel Panel Message and a Call to All for Contributions
Advisory
Moreover, Ground would like to apologize for not making specific mention by name in the captions for these photos of the Nikibii Dawadinna Giigwag – Indigenous Youth Access Program at the University of Toronto, and the work Elder Whabagoon and Daniels Faculty Associate Professor Liat Margolis continue to do to develop a land-based program, which introduces Indigenous youth to postsecondary education and career pathways in landscape architecture and environmental sciences.
Masthead OALA OALA.58 .58 ­­About
Editor Glyn Bowerman Photo Editor Jasper Flores OALA Editorial Board Saira Abdulrehman Chris Canning Tracy DaliaNadjaSarahEricHeleneMarkEricEverettCookDeJongGordonHillmerIardasKlaverManteuffelPausch(Chair)Todary-Michael Web Editor Jennifer Foden Social Media Manager Jennifer Foden Art Direction/Design Noël www.typotherapy.comNanton/typotherapy Advertising Inquiries 416.231.4181advertising@oala.ca Cover Detail from a model for the Mount Pearl City Centre Renewal Plan. Courtesy of Mills & Wright Landscape Architecture / CSLA. See page 20. Ground: Landscape Architect Quarterly is published four times a year by the Ontario Association of Landscape Architects. Ontario Association of Landscape Architects 3 Church Street, Suite 506 Toronto, Ontario M5E 1M2 Copyrightoala@oala.cawww.oala.ca416.231.4181©2022 by the Ontario Association of Landscape Architects. Contributors retain copyright of their work. All rights reserved. ISSN: Canada0847-3080PostSales Product Agreement No. 40026106 See www.groundmag.ca to download articles and share content on social media. See www.groundmag.ca for a digital, searchable, archival data base, listing all articles, authors, subjects, key words, etc. published in Ground over the years. 2022-2023 OALA Governing Council President Steve Barnhart Vice President Stefan Fediuk Treasurer Cameron Smith Secretary Justin Whalen Past President Jane Welsh Councillors Matthew Campbell Aaron ShawnHirotaWatters Associate Councillor—Senior Jenny Trinh Associate Councillor—Junior Layal Bitar Lay Councillor Karen Liu Appointed Educator University of Guelph Nadia Amoroso Appointed Educator University of Toronto TBC University of Guelph Student Representative Tatijana Vukovic University of Toronto Student Representative Natasha Raseta OALA Staff Executive Director Aina Budrevics Registrar Ingrid Little Coordinator Sherry Bagnato Membership AdministratorServices Angie Anselmo Advisory
In an effort to streamline the editorial process for Ground, and after much deliberation, the Editorial Board has decided to dissolve the Advisory Panel. Ground would like to express heartfelt thanks to Panel members, past and present, for their contributions to over 50 issues of the magazine. This was a difficult decision, but one we are confident will maintain the energy and imagination necessary for future issues. What is needed most, at this time, is a robust and diverse Editorial Board and contributing writers. Anyone interested in joining is encouraged to email magazine@oala.ca, Subject Line: Volunteering. You do not need to be an OALA member or landscape architect to contribute to either the Editorial Board or the magazine, and anyone who expresses interest will be seriously considered.
Ground: Landscape Architect Quarterly is published by the Ontario Association of Landscape Architects and provides an open forum for the exchange of ideas and information related to the profession of landscape architecture. Letters to the editor, article proposals, and feedback are encouraged. For submission guidelines, contact Ground at magazine@oala.ca. Ground reserves the right to edit all submissions. The views expressed in the magazine are those of the writers and not necessarily the views of the OALA and its Governing Council.
Upcoming Issues of Ground Ground 59 (Fall) Food Ground 60 DeadlineNeighbours(Winter)foradvertising space reservations: October 5, 2022 TO VIEW ADDITIONAL CONTENT RELATED TO GROUND ARTICLES, VISIT WWW.GROUNDMAG.CA. Erratum In Ground 57, Spring 2022, photos 02-04 and 09 of the "Decolonizing Landscape Architecture" round table should have been credited to Sheila Boudreau, instead of the John H. Daniels Faculty of Architecture, Landscape, and Design. We regret the error.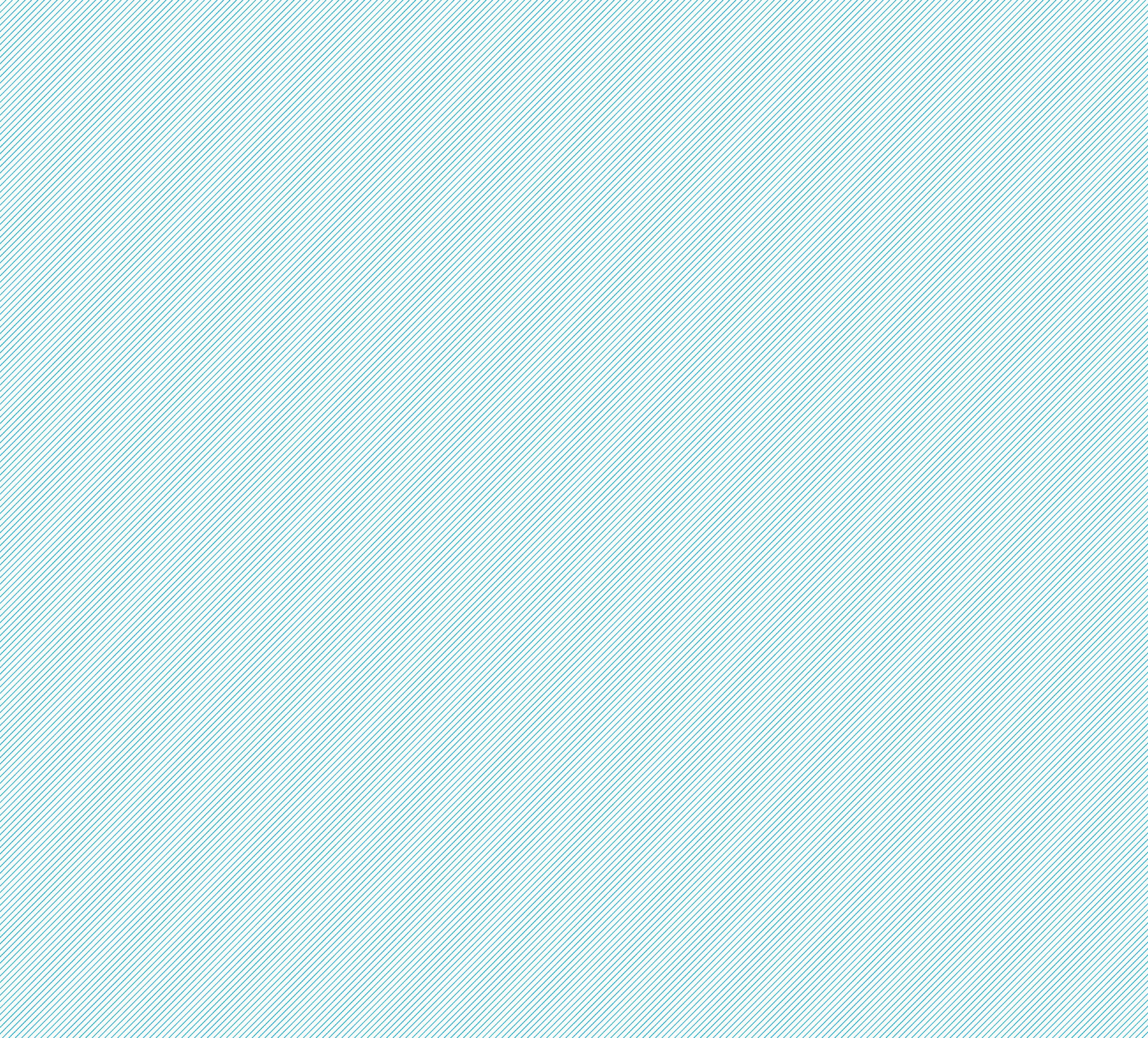 OALA 10/ Round Table Landscape Architecture Goes to the Polls: key issues for Ontario municipal elections MODERATED BY SHAWN WATTERS, OALA 16/ Balancing Act: Providing Public Access to Hamilton's Waterfalls TEXT BY JONATHAN MICHAEL, OALA, KATHY SMITH, OALA, AND ALLAN NEAL 20/ CSLA Awards 28/ OALA Awards 30/ Letter From... Sicily Greetings from Marina di Ragusa TEXT BY ARNIS BUDREVICS, OALA 32/ Notes A miscellany of news and events 42/ Artifact Political Landscapes TEXT BY SAIRA ABDULREHMAN Summer 2022 Issue 58
President's Message
Reconnect At Niagara Parks, where I work, there is a surge in bookings for special events and gatherings this summer. Comments from guests suggest a heightened demand caused by restrictions over the last two years. We should pay close attention to how public spaces are being used this summer to see if new or different behaviours are placing unique pressure on parks, waterfronts, streetscapes, and trails.
We welcomed a new councillor, Matthew Campbell, and completed the final draft of a new OALA Public Relations Communications Strategy, which will help as we begin our messaging to municipal and provincial politicians, and senior staff.
Contents MessagePresident's Editorial MessageBoard
The goal of this issue is to focus on the impact and importance of municipal landscape architecture for people in Ontario. It is an initiative of the OALA's Municipal Outreach Committee (MOC), born from a desire to discuss, highlight, and celebrate the contributions of landscape architects at a municipal level.
While the OALA is regulated provincially, the work of OALA members touches lives where people reside, work, and play. Much of which is implemented through local municipalities in parks, open spaces, and influenced by municipal policies, by-laws, and plans.
As landscape architects, we are often considering how we might make the greatest impact through our work: how we might design for all users, while bolstering ecological resilience, along with pressing issues such as access, environmental degradation, or climate change, in order to create spaces which are greater than the sum of their parts. We regularly discuss our unique and valuable intersection of skills, which make us prime candidates to spearhead diverse and collaborative teams, and throughout this issue is an encouragement for landscape architects to continue to be vocal about all the work we do, and are capable of doing, to make clear our roles, our importance, and to take up space in conversations and on projects.
I will be watching how the commercial patio space evolves as many businesses have taken their pilot outdoor patio concepts and formalized those spaces. Here in Niagara Falls, temporary lane conversions to outdoor patios are gaining in popularity and municipal acceptance as a new summer normal. Landscape architects need to open up complete street discussions in their municipalities.
OALA Councillor for Mayor I would especially like to recognize our councillor Shawn Watters who will be running for the Mayor of Centre Wellington in the October municipal election. We wish Shawn great success in his campaign.
MOC members noted that the work of landscape architects at a municipal level isn't often top of mind, and felt an issue of Ground focused on this work would be an interesting way to increase awareness of this part of landscape architecture in Ontario. As municipalities continue to navigate the challenges of climate change, increased public visitation to naturally sensitive areas, changing demographics, and maintenance budgets—to name a few—our skills and systems-based approach to design is of tremendous value, and can have tremendous impact.
03/ Up Front Information on the ground Impact: 06/ The Impact of a Municipal Landscape Architect TEXT BY CYNTHIA GRAHAM, OALA AND
NADJA PAUSCH, OALA, CSLA CHAIR, EDITORIAL CYNTHIAMAGAZINE@OALA.CABOARDGRAHAM,OALA, CSLA CO-CHAIR, MUNICIPAL OUTREACH COMMITTEE ROBERT NORMAN,
London Conference
I look forward to seeing many colleagues in person on September 21st and 22nd.
Editorial Board Message
With the coming of summer and the provincial election behind us we are still quite busy after our annual general meeting. We had record participation this year: 500 were online with a total of 450 voting members.
Communications Strategy
STEVE BARNHART, OALA, CSLA OALA PRESIDENT@OALA.CAPRESIDENT
The Ground Editorial Board would like to thank the Municipal Outreach Committee for their efforts in leading the creation of this issue, including many of the articles you will find in the following pages
Finally, after two years of virtual gatherings, our members have the opportunity to network together with Ontario Planners at the upcoming September joint conference in London, Ontario. This year's theme is "2GETHER": 2 days, 2 disciplines, 2 ways to participate—a great opportunity for the professional disciplines who advocate for the public realm to discuss and learn about building more equitable, accessible, and inspired communities. Please see the OALA website for more details on keynote presentations and education sessions, as well as a joint awards soiree evening.
03Up Front .58
STREETSCAPE impact through design 01
That revelation reinforced two thoughts in my approach to design projects: we, as landscape architects, cannot traverse a site without exercising keen observation, informing specific design details to bring that space to life. And, secondly, our striving for positive and lasting impact on the places we make possible for the public is largely unseen by the very people who utilize and enjoy them. This experience highlights how landscape architects, with their unique understanding of environmental sustainability concerns and the restorative effects of human connection to the natural world, can play a key leadership role in designing and overseeing project implementation within the public realm. The need for landscape
GroundonInformationthe
Up Front:
As landscape architects, we observe the world around us, analyzing the spaces we use. We are always curious about what works in a particular environment and what doesn't, seeking inspiration for current projects or future designs. A common thread in our work is a focused attention to detail. It is the combination and application of these two integral elements within the design process that creates impact.
One summer, shortly into my landscape architect career, I met a friend for coffee in Stratford, Ontario. As we strolled through the downtown area, I remarked on the space around us. My friend was intrigued by my observations, reflecting that we viewed the same spaces in very different ways.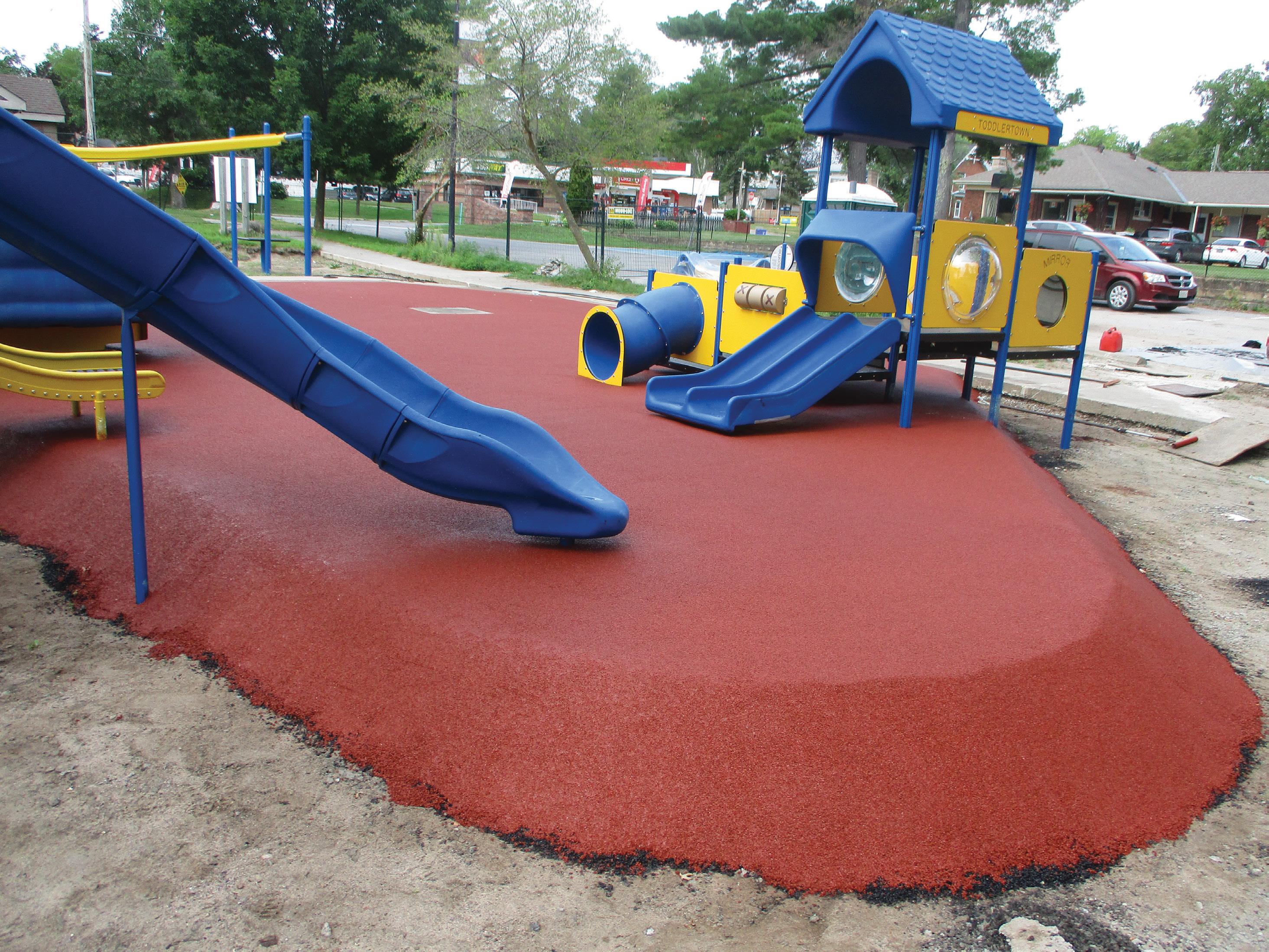 02-03/ Belmont Village placemaking initiative, Kitchener, Ontario. IMAGES/ Justin Whalen 04Up Front .58 architects has never been more relevant, as we navigate the challenges of finding nature-based, transformative solutions for urgent global issues such as the pandemic, climate change, and the biodiversity crisis.
In addition to larger-scale initiatives, landscape architects are also well suited for designing smaller, local projects that create meaningful community impact on global issues. In the Kitchener-Waterloo area, one project that comes to mind in response to the pandemic is the Belmont Village Placemaking initiative. In the spring of 2020, early in the pandemic, the need for outdoor 02
Landscape architects can be champions of climate positive design, which will be vital in adapting to a wide range of climate challenges. Through our diverse abilities and experience, we can assemble all necessary team members, in both the private and public realms, and capably lead a collaboration that ensures urbanarea and green space projects are cohesively designed to appeal to their users and prepare for climate change.
The CSLA prepared resource materials on adaptation and nature-based solutions and is currently participating in initiatives such as the International Federation of Landscape Architects' Climate Action Commitment. This pledge calls on landscape architects around the world to, among other things, attain global net zero carbon emissions by 2040, enhance capacity and resilience of livable communities, and advocate for climate justice and social well-being.
The pandemic required municipalities to explore new or expanded ways for safer social interaction, such as outdoor-dining patios, trails, pedestrianized streets, and reconfigured park areas. Climate change events illustrate the critical need for site design that mitigates extreme weather effects. Planning for the future must incorporate innovative ideas to ensure renewal and restoration, derived from science-based approaches.
05Up Front .58
The result was a huge success for Belmont Village, providing positive impacts for local businesses and the public who came out to use the space. This installation was so well received it was reinstated the following two years. The OALA is using municipal-focused outreach to ensure our provincial and local community leaders are informed of the important work we do, and understand how communities benefit from the design solutions we can provide. A valuable spin-off of this will be an enhanced public understanding of our profession's role. Perhaps the most important impact of all will be the installation of designed spaces that can withstand the challenges we face. Strategic, nature-based design, created and implemented by landscape architects who are experts in proactively adapting green and urban environments for the public realm, will allow communities to respond quickly and appropriately to current and future global challenges, in relevant and resilient ways. It is these transformative impacts that reflect our overarching philosophy of improving communities.
environments that provided safe social gathering opportunities was evident. The Belmont Village BIA wanted a space that could provide this, while supporting local businesses and restaurants. Partnering with a private developer and the City of Kitchener, they tasked a local landscape architectural group to create a plan for a public area within a mid-block slip lane, closed to traffic, for pedestrian use. Through consultation with the BIA, local businesses, and the City, a plan was developed incorporating expanded patios/seating areas, shade structures, and play features, to encourage safe interaction among the public, while maintaining social distance.
03
TEXT BY JUSTIN WHALEN, OALA, CSLA, A LANDSCAPE ARCHITECT AND ASSOCIATE AT GSP GROUP IN KITCHENER. HE SITS ON THE OALA COUNCIL (SINCE 2016), MOST RECENTLY AS ITS SECRETARY AND CHAIRS THE OALA SOCIAL COMMITTEE.
06The Impact of a Municipal Landscape Architect .58 TEXT BY CYNTHIA GRAHAM, OALA, AND ROBERT NORMAN, OALA 01
.58
Tools and Resources City staff have many documents which provide guidance, standards, and policies to utilize in planning parks. A municipality's Recreation Master Plan sets levels for park facilities provision, as well as facility standards for parkettes, neighbourhood, and community parks. Similarly, a Trails Master Plan establishes a vision for trail systems across the city and related standards. A city's Asset Management Plan tracks the asset lifecycle of parks and their components and helps predict when components will need replacing. For proposed developments, the Official Plan and Secondary Plans give direction on 01/ Beasley Park skateboard park. revitalized skateboard park was designed and developed working with the local Hamilton Skateboard Assembly.
IMAGE/ City of Hamilton
0203
As graduates of the University of Guelph for landscape architecture, the authors have found our education often concentrated on preparing the student for a future in private practice. However, as is the case for approximately 30 per cent of OALA full members, there are exciting and rewarding careers for landscape architects within the public sector. We have both worked within municipalities over our careers, and together as municipal landscape architects at the City of Hamilton. From the beginning of our service with Hamilton, we were empowered to manage projects, determine funding sources, and set budgets. We also had daily interaction with the decision makers of the municipality— elected officials such as councillors and the mayor. Municipal staff landscape architects have the opportunity to understand and respond to elected councillors' concerns and priorities. Staff have the responsibility to write recommendation reports to municipal council, thus influencing policy, standards, and which projects are undertaken. This level of trust and responsibility is uncommon, especially early in a career. While working as municipal landscape architects, it is clear the process to plan and fund projects through municipal processes is not well understood. This article outlines an example of municipal practice and how municipal park projects come to be. Park Planning and the Development Process
The
In growing municipalities, there are two types of park works: the development of new parks and redevelopment of existing parks. Developers create new subdivisions, and create new related parks, ideally with municipal landscape architects. The improvement of existing parks is led by municipal staff alone.
greenspace,
The
07
IMAGE/ City of Hamilton 02/ Kenilworth Parkette. This former parking lot was transformed into a passive increasing the parkland in an area of deficiency in Hamilton.
IMAGE/ City of Hamilton 03/ Joe Sams Community Park pathway. new path creates a pedestrian connection to sports amenities and local wilderness trails.
The Impact of a Municipal Landscape Architect
The Impact of a Municipal Landscape Architect
The City must monitor funds spent from the development charges account to be accountable for the money spent.
Donations are sometimes offered from community groups, usually on a projectspecific basis. The donations may lead to advancing a project that might otherwise not be funded. Federal Gas Tax funds are received by a municipality to assist with the funding of infrastructure.
Staff identify costs obtained from previous construction contracts, which are used to develop cost estimates. As projects can be 10 years or more in the future, inflationary factors must be included. In addition to the actual estimate for construction costs, staff add design contingencies, and costs for studies such as archaeological, geotechnical, soils, environmental, and natural heritage. Costs for consultants including consulting landscape architects, electrical, structural and civil engineering, and if relevant, internal cost recovery for the operating costs of staff must be considered. Each year, project costs for the capital forecast must be revisited, to 04-05/ Churchill Park bioswale and rain gardens. The rain gardens and bioswales created an absorptive landscape to redirect stormwater from the adjacent roads to address localized flooding.
government. City staff match projects with grant criteria and prioritize projects that address health and safety issues, community need, gaps in funding, and council priorities.
08
For the creation of new parks and trails in new developments, the Provincial Planning Act allows development charges to be collected by a municipality. The developer, at their own expense, must provide a baseline parkland condition of a graded, grassed, and fenced park block. The added amenities to the park such as trees, playgrounds, sports fields, courts, lighting, and walkways are paid for by development charges collected by the municipality. No matter who leads the park development, either city staff or the developer, funding from the development charges collected are used to pay for the park amenities.
For all of the potential funding sources listed above, municipal landscape architects must work closely with Corporate Finance staff in order to confirm funding sources are coordinated with specific projects, to a specific budget year, within an overall ten-year capital forecast.
IMAGES/ City of Hamilton 06/ Cline Park. The development of this neighbourhood park created accessible paths and sitting spaces for residents. IMAGE/ City of Hamilton 06
Park Budgets and Funding Sources
0504
Budgeting Tools Often, municipal staff use their own Excel Spreadsheet system for calculating the total cost of potential park and trail capital projects.
.58 where new parks and trails will be located and their inter-relationships with other components of a community. Municipalities may have a Parks Development Manual, for guidance to developers, consultants, and staff on standards for designing parks, and the related process and approvals. Finally, an extremely important resource for staff is the resident's elected official—the ward councillor represents their community's needs and host, or participate, through fully transparent public meetings on a project.
For improvements to existing parkland or trails, funding must primarily come from the sources of the tax levy. Additional sources of funding may come from related reserve accounts. Occasionally, grant funds may be available, usually from higher levels of
09
When a project is three years or less from design and construction, the re-evaluation of project costs is critical, to ensure an accurate cost prediction and to ensure the budget will not change significantly.
BIO/ CYNTHIA GRAHAM, OALA, CSLA, HOLDS THE ROLE OF MANAGER OF LANDSCAPE ARCHITECTURAL SERVICES FOR THE CITY OF HAMILTON. IN THIS ROLE, SHE OVERSEES THE TEAM THAT DELIVERS THE CAPITAL PROGRAM FOR PARK AND TRAIL DEVELOPMENT FOR THE CITY. SHE IS A GRADUATE OF THE MLA PROGRAM FROM THE UNIVERSITY OF GUELPH, WITH AN UNDERGRADUATE DEGREE IN ENVIRONMENTAL SCIENCE. SHE IS A DEDICATED, CAREER-LONG PUBLIC SERVANT, AND HER GREATEST JOY AT WORK COMES WHEN SHE CAN SEE RESIDENTS LOVING AND LIVING IN THE PARKS SHE HELPED TO ROBERTCREATE.NORMAN, BLA (HONS), OALA EMERITUS, FCSLA, HAS A CAREER SPANNING MORE THAN 40 YEARS, WITH THE MAJORITY OF HIS CAREER SERVING FIVE MUNICIPALITIES. CURRENTLY, ROB SERVES ON THE ROYAL BOTANICAL GARDENS BOARD OF DIRECTORS, SPECIFICALLY IN THE AREAS OF GOVERNANCE, STRATEGIC PLANNING AND STRATEGIC PROJECTS IMPLEMENTATION. FURTHER VOLUNTEER EFFORTS SUPPORT THE OALA AS CO-CHAIR OF MUNICIPAL OUTREACH. ROB ALSO IS CHAIR OF THE GOVERNANCE COMMITTEE FOR THE LANDSCAPE ARCHITECTURAL ALUMNI ASSOCIATION OF THE UNIVERSITY OF GUELPH. WITH THE CITY OF HAMILTON, ROB HELD THE SENIOR LEADERSHIP ROLE OF DIRECTOR OF STRATEGIC PLANNING FOR PUBLIC WORKS UNTIL MARCH 2017. FURTHER LEADERSHIP POSITIONS INCLUDE THE PRESIDENT POSITIONS FOR BOTH THE CSLA AND THE OALA. BOTH PROFESSIONALLY AND FOR HIS VOLUNTEER EFFORTS, ROB'S WORK HAS BEEN RECOGNIZED THROUGH NUMEROUS AWARD PROGRAMS.
Approvals
The Impact of a Municipal Landscape Architect
Another challenge is that it can often be easier to acquire capital dollars than the required operating funds to maintain the park being built. That is because operating funds for maintenance are solely supported by the tax levy. Therefore, due to limited operating tax levy funds, this can dictate how park features are designed in order to minimize maintenance. In Hamilton for instance, there are rarely shrub beds planned in neighbourhood parks, in order to minimize the required additional annual maintenance tax dollars.
IMAGE/ City of Hamilton 07
Once budget submissions are formally prepared through Corporate Finance, the annual capital budget and forecast is presented to members of City Council for their approval. Staff cannot proceed with any capital project, unless approved by City Council.
.58
scheduling, especially for projects that may have contaminated soils, or natural and cultural heritage resources, such as an endangered butternut tree, which would require restrictions in the design.
07/ Mount Hope Park boardwalk. The new boardwalk path elevates the loop trail, to create a low spot to collect and infiltrate stormwater in the park.
Municipal landscape architects must balance the needs of other stakeholders such as staff in providing recreational programs, sports group's priorities, park maintenance concerns, the general public's wants, and the ward councillor in responding to park facilities requests. A large city like Hamilton, with over 500,000 residents, includes a lot of voices. The municipal landscape architect has the task of creating a design that balances
When preparing the capital budgets for park projects, it is critical that the standards for parks and their amenities are equal across the city wards.
consider any new legislation, increases in commodity costs, changes in maintenance requirements, or changes relating to materials' performance, or vandalism.
Challenges As it may be many years before a capital project is approved by City Council, it can be a challenge to manage the expectations of the public during this time period. It can also be a challenge to estimate costs and all of these needs while adhering to municipal park standards and the budget that is allocated, sometimes over five years ago. Thus, the municipal landscape architect is the key driver, negotiator, and creative problem solver for park projects. In that way, municipal landscape architects impact their local communities in important and tangible ways and help to create livable cities across Ontario.
10Round Table .58 key issues for Ontario municipal elections MODERATED BY SHAWN WATTERS, OALA
MAUREEN WILSON IS COUNCILLOR FOR THE CITY OF HAMILTON (WARD 1). SHE IS ALSO THE PRINCIPAL FOR THE USEFUL KNOWLEDGE SOCIETY OF HAMILTON. SHE PREVIOUSLY SERVED AS CHIEF OF STAFF FOR FORMER HAMILTON MAYOR BOB WADE AND HAS BEEN INVOLVED IN GOVERNMENT FOR MANY YEARS. JO-ANNE GIGNAC HAS BEEN A MEMBER OF WINDSOR'S CITY COUNCIL SINCE 2003, REPRESENTING WARD 5. SHE HAS BEEN CHAIR OF THE SERVICE DELIVERY REVIEW COMMITTEE, AND SERVES ON VARIOUS COMMITTEES, INCLUDING THE LICENSING COMMISSION, ESSEX-WINDSOR SOLID WASTE AUTHORITY, ESSEX REGION CONSERVATION AUTHORITY, THE PLANNING ADVISORY COMMITTEE, AND THE OPERATING CAPITAL BUDGET COMMITTEES.
Some of our challenges are with the beach and public ownership. Some of the waterfront we're on is Georgian Bay, so we have a huge coastline: some of it is owned privately, some is public. There's always an ongoing discussion about the interface between public and private and delineation, because there's more and more pressure from people wanting to get to the beach—a big asset up this way. We're running into big challenges, regarding the influx. The real estate market up here has become quite strong since COVID, and a lot of people are moving out of Toronto and other communities, and investing up here. So, what we're getting is a lot of short-term rentals in some of the areas, which is creating quite a controversy between some of the permanent residents and those who are part-time. That's an ongoing thing we're trying to resolve. Hopefully, we get a winwin balance where permanent residents don't get negatively impacted, and we don't let bad players who don't take care of their properties get away with it.
01 01/
JOSCELYNE LANDRY-ALTMANN HAS SERVED AS COUNCILLOR FOR THE CITY OF GREATER SUDBURY (WARD 12) SINCE 2006 AND IS ALSO THE CITY'S DEPUTY MAYOR. SHE IS ALSO ON THE OPERATIONS AND PLANNING COMMITTEES, THE BOARD OF CONSERVATION SUDBURY, MUNICIPAL HERITAGE ADVISORY PANEL, THE GREATER SUDBURY POLICE SERVICES BOARD, AND MANY MORE.
11Round Table .58
JACK HEATH IS A MARKHAM AND YORK REGION COUNCILLOR. HE HAS BEEN AN ELECTED OFFICIAL IN HIS LOCAL AND REGIONAL MUNICIPALITY FOR OVER 20 YEARS, INCLUDING 10 YEARS AS DEPUTY MAYOR. HE ALSO CURRENTLY SERVES AS VICE CHAIR OF THE TORONTO AND REGION CONSERVATION AUTHORITY, OF WHICH HE HAS BEEN A MEMBER FOR 15 YEARS. BRAD BRADFORD IS A TORONTO CITY COUNCILLOR. HE SUPPORTS COMMUNITY-LED CHANGE THROUGHOUT BEACHES EAST-YORK. AT CITY HALL, BRAD SERVES AS THE VICE-CHAIR OF THE BUDGET COMMITTEE, A COMMISSIONER ON THE TTC BOARD, AND AS A MEMBER OF THE PLANNING AND HOUSING COMMITTEE. WITH EXPERIENCE AS AN URBAN PLANNER, HE HAS A PASSION FOR ADDRESSING LOCAL ISSUES, ADVOCATING FOR THOSE TYPICALLY LEFT OUT OF THE PROCESS, AND MAKING NEIGHBOURHOODS MORE ACCESSIBLE. HIS PRIORITIES ARE TO MAKE OUR ROADS SAFER, DELIVER THE CITY'S RELIEF LINE, AND REVITALIZE OUR MAIN STREETS. Box Grove Park in Markham IMAGE/ Design
Jack Heath: The increasing pressure for density in the Greater Toronto Area is having a major impact, and it's a growing problem. Just recently, the provincial government announced transit-oriented communities (TOCs), and the junction of Yonge Street and Highway 407/Highway 7 in Markham, just north of Toronto, is one of them. We worked very hard on a plan for that area. They are basically doubling the population. At the same time, in order to pay for the subway extension north, they're asking the City of Markham to forego cash in lieu, which is in the range, when you work it out, of up to a billion dollars. What that means is we've got to find a way to find green space for all these new residents with less money to do it. And there's much more pressure on facilities like community centres and parks, etc., just beyond the boundaries of this TOC.
BIOS/ SHAWN WATTERS, OALA, CSLA, IS A LANDSCAPE ARCHITECT AND SENIOR DESIGN LEAD, R.J. BURNSIDE & ASSOCIATES. FIVE-TIME ELECTED COUNCILLOR IN WELLINGTON COUNTY. HE HAS BEEN ELECTED AT THE LOCAL AND COUNTY LEVEL. HE IS RUNNING FOR MAYOR THIS FALL IN CENTRE WELLINGTON.
Courtesy of NAK
JOHN BRYANT, OALA-RETIRED, IS A LANDSCAPE ARCHITECT FOR THE CITY OF ORILLIA. HE IS ALSO A MEMBER OF THE TINY TOWNSHIP COUNCIL. HE WAS ELECTED IN NOVEMBER 2016 TO TINY TOWNSHIP COUNCIL. HE WAS A MEMBER OF THE HERITAGE ADVISORY COMMITTEE AND THE PARKS AND RECREATION ADVISORY COMMITTEE BEFORE JOINING COUNCIL.
So there's quite a shift in terms of the flow of people and people's expectations. If they're living down in Markham, they have rec centres, and a lot of services already taken care of. When they come up to—I'll call it almost cottage country—they're not expecting a duplication of that. They're looking for other experiences in the community and how they can participate.
Shawn Watters: What are the major issues facing municipal governments in regards to the planning and design of public spaces, including parks, trails, streetscapes, and public safety?
John Bryant: I've worked in a lot of municipalities where there's been rapid growth, like Milton. The growth pattern there was unreal, but when I got to Tiny Township, it's quite a different cultural change. Tiny is a population of about 12,000 people, and about half of that disappears in the wintertime, back to their homes in Toronto.
Strategie
12Round Table .58
Jo-Anne Gignac: Certainly, finances are affecting all of us. There are expectations, too, for asset management funding to be automatically built into our budgets, which I can see really impacting municipalities across Ontario.
So finances are definitely an issue everywhere. Community expectations are changing dramatically, but I'm finding changing climate realities are also pushing us to adopt landscaping techniques with urgency because the 2017 and '18 disasters that occurred in the City of Windsor as a result of increases in our storms and downfall impacted us immensely. At the same time, we were looking at overland flooding affecting the community and had to address that through landscaping.
JAG: Definitely, we have two in the City of Windsor. One is dedicated specifically to our parks department, and the other is with planning. If you have an opportunity to visit Windsor, one of the immediate things you will find are the old rail yards that extended from Hiram Walker Corporation to the Ambassador Bridge, along the Detroit River, which have been reclaimed and designed into art scapes and
JB: Talking about aging infrastructure, that relates to Tiny, also. The parks, trails, and systems within Tiny Township have been developed by community-based groups. So, within each village community, they built their own park. They had tractors come in and did their own thing. It wasn't so much government, or so much by design. It was by a group of individuals that cared for the community. So, at this point, the parks are built out. Our challenge now is to do master plans and bring landscape architects into the fold to start looking at these spaces and aging infrastructure and come up with new plans for how to restore them, and meet the new expectations of residents.
SW: Have you worked with landscape architects you have on staff in your cities or communities, and what value did you find they provided to the project?
Joscelyne Landry-Altmann: Sudbury's a little different. We have a population of about 163,000 now. I would submit we have done that through landscaping and the remediation of the area. We've gone from roasting beds to 11 million trees planted and taking care of 330 lakes. Our challenges are the adaptation of new policies and of built infrastructure. We don't have large projects like Sherbourne Common in Toronto, or the Hamilton Botanical Gardens, but we do have some projects done with our landscape architects—notably Mark Elliott—like Hnatyshyn Park (which I'll speak more on later). We have issues, of course, with cost, safety, vandalism, adaptability, sustainability, and rethinking our parks and how to maintain them for generations.
02-03/ The present day riverfront trail in Windsor, Ontario. IMAGES/ Courtesy of the City of Windsor 04-05/ The former Windsor rail yards, now a riverfront trail. IMAGES/ Courtesy of the City of Windsor 05 0302 04
JH: We're telling our landscape architects that we've got to find ways to make sure the maintenance costs, the ongoing costs after we build landscapes, do not escalate more than we can afford.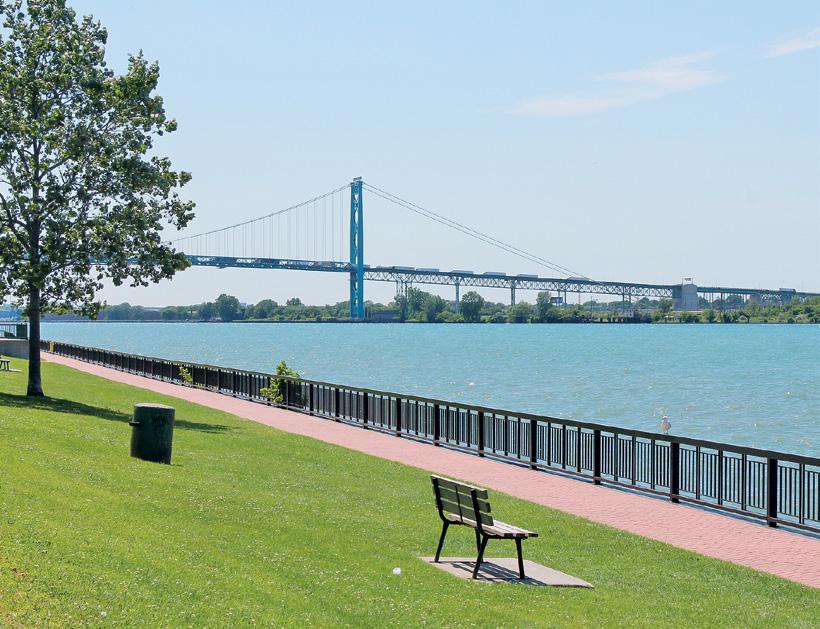 dynamic, beautiful landscape effects that citizens enjoy having access to on the waterfront. Our parks continue to benefit from our landscape architect in terms of ensuring they're accessible and that we have naturalized areas to provide a little bit for the natural members of our community— our coyotes, rabbits, and other wildlife—in designated green areas, where they're not coming into conflict with residents, but can still move through the community.
Brad Bradford: The project management capacity that landscape architects can bring is useful, especially in municipalities where the bureaucracy and silos are very real: having somebody at the top quarterbacking across those different divisions, where there is a lot of coordination required. Joscelyne referenced Sherbourne Common. It's a spectacular, award-winning urban design and landscape architecture piece; but, functionally, it's actually a piece of Toronto water infrastructure that also ties into Toronto Parks, and Transportation Services, because it's bisected by a right-of-way. So, having a landscape architect in a project management capacity is really important. And we don't see that as much as I would like to.
JH: I'm the Vice-Chair of the Toronto and Region Conservation Authority, and I've been there 15 years. One of the things that has come at us more than ever before are issues relating to flooding and erosion. A winter doesn't go by when we don't have flooding, ice jams, and things like that. And two summers don't go by in a row when we don't have flash storms of greater
06/ Sherbourne Common, Toronto.
JB: As a councillor, I've not worked with landscape architects, but as a landscape architect, I've obviously worked with a lot of my other counterparts in landscape architecture. For instance, the arrangement in Milton because of the huge growth. The town, to their credit, was really ramping up in terms of staffing. So we had a staff of five landscape architects on board, and they were somewhat in their own silos, but we delved into everything from comments, the official plan, draft plans, subdivision, site plans, park development, public
consultation, even policy development. Everyone had their own strengths. And one of the greatest strengths was their ability to collaborate with others, whether it's engineers, planning, or even recreation or maintenance people— people actually going to take care of the parks. We always had that dialogue going on to make sure the product we were trying to deliver was the best from a design perspective. But then, when we handed things over to our operations people, they were already on board, they knew what they were getting, and they knew what the operational costs would be. We just try to make it as seamless as possible so that the public gets a great product.
IMAGE/ Courtesy of the City of Windsor 06 07
IMAGE/ Courtesy of the City of Toronto 07/ Last locomotives leaving at Last Spike ceremony, Great Western Park, Windsor, November 30, 1990.
Maureen Wilson: I've had the great pleasure of working with the City of Hamilton's landscape architects, and admire the depth and breadth of their skill, whether it be project management, and their knowledge of wildlife. But I also have come to appreciate there's so much more they would love to do and, regrettably, one of the challenges/ opportunities is having to put in place asset management plans. It's going to be difficult as all of our infrastructure is degrading and aging, and we don't have enough money. The importance of landscape architecture— it's going to be a dog fight—is working with them to have community conversations on the importance of asset management, the return on investment, and that it's valuable and deserving of making its way to the front of budgetary discussions.
13Round Table .58
SW: Considering the wicked problems of climate change impacts, including flooding and heatwaves, what could the role of landscape architects be in your city in the coming years? And what has your community done with this in mind?
14Round Table .58 intensity than ever before. What that means is erosion is much more of a problem than when I came on board.
Because of erosion, if we don't take care now where we bury the sewers and that kind of stuff, we're going to be dealing with millions of dollars of maintenance costs higher than we've seen in the past. And it all relates to climate change. That's something new landscape architects are going to have to give some thought to.
1009
08/ Capreol waterfront IMAGE/ Courtesy of the City of Greater Sudbury 09/ Windsor riverfront parkland. IMAGE/ Courtesy of the City of Windsor 10/ Landscaping of Windsor riverfront parkland. IMAGE/ Courtesy of the City of Windsor 08
JLA: I'll come back to Hnatyshyn Park and how the landscape architect, Mark Elliott, was a visionary. This park was created in 1991, subsequent to box culverts being installed in Junction Creek, which was the bane of the area, especially the Flour Mill, given the perennial, dangerous flooding issues. So the reclaimed land became Hnatyshyn Park. It's a gateway to the Junction Creek trail system and accommodates granite sculptures commemorating the settlement of Ukrainians who moved to Canada over 100 years ago. The sculpture, an abstract conifer made from polished granite, is the symbol of the family tree of Ukrainian settlers who helped build Canada. It was unveiled by Governor General Ray Hnatyshyn in 1994. It's a pathway, like the roots of the tree, extending toward the city, symbolizing the connection between the Ukrainians and the community. This was thought of in 1991. Further to that, the Junction Creek Waterways Park, which is adjacent, is an intersection. It goes from the urban core into neighbourhoods. And it did that in controlled flooding through redesigned gabion walls. It became a point of pride for the city, as opposed to the bane of a neighbourhood. Again, this was through Mark Elliott's vision. We've had issues with flooding: notably in 2009 when a whole area in the Flour Mill flooded $44 million worth of damage. Through that came a reassessment, and now we are working towards flood paths and channelized rivers. That has completely eradicated the flooding issues in that area. Through that will now come a sustainable park. There is also the project in the community of Capreol, within Greater Sudbury. The plan focused on creating a high quality, vibrant public space along the waterfront in downtown Capreol, through the redevelopment of the existing park and beach into an accessible outdoor recreational destination. Visioning sessions were held with the Community Action Network which helped define the railway theme of the waterfront and aligned with the town's centennial in 2018. The landscape architect, Alison Phillips, adeptly incorporated the railway theme through a landscaped lakeshore focal point which incorporated train wheel paving logos, repeated along the waterfront and blended with a mix of native and climate appropriate plantings. The redevelopment uses sustainable landscaping and public art to improve the waterfront and connect the river with the downtown core and provides an accessible passive and active recreational destination for all residents. So our policies have changed. Now they're being dealt with through new policies and talent. We're finally recognizing the talent of landscape architects, who will play an integral role. MW: Obviously, climate change poses a health and safety risk. And for those of us in cities, we know we have residents who, depending on where they live or how much they make, are going to be better equipped to deal with that. They have options available to them. Perhaps they're seasonally able to escape to a lakeside somewhere. Our challenge, collectively, regardless of where we are living, is ensuring we don't let a space become uninhabitable for much of the year, and that we intentionally invest in different species of trees, shade structures, and water features that enable all residents, particularly those who are most vulnerable in our denser urban environments, to have access to safe, habitable, and enjoyable public spaces. The challenge is trying to make the case for that now, when there may be no model to look to or choose from, and making the case for public investment.
BB: When I was in consulting, the first line item that always got cut on an integrated project was landscape architecture. Not rightfully, but it's always the first thing that gets value-engineered out. It's amazing to me how much schooling is required, and you go, and you get a stamp and everything, and yet it's dismissed so quickly. So there is an issue of awareness around what they do and the value that they bring.
John's idea around some sort of campaign is a good one. But I think even making it political around new developments and projects that are coming forward would help: did this developer hire a landscape architect? Has this park been done by a landscape architect? Putting it to the community. Because the community, if they understand the benefits, are going to want it. I think about the litany of studies required to move through site plan application and development processes in the City of Toronto—traffic, hydrology, shadow, noise, and wind studies. Why not some sort of climate resilience impact study or something that a landscape architect could do, bake that into the site plan process, standardize it, make it a part of the development review cycle? And then, all of a sudden, you just commissioned a whole body of new work for the industry.
JLA: Make very clear what their role is, identify themselves, and take their place.
JH: I'm not 100 per cent sure what landscape architects do. We have landscape architects in the City of Markham, and just to prepare for this I called the one I deal with and we went over some things and I got some input. But he was talking about a few things that I didn't know he did. So my answer is more publicity, more communications.
MW: The solution to these many challenges is baked into what a landscape architect does, in the form of low-impact development opportunities, green infrastructure opportunities, and making return on investment. It must be valued. We all, as publicly elected individuals, bear responsibility in advocating for that value, every time we have the ear of, say, our city manager, or in public meetings. Because, unless and until we do that, it will continuously be an afterthought.
BB: We're a waterfront community. Cities are, in different ways, on the front lines of climate change, in terms of the actions we can take, improving our infrastructure, stormwater management, improving our fleet of vehicles, our buildings, transit, and urban living. There are lots of opportunities for us to make improvements on reducing greenhouse gas emissions. But we've been undertaking a lot of shoreline remediation to prevent erosion. We have historic investments, one of the largest infrastructure projects in the country right now, with realignment of the Don River in the port lands. So there's a lot of work underway, as we are preparing to deal with historic floods and extreme weather events.
Having a climate lens on both capital and operating decisions, as we're building and coping with growth in a waterfront community, is increasingly important. And that manifests in the design of our public spaces, buildings, and infrastructure, and landscape architecture is right at the forefront.
JB: We're also a waterfront community, with a lot of shorelines and sandy beaches. One of the things we've been struggling with is invasive species: phragmites are taking over the shoreline. The community and town have been incredibly cooperative and aggressive in taking this on—it's not uncommon to see residents out digging up phragmites along the beach. Another thing they're doing now is buffering some of the beaches. A lot of the beaches are sand dunes, so they're very prone to erosion. What they're doing now, in terms of the site design, is creating a boardwalk, railings, and different systems so we can let the sand dunes stabilize.
15Round Table .58 THANKS TO HOWARD BROWN, CYNTHIA GRAHAM, ROB NORMAN, JANE WELSH, AND STEFAN FEDIUK FOR COORDINATING THIS ROUND TABLE.
SW: What do landscape architects need to do to better position themselves and lead on projects and policies that affect municipalities?
Show the value of their training and how it can impact development, become an economic driver, and impact liabilities.
JAG: I've been in council 19 years and had opportunity to work with the landscape architects in our community simply because we're being challenged, as I shared, with the flooding and the incredible impact on our aging sewer system. In my discussions over time with these people, I know they have been advocating for a change in an adoption of a Practice Act, which will clearly outline what the qualifications and the various responsibilities of a landscape architect would be. If there's one thing that can push this forward, it would be advocacy in terms of having the Practice Act introduced and adopted.
JB: What is a landscape architect? I've been in this 35 years, and I still have people who think I'm a gardener, or do horticulture. With that said, I think the OALA website and organization is doing all kinds of wonderful stuff in terms of promoting the skillset and roles of landscape architects. They have to continue that course, but I think we need a national campaign and do some advertising right upfront.
16Balancing Act .58 ALLAN NEAL 01
17Balancing Act .58
The ultimate goal of design, by perhaps the simplest definition, is to solve a given problem. In their spatial design work, landscape architects solve a multitude of problems, balancing the needs of clients, associated budgets, user groups, and the environments in use. In this way, landscape architects are mediators of competing interests which in themselves pose a unique design challenge. This challenge is only compounded as public demand on open space and natural areas rises—an outcome that has become particularly acute in Ontario's urban areas along the Niagara Escarpment. One such area is Hamilton, which is fortunate to have its unique geographic position at the western edge of Lake Ontario, where the entire city is bisected by the escarpment's path. The slopes, cliffs, and valleys formed by this geological feature, the same one over which flow the Niagara Falls at the nearby Ontario-US border, affords the city numerous natural forested areas for locals and an increasing number of visitors to enjoy. With this increased demand, however, comes an amplified need for thoughtful, proactive planning and design that can balance the demand for access to these sites with their inherent carrying capacity, presenting an "opportune problem."
Designated in 1990 as a UNESCO World Biosphere Reserve, the Niagara Escarpment is a roughly 1600-long limestone ridge that stretches from southeast Wisconsin, meanders 750 kilometres through Southern Ontario, and terminates near Rochester, N.Y. The formation of the escarpment began 450 million years ago as the bed of a tropical sea called the Michigan Basin. Over time, sediments at the bottom of this sea were compressed into rock, limestone, and shale. As waters disappeared, the escarpment became exposed and subjected to a long period of erosion by weather, ice, and streams. The Niagara Escarpment now sits approximately 4-5 kilometres inland from Lake Ontario within the City of Hamilton and varies at heights around 100 metres, relative to the lake. Thanks to its location along the escarpment, Hamilton is home to 156 waterfalls, according to The Smithsonian. This number has been disputed over the
IMAGE/ Courtesy of City of Hamilton 02-03/ Escarpment overlook and construction diagram. IMAGES/ Jonathan Michael 04/ Map of the Niagara Escarpment.
01/ A builder performs a balancing act over the Escarpment.
IMAGE/ Jonathan Michael 02 03 04
The Bruce Trail, which traces the path of the escarpment through Ontario, is an essential outdoor amenity that provides almost continuous access to the escarpment's natural features and a vital passage to Hamilton's numerous waterfall areas.
Municipal Process Municipalities and other governing bodies are particularly faced with this challenge. This reality is especially true in Hamilton, where the near-continuous presence of the escarpment and its natural areas through the city make it impossible to fence off or otherwise restrict access to these "opportune problem" areas. Accommodating safe, sanctioned access to these areas in a timely manner is further complicated where competition for already thinly-stretched municipal budgets can be fierce. In spite of this, Hamilton has successfully constructed several waterfall access overlooks and is continually looking to add more where necessary, and where funds allow. However, to do so in a timely manner is perhaps the greatest hurdle, given the long permitting and wide consultation processes with various stakeholder groups and external agencies that are necessary, and, to be sure, warranted; no municipality would want to rush these kinds of projects, at the risk of adversely impacting the health and well being of public users and the natural environments that they are increasingly looking to explore. If Hamilton's past waterfall project deliveries are any indication of future endeavours, the timeline for constructing a sanctioned waterfall access project could take anywhere from 5-10 years.
As geo-tagged social media platforms gain traction, so does exposure of these areas. Individuals ranging from adventure seekers to bloggers will travel great distances to catch a glimpse and strike a pose by the falls. Selfies are posted on 'the 'Gram' and other social media platforms, showcasing these picturesque landscapes. What their subjects aren't always aware of are the potential ecological impacts and physical dangers involved in accessing these oftenprohibited areas, nor the bylaws set in place to protect them. For example, from March 2020 to March 2021, 740 charges were issued by Hamilton bylaw enforcement, the vast majority of which were given to people entering prohibited areas. This unsanctioned access can result in visitors putting additional strain on environmentally sensitive areas, or finding themselves in dangerous situations that require an emergency response and even rope rescues. In 2020, Hamilton EMS responded with 20 rope rescues on the Niagara Escarpment, almost double from the year before. Throughout the pandemic, visitors to these sites have increased exponentially. How can we as designers and governing agencies balance the increased public demand on these sites while preserving their ecological integrity and human-user safety?
Hamilton, like other municipalities similarly faced with their respective "opportune problems," must work proactively to address these issues in the short term, while longerterm solutions are forged. Social media, one of the ostensible causes of the exponentially ramped-up visitor influx to Hamilton's waterfall areas, might be flipped to become a solution, as an education mechanism that could inform visitors about the delicate and potentially dangerous environmental areas they are exploring. More traditional posted interpretive signage can certainly help as well, although at an added up-front cost. Post-occupancy evaluations on constructed amenities, or post-campaign evaluations for public education measures, might also prove valuable, working with bylaw and emergency services to gauge whether implemented measures are in fact working to keep people on the trails. And, of course, although the public is not typically keen on paid parking for open space access (the effectiveness of which could be easily debatable in urban Hamilton, given the myriad entry points to its natural escarpment areas), visitor management and parking controls, such as a reservation system, have been successfully implemented at various sites in Hamilton that fall under Conservation Authority jurisdiction.
18Balancing Act .58 years but is nevertheless enough to crown Hamilton as the waterfall capital of the world.
programs 05/ One of many Hamilton Waterfalls. IMAGE/ Courtesy of City of Hamilton 06/ Increased demand at a Hamilton Conservation Authority area. IMAGE/ Courtesy of HCA 07/ Map of Hamilton waterfalls and cascades. IMAGE/ Courtesy of City of Hamilton 070605
Conservation Authority Perspective Unique to Ontario, Conservation Authorities (CAs) are local watershed management agencies that deliver services and
Summary The opportune problems that increased public visitation to natural areas pose for landscape architects challenges our planning, consultation, and design expertise. This is especially true at a watershed scale, where multiple agencies have shared jurisdiction over natural areas, and where multiple groups with varying needs and degrees of associated risk are using them. Landscape architects have a real opportunity to play a leading role in solving these multifaceted problems through proactive design, attentive consultation, and cross-discipline collaboration.
BIO/ JONATHAN MICHAEL, OALA, CSLA, IS A PLACE-CURIOUS LANDSCAPE ARCHITECT WHO IS HAPPIEST WHILE EXPLORING NEW ENVIRONMENTS, PREFERABLY ACCESSED BY FOOT, BIKE, AND TRAIN.
KATHY SMITH, OALA, CSLA, IS A LANDSCAPE ARCHITECT WITH THE HAMILTON CONSERVATION AUTHORITY, CAPITAL PROJECTS AND STRATEGIC SERVICES DIVISION, WHOSE WORK IN ONTARIO IS THE HAPPY RESULT OF A LIFELONG LOVE OF NATURE. ALLAN NEAL, IS A PROJECT MANAGER WITH THE CITY OF HAMILTON'S LANDSCAPE ARCHITECTURAL SERVICES WHO LOVES COMPETITIVE SPORTS, SPENDING TIME OUTDOORS, AND ALL THE LITTLE THINGS THE NATURAL WORLD HAS TO OFFER.
19Balancing Act .58 to protect and manage impacts on water and other natural resources, in partnership with all levels of government, landowners, and many other organizations. The core mandate of CAs is to undertake watershed-based programs to protect people and property from flooding and other natural hazards, and to conserve natural resources for economic, social, and environmental benefits. There are 36 CAs operating in Ontario, each with its own Board of Directors comprising members appointed by local municipalities. CAs are either charitable or non-profit organizations legislated under the Conservation Authorities Act, 1946, and vary in size depending on the watershed they serve. CAs receive funding through municipal levies, self-generated revenue, and federal and provincial grants. Hamilton Conservation Authority (HCA), situated at the western end of Lake Ontario and Hamilton Harbour, is the region's largest environmental management agency. HCA has operated for more than 50 years in the community. Our watershed comprises two member municipalities: the City of Hamilton, and Township of Puslinch. To date, HCA owns and manages 4,484 hectares (11,079 acres) of land in public trust and is responsible for approximately 56,800 hectares (140,355 acres) of watershed area. Our conservation area lands are unique pockets of local green space that help the city and watershed thrive and connect people to nature. HCA's lands are increasingly becoming the only areas in the Hamilton watershed where people can experience nature, a watershed accessible to over six million people living in the Greater Toronto and Hamilton Area. Population growth is increasing, as is demand for access to natural and recreational areas, including access to waterfall areas along Hamilton's portion of the Niagara Escarpment. Of the more than 100 waterfalls in Hamilton, six of the most popular waterfall sites with public access are situated on HCA lands. During the pandemic, public visitation to HCA's conservation areas reached all-time highs, creating challenges with parking, public safety, litter, and sanitation. Several design and administrative controls were required to be implemented in a coordinated effort to assist with traffic control and public safety. Design measures included the installation of parking entrance gates, fencing, upgraded trail surfaces, and improved site signage. Administrative controls included social media messaging, site security for traffic control and parking, a visitor reservation system to help manage visitor numbers, visitor shuttle services to parking areas (pre-COVID), and alternative transportation promotion (municipal transit, walking, cycling, car-pooling). HCA continues to assess ways and means of protecting natural areas and connecting people to nature and relies on the services of professionals such as landscape architects to achieve these objectives.
0908
08-09/ Conceptual public access to a Hamilton waterfall area. IMAGES/ Courtesy of City of Hamilton
Canadian Society of Landscape Architects Awards of Excellence— Ontario Region The Canadian Society of Landscape Architects Awards of Excellence are given for outstanding accomplishment in landscape architecture. This year, the jury chair was OALA member George Dark. Congratulations to the following OALA members whose projects received awards. CSLA AWARDS 02 040701 Project Name: Seneca's Centre for Innovation, Technology and Entrepreneurship (CITE) Consultant: Quinn Design Associates Inc. Contact: John Quinn, OALA, FCSLA Category: Medium-Scale Public Landscapes Project Description: With its innovative design and implementation of an ecologically-focused landscape management program, Seneca CITE is a landmark campus project that furthers sustainability and intertwines ecological stewardship with the educational experience. Traditional landscape management practices of large turf areas that require pesticides and frequent mowing were avoided through the use of turf alternatives and plant species communities designed to coexist within the landscape. This further promotes sustainability by redirecting management resources from activities like mowing to selective weeding instead. 0605 03 01-07/ Seneca's Centre for Innovation, Technology and Entrepreneurship IMAGES/ Courtesy of Quinn Design Associates Inc. / CSLA 20CSLA Awards .58 The 2022 National Award Recipients are:
14 0908 Project Name: Morgan's Garden: Healing, Engaging, Empowering Consultant: Virginia Burt Designs, Canada Inc. Contact: Virginia Burt, OALA, FCSLA, FASLA; Paul Carabott, OALA, CSLA; Emily Thorpe, BEDS, March Category: Small-Scale Public Landscapes Project Description: The first therapeutic urban garden dedicated to adults with Autism Spectrum Disorder (ASD) in North America, Morgan's Garden at Monarch Lifeworks School furthers pre-vocational training with urban agriculture, social interaction, and sensory integration with a new horticultural therapy room, and promotes cognitive stimulation and physical (gross and fine motor skill) development. Expanding the role of landscape architecture, design for physical and neurological diversity required collaboration with behaviourists, medical staff, educators, and social workers. 08-14/ Morgan's Garden IMAGES/ Courtesy of Virginia Burt Designs, Canada Inc. / CSLA 121110 13 21CSLA Awards .58
1716 18 15 19 Project Name: Steveston Nikkei Memorial Consultant: Hapa Collaborative Contact: Joseph Fry, OALA, BCSLA, CSLA Category: Small-Scale Public Landscapes Project Description: This memorial in Richmond, B.C. commemorates the 75th anniversary of the internment of 2,500 Japanese Canadians from Steveston during World War II, and celebrates the rebuilding of the Steveston community, following their return from internment. Through consultation with community members and internment survivors, the memorial design acknowledges the resilience of Japanese Canadian internees and their contribution to the greater Steveston community. Design elements include paving patterns referencing origami basket weaving, plum trees, and boulders collected from across Canada representing internment sites. 15-19/ Steveston Nikkei Memorial IMAGES/ Courtesy of Hapa Collaborative / CSLA CSLA AWARDS 22CSLA Awards .58
Contact:
Project Name: The Fraser River Delta Collaborative: Advancing Design for Sea Level Rise in the Fraser River Delta Consultant: UBC School of Architecture and Landscape Architecture (SALA), Hapa Collaborative, PFS Studio, PWL Partnership, space2place Professor Kees Lokman; Joseph Fry, OALA, BCSLA, CSLA; Kelty McKinnon; Derek Lee; Jeff Cutler, OALA, AALA, BCSLA, FCSLA Research Project Description: This design-research project initiated by UBC and the principals of four Vancouver landscape architecture firms co-develops landscape-based adaptation strategies for sea level rise (SLR) in the Fraser River Delta. Four summer interns gained skills, while co-developing methods and projects related to coastal adaptation for outreach to governmental agencies and the public. The project stresses the multi-functional potentials of landscape based approaches to SLR while working to advance cross-jurisdictional planning and design approaches. Fraser River Delta Collaborative IMAGES/ Courtesy of UBC School of Architecture Landscape Architecture (SALA), Collaborative, PFS Studio,
PWL Partnership, space2place / CSLA 2526 2324
23CSLA Awards .58
Category:
2120 22 20-26/
Hapa
and
27-33/ Aménagement du paysage et eclairage de la Brignon-dit-LapierreMaison IMAGES/ Courtesy of Julie St-Arnault / CSLA 28 27 2930 3331 Project Name: Aménagement du paysage et eclairage de la Maison Brignon-dit-Lapierre Consultant: VLAN paysages with the collaboration of IGF Axiom: electrical engineer, City of Montreal: civil engineer + construction supervision, Civiliti: urban designer, and Enclume: historical study Contact: Julie St-Arnault, AAPQ, OALA, CSLA Category: Medium-Scale Public Landscapes Project Description: The Brignon-dit-Lapierre in the borough of Montréal-Nord is an old farmhouse built in the 18th and 19th centuries, since converted into a cultural centre. In 2018, VLAN paysages submitted a design proposal for the former farmland surrounding the house. The primary objective was to offer residents a public space that would respect the building's historic character. The project is an interpretive approach to a heritage agricultural landscape that has been erased by the passage of time. CSLA AWARDS 24CSLA Awards .58 32
34-40/ Les Habitations de Saint-Michel Nord IMAGES/ Courtesy of Julie St-Arnault / CSLA 17 40 373635 34 39 Project Name: Les Habitations de Saint-Michel Nord Consultant: VLAN paysages with Saia Barbarese Topouzanov: architect; Cima: structural and civil engineer; Aedifica: electrical and mechanical engineer; Wood: environmental consultant; Bouthillette Parizeau: security consultant; and Exp: construction supervision shared street Contact: Julie St-Arnault, AAPQ, OALA, CSLA Category: Residential Landscape Project Description: Built in 1972, the Habitations Saint-Michel Nord social housing project has 182 dwelling units and offices for community organizations in 21 buildings on a 2.25-hectare site. A renewal project was launched in 2015 which reconnected the parcel to its immediate surroundings with a woonerf-type shared street in the heart of the complex, lined with mini-plazas sited on the footprints of six buildings that were demolished. The housing units in those buildings were relocated to new top floors added to the remaining buildings. 38 25CSLA Awards .58
Project Name: Find your Centre: Mount Pearl City Centre Renewal Plan Consultant: Mills & Wright Landscape Architecture Contact: Matthew Mills, APALA, CSLA; Rachael Fitkowski, APALA, CSLA; David Leinster, OALA, FCSLA; Donna Hinde, OALA, FCSLA; Mike Hudson; Victoria FitzGerald, APALA, CSLA Category: Communications Project Description: The City Centre Renewal Plan is a future vision for Mount Pearl that was strongly informed and guided by its residents. The project team needed to engage with the community regularly, despite the onset of the global pandemic. They used effective communications to engage with the community, help residents navigate the virtual world, generate discussion, clarify the project, build support, and show the value of landscape architecture. The result was a project enthusiastically backed by the community. 41-45/ Mount Pearl City Centre Renewal Plan IMAGES/ Courtesy of Mills & Wright Landscape Architecture / CSLA 4241 44 45 43 CSLA AWARDS 26CSLA Awards .58
Project Name: Bloor-Annex BIA Parkettes Consultant: DTAH Contact: James Roche, OALA, FCSLA Category: Small-Scale Public Landscapes Project Description: Toronto's Bloor-Annex neighbourhood is constantly evolving. The thoroughfare is a mix of residential, retail, and commercial activity. These four parkettes re-imagine formerly underutilized asphalt surfaces, transforming them into sustainable public amenity spaces. Custom benches were created using wooden beams salvaged from the demolition of nearby Honest Ed's. Granite benches were designed by local artist, Robert Cram, utilizing quarry cutoffs. The parkettes feature new surfacing, pollinator planting, large canopy trees, public art, and new bicycle parking. 46 29 48 5352515049 47 27CSLA Awards .58 46-53/ Bloor-Annex BIA Parkettes IMAGES/ Courtesy of DTAH / CSLA
2022 AWARDSOALA 28OALA Awards .58
Khatereh Baharikhoob, Associate Member was a valued HAP committee member until January 2022.
Congratulations to all those honoured with the 2022 OALA Recognition Awards, and special thank you to the OALA Honours, Awards and Protocol Committee (HAP) members: Jane Welsh (Chair), Stefan Fediuk, Chen Zixiang, Nelson Edwards, Jim Melvin, and Aina Budrevics.



Landscape Ontario (LO), and the Canadian Nursery and Landscape Association (CNLA). He was the first practicing landscape architect to ever hold the position of President of Landscape Ontario, and he continues working to break down barriers and perceived divisions between the landscape architecture and landscape trades and related professions. He also teaches at Fanshawe College and the University of Guelph, and participates in a program that sees professionals visiting post-secondary schools to share the potential of landscape architecture with the student body. Paul is one of a few landscape architects that has dedicated his career to the advancement of the entire profession through public engagement, education, and collaboration.
Stefan Fediuk, OALA Stefan Fediuk has been an outstanding OALA volunteer since 2014, when he contributed his time as a member of the Continuing Education and Mandatory Education Committees, he is an invaluable member of the Honours Awards and Protocol and Municipal Outreach Committees, and greatly increased his volunteer time commitments when he was elected to OALA Council in 2016. He further deepened that volunteer commitment when he joined the Executive Committee of Council, serving as Secretary from 2018 to 2021, and most recently as Vice President. He led the development and analysis of the AGM survey, linking it to the OALA's Strategic Planning, and was integral to the committees that brought us the 2020 and 2022 AGMs. Through his work at the City of Windsor, Stefan promotes the profession of landscape architects and supports his local colleagues in the South-West Chapter.
01/ Paul Brydges IMAGE/ Courtesy of Paul Brydges 02/ Elliot Seniors Community at the Unveiling of the Veterans Memorial Garden. IMAGE/ Courtesy of Paul Brydges 03/ Rotary Club of Windsor (1918) Centennial Plaza. IMAGE/ Courtesy of Stefan Fediuk 04/ Stefan Fediuk IMAGE/ Courtesy of the OALA
There are three recipients this year.
THE DAVID ERB MEMORIAL AWARD 03 02 29OALA Awards .58
David Erb was an outstanding volunteer in furthering the goals of the OALA. This award is a prestigious way to acknowledge an OALA member whose outstanding volunteerism over the years has contributed to furthering the goals and strategic plans of the OALA, as well as making a real difference to the OALA and its members.
Paul Brydges, OALA For over 30 years, Paul R. Brydges has been working with diverse aspects of the landscape profession. As well as running his own firm, Paul works countless volunteer hours with many organizations and associations to better educate the public, related trades, and professions regarding the value and need for landscape architects and the need for collaboration. He demonstrates great commitment to the profession through his ongoing involvement with the OALA,
OALA AWARDS
01 04

05/ Anne-Claude Schellenberg IMAGE/ Courtesy of Anne-Claude Schellenberg 06/ 2022 U of Guelph Virtual Networking Social. IMAGE/ Courtesy of Chen Zixiang 07/ Chen Zixiang IMAGE/ Courtesy of Chen Zixiang 08/ Small's Creek Team. IMAGE/ Courtesy of Friends of Small's Creek 09/ Small's Creek in the Fall. IMAGE/ Courtesy of Friends of Small's Creek 05 07 30OALA Awards .58 06 0908
Chen Zixiang Chen has demonstrated leadership skills and commitment to the profession through his volunteerism within the OALA. As the Senior Associate Rep on OALA Council 2021-2022, he consistently organized and hosted LARE webinars for Associate members who are
OALA AWARD FOR COMMUNITY SERVICE TO THE ENVIRONMENT
Anne-Claude Schellenberg, OALA Anne-Claude has volunteered her time and energy as the Chair of Landscape Architecture Ottawa (LAO), the Eastern Ontario Chapter of the OALA, between 2017 and 2020, and sat on the City of Ottawa's Planning Advisory Committee as the landscape architecture member since 2019. She has also assisted several prospective OALA members as a PDP advisor. As LAO Chair, she demonstrated leadership and commitment and succeeded in improving the operational structure of the Chapter to support LAO initiatives. She promoted and delivered numerous events to assist local members in meeting their continuing education requirements. LAO events are crucial to our profession as they provide an ongoing opportunity for established members and new associates to meet, socialize, share ideas, and strengthen their connection to one another and to the profession. She also helped the LAO and OALA co-sponsor high-profile events with allied professions, raising the profile of our own profession in the Ottawa region.
This public outreach award recognizes and encourages special or unusual contributions for sensitive, sustainable, design solutions, leading to the improvement of environmental health, community livability, and human interaction in the environment.
Jack Copeland was an enthusiastic advocate for Associate members. This award recognizes the outstanding leadership and contribution of an associate for going above and beyond to assist fellow associates, including being an associate representative on OALA Council.
Friends of Small's Creek Ravines
pursuing the written exams. After hearing that many fellow Associate members were seeking more support as they re-attempt an exam, Chen supported a new effort to bring in guest speakers to share their insight in this process. As the Associate Rep on the HAP Committee, Chen eagerly volunteered to digitize the OALA award nomination forms, as well as convert the awards ceremony and entertainment during the 2021 OALA-CSLA Congress to virtual format, as a response to the COVID-19 pandemic. We are pleased to note that a cheque for $500 accompanies this award to help offset the cost of a LARE exam.
The Friends of Small's Creek Ravines (FSCR) was formed in 2020 by community members. Small's Creek Ravine is in the east end of Toronto, between a railway embankment, homes, and a small dog-park; it provides a
THE JACK COPELAND AWARD FOR ASSOCIATE LEADERSHIP AND CONTRIBUTION
Mary Jane Lovering, OALA Mary Jane is the co-founder and one of the principals of Vertechs Design for over 40 years. The company focuses its design work on therapeutic outdoor environments for long term care, acute care, mental health and play spaces for children with physical, communications, and developmental challenges. She has a background in physiotherapy and gerontology prior to landscape architecture. This led her to conduct original research in the function, accessibility, and importance of outdoor spaces for elderly individuals in long term care settings. She has been instrumental in the development of some of Ontario's finest therapeutic landscapes, and her work has provided precedent and design standards for the unique environments associated with therapeutic outdoor spaces.
31OALA Awards .58 OALA RESEARCH & INNOVATION AWARD
The FSCR has been very active over the last two years in response to proposed changes to the ravine, necessitated by Metrolinx construction of a fourth track along the lakeshore rail line. They raised awareness not only of Small's Creek Ravine, but the importance of the ravine ecosystem through the City of Toronto, including lost and remnant river and creek systems. Engagement included tying ribbons around many of the larger trees slated for removal (to show the extent of the damage); staging an event in a local park to demonstrate the length and height of the proposed retaining wall; as well as art, a film, and walking tours. This award recognizes the outstanding leadership, research and/or academic achievements of a member or non-member who, through scholarly activities and/or the development of innovative practices, academic papers, research, publications, books, e-applications, or public presentations, contributes to the knowledge base that furthers the advancement of the art, science, and practice of landscape architecture. There are two recipients this year.
walking trail and connection to nature in the heart of the city, includes a wetland, and the creek flows into the Williamson Ravine.
Dr. Robert Corry Dr. Corry has published over 80 documents over the course of his career, and is
10/ Dr. Robert Corry IMAGE/ Courtesy of Dr. Robert Corry 11/ Oliphant fen in Bruce County. IMAGE/ Courtesy of Dr. Robert Corry 12/ ErinoakKids Oakville IMAGE/ Courtesy of Mary Jane Lovering 13/ CAMH Phase 1B Intergenerational Courtyard IMAGE/ Courtesy of Mary Jane Lovering 14/ Mary Jane Lovering IMAGE/ Courtesy of Mary Jane Lovering frequently involved in research applied to solve real world problems that benefit the public and promote the profession. As chair of the CSLA Tri-Agency Funding task force, Rob identified the need to have landscape architecture properly categorized by the National Research Council, the prime source of research funding in Canada. He was named interim editor of Landscape Journal—the first from outside the US. He was identified as one of two Canadians in the top 20 LA faculty researchers from CELA schools based on "h-index" value, a measure of research impact. He also serves as the University of Guelph's MLA graduate program co-ordinator. Through his work with CSLA, the national funding agencies, and Landscape Journal, he has expanded opportunities for landscape architecture research to be conducted and shared with others, including professionals and students.
10 11 121314
15/ Robert Burley IMAGE/ Courtesy of Robert Burley 16/ Lighthouse Point, Tommy Thompson Park, Toronto, 2020. IMAGE/ Robert Burley 17/ Jogger, The Muddy River, Boston, 1990. IMAGE/ Robert Burley 18/ Nina Marie Lister IMAGE/ Johnny C Y Lam 19/ By-laws for Biodiversity IMAGE/ Johnny C Y Lam 20/ Lister leads a CoLab workshop IMAGE/ Marta Brocki 21/ Bank of Canada IMAGE/ Courtesy of John Hillier
The Honorary category of membership is for non-landscape architects who have performed notable service in advancing the course of landscape architecture in the Province of Ontario whom Council wishes to recognize for outstanding contributions in their own fields to improving the quality of natural and human environments. There are two recipients this year.
More recently Robert collaborated with Walter Kehm on the artful documentation of Toronto's Tommy Thompson Park, in the book: "Accidental Wilderness."
Robert Burley Robert Burley is a Canadian artist whose photographs are celebrated internationally. His work concentrates on the relationship between nature and the urban landscape. Over his 40-years plus career, Robert has undertaken long-term visual investigations of subjects such as Chicago's O'Hare Airfield, the designs of landscape architect Frederick Law Olmsted, the Great Lakes, and Toronto's natural parklands. He has also made contributions as an educator at Toronto Metropolitan University and University of Toronto. The OALA and the profession of landscape architecture benefit from his past and ongoing work exploring overlooked or under-appreciated urban landscapes. To celebrate its 25th anniversary in 1994 the OALA commissioned Robert to prepare the photo exhibit: "Tithing for Eden."
Nina Marie Lister Nina-Marie is a Registered Professional Planner trained in ecology, environmental science and landscape planning. Her influence is wide and deep, and has been instrumental in promoting and educating the public and the city building professions on topics relating to her research, teaching and practice, which she describes as operating at "the confluence of landscape infrastructure and ecological processes within contemporary metropolitan regions, with a particular focus on resilience and adaptive systems design." She is Professor and Graduate Director in the School of Regional and Urban Planning at Toronto Metropolitan University and Visiting Professor of Landscape Architecture at Harvard University's Graduate School of Design. Lister holds the 2021-22 Margolese National Design for Living Prize and is Senior Fellow at Massey College in Toronto.
1617 2019 32OALA Awards .58 OALA HONORARY MEMBERS 18 15
John Hillier, OALA John Hillier is a well known and respected landscape architect in Ontario and across Canada. He helped found the firm du Toit Allsopp Hillier, now known as DTAH, which has undertaken the planning and design of university campuses across Canada, Canada's Parliamentary Precinct in Ottawa, and historic sites such as Fort York and the Distillery district in Toronto. The firm has received over 180 awards and some 120 for their landscape architectural work and designs. John's career highlights include the National Capital Ceremonial Routes, Bank of Canada Head Office, and the Government Conference Centre (currently home the Canadian Senate). His campus planning and design includes Queens University, University of Toronto, University of Ontario Institute of Technology, Wilfred Laurier University, Toronto Metropolitan University, Technical University of Nova Scotia, Western University, York University, and the Banff Center for Arts and Creativity. John also led the firm's landscape planning and design contributions to Evergreen Brick Works and urban design of the Gooderham and Worts Distillery District.
22/ Confederation Boulevard IMAGE/ Courtesy of John Hillier 23/ Banff Centre IMAGE/ Courtesy of John Hillier 24/ Corktown Crossing IMAGE/ Courtesy of John Hillier 25/ John Hillier IMAGE/ Courtesy of John Hillier 26/ University of Ontario Institute of Technology IMAGE/ Courtesy of John Hillier
24 26 23 33OALA Awards .58 OALA PINNACLE AWARD FOR LANDSCAPE EXCELLENCE:ARCHITECTURAL 2122 25
This award acknowledges excellence in works by an OALA member and their exemplary overall body of professional work and accomplishments. Singling out specific projects to draw attention to a body of work which demonstrates outstanding professional accomplishment, this award promotes awareness of the recipient's landscape architectural works and achievements among landscape architects, allied professionals, potential clients, and the public.
34Letter From... Sicily .58
Marina di Ragusa has evolved over time with a linear pattern along the south shore of Sicily. The landscape rises steeply up from the beach to the agricultural plateau several kilometres beyond. The south facing slopes are densely developed with stacked single family and multi-unit homes, each perching slightly above the next, in order to gain a glimpse of the Mediterranean Sea beyond. The main town square (piazza) provides a forecourt for the church as well as
TEXT BY ARNIS BUDREVICS, OALA
01 02
Marina di Ragusa is a small yet vibrant seaside community with a winter population of nearly 4,000 persons. However, during the summer months, the population explodes to beyond 60,000 summer residents and visitors who come to enjoy the sunshine and sandy beaches. Summer tourism has replaced local fisheries as the main source of income which fuels the economy. However, the extreme population fluctuation creates enormous pressures on public spaces, facilities, and recreational amenities. The pressures apply not only to the maintenance of municipal spaces, but also to proper planning, financing, and development of new facilities. As we delved deeper into the issue of project financing, we quickly learned that the process of formal tax collecting and project funding is a topic which eludes many residents and visitors alike. Daily products and services here are subject to value added tax. Municipal residential taxes appear to be negotiable, depending on your network of colleagues or friends, and when one is pressed to articulate the amount of annual taxes paid for a typical home, the conversation quickly moves on to other topics of interest.
My wife Jane and I have been fortunate to reside in Sicily, as live-aboard sailors, for the past two winter seasons. This has allowed us the opportunity to immerse ourselves into the local culture, cuisine, as well as to explore the landscape of the surrounding region. Our activity of daily life has provided us some glimpse into the functions of the local government and their approach (or lack thereof) towards the planning, development, and maintenance of public spaces.
IMAGE/ Arnis Budrevics 04/ Porto Turistico Marina di Ragusa was officially opened in July 2009 over 20 years since construction start. It provides modern berths for 800 boats and new offices for the Coast Guard. IMAGE/ Arnis Budrevics 05/ Grand promenade, west of the marina port, provides opportunities for both passive strolling "passeggiare" as well as active recreation at gymnastic equipment stations along the way.
IMAGE/ Arnis Budrevics 03
06/ Grand promenade, east of marina, is also a street (Lungomare Mediterraneo) completed in the 1960s is the main avenue for "passeggiare" to enjoy views of the beach as well as the luxurious holiday beachfront homes.
0504
02/
IMAGE/ Arnis Budrevics 07/ La spiaggia is a perfect place for summer holidays considering the excellent climate, clear sea, and golden sandy beaches for free use. Ideal for families with children.
The seafaring monument near central piazza is a tribute to the town's maritime and fishing history. IMAGE/ Arnis Budrevics 03/ Piazza Duca degli Abruzzi is the historic centre of town which was renovated in 2011. It is now only accessible for pedestrians and cyclists. Cafe della Rose is known for the best "dolce" treats.
IMAGE/ Arnis Budrevics
35Letter From... Sicily .58
the municipal building. Surrounded by small shops, services, and restaurants, this square provides for family gatherings of many kinds throughout the season and specific festivals. The square is limited to pedestrians only and provisions are delivered by small hand carts and wheel dollies. In warm evening hours it comes alive with residents of all ages. Children play tag and elders enjoy conversation and a beverage at sunset. Time seems to slow.
The evening activity of "passeggiata" along the promenade is most common on weekends. Entire generations of families dress up and stroll along the seaside, typically with a gelato cone in hand, regardless of the temperature. Family conversations are lively and inclusive. The promenade becomes a stage for vendors and street performers during warmer days and festival occasions. This important municipal infrastructure is part of a longer pedestrian and bicycle path connection system which extends several kilometres in each direction from the town centre. The promenade provides linkage from the town square to the Porto Turistico (marina) to the west, and the Irminio Nature Reserve to the east, and is dotted with several restaurants, cafes, and bars along the way.
Development planning, as well as life in general, moves at a much slower pace than we in Ontario are used to. This is evident in so many ways. "La dolce vita" as they call it ("the sweet life") is to be enjoyed at all costs, to the detriment of any work on the schedule. Anecdotally, we have learned of several business ventures which have been terminated because the work and responsibilities overwhelmed the business owner(s), leaving them with less time to spend with family and friends. The importance of the town square, formal promenade, and the natural beach setting overshadows the importance of any designated playground or park space built in the town. The children's playground adjacent to the public school is used primarily during the school day. Sports fields are programmed on a regular basis and used extensively by local teams. Individual pocket 01/ Sunset over the Strait of Sicily.
IMAGE/ Arnis Budrevics
In my professional experience with park design and construction for several municipalities in Ontario, the annual cost of maintenance is a crucial consideration and must be included as part of the design process. The clarity of taxation rates, collection, and municipal transparency to which we are accustomed in Ontario is arguably a better process for proper public facility development.
0607 0908
Several park spaces with scattered amenities have been neglected by a lack of maintenance and repairs. This brings up the conversation about municipal tax collection and funding. There seems to be little funding available for maintenance. This small town struggles to manage garbage collection or even provide regular water service—plagued with regular shortages, apparently due to poor piping and ill-maintained aquifers.
36Letter From... Sicily .58 parks that were once built with children's play equipment lie dormant and underused.
It is also apparent that the spending priorities of the town are focused more on the big projects that service visiting tourists, rather than on improving infrastructure for local full time residents. For example, development of the marina project was initiated by town council, but spanned over 20 years when funding to complete the project was finally sourced from a European Union infrastructure development funding program. This spring, our group of live-aboard sailors had the unique opportunity to meet with Mayor Giuseppe Cassì and some town councillors. The Mayor was most appreciative of our stay in his town and used our meeting for his announcement of a major expansion to the waterfront bike trail and promenade system. He was applauded. However, when we questioned him (and his Director of Public Works) on the status
IMAGE/ Arnis Budrevics
IMAGE/ Arnis Budrevics
09/ Piazzetta Villaggio Gesuiti is a Seldom busy neigbourhood parkette as most of the children and families actively gather in the piazza in town.
08/ Marina di Ragusa has transformed from a small seaside town inhabited by humble fishermen and farmers to a vibrant community that attracted the Ragusan aristocracy in the 19th century and many holiday visitors in the present day.
The exception to this phenomenon may be the recreational park for children that is part of the RV Campground. This may be more a reflection of Sicilian culture than lack of individual activity. Cyclists are active everywhere. Children play on the beach, run with their pets, and play ball among their parents in the town square. Climbing on fixed play structures seems not to be part of their daily life.
It seems most of any income or development funding is made by a one-time negotiated payment to the town by new residents upon their arrival. Fees are paid for various approvals, but there is not a regular system of tax collection which would then provide a regular and manageable source of municipal income. Typically, funding is provided for the construction work. Less-to-no funding is set aside for maintenance and repairs.
37Letter From... Sicily .58
IMAGE/ Arnis Budrevics
11/ Piazza della Dogana provides a grand transition from the town centre to the beach. The historic cannons near to Torre Cabrera remind visitors of the old port that was built for defensive purposes in the 16th century.
BIO/ ARNIS BUDREVICS, OALA, FCSLA, IS A PRINCIPAL LANDSCAPE ARCHITECT AND THE SENIOR PARTNER OF ALEXANDER BUDREVICS + ASSOCIATES LTD., A BESPOKE DESIGN FIRM IN TORONTO, WHICH WAS FOUNDED OVER 58 YEARS AGO. ARNIS HAS BEEN A FULL MEMBER OF THE OALA SINCE 1983 AND SERVED AS OALA PRESIDENT (2007-2009). HE WAS INDUCTED TO THE CSLA COLLEGE OF FELLOWS IN 2001 FOR HIS DIRECT SERVICE TO THE SOCIETY. ARNIS REMAINS KEENLY INTERESTED IN THE FINANCE OPERATIONS OF BOTH ORGANIZATIONS AND THEREFORE, CONTINUES TO BE ACTIVELY INVOLVED IN THE OALA BUDGET COMMITTEE AND THE CSLA FINANCE AND RISK MANAGEMENT COMMITTEE. 10/ Grand promenade, east of the marina port.
In my opinion, overall long range planning or visioning of projects for the public good seems to be non-existent. In the past, big development projects are either funded by private donors or anonymous benefactors.
IMAGE/ Arnis Budrevics
IMAGE/ Arnis Budrevics 10
12/ Combination bikeway and pedestrian way opened in 2016 is an active thoroughfare linking Marina di Ragusa with other towns along the coast.
1211
It was encouraging to see that construction for the Mayor's announced development project from a few months ago has finally got underway—just in time for the arrival of summer visitors. This small town, built on the remains of a Greek settlement from the 5th century, seems to be stuck in time, destined to remain with slow growth, while servicing summer tourists from abroad. However, once you have experienced the vibrancy of life among the locals, you too will be satisfied to simply enjoy the sunset along the beach with cocktails—la dolce vita!
It is notable that residents of Marina di Ragusa, as throughout the Mediterranean, have made every effort to commemorate their maritime history by erecting monuments for maritime battles, or in remembrance of lost fisherman.
of regular water supply, he diplomatically diverted his response to overall public improvements which may be planned for in the future. A similar diverted reply was made when pressed on the topic of garbage collection.
The OALA and the Ontario Professional Planners Institute will be hosting a joint conference in London, Ontario, on September 21st and 22nd. goal of the 2GETHER conference is a chance for planners and landscape architects to "explore the important role that professional planners and landscape architects play in the natural and built environments, including the ongoing climate crisis, racial and social injustice, the inherent rights and title of Indigenous Peoples, and other relevant topics impacting Ontario communities."
Registration is complimentary for OALA Student Members. For more information, check out: Conference-Landing-Page.htmlontarioplanners.ca/Conference-2022/ 38Notes .58 Notes: EventsandofMiscellanyANews new members The Ontario Association of Landscape Architects is proud to recognize and welcome the following new members to the Association: Daniela Correia Mike Hukezalie * Thevishka Kanishkan * Lindsay King * Kristina Lantz Reinders * Nicholas Minigan Chris Romasz Anna Rosen * Amirhossein Sadeghi Peter (Petrus) Smulders Mark Thomann Tikki KathyYuenZhu Asterisk (*) denotes Full Members without the use of professional seal. presentations
Of particular interest to landscape architects is the segment entitled "Engaging with the rights of native plants in parks."
You can read the report here: ccpr.parkpeople.ca/2022/#nav
0201
conference
The
The Landscape
These annual reports are a unique and important resource for anyone interested and involved in issues of public space, landscape design, public health, and urbanism. Highlights from this year's report include centring Indigenous voices, the rising popularity of parks, the problem of maintenance in the face of low budgets, and new attitudes towards unhoused people.
Architecture Foundation has made available presentations from their 2022 Innovation + Leadership Symposium. Guests include a range of landscape architecture professionals and academics, and the symposium is approved for continuing education credits. You can watch the presentations here: symposium-videosresources/2022/06/2022-lafoundation.org/
parks
Park People will be hosting their annual conference, held virtually from September 21st to the 23rd. The conference "will feature more than 90 speakers from across Canada, sharing new ways to build partnerships, attract resources, create park spaces and deliver more impact in city parks." It will feature numerous workshops, panel discussions, and a keynote delivered by Sacred Earth Project Manager Lewis Cardinal entitled "Working in a Good Way: Indigenous Lessons in Collaboration."
You can register here: parkpeople.ca/ conference/tickets As well, you can read Park People's 2022 Canadian Cities Park Report entitled "Nurturing Relationships and Reciprocity."
"Having worked with Kaari on Ground magazine, I know she's passionate about getting young people of colour to consider careers in fields like landscape architecture as an exciting, and viable opportunity, while still acknowledging the barriers in place for people to enter and thrive in these Followingprofessions.thephilosophy of 'you have to see it to be it,' Kaari has curated and led a number of conversations with Black professionals, including the Regional Head of Property for Standard Chartered Bank, an IT entrepreneur, and the Senior Gender Officer for the Food and Agriculture Organization of the United Nations. Kaari is a charismatic host, who draws out stories of building successful careers, often in the face of many challenges, and the result is an act of celebration, education, and inspiration. A great resource for BIPOC folk looking to build a career, or anyone interested in diversity in their profession, and what it takes to realize it. Kaari will be launching a series on Black architects, landscape architects, urban designers, and planners in Canada in late Fall. Stay tuned and subscribe."
01/ 2GETHER conference logo.
csla
Categories for cultural landscapes, inspired by the UNESCO Cultural Landscapes typologies, include institutions; cultural and heritage; recreation/health and well-being; residential; transportation; master planning and urban design; and research and communication.
The CSLA is looking for member input to identify "25 places that exemplify the wide range of cultural landscape treasures across Canada by 2024." There's an open consultation period where people can make their case for culturally significant landscapes, followed by a workshop held from 1 to 3 p.m., September 20th.
— GLYN BOWERMAN, GROUND EDITOR AND HOST OF THE SPACING RADIO PODCAST If you'd like to go deeper, the CSLA is providing a Diversity & Equity Resources page on their website: mission-areas/diversity-and-equitywww.csla-aapc.ca/
For consideration, cultural landscapes are "clearly defined landscapes designed and created intentionally by humankind; organically evolved landscapes which reflect the process of evolution in their form and component features, and are characterized as either relict or continuing landscapes; and, associative cultural landscapes, i.e. with powerful religious, artistic or cultural associations of the natural element rather than material cultural evidence."
You can submit sites for consideration until September 15th. For more information, visit the CSLA site here: csla-aapc.ca/mission-areas/cslas-cultural-landscapes-legacy-collection equity resources
39Notes .58
0403
IMAGE/ Courtesy of the OALA 02/ A hike through Mount Royal Park, Montreal. IMAGE/ Courtesy of Park People 03-04/ Careers Unboxed, hosted by Kaari Kitawi.
In the hopes of promoting diversity, equity, and understanding, Ground will be sharing resources for supporting, encouraging, and celebrating racial justice in the landscape architecture field. Here is one selection: Careers Unboxed with Kaari is a YouTube series of discussions with Black professionals from all over the world about how they built their careers. The show is hosted by OALA member, Daniels Faculty of Architecture sessional lecturer, and Ground contributor Kaari Kitawi. This year, she received the Landscape Architecture Canada Foundation Gunter Schoch Bursary grant (for $8,650) in recognition and for continuation of her work exposing Black and Indigenous people of colour to the world of architecture and design.
IMAGES/ Courtesy of Kaari Kitawi
® 800.716.5506 | www.maglin.com Are you in or out? You don't have to choose with ALUM Outdoor-ready design meets indoor-worthy style with the new line of aluminum formed furniture that's easy to handle and maintain, 100% recyclable and beautiful to boot.
Low-maintenance. 15-year warranty. Spec today at openspacesolutions.com | shadeview.com 519.580.7053 | janet@openspacesolutions.com ® CMYK 0/0/15/65 METAL PARK STRUCTURES PAVILIONS | PERGOLAS | SAILS lu ti in Ontario Representatives SPECCONFIDENCEWITH PERGOLA 10'x25' w/ Galvanized Underhung Rafters (0141)
Distributed by: TM s o l u t io n s i nc Distributed by:
Choose a mower that can stand up to the toughest jobs. The Kubota SZ Series stand-on mowers are engineered to be the quickest and most comfortable in its class, with a commercial-grade Kawasaki engine and exceptional maneuverability in tight spaces that professionals demand. Affordable and durable, it's the right choice – for many more summers ahead.
KUBOTA DURABILITY.PROVEN KUBOTA.CAAVAILABLE EXCLUSIVELY AT YOUR LOCAL KUBOTA DEALER
Playworld's ENERGI fitness system uses calisthenics to prioritize the connection between the body's major anatomical systems. Built for users aged thirteen and up, this equipment is the perfect addition to schools looking to combine functional fitness and bodyweight training. The chance to exercise under sunny blue skies along with color-coded instructional signs make these structures the perfect rotation in regular fitness routines. Visit our website for more information: www.playworld.com
With bold color and the integration of shade, the LifeTrail Advanced Wellness System built in Windsor illustrates how a set of outdoor equipment can meet the fitness needs of your community. These accessibly designed structures enable users of any age, ability, or skill level to pursue a healthy lifestyle. For adults over fifty, these activities help improve coordination, stability, and strength by maintaining contact with the ground to engage muscles in a natural way. Benches along the outer limits offer the opportunity to rest and take in the fresh air. Altogether, this customizable system works to create an environment focused on your well-being and wholistic fitness experience in the later years.
is a PlayPower, Inc. company. © 2022 PlayPower, Inc. All rights reserved.
Playworld Systems, Inc.
Golden Energy
New World Park Solutions P: 519.750.3322 • F: info@newworldparksolutions.canewworldparksolutions.ca519.304.3905
Tracy Cook, Ontario & Manitoba Business Development Representative MarieTracyC@landscapeforms.com647.407.4944Barbin,Quebec&Eastern Ontario Business Development Representative MarieB@landscapeforms.com514.638.4466 Designed to Be One-of-a-Kind. Introducing the STRATA Beam expansion, the new modular extension of our popular STRATA family. STRATA Beam "TAG! YOU'RE IT!" Georgetown Day School Washington, DC In collaboration with Lemon Brooke info@earthscapeplay.com | 1.877.269.2972 earthscapeplay.com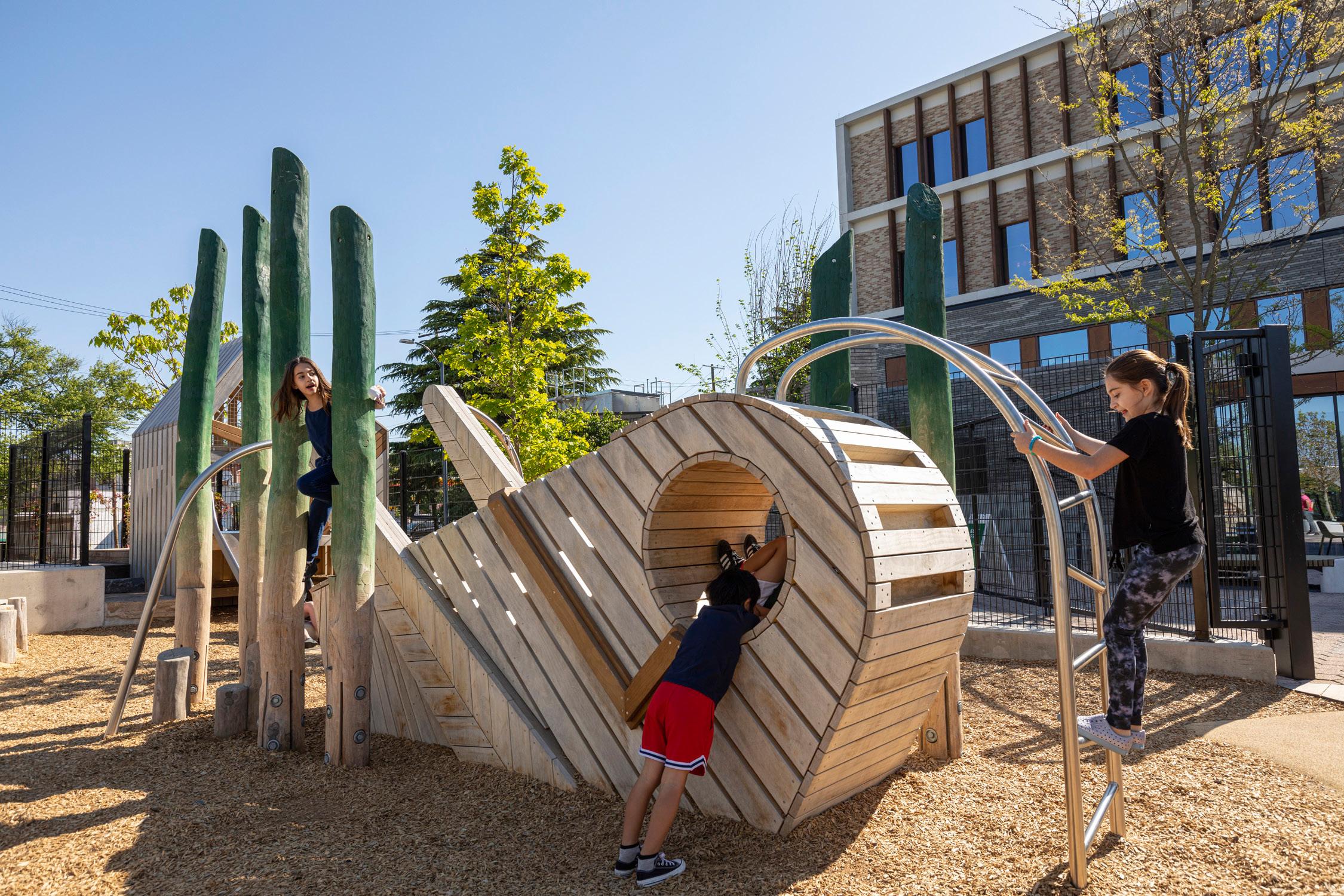 PATIO SEASON sales@hausersite.com800-268-7328www.hausersite.com JUHAN MARTEN 330 RICHMOND ST. WESTProjectLA Modular WeightedConfigurationsforCommericial Use Reversible Cushions All Aluminum Construction Custom Size Planters QUANTUM COLLECTION OAKSpavers.com | 1.800.709.OAKS (6257) Nueva® 75 Wall SMOOTH, LINEAR, MODERN
Contemporary Pergolas and Custom Architectural Shade info@sturdesign.com 855-207-9669sturdesign.com Custom Cantilevered Viso Pergola • Beverly Hills • California Made in Ontario #2GETHER2022 2 days, 2 disciplines, 2 ways to participate –defining our professional roles and uniting to build more equitable, accessible and inspired communities. September 21 & 22 OPPI • OALA CONFERENCE guide.enhance.protect. making places people want to be.
Not unlike civic architecture, lawn signs act as signifiers for something the private residents or the neighbourhood as a whole represent. Lawn signs can reinforce road rules or advertise community events, but they can also be valuable methods of broadcasting political support/advocacy or providing cultural commentary. The latter transforms the lawn sign into physical demarcations of what type of neighbourhood you are entering, and the general atmosphere of that environment.
Lawn signs can also act as signifiers of the class, race, and socio-economic status of a neighbourhood. Some lawn signs such as "slow down" or "neighbourhood watch" convey the message that you are entering a neighbourhood that is actively monitoring who is entering the space and how they are occupying it. With so many forms of digital media available to us to broadcast our opinions, the lawn sign still remains a quintessential part of residential neighbourhoods. People use their front lawns as an extension of their homes and lawn signs, in a way, become thresholds to pass before entering their private space. We get an idea of what kind of people live here before even entering, begging the question: what is it that you want to say to the public before they enter your private space? 02
TEXT BY SAIRA ABDULREHMAN 50Artifact .58
01-02/ Lawn signs in Toronto during the Ontario Provincial Election. IMAGES/ Josh Sherman 02
01
Front lawns have the unique quality of being spaces that are both public and private. While ownership is private, the visual connection the front lawn has to public streets, parks, and sidewalks makes it an incredibly public way to convey a message to those passing by. Some neighbourhoods provide guidelines on how your front lawn must be kept to maintain a character or quality of the wider area.
BIO/ SAIRA ABDULREHMAN IS AN EXPERIENCED URBAN DESIGNER WORKING BETWEEN TORONTO CANADA AND LONDON, U.K. (WHERE SHE IS A CHARTERED LANDSCAPE ARCHITECT) SINCE 2015. SHE IS ONE OF THE FOUNDERS OF THE [204] DESIGN COLLECTIVE. SHE IS A MEMBER OF THE LANDSCAPE INSTITUTE'S DIVERSITY AND INCLUSION BOARD, THE URBANISTAS LONDON, AND THE GROUND EDITORIAL BOARD.
ProXstablishment is an additional service Greenhorizons Sod Farms can supply to guarantee the complete establishment of sod after the installation. Any experienced turf manager can tell you that site preparation and laying the sod is only half of the job. How the turf is managed just after installation can drastically affect time-to-use or sign off of the site. Give us a call to discuss your project! GreenhorizonsSod.com/proxstablishment905-389-1315 ProXstablishment Services Include: • Site installation logistics • Water infrastructure and management • Soil testing and pre-plant fertilization • Minimum of two additional fertilizer applications • Mowing 2-3 times a week GUARANTEE SOD INSTALLATION RESULTS!