NOWFULLY DIGITAL WITHINTERATIVELINKS ANDVIDEOS!
Tamarack
Naugatuck Valley Community College's News Magazine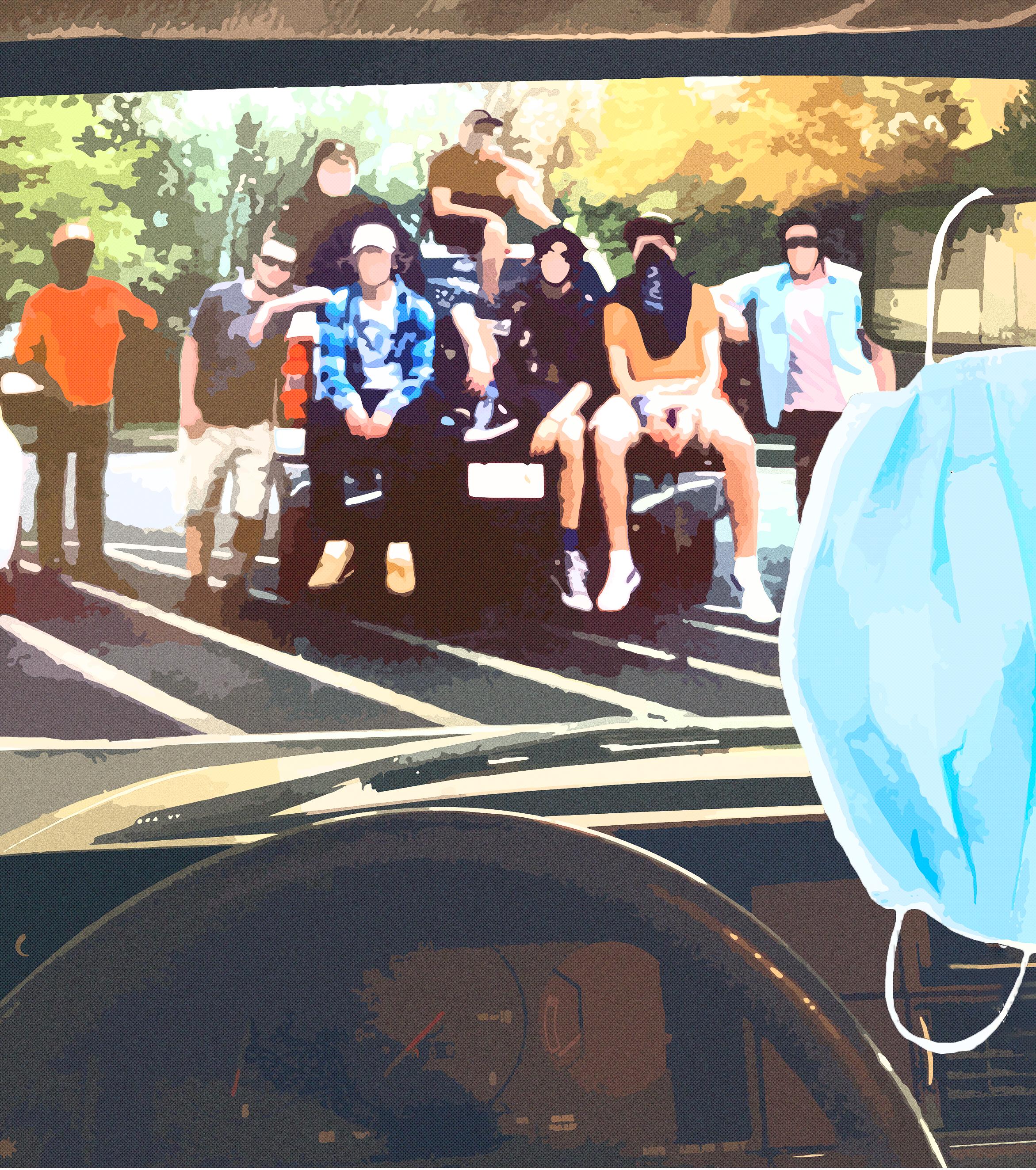 Spring 2022
For two years, we were denied the rites of spring: RENEW, REBIRTH, REFRESH!
With spring 2022, we tip our hat to our state motto: We've been shaken to our roots, Still, our spirit sustained.
At TAMARACK, we hear the call of spring: RENEW, REBIRTH, REFRESH!
We are now a news magazine, capturing the lives and likes of NVCC students.
"Give me of your roots, O Tamarack," Longfellow wrote. That we shall.
Qui Transtulit Sustinet 'He Who Transplanted Sustains'
SPRING!
INSIDE: 2022 International Arts Festival pics! NVCC student Juliana Onyenso participates in the Progressive Poetry event, REVOLT, REVIVE, RENEW
Table of Contents Arts Festival AF Horticulture Installation AF Clowns without Borders AF Steve Parlato's, We Are Not Disposable AF RoboArt/Quadcopter Team SPOTLIGHT ON: Underfunding Education, Redlining, Gas Prices GOOD NEWS! BETWEEN THE STACKS IN THE CLASSROOM: Art Department Visuals, "What My Mirror Imagines" BOOK NOOK OUT OF THE CLASSROOM: Food Pantry Run, STEM Fair, Spring Musical Spelling Bee, IP-V-SAPP Women's History Month ACE IS THE PLACE: Skeletons, Hidden Talents article RAINBOW CONNECTION DANBURY BEAT SGA UPDATE ALUMNI PERSPECTIVE: Isaac Araujo, Jennifer Jones STUDENT PROFILE Wayne Johnson CAMPUS SEEN Photo Essay, photos by Luis Garcia PLANET EARTH AF Progressive Poetry Event AF ART ATTACK! Interactive Music, Art, and Dance Tamarack
NVCC's International Center for the Arts Brings Its Spring 2022 Festival Back to Campus:
After a two-year absence, the International Arts Festival roared back to campus in April, shaking off the clutch of winter and celebrating and showcasing the myriad ways the Arts can shape and change our world, even our worlds. A week's worth of activities included a Progressive Poetry event; Fulbright Scholar in Residence Stacey Sacks' documentary, Clowns without Borders; a ROBOART Aeronautic Drome demonstration by the NVCC Quadcopter Team; a magnificent floral installation by students in our Horticulture Program; and an Interactive Music, Dance, and Art event titled, ART ATTACK! that featured the return of former Fulbright Scholar, Aguibou Bougobali Sanou. Photos, video and interactive links featuring the events are in the pages that follow and also conclude this issue of TAMARACK magazine.
REVOLT, REVIVE, RENEW!
| Naugatuck
College's News Magazine Page 1
Tamarack
Valley Community
Clowns without Borders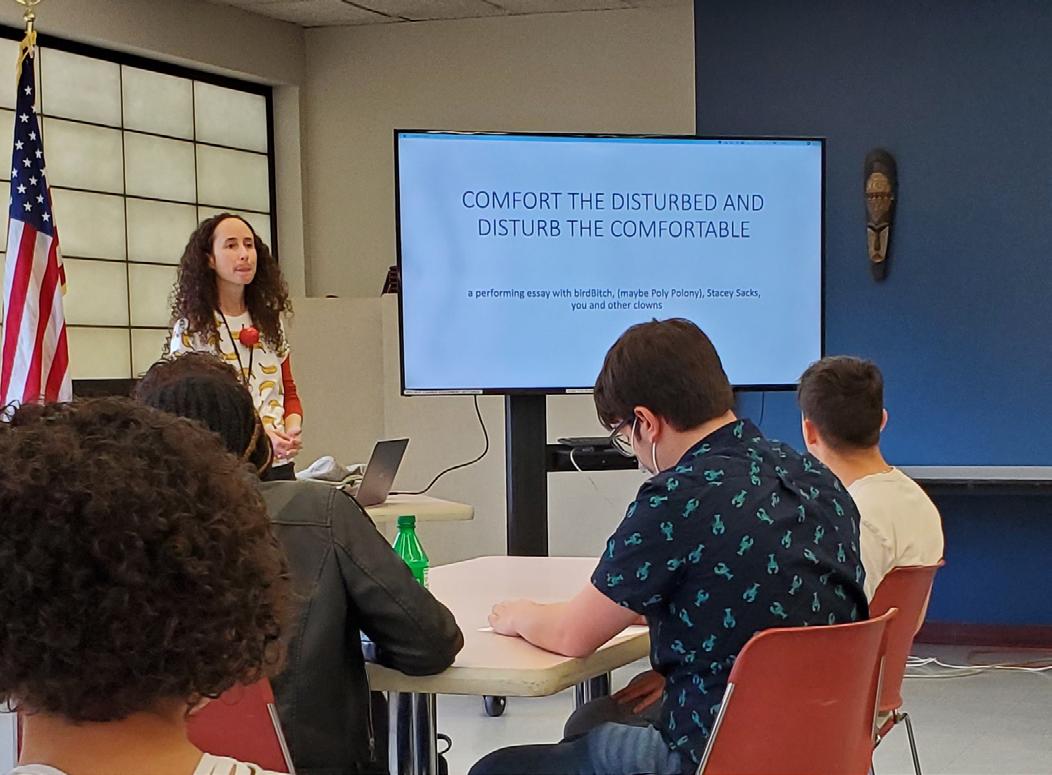 Horticulture Installation
|
Page 2
Tamarack
Naugatuck Valley Community College's
News Magazine
Horticulture Department Educational Assistant Michael Schwartz Describes the Piano Waterfall Project
Fulbright Scholar STACEY SACKS Gave a Talk and Presentation about Her Work with CLOWNS WITHOUT BORDERS Central to Prof. Sacks' Work as a Clown and Activist is the Mantra, COMFORT THE DISTURBED AND DISTURB THE COMFORTABLE
Steve Parlato's, We Are Not Disposable
The Arts Festival featured a showing and presentation of Prof. Steve Parlato's Collage Series, They Are Not Disposable. Crafted of recycled household materials, the series portrays Black Americans whose lives were stolen due to racial violence. The series will consist of 9 portraits in all, each accompanied by an original poem by Mr. Parlato.
Tamarack | Naugatuck Valley Community College's News Magazine Page 3
Artist, Writer, and Professor Steve Parlato with Festival Co-Chair, Karlene Ball
Breonna Taylor
India Kager
Medgar Evers
Tamir Rice
Cynthia Graham Hurd
RoboArt/Quadcopter Team
The Quadcopter Team, part of NVCC's STEM Club, presented their drone project at the Arts Festival. The team won the NASA CT Space Grant Consortium's 2022 Community Challenge. They not only won the best overall award, but they also won individual awards for Best Poster Presentation and Best Photograph.
link to their video presentation: https://youtu.be/Ly2O691S3YY
|
News Magazine Page 4
Tamarack
Naugatuck
Valley Community College's
The Quadcopter Team members are:
Jonathan Escobar
Albert Lagerman Anthony Lane James Petkin
ACE Director Rob Sheftel is the club's advisor. Here is the
Where we take a deeper dive on issues and topics, with a collection of articles and picture essays.
Underfunding Public Education Is a Driver of Income Inequality
by Jessica Carvalho Fernandes
It is time to address the need for funding for public school students.
Although we all may have heard different points of view as to if public schools really lack funding, one thing that is certain is that many public school students live in lowincome communities and not much is being done to give them the education they deserve.
According to forbes.com, a business magazine that features topics such on finance and investing, "The high child poverty rate in the United States — one in four children live in poverty — means that many children live with food and housing insecurity, lack healthcare, and experience other adverse conditions. These challenges require schools to provide a range of services to enable these children to focus on learning."
Not only does the information presented above pertain to children who live in poverty, this information can relate to anyone who lives in financial distress, as students of all ages are not being supported correctly. If students don't have the materials necessary to grant them a better future, then we are setting them up for failure.
"Despite these well-known needs, in 2015, the most recent year for which national data are available, only 12 states allocated more funds to districts in which student poverty is high than to districts in which there is little or no poverty. And of these 12 states, only five — Delaware, Massachusetts, Minnesota, New Jersey, and Wyoming — also funded education at a level of adequacy that enables students to receive the resources they need," according to forbes. com. "A growing body of research finds that states that have achieved both equity and adequacy see stronger achievement and graduation rates, which translate into societal savings in lower rates of crime, incarceration and welfare and higher rates of employment, wages and taxes."
Out of 50 states in the United States, only the following 12 states have funded districts in which poverty is relatively
high: Utah, Delaware, Minnesota, Ohio, New Jersey, Wyoming, Massachusetts, Georgia, Arkansas, Colorado, Wisconsin, and North Carolina. This means that 38 states have not funded public schools effectively, including Connecticut.
According to ctmirror.org, an online-only newspaper located in Hartford, Connecticut,
"In Hartford, where the overwhelming majority of students come from low-income families and are Black or Hispanic, the policy center finds the district would need to spend an additional $7,780 per student – a 47% boost – to keep up with the state spending and performance averages. The shortfall is so glaring because students who live in poverty
or in a single-parent household typically cost more to educate at the same level as their better-off peers. Meanwhile, wealthy suburban districts with minimal diversity are spending well over what is necessary,"
Considering the information provided, are we going to allow students living in poverty (or in low-income) to not receive an adequate education in order to expand future opportunities?
Would you like to know more: Here are links to the sources Jessica used for her article:
America's School Funding Struggle: How We're Robbing Our Future By UnderInvesting In Our Children (forbes.com)
https://www.childfund.org/ Content/NewsDetail/2147489206/
School funding falls far short of leveling the playing field for CT students (ctmirror.org)
Do You Know What Redlining Is? It Contributes to the National Wage Gap and YOU May Be One of Its Historical Victims
by Eirinn Duley
When it comes to homeownership in America today, it is important to acknowledge the effects of a practice known as redlining. A program initially meant to promote homeownership among struggling American's, ended up serving only part of the population while leaving many others behind. From Roosevelt's New Deal came the Homeowner's Loan Corporation (HOLC), which created residential security maps, color-coded breakdowns of how desirable neighborhoods were in terms of lending [please see the redlining map of Waterbury, CT accompanying this article]. Loan officers used these maps to evaluate the risk of individuals defaulting on their loans. The maps outlined the highest and best rated neighborhoods in green, good neighborhoods were outlined in blue,
declining neighborhoods were outlined in yellow, and finally hazardous neighborhoods were outlined in red. This is where the term redlining originated. Redlining describes the now illegal discriminatory practice of systematically denying home loans to individuals based on race or ethnicity.
If the area where an applicant lived was outlined in red, they were considered too big of a risk to grant loans to. These redlined areas all had something in common: their populations were mostly made up of immigrants, people of color, and other minorities. Neighborhoods like these were considered undesirable, and getting loans was nearly impossible. This affected low-income and racial minorities disproportionately. To this day, communities once outlined in red are still mostly
Tamarack | Naugatuck Valley Community College's News Magazine Page 5
populated by these same residents. The discrimination in mortgage lending over 80 years ago has altered and continues to alter the patterns of wealth in American communities long after it was banned by law.
To understand the origin of this wealth gap, it is important to look at how wealth can be created. Owning a home is one of the primary ways of generating wealth. In purchasing a home, it becomes an asset with value. Although there are no guarantees, homes can also appreciate over time and unlike renting, the payments remain stable. Redlining made it nearly impossible for racial minorities to afford buying homes. Those who were denied loans were also denied this key method of accumulating wealth. Today, it is estimated that only 45% of black householders own their homes, compared to 74% of whites. Homeownership numbers are still drastically low for minorities compared to whites. The legislation making loan discrimination illegal did not fix the problems redlining left behind.
In Waterbury, an old redlining map shows how the city was broken down into safe and hazardous sections. The streets surrounding the old American Brass Company factory were deemed hazardous. Factory workers that lived nearby were not likely to be granted loans. Unable to buy property and unlikely to accumulate wealth, these individuals were just some of the many Connecticut workers to have been greatly affected by redlining.
Closing a wealth gap that began forming around the time America was founded is no easy feat. Those who were unable to buy their own homes never had the opportunity to gain wealth that they could pass on to the next generation.
Have you considered the history of the neighborhood you live in now? Do you know anyone who might have been impacted by the now illegal practice of redlining? How do we address incomeinequality when it is so deeply rooted in our past practices? These are just a few of the
The American Associate of University Women (AAUW) is a non-profit organization trying to help bring justice to Gender Equity. According to the AAUW website, "Women working full time in the U.S. are still paid just 83 cents to every dollar earned by men — and the consequences of this gap affect women throughout their lives. The pay gap even follows women into retirement: As a result of lower lifetime earnings, they receive less in Social Security and pensions. The gender pay gap is the result of many factors, including race and ethnicity, disability, access to education and age. As a result, different groups of women experience very different gaps in pay."
Tamarack writer Eshwarie Roopnaraine has a conversation about the implications and impact of the Gender Wage Gap and the AAUW's report, "The Simple Truth About the Gender Wage Gap."
ER: How do "distinct factors" affect gender wage gap?
Redlining Map of Waterbury, CT ca. 1933-1939 Records of the Federal Home Loan Bank Board, Record Group 195 National Archives at College Park, College Park, MD
questions you might consider when it comes to understanding the lasting effects of redlining. To one day achieve true equity, discriminatory practices like redlining its long-term affects must be addressed.
Professor McGary: According to the AAUW, women with disabilities earn 72% of what men with disabilities earn, and only 48% of what men without a disability earn. Which reminds me to spell this out... the bigger the wage gap, the less a woman makes compared to a man. The smaller the wage gap, the better. Education matters a lot. Regardless of gender. If you want to make more money, get a college education. The point is that the gender wage gap is impacted by several interrelated variables. We cannot just point to one thing and say, "fix that and we will make the gender wage gap go away!" It is not that simple.
"'Intersectionality' is a term coined by Kimberle Crenshaw, and it refers to how distinctive characteristics intersect to impact our social positionality in terms of access to rights and resources. So, when we take a deeper dive into the gender wage gap, and we apply an intersectional analysis, we can see that in 2018, white women made more than Black women, and Black women made more than Hispanic women. You can also
and the gap continues to widen after that (this relates to the reproductive capacity of women - which I will talk more about later). Gender identity and sexual orientation also make a difference in terms of the gender wage gap. Disability matters, too."
According to The New York Times, the Women's National Law Center puts it at $406,280 in lost income on average, but that number can top $1 million for Hispanic women and is just shy of $1 million for Black and Native American women.
The Mommy wage gap is significant to the gender wage gap because studies found that employed mothers are the women that account for most of the gender wage gap. Daycare is costly, so mothers are obliged to make tough decisions. These tough decisions only increased when Covid-19 hit. The spouse who was making more money had to keep working and the one making the least money had to homeschool
Tamarack | Naugatuck Valley Community College's News Magazine Page 6
The Gender Wage Gap: A Conversation with Prof. Nikki McGary Helps Us Break Down the Break Down of Gender Equality in the Country where 'All Men Are Created Equal.'
As you can tell from the graph the pandemic harmed working mothers more overall.
their children and work from home if it was allowed which was 36% of women. 26% of women were not in the labor force.
Women need support structures for childcare, transportation, including school hours that work, investment in our social infrastructure—not only increases in pay. There is "invisible labor" for instance, like caregiving responsibilities and household chores, that women perform in addition to their full-time paid work. COVID-caused job losses affected women of color more than it did white non-Hispanic men and that highlights an even greater disparity. Working mothers have been heavily impacted by the job cuts made during the pandemic when women already were already making less than many of their male counterparts.
ER: We have talked about the impact of race on the gender wage gap. What about being a mother- can you speak to us more about the mommy wage gap? What is it and how does it affect the gender wage gap?
Professor McGary: A lot of this has to do with women's capacity to reproduce, and the impact that has on their ability to work. For (a heteronormative) example, if a woman is making less than her male partner, then it makes economic sense for the woman to take time off from work in order to maintain the bigger salary. Sometimes a woman's salary does not cover the cost of childcare, which can cost as much as a mortgage (or more!) in Connecticut. But this also influences the woman's career even after she returns to the workforce because now her male counterparts have had more opportunities for promotion, salary increases, and so forth. That is why the gender wage gap persists even after women are done having kids. It is also worth mentioning that although there has certainly been improvement on this front over the last few decades, paid maternity leave is not a guarantee for many women in the workforce. This is a huge problem. When you compare the United States to other countries like Sweden, you can see how undervalued parenting is in our society.
ER: We have covered race; we have talked about being a mother. How has COVID-19 further affected the gender wage gap?
Professor McGary: I can say that most of the people who left the workforce during COVID were women. And a lot of this had
to do with the fact women carry most of the burden of the unpaid domestic labor. With kids home from school, that responsibility fell mostly on women. Single mothers are even more at risk of being negatively impacted. "You cannot be what you cannot see" we base ourselves on the roles we have seen in society. For instance, males are known to make more money than females, because they are masculine and strong. Females' ability to reproduce can impact their ability to work so they are considered weak. That is why the gender wage gap persists even after women are done having kids. And because of gender job segregation women are more highly concentrated in service-industry jobs and jobs with higher risk of COVID exposure.
ER: How can we create solutions to help decrease the gender wage gap after seeing all the factors that affect it?
Professor McGary: The gender wage gap is kind of like a web. We need to zoom out and look at the larger social structure to really understand the complexity of it to provide possible solutions. In doing so, we can see that the following things would make a difference: raise young girls to be confident and believe that they have self-efficacy, improve access to quality education that doesn't contribute to future job segregation, expand access to comprehensive sex education and family planning, teach women how to negotiate their salaries, provide paid maternity leave, guarantee affordable childcare, create and enforce real laws that actually prevent discrimination and sexual harassment in the workplace, and dismantle structural racism, heterosexism, and ablism. Things are better than they used to be for sure. Historically, women could get fired for getting pregnant - and if you go back even further, they could not access higher education. So, let us totally rejoice in the progress that we have made and get right back to the hard work of making sustainable change for future generation—starting with your college education at NVCC!
You can read the AAUW's full report at: https://www.aauw.org/ resources/research/simple-truth/
TAMARACK
Editorial Staff
Kyle Paist, Managing Editor
Natalie Rivera-Dominguez, President
Eshwarie Roopnaraine
Jessica Carvalho Fernandez
Eirinn Duley
Thomas Fisher
Luis Garcia
William Herens III
Mayra Lovos
Prof. Chris Rempfer, Faculty Advisor
Isaac Araujo, Alumni Columnist
Joan Lownds, ACE Columnist
Digital Arts Staff
Gregory Kashuba, Layout/Design Editor
Tamarack | Naugatuck Valley Community College's News Magazine Page 7
High Gasoline Prices Are Impacting NVCC Students Who Commute to Our Two Campuses
by Eshwarie Roopnaraine
The average gas price in the U.S. surged to over $4 per gallon this week, as the invasion of Ukraine led to a new alltime high for the cost of gas. These prices are expected to remain elevated, all summer — or at least until the supply of oil catches up with demand. Gas prices tend to be more volatile than other commodities, as they are particularly sensitive to fluctuations in supply and demand. In over 10 states, average retail gas prices are currently over $4.346, including California, which is averaging $5.444 at the pump. Many consumers are wondering whether these elevated prices will last. Americans everywhere are feeling the sting of rising gasoline. According to The New York Times article, "Rising Gas Prices Have Drivers Asking, 'Is This For Real?," "The last time consumers dealt with such a period of sharp price increases was when the global economy came undone during the 2008 budgetary crisis." This time, the high gasoline prices are hitting during multiple crises, including Russia's invasion of Ukraine, a pandemic that is receding
but still not over, and the highest inflation levels in 40 years. The extreme prices — which for some types of gas have hovered near $6 a gallon in parts of California. This could be fleeting. Accelerating production in the shale oil fields of Texas and other regions is expected to begin replenishing supplies soon. Gasoline accounts for only a small share of consumers' overall spending, but because gas prices are so visible — posted in giant numbers alongside every highway in the country — they have an outsize influence on people's perceptions of inflation and the economy. Inflation is already proving a perilous issue for Mr. Biden and fellow Democrats as the midterm elections approach, with many voters blaming them for failing to control the rising cost of living. The New York Times mentioned, "The higher gas prices add further political complexity for Mr. Biden, who has vowed to curb the nation's dependence on fossil fuels. Considering the war in Ukraine, the energy industry is pushing the Biden administration to support
more domestic oil production by opening drilling in federal lands and restarting pipeline projects. There is a chance that the strain on consumers may be temporary as global oil supply and demand are rebalanced. And, in the near term, lower consumer spending may have some benefits. Reduced spending could help constrain inflation, but at the expense of slower economic growth."
Gasoline prices are the current topic of discussion on and off campus. many students are anxious because there is no end in sight to the rising prices. This has a major impact on students. Some students are working part time just to pay for school, and the increase of gas prices do not help. This sudden increase in gas prices really affects college students on a strict budget. This leaves no room for more expenses. Being a college student is expensive as it is, so just seeing the rise of gas prices really affects us. Instead of filling gas twice a month it is every week and I get paid bi-weekly, that means I do not have money every week to buy gas. Nearly all my college peers drive to college. Gas prices have affected everyone, not only the college students.
New Ways to Give Thanks
by Jessica Carvalho Fernandes
Giving thanks means much more than the word itself. It means expressing your gratitude with more than just words, but also using actions to dedicate a special moment with that special someone in your life that will turn into a long-remembered memory. Reflecting on the past holiday season, we are grateful for what we have and spending quality time with the ones we love. However, I am not talking about giving thanks only on the holidays. I am talking about giving thanks in any way that we can.
Recently, I was scrolling through the social media platform, TikTok, and a video posted October 2021 caught my eye. A young
teenage boy, Brian, who is in his senior year of high school, was the first to start a new tradition at the high school he will soon graduate from, South Central High School in North Carolina. This is not your typical type of high school tradition, though.
This young man decided to give his own game day sports jersey (as he is a student athlete) to a teacher of his choice who has impacted his life in some way. While this may seem insignificant, an athlete's jersey means more than a number and a name. It means that all the dedication and hard work the athlete has put into the sport is there to remember just by looking at the jersey and
now, it will be remembered even further by teachers wearing these special jerseys.
I decided to think more about this video and the message that is presented that I'd like to share with all of you. Expressing your gratitude with actions will transform the worst days into one of the most memorable if you look at what you have right in front of you; even when times are tough. To sum this little bubble up, I was ecstatic that a social media platform such as TikTok paved the way to make this video viral and I hope that you can see the good in your life too!
Tamarack | Naugatuck Valley Community College's News Magazine Page 8
Jessica Carvalho Fernandes spreads some good news with stories about the good stuff going on around us.
COOL, WEIRD STUFF
Inside the NVCC Library
by Natalie Rivera-Dominguez
Hello, and Welcome to the new NVCC Library column! My name is Natalie RiveraDominguez, and I am a library assistant at our school's library. I will be introducing you to all kinds of things we have at the Naugatuck Valley Library that you probably didn't know we had (even if you've been here for a few years!). With the pandemic, there have been quite a few changes and addition`s that the library staff have made to our collection that is available to NVCC students. One of the available resources that the library has made available is free movies! Who doesn't like "free" and "movies" in the same sentence?
Go to the library website, www.nv.edu/library to access our databases and click on "Films on Demand" or "Swank Digital Campus" links. Here's how you do it:
You will be able to access thousands of free movies that are recreational or educational! Titles from TED talks to the famous movie, Fences, starring Denzel Washington and Viola Davis.
If you're looking for something to do during your down time, try out some of our films that you can watch comfortably from your home.
Tamarack | Naugatuck Valley Community College's News Magazine Page 9
Tamarack | Naugatuck Valley Community College's News Magazine Page 10 Artwork from the ART DEPARMENT'S Fall 2021 Semester Is on Display with the Launch of TAMARACK's The Blind Contours are from Courtney Puckett's Drawing 1 Class Space Pool Man Scale and Proportion Assignment Fish and Reef Gray Scale Value Paintings & Traffic are from Amanda Lebel's 2D Design Class Linear Re: Design Projects are from Courtney Puckett's 3D Design Class
Isabel Harrington
IN THE CLASSROOM Where we take a deeper dive on issues and topics, with a collection of articles and picture essays.
Wesley Vega
Prof. Cynthia Eastman's ENG 096 class studied a unit on Description. After reading a sample student paragraph from their textbook, Real Writing, students were asked to write their own Description. TAMARACK is delighted to share what one student, Nahomy Perez, wrote.
What My Mirror Imagines
by Nahomy Perez
When I was a child, I loved wearing my mother's tall and colorful heels. It was always fun to hear the distinctive click clack sound they made when walking. To make them have no sound was almost impossible. My mother always yelled at me for wearing her heels. She said I was too young for them and to wait for the time that would catch me soon enough. She was probably feeling the way I feel today. Seeing my distorted image in the mirror, trying to figure out if my eyes are playing tricks on me.
At the time, I would do this because it was fun to play with the heels, not because I wanted to make myself look taller, skinnier, or prettier. Through the years this changed My brain tells my eyes secrets that I cannot hear. Making it always a surprise when I look in the mirror.
I wish I could go back to those times before I became friends with the mirror, before I depended on the polished smooth surface that forms images by reflection. Now I know what my mother meant. The time for me to look at the distorted mirror is here. I wished I had listened to her when I used to look at the fun house mirror. Now it is not so fun.
It is impossible for me to look in the mirror and see the same person twice. It is never me again, it is always a different body shape, height, or weight. Even though I am accustomed, it never stops surprising me how my brain can side with the mirror and shape me like soft clay.
A lot of females go thought this in their teen years and I wished it were not as true as it is. But many more continue it in their adult years making it difficult to let go of their 'friend,' the mirror. Thinking that it is being honest with them when it is distorting their reality and self-image.
What mirror are you looking into?
Staff writers and bookworms, Natalie Rivera-Dominguez and Eirinn Duley, discuss notable books and reads they are passionate about.
Welcome to BookNook, a new section of the Tamarack Bulletin that will be ALL about books! We love to see it. In this column, Natalie Rivera-Dominguez and Eirinn Duley will be writing about the wonderful world of books. They will *try* to talk about it all such as book recommendations, celebrity favorites, etc. But first! Meet our writers.
Tamarack | Naugatuck Valley Community College's News Magazine Page 11
Hello Book Friends! My name is Natalie Rivera-Dominguez, and I am a certified bookworm. It is highly likely that you will find my face buried in a book when you see me, strolling through Barnes & Noble, or working at the NVCC library (because all bookworms......eventually become librarians... Right?). I enjoy mostly Young Adult, specifically fantasy, some Adult fiction/ fantasy, and Middle Grade books. I LOVE to be taken out of this world and into another where I can be anything I want. I can be an assassin or a magical healer. Books and series that will forever hold a special place in my heart is the Throne of Glass series by Sarah J. Maas and the Six of Crows duology by Leigh Bardugo. I started reading books when I was in elementary school. I can clearly remember the library we had and the books. Goosebumps was always a favorite. Sadly, I fell out of reading in middle school unless it was required (HA!). In high school, I started to read a little more, but it wasn't until 2020 and 2021 that I actively DEVOURED books. So, my goal is to share some of my favorite reads with all of you. If there is any possibility that I can make you feel all the feels I have had while reading my favorite series then I think I did something good.
Co-Conspirator
Hello everyone! My name is Eirinn Duley, and I am happy to welcome you to our book column. Reading is something I've really come to enjoy over the years. I must admit that I haven't always been an avid reader. In fact, reading was something I disliked for a long time. Reading can be challenging, but challenges are good. I started reading to learn about the world, and to see what life was like for others over the course of history. Books have taken me to places I never thought I would be able to go. I've focused a lot of my time on reading classic literature. In the words of writer Italo Calvino, a classic is a book which has never exhausted all it has to say to its readers. Classics stand the test of time. They remain relevant hundreds, or even thousands of years after they were written. With this column, I hope to make you fall in love with the classics just as I did many years ago. Books can change your perspective on life. I'm here to tell you that it is never too early or too late to start reading.
Tamarack | Naugatuck Valley Community College's News Magazine Page 12
Natalie Rivera-Dominguez BookNook
Erinn Duley
Out Of The Classroom
Goings-on around the campus.
NVCC Food Pantry Holds Annual 5K Walk/Run
The 4th Annual NVCC Food Pantry was a great success! On Sunday Mar 27th over 50 runners joined us on this blustery March day to support college student food insecurity. Thank you to all who donated and supported this event! Save the date next year on Sunday March 26th @ 9 am.
The Intimate Partner
Prevention Program (IP-V-SAPP) is a program created by Christine Cocchiola, Professor of Human Services/Social Work Studies. The program is the first of its kind in the CT Community College System with a purpose to create an additional venue for NVCC to educate faculty and students on the topics of intimate partner violence and sexual assault.
On March 24th, in honor of Women's History Month, the IP-V-SAPP program hosted a round-table discussion entitled "Women throughout History." IP-V-SAPP's Master's in Social Work students Ariana and Brittany led the panel and discussed the representation and compensation of women in underrepresented fields. The discussion covered topics such as
Tamarack | Naugatuck Valley Community College's News Magazine Page 13
Violence Sexual Assault
IP-V-SAPP Honors Women's History Month with Round Table Discussion
Food Pantry Run Participants
Food Pantry Run Organizers, Christine Cocchiola and Nancy Powell
Food Pantry Run, CEO Dresdner
| Naugatuck
News Magazine Page 14 the wage gap and unpaid labor and included the biographies of important women throughout history—with a particular emphasis on women of color. The Arts Department and Stage Society's Spring Musical, THE 25 ANNUAL PUTNAM COUNTY SPELLING BEE 09 IP-V-SAPP's Women's History Round Table Participants
Tamarack
Valley Community College's
STEM
STEM FAIR CEO Lisa Dresdner
FAIR
ACE Is The Place
Updates and curiosities at our dynamic tutoring center.
At the ACE, It's Time to 'Bone'-Up
Students Bone Up for Anatomy and Physiology Classes at the ACE
by Joan Lownds
The ACE offers academic counseling and free tutoring in Writing, Science, Computers and Math, but we don't stop there. Students can also find such unexpected resources as life-sized skeletons, complete with all 206 human bones, and detachable models of the human organs.
"The skeletons are wonderful for hands-on learning for our students in health care, massage therapy and the physical therapy programs," said Science Tutoring Captain Gretchen Napier. "Students can touch and feel the skeleton, which is helpful because the human bones can be intricate and complex."
For example, Napier said, "Many people don't know that the ear has three bones—the hammer, anvil and the stirrup, which closely resembles its namesake." Separate models of various bones, including the ear and the vertebrae are also available to students.
Along with the bones, students are also able to study "a huge eyeball," and "models of the human organs which allow them to pull out the liver and lungs," Napier added.
New this year is a Scan and Learn feature that provides students with the opportunity to download a "bones playlist" and watch YouTube videos about them. The list includes "two organs and four bones---the kidney, heart, scapula, radius, ulna and skull," Napier explained.
The intensive, hands-on learning tools attract "lots of students," according to Napier. "They are very beneficial and are the most popular feature in the Science department."
Tamarack | Naugatuck Valley Community College's News Magazine Page 15
ACE Body Face
ACE Skeletons wTie
ACE Upper Body
Not Just Your Everyday Tutors:
ACE Staff Reveals Hidden Talents, from Ballet Dancing
to Tattooing and Playing Multiple Instruments
By Joan Lownds
By day, the staff at the ACE offer free tutoring in writing, science, computers and math. By night, they are ballet dancers, tri-athletes, tattooers, watercolorists, multi-instrumentalist musicians, and more. "Success requires growth and an understanding of how things work," said Rob Sheftel, director of the ACE. "Our versatile tutors are always learning and evolving, and their hidden talents are great examples of life-long learning."
Sam Sequeira, computer tutor captain, was majoring in computer science at NVCC and looking for an elective in general education when he decided to try a ballet class in 2019. "To me, it was completely new and different from all the STEM classes I was taking, and I was completely out of my element," Sequeira said. Three years and hundreds of barre exercises later, Sequeira is now minoring in dance and dance education. "I got hooked. It is so much fun and such excellent physical exercise ---I have gotten stronger and it helps with my soccer playing."
Jai Dobreski competes in triathlons when she isn't helping students with their essays, as a writing tutor. "I'm a very good swimmer and love competing in local triathlon races, in Ridgefield, Westport and Bridgeport. I've won in my age group a few times."
Chloe Girouard-Martel, a tutor in horticulture, botany, anthropology, archaeology, and art history, is gifted in the craft of tattooing. "I had an internship in a tattoo studio when I was a senior in high school and then began an official apprenticeship after graduating from high school," she said. "I began tattooing professionally at 19 and was a professional tattooer for just under 10 years before retiring in late 2013. I specialized in animal and floral designs in an illustrative style. I prefer the term 'tattooer' over 'tattoo artist,' as the artistic value of the craft should be understood, just as it is with a painter or a sculptor."
Claudia Lampert, a math and writing tutor, is also an accomplished watercolor artist. "I started playing around with watercolors when COVID struck---colorful birds on notecards," she explained. "I've always loved color."
ACE tutors can also play multiple musical instruments. For Era Lloga, writing tutor captain, music is in her veins. "My father, Argjend Lloga is a noted Albanian pop and traditional singer and songwriter, and my grandfather, Rexhep Lloga, is also a traditional singer," she said. "I started playing the piano when I was six years old and I can also play drums, violin, brass and woodwinds." The multi-talented instrumentalist said she plays classical music such as
Tamarack | Naugatuck Valley Community College's News Magazine Page 16
ACE Skeletons ACE Skulls
"Beethoven, Chopin and Brahms, "but I can also play any type of music."
Another classically trained musician with diverse skills is Amara Faltico, a math and science tutor. "I did take flute and violin lessons growing up and was fairly classically trained in both of them," she explained. "I taught myself piano and guitar just by being able to read music and mostly just play songs that I like."
Amanda Farley, a writing tutor, is fluent in the literary art of poetry. "I love writing and reading poetry," she said. "I have even read my poems aloud for audiences before."
Other ACE tutors possess gifts a bit more off the beaten path. ACE Director Rob Sheftel is adept at finding imaginative uses for recycled materials. "I have a channel on TikTok creating miniatures out of recycled materials using a variety of techniques," he explained. "With over 1,800 followers and 14,000 likes, I am in small but active community of creators from around the world. I can be found on TikTok with the user name @robcreates."
Kathy Gaydosh, a science tutor, is well-versed at creating vivid and "helpful analogies for student learning."
Gretchen Napier, science tutor captain, owns the unique ability to "write backwards in cursive, and print legibly with my left, non-dominant hand." When asked what inspired this ability, Napier said, "My father was able to do this, and he showed me how."
Michele Morcey, writing tutor, has the exceptional ability to "drive without a back-up camera," and she is also a whiz at crossword puzzles.
Jody Jarvella, science and computer tutor, might be called a lobster---or an ocean---whisperer. She once worked on a lobster boat, handling the snapping sea creatures and fighting the Maine weather. "I lived on Matinicus Island, off the coast from Rockland, Maine, and worked as a 'sternman' on a lobster boat," she explained. "The sternman is the one who works 'on the square end of the boat,' so they say. The captain drives the boat and brings the lobster traps aboard, then the sternman empties the trap, removes the old bait bag, puts a new bait bag in, and sets the trap on the end of the boat until you have six traps then you set them back into the water in a nice straight line."
Lastly, you could say that math tutor Mari Vito likes her numerical operations with a side of homemade cookies. "I trained at The Connecticut Culinary Institute in Farmington, Connecticut," she said. "After that, I worked for almost two years at the Mayflower Inn in Washington Connecticut. I cook everything but my main love is baking, especially cookies. Some of my specialties are salted turtle cookies, lemon blueberry cookies, Brookies, S'mores, matcha toasted coconut and caramel macchiato."
Tamarack | Naugatuck Valley Community College's News Magazine Page 17
ACE Is The Place
Rainbow Connection
News, resources, and narratives from our LGBTQIA+ community.
Hiding 'Abnormality':
The Queer Experience In A Heteronormative Culture
by Leela Siecienski
Originally written as a paper for her Anthhropology 101 class, we asked NVCC student Leela Siecienski to kick off our LGBTQIA+ column with this frank assessment of what its like living queer in everyday America.
According to Perspectives, An Open Introduction to Physical Anthropology, "Heteronormativity is a term coined by French philosopher Michel Foucault to refer to the often-unnoticed system of rights and privileges that accompany normative sexual choices and family formation."
In the U.S., the socially accepted and legally supported norm is to be heterosexual. Those rights and privileges which have always been offered to heterosexuals include legalities such as the right to marry, the right of attorney for your life partner, and legal protection against discrimination. But they also include many invisible and often
unappreciated social and cultural benefits, such as the ability to be seen with your partner in public without fear of being exposed to violence or aggression, shame, or ridicule.
Much legal headway has been made to protect LGBTQ members, but many states still do not legally protect us from discrimination. Gay marriage only became legal in all 50 states in 2015, just 7 years ago, and bills which disadvantage us, such as one allowing legal discrimination against LGBTQ+ people under the protection of 'religious reasons' are still proposed today. Being something other than heterosexual in the U.S. can have serious implications for your life.
Imagine you know something about yourself. You feel it in your bones; it radiates from the core of you. It is an important and beautiful part of your identity -- a shining piece of who you are. Now imagine you've heard derogatory jokes about people like you since childhood.
Ew, that's gay."
In everyday conversation at work, at school, and at home, everyone uses language that erases your existence.
"Ladies, you are very welcome to bring your husbands and boyfriends along!"
When people speak to you, they assume you are 'normal' and you
Tamarack | Naugatuck Valley Community College's News Magazine Page 18
have to correct them by telling them you're not.
"You girls are roommates?"
Imagine you experience this for years and years. In certain situations, you have to 'come out' again and again, re-exposing yourself to the shame of your 'otherness' each time. In others, you learn it is not safe to expose this part of yourself. You learn to wear a mask—to pretend to be something you're not so you can fit in. You learn to give up the hope of being seen honestly and being accepted and loved for who you really are. You settle for the conditional acceptance and the conditional love you have garnered by stifling the parts of you that aren't 'normal.' This is what it's like to be anything besides straight and cisgender in our society.
Even among 'accepting' and wellmeaning groups of people, being queer can still be an exhausting and unfulfilling way to live. It can make a person feel like the world wasn't made with them in mind, so they must be unwanted.
According to a conservative estimate by The Trevor Project, in the U.S., one LGBTQ person between the ages of 13 and 24 tries to commit suicide every 45 seconds (2021). The social pressure of a heteronormative society which many heterosexual people take for granted can have life and death consequences for someone like me.
Of course, heteronormativity is a human cultural phenomenon which is not rooted in biology. That is, we made it up. In fact, as of 2014, the Encyclopedia Britannica recorded that homosexual behavior has been documented in more than 450 different species of animals! Strict heterosexual behavior and even the coining of terms to describe 'normal' and 'abnormal' sexual behavior among humans seems to be the result of relatively recent religious ideation (historically speaking), which stresses the production of offspring above all else. But today, same sex couples can have children, too. So I see no reason for lawmakers and religious people to protest other forms of human sexuality which are just as healthy, normal, and above all—harmless.
Another struggle LGBTQ+ people face in the U.S., even in a supportive environment, is questioning their sexuality. When you grow up seeing representations of only one way to love, you think that way must be the 'right' way and that it must apply to you the same way it seemingly applies to everyone else. It can be a real challenge simply to discover that it doesn't apply to you. Most people go along with the norms of their society and are never prompted to look inward to ask themselves if those norms make them happy or resonate with them. Even though my mom and most of my immediate family were supportive of me, I received the message that being heterosexual was
the norm through movies, television, songs, jokes that people made, and the models of love that all the adults in my life provided.
It's no wonder that it took me until high school to realize I wasn't straight! Romantic and sexual attraction are very subjective, personal, and hard to put into words. When friends would describe their crushes and how they made them feel, I confused my own feelings with friendship or the desire to be desired. Figuring out your sexuality is confusing enough without your entire culture telling you there is only one 'normal' sexuality!
Seeing some representation of people like me on T.V. or elsewhere in my life when I was younger would have gone a long way to helping me figure out who I am today.
*
Tamarack | Naugatuck Valley Community College's News Magazine Page 19
Would you like more information on what is covered in Leela's article? Check out her sources below: Etherege, S. (2019). Sex and Gender. (C. Mukhopadhyay). Physical Anthropology: An Open Educational Resources Publication by Taft College. (T. Radtke, Ed.). College of the Canyons. (2014, April 28). Do Animals Exhibit Homosexuality? Saving Earth | Encyclopedia Britannica. Retrieved April 4, 2022, from https://www.britannica.com/explore/savingearth/do-animals-exhibit-homosexuality#:%7E:text=Currently%2C%20 homosexual%20behavior%20has%20been,450%20different%20animal%20species%20worldwide.
Trevor Project.
September 30). Estimate of How Often LGBTQ Youth Attempt Suicide in the U.S. - Retrieved April 4, 2022, from https://www.thetrevorproject.org/research-briefs/estimate-of-how-often-lgbtqyouth-attempt-suicide-in-the-u-s/ Rainbow Connection
The
(2021,
Danbury Beat
Updates and stories about the goings-on at the Danbury Campus.
NVCC's Danbury Campus Gets It Right with Gender-Neutral Bathrooms on Both of Its Classroom Floors—Facilitating
Inclusive Access
"It is important that students feel welcomed, safe, and supported at our campus," says Associate Dean Antonio Santiago of NVCC's Danbury Campus.
"In staying true to our mission at NVCC to respond to the needs of our students, the unisex bathrooms provide an opportunity to demonstrate respect for embracing diversity and inclusivity at the Danbury Campus."
The Tamarack salutes this commitment to inclusivity and sensitivity to the diverse lives our students, faculty, and staff.
NOTE: Gender-neutral is a term that refers to people in general and eliminates references to males or females. Its use supports the idea that policies, language, and other social institutions should hold off from distinguishing according to a person's sex and avoid assigning social roles for either gender."
Tamarack | Naugatuck Valley Community College's News Magazine Page 20
SGA Today
A Note from Your Student Government President
by William Herens III
Waking up, going to work, and running through the halls to get to class. What a feeling to be normal again. Seeing faces, spreading smiles, and shaking hands; what the average day has been given. For this seems like it is something new, no? How absurd and majestic it is to be able to partake in an action that was feared only a few months ago.
As the SGA has worked hard, extremely hard, to get students back on campus, working through the fear of a pandemic has been…interesting. However, it has given the students an opportunity to bring a fresh outlook to the campus. For those of us who stood up as leaders, we made a mission statement. This wasn't publicly said out loud, but it was our 'unsaid' agreement: "We will stand strong. We will continue to move forward and defy the odds."
During the pandemic, our campuses has been given the opportunity to see things that other campuses only wished to accomplish: The grind of ideas. Votes and disagreements and governing discourse have led to a 'refreshment' like no other. We were compelled to reboot.
It all started with a student standing up and saying, "Look, we need new pool tables, they're falling apart!" How ironic, we couldn't even use them at the time. They were taped up and shackled down to the floor in a corner. The tops were peeling off and the sticks were breaking in half. From that day forward, the SGA made an agreement. Something had to be done. A week later, we put the proposal together and brought it to the weekly meeting. Two pool tables, an air hockey table, and eventually a new ping pong table were set forward in motion. It passed the vote. Pool Tables. Who would think?
Then, something else happened. Shyanne (SGA Vice President) looked at Lin (SGA Secretary), Lin looked at Karen (Director of Student Activities) and Karen looked at me (that's me, SGA President!). "Furniture," said Lin, "The prism lounge furniture, it looks ridiculous." Ahhh. The ring of another great idea settled in. What do you know? New furniture is on the way. The future holds another great idea set forward by the motion of the SGA. Our community once again put their best foot forward and the Clubs agreed, lets refresh it!
While all of this was happening, an ever-growing appreciation started to take formation. With all the outside world events going on, the gratuity of having the ability to set these things forward could not go unnoticed. Why, with war going on at this current moment, with buildings being torn down and blown up, we were given the gift of giving back—Giving back to a community that deserved nothing but the best.
Tamarack | Naugatuck Valley Community College's News Magazine Page 21
An update from the President of the Student Government Association.
Alumni Perspective
NVCC
graduates share what they are doing and where they are going.
OPINION: Proper Educational Guidance?
…Not Always Guaranteed
by Issac Araujo
What happens—or should happen—during meetings between students and their school advisors? That is a very serious question, and we often don't stop to REALLY think about it. Demographics full of misguided students translate into generations full of early debt and wasted resources... which, if I'm not mistaken, ends up affecting the entirety of society.
As an alumnus of NVCC, I decided to continue pursuing higher education through one of our Connecticut universities. This new journey began during last year's fall, and it has been quite interesting. As a nearly 28-year-old individual from a lowermiddle-class household, I have no time to waste! My future is already here, uttering my name accompanied by aging parents, bills, and an increasingly saturated job market. Thus, proper guidance is imperative! Let's take into consideration that most students at a contemporary 4-year university are around six to ten years younger than me. What is the number one thing these folks need? Financial aid? A comfortable campus? Knowledgeable professors? Or, perhaps young people already have everything figured out upon entering college, right?
I am presenting you my perspective, based on what has happened to me. In my late teens, I rushed from high school to college after a year of figuring out financial aid matters. My parents were overseas, and a student is only considered financially independent in Connecticut if they are 24 years old or older. Back then, I had no idea what I wanted to do for a living… because, again, I was in my late teens. Fortunately, even with not even a spec of proper educational guidance, I had an epiphany after only one semester of basic classes at a community college: I NEED TIME TO THINK! This choice of major was NOT based on what I am TRULY skilled to do and am interested in doing for the rest of my life!
Translation: a five-year break took place—and what a crucial time in my life that was! While marred by a lot of pain resulting from "mere living" in this world, it was a time of MAJOR self-discovery. Cut to the most recent past: I resumed my higher education at NVCC with a completely different major in mind while enjoying FAFSA's Pell grant—which does not have to be paid back—as an independent student.
Now… why is any of that important, and what does that have to do with school advisors? Well, it may be apparent to those reading this piece that I do not enjoy wasting time, energy, and resources. After all, it's my life and future that are at stake! Had I not been fortunate enough to realize that I needed a break to figure things out—something that many parents should discuss with their offspring beforehand—I would have wasted time and resources that would NOT come back, AND would put extra stress on my back by not only trying to make a living but also pay for my preparation to enter the job market – insert the popular word LOANS and the phrase "you gotta pay to play" here.
I agree that students need to dedicate time to research possible career paths early on. However, if we think young folks will find all of the information they need regarding the job market on their own, it may be time for us to reevaluate what many students are actually going through.
Here is a personal example: upon transferring to a four-year university, I had a meeting with an advisor to talk about my major and the requirements to get a degree. As a perfectionist, I made sure to pinpoint—to the best of my knowledge—exactly what my skills are and what I am interested in doing for a living. Even then, the meeting felt rushed. The advisor stated the classes I needed to take, partly assisted with figuring out the time slots for classes and eventually ended the session without specifying important information regarding the opportunities that would or would not be available to me with degrees in the major I was pursuing. But, as a student—you know, the one that's being led [not the leader]—I attempted to quiet down the bad first impression and simply go with what the advisor said.
Toward the end of that semester, I went out of my way to talk about future opportunities with one of my professors. It was her very-first semester teaching at the university, and she has another job as a licensed social worker, which is her
Tamarack | Naugatuck Valley Community College's News Magazine Page 22
Isaac attends Western Connecticut State University
primary source of income. In a conversation after class—It probably took as long as the meeting with the advisor—the professor made sure to inquire about my skills and interests. After receiving my response, she pointed out the differences between getting a bachelor's and a master's in the field of study I was initially pursuing compared to getting those same degrees in another field that was similar yet more encompassing in terms of job opportunities. Wow, was I impressed! She gave me the contact of another professor at the university who could talk to me even more in-depth about the comparisons, and—a few days later—I spoke to the head of the department. As a result, I made a much more well-informed decision to transfer majors in order to capitalize on career opportunities.
Maybe the incident I dealt with was an isolated one. And I know, I know: "nobody's perfect," "the previous advisor was probably just having a busy day," and "it is unrealistic to be fully privy to EVERY
Life Story
by Jennifer Jones
important information regarding career paths." But you know what? I'm stubborn as hell because MY life, financial situation, and future are all at stake! Schools were built for one primary purpose: to educate and prepare young people for the job market. So, truthfully, it does not matter if a school advisor is busy or is "having a bad day" because we ALL have them. What matters is: if we do not go above and beyond as school professionals to help our youth realize as much as possible what needs to be recognized prior to making important decisions, we are, unfortunately, contributing to a generation full of unnecessary debt, frustration, misplacement in a competitive job market, and consequential unprofessionalism. On a larger scale, that snowballs into a struggling economy, less public resources, mental and physical health crises, a more hostile society… …pretty much all of the things that the wise strive to avoid!
NVCC Alum, Jennifer Jones, was asked by the NVCC Foundation to speak about her Life Story at their 3rd Annual Leadership Breakfast on May 5th, 2022. When she finished speaking, she was met with a standing ovation from an audience that had been moved and inspired beyond measure.
Jennifer's speech to the Foundation, at times heartbreaking, is an inspiring story of perseverance, resilience, and success. We asked if we could share it with our readers. Here is a transcript of her remarks:
"F
irst, I would like to say good morning and thank you to everyone in attendance. My name is Jennifer Jones, and I am a former student of Naugatuck Valley Community College. In all four of my semesters, I never missed one class. I graduated with my associates in Human Services/ Social Work in 2020. I also graduated as valedictorian and received the presidential medal of honor amongst various awards and scholarships. I used the scholarships to purchase a new laptop to help me in my studies.
I grew up very poor with a mother who had five children at age 24. I wish I could say she worked very hard to put a roof over our heads and was very loving. But instead, I watched her allow men to abuse her mentally, physically, and emotionally, while she neglected my siblings and me, mentally, emotionally, and often physically.
Unfortunately, growing up, I had no role models to guide me, and due to the lack of love I received from home, I went out and looked for it, and unfortunately, I found it in the wrong person. Like my mother, I became a statistic, a teen mother of three children. I, too, ended up in an abusive relationship.
I stayed in that relationship for six years and left with nothing but my three children, ages 5, 3, and 2. We lived in countless shelters. Due to a lack of childcare, I could not work until my youngest went to school full-time. I secured a job as a waitress and made enough money to afford a two-bedroom apartment. It wasn't until my oldest was 13 that I was able to go to school at night and become a certified medical assistant.
For many years, I had very low self-esteem. I was embarrassed about my struggles and ashamed of who I was. When I enrolled in NVCC, I told people very little about myself and always felt intimidated by others because I was not where I thought I should have been in life.
It was during one of my weekly scheduled meetings with Angela Chapman that my self-acceptance journey began. She
shared with me where she was from and the struggles she endured growing up and along the way. I remember thinking, this woman who came from poverty and overcame many adversities is now an Associate Dean. I speak here today because she gave me the courage to begin embracing my story.
So now I share my story hoping that I can be an inspiration to others who may come from similar backgrounds. If it were not
Tamarack | Naugatuck Valley Community College's News Magazine Page 23
for me coming to NVCC and being chosen as a member of the LEAP program, I might have never had the pleasure of being mentored by Dean Chapman. I might have never gained the selfconfidence and self-love that I now have. The LEAP program not only gives participants life skills and the necessary tools to aid them in success, but it gives them something more incredible. It empowers them, gives them self-confidence, and they finish the program believing in themselves and knowing they are capable.
Like Angela, I had another mentor at NVCC, Kathy Leblanc. Kathy saw something in me that I did not see in myself. She believed in me when I did not believe in myself. She always told me, "You will be a fantastic social worker." I am forever grateful to both of these women.
I told you earlier that I did not have any role models growing up and no one to guide me, but coming to NVCC, I found that for the first time in my life. It is my hope that not only will the LEAP program continue, but a mentorship program will be implemented one day. I am proof that mentorship can transform students' lives and guide them towards a successful future. Because of your contributions, programs like the LEAP program prepares students to go out into the world and make their mark. Through the generosity of donors, it is also possible for many students to further their education through scholarships. After graduating from NVCC, I went to Western Connecticut State University to pursue a bachelor's degree in social work.
Unfortunately, on November 12th, 2021, my oldest child passed away in a car accident as I was nearing the end of my third semester. I had never felt pain like the one I felt when I lost my son. I still feel it to this day. I contemplated giving up and quitting school even with one semester left to graduate. My son and I both were attending college. He would have graduated in May with his associates in accounting.
I thought about him and what he would have wanted me to do. As hard as it is emotionally, mentally, and financially, I decided to continue my education despite my struggles. I graduate in 10 days with my BSW, maintaining a 4.0 GPA for all four of my semesters.
I have been accepted into the UConn School of Social Work's
Advanced Standing program, which starts in July. I am majoring in policy. I want to break down the barriers that hinder oppressed and marginalized populations by enacting policies to advance them socially, economically, and politically, paying particular attention to the homeless population.
I wanted to talk a little about college students and the many obstacles they face in pursuit of higher education. A survey that the Connecticut Coalition to End Homelessness conducted in 2018 found that out of 1,623 college students, 17.5% or 284 students reported instability or homelessness. In 2019 a survey on food insecurities found that out of 3500 college students in Connecticut, about half reported they worried about running out of food. Almost all surveyed said they either cut down on meal portions or skipped meals altogether to preserve food.
I like most students, am what is known as a non-traditional student. But, contrary to stereotypes, most college students today are non-traditional. They do not come to college out of high school and live in dorms supported by their parents. According to the National Center for Education Statistics (NCES) 2019, fewer than 1 in 4 students have the privilege of their parents paying their college expenses. About 74% of college students are non-traditional, meaning they fit into at least one of these categories, they attend college part-time, work full time, are financially independent, have dependents, or are single parents. 24% of the 74% are what is called highly non-traditional, fitting into at least four of the categories. All these numbers have been exacerbated by the pandemic.
In February of this year, the Board of Regents voted unanimously to raise the tuition at community colleges. I say this to say to you that if many college students are struggling to make ends meet, every dollar they have to pay to fund their education takes away from rent, food, transportation, and other life necessities. Therefore, funding scholarships is vital to help alleviate some of the financial burdens that plague students and present roadblocks in their pursuit of an education.
In closing, I would like to leave you with a quote from Winston Churchill: "We make a living by what we get, we make a life by what we give."
Tamarack | Naugatuck Valley Community College's News Magazine Page 24
JOIN THE MULTICULTURAL CLUB! MEETINGS ARE VIRTUAL ON TUESDAYS AT 4:30 PM ! Contact one of the advisors for more information! imaldonado@ nv.edu or cplaza@nv.edu
A Testament to Faith: Wayne Johnson
My name is Wayne Johnson.
I was born in Bridgeport Hospital in Bridgeport, Connecticut.
Through my life, I experienced being raised by my mother. My mother soon got into relationship I did not like as much. I experienced favoritism, being molested, incarceration, being homeless, rejection, gangs, and being a high school dropout.
I was told, if you are a felon and a dropout, there is nothing in life you can look forward to. Out of four friends, I lost two. I had two childhood friends who both got shot and killed at the age of seventeen. If I wasn't in prison at the time, I wouldn't be here to share my experience.
Ever since I gave my life to Jesus Christ of Nazareth, my life has been restored and more. I am blessed with a beautiful wife who I shared a destination beach wedding in Ocho Rios, Jamaica. Amazing.
I went back to school at Waterbury Adult Education in Waterbury, Connecticut with the encouragement of my wife. I graduated with honors and advanced to college at Naugatuck Valley Community College. I became an honor student in college and was accepted in the Honors Committee Society.
I had the privileged of becoming a minister of Christ. I am preparing to submit my pardon this year.
A lot has changed. I am no longer the same person I used to be.
It is an honor that my testimonial has been awarded inclusion in the 2022 Fresh Ink. If you want to learn more about me stay tuned. I look forward to writing a book soon.
I am Wayne Johnson.
If you would like to read the full version of Wayne's in this year's FRESH INK, click here. https://nv.edu/Academics/Academic-Programs/Academic-Divisions/Liberal-Artsand-Behavioral-Sciences/Fresh-Ink
Enjoy the testimonial and the rest of NVCC's esteemed literary magazine!
Tamarack | Naugatuck Valley Community College's News Magazine Page 25
by Luis Garcia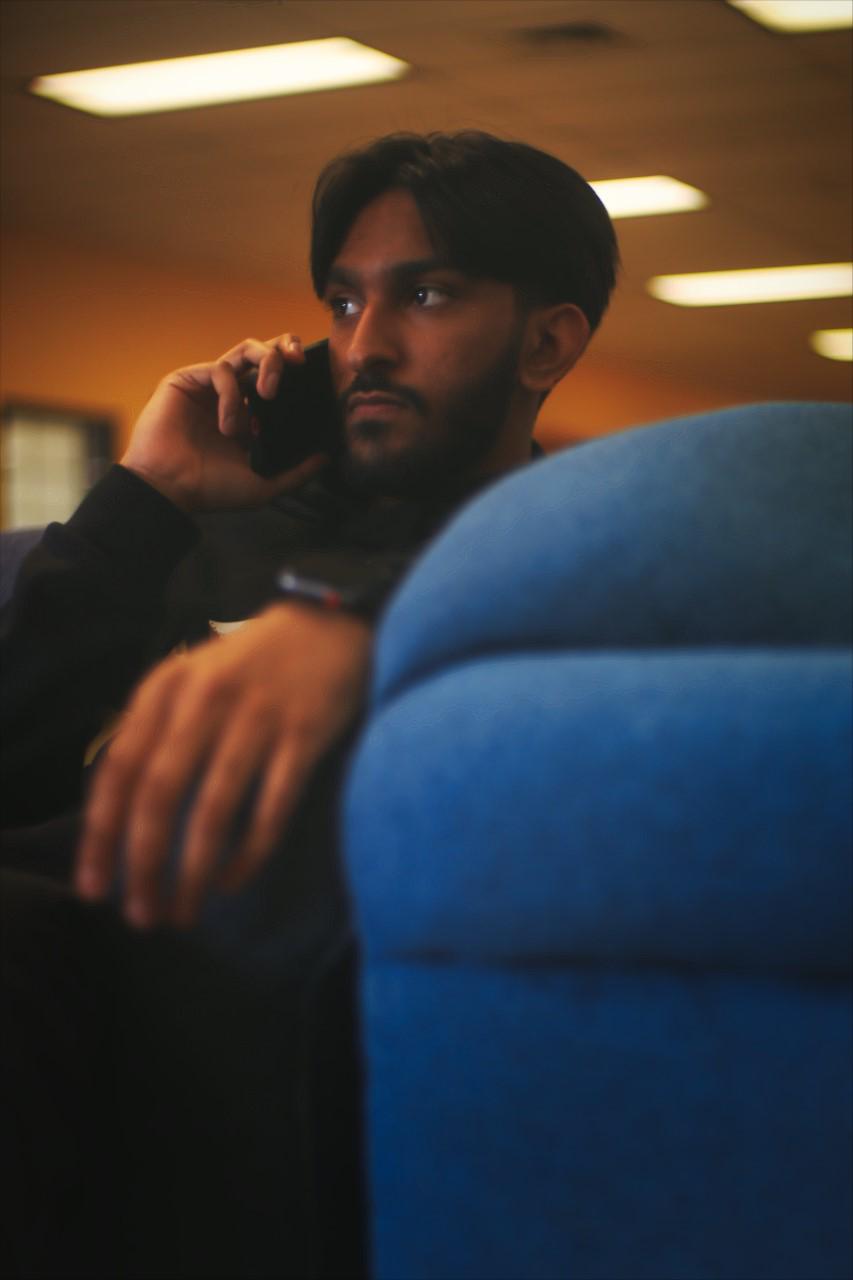 Tamarack | Naugatuck Valley Community College's News Magazine Page 26 CAMPUS SCENE | A Photo Essay CAMPUS SCENE | A Photo Essay CAMPUS SCENE | A Photo Essay CAMPUS SCENE | A Photo Essay CAMPUS SCENE | A Photo Essay CAMPUS SCENE | A Photo Essay LUIS
IDRIS IDRIS THROUGH THE LENS LAUREN
PLANET EARTH
Insightful and important stories about the world we inhabit.
NVCC's International Center for the Arts' Interactive Plant Science, Art, and Music Exhibition
by Kyle Paist
For this first segment of The Tamarack's new column PLANET EARTH, I spoke with Michael Schwartz, Academic Assistant to Horticulture at Naugatuck Valley Community College, to highlight an exciting and breathtaking exhibit at NVCC's fifth International Center for the Arts (ICA) Festival. This exhibit was a rare opportunity for the public to have an immersive and interactive experience inside NVCC's Horticulture Greenhouse, where the Horticulture department worked with students to create a spectacular display of flowers as well as a stunning waterfall flowing from a grand piano.
The installation, as Michael explained, was based on plans for the HORT department's 2021 exhibit in the Connecticut Flower Show, which unfortunately had to be cancelled because of the pandemic. Then, in February 2022, NVCC's display had to be pulled from the Flower Show due to more COVID concerns and personnel shortages. Luckily, the ICA Festival provided a welcome opportunity to give some of the scrapped ideas new life.
Some of the flowering plants that would have been used for the Flower Show were still put to use, like the roses, the tropical plants, and the seven beautiful white rhododendrons.
To replace the remaining flowers that would have bloomed too early for the show, NVCC's Greenhouse Management class brought out flower bulbs that had been cold stratified to mimic dormancy since October at just the right time for them to produce the colorful blooms that would flesh out the rest of the planters. The Spring class also created the gorgeous arrangements of Martha Washington geraniums, Swedish Ivy, ferns, Heuchera, and a whole host of other plants in the large containers and the trough of the piano itself. Their efforts culminated in the welcoming and fun space that visitors were able to enjoy.
A real grand piano was placed on a lifted stage so that it could be seen from across the crowd. There is a curve to a grand piano, and the vision was for this to serve as the outflow for the waterfall. A pump was installed, along with a rectangular box to catch the water below. The trickiest part, says Michael, was to keep it perfectly level and to have the water delivered evenly enough where it would pour out over the edge perfectly. A diffuser was installed where the harp normally goes to combat pressure and turbulence to deliver the water in the perfectly smooth sheet that cascades down the edge. The harp was even pulled out of the piano and mounted in place nearby, and giant drumsticks were created so that guests could hit the strings of the piano for even more of an interactive experience.
Tamarack | Naugatuck
News Magazine Page 27
Valley Community College's
Prof. Lou Romano, Prof. Karlene Ball, Carol LaFauci, Prof. Christopher Tuccio, Michael Schwartz, and Lucas Carreno
The overall theme for this experience was Vivaldi's Spring, a fun and exciting musical piece that's iconic and familiar to many people. "It may be played out," says Michael, "But it's a really good example of emotion-producing songs. On a spring day you feel the warmth of the sun and the beautiful colors of spring-- blues and yellows and pinks, and millions and billions and trillions of cells being built in a plant during mitosis. It's an incredible explosion of life."
Most plants don't make sounds and are very stationary, he explains, and so gardens can be quiet and still places. But moving water brings the sound and the dynamism of a moving system, adding a whole new level to the garden experience with movement and sound. The element of fun is there, too, because the water is aesthetically attractive and makes people want to touch it or even jump in it.
To add to this vision, Vivaldi's symphony played throughout the show, and on Wednesday morning NVCC's own Digital Arts professor, Louis Romao played the guitar in a piece he arranged himself based on Vivaldi's Spring, among other music to fit the theme. There was also a chess board and bistro table set up in the space, and upwards of 500 people came through freely to eat their lunch, take pictures and videos, and interact with the landscape.
Besides art and horticulture, this exhibit surprisingly provides opportunities to learn about environmental science. NVCC's greenhouse aquaponics tanks serve as a model of a real riparian ecosystem: Fish live in the tanks and nutrify the water with their waste, and a biological filter of naturally occurring bacteria converts the urea to plant-usable nitrogen. Plants grown in these tanks get all of their nutrition from this natural fertilizer. But both the plants and fish that inhabit the water also need oxygen gas dissolved in the water to survive, and in nature
that is done through gravity by waterfalls. If it weren't for waterfalls, we wouldn't have the riparian species that we can enjoy. Trout, for example, need highly oxygenated water. Cutting down trees that shade our rivers will also raise river temperatures, lowering dissolved oxygen levels for our native species. Having an artificial waterfall in this space, combined with the accompanying plants, completes the picture of a river ecosystem in a small but fascinating way.
Interestingly, as the guests and students walked through the exhibit, everyone experienced cleaner air than had ever been in that space before. Greenhouses can be dusty places due to the various potting mixes and other factors, but having an artificial waterfall not only adds humidity but cleans the air as dust particles make contact with the sheet of water. The exhibit paints a broader picture of how natural ecosystems take care of themselves in different and amazing ways.
Prior to the show's opening, NVCC's Drawing class, taught by Professor Amanda Lebel, created beautiful sketches and drawings of the space that were later displayed in the foyer of Technology Hall. Overall, it successfully got visitors excited about art, horticulture, and the beginning of spring.
Tamarack | Naugatuck
News Magazine Page 28
Art Department Students' Renderings of 'Piano Waterfalls'
Valley Community College's
Horticulture Department Educational Assistant Michael Schwartz Describes the PianoWaterfall Project
Prof. Chris Rempfer's Public Speaking Class Views the Project
Sarah Jacovino
AJ Rodis
Lily Carlson
Andrew Robinson
Meghan Delp
REVOLT, REVIVE, RENEW!
Progressive Poetry Event
News Magazine Page 29
REVOLT REVIVE
Arts Festival Public Speaking Students at REVOLT REVIVE RENEW AF
Tamarack | Naugatuck Valley Community College's
NVCC Student, Juliana Onyenso, Shares at the Progressive Poetry Event
RENEW Math Professor Carlos Plaza Reads From On High at the Progressive Poetry Event
We close this first edition of our TAMARACK News Magazine with a last look back at the 2022 International Arts Festival, where REVOLTED, REVIVED, and RENEWED!
| Naugatuck
College's News Magazine Page 30
Tamarack
Valley Community
Students from the Italian Department and Public Speaking Participate in the Progressive Poetry Event at the Festival
VIDEOS
Kaya Cosar and former Fulbright Scholar-in-Residence Aguibou Bougobali Sanou Make Some Noise!