WINTER 2022 Nottingham /mynottingham @mynottingham What's on this Winter Money help and advice Win! Great prizes
At the same time, we as a council began the process of gaining more powers for the East Midlands through a devolution deal with government alongside Nottinghamshire, Derbyshire and Derby City. This would mean we would have an elected mayor, who would be able to make decisions for the local region. More importantly, it means we would have access to more money to make improvements in the city, support our bus network and bring in investment. A public consultation is now open
we would love to hear from you with your thoughts on devolution and how you think Nottingham could benefit from more powers and resources.
A number of wonderful events are also planned for winter; Winter Wonderland is returning to the city, with the iconic Christmas market and a new Sky Skate path raised above the market stalls. This promises to bring fun for all the family, with attractions on offer at a range of costs.
City Council taxpayers can get a 10% discount on the cost of off-peak skating.
and
" City Council Leader, Councillor David Mellen Many exciting things have happened here in Nottingham since the summer edition of Arrow Magazine; events like Goose Fair returned for the first time since Covid hit, the Trent Rockets won the Hundred, and we celebrated Black History Month. Go online: www.nottinghamcity.gov.uk/hys Textphone or minicom: 18001, then 0115 915 5555 Phone us on: 0115 915 5555 Write to: Have Your Say, Nottingham City Council, Loxley House, Station Street, Nottingham NG2 3NG To comment, compliment or complain: 2
The winter celebrations don't stop at the city centre. Wollaton Hall will be holding its illuminated trail once again this year. The trail will be longer than ever and a limited number of slots for each session will be offered at 10% discount for City Council taxpayers.
Away from the celebrations, Nottingham is suffering from a cost-of-living crisis, as is the rest of the country. Spiralling inflation and energy prices are impacting us all.
As a City Council, we are supporting residents in every way we can. Leaflets to help support residents through the costof-living crisis have been distributed and can be found at all council buildings. They detail the support you can get to help you budget, ranging from where you can use computers for free, to where to get debt and benefits advice and find out what help is available for you in an emergency.
More information can be found online CLICK HERE
We also offer a welfare rights service to ensure people receive the support they are entitled to. All residents can use this to get advice on benefits, debt, and how to navigate these difficult circumstances. As a council, we are also impacted by the crisis. Unfortunately, budgets will once again be tight this year, but we are committed to providing the services our residents need.
Finally, I would like to wish you a Merry Christmas and best wishes to our residents of all faiths. Winter is a time of many faith celebrations. It is a time to get together with family and friends, to reflect on the year that has passed and the year to come.
2022 has been a year filled with difficulty but also with great joy for Nottingham. So happy holidays to all, may next year bring Nottingham cheer and success.
"
LiONASK FINDING YOU ACTIVITIES AND SUPPORT IN NOTTINGHAM 3
The new Sky Skate path raised above the rest of the Christmas market is new for this year.
Old Market Square Time Out has ranked Nottingham No 2 in their Top 10 UK Christmas Markets! Tuesday 15 November –Saturday 31 December Nottingham City Council residents can enjoy 10% off skating at Winter Wonderland – to find out more CLICK HERE 4
A stunning new skating adventure, with a fantastic ice rink and a 'Sky Skate' ice path around the square.
A choice of places to eat and drink, with two ski-themed bars offering top quality food and the popular ice bar experience.
Christmas
An observational wheel that will lift you into the sky to look out over the city's twinkling Christmas lights.
Market with over 50 stalls offering great gifts, crafts and seasonal food.
BOOKNOW!
www.whatsonnottingham.com
21 5
Christmas at Wollaton Hall
The amazing illuminated trail returns to Wollaton Hall this Christmas, as well as a host of other festive experiences: • Discover Ye Olde Christmas Past and meet Santa or his friends • Explore the outdoor Christmas trail • Get inspired with gifts and treats in our cafés and shops BOOK TODAY . . . wollatonhall.org.uk/Christmas
Friday
–
Wollaton Hall & Deer Park 6
Wollaton Hall's spectacular illuminated trail returns
2 December
Sunday 1 January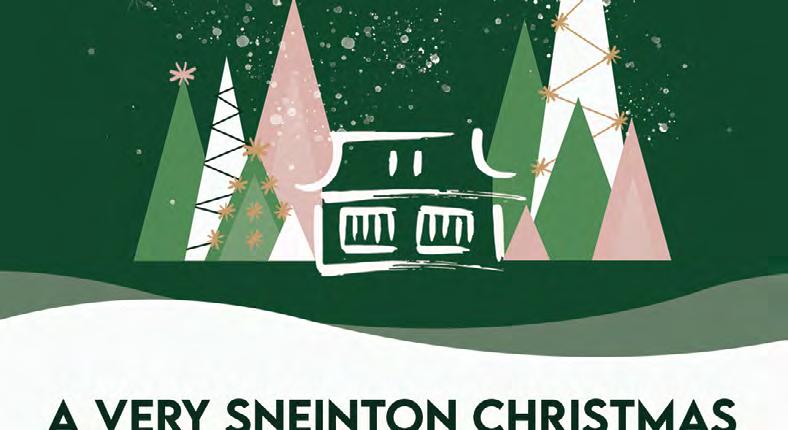 BOOK TODAY newsteadabbey.org.uk/christmas • Delight in Alice in Wonderland, with festive storybook scenes and a walk through the historic house • Treat yourself to afternoon tea or a delicious Christmas dinner • Explore the outdoor Christmas trail • Get inspired with gifts and treats from craft stalls in the Abbey, café and shop • Enjoy a wintery walk through the park and gardens Experience an enchanting Christmas for the whole family at Newstead this December. A Very Sneinton Christmas will be delivering festive cheer for all. Visitors can expect artists, makers, musicians, food, drink, and a uniquely Sneinton Christmas market. FRIDAY 2 DECEMBER 3-8PM • SATURDAY 3 DECEMBER 11AM-4PM • SNEINTON MARKET AVENUES Saturday 26 November –Monday 2 January Newstead Abbey Christmas at Newstead Abbey 7
Snow White
3 December 2022 – 8 January 2023
Theatre Royal
Joe Pasquale and Faye Tozer star in this year's panto packed full of comedy, action, adventure, and plenty of glitz and glamour.
White Christmas
Tuesday 22 – Saturday 26 November 2022
Theatre Royal Entertain all the family with a spectacular, toe-tapping production of the classic musical.
Dick Whittington
25 November 2022 – 14 January 2023
Nottingham Playhouse
Join Dick Whittington and his trusty cat on their quest for fame and fortune.
For details, tickets and to subscribe to our What's On email
CLICK HERE
Morgan and West's Great Big Christmas Magic Show
Saturday 3 and Sunday 4 December 2022 Djanogly Theatre, Lakeside Arts
The time-travelling magicians crash into Christmas with a show full of fabulous family fun.
The Singing Mermaid
Friday 9 – Saturday 31 December 2022
Djanogly Theatre, Lakeside Arts Julia Donaldson and Lydia Monks' hugely popular story comes to the stage. A perfect Christmas treat for all the family!
Christmas at Woodthorpe Park
Festive family fun weekends with Christmas food and drink, activities, gifts and Christmas trees:
Saturday 26 & Sunday 27 November
Saturday 3 & Sunday 4 December
Saturday 10 & Sunday 11 December
Saturday 17 & Sunday 18 December
Real Christmas trees for sale from 19 November: Nordmann and Fraser fir
8
Win a Christmas trip to the panto!
Enter by December 1 to win a family ticket (four seats together) in the stalls to see Snow White and the Seven Dwarves at the Theatre Royal Nottingham on Tuesday 6 December 2022 at 7.15pm.
Visit to the Council House for tea with the Lord Mayor!
Enter to win a visit to the Council House to meet with Nottingham's Lord Mayor, Councillor Wendy Smith for tea.
IN EARLY SPRING 2023