FREE 2022-23 Northeast Ohio Edition BROUGHT TO YOU BY NC J W CLE STRONG WOMEN POWERFUL VOICES Vacationing in Ohio An Accessible Destination Joy of Creating Arts for All A Resource for Individuals with Special Needs and Their Families Celebrating a Decade of Helping the Community YEARS CHAMPIONS Honoring PLUS
ON THE COVER : CELEBRATION OF 10 YEARS AND HONORING CHAMPIONS.
CELEBRATION OF CHAMPIONS
There was 15 champions honored at the 2022 ceremony. Read their stories and learn why they were honored.
FEATURES
32
LIVESPECIAL.COM
10 YEARS
Learn about how its helped the community of people and families with special needs for the past decade.
DEPARTMENTS
EXECUTIVE DIRECTOR AND PUBLISHER LETTER
04 A glance back and look forward to future.
WORTH NOTING
06 Dyslexia laws change for early intervention, useful gadgets, new playground and get inspired by these special artists. Also, we remember Jeffrey Friedman and his legacy.
PEOPLE TO KNOW
Meet two indivduals who are helping the environment and people with special needs.
EDUCATION
13 Navigating sensory-friendly performances. Advice on how to celebrate the little wins.
ADVOCACY
Ways to support positive identity.
FAMILY MATTERS
35
OHIO IS AN ACCESSIBLE DESTINATION
We provide ways to get out-and-about in the state, whether you want to stay for a day or hang out all weekend long.
48
DIRECTORY OF RESOURCES
Find these advertiser listings of resources, support and more!
A story of an autism diagnosis in adulthood. Getting active with adaptive tennis.
TECHNOLOGY
41 Virtual learning for life skills.
50 Find some assistive technology apps.
THERAPIES
12 Ultrasound speech therapy tackles 'R' and 'S' difficulties.
PLANNING
22 After graduation: the path to support.
23 Questions to ask day service providers.
livespecial.com 2022-23 3 2022-2023 Edition 10 JOY OF CREATING The importance of creative arts for people of all abilities. 18 LIFE SKILLS AND JOB TRAINING How adult day program can provide a meaningful place for those with special needs, in job training, skills and social interactions. 24 LIFE TRANSITIONS
Gohn, who was the inspiration for LiveSpecial.com, gains skills and independence in her teen years.
Alana
25 PAGE
PHOTO BY MARIANA EDELMAN
EXECUTIVE DIRECTOR'S NOTE
Dear readers,
Iclearly remember the day, 12 years ago, when NCJW/CLE members Elaine Eisner and Scott Gohn came to us with the idea for LiveSpecial.com.
Their daughter, Alana, had been diagnosed with a number of special needs, and Elaine and Scott were feeling frustrated that it was such a challenge to find all the specialists and services available in Northeast Ohio.
They wanted to see if NCJW/CLE, whose mission is to improve the lives of women, children and families and who has a history of supporting those with special needs, would be interested in creating an online resource guide for the special needs community.
NCJW/CLE said yes.
Over a two-year period, dozens of NCJW/CLE volunteers spent thousands of hours, searching for doctors, therapists, specialists and programs to compile into a spreadsheet that would later become the website we have today, where you can search for and find appropriate providers.
We have heard from so many of you about how LiveSpecial.com has helped connect you with resources on everything from where to go to get tested for adult autism to what local camps have the capabilities to serve youth with special needs.
Today, we are proud to say that LiveSpecial is not just an online resource guide; it is a source of knowledge including educational videos and important information.
And I'm so excited to announce that — 10 years after the official launch of LiveSpecial.com — we are unveiling a new website. We're calling it LiveSpecial 2.0. The new site is even more user-friendly. A new format and new search function make it even easier to look for providers and services based on needs, diagnoses and age.
With LiveSpecial 2.0, help is really just a click away!
We urge you to check out the new site, livespecial.com, and let us know what you think!
We are grateful for the community of people who have helped us get to this 10year mark. We look forward to seeing what the next 10 years will bring.
With gratitude,
PUBLISHER'S NOTE
Mindi Axner
26055 Emery Road
Warrensville Heights, OH 44128
livespecial.com ncjwcleveland.org
PRESIDENT Dana Trau & Laura Kuntz president@ncjwcleveland.org
EXECUTIVE DIRECTOR
Mindi Axner 216-378-2204 ext. 103 maxner@ncjwcleveland.org
LIVESPECIAL COORDINATOR
Wendy Spitz 216-378-2204 wendy@livespecial.com
LIVESPECIAL ADVISORS
Jennifer Boroff
Elaine Eisner
Cindy Glazer
Laura Kuntz
PUBLISHER
Brad Mitchell
EDITOR
Angela Gartner
MANAGING EDITOR
Denise Koeth
ART DIRECTOR
We are so thankful for our partnership with the NCJW/CLE and the ability for this collective team to bring you this 8th annual edition of LiveSpecial. com magazine. In 2015, we got together with the concept of expanding the website into a traditional magazine format with robust content. The idea to create a standalone publication to increase outreach and awareness to the community has been a huge success. Over the years, countless new connections have been made between providers and families through the distribution of the magazine to key locations throughout the region. If your organization or event could benefit from having this magazine available to the individuals and families you reach, please let us know your interest by contacting us at info@livespecial.com.
Learn more about the origin and development of the LiveSpecial.com project over the past 10 years by reading the article on page 32.
Brad Mitchell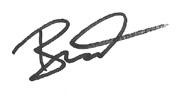 Laura Chadwick
CONTRIBUTORS
Lindsey Geiss, Cindy Glazer, Georgia Lattas, Vince Guerrieri, Mike Daugherty, Ginny McCabe
LiveSpecial.com Resource Guide is published by Northeast Ohio Parent Magazine and Mitchell Media LLC PO Box 1088 Hudson, OH 44236 330-822-4011
Copyright 2022 by NCJW/CLE and Northeast Ohio Parent
4 livespecial.com 2022-23
LIVESPECIAL IS MORE THAN JUST A MAGAZINE
It's a free online resource.
It's a comprehensive database of providers for your every need.
It's a go-to guide for individuals with special needs, caretakers and providers in Northeast Ohio
Introducing a New Website!
Carefully curated with user-experience in mind. The website provides:
· Services for temporary or long-term needs
· Educational resources and video gallery
· An easy way to search for local support and resources
WE ARE COMMITTED TO BEING NORTHEAST OHIO'S GO-TO ONLINE RESOURCE TO SUPPORT INDIVIDUALS WITH SPECIAL NEEDS AND THEIR FAMILIES. Email info@LiveSpecial.com to receive firsthand information and updates or to receive additional magazines.