Boone Health
Supporting Those Who Served
WINTER 2023
PG. 8 Revival of the Fittest
Boone Health Lead Orderly and Veteran Amber McLelland goes above and beyond the call of duty.
PG. 10
Go after the life you want.
We are entrepreneurs, doctors, veterinarians and writers for page, stage and screen. We're business leaders, educators and performers. We're scientists, nurses and fashion leaders. We're mold breakers and trend makers.
We are a small yet mighty community that nurtures and supports the potential in everyone who calls Stephens home.
Learn more at stephens.edu
a FREE subscription,
or
and click
the subscription
the page. Please submit comments or feedback to erin.wegner@boone.health or
East Broadway
Check us out on Facebook, Twitter, Instagram, Pinterest and YouTube. Follow us Table of Contents 18 12 28 22 MANAGING EDITOR Erin Wegner Marketing & Communications Consultant I COPY EDITOR Jessica Park Communications Consultant II CONTRIBUTING WRITER Madison Loethen Digital Communications & Marketing Consultant II ADDITIONAL CONTRIBUTING WRITERS Katie Goodlet, Michelle Terhune, Jennifer Tveitnes, Jenny Workman, Shi Yan 5 A Note from Troy 6 Hospital Headlines 8 Revival of the Fittest 10 Supporting Those Who Served 12 Hands-On Healthcare Education 14 Teddy Bear to the Rescue 16 Beat the Post-Holiday Blues 18 Therapy Dogs to the Rescue 20 Childbirth Gone Virtual 22 A Beginner's Guide to Infant Massage 24 Get to Know a BHC Doctor 25 Get to Know a BHC Nurse 26 Stress and Weight Management 28 Staying Active Can Be Simple 30 Foundation News
For
call 573.815.3392
visit boone.health/my-boonehealth
on
link on the right side of
call 573.815.3217 1600
Columbia, MO 65201 573.815.8000
Caring for our People
I
f you've ever cared for a family member or a patient, then you know how important it is to take care of yourself. It's much more difficult to tend to someone else's needs if you neglect your own. At Boone Health, we have a similar responsibility to look after ourselves so that we can continue to give you quality care.
As healthcare organizations across the nation face challenges with staffing, obtaining supplies, and rising costs, we must adapt to the current environment to remain sustainable. These same challenges have caused some medical centers to close their doors, leaving communities with less access to health care, especially in rural areas. We need to be able to help fill those gaps so that people throughout midMissouri can receive a high standard of care.
While these challenges remain, Boone Health is moving in the right direction and seeing positive change I have been blessed to work with a team of exceptional individuals at every level, in every department, including our medical staff and our Board of Directors. Because of these incredible people, 2022 had its bright spots.
First, Boone Health upheld its high standards for patient care. In any kind of organization, it's not unheard of for quality to take a hit when resources are strained, but our people continued to prioritize our patients and safe, high-quality, and compassionate care. Our focus on giving every patient the best possible care is why we continue to receive recognition from professional organizations and kind words from patients and families.
Second, Boone Health continued to grow to meet our community's needs for healthcare services while moving our financial outlook in the right direction. In 2022, Boone Health gained 200 new employees. We also expanded services in our 25-county service area, adding a second primary care clinic in Mexico, opening lab draw sites in Centralia and Osage Beach, and adding Boone Health Medical Group Occupational Medicine to our team. Instead of cutting back on services, we found opportunities to reduce our expenses while improving our supply chain and building partnerships with local businesses and organizations. Again, this wouldn't be possible without the commitment and hard work of our people.
Our long-term sustainability relies on supporting the next generation of healthcare workers. In 2022, we strengthened our relationships with mid-Missouri nursing schools, giving
more students the opportunity not just to see what it's like to care for patients in a hospital setting, but what it's like to work at Boone. Our first nursing school class with Stephens College is nearing graduation. Meanwhile, our Nurse Residency Program supports graduate nurses during their first year on floor, and we continue to find new ways to support our employees' continuing education and professional development.
Our mission statement states that we will improve the health of the people and communities we serve by making Boone both a great place to work and to receive healthcare. We must continue to take excellent care of our people so that they can take excellent care of you and your loved ones.
People – patients, employees, physicians, and community members – are our foundation and our focus. While we may change our approaches, methods, or contracts, our mission and culture remain unchanged – and for that, I am grateful. Focusing on what makes Boone Health special – the people –has led us in the right direction in 2022 and will continue to be our priority in 2023.
As we continue to take care of Boone Health in 2023, I encourage you to remember to take care of yourself as well. We are here to help.
Troy Greer CEO, Boone Hospital Center
Boone.Health/My-Boone-Health 5
A NOTE FROM TROY
New Treatment For Acid Reflux Supporting The United Way
This
Occupational Medicine of Mid-Missouri Joins Boone Health Medical Group
Occupational Medicine of Mid-Missouri, who has served large and small business in mid-Missouri since 1999, has joined Boone Health Medical Group and been renamed Boone Health – Occupational Medicine.
The clinic is staffed by Michael Sweczyk, MD; Robert Hering, MD and Eric Bettis, MD. Located at 401 N. Keene Street, the clinic provides drug screenings; fit for duty evaluations; post offer, DOT and comprehensive physical exams; medical surveillance for OSHA compliance and a host of other services.
Boone Health is pleased to now offer the LINX® Reflux Management System for the treatment of gastroesophageal reflux disease (GERD) and Hiatal Hernia.
The LINX® system consists of a series of titanium beads, each with a magnetic core that are connected with titanium wires to form a ring shape. The device is surgically implanted around the lower end of the esophagus. It then helps to prevent the digestive acids of the stomach from backing up into the esophagus (acid reflux) while still allowing for food and and liquids to flow into the stomach.
LINX® was FDA approved in 2012, and it is an alternative to the Nissen Fundoplication for patients who are undergoing surgery to repair a Hiatal Hernia.
The LINX® procedure and Hiatal Hernia Repair is performed by Benjamin Gerber, MD of Boone Health Medical Group – General Surgery.
6 BOONE HEALTH Winter 2023 HOSPITAL HEADLINES
year, Boone Health employees raised $72,541.51 for the Heart of Missouri United Way. In addition, the Boone Health – Buds BBQ team won the Most Dishes Sold award in the CoMo Chopped Challenge.
OCCUPATIONAL MEDICINE
A Rose for Donors
Boone Health contributed a rose to the Donate Life Float at the 2023 Rose Parade® in Pasadena, Calif. on Monday, January 2. CEO Troy Greer included a message, "On behalf of the Boone Team, bless you for giving the gift of life!" Donate Life, a national non-profit organization, works closely with Midwest Transplant Network to educate the community on the importance of organ donation and to help patients receive donated organs, eyes, and tissues.
Boone Health Heart Team Recognized
Boone Health has earned a distinguished three-star rating from The Society of Thoracic Surgeons (STS) for its patient care and outcomes in isolated coronary artery bypass grafting (CABG) procedures. The three-star rating, which denotes the highest category of quality, places Boone Hospital Center among the elite for heart bypass surgery in the United States and Canada.
The STS star rating system is one of the most sophisticated and highly regarded overall measures of quality in health care, rating the benchmarked outcomes of cardiothoracic surgery programs across the United States and Canada. The star rating is calculated using a combination of quality measures for specific procedures performed by an STS Adult Cardiac Surgery Database participant.
Approximately 20% of participants receive the three-star rating for isolated CABG surgery. Congratulations to our Cardiology and Cardiothoracic Surgery team!
Boone.Health/My-Boone-Health 7
Karen Ross, BSN, RN, ICU Director; Shannon Kuczynski, MHSA, MSN-A, RN, Chief Nursing Officer; Monica Smith, MSN, RN, Chief Operating Officer; Troy Greer, Chief Executive Officer; and Lori Clark, Director of Columbia Operations, Midwest Transplant Network
Boone Health Heart Surgeons Richard Mellitt, MD and Joss Fernandez, MD
Revival of the Fittest
I n October, Boone Health Medical Group opened a new clinic in Mexico, Mo. But although new to Boone, the Medical Park clinic has deep roots in Audrain County, with a long history of providing care to patients.
Boone Health Medical Park – Mexico was originally founded in 1996 as a multispecialty group with a pulmonologist, hematology oncologist, and an internist. In 2001, Mexico native Michael Quinlan, MD, an internal medicine specialist, returned to his hometown and joined the group.
Things changed in 2007 when Audrain Medical Center acquired the practice. It sought status as a Rural Health Clinic, which meant it could only offer primary care services rather than specialty care. Quinlan remained, later joined by Peggy Barjenbruch, MD, another internist who had been taking care
of patients in Mexico for more than 20 years. In 2013, SSM Health Care acquired Audrain Medical Center, including the primary care clinic. In 2021, Noble Health became the new owner. One year later, Noble was acquired by Platinum Health Systems. In 2022, Audrain Medical Center and Callaway Medical Center, which had both been owned by Noble, became the ninth and tenth rural hospitals in Missouri to shutter in less than a decade.
Throughout 25 years of changes in ownership, Practice Manager Diane Hagedorn responded to changes, by adjusting electronic medical systems, dealing with new insurance company contracts, and swapping out office letterhead.
"It was a blessing for us for Boone Health to be an option," Diane says. "We were faced with either the providers starting
8 BOONE HEALTH Winter 2023
Boone Health gives a fresh start to a long-standing clinic in Mexico, Mo.
private practice again, which is just not really tenable, or they had to look at someone else to partner with as an employer."
"Boone was a really good choice for us. We already had a major referral relationship with them, so it's not like Boone was new to us. And I have been pleasantly surprised to learn in all the training we have gone through with them how very much alike we are. Like
it was when owned by Audrain County Medical Center, it's more that local feel. Culturally, they are so much like us, so it's been a really easy transition," Diane says.
In the past, the practice suffered from supply shortages and a lack of stability. Having Boone Health step in to fill the void was a lifeline for the clinic and their patients.
"That smooth transition means our patients haven't noticed much difference
because the staff here stayed," Diane says. "To them, there's just a new name on the building."
The major transition right now is the time it takes to renegotiate insurance contracts, which are driven by the clinic owner rather than the providers. That means a patient may be seeing the doctor they've been seeing for years, but if the clinic owner changes, those contracts must be renegotiated.
"Patients connect with the provider, not with the owner," Diane says. "Within a month or two, we should finalize status with nearly all of our patient insurers as a network provider."
Boone Health already had an established clinic in Mexico. Boone Health Primary Care – Mexico is a family practice clinic that serves newborns through the elderly and delivers basic health services. The Mexico Park Clinic fills another need. Its providers see a slightly older group of patients, as young as 14 years old, with a focus on wellness, management, and treatment of more complex and chronic conditions such as diabetes, heart disease, hypertension, lung disease, and obesity.
In addition to Drs. Quinlan and Barjenbruch, patients receive care from Ashlee Dougherty, PA, and Andrea Feger, FNP. In addition to Diane, the Mexico Park Clinic currently employs three front-office staff, two licensed practical nurses, two medical assistants, and a lab tech. And the clinic is busy.
"With a lot of primary care providers leaving the area recently, there are many patients looking for new providers," says Diane. "We're still working through the challenge of reducing the backlog of our patients and working in the new patients who need our care."
The lack of a local hospital creates assess concerns for patients in the Mexico area. Through Boone Health Medical Group clinics, expanded services such as onsite laboratory services, and the building of new relationships in the area, Boone Health continues to work to keep care close to home for patients. By Michelle Terhune
Boone.Health/My-Boone-Health 9
For more information, visit www.boone.health/primarycare .
Supporting THOSE WHO
SERVED
Lead Orderly and Veteran Amber McLelland makes a difference.
A
round Veterans Day every year at Boone Hospital Center you will find a beautiful mural where employees share their well wishes and thank-yous to veterans. Those murals were made by Lead Orderly Amber McLelland who is a veteran herself.
Amber enlisted in the year 2000 at just 17 years old. Her sister and two cousins were already in the army, and she had been considering joining for a while.
"I wanted to serve the greater good and have some life experiences along the way," says Amber.
Amber did her basic training at Fort Leonard Wood, Mo. and she was there when the attacks on 9/11 happened.
She was then stationed as a military police officer working the Pentagon clean up. She worked to clear debris and patrol for safety.
After that, Amber was stationed at Fort Riley in Kansas where she underwent Afghanistan prep. She ended up being placed stateside to work with war equipment.
She spent some time stationed at Fort McCoy in Wisconsin before being
discharged and moving back to Missouri.
Since leaving the army, Amber has found comfort in her drawing.
"It was a way of dealing with my PTSD," says Amber.
When she was back in Missouri, she started looking for jobs where she could continue to help people. She says that's why she applied to work at Boone Hospital. Amber was hired as a housekeeping tech. When Veterans Day came along, she had the idea to make a mural that her co-workers could sign in support of veterans.
10 BOONE HEALTH Winter 2023
Amber in 2001 when stationed in Ft. Leonard, Mo.
Amber in 2002 when stationed in Ft. Riley, Ks.
"I thought to myself that if a veteran had just one person who told them they mattered, they did a good job, that if someone just showed they cared, would that soldier still take their own life? It's dark and sad to think about, but it's the real truth. Sometimes when you're on the ledge looking down, you think to yourself, does someone care enough to pull me back? For those who have never been there, it's a feeling of complete despair. If you can get help that's great, some don't seek help, out of shame and embarrassment. I wanted my murals to be a voice of inspiration, of compassion and gratitude," says Amber.
Everyone at Boone Hospital loved her mural, and it got lots of signatures. Once it was signed, Amber took it to the VA Hospital to display it for the veterans there.
"The look on their faces would say it all. They were so touched. Some even started crying," says Amber.
Amber spent one year as a housekeeping tech before becoming an orderly. After just three years as an orderly, she was promoted to lead orderly. As an orderly Amber works in patient transportation, patient lifts, helicopter pad transport, and more. As lead orderly she also provides training to other Boone Hospital staff.
"I love my job. I love being able to help people every day. Helping to make someone's stay better, being a team member to those in need, making people feel seen and heard, providing comfort and support; those are the biggest things that make my job worth doing every day," says Amber.
Every year around Veterans Day, Amber continues to draw a mural with room for other staff members to write messages to veterans. Once it has been signed, she takes it to the VA Hospital for veterans to view. After the murals spend some time at the VA Hospital, they go to the VA home in Mexico, Mo. for other veterans to enjoy them. By Madison Loethen
Boone.Health/My-Boone-Health 11
Some of Amber's Veterans Day murals through the years.
HEALTHCARE EDUCATION Hands-On
Students learning how to be nurses, respiratory or speech therapists, paramedics, radiology technicians, and other healthcare professionals can only learn so much in the classroom. There comes a time when they need to begin working with real patients in real situations. And that's where Boone Health comes in.
Boone Health works with roughly 50 schools to provide clinical education opportunities to about 700 students every year. Boone Health works with programs at Stephens College, University of Missouri, Columbia College, Moberly Area Community College, Central Methodist University, and more, including online education programs that offer clinical opportunities for students close to where they live.
Deanna Powers, Supervisor of Clinical Education Training and Development, is the link between the schools, instructors, students, and staff at Boone Health.
"When you're in nursing school, you get the book information. You get scenarios. You get simulations with a mannequin or a mock patient," Deanna says. "But nothing ever takes the place of a real patient. Nothing can simulate that relationship with a patient."
Because students aren't licensed, they work with preceptors – Boone Health licensed professionals who show students how to do their future jobs. This is extra work for nurses, technicians, therapists, and others on top of their inherently busy jobs, but at Boone Health, these preceptors want to teach students what they know. They understand they may be teaching their future coworkers and that has never been more important than now.
"COVID changed the world and healthcare in particular," Deanna says. "For a while, we didn't have students. As we started hiring students who had finished nursing school during COVID but didn't have the in-person clinical experience, we had to precept them differently."
12 BOONE HEALTH Winter 2023
Boone Health prepares students for life as healthcare professionals.
An analysis done by the journal Health Affairs shows that the number of registered nurses declined in excess of 100,000 in 2021. Nurses have been in short supply for years before the pandemic, but stress caused many to leave the profession, which leaves institutions like Boone Health hungry for new talent.
"Part of my job is recruiting students who want to get their clinical education at Boone," Deanna says. "I need to help make their experience fascinating and exciting and let them see what happens here at Boone, so they want to come and work here."
Nursing is a profession that requires knowledge of human nature and skills to communicate with patients in a very intimate way. Trust developed between a nurse and a patient makes patients more willing to stick to a treatment plan which leads to better patient outcomes. Deanna says teaching nursing students how to be comfortable with that type of interaction is critical and not something learned from a book. It's no small challenge. Younger generations are more digital and often less social on a personal level.
"The digital world has made us change the way we do patient education," Deanna says. "A fairly high percentage of our patients are over 65, and we still need to have conversations with them about their care because they aren't comfortable with digital delivery of that information. Our nurses need to know how to do that."
Clinical education at Boone isn't just about the students and preceptors. The patient remains front and center in everything Boone delivers.
"Patients always have a choice. You can refuse to have a student present, and that's perfectly fine. We will find another patient who is okay with that," Deanna says. "There are no consequences. That's your right as a patient here."
Students work under the supervision of licensed professionals. The quality of patient care and protection of their rights to privacy are non-negotiable.
If patients receive the highest quality of care and students receive handson education from some of the best
healthcare professionals anywhere, what does Boone Health get?
"Recruitment," Deanna says. "If students come here and have a great experience, they may want to work here. And we know they've had great training. It's a win for everyone."
The nursing shortage has also led to nurses becoming preceptors and charge nurses much earlier in their careers. That's why Boone Health continues to educate and support nursing staff as they make the transition from student to professional.
Boone's Nursing Residency Program builds clinical skills by providing ongoing classroom and hands-on education during a nurse's first years. They are prepared for patient care as well as for teaching tomorrow professionals when they graduate.
But nurses have always needed to be prepared for anything, including teaching students not long after being students themselves. Deanna says new nurses make great preceptors because they haven't forgotten their own experience.
By Michelle Terhune
Boone.Health/My-Boone-Health 13
To learn more visit www.boone.health/careers/nursing-careers
Boone Health Nurse Blaine Meek works with Stephens College nursing student Monica Stallings.
A New Teddy Bear
TO LOVE
No parent wants their kid to have to go through surgery. We certainly didn't, but my husband Kyle and I were faced with the difficult decision of whether or not to have our 11-monthold go through an ear tube procedure.
Our little Everly had four somewhat back-to-back ear infections. She would get a cold, get an ear infection, get on antibiotics, get better, and then repeat. After that last infection, our doctors at Como Cubs Pediatrics recommended that we speak with a doctor at Missouri Ear Nose and Throat Center.
We were matched with Andrea Hanick, MD and our appointment with her confirmed that ear tube surgery would be the best course of action. She explained that getting ear tubes greatly reduces the chances of Everly continuing to get ear infections and if she did get one, she could just get ear drops instead of oral antibiotics. Not getting the tubes could mean potential hearing problems, delayed speech because of those hearing problems, gut problems because of the constant antibiotics, and of course constant ear pain. For those reasons, combined with the fact we were about to enter cold and flu season, made us agree tubes would be best.
We decided to have Everly's surgery at Boone Hospital Center, and I'm so glad we did. Someone from the hospital called me the evening before Everly's surgery and answered all of my questions and let me know what to expect for surgery day. She scheduled Everly for their earliest appointment so that she wouldn't have to wait long since she wouldn't be able to eat before surgery.
14 BOONE HEALTH Winter 2023
They said they always try to schedule babies and kids as early as possible because of that. Our appointment was for 8 am with a 7 am arrival.
I was nervous Everly would be upset when I couldn't feed her in the morning the day of the surgery but she did ok. I normally nurse her right when she wakes up in the morning, but I let her sleep until right before it was time to go, changed her diaper, and put her right in the car. She seemed to be a little confused by the change in routine but she did well in the car and when we arrived at the hospital.
Kyle had to hang back home for a bit and get our preschooler Reese off to school so I kept Everly in the stroller while we waited to be called back. I walked her back and forth in the little hallway near the waiting room and she waved to the doctors and nurses who passed us.
When we were called back, the nurses were so incredibly sweet. Several of them told me their kids had gotten tubes there and not to worry. Kyle was able to join me in the pre-op room and we tried to keep Everly distracted together.
At one point Everly started to get upset. The poor thing was probably just hungry! One of the nurses left and came back with a little teddy bear with a t-shirt that said it is a gift from the Boone Hospital Foundation. Everly lit up and was so excited. It totally changed her mood. It also lifted our spirits to see her so happy as we were starting to get nervous about her getting taken back.
When it came time for surgery, a nurse carried Everly to surgery and they brought her teddy bear with her. It was hard to see her go, but I felt confident in her medical team.
We went back to the waiting room and after only about 15 minutes, we were called to a room with Dr. Hanick. She said the surgery went very well and gave us some follow up care instructions.
Then we were able to go see Everly. Several nurses were caring for her as she woke up and one had her wrapped in a blanket in case she was cold. They gave her to me, and I nursed her. She was a little out of it for a few minutes but soon she gave us a big smile and again wanted to hold her teddy bear.
We thanked the doctor and nurses and went home with our little girl. She took a nice long nap and then was back to her normal self after that. We are so glad we had the procedure done and are so grateful for such a wonderful medical team!
By Madison Loethen
Boone.Health/My-Boone-Health 15
Beat the
POST-HOLIDAY BLUES
The holidays have come and gone, and a new year has begun. You should feel inspired and happy to start working on your New Year's resolutions and doing what you can to make this year better than the last…right? Maybe not.
Do you have the winter blues? This is very common. The holiday season is a time for festive parties and family and friend gatherings, but it all comes to an abrupt halt. Instead of feeling happiness, some people deal with fatigue and stress
after going back to work after taking time off, taking down cheerful holiday decorations, and facing post-holiday bills. The long, cold, dark days of winter can also lead some people to experience seasonal affective disorder, or SAD.
Symptoms of winter blues may include headaches, insomnia and trouble sleeping, anxiety, weight gain or loss, and a lack of energy or motivation. The post-holiday blues might be shortlived, or long-lasting and overwhelming.
16 BOONE HEALTH Winter 2023
Here are some ways you can help combat the slump:
Reflect.
Taking a moment to remember the enjoyable things that happened during the holiday season can help you focus more on the blessings you have in your life. Keeping a gratitude journal can also be helpful.
Rest.
Things often don't look so good when you are tired. If you can, take time to relax and do something just for yourself. Read a book or watch a movie that's been on your list or get a massage. Indulge in something you truly enjoy even if it's just alone time.
Start or resume a hobby. Find something new you've wanted to try or pick up a hobby you used to enjoy in the past. Activities that you enjoy will help take the focus off the end of the holiday season.
Plan your next vacation. Give yourself something to look forward to. Even something as simple as planning a dinner with friends over the weekend can help you refocus your thoughts after the holidays.
Exercise.
Exercise has been shown to reduce fatigue and enhance job satisfaction, optimism, self-esteem and better stress management. And that's not all – it can also help with weight control, coronary heart disease, type 2 diabetes, strokes, and certain types of cancer. Exercise is also associated with greater immune function, increased endorphins, and stronger heart and lungs.
Volunteer.
If you feel lonely and miss gathering with others, volunteering can be a great way to get out and be around people.
Fuel with food. Diets high in B12 and omega-3 fatty acids have been shown to decrease depression and improve mood. Choices
include mackerel, anchovies, sardines, salmon, and tuna. Berries can slow the unwanted response of cortisol in the body, which is a hormone associated with stress and mood fluctuations. Dark chocolate with at least 70% cocoa solids can release endorphins that improve your mood.
Try phototherapy. If your blues are brought on by the dark days of winter, phototherapy can help immensely. Seasonal affective disorder generally responds well to light therapy.
Get some fresh air. Even though it's cold, fresh air and being in nature not only cleans your lungs, it can boost your mood, lower your heart rate, increase energy levels, help your immune system, and contribute to your overall well-being.
Set realistic resolutions. This New Year's, don't aim so high that your goals are unattainable, or you may end up disappointed in yourself for breaking them.
Expect to enjoy the year ahead. Look forward to the coming months, plan some things you'd like to do this year, make a list of things you'd like to accomplish, and stop looking backwards at the past. Spring and summer will soon be here –look forward to more sunshine and comfortable temperatures.
I'll end this article with a quote I use often, by Edward Stanley, "Those who think they have no time for bodily exercise will sooner or later have to find time for illness."
This February, we will offer free blood pressure and A1C Screenings for Heart Health Month at the ARC. For more information, visit como.gov/contacts/activityrecreation-center-arc
I wish you and yours happiness and health in 2023! By Jenny L Workman, Boone Health Community Wellness Manager
To learn more about Boone Health's Community Wellness including a calendar of free health screenings, visit boone.health/communitywellness
Boone.Health/My-Boone-Health 17
For more information about Corporate or Community Wellness services, email Jenny.Workman@boone.health
TO THE RESCUE THERAPY DOGS
Labrador Retriever Timbre brings comfort to the Boone Health Therapy Floor.
Dori Neumeier was sitting in the lounge area of the Therapy Floor when the elevators opened and out walked Timbre the therapy dog and his owner Tom Trabue. Dori felt all of her stress from the day melt away as Timbre came over and allowed her to pet him.
Dori had been hospitalized for over a week with congestive heart failure. She had been feeling weak, tired, and homesick. Little did Tom and Timbre know, Dori actually recently had to rehome her own beloved dogs to friends' homes because she was unable to care for them because of her ongoing health issues.
"When I saw Timbre I just had to pet him! I was so in need of petting a pup," says Dori.
Dori and Tom chatted and Tom told her about the therapy dog program at Boone Hospital Center. Timbre and Tom are just one of several teams that visit the hospital through the program. All Boone Hospital therapy dogs and their owners are certified and are a part of Therapy Dogs International (TDI). TDI is a volunteer organization that tests and registers dogs for the purpose of visiting hospitals and other care
18 BOONE HEALTH Winter 2023
Timbre visiting with patient Dori Neumeier on the therapy floor.
Timbre the therapy dog.
institutions. The dogs visit Boone Hospital patients and sometimes also come to staff events like Nurse's week or employee appreciation.
Timbre and Dori continued to visit and then Timbre did a lap
on the floor greeting patients and staff members. Timbre and Tom came by Dori's room to say goodbye and so Timbre could give Dori an extra snuggle before they left.
"It gave me just the oxytocin I needed. It totally lifted my spirits," says Dori.
Tom and his wife Kim have been volunteering with the therapy dog program for a few years now. They first just took Timbre to get some professional training when he was young and he did so well that his instructor recommended they look into him becoming a therapy dog.
"We love to help people so we decided to do it," says Tom.
In addition to visiting Boone Hospital, Timbre also visits family court, local schools, and area libraries through their Reading to Rover programs.
"I'm semi-retired, and so this is what I love doing. I love to see people's faces light up and see their smiles when they see Timbre," says Tom.
Boone Health Therapy Dog program coordinator Patsy Winn says the program has many benefits for both patients and staff.
"It can reduce stress and anxiety. It can provide companionship, especially to patients who are missing their own furry friends, and it can improve health both mentally and physically," says Patsy. By Madison Loethen
Boone.Health/My-Boone-Health 19
Timbre visiting with Nurses during Nurses Week.
Childbirth Gone Virtual
During the pandemic, Boone Family Birthplace reinvented their Family Life Education classes.
Boone Family Birthplace offers a Prepared Childbirth course as part of its Family Life Education program. Over several weekly sessions, the class provides detailed childbirth preparation in a small group setting, covering physical and emotional changes of pregnancy, the labor and birth process, Cesarean birth, pain management, and postpartum and newborn care.
In March 2020, classes had been cancelled to prevent the spread of COVID-19. But with no alternative option available, patients were reaching out to their doctors and nurses requesting information on the Prepared Childbirth class.
With the terrifying reality of a worldwide pandemic, there was an immediate need to replace an in-person education class for expecting parents with a virtual option, but what would that be and what would it look like?
Giving birth in a hospital can be a scary experience – even without giving birth during a pandemic.
Staff nurse Brandy Templeton, RN, RNC-OB, knew how important it was to make the hospital experience less scary for patients. A creative and innovative solution was needed – and quickly. Brandy took matters into her own hands and approached Boone Family Birthplace leadership with some new ways to continue to provide this valuable education to new and growing families.
One way to replace the in-person Prepared Childbirth Education class was to make videos of the birthing process at Boone Hospital. At the time, this information was not available on a virtual platform – in-person classes shared posters and videos during sessions, but had nothing that a patient could watch from the comfort of their own home.
Brandy worked with Jennifer Roelands, MD, and Leah Smith, MD, to create virtual birthing class videos covering patients' most common questions and concerns.
"These videos are short and concise. They offer answers to the top questions we hear in our birthing classes and show a consolidated tour of our birthing unit," says Brandy. "Being able to see where they will be giving birth even though we weren't able to have in person classes was very helpful to our families."
Video topics addressed questions including "What Happens in Labor," "What Are My Low Intervention Options," "Can I Move in Labor," "What If I Want a Natural Labor," "What About Pain Meds," "What Happens During Active Labor and Delivery," and "Do I Need a Birth Plan?"
While the videos eased some stress and worry for expecting parents, they couldn't completely replace what was lost when in-person classes were cancelled. At the beginning of 2022, virtual birthing classes using Microsoft Teams went live.
This allowed the educators and families to see and speak to each other even though they weren't in the same room.
Rebecca Romero-Perez, RN, Childbirth Educator, was instrumental in developing the virtual classes. Rebecca worked with Boone Health Information Technology to learn how to set up and run online sessions. The new virtual classes were publicized on the Boone Health website and to Women's Health Associates' patients.
The response was impressive. Mothers and couples from all over mid-Missouri signed up for classes through the website, but it didn't stop there; expectant parents from Illinois and Kansas signed up for the classes because their local hospitals weren't offering virtual education.
In May 2022, Family Life Education classes were able to meet in person again. In addition to Prepared Childbirth, Boone Family Birthplace also offers courses on Breastfeeding, Infant Safety and CPR, and a condensed version of the Prepared Childbirth class called Childbirth in a Day.
"It's great to be able to meet in person again, but I'm grateful that we were able to work together to continue providing this valuable education and offering reassurance to our new parents even with the pandemic restrictions in place," says Brandy. By Erin Wegner
Boone.Health/My-Boone-Health 21
Learn more about Family Life Education classes at www.boone.health/birthplace
BOONE BABIES
A BEGINNER'S GUIDE TO
INFANT MASSAGE
BY KATIE GOODLET, BOONE HEALTH PHYSICAL THERAPIST
Did you know that one of your baby's first senses to develop is touch? Your touch can be both calming and stimulating to your baby and create a positive interaction for both of you. Massage can help with stimulation, sensory input, brain development, bonding, weight gain, relaxation, reduced gas or intestinal pain, and behavior regulation. It also helps you to learn your infant's cues.
Massage should be done with your infant undressed so they can feel your touch on their skin. The room should be draft-free and warm enough to keep your
baby from getting cold – at least 75 degrees F. Your baby can also lay on a warm blanket.
If you choose to use oil for your massage, make sure it is an edible oil. Coconut oil is a good choice. To decrease the risk of allergic reactions or clogged pores, stay away from nut oils, baby oils, or mineral oil. It is typically best to avoid massage for 45 minutes after a feeding to reduce the chance of your infant spitting up.
When massaging your baby, start at the legs, followed by the tummy, chest, arms, face, and back. Here are some simple massage techniques.
22 BOONE HEALTH Winter 2023 BRINGING
UP
LEGS AND ARMS
• Indian Milking: Support baby's foot with one hand and wrap your other hand around baby's leg. Milk from the top of the thigh to the ankle.
• Squeeze and twist
• Small circles around the ankle and wrist bones
• Thumb over sole of foot or palm of hand
• Squeeze each toe or finger
• Swedish Milking: This is the same motion as Indian Milking but in the opposite direction. Support baby's foot with one hand and wrap your other hand around baby's leg. Milk from ankle to thigh.
TUMMY
Note: It is important to do tummy massage in a clockwise direction to follow the path of digestion.
• Water Wheel
• Sun Moon
• I Love You
CHEST
• Open Book
• Butterfly FACE
• Open Book
• Thumbs over eyes
• Push up on bridge of nose, down under eyes as you cross the cheeks
• Small circles around jaw
• Over ears and under chin
BACK
• Back and forth
• Swooping to bottom
• Swooping to ankles
• Small circles over back
Massage can become part of your daily routine. Paying attention to your baby's cues will let you know if they are ready for a massage. For example, after vaccinations, your baby may not want their legs rubbed. That's okay! You can skip that part of the massage. The important thing is to pay attention to your baby's cues and make the massage an enjoyable experience for both of you.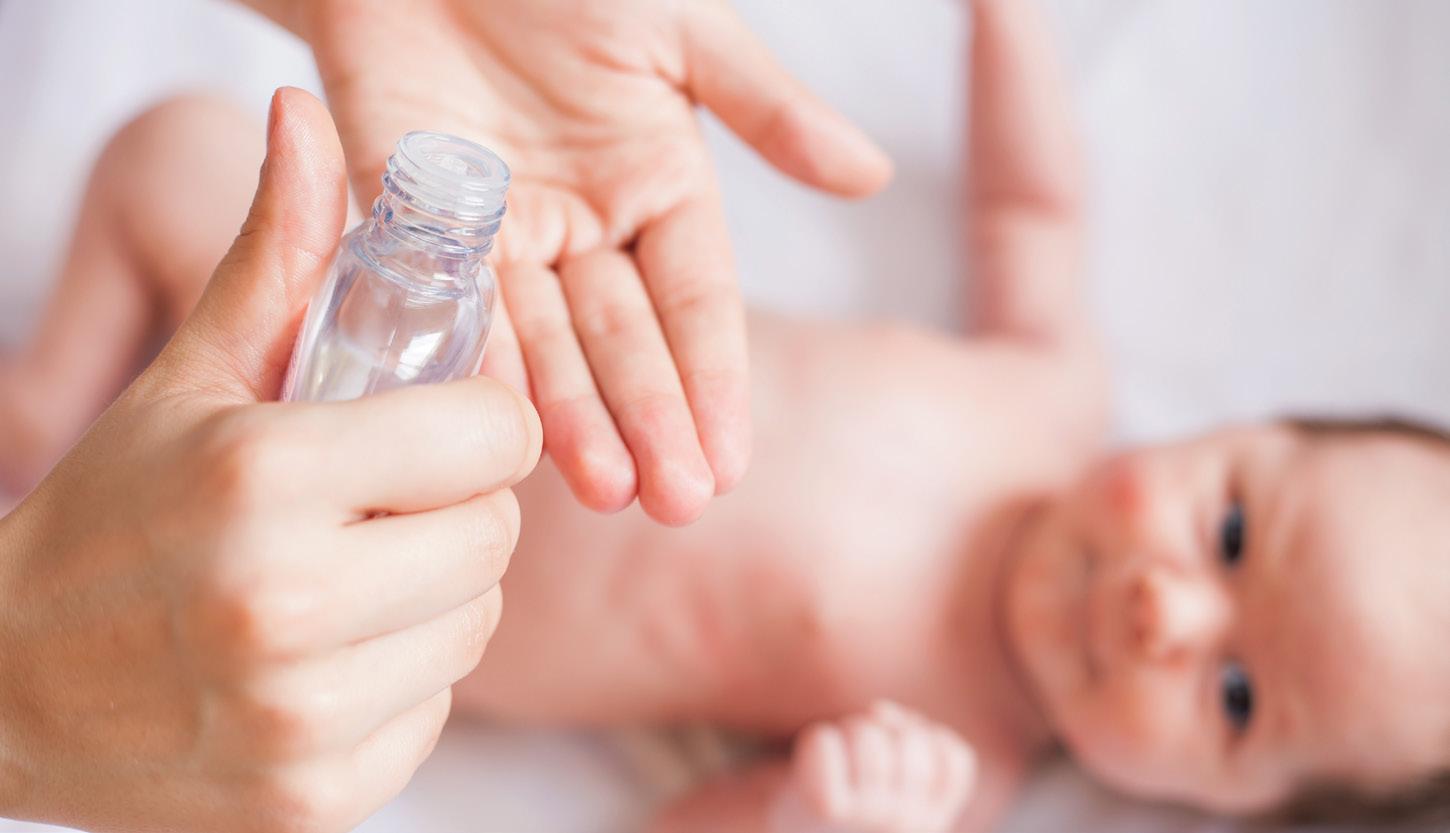 Boone.Health/My-Boone-Health 23
Video instructions on these massage strokes can be found on YouTube.
Ben Gerber, MD
General Surgery, Boone Medical Group Surgery
Igrew up in Mount Vernon, Iowa – a small town in eastern Iowa near Cedar Rapids and Iowa City. I graduated from Knox College in Galesburg, Ill. with a double major in Mathematics and Biochemistry with plans to be a laboratory scientist. I worked at Washington University in St. Louis for 7 years as a researcher, but I changed direction and decided to pursue medical education. I went to University of Missouri Medical School in Columbia. I graduated in 2011 and met my wife at MU that year. We went out east for Surgery Residency in Wilmington, NC. My wife and I were married during our first year of residency, and we have two children.
Why did you get into the health care field? After working for several years in a laboratory, I found that I need my work to help people in a more direct way. Healthcare allows me to use my science background and my technical skills in direct service of a person every day.
What interested you in your particular specialty? Surgery is so compelling to me because it allows me to not only diagnose a patient's problem and then propose a treatment, but I am also the person who performs the required treatment. Furthermore, how well the treatment is performed is critically important in surgery. It appeals to me that doing my work with true excellence makes a difference for my patient every time.
What is the most rewarding part of your job? It is extremely rewarding to cure a disease. In this regard, I consider surgery to be especially privileged in this regard, because surgeons cure many of the problems we care for. Patients with a hernia, gallstones, appendicitis, some kinds of cancer, or GERD can all be cured with quality surgery. When I get to cure someone, that is particularly rewarding.
What is the most challenging aspect of your job? Sometimes a patient will be in a situation where all the options are bad. Helping patients and families navigate through these situations can be very challenging but also rewarding.
What do you see changing in health care in the next 5 to 10 years? The ongoing gradual trend in consolidation of healthcare into large health systems will probably continue. Ideally these consolidated health systems will capitalize on opportunities to collaborate more effectively on behalf of our patients.
What advice would you give someone looking to become a doctor? You don't have to be straight out of college to go into medicine. Also, any aspiring physician needs to take the initiative without the fear of failure as much as possible while in training. Medicine isn't taught, it's learned from making mistakes and experiencing failures. A good student will make many mistakes while their teachers are available to guide them and less so when they are out in practice.
What do you enjoy doing outside of work? My wife and I have a busy family life with two children who have very active schedules. I enjoy being a dad and husband.
What advice would you give to someone who is going to be a patient in a hospital for a period of time?I suggest people bring their own pillow and a robe to wear. The hospital can be a bit undignified and having a couple small home comforts can help keep a person grounded.
24 BOONE HEALTH Winter 2023
GETTING TO KNOW A BHC DOCTOR
Tonya Linthacum, FNP-BC
Family Nurse Practitioner - Surgical Specialty High Risk Breast Clinic
Igrew up in Macon, Mo., home of the Macon Tigers, and went to the University of Missouri for my bachelors and master's degrees in nursing – once a Tiger, always a Tiger! My husband, Mike, and I both are nurses and met many years ago at the University Hospital where we both were working. We are also farmers: Our family farm is in Bethany, Mo. where my husband plants corn and soybeans. We live north of Columbia, out in the country, and have a small cattle herd and three dogs. They keep us busy! We have two hardworking boys, one of whom will graduate from Mizzou this year, and another who is a traveling welder.
Why did you get into the health care field? When I was a child, my younger sister developed brain cancer. I recall going to many doctor appointments and spending time in hospitals with her. Through those experiences, I became interested in health care and wanted to grow up to make a difference!
What interested you in your particular specialty? I have been a Nurse Practitioner for 23 years specializing in women's health, cancer screening, and preventative care. Joining the HighRisk Breast Clinic at Boone Health is a natural progression in my career and a way to continue to serve my patients. I like knowing that I can help women be healthy, educated, and empowered to make the best decisions for their health.
What is the most rewarding part of your job? During my career, I have had many amazing opportunities to make a difference with patients, other health care professionals, and several leading cancer organizations at the local, state, and national levels. It is encouraging and gratifying to be a part of the big picture. All of us combine talents, expertise, and perspectives to work together to impact cancer care, with cancer awareness and early detection as my primary focus.
One of the things I enjoy and am most proud of in my career is using my knowledge and influence to propel others to live their best lives. Whether it's encouraging a young person to go for a degree in nursing, advising a peer to be confident and go after that promotion, or teaching my patient how to do breast exams and making lifestyle changes to be healthier, my goal is to be a positive influence.
What is the most challenging aspect of your job? It is a challenging time to be in health care. We have a shortage of nurses, insurance companies are more difficult to work with, and
sometimes needed supplies are delayed. These issues make our dayto-day jobs and duties more difficult to do.
What has changed in your field since you started practicing? In my early days as a nurse, we focused on treating a disease process. Today we focus on preventing the disease from happening, which I think is a great thing! We also have many more nurse practitioners in our communities than when I first started my career – another great thing!
What do you see changing in the next 5 to 10 years? I think in the future, preventative health in the school systems, the workplace, our health care systems, and the government will become the fundamental goal and primary objective. Won't that be great when we can prevent cancer from happening in the first place?
What do you enjoy doing outside of work? We enjoy the outdoors, gardening, and camping. My boys ride dirt bikes, and we like to follow them on their wild adventures.
What advice would you give someone looking to become a nurse? Nursing is a great career choice with so many different roles and paths to chose from. I encourage young people who have a passion for helping others to consider a career in nursing. Go for it, it will serve you well in your life!
Boone.Health/My-Boone-Health 25 GETTING TO KNOW A BHC NURSE
Stress & Weight Management
Stress and weight management are intertwined. While your appetite may decline during episodes of acute stress, chronic stress – whether psychological or physical – often results in an increased appetite. There are many reasons that people turn to food when stressed and physiological explanations as to why we eat more and crave specific foods when we experience chronic stress.
Fight or Flight Response
When faced with a stressor, our body's primal response is either fight or flight. Regardless of whether we choose to fight the danger or to run away, the body needs a surge of energy. The quickest source of energy is always simple carbohydrates because these starches are digested quickly. Typically, stress eating cravings revolve around simple carbohydrates like chips, desserts, or pasta. In addition to carbohydrate cravings, the body's push for increased energy increases our overall appetite.
Higher Glucocorticoids
During stressful situations, a cascade of hormones is released. One hormone that increases is glucocorticoids. Elevated levels of glucocorticoids have been shown to promote muscle loss and increase fat mass, especially in the abdominal area. This change in body composition is not desired, because a loss in muscle mass will decrease our basal metabolism and make long-term weight management difficult.
Lower Compliance
When faced with stressful situations, compliance – following a balanced diet and exercise routine – can be difficult. People who have high stress levels have been shown to have lower compliance with healthy lifestyle habits.
Changes in Brain Chemistry
During periods of chronic stress, the frontal region of the brain, which plays a role in problem solving and logical thinking, can shut down. The amygdala, which regulates emotions, takes an increased role in decision making, increasing our attraction towards high-calorie foods.
If stress eating and subsequent weight gain are physiologically driven, how do we combat it? Stress may not be completely preventable, but there are ways you can limit its effects.
• Do not eat out of a container. Put ice cream or snacks in a small bowl first.
• Eat at the table. Take small bites. Savor each bite, taking time, chewing well. Pause between each bite. A small portion eaten mindfully will provide the same satisfaction as a large portion eaten quickly.
• Choosing a "healthier" or lower-calorie option may not always be the best plan. When we consume what are called "placebo foods" to try and satisfy a craving, it can backfire – eating a chocolate rice cake won't be satisfying when we really want a Hershey bar. We will instead eat more rice cakes or other foods, eventually consuming more calories than if we had initially grabbed the chocolate. Find a compromise: eat the Hershey bar, but eat only half, and eat it mindfully to get full satisfaction.
If you'd like one-on-one support for making healthier choices, Boone Health's experienced medical weight management team can help you reach your goals. By Jennifer Tveitnes, RD, LD
Boone.Health/My-Boone-Health 27
For more information on Bariatric Services, visit boone.health/bariatrics or call 573-815-6447.
Staying Active Can Be Simple
When winter comes, we might prefer to stay home away from cold weather, but we can still stay active! Even simple exercises can o er bene ts.
Regular physical activity o ers numerous health bene ts including regulating blood pressure, managing anxiety and depression, and preventing weight gain. Strength training can improve your ability to do everyday activities and your quality of life. Stretching can improve your performance in physical activities, decrease your risk of injuries, and help your joints maintain a full range of motion. Balance training challenges your body to maintain proper postural control in di erent conditions.
Start these exercises with a lower number of repetitions or shorter duration and increase over time. You may feel some muscle soreness after doing these exercises, but if you feel pain or other problems during a particular exercise, stop immediately. If pain persists, please contact your primary care provider. By Shi Yan, Boone Health Outpatient Physical erapy student
Single
Limb Stance
Improves balance and stability.
Stand tall on one leg, with your weight distributed evenly on your foot and your toes pointing forwards. Use your arms for balance or hold onto a support if needed. Hold for 30 seconds. Do 4 sets, holding for 30 seconds on each leg, 1 to 2 times a day.
If this position is too difficult, place right foot in front of the left foot, with the right heel touching the toes of the left foot. (Keep your feet slightly staggered if you can't bring them this close together.)
Swiss Ball Trunk
Stretch Increases flexibility of your lower back.
Sit at the edge of a table or bed, roll the exercise or swiss ball to the front. When you feel a stretch, hold for 10 seconds, then slowly return. Repeat 3 sets, 1 to 2 times a day.
If you don't have an exercise ball, you can use a rolling chair for this exercise.
Did you know? The inability to hold a single limb stance for 5 seconds is a strong predicator of falls.
28 BOONE HEALTH Winter 2023
For more information on Therapy Services, visit boone.health/therapy-services or call 573-815-3868
Iliotibial Band Stretch
Increases the flexibility of your iliotibial band, which runs down the outer thigh from hip to knee.
Lie on your back. Wrap a strap or belt around your foot. Pull your leg up, keeping your knee locked out straight. When it starts to feel tight, pull your leg across your body until you feel a stretch on the outside of your leg. Do not force any further range – once you feel the stretch, hold it for 30 seconds. Repeat on opposite side. Do 2 to 3 sets, 1 to 2 times a day.
Standing Hip Extension Strengthens gluteus maximus muscle
Stand straight and hold on to a support. Lift your leg backwards. As you lift, keep your torso straight – don't arch your back or lean forward. Do 2 sets of 10 repetitions on each side, 1 to 2 times a day.
Sitting Scapular Squeeze Corrects shoulder posture while seated
Stand or sit with your arms at your sides. Gently squeeze shoulder blades together. Hold for 5 to 10 seconds. Do a set of 10 reps 1 to 2 times a day.
Clamshell Strengthens the gluteal muscles
Lie on your side with your knees bent. Gently pull in your lower stomach. Lift your top knee as far as you can without letting your body rotate forward or back – don't turn at your waist. Keep your feet together during the exercise. Do 2 sets of 10 repetitions, 1 to 2 times a day.
Boone.Health/My-Boone-Health 29
.
The Boone Hospital Foundation's in-person gala returned on October 28, 2022, at The Country Club of Missouri. It was a great night of fellowship and raising funds to continue to provide services and enhancements to patient care at Boone Hospital Center. We'd like to thank our corporate sponsors and all our attendees.
30 BOONE HEALTH Winter 2023 FOUNDATION NEWS
Thank you to our sponsors for supporting this event.
Presenting Sponsor:
Troy Greer & Emily Weisensee
Michael & Jessie Huber
Dr. Roller & Corey Hardin
May 8, 2023 at The Club at Old Hawthorne
Board Members
Leadership
Board President: Betsy Vicente
Board Vice-President: Dr. James Roller
Board Secretary: Sara Jeffrey
Board Treasurer: Paul Mehrle Representatives
Board of Trustees Representative: Jan Beckett
Board of Trustees Representative: Randy Morrow
Boone Health Representative: Drew Wilkinson
Active Boone Physician Representative: Dr. Joss Fernandez
Community Members
Wally Bley
Arlene Heins
Genie Rogers Jolene Schulz
Larry Swindle
Nancy Thomas Becky Willard
Boone.Health/My-Boone-Health 31
Sales
2023 CALENDAR OF EVENTS 2023 Scrubs on Site
February 8-9 April 19-20 July 26-27 November 1-2
SAVE THE DATE 20th Annual BHF Golf Classic
Boone Hospital Center 1600 East Broadway Columbia, MO 65201 573-815-8000 NONPROFIT U.S. POSTAGE PAID COLUMBIA, MO PERMIT 286 M O L L Y S M I L E S R U N . C O M M O L L Y S M I L E S R U N . C O M P R O C E E D S B E N E F I T M I S S O U R I C O , P S R E G I S T E R T O D A Y REMEMBERING THE FALLEN. HONORING THE SURVIVORS. 900 W. NIFONG BLVD. I COLUMBIA I 8 A.M. SATURDAY, APRIL 29, 2023 MOLLY'S MILES MOLLY'S MILES F L E E T F E E T C O L U M B I A P R E S E N T S 5K/10K