"In these extraordinary times, AR Homes Monterey Bay has curated the perfect blend of passion, experience and insight to help each client design, build and live in their dream home. Our architectural design and building teams, along with our in-house design studio create a seamless process, allowing us to navigate the unexpected and unplanned events of building luxury homes. We look forward to helping you find the perfect property, build on your current lot or choose one of our many available home sites throughout the Triangle. Please visit our 2022 Triangle Parade of Homes model home, open 7 days a week, as well as by appointment. Extraordinary Luxury Homes for Extraordinary Times 919.277.9921 | arhomes-raleigh.com | Model address: 10329 Grafton Road, Raleigh
September/October department stories focus on the North Carolina Museum of Art's reinstallation of "The People's Collection" (page 106), Western North Carolina's Blue Ridge Craft Trails (page 110), cult punk rock band Electric Frankenstein (page 114), a sixth-generation heirloom tomato farmer in Knightdale (page 118), everything you need to know about creating your own in-house cottage bakery (page 122) and a visit to Zayka Indian Cuisine (page 126). Plus, don't miss our annual Meet the Doctors special advertising section, which starts on page 83.
Our fall issue wouldn't be complete without a paranormal perspective on some of Raleigh's most historical figures and events. "Capital City Ghosts" on page 74 explores the stories behind 10 of our city's most haunted locations. (By the way, our October "Talk of the Triangle" podcast expands on these ghostly tales via conversations with four of the storytellers featured in this article.)
Our annual fall fashion issue is here, and stylist Sofia Lujan has done it again! Her elegant ensembles reflect the latest fall trends—while accommodating our need here in the South to create a wardrobe that transitions from sultry September days to wintry December blasts. In "Bend the Rules, Blend the Styles" on page 28, discover eight outfits that work for any occasion— busy workdays, dinner at your favorite restaurant or a stroll through downtown Raleigh. Each arrangement is exquisitely accessorized by Bailey's Fine Jewelry. We're also serving up some sweet food and beverage content in this issue.
I continue to feel great pride in each issue our dedicated staff, writers and photographers create for you. We work hard to deliver exclusive content that we hope enriches your life. Please keep sending your story ideas our way, and thank you for your loyalty!
"Confection Affection" on page 40 spotlights a Raleigh-based TikTok influencer with a passion for finding and eating the Triangle's most interesting desserts, along with six confectioners who are creating the most delectable treats you can imagine. From cotton candy macarons and coconut cream popcorn, to pecan crisp cookies and Belgian chocolate strawberry jam, you'll want to try it all! Take your tastebuds on a tour of a different sort in "Whiskey Business" on page 46. Explore the world of crafting bourbon, gin, vodka, rum, whiskey, amaro and other botanical-based spirits, and find out how local distillers' tasting rooms are making a unique impact in each of their areas of expertise.
Photo by MASH Photography
8 | midtownmag.com
"Pumpkin Patches, Autumn Festivals, Haunted Adventures and More" on page 62 is your one-stop shop for where to find fall fun in Raleigh and beyond. (Check out our sister magazine, Cary Living, for fall fun events and activites in the Western Wake area.)
EDITOR'S LETTER Beth Shugg, Editor
Food does not come easily for 1.6 million food-insecure North Carolinians who struggle to find the meals they need each day, but farmers and hunger relief agencies are working together to provide them with produce, eggs and dairy products. Read "From Fields to Food Pantries" on page 56 to find out how they are accomplishing this important mission.
There are many ways to fill up your calendar with seasonal activities this time of year.
Long before North Carolina State University and pro football stars Torry and Terrence Holt retired from the game, they began orchestrating their second act: turning their childhood challenges into a cause. Learn more about the good work they continue to do in "Building Beyond Football" on page 68.
Midtown magazine will not knowingly accept any real estate advertising in violation of U.S. equal opportunity law.
Midtown magazine is published six times annually. Any reproduction in part or in whole of any part of this publication is prohibited without the express written consent of the publisher. Copyright 2022. All rights reserved. Midtown magazine is not responsible for unsolicited manuscripts, photography or art. Unsolicited material is welcome and is considered intended for publication. Such material becomes the property of the magazine and is subject to editing.
PUBLISHER Ronny Stephens EXECUTIVE EDITOR Beth Shugg ART AND WEB DIRECTOR Sean Byrne GRAPHIC DESIGNER Dathan Kazsuk GRAPHIC DESIGNER AND COPY EDITOR Cindy Huntley CONTRIBUTING EDITOR Janice Lewine SOCIAL MEDIA AND COMMUNITYMANAGERENGAGEMENT Melissa Wistehuff ACCOUNT EXECUTIVES Sherry StefanieBraswellMcClary DISTRIBUTION Joe Lizana, DistribuTech.netManager CONTRIBUTINGWRITERS Elizabeth Brignac, Frances Deese, Kurt Dusterberg, Katie Jansen, Janice Lewine, Elizabeth Lincicome, Deanna Martinez-Bey, Bryan C. Reed, Charlotte Russell, Katelyn Rutt, Caitlin Wheeler, Melissa Wistehuff PHOTOGRAPHERSCONTRIBUTING Bruce DeBoer, MASH Photography, Jenny Midgley, New Depth Creations, Peyton Sickles
10 | midtownmag.com
SUBSCRIPTIONS 6 print issues (1 year) Available online at midtownmag.com 4818-204 Six Forks Road Raleigh, NC 27609 Phone: 919.782.4710 Fax: 919.782.4763
Sofia Lujan Styling, Kathleen Holmes wears a black pleated dress and Western-style booties from Arrow Tree Boutique, a rhinestone fringe faux leather jacket from Enchanted on Main Boutique, and jewelry from Bailey's Fine Jewelry. Her handbag was provided by Rangoni Firenze. Her hair and makeup were done by Bebe Ellis Salon. This photo was taken at Fenton in Cary by MASH Photography. 40 28 46 68 SEPTEMBER/OCTOBER 2022
12 | midtownmag.com FEATURES 28 BEND THE RULES, BLEND THE STYLES Transitional trends are a must for Southern fall fashion 40 AFFECTIONCONFECTION Surrender to your sweet tooth at one of these sweet spots 46 WHISKEY BUSINESS Explore distillery tasting rooms across the Triangle 56 FROM FIELDS TO FOOD PANTRIES Growers and volunteers move produce into food boxes 62 PUMPKIN PATCHES, AUTUMN FESTIVALS AND ADVENTURESHAUNTED Where to find fall fun in Raleigh and beyond 68 BUILDING FOOTBALLBEYOND Terrence and Torry Holt's accomplishments aren't limited to the football field 74 CAPITAL CITY GHOSTS Explore Raleigh's 10 most haunted places CONTENTS
COVER In an
ON THE outfit by
styled
14 | midtownmag.com DEPARTMENTS 106 ART The "People's Collection, Reimagined" 110 TRAVEL The Blue Ridge Craft Trails 114 MUSIC Sal Canzonieri and Electric Frankenstein 118 COMMUNITY Gerald and Henry's Plants 122 FOOD Create a Certified Cottage Bakery 126 CHEF'S TABLE Zayka Indian Cuisine IN ISSUEEVERY 18 ON THE SCENE Social Scene Talk of the Triangle New Around Town Home Styler Sister Cities 130 OUT + ABOUT Dine + Draft Tastes of the City Foodie Focus MidtownEvents KaleidoscopeMingles CONTENTS SEPTEMBER/OCTOBER 2022 SPONSORED CONTENT 83 MEET THE DOCTORS 106114 110122 126
RALEIGH... 919.747.9698 | 7101 CREEDMOOR ROAD, SUITE 123, RALEIGH | TOLLEYFINANCIALGROUP.COM Text "Raleigh Retires" to 919.747.9698. Scan the QR code to meet Jacob. JACOB TOLLEY LET'S TALK. TOLLEY FINANCIAL GROUP is a locally-owned investment advisory practice specializing in 401(k) PLANS and serving as a FIDUCIARY to BUSINESS OWNERS , EMPLOYEES , RETIREES and FAMILIES . Investing involves risks, including the potential for loss of principal. There is no guarantee that any investment plan or strategy will be successful.
TreeRunner Adventure Park is a daredevil's paradise, with high-flying—and high walking—obstacles. With varying degrees of difficulty, even those who prefer to stay at ground level will find something adventurous to do.
Each July, the sunflower field at Dorothea Dix Park welcomes visitors who want to relax in the hammocks, take selfies with a stunning backdrop or simply take in the awe-inspiring beauty.
Howling Cow Dairy Education Center and Creamery is the perfect destination for a hot, sunny afternoon— especially if it happens to be National Ice Cream Day.
18 | midtownmag.com
ON THE SCENE SOCIAL SCENE TEXT & PHOTOS BY MELISSA WISTEHUFF
Less than an hour's drive from Raleigh, Lions Water Adventure in Kinston is the perfect place to spend a hot day, ensuring lots of laughter, plenty of thrills and worn-out kids.
Dram & Draught General Manager Duke Campbell serves up cocktails during downtown Raleigh bar's party.
SEPTEMBER/OCTOBER 2022 | 19 Elvis has left the building—the Alamo Drafthouse Cinema building, that is— after a screening of the film adaptation about his namesake.
refreshing
the
summer menu release
Photo by Beth Shugg
ALIGN YOURSELF WITH HEALTH AcupunctureChiropracticWeightLoss Dr. Sarah Hayes, DC ⅼ Dr. Sophia Myers, DC, FASA 5041 Six Forks Road, Raleigh 919.786.9996 ⅼ carechiropracticrdu.com AWARDDIAMOND2022 BEST CHIROPRACTOR
hear
@preciouspearl326 Are
@coquetteraleigh Culver's
ALSO, OF THE TRIANGLE" EPISODES.
INTRODUCING MEDIA POSTS!
PODCAST
Photo by Jenny Midgley
@cindy_louhou
A BRAND-NEW PAGE FEATURING YOUR COMMENTS ON OUR SOCIAL
Clapping
All photos by Melissa Wistehuff unless otherwise noted First time coming youdoorWhen#nationalfrenchfryday!what@cloosconeyisland,toandbetterdaythanonthelineisoutoftheandalltablesarefull,knowit'sgonnabegood. the BEST! Love Cloos!!! Happy National French Fry Day! Places like @mcdonalds, @wendys and @sonicdrivein are offering free fries today. Tell us: Where are the BEST fries in the Triangle? Drool-worthy pic of @buenapapfrybar in PapaPhoto@morganstreetfoodhall.courtesyofBeunaFryBar. Hands fries! we the last ones to that @ncstatehowlingcow has cow patty ice cream sandwiches? That looks delicious. @robinwarz.interiors Yum!! @winstongrille
IratheDavidalongsideasproductiontheEvanHollywood—news!theater—andRachelWoodjoins@theatreintheparkof"TheFather"Anne.Shewillstarherfather,IraWoodIII@idw,underdirectionofherbrother,DavidWoodIV.
ON THE SCENE TALK OF THE TRIANGLE
Happy & exciting news! Tickets purchased. @candacecov18 So excited! I have long been a fan of hers, and I already bought a ticket to the show without even knowing this. @jlzdrok Have you heard the buzz about our brandnew "Talk of the Triangle" podcast? Available wherever you download podcasts, you can now listen to our first three episodes: "The Bees-ness of Pollen in the Triangle" "RV "BaseballLife" Card Comeback"
It's
Coming up: Meet an Italian cuisine chef and learn about the art of distilling bourbon in September, and listen to local ghost stories in October. You won't want to miss one second of these conversations! Each episode drops the first Tuesday of the month. Listen to them one at a time, or binge them all at once! Either way, you'll be glad you tuned in. Learn more at midtownmag.com/podcast. Social With Us! midtownmag.com @ midtownmagazine @ midtownmag @ midtownmagazine
@lisa_gordon1112
Exciting
Get
CHECK OUT A SUMMARY OF OUR LATEST "TALK
In this behind-the-scenes peek at the creation of our first podcast episode, co-hosts Adam Cave and Melissa Wistehuff (left) listen as Heather Rollins (right) of Fairview Garden Center discusses pollinator plants.
20 | midtownmag.com
CHRISTOPHER J. MOREA, MD 919.845.78807700LEADMINE ROAD • RALEIGH, NC 27615
BROOKSIDE BODEGA SERVES UP SCRATCH-MADE DISHES IN RALEIGH
Tiff's Treats, a warm-cookie delivery company, has launched its first Triangle location at 421 Daniels Street in Raleigh. Among its 11 cookie flavors are chocolate chip, snickerdoodle, oatmeal raisin, peanut butter and a flavor of the month. Tiff's Treats also bakes brownies and other treats, and offers cold milk, ice cream and Frost 'Ems Frosting Cups pairing options. 421 Daniels Street, Raleigh cookiedelivery.com
PHOTO COURTESY OF TIFF'S TREATS
PETFOLK OFFERS CONVENIENT PET CARE IN RALEIGH
PHOTO COURTESY OF PETFOLK
22 | midtownmag.com
CODE ZONE BRINGS CODING CAMPS AND CLASSES TO RALEIGH
Ignite your child's passion for coding at Code Zone, a locally owned business that recently launched in Raleigh. Code Zone offers unique coding and STEAM (science, technology, engineering, arts and mathematics) classes such as App Design Basics, Java, Sphero courses and more with seasoned teachers. Summer day camps and track-out camps are available. Code Zone also serves adult learners and offers professional learning for educators. 10251 Little Brier Creek Lane, #107, 919.307.6133Raleigh codezone.it
PHOTO COURTESY OF CODE ZONE
TIFF'S TREATS OPENS IN RALEIGH'S VILLAGE DISTRICT
BY JANICE LEWINE
Brookside Bodega, the newest creation of restaurant veterans Jacob Paramo, Lee Robinson and Darrell Brown, celebrated its grand opening June 10 in the Shoppes at Brookside, located between Raleigh's Oakwood and Mordecai neighborhoods. The restaurant's menu is loosely inspired by New York bodegas—which are small convenience stores—and features dishes like the spicy Nashville chicken sandwich, New York chopped cheese sandwich, Birria taco plate and guacamole, and a variety of vegetarian fare. The space can seat 100 people indoors and 120 on the patio, and is open seven days a week. Brookside Bodega also sells beer, wine, ice cream and a small selection of groceries, including milk, eggs, juice and paper products. 1000 Brookside Drive, Suite 119, Raleigh 919.977.9004 brooksidebodega.com
Founded and led by expert veterinarians, Petfolk puts canines and felines at the center of exceptional veterinary care. Petfolk, which recently opened a location on August 15 in Midtown Raleigh, offers scheduled on-site visits, same-day appointments, urgent care, virtual care and mobile pet care centers. 631 E. Six Forks Road, Suite 101, Raleigh 888.509.0960 petfolk.com
ON THE SCENE NEW AROUND TOWN
PHOTO COURTESY OF BROOKSIDE BODEGA
Photos provided by vendors unless otherwise noted COLORFUL KITCHENS No matter how much care we put into decorating our homes, family and guests alike gravitate toward the kitchen. Why not give it the same classy touches as the rest of your home's rooms? Present meals with a whimsical tray, or accent your space with colorful tablecloths and refreshing greenery. PHOTO BY JENNY MIDGLEY OUT & ABOUT HOME STYLER PHOTO BY JENNY MIDGLEY 3 5 1 2 4 1. Preserved moss in a handmade trough, $225 | City Garden Design 2. Colorful folk fish tablecloth by Durham's Spoonflower (70" square), $99 | NOFO @ the Pig 3. Rifle Paper Co. round tray, $48 | Stylish Living 4. Teal gurgle pot fish pitcher, $39.95 | NOFO @ the Pig 5. Wharton counter stool in distressed brown, $637 | Steven Shell Living 6. Wax wraps (set of 3), $19.95 | Inspirations Home Decor & More PHOTO BY JENNY MIDGLEY 6
24 | midtownmag.com
BY KURT DUSTERBERG
BRUNSWICK TOWN
26 | midtownmag.com
The first successful European settlement built along the Cape Fear River, Brunswick Town served as a thriving port city from 1726–1776. Located near a deeper channel of water than what Wilmington's port offered, Brunswick Town was able to accommodate the passage of larger ships. This attracted two successive royal governors—Arthur Dobbs and William Tryon—making it the first de facto capital of the colony of North Carolina.
ON THE SCENE SISTER CITIES
BY
One of North Carolina's oldest towns, Wilmington is also said to be one of America's most haunted. As the site of a Revolutionary War campaign and Civil War battle—as well as the slave industry and pirate shenanigans—the town's storied history makes it a haven for paranormal activity. One mysterious apparition surrounds the battleship USS North Carolina. Sent to the Pacific soon after the attack on Pearl Harbor, it took part in every major naval offensive for six years, earning an astonishing 15 battle stars. Throughout its years at sea, 10 of its soldiers were killed in action, including five who were killed in a Japanese torpedo Decommissionedattack.in1947, the battleship was permanently moored across the riverfront of Wilmington in 1961. Ships that no longer have crew are known as "ghost ships," though the USS North Carolina takes that term to a new level, since there are numerous reports of paranormal encounters and unexplained occurrences, such as ghostly faces peering from portholes and footsteps in empty hallways. Tales of these spirited sailors add to the one-quarter million visitors the ship attracts annually. North Carolina ghost town and haunted battleship MELISSA WISTEHUFF
Nearly a decade before the Boston Tea Party in 1773, Brunswick Town colonists challenged the King's tax stamps, revealing early indications of a revolt against England. Historians believe it was the rebellion of the Brunswick Town colonists, as well as their valuable port, that led to the town's irrecoverable destruction by the British army in 1776 during the Revolutionary War. Many residents had already left town upon hearing rumors of an imminent British attack—some heading to Wilmington and others relocating to New Bern, where Governor Tryon had built Tryon Palace in 1767.
PHOTOS COURTESY OF THE NORTH CAROLINA DEPARTMENT OF NATURAL AND CULTURAL RESOURCES
WILMINGTON
PHOTOS COURTESY OF FRENCH WEST VAUGHAN GHOSTLY GLIMPSES Explore a
Today, remnants of stone foundations and brick walls hint at how the town once looked, and stories of colonial and Revolutionary War ghosts haunting this lost city remain.
BENDTHE RULES,
Stylist Sofia Lujan blended these trends into eight outfits that work for any occasion—a casual outing, professional meeting, dinner party or downtown excursion. Studded boots with a rhinestone jacket over your favorite black dress create the perfect look for a night out on the town. A patterned lightweight jacket, sheer blouse and faux leather miniskirt facilitate an effortless transition from board meeting to happy hour. Animal print—or actual animals—on jackets and button-downs make a statement in the Layeredoffice.jewelry, vintage rings and chain links—whether in the form of a necklace or purse strap—add glimmer and shine to your favorite fall ensemble. Anything goes—with a touch of restraint. Bend and blend the rules to achieve the autumn looks that work for you.
W 28 | midtownmag.com
hen it comes to fall fashion in the South, transition is the name of the game. September is hot down here, y'all. We're talking 85-degree days through the end of the month. While our New England friends are unboxing Fair Isle sweaters and L.L.Bean boots, we North Carolinians opt for lightweight knit tops with sheer sleeves or thin jackets over bohemian dresses to achieve a layered autumnal look tolerant of the sultry heat. (And yes, sandals are still acceptable in September!)
Temps start to drop in October, when knee-high boots paired with miniskirts wrap legs in fashionable warmth. Oversized vests and sherpa sweaters warm up maxi skirts and lycra leggings as November approaches. We can finally dust off our leather jackets as the holidays arrive in December. But fall trends still apply. To make it work, we have to bend and blend! This fall, Harper's Bazaar, Cosmopolitan, Vogue and InStyle harken the return of staples like white tanks, classic blazers, baggy trousers and wide-legged jeans. Trench coats, bomber jackets, miniskirts and head-to-toe leather are also making a comeback. The coveted little black dress remains timeless. Black, in fact, is back in all your favorite formats, while caramel and hot pink are also turning heads this fall. Metallic boots, sequins and rhinestones add zing to stately ensembles.
WRITTEN BY BETH SHUGG PHOTOS BY MASH BEBEHAIRSTYLINGPHOTOGRAPHYBYSOFIALUJAN+MAKEUPBYELLISSALON KATHLEEN IS WEARING A BLACK PLEATED DRESS AND TAUPE STUDDED WESTERN-STYLE BOOTIES FROM ARROW TREE BOUTIQUE; A RHINESTONE FRINGE FAUX LEATHER JACKET FROM ENCHANTED ON MAIN BOUTIQUE; AND A CHAIN BELT PROVIDED BY STYLIST SOFIA LUJAN. SHE IS CARRYING A WHITE LEATHER CUOIERIA FIORENTINA HANDBAG FROM RANGONI FIRENZE. SHE IS WEARING A DIAMOND NECKLACE; WHITE GOLD BANGLES, BRACELETS AND HOOPS; AND A DIAMOND RING AND "BIG GIRL X-RING" FROM BAILEY'S FINE JEWELRY. BLENDTHESTYLESTRANSITIONALTRENDSAREAMODERNMUSTFORSOUTHERNFALLFASHION SEPTEMBER/OCTOBER 2022 | 29
KATIE IS WEARING A NUDE BLAZER, LEOPARD PRINT BLOUSE, JEANS WITH FRINGE AND CHOCOLATE BROWN BOOTIES FROM ARROW TREE BOUTIQUE. SHE IS CARRYING A BROWN LEATHER PRINT RIONI "KEIRA" HANDBAG FROM RANGONI FIRENZE. SHE IS WEARING ELIZABETH LOCKE YELLOW GOLD NECKLACES, BRACELETS AND EARRING PENDANTS; AND YELLOW GOLD WIDE OPEN, BEADED, DOUBLE-ROW WIRE AND OPEN CLAW RINGS FROM BAILEY'S FINE JEWELRY. 30 | midtownmag.com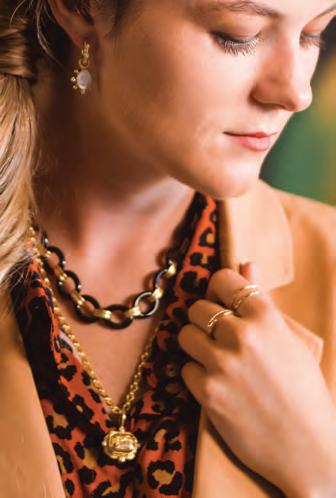 JULIA IS WEARING A SATIN LEOPARD PRINTED BLOUSE, GRAPHIC T-SHIRT, CROPPED DARK JEANS AND MILITARY GREEN COMBAT BOOTS FROM ARROW TREE BOUTIQUE. SHE IS CARRYING A MILITARY GREEN LEATHER CUOIERIA FIORENTINA HANDBAG FROM RANGONI FIRENZE. SHE IS WEARING A PEAR-SHAPED DIAMOND NECKLACE; A CLUB COLLECTION DIAMOND TENNIS CHOKER, CROSS PENDENT, BRACELET, BANGLES AND HOOPS; A BEZEL BANGLE; A GEOMETRIC FILLIGREE SOLITAIRE RING; A BICOLOR GOLD AND EMERALD RING; AND AN ICON COLLECTION "WEAVER" RING FROM BAILEY'S FINE JEWELRY. SEPTEMBER/OCTOBER 2022 | 31
JULIA (CENTER) IS WEARING A CREAM V-NECK SWEATER DRESS FROM KOKET BOUTIQUE, TEAL WOVEN VEST COAT FROM ARROW TREE BOUTIQUE AND CARAMEL WESTERNSTYLE BOOTS FROM SWAGGER BOUTIQUE. SHE IS CARRYING A BROWN LEATHER PRINT RIONI "KEIRA" HANDBAG FROM RANGONI FIRENZE. SHE IS WEARING AN IPPOLITA STERLING SILVER PENDENT, CHAIN AND HEAVY SQUIGGLE PAVÉ BYPASS BANGLE; IPPOLITA YELLOW GOLD BANGLES, LOLLIPOP 3-DROP EARRINGS AND A TEARDROP RING; AND AN ICON COLLECTION YELLOW GOLD THIN BAND AND "BELLE RING" FROM BAILEY'S FINE JEWELRY. 32 | midtownmag.com
The technique of building a look around signature pieces can be applied to rings, earrings, bracelets and necklaces. No matter what type of jewelry you are layering, play around with shapes, sizes and lengths to create a customized look, Bailey suggests. "The advice I always give women with jewelry is, wear what makes you feel your best," she says. "It truly is a connection on a different level. When you find a piece that you absolutely love, it can make you feel powerful."
While there are certain guidelines for creating a cohesive look, part of the fun in layering jewelry is trying new things. Bailey recommends starting with a few signature pieces, then building your jewelry wardrobe around those. Her go-to pieces, for example, include the MB Essentials diamond tennis necklace and an emerald ring. "Make sure you have some great basics that you can wear every single day, and then you're able to add in other fun pieces that can meet your needs for the time—whether it's a certain color that you're really feeling for a season, or a loved one's piece that you've recently acquired," she says.
"Women who have had their white jewelry put away for years are starting to pull it back out," Bailey says. "Rather than being like, 'OK, I can't wear these', or 'Maybe I need to scrap it and start over and figure something else out', just incorporate some white into it. Mix the metals."
Gemological Institute of America graduate and diamond expert Marci Bailey knows a thing or two about jewelry. She and her husband, Trey, are third-generation co-owners of Bailey's Fine Jewelry, which was founded in 1948 and has locations in Raleigh, Rocky Mount, Greenville, Los Angeles and, soon, Cary. She is also the founder of Marcilla Bailey, a brand committed to helping women express themselves through jewelry. Bailey unravels the mystery of why layering— mixing and matching different kinds of jewelry— is popular. "I think millennials and people in their 20s are loving the idea of throwing all those old rules out the window and being able to create something that is unique to [them]," she says. "The perfect way to do that is by mixing and matching different styles, different eras, different pieces that are maybe meaningful to you for different reasons."
JEWELRY YOUR WAY MIX + MATCH WHAT'S MEANINGFUL BY ELYSE BOLDIZAR Fall is the perfect season to experiment with layering, so why stop at clothing? Jewelry layering has peaked in popularity and is an innovative way to personalize any outfit.
When it comes to mixing metals, Bailey says she has noticed more white and platinum metals paired with yellow gold in recent years.
IS WEARING A SAGE PAISLEY MAXI DRESS FROM KOKET BOUTIQUE, A FRINGE VEST PROVIDED BY STYLIST SOFIA LUJAN AND CHOCOLATE BROWN BOOTIES FROM ARROW TREE BOUTIQUE. SHE IS CARRYING A MILITARY GREEN LEATHER CUOIERIA FIORENTINA HANDBAG FROM RANGONI FIRENZE. SHE IS WEARING A THREE STORIES YELLOW GOLD PENDANT ON A TURQUOISE BEADED CHAIN, OPEN BEZEL STACKER RING, TURQUOISE BAND RING, AND GOLD AND TURQUOISE BAND; AND JUDE FRANCES EARRING CHARMS WITH TURQUOISE AND DIAMONDS, A STERLING SILVER BRACELET, BANGLES, AND A PEAR STONE PAVÉ RING FROM BAILEY'S FINE JEWELRY. 34 | midtownmag.com
KATHLEEN
KATIE IS WEARING A CREAM SWEATER WITH PRINTED SLEEVES, BLACK PANTS AND WESTERNSTYLE GOLD BOOTS FROM THE GATORBUG BOUTIQUE. SHE IS CARRYING A BLACK LEATHER CUOIERIA FIORENTINA HANDBAG FROM RANGONI FIRENZE. SHE IS WEARING MARCO BICEGO JAIPUR AND LUCIA NECKLACES, A MARCO BICEGO BRACELET, BANGLE, WIDE HOOK HOOPS, JAIPUR BANDS AND TWO-ROW RING; AND A BAILEY'S ICON COLLECTION "MAGGIE" RING FROM BAILEY'S FINE JEWELRY. SEPTEMBER/OCTOBER 2022 | 35
KATIE IS WEARING A BLACK BLOUSE WITH SHEER SLEEVES, A BROWN AND BLACK PRINTED LONG "SHACKET" AND A CROCODILE EFFECT FAUX LEATHER SKIRT FROM SWAGGER BOUTIQUE; AND CHOCOLATE BROWN BOOTIES FROM ARROW TREE BOUTIQUE. SHE IS CARRYING A BROWN LEATHER CUOIERIA FIORENTINA HANDBAG FROM RANGONI FIRENZE. SHE IS WEARING YELLOW GOLD ITALIAN WOVEN AND LINK NECKLACES, A DIAMOND COMPASS NECKLACE, AN ITALIAN GOLD CUFF AND HOURGLASS DIAMOND MOTIF LINK BRACELET, A BAILEY'S CLUB COLLECTION DIAMOND FLEX CUFF BRACELET, ITALIAN DIAMOND EARRINGS, A FACAD'ORO ITALIAN BAND, A VINTAGE HORSESHOE RING AND JOSE HESS DIAMOND BAND FROM BAILEY'S FINE JEWELRY. 36 | midtownmag.com
KATHLEEN IS WEARING TAUPE STUDDED WESTERN-STYLE BOOTIES FROM ARROW TREE BOUTIQUE; AND A CORDUROY TOP, SWEATER VEST, AND GEOMETRIC PRINT BLACK AND WHITE PANTS FROM SWAGGER BOUTIQUE. SHE IS CARRYING A BLACK LEATHER CUOIERIA FIORENTINA HANDBAG FROM RANGONI FIRENZE. SHE IS WEARING A DIAMOND PEARSHAPED PENDANT; WHITE GOLD NECKLACES AND BRACELETS; A WHITE GOLD BANGLE, OPEN WRAP PAVÉ RING, THREE-ROW RING AND SINGLE BEZEL-SET DIAMOND RING; A GOLDMARK COLLECTION "TRINITY" RING; AND WHITE GOLD OPEN CIRCLE EARRINGS WITH DIAMONDS FROM BAILEY'S FINE JEWELRY. THANK YOU Midtown and Cary Living would like to thank the following people and businesses that made our fall fashion photo shoot possible. Stylist Sofia Lujan | sofialujanstyling.com Models Kathleen Holmes, Julia Kasper and Katie Shugg MASH Photography | mash.photography Arrow Tree Boutique | arrowtreeboutique.com Bailey's Fine Jewelry | baileybox.com (Find a full index of all jewelry shown in these photos at midtownmag.com.) Bebe Ellis Salon | bebeellissalon.com Carriage House Coffee FentonFentonEnchantedcarriagehousecoffeenc.com|onMainBoutique|enchantedonmain.com|fentonnc.commuralartistLouiseJones | ouizi.art The Gatorbug Boutique | thegatorbug.com Koket Boutique | shopkbnc.com Rangoni Firenze | rangonistore.com Swagger Boutique | shopswaggernow.com SEPTEMBER/OCTOBER 2022 | 37
Investing in quality businesses based on old-school fundamentals is the primary focus of Absher Wealth Management. By following the model of Warren Buffett, Mike Absher's 26 years of experience has taught him that owning quality over quantity helps clients achieve their long-term financial goals. Absher and his team offer asset management, financial planning and investor education. As of year-end 2021, the firm managed approximately $817 million of client assets, of which $757 million was managed on a discretionary basis. Absher Wealth Management is a fee-only registered investment advisor. Raleigh Road, Suite 105, Chapel Hill OFFICE 24, 2022 Glenwood Avenue, Suite 201, Glenwood Plaza, Raleigh 919.283.2340 | absherwealth.com performance is not indicative of future results. involves risk, including the possible loss of a principal investment. in equities involves more risk than other securities and may have the potential for higher returns and greater losses. on ranking methodologies for Barron's & Forbes can be found at barrons.com and shookreasearch.com
NEW
1450
OPENING OCTOBER
3605
Investment
Information
Investing
Past
SURGERY CLINIC THE BONE & JOINT THE TRIANGLE'S TOP ORTHOPAEDIC SPECIALISTS 3801 Wake Forest Road, Suite 220, Raleigh ⅼ 919.872.5296 ⅼ raleighboneandjoint.com Specialists in minimally invasive surgical and non-surgical options of bone, joint and muscle injuries. • Arthroscopic Surgery • Elbow, Hand & Wrist • Foot & Ankle • Hip & Knee • Neck & Spine • Joint Replacements • Shoulder • Sports MedicineDr.RobertG.Jones, M.D. Dr. David T. Jones, M.D. Dr. James D. Crowther, M.D. Madeleine Breen, PA-C Dr. Paul L. Burroughs, M.D. Dr. Gary D. Fleischer, M.D.Dr.Cary S. Idler, M.D.Dr.Johnny T. Nelson, M.D. For almost 50 years, our Raleigh practice has dedicated itself to providing our patients with the most personalized care available by our top general and fellowship-trained, board-certified orthopaedic surgeons.
BY KURT DUST E R B E RG
surrender to your sweet tooth at one of these local sweet spots ConfectionAffection 40 | midtownmag.com
Sweets by Shayda makes macarons filled with creams and ganaches, in addition to seasonal macarons: key lime pie in the summer and pumpkin in the fall.
Modeled after a French patisserie, the shop offers eight tables and serves coffee and espresso drinks. New and seasonal macarons—key lime pie in the summer, pumpkin in the fall—give her customers reason to keep coming back. "We use the best ingredients; we're not skimping on costs," she says. "We don't rely on people walking by all the time. People just happen to find us."
Shayda Wilson's sweet tooth was so out of sync with everyday Americans, she had only one option: Leave the country. "I always loved French patisserie," she says. Her affection for the foreign pastry tradition was so strong that she enrolled at the Le Cordon Bleu culinary institute in France. "I moved to Paris in 2013 for a year," Wilson says. "I had been working in accounting and I pretty much saved up all my money. I loved it. The program was nine months, then I worked two months in an éclair shop." In January 2021, she opened Sweets By Shayda at 105 West Morgan Street in Durham. Her signature item, macarons, have a certain je ne sais quoi. "Macarons are a cookie made with almond flour, sugar and egg whites," she says. "They're filled with creams and ganaches. It was a very odd concept to do mainly macarons for a business. I did a farmers market, and a lot of people hadn't heard of them. They were wondering why they were so small and so expensive. So I was trying to introduce the demographic to this thing that was hard to do."
SWEETS BY sweetsbyshayda.comSHAYDA
ost of us enjoy food. Of course there are some folks, tedious as they might be, who like to remind the rest of us that they only consume food for fuel. Poor misguided souls. Those of us who take our sustenance seriously don't have to listen to the scolds who remind us about the nutritional perils of our choices. In fact, the term "foodie" arrived on the scene sometime in the 1980s, bringing comfort to cuisine connoisseurs who value every chance they get to explore exciting new cooking creations. More recently, foodie fads have veered into the magnificent land of desserts. Whether you're addicted to chocolate, can't live without ice cream or have a sweet niche you need to itch, there's a good chance you can satisfy your craving somewhere in the Triangle. A growing number of shops and e-commerce sites sell homemade treats. Many of these proprietors have fashioned their edibles out of curiosity, perfecting tastes that make us proud to have a sweet tooth.
M
"We have a red velvet flavor, a birthday cake flavor, cotton candy … a lot of fun, Americanized flavors." After years of renting a commercial kitchen for specialty orders, the bakery is catching on.
ABOVE AND OPPOSITE PAGE
Photos by Peyton Sickles
p SEPTEMBER/OCTOBER 2022 | 41
Wilson offers 25 flavors of macarons, along with croissants and French pastries. She has found a way to make her trademark treat appealing to her audience. "We make a lot of fun flavors that people like here," Wilson says.
Photos courtesy of Ella's Popcorn
Ella's Popcorn began as a simple birthday party favor. Jill Santa Lucia, owner of Catering Works in Raleigh, wanted a special popcorn for her daughter Ella's safari-themed seventh birthday party. She came up with a recipe that included chocolate sandwich cookies and white chocolate drizzle. Zebra Pop was born.
"All the moms loved it," says Ella's Popcorn marketing specialist Savannah Patinka. "It was a hit, and it really took off. So they started featuring it for weddings and parties and things like that." But Ella's Popcorn didn't become a business until years later in 2020. (Ella is now a student at Elon University.) Santa Lucia and her sister, Lorin Laxton, are partners in the company, and have built a following across the state. The company's reach is growing after three appearances on HSN (formerly the Home Shopping Network). "Our audience is very local to North Carolina," Patinka says. "We're also very popular in California and in Brooklyn (New York). Our audience is a lot of women, as we are a woman-owned, veteran-owned and family-owned business."
Ella's Popcorn's 20 flavors cover the spectrum of sweets, including Campfire, Sin-amon Bunz and Coconut Cream. Popping the corn is a long process that involves using a "mushroom" variety that produces big, billowy fluffs. "After we pop the corn, we add some different mix-ins," Patinka says. "Then we bake it, depending on the flavor, three separate times, adding more mix-ins. Then you let it cool. It gives that nice artisan flair to it. We don't like soggy popcorn—it really has that perfect crunch." And to think it all started from a birthday party idea. "Kids really enjoy it. It's a perfect party snack," Patinka says. "But it goes from kids to people who want it at their weddings as a party favor. Once you try it, you're going to love it."
42 | midtownmag.com
Elena Brown likes her sweets. It's not enough, however, to just indulge in a few chocolate cookies or slurp a shake. In the age of social media, she has taken her love of sugary stuff to the social media platform TikTok. "One day, I randomly hosted a video, eating a Kit Kat bar in a quirky and unique way that I actually eat Kit Kat bars," she says. "I eat around all the edges and eat layer by layer. It tastes better that way. It just does." After growing up in New York and later attending the University of California at Los Angeles, Brown initially focused on videos comparing bicoastal desserts. Now she has settled in Raleigh as part of the Team RAR YouTube collective, with a passion for finding and eating the Triangle's most interesting desserts. More than 200,000 TikTok followers later, she's on a roll. "I look for flavors I've never tried before, or unique food items," she says. "I will drive any distance to get a dessert. I drove an hour and half to get a milkshake at a grand opening." Her live-for-the-moment hobby might be an affront to dentists and dieticians everywhere, but that's part of the fun. She often wears a shirt emblazoned with "Eat Your Lettuce And Be Sad" as she chomps on a cannoli cheesecake cookie or polishes off a Nutella Smackdown.So,howdoes the Triangle stack up when it comes to desserts? "I think there's a lot more places up and coming," she says. "And I'm in a food club now, so I'm able to explore." Want to know more? Explore Triangle treats with @elena_brown08 on TikTok
"I decided I want to try to make a cookie that tastes like [my grandmother's] pecan pie because that's my favorite dessert of all time," Council says. "Once I perfected it, she said, 'Put it in the display case and let's see how they sell.'" They sold out every day. Council named the cookies Pecan Crisps and, today, the treats she perfected as a kid still hit the sweet spot. They are a bestseller, along with cranberry white chocolate, oatmeal raisin and other flavors. Tonya's Cookies was featured on Oprah's Favorite Things in 2021, boosting sales and exposure for the brand. "It was insane," Council says. "I was probably walking out of my kitchen at 2 or 3 a.m. most early mornings, then turning back around to start back at 6:00 in the morning. I wasn't getting much sleep." Council still likes to tinker with cookie flavors. "To be able to experiment and come up with something people like, that's what my drive is," Council says. "I played around a little and came up with a cookie that tastes like peanut brittle. That one was an accident, but most things are when you're trying to come up with things in the kitchen." Photos courtesy of Tonya's Cookies
Photo courtesy of Elena Brown
SEPTEMBER/OCTOBER 2022 | 43
Tonya Council was just a little girl when she learned her craft from a North Carolina legend. Council would often hang around her grandmother, the late Mildred Council, known widely as "Mama Dip" for her namesake Chapel Hill restaurant and a number of cookbooks. "It was cool to see how she interacted with other people who came in the restaurant. She never met a stranger," Council says. "There were a lot of different life lessons outside the kitchen, but we were still in the restaurant." Before long, Mama Dip's granddaughter tried her hand at making cookies, restocking the bakery cases when they were empty. Her cookies sold, and her ambition grew.
TIKTOK SUGAR LOVER ELENA BROWN
TONYA'S tonyascookies.comCOOKIES
The flavors make a good mix-in for yogurt or oatmeal, and they also work well as a rub forSo,chicken.which flavor does Mrs. Ruth like the best? Her eyes grow wide and she smiles.
While Mrs. Ruth's Jams sell especially well in North Carolina, her products are now finding folks across the country. "I just shipped to Fairbanks, Alaska," she says. "How they found us, I don't know."
Ruth Taylor works her jam business every day, whether she's cooking, labeling or shipping her goods. And to this day, she's still a bit surprised by it all. "I never, ever intended to do this," she says emphatically. "I spent 30 years in corporate."Itsoundslike the makings of a Hallmark movie plot, but it comes with a tug at the heartstrings. "I got into making jam for my late husband,' says Taylor, whose business is located in Apex. "He loved strawberry jam. His aunt would give him a few jars every summer, and we would run out. So I started making jam for Nevertheless,him."she was determined to master the craft. She and her husband frequently vacationed in Maine, where she befriended an innkeeper who made his own sweet spreads. "I would call him and say, 'I'm stuck,'" she says. "And he literally taught me how to make jam over the phone." Even though she was never a big jam eater herself, she did enjoy good bread. And on her visits to La Farm Bakery, she did not live by bread alone. "So I would take my little Tupperware cup in my purse," Taylor says. "I finally told them what I was doing. They said, 'If your jam is that good, bring us some." So now I'm selling there 13 years later." Taylor also realized her creations had a restorative effect. After years of product management and writing software at IBM, she found a reason to step up her game.
"But if you sell somebody jam, they're going to smile and they're happy. Kind of as a balance to the corporate world, I started making jam."
Mrs. Ruth's—a nod to the way her Sunday school students used to address her—offers variations on berry flavors, but also offers pepper, fig and mint jams. Her Belgian chocolate strawberry jam won a 2020 Good Food Award.
JamsRuth'sMrs.ofcourtesyPhotos 44 | midtownmag.com
"Well, that's like asking somebody who their favorite kid is, isn't it?"
MRS. RUTH'S mrsruthsjams.comJAMS
After focusing on wholesale for years, Taylor found herself with plenty of time and inventory during the pandemic. That's when her e-commerce site gained traction.
"I'm very curious," she says. "I'll take the base flavor—let's say strawberry—and I will scoop out a little bit in a bowl and add some flavoring to it. I tinker with it until I like the flavor."When it comes to topping your foods, Taylor suggests thinking beyond the biscuit.
"Working in corporate, you never knew if you made someone happy, but you knew if you made them mad in a nanosecond," she says.
There's no better fall confection than a juicy apple dipped in a delicious, colorful candy coating. Kandy Apples by K, located on Capital Boulevard in Raleigh, wraps tangy apples in 30 different flavors and more colors than you could ever imagine. Choose from options like carnival, pomegranate, watermelon, Jolly Rancher, cotton candy, white chocolate, candy grapes, Butterfinger and more. Perfect for your next fall event!
On Valentine's Day in 2021 he made the waffles, paired them with ice cream and passed out samples to Raleigh Rolls customers. "Everyone I tested it on said it was perfect," he says. "I probably sampled it on 100 to 150 people." The only trick was the preparation. "From the start of making the dough to actually serving, it takes two-and-a-half to three hours," Bahgat says. "It takes time to pamper the dough to make sure it's perfect. Then we add the pearl sugar as people order it, and cook it right away. That's how you get that nice crunch and pieces of sugar that haven't melted all the way yet." While the waffles are a tasty treat on their own, patrons can pair them with ice cream, fruits and drizzles. Any way you like them, the owner says, will be a hit. "I personally love them the way they are without any drizzle on them," Bahgat says. "Just a little powdered sugar and that's it."
byPhotos NguyenLinda
Ramy Bahgat thought it was a bad sign when his lone dessert competitor in Raleigh's Morgan Street Food Hall closed down after the pandemic. His Raleigh Rolls ice cream was a hit, but he pushed management to find another tenant that would give sweets lovers a reason to visit the hall. When they found no immediate takers, Bahgat took the space and came up with a concept of his own: Liege waffles. He figured they would make a nice warm, wintertime option. "They are very different from Belgian waffles," Bahgat says. "They are not made out of batter, they are made out of yeasted dough. They're infused with pearled sugar that makes them nice and crunchy on the top but very moist on the inside. It's more like a sweet brioche than regular waffles." It took a while to create the right recipe, but when he did, he had a receptive audience.
SEPTEMBER/OCTOBER 2022 | 45
FALLING kandyapplesbyk.comCANDIEDFORAPPLES
Photos courtesy of Kandy Apples by K BIG bigleaguewaffles.comWAFFLESLEAGUE+SCOOPS
JDawnInk/GettyImagesbyimagelabelWhiskey
hough North Carolina has welcomed a craft brewery boom in recent decades, distilleries have been a staple here since pre-Prohibition days. The Tar Heel State's truly spirited history of manufacturing liquor has produced many a tale that harkens back to the days when these highly coveted concoctions were made under light of the moon.
T
The Triangle is home to dozens of distilleries—most of which host connoisseurs and newbies alike in their tasting rooms. Whether you like your drink up, neat, on the rocks—or perhaps with a bevy of vegetables or a colorful parasol—one needn't go far to try some of the best booze on the market. Here we offer high-proof that the Triangle is a distillery destination.
Nowadays, distilleries are state-of-the-art facilities filled with high-tech, shiny copper and steel machinery. Chemists are often at the helm, blending in added flair with hints of cinnamon, honey, chocolate, caramel or vanilla. Unlike the days of prohibition, however, they're no longer forced to hide in back rooms or run from the law to taste or sell the creations—though they must often wait many years for these spirits to reach their peak.
SEPTEMBER/OCTOBER 2022 | 47
YOUNG HEARTS DISTILLERY, RALEIGH COMPLEX ITALIAN AMARO, SCANDINAVIAN AQUAVIT AND OTHER BOTANICAL-BASED SPIRITS
Trophy Brewing has become synonymous with the Raleigh craft beer scene. After opening its first taproom on Morgan Street in 2013, a second location and production facility on Maywood Avenue followed closely behind. With visions of expanding beyond the world of beer, Trophy Brewing branched into the craft distillery scene last year, opening Young Hearts Distillery in the heart of downtown Raleigh— making it the city's first downtown distillery. Featuring rooftop seating that shows off a cityscape view, Young Hearts Distilling isn't your typical tasting room. Add in its location in the historic Busy Bee Café building and a mouthwatering scratch menu featuring elevated "bar" foods—like maitake mushroom lettuce wraps and gin-braised brisket—and it's easy to see why Young Hearts Distilling can make its own rules on the distillery scene.
PICTURED: Max Murphy, Young Hearts Assistant Distiller OPPOSITE PAGE, TOP: Max Murphy shares a toast with Head Distiller Willie Dale
TROPHYBREWING.COM
48 | midtownmag.com
OLDERALEIGHDISTILLERY.COM
As owner, head distiller and master blender of Olde Raleigh Distillery, Brandon McCraney pours his heart into each barrel. "This is my life's passion," McCraney says. "I believe people can taste how much care goes into each bottle." His latest limited-release—a honey cask-finished bourbon with local honey from North Carolina's Baxter's Bees— is a perfect example of the planning, thought and heart Olde Raleigh Distillery puts into conceptualizing blends. It's much more than simply stirring honey and bourbon together. This five-month-long process utilizes six types of honey, which crystalize inside the barrel before being extracted from it. At this point, the bourbon-making process begins. McCraney says Olde Raleigh Distillery's food menu focuses on bourbon pairings such as candied bacon, chocolate bourbon pecan pie and honey bourbon cheesecake. While enjoying a front-row view of the stills used to create Olde Raleigh Distillery's signature blends, tasting room visitors can also try craft brews from local breweries. Olde Raleigh Distillery will soon partner with Workbench Roasters out of Wendell to sell a bourbon barrel-aged coffee. "We have so many ideas for the future of Olde Raleigh, whether it's recipes for our distilled products; partnerships with local businesses; or broader, more long-term goals, like eventually moving to our namesake city of Raleigh," McCraney says. "It's exciting to think about the possibilities."
SEPTEMBER/OCTOBER 2022 | 49
OLDE RALEIGH DISTILLERY, ZEBULON BOURBON, WITH VODKA AND GIN ON THE WAY
50 | midtownmag.com
Having versatile equipment makes creating many types of liquor possible, since most varieties of alcohol use the same machinery. "It also adds to the fun of my job: Being able to try new ingredients and see what I can come up with is the fun part," Howland says.
Housed in an old downtown Garner industrial building that used to manufacture cabinets, Howland has turned his hobby of distilling into a legitimate business— just in time for the post-COVID bar and restaurant revival. Aristotle Spirits' tasting room offers a small patio for outdoor enjoyment, and the distillery partners with local companies like Carolina Popcorn Shoppe to sell snacks patrons can enjoy while relishing Aristotle Spirits', well, spirits.
ARISTOTLE SPIRITS, GARNER BOURBON, GIN, VODKA, RUM AND WHISKEY ARISTOTLESPIRITS.COM
Having recently celebrated Aristotle Spirits' one-year anniversary, owner Jake Howland feels a renewed excitement about the future of his distillery. "We've seen such great interest in our habañero vodka that it makes me excited to test more flavors and roll out unique recipes in the future," Howland says.
SEPTEMBER/OCTOBER 2022 | 51
Like its famous namesake, Aristotle Spirits strives to take a balanced approach to its philosophy and product line. "Overindulgence is not smart in any aspect of life," Howland says. "We'd like to see a balance in the enjoyment of alcohol, a healthy work/life balance and a balance in our products."
52 | midtownmag.com
Instill Distilling Co. 710 W. Main Street, Clayton White, spiced and Aeva aged rum instilldistillingco.com Lizard Lick Brewing and 138DistillationE.Vance Street, Zebulon Bourbon, whiskey and moonshine licklifespirits.com Lonerider Spirits 8816 Gulf Court, #100, Raleigh Bourbon, ready-to-drink cocktails, whiskey and loneriderspirits.comliqueur Mystic Farm and Distillery 1212 N. Mineral Springs Road, Durham Bourbon, gin, vodka and liqueur whatismystic.com
Brands is helping Durham Distillery grow its gin products into national brands, but the canned cocktails and Damn Fine Liqueurs will remain only in North Carolina. The tasting room is open for tours and tastings on Friday and Saturday afternoons. In addition, there is an onsite cocktail bar: Corpse Reviver Bar & Lounge, which opened in 2020. Pair a sumptuous bar snack, such as locally sourced deviled duck eggs or rosemary olive oil cake, with a signature martini.
SEPTEMBER/OCTOBER 2022 | 53
Katrincic and her husband, Lee—the other co-owner who is also head distiller and has a master's degree in chemistry—decided to take a leap of faith and begin the adventure of starting a distillery in 2013. Less than a decade later, USA Today named Durham Distillery the No. 1 craft gin distillery in the U.S., and its Conniption Navy Strength Gin is consistently ranked as one of the world's best, having been named "Best Navy Strength Gin" for four years in a row by the World Gin Awards. "We want to be a household name for gin within the next five years," KatrincicConstellationsays.
TOPO Organic Spirits 505-C W. Franklin Street, Chapel Hill Whiskey, vodka, gin and rum topodistillery.com
OLDE RALEIGH DISTILLERY DURHAM DISTILLERY, DURHAM GIN, VODKA, LIQUEURS AND CANNED DURHAMDISTILLERY.COMCOCKTAILS
Olde Raleigh Distillery 209 N. Arendell Avenue, Zebulon Bourbon, with vodka and gin on the olderaleighdistillery.comway
Next Century Spirits 8601 Six Forks Road, Suite 260, Forum 1, Raleigh Whiskey and canned nextcenturyspirits.comcocktails Oak City Amaretto 1100 Corporation Parkway, #132, Raleigh oakcityamaretto.comAmaretto
Graybeard Distillery 4625 Industry Lane, Durham bedlamvodka.comVodka
Aristotle Spirits 105 Rand Mill Road, Garner Bourbon, gin, vodka, rum and aristotlespirits.comwhiskey
Find out where the magic is made—and stay for a taste—at these craft distilleries across the region.
Seventy Eight ºC Spirits 2660 Discovery Drive, Suite 136, Raleigh (The distillery is around the corner on South Graham Street) Limoncello and Orangecello 78cspirits.com
Melissa Katrincic may not be the only female distillery owner in North Carolina, but she was certainly one of the first. Paving the way for an influx of women to break into this male-dominated turf, Katrincic—co-owner and CEO/ president of Durham Distillery—also happens to have a physics degree and was the first woman to be inducted into The Gin Guild. This prestigious organization works with gin distillers around the world to provide leadership and focus to the promotion of gin. "I'm excited about the future of women and minorities entering the craft distillery scene in the Triangle," she says. "I feel like there is more of a level playing field now, making it the perfect opportunity for that to happen."
Pinetop Distillery 1053 E. Whitaker Mill Road, Raleigh Moonshine and pinetopdistillery.comgin Raleigh Rum Company 1100 Corporation Parkway #132, Raleigh Sweet dark, white, Carolina Reaper and spiced raleighrumcompany.comrum
The Brothers Vilgalys 803 D Ramseur Street, Durham Specialty brothersvilgalys.comliqueurs Durham Distillery 711 Washington Street, Durham Gin, vodka, liqueurs and canned durhamdistillery.comcocktails Fair Game Beverage Co. 192 Lorax Lane, Pittsboro Apple brandy, rum and vodka fairgamebeverage.com Gold Leaf Distillery 209½ Technology Park Lane, Fuquay-Varina facebook.com/goldleafdistilleryVodka
Young Hearts Distilling 225 S. Wilmington Street, Raleigh Complex Italian amaro, Scandinavian Aquavit, and other botanical-based trophybrewing.comspirits
TRIANGLE TASTING TOUR
GuidedTouch Therapies TRAINED IN 9 DIFFERENT TYPES OF MASSAGE: Therapeutic Massage Lymphatic Massage Swedish Massage Russian Medical Massage Sports Massage Deep Tissue BindegewebsmassageMassageMyofascialMassageHotStoneMassage CERTIFICATIONSADDITIONAL IN: Dynamic Energy Balance Trager®HypnotherapyApproachBiomagnetics Reflexology InvigorateMentastics®ReikiyourMind,Bodyand Spirit. 743 W. Johnson Street, Suite E, guidedtouchtherapies.com919.614.6199Raleigh MENTIONTHISADANDGETA60-MINUTEMASSAGEFOR$55! 54 | midtownmag.com
Academic, social, spiritual and leadership gains for boys do not begin in the classroom. They begin with a mission! At Iron Academy, the Triangle's only all-male Christian school, every new year begins with an engaging emphasis on honor, discipleship, brotherhood and community. The Iron year begins with Crucible Camp. Step into The Crucible by clicking on the QR Thecode.early investment in a young man's heart allows him to flourish in the classroom, in the home, in his friendships and in his relationship with God. Our 6th–12th grade students enter an environment of scholastic rigor with a mission-driven system of support, encouragement, community and Comeaccountability.growwith us as we forge our newly purchased campus in the heart of Raleigh. Schedule a tour at ironacademy.org. Together, we build men! 3510 Edwards Mill Road, Raleigh 919.977.8811 | ironacademy.org
WHO DONATES?
Often, teams of volunteers harvest donated crops and transport produce to hunger relief agencies. SOSA does much of this work in the Triangle. The organization sometimes transports already-harvested produce from farms to food banks. They also bring volunteers out to harvest crops that would otherwise go to waste, delivering the harvest to food distribution centers. "Over the past 30 years, we've built relationships with schools, church groups, community groups, individuals. We've got a few thousand volunteers every year out of the Triangle," Binger says. A popular volunteer event is the Yam Jam, a sweet potato harvesting event SOSA holds every fall. Sweet potatoes, plentiful in North Carolina, are nutritious produce with a lengthy shelf life that makes them ideal for food banks.
56 | midtownmag.com
Most farmers deliberately grow more than they can sell in order to accommodate possible crop damage. Many of them donate unsold produce to food banks and food pantries. Much of what they donate doesn't hit the high aesthetic standards of retail markets—it may be discolored or oddly shaped—but it's still good to eat. "[Farmers] don't want to see it thrown away," says Michael Binger, Carolinas regional director for the Society of St. Andrew (SOSA), an organization that harvests and delivers donated produce to service organizations. "They'd rather have somebody benefit from it." Large-scale food suppliers like the Food Bank of Central and Eastern North Carolina receive most of this produce. They sort through it, remove damaged food and make it available to neighborhood food pantries. Farmers also donate produce directly to local pantries rather than going through food banks. Some grow food specifically for food pantries. "We have one farmer who plants fields of collards and kale and turnip greens exclusively to harvest to bring to us," says Michael Burger, board chair of the Tri-Area Ministry Food Pantry. Community gardens donate first-rate produce as well. Even small family plots supply vegetables. "A lot of people will come by and donate stuff to us from their backyard gardens," Burger says.
Across the Triangle, growers and volunteers move local produce from farms into food boxes
A ccording to the U.S. Department of Agriculture, North Carolina is the 10th highest agriculture-producing state in the nation. It also has the 10th highest number of food-insecure citizens. Approximately 1.6 million North Carolinians struggle to find the food they need, and a quarter-million of those people live in the Triangle. With 470,000 acres of farmland in the Triangle region (according to the USDA Agricultural Census), access to fresh produce shouldn't be a problem for local residents. Farmers and hunger relief agencies agree. They are working together to get produce, eggs and dairy products from local farms to families who aren't always sure where their next meal will come from.
VOLUNTEERS HARVEST AND DELIVER FOOD
SOSA gains access to fields due to its reputation for treating farmers' property with respect and its coverage of liability insurance. Last year, the work of 2,000 SOSA volunteers moved approximately 11 million servings of food from fields into food boxes.
FROM FIELDS TO FOOD PANTRIES BY ELIZABETH BRIGNAC SEPTEMBER/OCTOBER 2022 | 57
Farmer Foodshare in Durham works with CFSA and other organizations to support local farmers while feeding low-income consumers. "We believe that people of all income levels deserve to eat the food that's grown in their local foodsheds," says Kelly Crane, executive director for Farmer Foodshare. The organization's Food Hub program buys food from local farmers and either sells or donates it. Half the food goes to paying clients. The other half goes to hunger relief agencies. The Food Hub program
58 | midtownmag.com
Ironically, some who experience food insecurity are those who grow the food.
SUPPORTING LOCAL FARMERS
According to the North Carolina Farmworker Health Program, almost half of the state's farmworker households experience food insecurity. Keeping a small or mid-size farm going has been a challenge in recent years, and the COVID pandemic represented a disaster for many already-struggling farmers. Organizations that support local agriculture have found ways to donate food to those in need while creating markets for small and mid-size growers.
The Carolina Farm Stewardship Association opened its FarmsSHARE program in 2020 in response to the COVID-19 pandemic. "When lockdown went into place, we immediately were hearing about a lot of issues being caused by the farmers markets being shut down—the panic that set in as restaurants were closing and farmers were losing their markets overnight," says Kana Miller, CFSA's local food distribution coordinator.CFSApartners with food hubs— organizations that connect local farmers with potential customers. Working with local culinary organizations, CFSA applied for grant money to supply funds to food hubs so they could purchase boxes of produce from farmers. The food hubs distributed these produce boxes to restaurant workers who had lost their jobs due to the pandemic. Thus, they provided business for the farmers and food for the unemployed workers. Now serving a general population of foodinsecure people, FarmsSHARE paid more than $1,400,000 to local farmers and food hubs while distributing 34,461 boxes of food to people in need between the summers of 2020 and 2021.
PhotoBELOWcourtesy of the Society of St. Andrew OPPOSITE PAGE, TOP Photo courtesy of the Society of St. Andrew OPPOSITE PAGE, BELOW Photo courtesy of Kelly Crane PAGES 56 + 57
offers farmers the flexibility to increase their output gradually, gain necessary permits and certifications, reach a larger market, and buy the equipment they need so they can eventually sell produce in bulk to retailers. Meanwhile, hunger relief agencies and other community partners gain access to inexpensive, quality local produce.Programs like these seek more than short-term financial assistance for farmers. They work for a fundamental change in how communities think about buying and donating food. Rural Advancement Foundation International's Come to the Table program, for example, brings faith communities together with local farmers of color in mutually beneficial, communitysupported agricultural relationships. RAFI has built on those relationships, offering small grants for congregations to buy CSA boxes for donation to food pantries. The program's goal is to encourage partner congregations to put funds toward sourcing the food they donate to food pantries from local farmers. "I want to see hearts and minds in these congregations changed so that they just naturally want to support farmers of color and want to participate more directly in their local food systems," says Justine Post, director of Come to the Table. "That [approach], long-term, addresses economic insecurity, and it addresses social and racial justice."
COMMUNITY SUPPORT Food insecurity grew exponentially during COVID-19. Miguel Rubiera, who manages Iglesia Emanuel Food Pantry in Durham, describes their pantry's growth during the pandemic. "From 60 or 70 families, we went to 100 and 200. We started doing a lot of fundraising, grant writing, she says. "We thought the maximum number of families we could serve here was about 250. Now we serve between 630 and 650 families every week. And we are sad because we still have to send a lot of people away without food." Across the Triangle, food prices are high and food insecurity persists. Here are some ways you can help. Volunteer. Work at your local food pantry or with SOSA to harvest and transport crops. Every service organization interviewed for this story expressed a need for volunteers.
Donate money and produce. Programs like Durham's Plant-a-Row and Logan's Garden Shop's Plant a Row for the Hungry connect small farmers and backyard gardeners with food distribution centers. You can also bring produce directly to your local food pantry. Build community relationships. Make connections between groups you belong to and organizations like Farmer Foodshare, whose proceeds support local farmers and bring quality produce to hunger relief agencies. Support local farmers. Purchase groceries at farmers markets and subscribe to CSAs.
Photo by Thomas Barwick/Getty Images
SEPTEMBER/OCTOBER 2022 | 59
60 | midtownmag.com
• Recurring Service • Weekly • Bi-weekly • Monthly • Deep Cleans • One-Time Cleans • Special Occasions • Move-in/Move Outs • In-Home Laundry CALL OR GO ONLINE FOR A QUOTE 919.909.8093 | go-2-girls.com AWARDDIAMOND2022BEST HOUSE CLEANING SERVICE Fall cleaning? We'll do it for you! Let Go-2-Girls take the stress of cleaning away so you can focus on the important things in life. Professionally trained | Background-checked | Fully insured & bonded | Voted best cleaning service year after year SEPTEMBER/OCTOBER 2022 | 61
"When the Stalks Go Dark" takes place Fridays and Saturdays in October, 7–9 p.m., and requires a separate entrance fee. crossroadscornmaze.com
CROSSROADS CORN MAZE Open October 1–31; Friday, 1–9 p.m.; Saturday 10 a.m.–9 p.m.; Sunday 1–7 p.m. 5712 Watkins Road, Wendell Hay and rope mazes, hayrides, games and s'mores. See website for admission fees.
A utumn is magical in the Triangle, and the options to enjoy the season are nearly endless. jump on a hayride, navigate a corn labyrinth or visit one of the area's lively festivals. looking for thrills and chills? head to one of the area's haunted attractions where creepy creatures of the night lie in we'vewait. curated a robust selection of fall activities in raleigh and beyond, and there's even more in our online roundups at midtownmag.com and caryliving.com at press time, not all venues had listed updated information for 2022, so be sure to check with event organizers or visit the event websites before you head out.
HILL RIDGE FARMS FALL PUMPKIN FESTIVAL Open September 28–October 30; Wednesday–Sunday, 9:30 a.m.–6:30 p.m. 703 Tarboro Road, Youngsville Hayride, jumping pillow, corn house, farm animals and more.Admission is $15/person; free for ages 1 and younger. hillridgefarms.com
PUMPKIN PATCHES AND CORN MAZES
PAGE FARMS Open September 24–October 30; Wednesday–Thursday, 9 a.m.–1 p.m.; Friday, 1–6 p.m.;Saturday–Sunday, 9 a.m.–6 p.m. 6100 Mt. Herman Road, Raleigh Five-acre corn maze, hayride, cow train, farm animals and pumpkins. $12/person Wednesday–Thursday; $18/person Friday–Sunday. pagefarmsraleigh.com
KEN'S CORNY CORN MAZE Open late September–early November; see website for rates and hours. 3175 Benson Road, Garner Ten-acre corn maze, hayrides, corn tunnel, wooden pirate ship and more. A haunted attraction takes place on select nights and requires a separate entrance fee. kenskornycornmaze.com
pumpkin patches, autumn festivals haunted adventures and more fall fun in raleigh and beyond BY JANICE LEWINE
SHUGGBETHBYPHOTO 62 | midtownmag.com
October 28, 6–8:30 p.m. 201 E. Hargett Street, Raleigh Wear a costume and experience the magic of Marbles Kids Museum after dark with like Mad Scientist Lab, Monster Mash Dance Party and more. Children must be accompanied by an adult. Advance ticket purchase required. marbleskidsmuseum.org "THE MUSIC OF HARRY POTTER"
FRANKENFEST ON MAIN October 29, noon–4 p.m. Downtown Franklinton Enjoy a costume contest, trunk-or-treat, street performers, music and games. franklintonnc.us/parks-recreation/events/6246
SEPTEMBER/OCTOBER 2022 | 63
IMAGESVECTORIG/GETTYBYPHOTO
NORTH CAROLINA STATE FAIR October 13–23; see website for hours. 4285 Trinity Road, Raleigh Enjoy rides, music, live entertainment, livestock competitions and fried foods. ncstatefair.org
HALLOWEENFAMILY-FRIENDLYEVENTS
ROLESVILLE FALL FUNFEST October 29, 10 a.m.–4 p.m. 121 Redford Place Drive, Rolesville Enjoy arts and crafts vendors, music, games, a kids costume contest and food trucks. rolesvillenc.gov
TRIANGLE OKTOBERFEST
October 22, 11 a.m.–3 p.m. 820 Clay Street, Raleigh Come in costume for trick-or-treating, giant board games, geek-themed artisans and food vendors at Fred Fletcher Park. eventbrite.com MARBLES KOOKY SPOOKY HALLOWEEN PARTY
FESTIFALL ARTS MARKET & MORE October 8, 15 and 22; 1–6 p.m. 140 W. Franklin Street, Chapel Hill Explore three separate markets offering interactive art experiences and entertainment. chapelhillarts.org/festifall-arts-market-more
October 28, 8 p.m.; October 29, 3 p.m. 2 E. South Street, Raleigh The North Carolina Symphony performs enchanting music from the Harry Potter movie series at Meymandi Concert Hall. Purchase tickets online. ncsymphony.org SPELLBOUND SQUARE
PHILLIPS FARMS CORN MAZE Open September 17–October 31; hours vary 6701 Good Hope Church Road, Cary Experience a corn maze, wagon ride, cow train and sunflower field. Admission is $15–$17 for ages 2 and older. phillipsfarmsofcary.com
FALL FESTIVALS
CLAYTON HARVEST FESTIVAL October 27–30; hours vary. Downtown Clayton This four-day festival features carnival rides; a barbecue cook-off; kids activities; and car, motorcycle and tractor shows. claytonharvestfestival.com
GEEK & GRUB HALLOWEEN MARKET
PORTER FARMS & NURSERY Open through October 31; Monday–Saturday, 8 a.m.–7 p.m.; Sunday, noon–6 p.m. 7615 Ten Ten Road, Raleigh Pumpkins, mums and fall produce. porterfarmsandnursery.com
September 30, 5–10 p.m.; October 1, noon–8:30 p.m. 8003 Regency Parkway, Cary Enjoy live music, authentic food, wiener dog races, a German car show and a KinderPlatz. $20–$25/person; free for ages 15 and younger. triangleoktoberfest.org
October 29, 10 a.m.–3 p.m. 226 E. Martin Street, Raleigh Visit with mysterious creatures, masterful magicians, fortune tellers and vendors selling handmade items and treats. Enjoy spooky crafts, pumpkin decorating, a costume contest and a parade. Admission is free. eventbrite.org
TRACK-OR-TREAT HALLOWEEN EXPRESS
DARKSIDE HAUNTED ESTATES Open September 23–October 31; Friday–Saturday, 7–10 p.m. 11959 N.C. Highway 222 West, Middlesex Bring your nightmares to life in an insane asylum, haunted hotel, mayhem hayride and spooky cemetery. Admission is $25 adults, $15 kids ages 12 and younger. EDWARD'S BATTLE HAUNTED HOUSE 9401 S. Mere Street, Raleigh Drive past a haunted yard in Raleigh filled with ghosts, goblins, vampires and other ghouls created by a Raleigh teen who has battled cancer. Donations are accepted and benefit Give Kids the World. Follow Edward's Battle Haunted Yard on Facebook for details about this year's event. facebook.com/edwardsbattlehauntedhouse
GRANVILLE HAUNT FARM DRIVE-THRU DRIVE-IN Open October 1–31; Friday–Saturday, 7–10:30 p.m. 4534 U.S. 15, Oxford Enjoy thrills and chills from the safety of your car. Admission is $10–$25 per car for up to four passengers; $5 per person for vehicles with five or more passengers. Purchase tickets online. granvillehauntfarm.com
HAUNTED ADVENTURES
October 15, 22 and 29; rides depart at 2, 3:15, 4:30, 6 and 7:15 p.m. 3900 Bonsal Road, New Hill Hop aboard to see flying witches, smoking cauldrons, Count Dracula and more. Play Mummy Mayhem and listen to singing pumpkins. Purchase tickets for $14 online. triangletrain.com
MAGIC AND MISCHIEF: A WIZARD'S MARKET
HAUNTED FOREST AT PANIC POINT Open September 24–November 5 on select nights; hours vary. 2808 Cedar Creek Road, Youngsville Five haunted attractions include a hayride, forest, dark trail, corn maze and farm. Admission is $30–$75 per person; Carny Crypt is an extra $5 per person. Purchase tickets online or at the gate. raleighhauntedhouse.com
CLAYTON FEAR FARM Open September 30–October 1–31; Thursday, 7–9 p.m.; Friday–Saturday, 7–10 p.m.; October 31, 7–9 p.m.; visit the website for rates. 1620 Loop Road, Clayton Creatures of the night haunt the Slaughterhouse, Farmhouse, Fear Forest Haunted Hayride, Fear Farm Academy and Black Hole attractions. Online ticket purchase required; visit the website for rates. claytonfearfarm.com
November 19, 1–6 p.m. 820 Clay Street, Raleigh Young wizards and witches enjoy activities, crafts, music, handmade goods, and magical food and drink at Fred Fletcher Park. Admission is free. eventbrite.com
IMAGES/GETTYBYPHOTOTIMPLATT
64 | midtownmag.com
ADULTS-ONLY EVENTS HALLOWEEN HAPPY HOUR + FACE PAINTING October 28, 4–6 p.m. 2409 Crabtree Boulevard, Raleigh Halloween happy hour in the Warehouse District with Raleigh Founded features face painting and tasty treats. Admission is free. Register online. eventbrite.com HAUNTING AT POUR HOUSE CIRCUS SHOW
RALEIGH AREA'S BEST HALLOWEEN DECORATIONS
Locations vary Using the Built Story app available for iOS and Android, tour takers can purchase access to the best Halloween decorations in Raleigh, Wake Forest, Morrisville, Apex and Holly Springs with turn-by-turn driving directions. You'll also find a walking tour of "Raleigh's Most Terrifying Ghosts, Spirits and Haunts." app.builtstory.com/agent/1027
HAUNTED HISTORY WALKING TOUR 200 N. Blount Street, Raleigh Learn about the history of some of Raleigh's most important landmarks as tour guides tell a ghost story at each stop. Admission is free, but online registration is required and tips areappreciated. Tour departs from the North Carolina Executive Mansion. eventbrite.org OAKWOOD CEMETERY SERIES September 30, October 1–2; 6:30 p.m. 701 Oakwood Avenue, Raleigh Burning Coal Theatre Company takes you into Historic Oakwood Cemetery to deliver a series of short plays based on the lives of the people buried there. Admission is $30/adult, $10/student and must be purchased online. burningcoal.org/oakwood-and-history-plays
XTREME HAUNT 7460 N.C. 98, Wake Forest Visit the website for dates and to purchase tickets. Face your fears in the Containment Zone, Xtreme Haunt Walk and the Laser Zombie Simulator. xtremeparkadventures.com
September 24; 3–10 p.m. Glenwood Avenue, Raleigh Don your lederhosen and dirndls for a sweep of participating Glenwood Avenue bars featuring live entertainment, DJs, a costume contest and more. Purchase tickets for $9–$30 online. eventbrite.com RALEIGH HALLOWEEN BAR CRAWLS
October 22, 29 and 31; 3–11 p.m. Downtown Raleigh and Glenwood South Wear a costume for spooky drink specials, live DJs and costume contests at participating bars. Purchase tickets for $9.99/person online. pubcrawls.com
IMAGESNIEVES/GETTYMARILYNBYPHOTO
SEPTEMBER/OCTOBER 2022 | 65
OKTOBERFEST BAR CRAWL
RALEIGH FOOTSTEPSHAUNTEDGHOST TOUR Year-round on select nights; hours vary Fayetteville Street in downtown Raleigh Discover ghost stories, history and folklore in a 1.5-mile walking tour. Suitable for ages 8 and older. Purchase tickets online: $18 for adults and $15 for ages 8–14. (Exact meeting location is provided after ticket purchase.) tobaccoroadtours.com
October 9, 8 p.m. 224 S. Blount Street, Raleigh Be dazzled by circus and sideshow acts at the Pour House Music Hall & Record Shop, including burlesque, pole dancing, acro yoga, hooping, juggling, clown and mime, contortion and more. Tickets are $18–$25/person. eventbrite.com
7440 Six Forks Road • Raleigh • vinniessteakhouse.com • 919.847.7319 • Call for reservations or AWARDDIAMOND2022 BEST STEAKHOUSE AWARDDIAMOND2022 BEST RESTAURANT
SEPTEMBER/OCTOBER 2022 | 67 MAKING WORLD-CLASS SPIRITS IN BACKYARD BOURBON COUNTRY 209 N. Arendell Avenue, Zebulon, NC olderaleighdistillery.com Tours every Saturday at 1 pm Craft Cocktails | Full Bar | Event Space It's worth the drive! AVAILABLE NOW Batch 7 Bourbon: Catfish A blend of bourbon aged 18, 6 and 4 years with notes of allspice, citrus zest and oak. Honey Cask Finished Bourbon A limited release 100-proof bourbon blend finished in a locally sourced, North Carolina honey cask.
BUILDING BEYOND FOOTBALL
Terrence and Torry Holt made their names on the football field at North Carolina State University, but that was just the start.
BY KURT DUSTERBERG | COURTESY OF THE HOLT BROTHERS FOUNDATION
The brothers sat down with Cary Living magazine recently to talk about their lives after football. And while their days on the field are behind them, their love for the game burns brightly. Torry has been voted a finalist for the Pro Football Hall of Fame the past three years, but has yet to earn a gold jacket. He shares his thoughts on the Hall waiting game, while each of the brothers takes a look back at life in the NFL. Not only did your mother have cancer, but your family dealt with this over a 10-year period. What were those 10 years like for you?
TORRY: We didn't fully understand what was going on either. The routine was the same. Mom still got up and went to work, Dad still got up and went to work. They wanted it that way. That's why they didn't share it with us a lot. They wanted us to act and feel as kids normally do, not to carry the burden of their mom having cancer. We had a very good
In the business world, Torry and Terrence have grown Holt Brothers Construction into a thriving management and development company. Their firm has worked on the City of Raleigh Central Communications Center as well as the Innovation Center at Wake Tech's technology campus at RTP.
PHOTOS
68 | midtownmag.com T
orry and Terrence Holt are best known for their accomplishments on the football field. The brothers from Gibsonville were stars at North Carolina State University before embarking on successful careers in the National Football League. Torry played wide receiver for the St. Louis Rams for 10 of his 11 seasons. Terrence played six seasons as a defensive back, mostly with the Detroit Lions. But long before they retired from the game—Terrence in 2008 and Torry in 2009— the siblings began orchestrating their second act, turning their childhood challenges into a cause. When Torry was 10 and Terrence was 6, their mother, Ojetta, was diagnosed with lymphoma. To honor her memory, they founded the Holt Brothers Foundation to serve children who have a parent or guardian with cancer. The foundation's main program, providesKidsCAN!,activities and emotional support.
SETPEMBER/OCTOBER 2022 | 69 childhood. We had good Christmases, we had outdoor activities, we played video games. It wasn't until later on that we actually saw the decline and we really understood what was going on.
TERRENCE: Kids need to be kids, and cancer forces kids to grow up. That's one thing we did experience, even as 24-, 20and 16-year-olds, when our mom ultimately passed away. The things she had done for us, we had to then do. My dad could only do so much, and he was coping with pain and loss. Terrence (left) and Torry (right) Holt were inspired to create the Holt Brothers Foundation and KidsCAN! because of their mother's internal fight against cancer.
TORRY: It's everything you think about when you were a kid. You need your parents to talk to, to come to your games, to help you with your homework, to cook. But when a mom or dad or guardian has cancer, some of those things are taken away. That's where we come in with the hospitals and try to fill those voids. One of the things we're proud of is our memory-making events. Bowling, football games, basketball games. We hang out. It's those things that a kid misses out on when a parent or guardian is diagnosed, because a lot of the resources go toward the parent or guardian getting healthy. And they don't have the energy to go and entertain a kid.
TERRENCE: As a 6-year-old all the way up until I was 14 or 15, I did not know my mom had been diagnosed with cancer, and that it was cancer coming out of remission when she got sick in 1995 and ultimately passed in 1996. It correlates well with why we started the foundation—the protective nature that my mom operated with. It speaks oftentimes to the way African American households operate, where it's very hush-hush. There's not a lot of discussion around something that's severe and painful, how fearful we all are. So we oftentimes ignore it and pray it away. My brother could tell you, and my sister certainly could, that it was something I don't think we thought about. All we knew was our mom and dad here at home. This is a happy home, and we love our parents and expect that they will be here with us as long as we're here on this earth.
What specifically do kids need when a parent has cancer?
70 | midtownmag.com
To get a chance to play against [Hall of Fame quarterback] Brett Favre two times a year in the NFC North playing for the Detroit Lions was both a treat and a nightmare. He chewed you up. We'd always play at Green Bay in December. The weather was quite awful and the fans were very rowdy. But I do remember picking him off.
TERRENCE: It is so much a part of me. I cannot, even if I tried, bottle it up. During the football season, it resonates more. Come July and August, I get that smell of grass in the early morning, I get that training camp buzz and feel. I get antsy around the house.
It's a representation of the best who ever played the game. I go all the way back to my childhood, playing in Gibsonville on Homestead Street. I just loved playing the game of football. I would have been a hall of famer in any era. I was blessed with the talent and the ability to do it. So, yeah, it matters.
TERRENCE: We had great business mentors. We started off around 2005 and 2006 very interested in real estate. It was more on the residential side. We were lucky to be surrounded by people who knew a little about a lot. In turn, we developed an interest in the commercial side of real estate. Then 2007 happened and the market tanked. Me, on the latter end of my career in 2008, this interest was sparked and we got with these business mentors—folks like [Durham entrepreneur] Farad Ali. Farad was telling us about commercial construction, and not just the opportunities there, but about potentially creating a strong minority-owned firm. It comes from our prior sport, and our ability to put a team together and be coached, that we could put a great company together. October 17, 2011 is when we put everything together and got our general contractor license and began trying to procure work. Now, 11 years later, we've been able to be successful with our alma mater, North Carolina State University.
TORRY: I often think about the game. I'm around it so much. I'm part of the NFL Legends Community, and I visit the Rams often for games. When I'm sitting around on the weekends or even when I'm in the office, sometimes a play comes to mind. Occasionally, I have those flashbacks. One thing that often comes to mind is at Carter-Finley [Stadium] the day we beat Florida State. (The Wolfpack defeated the second-ranked Seminoles 24-7 in 1999.) That changed the trajectory of our entire university the day that we beat them. It gave us, it gave [N.C.] State fans, it gave everybody confidence when we beat Florida State. We were no longer being bullied. I just remember that sea of red, I remember the high school kids who were there as recruits. It was an amazing day. And obviously, winning the Super Bowl. Nothing beats that.
Now that you're retired, do touchdown passes or interceptions still roll through your mind?
TORRY: He's right; what we learned in the sport we try to bring to the industry of construction, that culture. I played for Hall of Famer [and St. Louis Rams coach] Dick Vermeil, and he always stressed to us, if you can find good people, knowledgeable people who want to put in the work and who believe in your cause, people will extend themselves just as you do. So we try to live by that.
OPPOSITE PAGE The Holt brothers, Terrence (left) and Torry (right), started their football careers at North Carolina State University, then went on to play in the pros for different teams.
What I've learned is to continue to exercise my patience and lean on my faith, and it will happen. I'm in the mix, I'm in the game.
SETPEMBER/OCTOBER 2022 | 71
Torry and Terrence will host "An Afternoon with the Holt Brothers" on Sunday, November 13, 4–7 p.m. For more information, visit holtbrothersfoundation.org The Holt brothers have remained close thanks to their love of family and the strong bond they created during childhood.
I want to ask about Holt Brothers Construction. How did you develop your expertise and grow the business?
TORRY: I certainly feel I belong in the Pro Football Hall of Fame, and in due time. I've been a finalist three times in a row now.
I'm considered a pro football hall of famer.
Torry, you have been a finalist for the Pro Football Hall of Fame each of the past three years. You are 16th all-time in receiving yards in just 11 seasons, you had the most receiving yards in the decade of the 2000s and you won a Super Bowl with the Rams in 2000. Do you feel like you deserve to be in the Hall of Fame?
OAKWOOD#1CEMETERY CAPITAL CITY EXPLORE RALEIGH'S 10 MOST HAUNTED PLACES BY CAITLIN WHEELER PHOTOS BY MASH PHOTOGRAPHY
SOUL SEARCHING The Civil War's traumatic aftermath set Raleigh up for hauntings from souls who linger. Ernest Dollar, executive director of the City of Raleigh Museum, has written "Hearts Torn Asunder," which focuses on the Civil War's final campaign in North Carolina. "Raleigh is a particularly good city for ghost stories," Dollar says, noting that toward the end of the war there was intense fighting in Raleigh and the city was nearly destroyed. "All that grief and emotional energy swirling around—it's not surprising that these troubled souls might return to haunt the city." Kara Leinfelder, creative director for the North Carolina Museum of History and member of The Ghost Guild, notes that cities across the country are using ghost stories to add a zing to historic preservation. "The word 'history' isn't as compelling to this generation, so historic towns and sites have incorporated this paranormal spin to appeal to new and younger audiences," she says. "Ghost stories have an oral history relevance that can be culturally rich; and are often passed down from generation to generation. Putting a spotlight on them leads to deeper conversations like preservation and conservation."
SEPTEMBER/OCTOBER 2022 | 75
"It's thrilling," says Nelson Nauss of the paranormal investigations he leads as executive director of The Ghost Guild, a registered Raleigh-based nonprofit paranormal research organization. The guild, selected by Raleigh Parks, Recreation and Cultural Resources to conduct investigations at Mordecai Historic Park, has also partnered with Theatre in the Park to investigate the old National Guard Armory building in Pullen Park and, most recently, with the North Carolina Museum of History for an investigation that took place in August. Nauss and the guild take a skeptical approach by observing and gathering data, forming hypotheses, and imagining possible solutions that explain their observations.
"Every ghost sighting or legend is a mystery," Nauss says. "Who doesn't love trying to solve a mystery?" Raleigh resident Al Parker has created a collection of "ghastly" ghost tours of the Triangle—available on the Durham-based Built Story app—that peel back layers of history to rediscover Raleigh's legends. "One clue leads to another," he says. "Ghost stories tell you a lot about a community and its history. They are a part of what makes a place unique." Al is also the most recent volunteer to join The Ghost Guild organization.
A s Raleigh remodels itself to suit a burgeoning population and ever more sophisticated wealth of restaurants and shops, the city can't hide from its ghosts. Partly because the spirits manage to seep through renovations— like the ghosts that keep showing up at Death & Taxes on W. Hargett Street. Mostly because we are looking for them.
Tricia Sabol, creator of Raleigh Walking Tours, says most of Raleigh's ghosts aren't angry. "Sometimes a spirit just gets stuck and can't transition to the other side," she says. So mysterious voices, footsteps or lights being turned on and off might just be evidence of ghosts going about their business. "Which might happen at a place like Death & Taxes," she notes. It served as a coffin house and funeral home before becoming a bank, and finally a restaurant.
On a more personal level, searching for ghosts offers an opportunity for introspection. "We love ghosts because their stories provide a safe way for us to peer into the unknown," Parker says. "People like to face their fears—and explore things they're a little afraid of. Ghosts are safe. Some days you believe in them and some days you don't." With that said, here are our favorite Raleigh haunts for those days when you want to believe. Whether you have a soft spot for legends or a fascination with the macabre, Raleigh's unique history makes it the ideal spot for paranormal investigations.
1. OAKWOOD CEMETERY: THE SPINNING ANGEL Sabol has a soft spot for friendly ghosts, like the Civil War ghost that haunted the old Oakwood Inn Bed & Breakfast (now an Airbnb rental). "'The colonel' likes to play tricks," she says. "He switches things around in a room, or jumps out to surprise people. One guest was taking a bath when he appeared and perched on the edge of the tub as if he wanted to chat." But the best place to visit on Halloween night, Sabol says, is Historic Oakwood Cemetery, where you might see the "spinning angel" statue. Legend has it that on Halloween at midnight, the angel's head spins around 12 times. But there's a bit more to it than that, Sabol says. The angel protects the grave of Etta Rebecca White Ratcliffe, whose family had her committed to Dorothea Dix Hospital. But a month after she arrived, she died of a cerebral hemorrhage, suggesting she suffered from a brain tumor rather than a mental disorder.
2. HECK-ANDREWS HOUSE: GIRL POWER Darci VanderSlik leads the "Haunted History: Oakwood" tour for The Great Raleigh Trolley, and has been passionate about ghost stories since spending the early part of her career in Colonial Williamsburg. "These are the stories that don't make the history books—stories about everyday life and people like us," she says.
"It's my girl-power ghost story," VanderSlik says.
76 | midtownmag.com
VanderSlik likes to lead her tours as close to nightfall as possible, preferably with a lantern. Her favorite stop is the Heck-Andrews House, now owned and recently renovated by the North Carolina Association of Realtors. It looks exactly as a haunted house should—even with fresh paint. Visitors there have sensed the ghost of the home's last resident, Gladys Perry. "Gladys is not always painted in a good light," VanderSlik says. "But when I read the whole history, my heart broke for her."
VanderSlik describes her as an independent, educated young woman in the 1940s, a time when such women were considered enigmas and generally ostracized. When Perry's career reportedly began to flounder, she moved into the Heck-Andrews house with her mother. "She stayed after her mother died and let her love and energy soak into that dilapidated house," VanderSlik says. Even when the city offered to buy it, then tried to condemn it, Perry refused to leave." Perry has yet to leave her beloved home—more than two decades after her death.
3. WILLIAM POOLE'S WOODS: SHADOWS AND ROTTED WOOD
4. THEATRE IN THE PARK: FOOTSTEPS AND VOICES
The Ghost Guild also enjoys investigating Pullen Park's Theatre in the Park, Nauss says, where voices and strange sounds—such as footsteps across the bleachers— have been reported. "We've had some very interesting experiences there since 2016," he says of the guild's visits to the one-time armory. "We enjoy learning about every location we investigate, and every time we visit the Theatre we find out something new. We've discovered the building has an opening for a telescope and that it used to serve as an observatory," he says. Both the public and academics made use of it, including the Raleigh Astronomy Club and the well-known astronomers who were associated with it.
Of the 21 stories on Al Parker's "Most Terrifying Ghosts" tour—from the graveyard spirits at Dorothea Dix Hospital to "the smokestack ghost" on North Carolina State University's campus—his favorite is the legend of William Poole. According to Parker, Poole was a vehement conservationist during the 19th century and enjoyed riding his beloved white horse throughout his vast property, while admiring the pine trees. When Union soldiers came to his mansion during the Civil War demanding gold, Poole refused to reveal where he had buried it, then watched in horror as the soldiers killed his horse and burned down his home. "In a fury, Poole made a pact with a demon to rise from the grave to protect his land," Parker says. Poole's will insisted that the land remain undeveloped, though 30 years after his death, his family sold the tract to a logging company. Poole had his revenge when the trees were cut open to reveal rotted wood. "People have seen a shadowy white horse where Poole's forest used to be," Parker recounts, "sometimes with a rider." Parker recently explored the area, which constitutes a section of the Capital Area Greenway System by Coastal Credit Union Music Park at Walnut Creek. "What was crazy was that someone had written on the greenway path in chalk: 'Turn back,'" he says.
HECK-ANDREWS#2HOUSE SEPTEMBER/OCTOBER 2022 | 77
This early 20th century building, originally home to the HJ Brown Coffin House and later the Raleigh Industrial Bank, now accommodates a contemporary restaurant created by Chef Ashley Christensen. It served as a coffin shop during the Spanish flu epidemic that began in 1918, then later a mortuary before opening its doors as a bank. Patrons claim they have heard footsteps and even a full conversation between a young girl and man, according to a blog post Dollar wrote for the Downtown Raleigh Alliance. Whether these sounds stem from Spanish flu victims or mortuary inhabitants—nothing is certain, just like death and taxes.
7. DEATH AND TAXES: NOTHING IS CERTAIN
The centerpiece of Mordecai Historic Park, Mordecai House is not only the oldest home in Raleigh still on its original foundation (built in 1785)—it may also be the most haunted. After numerous reports from visitors and staff recounting mysterious piano music and sightings of a shadowy woman wearing a long, black skirt, the City of Raleigh began keeping tabs on these activities by making The Ghost Guild Mordecai House's official paranormal research team.
5. MORDECAI HOUSE: RALEIGH'S OLDEST HOME ON ITS ORIGINAL FOUNDATION
Nauss recommends continuing your exploration of Mordecai Historic Park by visiting the tiny house where the 17th U.S. president, Andrew Johnson, had his humble start. Don't expect a glimpse of President Johnson, but Parker says there have been numerous sightings of Jacob Johnson, Andrew's father. "It's a good story," Parker says, adding that Jacob was known to be friendly and honest. He took care of horses at an inn, served as the town constable and sexton, and ironically died a hero's death in winter of 1811 while ringing the funeral bell at the North Carolina State Capitol building just a few weeks after saving two men from drowning in Walnut Creek. His death was attributed to exertion and exposure to the icy water. He's buried at the historic City Cemetery of Raleigh. "He wasn't fulfilled in life, and died with unfinished business," Parker says. "Look out for a candle moving in the upstairs window."
Mordecai Historic Park is celebrating its 50th anniversary on September 10, noon–4 p.m. The Ghost Guild will be on site during the celebration, which will include special presentations and performances; free 30-minute trolley tours of downtown Raleigh; free crafts and activities; free entry to Mordecai House, Allen Kitchen and other historic buildings; food trucks; cultural displays, and more.
8. NORTH CAROLINA MUSEUM OF HISTORY: HAUNTED ARTIFACTS?
"I'm a paranormal nerd," says Leinfelder, the North Carolina Museum of History's creative director. "I grew up with old folklore tales and stories of legend in my family, plus both of my parents are history buffs; paranormal investigation and study has just amplified my interest in history." Over the course of her six years with the museum, several stories about strange occurrences have been reported by staff in the ground level and third-floor office space. After becoming a volunteer member of The Ghost Guild, Leinfelder suggested a paranormal investigation of the museum. Nauss was perplexed at first. "The museum was built in 1986, which is pretty new," he says. "Then we had to ask ourselves if it was possible that the reported activity is tied to one or more of its over 150,000 artifacts spanning more than six centuries. This was a great chance to learn."
6. ANDREW JOHNSON'S BIRTHPLACE
Mary Mordecai Turk, who lived in the home during the 19th century, enjoyed socializing, playing the piano and receiving visitors. Nauss says many believe it could be her spirit that has returned to watch over her beloved family home.
Leinfelder thinks it makes sense that some of the museum's artifacts might have retained some paranormal energy—though nothing has ever been proven. "We have some pretty interesting things in the collection and with the number of centuries it spans, there's just no telling really!"
MORDECAI#5HOUSE 78 | midtownmag.com
SEPTEMBER/OCTOBER 2022 | 79
In 1969, Gov. Bob Scott moved Fowle's large bed into storage, only to be repeatedly bothered by knocking noises behind the wall. "He believed it was Fowle's ghost," Matsuo says, expressing his wish to restore the bed to its original location. Later, Gov. Pat McCrory claimed he would jokingly say goodnight to the mansion's "friendly" ghost. Current Gov. Roy Cooper has returned the bed to its original location—and has not been bothered by any knocking noises. "My sense is that the spirits in Raleigh are pleasant, and they each have a story to share if you are willing to listen," Matsuo says. "Ghosts are people too, after all."
"Homeowner Jesse Jones goes all out decorating his house, and on Halloween the police close down the block to cars and everyone comes dressed up," says Tricia Sabol, creator of Raleigh Walking Tours. "It's a great scene."
9. THE NORTH CAROLINA EXECUTIVE MANSION: KNOCK, KNOCK
HALLOWEEN TOURS
Looking for a spooky place to have dinner on Halloween night? Try any restaurant in Raleigh's Pine State Creamery building, which was a focal point of a series of Jack the Ripper–style murders during the 1980s. When Matsuo investigated the Creamery, she detected screams that she believes belonged to the murderer's female victims. The now-closed Xoco Mexican Bar & Grill, which was located in the Creamery, announced numerous reports of hauntings via a sign on its door that read: "To Our Patrons: It has been confirmed by ASAP Paranormal that our location is haunted. We are not responsible for the actions of any ghosts/spirits on the premises. Thank you." Xoco may be gone, but it is doubtful the ghosts are! Ghost Stories Too Tame? Try True Crime!
Take yourself on an only-in-October treat: a tour created by Al Parker of "Raleigh's Best Halloween Decorations," available on the Built Story app. And be sure to walk through Raleigh's Historic Oakwood neighborhood, where you'll encounter the Oakwood Halloween House at 504 Oakwood Avenue.
80 | midtownmag.com
"When I say 'museum' you think musty and dusty and dull," says Ernest Dollar, executive director of the City of Raleigh Museum. "So we have to be creative to make people see how weird and fun history can be." Across the country, museums and historic sites have drawn visitors in with ghost tours. Dollar is a bit more of a history purist. "Ghost stories and legends and folklore give us amazing insight into a culture," he agrees. "But it's a gray area, and we can neither prove it nor disprove it." While "commiserating over drinks," Dollar says he and other members of the North Carolina Museums Council wondered if ghost tours might not fit within their "best practices" policies, but determined that the cold, hard facts of true crime absolutely would. "The true history is stranger!" Dollar says. Thus, the museum has developed a "Dark Raleigh" tour, which features true but "untraditional" history, dubious characters and dark stories. "People have a real morbidity about life," says Dollar, who researched a number of gruesome deaths, murders and suicides for this year's tour. "True crime is super popular," agrees Al Parker, who has developed true crime tours of Raleigh, Chapel Hill and Durham and made them available on the Durham-based Built Story app. Once you've heard enough about Raleigh's worst criminals, head over to Durham. "Durham is the freakiest town in the Triangle," Parker says, adding that it claims "a history packed with murder and mayhem!"
"I'd love to do an investigation at the [Governor's Mansion]," says Alex Matsuo, a paranormal investigator and founder of the Raleigh-based Association of Paranormal Study. Gov. Daniel G. Fowle was the first to live in the mansion. As a widower with four young children, he had an extra-large bed made to accommodate nighttime visits from his youngest son. "In 1891, partway through his term, he died in that bed," Matsuo says.
BY CAITLIN WHEELER
10. THE OLD PINE STATE CREAMERY
THANK YOU TO OUR STORYTELLERS
SEPTEMBER/OCTOBER 2022 | 81
Shown from left to right at Historic Oak View Park: Tricia Sabol, creator of Raleigh Walking Tours; Ernest Dollar, author of "Hearts Torn Asunder" and executive director of the City of Raleigh Museum; Al Parker, creator of 21 walking tours via the Built Story app and member of The Ghost Guild; Kara Leinfelder, creative director for the North Carolina Museum of History and member of The Ghost Guild; Nelson Nauss, executive director of The Ghost Guild; and Darci VanderSlik, who leads the "Haunted History: Oakwood" tour for The Great Raleigh Trolley.
Be sure to tune into Midtown and Cary Living's "Talk of the Triangle" October podcast, which will air in two parts, on October 4 and 11. You don't want to miss our fascinating and ghostly conversations with Dollar, Nauss and Leinfelder.
MEET DOCTORSTHE SPECIAL ADVERTISING SECTION Our area offers some of the highest quality health care in the country. Here's your chance to meet local providers and learn more about their services. THANK YOU TO NEW DEPTH CREATIONS AND JENNY MIDGLEY FOR TAKING SOME OF THE PHOTOGRAPHY FOR THIS SPECIAL ADVERTISING SECTION.
CENTERDENTALRENAISSANCEⅼ
84 | midtownmag.com
DOCTORSTHEMEET
Dr. Compton is an eastern North Carolinian who moved to Raleigh to attend Meredith College. While in school, she was introduced to her future dental home and fell in love with Drs. Abernethy, Sonner and Wells. While working at Renaissance Dental Center during her undergraduate studies, Dr. Compton took an office internship. This was her opportunity to build a foundational knowledge of dentistry while pursuing her lifelong dream of one day becoming a dentist. While learning from the best, Dr. Compton was given the opportunity to be trained as a chairside dental assistant. She assisted Drs. Abernethy, Sonner and Wells to learn how their clinical team was able to offer the highest standard of dental care at Renaissance Dental Center. During this time, Dr. Compton was also pursuing a master's degree in physiology, which she earned in 2017 from North Carolina State University. In July 2018, Dr. Compton was accepted to East Carolina University's School of Dental Medicine and moved to Greenville. Four years later—through the difficulties of dental school during the COVID pandemic—this aspiring dentist returned to Raleigh and her old stomping grounds. Many of our patients remember Dr. Compton when she was just "Carli," and are welcoming her back with open arms and proud smiles now that this young doctor is their dentist. Please join us as we welcome Dr. Carli Compton, DMD, MS, to our team at Renaissance Dental Center. 3803-A Computer Drive, Suite 200, Raleigh 919.786.6766 renaissancedentalcenter.com
RENAISSANCE
DENTAL CENTER Doctors, from left to right: Dr. Carli Compton, DMD, MS Dr. Jill Sonner, DDS Dr. Anita Wells, DDS Dr. Anna Abernethy, DDS Meet the Doctors has always been our chance to reintroduce the founding doctors of Renaissance Dental Center. But this year we are excited to introduce Midtown magazine readers to our NEW doctor: Dr. Carli Compton. She is rejoining the Renaissance Dental Center family after six years of professional studies.
SEPTEMBER/OCTOBER 2022 | 85 DOCTORSTHEMEET CENTERDENTALRENAISSANCEⅼ
Dr. DePasquale is a native of Asheville and graduated from North Carolina State University. Her medical training took place at Campbell University, followed by a residency in obstetrics and gynecology at OhioHealth Doctors Hospital in Columbus, Ohio. She now lives in Raleigh with her husband and son. "I am ecstatic to be back home in North Carolina, and to join such a genuine, patient-oriented practice with Arbor," she says. "The office is everything you could ask for—as both a patient and a doctor—with kind, honest and caring providers. I am truly honored to practice here and to serve the Raleigh community."
Dr. DePasquale loves walking through all stages of womanhood with her patients and is looking forward to building and fostering relationships with them. As an osteopathic physician, she also offers osteopathic manipulative treatments. She has specific interests in minimally invasive operations including robotic surgery, obstetrical osteopathic treatments, and breastfeeding/lactation care.
Arbor ObGyn has 10 clinicians and is accepting new patients. Pregnancy deliveries and surgeries are performed at UNC REX Hospital in Raleigh. 2615 Lake Drive, Suite 201, Raleigh 919.781.9555 arbor-obgyn.com
86 | midtownmag.com DOCTORSTHEMEET
OBGYNARBORⅼ
ARBOR OBGYN Dr. Keiko Marie DePasquale, DO Raleigh-based Arbor ObGyn welcomed Dr. Keiko DePasquale, DO, to the practice this summer. She will provide the full range of pregnancy care, general women's health care and gynecological surgery.
Buckthal Keyser Orthodontics' focus is on serving the community with personalized and quality care in an environment where patients of all ages feel even better about their overall health than when they arrived. Schedule a complimentary consultation to join the Buckthal Keyser family and live life smiling! 106 Lake Boone Trail, Raleigh 937 Old Knight Road, Knightdale 919.782.2119 keyserortho.com
"Live Life Smiling" is the goal of Buckthal Keyser Orthodontics, a practice that has created stunning smiles across the Triangle for over 30 years. A Raleigh native, Dr. Mary Morgan Bitler Keyser joined the team as the practice owner and orthodontist in August 2021. She is thrilled to be practicing in her hometown.
Dr. Keyser is a board-certified orthodontist, a distinction only 58% of orthodontists carry. A true Tar Heel, she completed her undergraduate, dental and orthodontic residency training at UNC–Chapel Hill. During her 11 years in Chapel Hill, Dr. Keyser's research on speech and orthodontics was published in multiple dental journals, and she was recognized nationally for this research.
While the practice has a long history of crafting beautiful smiles, Buckthal Keyser Orthodontics enjoys implementing digital advancements in orthodontics to better serve patients with clear aligners and braces. Dr. Keyser serves on the Invisalign Advisory Board to aid in orthodontic advancements.
ORTHODONTICSKEYSERBUCKTHALⅼ
BUCKTHAL KEYSER ORTHODONTICS
SEPTEMBER/OCTOBER 2022 | 87 DOCTORSTHEMEET
Dr. Mary Morgan Bitler Keyser, DDS, MS
Carolina Brain Center also offers hyperbaric oxygen/ketone therapy (HBOKT), which helps fuel the brain, decrease inflammation and lift brain fog. It's excellent for anti-aging, general well-being, performance and recovery.
Carolina Brain Center is proud to be a part of the "Viewpoint Project," a TV documentary hosted by Dennis Quaid. It aired this summer and brings awareness to the practice of functional neurology. View a preview video at carolinabraincenter.com
88 | caryliving.com
DOCTORSTHEMEET CENTERBRAINCAROLINAⅼ | midtownmag.com
88
CAROLINA BRAIN CENTER Dr. Darcy D. Dane, DC, DACNB and staff
Carolina Brain Center strives to treat you in a welcoming, laid-back and compassionate environment. Doc and Ollie, Carolina Brain Center's therapy dogs, will put you at ease. By the end of your two-hour exam, you will walk out knowing you are part of our family. 6404 Falls of Neuse Road Suite 105, 919.703.0207Raleigh carolinabraincenter.com
Carolina Brain Center in Raleigh treats neurological disorders with human optimization. This year, Darcy D. Dane, DC, DACNB, and her team are excited to introduce GyroStim technology—awarded as a breakthrough medical device by the FDA. This multi-axis rotational chair creates a robust challenge to the sensorimotor system, producing changes in balance, coordination, body spatial awareness and cognitive processing. It's highly customizable and used to treat concussions, PTSD, developmental disorders, movement disorders, vestibular disorders and more. The professional athletes we work with love the boost in performance that GyroStim offers.
A consultation and treatment plan dedicated to the enhancement of your smile. Clear dialogue to ensure understanding of your customized treatment plan. Call 833.GO.NCOSO to schedule your appointment today and find out why Dr. Travis Edwards' motto is "your beautiful smile is our passion!" 4106 Wake Forest Road, Suite 201, Raleigh 919.277.0788 ncoso.com/meet-our-orthodontists
NORTH CAROLINA ORAL SURGERY +Dr.ORTHODONTICSTravisEdwards,DDS
Dr. Travis Edwards, an orthodontist with North Carolina Oral Surgery + Orthodontics, worked as a general dentist for several years. After seeing many of his patients complete orthodontic treatment and leave with new confidence, he was inspired to seek further training to specialize in orthodontics. "I love seeing the transformation in each patient as they finish treatment," he says. "It's a very rewarding aspect of work!"
SEPTEMBER/OCTOBER 2022 | 89 DOCTORSTHEMEET ORTHODONTICS+SURGERYORALCAROLINANORTHⅼ
This patient experience includes:
An ambiance with friendly staff, state-of-theart facilities and a soothing impression.
During his two-year residency at Tufts University School of Dental Medicine, Dr. Edwards developed an even stronger passion for the patient experience. He makes it a point of emphasis to relate to each patient who visits, and helps them feel comfortable and confident in their treatment. When leaving the office, patients feel their time spent was uplifting and enjoyable.
An engaging orthodontist who is professionally trained to make you feel as comfortable as possible.
The goal for Gupta Psychiatry and Wellness is to normalize getting help for alcohol and drug addictions, and to make it a simple process for those who are ready to heal. Dr. Gupta and her staff provide a safe and peaceful space for patients to receive the help they need. They want people to know that it's not only acceptable, but encouraged to ask for help. Dr. Gupta and her team are here when you need them. 8304 Creedmoor Road, Raleigh 1011 W. Williams Street, Suite 102, Apex 919.870.8409 guptapsychiatry.com
90 | midtownmag.com DOCTORSTHEMEET WELLNESSANDPSYCHIATRYGUPTAⅼ
GUPTA PSYCHIATRY AND WELLNESS
Dr. Mona Gupta, DO Dr. Mona Gupta is a board-certified psychiatrist and director of Gupta Psychiatry and Wellness. This amazing group of providers are passionate about serving those who suffer from mental health and substance use issues. Since the pandemic, a surge in alcohol sales, opioid overdoses and mental health concerns have risen. Dr. Gupta's practice offers pharmacologic and nonpharmacologic options for patients seeking treatment for complicated and drug-resistant psychiatric conditions such as esketamine, intravenous (IV) and intramuscular (IM) ketamine treatments, and transcranial magnetic stimulation (TMS).
The practice also has an intensive outpatient treatment center, which falls between a more restrictive inpatient/residential level of care and less restrictive outpatient level of care; as well as a partial hospitalization program, which is optimal for individuals needing an outpatient detox or step down from residential or inpatient care.
SEPTEMBER/OCTOBER 2022 | 91 DOCTORSTHEMEET CENTERPAINFACIAL&TMJCAROLINAⅼ
Dr. Tracy Davidian, DDS, PA
CAROLINA TMJ & FACIAL PAIN CENTER
Dr. Davidian is revolutionizing the way TMJ is treated throughout North Carolina. She understands that TMJ structure is related to other areas of a patient's body and physiology. Understanding these connections allows Dr. Tracy Davidian to successfully treat muscle pain of the head and neck, which is often, but not always, connected to TMJ.
Carolina TMJ & Facial Pain Center is dedicated to successfully treating craniofacial pain, TMJ disorders and sleep-disordered breathing. Dr. Tracy Davidian's approach is to comprehensively evaluate for diagnosis and noninvasive treatment options of TMJ and muscle pain, and to use state-of-the-art techniques and equipment in a caring, friendly environment. Patients suffering from clicking or popping of the jaw, face pain, migraines, ringing of the ears and loud snoring—as well as those who have difficulty tolerating CPAP treatment—should contact Carolina TMJ & Facial Pain Center to learn more.
Dr. Davidian often works side-by-side with other health care providers—such as chiropractors, physical therapists, nutritionists, ENTs, neurologists and cognitive therapists—to ensure maximum medical recovery. She is now offering Class IV medical laser services, and provides additional services that can reduce pain and inflammation, speed tissue healing and increase circulation. She also offers regenerative, noninvasive pain management through photobiomodulation laser therapy.
5904 Six Forks Road, Suite 205, Raleigh 919.3NO.PAIN carolinatmj.com
Dr. Alexis Shrager, DMD
ORTHODONTICSLANDⅼ
Dr. Shrager completed the Accelerated Early Dental Admission program with the University of Florida and University of North Florida. She went on to receive her doctorate of dental medicine from Nova Southeastern University College of Dental Medicine in Davie, Florida, where she graduated at the top of her class.
92 | midtownmag.com DOCTORSTHEMEET
8331 Bandford Way, Suite 105, Raleigh 12740 Spruce Tree Way, Suite 100, Raleigh 30 S. Dunn Street, Angier 919.847.7200 landortho.com
Dr. Shrager, who grew up in Russia, completed her residency at the University of Pittsburgh Medical Center, where she received her certificate of specialist in orthodontics and dentofacial orthopedics in 2006, and received extensive training in management and treatment of orthognathic, surgical, and cleft lip and palate patients. She is affiliated with the American Dental Association, the American Association of Orthodontists, the Raleigh–Wake County Dental Society, Southern Association of Orthodontists, Spear Study Club, and The Raleigh Wake Society of Women Dentists. She believes in giving back to her community and enjoys mentoring students who are interested in pursuing careers in dentistry and orthodontics. She is married to Dr. Anthony Horalek, a specialist in Endodontics, and they enjoy raising their sons together. To learn more, make an appointment for a free exam and consultation today.
LAND ORTHODONTICS
Dr. Alexis Shrager moved to Jacksonville, Florida in the mid-1990s at age 15. Her passion for quality orthodontics began when she, herself, received interceptive orthodontic treatment.
Hearing & Audiology Services is a locally owned, independent, full-service audiology practice that has been serving Raleigh for over a decade. As a new or existing patient, Dr. Engel will personally develop an ongoing, specialized treatment plan that best meets your individual needs.
HEARING & AUDIOLOGY SERVICES
SERVICESAUDIOLOGY&HEARINGⅼ
Dr. Andi Engel, AuD, CCC-A
Untreated hearing problems, regardless of severity, can lead to isolation, anxiety and depression. Don't let this happen to you! Let Hearing & Audiology services care for your hearing today with expert advice, personalized care and exceptional value.
SEPTEMBER/OCTOBER 2022 | 93 DOCTORSTHEMEET
6675 Falls of Neuse, Suite 117, Raleigh 919.834.4327 hearingandaudiologyservices.com
As an audiologist, Dr. Andi Engel focuses on improving her patients' quality of life through customized and effective treatment plans that include state-of-the-art hearing technology.
Mid-Carolina Obstetrics & Gynecology has been serving women and families in the Raleigh, Durham and surrounding areas since 1978. Our mission is to provide the best up-to-date medical care in a compassionate and family-friendly setting. Our caring physicians offer a wide range of obstetrics and gynecological health services to women in all stages of life. We look forward to building patient relationships and bringing a personalized approach to each patient's health care needs, creating a trusting and longlasting patient relationship.
94 | midtownmag.com DOCTORSTHEMEET GYNECOLOGY&OBSTETRICSMID-CAROLINAⅼ
All of our physicians are members of the American College of Obstetricians and Gynecologists and are board-certified by the American Board of Obstetrics and Gynecology. Our practice maintains privileges at UNC REX Healthcare, where we perform our deliveries and more robotic surgeries than any practice in North Carolina, as well as other related obstetrical and gynecological procedures. Mid-Carolina Obstetrics & Gynecology now offers a wide range of low-cost, in-office surgical procedures for patients. We also work with consultants from the University of North Carolina and Duke University so that our patients receive the latest health care technology in maternal fetal medicine, gynecological oncology, reproductive endocrinology and 4414urogynecology.LakeBoone Trail, Suite 300, 919.781.5510Raleigh midcarolinaobgyn.com
MID-CAROLINA OBSTETRICS & GYNECOLOGY
Dr. Weber and his staff get to know every patient, including their symptoms and medical history, which allows them to offer the best individualized treatment options available. 5241 Six Forks Road, Suite 100, Raleigh 919.277.9845 midtownpainspine.com
Dr. Weber, a retired lieutenant colonel in the U.S. Army, worked extensively with U.S. Special Operations Forces. He earned his doctor of osteopathic medicine from Kirksville College, interned at Dwight D. Eisenhower Army Medical center, and became board-certified in anesthesia and pain medicine at Walter Reed National Military Medical Center. Post-residency, Dr. Weber was deployed to Baghdad and selected chief of anesthesia, working as a combat trauma anesthesiologist. Once stateside, he was asked to open a pain management clinic at Fort Bragg. After 12 years of active duty, Dr. Weber resigned from the U.S. Army and became fellowshiptrained in pain medicine from Wake Forest University. He opened a new pain clinic at Duke University Hospital and, almost five years later, opened Midtown Pain and Spine Clinic.
CLINICSPINEANDPAINMIDTOWNⅼ
MIDTOWN PAIN AND SPINE CLINIC Dr. Thomas J. Weber, DO
SEPTEMBER/OCTOBER 2022 | 95 DOCTORSTHEMEET
Dr. Thomas J. Weber founded Midtown Pain and Spine Clinic in 2017. As the Triangle's elite pain management facility, the clinic offers a comprehensive patient-centered approach to care through nonsurgical and interventional treatments. Precision diagnostics, including image-guided spine intervention, provide patients with relief from their symptoms, once and for all.
MILLER CONCIERGE PHYSICAL THERAPY
96millerconciergept.com |
midtownmag.com
Temporomandibular joint (TMJ) disorder, head and neck pain can be brutal. Those who have never had it, simply can't understand. Miller Concierge Physical Therapy is dedicated to specializing in noninvasive treatment of TMJ–related pains. Dr. Leigh Miller's cutting-edge approach is based on the work of leading national physical therapy experts in the field of TMJ and cranial facial pain. Her approach gently decompresses the disc, drawing it back into its normal position to reduce pressure, clicking and pain.
96 | caryliving.com DOCTORSTHEMEET THERAPYPHYSICALCONCIERGEMILLERⅼ
Miller Concierge Physical Therapy's goal is to provide muscle tension relief with techniques that help alleviate pain— including trigger-point dry needling and postural corrections. Anyone who desires to maintain an active, healthy lifestyle without the threats of surgery, constant pain medications or injections owes it to themselves to pursue the most conservative yet comprehensive means of treatment. It's time for you to find out if Dr. Miller's approach to TMJ disorder relief is your jaw pain solution. During September only, we are running a special that allows you to find out if you qualify for our comprehensive jaw pain relief program. There are several things you can do at home to help alleviate jaw issues. To get your free "3 TMJ Relief Exercises," text "TMJ" to 33777. 106 Lake Boone Trail, Raleigh 1502 N.C. Highway 54, Durham 984.322.1940
Dr. Leigh K. Miller, PT, DPT, Certified DN, Certified TPI
NORTH RALEIGH PERIODONTICS
Dr. Macon Singletary, DDS, MS
A beautiful smile can help you feel confident and attractive, and affect how you feel about yourself and how others perceive you. Healthy teeth and gums are the first step toward that radiant smile and can lead to better overall health.
Dr. Macon Singletary of North Raleigh Periodontics has been improving smiles from the gums up for more than 25 years. As a board-certified diplomate with the American Academy of Periodontology and a laser-certified periodontist, Dr. Singletary treats gum tissue to maintain health, functionality and aesthetic qualities for his patients.
Dr. Singletary earned his B.A. from Duke University, followed by a DDS degree from Emory University's dental school. He then completed his specialty training at the department of periodontics in the UNC Adams School of Dentistry. After earning his master's degree and certificate of periodontics, Dr. Singletary opened his practice in Raleigh with the primary goal of educating patients about their treatment options, and providing patient-centered oral and systemic care. He specializes in laser regeneration to save teeth. Additionally, he places dental implants and performs gum grafts, gingival contouring, extractions, bone grafts, crown lengthening and implant repair. He also provides noninvasive laser treatment for individuals who snore. 7805 Fiesta Way, Raleigh 919.518.8222 northraleighperio.com
PERIODONTICSRALEIGHNORTHⅼ
SEPTEMBER/OCTOBER 2022 | 97 DOCTORSTHEMEET
Preston Dental Loft provides a luxurious, relaxing and tech-savvy approach to dentistry. Since opening in June 2016, Dr. Meenal Patel and her dental team have provided clients with a relaxing dental experience surrounded by friendly faces in an environment where clients receive top-notch, technologically advanced care. Dr. Patel and her team have created a highly personalized, relaxing and extraordinary dental experience designed to leave you rejuvenated and looking forward to seeing them again. The Preston Dental Loft team stays up-to-date on modern smile technology and transformational techniques to provide the best and latest options available to their clients. 140 Preston Executive Drive, Suite 200, 919.467.6111Cary prestondentalloft.com Meenal Patel
LOFTDENTALPRESTONⅼ
98 | midtownmag.com DOCTORSTHEMEET
PRESTON DENTAL LOFT Dr.
Meet Dr. Seth Bernard, DO, a family medicine specialist at Oak Street Health's Southeast Raleigh clinic. Founded in 2012, Oak Street Health is a national network of value-based primary care centers for adults on Medicare, and the only primary care provider to carry the AARP name. Our innovative care model goes beyond typical primary care to provide patients with comprehensive preventive care, including personalized wellness plans, integrated health services, and educational and social activities to support overall health and well-being.
3416 Poole Road #120, Raleigh 4600 Capital Boulevard, Raleigh 1000 N. Miami Boulevard #121, Durham oakstreethealth.com
The integrated model incorporates behavioral health care and social determinants support, and is easily accessible through a mix of in-center, in-home and telehealth appointments, as well as a 24/7 patient support line.
DOCTORSTHEMEET HEALTHSTREETOAKⅼ
Oak Street Health delivers better care, better outcomes, better lives. It also delivers personalized and preventive care through a model that was created to meet the unique needs of older adults who face chronic illnesses.
SEPTEMBER/OCTOBER 2022 | 99
OAK STREET HEALTH
Dr. Seth Bernard, DO
Since its founding, Oak Street Health has reduced patient hospital admissions by approximately 51% compared to Medicare benchmarks. It has also driven a 42% reduction in 30-day readmission rates and a 51% reduction in emergency department visits. Learn more at oakstreethealth.com or at our Southeast Raleigh, Northeast Raleigh or Durham locations.
CENTERSLEEPHEALTHPARKWAYⅼ
Dr. Singar Jagadeesan and the team at Parkway SleepHealth Center are committed to providing high-quality diagnosis, management and treatment of sleep disorders. Parkway SleepHealth Center takes pride in offering a comprehensive approach—sleep studies, consultations, and CPAP machines and supplies all in one convenient location in Cary. "Dr. Jag" is board-certified in neurology and sleep medicine. He has been actively diagnosing and treating sleep disorders for over 15 years. Dr. Jag practices conventional medicine but also understands the importance of lifestyle modification with proper diet, exercise, and how carefully selected natural therapies can enhance the efficacy of pharmaceuticals and conventional care. He is passionate about bridging the gap between natural and conventional medicine. Parkway SleepHealth Center has been locally owned and operated since 2005. Our sleep center is designed to make you feel at home during your sleep study. We want you to feel comfortable and cared for every step of the way. If you are suffering from snoring, sleep apnea, insomnia, restless legs or another sleep issue, Parkway SleepHealth Center can help. We are accepting new patients and invite you to schedule an appointment with us. 130 Preston Executive Drive, Cary 919.462.8081
100parkwaysleep.com | midtownmag.com
DOCTORSTHEMEET
SEPTEMBER/OCTOBER 2022 | 100
PARKWAY SLEEPHEALTH CENTER Dr. Singar Jagadeesan, ABPN, ABSM and ABIM
SEPTEMBER/OCTOBER 2022 | 101 DOCTORSTHEMEET MEDICALONEⅼ
Dr. Abigail Lancaster, MD
Dr. Abigail Lancaster is board-certified in family medicine and treats newborns through geriatrics. She joined One Medical in June of this year. She received her master's in public health and attended medical school at East Carolina University's Brody School of Medicine. Born and raised in North Carolina, she loves collaborating with Triangle families to provide the best experience and care possible. She realizes every patient's needs and goals are different, and she strives to work together with her patients in a warm, inclusive environment to achieve their best health. From women's health procedures to childhood checkups, Dr. Lancaster is able to meet your entire family's health care needs.
ONE MEDICAL
One Medical is a national, modernized primary care practice that provides accessible, high-quality health care with an integrated 24/7 telehealth and in-office care experience. One Medical members are able to easily book same- and next-day appointments within the One Medical app that start on time and provide uninterrupted, dedicated time between patients and primary care providers. One Medical offices are thoughtfully designed to provide welcoming, beautiful environments in convenient locations. There are three offices in the Raleigh-Durham area: North Hills in Raleigh, Brightleaf Square in Durham and the recently opened Fenton office in Cary. 200 Park at North Hills Street, Suite 100, Raleigh 720 Fenton Market Way, Suite 140, Cary 905 W. Main Street, Suite 18A, Durham 888.663.6331 onemedical.com/locations/rdu
For over 30 years, North Carolinians have trusted the Raleigh Hand to Shoulder Center. The center's doctors and therapists provide personalized and compassionate care to patients with conditions of the hand, wrist, elbow and shoulder. Each physician has completed training in orthopedic surgery, and a fellowship in hand and upper extremity surgery. They are experts in treatment of carpal tunnel syndrome, wrist tendonitis, tennis elbow, Dupuytren's contracture, hand and shoulder arthritis, rotator cuff tears, sports injuries, and fractures of the hand and arm. The practice has been recognized for high-value health care and patient Nonsurgicalsatisfaction.treatments are an important part of the practice, including splints, injections, and physical and occupational therapy. If surgery is necessary, the doctors operate primarily at Capital City Surgery Center, voted the No. 1 ambulatory surgery center in North Carolina for the past 2 years.
SEPTEMBER/OCTOBER 2022 | 102
DOCTORSTHEMEET
Drs. James Post, Paul Schricker, Terry Messer, John Erickson and George Edwards III welcomed Dr. Timothy Luchetti to their practice this summer. After his hand and upper extremity surgery fellowship, Dr. Luchetti practiced in Pennsylvania and is now excited to call North Carolina home. Dr. George Edwards Jr. recently retired after practicing for 38 years in Raleigh. 3701 Wake Forest Road, Raleigh 919.872.3171 raleighhand.com
RALEIGH HAND TO SHOULDER CENTER Doctors left to right Paul Schricker, MD, Terry Messer, MD, George Edwards III, MD, John Erickson, MD, Timothy Luchetti, MD and James Post, MD 102 | midtownmag.com
CENTERSHOULDERTOHANDRALEIGHⅼ
Dr. Lyle performs his in-office procedures in a fully accredited ambulatory surgery center (accredited by the Accreditation Association for Ambulatory Health Care) in conjunction with a board-certified Dr.anesthesiologist.Lylehasoutstanding credentials and experience. His patients appreciate his down-to-earth, honest demeanor and hands-on management. 1112 Dresser Court, Raleigh 919.372.3099 drglennlyle.com
Dr. Lyle is constantly researching more effective techniques and exploring new technologies. Although tried-and-true techniques are the mainstay of his practice, he has introduced newer adjuncts to his surgeries, such as fat grafting, VASER liposuction and Renuvion, as well as radiofrequency microneedling and Sofwave skin tightening to improve his patient's results.
RALEIGH PLASTIC SURGERY
SURGERYPLASTICRALEIGHⅼ
SEPTEMBER/OCTOBER 2022 | 103 DOCTORSTHEMEET
Dr. Glenn Lyle, MD
Dr. Glenn Lyle, MD, has been in the practice of plastic and reconstructive surgery for 28 years. His practice has evolved—initially involving primarily reconstructive surgery for most of the 1990s. Dr. Lyle arrived in Raleigh in 2000. He has concentrated on cosmetic surgery for the past 15 years. Although highly experienced in all manner of plastic surgery, his primary focus is on breast and body contouring and facial cosmetic surgery.
Carolyn Namde, PA-C takes a holistic approach to mental health and HRT. With these tools at hand, Regenesis MD is often the last stop for patients who are struggling to find answers.
At Regenesis MD, the full spectrum of anti-aging medicine is employed— from IV vitamin therapy, bioidentical hormones, peptides and weight management, to cutting-edge laser treatments, skin care, dermal fillers and PDO thread lifts. These services, along with over 200 supplements and skin care products offered in-house, provide patients with some of the best anti-aging services in the country. When people feel healthy and good on the inside, their glow is apparent on the outside.
Dr. Vaidya's experienced medical team includes three talented physician assistants. Lea Lott, PA-C, has been with Regenesis MD since 2018 and has a passion for aesthetic procedures, while Abby Stone enjoys hormone balancing and many types of procedures.
8020 Creedmoor Road, Raleigh 919.322.2844 regenesismd.com
104 | midtownmag.com
DOCTORSTHEMEET MDREGENESISⅼ
Dr. Bhavna Vaidya-Tank, MD, an integrative board-certified physician in the Raleigh area, founded Regenesis MD to treat the whole person, so patients could feel as beautiful on the inside as they do on the outside. She realized many people had become frustrated with the traditional medical approach and the fact that many aspects of health, wellness and beauty were being left unaddressed.
REGENESIS MD Dr. Bhavna Vaidya-Tank, MD
106 | midtownmag.com DEPARTMENTS ART
BY FRANCES DEESE PHOTOS COURTESY OF THE NCMA
For visitors with visual impairments, the addition of a thin gray line across the tops of labels will help set their eyes. Labels will also now be displayed bilingually in English and Spanish. And to blend in more of North Carolina's culture, 20 community voices from across the state—representing artists, students, journalists, civic leaders and even food activists—have written some of the wall labels.
The long-awaited North Carolina Museum of Art reinstallation debuts in October E ver since the North Carolina Museum of Art announced its intention to create "The People's Collection, Reimagined" in November 2021, art aficionados have eagerly anticipated its debut. The wait is almost over. Led by North Carolina Museum of Art Director Valerie Hillings, the museum expects to reopen its doors to this transformative reinstallation of the East and West buildings in October. Upon her arrival in 2018, Hillings was struck by the museum's areas of profound depth and strength. After conversations with her team, she began to think about what could happen if the museum's art history story was told a different way, rather than in a traditional geographic or linear presentation. They began working to conceive thematic and interpretive galleries that connect the collection across space and time, creating stories that speak to visitors and support the museum's mission to provide North Carolinians free access to their state's valuable cultural resources.
THE COLLECTIOPEOPLE'SN,REIMAGINED"
O ther initiatives make the museum and its galleries more accessible to visually impaired and Spanish-speaking visitors.
OLD TRADITIONS, NEW ADDITIONS W hile the museum staff is making an effort to represent modern practices in the reinstallation, it will also present some surprises, while acknowledging the "
A grant from the Andrew W. Mellon Foundation in 2020 helped advance the fruition of these ideas by offering financial support for a series of initiatives—one of which was to pair contrasting pieces together. The result: "Interchanges," unexpected pairings intended to broaden perspectives by exploring concepts and themes. This concept will now be expanded across five thematic galleries: "Made in the Americas," "Portraits and Power" and "The Africa We Ought to Know," will prompt visitors to ponder themes addressing power, cross-cultural contact and historical representation. In the "Art Includes" gallery, visitors will learn about the many forms of art—from dance to theater. The "Art Conservation" space will showcase the study of art, science, history and technology while featuring rotating conservation projects. Visitors will also be able to view loans from international sources.
SEPTEMBER/OCTOBER 2022 | 107
108 | midtownmag.com importance of the collection's history. This year marks the 75th anniversary of the North Carolina legislature setting aside state funds to start the "People's Collection." It was the first legislature in the country to buy an art collection that would later become a museum. This reinstallation also constitutes the museum's first complete reorganization since the West Building opened in 2010. H illings and her team happily invite feedback on the new look. Since the reinstallation is also a rededication to the people, it will not be final for another 10 years and will continue to serve as a launching pad for change. A n array of grand opening events will take place at the museum October 8–9 in honor of the reinstallation, including a family day of activities and gallery experiences for all ages, artist-led tours, a live drawing event, a lecture, an outdoor dance party and a concert. Learn more at ncartmuseum.org .
THE PEOPLE'S MENU, REIMAGINED Catering Works, which provides the food services for the North Carolina Museum of Art, has reimagined The People's Menu to showcase a rotating anthology of cuisine at the museum's cafe. Chef Rick Sloan comes from a family of fishermen, farmers and amazing home cooks. He worked under celebrity chef Katsuji Tanabe to develop and launch High Horse restaurant. At the museum, Sloan creates inspired recipes that reflect the many cultures, traditions and flavors of North Carolina. Signature dishes include his shrimp and grits, Ashe County cheddar truffle mac, sweet tea fried chicken and peanut butter mousse with chocolate crumble. The cafe also offers barista coffee services.
QUALLA ARTS AND CRAFTS MUTUAL –qCHEROKEEuallaartsandcrafts.org
THE FOLK ART CENTER'S SOUTHERN HIGHLAND CRAFT GUILD – ASHEVILLE southernhighlandguild.org/folkartcenter
Here are some of the must-see highlights along the trail's network of creativity.
Hartley adds that fall, in particular, is a time of "celebration" for the region—when nature comes back to life with the beauty of North Carolina's transforming hues. During autumn, the Blue Ridge Craft Trails offer a host of festive activities to enjoy—with a spiced apple cider in hand—alongside the state's striking backdrop.
Visit the nation's oldest Native American artists cooperative and uncover the origins of craft in our western region. Here, travelers can examine low-fired pottery, wood and stone carvings, intricate beading, ceremonial masks and more.
THE BLUE RIDGE CRAFT TRAILS
TRAVEL
At this internationally celebrated center for education and craft, learn how to design with media like paper, clay and iron, from world-renowned teachers. Or, enjoy a stroll through Penland Gallery—one of the Southeast's premier craft showcases.
PENLAND SCHOOL OF CRAFT –pPENLANDenland.org
DEPARTMENTS
Meander through two floors of crafts and shop a wide selection of baskets, ceramics, jewelry, glassware, woven items and more. In the fall, watch themed demonstrations inside and outside the center.
"Western North Carolina has some of the most distinctive cultures in the United States," says Blue Ridge National Heritage Area Communications Manager Leslie Hartley. "From a living heritage of handmade craft dating back thousands of years with the Cherokee, to traditional music, amazing natural beauty and a diverse ecosystem."
T his fall, stray from the beaten path. Embark on a brand-new network of trails in the North Carolina mountains to experience the ultimate harvest time retreat—complete with vibrant foliage, small-town charm and 310 unique art destinations. As golden leaves flutter through the crisp air, North Carolina's winding back roads lead to a unique haven: a tapestry of paths known as the Blue Ridge Craft Trails. The area, designed to highlight the state's mountains and foothills, is a hotspot for traditional and contemporary handiwork like glass blowing, basket weaving, woodcarving and pottery. Just a short distance from hubs like Charlotte, Cary and Raleigh, it's a slice of autumnal heaven—for both locals and newcomers alike.
110 | midtownmag.com
THIS PAGE: TOP PHOTO COURTESY OF BILL LEA, BOTTOM PHOTO COURTESY OF SAM DEAN OPPOSITE PAGE: TOP LEFT PHOTO COURTESY OF NC WILKES COUNTY, TOP RIGHT PHOTO COURTESY OF MOUNTAIN HERITAGE CENTER, BOTTOM PHOTO COURTESY OF JOHN WALDROUP BY KATELYN RUTT
oconaluftee-indian-villagevisitcherokeenc.com/play/attractions/
OCONALUFTEE INDIAN VILLAGE – CHEROKEE
November 11–13
MOUNTAIN HERITAGE FESTIVAL –
A main-street festival is the ultimate way to kick off fall's cooler months, with celebrations of craft and music. Sample homemade foods, shop locally made goods and view dance performances throughout the day at this annual festival.
2022-studio-tour/toeriverarts.org/artists/exhibitions/
As one of the nation's oldest, largest and longest-running studio tours, this is a must-see. Visitors are invited to take part in a self-guided experience with the help of roadside signs. Meet more than 100 artists and view their work in intimate home studios and galleries.
SeptemberSPARTA 17, 2022 alleghanycountychamber.com/mountain-heritage-festival
Experience an authentic 1750s-inspired experience led by Cherokee guides through lodgings, ritual sites, work areas and more. During this interactive trail experience, guests can spot villagers hulling canoes, creating pottery, participating in traditional dances and conducting blow gun demonstrations.
WESTERN NORTH CAROLINA POTTERY FESTIVAL – SYLVA November 5, 2022 wncpotteryfestival.com This one-day event is perfect for pottery lovers. Enjoy demonstrations, conversations about techniques and plenty of shopping opportunities. Why not stay the weekend? The town of Sylva is walkable and offers breweries, restaurants and gorgeous autumnal vistas.
TOE RIVER ARTS STUDIO TOUR –YANCEY AND MITCHELL COUNTIES
SEPTEMBER/OCTOBER 2022 | 111
112 | midtownmag.com
Grassy Creek riverhousenc.com
This hotel juxtaposes an eclectic, mountain aesthetic with all the perks of a destination resort. Harrah's is one of North Carolina's four casinos, and its new food court features Guy Fieri's Cherokee Kitchen + Bar
RIVER HOUSE INN & RESTAURANT
STOP FOR CIDER Western North Carolina is known for its world-famous apples, so while you're on the trail, plan a pit stop at Bold Rock Mills River Cidery in Hendersonville along the way. Having won more than 100 awards, the Hendersonville cidery—one of two flagship facilities—displays its production floor and bottling line. Grab a glass or join a tasting, and learn about the cidermaking process from seed to cider. You'll also find food trucks and an expansive Cider Garden—a perfect place to hang out with the kids and dogs. Learn more at boldrock.com/visit/mills-river-cidery
WHERE TO STAY From rustic to high-end, the Blue Ridge Craft Trail offers a variety of lodging options. Check in for a stay at one of these hidden gems.
HARRAH'S CHEROKEE CASINO RESORT cCherokeeaesars.com/harrahs-cherokee
Set on the historic New River, this cozy bed and breakfast borders a mile of riverfront for outdoor tubing, wading, fishing and canoeing—plus 160 acres of walking trails and nearby golfing. Looking to kick back? Enjoy rocking chairs with a river overlook, punctuated by bright foliage and mountains.
TOP PHOTO COURTESY OF BILLY WELCH BOTTOM PHOTO BY CAPECODPHOTO/GETTY IMAGES
MOUNT MITCHELL ECO RETREAT
Set on 25 acres—and bordered by Pisgah National Forest—this retreat offers unparalleled porch panoramas, picturesque in every season. The cabins are updated in a modern design and feature views of Mount Mitchell and the Black Mountains.
mBurnsvillemecoretreat.com
SEPTEMBER/OCTOBER 2022 | 113 Achieve the Most Beautiful Version of You Feminine rejuvenation Hair CustomizedTreatmentrestorationofspiderveinsmedicalgradeskincare New Life Aesthetics is a boutique-style aesthetic medical practice, owned and operated by Meredith Harris, NP. The mission of our practice is to provide exquisite service and safe, transformative, beautiful outcomes. Our commitment is to educating, empowering and enhancing the most beautiful version of each guest. 5816 Creedmoor Road, Suite 209, Raleigh 919.521.8282 | NewLifeAesthetics.com Non-surgical anti-aging Body contouring Cellulite and skin tightening Treatment of problematic skin Meredith Harris, MSN, NP Heather Shelton Roberts, BSN, RN
114 | midtownmag.com S al Canzonieri can thank a bone tumor for setting the course of his life. Back in 1975, at 15 years old, Canzonieri underwent surgery to remove the growth, and his mother, looking to comfort her son, offered to support him in any activity he chose. "I was like, I want a guitar, and I want to learn kung fu," Canzonieri recalls. Soon he was practicing Shaolin kung fu and learning power chords. Later, Canzonieri would go on to tour the world as the founding member of cult punkrockers Electric Frankenstein, and turn his martial arts practice into a holistic approach to kung fu and the more internally focused qigong, which he now teaches to others interested in Chinese traditional martial arts. Recently settled in Cary, Canzonieri is ready to start yet another chapter in his life of rock 'n' roll zen. His brother Dan, who plays bass, lives in Apex; and drummer Wheez Von Klaw lives in Carrboro, officially making Electric Frankenstein a Triangle band. Lead guitarist Ed Warner, of longtime Raleigh rock 'n' rollers KIFF, stepped in to play lead guitar, helping the band re-energize its old material—and start work on new songs, as well.
FAMOUS MONSTERS
When the Canzonieri brothers founded Electric Frankenstein in 1989, it was an outgrowth of the same childhood obsessions that turned Canonieri onto rock 'n' roll and martial arts in the first place. "We all grew up on Famous Monsters magazine, Rat Fink [comic books], hot rods, 'The Munsters,'
DEPARTMENTS MUSIC
"It's refreshing to basically build it up again from the ground up," Canzonieri says. "We went back to the original albums and we re-learned the songs the way the albums are. The speed of the records, and the intensity."
RHODESPATTIOFCOURTESYPHOTOBY BRYAN C. REED
New to the Triangle, Sal Canzonieri and Electric Frankenstein look to reanimate their raucous rock 'n' roll
INSPIRED AND INSPIRING
Whether that inspiration comes from music or meditation, movies or monster magazines—or martial arts—Canzonieri makes a clear connection: "It all narrows down to making life worthwhile."
HOUDEKPATRICKOFCOURTESYPHOTO principles of his martial arts practice, learning "how to be happy in the world without being a part of the world," he says. "You're enlightened, you're awake. Your brain is seeing insights. That further augments the fact that you like cool movies, foreign films, indie films, cool art— everything that's really interesting."
By pulling elements from disparate sources, Sal Canzonieri has constructed a life that, like the avatar of his band, often seems larger than life. Fitting, then, that it all started with a bit of surgery.
DONNYDIRTYOFCOURTESYIMAGE
But the early years found the band looking to reanimate a scene that had gone stale. "New York was real sleepy when we started," Canzonieri says. "We were like, oh, we gotta wake everybody up and jump-start things. So we did." A blend of influences on Electric Frankenstein provided the foundation for this wake-up call. "We said, 'Let's put together a band that could inspire people the way we got inspired by other bands.' We were looking at The Damned, and so many bands, he says. "We were influenced by so much stuff: '50s stuff, '60s stuff, '70s stuff. It's a lot of influences, and that's the reason we're called Electric Frankenstein. All the body parts are all the kinds of rock, and when you put them together, it's something bigger."
For more than 30 years, Electric Frankenstein has provided a platform for visual artists like Basil Gogos, Mad Marc Rude, Dave Burke, Coop, Emek, Ron English, Dirty Donny and Frank Kozik, among many others. Two collections of the band's album and poster art have been compiled and published; a third book offers illustrations accompanying the lyrics to 125 Electric Frankenstein songs.
Musically, the band has proven influential not only in their performances and prolific recorded output, but in the platform Canzonieri has provided for other bands with his "A Fistful of Rock & Roll" compilations. "Life can be really fun and great and inspiring," Canzonieri says. "And punk does that. It lets you wake up to an inspiring life. You want to be inspired and you want to be inspiring to other people."
For Canzonieri, that merger of disparate elements is, ultimately, the point. It's an extension of the Daoist and Buddhist
SEPTEMBER/OCTOBER 2022 | 115 'The Addams Family,'" he remembers. As far as kung fu was concerned, he says, "1973 was 'Enter The Dragon,' so that was the original inspiration." But while the early 1990s saw the explosion of "alternative" rock, tastes for old-school punk rock had receded from the public view. Often described as a "punk revival" act, Electric Frankenstein embraced the aesthetics of lowbrow art and pop culture, and took inspiration from high-octane rock bands like The Stooges, the Ramones, AC/DC and the New York Dolls. For more than 30 years, with scores of singles, compilation appearances and studio albums to the band's name, Electric Frankenstein has honed its dynamic fusion of old-school punk and garage rock, building a global audience with loyal fans across the U.S., Europe and Japan. Even now, Canzonieri says, "We're as intense as we always were because we never stopped playing."
116 | midtownmag.com
SEPTEMBER/OCTOBER 2022 | 117
What goes into the process of growing tomatoes, and what is the difference between hybrids verses heirlooms?
A graduate of the University of North Carolina at Chapel Hill, Adams works as a horticultural and grounds superintendent for North Carolina State University's Centennial Campus. He oversees 10 other grounds maintenance crew members who blow walkways, spray and pull weeds, spread mulch and prune hedges. His two-person horticultural crew designs, plants and maintains flower beds across Centennial Campus. Over a decade ago, Adams worked as grounds director for the North Carolina Executive Mansion.
I'm a part-time nursery grower. My full-time job is horticulture and grounds supervisor for Centennial Campus for NCSU. I grow vegetable plants from late January through the middle of May. January and February are about starting seed trays for all the vegetables in the greenhouses. March is when things really ramp up, as I start potting seedlings in 4½inch pots. By the end of March, I start selling at the Raleigh [State] Farmers Market. I have a young lady who works 9 a.m.–2:30 p.m., Monday through Friday, then I take her place when I get off from NCSU and work 2:30–5 p.m., Monday through Friday. And I'm there 9–5 Saturday and Sunday. I then pot up plants almost every night in my greenhouses. This went on this past season for seven weeks.
Sixth-generation farmer Gerald Adams agrees. He grew up on a tobacco farm outside Knightdale, and is one half of the eponymous Gerald and Henry's Plants, also in Knightdale. The other half of the business' name refers to his 3-year-old grandson, Henry.
Adams oversees two greenhouses on his farm, and also runs a stand at the State Farmers Market in Raleigh mid-March through early May, where he sells a diverse group of organic, locally grown heirloom tomato plants—more than 130 varieties this year alone. He also grows more than 50 varieties of peppers, 30 varieties of eggplant and Dwarf Tomato Project varieties, which are rapidly becoming more popular. "Gerald and Henry's Plants was my dream for many years, but finally came to fruition in 2020," Adams says. "Initially, I got started growing vegetable plants for roadside farmers. Now we've grown into a full-fledged vegetable plant retailer, and our tomato varieties have won taste competitions all across the U.S., while being featured in numerous magazines."
Tomatoes, peppers and eggplants are all grown mostly the same way. I start them in 128-count cell trays then move them to 4½-
GERALD AND HENRY'S PLANTS
We talked tomatoes with Adams and learned all about a day in the life of an heirloom farmer. What is a typical day like for you?
A 6th generation heirloom vegetable farmer nurtures his family's legacy BY ELIZABETH LINCICOME PHOTOS COURTESY OF GERALD ADAMS
DEPARTMENTS COMMUNITY
A ccording to the U.S. Department of Agriculture, an estimated 10.3% of the U.S. labor force is made up of farmers and farm-related jobs— yet 100% of us eat. Agriculture is key for economic transformation, food security and nutrition, making farming one of the most important professions a person can pursue.
What about ongoing supply chain issues? Has COVID or the war in Ukraine impacted your business in any way?
Most of the growers at the market will point out another grower if a customer is looking for a particular plant that they do not have.
Depending on the time of year, you may have to get on a waiting list. Many growers, like me, are seasonal. Christmas tree growers are [there in] November and December, for example, and strawberry growers [are there in] late April until early June. Return growers get priority over new growers.
SEPTEMBER/OCTOBER 2022 | 119 inch pots. Peppers and eggplants take longer to germinate and longer to get rooted in pots, so you have to start them two to four weeks earlier than tomatoes. There's a lot of debate in defining an heirloom vegetable. Some say it has to be over 50 years old. Some say it has to be over 25 years old. Some say it has to have been passed down from generation to generation in a family or community. The one certain answer is: All heirloom vegetables are open-pollinated, which means the seed taken from a fruit will grow the same plant and fruit. Hybrids are cross-pollinated, which means the seed from these fruits can produce another plant or fruit that might be somewhat similar, or could be nothing like the previous fruit. Color, size and taste can [sometimes] be nothing like the original hybrid.
North Carolina, in general, has such an extensive farming history that vegetable growing—and all types of varieties—have been constants for years. On the farm I grew up on, we would have 3–5 acres of vegetables every year.
I think most farmers, nursery growers, are naturally pessimistic. I'm growing my plants organically because there is a demand [for them]. I don't have a problem using chemicals because I know how to correctly apply them, but some people don't.
Where can people buy your produce, aside from the State Farmers Market?
This year I had 130 varieties of tomatoes, 30 varieties of eggplant and 50 varieties of peppers. If you added all of the varieties the other growers had all together it would not be anywhere close to the varieties I offer.
It's not really competition. The other vegetable plant growers at the market also grow lots of flowers and other plants. I grow only vegetable plants. Some of them grow smaller plants in four-packs or six-packs, and some grow larger plants in 1 or 2 gallons. I have a much larger selection.
Gas and diesel fuel have skyrocketed, soil is up 30%, fertilizer has more than doubled.
I should have increased my prices this past year but did not. I will have to increase them nextLearnseason."more about Gerald and Henry's Plants at geraldandhenrysplants.com
Central North Carolina has a long summer vegetable growing season, usually from April 15 till early November. Really, any summer vegetable can be grown here.
The better the experience the customer has at the market, the more repeat customers— and all growers benefit.
I only sell plants at the Raleigh [State] Farmers Market. My greenhouses are in a location that is not retail-friendly. I do have a website (geraldandhenrysplants.com), but much of my sales come from word-ofmouth. I'm also a regular guest on Saturdays on the "WPTF Weekend Gardener" show on A.M. 680 radio, and many listeners of the show seek me out. Is there competition among all the farmers who have stands at the State Farmers Market?
Can you explain what it takes to earn a spot selling produce at the State Farmers Market?
I know from experience in my own garden how hard it can be to keep the rabbits away from tomato plants. Any secrets? Rabbits mostly bother young tomato plants. You can make a barrier out of chicken wire 2- to 3-feet tall, which will keep them out. You can also plant something like lettuce, which rabbits love more, and sacrifice the lettuce to keep them out of the tomatoes. What makes this part of the state unique in terms of farming, and what about North Carolina in general?
Do you have any environmental concerns for the future? There is so much discussion around global warming and issues such as that.
All have had an effect. Nursery pots are in short supply because of a two-year polyethylene shortage. Prices have doubled. Inflation is the biggest problem.
120 | midtownmag.com
SEPTEMBER/OCTOBER 2022 | 121 TALKOFTHE TRIANGLE MidtownandCaryLivingmagazines' "TalkoftheTriangle"podcast enrichingthatpeople,introduceslistenerstothefascinatingplaces,eventsandactivitiesmakethisregionsuchanplacetolive. TalkoftheTrianglebothexpands onthestoriesyouhavelovedinthemagazines,andintroducesyoutonewstoriesandfascinatingpeoplewehaveyettowriteabout.HAVEYOUHEARD? For limited host-read advertising and sponsorship opportunities contact: advertise@midtownmag.com919.782.4710advertise@caryliving.com AVAILABLEONALLYOURFAVORITEPODCASTPLATFORMS:Spotify,ApplePodcasts,iHeartRadio,AmazonAudible,GooglePodcastsandmore. ALSO OFFERING • HydraFacial® • DiamondGlow® • Skin tightening • Skin resurfacing • Acne and Mohs scar improvement • Laser hair removal • Clinically proven technologies and advanced medical skincare 919.333.4418 1112 Dresser Court, Raleigh The MedSpa is the only certified provider in Raleigh to offer this sequential treatment that targets the three biggest signs of aging skin –tone, texture and volume. PLEASE CALL OR TEXT OUR OFFICE FOR YOUR COMPLIMENTARY CONSULTATION. facebook.com/themedsparpsc@themedspathemedsparaleigh.com Be Glowing this Fall with SmoothGlo™ • Dramatically reverses the visible signs of aging • Helps with even the most stubborn age spots • Improves age-related wrinkles and fine lines • Incorporates microneedling with radio frequency AWARDDIAMOND2022BEST BROW AND LASH SERVICES AWARDDIAMOND2022 BEST MED SPA
STEP ONE Learn the laws and regulations in your state. Numerous articles, blog posts and websites are dedicated to explaining various states' cottage food laws. Other than researching the departments of agriculture or health for your state online, I recommend visiting products.phphow_to_sell_your_homemade_food_pickyourown.org/
3. Wher e can a cottage food business sell its products?
There was a distinct need for baked goods that did not contain ingredients we could not pronounce. People were looking for wholesome baked goods that were not ultra-processed. And because of this, my cottage bakery was born.
SELL DIRECTLY TO THE CUSTOMER. This means you can bake goods in your home kitchen and have your customers pick up their orders at your home. If you'd prefer not to invite customers to your home for pickup, you can meet them at a public location. BAKERY
DEPARTMENTS FOOD 122 | midtownmag.com CREATE A CERTIFIED COTTAGE
While searching for information about starting your cottage food business, be sure to look for answers to the following questions:
STEP TWO CREATE YOUR MENU. Before cultivating your menu, consider what you're allowed to sell. North Carolina allows only the following nonperishable foods to be made and sold: bread, cakes, cupcakes, cookies, brownies, candy, dry goods mixes, pies, high-acid canned preserves and snacks.
STEP THREE Determine the ideal sales channels for your cottage bakery. Here are some options.
. Here you will find cottage food laws for all 50 states.
4. How much pr oduct can a cottage food business sell?
2. What pr oducts can a cottage food business sell?
CREATE WHAT YOU ENJOY. What do you like to bake? Do you enjoy decorating cakes? Is your heart in creating intricately designed sugar cookies? Determine what you enjoy creating, then take the time you need to perfect those items.
1. What does an operator need to do to obtain a cottage food certificate?
In 2010, I decided to expand from baking for family and friends to baking for customers. I was interested in working from home, doing something I loved. Becoming a certified cottage baker provided the flexibility I needed to work around my family, and an income stream I could contribute to our expenses. In addition to the flexible schedule, I realized my community needed me.
If you're ready to schedule your home processor inspection in North Carolina, visit ncagr.gov
REMEMBER: PRACTICE MAKES PERFECT. After you decide what you want to make, start practicing. Try new recipes and new decorating techniques. YouTube, TikTok and Instagram are excellent places to watch videos that will help you develop new ideas or decorating techniques.
BY DEANNA MARTINEZ-BAY PHOTOS BY 4 SEASONS PHOTOGRAPHY
A cottage food business is a licensed or permitted business that enables bakers to make and sell nonperishable foods from their home kitchens. Each state has its own "cottage food laws" that cottage food businesses must follow. Usually, these laws are overseen by a state's department of agriculture or health. The North Carolina Department of Agriculture provides a certificate after administering a home inspection that will allow you to legally open your very own cottage bakery. Here's how to do it.
122 | caryliving.com
Props are OK—just be sure they do not clutter the photo. Indirect natural light is best for food photos. Get creative and take your baked goods outdoors to snap the perfect shot.
This recipe won second place in Taste of Home magazine's "Taste of Italy" contest!
SEPTEMBER/OCTOBER 2022 | 123
DIRECTIONS FOR THE TOPPING:
1. Whip the heavy whipping cream with a mixer until soft peaks form. Add the powdered sugar and mix it in until combined. Spread the topping over the cooled cake.
DIRECTIONS FOR THE CRUST:
1. Preheat the oven to 325 degrees. Place a greased 9-inch springform pan on an 18-inch square of heavy-duty foil. Securely wrap the foil around the bottom of the pan.
2. In a small bowl, combine the graham cracker crumbs and sugar; stir in the butter. Press the crust mixture onto the bottom of the prepared pan.
DIRECTIONS FOR THE FILLING:
STEP FOUR MARKET YOUR BUSINESS. Social media channels are an ideal way to market your cottage bakery. It is an economical option and allows you to reach many people. The key to a successful porch pop-up, for example, is to market your event on social media and neighborhood websites. This allows you to build up a clientele who will purchase from you time after time.
Tip: For leftover cheesecake, wrap individual slices in press-and-seal wrap then freeze each slice for up to three months. To defrost the slices, allow them to adjust to room temperature on the counter or pop them in the microwave on the defrost setting for about 30 seconds.
PHOTOGRAPHY MATTERS
4. Cool the pan on a wire rack.
3. Place the pan on a baking sheet and bake it for 10 minutes.
3. Carefully run a knife around the edge of the pan to loosen the crust from it. Cool the cheesecake for an additional hour. Refrigerate overnight, then remove the sides of the pan.
Be sure to share crisp, clear pictures, and allow the food to be the main focus.
Crust:INGREDIENTS
2. Garnish the cheesecake by drizzling it with caramel or chocolate syrup. Refrigerate the leftovers.
2. Pour the mixture over the baked crust and bake for 50–60 minutes, or until the center is just set and the top appears dull. Cool the cheesecake on a wire rack for 10 minutes.
I suggest Facebook, Instagram and TikTik to start. On Facebook, create a bakery page and group, and invite all your friends to like and join them. For Instagram, open a business account and connect with local people and businesses. TikTok viewers love seeing videos of baked goods, as well as you baking them in your kitchen!
3/4 cup of graham cracker crumbs 3 tablespoons of sugar 3 tablespoons of butter, melted Filling: 2 8-ounce packages of cream cheese, softened 2 8-ounce cartons of mascarpone cheese 1 cup of sugar 1 tablespoon of lemon juice 1 tablespoon of vanilla extract 4 eggs, lightly beaten Topping: 1/2 pint of heavy whipping cream 1 cup of powdered sugar Optional: 1 tablespoon of caramel ice cream topping or chocolate syrup
PORCH POP-UPS. Before planning a porch pop-up, make sure your neighborhood allows them. This is similar to a yard sale, so if you are allowed to sponsor one, your porch pop-up should be no problem. I've talked to cottage bakers who earned hundreds to thousands of dollars each weekend from hosting porch pop-ups on their porches, in their driveways or in their garages.
FARMERS MARKETS. Farmers markets are in full swing during the spring and summer months in North Carolina, and create fantastic selling opportunities for cottage food operators.
DEANNA AWARD-WINNINGMARTINEZ-BAY'S TASTE OF HOME MASCARPONE CHEESECAKE
1. In a large mixing bowl, beat the cheeses, sugar, lemon juice and vanilla together until smooth. Add the eggs and beat the mixture on low speed until just combined.
124 | caryliving.com124 | midtownmag.com 2023 DIAMOND AWARDS Coming in our January/February 2023 issues WE ARE LOOKING FOR THE BEST OF RALEIGH and WESTERN WAKE Stay tuned for details about this year's prize packages! We will host drawings for each magazine for all eligible voters who fill out our voting forms. Those who vote in at least 15 categories will be eligible for the prize drawings, which will take place after publication of the January/February 2023 issues. VOTE SEPTEMBER 1–30 4285 Trinity Road, Raleigh, NC 27607
AWARDDIAMOND2022BEST PLACE FOR SUNLESS TANNING THE OakCitySunless.comPREMIERTRIANGLE'SCONCIERGESUNLESSTANNINGSERVICE.844.SPRAYTN
EXPANDING OPTIONS
eshav Kalia sees flavor as a pathway to unlock memories and celebrate culture. It's no wonder, then, that the restaurant he owns and manages— Zayka Indian Cuisine—is named after the Urdu word for "flavor." The flavors served up at Zayka Indian Cuisine are the restaurant's differentiator in a market that has several options for Indian food. "There are many Indian restaurants around here, but most hire chefs locally and train them," he says. "It's really difficult to train someone to recreate the exact flavors from India, which is why we chose to bring in our chef from India." Kalia's journey with Zayka Indian Cuisine began in 2014. He interviewed to become the restaurant's manager while he was still living in Singapore and managing three restaurants and two banquet halls. Just a year after moving to the U.S. to pursue the opportunity, he had the chance to purchase the business from the previous owners and became the restaurant's sole proprietor. Initially, Zayka Indian Cuisine was offering many of the same dishes as its competitors. Kalia observed that most of the customers were American. But now that Kalia was at the helm, he was ready to shake things up—and was on the lookout for gaps in the market that he could fill.
"When there's a family event like a big wedding, people miss their traditional state food," Kalia says. They need the food that they would normally get if they were back home in India. We try to accommodate them, and we are always willing to go the extra mile for our customers to give them a similar experience here by providing their state food from their home."
The catering arm of the business has become so popular that it has expanded beyond North Carolina and now covers many surrounding states, including West Virginia, Georgia and South Carolina. In the future, Kalia plans to open a commercial kitchen that can help fulfill these large orders and cater to customers' every need. Kalia's plans for the future don't end with catering. Just as he noticed a lack of Indian chefs in the U.S. years ago, Kalia has identified another gap in the market—which he plans on bridging with a new restaurant concept. Street food is wildly popular in India, but Kalia says few restaurants are making Indian street food in the U.S. In response, Kalia recently opened Chaat Mandi in Morrisville. The restaurant is named after chaat, a popular Indian snack, and "mandi," the Hindi word for "market." Chaat Mandi has the same focus on quality that Zayka Indian Cuisine does but with a more casual atmosphere, Kalia says. The concept also shifts away from a traditional restaurant by offering light breakfast and late-night snacks.
ZAYKA INDIAN CUISINE
DEPARTMENTS CHEF'S TABLE
126 | midtownmag.com
This breadth of experience has served Zayka Indian Cuisine well. Although the restaurant's menu focuses on Punjab food, or food from Northern India, Kumar has experience with traditional dishes from all across India. With 28 states and eight union territories, the country boasts a wide array of foods associated with all of the different cultures. These traditional cultural foods have become the backbone of the catering arm of the company.
BY KATIE JANSEN | PHOTOS BY MASH PHOTOGRAPHY K
A FOCUS
Kalia has big plans for the Zayka Indian Cuisine empire. He has toyed with the idea of a third concept, perhaps fusing Indian cuisine with another culture's food, such as Mexican or American. Regardless, diners can be sure that he is always assessing the market to see what's missing—and planning his next steps as he thinks about the new flavors he can bring to Raleigh. Explore the menu at zaykaraleigh.com. ON AUTHENTIC FLAVORS
CUISINE FROM ACROSS INDIA One of the first orders of business was finding a chef who could deliver something truly special. Kalia had a vast network from his time at university, where he pursued a master's of science in catering and hospitality and an master's of business administration in hotel management. He recruited his classmate and friend, Sanjeev Kumar, who had since become an internationally acclaimed celebrity chef, making him eligible for a special visa to work in the U.S. The pandemic delayed Kumar's arrival in the U.S., but once he settled in and started cooking, Kalia noticed a marked difference. Now, the restaurant attracts customers of both American and Indian descent, all of whom want a taste of Kumar's flavors. In addition to tandoor dishes and kebabs, Kumar's specialty is dal Bukhara, a lentilbased dish cooked overnight and sauteed with tomatoes, ginger and garlic. He is from the region where the dish was invented and even worked at the restaurant that is well known for the delicacy: the ITC Maurya in NewButDelhi.Kumar's talents extend far beyond his hometown specialties—he can cook not only traditional Indian naan, but also hundreds of breads from other regions and countries, such as Pakistan and Afghanistan.
ZAYKA INDIAN CUISINE'S CHEF SANJEEV KUMAR SEPTEMBER/OCTOBER 2022 | 127
7. After 10 minutes, baste the kebabs with butter and the remaining marinade. Flip the kebabs and bake them for another 10–15 minutes or until done.
INGREDIENTS
DIRECTIONS
6. Arrange the kebabs on skewers, place them on the baking tray and bake them for 10 minutes.
4. Add in the boneless chicken cubes and mix well until the chicken is evenly coated. Cover the bowl and set aside the kebabs to marinate for a minimum of three hours. You can also refrigerate them for a longer time.
To be ground into paste: 100 grams of ginger 8 garlic cloves 2 green chiles For the marination: 2 tablespoons of fresh cream 2 tablespoons of Britannia Cheese Spread – Asli Pepper 2 tablespoons of hung curd (Greek yogurt) 1/2 teaspoon of cardamom (Elaichi) pods/seeds 1 teaspoon of garam masala powder 1/2 teaspoon of nutmeg powder 1/4 teaspoon of white pepper powder 1 tablespoon of lemon juice 1 tablespoon of corn flour 1 teaspoon of kasuri methi (dried fenugreek leaves) Salt, to taste Butter (salted), for basting
8. Remove the kebabs from the oven when they are almost done. If you have a gas stove, turn on the flame of it and hold the skewers over the flame to achieve a slightly roasted and smoked flavor and color.
9. Serve the hot kebabs as an appetizer or entree.
3. To marinate the chicken, in a large mixing bowl, combine the fresh cream, hung curd, cream cheese, salt, ginger, garlic, green chile paste, garam masala powder, cardamom powder, nutmeg powder, white pepper powder, lemon juice, corn flour and kasuri methi. Mix well.
CHICKEN MALAI KEBAB
128 | midtownmag.com
1. Prep all the ingredients for the marinade. Wash and pat the chicken dry, then set it aside.
2. Make a paste with the ginger, garlic and green chiles. You could optionally add 2 tablespoons of water to blend into a paste.
5. To bake them, preheat the oven to 200 degrees celsius for 10 minutes. Line a baking tray with aluminum foil then grease it generously with the oil, or you can cook in a tandoor on a slow flame.
1 pound of boneless chicken , cut into 2-inch cubes
130 | midtownmag.com AREPA CULTURE NC 6724 Glenwood Avenue #100 919.986.8487 BAZILarepaculturenc.comINDIANCUISINE 6602 Glenwood Avenue 919.307.3034 BADbazilindiancuisine.comDADDY'SBURGERBAR 111 Seaboard 9402919.747.9163AvenueFallsofNeuseRoad, Suite 103 919.233.5880 COUSIN'Sbaddaddysburgerbar.comMAINELOBSTER 411 W. Morgan Street 919.867.6203 EDIBLEcousinsmainelobster.comARTBAKERY&DESSERT CAFE 4351-115 The Circle at North Hills 919.856.0604 edibleartnc.com GLENWOOD SOCIAL CLUB 510 Glenwood Avenue 919.758.8851 MIDTOWNglenwoodsocialclub.comPHO 424 E. Six Forks Road, Suite 105 919.747.9899 NOFOmidtownphoraleigh.com@THEPIG 2014 Fairview 919.821.1240Road POKÉnofo.comBAR 909 Spring Forest Road 919.896.6256 SALTilovepokebar.com&LIMECABO GRILL 6006 Falls of Neuse Road 919.872.2230 saltandlimecabo.com TASTEFULLY SERVED Serves Raleigh, Cary, Apex and RTP 919.760.5134 TAVERNAtastefully-served.comAGORA 326 Hillsborough Street 919.881.8333 TIFF'Stavernaagora.comTREATS 421 Daniels 984.664.5990Street VIDRIOcookiedelivery.com 500 Glenwood Avenue, Suite 100 919.803.6033 VINNIE'Svidrioraleigh.comSTEAKHOUSE AND TAVERN 7440 Six Forks Road 919.847.7319 vinniessteakhouse.com DINE & DRAFT This list represents the Raleigh restaurants that have advertised with us since the start of 2022. Looking for our comprehensive Dine & Draft directory? Check out midtownmag.com/dine-draft for a detailed foodie guide to Raleigh. This is just a snapshot of what you'll find. OUT & ABOUT DINE & DRAFT PHOTOS COURTESY OF VIDRIO AND BAD DADDY'S BURGER BAR
132 | midtownmag.com Contact Raleigh Food Pics to be featured on their instagram raleighfoodpics@gmail.comfeed: 3 2 4 1 1. CowBar Burger: Southern Classic burger (topped with chili, cheese, slaw, mustard and onion and served with fries). 2. Benelux Coffee: Belgian waffle (light, crispy Brusselsstyle waffle, shown with strawberries and whipped cream). 3. La Santa Modern Mexican Food: De Arrachera tacos (skirt steak, onion, cilantro and fresh guacamole served in homemade corn tortillas). 4. Vita Vite Midtown: Cheese and charcuterie plate (pick-six shown, served with bread and crackers). OUT & ABOUT TASTES OF THE CITY
Kandy Apples by K started selling delicious candy apples at local markets and festivals. In April of 2019 we opened our first storefront in Raleigh, NC. We offer more than 30 different flavors and our apples come in every color you can imagine. Taste what dreams are made of A visit to our shop is something you must experience. Our designer Tula Summerford provided the elegance and warmth we envisioned for every detail of our storefront. 984.242.0324 | kandyapples.com 6320 Capital Boulevard, Suite 107 | Raleigh, NC 27616 Ask about our flavors of the week! Wed.–Fri., 2–6 pm | Sat., 12–6 pm
Kandy Apples by K
COMING SOON Two Giorgios Hospitality Group restaurants expected to open in late summer are now expected to open this fall. Las Ramblas, a Spanish tapas bar named for Las Ramblas boulevard in Barcelona, Spain—a European dining destination—will open at 141 Park at North Hills, #110 Giorgio Pizza Bar, an Italian pizzeria, will open in North Hills' Park & Market building near Rosewater Kitchen & Bar. Salt & Lime Cabo Grill is planning to open a second Raleigh location in October at 4800 Grove Barton Road. The restaurant will feature the same concept and also include a private dining room.
NOW REOPEN Oak City Fish and Chips had a grand reopening July 15 at its new location in Farmington Square: 2822 New Birch Drive In addition to the Farmington Square and Morgan Street Food Hall locations, Oak City Fish and Chips has three food trucks. Popular menu items include the Oak City basket, featuring fish, shrimp, calamari, scallops and oysters served over a bed of fries.
Madre, a new restaurant coming to 516 N. West Street in Smoky Hollow, will open in late 2022 and offer small plates, wine, cocktails and weekend brunch. Village Tavern will open in late 2023 or early 2024 in the Main District of North Hills. This upscale, casual restaurant will offer exceptional cuisine, craft cocktails and an award-winning wine list.
NEW LOCATION Locals Seafood moved out of Transfer Co. Food Hall at the end of July and has purchased a building off New Bern Avenue that, according to the Triangle Business Journal, will accommodate the company's offices, fish processing operations and a retail market.
You can now enjoy cool, refreshing Italian sodas from Catering Works at the North Carolina Museum of Art's East Café. Flavors include strawberry, raspberry, hibiscus, rose, lavender, violette, and strawberries and cream. The East Café is located in the museum's East Building and is open 11 a.m.–4 p.m.
COME HUNGRY
The Willard Rooftop lounge at the AC Hotel Raleigh Downtown began offering a monthly Rooftop Jazz Brunch on July 24. The three-course prix fixe brunch features a Willard spin from executive chef James Cundiff. Upcoming dates will be posted at thewillardraleigh.com/happenings/brunch
Compiled by the Midtown staff with contributions from Triangle Food Guy Sean Lennard, who blogs at trianglefoodblog.com
Ponysaurus Brewing Co., Eastcut Sandwich Bar and Jaguar Bolera are coming to Raleigh Iron Works—a new mixed-use innovation hub on Atlantic Avenue. Ponysaurus offers a combination of traditional and experimental American, Belgian and European-style beers. Eastcut Sandwich Bar features homemade food, hand-crafted sandwiches, and a variety of craft beer, cider and wine. Jaguar Bolera is a large-format eatertainment concept offering Mexican-Southern cuisine. Eggs Up Grill, a breakfast and brunch restaurant chain, has plans to open a location in Garner this fall, and has signed a franchise agreement for two additional restaurants in the greater Raleigh area. Potential locations include Clayton and Wake Forest, with planned openings in early 2023.
PHOTOS COURTESY OF VIDRIO AND BAD DADDY'S BURGER BAR PHOTO BY MELISSA WISTEHUFF
SPECIAL OFFERINGS
NOW OPEN Bazil Indian Cuisine opened July 15 at 6602 Glenwood Avenue near Crabtree Valley Mall. The menu features authentic North Indian cuisine straight from the heart of Delhi. Dinner items include the chicken tandoori, lamb bhuna and tandoori prawns. If you're a fan of Gym Tacos, you can now find your favorite tacos, tortas, burritos and more at the new brick and mortar Gym Tacos at 3701 Hillsborough Street, in addition to its Six Forks Road food truck.
OUT & ABOUT FOODIE FOCUS
The 1540 Dunn Road location has permanently closed, however. Brookside Bodega, located between Raleigh's Oakwood and Mordecai neighborhoods, celebrated its grand opening June 10 with a menu that includes made-from-scratch items such as the New York chopped cheese sandwich, spicy Nashville chicken sandwich and birria taco plate. Tiff's Treats has opened at 421 Daniels Street in the Village District. Menu items include warm cookies, brownies, truffles and more.
134 | midtownmag.com
SEPTEMBER/OCTOBER 2022 | 135
136 | midtownmag.com
SEPTEMBER/OCTOBER 2022 | 137 424 E. Six Forks Road, Suite 105 Raleigh, NC MIDTOWNPHORALEIGH.COM919.747.989927609DINE-INTAKEOUTDELIVERY HOURS Sun · Mon · Wed · Thur 11am 9pm Fri · Sat 11am 10pm Closed on Tuesdays The most popular Vietnamese dishes
September 17, 10 a.m.–6 p.m.; September 18, 11 a.m.–5 p.m.
CENTERFEST
GEORGE RANDY BASS OUT & ABOUT EVENTS
138 | midtownmag.com
LEWINE
Downtown Durham Durham Arts Council's signature arts festival showcases juried artists in a variety of mediums, including jewelry, fiber art, glass, woodwork and photography. CenterFest features live music, street performers, food vendors and an area for kids to explore their creativity. durhamarts.org/centerfest
September 3–4 Downtown Raleigh Celebrate the distinctive folk and cultural traditions of African Americans in North Carolina and around the world. Stroll the art gallery walk, shop local vendors and explore the Creativation Station, a fun and interactive space for all ages. aacfestival.org
CONCERTS IN THE PARK
Be sure to check the websites for the events listed here before you head out to ensure they are still taking place.
DOWNTOWN RALEIGH FOOD TRUCK RODEO September 25, noon–6 p.m. Downtown Raleigh Sample cuisine from around the world as more than 40 food trucks line Fayetteville Street. Seating for more than 1,000 foodies will be available on the sidewalks. downtownraleighfoodtruckrodeo.com
SEPTEMBERBYJANICE
AFRICAN AMERICAN CULTURAL FESTIVAL
September 4 and 11; 5–7 pm 701 Harris Road, Wake Forest Settle in for some foot-tapping, finger-snapping good times as E. Carroll Joyner Park presents Concerts in the Park at the amphitheater. Food and refreshments will be available for purchase. Prior to the September 11 concert, enjoy sack races, cornhole and miniature golf from 4–6 p.m. as part of Wake Forest Unplugged, an opportunity to disconnect from electronic devices and reconnect with friends and family in the great outdoors. wakeforestnc.gov
RALEIGH GREEK FEST DRIVE-THRU September 23–24, 11 a.m–7 p.m.; September 25, noon–6 p.m. 5000 Lead Mine Road, Raleigh Enjoy a taste of Greece, to go! This three-day event features authentic Greek food prepared by the Holy Trinity Greek Orthodox Church family using recipes handed down for generations. Cruise through the church parking lot to purchase mouthwatering gyros, dolmathes, meatballs, spanakopita, baklava and more. A portion of the proceeds benefits Habitat for Humanity. raleighgreekfestival.com
PHOTOS COURTESY OF
OCTOBER "CIRQUE DANCES WITH TROUPE VERTIGO"
WALK FOR HOPE
October 20, 7 p.m. 107 Pullen Road, Raleigh Raleigh Arts honors the 2022 Raleigh Medal of Arts awardees selected by the Raleigh Arts Commission at a special ceremony at Theatre in the Park. Awardees include "Alluvial Decoder" by A Gang of Three, Linda Dallas, Paul Friedrich, June Guralnick, Patrick Torres, S.T.A.R. (Special Theatre Arts of Raleigh) and The Veldt. Purchase tickets online. raleighnc.gov/arts/2022-raleigh-medal-arts
WALK TO ALZHEIMER'SEND
"THE PEOPLE'S COLLECTION, REIMAGINED" OPENING CELEBRATION
140 | midtownmag.com
October 8 (time and other details to be announced)
An array of grand opening events are schedulted to take place at the North Carolina Museum of Art in honor of the installation of "The People's Collection, Reimagined," an exhibit featuring major loans from North Carolina museums, national and international museums, and visitor favorites presented in new ways. Enjoy a family day of activities and gallery experiences for all ages, artist-led tours, a live drawing event, a lecture, an outdoor dance party and a concert. ncartmuseum.org
PHOTO COURTESY OF THE ALZHEIMER'S ASSOCIATION (EASTERN NC CHAPTER)
"ANNIE"
October 18–23 123 Vivian Street, Durham Leapin' lizards! One of the best-loved musicals of all time, "Annie" lands at the Durham Performing Arts Center featuring the unforgettable songs "It's the Hard Knock Life," "I Don't Need Anything But You" and the eternal anthem of optimism, "Tomorrow." dpacnc.org
PHOTO COURTESY OF THE NORTH CAROLINA MUSEUM OF NATURAL SCIENCES
October 9, 9 a.m.–2 p.m. 9401 Glenwood Avenue, Raleigh Join thousands of participants at the Angus Barn to run or walk a 5K route in solidarity for family, friends and community members living with a mental illness. The Thad & Alice Eure Walk for Hope, now in its 34th year, features an after-party with games, music, food and prizes. Register online for the in-person or virtual event. walkforhope.com/events/walk-for-hope
"DRACULA"
October 15–May 7 11 W. Jones Street, Raleigh Trace explorer and filmmaker James Cameron's deep-sea voyages, including his record-breaking dive to the Mariana Trench, in an exhibition at the North Carolina Museum of Natural Sciences that displays cinema-scale projections, artifacts and specimens from his expeditions. Discover the shipwrecks of the Titanic and German battleship Bismarck. See original film props and costumes from "The Abyss" and "Titanic," including the iconic Heart of the Ocean diamond. Tickets are $12–$16 online and free for museum members. naturalsciences.org/thedeep
PHOTO BY J. CUTT PHOTOGRAPHY
October 7–8, 8 p.m. 2 E. South Street, Raleigh Troupe Vertigo ignites the imagination with stunning aerial acts and acrobatic feats choreographed to Mussorgsky's "Night on Bald Mountain," Stravinsky's "The Firebird" and other works performed by the North Carolina Symphony in Meymandi Concert Hall. ncsymphony.org
FALLING FOR LOCAL October 15, 11 a.m.–6 p.m. 1030 Richardson Drive, Raleigh Celebrate autumn at Dorothea Dix Park while supporting local independent businesses. Shop dozens of vendors, dine from some of the area's best food trucks, and sample North Carolina craft beer and cider. Kids can hop on a hayride, touch an antique fire truck, play lawn games and take home a pumpkin. shoplocalraleigh.org
October 15, 10 a.m. 300 N. Salisbury Street, Raleigh Lace up your shoes at Halifax Mall to raise awareness and funds for Alzheimer's care and research. The event begins with a Promise Garden ceremony, a mission-focused experience that signifies unity in the fight against the disease. The walk begins at 10:30 a.m. Register online. act.alz.org/trianglenc
OUT & ABOUT EVENTS
"JAMES CAMERON: CHALLENGING THE DEEP"
October 13–30 2 E. South Street, Raleigh Bram Stoker's legendary vampire lives on in Carolina Ballet's sensuous and spine-tingling production at A.J. Fletcher Opera Theater. Coupled with J. Mark Scearce's haunting score, played by a live chamber ensemble, "Dracula" is a ballet with a bite. carolinaballet.org
2110 Blue Ridge Road, Raleigh
RALEIGH MEDAL OF ARTS CEREMONY
142 | midtownmag.com
THE KOINONIA FOUNDATION AWARDS GRANTS TO LOCAL NONPROFITS
Train's AM Gold Tour, presented by Save Me, San Francisco Wine Co., delighted thousands of music lovers at Coastal Credit Union Music Park at Walnut Creek July 1. Jewel, Blues Traveler and Will Anderson also performed. Save Me, San Francisco Wine Co. donates proceeds from its sales to support Family House, a nonprofit organization providing temporary housing to families of children receiving treatment at the University of California San Francisco Benioff Children's Hospital.
BY JANICE LEWINE MINGLES
TRAIN'S AM GOLD TOUR RAISES FUNDS FOR SERIOUSLY ILL CHILDREN
PHOTO COURTESY OF THE WAKEFIELD ROTARY CLUB
The Koinonia Foundation bestowed $22,000 in grants to eight local nonprofits that serve neighbors in need in Wake Forest, Rolesville and Youngsville at a reception June 14 at The Loading Dock in Wake Forest. The event was attended by the Koinonia Foundation's board members and 2022 grant recipients ChurchNet Foundation, Kerr Family YMCA, Tri-Area Ministry Food Pantry, Wake Forest Optimist Club, Wake Forest Presbyterian Church Backpack Buddies, Hope + Vine, Wake Forest Community Table, and North East Wake Backpack Buddies.
OUT & ABOUT MIDTOWN
Thousands of yellow rubber ducks raced down a water-lined track at the Wakefield Rotary Club's 4th Annual Super Duper Duck Splash July 23 at WRAL Soccer Park in Raleigh for a fundraiser that benefitted four local youth-based nonprofits: Note in the Pocket, Wake Forest Boys & Girls Club, Kerr Family YMCA and North Carolina FC Youth. Participants purchased a single duck adoption for $5 or groups of ducks at a discount for a chance to win $3,000 in cash prizes.
WAKEFIELD ROTARY CLUB HOSTS 4TH ANNUAL SUPER DUPER DUCK SPLASH
PHOTO COURTESY OF THE KOINONIA FOUNDATION
PHOTO COURTESY OF STUDIOBPORTRAITS.COM
SEPTEMBER/OCTOBER 2022 | 143
View Heyward's work at his Anchorlight studio in Raleigh, on his website at clarenceheyward.com, on Instagram @clarenceheywardart and at the Turner Carroll Gallery in Sante Fe, New Mexico. Originally from Brooklyn, New York, Heyward studied at North Carolina Central University. His work has been shown at the 21c Museum Hotel of Durham, the Nasher Museum of Art at Duke University, CAM Raleigh and more.
144 | midtownmag.com
Sounds relatively close to the design of the American society we live in today. Only when you are a person of color, those cards are rarely 'shuffled' in your favor. As a black father of two beautiful girls, my responsibility is to teach them how to navigate the board, dealing them the best cards possible."
CLARENCE HEYWARD CANDYLAND, 2021 ACRYLIC AND VARIGATED LEAF ON CANVAS 61 X 49 INCHES
— Clarence Heyward
"'Candyland' is named after the board game, which requires no strategy. Players are never required to make choices, just follow directions, and the winner is predeterminedactuallybythe shuffle of the cards.
DEPARTMENTS KALEIDOSCOPE
THE SHUFFLE OF THE CARDS BY CHARLOTTE RUSSELL
Clayton-based artist Clarence Heyward sees a parallel between the "Candyland" board game and black American experience, inspiring him to paint "Candyland," which is on view until the end of September at the Contemporary Art Museum of Raleigh (CAM Raleigh). Heyward paints his daughters wearing striped dresses in the primary colors of the game—pink and red—transforming them into game players. The shuffle of the cards determines their fate, and without Heyward there to help, his daughters would be directionless players with no way to win.