SYSTEMS CHANGE
SUSTAINABLE FUTURES November/December 2022 Harmonizing nature and architecture
How do we design for positive impact?
We start from the inside out. Looking within to have the best outlook for our future. From the materiality and durability of our products to the impact they have on the spaces where they are used and beyond, we strive to close the loop. Inside-Out design connects our inner spaces with our outer world.
Introducing Spatial Palette. A 100% PET product that can be reused and recycled back into itself. Our first collection to launch on the innovative ReWorx® platform, each 12 x 48 plank contains post-consumer recycled content from approximately 27 recycled bottles. Designed for circularity from the inside out. Learn more at Patcraft.com
PATCRAFT.COM | @PATCRAFTFLOORS | 800.241.4014 Low Embodied Carbon + Carbon Neutral
The Nick Cave Collection for Knoll Textiles
Image by Imperfct*
Artful acoustics for welcoming spaces
turf.design
Arbor Ceiling Baffles
Regenerative Power 100
The Brooklyn-based firm CO Adaptive playfully reimagines historic structures while incorporating low-energy features and upcycled materials along the way.
The Constant Gardener 120
At 84, Moshe Safdie is still evolving architecture's capacity to build habitats for living things, human and otherwise.
The Next Generation of Solar 110
As our energy systems reorient themselves toward the sun, so are designers, and the first glimpses of a solar revolution are beginning to appear on the horizon.
A Bird's-Eye View 130
The deaths of birds are the price we've paid for buildings. Can architects reverse the trend?
FEATURES
…CLOCKWISE FROM TOP LEFT: NICHOLAS CALCOTT; COURTESY STUDIO SANDER PLUG; ROCKETJACK.CO.UK; COURTESY TIMOTHY HURSLEY
METROPOLIS 6 NOVEMBER/DECEMBER 2022
DEPARTMENTS NOVEMBER/DECEMBER 2022, Volume 42, Number 6. METROPOLIS® (ISSN 0279-4977) is published six times a year, bimonthly. Periodical postage is paid in New York, NY, and at additional mailing offices. Canada Post International Publications Mail Product (Canadian Distribution) Sales Agreement No. 0861642. Publications Mail Agreement No. 40028983. Return undeliverable Canadian addresses to circulation department or DPGM, 4960-2 Walker Rd., Windsor, ON N9A 6J3. Postmaster: Send address changes to Metropolis, PO Box 8552, Big Sandy, TX 75755. Subscription department: (800) 344-3046. Subscriptions: Six issues for $32.95 U.S.A., $52.95 Canada, $69.95 airmail all other countries. Domestic single copies $9.95; back issues $14.95. Copyright © 2022 by Sandow Media. All rights reserved. Printed in the U.S.A. Material in this publication may not be reproduced in any form without permission from the publisher. Metropolis will not be responsible for the return of any unsolicited manuscripts or photographs. Publishing and editorial office is at 3651 NW 8th Avenue, Boca Raton, FL 33431. On the cover: Safdie
and
Center.
around a vaulted, skylit atrium
the building's laboratory spaces, classrooms, and communal areas are
with nature.
Architects' Albert Einstein Education
Research
Organized
garden,
interwoven
CONTRIBUTORS 16 IN THIS ISSUE 18 EVENT Design Optimism 20 AWARDS Planet Positive 34 SPECTRUM 50 SOURCED Terms of Enrichment 62 PRODUCTS Earth Tones 64 SUSTAINABLE Living for the City 68 EDUCATION School Spirit 76 ARCHITECTURE Art in Suburbia 84 WORKPLACE Industrial Yet Refined 88 NEW TALENT Natural Gatherings 92 INSIGHT Smarter Strategic Planning 96 NOTEWORTHY Rosalie Genevro 136 p. 84 p.76 p. 64 CLOCKWISE FROM TOP RIGHT: COURTESY JASMINE PARK; COURTESY HERMAN MILLER; COURTESY LEONID FURMANSKY METROPOLIS 10 NOVEMBER/DECEMBER 2022
Photo by Pedro Kok.
Simply put, we create better solutions for people and our planet –such as Biobased Xorel – the world's first high performance textile made from up to 91% plant-based content.
Materials That Matter is a trademark of Carnegie Fabrics LLC, Xorel is a registered trademark of Carnegie Fabrics LLC
carnegiefabrics.com
The
Grand Avenue
CLOCKWISE FROM TOP: COURTESY WELDON BREWSTER; COURTESY ERIC PETSCHEK; COURTESY MIKE SCHWARTZ
Broken
Frank Gehry's decades-inthe-making tower complex in the center of Downtown Los Angeles fails to live up to its signature. METROPOLISMAG.COM More of your favorite Metropolis stories, online daily Join discussions with industry leaders and experts on the most important topics of the day. Register for free at metropolismag.com/ think-tank RBW Puts Down Roots in Kingston, New York The lighting brand doubles down on its B Corp values with a 100,000-square-foot facility that champions collaboration, innovation, and sustainability. Three Hotels Give New Meaning to Southern Hospitality
Orleans's Pelham Hotel, Atlanta's InterContinental Buckhead, and Knoxville's Graduate Hotel explore three contrasting visions of hospitality design in the American South. METROPOLIS 12 NOVEMBER/DECEMBER 2022
Dreams of L.A.'s
New
Learn More
Available with transparent and opaque knits in four colors
Linq Chair by Jonathan Prestwich
EDITORIAL
EDITOR IN CHIEF Avinash Rajagopal
DESIGN DIRECTOR Tr avis M. Ward
EXECUTIVE EDITOR Sam Lubell
DEPUTY EDITOR Kelly Beamon
EDITORIAL PROJECT MANAGER Laur en Volker
DIGITAL EDITOR Ethan Tucker
ASSOCIATE EDITOR J axson Leilah Stone
DESIGNER Rober t Pracek
COPY EDITOR Benjamin Spier
FACT CHECKER Anna Zappia
PUBLISHING
VICE PRESIDENT, PUBLISHER Carol Cisco
VICE PRESIDENT, MARKETING & EVENTS Tina Brennan
ADVERTISING DIRECTOR
Tamara Stout tstout@sando wdesign.com 917.449 .2845
ACCOUNT MANAGERS
Ellen Cook ecook@sando wdesign.com 423.580.8827
Gr egory Kammerer gkammer er@sandowdesign.com 646.824.4609
Colin Villone colin.villone@sando wdesign.com 917.216 .3690 Michael Croft 224.931.8710
L aury Kissane 770.791.1976
EXECUTIVE DIRECTOR, BUSINESS DEVELOPMENT
Kathryn Kerns 917.935 .2900
MARKETING & EVENTS MANAGER Kelly Kriwko kkriwko@sandowdesign.com
EVENTS MANAGER Lorraine Brabant lbrabant@sandowdesign.com
SENIOR DIRECTOR, CONTENT DISTRIBUTION Amanda Kahan
SENIOR MANAGER, DIGITAL CONTENT Ile ana Llorens
SOCIAL MEDIA COORDINATOR Zoya Naqvi
METROPOLISMAG.COM
@metropolismag
SANDOW DESIGN GROUP
CHAIRMAN Adam I. Sandow
CHIEF EXECUTIVE OFFICER Erica Holborn
CHIEF OPERATING OFFICER Michael Shavalier
CHIEF DESIGN OFFICER Cindy Allen
CHIEF SALES OFFICER Kate Kelly Smith
EXECUTIVE VICE PRESIDENT + DESIGN FUTURIST AJ Paron
EXECUTIVE VICE PRESIDENT, DIGITAL + STRATEGIC GROWTH Bobby Bonett
VICE PRESIDENT, HUMAN RESOURCES Lisa Silver Faber
VICE PRESIDENT, PARTNER + PROGRAM SUCCESS Tanya Suber
VICE PRESIDENT, BUSINESS DEVELOPMENT Laura Steele
VICE PRESIDENT, STRATEGIC PARTNERSHIPS Katie Brockman
SENIOR DIRECTOR, STRATEGIC INITIATIVES Sam Sager
DIRECTOR, VIDEO Steven Wilsey
SANDOW DESIGN GROUP OPERATIONS
SENIOR DIRECTOR, STRATEGIC OPERATIONS Keith Clements
DIRECTOR OF PRODUCTION Kevin Fagan CONTROLLER Emily Kaitz
DIRECTOR, INFORMATION TECHNOLOGY Joshua Grunstra
METROPOLIS is a publication of SANDOW 3651 FAU Blvd. Boca Raton, FL 33431
info@metropolismag.com 917.934.2800
FOR SUBSCRIPTIONS OR SERVICE 800.344.3046 customerservice@metropolismagazine.net
SANDOW was founded by visionary entrepreneur Adam I. Sandow in 2003, with the goal of reinventing the traditional publishing model. Today, SANDOW powers the design, materials, and luxury industries through innovative content, tools, and integrated solutions. Its diverse portfolio of assets includes The SANDOW Design Group, a unique ecosystem of design media and services brands, including Luxe Interiors + Design, Interior Design, Metropolis, DesignTV by SANDOW; ThinkLab, a research and strategy firm; and content services brands, including The Agency by SANDOW, a full-scale digital marketing agency, The Studio by SANDOW, a video production studio, and SURROUND, a podcast network and production studio. SANDOW Design Group is a key supporter and strategic partner to NYCxDESIGN, a not-for-profit organization committed to empowering and promoting the city's diverse creative community. In 2019, Adam Sandow launched Material Bank, the world's largest marketplace for searching, sampling, and specifying architecture, design, and construction materials.
THIS MAGAZINE IS RECYCLABLE. Please recycle when you're done with it. We're all in this together.
EXECUTIVE DIRECTOR, FINANCE & OPERATIONS Lorri D'Amico
DIRECTOR, PARTNER SUCCESS Jennifer Kimmerling
PARTNER SUCCESS MANAGER Olivia Couture
SALES OPERATIONS MANAGER Diana Tan dtan@sando wdesign.com
METROPOLIS 14 NOVEMBER/DECEMBER 2022
REDUX™ DEUX FAST TRACK
BENTLEYMILLS.COM
NICHOLAS CALCOTT
Nicholas Calcott is a photographer based in New York City whose commissioned work primarily covers the worlds of art, architecture, and design. Recent projects include research in the Metropolitan Transportation Authority and Robert Moses archives, photographing a simulated Mars in the state of Utah, and numerous portraits of designers and artists. For this issue, Calcott photographed CO Adaptive Architecture for "Regenerative Power" (p. 100).
JOSEPH P. SGAMBATI III
A regular contributor to Metropolis, Joseph P. Sgambati III joined the team this issue as interim editorial project manager. His work often focuses on the impact of architectural products and artifacts, as in this issue's Spectrum column highlighting crafts-y pendant lighting (p. 60). The New York–based writer and designer contributed to the exhibition Practical Utopias at AIA New York's Center for Architecture and Tulsi,by Tara Hogan,at the Architectural Digest Design Show, and recently published essays and collage illustrations in Proseterity, a literary publication.
LYDIA LEE
Lydia Lee writes about architecture and design from the San Francisco Bay Area with an emphasis on climate change mitigation. She reported this issue's workplace column, "Industrial Yet Refined," (p. 88) about Axelrod Architects' design for Eolian, a clean energy investment company in Burlingame, California.
COURTESY THE CONTRIBUTORS
Coil Seagrass 100% Nearshore Plastic 206  524  2223 LIGHTART.COM METROPOLIS 16 NOVEMBER/DECEMBER 2022
CONTRIBUTORS
At Raffles City Chongqing, built in 2020 in Chongqing, China, Safdie Architects put a fully programmed "horizontal skyscraper" 820 feet off the ground, filled with gardens and amenities that are open to the public all year round.
Systems Change
Sometimes we forget that the divide between nature and architecture is artificial—and often harmful. We can pretend that there are things on this planet that are "man made," but the truth is that nothing stands outside nature. The materials we use for buildings are pulled out of the earth; the human intellect and creativity that shapes materials into products, interiors, buildings, and cities consists of neural impulses between brain cells; and the atrocities that we commit in the course of this process are like cancer cells—metastasizing and wreaking havoc, but also still part of the earth.
It is our pretense that there is any kind of barrier between the "natural" and "built" environments that will ultimately kill us. What we do in buildings we do to nature, and ourselves.
Every feature in this issue represents an attempt to restore harmony to the earth's systems. Architect Moshe Safdie's fivedecade-long architectural experiments ("The Constant Gardener," p. 120) are, at their core, an acknowledgment that our bodies and those of plants and trees are tied together in deep evolutionary ways. A little over a decade into their architectural career, the folks
at CO Adaptive Architecture ("Regenerative Power," p. 100) are intent upon adaptive reuse and decarbonization. Translate that into "treating materials the way nature does" and "restoring balance to the carbon cycle."
The same spirit is evinced by the winners of the 2022 Metropolis Planet Positive Awards (p.34) —projects, products, and people engaged in the pursuit of doing less harm and more good to all life on earth.
We must continue to look beyond the needs of human beings. Countless other species are directly and disastrously affected by the work of architects and interior designers—just look at the harm we are causing to birds here in North America ("A Bird's-Eye View," p. 130).
Also, in placing big bets on solar energy ("The Next Generation of Solar," p. 110) we must keep our eyes on energy equity and justice: It won't do to repeat our mistakes over the past two centuries with coal and petroleum.
We need systems to change, but let's remember—the system is us. —Avinash Rajagopal, editor in chief
COURTESY ARCH-EXIST PHOTOGRAPHY IN THIS
ISSUE
METROPOLIS 18 NOVEMBER/DECEMBER 2022
New York Flagship Store 102 Madison Ave New York, NY, 10016 newyork@rimadesio.us +1 917 388 2650
MAXI SLIDING PANELS, SELF BOLD CABINET. DESIGN GIUSEPPE BAVUSO
EVENT Design Optimism
Metropolis hosted architects and designers for a day of finding hope in radical new ideas.
By Jaxson Leilah Stone
IT'S ALL ABOUT LOVE
Mauro Porcini
"How often do you hear companies talk about productivity in terms of investing in kindness?" This is just one of many questions Mauro Porcini, chief design officer of PepsiCo, asked during his keynote presentation that launched a day of deep conversation at Metropolis's inaugural Design Optimism event on October 21 in New York.
Highlighting insights from his new book, The Human Side of Innovation: The Power of People in Love with People (Berrett-Koehler Publishers, 2022), Porcini put optimism at the heart of his humancentered design philosophy. He discussed key differences between invention and innovation, the radical act of dreaming, the evils of arrogance in the design community, and the all-importance of cultivating curiosity while remaining "a student of life."
"The more you learn, the more you realize we know nothing," Porcini said. "We are dust in the universe, and once you realize that, you can see anything as an opportunity to learn." Not only does curiosity seed knowledge, but it feeds an appreciation for diversity, he noted: "The gift of curious people is they can dialogue with 'perspective one' and 'perspective two' and come up with 'perspective three.'" That third perspective just might be where the innovation lies.
When he opened the floor to questions, one stood out: "How do you remain humble when proposing such radical ideas?" Porcini's answer? "What we need to invest in is happiness. Designing happiness for yourself but also for the people you are creating for—the people you love," Porcini concluded.
"Love synthesizes it all."
ERIK BARDIN
Mauro Porcini, PepsiCo's chief design officer, launched the day of discussion with a keynote presentation that touched on themes of happiness, curiosity, and love—and how these considerations can positively affect design.
METROPOLIS 20 NOVEMBER/DECEMBER 2022
Watch the inspiring talks from the event Design Optimism, presented by Tarkett, Teknion, and Ultrafabrics, in partnership with Universal Fibers.
Theory
Inspiring Moments in Motion
We believe that for design to be truly great, it must stand the test of time, be sustainably crafted, and proudly American made.
Theory : Transit reimagined through the lens of public art.
Designed by Scott Klinker
landscapeforms.com
DESIGNERS AS HEALTH PROFESSIONALS
Dr. Bon Ku
What if architects designed studies like epidemiologists? What if nurses and doctors embraced their inherent creativity? What if we treated every health problem as a design challenge? For Dr. Bon Ku, director of Thomas Jefferson University's Health Design Lab, "Architects and designers can have as much of an impact on health as I do as a physician."
Kicking off the first workshop of the event, Dr. Ku delivered a moving presentation that highlighted the interconnectedness of health, equity, and creativity.
"The most complex problems in health are only going to be solved by the most creative solutions," he said. On the other hand, "bad design can be deadly; bad design discriminates and exacerbates inequities."
To illustrate this point, he turned to Philadelphia, where he works as an emergency physician and serves as the Marta and Robert Adelson Professor of Medicine
and Design and the associate dean for health and design at Sidney Kimmel Medical College. "Our cities have been purposefully designed to make us sick," he said, pointing to life-span data from various zip codes in the city, with some gaps of up to 20 years. Describing the hospital as a "repair shop for humans," he highlighted the urban social determinants of health, addressed the impact of burnout on hospital workers, explored prototypes designed with Philadelphia-based architects KieranTimberlake, and discussed his book Health Design Thinking (MIT Press, 2019).
All of which pointed to the realization that, in his words, "design is inherently optimistic." More so, design is not neutral, because every choice made in design has health impacts. Luckily, he concluded, "the future is not fixed, and we can actually shape the future of health through design."
ERIK BARDIN
EVENT Design Optimism
Highlighting insights from his new book Health Design Thinking (MIT Press, 2019), Dr. Bon Ku, director of Thomas Jefferson University's Health Design Lab, gave a thought-provoking presentation on how medical and design professionals can learn from and support one another.
METROPOLIS 22 NOVEMBER/DECEMBER 2022
USE DATA TO DO GOOD Sarah Williams
Big data has the potential to change the world—but only if it is used to benefit the public. This radical idea is what synthesizes the work of Sarah Williams, associate professor of technology and urban planning at Massachusetts Institute of Technology. For her, there is one rule of thumb to keep in mind when it comes to data collection: Do no harm. As the director of the Civic Data Design Lab (CDDL) and the Leventhal Center for Advanced Urbanism at MIT, Williams uses tools of computation and design to drive civic change, by exposing urban policy issues and making them accessible to wide audiences.
Williams calls this process data action and details its principles in her recent book Data Action: Using Data for Public Good (MIT Press, 2020). In her Design Optimism workshop, Williams detailed the steps of this process by presenting CDDL projects including an informal transit system in Nairobi, Kenya, research into the lack of urban amenities surrounding China's "Ghost Cities," as well as the lab's investigation into the motivations and
costs of Central American refugees and asylum seekers.
For each project, Williams outlined how she and her team collect, quantify, analyze, and visualize data, noting that it's the creative visualization that "helps create that trust and allows [people] to find their own insights in data, making it more accessible to them than just reading a report." One striking example of this is Distance Unknown, an exhibition that features digital and physical tapestries that encourage visitors to engage with 5,000 Central American migrants' journeys to economic opportunity and food security. The physical tapestry is composed of folded bills that represent each migrant's motivation to migrate. Visitors can scan each bill to hear a migrant's story.
"We have to think about other ways of knowing," Williams reiterated during audience questions. "Other ways of knowing can be something that a community already does in a way, such as storytelling." Ultimately, she concluded, "if we start building these pathways, they get replicated. And that's how we build activism."
REACH FOR THE IMPOSSIBLE Joel Cesare
If there is one thing that Joel Cesare has learned in his role as global carbon program manager at Google, it is to have a "healthy disregard for the impossible." Leading the fight against climate change for the tech company's real estate and workplace services division, Cesare is also the cofounder of ZNE Capital, a multifamily real estate investment company that acquires existing apartment buildings and converts them to net-zero.
Cesare certainly has experience in making the impossible possible. At age 32, he directed the first-ever municipal Living Building Challenge project, Santa Monica City Hall's East Building, designed by Frederick Fisher and Partners along with engineering firm Buro Happold. The project changed the course of his career and led to the International Living Future Institute acknowledging him as a Hero at the 2019 Living Future unConference, and USGBC-LA awarding him its inaugural "First in the World" achievement.
The biggest lesson from the project was, he said, "Be bold." When presenting the project during his workshop at Design Optimism, he recalled: "I asked the designers every time, Is this the boldest thing we can do? Is it possible? Can we afford it? If those answers are yes, then every time my answer was 'Take the boldest approach.'" It's a message that is just as important for project managers and strategists as it is for designers because when it comes to creating more green buildings in the world, "we can't do this alone—no company can; it will take all of our cities, all of our companies, and all of our communities."
COURTESY THE SUBJECTS
EVENT Design Optimism
METROPOLIS 24 NOVEMBER/DECEMBER 2022
ONIRIKA
Unveil the essence of immersive hi-tech design. Cosentino North America 355 Alhambra Cir Suite 1000, Coral Gables, FL 33134 786.686.5060 ™ @cosentinousa Find inspiration at cosentin o.com
Designed by Nina Magon
DESIGN IS COMMUNITY
Sloan Leo
"What is community?" In the last workshop of the day, Sloan Leo, artist and founder of FLOX Studio, posed this question to the audience. Sometimes, they said, community is described as a "what"—community is people who like each other, people who live next door to each other, people who work together. But rather, community should be described as a "how"—community is healing, caring, repairing, altering, dreaming, gathering. For Leo, we need community now more than ever. The ongoing pandemic, white supremacy, social injustice, and ecological collapse "are only solvable together," they noted. Framing community design as a liberatory practice, Leo strongly believes in the power of design to create a "better future."
As a community design theorist, educator, and practitioner, Leo recently launched Community Design for Leaders, a learning lab for design practitioners looking to orient their practices toward mutuality and justice. Leo is also the inaugural
designer-in-residence at the School of Visual Arts and the founder of FLOX Studio, a community design studio that works with nonprofit builders, design institutions, and social impact leaders. Ultimately, they argued, "community design is about acts of service." More so, it's "about the relocation of power and decision-making." Originating with Black designers in Harlem in the 1960s, "[community design] is by the people, for the people. Communities know what they need—they're not confused."
So how does one put these ideas into practice? Leo outlined the values that guide their work: Communicate bravely, rest, reach for nuance, show care, sit with silence, orient toward joy, embrace slowness, resist binaries, and discover the story. After a thoughtful discussion of these terms with the attendees at Design Optimism, Leo closed out the day's events with a powerful truth: "There is no design without community. Period."
FUTURE ARCHITECTURE: Design for the Next Generation
Metropolis editor in chief Avinash Rajagopal brought together a group of experts to discuss how designers can go against the grain of their profession to seek imaginative solutions for complex problems such as climate change and social inequity. The panelists included Elizabeth von Lehe, design and brand strategy principal, HDR; Barry Silverman, VP, marketing and branding, Ultrafabrics; Tracy Backus, director, sustainable programs, Teknion; and Yasemin Kologlu, principal, sustainable design, and climate action leader, SOM. When asked what leaves them feeling optimistic, Backus concluded with a sentiment echoed by all: "I'm really optimistic that buildings can make a positive difference and that we can design spaces that are restorative."
STRONGER TOGETHER: Design for Collective Action
At the second Design Optimism panel of the day, Rajagopal brought together three industry professionals to discuss how the A&D community can come together to drive meaningful change in the realms of climate, health, and equity. Panelists included Fauzia Khanani, founder and principal, Studio Fōr; Beth Doehner, sustainability manager, Tarkett; and Jennifer Graham, principal, Perkins&Will. When the panelists were asked how they manage relationships within their practice, Graham responded: "First, you have to understand what the goal is because there is no point in being on a journey if you don't know where you are going. You have to be intentional, purposeful, and authentic about what you really want to accomplish."
COURTESY SLOAN LEO
EVENT Design Optimism
METROPOLIS 26 NOVEMBER/DECEMBER 2022
THE SOUND OF DESIGN
Slender yet durable, the VLA26 Vega Chair was originally created for Copenhagen's historic concert hall, Vega. Many decades after its debut, Carl Hansen & Søn proudly launches Vilhelm Lauritzen's functionalist masterpiece with meticulous attention to craftsmanship and detail.
Flagship Store, New York 152 Wooster St, New York
Flagship Store, San Francisco 111 Rhode Island St #3, San Francisco
Showroom, New York 251 Park Avenue South, 13th Floor, New York
CARLHANSEN.COM
VLA26 Vega Chair by Vilhelm Lauritzen 1956
A Kit of Parts for Endless Innovation
Teknion's interior wall products minimize waste while giving designers maximum flexibility.
When it comes to interior walls for commercial projects, flexibility is the name of the game. As the office evolves, designers need to be able to adapt spaces to suit their clients' changing needs and expectations. There's only one problem—waste. For every square foot of drywall that's replaced, a pound of waste is generated, 75 percent of which gets sent to the landfill.
Teknion's interior wall systems offer a more sustainable alternative that's ready for today's high-tech office environment. Made with 18 percent recycled content, they're designed from a universal platform of component parts to ensure flexibility and reconfigurability between product lines, and they're built to suit specific site conditions, keeping waste to a minimum.
Technology is integrated into almost every aspect of today's workplace, why not the walls? In addition to providing acoustic comfort, Teknion's wall systems allow for the seamless integration of technology such as room schedulers, iPads, and security systems. Tek Pier allows
users to connect to HDMI, USB, and power, while the four-inch thick walls of Altos provide plenty of interior space to run wires and can accept hardwired and quick connect systems as well as UL/CSA-approved boxes.
Because they're based on a universal kit of parts, Teknion's various interior wall products can be seamlessly integrated together, allowing designers to maximize the advantages of each system. They're available in a range of materials including single and double–glazed glass, solid surfaces, tackable fabric, and microperforated metal, but can be combined for endless design solutions. For example, Optos storefront provides a minimal wall presence with glass-to-glass seams and can be paired with Altos for technological functionality.
These systems fit into existing building architecture with ease and are designed to accommodate site variances including leveling and curvature. Using wall components that fit neatly into building structures allows for less site disruption and faster, cleaner installations—reducing waste and environmental impact along the way.
SPONSORED CONTENT
Teknion's interior wall products are based on a universal kit of parts that's designed for the constantly evolving workplace.
Design Inspiration Discovery Problem-Solving World-Changing Optimism
WATCH THE INSPIRING TALKS FROM THE EVENT
Held in New York City in October 2022, Design Optimism gave architects and interior designers the opportunity to engage deeply with thinkers and doers at the forefront of corporate change, health care, data analysis, climate action, and community design.
Presented by: In partnership with:
All of Ultrafabrics' products have been evaluated by Mindclick's Design for Health program, and most of its performance textiles are PFAS-free.
Cleaner Chemistry, Healthier Fabrics
Ultrafabrics earns accolades for its pioneering use of safer chemistry in performance textile applications.
Ultrafabrics, long a leader in the performance fabrics industry, has recently taken a major step to make its products safer for people and the planet. The brand has removed per-and polyfluoroalkyl substances (PFAS) such as PFOA and PFOS from almost all of its fabric collections, without sacrificing the stain-resistant qualities for which they are sought out.
These chemical compounds are typically used for their water and stain resistant properties, but they have a dark side. Often called "forever chemicals" because they don't break down in the environment, PFAS have recently been linked to harmful effects on human and environmental health. Several countries, including Japan, home to Ultrafabrics' manufacturing headquarters, have even banned their production following the Stockholm Convention on Persistent Organic Pollutants.
Ultrafabrics believes that safer chemistry is necessary to move the textile industry forward, and the manufacturer has demonstrated that performance textiles don't necessarily need to make use of these harmful substances. The brand began transitioning away from PFOAs over two
years ago and was so successful that it removed them from all of its Breathable Technology styles, including Brisa and Brisa Distressed, which now comply with the Health Care Without Harms Health Interiors Safer Chemical Challenge.
All of Ultrafabrics' products are PFOA-free and have been evaluated by Mindclick's Design for Health program. Its PFAS-free collections, which comprise all but two of the brand's products, have been awarded Achiever status by Mindclick's Sustainability Assessment Program, a groundbreaking database of environmental health performance ratings that architects and designers use to evaluate the credentials of suppliers and products. These fabrics also hold Indoor Advantage Gold certification and are third-party certified VOC-free. "We're pleased to share this exciting update on our sustainability journey," says Nicole Meier, director of branding at Ultrafabrics. "We want to empower our partners with the best products and information to make their design process successful."
SPONSORED CONTENT
Healthier Performance
Safer Materials Designed for People and Planet
Evolving with wellness in mind, we are committed to creating safer materials while maintaining our unparalleled performance and are proud to announce that the majority of our portfolio is PFAS*/PFOA-free.
ultrafabricsinc.com
Setting
Tomorrow's Standards
Tarkett's consciously made flooring is setting a new standard for sustainable manufacturing.
"We believe that Tarkett and every business should be held accountable for its environmental impact," says Roxane Spears, vice president of sustainability at Tarkett North America. Like several other companies, the flooring manufacturer is making a major push to cut its carbon emissions to zero, but rather than relying heavily on purchased carbon offsets, Tarkett is focused on slashing its emissions across all of the company's operations.
Earlier this year, Tarkett revealed its Climate Roadmap for 2030, which includes a commitment to reduce greenhouse gas emissions by 30 percent across the brand's entire value chain by 2030. This means it will cut emissions from its own activities (Scope 1) and its purchased energy (Scope 2)—as well as those arising from suppliers and end customers (Scope 3). These goals place Tarkett's sustainability program in alignment with the Paris Climate Agreement objective to limit global warming to 1.5 degrees Celsius and are being evaluated and assessed by the independent organization Science Based Targets.
Tarkett has long been a leader on sustainability. Spears points to the company's first full-scale flooring recycling program, which was started in 1994, as well as the fact that the company has been participating in thirdparty verification programs for two decades as examples. Tarkett also eliminated orthophthalates from its products long before competitors. Now, she says, "We're setting tomorrow's standards."
In addition to its comprehensive emissions goals, Tarkett has taken a closer look at the raw materials that go into its products. "97 percent of the raw materials we use are
assessed against Cradle-to-Cradle principles for human and environmental health," explains Spears, adding that "Our floors are made with low-VOC materials and recycled content."
The company takes such great pride in the materials it uses that it discloses ingredients down to the level of 100 parts per million, so customers know exactly what they're getting. It's also reduced resource consumption with closed-loop water systems and renewable
energy, and 14 of the company's manufacturing facilities send zero waste to landfill.
Combined with the push to lower its carbon footprint, these efforts reveal Tarkett's commitment to creating healthier environments indoors and out, today and for generations to come. "Sustainability is a collaborative effort, and net positive impacts, closed loops, and a circular economy all depend on what you start with," concludes Spears.
SPONSORED CONTENT
Tarkett's Climate Roadmap for 2030 aims to reduce greenhouse gas emissions across the flooring manufacturer's entire value chain by 30 percent.
Metropolis'sPlanetPositiveAwards recognizes the most creative projects and products from around the world that benefit people and planet. Judged by industry experts across project types and product categories, the winners and honorable mentions represent the highest achievements today in design that addresses climate change, ecosystem health, human health, and equity.
Sponsored by:
EXPLORE THE WINNERS
THE WINNERS OF THE 2022 PLANET POSITIVE AWARDS!
ANNOUNCING
AWARDS Design for People and the Planet
Metropolis 's Planet Positive Awards recognize the most creative projects and products from around the world that benefit people and planet, as well as firms and professionals leading the way to a better built environment. Judged by four expert juries across project types and product categories, the winners and honorable mentions below represent the highest achievements today in design that addresses climate change, ecosystem health, human health, and equity.
JURIES
WORKPLACE & EDUCATION
Denise Rush
Dean of Boston Architectural College, School of Interior Architecture
Doris Sung
Director of undergraduate architecture, University of Southern California
HOSPITALITY & CIVIC/CULTURAL
Bill Braham
Director at MSD Environmental Building Design, University of Pennsylvania
Ben Prosky
Executive director, American Institute of Architects New York and Center for Architecture
MIXED USE & LANDSCAPE
John Czarnecki
Executive director, AIA Arizona
Anna Dyson
Founding director, Center for Ecosystems in Architecture (CEA) at Yale
PRODUCTS
Kathleen Lane
Managing director, Sustainability & Resilience, AIA
Kelly Beamon Deputy editor, Metropolis
The 2022 Metropolis Planet Positive Awards are sponsored by Armstrong Ceilings and Wall Solutions, Duvaltex, Formica, Ligne Roset, Lutron, and Mohawk Group.
METROPOLIS 34 NOVEMBER/DECEMBER 2022
dezeenwinnerawards
GEM, available in 15 colors, featured here in cinnamon.
Woven Image, the company that brought you EchoPanel®, introduces the embossed acoustic panel series. The collection interweaves beautiful design, irresistible texture, acoustic performance and sustainability credentials - making it an ideal finish for commercial interiors. Panels are made using 51% recycled PET from plastic bottles and utilizing solar energy, alongside carbon offset schemes. They offer ingredient transparency through Declare and are Red List Free with low VOC emissions.
2020
enquiries@wovenimage.com +1 949 220 3727
wovenimage.com
FIRM OF THE YEAR
Perkins&Will
By January 2023, Perkins&Will will complete two projects targeting Living Building Challenge certification, 54 projects targeting LEED certification, and ten projects targeting WELL certification.
As part of its overall effort to decarbonize the built environment, the firm has made some extremely ambitious commitments to eliminating its net embodied carbon emissions in its interiors projects—a first focus of its kind in our industry. Its London, Washington, D.C., Toronto, Vancouver, and Ottawa offices are all working toward this goal.
In addition, this past year, Perkins&Will released its SPEED (Simulation Platform for Energy-Efficient Design) tool, was awarded a grant to co-develop the Tally Climate Action Tool (tallyCAT), and developed a Healthy Affordable Housing Toolkit.
For its large-scale contributions to industry-wide efforts around climate action and healthy design, Perkins&Will is the 2022 Metropolis Planet Positive Awards Firm of the Year.
EDITORS' PICK: PROJECT
Dutch East Design, Hotel Marcel New Haven, Connecticut
Giving new life to the long-vacant Marcel Breuer–designed landmark, the former home to the Armstrong Rubber Company headquarters, also known as the Pirelli Building, Hotel Marcel is primed to be the nation's first net-zero hotel, producing 100 percent of its own electricity and aiming to secure both Passive House and LEED Platinum certification.
This adaptive reuse project reflects the brutalist perspective of the building's original designer and hotel's namesake, while also serving as a model of sustainability for modern hospitality.
RISING STARS
Favaretto has played the role of sustainable design advocate on more than 15 projects. She coleads CannonDesign's annual AIA 2030 Commitment predicted-energy-use tracking and reporting across a portfolio of more than 9 million square feet. She performs whole-building life-cycle assessments that have reduced the upfront embodied carbon of CannonDesign's work by over 30 percent, and has also been instrumental in shaping the firm's Environmental Awareness Week.
Maltby-Abbott has led materials achievement for three LEED-certified tenant improvements, is leading two active Living Building Challenge Materials Petal pursuits, and has inspired 15 manufacturers to produce declarations. These efforts are connected to a larger project underway within the research and development department at DLR Group: Verified Materials Transparency (VMT).
AWARDS Design for People and the
TOP TO BOTTOM, LEFT TO RIGHT: COURTESY KEVIN SCOTT; COURTESY SEAMUS PAYNE; COURTESY LAURA PETERS; COURTESY CARRILLO PHOTO
Planet
Deb Favaretto Senior associate, health-care sustainable design lead, CannonDesign
Jill Maltby-Abbott Architect, DLR Group
METROPOLIS 36 NOVEMBER/DECEMBER 2022
Produced at our Living Site, the Social Canvas modular carpet colleciton is Net Positive for both carbon and water, and achieves Living Petal Certification from the International Living Future Institute by complying with multiple imperatives of all seven petals.
2022
products carbon neutral PLUS an additional 5% carbon offset for a netpositive impact on the climate 2040 Net zero carbon emissions We've
zero in emissions
All
signed The Climate Pledge to be net
by 2040 and have already started major changes to reduce our carbon footprint.
Social Canvas and Pattern of Time Collections
WORKPLACE WINNER
Lemay, The Phénix Montreal, Canada
Lemay chose to make a bold statement by transforming a neglected 1950s-era warehouse into an innovative head office for its growing transdisciplinary team. The Phénix boasts a three-star Fitwel rating, as well as Zero Carbon Performance certification, LEED Platinum certification, and Living Building Challenge Petal certification.
The carbon footprint resulting from the construction and operation of a comparable new office building over 60 years would equal nearly 12,000 metric tons of CO2. The renovation and operation of the Phénix over the same period equates to approximately 1,600 metric tons of CO2—a reduction of more than 86 percent.
Over the past two years, Lemay has organized more than 120 tours of its facilities for community members, students, and business leaders to demonstrate how it is possible to retrofit and comfortably operate a carbon-neutral building within a standard financial framework.
EDUCATION WINNER
Payette, Rockwell Integrated Sciences Center, Lafayette College Easton, Pennsylvania
The Rockwell Integrated Sciences Center is a LEED Platinum–certified campus science hub at Lafayette College.
A predicted energy use intensity (EUI) of 76 kBtu per square foot per year places this building in the 99th percentile for cold-climate labs (only two other lab buildings score below 85 EUI out of 304 measured facilities in climate zone 5 and higher in the Labs21 Energy Benchmarking Database) with an impressive 56 percent reduction in energy use compared with the code baseline.
The building's 53 lab spaces are equipped with an Aircuity air monitoring system, which constantly measures VOCs to ensure a safe working environment while avoiding the high ventilation rates that are standard for laboratories.
HONORABLE MENTIONS
WORKPLACE
EDUCATION
AWARDS Design for People and the Planet
TOP TO BOTTOM, LEFT TO RIGHT: COURTESY ADRIEN WILLIAMS; COURTESY ROBERT BENSON; COURTESY TIM GRIFFITH; COURTESY FRANK OOMS
Moore Ruble Yudell, University of Denver Community Commons Denver, Colorado
WRNS Studio, Okland Construction Headquarters Salt Lake City, Utah
METROPOLIS 38 NOVEMBER/DECEMBER 2022
AT T H E M U SEU M CO L L EC T I O N
by Sina Pearson
MomentumTextilesAndWalls.com
Textile: Color Works Red Gray
HOSPITALITY WINNER
Dutch East Design, Hotel Marcel New Haven, Connecticut
The hotel includes many cutting-edge technologies to modernize the original 1970 building designed by Marcel Breuer, including a Power over Ethernet (PoE) lighting system, which reduces lighting energy use by more than 30 percent; on-site renewable energy generation; and extensive upgrades to enhance interior temperature control and air quality. The building's energy use intensity rating is projected to be 34 kBtu per square foot—80 percent lower than the median for hotels in the United States.
Many of the design elements, including rugs, carpets, furniture, and lighting, were custom designed by Dutch East Design with the goal of sustainability in mind. Wherever possible, Dutch East sourced the materials from local suppliers, and many final products were manufactured in Connecticut.
CIVIC/CULTURAL WINNER
SOM, Billie Jean King Main Library Long Beach, California
The new LEED Platinum–certified Billie Jean King Main Library is a welcoming and flexible environment that serves more than 1,000 daily visitors in the heart of downtown Long Beach.
The timber building boasts low energy needs, on-site renewables, low embodied carbon, low water needs, responsible on-site water management, and water-wise landscaping. In addition to the building's remarkable performance, the landscaping is designed as an ecological learning tool.
Carbon reduction for this project started with the reuse of an existing concrete parking garage as the base of the structure, and then selective upgrading of only a small portion upon which the new library is constructed. The library is surrounded by the landscape and becomes a pavilion in the park. It is designed to open the site and connect to its surroundings so that visitors are drawn in.
HONORABLE MENTIONS
CIVIC/CULTURAL
Lake | Flato, Confluence Park San Antonio, Texas
AWARDS Design for People and the Planet
TOP TO BOTTOM: COURTESY SEAMUS PAYNE; © BENNY CHAN | FOTOWORKS; COURTESY CASEY DUNN
METROPOLIS 40 NOVEMBER/DECEMBER 2022
RESIDENTIAL STYLE. COMMERCIAL CAPABILITIES. roomandboard.com/bicontract 800.952.9155
MIXED USE WINNER
OMA, POST Houston Houston, Texas
POST Houston transforms one of Houston's civic landmarks, the historic Barbara Jordan Post Office, into a much-needed cultural anchor and public space for downtown Houston. The building is LEED Gold certified. POST Houston began with a master plan to integrate the project with the city's Green Loop network of parks, open spaces, and commercial clusters.
A "Texas-size" rooftop Skylawn supports an urban farm, additional zones for gathering and events, shaded gardens, recreation areas, and two restaurant pavilions, adding 170,000 square feet of new public realm for downtown and the city's Green Loop. The green roof not only creates recreational opportunities that engage the greater public but also provides environmental benefits of carbon and air pollution sequestration (9,360 tons of CO2 over 25 years), mitigates the urban heat island effect, and reduces pollutant runoff into water resources.
POST is accessible by public transit and is walkable from downtown Houston. Accessible parking and ramps are available at each side of the building, in addition to wheelchair-accessible elevators, restrooms, and seating.
LANDSCAPE WINNER
Surfacedesign, Expedia Campus Seattle, Washington
Expedia's HQ is located a mile north of downtown Seattle on a 40-acre waterfront site that was filled in between 1962 and 1969. The campus has unparalleled sweeping views of Puget Sound, Mount Rainier, and downtown Seattle. Inside the campus boundaries, employees have free rein to utilize a variety of landscape spaces, but one of the key components is the public interface. The Beach at Expedia is a quarter mile of waterfront inspired by the native coastal landscape, with spaces for people to gather and celebrate the bay.
Surfacedesign developed a comprehensive soil program to build and restore conditions consistent with native soils in the area to support the new vegetation with reduced needs for irrigation, fertilization, and landscape management.
HONORABLE MENTIONS
LANDSCAPE
Surfacedesign, Pierpoint Lane San Francisco, California
TOP TO BOTTOM: © LEONID FURMANSKY (2); © MARION BRENNER (2) AWARDS Design for People and the Planet
METROPOLIS 42 NOVEMBER/DECEMBER 2022
Simplest Way to Spec for Sustainability
No matter what sustainability or design challenges you're facing, the Armstrong® SUSTAIN® portfolio makes your decisions simpler – by offering the largest forwardthinking portfolio of healthy ceiling and wall solutions, with verified material transparency and low embodied carbon. Learn more at armstrongceilings.com/sustain
for DesignFlex® FeltWorks® Blades Ebbs & Flows Kits
Calla® Shapes
EDITORS' PICK PRODUCT
Tarkett LinoFloor xf2
Made entirely of natural raw materials, Tarkett's LinoFloor xf2 is now available in five patterns and 106 colorways, including 16 colors made from all-natural dyes.
LinoFloor is composed of linseed oil, pine rosin, wood and cork flour, and jute. It is carbon-negative from cradle to gate, including raw material extraction, transport, and linoleum production, resulting in the category's smallest environmental footprint throughout its life cycle.
This linoleum flooring is Cradle to Cradle Certified Silver, FloorScore certified, and meets Health Care Without Harm Silver Level certification requirements.
COURTESY THE MANUFACTURERS AWARDS Design for People and the Planet
PRODUCT WINNERS OUTDOOR FURNITURE Loll Designs Alfresco Bar Height Collection ARCHITECTURAL SYSTEMS AND FACADES Kawneer 2500 UT Unitwall® System SOFT FLOORING Interface Beaumont Range SOFT FLOORING Milliken Coastline OFFICE FURNITURE Humanscale Path WALLS & CEILINGS Turf Hues INDOOR FURNITURE Andreu World Nuez Lounge BIO® KITCHEN & BATH Native Trails Vintner's Collection LIGHTING LightArt Coil Sea Foam and Seagrass PAINT ECOS Paints Lisa Tharp Colors TECHNOLOGY & TOOLS EHDD EPIC TEXTILES: WALLCOVERING Carnegie Fabrics Biobased Xorel Collection TEXTILES Wolf-Gordon Sirona WALLS & CEILINGS Kirei Air Baffle HONORABLE MENTIONS OFFICE FURNITURE Teknion Routes OUTDOOR FURNITURE Model No. Solis Outdoor Adirondack Chair KITCHEN & BATH Kohler Statement VES Showering Collection TECHNOLOGY & TOOLS Reseat Enterprise Tool TEXTILES Designtex and Crypton Epure, Interplay, Particle, and Imprint WALLS & CEILINGS Turf Hues METROPOLIS 44 NOVEMBER/DECEMBER 2022
Crafting a Sustainable Future
Kimball International raises the bar for its sustainable and inclusive practices.
"Kimball International is dedicated to building a more sustainable future and making a difference," says Kristie Juster, the company's chief executive officer, pointing to key accomplishments of the of the commercial furniture manufacturer's push towards its Environmental, Social, and Governance (ESG) goals.
The company's 2021 ESG Report, released this year, details how it has committed itself to producing sustainable products while reducing its impact on the environment and making a difference in the lives of its employees and the communities it touches. As a part of its sustainability mission, Kimball International aims to halve both its direct greenhouse gas emissions and those from the energy it purchases by 2030 compared to a 2018 baseline, plans to obtain Zero Waste certification at three facilities by the end of fiscal year 2025, and will reduce its water impact by the end of fiscal year 2023.
Kimball International is also leveraging its position as an industry leader to have a broader social impact. The company has set a goal to have 90 percent of its strategic suppliers sign the Kimball International Business Code of Conduct by the end of fiscal year 2023. It has also
focused on doing right by its own people by maintaining a total recordable incident rate under 1.5—well below industry average, hiring diverse talent, and having 95 percent of employees complete ethics and compliance training each year.
But there's no better example of Kimball International's commitment to social responsibility than its renovated headquarters campus in Jasper, Indiana. Designed to boost employee wellbeing and satisfaction, it was awarded the WELL Health-Safety Rating from the International WELL Building Institute in 2021. The building addresses the health and wellness needs of employees in a post-COVID-19 world with operational policies, maintenance protocols, and stakeholder engagement all designed to instill confidence in the Kimball community.
"I'm tremendously proud of what we've accomplished to advance our ESG goals over the past year," concludes Juster, who points to the Jasper headquarters as the focal point of a strategy that puts people and product first. "Our strong values have guided our belief in doing what's right, not only for the communities we serve, but to make a positive impact on the world."
SPONSORED CONTENT
Kimball International's Jasper, Indiana, headquarters was awarded the WELL Health-Safety Rating by the International WELL Building Institute in 2021.
DESIGN FOR CLIMATE DESIGN FOR HEALTHDESIGN FOR EQUITY
The climate crisis is the greatest single threat to health and economic prosperity on the planet, and disproportionately affects vulnerable communities. Interior design professionals must reduce the negative impacts of climate change.
Both human and ecological health are essential components of a thriving society, and essential for the future of humanity on the planet. Interior design professionals must support holistic health and safety.
Social equity and climate justice are central to cohesive, safe, and resilient communities. Interior design professionals must promote diversity, inclusion, and equity.
Read the full pledge and commit to making a positive impact by signing here:
The Interior Design Pledge calls upon designers to understand, assess, and maximize the positive impact of our work by making three interconnected commitments:
Obscura Perspective™ by Suzanne Tick. Skyline Design glass and film samples are now available on Material Bank in select states. Order by midnight and receive samples by 10:30 AM the next day.
NOW FILMING Film Studio™ PVC-Free Film For Architectural Glass
skydesign.com/mb
At All Scales
Children enjoy the nature-inspired slides at San Francisco's Presidio Tunnel Tops, a new 14-acre park atop the Presidio Parkway tunnels, connecting Crissy Field to the Main Post of the Presidio.
COURTESY RACHEL STYER
METROPOLIS NOVEMBER/DECEMBER 2022 49
SPECTRUM
An essential survey of architecture and design today
LANDSCAPE
Healing the Presidio
One of the flaws of San Francisco's Presidio, a 1,500-acre park edging San Francisco Bay, was the divide between land and water created by Doyle Drive, the arterial funneling traffic through the park from Lombard Street to the Golden Gate Bridge. That rift has been healed by a team that included the California Department of Transportation (Caltrans), engineers MKA, and landscape architects James Corner Field Operations, who together tunneled the road, buried it in more than 90,000 cubic yards of soil, and created the new Tunnel Tops Park—supported by an underground grid of stone columns—above.
Tunnel Tops is a successful public space because the experience of being there isn't about being on top of a tunnel; it's about being in a great park. The most important element in this sleight of hand is its curving network of pathways. From an aerial photo or the park's interactive map, the threads look like something a choreographer could have dreamed up. The rigid plat of the Presidio Parade
Ground and surrounding streets unwind into ribbons with incredible views of the Bay. On the ground, the paths diminish the visual and physical impact of the grade change from the parade ground to Crissy Field and the Bay.
A family could spend an entire day exploring the opportunities for learning and play that Tunnel Tops connects. These include the Outpost, a space full of play structures made from natural elements, and the Field Station (a collaboration with local firm EHDD), where visitors can smell and even taste local plants, look at early maps of the site, and create new ones. Amid the drought-tolerant plantings are some lawns for running around. With few eating options nearby, the Presidio has organized food trucks on-site. For storytelling, a huge campfire lets you sit protected from the wind by bleachers. Or you can stand on those bleachers to get one of the best views of the Golden Gate. —Kenneth Caldwell
COUNTERCLOCKWISE FROM
TOP: COURTESY RACHEL STYER (2); COURTESY PAUL MYERS
METROPOLIS 50 NOVEMBER/DECEMBER 2022
The new park, filled with green spaces and activity zones, replaces Doyle Drive, which once divided the Presidio from San Francisco Bay. The Outpost (left), a zone filled with nature-inspired structures, includes a play space evoking an oriole's teardrop nest. Visitors enjoy the park's campfires and grassy lawns (right).
Catwalk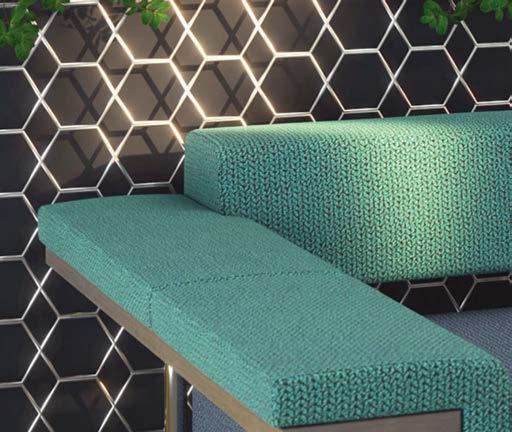 Made in America | Versteel.com
RENOVATION
Growing Better over Time
For years, architect Paul R. Williams's 1959 Botany Building on UCLA's Westwood campus was underutilized and, bit by bit, defaced by updates like laboratory gas pipelines and dark louvers, giving the building a foreboding quality that defied both the beauty and elegance of the botanical world. In 2017, CO Architects was brought in to start what eventually turned into a four-year, $27.4 million renovation. Nothing was left untouched: Labs, offices, a library, an herbarium, and a garden terrace were all rescued from their exile in midcentury notions of pedagogy and scientific research. "The building was very cellular," says senior associate Ben Bye, who with associate principal Phillip White led CO's effort. "The research was being done behind walls… There was almost no connection of inside to outside."
CO restored Williams's windows with modern, energy-efficient glass and removed the opaque louvers, installing a metal brise-soleil punctured with lozenge-shaped perforations. Inside, they replaced the walls of the building's double-loaded corridors with glass. Hallway ceilings were lowered and lined with strips of vertical-grained hemlock fir. Visual and physical connections now lead directly to the school's Mildred E. Mathias Botanical Garden.
These tempered, calibrated changes, tweaks, and insertions have lent the building clarity and, above all, transparency. But it was the discovery of a black-and-white line drawing on the back of the last page of the original building set that has defined it. Williams's sketch showed a mosaic of broad-leafed tropical plants—a motif he'd famously used for the wallpaper at the Fountain Coffee Room in the Beverly Hills Hotel—which was meant for the Botany Building's lobby. CO colorized the sketch and translated it into a lobby mosaic of 73,000 ¾-inch Vitreous Glass tiles in 14 hues. The mosaic reconnects the Botany Building to its area of study and has helped transform an overlooked building into a quiet gem. —Greg Goldin
COURTESY KIM RODGERS
SPECTRUM
METROPOLIS 52 NOVEMBER/DECEMBER 2022
CO Architects replaced the building's windows with energy-efficient glass and removed distracting updates such as gas pipelines and louvers (top). The team also discovered architect Paul R. Williams's sketch of a mosaic he'd intended for the building and re-created it in the lobby, highlighting the study of plant life (middle). Interior walls of the building's double-loaded corridors have been replaced with glass (below).
Design by Diez Office The New Era of Lighting
Essential and avant-garde; Plusminus is a versatile lighting system with a conductive textile belt that allows for the free positioning of multiple luminaires and the intuitive creation of customized lighting solutions.
Discover
Art and objects on view at LACMA's Scandinavian Design and the United States, 1890–1980 include a graphic textile by Howard Smith (left), Købenstyle casseroles and pitcher designs by Jens H. Quistgaard for Dansk Designs (top), and a 1951 armchair design by Finn Juhl for United States Manufacturer Baker Furniture (bottom).
EXHIBIT
Northern Lights
Among the many beautiful things on view at the Los Angeles County Museum of Art's (LACMA) Scandinavian Design and the United States, 1890–1980 is a rectangular textile depicting, in graphic silhouette, a vase of poppy-red flowers with folded green leaves against four vertical feet of pale linen.
Created by Howard Smith for the Finnish textile and home decor company Vallila in the late 1970s, the design is just one of the exhibition's many examples of cultural exchange between the United States and the Nordic countries over the course of the 20th century. Smith was a Black artist who studied at the Pennsylvania Academy of Fine Arts. In 1962, he went with Young America Presents, a U.S.-sponsored festival, to Helsinki and decided to stay, establishing partnerships with some of Scandinavia's most influential designers. By Smith's telling, adopting Finland's creative community came of necessity: "I didn't leave with any pleasant thought about the United States," he's quoted as saying in an essay in the exhibition's catalog, referring to America's racism and
lack of opportunity for artists. "I was at an impasse. There was nothing further to do, so I went."
Cocurated by Bobbye Tigerman of LACMA and Monica Obniski of the High Museum of Art in Atlanta, designed by Bestor Architecture, and on view through February 5, the show asserts that Scandinavian design had a far-reaching influence on the course of American Modernism, and vice versa. But it explodes the notion of a single "Scandinavian" sensibility, particularly as organic, natural, warm, or somehow more humanist than that of the Bauhaus. Organized in six themes, the exhibition challenges us to consider the complex, often intricate impact of such design exchanges— touching on, among other things, mass production, the Cold War, immigration, education, sustainability, and accessibility.
The last two topics bring the show through the 1970s and to its forward-looking close. Today as then, designers are called to answer who gets to live with beauty, comfort, and care, and in what kind of world. May we deliver ourselves beyond the impasse. —Katie Okamoto
COURTESY LOS ANGELES COUNTY MUSEUM OF ART SPECTRUM
METROPOLIS 54 NOVEMBER/DECEMBER 2022
At Mannington Commercial, our heart lies in our craft. We make exceptional flooring products with thoughtful design and uncompromising performance. With a commitment to providing more sustainable products our Legato Liquid Linoleum flooring has attained USDA BioPreferred® certification. For more information, visit us online at manningtoncommercial.com.
Legato N339
BOOKS Right to the City
The Greening of America's Building Codes: Promises and Paradoxes
By Aleksandra Jaeschke Princeton Architectural Press, 240 pp., $29.95
Building on architect Aleksandra Jaeschke's Harvard Graduate School of Design dissertation, The Greening of America's Building Codes analyzes the history of residential U.S. building codes while also investigating the rise of environmental awareness that led to today's green standards. By evaluating "how these two threads got entangled throughout the 20th century and how this entanglement was normalized by politicians, optimized by economists, and standardized in
the circuits of code makers," the book serves as a tool for architects, builders, and developers who want to understand the ways policy affects the environment.
She writes: "If designers truly wish to minimize the environmental impact of buildings and stay relevant as a profession, they need to expand their definitions of design, start to interrogate the regulatory circuits, and recognize predesign as a critical aspect of spatial practice." Jaxson Leilah Stone
Gentrification Is Inevitable and Other Lies
By Leslie Kern Verso, 256 pp., $24.95
Revitalization, reurbanization, renewal, revival, regeneration. According to Leslie Kern, author and geography professor at Mount Allison University, in Canada, these are all "words that have bubbled up out of planning and policy discourse designed to hide displacement and hierarchies of power." Aside from their alliteration, these terms, so popular with pro-development city planners, politicians, and real estate agents, have something else in common. They're often used as euphemisms for another controversial term: gentrification.
In her new book, Gentrification Is Inevitable and Other Lies, Kern dissects seven common myths about gentrification, asserting that any study of the urban phenomenon should be examined not only in terms of class but also through the lenses of queer-feminist, anti-racist, and decolonial points of view. The final chapter explores these three frameworks in depth, offering actionable steps toward a more equitable urbanism that centers such concepts as infrastructures of care, Land Back movements, reparations, and environmental justice. Kern writes, "Not only is an intersectional analysis likely to help clarify the outcomes of gentrification, it also offers hope for intervention. It's imperative to ask: What are we not talking about when we talk about gentrification?" —J.L.S.
COURTESY OF THE PUBLISHERS SPECTRUM
METROPOLIS 56 NOVEMBER/DECEMBER 2022
Gradients of Nature
lelandfurniture.com Omena Gradient Find your Element
The untreated, V-shaped timber supports are so thick they resist fire, yet a wooden facade wasn't allowed by building regulations, so the architects wrapped the upper volume in a perforated metal grid. Two atria bring light into the interior of the wooden volume and mezzanine below, creating a sense of lightness in attractive contrast to the solid base.
ARCHITECTURE
Cradle-to-Cradle
Three years ago, the small town of Straubenhardt, Germany, declared itself the region's first cradle-to-cradle (C2C) community, aligning the entire town with circular economy principles. For the building sector, that meant that all materials must remain raw, untreated, and easily recyclable. The program was put to the test with its first C2C pilot project, a new central fire station designed by Stuttgart's Wulf Architekten.
A steep slope on the building site made it necessary to sink the fire station's base 23 feet into the earth, which in turn required a structure of reinforced concrete. Even though carbon-intensive concrete was not the first choice of materials, the architects turned it into an advantage. Because the concrete was raw and free of any coatings, it is fully recyclable, and it made possible a
wide hall to house vehicles, maintenance facilities, and technical areas. Above this base, the architects placed a second volume of almost identical size but made entirely of timber. While the concrete areas are designed for machines, the wooden structure is designed for people and contains social rooms for 230 firefighters, their offices, training facilities, and sleeping quarters.
In keeping with C2C principles, the fire station is built as simply and naturally as possible, and everything is designed to be reused or recycled. No adhesives, paints, plasters, or chemical treatments were applied, and timber elements were fastened with screws, not nailed or glued. Most significantly, all building technology remains visible so that it can be easily repaired or replaced when the time comes. —Florian Heilmeyer
© BRIGIDA GONZÁLEZ SPECTRUM
METROPOLIS 58 NOVEMBER/DECEMBER 2022
Moonsetter by Anne Boysen
louispoulsen.com
Design to Shape Light
LIGHTING
Danish Delights
To expand its lines of crystal decor—dinnerware, vases, vessels, and tables—specialty manufacturer Reflections Copenhagen has released a series of pendants made with its signature sharp-cut, jewel-toned lead glass. Designed in collaboration with Danish firm Design By Us, the Carnival Series features four slender fixtures roughly 14 inches in length and a table lamp available in two color combinations topped with a silk shade. While the hanging LEDs produce pointed beams for dramatic accent lighting, the table lamp accommodates a variety of bulb types for a softer glow. Individual pieces may be mixed or matched for a theater of light.
reflections-copenhagen.com —Joseph P. Sgambati III
Making Waves
Sustainable lighting company LightArt is partnering with Oceanworks, a recycled plastic marketplace, to source raw material for a version of its 3D-printed Coil Collection. The update's spherical shapes and translucent finishes owe a debt to an engineering process that makes extraordinary use of reclaimed ocean plastic. Available colors (white Sea Foam and green Seagrass) are determined by their waste streams, which are oceanbound or near-shore. With each new fixture produced, a pound of plastic gets removed from the eight million metric tons ending up in the sea annually.
lightart.com —J.P.S. III
COURTESY THE MANUFACTURERS SPECTRUM
METROPOLIS 60 NOVEMBER/DECEMBER 2022
&5($7,1*%($87,)8/%$7+52206 0$'(,17+(86$ &86720352-(&76:(/&20( /$&$9$ FRP FRQFUHWHVLQNWRSLQPRVVFRQVROHLQPDWWHEODFN PLUURUZWKPDWWHEODFNIUDPH IDXFHWVLQPDWWHEODFN VWRROLQJORVVZKLWH EDWKWXELQJORVVZKLWH VKHOYHVLQPDWWHEODFN URWDWLQJVWRUDJHXQLWLQJORVVZKLWH 1(:7(55$ 1$9, (/(*$1=$ 6277,/( (/(*$1=$ %5,&. $48$48 $48$48$7752
SOURCED Terms of Enrichment
The global aspirational style of world-class spas, resorts, and hotels is Houston-based designer Nina Magon's stock-in-trade.
01 02 03 04 07 05 06
NINA MAGON
As principal of her namesake firm, Magon has spent 14 years mastering materials that make commercial interiors feel luxurious. To ensure her vision of rich textures and seductive curves is universally read as lush, she draws on her extensive travels as a Canadian child born to Indian expats: "The country that inspired me most was India. Silks, chiffons, beadwork, metalwork. I understood that if India had so much to offer, I could learn more from exploring the cultures of other countries," she says.
01 Contour ceiling fixture
"The lines nod to the past, but with a twist." knoll.com
02 Forza dining table
"To keep the curvilinear theme throughout, we created this dining table (part of my own Pavus Collection) that features the juxtaposition of a smoked glass top on a Corian base." ninamagon.com
03 Silk rug
"The striking sheen is the perfect contrast to matte finishes in a space." ninamagon.com
04 Flue side table
"Carved from a solid stone block, the table's form straddles the line between sculpture and function. It's a perfect conversation starter." ninamagon.com
05 Dekton Liquid Embers stone
"I've placed this bold-patterned stone inside archways to accent a monochromatic color scheme and give the interior a moody edge." cosentino.com
06 Green Plaster cladding
"This peacock-colored custom plaster finish is something we've created with a fabricator to add a multidimensional facade to some furnishings such as bar fronts." modernwoodservices.com
07 Plumage barstool
"Comfort and sophistication were the goal when designing these barstools for the space. With a curved ridged back upholstered in this deep green and accented with a brushed bronze base, these barstools were the perfect fit." ninamagon.com
08 Ocelli sofa
"This sofa's curves and contours—accentuated by a brushed bronze base—make it the perfect timeless addition to a luxurious lounge." ninamagon.com
PORTRAIT: COURTESY NINA MAGON; PRODUCTS: COURTESY NINA MAGON AND THE MANUFACTURERS
08
METROPOLIS 62 NOVEMBER/DECEMBER 2022
SUSTAINABILITY DESIGNED FOR THE FUTURE. ACOUSTICAL WOOD CEILINGS AND WALLS rulonco.com Children's Healthcare of Atlanta Center for Advanced Pediatrics | Atlanta, GA Architect: Stanley, Beaman and Sears Product: Curvalon, Flat Veneered Panels LEED GOLD CERTIFIED
PRODUCTS Earth Tones
Across categories and materials, the palette of the natural world is trending.
By Kelly Beamon
Theia, four wavy profiles are available in 26 colors.
THEIA theiatiles.com
01
Environmental references abound in the latest debuts: overtly in the way man-made substrates expertly mimic organic materials, and subtly in furnishings and surfaces finished in nature's muted hues. Mar Di—a tile collection in four wavy forms inspired by the motion of the sea and available in colors such as Nude, Forest, and Rose—falls into the latter category.
COURTESY STUDIOPEPE
01 MAR DI
Designed by Studiopepe for Portuguese tile maker
METROPOLIS 64
02
05
EAMES SHELL CHAIR
Produced in fiberglass since the 1950s, and molded plastic since 2006, Ray and Charles Eames's famous seating will now be 100 percent recycled plastic.
HERMAN MILLER hermanmiller.com
03 W223
PAWSON
This dimmable LED, designed by architect John Pawson in veined marble and aluminum, is part sculpture and part table lamp.
WÄSTBERG wastberg.com
04 CICIL
Offered only in the naturally occurring colors of sheep's wool, these rugs are free of dyes and exploit a formerly untapped waste stream in U.S. fiber production.
CICIL cicilhome.com
05 WOOD COLLECTION
Patterns mimicking five wood grains compose the Wood Collection in an extension of the digital prints offered on Kirei Ink's line of PET acoustic panels. The UV ink is GREENGUARD certified. KIREI kireiusa.com
06 TEKSTUR
Milled from a paper composite with recyclable and renewable content, these textured wall panels come in FSC- and GREENGUARDcertified versions for use in health-care and commercial settings.
ECOSUPPLY ecosupplycenter.com
06 02 03 04
COURTESY THE MANUFACTURERS NOVEMBER/DECEMBER 2022 65
07 KRAFTIZEN
What appears to be Venetian-style stucco is a new range of indoor/ outdoor Dekton surfaces that are carbon neutral from cradle to grave and available in five colors.
COSENTINO cosentino.com
08 RELEVO RUG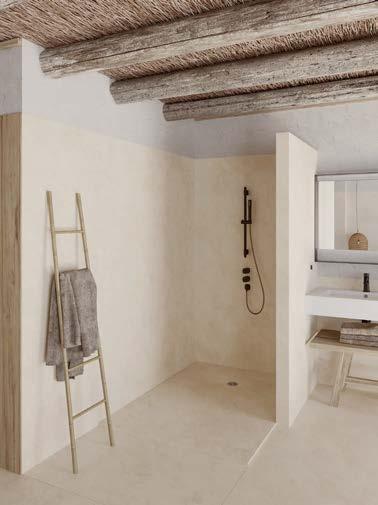 Milan-based Studiopepe says that an interest in "enduring materials" inspired its design of a line of cotton-backed, earth-toned wool area rugs for Scandinavian brand Muuto.
MUUTO us.muuto.com
09 TARTAN FAUCON AND MISTY GUINEA
Biophilia and decadence merge in two new wallcoverings made of actual bird feathers, extensions to an entire plumed collection from Koket. KOKET bykoket.com
10 SOLTIS TOUCH
Offered in 28 colors, these window shades are phthalate-free, recyclable, and certified GREENGUARD GOLD for indoor air quality.
SERGE FERRARI GROUP sergeferrari.com
11 GIO CHAIR
Part of a four-piece seating collection made of hand-sanded solid ash, this chair features removable slipcovers in optional recycled fabric. SIXPENNY sixpenny.com
COURTESY THE MANUFACTURERS
PRODUCTS Earth Tones 07
METROPOLIS 66
08 09 10 11
12 WILDWOOD
What appears to be wood cladding is actually an embossed composite that's free of toxins and made of 94 percent recycled content.
FIBERON fiberoncladding.com
13 KNITTING CHAIR
Designed to showcase its exposed joinery, natural wood, and sheepskin upholstery, this chair is also sized for compact modern living spaces.
MENU menudesignshop.com
14 SHADES 2.0
Three Crossville collections (Shades 2.0, Retro Active 2.0, and Color Blox 2.0)
are now Living Product Challenge Petal certified.
CROSSVILLE crossvilleinc.com
15
QUOTIDIANA
Known for artsy wallcoverings and textiles, Eskayel is debuting flat-woven and hand-knotted rugs in similarly painterly patterns.
ESKAYEL eskayel.com
12 13 14 15 NOVEMBER/DECEMBER 2022 67
SUSTAINABILITY Living for the City
In a contracting office market, Portland's PAE Living Building attracts tenants with resilience, mass timber, and indoor-outdoor gathering spots.
By Brian Libby
COURTESY
© LARA SWIMMER
METROPOLIS 68
NEIGHBORHOOD CONTEXT
The PAE Living Building's brick facade belies a technologically advanced, environmentally sustainable project that its architects anticipate will be the first Living Building Challenge–certified structure in the state of Oregon.
NOVEMBER/DECEMBER 2022 69
Portland, Oregon's Skidmore/Old Town Historic District, with its 19th-century National Register–listed fabric of cast-iron architecture (and corresponding restrictions on height and style), might seem an unlikely place for what is expected to be the state's first fully Living Building Challenge (LBC)–certified structure. The timing of the project, which broke ground in April 2020, just after the COVID-19 pandemic began, wasn't ideal either.
Yet the PAE Living Building, completed last fall and named for its anchor tenant, PAE Engineers, is a successful developer-led speculative office venture that comprises ground-floor retail and four floors of office space above—three and a half of which are already leased. The building was designed by ZGF Architects,
itself founded in Portland, to be the first such project to meet LBC requirements, and at 58,000 square feet, the nation's largest. It is expected to be fully certified in summer 2023, after a mandatory 12-month waiting period to track postoccupancy performance.
While the contemporary brick-clad exterior had to blend in with nearby historic buildings to win city landmark-commission approval, to meet LBC strictures the building had to do a lot more: generate all its own energy and then some, capture and treat all its water on-site, and meet carbonrelated materials imperatives.
Still, to attract tenants, the PAE building had to offer "a rent that was acceptable, which meant people were willing to pay some premium but not a giant premium,"
A LIVING BUILDING
The PAE building's designers expect that it will be fully certified as having met the Place, Water, Energy, Health & Happiness, Materials, Equity, and Beauty criteria of the Living Building Challenge in summer 2023, after a mandatory 12-month waiting period to track post-occupancy performance.
SHINE ON
Historic district zoning restrictions meant that the building's solar array could not be visible from the street. The design team's solution was to install a smaller rooftop array on-site and donate one to the nearby Renaissance Commons affordable housing development, saving that nonprofit organization nearly $20,000 per year in energy costs and generating enough electricity to cover 110 percent of the PAE building's needs.
TOP: COURTESY PAE; BOTTOM: COURTESY JAMIE GOODWICK
SUSTAINABILITY Living for the City
METROPOLIS 70 NOVEMBER/DECEMBER 2022
The DNA of Beautiful Walls
Sophisticatedly simple, yet dramatic; tasteful, yet sublime, Craft Wallcovering offers handmade surface art for your walls.
craftwallcovering.com +
TIMBER TOWER
A structure made of glue- and cross-laminated mass timber reduced the project's embodied carbon emissions by 30 percent and provides workers with a warm, welcoming interior.
explains Jill Sherman of Edlen & Company, the project's developer. "We really didn't know going into it if that was feasible or not." But features like natural ventilation, solar power, and timber framing have proved to be selling points—even as the market for office space cools.
Because PAE's portfolio includes over a dozen LBC-certified projects, including 2011's Bullitt Center in Seattle and 2015's RMI Innovation Center in Colorado (with ZGF), its headquarters was a chance to demonstrate sustainable design's evolution. That's one reason the new building's ground-floor attraction is a window into its utility room, although in this case that term seems incomplete.
"Think of it less like a utility room and more like an ecosystem," says PAE
principal Marc Brune. "It's a closed loop, and we're generating things that are beneficial to the environment." Utilizing a 71,000-gallon cistern, 100 percent of the building's wastewater is collected and treated on-site. The building's vacuumflush toilets and composting waste system represent a functional (and olfactory) improvement over the Bullitt Center's foam-flush toilets, Brune explains. Nutrients such as phosphorus and ammonium bicarbonate are drawn from the waste and sold as retail-grade plant fertilizer.
A tight thermal envelope helps the PAE building achieve a 53 percent energy savings over building code before solar harvesting. A 133 kW rooftop photovoltaic array is paired with a 280 kWh battery,
OFF-GRID READY
Designed with resilience in mind, the building is engineered to Category IV seismic resilience, and—thanks to its solar array and integrated battery storage—can operate in reduced energy mode for 100 days during the summer months in case of a grid failure.
COURTESY © BENJAMIN BENSCHNEIDER
SUSTAINABILITY Living for the City
METROPOLIS 72
FRESH AIR
A space on the fifth floor that the design team dubbed the "deckony" (a portmanteau of "deck" and "balcony") forms the social heart of the office. Its operable glass panels fold away when opened, connecting the common space to the fresh air and views outside.
allowing a two-way connection to give back to the city's electrical grid and the ability to operate off-grid at a reduced capacity. The project also offsets its additional gridderived energy use by providing a 215 kW off-site PV array to the Renaissance Commons, an affordable housing project across town.
The building's top floor features a 1,500-square-foot employee dining and gathering space with large NanaWall operable glass panels that fold away.
"We've eroded the corner a little bit," says ZGF Architects principal Justin Brooks.
"It becomes like an outdoor space once you open all of the windows."
Inside, the PAE building's cross-laminated-timber structure is left exposed, helping to attract tenants as well as
73 NOVEMBER/DECEMBER 2022
sequester carbon. Natural light is maximized by leaving the ceilings uncluttered by electrical conduits (embedded between floors) or even beams. Instead, upturned beams mounted into the floors have created a series of benched window seats. The PAE building also meets International Building Code Risk Category IV structural seismic standards, the same level required for hospitals and fire stations. Even in an earthquake or other natural disaster, it will likely be safe inside with the lights on and water running—that peace of mind helps attract and retain talent.
"People are 75 percent of our costs," Brune says. "If we can get one percent better productivity, this building actually pays for itself. It's a hard thing to quantify, but we believe it, and I feel like we're seeing it already." M
LOW WATER
All of the building's water needs are met via on-site rainwater capture and gray-water treatment. Nutrient recovery and a five-story vacuum flush composting system keep water use to a minimum.
WASTE NOT
Cisterns collect waste from the vacuum flush system and produce liquid fertilizer and agriculture-grade compost on-site, using no city water. Fertilizer and compost sales provide an extra source of income for the building's owners.
SUSTAINABILITY Living for the City COURTESY © LARA SWIMMER
METROPOLIS 74 NOVEMBER/DECEMBER 2022
AVA® offers a diverse range of patterns and colors that are recognized by the industry as setting the benchmark in sustainable resilient flooring for a variety of markets. EDU EDUCA EDUCATION HCORPORATEED ALITY HOSPIT HOSPITALITYOR HOSPITALITYRPO CORPORA CORPORATE M AMIL Y MUL TI-F MULTI-FAMILY RETAIL HEAL THCARE HEALTHCARE View our latest Sustainability Report at avaflor.com 2021 Annual Sustainability Report avaflor.com / 877-861-8592
EDUCATION School Spirit
Architect Jonathan Tate applies his firm's Delta-friendly infill formula to the design of an elementary school in Clarksdale, Mississippi.
By Kelly Beamon
COURTESY LEONID FURMANSKY
METROPOLIS 76
Few public schools are known for their thoughtful design, especially in places as historically underserved as Clarksdale, Mississippi. But the welcoming profile of Clarksdale Collegiate Public Charter School, designed by the New Orleans–based Office of Jonathan Tate (OJT), is fueling hope in efforts to rebuild its surrounding community—a town marked as much by its impoverished and depopulated present as by its historically bluesy musical past.
The project is partly an adaptive reuse of an existing 23,711-square-foot church, which the charter school began occupying
in 2018; and it's partly a ground-up, two-story addition built in 2021 on the church's formerly unused 4.8-acre tract.
A bird's-eye view of the 28,869-square-foot addition shows massing that mirrors the renovated brick church, but with a fresh white-painted exterior clad in lap siding. Because it simultaneously stands out and blends in among Clarksdale's many warehouses of similar shape and scale, the new building serves as "a grounding idea for redevelopment—a way to respect existing buildings and not overwhelm them with the new ones," Tate says.
FITTING IN Lap siding, peaked rooflines, and a form that links with that of the adapted former church are ways to "respect existing buildings and not overwhelm them with new ones," says architect Jonathan Tate.
NOVEMBER/DECEMBER 2022 77
TIED TOGETHER
An aerial view (left) underscores how the new building mirrors the church's massing to blend in.
Half-painted posts for a covered walkway (bottom) recall OJT's public art installation "Ground Notations" in Jackson, Mississippi.
Like the Clarksdale community leaders who found themselves working around a failing school district to create a more rigorous charter school, OJT has devised a way of developing underappreciated sites into dynamic new buildings that still feel welcoming and familiar to longtime residents.
"I spent time in Clarksdale, the Home of the Blues, before I started my firm in New Orleans," says Tate. "Since about 2015, we've been involved in conversations about stabilizing and growing the town. We advised them on how to take over the church in phases, and we helped review a master plan for the site of the high school."
As a codeveloper of other regional projects with contractor Pierre Stouse and developer Chuck Rutledge, including
COURTESY LEONID FURMANSKY EDUCATION School Spirit
METROPOLIS 78 NOVEMBER/DECEMBER 2022
anodetonyc
Explore the heartbeat of New York with NYCxDESIGN's annual Ode to NYC poster collection, returning December 2022.
View the collection at nycxdesign.org.
NYCxDESIGN is a non-profit organization. Thanks to the supporters of Ode, we're able to create more equitable opportunities in design and foster a diverse next generation to become New York City's designers of tomorrow.
CIRCULATE
A singular silhouette obscures the complex program of corridors and K–6 classrooms.
COURTESY LEONID FURMANSKY
METROPOLIS 80
READ, REST
Locating the library along the north wall of the new building allowed for a roomy, daylit space with flexible furniture and reading nooks.
Clarksdale's Travelers Hotel, Tate has refined a popular vision for a modern but contextual infill in the region.
In New Orleans, a roughly five-hour drive from Clarksdale, he has a body of built work to prove it: A spate of housing projects are visible around the city (including his own residence); 3106 St. Thomas won an American Institute of Architects Housing Award in 2018 and St. Thomas/ Ninth won the AIA National Honor Award in 2019. OJT used many hallmarks of those projects to make Clarksdale's K–6 campus feel fresh but also down-home.
Like OJT's New Orleans housing, the school stands out for its residential-style siding, asymmetrical rooflines, thoughtful formation of outdoor courtyards, and massing that evokes what's already there.
Clustered closely, the former church and new addition almost seem to embrace. Even the "up/down of the roof forms is in dialogue with existing spaces," according to the firm's brief. It's a device OJT relies on to create harmony rather than displacement.
OJT's portfolio and regional impact are remarkable for a firm that's just over a decade old. Then again, Tate is embedded
EDUCATION School Spirit
NOVEMBER/DECEMBER 2022 81
CLASS ACTS
A prefabricated system of trusses supporting the addition makes the circulation between its two levels undetectable from the entrance.
Selected Sources
• Design architect: OJT
• Project architect: Marguerite Lloyd
• Project team: Robert Baddour, Patrick Daurio, Lauren Hickman, Katie McBride, Leonardo Leiva Rivera, Lucy Satzewich, Jonathan Tate
• General contractor: Grinder, Taber, Grinder (GTG)
• Civil engineer: The Bray Firm
• MEP engineer: Whittam Consulting Group, LLC
• Structural engineer: Chad Stewart & Associates
INTERIORS
• Interior flooring: VCT, Armstrong Standard Excelon Carpet Tile, Interface (Aerial Collection) Ceramic Tile, American Olean
• Paint: PPG Paint
EXTERIOR
• Fiberglass windows: Pella
• Fiber cement siding: Hardie Plank Lap Siding
in the region, given he has bought a home in New Orleans and has taught at the Tulane School of Architecture. And though this is OJT's first K–6 project, it is a strong indicator that the firm is successfully spreading its special brand of urban infill beyond Louisiana.
Ever the citizen architect, Tate also donates services on small local projects— some of which provided him with insights into the technical considerations of K–12 education before he landed the Clarksdale commission. "Since my 20s I've had a relationship with these [Delta region] towns, and I'm fascinated by how they share the same fundamental struggles," Tate says. "I enjoy cities, but there's a dynamic here that feels important and vital. We want to be a part of that." M
COURTESY LEONID FURMANSKY EDUCATION School Spirit
METROPOLIS 82 NOVEMBER/DECEMBER 2022
Finest selection of contemporary European wood and gas stoves and fireplaces Varia 0-clearance Built-in Fireplace 914.764.5679 www.wittus.com
ARCHITECTURE Art in Suburbia
Morphosis completes the Orange County Museum of Art, embedding culture—and dramatic geometries— in a rapidly changing locale.
By Mimi Zeiger
"This is the beginning of a cultural institution," said Morphosis principal Thom Mayne in late September, seated in the plaza of the nearly completed Orange County Museum of Art (OCMA), in Costa Mesa, California. Behind him, VIPs dressed in black tie streamed from the valet to the white-on-white lobby for an exclusive opening event on the structure's upper terrace. The $94 million building—its swooping prow jutting like a glazed pompadour from the facade—opened to the public on October 8.
Located at Segerstrom Center for the Arts, a suburban campus studded with architecture by Pelli Clarke Pelli and Michael Maltzan Architecture, Morphosis's 53,000-square-foot museum is the last piece of a plan devised by civic leaders and philanthropists in the late 1960s and begun in the '80s. It was designed to cluster Orange County's arts organizations—like a food court for culture where you can catch the symphony, a touring production of Hamilton, and now an art exhibition.
Topped by a 10,000-square-foot planted terrace, the museum is the final piece of Orange County's Segerstrom Center for the Arts.
COURTESY MIKE KELLEY
METROPOLIS 84
COURTESY JASMINE PARK
NOVEMBER/DECEMBER 2022 85
OCMA's prow, clad in tiles from Boston Valley Terra Cotta, wraps like a snake around a glassy atrium.
But who is the audience? Orange County has changed significantly over the past few decades; this bastion of white suburbia has grown demographically more diverse. Its politics shifted from red to purple in the 2020 election, and density has increased— it's now second only to San Francisco County in the state, out-densifying Los Angeles County. Multifamily housing has started to crop up around Segerstrom Center. As OCMA lands in Costa Mesa, leaving behind a smaller building in Newport Beach and a temporary space at the nearby South Coast Plaza Village, it arrives with a mandate to face these realities. For instance, its inaugural exhibitions California Biennial 2022: Pacific Gold, 13 Women, and Fred Eversley: Reflecting Back (the World) feature a range of artists whose work and identities resonate with a contemporary OC.
Morphosis won the OCMA competition in 2007 with a very different scheme from what was built, including two revenue-generating residential towers. Mayne categorizes his role in the 14 years since then with language that is part C-suite, part mystic, part architecture whisperer. "I'm not there to design a building; I'm there to help an institution find its way," he says. "We concretize it, which gives you this type of museum and a future for the institution."
Despite a claim by Mayne that OCMA isn't in the camp of the "shiny object" that exemplifies a type of early-21st-century museum building, Morphosis's formal geometry brings drama to the entry sequence. The firm worked with Best Contracting Services to develop the terracotta tile skin, which snakes across the facade and spirals upward to create a 52-foot-tall atrium lobby, crisscrossed by steel and glass bridges that lead to the education center and upper-level café and event space.
Behind the dynamic front-of-house gymnastics, the parti is relatively simple: roughly 25,000-square-feet of rectilinear gallery space. With polished concrete floors and nearly 20-foot-tall ceilings equipped with hanging systems and indirect lighting, the architecture speaks the universal language of contemporary museums: white walls and flexibility.
Connector has a torqued form that echoes that of the museum (above). The building's folding facade brings an avant-garde aesthetic to a place not known for it (middle). A view into one of the museum's galleries reveals work from California Biennial 2022: Pacific Gold (below).
FROM TOP: COURTESY RYAN MILLER; COURTESY MIKE KELLEY; COURTESY OCMA
Richard Serra's 65-foot-tall Cor-Ten steel sculpture
ARCHITECTURE Art in Suburbia METROPOLIS 86
"It's not really a building; we built a public space with an edge," says Mayne, referring to the 10,000-square-foot terrace that tops the museum, where a site-specific, metal sequin-covered sculpture by Sanford Biggers is currently on view. An amphitheater-esque set of risers cascades down from the terrace to the mezzanine level, offering visitors a balcony perspective of the main plaza, including Richard Serra's 65-foot-tall sculpture Connector, whose torqued steel forms echo those of the museum.
Architect and Morphosis partner-incharge Brandon Welling notes that these outdoor spaces were a way of giving back to the local community. Prior to construction, the site was a grassy field—not an official park, but a place where people would walk
their dogs or have a picnic, he recalls. Conceptually, the architects like to think of the terrace as the result of lifting that green expanse and slipping the galleries underneath. A row of live oaks—street trees—line the terrace edge.
Yet "Who has access?" is one of the chief questions. For OCMA, the inquiry parallels one of audience in a place where distinctions between suburban and urban have grown a little fuzzy. Welling explained that a visit to the museum is part of the curriculum in local public schools, and entrance is free for the first 10 years, so it is possible to bypass the exhibitions and hang out on the terrace when the museum is open. What happens after hours is less clear; there's a narrow exterior stair at the rear of the building, but does it
grant entrée to morning dog walkers or late-night picnickers?
Would-be visitors may have to satisfy themselves with a stroll along the Avenue of the Arts, just to the east, where two new large-scale paintings, one by Oakland, California–based artist Alicia McCarthy and the other by L.A.-based artist Sarah Cain, are visible at all hours behind a glass storefront that runs nearly the length of the museum. OCMA CEO and director Heidi Zuckerman considers this her favorite part of the building, nicknaming it "the peninsula."
She considers Cain's artwork a kind of talisman that could channel energy and we alth to the museum. "The public can come and wish for abundance," she says. Others may wish for a grassy field. M
COURTESY MIKE KELLEY
A steel-and-glass bridge crosses the atrium lobby and leads to the education center and upper-level café and event space (left). The 50-foot-tall atrium lobby is surmounted by folded terra-cotta surfaces, steel bridges, and a mesmerizing skylight (right).
NOVEMBER/DECEMBER 2022 87
WORKPLACE Industrial Yet Refined
Axelrod Architects creates a future-oriented office for a renewable energy company in the San Francisco Bay Area.
By Lydia Lee
The structural ceiling is visible through the drop ceiling's slats, making the office feel taller. Linear lighting fixtures in slim tracks intersect across the space. Imagery from project sites is projected on a central wall (below).
COURTESY JOE FLETCHER
METROPOLIS 88
White acrylic walls, which resemble back-painted glass, double as whiteboards (above). A wall-mounted sculpture (below) includes fiberglass wind turbine blades, with black squares standing in for solar panels. A column is marked with the coordinates of one of the company's projects.
Minimalism can easily result in bland and sterile design. But San Francisco and Tel Aviv–based Axelrod Architects has demonstrated how the clean-lined, monochromatic aesthetic can be infused with meaning to create a compelling 15,000-square-foot office in the Bay Area town of Burlingame.
Its client Eolian is not your typical tech start-up. The privately held company is instrumental in the development of the United States' clean-energy and clean energy–adjacent infrastructure. For instance, over the past 18 years it has developed or funded about 10 percent of the country's utility-scale solar- and windpower facilities. The firm recently moved to a new office that would end up marking its official break from a parent company that still had holdings in fossil fuels. Eolian's leaders tapped Axelrod to create a design that would represent its future-facing philosophy while incorporating visual reminders of its pioneering work.
"We wanted a space that was beautiful and also had direct linkages to what we've done together over time," says Eolian founder Aaron Zubaty. "These long-term infrastructure projects can take 10 to 15 years to materialize, and you want to keep that larger fabric in mind while creating the next wave of decarbonization strategies."
The tenant-improvement project, covering one and a half floors of a newly constructed office building, feels industrial yet refined; glimpses of the raw shell of the building—now clad in high-gloss acrylic—are still visible.
NOVEMBER/DECEMBER 2022 89
The more-than-50-person staff of engineers, data scientists, finance professionals, and lawyers needed private offices for their long hours of deeply focused work, but Zubaty also wanted a degree of openness to retain natural light and sight lines to views outside. "It was important that people could see each other, so that even if you're entirely focused on a task or thought, you're still able to reach out to someone that could help you think deeper or differently about what you're working on," he says.
These programmatic requirements led to a floor plan with glass-walled rooms arranged around the perimeter and in freestanding clusters, separated by open lounge spaces to encourage chance interactions. (While the office was designed pre-pandemic, this layout turned out to be extremely propitious.) To create a bright, luminous environment, the design team painted the exposed ceiling white, added a drop ceiling of white metal baffles, and installed acrylic panels that double as whiteboards.
Diverse program elements include glass-walled private rooms, collaborative tables, and a play space for employees' children. Acoustic wall panels were chosen for their resemblance to 3D topographical models.
COURTESY JOE FLETCHER
WORKPLACE Industrial Yet Refined
METROPOLIS 90
Made from a prefabricated kit-of-parts, a self-contained conference room includes whiteboards and a monitor.
Giving the unadorned concrete slab floor a high polish also helped. "Everything is white, but nothing is simple— there are so many textures," says Axelrod Architects principal Irit Axelrod, who grew up in Tel Aviv, inspired by its many Bauhaus buildings.
To embed Eolian's identity in the design, Axelrod and Zubaty came up with a simple way to represent a turbine layout grid, tying the office together graphically with grids of black lines connected to the office's structural posts. One is overhead: Linear lighting fixtures in slim tracks intersect across the space. Another is underfoot: Painted lines connect the floor's exposed steel columns, which are coated in black paint and labeled discreetly with the geographic coordinates of some of the company's projects. Over the lounge areas, oversize white ceiling fans evoke the company's wind-power developments.
There are also literal representations of Eolian's business. Drone footage and still imagery from project
sites are projected on a central wall in the open area visible from the reception, entrance, and open lounge, while an installation in the main lounge by California sculptor Wayne Shaffer showcases an artistic interpretation of wind turbine blades. Another sculpture by the same artist combines miniature models of those fiberglass blades, cast in bronze.
At the beginning of September, when the Bay Area was in the middle of a severe heat wave, the office was dimly lit and comfortable. The thermal mass of the exposed concrete floors, which cool down overnight, helps to reduce the indoor temperature. Individual thermostats in each room allow personalized control, and ensure that only occupied spaces get air-conditioning. Zubaty knew that the battery storage the company had built in Southern California would help with the statewide spike in demand, but doubted that it was enough. "We've been working on this problem for a long time. It's very personal," he says. M
NOVEMBER/DECEMBER 2022 91
NEW TALENT
Natural Gatherings
Kellie Patry's considered approach to hospitality design
By Jessica Ritz
Collaborating with small restaurants and cafés, Patry focuses on the potential of people—from local artists to curious customers—to activate spaces.
COURTESY WONHO LEE
METROPOLIS 92
Short-lived restaurant Kensho (opposite) was located inside a former stable on the hilltop property of Yamashiro Hollywood. Its colorful sea-themed mural (top) was created by artist Thomas Williams. A minimal palette dominated by blonde wood furnishings had a lively, modern, handmade feel.
"It's a small, very delicate engine that needs to be well considered," says architectural designer Kellie Patry while pointing to various details at Equator Coffees in Culver City, her most recent hospitality project.
"It's all about understanding how things actually work."
The Los Angeles designer, who grew up in multiple countries (her father was stationed in the military) and studied at the University of Nevada, Las Vegas and ArtCenter College of Design in Pasadena, CA, has forged a career outside the world of large firms. The decade she spent working as a consultant for Gensler on Las Vegas's CityCenter megadevelopment (now called the ARIA Campus) had its value: "Vegas will take risks on things no one else will, so it gives you an opportunity to play," she notes. But the period also taught Patry that she is best served working on her own with like-minded clients, which she has been doing since launching her studio in 2013.
NOVEMBER/DECEMBER 2022 93
Collaborating with independent restaurants and cafés taps into her mission to design venues that take on dynamic lives of their own, rather than forming "an aesthetic bubble." She adds: "It's about how people activate and interact in the space. It's about creating an opportunity for community in that way." An optimal experience begins with her understanding the ergonomics of espresso machines, for example. "You cannot design a hospitality space if you don't understand the physical realities. It doesn't feel natural," she says.
At Equator Coffees Culver City, she dubbed the underlying design concept "Espresso Futurism," thanks to the café's proximity and visual connection to a nearby Metro Expo Line light-rail station. Curved lines evoke movement and nod to streamline
COURTESY FRED LICHT NEW TALENT Natural Gatherings
Located near a stop on L.A.'s Expo Line light rail, Equator Coffees
Culver City's soft curves, blue hues, and gradient tile mix retro futurism with a nod to the nearby coast.
METROPOLIS 94
At Blacktop Coffee in L.A.'s Arts District, Patry inserted artful wood joinery, mosaic tile, and pops of color into a raw industrial envelope.
and Art Deco transportation aesthetics. A Clé tile mural installation by L.A.-based artist Thomas Williams represents the mathematical formula of a wave in blue and gray hues, summoning the California coastline. Incorporating site-specific art makes an interior "more joyful to me and more soulful," Patry adds. Inside the space all materials and features are custom, from the wooden bench designs inspired by Piccadilly benches she saw in London to the powder-coated steel outdoor tables fabricated with female welders in L.A. The only recognizable elements are the PH5 pendants designed by Poul Henningsen for Louis Poulsen, of which Patry selected a rosy shade to complement Equator's signature red.
Places such as the Normandie Club at the historic Hotel Normandie in L.A.'s
Koreatown become woven into their neighborhood fabric. Here, adding new layers such as deep leather banquettes, wood paneling, and painted brick walls makes the establishment feel lovingly timeworn. The quietly minimalist (yet playfully modern) Japanese restaurant Kensho, which occupied a pavilion situated within the historic Hollywood Yamashiro restaurant property during the pandemic (and therefore had a brief run), was a particularly personal project for Patry, who was born in Japan. "That was inspired by Noguchi," she reflects. "From a design perspective it was a glorious moment."
Such choices are "subtle and not meant to be overwhelming or in-your-face," she says. "But I do want things to feel like they were made for people. It's what I'm interested in." M
COURTESY ELIZABETH DANIELS
NOVEMBER/DECEMBER 2022 95
Smarter Strategic Planning
ThinkLab shares five helpful tips that are sure to improve the strategic planning process.
By Allison Roon
Strategy sessions, one-page plans, KPIs—the business world is filled with these phrases—but are they beneficial or just buzzwords? For some, strategic planning is an event that happens once a year and is quickly forgotten. For others, it sets the course to which alignment comes from the top down and filters through the organization in a very structured way. According to consulting firm Gartner, only 8 percent of strategy leaders report a success rate of 90 percent or more on long-term strategic initiatives (ouch).
When executed properly, a strategic plan turns a top-level enterprise strategy into key initiatives and action steps that provide an organization a clear road map to meet (or hopefully exceed) its business goals. But now more than ever, strategic plans need to live, breathe, and morph their way through every layer of an organization—the success of post-pandemic vitality depends on it. The plans need to be adaptable and flexible to maintain a finger on the pulse of an ever-changing industry. The following steps will position you and your team for success.
REPLACE ASSUMPTIONS WITH FACT
• What is the current state of the interior design industry?
• How has the pandemic affected the speed of recovery geographically?
• Which vertical markets are faring better than others, and what is the forecast for the coming years?
• What product categories are expected to shrink or grow, and how might that affect our top-line growth?
• How will my sales force need to adjust to calling on clients in a hybrid world?
EQUIP TEAM WITH RELEVANT INDUSTRY DATA
• Provide critical data, trends, and reports such as the U.S. Design Industry Benchmark Report or ThinkLab's Hot Market Growth report for 2023.
• Bring food, snacks, and caffeine. Employees need fuel to do their best thinking during long meetings.
ESTABLISH TECH-FREE GROUND RULES
• Avoid the ding of email distractions. Try an old-school pen-and-paper meeting for a more focused discussion.
• Set aside tech breaks to avoid the temptation to multitask.
• Host planning sessions off-site. Even when working remotely, gathering in a new location can help hone focus.
FOCUS ON DATA-DRIVEN DECISION-MAKING
• Use market research and report data to define the questions you want to answer in each session. Then assign a guide to keep the conversation on track.
• Keep a "parking lot" space for ideas and issues that can wait.
• Avoid analysis paralysis by prioritizing the data that helps move the strategy forward while remaining achievable.
EMPOWER TEAMS WITH TACTICAL RESOURCES
• Distribute the plan. Everyone should have a copy. Make sure that it is visual and easy to reference. Pin it to your team Slack channel.
• Provide clear follow-up actions.
• Review resources that allow the team to continually augment strategy with real-time, industry-specific data… because again, this can't be a one-and-done effort. Change is the only constant these days, right?
Allison Roon is responsible for creative content development for ThinkLab, the research division of SANDOW Design Group. At ThinkLab, we combine SANDOW Media's incredible reach to the architecture and design community through brands like Interior Design Media, Metropolis, Luxe, and Material Bank with proven market research techniques to uncover relevant trends and opportunities for the design industry. Join in to explore what's next at thinklab.design/join-in.
INSIGHT
METROPOLIS 96
COURTESY FAUXELS NOVEMBER/DECEMBER 2022 97
In Depth
A detail in the Timber Adaptive Reuse Theater in Brooklyn, New York, designed by CO Adaptive Architecture, showcases the firm's use of reclaimed and carbon-sequestering materials.
It is a myth that only large firms with inexhaustible resources can tackle our ecological crisis. The work of emerging practices like Co Adaptive Architecture proves that architects and designers can all do their part in restoring balance to the carbon cycle and helping us avoid planetary catastrophe. Indeed, the future of sustainability lies in negotiating new relationships between nature and buildings—by avoiding embodied carbon emissions, preparing for the next generation of solar power (p. 110), reinforcing the evolutionary connections between plants and humans thr ough biophilia (p. 120), and addressing the harm we cause to birds and other species (p. 130).
COURTESY NAHO KUBOTA
METROPOLIS 99 NOVEMBER/DECEMBER 2022
The Brooklyn-based firm CO Adaptive playfully reimagines historical structures while incorporating low-energy features and upcycled materials along the way.
By Matthew Marani
Regenerative Power
by Nicholas Calcott
Founded in 2011, CO Adaptive Architecture is a ten-person firm dedicated to energy-efficient and climate-resilient design. Employing low-carbon and Passive House methodologies, the studio's portfolio largely consists of creative reuse and retrofit projects on both residential and commercial scales.
From right to left: Bobby Johnston, principal; Ruth Mandl, principal; David Sidick, associate, design architect; Josapha Barbot, site supervisor; Paul Greenway, designer; Leon Frazier, associate, technical architect; Steve Dahlgren, construction project manager; Henry Black, senior designer; Virginia Brown, lead craftsperson; and Joanne Yau, senior designer.
METROPOLIS 100
Photography
NOVEMBER/DECEMBER 2022 101
Today, terms like "sustainability" and "carbon neutral" get tossed around prodigiously. It almost seems that the slightest public acknowledgment of climate change and environmental pollution is enough for architecture and engineering firms to stamp their ground-up projects as "green" (a public relations projection otherwise known as greenwashing). However, there is no escaping the reality that the greenest building is the one that is already built, and adaptive reuse is the surest means of sequestering embodied carbon while limiting the carbon-intensive manufacturing associated with the building trades.
CO Adaptive Architecture, a Brooklynbased firm founded in 2011 by Ruth Mandl and Bobby Johnston—the couple met while studying at Columbia Graduate School of Architecture, Planning and Preservation—places these concerns front and center with a growing body of work that playfully reimagines historic structures while incorporating low-energy Passive House design.
CO Adaptive's office is centered on collaboration and experimentation. The Brooklyn-based firm recently moved their studio from Bushwick to a new location within the Brooklyn Navy Yard. Opposite: the team at work on tasks ranging from cutting ApplePly for custom plant shelves to organizing material samples.
METROPOLIS 102
NOVEMBER/DECEMBER 2022 103
METROPOLIS 104
The ten-person firm (seven work on the architecture side of the practice, while three focus on construction with CO Adaptive Building LLC) recently relocated to the Brooklyn Navy Yard, a sprawling former military base–turned–commercial and industrial mecca, where they set up their office in a loft space overlooking Brooklyn and Manhattan—a fitting backdrop for a design ethos that seeks to emphasize the city's existing fabric while repurposing its cast-off pieces. For Mandl, this approach dates to her time studying interior design at London's Kingston University. "In the final semester we were tasked with picking an old building in London, researching its records and history, and then developing an adaptive reuse program. Big c ities, such as London and New York, are filled with such opportunities," says Mandl. "We need to bring our old building stock into the future, and we need to make it more efficient without losing all that history or wasting all of that embodied carbon."
What does this methodology look like on the ground? "When we take on projects, we're looking at what the minimal intervention could be," says Johnston. "Does the layout need to change? Can we keep things the way they are, and can we keep existing materials intact?" For one, CO Adaptive Building steers clear of demolition in all its projects, aiming to fit each within the larger
CO Adaptive's studio build-out will integrate a shop separated from the office using a custom-built demountable wall, constructed from reclaimed wood and wood fiberboard. This wall will also serve as a prototype and showcase for a modular solution to insulate and air-seal existing buildings.
Opposite: Johnston installs StickBulb, a bespoke lighting collaboration with Brooklyn-based Tri-Lox.
RENDERING COURTESY CO ADAPTIVE ARCHITECTURE
NOVEMBER/DECEMBER 2022 105
Originally built in 1889, CO Adaptive's M741 Bed-Stuy Passive House was renovated to become Passive House–certified, radically reducing its operational energy use while retaining the building's original character. To do this, the studio substantially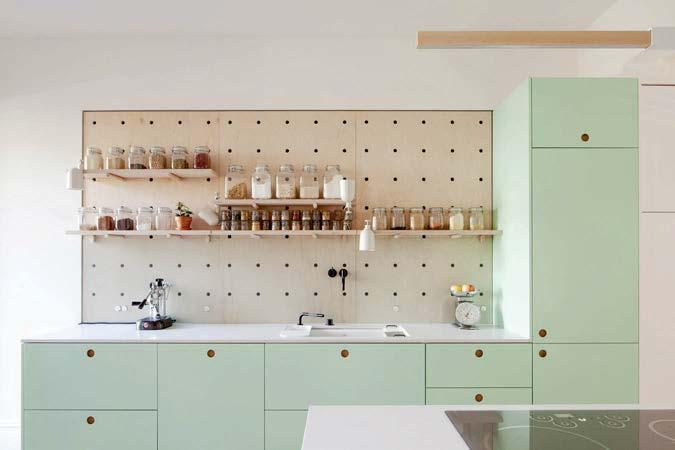 insulated the interiors with an airtight membrane in addition to installing triple-paned windows, a solar array, and operable exterior shades. All ornate woodwork was removed, refinished, and reinstalled. Plasterwork was either preserved or re-created.
circular material economy model. To do this, the firm partners with Big Reuse, a local nonprofit salvager, to match each project with an appraiser who can specify particular items for resale, such as wood casings, radiators, and plumbing fixtures. CO Adaptive Building then provides the owner an appraisal report, which lays out the potential tax rebate afforded to the homeowner in donating items. Non-appraised items are then carted off to Cooper Recycling in East Williamsburg.
Before CO Adaptive Building was founded in 2022, the firm put some of these ideas into practice at the Bed-Stuy Passive House (2017), the home of Mandl, Johnston, and their daughter Lucia. The three-story property was originally built in 1889 and had retained its Victorian-era interior bedecked with ornate wood- and plasterwork. The project saw the careful deconstruction of all woodwork and casework elements, which were later refinished and reinstalled—which provided the firm enough wiggle room to reinforce existing structural joints. They also wrapped the building in an airtight vapor barrier membrane and insulation and installed triple-glazed windows, all details critical to bringing the house up to Passive House standards. In line with CO Adaptive's commitment to energy-efficient design, the existing natural gas lines were removed and replaced with an all-electric system powered by a newly installed rooftop solar array.
A similar project currently underway is the Tiny Queens Passive House, which, as the name suggests, is a Passive House renovation underway in Queens. The home, built in 1945, is undergoing deconstruction, in which many materials, such as wood and bathroom tiling, will be upcycled for new uses (including lighting fixtures that will be installed in CO Adaptive's new studio space) and the existing perimeter will be stripped to allow for sealing. Exterior changes come in the form of a checkerboard infill brick pattern that provides contrast with the existing brickwork, showcasing where exterior changes were made. Durable low-carbon materials such as linoleum, upcycled terrazzo, reclaimed wood, and porcelain tile will be used as flooring within the interior spaces. A solar canopy, installed by Brooklyn SolarWorks, will power the home and make it net positive, producing more energy than it consumes and creating passive income for the client.
COURTESY PETER DRESSEL
METROPOLIS 106
NICHOLAS CALCOTT 01
02
03
04
05
06 Custom
01 02 03 04 05 06 NOVEMBER/DECEMBER 2022 107
ApplePly, spare timber, and a stair spindle
Optiwin triple-paned window
Reclaimed white oak flooring by Tri-Lox, porcelain countertops by Crossville, and oak cabinet fronts by Reform
Modular clamp-connected ductwork for our wood shop's dust collection by NordFa
Cork samples and tools
work stations
NAHO KUBOTA METROPOLIS 108
COURTESY
Last year, CO Adaptive transformed a metal foundry in Gowanus, Brooklyn, into a flexible incubator for theater artists. The Timber Adaptive Reuse Theater exemplifies the firm's low-carbon design thinking in a number of ways: reducing demolition
waste by engaging with existing building stock, repurposing building materials to create new design elements, and employing low-carbon structural insertions using mass and cross-laminated timber.
The recently completed Timber Adaptive Reuse Theater, a nearly 13,000-square-foot start-up space for theater companies called the Mercury Store, scales up the methods CO Adaptive has developed in its residential projects. The former metal foundry site in Brooklyn's Gowanus neighborhood was subdivided into a series of office and fabrication spaces, which effectively concealed the building's skylights and double A-frame roof trusses. CO Adaptive removed this clutter to create lofty spaces for rehearsals, and to install full-height folding doors that add flexibility to the facility, supporting a larger range of programming. The existing timber structural system and masonry walls were retained and refurbished, while lumber removed from the space was carefully deconstructed and salvaged for newly inserted details such as guardrail posts for glass balustrades.
To support additional space for the building program, the firm installed a cross-laminated timber floor plate supported by a glulam post-and-beam system; it is the first commercial adaptive reuse project in New York to use crosslaminated timber to this effect. All of those changes were afforded through insulating the building from the exterior, behind a new aluminum facade, which reduced the need for air barriers or insulation within interior spaces.
CO Adaptive's own workspace is also a site for experimentation. Moving from Bushwick to the Brooklyn Navy Yard has afforded the studio sufficient space to develop a design-build branch. Its first objective with the space is to develop a modular wall panel system, possibly composed of reclaimed lumber and wood-fiber board, which aims to provide a modular solution to insulate and air-seal existing buildings. "If you have a historic landmark building, prefabricated insulation panels on the exterior are not going to be the best approach, or even feasible," explains Johnston. They hope to have a more actionable prototype in place by the end of the year, Johnston concludes: "With the smaller blocks and components produced by our design-build studio, we hope to establish a scalable way to implement high-efficiency insulation from the interior. We don't just want to cater to higher-income families, and the prefabricated insulation panels could serve to make Passive House design more accessible." M
NOVEMBER/DECEMBER 2022 109
The Next Generation of Solar
When President Joe Biden signed the Inflation Reduction Act (IRA) into law on August 16, he signaled a major shift in the United States' industrial policy toward renewable energy and a decarbonized economy. The bill promises $369 billion for climate solutions that the independent think tank Rhodium Group estimates will cut U.S. emissions between 31 and 44 percent from 2005 levels by 2030. This makes the act by far the biggest step the U.S. government has taken to address climate change. It will fundamentally change how energy is produced and how our buildings and communities are designed—and it places a big bet on solar.
The IRA extended a 30 percent investment tax credit on solar generation projects through 2024 and created new tax credit programs for zero-emission solar energy generation installations and stand-alone battery storage projects. Its Energy Infrastructure Reinvestment Program, meanwhile, will support communities transitioning to low-carbon energy sources, blunting the start-up cost of these investments.
The scale of this change in U.S. policy, combined with the desperate quest for new sources of energy in Europe spurred by Russia's invasion of Ukraine, means that there's more interest than ever in solar power. Some analysts expect the global solar energy market to expand by nearly 30 percent this year and see double-digit growth for years to come. The United States alone added 13.2 gigawatts of utilityscale solar capacity in 2021, eclipsing a record set the previous year.
Investment means innovation. The next generation of solar technology is already opening up applications that transform ordinary homes, schools, and offices into power plants while creating new categories of self-powered objects. At the neighborhood level, solar panels can enable community-owned power supplies, repairing the damage caused by the inequity of our old fossil-fuel systems. As our energy systems reorient themselves toward the sun, so are designers, and the first glimpses of a solar revolution are beginning to appear on the horizon. —Ethan Tucker
METROPOLIS 110
COURTESY RED ZEPPELIN/UNSPLASH NOVEMBER/DECEMBER 2022 111
The Next Generation of Solar
Marjan van Aubel's Solar Revolution
Metropolis spoke with the Dutch designer about the first-ever Solar Biennale and her mission to reveal the full potential of solar design.
By Adrian Madlener
METROPOLIS 112
01
This fall, Dutch designer Marjan van Aubel teamed up with fashion designer Pauline van Dongen to mount the first-ever Solar Biennale. The multicity, multidisciplinary tour de force brought together leading makers and thinkers to better define what's possible with solar design. For van Aubel, who has made designing with the sun her primary concern for more than a decade, it's all about changing the perception that old-school photovoltaic panels are the only type for use in a designer's toolkit.
02
01
The Energy Show—Sun, Solar and Human Power, a survey exhibition of solar design curated by Matylda Krzykowski in collaboration with the Solar Biennale, was on view at Het Nieuwe Instituut in Rotterdam, Netherlands.
02
A wearable solar dress designed by co-curator of the Solar Biennale, fashion designer Pauline van Dongen.
COURTESY © AAD HOOGENDOORN
NOVEMBER/DECEMBER 2022 113
Adrian Madlener: How did you first discover solar design?
Marjan van Aubel: While studying, I started to approach solar panels the way a ceramicist treats clay. I thought to myself, "There must be a way to handle [the sun] like a material." This line of inquiry led to experimentation with color as well as integration in a circular manner. Over the years, I developed the Current Table, The Ra window appliqué, and Sunne lamp products. For Dubai World Expo 2020, I created a lightweight carbonbased film material that we put in between the glass skylights. It's both functional and aesthetic.
AM: What was the concept behind the Solar Biennale?
MvA: Our idea was to bring t ogether different types of creatives, scientists, philosophers, and industry players to talk in earnest about how we can shift the narrative away from the limited scope of solar energy and focus on the more inclusive world of solar design. We began the program with a Solar Seminar at Het Nieuwe Instituut in Rotterdam, opened the Energy Show—Sun, Solar and Human Power exhibition (also at Het Nieuwe Instituut), held the Industry Congress trade fair at Rotterdam's BlueCity, hosted Solar Lectures at Amsterdam's Pakhuis de Zwijger, and mounted a pavilion at Eindhoven's Dutch Design Week.
AM: What were some of the solar design innovations that you are most enthusiastic about?
MvA : In my book  Solar Futures , I interviewed several experts and surveyed numerous innovations, including a company called Lightyear that has developed a car that fully integrates solar cells into its hull. Other practices have found ways to use solar skylights to purify water through distillation. The Solar dress, created by Pauline van Dongen, is equipped to charge a cellular phone. My aim going forward is to look more at the life cycle of the materials involved in developing solar design to ensure that the practice is entirely sustainable.
05 03 04 METROPOLIS 114
03
"On Solarity: Eight Principles" by Canadian cultural theorist and professor Imre Szeman explores the social and political possibilities that might be generated by a transition to a society oriented toward solar energy.
04
A selection of solar products and consumer goods on view at The Energy Show includes the Solar Cooker, a device that concentrates the power of sunlight to cook food using no fuel and costing nothing to operate.
05 The glass surface of Current Table 2.0 by Marjan van Aubel and Peter Krige is made of dye-sensitized solar cells, which harvest energy even under diffuse light conditions. An integrated battery stores the energy and can charge electronic devices.
06
"What would the world look like if it were solar powered?" by Alice Wong and Crys Cool presents responses from experts and students of various disciplines to its titular question alongside found footage of sunny skies.
07
07
Solar Suitcase by We Care
Solar is a neatly packaged, off-grid electric system that provides last-mile health facilities with highly efficient medical lighting and power for communication and medical devices.
AM: Where do you see solar technology going in the future?
MvA: Solar cells are incredibly efficient and inexpensive. The appearance of this technology has, however, mostly stayed the same for the past 100 years. It's now time to introduce different forms and applications. In order for solar design to come into its own, we also need it to be flexible and relatable. We want to make sure that it fits into any environment too. The aesthetics are important, but we should also go a layer deeper and consider what raw materials are used. We need to think of solar cells as components that can be upcycled again and again.
AM: What are some of the challenges in making a focus on solar design commonplace?
MvA: We need to make all of this legible to big industry and start thinking beyond the speculative, even if this approach is becoming more prevalent in prototyping mass-manufactured products and services. In this respect, it's better to collaborate with companies that are more open to working with nonstandard materials and DIY processes. Policy, especially in the Netherlands, is also a driving force in getting things done and pushing fresh solutions forward.
AM: What do you hope people will take away from the Solar Biennale?
MvA:  First of all, it should provide a sense of hope. The issues at hand are daunting, especially when considering all of the regulations in place and the doomsday scenarios we're talking about. We want to show the positive side and the potential that effective solutions can have in fixing these problems. Secondly, it should demonstrate what can be achieved when different stakeholders—policy makers, designers, thinkers, etc.— come together and take a serious look at what needs to be done. Our plan is to host the Solar Biennale on different continents and solidify the movement on an international scale.
M
COURTESY © AAD HOOGENDOORN
06 NOVEMBER/DECEMBER 2022 115
The Next Generation of Solar
Solar for the People
By Jaxson Leilah Stone
A new model for equitably shared clean energy is emerging in New York City.
METROPOLIS 116
"The desire for infinite and limitless energy seems, in many ways, too deeply intertwined with capitalist obsessions with limitless growth that have ignored the needs of the many in favor of serving the greed of the few," write members of the After Oil Collective in their 2022 manifesto Solarities: Seeking Energy Justice (University of Minnesota Press, 2022). The collective is just one group of radical thinkers in the United States who are engaging the critical need for energy justice and a just transition away from fossil fuels on a local level.
Another group that After Oil highlights in its book is UPROSE, the oldest Latino community-based organization in Brooklyn, New York. Through its Sunset Park Solar campaign, UPROSE is bringing the first community solar cooperative to New
York City. The project will allow more than 200 households and businesses to share a solar energy system without the hassle of installing PV panels on their own roofs. Rather, Sunset Park Solar's 685-kilowatt energy system will be installed on the roof of Brooklyn Army Terminal, an industrial campus owned and managed by the New York City Economic Development Corporation (NYCEDC). That agency awarded the roof lease in 2018 to a project team consisting of UPROSE, Solar One, Co-op Power, 770 Electric Corp., and Resonant Energy. The system itself will be owned and managed by Co-op Power's New York City Community Energy Co-op (NYC CEC) in partnership with UPROSE.
In addition to utility bill savings (an estimated $20 per month for subscrib-
ers, with $1.34 million of lifetime net savings), subscribers will become members of NYC CEC, where they will have a vote in how the cooperative invests resources, including operating profits. Those profits can then be reinvested in additional solar projects throughout the city or distributed to members as dividends.
Community solar projects like this one create a more equitable access to the benefits of clean energy in several ways: chiefly, by helping families and small businesses save money on electricity bills; but also by providing local employment to residents, mitigating heat island effects in under-resourced neighborhoods, and increasing overall energy resilience for vulnerable communities. M
Working at the intersection of social, racial, economic, and environmental justice, UPROSE develops campaigns and initiatives rooted in participatory community planning, youth leadership, sustainable development, and artistic expression—primarily in the frontline community of Brooklyn's Sunset Park.
COURTESY SUNSET PARK SOLAR
NOVEMBER/DECEMBER 2022 117
The Next Generation of Solar
Lighter, Better, Cheaper
Solar power is experiencing a golden age of technological innovation.
By Ethan Tucker
Perovskite solar cells (above) can be manufactured more cheaply than silicon-based panels but break down too quickly for commercial applications. Researchers at Princeton University recently developed a new perovskite device with a usable life span of 30 years, opening up new possibilities for the technology.
Ubiquitous Energy, one of many Silicon Valley start-ups in the solar technology space, has pioneered transparent solar panels (right and opposite page) that can transform any window or building facade into a source of clean power.
DEJESUS METROPOLIS 118
COURTESY PRINCETON UNIVERSITY/BUMPER
The photovoltaic effect, the process by which the sun's rays are converted into electrical current, was discovered all the way back in 1839 by French physicist Edmond Becquerel, but it wasn't until the 1950s that the first modern silicon-based solar cells were demonstrated at Bell Labs. Since then, the race to make solar energy more efficient and less expensive has been underway and progress has been dramatic. In the past ten years alone, the cost per kilowatt of solar energy has fallen from nearly $2 to about 34 cents.
New innovations promise to make solar panels that are cheaper, more powerful, and less wasteful at the end of their useful life. Emerging technologies include pyramidal lenses, developed by researchers at Stanford University, which promise to concentrate the amount of light that hits a solar cell—getting the same amount of light to hit an area a third of the size—a breakthrough that could make solar panels more efficient in indirect light conditions.
Some scientists are even questioning the foundational material of solar panels— silicon—and experimenting with organic photovoltaics and perovskite solar cells, which replace silicon with more widely available compounds for cheaper manufacturing, as well as quantum solar cells, which are made of microscopic semiconductor particles and can more efficiently harvest the sun's energy. These so-called third-generation photovoltaic cells may be able to overcome the efficiency limits of contemporary solar, pointing to a future in which the energy is more affordable up front—and looks radically different from the rigid blue panels we've grown accustomed to.
Lighter, more versatile means of collecting the sun's energy could be applied to more buildings in more places. Designers are already adapting roofs, siding, and even windows for energy generation. San Jose, California's GAF Energy has developed a solar roofing system that is installed like regular asphalt shingles, while Ubiquitous Energy, based in nearby Redwood City, has developed a transparent panel that harvests light from the invisible spectrum and can be used on windows and other surfaces.
But the pace of innovations in solar might be too rapid, meaning today's solar cells may be obsolete tomorrow. Where some see a brewing e-waste problem, others see an opportunity. French company ROSI, for one, is betting that solar panel recycling will be big business. It has developed technology to recover valuable ingredients like silver and silicon from panels' complex lamination, with the aim of using materials from the last generation to build the next. M
UBIQUITOUS ENERGY (3) NOVEMBER/DECEMBER 2022 119
COURTESY
The Constant Gardener
At 84, Moshe Safdie is still evolving architecture's capacity to build habitats for living things, human and otherwise
By Audrey Gray
Albert Einstein Education and Research Center São Paulo, Brazil
METROPOLIS 120
COURTESY PEDRO KOK NOVEMBER/DECEMBER 2022 121
Centuries after Aristotle described a profound human response to nature that he called biophilia , and decades before the design world would coopt the term as a building ethos, a 13-year-old Moshe Safdie was tending bees on the roof of his family's apartment in northern Israel and expecting he had a future in agriculture.
Safdie lived in Haifa, a tiered port city famous for its lush terraced gardens. When he was born in 1938, Haifa was in Palestine, but the world convulsed and changed during his childhood, and like many teenagers in a young Israel, Safdie assumed that after his years of required military service he'd live an agrarian lifestyle as part of a kibbutz. It wasn't to be. Instead, his parents, worried about the volatile politics, decided to migrate to Canada, where they had some family. And so Safdie had to give up his bees and his garden city for frigid Montreal in March.
"There was snow on the ground, but the seasons were changing just enough to add an element of slow melting to the equation, and everything left by dogs in the previous three months had combined with the mud and the trash left by human beings to turn the streets and sidewalks into a slippery soup," he writes in his poetic new memoir If Walls Could Speak (Grove Atlantic, 2022). "I was in a state of total shock."
Habitat 67, Montreal, Canada, 1967 (left)
Habitat Qinhuangdao, Qinhuangdao, China, 2017 (right)
LEFT: COURTESY TIMOTHY HURSLEY; RIGHT: COURTESY SAFDIE ARCHITECTS
METROPOLIS 122
NOVEMBER/DECEMBER 2022 123
AS MY UBER PULLED UP TO THE headquarters of Safdie Architects in Somerville, Massachusetts, on a verdant late-summer morning this year, my driver turned around and said, "What is that?"
The simple brick structure, formerly a factory, was enshrouded in ivy, trimmed only enough to reveal doors and windows. The receptionist said the building surprised her at first too: "It's like a Chia Pet."
A trim and agile 84-year-old Moshe Safdie appeared, mustached as always, and led the way upstairs to his studio office, where he opened the casement windows to show me honeybees at work in the blossoming ivy. He reached his arm out among dozens of them—no fear, no stings. Turns out they're local. H e keeps two hives on the roof.
Safdie's office table was covered with sketches and renderings of megaprojects,
the scale he's come to be known for. Some were in process, some still dreams, but all surprisingly green. We sat down together to trace the through line of biophilia in his decades of work, even though he has no use for the term.
"When I was asked about biophilia in the '80s, I said, 'That's what I've been doing my whole career,' " Saf die said, chuckling at first and then turning serious. "The conviction that plant life must be always integrated into architecture no matter how urban and dense was a very early conclusion."
It started for him in the middle of the past century. Following that rough introduction to the Montreal climate, Safdie threw himself into academics for the first time in his life. A high school aptitude test decreed him suitable for architecture, and he decided to pursue it
at McGill University. By his fifth year, he proved far more than suitable and was chosen for a travel scholarship touring housing projects and complexes around North America. One of the places he stopped was a freshly built Levittown.
"I wrote in a report when I got back that I wouldn't want to be caught dead there," he remembers. "Boredom, isolation, the commitment to commuting. But they obviously preferred that because they had a garden and a house, and therefore the conclusion: Can we do that in an urban context?"
He set out to try. His thesis project was a grand modular housing system— more like a planned city—that had as one of its objectives "For Everyone a Garden." He cantilevered stacks of rectangles LEGO-style, placing garden terraces on the edges that jutted out high off the
METROPOLIS 124
Harvard Business School Class of 1959 Chapel, Cambridge, Massachusetts, 1992
COURTESY SAFDIE ARCHITECTS NOVEMBER/DECEMBER 2022 125
ground. The idea was so visionary, it not only secured him a job with Louis Kahn in 1962, but shortly after, it was chosen as a key element of the upcoming World Expo in Montreal. Not all of his thesis was built, but the part that did come to life as Habitat 67 reverberated well outside the world of design, even landing Safdie on the cover of Newsweek .
Within the industry, meanwhile, Safdie's sky-gardening and "density with dignity" ideas took some hits. "The criticism was like, 'Utopian and not achievable on any scale,' 'It's too precious' or 'too difficult' or 'too expensive,' " Saf die says. And so began some difficult years (decades of them, to be frank), when he sent out proposal after proposal for visionary projects around the globe, only to have them ignored,
rejected, or chucked at the last minute by recessions and politics.
Still, the lean years for Safdie's reputation were by no means barren. He was getting commissions and slowly developing his palette, prioritizing natural elements as much as brick and steel. The examples are myriad: a round chapel on Harvard's campus intersected by a glass triangle framing a fragrant "biblical plants" garden with seats in a fish pond; a federal courthouse wrapped around and illuminating two old-growth trees Safdie refused to cut down; a w ater-enveloped Arkansas art museum, Crystal Bridges, featuring laminated beams of local yellow pine; a new building for Israel's Holocaust History Museum, Yad Vashem, where he designed a long triangular prism that penetrated a
mountain peak, moving visitors toward a light-filled precipice.
Safdie had grown accustomed to working outside the industry zeitgeist in those years. He not only eschewed Postmodernism but publicly attacked it for a lack of humility and service to humanity. (Not a lot of party invites back then.) But just as he was passing through middle age, the industry began awakening to environmental degradation, ushered in by energy crises and scientific warnings about the limits of natural materials once considered unlimited. A "green revolution" had caught up to Safdie's steady evolution, sweeping architecture into an era of critical thinking about all those steel-and-glass towers with inoperable windows. The marketplace was at last fertile for Safdie's gardens.
COURTESY MBS VISUAL MEDIA
Marina Bay Sands Hotel and Skypark, Singapore, 2010 (left)
Jewel Changi Airport, Singapore, 2019 (right)
METROPOLIS 126
His response was mega, to say the least. In the past 15 years, Safdie Architects has completed Habitat-like multiuse complexes—staggered structures complete with green roofs and terraces—much larger and denser than in '67, including Sky Habitat in Singapore, Habitat Qinhuangdao in China, and Altair Residences in Sri Lanka, with more on the way. Also in Singapore, they built one of the world's most distinctive and expensive sky parks with 2.5 acres of trees (chosen for their ability to withstand extreme heat and wind), a jogging path, a public observation deck, gardens, restaurants, and an infinity edge pool cantilevered atop the three 55-story hotel towers of the Marina Bay Sands casino resort. They designed another sky-high tower-connecting par k (this one covered) in a major mixed-use development set at the confluence of two rivers in Chongqing, China: Raffles City.
But most famously to date, Safdie turned a Singapore airport into a nearly indescribable indoor paradise garden most people now just call "Jewel." Working with a sprawling team that included PWP landscape architects and Buro Happold engineers, Safdie's team designed a five-story, terraced tropical garden (featuring more than 2,500 trees and 100,000 shrubs from around the world) encircling the planet's tallest indoor waterfall, a vortex of recycled rainwater free-falling at a rate of 10,000 gallons per minute. Photographs of Jewel Changi Airport look almost fake—it's like a biophilia fantasy-rendering come to life.
Jaron Lubin, a senior partner at Safdie Architects, got married there during the week of its grand opening.
Jewel has opened doors for Safdie and sparked his imagination. His teams of engineers and landscape architects are
evolving new ways of building maintenance systems for plant life, providing humidity, leaf washing (dusty leaves attract mites and prevent photosynthesis), and the right amounts of light and water. Those innovations have allowed Safdie to dream bigger, knowing that his indoor parks especially can stay alive. He worked with Isabel Duprat Landscape Architecture in Brazil to create elaborate garden courtyards of native flora for the Albert Einstein Education and Research Center in São Paulo, Brazil. And for the Serena del Mar Hospital in Cartagena, Colombia, Safdie planted a full bamboo forest along the spine of the sprawling facility, offering both patients and staff mental respite—biophilic design has been proven in multiple studies to speed healing—and a lush way to navigate from wing to wing. Habitat Qinhuangdao is about to be expanded, as are Crystal Bridges and Marina Bay Sands.
COURTESY TIMOTHY HURSLEY NOVEMBER/DECEMBER 2022 127
He says that his upcoming projects integrate so much plant life that they're like "Jewel on steroids."
Still, though highly lauded and people-pleasing, none of Safdie's recent victory-lap projects have been low-carbon ventures. He is adamant about refusing to greenwash anything. As Lubin puts it: "Construction is by definition extremely damaging to the environment. We like to talk about resilience and timelessness." Indeed, nowhere in Safdie's more-than350-page memoir does he ever mention climate change, global warming, or carbon emissions. "I made that choice," Safdie says. "I find the term 'sustainability' is abused and has become a marketing device." In this area, the industry zeitgeist may be moving out of sync with him again, prioritizing quantitative measures of climate mitigation even at mega-scale, but he stands by his long-held principle that "responsible design" evolves—he believes that in the next 50 years, new materials and energy sources will help move architecture past fossil-fueled habits.
At the end of his book, Safdie includes a poem he wrote four decades ago in Jerusalem, a distillation of his beliefs. Arrogance is incompatible with nature , it reads in part. When I asked him about that line, he said we're seeing it now…the arrogance of building in a flood plain, the arrogance of pushing nature too far and losing too many species. "I'm also of the disposition that we surprise ourselves in coming up with solutions," he says. He has just purchased an electric car. Each morning before work, he tries to go for a swim, and when it's warm enough, he drives to nearby Concord to swim in Walden Pond. M
LEFT: COURTESY IVAN ORTIZ; RIGHT: COURTESY TIMOTHY HURSLEY
METROPOLIS 128
Serena del Mar Hospital, Cartagena, Colombia, 2021 (left)
NOVEMBER/DECEMBER 2022 129
Albert Einstein Education and Research Center, São Paulo, Brazil (right)
CHAFFINCH
RANGE: U.K. and Ireland
THREAT: Light Pollution
When they roost near streetlights, males among these urban garden visitors tweet their dawn song artificially early. Since the song is part of their courtship ritual, this has a serious effect on their ability to breed.
ROCKETJACK.CO.UK
METROPOLIS 130
A BIRD'SEYE VIEW
The deaths of hundreds of thousands of birds are the price we've paid for buildings. Can architects reverse the trend?
By Kelly Beamon
NOVEMBER/DECEMBER 2022 131
rchitecture is overdue for a reckoning with birds, owing largely to their fatal collisions with windows, but also to a host of other threats inherent in a world built mainly for humans.
The volume of birds colliding with glass specifically has reached a level impossible to ignore, with up to a billion deadly incidents a year across North America, and roughly 230,000 in New York City alone, according to New York City Audubon. Last year, a volunteer with that nonprofit's Project Safe Flight program recorded nearly 300 birds lying dead or dying on the pavement in a single morning at Manhattan's World Trade Center (WTC) complex—a place where previously 30 daily casualties was shocking.
But while the villainy of too much glass warrants attention as an isolated aw (it's invisible to birds), it's also a sign of a broader problem: that we've been building birds out of our lives.
"We. .chose to clear the original natural landscape for places to build houses; we selected the garden plants . . . among many other alterations," writes Darryl Jones in his book The Birds at My Table: Why We Feed Wild Birds and Why It Matters (2018). "All these typical features of people-space affect the wildlife living around us," he goes on to explain.
For birds, the impact of so many planning, development, infrastructure, and architectural decisions has been mounting for more than a century.
The earliest written account of a bird window-strike in North America i s in 1832, recorded in a book by British naturalist Thomas Nuttall. By 1978, almost 150 years later, staff at Chicago's Field Museum had begun an annual collection of downy little victims outside the city's lakefront convention center McCormick Place.
That was also the year a TV show called Connecticut Profiles aired an interview with architect Philip Johnson, in which he described collisions at his Glass House:
"In the first few years the birds used to die, especially during migration, because they hadn't been able to hear from the other birds about it. But even migratory birds have now learned," Johnson told the interviewer, as if dead birds were a reasonable and slightly amusing trade-off for great architecture.
Since then, scientists have tied a globall y declining bird population to light pollution, smog, habitat loss, and even ornamental gardening—all outcomes of humans' vehicle-dependent, 24-hour built environment.
In focusing on just a single problem—bird collisions with glass—designers could miss an opportunity to make a meaningful shift from never considering birds to building with them in mind.
"[Standards] need to change quickly. Which buildings can turn their lights out overnight? Which can host rooftop habitats?" asks Dustin Partridge, director of conservation and science for NYC Audubon, adding "It would be wonderful if one day architects could convey this information."
Some do. In 2014, seven years before New York's bird legislation Local Law 15, personal involvement with NYC Audubon by the spouse of a principal at FXCollaborative (then FXFowle) in uenced its transformation of New York's glass-clad Jacob Javits Center from a bird killer into a sanctuary, with bird-friendly fritted glazing and a 6.75-acre rooftop garden where birds now nest and recharge. Since then, the rm has made incorporating bird-friendly features a tenet of all its designs, applied most recently to New York's Statue of Liberty Museum. Research on bird-collision reduction by Dan Piselli, FXCollaborative's director of sustainability, also predates the law and informed the American Bird Conservancy's design guide.
Piselli even frames the firm's focus on urban projects as a step in limiting rural development to conserve pristine avian habitats. "That's a way of approaching the bird-collision issue too," he explains. "Thinking of [bird safety] as an area of overlap with other, greater goods."
At the other end of the spectrum is Dutch architect Ton Venhoeven, whose radically nature-inclusive structures have features like green roof habitats and nests built into walls. "We have to teach people that they are not the center of the universe," he says.
A
METROPOLIS 132
An article in the journal Current Biology reported that when they nest near streetlamps instead of in their naturally dark forest habitat, female blue tits laid their eggs nearly two days earlier.
ROCKETJACK.CO.UK
RANGE: U.K.
BLUE TIT
and Ireland THREAT: Light Pollution
NOVEMBER/DECEMBER 2022 133
SPARROW
RANGE: North America
THREAT: Building/Window Strikes
Two types of brown-black sparrow (song and white-throated) are among the top four species most vulnerable to collisions.
ROCKETJACK.CO.UK
METROPOLIS 134
Anyone motivated strictly by self-preservation should consider that losing birds translates to humans losing valuable ecological services. That case is recorded in a book by a group of researchers led by University of Utah biology professor Çağan Şekercioğlu. In fact, the book, titled Why Birds Matter: Avian Ecological Function and Ecosystem Services, ascribes a price tag to a few examples. In one case study, the Clark's nutcracker performs seed dispersal in Colorado that is crucial to the growth of a species of pine tree, a service that would cost the state $2,400 per bird to duplicate with human labor. In Washington, avian control of a crop pest called the spruce budworm has a value of $3,815 per square mile per year. Meanwhile, globally birds are responsible for dispersing the seeds of up to 92 percent of tree and woody plant species, including 85 species of tree, 182 edible plants including spices, and 153 medicinal plants, the researchers write.
To save birds is to save ourselves. All that's needed is to understand the ways birds are often built out, and then correct that.
LOSS OF HABITAT
Bird population decline is a clear consequence of being displaced by human development. A study in the journal Annual Re view of Environment and Resources found 48 percent of existing bird species are known or thought to be declining largely because their natural homes have been destroyed.
GLASS
A perfect storm of large expanses of glass, birds' inability to see them, and their unerring adherence to ancient migratory routes has led to mass slaughter of sparrow-size songbirds such as the American goldfinch, wood thrush, and ruby-throated hummingbird. New York City's shiny towers and canyons of green space are in the path of one of North America's four "superhighways" for bird migr ation, the Atlantic Flyway.
"They need to land and rest," says Piselli, explaining that birds flock where there's habitat, like in a tree. "Bird-friendly glass is required on facades up to a height of 75 feet, around tree height," he adds. (NYC Audubon maintains a helpful library of about 100 samples of such glass.)
LIGHT POLLUTION
Darker night skies are another safety feature urban architects, developers, and landscapers can gift to birds. The worst building collisions involve nighttime migrants who rely on light from the moon, stars, and sunset as guideposts, but mistakenly gravitate toward streetlamps, uplights, and searchlights like those in New York's 9/11 "Tribute in Light" art installation. "Urban light pollution causes birds to become confused," says Piselli. That results in their landing in places they shouldn't, like in parks between glass-covered towers.
There's also evidence that artificial light affects birds' internal clocks and disrupts the timing of such behaviors as dawn song and mating. A 2010 article titled "Artificial Night Lighting Affects Dawn Song, Extra-Pair Siring Success, and Lay Date in Songbirds" in the scientific journal Current Biology names blue tits, chaffinches, and robins among the species notably affected. "Our findings show light pollution influences the timing of breeding behavior, with unknown consequences for bird populations," says Bart Kempenaers of the Max Planck Institute for Ornithology in Germany.
In the absence of deliberately bird-inclusive urban designs, even species that manage to adapt to inhospitable structures (such as peregrine falcons) risk being designed out as a certain typology evolves. For instance, the chimney swift, a cavity nester that naturally favors hollow trees, now nests in many dormant residential chimneys, as its name suggests. As the vernacular for new houses eliminates the chimney, it's unclear where they'll go if developers and planners don't restore the wild habitats that used to offer such trees.
AIR POLLUTION
Buildings' toll on birds is especially troubling given their hist orical roles as predictors of safe conditions for humans. Miners literally carried canaries in cages into tunnels as an early warning system for the presence of deadly levels of carbon monoxide. Similarly, before government action was taken in the mid-1980s, birds in Mexico City dropped mid-flight out of the smog-choked sky. In an inverse of the coal mine scenario, several declining species of birds returned to London after the U.K. passed its Clean Air Act in 1956 to counter fog deemed lethal to humans. Multiple studies also show that chemicals emitted by the heavy traffic of urban areas can cause birds to experience reduced egg production and lower body mass.
LANDSCAPING
Even gardening and manicured lawns can create an unexpected imbalance, with a negative impact on birds. Jones, the author of The Birds at My Table , writes that native plantings may still be engineered to feature artificially long-lived bloom times—people pleasers that disrupt the natural diversity of food sources available to birds. A result might be too much access, causing them to overindulge and fail to migrate, working against their own better instincts for survival.
"Because of the usual human preference for large, colorful flowering displays, species and varieties selected for these places are typically showy. It's what people want to see," Jones writes. "And what we appreciate aesthetically, our. .nectarfeeding visitors enjoy as an unnaturally prolonged supply of their favorite foraging resources."
Designers and architects often mean well, but there will be time s when nature knows best. M
NOVEMBER/DECEMBER 2022 135
Rosalie Genevro
On the Waste Bin
Pride of place in our apartment is held by a wire trash can. It happens to be both my husband's and my favorite possession. Years ago, long before we were married, he was walking on Jones Beach on Long Island not long after a beach cleaning machine had roared through.
On the ground in its wake was the trash bin, with every part in place, but completely flattened and almost perfectly symmetrical. Now it hangs in our foyer, serving as an always-at-hand essay on forced perspective. It gets dressed up and woven with glittery red and green pom-poms for Christmas, and in a pinch, it can serve as a hanging place for incoming dry cleaning while you are putting away your coat. It's too pompous to call it found art—maybe better just to say it's a constant reminder of how interesting the day-to-day can be, whenever you get to step away from it.
Architectural historian and urbanist
Rosalie Genevro has served as the executive director of The Architectural League of New York since 1985. For the past 37 years, Genevro has led initiatives including the development of the League's Urban Omnibus publication and Emerging Voices competition, among numerous exhibitions, design studies, and events. This past September, Genevro announced she will be retiring from her position at the League in June 2023.
PORTRAIT: COURTESY ERICA LANSNER; IMAGE: COURTESY ROSALIE GENEVRO NOTEWORTHY
METROPOLIS 136 NOVEMBER/DECEMBER 2022
Meet the World's Most Sustainable Chair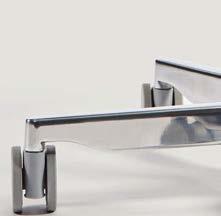 6.2 pounds Ocean Reclaimed Fishing Nets 3.3 pounds Ocean Bound Plastic 1.4 pounds Plastic Bottles 1.4 pounds Post-Consumer & Post-Industrial Mixed Metals
4.6 pounds Post-Industrial Recycled Plastic
Free of Red List Toxins
Certified Climate Positive
Learn more at humanscale.com/Path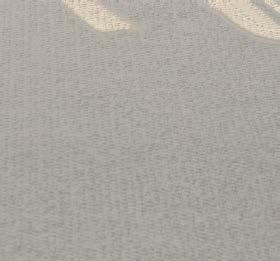 teknion.com