Amelia Gallitano, MD, PhD
FALL 2022 25 Physicians across Arizona share their thoughts on behavioral health An Inspiration for ResearchNeuroscience
A PUBLICATION OF THE MARICOPA COUNTY MEDICAL SOCIETY
Join
At Village Medical, we know the more you can connect with patients, the better care they receive. That's why we empower providers with a patient-centered, tech-enabled model backed by a clinically integrated care team, to help you deliver better outcomes at a lower cost. you're looking for a change, we're hiring primary care physicians and advanced practice providers right now, in: the team that's transforming primary care. learn more, contact Vice President of Business Development Sam Martinez at smartinez@villagemd.com.
To
"Village Medical is paving the way in value-based primary care. As a andthatcostdeliversorganization,operationallyphysician-led,supportedVillageMedicalhighqualityandeffectivecarepatientsneeddeserve. - Jared Berkowitz, MD © 2021 Village Medical " • Apache Junction • Avondale • Cave Creek • Gilbert • Glendale • Mesa • Peoria • Phoenix • Scottsdale • Tempe
If
learn more at nationalfinancialplanninggroup.com PROFESSIONAL TAX BOOKKEEPING & ACCOUNTING SERVICES FOR INDIVIDUALS AND BUSINESSESCORESERVICES  CFO Services  Tax Reduction  Tax Preparation  Expense Reduction  Employee Benefit Analysis The foundation of NFPG is the depth of knowledge, creativity and experience we have, and our desire to apply this knowledge to your advantage. We take great pride in delivering quality services while providing personal attention to all of our clients. We look forward to working with you. FOR 480-542-8787CONSULTATIONFREECALL National PlanningFinancialGroupAccountingandBookkeeping
Scan the QR Code to Schedule a Demo: Kiss the days of jumping from payor portal to payor portal goodbye Submit, track and manage ALL prior authorizations from ONE, unified dashboard with Glidian Capture more revenue Reduce turnaround time on decisions Detailed reporting at your fingertips Prevent denials and cancellations Additional Benefits: Get in Touch: MCMS@Glidian.com MCMS Preferred Partner:
AMERICAN&LATINXBLACKTHESUPPORTNEXTGENERATIONOF,NATIVEPHYSICIANS dream.elevatemed.org SEPTEMBER 24, 2022 CONTENTS 6 | From the MCMS Board President 8 | From Editor-in-Chiefthe 9 | MCMS Partner Program 10 | Briefs 22 | What Arizona Docs are Saying 30 | Legal Corner 32 | How To 34 | Physician Spotlight IN EVERY ISSUE Digital & Social Media @AZ_Physician@AZPhysicianArizonaPhysicianarizonaphysician.com 12 TreatmentOne-Stop Brian Powell shares how the integration of behavioral health into primary care practice is becoming more prevalent across Arizona. 26 In ScottsdaleDepth: Mental Health & Wellness Institute Ehab Abdallah, MD, and his team at Scottsdale Mental Health & Wellness Institute share their views on integrated mental health. 18 COVER STORY Amelia Gallitano, MD, PhD, shares her journey in neuroscience research and how she works to inspire tomorrow's female researchers. VOLUME 4 • ISSUE 4 Editor-In-Chief John McElligott, MPH, CPH Managing Editor Edward Araujo Associate Editors Nayeli L. Guzman Creative Design Randi KarabinCreative.comKarabin, Cover & Featured Articles Photography Ben Scolaro, scolarodesign.com Advertising ads@arizonaphysician.com Maricopa County Medical Society Board PresidentMembers Ricardo Correa, MD, EdD, FACP, FACE President-Elect Zaid Fadul, MD, FS, FAAFP Treasurer Jay Arora, MD, MBA Secretary Jane Lyons, MD Directors Kishlay Anand, MD, MS David Carfagno, DO, CAQSM Christopher DeNapoles, MD Ann Cheri Foxx-Leach, MD, D.ABA Anchit Mehrotra, MD Ruchir Patel, MD Rahul Rishi, DO, FAAAAI, FACAAI Vishal Verma, MD, MBA Karyne Vinales, MD Resident & Fellow Director Emma Schnuckle, MD Medical Student Director Anirudh Singh, OMS-III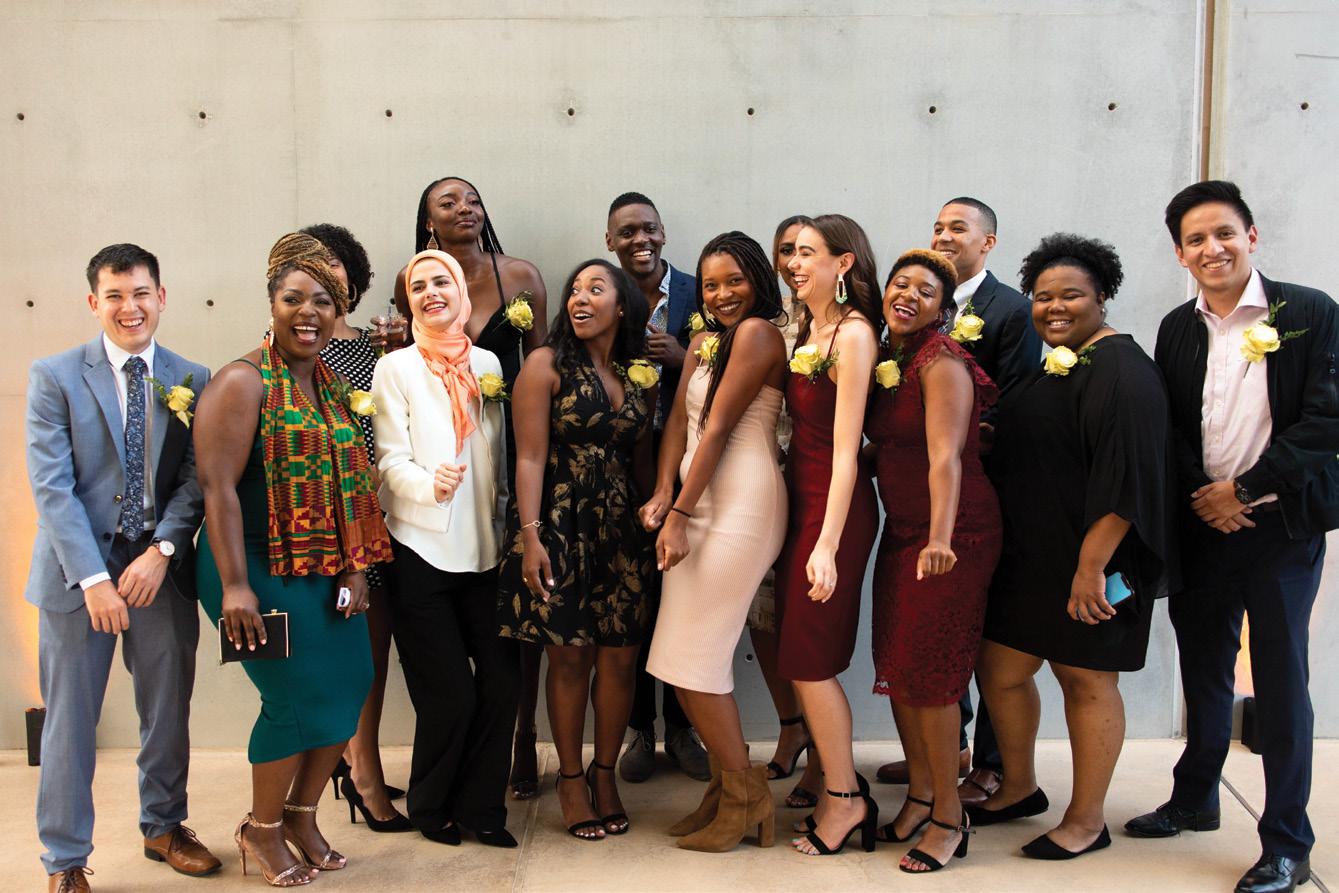 Integrated practices use a systematic clinical approach to identify patients needing behavioral health services and engage providers and patients in shared decisionmaking. The latter will be the ideal model for every health care system.
FROM THE MCMS BOARD PRESIDENT
Dr. Ricardo Correa is an endocrinologist at the Phoenix VA Medical Center. He is also the Endocrinology, Diabetes and Metabolism Fellowship Director, Director of Diversity GME, and Chair of the GME Diversity Subcommittee for the University of Arizona College of Medicine Phoenix. Dr. Correa is the Health Equity Fellowship Director for the Creighton School of Medicine and Medical Director of the Phoenix Allies for Community Health (PACH) Clinic. He is a Major in the U.S. Army Reserve.
Another essential part of the puzzle that will improve patient care and delivery is addressing Social Determinants of Health in every visit to the integrated system. Understanding the community and the environment where the patient comes from can give us an idea of how to create a plan that focuses on individualized management of their conditions and improves patient compliance with it.
For the integration process, the Substance Abuse and Mental Health Services Administration and the Health Resources and Services Administration, both federal agencies, have developed a standard framework for levels of integrated healthcare. In this framework, they have different models. The first level is Coordinated Care. In this model, primary care and behavioral health providers communicate about shared patients but maintain separate facilities and systems. The second model is Co-Located Care. In this model, there is fundamental collaboration onsite or close collaboration with some integration of systems.
RicardoRespectfully,Correa, MD, EdD, FACP, FACE MCMS Board President
Integrating Behavioral Health and Primary Care
A s per the American Academy of Family Physicians, primary care is the provision of integrated, accessible healthcare services by physicians and their healthcare teams who are accountable for addressing a large majority of personal healthcare needs, developing a sustained partnership with patients, and practicing in the context of family and community.
Separate physical and behavioral health systems can lead to fragmented care delivery, poor health outcomes, higher healthcare costs, and duplication of services. Behavioral health integration can increase access to behavioral health services, reduce the stigma of seeking these services, and maximize resources.
Behavioral health and primary care providers in a co-located practice may share the same facility but not necessarily the same practice space. The last model is Integrated Care. In this model, providers jointly plan and execute goals, develop integrated care plans, co-manage patients, and maintain shared schedules.
In summary, for underserved and rural communities where the prevalence of chronic conditions and mental health problems are higher than in other communities, there is a considerable benefit from the integrated system that will decrease the cost and improve outcomes. Our Maricopa County Medical Society is advocating for expanding this type of model in Arizona and improving the health of all Arizonans.
A MODEL
Behavioral health is a broad term that includes mental health, and behaviors like eating habits, drinking, or exercising impact physical or mental health. It is described as the connection between behaviors and the health and well-being of the body, mind, and spirit.
6 n ARIZONA PHYSICIAN MAGAZINE
Many chronic conditions with exponentially increasing prevalence are related to poor behavioral health. For example, obesity and diabetes are related to poor eating habits and sedentary lifestyles. This makes it so important to address behavioral issues during the primary care visit to prevent the appearance or progression of that disease.
Interested in learning more about MCMS, reach me at President@mcmsonline.com THAT PATIENT CARE
IMPROVES
Highly secure connections –to help you keep patient data safe You are on the front lines, caring for our communities. FirstNet® is the only nationwide communications network built with and for first responders and those who support them— including physicians and other healthcare professionals. With a qualified FirstNet wireless plan, you get priority access to the information you need, when and where you need it. ©2022 AT&T Intellectual Property. FirstNet and the FirstNet logo are registered trademarks of the First Responder Network Authority. All other marks are the property of their respective owners. Learn about exclusive wireless plans for physicians at FirstNet.com/healthcare
Inbound marketing expert Elyse Flynn Meyer explains four ways to integrate inbound marketing into your practice. They include: 1) Evaluate your website for ease of use, 2) Turn disease information into blogs, 3) Utilize social media, and 4) Maximize email marketing efforts. Check out the How To section.
—Dwayne Johnson
Contact us at info@arizonaphysician.com with any comments or suggestions.Enjoy the magazine. By John E. McElligott, MPH, CPH We are looking for article contributors, podcast guests, and virtual event presenters. Contact us at info@arizonaphysician.com for these and many more opportunities.
Dr. Mohammad Nasser of Leading MDs shares why treatment must encompass the mind and body. He says the practice started with primary care but "integrat ing psychiatry was the needed piece to the puzzle. Our collaborative care model is not only cost effective but improves outcomes."
We go In Depth with Ehab Abdallah, MD, of Scottsdale Mental Health and Wellness Institute. Dr. Abdallah and I discuss how the practice has evolved to meet the growing demand for general psychiatric treatment in person, tele psychiatry, substance abuse counseling, and other services.
"ASKING FOR HELP WHEN YOU'RE DOWN OR WHEN YOU'RE FEELING WOBBLY OR WHEN YOU'RE DEPRESSED IS ACTUALLY THE MOST POWERFUL THING YOU CAN DO."
BEHAVIORAL HEALTH
Dr. Arielle Rubin says, "We start by recognizing among ourselves that these are complex brain-based neuro devel opmental genetic medical conditions and discussing them as such amongst ourselves, and amongst our patients."
In Legal Corner, lawyer Mandi Karvis shares tips for getting ready for depositions. She writes, "Whether with the assistance of counsel or on your own, it is wise to do some focused preparation for your deposition, which at a bare minimum should include reviewing your records."
8 n ARIZONA PHYSICIAN MAGAZINE D
FROM THE EDITOR-IN-CHIEF
BENCH TO BEDSIDE Amelia Gallitano, MD, PhD, spoke with us about her passion for research and academic medicine. A board-cer tified psychiatrist and neuroscientist, Dr. Gallitano runs a lab at the University of Arizona, College of Medicine— Phoenix. She and her students study "the mechanisms by which environment interacts with genes to influence risk for neuropsychiatric illnesses such as schizophrenia, bipolar disorder, and depression." Associate Editor Nayeli Guzman writes, "Dr. Gallitano is passionate about advocating for and researching mental health and, most importantly, breaking the stigma that surrounds this topic." The neuroscientist is also actively involved with building the pipeline of female MD-PhD researchers, who will carry the mantle for the next generation and ensure the basic research being conducted today may have applications for improved care tomorrow.
wayne "The Rock" Johnson is among the highest paid actors in Hollywood and churns out a few hit movies each year. He has about 333 million followers on Instagram. The Rock also battles depression. Almost all physicians agree behavioral health care is becoming less stigmatized than a decade ago. Some attribute the change to more celebrities and sports icons normalizing discussions of anxiety, depression, or eating disorders through social media, which is increasingly where American consume news and information.
Brian Powell of Flinn Foundation examines what's hap pening in the healthcare market as more private practices and hospitals integrate behavioral health and primary care services. One driver is easier access to behavioral health specialists and faster referrals from primary care clinicians. Dr. Tiffany Pankow of HonorHealth says, "Primary care is where people go first when struggling with behavioral health and having a specialist right in the clinic allows us to work as a team together and get patients right into the care that they need." We thank all physicians who responded to our ques tions for What Arizona Docs are Saying. The quotes shed light on why integration of behavioral health into primary care is so important and what more can be done to help patients with mental health conditions.
VALUABLE ARTICLES
What Are the Tiers?
BEST IN CLASS RCM AND BILLING SOLUTION Collect more on delinquent payments, up to 4.5X faster Track insurance claims and AR days accurately — with less admin overhead Catch underpaymentsinsuranceand denials so you can deal with them Raise revenue and build a consistent revenue flow a demo with Gentem at gentem.com/request-demo/
■
Grow your practice. Help more patients.
■
EXCLUSIVE PARTNER | Top partner company that MCMS will promote and endorse as the only company in its business category. Increase collections.
ADVERTISING PARTNER | Organizations that advertise their products/services to members through our media platforms. DISCOUNT PARTNER | Companies that offer blanket discounts to MCMS members.
The main criteria we look for are simple: companies that demonstrate value in their products/services and have staying power. The companies that have an honest approach and treat our members with an exclusive feel have historically had the best success.
PREFERRED PARTNER WHY GENTEM?
How Are Partners Selected?
■
9ARIZONAPHYSICIAN.COM
■
PREFERRED PARTNER | Vetted companies that commit to providing superior service, special discounts, and incredible value to physicians. These companies stand out from their peers. They demonstrate staying power and consistently deliver high-quality products and services to clients.
PARTNER PROGRAM
What Is It? Maricopa County Medical Society's Partner Program is designed to introduce select companies to our members. MCMS strives to facilitate physician growth in all areas of their life and practice. As we work to support our members, we think there are excellent opportunities to work closely with business partners that can facilitate that growth.
Schedule
MCMS hears from many private practices about how difficult it is to track underpayments from insurance companies or trust you'll have adequate revenue to hire another employee for clinical work or front office staff. Gentem's service is especially helpful for practices focused on behavioral health, cardiology, OB/GYN, orthopedic, and pain Schedulemanagement.apersonalized demo with a Gentem billing expert. They will walk you through how Gentem can get you more of the money you're owed, predictably and with less effort.
BRIEFS NEWS AND NOTES FROM THE FIELD P hysicians often come across patients who are experiencing psychological or medical crises. These events may trigger psychological and physiological symptoms. According to the American Association of Family Physicians, physicians are encouraged to assist patients who are experiencing a crisis by: Mental Health Crisis Resources Important Numbers Here are additional phone numbers to reference or share with patients that may be suffering a mental health crisis in Arizona: National Suicide and Crisis Hotline 988 SAMSA Hotline 1-800-662- 4357 (HELP) Crisis Hotline – Maricopa County 1-800 631 1314 Crisis Hotline – Apache, Coconino, Gila, Mohave, Navajo, Yavapai 1 877 756 4090 Crisis Hotline – Cochise, Graham, Greenlee, La Paz, Pima, Pinal, Yuma 1-866- 495 6735 Teen Life Line – Maricopa County 1 602 248 8336 (TEEN) Teen Life Line –Outside of Maricopa County 1-800 248 8336 (TEEN) Veterans Crisis Line 1 800 273 8255 1 | Providing reassurance and support 2 | Evaluating the nature of the problem and determining the patient's mental, andsuicidal,psychiatric,orhomicidal,medicalstatus 3 | Ensuring the safety of the patient and others around them 4 | Assisting the patient in developing an action plan to distressminimize 5 | Follow up with the patient and other relevant persons to ensure follow-through 10 n ARIZONA PHYSICIAN MAGAZINE
HELEN RODRIGUEZ-TRIAS, MD (1929 – 2001) | In the 1970s there were government-led programs that coerced women, including many minority women and those with physical disabilities, to undergo sterilization. Dr. Rodriguez-Trias cofounded the Campaign to End Sterlization Abuse, which led to federal changes that included strict federal guidelines for consent in 1979. Dr. Rodgriguez-Trias would go on to become the first Latina to preside over the American Public Health Association and co-direct the Pacific Institute for Women's Health.
SALVADOR MONCADA, MD (1944 – ) | Born in Tegucigalpa, Honduras, Dr. Moncada earned both an MD and PhD and is very well known in the research com munity. Through his research it was found that small doses of aspirin could be helpful to avoid cardiovascular issues. He is also credited with the discovery of medicines like lamotrigine, atovaquone, and zomig.
HISPANIC PHYSICIANS IN MEDICINE as Commissioner of Health for the State of New York and was elected to the National Academy of Medicine in 2000.
5
CARLOS JUAN FINLAY, MD (1833 – 1915) | In the 1800s intermit tent outbreaks of yellow fever were a near constant terror to the popula tions of United States and Caribbean countries, like Cuba where Dr. Finlay was born. Dr. Finlay would introduce his mosquitos-as-vectors theory. The US Army was able to reduce outbreaks by applying some of his ideas about mosquito control, such as destroying larvae in stagnant water.
Beginning in September of 1968, National Hispanic Heritage Month began as Hispanic Heritage Week and was later expanded in 1988 by President Ronald Reagan to cover a 30-day period starting on September 15 and ending on October 15. Here are a few exceptional Latino/a physicians you should know or remember:
ANTONIA NOVELLO, MD (1944 – ) | Born in Puerto Rico, Dr. Novello in 1990 became both the first Hispanic and first woman to serve as US Surgeon General. During her 3 years, she focused on addressing issues such as underage drinking and cigarette ads that targeted children. Dr. Novello would go on to serve
JULIO FRENK, MD (1953 – ) | Dr. Frenk, born in Mexico City, is a physician and former Secretary of Health of Mexico. He currently serves as President of the University of Miami in Florida. He is the university's first Hispanic President. Prior to joining the University of Miami, Dr. Frenk served as Dean of Harvard's T.H. Chan School of Public Health.
ADVOCATES FOR THE PRIVATE PRACTICE OF MEDICINE 602.792.3500 5050 North 40th Street, Suite 200 Phoenix, Arizona 85018 MilliganLawless.com  Health Care Compliance  Health Care Reform  Business Transactions  State and Federal Licensing  Reimbursement  Patient Privacy  Fraud and Abuse  Corporate Law  Intellectual Property  Employment Law Counseling and Litigation  Estate Planning MilliganLawless_ad_half_081822.indd 1 8/18/22 10:56 AM National Hispanic Heritage Month ARIZONAPHYSICIAN.COM
IMPORTANT
11
12 n ARIZONA PHYSICIAN MAGAZINE One-Stop Treatment
The integration of behavioral health into a primary care practice, while not new, is becoming more prevalent in recent years in both Arizona and across the nation. Some of the reasons leading to this change include a recognition of a mental health crisis in this country, policy changes at the federal and state levels, and the option for primary care physicians to contract with companies to provide mental health services in person or virtually.
primaryandImprovingapatient'sphysicalmentalhealthincare
13ARIZONAPHYSICIAN.COM
A patient visiting a primary care physician who practices col laborative care will typically complete a survey that screens for issues such as anxiety and depression. After the visit with the physician, a patient who is suffering from a mental health condi tion will be introduced to a licensed professional or associate counselor, clinical social worker, or behavioral health consultant and spend time in a short session, ideally the same day or in the next few days.
One such company is Scottsdale-based evolvedMD, which is helping HonorHealth, Apricus Health and numerous primary care practices convert to integrated care by embedding licensed behavioral health professionals on site. Another example is Adelante Healthcare, a federally qualified health center serv ing Maricopa County for more than four decades, which offers fully integrated care at its Peoria location with plans to expand the model to all nine clinic locations by the end of next year.
In recent years, physicians are also increas ingly likely to find themselves introducing a patient to a licensed counselor or social worker in the office next door.
MODELS OF INTEGRATED CARE
BY BRIAN POWELL
Integrated care advocates point to easier access to behavioral health specialists and the destigmatizing of mental health as key benefits to this model.
A
primary care physician may be accustomed after an appointment to guiding patients down the hall for a urine test or lab work.
"There has been a real openness to it in our patients," said Dr. Tiffany Pankow, HonorHealth vice president, chief of care giver wellness and patient experience, and a family medicine physician. "I would say 8 or 9 out of 10, at least, want to meet and talk with the behavioral specialists right then or the next day. And it's been a huge satisfier for our physicians, too. They have really embraced it."
Under this model, a patient will often return to the primary care office for up to about five sessions with the same clinician. The reasons for the visit could be to learn ways to cope with
POLICY CHANGES ENCOURAGE INTEGRATION
Davis Plunkett, a licensed clinical social worker and Adelante Healthcare
Pankow said it was more than two years ago when HonorHealth began looking into the collaborative care model and started its relationship with evolvedMD. Pankow said by the end of this year, collabora tive care will be in all of HonorHealth's primary care clinics.
Susan Boyles, director of behavioral health for Adelante Healthcare and a licensed clinical social worker, tells the story of a woman visiting her primary care doctor for uncontrolled diabetes, and then meeting with her.
"Primary care is where people go first when struggling with behavioral health and having a specialist right in the clinic allows us to work as a team together and get patients right into the care that they need," Pankow said.
evolvedMD co-founder and co-CEO Erik Osland said his company's model for mild-to-moderate patients is to manage them on-site at the clinic with their own licensed employees, who are equipped to teach skills and/ or provide cognitive behavioral therapy, motivational interviewing, and behavioral activation. The company also supplies case managers for patients with more high-risk challenges, such as bipolar disorder or PTSD, and helps them schedule appointments off-site.
14 n ARIZONA PHYSICIAN MAGAZINE Learn more about one stop behavioral health primary care arizonaphysician.com/one-stop-treatmentat
Dr. Caroline Carney, the Phoenix-based chief anxiety and depression, or how to better manage diabetes with diet, a discussion about the importance of taking medication, or addressing obesity, insomnia, or smoking.
The company, which was launched five years ago, pro vides behavioral health care for more than 90 primary care providers across 20 sites in Arizona and Utah. In addition to its sites in Maricopa County, evolvedMD is operating within the state in Flagstaff, Sedona, and Tucson.
The next year, roughly 1.5 million members of AHCCCS, or the state's Medicaid program, transitioned into an integrated health plan for both physical and behavioral health benefits.
"Things actually clicked why taking her medication was important, and why emotions and stress can impact eating," Boyles said. "It was really good to be able to have that conversation, and you under stand why treating the whole person is ultimately the best thing we can do."
behavioral health area operations manager, added: "It's about breaking down that stigma and having patients understand that mental health is an aspect and extension of their health. Whether it's basic, everyday stress or clinical depression, that can lead to a lot of negative health outcomes."
In 2017, the Arizona Health Care Cost Containment System began an initial $300 million, five-year pro gram to provide incentives to encourage primary care and behavioral health groups and others to switch to an integrated care model in which providers would be screening for mental health needs.
The collaborative care model was also a beneficiary of Arizona HB 2454, signed into law by Gov. Doug Ducey in 2021, which expanded telemedicine access for Arizona patients and provided equal reimburse ment to physicians. This option is especially critical for rural patients or clinics without a behavioral health professional on site.
The physician and mental health professional share a single electronic medical record and create a treatment plan, and the primary care physician has the option to prescribe medication as appropriate. The patient is billed under primary care, whether it's a commercial insurance plan, Medicare, or Medicaid. If the patient's mental health needs are more complex, the patient would be referred to an off-site psychiatrist or counselor.
It wasn't that long ago when Osland remembers knock ing on hundreds of doors—and mostly coming up empty. But times have changed, and physicians realize their patients need help.
By Brian Powell Communications Manager Flinn BPowell@flinn.orgFoundation
— Dr. Sandra Zebrowski, Blue Cross Blue Shield of Arizona
Today, evolvedMD has 80 employees, with plans to be near 125 workers in Arizona and Utah by the end of 2022. The company also received $5.4 million in Series A funding earlier this year, which will be used to continue scaling the company and expand in additional Western states and the Midwest.
"Giving people access and an entry point through primary care can be life-saving."
Advocates of increasing inte grated practices in the future point to not only improved patient outcomes, but physician well-being as well. Supporters of the collaborative care model say primary care physicians have less risk of burnout and benefit from seeing improved health outcomes for their patients.
"We are the relief valve, I think, in a lot of ways for our providers, and many more people are now open to it," Osland said. "Modern primary care just doesn't focus on the body, but on the mind, too.
15ARIZONAPHYSICIAN.COM
"There is no behavioral health equivalent to pri mary care," Geiler said. "By integrating primary care where people are comfortable getting care, with long relationships and timely access in acute situations, we are building continuity between medical health needs and behavioral health needs."
Dr. Sandra Zebrowski, corpo rate medical director, behavioral health at Blue Cross Blue Shield of Arizona, said the collaborative care model provides for a bet ter opportunity to reach the "Quadruple Aim." In addition to providing the established "Triple Aim" goals of higher quality and more cost-effective care with improved patient satisfaction, the "Quadruple Aim" adds provider satisfaction into the mix.
"It can be a big ask, but from a population health perspective and issues with mental health preceding the COVID-19 pandemic and made worse by the pandemic, we need physicians to be a part of the solution and integrating care is a possible solution for our nation's mental health crisis," Zebrowski said. "Giving people access and an entry point through primary care can be life-saving."
Zebrowski acknowledges that for practices not cur rently using collaborative care, there would be changes to the business model, the training of office staff, and modi fying of procedures and physical space to accommodate the mental health professionals. In general, Zebrowski said, this is not a business model that loses money for the primary care physician.
"If they are not doing it today, in two years they will be, and we will be ready for them." ■
"The beauty is you do not have to have a person down the hall; it can be a psychiatrist on Zoom," Carney said. "It allows a behavioral health professional to work with different physicians from different offices throughout the day."
A BENEFIT TO PATIENTS— AND PHYSICIANS
medical officer of Magellan Health and president of Magellan Behavioral Health, and a board-certified internist and psychiatrist, said telehealth can greatly expand the reach of mental health expertise within collaborative care.
On a national scale, the Collaborative Family Healthcare Association advocates for policies that will help increase the integration of physical and behav ioral health. CFHA was started about 25 years ago by behavioral health providers and family physicians who wanted to provide a more comprehensive type of care, said Julie Geiler, CFHA policy coordinator, and has grown into a national membership organization of nearly 1,750 members from 29 states, including close to 100 physicians.
The organization's annual con ference, which attracts healthcare professionals, foundations, payors, and others playing a role in integrated care, will be held in Phoenix in 2023.
rizona health care leaders have long had a vision for streamlining and integrating physical and behavioral health care. For many patients, that vision is a reality.
WHY INTEGRATE CARE
By 2018, AHCCCS offered integrated care to nearly all its members with the AHCCCS Complete Care, or ACC, contracts. In 2019, the Division of Developmental Disabilities awarded statewide contracts to Mercy Care and another managed care organization to deliver integrated physical and behavioral health benefits to individuals with developmental and/or intellectual disabilities.
16 n ARIZONA PHYSICIAN MAGAZINE
A
Today, Mercy Care provides integrated health care for all Medicaid-eligible adults, families and seniors, individuals with an SMI designation, general mental health and substance use concerns, developmental and cognitive disabilities, children, and youth in foster care and those enrolled in Medicare.
Learn more about Mercy Care's vision for integrated health by reading the article in its entirety at arizonaphysician.com/integrated-care
Practitioners trained to address mental health or substance use concerns may not focus on the patient's physical health. On the other hand, primary care providers may focus only on a patient's physical complaints and not consider that mental health or substance use concerns may be linked to the root causes leading to their poor physical health.
IntegratedCare
A Vision For
Integrated health care is provided by a team of interdisciplinary health care professionals focused on a systematic approach to delivering coordinated, collaborative, and cost-effective care that improves members' overall health, wellbeing, andTheresiliency.Arizona Health Care Cost Containment System (AHCCCS) started phasing integrated services into health care in the late 1990s with the Arizona Long Term Care System (ALTCS). By 2014, people with a serious mental illness (SMI) were also receiving integrated care. Before integration, Arizona's public health system was fragmented. Individuals and families eligible for AHCCCS had one health plan for their physical health care needs and another for their behavioral health. They had to navigate between different health plans, different provider networks and appointments at different locations.
17ARIZONAPHYSICIAN.COM
An integrated health home is a place where people receive coordinated treatment for all their needs—primary care, behavioral health care, care coordination, specialty health service referral, medication management, health promo tion, prevention, wellness services, member and family health education services (e.g., chronic disease manage ment, healthy lifestyle, etc.), evidence-based programs (e.g., supported employment, peer support services, etc.), case management and outreach services.
LEADING IN INTEGRATED CARE
In those early days, we took a two-model approach with the development of integrated health homes and virtual health homes.
By Tad Gary, M.Ed. Deputy Chief Executive Mercy garyt@mercycareaz.orgCare By Gagan Singh, MD Chief Medical Officer Mercy singhG16@mercycareaz.orgCare
Our local, nonprofit health plan has led transformational changes to the state's behavioral health care system. We were executing on what a growing body of research was confirming—to achieve bet ter health outcomes, we needed to take a wholistic approach.
Our virtual health homes are for members who choose to stay with their primary care practice or behavioral health clinic which are not integrated. Health coaches at the primary care office and community-based case managers on the behavioral health side serve to integrate a member's health care by working with each other, the member, the primary care physician and the behavioral health provider to coordinate care, medications and promote wellness. In 2015, Mercy Care engaged Arizona State University to create a customized provider integrated health training and a 'train the trainer' program. This training was provided to integrated health home providers on best practices for integrated care and interprofessional teamwork.
Consider that about 35 million Americans have diabetes, and they are 2 to 3 times more likely to develop depression than people without diabetes. But only 25 to 50 percent of those living with diabetes are diagnosed with and treated for depres sion, according to the Centers for Disease Control and Prevention. Integrated care makes sense. You can't separate the head from the body. Integrated care ultimately helps drive us towards the quadruple aim of helping improve the quality of care our members receive, while improving their satisfaction and reducing cost of care. In addition, it has been shown to improve satisfaction for health care providers.
ADVANCING INTEGRATED CARE Mercy Care continues to collaborate with commu nity organizations and provider partners to expand and transform integrated health care. We have value-based contracts to incentivize both improvements of physical health for SMI populations and for enhancing behavioral health care for those receiving health care through ACC and other contracts.
In addition, Mercy Care has codes to allow pri mary care practices to bill monthly services using the psychiatric collaborative care model. This is an evidence-based model of care that puts the PCP-patient relationship at the center of all care with added sup port from a behavioral care manager and psychiatrist. As we learn more about managing the care of the whole person, it is also obvious that managing the social determinants of health becomes more important. We have thus incentivized our providers in value-based arrangements to measure and report SDOH. In addition, we are working with AHCCCS and Contexture, our state health information exchange, on a closed loop referral system for managing SDOH. We also make Pyx, an app for managing loneliness and SDOH, available to our members. The health plan also created Mercy C.A.R.E.S., a community reinvest ment grants program that supports agencies that share our focus areas of chronic illnesses, housing security, substance use and health and wellness. Since 2016, Mercy Care has reinvested more than $9.5 million worth of grants across Arizona. In summary, we truly believe that everyone, regardless of age, income, or medical condition, can achieve better health outcomes with a holistic inte grated approach. Such care improves outcomes, patient and provider satisfaction and makes Arizona health care more sustainable. We hope to continue to lead the way in collaborations to enhance integrated care. ■
A passionate, dedicated, and selfdriven woman of Italian descent, Dr. Amelia Gallitano has broken both generational limitations and societal disparities throughout her journey in medicine. Her father, a first-generation surgeon and son of immigrant parents, influenced Gallitano to pursue her degrees in medicine and research. Such training prepared Dr. Gallitano for her dream job of studying the human brain and mentoring the next generation. Born and raised in the outskirts of Boston, she first became inter ested in cognitive experiences during high school. "We weren't in the middle of wars, and we weren't in the middle of a pandemic. Now, we see the impact that these kinds of stresses have on the mental health of kids and teenagers," she states.
She's a board-certified psychiatrist and neuroscientist, Associate Professor at the University of Arizona, College of Medicine— Phoenix, with two decades of experience in academic medicine. Dr. Gallitano is passion ate about advocating for and researching mental health and, most importantly, break ing the stigma that surrounds this topic. Mental health has been misunderstood for centuries, although it can affect anyone and everyone. According to her, only a person
An Inspiration for ResearchNeuroscience
18 n ARIZONA PHYSICIAN MAGAZINE
Amelia Gallitano, MD, PhD
— Amelia Gallitano, MD, PhD
a great leader and inspiration to women in research and medicine. She states: "…graduate students have been about 50-50 for decades now. Yet we still don't see that translate to equal numbers of women faculty. And at each level, as you go up the hierarchy, the percentage of females is reduced.
Due to the high cost of medical school, Gallitano believes that the debt burden medical students carry impacts their career choices. "National Institutes of Health, and the government have created funding to address that. The cost of medical school is so enormous now that if you get out with debt from paying for it all yourself, it's very hard to ever pay that off. If you focus on research, you don't get paid nearly as much as if you did clinical work." For Dr. Gallitano, a big salary isn't the goal. Her desire to pursue research was driven by passion. She learned the value of time through sacrifices she made in pursuit of her dream career. According to Dr. Gallitano, it can be quite challenging to maintain a research lab, obtain grants, and perform the research. The grant submission and review process is very competitive. However, she states, "There are many benefits to having a job that is constantly intellectually stimulating, where you can be creative and you can think of cool ideas, have fas cinating discussions with people… it's very satisfying. And there's lots of other cool opportunities that come with it, like, you get to travel to other countries and present your science at conferences and meet other scientists from all over the world." She has been presenting her research in Japan recently. that knows someone that suffers of a mental health prob lem will have sympathy and understanding. This raises awareness of how misunderstood the topic of mental health really is. Two generations ago, psychiatric hospitals once viewed mental illnesses as being caused by "demonic possessions" of one's conscience. According to Dr. Gallitano, schizophrenia was thought to be caused by bad mothering in the 1960s and 70s. Because of scientific advances, we now have a more accurate understanding of schizophrenia and its impacts on the human mind. These advances, however, come at a price, and acquiring funds for mental health research can be challenging. "Mental health problems affect a huge proportion of people in our country. And yet, we get a much smaller percentage of research dollars going toward mental health disorders. Cancer affects a lot of people, but they get a huge portion of the research dollars," says Dr. Gallitano. In the same way that cancer is caused by a biological predisposition, mental health disorders can also be caused by it. Gallitano argues that society has a hard time recognizing mental illness' complexity. "Mental health problems affect a huge proportion of people in our country. And yet, we get a much smaller percentage of research dollars going toward mental health disorders."
"Mental health problems affect a huge proportion of people in our country. And yet, we get a much smaller percentage of research dollars going toward mental health disorders."
19ARIZONAPHYSICIAN.COM
JOURNEY IN MEDICINE
Even when you consider racial ethnicity, women still make less than men in every racial and ethnic group…So there's a major persistent problem in; rates of promotion, advance ment, leadership positions, and pay. And so, the battle still must be fought."
The decision to attend medical school didn't come until her undergraduate studies. Biopsychology research was the focus of her work in a lab. As a result, she applied to MD-PhD combined programs and developed a passion for research. Gallitano discovered that only 30% of the students in her MD-PhD program were female. Even though she never let this discourage her, she is now
3. Do you have a hidden talent most people would not know about you
A: I am the proud mom of two sons, ages 23 and 20. We still mourn the loss of our family dog of 13 years just prior to the pandemic.
8. What is your favorite local restaurant?
A: Being outdoors in nature–hiking
RESEARCH AND CLINICAL PSYCHIATRY
A: Hmmm, not sure it's a talent, but I love to back-country ski.
The strong mentorship Dr. Gallitano received is something she carries forward for her students. She is heavily involved with the program Women in Medicine and Science, teaches classes, and serves as an advisor for masters and doctoral candidates. According to her, she is passionate about guiding the next gen eration, "trying to help them get excited about science, and medicine," she states. As a female leader in her field, Dr. Gallitano serves as a role model, and appreci ates the value of female scientists. She states, "I've done a lot of work, and being a woman in medicine and science, and I do feel that seeing somebody that looks like you helps you to think, "Oh, maybe I could do that, too."
Her current research focuses on genes that are expressed in the brain in response to environmental events. Such genes play an essential role in memory formation. She says, "I got very interested in the idea that because they are responsive to the environment, that they could mediate both a gene and environ mental influences on risk for mental illnesses." Her summarized hypothesis is the following: "… the activity of the genes that we study, that also get turned on in response to stress, help to balance that. Because they regulate the sort of protective arm of stress. These genes that are activated in response to environment and stress confer a resilience to the negative consequence of stress and allow us to live in balance. And if you have a genetic predisposition, an abnormality that disrupts the function of these genes, if you're a person who's had a tremendous stressor in
A: Barrio Cafe
6. What if your favorite movie?
THE IMPACT OF A FEMALE LEADER/MENTOR
9. What is your favorite activity outside of medicine?
2. Do you have a family? Pets?
Dr. Gallitano gives recognition to her research col leagues for being "tremendous mentors". At that time, her PhD thesis advisor, a new professor, introduced her to a topic she never imagined she would ever study. They worked on drosophila; "…a set of genes that enter your posterior axis in the drosophila embryo, which is essentially, tiny specks that you can barely see on your bananas when the fruit flies lay the eggs. And I thought, "Why would I wanna study fruit flies?" You know? And after meeting with him for about an hour, I came out so excited, I thought, "Why would anybody ever wanna study anything but fruit flies?" That advi sor has always been an inspiration when it comes to communicating science and relating it to things that people will find interesting and engaging.
A: "The Undergound Railroad" by Colson Whitehead
20 n ARIZONA PHYSICIAN MAGAZINE
A: Passionate (about addressing challenges)
5. What book are you reading right now, or recently?
4. What career would you have been doing if you were not a physician?
A: I love Korean food, especially the side dishes.
A: The Incredibles.
7. What is your favorite food?
1. If you could describe yourself in one word, what would that be?
A: Horticulturalist
On the Personal Side with Dr. Amelia Gallitano:
CONCLUSION
For almost nine years, she worked at the VA clinic, specializing in PTSD. The purpose of her research was to understand how a stressful event can activate these genes, thereby responding to stress and forming memories. Her current research focuses primarily on schizophrenia, bipolar disorder, depression, and other mood disorders. According to Dr. Gallitano, psychia try is limited by the fact that it still diagnoses mental illnesses by asking questions and then by identifying the symptoms the patients are experiencing. She states, "We don't have any bio markers. We can't do a blood test, take a biopsy, do a physical exam test, nothing like that, or a brain scan. We're hoping that this work will lead us to that. To be able to have a sort of a biomarker that can say, "Oh, this is likely to be schizophre nia." She looks forward to the new technological advancements in medicine.
Dr. Gallitano's research will help shape the future of mental health, set up potential diagnoses, and gene therapies for generations to come. We will be able to address mental health more effectively as empowered lead ers like Amelia Gallitano, MD, dissect its complexity. It is only when we understand these intricacies that we will be able to treat both mental and physical health equally. Through researchers like Dr. Gallitano, I feel hopeful that more female physicians in research will be solving key healthcare issues for future generations. ■ Learn more information on Dr. Gallitano's work at arizonaphysician.com/amelia-gallitano-md
By Nayeli Guzman Membership Marketing Coordinator Maricopa County Medical Society nayeli@mcmsonline.com
21ARIZONAPHYSICIAN.COM
your life, you may be less resilient in response, and that the negative consequences of that stress won't be properly balanced."
"Needing emotional help still is viewed as a weakness and a flaw." —Victoria Horstman, MD
"Ironically, social media seems to have helped (while also probably putting some people at risk of mental health problems)."
"More public forums. Leaders and celebrities and sports icons speaking out or sharing personal stories. Using terms like behavioral health and whole health rather than mental health."
—Arthur Chou, MD
Why or why not?
"Increased need, increased availability of care, and improved media coverage."
"Yes, in the sense it is recognized, acknowledged, and discussed more openly. No, in the sense it still seems to harbor a 'shame' factor for some, and it is incredibly difficult to get service."
22 n ARIZONA PHYSICIAN MAGAZINE
—Helen Markowski, MD 96%Yes 4% No
Do you decadestigmatizedcarebehavioralbelievehealthisbecominglessthanaago? What ArizonaDOCS are Saying
—Shaun Dekutoski, MD
—Jack A. Friedland, MD
"I think the pandemic brought to light a lot of depression and anxiety that was communally felt that has destigmatized some forms of brain health disorders." —Alicia Cowdrey, MD "It is part of the national conversation - and it affects a critical mass of people."
"Access, access, access! There are not enough mental health providers." —Mellissa Holden Leborgne, DO "Have insurance cover the costs."
—Matthew Nelson, DO, MPH
"More therapists, continue to make it less stigmatized, and more mental health inpatient facilities for youth." —Jane Lyons, MD "Middle schools and high schools could do surveillance programs for underserved communities, and at least one evaluation per student per year that could be taken care of by the state or grants." —Maritza I. Irizarry, MD
"We discuss it much more frequently and openly at patient appointments than we did and use screening tools now that make it easier for patients to share their concerns."
—Eric M. Ossowski, MD "Compassionate referral rather than bureaucratic referral." —Leo A. Martin, MD "Improve the number of providers."
—Robert Schulte, MD "Patients and their families are more open to treatment." —Rama Kunkle, DO "More people are talking about the help they are getting." —Jane Lyons, MD
23ARIZONAPHYSICIAN.COM
"Thanks in part to professional athletes and celebrities, combined with the overt need that COVID isolation seemed to flesh out, the public narrative seems more able to couch mental health in the normative terms that were previously reserved for 'organic' illness alone."
—Cheri Nason, MD
—David R. Sanderson, MD
"Treat them as medical conditions. We start by recognizing among ourselves that these are complex brain-based neuro developmental genetic medical conditions and discussing them as such amongst ourselves, and amongst our patients."
—Nadeem Shabbir, MD
"More accessibility and coverage for counseling services." —Elissa B. Gartenberg, DO "There needs to be more awareness that lifestyle choices such as lack of proper diet, exercise, community involvement, and spiritual work can all be factors in mental illness." —Adam Koelsch, MD "Provide even more affordable access and resources." —Michael Denicole, DO "Better communication between inpatient and outpatient doctors. Less use of nurse practitioners and greater use of board-certified psychiatrists would be helpful." —Robert Schulte, MD
What more can be done to help patients with healthbehavioralconditions?
Arielle Rubin, MD "Educate regarding available resources."
"As it has become more commonplace, people seem to have more compassion with the realization that no one is impervious to mental health problems." —Adam Koelsch, MD
"Any primary care patient with a mental illness who has not been evaluated by a psychiatrist should be so evaluated." —Stuart B. Phillips, MD
—Michael Denicole, DO "The prevalence of mental health issues is high. If you can get the family or patient immediate attention, this is amazingly helpful."
—Waldeck Charles, MD
—Louis G. Trunzo, MD, FAAP
—Leo A. Martin, MD
"Every symptom one experience starts from the brain. One's perception is reality. If someone tells you he or she feels pain whatever other people's perspective, he or she is in pain."
—Kari Patterson, MD
"It has become necessary because of the shortage of therapists. While PCPs need to keep up on psychiatry via CMEs, I don't think they can or should replace therapy."
—David R. Sanderson, MD "Many patients would not feel comfortable seeking out behavioral health assistance on their own but know how to access a PCP."
—Arthur Chou, MD Does your practice or hospital integrate behavioral health into primary care? 62% Yes 38% No
24 n ARIZONA PHYSICIAN MAGAZINE
"It reinforces the fact that behavioral health is integral to the frequently distilled notion of physical health that we are mostly taught in medical training." —Matthew Nelson, DO, MPH
Why is important?intobehavioralintegratinghealthprimarycareso
—Victoria Horstman, MD "There is such a shortage in child psychiatry that we cannot see all the patients, and many of them can be successfully managed by pediatricians initiating treatment and referrals to appropriate therapy." —Arielle Rubin, MD "Needed just like vaccinations."
—Shaun Dekutoski, MD "It's like that story of the parable of the blind men and the elephant; we are prone to making premature conclusions based on our limited experience. Integrating both mental health and primary care provides a much larger (and accurate) view of the patient's health."
"It makes it a more normal or expected part of healthcare and hopefully reduces barriers to care."
"In order for patients to engage in their physical health you also have to treat the mental health (sometimes first)." —Rama Kunkle, DO
"It's part of the whole patient."
"Treating the whole human. Mental health affects physical health and vice versa."
"If your behavioral health/mental health is not being cared for, it opens the door for complete breakdown in the process."
"Referrals are timelier." —Eric M. Ossowski, MD "Integration helps to delegate care to any other specialist."
"It is important to identify mental and behavioral conditions that become evidenced as a sequela of an organic or genetic etiology." —Maritza I. Irizarry, MD "Many patients with trauma have a mental crisis as the initiating event." —Stuart B. Phillips, MD
—Cheri Nason, MD
"We need to be better partners!" —Alicia Cowdrey, MD "Because the connection to the whole person is key."
Tell us why. Please read more about what Arizona Docs are saying about behavioral health at arizonaphysician.com/w-a-d-s-behavioral-health.
Jack A. Friedland, MD Aesthetic Surgeons of Arizona WEB | Jackafriedlandmd.com Elissa B. Gartenberg, DO Modern Family Medicine WEB | medicine.comModernfamily Mellissa Leborgne,HoldenDO Banner Health WEB | Bannerhealth.com Victoria Horstman, MD Care Access WEB | Careaccess.com Maritza I. Irizarry, MD Sunshine Pediatrics WEB | pediatricsaz.comSunshine Adam Koelsch, MD Adam R. Koelsch, MD, PC WEB | Doctorkoelsch.com Rama Kunkle, DO HonorHealth WEB | Honorhealth.com Jane Lyons, MD Dignity Health WEB | Dignityhealth.org
Learn more about the participating physicians
Matthew Nelson, DO, MPH Tuba City Health Lechee Clinic WEB | Tchealth.org/lechee/ Eric M. Ossowski, MD Circle the City WEB | Circlethecity.org Kari Patterson, MD Kari Patterson, MD, PLLC Stuart B. Phillips, MD Retired Arielle Rubin, MD Phoenix Children's Hospital WEB | Phoenixchildrens.org David R. Sanderson, MD Retired Robert Schulte, MD North PsychiatricScottsdaleSpecialists WEB | Robertschultemd.com Nadeem Shabbir, MD Banner Health WEB | Bannerhealth.com Louis G. Trunzo, MD, FAAP Horizon Health and Wellness WEB | Hhwaz.org % 4% 4% ARIZONAPHYSICIAN.COM
—Helen Markowski, MD
"Mind body spirit. When stress and mental health gets out of hand, the body is affected by disease."
"It is very difficult to treat primarily medical issues if there is an underlying untreated mental health issue and I suspect the opposite is true also." —Kari Patterson, MD
"Improved early diagnosis and referral for institution of treatment." —Jack A. Friedland, MD
Waldeck Charles, MD Neuro Focus Center WEB | Neurofocuscenter.com Arthur Chou, MD Horizon Health & Wellness WEB | Hhwaz.org Alicia Cowdrey, MD Valleywise Health WEB | Valleywisehealth.org Shaun Dekutoski, MD Copa Health WEB | Copahealth.org Michael Denicole, DO Meadows Behavioral Health WEB | Meadowsbh.com
Helen Markowski, MD HonorHealth WEB | Honorhealth.com Leo A. Martin, MD Leo A. Martin, MD, PC Cheri Nason, MD Desert Shores Pediatrics WEB | pediatricsDesertshores.com
—Elissa B. Gartenberg, DO "It has made primary care harder but is a necessary and valued service and the behavioral health teams just don't have the capacity to manage all of these patients without our help."
Does either behavioral health or primary care benefit the most from greater integration? Behavioral | 7
—Louis G. Trunzo, MD, FAAP "Because they are interdependent." —Waldeck Charles, MD
—Mellissa Holden Leborgne, DO
25
Primary care |
Both | Neither85% |
IN DEPTH A
S
WellnessMentalScottsdaleHealthInstituteand
26 n ARIZONA PHYSICIAN MAGAZINE
tarted five years ago by Roland Segal, MD, and Ehab Abdallah, MD, Scottsdale Mental Health and Wellness Institute has grown and now provides a range of psychiatric care. They offer outpatient and inpatient services for children and geriatric patients alike, conduct forensic and psychosomatic evaluations, assist people with emotional trauma connected to work-related injuries, and support chemical dependency treatment. We sat down with Dr. Abdallah to learn more about how the practice has evolved. CONVERSATION WITH Ehab Abdallah, MD, in the center, flanked by staff of Scottsdale Mental Health and Wellness Institute.
AP: Have you seen more growth in rural or urban areas?
DR. ABDALLAH: Yes, it is. The larger team means we need to carefully manage schedules to ensure coverage for inpatient, residential, and outpatient units, or telepsychiatry visits. The network with credentialed professionals makes it easier to refer patients to whatever level of care they need.
DR. ABDALLAH: Both, but the rural area is hurting more for psychiatric care.
AP: That's a lot to balance.
AP: How are you integrating physical and mental health?
AP: Practices often struggle with reimbursement rates from insurance carriers. Is that the main hurdle you face with insurance?
DR. ABDALLAH: The biggest hurdle we face is the time to credential a new provider. It usually takes three to four months. Some insurance companies take six months. We try to hire someone as early as possible. We have some capacity to absorb a loss, more than an individual provider. When they're waiting on credentialing, new hires can help with quality, reporting requirements, and other certifications needed so they can start running when approved.
27ARIZONAPHYSICIAN.COM
"The network with credentialed professionals makes it easier to refer patients to whatever level of care they need."
ARIZONA PHYSICIAN: How have you adapted to increased demand for mental health care?
DR. ABDALLAH: We now have psy chiatrists board certified in general psychiatry, addiction, forensic, child, and psychosomatic, which is the interface between internal medicine and psychia try. We built the team and then hospitals asked us to run their facilities. Today, we manage care for two psychiatric hospitals, one of which is ChangePoint in Show Low. We also have the Guidance Center in Flagstaff. Telepsychiatry allows us to provide access to care in more rural areas of Arizona.
DR. ABDALLAH: We have an internal medicine physician who does physical exams and treats diabetes, high blood pressure, and so on. The psychiatric staff handles depression, schizophrenia, bipolar disorders, and substance abuse problems. We take care of all aspects of the patient, whether they're psychiatric, psychological, and physical. That is the current standard of care.
AP: Are you treating behavioral health concerns that have always been present or they're increasing in prevalence?
DR. ABDALLAH: It's always been there. COVID brought an increase in isolation and stress and people ask for more help, but the prevalence of depression hasn't changed.
What goals do you have for the expansion into Tempe?
AP: Are you partnering with primary care providers in Tempe?
DR. ABDALLAH: Yes, it's important not only for referrals but we want more integrated care. For example, I might have a patient with schizophrenia or bipolar disorder and some medications can increase triglycerides or cholesterol. I want to ensure someone can take care of the medical side. There are a lot of comorbidities, especially when someone has a severe mental illness.
DR. ABDALLAH: We're getting involved with the ASU general student population, athletes, and university employees.
AP: Do primary care offices contact you for integrated care?
n ARIZONA PHYSICIAN MAGAZINE28 FOUNDED IN 2017 10 PSYCHIATRISTS 7 NURSE PRACTITIONERS 4 PHYSICIAN ASSISTANTS 7 10THERAPISTSSUPPORTING STAFF 2 LOCATIONS Scottsdale and Tempe INSTITUTEANDMENTALSCOTTSDALEHEALTHWELLNESS By the Numbers IN DEPTHAP:
DR. ABDALLAH: Sometimes they have a patient in the office who needs to get admitted for inpatient psychiatric care. They call me. I call one of the hospitals I'm credentialed at and get the person admitted. Then, we create a follow-up that involves internal medicine, psychiatry, and therapy, so the patient will be taken care of and prevent readmis sion to the hospital. ■ Connect with Dr. Abdallah and his team online at smhwi.com or by calling 4 80 508- 0882 .
29ARIZONAPHYSICIAN.COM
LEGAL CORNER
Y
Getting Readyfor Depositions
ou have received a Subpoena, Notice of Deposition, or a letter requesting your deposition, now what? You should take immediate action upon receipt of either one of these things, as time is of the essence, especially if you received a document that has actually scheduled your deposition already as opposed to simply requesting it. Depending upon the circumstances in which your deposition is being sought you may wish to reach out to your malpractice insurance carrier to determine if you have coverage available for this type of scenario. Physicians often have a form of supplemental coverage as part of their malpractice insurance, which provides for appointment of an attorney to represent you at a deposition.
30 n ARIZONA PHYSICIAN MAGAZINE
There are numerous advantages to having an attorney, beyond the obvious one of just making sure that you are adequately prepared and protected. Appointment of counsel can make the inventible scheduling hassle that will ensue much easier as your attorney's office can take over coordinating calendars of the various involved parties. Additionally, once you have an attorney, they can review the letter/ notice/subpoena to determine if there is any legal basis to object and seek to preclude you from having to testify. Furthermore, your attorney would meet with you to prepare for your deposition and attend your deposition to further protect your rights and provide legal advice and counsel during the deposition.
Learn more about how physicians can be ready for depositions at arizonaphysician.com/getting-ready-depositions
A deposition is an exercise of patience and active listening. Whether with the assistance of counsel or on your own, it is wise to do some focused preparation for your deposition, which at a bare minimum should include reviewing your records. Remember that you are under oath and your primary obligation is to tell the truth. ■
By Mandi Karvis, Esq WickerPartnerSmith
"What should you do if you do not have coverage through insurance for an attorney?" You can do some things on your own to make sure that you are protected and prepared for your deposition. First and foremost, you will want to determine your role in the underlying case and why the parties are seeking to take your deposition. If you are not a party to any sort of lawsuit and are not offering expert testimony in the case, then are you likely involved as a treating provider to the plaintiff in the underlying action. In the event that the patient's name is not familiar to you, you will want to check your EHR to develop an understanding of when you saw the patient, what for, and for how long they were your patient. Once you know your role in the underlying care, you can better determine the scope of your anticipated testimony. As a treating physician, you are strictly considered a fact witness and cannot be expected to offer testimony beyond that role. As such, your questions should be limited to questions regarding the care and treat ment that you provided and the conclusions that you reached in your capacity as a treating provider. You are not required to and should not be asked hypothetical questions which call for expert testimony. The Arizona Court of Appeals has confirmed the scope of question ing of a treating physician.
If you are not going to be represented by counsel at the time of your deposition, you should keep a few basic tips in mind. Only answer the question that is asked of you, do not volunteer more information. Answers like "yes, no, I do not know, and I do not remember" are perfectly acceptable answers as long as they are truthful. Make sure you understand the question that is being asked. One trick to use is to repeat or paraphrase the question back to the attorney "What I think you are asking me is….".
PAYMENT,LOGISTICS-TIMING,LOCATION
BASIC TIPS AND TRICKS
BEING DEPOSED AS A TREATING PROVIDER
"How long can my deposition last?" If the underlying case is filed in State Court in Arizona, the presump tive limit for any deposition is four hours. If the case is filed in District Court, the presumptive limit is eight"Canhours.Iget paid for my time?" Unfortunately, the answer to that question is most often "no" as the Arizona Court of Appeals has also issued an opinion on that issue. As a professional courtesy, some attor neys will agree to pay you a reasonable hourly rate for your time, but they can also legally refuse to pay you per the Court of Appeals holding. "Can I make them come to my office?" You can request that the deposition be held at your office if you have adequate space to allow all the attendees to partici pate. They do not have to agree to conduct the deposition at your office and more often than not it will be held at an attorney's office or a court reporting office.
The good news is that most of the time, a deposition is an open book test, meaning you can refer to your notes. Many times, by the time your deposition is requested you do not have independent recollection of the patient and must rely solely on your records. If you do not remember anything about the patient beyond what is contained in your records, you can tell the attorney that you have to rely on your records aside from instances where you can testify as to what you did based upon your habit and cus tom because that is the way you always do things in your office. For example, you may not remember performing a physical examination of the patient at the time of the initial visit, but you know that you did based upon your habit and custom because you always perform a physical examination at the time of the initial visit.
31ARIZONAPHYSICIAN.COM
O'Hara McCoy & Ford, PA mkarvis@wickersmith.com
t used to be that patients and prospective patients sought healthcare services from doctors and hospitals located close to their homes. Indeed, physicians often referred patients to clinics, laboratories, and physical therapy based on the criterion that the offices were near their communities. Now, however, quality care is more important to patients than just the proximity to their homes. They search online not only for symptom and diagnosis articles but for information about doctors and hospitals to find the best option for them. They choose hospitals and physicians for what they offer rather than just location. Because of this, healthcare organizations need to be in such a position that consumers will find them on the platforms they choose to use by optimizing their digital channels to get found by patients at the time the patient is looking for healthcare services. Ways to Integrate Inbound Marketing into Your HealthcarePractice
I
To learn more about integrating inbound marketing to your practice, please visit arizonaphysician.com/inbound-marketing
HOW TO
4
33ARIZONAPHYSICIAN.COM
■
1. EVALUATE YOUR WEBSITE FOR EASE OF USE
By Elyse Flynn Meyer Owner & Founder Prism Global Marketing elyse.meyer@prismglobalmarketing.comSolutions
Ensure that healthcare provider information, credentials, locations, contact information, and downloadable forms are easily accessible to patients on your site. Patients, like all online users, want information quickly and easily. Gone are the days of waiting on hold and arriving 30 minutes early for an appointment. Your website must be the first access point for patients to get all necessary information before and after their appointment.
An inbound marketing plan may be the ticket to driving more patients to your digital channels and lowering patient-acquisition costs. Inbound marketing is a strategy to attract new patients through content marketing, search engine optimization, social media, and blogging while keeping your marketing budget on track. It has been proven that the ROI utilizing inbound marketing is more successful at a less expensive price because the created content helps answer the patient's questions when searching for those answers. In fact, inbound leads cost 61% less than outbound and traditional marketing leads. Every hospital and physician practice has a website. Many websites offer prospective patients information about the providers, their awards and accomplishments, and various other categories. The concept behind inbound marketing is to earn the patient's attention to your healthcare organization's digital channels by creating relevant content that is not considered advertising. These 4 simple tips can help integrate inbound into your healthcare practice's marketing strategy:
Have you ever searched for a symptom online?
Yes, we are all guilty of it. As a specialty or general practice, you have critical knowledge to share with patients. While we don't want everyone making their own diagnosis at home, writing blog articles and other content such as checklists and guides will help to educate patients before their appointment with you. You should capture this traffic and encourage an appointment as a next step to help avoid patients making their own diagnoses at home.
2. TURN DISEASE INFORMATION INTO BLOGS
More than 40% of consumers say that information found via social media affects the way they deal with their health. Help your patients get better informa tion on their health through your social channels by providing tips to stay healthy and promoting your latest blog articles and practice updates. Social media also allows you to promote new awards, credentials, new providers at your practice, and more.
Too often, patients feel they can't connect with their doctor's offices unless it's via voicemail or coming in for an appointment. While we know you can't communicate with your patients via personal email due to HIPAA regulation, healthcare practices can consider a monthly newsletter with healthcare tips, updates from your office, and ways to connect with your practice outside of the standard annual checkup. It will keep your practice top of mind and give your patients another way to feel engaged. These four inbound marketing strategies will help build patient loyalty when it comes to choosing a hospital or healthcare practice in the future. Patients will not only return for services but will pass on their pleasant experiences to their friends, neighbors, and family. Consider hiring a marketing firm with experience helping healthcare clients like medical practices. They can help to integrate inbound marketing into your practice. The right experts can assist your team to increase patient inquiries and improve communication with existing patients through website optimization, social media, email, and more.
4. MAXIMIZE EMAIL MARKETING EFFORTS
3. UTILIZE SOCIAL MEDIA
A: We initiated with primary care, but we thought to achieve optimal results, integrating psychiatry was the needed piece to the puzzle. Our collab orative care model is not only cost effective but improves outcomes as most of our aging popula tion suffer from at least one chronic condition.
Q: Which mental health disorders or conditions do you treat most often?
Q: Do you have physicians or practitioners providing the behavioral health care?
A: We primarily treat anxiety and depressive disorders most often. We helped many COVID-19 patients with such disorders with great success. Our providers have excellent experience in treating the spectrum of psychiatric disorders including psychosis, bipolar, anxiety, and depression.
Q: Telehealth usage is rising. Do patients prefer telehealth or in person for behavioral health checkups? Why?
Q: Why do you believe treatment must encompass the mind and body?
PHYSICIAN SPOTLIGHT
A: We start with a comprehensive assessment that includes a mental health screening. Thus, we ensure we are not missing any mental health disorders that can go untreated for some time. A proper referral and treatment plan will take place based on patient's disease process.
Q: Does your team treat both primary care and behavioral health at the same time or do you typically see patients for one or the other and then approach patients about the missing component?
A: Though many patients come into our office for a face-to-face appointment, tele visits are growing fast. The pandemic has accelerated the shift towards remote visits. As many patients are either juggling a busy schedule, have a disability, live far or lack transportation, telepsychiatry became a great option to facilitate care especially during the pandemic. We learned quickly that it is as effective, time efficient and promotes adherence to therapy. We also offer psychotherapy remotely. We learned that patient retention has increased with our telehealth programs. ■
34 n ARIZONA PHYSICIAN MAGAZINE
MOHAMMAD MUNZER NASSER, MD
Mohammad Munzer Nasser, MD, Internal Medicine and Primary Care physician at Leading MDs
A: We currently have doctoral and masters level nurse practitioners providing behavioral health services. We also have a growing psychotherapy program overseen by a PsyD-level licensed professional counselor.
Internal Medicine and Primary Care physician Leading mnasser@leadingmds.comMDs
Q: Did Leading MDs launch by combining behavioral health with primary care or did you add behavioral health later in response to requests from patients?
A: Behavioral health and mental are usually used interchangeably but are quite different. Behavioral health is a broader term describing our daily cogni tive habits that impact our physical well-being. Great behavior health activities can help achieve a supreme mental equilibrium such as exercising and consum ing a healthy diet. Mental health is how we convey our feelings and emotional wellbeing. It determines how we handle stressful situations, relationships and make healthy choices. Common mental illnesses are depression and anxiety. Now we can observe how the body and the mind are connected and treating both may be central to our patients' overall health.
"The most complicated matters are handled with ease and their strong commitment to communication keeps me informed. I appreciate and depend on the partnership with MICA for our medical professional liability protection."
Kyle Matthews, CEO, Phoenix Heart, Member Practice Since 2006 You'll think of MICA as an extension of your practice
Arizona Physician Magazine 326 E Coronado Rd, Suite 101 Phoenix, AZ 85004 (602) information@arizonaphysician.com417-2303 To learn more about MICA or to request a quote, call 800-681-1840 or info.mica-insurance.com/arizona.visit