The Smuttynose Island Murders Gambling for Good Rock Climbing Adventure 548 Doctors in 64 specialties Adrian Thomas, M.D., James Noble, M.D. and Meghna Misra, M.D., M.S., F.A.C.S. → Marshall Hudson Takes a Swing at Blacksmithing Manchester: Chicken Tender Capital of the World Subscriber Bonus Content: 603 Diversity Magazine (See page 32)
Top doctors and a local health plan: A great combination for New Hampshire. Harvard Pilgrim's robust coverage includes access to high quality doctors and specialists throughout the Granite State. Combined with unparalleled customer service and flexible programs, members can experience superior health care – right in their own neighborhood.
Learn more at HarvardPilgrim.org
"All the doctors I have seen in my network have been excellent. I appreciate Harvard Pilgrim very much."
–Harvard Pilgrim member
Form No: NH_828637522_0122
Harvard Pilgrim Health Care includes Harvard Pilgrim Health Care, Harvard Pilgrim Health Care of New England, and HPHC Insurance Company.
W MADEEY WITH REAL BREWED EAL WED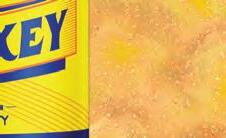 K BRE TE

NHMAGAZINE.COM
Vice President/Publisher Ernesto Burden (603) 624-1442 x5117 ernestob@yankeepub.com
Editor Rick Broussard (603) 624-1442 x5119 editor@nhmagazie.com
Managing Editor Emily Heidt (603) 624-1442 x5115 eheidt@nhmagazine.com
Managing Editor, Custom Publications Robert Cook (603) 624-1442 x5128 robertc@yankeepub.com
Assistant Editor Caleb Jagoda (603) 624-1442 x5010 cjagoda@nhmagazine.com
Art Director John R. Goodwin (603) 624-1442 x5131 johng@yankeepub.com
Creative Services Director Jodie Hall (603) 624-1442 x5122 jodieh@yankeepub.com
Senior Graphic Designer Nancy Tichanuk (603) 624-1442 x5126 nancyt@yankeepub.com
Senior Graphic Production Artist Nicole Huot (603) 624-1442 x5116 nicoleh@yankeepub.com
Advertising & Events Sales Director Jenna Pelech (603) 624-1442 x5154 jennap@yankeepub.com
Sales Executives Josh Auger (603) 624-1442 x5144 jauger@nhmagazine.com
Jessica Schooley (603) 624-1442 x5143 jessicas@yankeepub.com
Operations Manager Ren Chase (603) 624-1442 x5114 renc@yankeepub.com
Sales & Events Coordinator Paul Milone (603) 624-1442 x5121 paulm@yankeepub.com
Business & Sales Coordinator Paula Veale (603) 624-1442 x5110 paulav@yankeepub.com
Digital Operations Morgen Connor (603) 624-1442 x5149 and Marketing Manager morgenc@yankeepub.com
Contributing Photographer Kendal J. Bush kendal@kendaljbush.com
Billing Specialist/IT Coordinator Gail Bleakley (603) 563-8111 x113 gailb@yankeepub.com
Staff Accountant Nancy Pfuntner (603) 563-8111 x138 nancyp@yankeepub.com
VP/Consumer Marketing Brook Holmberg brookh@yankeepub.com
VP/Retail Sales Sherin Pierce sherinp@yankeepub.com
NEW HAMPSHIRE GROU P
An Employee-Owned Company
250 Commercial Street, Suite 4014 Manchester, NH 03101 (603) 624-1442, fax (603) 624-1310
E-mail: editor@nhmagazine.com
Advertising: sales@nhmagazine.com
Subscription information: Subscribe online at: nhmagazine.com or email customerservice@nhmagazine.com
To order by phone call: (877) 494-2036 © 2023 Yankee Publishing, Inc. New Hampshire Magazine® is published by Yankee Publishing, Inc., 250 Commercial Street, Suite 4014, Manchester, NH 03101, (603) 624-1442. All rights reserved. Reproduction in whole or in part without the written permission of the publisher is prohibited. The publisher assumes no responsibility for any mistakes in advertisements or editorial. Statements/ opinions expressed herein do not necessarily reflect or represent those of this publication or its officers. While every effort has been made to ensure the accuracy of the information contained in this publication, Yankee Publishing, Inc.: New Hampshire Magazine disclaims all responsibility for omissions and errors. New Hampshire Magazine is published monthly, with the exception of February and April. USPS permit number 022-604. Periodical postage paid at Manchester 031039651. Postmaster send address changes to: New Hampshire Magazine, P.O. Box 37900, Boone, IA 50037-0900
PRINTED IN NEW HAMPSHIRE
6 New Hampshire Magazine | March / April 2023
NH's FAVORITE CLOTHING DESTINATION Events · Career Resort · Casual OVER 100 DESIGNERS FEATURING: Clara Sunwoo Johnny Was Habitat NYDJ Kozan Citron Free People UNO de 50 GONDWANA & DIVINE CLOTHING CO. 13 N. Main Street, Concord, NH • Open 7 Days 603-228-1101 • Shop at GondwanaClothing.com
603 Navigator
14 Gambling for Good
The real winners at the Granite State's licensed casinos are New Hampshire charities. By Lynne Snierson
18 Book Review
Outer Space: 100 Poems
By Rick Broussard
20 Our Town
A visit to historic Freedom
By Barbara Radcliffe Rogers
603 Informer
24 Manchester Is the Chicken Tender Capital of the World Wicked Joyful's Nick Lavallee guides New Hampshire Magazine through a five-stop chicken tender crawl of the Queen City.
By Caleb Jagoda
30 Blips
"Surviving" Sun and Snow
By Casey McDermott
32 Politics
Granite State Guns
By James Pindell
Illustration by Peter Noonan
34 What Do You Know?
Striking Iron
By Marshall Hudson
603 Living
80 Handmade Home Décor
Adorn your living space with handwrought pieces from Granite State artisans.
By Caleb Jagoda
88 Calendar Winter events
Edited by Caleb Jagoda
92 Health Fitness over Fifty
By Krysten Godfrey Maddocks
94 Seniority Green Burials
By Lynne Snierson
96 Ayuh
Three-Hundred-Some-Odd Years and Countin'
By Rebecca Rule
Illustration by Brad Fitzpatrick
Volume 37, Number 2
ISSN 1532-0219
nhmagazine.com | March / April 2023 7 Contents
2023 First Things 8 Editor's Note 10 Contributors Page 12 Feedback Features 36 Transcript Meet Jonee Earthquake, punk rocker and aspiring pirate. By David Mendelsohn 38 The Existential Moment A rock climbing adventure with friends through the White Mountains. By Jay Atkinson Photography by Joe Klementovich 46 Moonlight Murders on Smuttynose Island What really happened on the Isles of Shoals 150 years ago? By J. Dennis Robinson 54 2023 Top Doctors The results of the annual Castle Connolly Top Doctors poll are in. See who made the list. IMAGES BY: JOE KLEMENTOVICH / DAVID MENDELSOHN / CADE VELLEMAN / P.T. SULLIVAN / J. DENNIS ROBINSON / PETER NOONAN
March/April
ON THE COVER:
more about
and see the full list of winners on
38 SPECIAL ADVERTISING SECTION 85 Ask the Experts 36 24 14 46 32 jSubscriber Bonus Content: 603 Diversity Magazine (See page 32)
Adrian Thomas, James Noble and Meghna Misra were each selected as one of this year's Top Doctors. Read
them
page 54. Cover photo by Kendal J. Bush, composited by John R. Goodwin.