2023 MYOPIA POLO MAGAZINE since 1888 / myopiapolo.org
e North Shore's Premier Real Estate Agency
Marblehead Price Upon Request
"SEAGUARD" - Majestic home has panoramic ocean views from Manchester Harbor to Boston Islands. 5-bedroom updated custom home on 1.85 acres has 185 feet of private beach. Gardens, pool, deck
Kevin Hannaway & Gretchen Berg
Hamilton $3,985,000
Savin Hill - 15 acres of rolling lawns and direct trail access for equestrians are idyllic backdrops to 6-plus bedroom English country manor house (in-law suite, too), barn and 3-car garage.
Gretchen Berg
Boxford $2,445,000
Colonial c. 1740 set on 4.5 acres with many upgrades and a 3,000 sq. ft. addition. Includes 7 beds, 5 full baths, 35' kitchen with Wolf/ Subzero appliances, Gunite pool, carriage house and barn.
Gretchen Berg
Beverly $1,980,000
Roseledge – Gracious stately home in Beverly Farms set in an acre of gardens is an oasis withseasonal ocean views. Near the beach, town andtrain and filled with incredible charm.
Hackett & Glessner
Boxford $1,400,000
Contemporary 3-bedroom Colonial on cul-desac with newly remodeled kitchen has seasonal water views of Four Mile Pond and 2-story, 1-bedroom, 2.5-bath in-law. Wraparound deck, in-ground pool.
Norman Banville
Beverly $3,345,000
Sweeping ocean views from Lynch Park to Bakers Island to Marblehead and Salem. Iconic 5-bedroom Colonial Revival has 2 decks, huge seaside patio, 1910 details, updated kitchen. 2-car garage.
Gretchen Berg
Beverly $1,175,000
Classic Colonial home in the heart of Beverly Farms near downtown and West Beach with 4 bedrooms, 2.5 baths, in-ground gunite heated pool, private yard and new solar panels and mini-split AC.
Kate Richard
Beverly $1,750,000
Wonderful 1880's Colonial home in Prides Crossing with high ceilings, spacious rooms with lots of light, wood flooring and expansive yard. Complete with many improvements.
Emily McPherson
Beverly $1,350,000
Close to West Beach, this stunning carriage house with 4 bedrooms, gourmet eat-in kitchen and fireplaced living room is move-in ready! Complete with 2-car garage and close to the Village.
Crowell & Frost Realty Group
SOLD SOLD PENDING PENDING Prides Crossing 978.922.2700 • Marblehead 781.631.9800 • Ipswich 978.356.3444 Manchester-by-the-Sea 978.526.8555 • Gloucester 978.282.1315 • Beverly 978.922.3683 J Barrett & Company, LLC supports the principles of both the Fair Housing and the Equal Opportunity Acts. www.jbarrettrealty.com
FEATURES
38 / WOMEN POLO PLAYERS
Coming into their own at Myopia Polo.
by Brion O'Connor
44 / PITCH PERFECT
The legendary fields of Myopia Polo pay homage to the game.
by Brion O'Connor
54 / TOURNAMENT SPOTLIGHT
A roundup of the exciting 2022 season.
by Brion O'Connor
CONTENTS 2023 myopia polo magazine 3 / CAPTAIN'S LETTER 20 / THE RULES 63 / REMEMBRANCES 2023 myopia polo 1 AGENDA 5 / 2023 SCHEDULE 6 / THE PLAYERS A rundown of the Myopia Polo players. Plus Polo 101. 22 / YOUTH POLO Myopia's youth at NYTS National Championships 26 / EQUINE CARE Adam Snow's new book "Winning with Horses" STYLE 28 / FASHION The right accessories make for a perfect Sunday afternoon look. 30 / INSTAGRAM Hashtag it: #myopiapolo 31 / SCENE Save the date for the 2023 Myopia Polo Ball. HISTORY 32 / THE HUNT The traditions and history of Myopia Hunt. 34 / TROPHY SPOTLIGHT A glimpse at the prestigious Forbes Cup trophy. 35 / U.S. POLO ASSOCIATION The history of the United States Polo Association.
ON THE COVER: Grace Grotnick playing for Husaria during the 2022 Chairman's Cup 8-12 goal match. Photograph by Jacqueline Miller 38 22 44 54
residential commercial interior design
Megan Booth Architectural
Photo
CAPTAIN'S LETTER
Dear Myopia Polo Members, Patrons and Guests: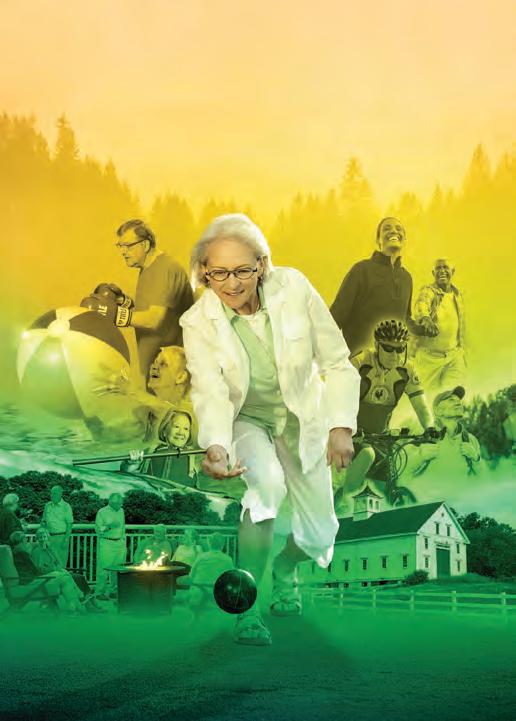 Welcome to Myopia Polo, and thank you for joining us at Myopia where polo has been played on historic Gibney Field since 1887. I want to thank the spectators and patrons who choose to spend their summer Sunday afternoons at a polo match at Myopia. Whether at a tailgate spot or at the Pavilion, your enthusiasm and support are greatly appreciated and help sustain polo.
Also, thanks to our tremendous staff, led by polo manager Erica Kratz, our coaching league manager Estani Puch and the Myopia grounds crew led by Jonathan Wilbur. Special thanks to Terri Campbell, Cathy Taylor, Denny Ryus, Marlene Pippin, Jackie Miller and Patricia Johnstone for a great job on handling corporate sponsors, the gate, our website, photographs and announcing the games. Finally, thanks to all the family members who support the players and especially my wife, Tracy, who hosts the Myopia Polo Ball and, as the polo captain's wife, puts up with a heck of a lot.
This year's magazine focuses on the women players at Myopia and the incredible polo facilities at the club. Both locally and nationally, women are the fastest-growing demographic in the sport. Many female players at Myopia are lifelong riders, come from other equestrian disciplines and have tremendous horsemanship skills greatly benefiting them in polo. This season, please come out and support the inaugural Myopia Women's Challenge Tournament on Sept. 22 to Sept. 24. The other feature, Myopia's five polo fields and arena, are famous for their history and beauty. I am happy to announce the completion of the Myopia Schooling Trust Polo Field rebuilding project, to be named after the former captain of polo, Neil R. Ayer.
Please join us every Sunday at 3 p.m. from May 28 to October 3 for an enjoyable afternoon of polo. For more information on our tournament schedule, polo lessons and membership, please visit our website, myopiapolo.org, call 978-468-POLO or follow us on Facebook and Twitter.
Best Regards,
Dave Strouss, captain/myopia polo
At Edgewood, you'll find freedom to live the active life you love. Immerse yourself in natural beauty on our picturesque campus. Enjoy abundant opportunities for outdoor recreation and a wide array of amenities. And discover the peace of mind only LifeCare offers. It's the only move you'll need to make. Learn why Edgewood is the natural choice for the life you want now and security for the future. Call 978-725-3300 or visit EdgewoodRC.com today!
WeCover
2023 MYOPIA POLO MAGAZINE
MANAGING EDITOR
Robert Cook
CONTRIBUTING WRITER
Brion O'Connor
CONTRIBUTING PHOTOGRAPHER
Jacqueline Miller
CREATIVE SERVICES DIRECTOR
Jodie Hall
SENIOR PRODUCTION ARTIST
Nicole Huot
MYOPIA POLO COMMITTEE
David Strouss, Captain of Polo, USPA Delegate & Tournament Committee Representative
Erica Kratz, Polo Manager
Stephen L. Willett, Treasurer
Peter Poor, Official Announcer & Tournament Committee Representative
Terri Campbell, Polo Committee & Equine Welfare Committee
Kurt Miller, Polo Committee Member
Jacek Grotnick, Polo Committee Member
Lyle Graham, Polo Committee Member
Tracy Strouss, Polo Committee Member (Chair, Polo Ball)
Michael D. Ryus, Marketing and Design Director
WEBSITE myopiapolo.org
FACEBOOK & TWITTER
Myopia Polo
VICE PRESIDENT/PUBLISHER
Ernesto Burden
ADVERTISING SALES MANAGER
Jessica Schooley
603-345-2752, jessicas@yankeepub.com
PROOFREADER
Amanda Andrews
SUBSCRIPTIONS
For additional copies or subscription customer service, email renc@yankeepub.com
PUBLISHED BY Yankee Custom Publishing
A Division of Yankee Publishing-NH Group, Manchester, NH 250 Commercial Street, Manchester, NH 03101 603-624-1442, yankeecustommarketing.com
1-866-403-3811 wecoverequine.com
for the premium solution.
ARENAS
FOR
IN BRIGHT, NATURAL LIGHT YEAR-ROUND
designs and builds dream riding arenas using heavy-duty steel framing. Tailored to fit beautifully on your property, you will be glad you went
RIDING
DESIGNED
YOU RIDE
POLO magazine is published for Myopia Polo by Yankee Publishing, Inc. Every effort has been made to ensure the accuracy of the information contained in the magazine; Yankee Publishing is not responsible for errors or omissions. © Copyright 2023, Yankee Publishing, Inc. All rights reserved. Reproduction in whole or in part without written permission of Yankee Publishing, Inc.s is prohibited. NEW HAMPSHIRE GROUP 100% Employee-Owned
Welcome to the 2023 Myopia Polo Season
Match time is 3 p.m. Gates open at 1:30 p.m.
SCHEDULE SUBJECT TO CHANGE
MAY 28
Opening Day – Hamilton-Wenham Cup
JUNE 4 Joseph Poor & Stan Bradford Cup
JUNE 11 Neil Ayer Cup
JUNE 18 C.G. Rice Cup
JUNE 23–25 Agassiz Club Cup 0-2 Goal
JUNE 27–
JULY 30 Tuckerman Cup 0-4 Goal
JULY 2 USPA Harrison Cup 4-8 Goal
TournamentSeasonOpener
TailgatingContest
JULY 9 USPA Harrison Cup 4-8 Goal Finals
JULY 16 USPA National Chairman's Cup 8-12 Goal (Donald V. Little Cup)
JULY 23 USPA National Chairman's Cup Finals
JULY 28–29 USPA NYTS 4-Goal
JULY 30 Myopia vs. Boston Polo 4 Goal Champions
AUG. 1–12 USPA Crossman Cup 0-4 Goal
AUG. 6 USPA W. Cameron Forbes Cup 6 Goal
AUG. 13 USPA W. Cameron Forbes Cup Finals
AUG. 20 USPA Governor's Cup 6 Goal
AUG. 27 USPA Governor's Cup Finals
EndoftheTournamentSeason
TailgatingContest
SEPT. 3 Rodney O'Connor Divot Cup
SEPT. 10 Cohiba Cup

SEPT. 17 Harvard Invitational Cup –Engel & Völkers By the Sea Cup
SEPT. 22–24 Women's Challenge
OCT. 1 Captain's Cup
TailgatingContest
OCT. 8 Last Chukker Cup
photograph by jacqueline miller
AGENDA the players
Polo 101
GLOSSARY, POSITIONS, "WHAT TO WATCH FOR" AND
A FEW OTHER BASICS.
GLOSSARY
APPROACH SHOT: A long shot taken to get the ball close to the opponent's goal.
BACK SHOT: When a player hits the ball backwards, can be played on both the nearside and the offside.
BOARDS: Wooden barriers placed alongside a polo field to keep the ball in the playing area.
BUMP (A.K.A. RIDE OFF): When two riders come into contact with each other with the objective of knocking or pushing the other rider off the line of the ball, so they are unable to hit it.
CENTER LINE: Middle of field where the ball is thrown in after each goal.
CROSSING: When one rider cuts across another player's right-of-way.
DAVID STROUSS
CAPTAIN Dave has played polo most of his life and has been a member of Myopia Polo for the past 27 years. He is now captain of Myopia Polo and serves as the Club's delegate to the United States Polo Association. He is the sponsor of the Del Rancho Polo team, which has successfully com peted in tournament play at Myopia, including winning the 2020 national Chairman's Cup with co-sponsor Black Oak. Dave lives on his farm in Ipswich with his wife, Tracy, and is a partner at a law firm in Boston. RATED A
ERICA L. AMES
Erica got into polo back in 2013, after spending many years as a hunter jumper and in crosscountry. She quickly fell in love with the sport, and in 2019, started competing along the East Coast in many well-known women's tournaments. While Myopia is her home club, Erica also spends time playing and training in Aiken, SC.
OPEN: RATED B. WOMEN'S: RATED A.
STEPHEN BURR
Introduced to polo eight summers ago, Stephen, 22, fell in love with the sport. A longtime soccer player who captained a Division One collegiate team, he was taken with how similar polo and soccer can be — minus the horse. He currently attends Northeastern University.
AMELIA CAFLISCH
Amelia started playing polo in January 2020 after driving by a polo club and went in for a look. She started lessons that same week and has been playing regularly since. Her family is from Argentina, so the pull towards polo has always been in her blood. She currently lives in Chestnut Hill with her son, Arthur, and two dogs, and is the owner of a buckskin pony named Bartolo.
TERRI CAMPBELL
Terri is a regular at Myopia after playing in Newport for 10 years. The sponsor of the Folly Fields Polo Team, she has played in tournaments in Chile, Ireland and South Africa, and competes in Florida in the winter. When she's not with the ponies, she is an investment manager in Boston. -1 GOAL
ANNIE COLLOREDOMANSFELD
Annie is a graduate of the Groton School where she was a varsity cross-country runner and rower. She is an accomplished young rider and has competed in three phase events in Massachusetts and Vermont. The past few summers she has been playing with her family, and has joined the junior program at Myopia. B RATED
FRANZ COLLOREDOMANSFELD
Franz grew up riding and hunting with Myopia. He has won the Myopia Hunter Trials numerous times. Over the past decade, he has enjoyed playing polo with his children. He is the sponsor of the Black Oak Polo team. Franz runs an international real estate investment firm based in Boston. A RATED
JOHANN COLLOREDOMANSFELD
Johann is a graduate of Harvard University, where he was captain of the Harvard Polo Team. Over the past five years, Johann has played in tournaments in China, Italy and France. In 2013, he was selected for the U19 National Championship Tournament Team for the Northeast. Johann plays for the Black Oak and Myopia Teams. 1 GOAL
SEPPI COLLOREDOMANSFELD
Seppi grew up riding and playing polo with Myopia. Seppi is a former three-year captain of the men's Yale Polo Team. He has played in tournaments throughout the Northeast and in England on historic Guards Field at Windsor. Seppi was also a rower and a member of the Yale Lightweight Crew Team. Seppi now lives in New York City and works in the real estate development business. 1 GOAL
CUT SHOT: When a player makes a stroke that is at an angle to the direction in which they're riding.
DIVOT STOMP: A halftime tradition in which spectators enter the field to replace divots made by the horses back into the ground.
DRIVE: A player hitting the ball either forward or backward along the same parallel line the horse is taking.
FOREHAND: When a player hits the ball forward, can be played on both the nearside and the offside.
FREE HIT: For certain rule violations, a player will be allowed a free and uncontested hit at the ball.
GOAL: When the ball crosses between the two goal posts, resulting in a score.
HOOK: A defensive tactic used when a player makes contact with an offensive player's mallet before it hits the ball.
KNOCK IN (A.K.A. HIT IN): When the offensive team hits the ball over the back line wide of goal. The defending team then plays the ball from the point at which it went over the back line.
LINE OF THE BALL: The path along which the ball travels after a hit. This line extends beyond the ball as well.
LINE JUDGE: Assists the umpires by signaling whether the ball went between or outside the goal posts.
NECK SHOT/TAIL SHOT: The former is played under the horse's neck. The latter, beneath and behind the tail.
OFFSIDE/NEARSIDE: When seated on a horse, the offside refers to the player's right side, and the nearside refers to their left side.
TACK TIME: Stop in play, called by the umpire, if a player's tack is broken.
TAILGATING: One of the most celebrated polo pastimes, complete with picnic
6 myopia polo 2023
TERRI CAMPBELL
AMELIA CAFLISCH
DAVE STROUSS ERICA L. AMES
STEPHEN BURR
»
JOHANN COLLOREDOMANSFELD
ANNIE COLLOREDOMANSFELD
FRANZ COLLOREDOMANSFELD
800-999-4994 www.crown-point.com Available direct, nationwide Handcrafted in New Hampshire Work with one of our in-house design professionals Custom cabinetry for every room in your home •
AGENDA
tables and baskets, gourmet snacks and plenty of beverages.
THROW-IN: When an umpire bowls the ball between teams to start play.
POSITIONS
A polo match pits two teams of four against each other. The players on each team are numbered one through four, with each number representing a general role as follows:
1. GOAL SCORER. This player pushes forward aggressively and seeks openings into which teammates can hit. This player also marks the opposing team's No. 4, or Back.
2. ENERGIZER. The energizer is always involved in play while quarterbacking the offense and neutralizing the opponent's top player.
3. FIELD CAPTAIN. The field captain typically is the best player on the team and directs the flow of the game.
SIMON COLLOREDOMANSFELD
Simon is a graduate of the University of Virginia where he played on the polo team in one of the country's top-rated college programs. In 2013, Simon was selected for the U19 National Tournament Team for the Northeast. A naturally talented horseman, Simon is a graduate of the junior polo program at Myopia and plays for Black Oak and Myopia. 1 GOAL
BENJI E. DANIELS
A summer resident of Ipswich, Benji played youth polo in Wellington on the Pony Express Polo team under the watchful eye of Tomas Goti and Julian deLusaretta, who taught him well. Benji is calm, cool and collected on the field, where he has continuously improved his ability to take the man and hit a solid backhander. His ball control and smooth swing seem to improve with each tournament he plays. 1.5 GOALS
JUSTIN E. DANIELS
A summer resident of Ipswich, Justin has been playing polo for more than 12 years, and is an excellent rider with a hard-hitting sense of urgency on the field. Justin was selected to play on the first-ever USPA National Youth Tournament for the winning Florida team in 2013. 2 GOALS
LANDEN E. DANIELS
Landen is the youngest of six polo-playing brothers. He has made quite a name for himself among the polo community in Wellington, Fla. An accomplished soccer player, Landen plays travel soccer when he is not on a horse. Playing polo for 10 years (two years without a mallet), Landen has developed a keen understanding of where to be on the polo field — both defending as well as making key offensive plays. Landen's potential as a polo player is demonstrated every time he plays competitively in kids' polo or in 6-goal competition matched against an opposing young player.
A RATED
ARIANDNE "ARI" DOGANI
Ari started with I/I Arena Polo in 2016, qualifying for Nationals twice and earned the 2020 USPA National Sportsmanship Award. The speed of outdoor fields won her over, and she now plays yearround with her team, AVID Polo, in up to 12-goal tournaments. Ari is currently a Dana Hall rising senior heading to college this fall. Besides polo, Ari loves showjumping, barn culture, animals and people. In her downtime, she plays piano and violin. Her outdoor handicap is 0.
ALBERT ELLIS
An experienced horseman, Albert grew up hunting and three-dayevent riding at Myopia before becoming a polo player. Albert served as polo captain from 2007-2011 and has been a longtime fixture on the Myopia fields. He lives in Gloucester with his wife, Anne-Seymour, and their three daughters, Isabella, Caroline and Jane. 1 GOAL
WHITNEY ELLIS
Whitney will be returning to the fields of Myopia this summer. He has come back to his roots here on the North Shore after stints in Ireland, getting his master's degree in English, and in New York, pursuing journalistic and literary endeavors.
2 GOALS
SCOTT FABYAN
Scott is an avid outdoorsman, skier and licensed captain with the U.S. Coast Guard. He is in his fifth season of polo, playing in both the Winter Arena and Myopia Coaching Leagues. He owns Kinsman Farm in Ipswich, and is a portfolio manager in Boston.
JONATHAN GRAHAM
Having started polo in Myopia's junior program, Jon has played on his father Lyle's Winter Creek team, captained the Colorado
4. DEFENDER. The defender plays at the back of the game to prevent the other team from scoring.
Handicap descriptions. Every player on the field carries a handicap from -2 to 10 goals, based on their skill level and horsemanship, as determined by a national handicap committee. A handicap of 10 represents the highest ranking in the game.
WHAT TO WATCH FOR
OBJECT OF THE GAME. The objective of the game is simple: Score as many goals as possible and win by outscoring the opposing team.
PLAYING THE GAME. Because polo involves horses that weigh thousands of pounds, all moving at high speeds toward the same ball, "right-of-way" is the most important concept in the game, and is designed to keep both horse and rider safe.
RIGHT-OF-WAY AND RIDING OFF. The rider who is following the ball on its exact line, or who has the least angle to reach the ball and is taking it on the offside without committing a foul, has the right-of-way. A rider can be ridden off the ball. Riding off is also allowed, even if the other player is not playing the ball. But riding off is not allowed if the rider comes in to the other rider at a dangerous angle. When one rider rides off another, they're not allowed to hit, strike or push off with the hand, forearm, elbow or head, but they are allowed to push off with the upper arm. A rider isn't allowed to grab another player, their equipment or their horse. A rider is not allowed to weave back and forth in front of another rider, thus »
8 myopia polo 2023
the players
SIMON COLLOREDOMANSFELD
ARIADNE DOGANI
Polo 101, cont.
JUSTIN E. DANIELS SEPPI COLLOREDOMANSFELD
JONATHAN GRAHAM
SCOTT FABYAN ALBERT ELLIS
WHITNEY ELLIS
Everything you expect and so much more. sinkandspout.com 15 inspiring showrooms in New England. With thousands of products from Kohler, House of Rohl, BainUltra and many other world-class brands, our showroom associates will help you find the perfect selections for your home. Coming to Portsmouth Summer 2023
AGENDA the players
Polo 101, cont.
forcing the other rider to change the speed at which they're riding.
CROSSING. A foul will be called if a rider crosses another rider in the right-ofway, if they come close enough to be dangerous, or causes a rider and horse to slow up. A rider in possession of the ball can't be crossed.
HOOKING STICKS. A rider is allowed to hook another rider's stick, as long as they and the ball are on the same side of the opponent's horse and the rider is about to hit the ball. A rider is allowed to hook another rider's stick if they are directly behind an opponent, but the stick must be below the level of the opposing rider's shoulder.
STICK MISUSE. A rider may not reach across or under an opposing rider's horse to hit. A player is not allowed to use a stick in an unsafe way, or in a way that obstructs or hinders another rider or horse. A rider is not allowed to hit the legs of an opposing player's horse.
State University team, and played professionally in Aspen and on the East Coast. One of the biggest hitters at Myopia, Jon is always a threat to score from the middle of the game. 2 GOALS
LYLE GRAHAM
A former Myopia Captain, Lyle has been an active player for the last 38 years (30 seasons at Myopia) on the family's Winter Creek team and played competitively at a five-goal USPA handicap. Taking a sabbatical from horses and polo, Lyle focuses on family activities, farm projects, boating and motorcycling. He lives in Rowley with his wife, Donna, and sons, Jon and Ian.
JAMES GRAYKEN
James has been playing polo for just over seven years. He started his polo career at a club just outside London. He now is an active participant of Myopia Polo, playing in the junior program and with the Stage Hill/Myopia Interscholastic Polo Team. James is a competitive player who is eager to learn, and plans to play polo through college and for the rest of his life.
WILLIAM GRAYKEN
William's polo career began seven years ago. He is the youngest player on the Stage Hill/Myopia Interscholastic Polo Team. Prior
to polo, he had been riding for almost three years. His family often went to see polo, and as he watched, he fell in love with the game. He and his brother James were offered the opportunity to ride a polo pony and discovered how different they were from the horses they were used to riding. Since then, he and his brother have taken regular polo lessons in addition to horse-riding lessons.
THOMAS GRIESER
A junior member of Myopia Polo Club, Thomas plays in the Myopia Coaching League and for Crimson Polo when based at home in Newton, Mass. Thomas is a boarding student at Eton College in the U.K., where he competes for Eton Polo during the academic year.
AUGUSTUS "AUGIE" GROTNIK
Augie started playing polo at the end of 2017, and has four seasons under his belt with the Stage Hill and Myopia Interscholastic Polo Team. He has played polo on grass and in the arena in Arizona, Florida and New England. Augie attends Ipswich High School and enjoys skiing and soccer. B (OUT) / B (ARENA)
GRACE ELLEN GROTNIK
Grace is one of Myopia's junior players. She started playing polo at
10 years old and entered her first tournament at 13. She has played polo on grass, in the arena and on snow. Grace was presented the Dr. Billy Linfoot Award and named the Most-Improved Club Player at Myopia in 2016. She plays on the Myopia Interscholastic Varsity Team and was awarded the Sportsmanship Award in 2017 and All Star in 2018 at the USPA Preliminary Regionals and at the BTC NYTS in Arizona. She has won several medium goal women's tournaments including the 14-Goal Women's NE Arena Challenge, the 10-Goal Meadowbrook Women's Cup and the 2017 Polish Women's Open. Grace attends Southern Methodist University and enjoys skiing, soccer and tennis. B (OUT) / A (ARENA, WOMEN'S) / A (OUT) / +2 (ARENA)
ROBERT GUTTMAN
Bob Guttman, at age 71, began playing at Myopia at the end of the 2022 season. He has played and coached as a riding instructor at Stage Hill Polo for about 40 years. He is known locally in Gloucester as a harbor swimmer and to a smaller group there as a writer experimenting on themes of courage that we all implicitly inherit from those who have come before, including our relationship with horses.
BALL OUT OF PLAY. A ball is out of play when it is hit over the boards or sidelines, or is hit over the back line by the opposing team.
STOPPAGE OF PLAY. An umpire will stop play if a rider is hurt or a horse is injured; a rider loses their helmet, provided that no team will gain from a stoppage of play; or a horse's equipment becomes damaged, presenting potential danger to other horses or riders. Play is not stopped if a rider falls off their horse and is uninjured.
FOULS AND PENALTIES. Umpires decide the severity of fouls and which penalties are appropriate. One particular foul does not have a specific penalty associated with it. Below are penalties listed in the order of their severity. Team captains are the only players who can discuss issues that arise during a game with an umpire.
PENALTIES. 1) A goal awarded to the team that has been fouled. Given for the most dangerous fouls. 2) A free hit given to the fouled team, taken from 30 yards from the front of the goal. Given for dangerous fouls. 3) A free hit given to the fouled team, taken from 40 yards from the front of the goal. Given for less dangerous fouls. 4) A free hit given to the fouled team, taken from 60 yards out. Given for moderate fouls. 5) A free hit for the fouled team, taken from where the foul occurred. This penalty is given for mild fouls. 6) Same as above, but the free hit is taken from the center of the field. 7) A 60-yard hit taken opposite from where the ball crossed over the back line. Given for a defender hitting the ball over their back line.
10 myopia polo 2022
LYLE GRAHAM
THOMAS GRIESER JAMES GRAYKEN
WILLIAM GRAYKEN
ROBERT GUTTMAN
AUGUSTUS "AUGIE" GROTNIK JACEK "YAZ" K. GROTNIK
GRACE GROTNIK
THE
RANGE ROVER PEERLESS REFINEMENT AND LUXURY Land Rover Peabody 247 Newbury Street, Peabody, MA 01960 (978) 535-9200 www.roverpeabody.com
NEW
AGENDA
the players
2022-2023 MYOPIA POLO TEAMS
AVID PONY: The team of Ari Dogani, a rising star in Boston and Florida polo, teaming with Longmeadow and professional players Federico Wulff and Ernesto Trotz.
BLACK OAK: The Colloredo-Mansfeld family team, Black Oak is anchored by Filipe Viana and a rotating roster of family members. They won the 2022 Chairman's Cup.
DEL RANCHO: David Strouss's team has competed at every level of Myopia Polo, including winning the 12-goal championship and 2022 Harrison Cup.
FOLLY FIELDS: Terri Campbell's team has become a force to be reckoned with, having won the Governor's Cup 6-goal as well as the Tuckerman Cup 4 goal in conjunction with Stone's Throw.
JACEK "YAZ" K. GROTNIK
Yaz started playing polo after a Sunday visit to Gibney Field more than 26 years ago, and has since played across the U.S. and internationally in various lowand medium-goal tournaments up to the 14-goal level. He was captain of the Polish National Polo Team at the 8th Manipur International Tournament in India, and represented the USA Men's Team in their win of the 2015 Bukovina Polo Snow Masters. In 2016, his team won the USPA Border Circuit Amateur Cup. He lives at Husaria Farm in Ipswich, and is a patron of Myopia Polo and the Husaria Polo Team. Yaz is the team advisor to the Stage Hill and Myopia Interscholastic Polo Teams and a USPA Certified Umpire. A (OUT) / +2 (ARENA)
PATRICIA JOHNSTONE
Patricia has had a lifelong passion for horses, which spurred a love for the sport four years ago via Stage Hill Polo. Now she and her husband, Gary, owners of Stones Throw Farm in Ipswich, are enthusiastic supporters of all aspects of the game. She is actively involved in the Myopia Coaching League, Winter Arena League and a supporter of the Myopia Polo Interscholastic Team.
MARTIN LUGINBÜHL
Martin began playing polo as a child when his father founded the first Swiss polo club — Polo Club de Veytay — in 1988. He has competed in various countries and had the opportunity to represent Switzerland internationally. Martin has two tenures as president of the Swiss Polo Association. He is a marketing and communications professional currently completing a mid-career Masters in Public Administration at Harvard. He is looking forward to playing at Myopia!
MAX MEHM
Max began polo at age 8 at the Veytay Polo Club in Geneva, Switzerland. In high school, he played for the Myopia interscholastic team. As a junior player, he played in Myopia and Harvard summer polo programs. He has played polo several times in Argentina. B RATED
OLIVIA MEHM
Olivia began polo at age 11 at the Veytay Polo Club in Geneva, Switzerland. In high school, she founded and captained the interscholastic team at Deerfield Academy. As a junior player, she played in Myopia and Harvard summer polo programs. Along with her father and brother, she has played polo in Dubai and Argentina. B RATED
ROBERT MEHM
Robert was introduced to polo by his father at Myopia in 1979. Along with his brother Ted, they formed the West Hill Polo Team. Robert has played polo in more than 30 countries from Brazil to Brunei, India to Indonesia. He is also a two-time Nepal World Elephant Polo Champion. A former 3-goaler, Robert now has a 2-goal arena, and a 1-goal outdoor handicap. 1 GOAL
CHELSEA MESSINGER
Chelsea grew up riding and began playing arena polo in college as a member of the Yale women's intercollegiate team. She continues to serve as a member of the Yale Polo Board. She began playing grass polo while living in Malaysia in 2015, and has played at Myopia since 2019. Over the past decade, Chelsea has played in tournaments throughout the Northeast as well as in China, Malaysia and Pakistan. She lives in Cambridge, and is in her 7th year of a dual MDPhD degree at Harvard Medical School. HANDICAP: 0 GOALS / 2 GOALS (WOMEN'S)
SHANE METTERNICK
Shane, a graduate of HamiltonWenham Regional High School, started his polo career three years ago. He attends Southern Methodist University, where he plays
HUSARIA: The Grotnik family team features Yaz, Gracie and Augie Grotnik playing with 4-goal pro Manu Mazzocchi. The crew enjoyed solid success in their first full season of 8-goal, winning the 2022 Forbes Cup 6 goal.
LONGMEADOW: Kurt Miller's team, Longmeadow, now with son Reed (1 goal) playing alongside pro Federico Wulff, has had a long run at Myopia dating back to the 1980s.
PONY EXPRESS: The Daniels family's team, Pony Express, teaming up with Walter Eayer in 2021, competes at the highest levels of polo in Florida and at Myopia.
PONY UP: Richard Salter's team has been a highly successful team at Myopia and in Aiken, SC. They won the Crossman 4-goal together with Stage Hill.
STAGE HILL: The Poor family team, led by Peter Poor and now including Alyson and Amanda, is going on 55 years with Myopia. They won the Crossman 4-goal together with Pony Up.
12 myopia polo 2023
PATRICIA JOHNSTONE MAX MEHM
MARTIN LUGINBÜHL OLIVIA MEHM
REED MILLER
SHANE METTERNICK
CHELSEA MESSINGER
ROBERT MEHM
"Spirit Bird" Carved tourmaline leaf on tourmaline beads in 18k gold and sterling silver.
Kalled. the Kalled Gallery Wolfeboro, NH & Santa Fe, NM • 603.569.3994 • kalledjewelrystudio.com
Created by artist Jennifer
AGENDA the players
PAST MYOPIA POLO TEAMS
BLACKBURN SUNSET: The Berube family team played competitively at Myopia last season.
CHANTICLEER: The Coke family team has competed successfully since the 1990s.
EFG: Bob Mehm's team and employer, EFG has sponsored teams around the globe, and now at Myopia.
GALAXY POLO: The Grayken family team, with James and Will Grayken, is successfully competing in Myopia's 8-goal tournaments, and were winners of the 2021 Harrison Cup.
HOMEWOOD: The Riva family team, Homewood is led by brothers Nick and Christian Riva and has won numerous championships at Myopia.
intercollegiate polo. When he's not in the saddle, he enjoys playing baseball for his high school team.
0 GOAL (ARENA) -1 GOAL (OUTDOORS)
KURT MILLER
A veteran player and horseman at Myopia. Kurt brings steady play and formidable competition to the game. During the winter, he often plays in Chile, where many of his horses are from. Kurt was inspired to follow in the footsteps of his father, who also played at Myopia. This summer, Kurt looks forward to another year at Myopia and joining forces with his son, Reed, on their Longmeadow Team. Kurt's wife, Jackie, is an active committee member and photographer for Myopia Polo. 0 GOALS
REED PARKER MILLER
A third-generation Myopia player who grew up around the Myopia Polo fields watching his father, Kurt plays as his grandfather played before him. He began with Myopia's Junior program and Stage Hill Polo. At age 13, Reed played alongside his father on their Longmeadow Team, and won his first USPA tournament. He played on the Myopia Varsity Interscholastic Team and received an All-Star at the USPA Prelim Regionals. In 2019, Reed won the USPA National Youth Tournament
Series (NYTS) in Aiken as well as other major tournaments, including Myopia's Chairman's Cup 8-12 goal. Reed continues a family tradition of traveling to South America to play polo. 1 GOAL
BRYAN PARROTT
Bryan Parrott, DVM, owner of Parrott Equine Associates LLC, has been practicing equine veterinary medicine for 34 years, and loves the sport of polo and the horses that play. Bryan has been playing polo for 27 years, starting in the coaching league in 1995. As co-founder of the Myopia Equine Welfare Committee, Bryan's mission is the health and well-being of the horses. RATED A.
ADDIE POLITI
Addie started playing polo a year ago after being introduced to the sport by a friend. She's a graduate of Manchester Essex Regional High School who has played all levels of polo. Her most memorable experience so f ar was an 8-goal practice. Addie is looking forward to playing more polo this summer and improving her game. -1 RATING
ALYSON POOR
Alyson's career with animals started at age 7, when she began riding and playing polo at her father's polo school in Hamilton.
Alyson graduated with a degree in animal science from the University of Kentucky, where she also played on the polo team. 0 GOALS
AMANDA POOR
Amanda has been playing polo since she learned to walk. She learned from her father, Peter Poor, within his successful polo school at Stage Hill Polo. Amanda plays around the country in many women's tournaments. She is the Northeast Circuit Handicap Chair of the USPA Women's Handicap Committee. She lives in West Newbury, Mass., with her husband, Scott, her two step-children, Garret and Brynn, and her son, Mason. Amanda is the highest-rated Women's player at Myopia. RATED 1 (WOMEN'S RATING 5).
PETER POOR
Peter has played polo at Myopia for 60 years, and his two daughters also play. Peter runs Stage Hill Polo School in Newbury and is the Northeast region governor for the USPA. He has been a central figure at Myopia in many capacities and is the announcer of Sunday games. 0 GOALS
LITTLE BOW/BIG FOUR: The Ellis family team, Big Four draws on the Ellises' origins in Western Canada. Big Four won the top championship the 12-goal Chairman's Cup in 2010.
MAPLECROFT: The Raymond family team, once led by Ted Raymond, a former Myopia Polo captain, is now under the leadership of Ted's son, Jed.
SEAGULLS: The Snow family's team, now led by Crocker Snow, has the longest and most storied history at Myopia.
SPARK: Newcomer Addie Politi's team playing with manager Jennifer Williams made its debut in 2021.
WINTER CREEK: The Graham family's team, led by former Myopia Polo Captain Lyle Graham, has had a 28-year run at Myopia.
14 myopia polo 2022
ADDIE POLITI KURT MILLER
ESTANISLAO "ESTANI" PUCH
ESTANI JAMES PUCH
AMANDA POOR PETER POOR
BRYAN PARROTT
ALYSON POOR
Churchill Luxury Properties
When you entrust Churchill Luxury Properties with your fine property listing, we highlight the legacy you have built and honor the cherished memories created there. We impart our expertise and then leverage local and international luxury marketing venues maximizing the return on your investment and equity. Discover our luxury custom-designed, multi-media program assuring qualified buyers will step into the lifestyle your fine property offers.
Beverly | Danvers | Gloucester | Hamilton | Manchester-by-the-Sea | Newburyport www.ChurchillProp.com | Info@ChurchillProp.com | 833-668-4649
Team up with Churchill Luxury Properties for your next move. Scan QR Code to Learn More Wishing all the Teams & Players a Great 2023 Season!
AGENDA the players
CAPTAINS OF MYOPIA POLO, PAST AND PRESENT
David Strouss PRESENT
Franz Colloredo-Mansfeld
2011 (CO-CAPTAIN)–2020
W. Albert Ellis
2009–2010, 2011 (CO-CAPTAIN)
Lyle Graham
2001–2008
Michael S. Fawcett
1996–2000
Neil St. John Raymond
1986–1996
Robert A. Wilkinson
1981–1983
Donald V. Little
1968–1981, 1983–1986
Neil R. Ayer
1960–1967
Forrester A. Clark
1937–1940, 1946–1959
Fredrick H. Prince, Jr.
1924–1925
Fredrick Ayer
1921–1923, 1929–1936, 1941–1945
ESTANISLAO "ESTANI" PUCH
With a handicap of 3 in Argentina and 2 in the U.S., Estani has played at Myopia for the last 10 years. He divides his time between the U.S. and Argentina, where he runs El Rincon del Polo Club & School outside Buenos Aires in the winter months. 2 GOALS
ESTANI JAMES PUCH
Estani James is a third-generation polo player, following the steps of his father Estanislao and grandfather Maximo. He loves horses and helping to develop new players at the Myopia Polo Club and at his family's estancia "Calchaqui" in the pampas of Argentina. Estani is a member of the Crimson-Harvard interscholastic varsity polo team, which made it to Nationals this winter. Estani is a freshman at BC High, an honor roll student, and also plays for the men's soccer team.
NEIL "JED" ST. JOHN RAYMOND, JR.
Jed grew up playing polo with his dad, former Myopia captain Ted Raymond, for Maplecroft Farms, and has played in the U.S., Argentina and the U.K. Jed is a graduate of Middlebury College and Harvard Graduate School of Design. A gifted athlete, he excelled in
lacrosse, which he played professionally after graduation. 2 GOALS
THOMAS RIZZO
Tom has been playing polo for nine years and riding for 11. He is looking forward to playing in the Myopia Coaching League again this year. He is an engineer by day and a pilot and sailor by weekend.
B RATED / MYOPIA COACHING LEAGUE
AMANDA ROBERTS
Myopia's highest handicapped woman, Amanda is an avid athlete from Ipswich. A Merrimack College graduate, she plays for Stage Hill as well as at Myopia. RATED A.5
BRYNN ROBERTS
Brynn started polo in the fall of 2017. She learned to play from her stepmother, Amanda PoorRoberts. She quickly advanced and now plays regularly with the Stage Hill Polo Club and Myopia Polo Club.
STEVE RUDOLPH
In his 10th season at Myopia Polo, Steve is a lifelong New Englander residing in Newburyport with his wife, Sarah. When not playing polo, Steve is a strategy consultant to telecommunications and media companies in the U.S. and Latin America. B RATED
AURELIA RUS
Aurelia has been a playing member at Myopia since 2019. She first learned to play polo while attending Cornell University, and picked it up again with Stage Hill Polo in 2015 after relocating to Boston. Aurelia lives in Medford with her husband and dog. RATED -1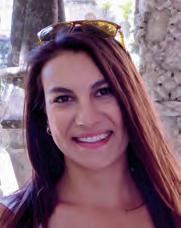 RICK SALTER
Rick started playing polo at Myopia in 2001. He plays nearly year-round, as he owns a farm in Aiken, SC, and plays in Florida during the winters and Argentina in the fall. RATED B.5
LIZ SAWICKI
Liz started playing polo with Stage Hill in 2021 and won her first-ever women's polo tournament in 2022. This will be her first season with Myopia and her horse Lluvia. Liz lives in Newburyport, Mass., with her husband, Dan, and daughter, Sierra. When not playing polo, Liz and her family enjoy snowboarding and surfing.
C.B. SCHERER
C.B. joined Team USPA in 2010 and now works in finance in Boston, but continues his passion for polo and teaching at Myopia. A third-generation polo player from Florida, C.B. played for the UVA squad and was a three-time
Neil W. Rice
1920
Henry P. McKean, Jr.
1919
Charles G. Rice
1918
James H. Proctor
1917
Q.A. Shaw McKean
1916, 1927–1928
Quincy A. Shaw II
1914
Dudley P. Rogers
1908–1912, 1915, 1926
F. Blackwood Fay
1902–1903, 1907, 1913
Rodolphe L. Agassiz
1893–1901, 1904–1906
R. M. Appleton
1891–1892
16 myopia polo 2023
THOMAS RIZZO
NEIL "JED" RAYMOND, JR.
AURELIA RUS C.B. SCHERER
LIZ SAWICKI RICK SALTER BRYNN ROBERTS
STEVE RUDOLPH
circlefurniture.com circlefurniture.com W FRAMINGHAM 508.875.0707 MIDDLETON 978.777.2690 PEMBROKE 781.826.2728 PORTSMOUTH 603.441.2011 ACTON 978.263.7268 BOSTON 617.865.6400 CAMBRIDGE 617.876.3988 Feel good about what you buy for your home with sustainably-crafted, quality furnishings made to last.
AGENDA
the players
JUNIOR PLAYERS
Julietta Burr
Drew Carleton
Augie Grotnik
Bella Grayken
Estani James Puch
Sofia Puch
Ava Croce
Thomas Grieser
Landen Daniels
Maverick Ellis
Lexi Atkinson
Robin P. Reyes
MYOPIA COACHING LEAGUE MEMBERS
Julietta Burr
Drew Carleton
Kirstin Costa
Men's National Intercollegiate Champion. In 2012, he was a finalist at the East Coast Open on the Airstream Polo Team, a Harrison Cup winner and MVP, and winner of the Eduardo Moore 12-goal.
2 GOALS
CROCKER SNOW, JR.
Myopia's senior polo veteran, Crocker started playing in college during the rebirth of polo at Myopia in the early 1960s and has played ever since, broken only by years living abroad. Crocker has played in Europe, Africa, Asia, the Middle East and South America. Once rated at 4 goals, he now typically plays the back position and is co-coach of Harvard's polo team. 1 GOAL
NICK SNOW
The highest-rated homegrown player at Myopia, Nick played with his father and older brothers as a teen and later captained Harvard's polo team. A big hitter and good horseman, Nick was named to Team USPA and represented the U.S. in the FIP World Championships in Argentina. 4 GOALS
MICHAEL WALES
Michael took his first riding lessons in the Dominican Republic in January 2021 and picked up
polo later that spring. He played 4 and 6 goal tournaments in 2022 and looks forward to his second season at Myopia. Prior to Polo, Michael captained the Harvard Lightweight Rowing Team and competed for Team USA at the World Championships. Michael lives in Boston with his wife, Collier Searle, where he works as an investment manager and enjoys cycling, skiing, and other outdoor activities.
ROB WILKINSON
Rob, a former captain of Myopia Polo, was an active player at Myopia for more than 25 years. He has been an enthusiastic rider for many years and enjoys riding and fox hunting with the Myopia Hunt. Rob is president of New England Trust Services and lives in Topsfield with his wife, Darlyn.
JENNIFER WILLIAMS
A finance professional currently working as a project manager in the life sciences sector, Jennifer has been playing arena and grass polo for more than 15 years. She has played in 10 countries, most recently Pakistan, where she won the first-ever women's polo event at Lahore Polo Club. Coaching, teaching and manag-
ing are parts of her passion for the sport. She has played just about every stick sport there is including jai alai, lacrosse and ice hockey. 0 MIXED / 4 WOMEN'S GRASS PLAYER
FEDERICO WULFF
Federico grew up playing Polo in Buenos Aires and is a knowledgeable tactician of the sport. He has made Myopia Polo his summer home for the past several seasons, and can usually be seen playing for the Longmeadow Polo Team. Federico works to improve the level of beginner and intermediate players of our Myopia Polo Coaching League. Off the field, Federico is the tournament manager, running the tournaments played at Myopia. 3 GOALS
PHILIP ZOCCO
Philip was the recipient of Myopia Polo's 2015 Most Improved Player and is the sponsor of Team Georgetown Door & Window. His natural athletic abilities, team sport presence and a love for horses have contributed to raising his level of play and overall passion for the sport of polo. A RATED
Ava Croce
David Dunstan
Thomas Geiser
Francoisa Martinolle
Leslie Milne
Sophia Puch
Maverick Ellis
Lexi Atkinson
Inessa Palchikova
Cory Cochran
Caddy Yates
Robin Reyes
John Ellis
FEDERICO WULFF
18 myopia polo 2023
PHILIP ZOCCO
MICHAEL WALES ROB WILKINSON
JENNIFER WILLIAMS
CROCKER SNOW, JR.
NICK SNOW
Spend an hour at a Clarke Showroom and one thing is clear: your time with a Clarke Consultant is the most valuable part of your kitchen journey. While they're not designers, these are the people designers call on when it comes to appliance recommendations. You won't buy anything at Clarke, so there's simply no pressure. What you can do is compare more Sub-Zero, Wolf and Cove models than anywhere in New England. Explore a living portfolio of kitchens created by the region's top designers. You will leave inspired with new knowledge to make your appliance selections with confidence.
Showroom Manager Jeremy McCulla has been recognized by the design industry as Boston's top customer service professional. His product knowledge and ability to understand the goals of discerning homeowners and designers makes your kitchen design journey a pleasure.
Without Jeremy, it wouldn't be Clarke.
Boston & Milford, MA South Norwalk, CT 800-842-5275 clarkeliving.com New England's Official Showroom and Test Kitchen
AGENDA the rules
Law and Order
The rules of polo are simple and designed to keep the game flowing and to protect the horses from injury.
APPEALING FOR A FOUL
Trying to influence the call of an umpire, most often done by lifting the mallet up in the air. Appealing for a foul is itself a foul, though seldom called.
FOUL
A foul is an infraction of the rules. The most common types of fouls are right-of-way infractions, walking the ball, turning the ball, dangerous riding, rough or abusive play, improper use of the mallet and unsportsmanlike conduct.
DANGEROUS RIDING
A foul which occurs when a player executes an improper or dangerous ride-off, zigzags in front of another player traveling at speed, slides across the back legs of another player's horse close enough, so there is a risk one or both horses could trip, rides an opponent across the right-of-way of an oncoming player at an unsafe distance, deliberately rides their horse into the swing of another player, or generally exhibits a disregard for the safety of other players and/or their horses.
IMPROPER USE OF MALLET
A foul occurs when a player executes an improper hook, such as high hook (above the shoulder), a cross hook (from the other side of the horse) or a slash hook (excessive force), or uses a mallet in a way that endangers their mount, an opponent, an opponent's mount, an umpire or a spectator.
PENALTY
The result of a called foul or infraction of the rules. The umpire imposes a penalty to either compensate the other team for the loss of advantage or to sufficiently penalize the fouling team for a rule violation that did not cause a disadvantage to the opponent, such as unsportsmanlike conduct. Penalties range in severity from taking possession of the ball from a team
20 myopia polo 2023
photograph by jacqueline miller
and bowling it in, to ejecting a player from the game.
RIGHT-OF-WAY
The right-of-way is best thought of as a highway, with the line of the ball creating the centerline. The player traveling in the direction of the ball, with the ball on their offside and at the least angle to it, generally has the right-of-way over the other players. When the player's progress to the ball within that right-of-way is improperly impeded, a foul is called. Examples of right-ofway violations include entering the right-of-way at an unsafe distance or speed (comparable to cutting in from an on-ramp while driving too slowly), crossing over the line of the ball in front of someone on the right-of-way, stopping on the ball or one player meeting two.
ROUGH OR ABUSIVE PLAY
A foul that occurs when a player abuses their horse, another player or another player's horse. This can include seizing or striking with the hand, elbow, head, mallet or whip.
SAFETY
When a defending team hits the ball over its own end line. When a safety occurs, the attacking team is awarded a Penalty 6, which is a defended penalty shot from 60 yards out and perpendicular to the end line at the spot the ball went over the end line.
TURNING THE BALL
Technically known in the USPA rules as a Quick Line Change, turning the ball is
when a player slows down dramatically and changes the line in a very small space. When defended, this is a foul. Until recently, this rule was rarely enforced. In the last several years, all three major associations have begun enforcing the rule to create a more open and flowing game. To distinguish between running a turn, which is not a foul, and turning the ball, which is a foul when the player is defended, look at the distance between the player with the ball and the defender. When running a turn, the distance between the two players does not close. When turning the ball, that distance closes quickly and is considered unsafe.
UNSPORTSMANLIKE CONDUCT
When a player uses vulgar or abusive language; is disrespectful to another player, coach, umpire or spectator; argues with an umpire; delays the game by feigning injury or requesting an unnecessary tack time-out; or appeals for a foul, especially by windmilling their mallet.
WALKING THE BALL
Carrying the ball while slowed down to a walk. In outdoor polo, this is a foul for delay of game. When called, it results in a throwin at the spot of the infraction. In arena polo, the player must maintain "reasonable pace" when along the wall. There is no rule governing pace in the arena when not along the walls.
Compiled from USPolo.org.
Live Your Passion Discover the Perfect Equestrian Estate
Emerald Hill Farm | Essex, MA | 16.9± Acres | $2.395M Nicole M. Monahan • 617-680-6895 • nmonahan@landvest.com
Iron Horse Salt Farm | Sullivan, ME | 53± Acres | $3.6M Jamie O'Keefe • 207-299-8732 • jokeefe@landvest.com Story Litchfield • 207-276-3840 • slitchfield@landvest.com
Meadow March Riding Ctr | Harvard, MA | 10.67± Acres $2.6M | J. Stanley Edwards • 617-948-8057 • jsedwards@landvest.com
HQ: 888 Boylston Street, Suite 520, Boston, MA 02199 www.landvest.com scan for more info on these listings:
Whitney Farm | Harvard, MA | 27.71± Acres | $2.3M J. Stanley Edwards • 617-948-8057 • jsedwards@landvest.com
Next Generation
Myopia All Stars gain valuable experience at NYTS National Championships / by Brion O'Connor
Though the four all-star members of the Myopia Interscholastic polo program fell just short of their title aspirations in last September's National Youth Tournament Series (NYTS) National Championships in California, they say the experience was priceless.
All four teenagers — Augustus "Augie" Grotnik and Rehan Kumble of the Eastern Region, and Shane Metternick and Landen Daniels of the Central Region — were ousted in the semifinals of the Nationals. But each member of the contingent raved about the setting at La Herradura Polo Club, their ponies and the level of competition.
"It was awesome to play against all the other regions, all of which had friends of mine from past NYTS and interscholastic experiences," says Grotnik. "It was like a big
reunion, with all the people I played with growing up."
"Overall, NYTS was better than I could have imagined," he says. "The United States Polo Association, the Gracidas and their team put on an amazing tournament. I couldn't have asked for anything more."
Established in 2013, the National Youth Tournament Series (NYTS) program provides outdoor clubs the framework for hosting USPA-sanctioned events. Players age 19 and under holding a minimum minus-1 goal handicap are eligible to participate, allowing youth players the opportunity to compete against their peers. Augie's father, Jacek "Yaz" Grotnik, who oversees the Myopia Interscholastic program, says a national selection committee chooses the four-player teams from a
22 myopia polo 2023 youth polo
AGENDA
These four boys represented Myopia in the 2021 USPA Open Interscholastic National Championship and all came together again at the NYTS Nationals in 2022. From left to right: Landen Daniels (Sportsmanship Award winner), Rehan Kumble, Myopia/Havard IS Coach Yaz Grotnik, Augustus "Augie" Grotnik (Horsemanship Award winner) and Shane Metternick.
pool of players in each of four U.S. regions — Eastern, Central, Western and Southeastern — for the NYTS National Championship.
"These four players represent the best of the youth outdoor players the region has to offer," says the elder Grotnik. "They were the four players that finished third in the 2021 USPA Interscholastic National Championship, only being beaten that year in the semifinals ultimately by Gardnertown, the National Champion."
The Eastern squad, with Grotnik, Kumble, Vlad Tarashansky and Lars Neumann and coached by Felipe Viana, was edged by Southeast, 5-4. In the other semifinal, the Central team, with Daniels, Metternick (who will also be attending Southern Methodist), Joe Bob Lequerica and Lance Stefanakis, coached by Patrick Uretz, fell to eventual champions Western by an 8-3 margin. In the finals, Western again prevailed, 9-5.5
"The experience was exceptional all around, except for not getting into the finals," says Yaz Grotnik. "The Western team won the event by a mile, having the benefit of some great teamwork and great horses. The best team came out on top, and the rest got some great experience and fun polo on top fields."
The Western Regional squad, says Grotnik, enjoyed something of a "home court" advantage, since they could simply ship in their mounts. Three of the four Myopia-based players rode La Herradura horses, while Augie leased horses from another Santa Ynez-based polo professional, Rodrigo Salinas.
But as a learning experience, the Nationals were
an unqualified success. Grotnik pointed out that La Herradura, surrounded by wineries and the Santa Ynez Mountains, is the club of Memo Gracida, one of the sport's icons.
"He is a living legend, having reached 10 goals and winning the US Open more than any other player," says Yaz. "The facilities are relatively new but world-class quality.
"Memo and his wife also hosted a players' polo clinic, where the kids learned from one of polo's greatest players. It was the equivalent of having Tom Brady or Tiger Woods teach your kids about their sport."
And while they were foiled in their efforts to reach the title match, Augie Grotnik and Daniels did not return home empty-handed. Grotnik was singled out for the Horsemanship Award, while Daniels was tabbed for the event's Sportsmanship Award.
"It's always an honor to win an award, and sportsmanship is one I take closely to heart," says Daniels, who was selected for the Central squad because he'll be playing for the Southern Methodist University polo team. "Of course, I wanted to win this year, but it's not always our year. I had a great time."
Similarly, Grotnik says he was humbled by his selection, noting the number of exceptional young
»
Photos courtesy of Jacek Grotnik
Left to right: Rehan Kumble, Shane Metternick and Augie Grotnik in action.
At left: Eastern Team member Augustus "Augie" Grotnik receives the Horsemanship Award from Chrys Beal, Secretary of the United States Polo Association, at the 2022 NYTS Nationals.
players participating.
"It was amazing to get the Horsemanship Award, especially with so many great riders and players," says Augie, who shared Myopia's 2021 Dr. Billy Linfoot Most Improved Club Players award in 2021 with Metternick. "The horses I had were excellent, and I was lucky enough to spend a little time with their owner, Rodrigo Salinas, the day before the tournament to learn a little bit about each of them."
Considered a crucial step in developing young players, the NYTS instills valuable lessons about being a team player, while improving each player's game. At each qualifier, NYTS All-Stars are recognized for their exceptional horsemanship, sportsmanship and skill, both on and off the field.
"The NYTS program is a fantastic addition to the youth polo across the country, allowing the youth of American polo the chance to shine on a big stage," says Daniels. "I have participated in NYTS qualifiers and the tournament ever since its creation in 2012. My older brothers both had the chance to play before
me, and I was able to learn a lot."
The consolation game between Eastern and Central gave the four players, who often play together at Myopia, a chance to lock horns on the other side of the country.
"We played against Rehan and Augie from the Eastern Region, because they have Myopia as their home club," says Daniels. "It was great to see and play them, making it fun and giving us the opportunity to test each other."
Though a dramatic step up in the level of competition, the Nationals also provide a rare chance for all the players to measure themselves against opponents from far afield, giving the games a fresh look.
"For me, the experience was super nerve-wracking," says Kumble. "I was playing in a completely foreign place. It was cool to meet people from all around the U.S., and see how they play, but playing against people you've never met or seen before made the experience a little scary at first."
However, Kumble knew he had earned his spot on the Eastern Regional team. The NYTS consists of multiple tournaments across the United States, and the top players at these events receive All-Star status, which in turn allows them to be selected to play at Nationals.
"In my eyes, this directly reflects on the local programs," says Kumble. "Many of us have grown up playing at these clubs and our skills have been taught, coached and nurtured here. The NYTS Nationals is the pinnacle of youth polo.
"I would tell all younger players that if they have the opportunity to play in the NYTS Nationals, or any NYTS tournament, to absolutely play," he says. "The NYTS program as a whole furthers the next generation of youth polo by giving youth players a place to play against their peers in a competitive tournament."
24 myopia polo 2023 youth polo
AGENDA
Augie Grotnik with Eastern coach Felipe Viana at the NYTS Nationals.
At top, from left to right, are Landen Daniels, Dominic Irvine, Estani J. Puch, Rehan Kumble, Shane Metternick, Augie Grotnik, Thomas Grieser and Ava Croce at the NYTS Qualifier at Myopia.
Where children are inspired for life.
www.ShoreSchool.org • Beverly, MA
Care and Consideration
"Winning with Horses" is a win-win for horses and owners / by
When Adam Snow and his wife, Dr. Shelley Onderdonk, are asked if equestrian sport and the welfare of horses can exist simultaneously, their resounding answer is "Yes!"
This balance is the main focus of their new book, "Winning with Horses," that will be published in June by Trafalgar Square Books in Vermont.
With intelligence and experience, the authors provide a much-needed antidote to a perceived dark side of horse sports. "Our story is an explicit acknowledgment that doing good for the horse is good for results in the competitive arena," they write. "Our task is to explain our method, and yours is to prove that it can be replicated."
Robert Cook
This is the second book written by Snow and Onderdonk. Their first book, "Polo Life: Horses, Sport, 10 and Zen," was well received.
Snow says the time was right for their latest book, which serves as an opportunity for the equine sports industry to refocus attention on this important goal.
"Shelley and I chose to write this book because, after publishing 'Polo Life' in 2016, we received a lot of feedback about the horses we discussed and, specifically, questions about what equine practices led to their successful careers. It seemed like the right time to delve into equine welfare
AGENDA equine care 26 myopia polo 2023
and competition," says Snow.
Snow and Onderdonk see strong equine health as the best way to field top notch ponies.
"I think of it less as a balancing act and more that proper equine care and consideration is fundamental towards having a chance to win consistently in equestrian competitions," says Snow. "We all need to do more. The USPA is definitely trying to assess these needs with its Horse Welfare committee and has also established an instructor training program, which both of us have contributed to."
Snow and Onderdonk have spent much of their lives involved with horses and care deeply about this issue. When asked what he hopes readers will take away from their book, Snow replies, "Hopefully, 'Winning with Horses' will give riders and horse owners the tools to be the best custodians possible of their horses and enhance their competitive accomplishments. This is what we call a 'win-win' situation," says Snow.
Bags
Located in the heart of historic Portsmouth NH., Puttin on the Glitz curates with local, national & international milliners, jewelers &
Whether simply out strolling, at the beach, at a celebration, derby, polo race or vintage gathering, we offer distinctive headwear, bags & accessories in silk, cashmere & faux fur textiles to suit every person.
"It thrills me to send into the universe ripples of happiness & glimmers of inspiration, one sparkle of a jewel and one tilt of a hat, at a time."
Located in the heart of historic Portsmouth NH., Puttin on the Glitz curates with local, national & international milliners, jewelers & artisans.
There is always something new to discover here.
Whether simply out strolling, at the beach, at a celebration, derby, polo race or vintage gathering, we offer distinctive headwear, bags & accessories in silk, cashmere & faux fur textiles to suit every person.
~ Lizabeth Tompkins
Whether simply out strolling, at the at a celebration, derby, polo race gathering, we offer distinctive headwear, bags & accessories in silk, cashmere fur textiles to suit every person.
Whether simply out strolling, at the beach, at a celebration, derby, polo race or vintage gathering, we offer distinctive headwear, bags & accessories in silk, cashmere & faux fur textiles to suit every person.
40 Market St. • Portsmouth, NH 603-436-5600
@puttinontheglitz_nh
"It thrills me to send into universe ripples of happiness glimmers of inspiration, sparkle of a jewel and a hat, at a time." There is always something new to discover
Taking care of horses the right way, which Snow and Onderdonk describe in as natural a manner as possible, aligns with the horses' evolutionary needs when it comes to things like exercise, nutrition and socialization.
"It thrills me to send into the universe ripples of happiness & glimmers of inspiration, one sparkle of a jewel and one tilt of a hat, at a time." There is always something new to discover here.
"We do not discuss hard and fast standards of practice, but our book should help inform the way the equine sports industry approaches these topics. It is important for members to address these issues, or our social license for competitive equestrian sports may one day disappear," Snow continues.
Located in the heart of historic Portsmouth NH., Puttin on the Glitz curates with local, national & international milliners, jewelers & artisans.
~ Lizabeth Tompkins
40 Market St. • Portsmouth, NH 603-436-5600
@puttinontheglitz_nh
Snow grew up in Hamilton where he learned how to play polo at Myopia Polo Club. He received a BA from Yale. He played polo professionally for 34 years, achieving the highest rating of 10 goals in 2003. Career highlights include winning two U.S. Open titles, competing in the Argentine Open in 1998 and 2004, winning multiple Best Playing Pony prizes for his horses, and twice being named Player of the Year. He was inducted into the Polo Hall of Fame in 2014. Retired from tournament polo, he now gives back to the sport via coaching, mentoring, writing and announcing polo games for ESPN.
Onderdonk was born and raised in San Mateo, Calif. She is a graduate of Yale and the University of Georgia and has continued her medical education through the International Veterinary Acupuncture Society and The Chi Institute. She has run her own integrative veterinary practice since 1998.
Snow and Onderdonk manage New Haven Farm in Aiken, S.C., where they breed and train polo ponies. They also have three sons: Dylan, Nathan and Aidan.
~ Lizabeth
40 Market St. • Portsmouth, 603-436-5600
@puttinontheglitz_nh
Whether simply out strolling, at the beach, at a celebration, derby, polo race or vintage gathering, we offer distinctive headwear, bags & accessories in silk, cashmere & faux fur textiles to suit every person.
"It thrills me to send into the universe ripples of happiness & glimmers of inspiration, one sparkle of a jewel and one tilt of a hat, at a time."
There is always something new to discover here.
~ Lizabeth Tompkins
"Hopefully, 'Winning with Horses' will give riders and horse owners the tools to be the best custodians possible of their horses and enhance their competitive accomplishments. This is what we call a 'win-win' situation."
Unique and Fabulous Headwear • Jewels • Textiles • Bags 40 Market St. • Portsmouth, NH 603-436-5600
– Adam Snow, co-author
@puttinontheglitz_nh
Headwear • Jewels • Textiles •
Unique and Fabulous
Headwear • Jewels • Textiles
Located in the heart of historic Portsmouth NH., Puttin on the Glitz curates with national & international milliners, artisans.
Located in the heart of historic Portsmouth NH., Puttin on the Glitz curates with local, national & international milliners, jewelers & artisans.
STYLE fashion
Top it all off Playful, bold colors perfect toppers for match day
There's never a lack of color on field or off at Myopia... and this summer's style trends are right in line with that vibrant palette. The playful hues that bedazzled the runways in fashion previews this spring are ideal choices to accent your favorite divot-stomping ensemble.    For bright sunny days, women can stand out and shade their eyes with a colorful custom sculpted feather burst atop a parisisol pillbox hat or a handcrafted feather burst on a parisisol lampshade hat. Catch the light and pick up tones from pitch and sky and thundering hoof, with Boulder Opal Earring with green tourmaline and tourmalinated quartz.
For the gents, this Borsalino Ecuadorian Panama straw fedora from Italy will keep the sun at bay while this medallion silk pocket square will make your jacket pop. For a more casual, colorful look check out this Bandana Tech Piqué Polo. And don't be afraid to tuck it – or any of your polos or tees – in this summer. Tucking's on trend, and lets you show off your belt... this one's stylish novelty print adds flair and just a bit of edginess to whatever you're wearing.
Where to buy:
Puttin on the Glitz – Portsmouth, NH (603) 436-5600 • puttinontheglitznh.com
The Kalled Gallery – Wolfeboro, NH (603) 569-3994 • kalledjewelrystudio.com
Giblees Menswear – Danvers, MA (978) 774-4080 • giblees.com
28 myopia polo 2022
GIBLEES HAS OVER 11,000 SQUARE FEET OF WORLD FAMOUS BRANDS CASUAL | CUSTOM | SEMI-CUSTOM | ALTERATIONS COMPLETED IN STORE 85 ANDOVER STREET, RT. 114, DANVERS 978.774.4080 giblees.com IN-STORE OR BY APPOINTMENT AT YOUR HOME OR OFFICE BRIONI | CANALI | ETON | ISAIA CUSTOM MADE AT YOUR CONVENIENCE
30 myopia polo 2022 @meggiehinteriors @jacquelinemillerphoto @bostoncentral # 2023 Myopia Polo Shoot it. Share it. Hashtag it. @amrus95 @stage_hill_polo @lisawatchmakerphotography @gail.jenner @photographypmt @mikeconnorsphoto @jacquelinemillerphoto @jacquelinemillerphoto @hopesharpart @harvardpolo @duffyofthecape MYOPIA instagram
Having a Ball
Myopia Polo Ball brings equestrians together to celebrate / by
As it has been for the past four decades and counting, the Myopia Polo Club Ball is the social event of the season for members of the equestrian community. And Tracy Strouss is once again making sure this event doesn't disappoint club members and their families. She is the wife of Polo Captain David Strouss, and she serves as chairwoman of the Myopia Polo Ball.
This year's gala will be held on July 8 at the Myopia Polo Club House. The order of the day are tuxes and equestrian formal wear for the men and elegant ball gowns and evening dresses for the women. The event gives everyone who has spent the season competing head-to-head on the polo field a chance to come together and celebrate, which is something everyone appreciates post-pandemic.
Strouss quips planning the ball is always a challenge. "I try to be creative. It's the size of a wedding, but with the budget of a birthday party."
When it all comes together, she says, it's all worth it. "People look forward to it. It's a tradition. We try to make it elegant
Robert Cook
and formal, but there are young kids and players who really make the dance floor come alive."
"On the field, the thrill of playing in a match is equally enjoyed by all the players, regardless of victory or defeat. The thrill of the Polo Ball is all the players share the same goal, and that's to have a great time."
Tracy Strouss took over the organization of the Polo Ball in 2018 and has endeavored to continue growing the event following its cancellation in 2020 due to the pandemic.
While the exact date of the first Myopia Polo Ball is something of a mystery, there's no question that it was the brainchild of Donald V. Little, a former Myopia Polo Captain (1968–1981, 1983–1986).
At a club known for the cherished traditions it has developed in the past 134 years, the Polo Ball, at more than 40 years old, is still a relatively new event. According to Little's son, Donald V. "Doo" Little Jr., the first polo balls were typically held the night before the East Coast Open, and they were lively evenings from the very beginning.
"The tables had teams intermingled for the camaraderie and sportsmanship that polo always displayed," says Little. "It was also a big social event, as the dance was open to the socialites of Boston. It was a highlight in Bostonians' summer schedule."
From March on, Tracy Strouss devotes a great deal of her time to making the annual gala happen.
"I secure the event date in early March, followed by designing the save-the-date invitations and securing the band in April," she says. This year Tracy's creative challenge is to incorporate new trends and maintain this historical event's traditions.
Like a summer wedding with an outdoor and indoor space, polo ball guests can enjoy cocktails alfresco before they sit down to a formal dinner that is followed by joyful energy on the dance floor. A live band performs the music for the evening.
"It has a nice balance," explains Tracy Strouss. "The easiest thing to do is not have a polo ball because of cost and expense, but it is important to me to keep this tradition going and make this investment. It is really important to bring everyone together during the polo season."
2023 myopia polo 31 MYOPIA scene
David and Tracy Strouss
The Myopia Hunt
Public outreach, landowner partnerships keep Myopia hunt alive and well
by Robert Cook
For those who have witnessed Myopia's classic hunts that take place in May and the fall, the scenes call to mind classic paintings depicting as many as 80 riders dressed in red and white following a pack of more than 20 hounds across meadows and rolling hills.
Samantha Stevens, the Huntsman for Myopia, assumed her post earlier this year. She succeeded now retired Huntsman Phillip Headdon, and says he was a great teacher and mentor who enabled her to carry on the traditional hunt that dates back to Myopia's founding in 1882.
There are two components that make for a successful hunt: access to the land and healthy, well-trained hounds. Stevens says Myopia puts a premium on both and goes to great lengths to preserve important relationships with private property landowners, Massachusetts state parks, Essex
County Trail Association and the Essex County Greenbelt to make it work.
An average hunt, which takes place three times a week in May and three times a week in September, October and November, can be up to 14 miles long, Stevens says. Their first spring roading meet was scheduled on April 29.
"We can go in any direction from Hamilton to West Newbury. There are some shorter days where the meet is just West Newbury or Hamilton, depending on the hunt and season," says Stevens. "The hunt ends when we plan for it to end. We will choose a picturesque field or landowners' property and have a tea to celebrate the adventure."
Stevens said they have a whole system in place to notify the private landowners and make sure they have permission to use their land on specific dates. "In addition
to being respectful of the footing, making sure we are not making a mess or leaving tracks in the mud, it's the only way we can maintain such long hunts in such large territory — by fostering these very respectful relationships with the private landowners," says Stevens.
Stevens says that on Thanksgiving, the public can see the Myopia hunt at Appleton Farms, which is public property. "But we spend most of the three hours hunting mostly on private property," she adds.
Stevens points out Myopia was originally founded as a hunt club for fox hunting. In recent years, they have switched to a drag hunt, which means the hunters do not kill any creature. A drag hunt allows every aspect of a traditional hunt to be maintained and enjoyed without negatively affecting the community, she says.
"We are not actually pursuing anything except for one of our teammates putting down a line of scent for our hounds to follow, and it is a specific scent that our hounds are trained to follow. It controls where the action happens," says Stevens.
The line of scent allows the club to
32 myopia polo 2023
MYOPIA hunt club
miller
photographs by jacqueline
keep riders, the dogs, spectators and traffic safe. "If we are coming to a road crossing, we stop the line well back from the road so there are no hounds or horses bolting onto the road to impact traffic or getting hurt," says Stevens.
If a landowner does not want them to hunt on a portion of their property, Stevens says they have to lay the line of scent accordingly.
"On a perfect day, the hounds follow the line exactly and everything goes to plan and everyone is happy," says Stevens. The lines of scent provide the hounds with a homing beacon, she adds.
By laying down the line of scent properly, Stevens says they can also make sure it does not come too close to any spectators who gather at Appleton Park. That way people don't accidentally walk across it and disturb it, she adds.
"We are working very hard in this coming year where there has been a lot of interest in observing the hunt, especially in the big meets, to make sure people know where they can stand and walk and not necessarily interfere with the hounds working," Stevens explains.
This year, Stevens said the club will make use of social media to get the word out ahead of the Thanksgiving Day hunt. In the wake of the pandemic, Stevens says a greater number of people have moved into Ipswich and the Hamilton-Wenham area, and the club wants to do more educational outreach to help them understand more about the hunting meets and how they are conducted.
"By publicizing public places where people can watch, it really helps give people an idea where they won't be in the way or be squished or disrupting the flow of the hounds," says Stevens.
Stevens says she has been hunting off and on for 10 years and has been involved in equestrian hunting activities and carriage driving for 30 years. She is originally from Salem and now lives in Hamilton. Stevens also owns a farm in Ipswich, Cedar Tree Stables, on Topsfield Road.
The kennels for the hounds have two large rooms: one for the bitches and one for the dog hounds. Each room has a large, raised bed with cedar shavings. There is heat in both rooms in the wintertime and fans provide airflow and ventilation in the summer. Each of those opens into a concrete yard for each group of hounds, and beyond that there is a grass yard the hounds can use under supervision during the day.
Stevens says there are 13.5 couples, or 27 hounds in all. "Each year we aim to have at least one litter of puppies," she adds. Stevens explains that some of the dogs will end up being part of the hunt based on their talents and trainability. "Those that are not will be re-homed to pet homes in the community," she adds.
Stevens says Myopia Hunt Club is one of seven such clubs in New England. "It is a dying sport between landownership changes and open space. It is definitely a trial to maintain the territory we need for Myopia," she observes. "But again, thanks to our very generous private landowners, we are able to maintain some of the best countryside, I think, for hunting around here."
Myopia was originally founded as a hunt club for fox hunting. In recent years, they have switched to a drag hunt, which means the hunters do not kill any creature. A drag hunt allows every aspect of a traditional hunt to be maintained and enjoyed without negatively affecting the community.
2023 myopia polo 33
THE W. CAMERON FORBES CUP
A look at the prize awarded at the annual tournament.
The venerable W. Cameron Forbes Cup, one of Myopia's classic mid-summer USPA tournaments, is named after American diplomat, businessman and polo enthusiast, W. Cameron Forbes.
A grandson of Ralph Waldo Emerson and former governor-general of the Philippines, Forbes was a leading figure at Myopia during polo's golden years following World War I. According to a 1981 New York Times article on Myopia, Forbes "had an estate in Dedham, Mass., with, of course, the requisite barns and fields for his beloved polo ponies. He even had two stalls built so they opened into the formal dining room, so guests and ponies could eye one another admiringly."
The inaugural W. Cameron Forbes Cup was held at Myopia in 1938, won by a team led by longtime Myopia captain Neil Ayer Sr. (Myopia's Neil Ayer Cup is set for June 11 this year). The W. Cameron Forbes Cup returned to prominence during the 1960s and '70s, coinciding with the resurgence of polo at the club following World War II, says journalist and longtime Myopia member Crocker Snow Jr.
At that time, the annual Forbes Cup doubled as the New England championship match between Myopia — typically represented by a combination of Snow, Neil Ayer, Don Little, Adam Winthrop and Michael Andrews — and the Fairfield Polo Club.
Today, local teams compete for the Forbes Cup, which was captured last year by a Husaria squad featuring Grace Grotnik, Lars Neumann, Benji Daniels, Manuel Mazzocchi and Augustus "Augie" Grotnik. Coincidentally, W. Cameron Forbes, while he was governorgeneral of the Philippines, also founded the Manila Polo Club in 1909, and to this day the William Cameron Forbes Cup represents the highest level of polo in East Asia, says Snow. This year's tournament for the W. Cameron Forbes Cup at Myopia will be held Aug. 6 and 13.
34 myopia polo HISTORY achievement
photograph by JACQUELINE MILLER
The USPA
More than 130 years of innovation, inclusion and tradition
Polo is considered the oldest team sport in known history, dating back thousands of years. The innovations of the past century, however, have molded it into the fast-paced, exciting game we recognize today. What was once a contest with eight or more players galloping up and down the field for the better part of an afternoon has evolved into a focused, precise sport that highlights horsemanship, physical prowess and intricate team play. Much of the credit for that organizational transformation — at least in the U.S. — belongs to the United States Polo Association (USPA).
In 1890, over dinner in New York City, H.L. Herbert, John Cowdin and Thomas Hitchcock formally created the Polo Association, now the USPA. The group was made up of seven clubs and was headquartered in New York. One hundred handicaps were assigned to members, including future President Teddy Roosevelt. Herbert was elected chairman — a post he would hold for the next 31 years.
"The USPA, our governing body, was developed as an old boys' club," Leighton S. Jordan, USPA Northeastern Circuit governor, told members at the 2021 Myopia Polo Ball. "In the 1890s, players realized they needed an organization to set the governing rules of play.
"This newly formed group funded the USPA management when it was short of cash," said Jordan. "They did what they had to do to keep the sport alive. Over time, they assigned circuit governors to help manage the sport across the country. They all put their own funds in to oversee the sport."
The first U.S. Open Championship was played in 1904, and the legendary American team that would become known as the Big Four (Harry Payne Whitney, Devereux Milburn, and Larry and Monty Waterbury) defeated England to win the Westchester Cup.
Under the USPA's guidance, the sport grew in popularity throughout the U.S., expanding south and west. In the 1920s, crowds of more than 35,000 gathered to watch major tournaments, and players began numbering their jerseys 1 through 4 to designate their position and role. According to the Museum of Polo and Hall of Fame, there was an annual need for more than 63,000 polo ponies during this era.
Women began making their mark in the sport during the 1930s, as Cornell fielded an intercollegiate women's team, and a group of Army officers' wives form the Whippettes. The Pacific Women's Polo Association was formed in 1934. Women now comprise 40% of the USPA's membership.
The 1940s saw the growth of the sport slow, with record-keeping suspended during World War II. The sport's recovery took hold over the next 20 years, as the popularity of Arena Polo grew and a surge in the top ranks set the stage for expansion. The fashion world adopted the polo image, high-goal polo was recognized as one of the fastest-moving and exciting spectator sports in the world, and the Palm Beach Polo and Country Club opened in 1979, becoming the foremost center for international high-goal polo. In the 1980s, USPA membership reached an all-time high.
As the millennium drew to a close, the USPA evolves from an all-volunteer organization to one employing a full administrative and executive staff. Broadcasting and streaming tournaments, using drones and instant replay, have all become a normal part of this traditional sport. Today, the USPA includes nearly 300 member clubs in 13 geographic circuits around the U.S. and oversees 40 national tournaments.
"The USPA's aim is to provide support to the clubs," said Jordan. "Not how to manage the clubs or how to grow players. They tried this for years, and it did not work. They now recognize that they must find ways to help the clubs do what they do best."
HISTORY 2023 myopia polo 35 u.s. polo association
JACQUELINE MILLER PHOTOGRAPHY JacquelineMillerPhoto.com ••• Equestrian Sports | Horse & Rider | Pet Portraits | Wildlife Prints
Women Polo Players COMING INTO THEIR OWN AT MYOPIA / PAGE 38 Pitch Perfect THE LEGENDARY FIELDS OF MYOPIA POLO / PAGE 44 2022 Tournament Recap RESULTS FROM AN EXCITING SEASON / PAGE 54
photograph by jacqueline miller
WOMEN POLO PLAYERS
COME INTO THEIR OWN AT MYOPIA
A fun fact about polo is that an overwhelming majority of polo ponies are mares. Mares have a strong drive, fear nothing, and a great working attitude. They have the perfect personality for polo ponies."
– Lauren Contenta
38 myopia polo 2023
"
by Brion O'Connor
Whenshe thinks of Myopia's inaugural Women's Challenge this September, longtime polo member Amanda Roberts, one of Peter Poor's three polo-playing daughters, allows herself a wry smile. Roberts is a link to Myopia's past, and future. She knows that there was a time, more than 50 years ago, when women were forbidden to play on Myopia's fields. Her grandmother, Doris Poor, was among those Myopia members forced to play polo elsewhere, simply because of her gender, and her aunt was a change agent for the club in the 1970s.
"Although I never saw her play, I'm told that my aunt, Margaret Poor, was an amazing athlete and phenomenal women's polo player," says Roberts.
Roberts' aunt – Margaret Poor McKeon – was a Myopia pioneer. Bold and relentless, McKeon helped erase the divisive walls at the club, introducing all-
women polo tournaments to Myopia in the 1970s that brought together some of the best female players in the country. Her spirit, and her legacy, is evident not only in the upcoming Women's Challenge, but every match that features female players.
'Myopia is more welcoming than ever for women," says Roberts. "It's rare that there is a game where there is not one woman on the team or on the field."
The Women's Challenge represents the latest chapter for female players at Myopia, established in the spirit of the popular all-women's East Coast Open that fell victim to Covid. "I'm very excited about (the Challenge) and plan to participate and encourage as many female polo players as I can to join me," says Roberts.
NEWCOMERS AND LEGACIES
At Myopia Polo, growth has come from both within and outside the club. Terri Campbell, a Myopia member and chairwoman of the Equine Welfare Committee, was taking an equitation class at Cornell "for fun" when she learned about the school's polo program. "I had never seen a match, so I went to a game and was fascinated by the skill of the horses and the skill of the riders," she says. "I started taking polo lessons after graduation."
Like many players living on Boston's North Shore, male and female, Campbell first learned to play polo at Poor's Stage Hill Polo in Newbury.
"It was an economical way to learn the sport because the horses are provided as part of the cost," she says. "When you get to the point when you buy your own horse is when you really start to get
WOMEN POLO PLAYERS 2023 myopia polo 39
"Myopia is more welcoming than ever for women. It's rare that there is a game where there is not one woman on the team or on the field."
Amanda Roberts
Lauren Contenta Facing Page: Amanda Poor Roberts
PHOTOGRAPHS BY JACQUELINE MILLER
committed. I recall that my fellow riders in those early lessons were split pretty evenly between men and women."
Likewise, Lauren Contenta, a Connecticut native and research associate at Moderna currently living in Arlington, was introduced to polo in college.
"My best friend, who I met through our mutual love for equestrian sports, convinced me to start the polo lesson program at UConn," says Contenta. "I was nervous at first. The only thing I really knew about polo was that the horses are fast, and it is extremely intense.
"I'm glad I started though. Once you start, it becomes almost like an addiction," she says. "Women are growing the sport exponentially, and it's amazing to see it play out in real time. You still see a heavy male presence in high-goal polo, but that's because the female generation of 10-goal players is developing right now."
Another leading woman player at Myopia is Ariadne Dogani. Ari has played in every major tournament at Myopia the last two seasons on the Kingswood Polo team and is known for her strong defensive play, often taking the best player on the opposing team, her keen eye and incredible horses.
Dr. Leslie Milne of Gloucester is also a latecomer to the sport. Once she decided to try it, she went all in. A former Olympic Bronze medal champion in field hockey (1984) and an emergency room doctor at Mass General Hospital, Milne currently plays at Myopia and has her own polo farm, BillieBo Farm.
"I had played field hockey at a high level and had ridden horses as a child," she says. "I saw polo advertised in a community education brochure and it sounded like 'field hockey on a horse.' I thought it
might be easy, but I was wrong.
"I liked the team aspect of polo as opposed to the individual riding I did as a child," says Milne. "Now I really appreciate the horses. They have a very hard job to do and I respect their bravery."
Milne credits coaches like Cissie Snow and Phoebe Ingram with facilitating her entry into the sport, as well as Myopia's coaching league that "allows beginners to play at a less competitive level than regular Myopia."
"I've stayed in coaching league, as it's more relaxed and less formal than regular club polo," she says. "I just want to have fun with my horses and the other players. That's my only aspiration in polo."
For newcomers, the commitment needed to play polo is not insignificant.
"You need to have your own horse, or have a reliable, affordable way to access a horse," says Milne. "Owning a horse is a big financial commitment. This is a big 'ask' if you haven't ever played the sport and don't even know if you like it.
"Plus, polo is very time-consuming. Going to the barn, getting your horses ready to travel, transporting on a trailer, tacking, playing, cooling-off, and then heading back to the barn" she says. "Start to finish, it's a 4- to 5-hour process to play for 30 to 40 minutes. You have to enjoy the process or have someone that does that work for you."
Another deep pool of polo talent consists of the children of players, who typically have ready access to ponies. "The daughters of legacy players at Myopia have had a monumental impact for setting the stage at Myopia," says Contenta.
Amanda Roberts said she and her two sisters, Jennifer and Alyson, were always around horses and
40 myopia polo 2023
Left to right: Terri Campbell, Brynn Roberts
"Horses and horsemanship are the great equalizers in the game, which is one of the reasons why the sport is co-ed at most levels."
Terri Campbell
the game thanks to their father.
"I'm told I was at the barn when I was 2 weeks old," says Roberts, now 37. "I've loved horses for as long as I can remember, and I think the sport is perfect for any woman who loves animals and sports.
"Some of my favorite memories are of me, my sisters, Jennifer McLeavy and Alyson Poor, and our best friend, Amanda Snow, all playing polo together and having a ton of fun," says Roberts. "All of us are still involved in the sport of polo somehow today – Alyson and I help run my father's polo program and Stage Hill Polo school in Massachusetts and Florida, my sister Jennifer is the executive director of the Polo Training Foundation, and Amanda Snow is the director of player development for the National Youth Tournament Series. We're all dedicated to helping grow the sport of polo that we love so much."
WOMEN POLO PLAYERS
Roberts' stepdaughter, Brynn Roberts, is following a similar path, despite getting a later start "after watching my stepmom play for so many years."
"I knew I had to give polo a shot," says Brynn, 19, a freshman at the University of New Hampshire. "Her passion for polo inspired me to start and I soon picked up the same drive for it. The high intensity and complex nature of the sport challenged me in every way, especially starting at an older age.
"Polo is an amazing area for women to create community and numbers within because of the male-dominated nature of the sport," she says. "The horse creates an equal playing field for both men and women to dominate the play and it's inspiring to watch women in high-goal polo games because (those teams) have historically been composed of male teams."
WHEN ONLY MEN PLAYED POLO
It's difficult to imagine, given the proliferation of outstanding women polo players locally and nationally, that just a short 50 years ago females weren't welcome on the Myopia fields. Peter Poor, a longtime Myopia member, recalls the frosty reception one young woman received during the nascent women's rights movement.
"It was back in the '60s, and one of the member's daughters came to play, and the men wouldn't allow her to play," says Poor, 73. "They were all going to leave the field. That's how straightforward they were."
According to Poor, women like his mother and sister who wanted to play were relegated to nearby Danvers, on a field that now houses Danvers High School, "but not Myopia." After Poor's sister, Margaret McKeon, introduced women's tournaments to Myopia in the 1970s, several influential polo members, notably Don Little, came to the aid of their female colleagues in the subsequent decades, encouraging more and more women to play at the club. Poor himself, along with his sister, was instrumental in establishing the East Coast Open, a collaborative tournament between Myopia and the Newport International Polo, featuring top players
2023 myopia polo 41
Clockwise from top: Annie ColloredoMansfeld, Leslie Milne, Ava Croce
from around the world.
"The atmosphere has changed," Poor says. "The U.S. Polo Association is made up of 50 percent women now. And they do a great job."
Today, says Poor, there are no longer any barriers to women based on gender. That's a significant advantage, not only for women, but the sport itself.
"Horses and horsemanship are the great equalizers in the game, which is one of the reasons why the sport is co-ed at most levels," says Campbell. "Going back to the origins of polo in Persia, there were women playing the sport centuries ago.
"Today there are more women learning to play polo than ever before," she says. "In the past, it was often difficult to have enough female players to have a women's only tournament, but that's no longer the case. In order for the sport grow, it needs to be all-inclusive."
Many women are more than capable of holding their own in co-ed competition, say members. In fact, many women enjoy something of a head start in their development because more of them have an equitation background, a tremendous foundation for polo.
"When someone is first starting to learn the game, I don't think that gender really matters much," says Campbell, who runs her own investment firm, Archer Bay Capital "It's a difficult game to learn for both men and women. Often women will have more riding experience than men to start, but the coordination needed to hit the ball, play a position on the team, and not fall off the horse is a challenge for everyone."
Women have also been well represented in the club's polo management, with current manager Erica
Kratz succeeding long-time manager Kim Maguire last year and overseeing the myriad elements of the game at Myopia, from field repair and maintenance to game organization and equine care. Even the announcing at Sunday matches is done by another Myopia woman player, the remarkable Patricia Johnstone.
"Myopia has a fantastic pool of women in all aspects of the club," says Contenta. "Whether it be as a player, supporter, or an event organizer, it makes it easier for young women to ask, 'How do I get started?'
"The inclusion of women as players, coaching staff, spectators, grooms, and announcers is vital to breaking that daunting feeling," she says. "That makes it exponentially more approachable to women from the outside."
The number of women now playing reflects that supportive environment.
"The most important and fastest growing demographic in polo in the United States and at Myopia is women," says club polo captain David Strouss. "Over the last 50 years, the number of women playing polo at Myopia has increased to a level almost equal to the men. This great trend continues to this day at Myopia, with the highest number of women players ever."
THE RIGHT START
Opportunities to play past the beginner level at Myopia, through the different levels of the sport, were still limited three decades ago. Campbell, now 55, says "at the time, there was only very beginner
42 myopia polo 2023
"When it comes to horses, it doesn't matter who you are. You're just as equal as the next person out there."
Grace Grotnik
polo and high-level tournament polo, and nothing in between." So she went to play in the Newport Polo Club for eight years, which had more advanced beginner and intermediate level polo.
"If the coaching league had existed at Myopia at the time, I probably would have stayed in the club," she says. "I came back to Myopia to play in a tournament more than 10 years ago and had such a good time that I decided to switch clubs. Everyone was very welcoming – and it probably helped that my team won that tournament."
Another reason there are more women playing polo is that there are more opportunities for entry, such as Poor's Stage Hill Polo, Mark Tashjian's Boston Polo Club in Rowley, and Myopia's own Interscholastic Polo and Coaching League, plus longtime local coaches like Poor and Cissie Snow.
"Specifically, Stage Hill Polo is special in a way that they are teaching beginners," says Contenta. "Anyone and everyone, no matter the age or experience, is welcome to give polo a shot.
"They gave me the opportunity to play at Myopia with some of the other players based out of their barn," she says. "The support and sheer joy they displayed the whole season made it that much more enjoyable."
Erica Katz, Myopia Polo Club manager, said she played collegiately at Skidmore College and was captain of the women's team and president of the club. Having the opportunity to learn how to play polo while in school or via Myopia's development programs is becoming more the norm rather than the exception for women players.
Myopia's development programs, says Myopia
member Jacek "Yaz" Grotnik, starting in middle school, are critical to growing the game. "More than 50 percent of our interscholastic team is made up of girls," he says. "Both our assistant coaches are women who played on the Cornell University Polo Team."
"Interscholastic polo is entry-level polo for kids generally from 7th to 12th grade, although we have had some younger participants," says Grotnik. "Typically, kids with some riding experience join our program after trying polo at an introductory clinic or after seeing a game at Myopia.
"Our program focuses on four primary tenets – Horsemanship, Sportsmanship, Fair Play, and Teamwork," he says. "Each of these combines to create a well-rounded player and teammate."
And some of his best students, says Grotnik, are female.
"Women's polo can be as fast and hard hitting as mixed or men's polo," he says. "It would be a mistake to take a women's player for granted on the field. Most have a stronger riding discipline and use it to their advantage, as a large part of the game is the riding component.
Grotnik need look no further than his own daughter, Grace, to find a worthy example. Grace was captain of the Southern Methodist University polo squad this spring, leading her team to the NCAA tournament.
"The sport is very well suited for women. There is no difference in a man or women that makes it suited better for one over the other," says Grace. "When it comes to horses, it doesn't matter who you are. You're just as equal as the next person out there."
WOMEN POLO PLAYERS
43 2023 myopia polo
Clockwise from top: Ari Dogani, Aurelia Rus, Katheleen Reagan
PITCH PERFECT
44
PHOTOGRAPHS BY JACQUELINE MILLER
The Legendary Fields of Myopia Polo Pay Homage to the Game
by Brion O'Connor
The club's tournament polo pitch — Gibney Field — coupled with Winthrop Field and the Joseph Poor Memorial Arena, stand as a testament to the club's long-run ning love affair with the sport. A brand-new pitch, the Neil R. Ayer Polo Field, completed last fall, will only add to Myopia's legacy. Wilber is well aware that each playing field reflects the club's storied past.
"I always bear that in mind, when I'm working on them, that these are a piece of history," says Wilber, Myopia's grounds superintendent. "I try to put my heart and soul into really making sure that we can keep both of them in the best shape possible.
"I'm incredibly proud and impressed with how dedicated my guys are and how much they care about their jobs," he says. "It's like a family atmosphere here, and being that type of family atmosphere, we take a great deal of pride in what we do in terms of being stewards of these historic pieces of property."
Together with polo manager Erica Kratz's crew, Wilber and his staff maintain three grass polo fields. The fields are roughly the equivalent of 27 football fields, or 30 acres. It is a formidable task. But the reward, says Wilber, is an environment where players and spectators can cherish a bygone era.
"There's a feeling that when you cross into Myopia property, that you're going back in time," he says. "We
want to keep that feeling. It's a very nostalgic feeling. It's a good feeling to have.
"We want to update the nervous system, and things that we can do to be stewards of the environment, but we want to do everything we can to protect the historic aspect," says Wilber. "That way, when people come here, they get that extra special feeling that they just went back to 1875 again."
 Where it all began 
Though the Myopia Hunt Club is synonymous with Hamilton, the club was first established in Winchester in 1875. The original founders "chose a site in Winchester high on the hillside overlooking Mystic Lake, with a distant view of Nahant and the blue waters of the Atlantic," wrote Edward Weeks in "Myopia, A Centennial Chronicle." A clubhouse was built, and the club hosted baseball games and tennis matches.
Author Allan Forbes, in "Early Myopia," noted that the horses and hounds of "the hunt" arrived at Myopia in the early 1880s, but club equestrians soon found the Winchester landscape lacking. Charles Dalton, chairman of the Boston Parks Commission, and William Appleton of Appleton Farm suggested the hunts be moved to "the broad meadows and treeless slopes of Hamilton and Ipswich," wrote Weeks.
"In the fall of 1881 (Appleton) persuaded Mr. Gibney, owner of the old Dodge Farm 'to rent the farm for care of the master, his horses and hounds,'" he wrote.
In 1882, the Myopia club membership shifted, with horsemen outnumbering ballplayers. The hunt moved from Winchester to Beverly Farms and Hamilton that fall, and the following spring, club members voted "to raise about $4,000 for the purpose of building a clubhouse and kennels on the Gibney Farm and Hamilton."
"In 1891, after Mr. Gibney's death, the club purchased the pre-Revolutionary farmhouse, barns, stables and the 149.5 acres for $20,000," wrote Weeks. It would prove to be a provident decision for the future of polo at the club.
 46 myopia polo 2023 T
When Jonathan Wilber looks over the grounds at Myopia Hunt Club, he knows he and his crew are caretakers of something very special. The links-style, Herbert C. Leedsdesigned golf course might be a relic, but its place in United States golfing history is secure, having hosted four of the first 14 U.S. Opens between 1895 and 1908.
Late last November, Wilber's crew put down one last application of lime on the grass polo fields before they "put them to bed" for the winter. Despite concerns about climate change and unseasonably warm winters, the mild stretch has not had an adverse effect on the fields.
"If anything, a slightly warmer winter is more beneficial, because you won't get any desiccation or low-temperature kill," says Wilber. "As long as you are getting below-freezing temperatures at night, it's enough to keep the fields dormant."
The fields typically begin to wake from their winter slumber in early April. Then the fieldwork begins in earnest, and Wilber and his crew perform their annual magic act. Unlike larger clubs, Myopia Polo doesn't have a limitless budget for the upkeep of these fields. (Roughly half the maintenance budget for the polo fields comes from gate receipts.) Wilber's two biggest challenges are "water and funding."
"It's getting the products and the tools you need try to help maintain a high-end polo field at a very low budget," he says. "It's a self-funded entity, meaning Myopia Hunt Club isn't funding
Myopia Polo's budget."
Due to persistent water shortages, Wilber no longer uses a traditional blue and ryegrass blend. "With the climate and water restrictions, I've moved to a tall fescue," he says. "I will do a 70/30 tall fescue and ryegrass blend, so you don't need as much water."
The goal is to create "a high-end athletic field," says Wilber. "I call it high-end rough. Just like on the golf course, where we have an inchand-a-half rough.
"I know how to grow good grass," he says. "I know how to grow high-quality, healthy turf. The learning process was figuring out what polo players are looking for."
To do that, Wilber meets regularly with Kratz and polo captain David Strouss, and solicits player's opinions regarding conditions at Gibney and Winthrop.
"They don't want them too firm, because that can hurt a horse. They don't want them soft, because someone could slip and fall," he says. "They want kind of an in-between, moist field, not so firm that they don't have any footing. And then they like to cut it as short as you can get it for speed."
PITCH PERFECT 2023 myopia polo 47
"I know how to grow good grass. I know how to grow high-quality, healthy turf. The learning process was figuring out what polo players are looking for."
Jonathan Wilber
Gibney Field
Polo Arrives 
Shortly after Myopia's move to Hamilton, "the sport of kings" was introduced. Longtime Myopia member and journalist Crocker Snow Jr., who wrote the polo chapters for "Myopia, A Centennial Chronicle," credits newspaper magnate James Gordon Bennett with bringing polo to the United States in 1876.
Less than a dozen years later, several intrepid horsemen at Myopia — led by Randolph M. "Bud" Appleton, who played on the Harvard polo team — tried on the sport for size. Snow Jr. reported that Marshall Abbott, in "Myopia Songs and Waltzes," claimed the first polo match in Massachusetts was played at the Gibney farm field in the summer of 1887.
"The so-called Polo Ground, a rough pasture rolled for a week or two, was not worthy of the name," wrote Abbott. "If the field was bad, the game was worse. It might be described as a series of scrimmages."
If the players were frustrated, there's no lasting record of their disappointment. The early attraction only grew with time. In 1890, the United States Polo Association formed, and Myopia joined as a charter member — the only charter club that remains active at its original location.
As polo manager, Erica Kratz has similar yet subtly different priorities regarding Myopia's polo fields compared to her counterpart, Jonathan Wilber. "My major concern as a horsewoman is the safety aspect," she says. "That's the priority."
Kratz and her small crew of six are responsible for post-game repairs of the fields. Essentially, that comes down to "flipping divots," filling the holes that are a natural consequence of the game, and then mowing and then rolling the fields to produce a superior playing surface. The result is a better game and a safer game.
"That's a pretty big job," she says. "It is wildly influenced by weather conditions, as well as how much the field is actually being used. If there's a lot of polo being played on one of the fields, it gets very churned up. That doesn't make for a very pleasant game, since it makes it harder to hit a ball. And you really don't want these holes that the horses can step into and trip."
One great tradition during polo matches is inviting spectators to replace divots during halftime. But that whimsical custom also has a practical benefit, resulting in a better playing pitch. Plus, it lends itself to the random comical moment. For instance, women are encouraged to


48 myopia polo 2023
"It is wildly influenced by weather conditions, as well as how much the field is actually being used. If there's a lot of polo being played on one of the fields, it gets very churned up. "
PITCH PERFECT
Erica Kratz
Winthrop Field
A NEW FIELD HONORING NEIL R. AYER SR.
BY BRION O'CONNOR
At a club with as rich a tradition as Myopia Polo, legacy is earned. And it would be a tall task to find a member more deserving to have his name commemorated than Neil R. Ayer Sr., who served as polo captain from 1960 to 1967.
This spring, Myopia Polo unveiled its newest pitch, the Neil R. Ayer Polo Field, on the club's Schooling Fields. It honors a man who, despite his own wealth, was committed to ensuring polo was a sport that wasn't reserved solely for the rich and famous.
"I had been brought up to feel that if you were lucky enough to be able to do things and go places, you really ought to do your best to share your good fortune with other people who were interested in doing the same things you were, but who, because of circumstances of birth, did not have the means to do so," wrote Ayer in his memoir, "Wind Over Willowdale." "It mattered not to me whether a person was a member of the club or not, or where they came from. If they wanted to play, I tried to encourage them to do so.
"I figured you didn't have to live in a big house on top of a big hill to be a good sportsman; you just had to be a good sportsman," he wrote. "Where you lived was quite immaterial to me."
Ayer also served as Myopia's Master of Foxhounds from 1968 to 1983 and was an internationally acclaimed equitation course designer, designing and building the cross-country course for the 1984 Summer Olympics. But when it came to polo, he applied his own finely tuned sense of fair play.
"I asked only that whoever played abided by the traditions of sportsmanship that pervade the game, and that he did his share of the work," he wrote in his memoir. "During the years of my captaincy, we players mowed and watered the field. We put up the sideboards and took them down. We did everything that had to be done. So I felt that whoever wanted to play ought to participate in this common work."
That sense of inclusion guided Ayer's approach to the game in almost every aspect. He wanted to open the club's polo matches to more spectators — "In the
DONORS TO THE NEIL R. AYER SCHOOLING POLO FIELD:
NAMING SPONSORS
Neil and Linda Ayer
Anne Proctor Ayer
Helen Harrison Ayer Hettich
SPONSORS
Terri Campbell and Michael Mars
John Ellis
John and Eilene Grayken
Franz and Anne Colloredo-Mansfeld
Kurt and Jackie Miller
years before the war, virtually nobody came to see polo except the families of the people playing," he wrote. "Polo was considered a private game played at a private club, and except when there was a championship or some special occasion, outsiders weren't invited to participate or watch." — and was instrumental in building the ring that would be later named the Joseph Poor Memorial Arena.
"This, too, opened up the game," he wrote. "Traditionally we played every Wednesday afternoon, but many of the newer players couldn't be there Wednesdays, because they were busy at their jobs. So we came up with the idea of building a polo arena for evening games."
Ayer is also remembered for creating a unique system that allowed more than four players per team to participate in a match, regardless of how many ponies they brought. "Usually, the players on a polo team are numbered 1, 2, 3 and 4, but because I was mixing everyone around so much, I gave everybody his own number," Ayer wrote.
"It didn't make any difference what position I played; I was number 13," he wrote. "This was nice for the players, but it also served to open the game to outside spectators. The traditional numbering system is all very fine if you're a club member and know everyone. But for an outsider, it is important to be able to identify the players. That way people can develop favorites and cheer them on."
Ayer's son, Neil Ayer Jr., fondly remembers his father, who passed away in 1990, as a man who was committed to Myopia's time-honored traditions and its ideals of sportsmanship.
"As his son, I'm of course immensely proud of him," says Ayer Jr. "I might be biased, but what I remember was that he, more than anyone at that time, was focused on polo, building and painting,
Carl and Alyssa Scherer
David and Tracy Strouss
Ted and Kim Ober SUPPORTERS
Stephen Burr and Taryn Wilson
Kim and Nick Cutler
Lyle and Donna Graham
Patricia and Gary Johnstone
Kingswood N.E. Polo and Equestrian
Susanna Colloredo-Mansfeld
Leslie Milne
Deidre Quirk and Mike Brennan
Robert and Darlyn Wilkinson
FRIENDS
Edward and Kathy Armstrong
Sandra Dunstan
Mary Ann Esdaile
Ashley Hill
Orion Mercaitis
Michelle MacIntyre
organizing, solving problems, and getting people involved. I'm honored and thrilled that his efforts have led to the new field bearing his name. He would be delighted to see the families and individuals, both from his time and now, that are still involved and remembered."
The younger Ayer, while acknowledging the work of other club members, notably Tim Clark Sr., Don Little Sr. and Crocker Snow Sr., described his father as a "spark plug." Ayer Sr., in his memoir, saw himself the same way.
"When I returned home in the mid-50s and began playing polo again, I took something of a lead in revitalizing the game," Ayer wrote.
For that, generations of Myopia polo players are indebted to Neil R. Ayer Sr.
Above: Neil R. Ayer Sr. playing alongside actor Steve McQueen during the filming of "The Thomas Crown Affair" in 1967.
Below: Neil Ayer Jr. and his wife, Linda at Myopia Polo Club.
PITCH PERFECT
wear flat-soled shoes, since high heels and "stomping divots" don't mix.
"And we'll have the occasional parent warning a small child, 'Nope, that's not dirt. That's horse poop,'" says Kratz. "Our announcer, Trish Johnstone, will tell spectators, 'Watch out for the steaming piles of dirt.'"
Kratz's crew is also responsible for painting the boards that run along the perimeter of the field (especially important for a smaller pitch like Gibney), laying lines and upkeep of the scoreboard.
Myopia Polo will have access to five fields this season, including Bird Field and Raymond Field, both in Ipswich. Kratz's crew also helps with the maintenance of the Joseph Poor Arena, which falls under the auspices of the Myopia Schooling Field Trust and Harvard Polo.
"The number of hours on field repair a week varies depending on the level of play — the higher the level of play, the more damage is done — and weather conditions," says Kratz. "The number of games we have depends on how many teams enter each tournament, but during the busiest part of the season, when the professionals are in town during July and August, we can expect to have at least six games a week.
"Rough math would give us about 70 games a season," she says. "We also have practices six days a week starting in late May."
 Polo takes off at Myopia
Polo flourished during its first two decades at Myopia. Before the turn of the century, a young team from Myopia traveled to Brooklyn, N.Y., to compete in the Senior Championship. The Myopia foursome captured the club's first national championship with an upset victory over a favored Rockaway side, wrote Snow Jr. in a 1988 issue of POLO magazine.
"The first years of the 20th century were the tuxedo time of Myopia polo, when throngs of the well-heeled turned up at Gibney Field in carriages and sipped tea under parasols over Sunday afternoon, as the athletes sweated on the field of play," wrote Snow Jr. "One of those sweating, Rodolphe 'Dolph' Agassiz, was rewarded with a coveted 10-goal rating, the only Myopia player ever to achieve this status. (Coincidentally, Snow's own son, Adam, would become Myopia's second 10-goal player a decade later.)
"Agassiz and R. Gould 'Bobby' Shaw, who reached nine goals, helped capture a second national championship 1904," wrote Snow Jr. "Myopia had become a focal point of American polo. In 1907, eight hosted the first formal collegiate game between the teams from Harvard and Yale."
Sadly, this period of early prominence sputtered and died with the country's entry into World War I.
50 myopia polo 2023


"The first years of the 20th century were the tuxedo time of Myopia Polo, when throngs of the well-heeled turned up at Gibney Field in carriages and sipped tea under parasols over Sunday afternoon, as the athletes sweated on the field of play."
Crocker Snow Jr.
Bird's Field
While the 136-year-old Gibney Field is slightly smaller than most regulation polo pitches, the field's defining feature is "The Dip."
"What makes playing polo on Gibney unique is that the field has some interesting features," says David Strouss. "From a spectator's viewpoint, the far southwest corner seems to disappear. In reality, although there is a very gradual slope as the field slightly descends to the pond several hundred feet beyond the endline, it's hardly noticeable or a factor when playing.
"Of more concern are the towering pines at the ends of the field that can make for some interesting stops," he says. "More than one player has disappeared into the pines beyond the scoreboard. Fortunately, all emerged intact."
Many consider the field perfect, not in spite of its imperfections but because of them.
"The dip is still there. There've been many talks of leveling the field out, but we haven't done it," says Wilber with a subtle laugh. "It's very cool and historic. I can't speak from a player standpoint if they like it or not. I've heard both. I hear that some of the (local) guys like it because they see it as a home-field advantage."
 Hollywood meets Myopia 
Following World War II, Myopia Polo slowly regained momentum. Players like Adam Winthrop, Crocker Snow Jr., and future USPA president Don Little — the latter organized impromptu matches during his time as a B-47 bomber pilot at the Strategic Air Command Base in Arizona — inspired veteran players like Tim Clark, C.G. Rice and Neil Ayer to reclaim Gibney Field, which had gone fallow. Polo's post-war renaissance was hastened by the arrival of Cyril Harrison, considered one of the finest polo instructors of his time.
The sport became so popular that members built an outdoor arena, so they could play on Wednesday nights under the lights. The arena, built in 1960 by players under the direction of Les Crossman with the remnants of an old Revere dancehall, became the site for several national tournaments. It is named after Joseph Poor, a Myopia mainstay who Snow Jr. described as "a fine player and even finer gentleman." On an oppressively hot Sunday afternoon in 1960, Poor,
MYOPIA POLO SOARS WITH CONSORTIUM AFFILIATION
BY BRION O'CONNOR
Like many younger Myopia members, Ian Graham, the 20-year-old son of former polo captain Lyle Graham, is an active member of the club's next generation. What sets Ian apart, however, is the role he has created for himself at the club.
Ian, who is on the autism spectrum, is a member of polo manager Erica Kratz's work crew, one of several staffers who participate through the Northeast Education Consortium's SOAR program, an innovative collaboration with Salem State University. SOAR is designed for students with Asperger's Syndrome, anxiety disorders and other related challenges. The consortium offers three programs for secondary and post-secondary students through age 22 with moderate intellectual, mental health and learning disabilities.
"We are about to begin our second year working with the Myopia Polo Hunt Club, where our students work alongside the club's facility staff to ensure the polo fields are kept in pristine, ready-toplay condition," says Melissa Noble, community job placement and transition coordinator for the Northshore Education Consortium. "Our students are gaining valuable work experience, including how their efforts not only benefit the club members but also for the safety of the horses and their riders. Students translate that experience into a variety of potential employment options, including landscaping and equine studies."
According to Lyle Graham, Ian alone took the initiative, and responsibility, to partner with Myopia and specifically Kratz's work crew. "He put a plan together with SOAR and then pitched Erica Kratz, who stepped through the potential challenges to put together a win-win scenario," says Lyle. "Erika and Captain Dave Strouss have been extremely supportive, and found an innovative way to support the daunting task of field maintenance and facility upkeep."
"I am very proud of my son for being a proactive advocate for both SOAR and the Myopia Polo program," says Lyle. "He had the concept, facilitated the plan, and worked the roll-out with Erica.
"Polo and equestrian activities have been an enormous part of my personal and family life. To have Ian involved with Myopia Polo is a great source of pride and easy path for us to connect with each other," he says. "The life lessons one learns from polo, on and off the field, are invaluable — work ethic, interpersonal skills, competition, learning, following instructions and a good sense of humor."
The SOAR students come to Myopia two mornings a week, assisting Kratz with the myriad tasks required to repair and prepare the fields for play. It is invaluable work, says Kratz.
Based on its inaugural campaign last year, the SOAR program, she says, "worked really well for both parties. It was very successful."
51 2023 myopia polo
Ian Graham
PITCH PERFECT
suffering from heat prostration, fell from his horse while playing. He never regained consciousness.
Hollywood came calling in 1967, with Steve McQueen playing a crooked millionaire playboy and Faye Dunaway as the insurance investigator hot on his heels in "The Thomas Crown Affair." The $10,000 windfall from the two-week film shoot enabled Myopia to build a 24-stall polo barn, which is still in use today.
In 1969, Myopia coach Mike Andrews helped re-launch the Harvard Polo Club. In the 1970s, teams from Iran, New Zealand, Pakistan and Argentina all visited Gibney Field. The resurgence of polo on a national level, combined with the relentless inspiration of Myopia captains like Neil Ayer, Don Little and Michael Fawcett, attracted more top teams. The annual Forbes Cup, a New England championship game generally played against Fairfield, Connecticut, gained a strong following, as did the renowned 20-goal East Coast Open, which attracted 11 teams at its height, with top high-goal players and curious crowds.
The field names at Myopia have been selected with care. Gibney Field, the club's iconic tournament pitch, was named after the original owner of the farm that once operated on the parcel where Myopia now stands. Motorists on Route 1A are undoubtedly familiar with Winthrop Field, named after the late Adam Winthrop, who was instrumental in expanding the club's "front field." The tournament pitch directly abuts the rural two-lane highway, which often results in wayward polo balls skittering across the road.
On the western side of 1A stands the aforementioned Joseph Poor Memorial Arena. The arena, says Snow Jr., reflects the "do-it-yourself" spirit of the Myopia players in the 1950s and '60s, and is credited with inspiring several generations of younger players.
"The Joseph Poor Arena is a vital part of Myopia Polo, critical to the growth and success of polo at Myopia," says Strouss. "This is where the newcomers and younger players learn the game and go on to play competitive interscholastic and collegiate arena polo and often lifelong outdoor polo. Players at Myopia, along with the Crimson Interscholastic, Harvard Intercollegiate and Stage Hill Polo programs, have all benefited greatly by having the Poor Arena as part of our polo facilities. Special thanks to Yaz and Holly Grotnick for spearheading the campaign to replace the light poles in the arena which came down in a fierce windstorm last spring."
Nearby is the club's newest pitch, the Neil R. Ayer Polo Field. Ironically, the new field was a necessity due to the sport's popularity.
"Due to the growth in polo at Myopia with over 40 players, the need for more and better fields was very apparent," says Strouss. "Myopia Polo began using a field at the Myopia Schooling Field originally built for horse shows a few years ago. But with drainage ditches running across the field and a stone jump on the field, we undertook a major overhaul beginning in 2021."
The project, which included re-grading the
52 myopia polo 2023

The $10,000 windfall from the two-week film shoot enabled Myopia to build a 24-stall polo barn, which is still in use today.
Raymonds Field
field, increasing its size by nearly an acre, replacing an antiquated irrigation system and hydroseeding, was completed in the fall of 2022. The advantage of having numerous fields can't be overstated. The very thing that makes polo such an exhilarating game — the thundering hooves of the ponies — wreaks havoc on a pitch.
"The horses damage the field, and it's a significant amount of damage. The more fields you have, the better," says Wilber. "That way, you can spread the damage out, and give fields some time to recover."
Since 1990, under the leadership of captains like Neil "Ted" Raymond, Rob Wilkinson, Lyle Graham, Albert Ellis and Franz ColloredoMansfeld, Myopia Polo has achieved lofty status, regionally and nationally. Further accolades have come through the club's relationship with Harvard Polo. In the past decade, the club has sent many local players to intercollegiate, national and international tournaments.
In the last six years, Myopia has hosted almost 20 USPA tournaments, more than any other club in the northeast. The club has also continued to entertain National Youth Tournament Series qualifiers, as well as in-house youth and coaching leagues. Above all, Myopia remains dedicated to introducing players to the sport.
Despite its glittering reputation, Myopia is not content to rest on its laurels.
"Myopia Polo has a nationwide reputation as one of the oldest and most prestigious clubs, renown in past years for hosting the East Coast Open and Agassiz high-goal tournaments," says Strouss, who began playing at Myopia Polo in 1994 and has been a member of Myopia Polo for 29 years. "A main part of the attraction is the beauty and tradition of the polo grounds at Myopia.
"Not much has changed — the historic Myopia Hunt Clubhouse, Mortimer Pond and the famous Myopia golf course serves as the backdrop for polo games played on Myopia's Gibney Polo Field," he says. "You won't find electronic scoreboards or fast-food vendors, only the red and yellow tent — Myopia Hunt colors — adorning the same Pavilion seating area that existed 50 years ago. The only change is the growth of the stately pines surrounding the polo fields, 100 years later."
MAKE THE MOST OF GAME DAY
Make the Most of Game Day
A polo outing at Myopia is an invitation to a great time, provided you're properly prepared. With matches starting in late spring and continuing through late fall, weather conditions can vary dramatically.
"On cloudy days, either early in the season or late season, it's good to have an extra jacket in the car for when the wind picks up," says Hamilton's Terri Campbell, a Myopia member and polo player. "Setting up a 10-by-10 tent is essential on hot days. We often open the back end of the SUV to provide a little extra shade, especially for food setup and a cooler space for the dogs."
Bug spray, sunscreen with an SPF rating of 30 or higher, and plenty of fresh water (and other fluids) are highly recommended. There is no concession stand.
"I have a canopy for shade, and bring chairs, tables, luxury food and drinks that I share with my guests and anyone who drops in," says Mary Blair of Peabody, a longtime polo patron. "We are side by side, and there's a lot of socializing while the match is under way.
"There is nothing better than sitting within 10 feet of the sideboards on a great summer day and hearing the pounding of the horses' hooves as they race by toward the goal," she says. "It's exhilarating."
What to Wear
"While Myopia is among the oldest polo clubs in the U.S. and has a long history of traditions, there is flexibility in proper clothing for a polo match," says Campbell. The emphasis should be comfort. Start with polarized sunglasses and the right clothing.
"No one will be out of place with summer dresses for women and lightweight trousers with a linen jacket for men," says Campbell. "However, polo shirts and khaki shorts are more common."
Ladies, leave the spiked heels at home, since they sink into the soft turf. Wedges or flats are a better choice, especially
when it's time to stomp divots. Conversely, wide-brimmed hats will protect your eyes from the mid-summer sun. Likewise, baseball caps work for women, men and children, though it's not unusual to see gentlemen sporting stylish straw fedoras.
Where to Sit
Gibney Field is enormous, with an infamous dip toward the clubhouse. A comfortable chair is a big advantage to keep your eye on the action. Recommended accessories include binoculars and a camera with a telephoto lens.
"I've collected pink metal folding chairs and several folding tables, and somehow it all fits in the car," says Kirsten Alexander of Wenham. "I set the tables with linens, and use vintage tin plates, a silver champagne bucket and a vintage picnic basket. Don't forget paper towels."
Spectators should pack out whatever they bring in. Trash bags are a must.
Safety First
Respect the white lines drawn to keep you and your cohorts at a safe distance. Don't forget, this is a game with eight large, powerful ponies capable of making the ground shake.
"The first rule of thumb is more about safety than fun," says Campbell. "Always keep an eye on where the play is, so if the ball is hit in your direction, you can move away quickly. Remember, this isn't like hockey where there is a Plexiglas shield between players and spectators. And that ball will hurt if you get hit."
Don't be Shy
Players and their ponies are usually very approachable, giving fans a chance for a real "hands-on" experience.
"Visit the horse trailers on the side of the field," says Blair. "You'll be able to see the horses and equipment up close."
Pet Owners
Your four-legged friends are welcome but with restrictions. Dogs are expected to be on a leash at all times. Have enough water for them on warm days.
2023 myopia polo 53
An insider's guide to the where, when and how of Sundays at Myopia.
TOURNAMENT
Experience the excitement of high-level matches from six major tournaments featuring some of the best polo players.
by Brion O'Connor
PHOTOGRAPHS BY JACQUELINE MILLER
HIGHLIGHTS
Every polo match has the potential to be a special event, combining fierce competition and a festive atmosphere. That's especially true at Myopia's major USPA high-goal tournaments, plus the Tuckerman Cup 4-Goal, that are the highlight of the summer season. For proof, consider last year's schedule, when the finals in four of the six major tournaments were decided by a single goal or fewer.
"The five major tournaments at Myopia are the highest level of polo played at the club and by far involve the most competitive and exciting polo," says Myopia Polo Captain David Strouss. "By having
these tournaments, we attract some of the best polo players to Myopia.
"What stood out to me was that six different teams won tournaments in 2022," says Strouss. "In addition, almost all the finals were decided by one or two goals. This shows how incredibly competitive tournament play is at Myopia, with no single team or two dominating."
Strouss also reserved special praise, and gratitude, for the professional players who anchored the teams: Manuel Mazzocchi, Felipe Viana, Nachi Viana, Federico Wuff and Ernesto "Rulu" Trotz.
TOURNAMENT SPOTLIGHT
CYRIL HARRISON
FINAL: DEL RANCHO 14, BLACK OAK 11
WINNING TEAM: Del Rancho (Dave Strouss, Nachi Viana, CB Scherer and Stephen Burr) defeated Black Oak (Johann ColloredoMansfeld, Estani Puch, Estani Puch, Jr. and Felipe Viana), 14-11.
MOST VALUABLE PLAYER: Nachi Viana
BEST PLAYING PONY: "Agosta" (owned by Felipe Viana)
56 myopia polo 2023
Winning Team, Del Rancho (from left): Nachi Viana, Stephen Burr, David Strouss and CB Scherer
CHAIRMAN'S CUP
FINAL: BLACK OAK 12, AVID/LONGMEADOW 11
WINNING TEAM: Black Oak (Johann Colloredo-Mansfeld, Estani Puch, Estani Puch, Jr. and Felipe Viana) scored a nail-biting victory over AVID/ Longmeadow (Ariadne Dogani, Reed Miller, Federico Wulff and Ernesto Trotz), 12-11.
MOST VALUABLE PLAYER: Ernesto Trotz
BEST PLAYING PONY: "Milonga" (owned and ridden by Felipe Viana)
2023 myopia polo 57
Winning Team, Black Oak (from left): Johann Colloredo-Mansfeld, Estani Puch, Estani Puch Jr. and Felipe Viana
TOURNAMENT SPOTLIGHT
TOURNAMENT SPOTLIGHT
FORBES CUP
FINAL: HUSARIA 9.5, FOLLY FIELDS/DEL RANCHO 9
WINNING TEAM: Husaria (Grace Grotnik, Lars Neumann, Benji Daniels, Manuel Mazzocchi and alternate Augie Grotnik) recorded a half-point win over Folly Fields/Del Rancho (David Strouss, Terri Campbell, CB Scherer and Nachi Viana).
MOST VALUABLE PLAYER: Manuel Mazzochi
BEST PLAYING PONY: "Celeste" owned by Manuel Mazzocchi
58 myopia polo 2023
Winning Team, Hasaria (from left): Manuel Mazzocchi, Benji Daniels, Grace Grotnik and Lars Neumann.
TOURNAMENT SPOTLIGHT GOVERNOR'S CUP
FINAL: FOLLY FIELDS 11, KINGSWOOD/REAGAN 10
WINNING TEAM: Folly Fields (Terri Campbell, Augie Grotnik, Jose Tomas Labbe, Manuel Mazzocchi) took a narrow win against Kingswood/Reagan (Kathleen Reagan, Ariadne Dogani, Federico Wulff, Ernesto Trotz), 11-10.
MOST VALUABLE PLAYER: Manuel Mazzocchi
BEST PLAYING PONY: "Karen" (owned by Ariadne Dogani)
2023 myopia polo 59
Winning Team, Folly Fields (from left): Manuel Mazzocchi, Jose Tomas Labbe, Augie Grotnik and Terri Campbel with season sponsors from Engel & Volkers
TOURNAMENT SPOTLIGHT
TUCKERMAN CUP 4 GOAL
FINAL: STONE'S THROW/FOLLY FIELDS 5, SIRIUS 2.5
WINNING TEAM: Stone's Throw/ Folly Fields (Patricia Johnstone, Terri Campbell, Manuel Mazzocchi, CB Scherer) won convincingly over Sirius (Michael Wales, Orion Mercaitis, Estani Puch Jr., Felipe Viana), 5-2.5.
MOST VALUABLE PLAYER: CB Scherer
BEST PLAYING PONY: "Toby" (owned by Estani Puch)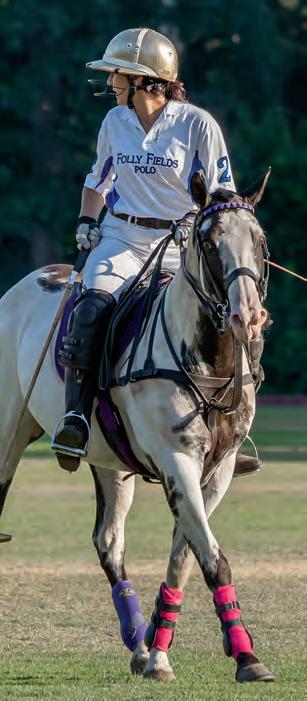 60 myopia polo 2023
Winning Team, Stone's Throw/Folly Fields (from left): Aurelia Rus, Manuel Mazzocchi, CB Scherer and Terri Campbell
CROSSMAN CUP
FINAL: STAGE HILL/PONY UP 7, DEL RANCHO 6
WINNING TEAM: Stage Hill/Pony
Up (Rick Salter, Tom Rizzo/Steve Rudolph, Amanda Poor, Ernesto Trotz) edged Del Rancho (David Strouss, Marion Dierickx, Aurelia Rus and Manuel Mazzocchi), 7-6.
MOST VALUABLE PLAYER: Amanda Roberts
BEST PLAYING PONY: "Sammy" (owned by Amanda Roberts)
2023 myopia polo 61
SPOTLIGHT
Winning Team, Stage Hill/Pony Up (from left): Tom Rizzo, Steve Rudolph, Amanda Poor Roberts, Ernesto Trotz and Richard Salter
TOURNAMENT
AWARDS
Congratulations to the following recipients of the USPA 2022 Club awards:
Connie Upchurch Memorial National Intercollegiate Sportsmanship
Award: Andrew Scott, University of North Texas and Grace Grotnik, Southern Methodist University
Billy Linfoot Most Improved Club Player: Aurelia Rus
Clint Nagle Excellence in Equine Welfare: Terri Campbell
Owen O'Hanlon Best Groom: Bryn Barror
Club Polo Pony of the Year: "Toby," owned by Estani Puch
TRIBUTE
Remembering Three Legendary Members
by Brion O'Connor
The storied history of polo at Myopia could not be written without the intriguing cast of players who have saddled up their ponies at Gibney Field for more than a century. In 2022, Myopia lost three of those memorable figures.
Richard W. "Rick" Hartnett
Hollywood will always have a debt of gratitude to former Myopia polo captain Richard "Rick" Hartnett, who passed away in early November 2022, at the age of 73.
"My dad was always very proud of the fact that he taught Steve McQueen how to play polo for a summer at Myopia to get him ready for the polo scene (in "The Thomas Crown Affair") that was filmed at Myopia," said his son, Willie Hartnett. "He was also proud of being a part of and captain of polo for Myopia's Golden Age of polo in the 1980s and '90s, when they had as many as 12 teams for the 20-goal East Coast Open.
"He grew up in Hamilton and was a member of Myopia for as long as I can remember," said Willie. "He was intro-
duced to polo and Myopia by Donald Little when he was a teenager, and he was a multiple time winner of the Chairman's Cup and the East Coast Open."
A graduate of Hamilton-Wenham Regional High School and then Norwich University, Hartnett took his degree in business management to the investment firm Kidder Peabody in Boston. He lived at Mill Pond Farm in Rowley and was an active member of the United States Polo Association, including serving as vice chairman and handicap chairman.
A U.S. Polo tribute essay noted Hartnett's penchant for polo. "Although left-handed, Rick quickly rose through the ranks to become one of the highestrated players at Myopia Polo Club in Hamilton," stated the essay. "At age 13,
he was featured as an athlete to watch by Sports Illustrated." According to his obituary, Hartnett was "a force to be reckoned with on the field," and "never saw a line that wasn't his."
"Rick loved horses, and that was something that he passed on to me and we were able to share," said Willie at his father's funeral. "Rick and I spent a huge part of our lives together on horseback and around the farm. He never found a horse that he wasn't brave enough to get on and go fast."
Steve McQueen wasn't Hartnett's only protégée. David Strouss, the current captain of Myopia polo, said "Rick took me under his wing when I first began playing tournaments at Myopia in the 1990s."
"Together with his son, Willie, we won many 8- and 12-goal tournaments playing on the Hartnett's Pond Hill Polo team," said Strouss. "What impressed me most about Rick was not only his strength as a 2-goal player, but also his commitment to a standard of excellence for playing polo, whether it was organizing a tack room, training horses or preparing for a game."
Michael S. Fawcett
A native of Pittsburgh, Pa., Michael Fawcett was born in 1944, the oldest of four children. He graduated from
2023 myopia polo 63
Courtesy photos
Michael S. Fawcett (at left)
Richard W. "Rick" Hartnett (at right)
TRIBUTE
Hamilton College, earned his law degree in 1969 from the University of Pittsburgh School of Law, and then launched a legal career that began at Eckert Seamans in Pittsburgh before moving to Sullivan & Worcester and Mintz Levin in Boston. His entrepreneurial spirit led him to a business career that included establishing a Pepsi bottling company in Argentina, Braxton Associates, Health Dialog Services, and other new ventures through his firm, Meacham Woodfield, LLC.
Despite his business success, Fawcett may be best known for his triumphs on the polo pitch. He took up the sport at Myopia shortly after moving to the Boston area in 1971. In a 2017 interview with Worth magazine, he spoke of the sport's attraction.
"It was exciting to be playing a sport much like lacrosse and hockey, but going 30-plus miles per hour on a horse that to a degree has a mind of its own," he said. "Mixing all the necessary skills of riding, strategy, teamwork, playmaking and hitting a ball at speed with self-preservation was a challenge that I found irresistible.
"Polo has given me a lot," he said. "I've made lifelong friends. I've been blessed with numerous business opportunities arising from polo connections that have been very rewarding."
Fawcett, who served as Myopia's polo captain for five years, passed away late March 2022, in Savannah, Georgia, at the age of 77.
"Michael was a friend who always had a kind word," said Strouss. "I had tremendous respect for him both as an attorney and businessman and as a sponsor of high-goal polo. His team, Cold Comfort, played and won many tournaments at Myopia, Florida, and Argentina."
According to his obituary, Fawcett "loved sporting horses and dogs."
"He launched a world-class polo team and breeding operation with his Cold Comfort Farm in Hamilton, Mass., and Argentina," stated his obit-
uary. "His team traveled worldwide to win many tournaments at Palm Beach Polo, Saratoga, Myopia Hunt Club and Argentina. His team, with his son, Courtney, playing by his side, won the prestigious East Coast Open among many other trophies; and had the first and only undefeated high-goal season at Saratoga."
Asked the secret to his team's success, Fawcett told Worth: "I would say the single most important contributor was the quality of our horses. Like many patron players and all professional players, I loved being in the barn and dealing with all aspects of the horses, from breeding and training to ultimate retirement or sale. It was a great experience and provided me with friends for life sharing a common passion for horses and the game they play so well."
Delmer "Del" Walton
In early December, Delmer "Del" Walton was killed in a single-car accident near his Walton Farm Polo in Blackville, South Carolina. He was only 39.
"Del was a very young professional polo player when he played at Myopia for the Riva family's Homewood Polo
team," said Strouss. "I recall Del being a fun, down-to-earth pro who was hard to beat on the field."
Walton began playing when he was just 9 years old and became a talented 3-goal professional player. Brothers Nick and Christian Riva shared fond memories of the summer of 2011, when Del lived with the family and played on the Homewood Polo team.
"We remember him more as part of the family that summer than a polo pro," said Christian. "He would have dinner with us every night, joined our 90-year-old grandfather's physical therapy sessions to rehab his polo injuries, and would make asados — Argentine grilling — on weekends. We still talk about the whole lamb he roasted one night.
"He was a great polo player and natural horseman," said Christian. "He would constantly talk about breeding and training his horses in South Carolina. When we went to the races at Saratoga, he would talk through different horses' bloodlines and how someone in his family had bred a particular horses' grandsire. You could just tell this stuff was in his blood."
Likewise, Nick Riva said he'll remember Walton as "a consummate professional, and a great guy on and off the field."
"He was great with horses and brought a warm, fun presence to the barn," said Nick. "On the field, he was a confident quarterback for our team and helped lead us to some great wins."
Walton was survived by his wife, Tessa Callaghan Lord, and their three sons, David, Cal and Harrison.
David Offen, executive director of the nonprofit Polo Players Support Group, said he knew Walton "his entire life."
"I am very proud of how he overcame a lot of adversity in his life and became an accomplished horseman and polo player and, most importantly, a great husband and father to his and Tessa's three boys," said Offen.
64 myopia polo 2023
Delmer "Del" Walton
Photo courtesy USPA
Courtesy • Craftsmanship Integrity • Established in 1988 129 Belcher Street • Essex, MA 01929 50 8.328. 4244 • www.one ilfinebu il ders.com
Find your way home to Hamilton Wenham. Experience the heritage, exceptional tradition and timeless elegance. Katie McClain Global Real Estate Advisor 978.509.8164 katie.mcclain@evrealestate.com