The Long-awaited KSA Accession to BRICS
Green Falcons Make History in
Qatar
Towards Saudi Sustainable Tourism
www.majalla.com Issue 1932- November- 25/11/2022 2 AWeeklyPoliticalNewsMagazine www.majalla.com Issue 1932-November-25/11/2022
A Weekly Political News Magazine
Morgan Freeman and Ghanim Al-Muftah in Unique World Cup Appearance
During COP27 in Sharm El-Sheikh, Saudi Minister of Tourism Ahmad Al-Khatib highlighted the huge responsibility of governments and private organizations in reversing the environmental losses incurred on our planet, pointing out that more tourist activities mean more environmental challenges. Motasem Al Felou explores the prospects of anti-climate change initiatives and projects adopted by Saudi Arabia where regeneration of the environment promises to make the Kingdom a prominent destination for sustainable tourism.
AlUla is an example of the Saudi government's plans towards sustainability where the city's "Journey Through Time" scheme aims to preserve the region's natural and cultural characteristics, turning it into a global destination. Menna A. Farouk depicts the unique aspects of AlUla development and its core projects, including its nature protection projects, heritage and cultural events, and the AlUla Train Project.
As Turkish airstrikes continue over North Syrian areas controlled by the Kurdish SDF, Jiwan Soz discusses the possibility of Ankara launching a new military incursion. He addresses the US and Russian reactions to the ongoing attacks, Iran and Turkey's simultaneous targeting of Iraqi Kurdistan, and the common interest of Turkey and Iran in curbing Kurdish militants.
The BRICS bloc is seeking an expansion of its member states in an attempt to strike a power balance by assembling strong economies and highly-populated countries with vast economic opportunities. Mohamed Al-Hadi writes about the long-awaited Saudi Arabia accession to the group, as more Arab countries are announcing their interest in joining BRICS.
In the Sports Section, Sarah Gamal writes about the thrilling Saudi win over Argentina in a stunning performance by the Green Falcons. The Saudi victory, owing to the coach's strategy as well as the players' commitment, was lauded by Saudis and all Arabs.
Read these articles and more on our website eng.majalla. com. As always, we welcome and value our readers' feedback and we invite you to take the opportunity to leave your comments on our website.
A Weekly Political News Magazine www.majalla.com/eng
Editor-in-Chief
Ghassan Charbel
The Editor Mostafa El-Dessouki
HH Saudi Research and Marketing (UK) Ltd
10th Floor Building 7 Chiswick Business Park 566 Chiswick High Road London W4 5YG
Tel : +44 207 831 8181Fax: +44 207 831 2310
- ةكم قيرط - تارمتؤلما يح - ضايرلا اهل صخرم ىصصختلا عطاقت +44 207 831 8181 :ندنل - 4419933 فتاه :ضايرلا ،www.alkhaleejiah.com :ينورتكلإ عقوم hq@alkhaleejiah.com :ينورتكلإ ديرب + 9714 3 914440 :يبد ،920 000 417 : ةكلملما لخاد نم +44 207 404 6950 :ندنل +00764 537 331 :سيراب +966 11 441 1444 : لودلا فلتخم نمو ينلاعلإا ليكولا Editorial 2 25/11/22
A Weekly Political News Magazine
4 25/11/22
Issue 1932- November- 25/11/2022 A Weekly Political News Magazine 5 25/11/22 50 'She Said': Shattering Decades of Silence Around Sexual Assault in Hollywood Combining Aristotle and Freud 38 AlUla: Journey Through Time 18 54 MIT's New Museum Demystifies the World's Most Complex Technologies 26 Turkish-Iranian Common Goal of Weakening SDF Not Just Another Recession 32 56 Engage Your Heart and Brain, Even When You're Sitting
napshot
6 25/11/22
S
Abu Dhabi Grand Prix - Yas Marina Circuit, Abu - Formula One F1 An air display 2022 ,20 Dhabi, United Arab Emirates - November /is pictured ahead of the race REUTERS
Abu Dhabi Grand Prix
7 25/11/22
napshot S
Iranian soccer fan holds up sign reading Woman Life Freedom Masha Amini prior to the World Cup group B soccer match between England and Iran at the Khalifa International Stadium in in Doha, Qatar, Mon day, Nov. 21, 2022. /AP
8 25/11/22
Iranian Woman Life Freedom
9 25/11/22
EGYPT
Egypt will provide 5,000 seasonal workers to help meet the growing needs of Greece's agricultural sector under a pilot scheme agreed by the two countries on Tuesday. Greece's foreign ministry said in a statement that the deal could be a 'guide' for future agreements signed by Greece and the EU with third countries to combat illegal immigration. "We hope that the rst Egyptian workers will be in the Greek elds to help harvest the next crop early next year," Deputy Foreign Minister Miltiadis Varvitsiotis said after signing the deal with his Egyptian counterpart Ihab Nasr. The Egyptian farm workers will have the right to enter and stay in Greece for up to nine months before returning home Greece and Egypt signed an accord in 2020 designating their exclusive economic zone in the eastern Mediterranean, an area with promising oil and gas reserves.
LEBANON
Lebanon's economy, hit by one of the world's most severe crises, continues to contract although the pace of that contraction has somewhat slowed, the World Bank said in a report published Wednesday.
Real Gross Domestic Product (GDP) - a measure of the total value of a country's economy - in the tiny Mediterranean nation is set to contract by 5.4% in 2022 amid political paralysis and delays in implementing an economic recovery plan.
The World Bank said it had revised its estimate for Lebanon's economic contraction in 2021 to 7% from a previous estimate of 10.4%.
SAUDI
the biggest Argentina.
The South tournament Tuesday against team at the Messi's quest eluded him. Asked how record fth "The truth? we did not
Lionel Messi near the center Saudi Arabia's directions
10 25/11/22
Messi stood with his hands on his hips center circle, looking stone-faced as Arabia's jubilant players ran in all around him after pulling o one of biggest World Cup upsets ever against Argentina.
South American champions and one of the tournament favorites slumped to a 2-1 loss against the second lowest-ranked the World Cup in a de ating start to quest to win the one major title that has him.
how he felt after a painful start to his fth World Cup for Argentina, Messi said: truth? Dead. It's a very hard blow because not expect to start in this way."
SAUDI ARABIA UAE
United Arab Emirates' energy minister said on Monday that the Gulf state denied that it is engaging in any discussion with other OPEC+ members to change their latest agreement, adding that it is valid until the end of 2023.
"We remain committed to OPEC+ aim to balance the oil market and will support any decision to achieve that goal," Suhail Mohamed Al Mazrouei said in a Twitter post.
IRAQ
Iran on Tuesday launched a new round of strikes at Iranian Kurdish dissident groups based in Iraq's northern, semi-autonomous Kurdish region, a spokesman said.
Iranian opposition groups were targeted in two locations, in the areas of Perdi and Degala, according to a tweet by the local government's spokesman, Lawk Ghafuri. He told The Associated Press that it was not yet clear whether there were any casualties in the strikes.
No other details were immediately available. A previous round of Iranian strikes late Sunday night killed a member of the Kurdistan Democratic Party in Iran, or KDPI, one of the Iranian Kurdish dissident groups based in Iraq.
IRAN
The U.N. High Commissioner for Human Rights said on Tuesday that the situation in Iran was "critical", describing a hardening of the authorities' response to protests that have resulted in more than 300 deaths in the past two months.
"The rising number of deaths from protests in Iran, including those of two children at the weekend, and the hardening of the response by security forces, underline the critical situation in the country," said a spokesperson for U.N human rights chief Volker Turk at a Geneva press brie ng.
11 25/11/22
A WEEK ACROSS
BRAZIL.
U.S.
Donald Trump on Saturday said he had no interest in returning to Twitter even as a slim majority voted in favor of reinstating the former U.S. president, who was banned from the social media service for inciting violence, in a poll organized by new owner Elon Musk.
Slightly over 15 million Twitter users voted in the poll with 51.8% voting in favor of reinstatement. "The people have spoken. Trump will be reinstated," Musk tweeted.
The head of Brazil's electoral authority has rejected the request from President Jair Bolsonaro's political party to annul ballots cast on most electronic voting machines, which would have overturned the Oct. 30 election. Alexandre de Moraes had issued a prior ruling that implicitly raised the possibility that Bolsonaro's Liberal Party could su er from such a challenge. He conditioned analysis of the request on the presentation of an amended report to include results from the rst electoral round, on Oct. 2, in which the party won more seats in both congressional houses than any other, and he established a 24-hour deadline.
Earlier Wednesday, party president Valdemar Costa and lawyer Marcelo de Bessa held a press conference and said there would be no amended report.
TURKEY
Turkey's president again hinted at a possible new ground o ensive in Syria against Kurdish militants on Tuesday, as Syrian forces denounced new airstrikes and Russia urged restraint and called on Ankara to avoid an escalation.
Russian presidential envoy in Syria Alexander Lavrentyev said that Turkey should "show a certain restraint" in order to prevent an escalation in Syria, where tensions heightened over the weekend after Turkish airstrikes killed and wounded a number of Syrian soldiers.
,
12 25/11/22
ACROSS THE WORLD
UKRAINE
Power was gradually being restored to Ukrainian cities including the capital Kyiv on Thursday, a day after Russian missile strikes caused Kyiv's biggest outages in nine months of war.
Regional authorities said 25% of homes in Kyiv were still without electricity but the water supply had been restored in some areas and would start working in other areas later on Thursday.
denounced wounded
In a big improvement from Wednesday, when authorities said power was lost across the entire Kyiv region, public transport was operating in the capital, with buses replacing trams to save power.
CHINA. INDIA.
Australia's Parliament passed bilateral free trade agreements with India and Britain on Tuesday, leaving those partner nations to bring the deals into force.
China reported record high COVID-19 infections on Thursday, with cities nationwide imposing localised lockdowns, mass testing and other curbs that are fuelling frustration and darkening the outlook for the world's second largest economy.
The resurgence of infections, nearly three years after the pandemic emerged in the central city of Wuhan, casts doubt on investor hopes for China to ease its rigid zero-COVID policy soon, despite recent more targeted measures.
The curbs are taking a toll on locked-down residents as well as output at factories, including the world's biggest iPhone plant, which has been rocked by clashes between workers and security personnel in a rare show of dissent.
13 25/11/22
over story
Towards Saudi Sustainable Tourism
From Conservation to Regenerating the Planet
By Motasem Al Felou – Jeddah
"The international tourism industry contributes 8% of greenhouse gases and 40% of hard waste. With more activities by the year 2030, more environment chal lenges will be created. This places a huge responsibility on us as policymakers and governments to work closely with the UN, WTO and the private sector to set up plans and restore control, not only to protect the planet, but to
regenerate what has been lost," said Ahmad Al-Khatib, Saudi Minister of Tourism, on the margins of the Sharm Al-Sheikh Climate Change Conference (Cop27), which was concluded last week.
But what is the definition of "sustainable tourism"?
According to the UN Environment Program and UN World Tourism, this kind of tourism is defined as "tour ism that takes full account of its current and future eco nomic, social and environmental impacts, addressing
14 25/11/22
C
the needs of visitors, the industry, the environment and host communities."
This is different from "ecotourism," which refers to a kind of nature tourism that respects the envi ronment.
The new thing the Saudi Tourism Minister is bringing to the table is "environment generation," which is new to the world of tourism.
Saudi Arabia has already begun taking measures and raising the standards of its world-class touris tic projects such as Red Sea, Amala, NEOM and all its sub-projects.
Why is Saudi Arabia taking faster steps towards tourism sustainability? How is this helping regen erate the environment?
NET ZERO TOURISTIC PROJECTS
Starting from drinking water to transportation, the Red Sea Project and its sub-project AMALA rely on renewable resources. The Project encompasses an archipelago of more than 90 islands along the Western coast of Saudi Arabia on the Red Sea.
The Project is set to launch Phase 1 next year and to be completed in 2030. The Project is eco-friendly as it will mitigate carbon dioxide emissions, waste production, and light and noise pollution, while maintaining the destination at a level equivalent to a Marine Protected Area, according to the official website. The Project is financed by the Public In vestment Fund (PIF).
Restoring and conserving marine life through the elimination of pollution and preventing overfish ing will definitely lead to regenerating nature. Last year, the Red Sea Project inaugurated its first sta tion to extract water from sunlight and air. The wa ter station comes as part of the company's culture to preserve the natural environment without resort ing to the natural resources of drinking water.
NEOM and its sub-projects The Line and Troje na – All those projects are eco-friendly and will completely rely on clean energy such as wind, sun light, green hydrogen, etc. According to NEOM's official website, Trojena will be an iconic, worldclass destination, blending natural and developed landscape.
"Preserving nature is at the heart of PIF's projects.
Saudi Arabia is adopting eco-friendly policies," said Hadi Namani, an Arab researcher.
NATURE RESERVES
The continuous urbanization over the past 100
years has resulted in habitat loss and the extinc tion of various species such as the Arab leopard. In response, The Kingdom has dramatically increased the numbers of protected land and marine areas and nature reserves.
Currently, there are 15 nature reserves across the country, where hunting is completely prohibited. The Environment Police apparatus was founded with the purpose of protecting the environment, wildlife, biodiversity, enforcing the law, and fight ing forest harvesting. Those nature reserves and protected lands are supervised by the Saudi Wild life Authority.
"The establishment of nature reserves, both land and marine, shows seriousness and commitment to nature regeneration. Saudi Arabia has set ambi tious goals to go beyond sustainability to reach the state of nature regeneration, where species that are going extinct will have the opportunity to live and reproduce," said Namani.
The good news is that Arabian oryx and leopards have returned to the wild following long decades of overhunting and capturing. Now, hunting out side the seasons approved by the Ministry of Water and Environment is severely punishable by law. Having more animals untouched in the nature and wildlife reserves proves again the success of the policy of regeneration, taking into consideration that those reserves will be perfect for the safari trips which are part of sustainable, regenerative tourism.
MOBILITY AND MICROMOBILITY
The Red Sea Project has recently signed a deal to buy electric buses that are going to be used to transport tourists. NEOM is currently using micro mobility for movement inside the city.
15 25/11/22
Red Sea project
Saudi Arabia has already begun taking measures and raising the standards of its world-class touristic projects such as Red Sea, Amala, NEOM and all its sub-projects.
over story
Micromobility is defined as transportation over short distances provided by lightweight vehicles operating under 25 km that are designed for per sonal use. The vehicles include dockless bikes, e-scooter, e-buses, e-bikes, other forms of micro mobility. Solar-powered charging stations are an increasingly important source for powering micro mobility.
"Electric vehicles play an important role in cut ting greenhouse gas emissions. One third of the oil consumed worldwide goes for transportation. Transportation accounts for a great share of air pollution. The greener the Kingdom goes, the more
sustainable and regenerative it gets," commented expert Namani on the importance of electric vehi cles in the sustainable tourism future. It is important to note that Saudi Arabia burns 3 million barrels of oil to produce electricity. This means that electricity used in mobility and mi cromobility should be generated from renewable sources.
SAUDI GREEN INITIATIVE
The Kingdom is leading the effort to reduce global warming by self-imposing a commitment to reach net zero carbon emissions by 2060, increase the green cover, and adopt the circular economy. The Middle East Green Initiative includes plant ing 50 billion trees in the region, with one fifth of the total (10 billion trees) to be planted in the Kingdom, which is the largest tree-planting pro gram globally. The initiative involves the recla mation of 200 million hectares of land. The green cover expansion will help capture carbon, fight desertification, and creates a better environment for people, animals, and trees while keeping bio diversity. This initiative has a touristic side. 10 billion trees will be more than enough to turn deserts into green areas that are perfect for touristic activities. Chari
16 25/11/22
The Kingdom is leading the effort to reduce global warming by imposing a self-commitment to reach net-zero carbon emissions by 2060, increase the green cover, and adopt the circular economy.
An illustration of Neom, which will be built in Saudi Arabia's Tabuk province. Credit: Neom.com
C
cover.
The regeneration of the Saudi environment will help make the Kingdom a destination for sustain able tourism.
"It is the outcome of several environmental and anti-climate change initiatives that are going to
help Saudi achieve its sustainable tourism goals," said Namani.
IMPACT ON PEOPLE
Sustainable and regenerative tourism will have a great impact on people. The flourishing environ ment and natural beauty would help the Saudi countryside and its people to create a better tour ism industry.
People do not have to relocate to bigger cities to look for better life conditions. The regenerative na ture will help attract more people to see what the Kingdom has to offer to tourists.
"Social and environmental justice are linked to gether. Whenever nature is respected, it will give more to people, and sustainable, regenerative tour ism will become a reality," concluded the Arab re searcher Namai.
Green Riyadh Project ties, non-profit organizations, and individual/ group volunteering initiatives have already joined forces with the government to increase the Saudi green
17 25/11/22
"It is the outcome of several environment and anti-climate change initiatives that are going to help Saudi achieve its sustainable tourism goals."
Ahmed Al-Khateeb, Saudi Minister of Tourism
over story
AlUla: Journey Through
By Menna A. Farouk
Saudi Arabia is racing against time to turn the coun try's northwestern city of AlUla into a global herit age destination, while preserving the region's natural and cultural characteristics in cooperation with the local community and a team of international experts. In 2021, Saudi Crown Prince Mohammed bin Sal man launched the "Journey Through Time" plan for AlUla, which will take its visitors through 200,000 years of natural and human history.
The scheme sets out a 15-year program to develop the core historical region of AlUla, a unique cultural region located in the northwest of the Arabian Penin sula, in a responsible and sustainable manner.
The plan contributes to the advancement of the Kingdom's Vision 2030, opening a new chapter in the development of AlUla as an open museum, while accelerating the growth of a diversified economy and vibrant society.
According to Saudi officials, the Journey Through Time master plan will transform AlUla into a global
18 25/11/22
C
Saudi Arabia Revives 200,000 Years of Natural, Human History
Time
AlUla is a place of extraordinary human and natural heritage, a living museum of preserved tombs, sandstone outcrops, historic developments and monuments.
destination for heritage, culture and nature.
Improving the quality of life for residents, en hancing job opportunities, and accelerating the development of cultural and tourism infrastruc ture in the region are all goals that are included in the ambitious plan.
Once completed, the master plan for the devel opment of AlUla will contribute to achieving the purposes of the Royal Commission for AlU la Governorate, i.e., to contribute 120 billion ri yals to the Saudi gross domestic product, and to provide 38,000 new job opportunities by 2035.
UNIQUE AND SPECIAL
In an interview with Majalla, Phillip Jones, Chief Destination Marketing and Management Officer, Royal Commission for AlUla, said that the expe rience in AlUla will be second to none.
"In AlUla, it is not about showing up, taking a picture and moving on. It is immersing yourself in the local community, immersing yourself and understanding the local culture, the history and the heritage of the area," he said.
"As I say, it's been around for 7000 years. There's a lot of information to really absorb," Jones added.
The AlUla official also said that heritage sites in the city will be the number one attraction for visitors. However, he added that there are other things to do.
"In addition to that, it's stargazing and hiking and mountain biking, horseback riding, via fer rata, abseiling, zip lining and rock climbing," he said.
"Then, arts. There are some big investments in the arts, and cultural experiences as well. But we're trying to be very experiential as a destina tion because that's what visitors are looking for."
Jones said that there are many characteristics that make AlUla a special place, but the setting is number one.
"I mean, it's very serene, very majestic. It's gor geous landscapes and they're all inspiring. And so that makes it very quiet.
"And, you know, at night you see the stars. Star gazing is one of my most popular experiences, and there's no light pollution."
NATURE PROTECTION PROJECTS
The projects that were announced in AlUla in cluded the inauguration of the Sharaan Nature Reserve, the Sharaan Resort and the Global Fund
for the Protection of the Arabian Leopard.
The Sharaan Nature Reserve contributes to the protection of areas of exceptional environmental value, and will work to restore the natural bal ance in the region between living organisms and the desert environment.
In addition, the reserve aims to conserve natural flora and fauna, and other threatened species of outstanding universal value.
Endangered animal species, including ibex, os triches and gazelles, were also released into the reserve.
As for the Sharaan Resort, for which the founda tion stone has been laid, it will include a number of hotel suites and a site that includes cuttingedge spaces equipped with the latest technical means and services, to hold summit meetings for business leaders, CEOs, artists and others.
The resort was innovatively designed in collab oration with the famous French architect, Jean Nouvel.
The Sharaan Resort emerges from the majestic AlUla Mountains and will carry the legacy of the Nabataean civilization by offering its hospitality amid the surrounding picturesque nature.
The resort blends Arab hospitality which will enhance AlUla's position as a global destination by providing a unique experience for visitors and explorers from all over the world, and all with the participation of the local community.
As for the Global Fund for the Protection of the Arabian Leopard, it will be the largest fund in the world to protect this type of endangered big cat, which is endemic to the mountains of the region.
The Royal Commission also launched the sec ond phase of the international scholarship pro gram, which provides the people of AlUla with the opportunity to study in the United States, the United Kingdom and France.
19 25/11/22
In 2021, Saudi Crown Prince Mohammed bin Salman launched the "Journey Through Time" plan for AlUla, which will take its visitors through 200,000 years of natural and human history.
over story
TRAIN THROUGH CITY
The Kingdom also recently announced its plans to work on the AlUla Train Project. The train will connect the governorate through a number of stations and tracks, including monu ments and historical heritage sites.
The AlUla Train Project is one of the core pro jects in the Journey Through Time plan, and is one of the main pillars of the program to develop AlUla.
The tracks of the AlUla Train extend for 50 kil ometers, starting from AlUla International Air
port in the south, to the city of Al-Hijr in the north.
The train carriages will have designs inspired by the natural and historical heritage of AlUla. Through the Train Project, the Royal Commis sion for AlUla aims to enhance sustainability in mobility, by reducing congestion on the roads and lowering the noise level.
The train will use sustainable electric energy effectively, and will connect centers, neighbor hoods, heritage and tourist sites, and will provide a tourist experience that celebrates the beauty of
This truly unique desti nation is transforming as a global tourist experi ence under the direction of the Royal Commission for AlUla.
20 25/11/22
The projects that were announced in AlUla included the inauguration of the Sharaan Nature Reserve, the Sharaan Resort and the Global Fund for the Protection of the Arabian Leopard.
C
The plan involves a broad range of initiatives across archaeology, tourism, culture, and education and the arts and reflecting Vision 2030's goals.
The region encompasses more than 200,000 years of unexplored human history including the Nabataean city of Hegra, Saudi Ara bia's first UNESCO World Heritage Site.
the natural environment.
The train route is designed to support pedestrian access, sharing bicycles, e-bikes and electric ve hicles as well.
Moataz bin Abdulaziz Kurdi, Head of the Gov ernorate Operations Sector at the Royal Com mission for AlUla Governorate, said: "The train tracks will be part of an integrated network of public transport that has a low impact on the environment and is easy to use for everyone between the various locations of AlUla Gover norate, and our ambition is to create a tourism and service experience in the midst of the envi ronment."
It is expected that the design of the first phases will be completed in 2023, as the Train Project was divided into a number of lines, as the north ern "red" line connects the most prominent tour ist areas and archaeological sites, and it also al lows easy movement between the various main sites specified in the plan.
The second stage extends to the south of AlUla, with an additional 33-kilometer track leading to the international airport.
CULTURAL EVENTS
A series of cultural events are also taking part
in AlUla.
Jones said, "We have 56 different activities this year, including at least seven festivals. So we'll see more and more focused on different aspects of heritage, culture, arts, performance, as well as festivals that focus on wellness.
AlUla also hosts the Winter at Tantora Festi val, which has been extended until February 2023.
The festival presents a distinguished program full of various activities that take place every weekend and include several cultural and ar tistic events featuring Arab and international stars, in addition to holding weekly heritage celebrations and horse racing.
21 25/11/22
The AlUla Train Project is one of the core projects in the Journey Through Time plan, and is one of the main pillars of the program to develop AlUla.
The Long-awaited Saudi Accession to BRICS
Candidate Arab countries have great economic capabilities to add to the bloc
By Mohamed El-Hadi
Saudi Arabia, Egypt, and Algeria have emerged as strong candidates to join the "BRICS" group, which currently includes 40% of the world's population and whose gross domestic product (GDP) exceeds the size of the economies of the major G7 by about four trillion dollars.
BRICS was founded with the intention of including China, India, Brazil, and Russia. BRICS is an acro nym for five major emerging economies: Brazil, Rus
sia, India, China, and South Africa, which joined in 2010 to add the letter "S" to the end of the word. However, it is currently seeking to expand its mem bership list to include larger countries, which would enhance its global capabilities.
BRICS has unique advantages that are not replicated in any other economic bloc in the world in the glob al production of food: grains, especially wheat, and meat, as it provides for 30% of the world's needs in terms of commodities and products. Additionally, China, Russia, India, and Brazil are among the ten
22 25/11/22
Report
largest countries that maintain monetary reserves amounting to about 40% of total world reserves.
At the recent BRICS summit, China adopted a clear policy to support BRICS expansion and sought to hold consultations between the group and representa tives of KSA, UAE, and Egypt, all of which are con sidered potential BRICS members, before Algeria submitted a formal request early this month.
According to observers, the alliance's expansion will achieve its main goal, which was announced in 2006, of having a bipolar world by forming a powerful eco nomic and political bloc that competes with the West and its allies. The accession of Saudi Arabia, with its economic and political power, would strengthen the alliance, especially in light of the Saudi policy of establishing balanced relations with all countries around the world.
The group is hoping that its upcoming summit in South Africa next year will be the most important in the organization's history, as it could see the ac cession of a large number of countries all at once. In addition to the three Arab countries, Turkey and Indonesia have expressed strong interest in joining the bloc, which Goldman Sachs predicts will be able to compete with the economies of the world's richest countries by 2050.
A ROBUST ECONOMY
The BRICS alliance is eager for KSA to join. Rus sian President Vladimir Putin has repeatedly stated his support for Saudi Arabia's membership in the BRICS group, citing the country's policy and prom ising plans to diversify its economy, as well as its dominant position in the oil markets. At the same time, Beijing emphasizes that BRICS is not a closed alliance or an exclusive circle, but a big family of mutual support and partnership for win-win coopera tion.
All economic reports highlight the strength of the Saudi economy, which had the second best economic performance among G20 countries in the third quar ter of last year, with a quarterly growth rate of 5.7%. According to the National Labor Observatory's la bor market benchmarking report, Saudi Arabia also ranked first in labor force growth rate, outperforming the G20 countries between 2012 and the end of 2021. According to the Saudi General Authority for Sta tistics, the Saudi economy grew by 8.6% in the third quarter of 2022, compared to the same quarter in 2021, while the International Monetary Fund predict
ed that the Saudi economy would grow by 7.6% this year, the best growth rate among the G20.
According to economist Ayman Fouda, Saudi Arabia is a strong addition to any economic alliance in the world today. This was evident during the RussianUkrainian war, when world capitals turned to it for help in resolving Europe's energy crisis, emphasiz ing that the Kingdom always takes the decision that serves the well-being of its people and the growth of its economy.
In just two decades, trade between Saudi Arabia and China has increased more than 22 times, from $3 bil lion in 2000 to $67 billion in 2020, with Beijing now becoming SA's primary trading partner. The trade balance is in Riyadh's favor by about 11 billion dol lars, with 39 billion of exports to Beijing and 28 bil lion of imports in 2020.
According to Fouda, the BRICS countries have re cently given Saudi Arabia the status of "Dialogue Partner" in the Shanghai Cooperation Organization. Riyadh is the primary source of crude oil supplies to China. The two countries also have joint investments in the Belt and Road project, as well as in integrated refining and petrochemical complexes. They hope to "enhance cooperation in the energy sector supply chains by establishing a regional centre for Chinese factories to take advantage of Riyadh's unique loca tion between three continents."
According to statements made by Li Kexin, a Chi nese Ministry of Foreign Affairs official, Turkey, Egypt, and Saudi Arabia stand out among the coun tries seeking to join the coalition because they are already well-prepared.
EGYPTIAN DESIRE
Egypt is also keen on joining the bloc, which will
23 25/11/22
Saudi Arabia, Egypt, and Algeria have emerged as strong candidates to join the BRICS group, which currently houses %40 of the world's population.
The 14th BRICS Summit via video link, on June 23, 2022. (Xinhua/Li Tao)
achieve many gains for the country, especially in light of the group's establishment of a development bank with a capital of $100 billion to finance projects in the member states. Moreover, the majority of the coalition's members, China, Russia, and South Afri ca, have an influence on decision-making in Ethiopia and may contribute to resolving the deadlock over the Grand Ethiopian Renaissance Dam.
Ayman Fouda adds that Egypt's BRICS membership may help the transfer technology and industrializa tion from large industrial countries such as China, In dia, and Russia, as well as provide Egyptian exports
with greater access to their markets, alleviate foreign currency problems particularly because the majority of Egypt's imports come from the bloc. Egypt's trade volume with BRICS members is in creasing at a rapid pace. The trade between Cai ro and Beijing recently approached $20 billion, while the trade between Cairo and Moscow was approximately $4.7 billion, $2.5 billion between Cairo and Brazil, and $7.2 billion between Cairo and India.
According to Dr. Salah Al-Din Fahmy, the head of the Scientific Research Unit at the International Center for Economic Consulting, accession to global economic blocs is beneficial for all countries, wheth er new or existing members, because they work to achieve interdependence and benefit for all. The alliance sees Egypt's accession as a great op portunity because of its large population, which con stitutes its global demographic strength. Moreover, Cairo is currently very open to Africa and has plans to connect the continent by rail and road, such as Cai ro–Cape Town Highway, providing a larger window for the bloc's exports to the African market, as well as being an important segment of the Chinese Silk Road.
Fahmy added that the economic blocs are working to expand the size of the market and improve the movement of investments and funds. In addition, this
24 25/11/22
Saudi Arabia's Crown Prince Mohamed bin Sal man (L) shakes hands with Chinese President Xi Jin ping. Photo Credit: Lintao Zhang/Getty Images.
Report
"Cairo is currently very open to Africa and has plans to connect with it by rail and road, such as Cairo–Cape Town Highway, providing a larger window for the bloc's exports to the African market."
would benefit from the labor force surplus, create op portunities in different locations, provide consumers with cheaper commodities, and reduce the impact of external shocks on each country's economy through diversification of production and surplus transfer.
ALGERIAN ASPIRATION
Algeria wants to join BRICS as well, and it was the only candidate to officially declare its desire to join, despite the fact that it is the only country on the Af rican continent that supplies more than 60% of en ergy and gas to Europe. Algeria seeks to diversify its economy, wean itself off oil dependence, and achieve food security in particular, being a major wheat im porter.
Moreover, Algeria and China signed a "second five-year plan for comprehensive strategic coop eration" for the years 2022-2026, with the goal of increasing cooperation in the fields of economy, trade, energy, agriculture, science and technology, space, health, and human and cultural communica tion.
In recent years, Chinese investment in Algeria has increased. Chinese firms are involved in major infra structure projects in Algeria. They have also invested $7 billion in the phosphate sector to produce 5.4 mil lion tons of agricultural fertilizer, as well as extract ing iron ore worth $2 billion as a first stage.
Algeria and Russia have also recently announced drafting a new strategic document for future strength ening and intensification of relations. Furthermore, in 2021 Algeria received its first shipments of Russian wheat in four years, after its markets had continued to rely primarily on France for supply.
Fahmy concluded that Saudi Arabia, Egypt, and Algeria have great economic capabilities that make them a strong addition to the BRICS group, which entails injecting Chinese investments into each coun try through which the Silk Road passes, as well as implementing infrastructure that connects them to China, which already has large investments in the three countries.
25 25/11/22
"The BRICS countries have recently given Saudi Arabia the status of "Dialogue Partner" in the Shanghai Cooperation Organization. Riyadh is the primary source of crude oil supplies to China."
Chinese President Xi Jinping (R) shakes hands with Egyptian President Abdel Fattah Al-Sisi at The Great Hall of The People on September 2, 2015, in Beijing. (File photo: Reuters)
Turkish-Iranian Common Goal of Weakening SDF
Ankara and Tehran are simultaneously targeting North Syria and Iraq
By Jiwan Soz
The Turkish army continues its airstrikes on Syrian areas controlled by Syrian Dem ocratic Forces (SDF) in the countryside of the three governorates of Raqqa, Aleppo and Al-Hasakah. Turkish drones targeted these
regions on a large scale resulting in the kill ing or injury of a number of military and civilian people, including a journalist. Does this mean that Ankara is launching a new military operation against the SDF which is backed by the United States and the Global Coalition against ISIS?
26 25/11/22 Politics
A handout picture released by Syria's General Organization of Radio and Television Telegram channel on Nov. 23, 2022, shows a fire at an unspecified hydrocarbon facility reportedly following a Turkish airstrike near Tal Awdah in north eastern Syria's Hasaka province/AFP
According to information obtained by Ma jalla from SDF and its political umbrella the Syrian Democratic Council, both the United States and Russia reject any new Turkish ground incursion in the regions controlled by the Autonomous Administration of North and East Syria (AANES) which include ar eas from four Syrian governorates: Aleppo, Raqqa, Al-Hasakah, and Deir ez-Zor.
AGAINST GROUND INCURSION BUT NOT AIRSTRIKES
Although Washington and Moscow reject any Turkish ground incursion similar to An kara's previous military operations against SDF between 2016 and 2019, a senior SDF source told Majalla that both capitals don't oppose limited airstrikes by the Turkish mili tary against SDF, in spite of the presence of American and Russian bases in a region that is less than 45,000 km².
The Turkish air bombings have intensified this week, after targeting various SDF-con trolled areas along the Syrian-Turkish bor ders. They coincide with movements by Iran which intends to enter the region from the side of the Arab tribes, particularly in AlHasakah and Deir Ez-Zor, where some ar eas bordering Iraq are controlled by Iranianbacked local Syrian militias.
OPPORTUNITY FOR IRANIAN MILITIAS
Local sources from Al-Hasakah revealed to Majalla that "members of Iranian militias are trying to recruit more tribal members in the Al-Hasakah and Dier ez-Zor countryside, in addition to possible recruitment of people from Raqqa to curb SDF influence." This is a common Turkish-Iranian goal, as Ankara wants to control other SDF-controlled areas, while Iran seeks to weaken SDF to empower its militias as wekk as Syrian regime forces in these regions.
Ankara and Tehran are simultaneously tar geting different parts of Iraq's Kurdistan this week, insofar as they targeted headquarters of Iranian and Turkish Kurdish parties locat ed inside the region. This suggests an unan
nounced common coordination between both sides, according to an international relations and foreign policy expert.
WEAKENING KURDISH ARMED GROUPS
In a reply to Majalla's question about the Ira nian stance on a new possible Turkish incur sion inside Syria, academician Mohammed Mohsen Aboul Nour, the head of the Arab Forum for Analyzing Iranian Policies, said, "Iranian stances are contradictory, which re flects two points."
He explains, "First, any operation by any party to curb the Kurds in Syria or any other country like Iraq and Turkey, would serve Iran's interests, as it is involved in direct confrontation with Kurdish groups, especial ly the armed groups. Iran knows very well that there is near agreement and unity among all these Kurdish groups in various countries. "Second, Iran knows that the Turkish gov ernment sometimes uses the Kurdish card to pressure Tehran by cooperating with Kurdish groups in armed activities inside Iran, and the opposite is correct too. There is, for example, that separation wall between Iran and Turkey because each party knows that the other one uses the Kurds as a punishment."
He goes on to say, "Despite some reports referring to Turkish and Iranian support to Kurdish parties, Turkish and Iranian coordi nation is still possible to curb Kurdish capa
27 25/11/22
"If Turkey expands inside Syria in a way that runs counter to the Astana agreements, Iran may reject the Turkish incursion, and Tehran may resort to hard power to prevent Ankara from this step." – An expert.
Politics
bilities. This was well known since before the Iraqi Kurdistan referendum in 2017, which was rejected by both Tehran and An kara."
MORE IMPORTANT THAN STRENGTH ENING ASSAD
Aboul Nour elaborated that "Iran's desire to undermine the Kurdish component in Syria contradicts with one of its main goals, as any
new Turkish incursion would weaken its ally, Bashar Assad. The Syrian triangle that Iran created with Assad was intended to expand to include other parts of the country until all Syria becomes under the grip of Assad."
"However, it seems that undermining an armed Kurdish player, like SDF, is more essential to Tehran than Assad's extended control over the entire Syrian territory," ex plained Aboul Nour.
The academician further indicated that "Iran's declared strategy on the Turkish in cursion into Syria seems unclear."
"Turkey's air strikes against targets in Syria greatly affect the course of Astana accords, since the Russians, Iranians, and Turks have divided Syria into regions of influence ac cording to their interests," he hinted.
"This means that if Turkey expands inside Syria in a way that runs counter to the Astana agreements, Iran may reject the Turkish in cursion, and Tehran may resort to hard pow er to prevent Ankara from this step," he ex plained.
28 25/11/22
A view of the aftermath of airstrikes Turkey's defense ministry says it carried out in Derik, Syria/ Reuters.
Turkey considers the People's Protection Units (YPG), one of the most prominent SDF components, a branch of the outlawed (PKK), but SDF constantly denies these ties.
Syrian Kurds attend a funeral of people killed in Turkish airstrikes in the village of Al Malikiyah , northern Syria, Monday, Nov. 2022 ,21. The airstrikes, which Turkey said were aimed at Kurdish militants whom Ankara blamed for a deadly Nov. 13 bombing in Istanbul, also struck several Syrian army positions in three different provinces along the border with Turkey. (AP Photo/ Baderkhan Ahmad)
AANES INTENSIFIES COMMUNICATIONS WITH WASHINGTON AND MOSCOW
Majalla obtained some leaks from the AANES that refer to intensifying commu nications between the United States, Russia and the Syrian regime to prevent any new Turkish incursion against the background of the continuous Turkish air raids that started early this week.
Ankara targeted military and civilian fa cilities that killed and injured a number of people.
Sources from the AANES disclosed that "Washington and Moscow have so far insist ed on rejecting the Turkish ground incursion, but this does not mean an immediate stop of the Turkish air strikes or artillery shelling."
The AANES communications with the As sad regime have not resulted in a compre hensive agreement so far, despite Russia's continued attempts, an AANES source told Majalla.
The source stressed that "any Turkish ground incursion may push the regime to send more
of its forces to SDF areas."
In addition to Iran's attempts to weaken SDF by recruiting tribe members in its controlled areas, some ISIS-affiliated networks are try ing to take advantage of SDF's preoccupation with the Turkish strikes, as the extremist or ganization targeted several civilian AANES locations in the countryside of Deir ez-Zor. Some local security forces in AANES areas stated that they have tightened security in the detention centers of ISIS members and
29 25/11/22
"Iran's desire to undermine the Kurdish component in Syria contradicts with one of its main goals, as any new Turkish incursion would weaken its ally, Bashar Assad."
the camps in which ISIS families live in the countryside of Al-Hasakah Governorate, such as Al-Hol and Roj camps.
Turkey's air strikes led to the displacement of residents from the Syrian towns and vil lages located on the border with Turkey, and most of them went to the cities of Raqqa and Al-Hasakah in the south.
A young man, who lives in a border village located on the outskirts of Tal Abyad, said he was prepared to be displaced from his vil lage, but he added that he would not leave the area if there was no Turkish ground in cursion.
He told Majalla, "We are accustomed to the airstrikes that target our villages and towns. They have not stopped since late 2019."
He went to say, "I got tired of displacement, and I can no longer search for another place. I lived in Damascus some years ago and left for my hometown here due to the war, but today I cannot find another place to move to along with my family."
He stressed that "the international commu nity must stop the prolonged Syrian war."
THREE PREVIOUS OPERATIONS AGAINST SDF
The Turkish army previously launched three separate military operations on the Syrian territories, through which Turkey took con trol of Jarabulus and al-Bab for the first time in 2016, then Afrin City in 2018, and Ras al-Ain (Sari Kani) and Tal Abyad in the third large-scale attack in 2019.
In these three military operations, militants of some Syrian groups, which were backed by Ankara and opposing Assad, fought alongside the Turkish army.
Although Turkey signed two agreements separately with the United States and Russia in October 2019, under which it pledged a ceasefire after the SDF withdrawal from Syr
30 25/11/22
Politics
Local security forces in AANES areas have tightened security in the detention centers of ISIS members and ISIS families' camps: Al-Hol and Roj.
A view of the Syrian town of Kobani is pictured from the Turkish border town of Suruc, in Sanliurfa province, Turkey. (Reuters)
ian towns bordering Turkey, it has continued its military attacks in that region since then using drones and artillery shelling.
The latest Turkish assault on northeastern Syria led to the entry of Syrian regime forces along with Russian military police after reaching a military agreement be tween the SDF and the regime for the first time since the outbreak of the Syrian war, which entered its second decade this year.
In the event, hundreds of thousands of peo ple were displaced from Tal Abyad and Ras al-Ain after control of the cities was taken
by the Turkish army accompanied by armed Syrian factions loyal to Ankara. Similarly, about 300,000 of Afrin's original residents were displaced in 2018.
Turkey considers the People's Protection Units (YPG), a Kurdish-Syrian armed group and one of the most prominent SDF com ponents, a branch of the outlawed Kurdistan Workers' Party (PKK).
However, the SDF constantly denies these ties and confirms that it does not pose any threat to the security of any of Syria's neigh boring countries.
31 25/11/22
Economy
Not Just Another Recession
Why the Global Economy May Never Be the Same
By Mohamed A. El-Erian
To say that the last few years have been economically turbulent would be a colossal understatement. Inflation has surged to its highest level in decades, and a combination of geopolitical ten sions, supply chain disruptions, and rising interest rates now threatens to plunge the global economy into recession. Yet for the most part, economists and financial analysts have treated these developments as outgrowths of the normal business cy cle. From the U.S. Federal Reserve's initial misjudgment that inflation would be "transitory" to the current consensus that
a probable U.S. recession will be "short and shallow," there has been a strong tendency to see economic challenges as both temporary and quickly reversible. But rather than one more turn of the economic wheel, the world may be experiencing major structural and secular changes that will outlast the current business cycle. Three new trends in particular hint at such a transformation and are likely to play an important role in shaping economic outcomes over the next few years: the shift from insufficient demand to insufficient supply as a major multi-year drag on growth, the end of bound less liquidity from central banks, and the increasing fragility of
32 25/11/22
financial markets.
These shifts help to explain many of the unusual eco nomic developments of the last few years, and they are likely to drive even more uncertainty in the future as shocks grow more frequent and more violent. These changes will affect individuals, companies, and govern ments—economically, socially, and politically. And un til analysts wake up to the probability that these trends will outlast the next business cycle, the economic hard ship they cause is likely to significantly outweigh the opportunities they create.
DOWN IS UP
Recessions and bouts of inflation come and go, but the last few years have seen a series of highly unlikely, if not unthinkable, global economic and financial devel opments. The United States, once a champion of free trade, became the most protectionist advanced economy. The United Kingdom suddenly devolved into something resembling a struggling developing country after an illfated mini-budget weakened the currency, pushed bond yields skyward, triggered a "negative watch" designa tion from ratings agencies, and forced Prime Minister Liz Truss to resign. Borrowing costs increased sharply as interest rates on more than a third of global bonds went negative (creating an abnormal situation in which credi tors pay debtors). Russia's war in Ukraine paralyzed the G20, accelerating what had previously been a gradual weakening of the institution. And some Western nations have weaponized the international payments system that is the backbone of the global economy in an effort to punish Moscow.
Add to this list of low-probability events China's rapid recentralization under Xi Jinping and its decoupling from the United States, the strengthening of autocracies around the world, and the polarization and even frag mentation of many liberal democracies. Climate change, demographic shifts, and the gradual migration of eco nomic power from west to east were more foreseeable but have nonetheless complicated the global economic environment.
The inclination of many analysts has been to seek be spoke explanations for each surprising development. But there are important common threads, especially among the economic and financial events, including the failure to generate rapid, inclusive, and sustainable growth; the overreliance of policymakers on a narrow toolkit that over time has created more problems than it has solved; and the absence of common action to address shared
global problems. These commonalities, in turn, mostly (although not entirely) boil down to the three transfor mational changes occurring in the global economy and finance.
WORLD REWIRED
Coming out of the 2007–8 global financial crisis, most economists blamed sluggish economic growth on lack of demand. The U.S. government sought to rectify this problem through stimulus spending (although polariza tion in Congress constrained this approach from 2011 to 2017) and, more importantly, through the Fed's decision to floor interest rates and inject a massive amount of li quidity into the markets. The approach was put on ster oids, first by the Trump administration's spending and tax cuts and then by the emergency support doled out by both the Trump and Biden administrations to households and companies during the COVID-19 pandemic—all while the Federal Reserve flooded the system with cash. But unbeknown to many, the global economy was under going a major structural change that was making supply rather than demand the real problem. At first, this change was driven by the effects of COVID-19. It is not easy to jump-start a global economy that has been forced to a sudden halt. Shipping containers are in the wrong place, as are the ships themselves. Not all production comes back online in a coordinated manner. Supply chains are disrupted. And thanks to enormous handouts from gov ernments and abundant central bank liquidity, demand surges well ahead of supply. As time passed, however, it became clear that the sup ply constraints stemmed from more than just the pan demic. Certain segments of the population exited the labor force at unusually high rates, either by choice or necessity, making it harder for companies to find work ers. This problem was compounded by disruptions in global labor flows as fewer foreign workers received visas or were willing to migrate. Faced with these and other constraints, companies began to prioritize making their operations more resilient, not just more efficient.

33 25/11/22
A brokerage in Tokyo, February 2022. (Kim Kyung-Hoon / Reuters)
The imperatives of climate change have created supply difficulties and put already-challenged growth models under even more stress.
Economy
Meanwhile, governments intensified their weaponization of trade, investment, and payment sanctions—a response to Russia's invasion of Ukraine and worsening tensions between the United States and China. Such changes ac celerated the post-pandemic rewiring of global supply chains to aim for more "friend-shoring" and "near-shor ing."
This is not the only rewiring underway. Climate change is finally forcing companies, households, and govern ments to alter their behavior. Given the dangers facing the planet, there is no choice but to evolve away from destructive practices. The unsustainability of the present path is clear, as is the desirability of a green economy. But the transition will be complicated, not least because the interests of countries and companies are not yet suf ficiently aligned on this issue and the necessary interna tional cooperation has been lacking.
The bottom line is that changes in the nature of globali zation, widespread labor shortages, and the imperatives of climate change have created supply difficulties and put already-challenged growth models under even more stress.
SCRAMBLING CENTRAL BANKS
Making matters worse, these changes in the global eco nomic landscape come at the same time that central banks are fundamentally altering their approach. For years, central banks in major economies have responded to virtually any sign of economic weakness or market volatility by throwing more money at the problem. Af ter all, by necessity more than by choice, they had been forced to use their admittedly imperfect tools to maintain economic stability until governments could overcome political polarization and step in to do their jobs. But the longer central banks extended what was meant to be a time-limited intervention—buying bonds for cash and keeping interest rates artificially low—the more col lateral damage they caused. Liquidity-charged financial markets decoupled from the real economy, which reaped only limited benefits from these policies. The rich, who own the vast majority of assets, became richer, and mar kets became conditioned to think of central banks as their best friends, always there to curtail market volatility. Eventually, markets started to react negatively to even hints of a reduction in central bank support, effectively holding central banks hostage and preventing them from
34 25/11/22
Recessions and bouts of inflation come and go, but the last few years have seen a series of highly unlikely, if not unthinkable, global economic and financial developments.
Aerial view of contain ers piled at the Port of Los Angeles on January 19, 2022 in San Pedro, California. (Qian Weizhong | VCG | Getty Images)
ensuring the health of the economy as a whole. All this changed with the surge in inflation that began in the first half of 2021. Initially misdiagnosing the problem as transitory, the Fed made the mistake of en abling mainly energy and food price hikes to explode into a broad-based cost-of-living phenomenon. Despite mounting evidence that inflation would not go away on its own, the Fed continued to pump liquidity into the economy until March 2022, when it finally began rais ing interest rates—and only modestly at first.
But by then inflation had surged above 7 percent and the Fed had backed itself into a corner. As a result, it was forced to pivot to a series of much steeper rate hikes, including a record four successive increases of 0.75 per centage points between June and November. Markets recognized that that the Fed was scrambling make up for lost time and started worrying that it would keep rates higher for longer than would be good for the economy. The result was financial market volatility that, if sus tained, could threaten the functioning of global financial markets and further damage the economy.
RISKY BUSINESS
The conditioning of markets to always expect easy mon ey had another perverse effect, encouraging a significant chunk of global financial activity to migrate from highly regulated banks to less well understood and regulated entities such as asset managers, private equity funds, and
hedge funds. These entities did what they are paid to do: take advantage of prevailing financial conditions to turn a profit. That meant taking on more debt and lever age, venturing further from their areas of expertise, and running ever greater risks on the assumption that easy money and reliable central bank support would persist well into the future.
Few of these firms planned for a sudden change in the cost of borrowing or access to funding. An extreme ex ample of the kind of shock that ensued was the October 2022 near financial meltdown in the United Kingdom. After Truss announced a plan for large unfunded tax cuts, government bond yields surged, catching some of the country's highly levered pension funds by surprise. If it weren't for an emergency intervention by the Bank of England, a U-turn by the Truss government, and the prime minister's eventual ouster, the bond selloff could have spiraled into a major financial crisis and ultimately an even more painful recession.
Mohamed A. El-Erian
35 25/11/22
Global economic and financial outcomes are becoming harder to predict with a high degree of confidence.
Economy
The fragility of the financial system also complicates the job of central banks. Instead of facing their normal dilemma—how to reduce inflation without harming eco nomic growth and employment—the Fed now faces a trilemma: how to reduce inflation, protect growth and jobs, and ensure financial stability. There is no easy way to do all three, especially with inflation so high.
BUMPY ROAD, BETTER DESTINATION
These major structural changes go a long way toward ex plaining why growth is slowing in most of the world, in flation remains high, financial markets are unstable, and a surging dollar and interest rates have caused headaches in so many countries. Unfortunately, these changes also mean that global economic and financial outcomes are becoming harder to predict with a high degree of con fidence. Instead of planning for one likely outcome—a baseline—companies and governments now have to plan for many possible outcomes. And some of these out comes are likely to have a cascading effect, so that one bad event has a high probability of being followed by another. In such a world, good decision-making is dif ficult and mistakes are easily made. Fortunately, what it takes to navigate such a world is not a secret. Resilience, optionality, and agility are all vital. Resilience, or the ability to bounce back from setbacks, is often dependent on strong balance sheets and stamina, endurance, and integrity. Optionality, which enables a change in course at a low cost, is underpinned by the open-mindedness that comes from diversity in gender, race, culture, or experience. And agility, or the ability to react quickly to changing conditions, depends on leader ship and governance that allow for bold moves in mo ments of greater clarity.
This trifecta of resilience, optionality, and agility will not insulate companies and households from all the eco nomic and financial bumps that lie ahead. But it will sig
nificantly enhance their ability to navigate those bumps and increase the probability that they will wind up at a better destination—one that is more inclusive, climatefriendly, and collaborative and a lot less reliant on a dis torted and precarious finance.
For national governments and central banks, the goal should be to minimize accidents along this journey and improve the odds that everyone winds up in a bet ter place. Policy priorities should include modernizing infrastructure to help increase supply, improving labor training and retooling programs, and launching publicprivate partnerships to meet pressing needs such as vac cine development. At the same time, governments and central banks should keep fighting inflation and improve the coordination of fiscal policy, monetary policy, and structural reforms that enhance productivity and growth.
36 25/11/22
The global economy was undergoing a major structural change that was making supply rather than demand the real problem.
Bangkok›s port along the Chao Phraya River. As the developed world struggles with rising prices, concern grows over spillover effects on the developing world. Reuters
Governments should also improve supervision and regu lation of non-bank financial entities, which will require gaining a much better understanding of the technical linkages between them, the implicit leverage that lurks off their balance sheets, and the channels through which risk can spread to the broader financial system. Finally, governments should put in place stronger safety nets to protect the most vulnerable segments of society, which time and again have been the most exposed to economic and financial shocks.
Such efforts will need to extend to the multilateral level. Governments will need to work together to re form international financial institutions, pool insurance against common shocks, enhance early warning systems, preemptively restructure the debts of countries laboring
under heavy debt overhangs that starve their social sec tors and inhibit capacity-building, and improve the func tioning of the G20.
This is a tall order, but a feasible one. The longer house holds, companies, and governments fail to recognize and respond to the structural shifts taking place in the global economic and financial system, the harder it will be to mitigate the risks and to seize the opportunities as sociated with these changes. The world isn't just teeter ing on the brink of another recession. It is in midst of a profound economic and financial shift. Recognizing this shift and learning to navigate it will be essential if the world is to arrive at a better destination.
This article was originally published by Foreign Affairs.
37 25/11/22
ook Reviews B
Combining Aristotle and Freud
A Book that Explores the Meaning of Life and Moralism
By Mohammad Ali Salih – Washington
Jonathan Lear ( 72years-old), a long-time professor at Yale University and currently at the University of Chicago, has combined both practicing psychoanalysis and studying philosophy, in the sense of specializing in both Greek philosopher Aristotle (he wrote at least three books about him), and psychologist Sigmund Freud (at least two books).
In between, he became interested in the subject of the soul, as analyzed in his book, "Open Minded: Working Out the Logic of the Soul," arguing that the soul might be both spiritual and physical, and finding explanations again in both Aristotle and Freud.
A dictionary defines "soul" as "the spiritual or immaterial part of a human," and another dictionary adds, "believed to exist after death."
The author elaborates the definition in his book and uses phrases like "the principle of life, feeling, thought, and action in humans … a distinct entity separates from the body … (and) the spiritual part of humans as distinct from the physical part." While the Quran says that the "ruh" (soul) is from God, and is separate from "nafs" (self), as does the Bible and some other religious books in a variety of ways, Lear tries to stay away from religion, most probably because he has also been a political commentator and is trying to avoid being supportive of one religion but not others. In this book, although he criticizes Freud for trying to solve all of humanity's problems with one theory (as does Aristotle), he defends Freud for his work
in the field of conscious and unconscious, and in relation to the human soul.
Author Lear argues that humans have complex psychological features that are beneath the surface of their conscious understanding – but are "deceiving" themselves for thinking that they know their minds.
As with most of his books, in this book he added another factor to his twin factors of psychoanalysis and philosophy: everyday events.
In a chapter titled "When Meghan Married Harry," he explains that American Meghan Markle's 2018 marriage to British Prince Harry had two layers: a secret wedding ceremony with only the two of them and the Archbishop of Canterbury, which was conducted a few days before the big public one.
The author quotes Markle saying that she wanted to "live authentically," because there was something "phony" about the spectacular royal weddings. The author credits Markle for using her "intuition" (without using conscious thinking and reasoning), then he moved to argue that Markle's situation was, in a sense, like all human situation – we are all "trapped."
Book: "Imagining the End: Mourning and Ethical Life"
Author: Jonathan Lear
Publisher: Harvard University Press
Paper pages: 162 Paper book: $29.95
38 25/11/22
The book's title, "Imagining the End: Mourning and Ethical Life," relates the above-mentioned subjects' to the "End," of people and of the meaning of life. In other words, actual death, and thinking about death – and the future of mankind – can give meaning to the complexities of our life.
From the American Civil War to Coronavirus, the author details examples of wondering about the meaning of life in times of death and near death.
All throughout, the author is concerned about moralism, as a philosophy and as an everyday practice, and repeatedly returns to the subject of the spirit and the soul.
Insofar as he is a psychologist, he stays away from established religions, although not from spiritualism. This may be because many Western moral philosophers (particularly the French) were influenced more by secularism than by spiritualism. How to break the chains and "un-trap" ourselves?
The author suggested more humanism and less materialism, as in the spectacular royal wedding of Markle and Prince Harry. In the tradition of Aristotle, the author calls for a culture that is engaged with the past of humanity so as to enrich the present and maybe solve the problems of the present.
He calls for "a capacity for critical playfulness, for re-creation and change of the very concepts with which we are thinking. We are freed up for a poetic reinterpretation of authenticity, as well as
opened to the possibility of giving up the concept altogether and living according to different concepts."
Using another everyday example in combination with psychology and philosophy, he remembered his own childhood when one day he made a mistake and was confronted by a tough teacher who, instead of punishing him, called upon him to think about moralism, the conscious and the unconscious.
The teacher was scary: "He was wearing a trench coat, belted in the middle. His hair was in a crew cut, common among men at that time. He might have been a police detective in a television show. He came over, looked me in the eyes, and said in a low, calm voice: 'We do not use profane language on the playground.' He then turned around and walked away. That was it."
The message of moralism (of right and wrong) is not new to the believer. But this secular author is calling for a new way of thinking.
An example is his emphasis on imagination: "Our imaginations open the future, recreate the past, and enliven the present. These are virtues, or excellences, of imagination. But we also know that imagination can get in our way, distort our vision, and insist that falsehoods are true. When it comes to imagination, there is such a thing as ill health. So, what I am concerned with are real threats to the imagination as we face real threats coming from the world."
He added: "We have a hunch that we are onto something important about being human, but we are also in the midst of life and thus in the midst of confusions, contradictions, and unclarities."
A believer might think otherwise.
39 25/11/22
Author Lear argues that humans have complex psychological features that are beneath the surface of their conscious understanding – but are "deceiving" themselves for thinking that they know their minds.
Book Cover
2 A Weekly Political News Magazine www.majalla.com Issue 1932- November- 25/11/2022 Morgan Freeman and Ghanim Al-Muftah in Unique World Cup Appearance
port s
Saudi Arabia's Green Falcons Make History in Qatar
In a stunning 10-minute period after halftime, they turned the game on its head in Lusail
By Sarah Gamal
Last Tuesday, Saudi Arabia, ranked 51st in the world, stunned two-time World Cup winners Argentina in a thrilling Group C opener in Lusail, pulling off one of the big gest World Cup shocks in history.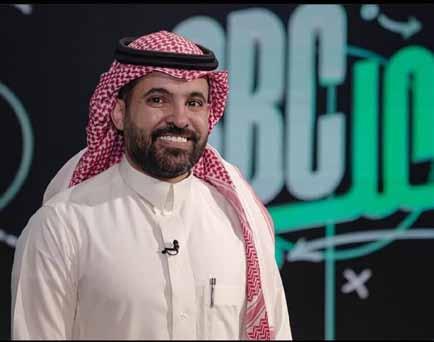 Despite their early dominance, La Albice leste were not at full strength in the first half, and they were at times sloppy in pos session, giving Hervé Renard's Saudi Ara bia side a glimmer of hope. In a stunning 10-minute period after halftime, the Green Falcons turned the game on its head, with Saleh Al Shehri levelling with a low effort and Salem Al Dawsari firing them ahead, causing pandemonium in the stands.
Thousands of Saudi fans inside Lusail Sta dium couldn't believe what they were see ing as they celebrated their unexpected vic tory.
For much of the game, it didn't appear that such a comeback was possible. Argentina
dominated the game after taking the lead, but whatever Saudi manager Hervé Renard said at halftime worked. His team played with newfound confidence, going toe-to-toe with Argentina's world-class squad.
42 25/11/22
Abdullah Al-Hanyan while watching Saudi Arabia vs. Argentina at Lusail Stadium. (Courtesy of Abdullah Al-Hanyan)
Saudi Arabia has qualified for six FIFA World Cup tournaments, including 1994, 1998, 2002, 2006, and 2018, as well as the ongoing 2022 World Cup. Their best sea son was in 1994, when they advanced to the round of 16.
Hervé Renard claimed that the stars were aligned for Saudi Arabia and that Argentina underestimated his team following one of the greatest World Cup upsets against the Copa América champions.
Renard said: "Today all the stars in the sky were in a line for us but we can't forget that Argentina are a fantastic team. They came here without losing in 36 games, they are South American champions and they have an amazing player, but this is football. Sometimes something completely crazy can happen."
Renard, Saudi Arabia's French coach, added: "When you go into a World Cup, you have to believe in yourself. In football, anything can happen. Sometimes the opponent's mo tivation isn't the best. This happened when
we were playing a lower-ranked team. This is what the rest of the world doesn't get."
Lionel Scaloni's men must now do every thing possible to keep their hopes of a first global triumph since 1986 alive and to give Messi a fitting end to what will almost cer tainly be his final World Cup.
In Mexico's first Group C game against Poland, Guillermo Ochoa's penalty save proved crucial as Mexico earned a point af ter Robert Lewandowski missed from the spot.
A flowing game with few fouls but fewer chances came to life around the half-hour
43 25/11/22
Tuesday's victory was yet another highlight for the unheralded coach, who has a history of turning underdogs into winners, particularly national teams.
Saudi Arabia secured an incredible 1 2 win over Argentina in Lusail. (Getty Images)
mark when Alexis Vega saw his header fly wide before Jesus Gallardo was denied with a last-man tackle two minutes later with an open goal at his mercy.
Following their stunning upset of Argen tina, one of the tournament favorites ear lier in the day, Saudi Arabia now leads the group.
Saudi Arabia will look to pull off another
stunning result when they face Poland in their second group match on Saturday, while Scaloni's team will look to rebound from their disappointing defeat against Gerardo Martino's Mexico.
Abdullah Al-Hanyan is a Saudi sports jour nalist and reporter for the Saudi Arriyadi yah newspaper who described to Majalla this historic win by saying; "It's a fantastic feeling, a historic victory, both in terms of performance and result."
"This historic victory is a source of pride for all Saudis and their leaders, as well as all Arabs," Al-Hanyan added
"The match was characterized by great tac tical discipline, a high technical presence of the players, and implementation of the coaching staff's instructions, as well as a high fighting spirit throughout the match."
"It will be difficult, and the ceiling of am bition has risen for the fans, and they are waiting for great matches, no less than the
44 25/11/22
Hervé Renard claimed that the stars were aligned for Saudi Arabia and that Argentina underestimated his team following one of the greatest World Cup upsets against the Copa América champions.
port s
Abdullah Al-Hanyan, Saudi sports journalist and reporter for the Saudi Arriyadiyah Newspaper. (Courtesy of Abdullah Al-Hanyan)
Argentina match, and the Falcons' chances of qualifying for the round of 16 remain great," Al-Hanyan said of the Green Fal cons' remaining matches against Poland and Mexico.
Regarding the absence of Salman Al-Faraj and Yasser Alshahrani from the remaining matches, Al-Hanyan stated: "Salman AlFaraj and Yasser Alshahrani are two impor tant players, and their influence is great due to experience, but the presence of ready and capable substitutes will reduce the impact of their absence, and we saw that the Saudi national team plays as a group wonderfully and does not rely on specific players, as evi denced by the brilliance of a large number of players in matches."
Hervé Renard, Saudi Arabia's Coach, Adds to His Legacy
Hervé Renard coached lower-level teams for the majority of his early career. He be gan his career with the little-known French
club SC Draguignan in 1999. He took over as manager of Cambridge United, who were in the English third division at the time, after assisting them in three consecutive promo tions. After that, his journeyman career took him to Vietnam to coach Nam Dinh. After a few months in South-East Asia, he returned to France to join AS Cherbourg in the fifth division.
Regardless of level or opponent, the French man's teams have always used a high defen sive line and a high press. So, when Saudi Arabia adopted that strategy against Argen tina, what was considered "bold" by the rest of the world was actually quite simple for Hervé Renard.
Possession-based football was important to the 54-year-old. When his players lost pos session, they were expected to apply a high press to regain possession. He prioritized fit ness to play with such intensity, and wher ever he went, there was a shift in the off-field
45 25/11/22
Salem Al-Dawsari of Saudi Arabia celebrates the 1 2 victory over Argentina during the FIFA World Cup Qatar 2022 group C match at the Lusail stadium on Nov. 2022 ,22 in Lusail City, Qatar. (Getty Images)
culture, whether it was food and nutrition or post-match recovery.
Abdullah Al-Hanyan also praised Saudi Arabia's "bold" strategy of employing a high defensive line and high press against Argentina: "Renard's approach was the most basic. The Frenchman was doing what he'd always done, and he wasn't about to change his ways, even if it meant risking humiliation in his team's World Cup open er," Al-Hanyan said.
"The high-risk, high-reward strategy paid off in the end, as Saudi Arabia, which had only three World Cup wins prior to Tues day, stunned tournament favorites Argen tina 2-1 in Group C. Saudi Arabia exhib ited extraordinary tenacity and fitness in neutralizing Argentina's threats before launching counterattacks. What surprised the rest of the world was nothing out of the ordinary for Hervé Renard's team," AlHanyan added.
Tuesday's victory was yet another highlight for the unheralded coach, who has a history of turning underdogs into winners, particu
larly national teams. Renard hasn't always had success at the club level, but it's been a different story with national teams.
He is the only coach to have won the Af rican Cup of Nations with two different countries – Zambia in 2012 and Ivory Coast three years later. Renard became Af rica's highest-paid manager in 2016 when he took over as coach of Morocco, which he led to their first World Cup appearance since 1998 in 2018.
Renard believes it is unlucky to wear his white shirt unbuttoned at the top.
In an interview, he explained why and how he started wearing the shirt during games. Renard recalled, "We (Zambia) were play ing Cameroon in the second game of the 2010 Africa Cup of Nations. I wore a light blue shirt, but we lost 3-2, so I changed into a white shirt. We won the game and took first place in the group, ahead of Cameroon. "
Since then, the white shirt has been the Frenchman's go-to.
46 25/11/22
port s
Saudi Arabia's head coach Hervé Renard reacts during the World Cup group C soccer match between Argentina and Saudi Arabia at the Lusail Stadium in Lusail, Qatar. (AP)
47 25/11/22
Po rt ra it
Morgan Freeman and Ghanim Al-Muftah in Unique World Cup Appearance
By Majalla Illustrated by Jeannette Khouri
This week, Qatar witnessed the historic opening of the 2022 World Cup in the presence of renowned actor Morgan Free man, who appeared with young Qatari YouTuber Ghanim Al-Muftah.
Al-Muftah caught attention and topped Google trends after appearing in an amaz ing dialogue with Freeman, to talk about the paradoxes between the West and the East.
Al-Muftah suffers from Caudal Regression Syndrome, which is a rare disease and a congenital defect in which the lower part of the body is absent with deformities of the lumbar vertebrae. He needs a wheel chair to be able to move.
Who is Ghanim Al-Muftah?
Al-Muftah was born in 2002 in Doha, the capital of Qatar. He has suffered from Caudal Regression Syndrome since birth, and lost most of his body bones due to that disease. Al-Muftah has a twin brother and they both graduated from high school. Al-Muftah is an inspirational figure for many Arab youth as he seeks to continue
his life despite the disease that afflicts him. He held the position of Goodwill Am bassador for the State of Qatar. He has published many motivational books and publications for work and success. He is also named the "Ambassador of the World Cup."
He is always keen to share the details of his day through his personal pages on so cial media networking sites.
He practices scuba diving, skateboard ing, and rock climbing, which makes him a very influential figure on more than one level.
He is also keen to play soccer with his friends, by using a skateboard that enables him to catch the ball and play with them.
In addition, Al-Muftah is currently pursu ing his university studies, where he majors in political science with an ultimate goal to become a diplomat.
Freeman's Remarkable Career Freeman is an American actor, nominated for an Academy Award several times for films including Driving Miss Daisy and The Shawshank Redemption. He won the Academy Award for Best Sup porting Actor for his role in the movie Mil lion Dollar Baby.
He also appeared in several films, includ ing Seven, Wanted, and Batman Begins.
Freeman was born into a modest family in Memphis, Tennessee, on June 1, 1937.
He joined the US Air Force immediately after graduating from high school and stayed in military service for five years, where he worked as a radar specialist be fore studying acting at Los Angeles Col lege.
After graduation, he performed in the theater for several years until he reached Broadway theaters in New York in 1968, where he participated in the famous musi cal Hello Dolly.
In 1971, Freeman appeared in his first film, Who Says I Can't Ride a Rainbow!.
However, after that he did not play any cinematic role for nine years, as he devot ed himself during that period to television and theatrical work.
For five years, his name was associated with an educational television program be fore returning to the stage in a variety of theatrical productions.
In 1980, he also participated in the televi sion movie Attica, based on a true story related to the riots that took place in the Attica prison in New York State in 1971.
48 25/11/22
ovies
'She Said': Shattering Decades of Silence Around Sexual Assault in Hollywood
Setting Journalistic Fire to Harvey Weinstein's Casting
Couch, in One of the Year's Best Films
By Michael Phillips
In October 2017, after years of conspicuous primetime wisecracks about that smarmy, skeezy Harvey Weinstein, The New York Times published the first of many accounts suggesting the full extent of how badly, and criminally, the Oscar-winning movie pro ducer had preyed on women for decades.
Crucially, it also detailed the lengths to which Wein stein's company, Miramax, threw money at several of the women, to the tune of tens of millions of dollars in discreet settlements. The payouts and nondisclo sure agreements muzzled the victims and smoothed the Miramax path back to business as usual, however Harvey and his brother, Bob, chose to define it. "She Said" examines that business and the protection rack et underneath.
Based on the Times stories and the 2019 book of the same title, screenwriter Rebecca Lenkiewicz drama tizes how reporters Jodi Kantor and Megan Two hey, played by Zoe Kazan and Carey Mulligan, got that story. The results under Maria Schrader's cool, forceful direction are nearly as effective as "Spot light," to name the recent high-water mark in the
journalism procedural genre.
I hoped for a movie relatively free of Hollywood hog wash and melodramatics, and got it. What I didn't ex pect was the calm brilliance of scenes such as Jennifer Ehle and Samantha Morton, playing two of Wein stein's 1990s targets, telling their stories so truthfully, with such economical emotional punch, that it's both heartbreaking and enough to make you seethe. We meet one of those women at the start of "She Said," in a 1992-set prologue. Somewhere in Ireland, a young woman walks her dog through the woods near the seashore. She spies what seems like a mirage: men in ancient military uniforms on the beach, near a sailing ship. Then she, and we, see the film crew off to one side. They're making a movie.
Soon enough the woman, Laura Madden, played by Ehle as an adult, finds her way into the movie busi ness, and eventually into the orbit of Weinstein. She reenters "She Said" much later, a while after we've been following reporters Kantor and Twohey on their separate Times assignments. Eventually they team up for the Weinstein story they suspect might exemplify Hollywood's long-established pattern of sexual ex ploitation.
50 25/11/22
M
In short, swift strokes we see Kantor juggling parent hood and newsgathering, intercut with Twohey and her newborn. Before the Weinstein story the women weren't longtime friends or, we gather, especially close colleagues. "She Said" is all the better for their initially guarded mutual respect.
Working with editor Rebecca Corbett (Patricia Clarkson, subtly perfect) and executive editor Dean Baquet(Andre Braugher, equally subtle), the report ers meet evasion and resistance on the hunt for docu ments and eyewitnesses or firsthand, on-the-record accounts. Some of Weinstein's starriest sexual tar gets included Gwyneth Paltrow (not depicted on screen) and Ashley Judd, who is on screen in "She Said," as herself. We hear actor and fellow target Rose McGowan in phone calls with Kantor; al ready McGowan had gone public via Twitter about a Sundance Film Festival encounter with Weinstein, though she declined to name him.
The movie builds its scenes and the reporters' pro gress with care, downplaying some elements while streamlining or stressing others. For once — and this it has in common with "Spotlight" — the brief glimpses of the reporters' home lives don't hijack the narrative. What we see is there for a reason: This was hard, preoccupying work, and Kantor and Two
Based on the Times stories and the 2019 book of the same title, screenwriter Rebecca Lenkiewicz dramatizes how reporters Jodi Kantor and Megan Twohey got that story.
hey were so rarely not thinking about it, whatever they were doing. In "She Said" the active, constant demands of parenting are ever-present, and never amped up for attention: Here's Kazan as Kantor on the phone, while making lunch for one of her girls, and there's Mulligan as Twohey, at home, the walls closing in as she struggles against postpartum depres sion. In the opening 2016 Manhattan street footage, director Schrader includes glimpses of a woman, eyes downcast, and a quick shot of the "don't walk" red hand signal. How many survivors do we share the streets with, every day?
51 25/11/22
Zoe Kazan as Jodi Kantor in "She Said," directed by Maria Schrader. (Universal Pictures/TNS)
ovies
Much later, Twohey, Kantor and editor Corbett are huddling over the story in a restaurant, and Two hey's hit on by a couple of male customers. It turns ugly and threatening, fast, and the force with which Mulligan shuts it down is stinging and exactly right. After Twohey's investigation (early in the movie, and briefly) of Donald Trump, she fields threats of rape and murder. Anyone who has worked with fe male journalists of any profile likely know the aw ful truth of the matter: This is nothing out of the ordinary. "She Said" is, at heart, about behavior — Weinstein's, but millions of others' — that has been dismissed as locker room talk or "workplace sexual tension" or legally defensible gray areas long enough.
A few quibbles. The music is by an excellent com poser, Nicholas Britell ("Moonlight," "If Beale Street Could Talk"), but here the scoring often crowds the action and our emotional engagement. (There's a lot of it, in other words.) Screenwriter Lenkiewicz ("Ida," "Colette") isn't always entirely clear about the precise roles in the Weinstein scandal certain players are playing.
Small matters. The movie interpolates its flashbacks with unusual grace, while confining the action to a couple of years of momentous effort. The book "She Said" continues long after Weinstein's career was over, to include the saga of how U.S. Supreme Court Justice Brett Kavanaugh sidestepped accusations of assault, through rageful tears of indignation. Trump, of course, ran the country for a while, despite multi ple accusations of assault and harassment, and he's running to run it again. The downfall of Weinstein changed a lot, if "a lot" can serve as a trick synonym for "not enough."
The movie is artfully balanced between its leads, and both Mulligan and Kazan excel. Kazan has the edge as well as the more far-flung story arc, and she creates a hugely empathetic portrayal full of tiny, telling, transitional moments of doubt, purpose and resolve. Director Schrader's handling of "She Said" blows straight past the smugness and pretty fabri cations of a movie like "Bombshell" (about Meg yn Kelly and Fox News predator Roger Ailes) and lands in a select list of journalism movies, where "Spotlight," "All the President's Men" and too few others reside.
'SHE SAID'
3.5 stars (out of 4) MPAA rating: R (for language and descriptions of sexual assault) Running time: 2:08 How to watch: In theaters Friday
This article was originally published by Chicago Tribune.
52 25/11/22
Zoe Kazan and Carey Mulligan in "She Said" (2022).
The results under Maria Schrader's cool, forceful direction are nearly as effective as "Spotlight," to name the recent high-water mark in the journalism procedural genre.
M
MIT's New Museum Demystifies the World's Most Complex Technologies
By Nate Berg
Taking a seat at a desk with the American flag draped in the background, President Richard Nixon addresses a television camera. It's July 1969, and the U.S. has just attempted to land two men on the surface of the moon. "Good evening, my fellow Americans," Nixon says somberly. "Fate has ordained that the men who went to the moon to explore in peace will stay on the moon to rest in peace."
The Apollo mission has failed, or at least it has in this alternate version of history. The speech Nixon is reading is real, written in case NASA's moonshot fell short, but the video is a deepfake—a disconcertingly convincing video re-creation of Nixon made using artificial intelligence by researchers and artists at the Massachusetts Institute of Technology. On display in the recently reopened MIT Museum, it's an example of how emerging science can materialize in unanticipated ways. The compelling and sometimes worrying territory
54 25/11/22
Technology
The
Museum Broaches Science's Most Impactful Topics with a Welcoming Design
where new technologies intersect with society is the overarching subject matter of the MIT Museum, which has just undergone a complete redesign for its new purpose-built space in Cambridge. Expanding out from the museum's previous home, it now has three floors in a 17story commercial tower to tell the story of MIT, its scientific achievements over the years, and the ways its research continues to bleed into the real world.
"We're asking questions as to what are the impacts, what are the decisions that need to be made, how do we use these technologies to improve our world and our lives," says Ann Neumann, director of exhibitions and galleries. With more than 1 million objects in a collection dating back to 1861, it's a space that could easily have become unwieldy.
Neumann led the redesign, noting that the goal was to create an experience that uses art to increase accessibility to what can seem, on its face, like complex subject matter. "Braiding the science and the art together, I think it places the science into the context that it is part of our culture and our lives, it's not a white tower experience," Neumann says. She wants the museum to dissuade people of the assumption that MIT is "too smart for them or too elitist or not welcoming. Our intentional mission is to be that open door to the rest of the community."
Across a half dozen galleries, the museum presents the rich history of MIT's role in the advancement of science and technology—from the individual works of Nobel Prize-winning scientists to the physical models used in classrooms and laboratories—to better
understand both the microscopic and the cosmic. With exhibition design by Studio Joseph and interactive experiences created by Bluecadet, the museum also exposes visitors to emerging topics like gene editing and artificial intelligence.
The AI gallery is a highlight. In addition to the deepfake video of Nixon, it offers an interactive window into how the technology works, even inviting collaboration with an AI to write a piece of poetry. "We were really trying to have these experiences where you're learning by doing," says Katie Savage, creative director at Bluecadet.
The museum's exhibitions also integrate a lot of video, embracing the dynamic side of scientific experiments and discoveries. "A lot of times when you go to museums you see things and you have to read a label, and you just don't know what they are," says Wendy Joseph of Studio Joseph.
"In this museum you can learn a lot without necessarily reading the label. You get to see how things work," she adds. "You feel like you can explore, you can take some risks, especially with interactives."
That thinking extends out from the individual galleries to the museum's main floor, which aims to soften the boundaries between the university and the surrounding community. Set on the first three floors of a new building designed by the architects Höweler + Yoon, the museum's ground floor is open to the public and steps away from a transit stop.
There's a forthcoming café, and a large grand staircase that acts as an off-hours gathering space and a location for events. "You can have an intimate conversation with a Nobel Prize winner there, or students can present their research," Neumann says. "It's an active public forum at the heart of the museum."
Creating a space that feels open, and that counters the stereotype of MIT being some vaunted ground reserved for supergeniuses, is an integral part of the museum's mission.
"It's important," Neumann says, "to be a place where the community can be a part of the conversation and the decision-making process in how these technologies that are changing our world are being implemented."
article was originally published by Fast Company.
55 25/11/22
This
The museum's exhibitions also integrate a lot of video, embracing the dynamic side of scientific experiments and discoveries.
AI: Mind the Gap [Photo: Anna Olivella/courtesy MIT Museum]
Collaborative Poetry
[Photo: Anna Olivella/ courtesy MIT Museum]
Engage Your Heart and Brain, Even When You're Sitting
By Heidi Godman
The dangers of too much sitting are increasingly clear. Research regularly links a sedentary lifestyle (espe cially long, uninterrupted bouts of sitting) to higher risks of heart disease, stroke, diabetes, cancer, brain
shrinkage, muscle loss, poor posture, back pain, and premature death. That's bad news, whether you sit a lot because of work, travel, fatigue, illness, or a simple love of lounging.
While it's best to stay active throughout your day (get
56 25/11/22
Sitting too Much is Bad for Health Health
up and move every 30 minutes, if possible), there are ways to make your sit time a little healthier.
CHANGE YOUR BRAIN
One way to boost the health of your sit time is by keeping your brain active. "In an active brain, neu rons [brain cells] fire vigorously and form new con nections. Greater numbers of connections translate to greater brain reserve, or 'back-up' cells, if the plaques and tangles of Alzheimer's disease start to form," says Dr. Andrew Budson, chief of cognitive and behavioral neurology at the VA Boston Healthcare System.
Passive activities, like watching TV, have the oppo site effect on the brain. "Neurons fire only weakly, and new connections aren't being made," Dr. Budson says. "Increasing evidence suggests that with the brain, it's use it or lose it."
For example, a large study published online Aug. 22, 2022, by the Proceedings of the National Academy of Sciences found that people who spent a lot of time sit ting and watching TV seemed to have higher risks for dementia than people who spent a lot of time sitting and using a computer, regardless of their physical ac tivity levels. This doesn't mean watching TV is neces sarily unhealthy; instead, it probably means there isn't much on TV that truly engages our minds.
BRAIN-BOOSTING ACTIVITIES
To keep your brain active while you're sitting, consider turning off the TV sometimes and doing any of the fol lowing.
Expand your horizons. Read a book on a new sub ject, listen to new types of music, or learn a new lan guage. There are many free smartphone apps to get you started.
Play a game. Play cards or a board game with friends, or play word games on an app or with pen and paper. "Don't play the same game too long. Keep challenging your brain," Dr. Budson says.
Get something on paper. Write a poem for a friend, type a story for your grandkids, draw a picture and color it in, or paint with watercolors. It doesn't have to be an award winner. Just let your creativity flow.
Take up a new hobby. Try your hand at a hobby that's suited to sitting. Ideas include knitting, crocheting, needlepoint, cross-stitch, model building, or leather working. There are many starter kits available online.
Visit with friends. "Face-to-face interactions, even when sitting, engage the brain and promote new brain cell connections," Dr. Budson says.
Make some music. Play an instrument if you have one. Learn a new song or come up with your own, even a short one.
Make sure to vary the activities you do while you're parked in a chair or on the couch. "Varied challeng es, especially new ones, make the brain work harder, which keeps it healthier," Dr. Budson says.
EXERCISE WHILE SEATED
Another way to boost the health of your sit time is by exercising... while sitting. Yes, it really is possible to do an effective aerobic workout (the kind that gets your heart and lungs working) from a seated position. "Do ing a series of moves with your arms and legs -- such as arm circles, air punches, leg lifts, and marching or stepping -- will increase your heart rate and get your blood flowing. The key is sustaining the activities for 10, 20, or 30 minutes," says Janice McGrail, a physical therapist at Harvard-affiliated Spaulding Rehabilitation Hospital.
What makes a good aerobic workout when you're seat ed? "Anything that motivates you to move," McGrail says. "It could be a calisthenics routine or it could be a seated boxing workout. There are seated dance rou tines choreographed to many kinds of music, including disco, country, and even polkas."
From a seated position you can also do strengthening
57 25/11/22
Expand your horizons. Read a book on a new subject, listen to new types of music, or learn a new language. There are many free smartphone apps to get you started.
Credit: (TNS)
exercises using dumbbells (such as biceps curls), re sistance bands (such as rowing movements), or your body weight (such as leg lifts that you hold for five seconds). These exercises make your muscles stronger and help you control blood sugar and metabolism (how fast your body burns fuel).
While seated, you can also do stretching exercises on most of the major muscle groups -- such as the neck, shoulders, arms, and legs -- to keep them long, supple, and less prone to injury.
And all exercise -- whether it's aerobic activity, strengthening, or stretching -- helps the body main tain good health. It wards off chronic disease (such as heart disease, high blood pressure, and diabetes), keeps your muscles and bones strong, improves bal ance, helps control mood and weight, promotes better
sleep, and thereby protects your independence. It also protects your brain. "Exercise promotes the growth of new brain cells, and boosts memory and blood flow to the brain," Dr. Budson says.
A WORD ABOUT WORKOUTS
To find free seated workout videos, check YouTube. Search for the kind of exercise that interests you and see if there's a seated version (such as "seated line dancing workout"). It's best to follow a workout from a reliable source, such as a university, Silver Sneakers (a health and fitness program partnered with Medicare), a certified personal trainer, or a physical therapist.
To do a seated workout of any kind, take the same careful approach as you would with any workout. "Use a stable chair, such as a dining chair. Wear socks and sneakers to protect your feet. Start with a warm-up of slow movements for a few minutes before your work out, and then do a cool-down of slow movements after your workout," McGrail says.
Finally, remember that the best workout is the one you'll do regularly. Aim for 150 minutes of aerobic exercise per week, plus daily stretching, and strength ening at least two times per week.
This article was originally published on Harvard Health Letter.
58 25/11/22
One way to boost the health of your sit time is by keeping your brain active. "In an active brain, neurons [brain cells] fire vigorously and form new connections.
Credit: (PEXELS)
Health