CONTENT
Soft: finding a balance between social distancing rules in HK and the UK - Annoymous
Change | 改變 2022 Vol 21
Strict10or
Pacific - Will Hong Kong's flagship carrier ever recover? - Annoymous
Cathay05
The15'Hong Kong Identity': a retrospective - Ryan chan 'The concept of a 'Hong Kong identity' has arguably never been more prominent'
'LSESU HKPASS is proud to have continued its mission, to act as a community for Hongkongers, embracing and confronting every change that our beloved city experiences.'
'The strategy of 'Living with COVID-19' is a bold move, and only time will tell if it is effective or not.'
Content04Reflections
'Everyone does hope that Hong Kong's flagship carrier will recover soon; but, unfortunately, remaining hopeful is all we can do and expect at this moment of writing.'
Hong25Kong
Content CONTENT
Decision Power Change Hands? A Critique of Lay Participation in Hong Kong's Criminal TrialsKenneth Yu 'It is recommended that changes be made to the status of lay participation in "trials of less serious cases"'
Transgender32
'Without an organised opposition to provide an alternative point of view, Hong Kong's future looks increasingly gloomy.'
'Legal recognition of gender identity should be based on self-determination.'
post-National Security Law, 2 years later - Annoymous
Change | 改變 2022 Vol 31Should20
recognition in Hong Kong: a human right? A reflection of Q and Tse Henry Edward v Commissioner of Registration - Nicole luk
HKPASS37 Committee and contributors
Reflections
service side, our society collaborates with a different charity partner each year. This year, we are proud to have The Resolve Foundation as our charity partner, and together we hope to play a part in realising our vision of a more diverse, inclusive, and equal Hong Kong. Through our Social Service flagship event the Charity Talent Show, we provided students of LSE, or from other universities a voice and a platform to showcase their many talents.
As the new academic year comes to a close, LSESU HKPASS is proud to have continued its mission, to act as a community for Hongkongers, embracing and confronting every change that our beloved city experiences.
On the public affairs side, we continued with our other flagship event, the LSE Forum. Each year, we invite students from universities all over the UK, and together we form the largest Cantonese debate within Britain. This year's debate was particularly exciting, as it saw a much anticipated return into the in-person format. With heated, exhilarating debates on foreign affairs, COVID-19 restrictions and more, the Forum has served its purpose as a platform for opinion exchange and great entertainment.
T
Change | 改變 2022 Vol 41REFLECTION
Executive Committee 2021-22
he London School of Economics Students' Union Hong Kong Public Affairs and Social Service Society (LSESU HKPASS) enjoyed a fortunate year free of lockdowns and tough COVID-19 restrictions. We are therefore able to host and participate in events in person, continuing to serve as a platform for Hongkongers to come together. This is a welcomed change. Change is the theme of this year's PASSON. Created by LSESU HKPASS's publication team, this year's articles examine the past, present and future of Hong Kong. Our 6 articles dive into the historical roots of the HongKonger identity, LGBTQ+ rights, the fate of the city's flagship airline, and more. If there is any conclusion to be drawn, it is that change is throughout. For members of LSESU HKPASS, they are entering into a new stage of their lives, exploring life of an undergraduate far from home. For Hong Kong, the city is experiencing drastic changes in its political, economic, and cultural landscape. For the world, the people are gradually returning to a post-COVID world. In such uncertain yet exciting times, authors of our 6 articles hope to shed light on Hong Kong's many
Onaspects.thesocial
Change | 改變 2022 Vol 51Cathay Pacific - Will Hong Kong's flagship carrier ever recover? *The writer wishes to remain annoymous Article 1 1ARTICLE
Change | 改變 2022 Vol 1 W hen the gates at the airport are empty, it would be hard to believe that those are scenes from what used to be one the busiest transportation hubs in Asia. When was the last time you travelled from Chek Lap Kok Airport for leisure or business purposes? The whole world's airline industry has been heavily hit by the pandemic, and the strict travel measures imposed by the Hong Kong government have done nothing but ameliorate this impact. The city's flagship carrier – Cathay Pacific has taken a huge blow. It has been reported that the airline is burning more than 100 million dollars every month due to the quarantine rules imposed by the government. [4] The question remains: Will the airline ever recover from this blow? There is an argument claiming that the airline is destined for recovery; however, it is evident that this is a flawed opinion where the negative factors in the discussion are ignored. I regret to say that Cathay Pacific has, unfortunately, a gloomy future. Limited Cargo Operations Restrictions on travel have been imposed by the government ever since the pandemic was a thing. Nevertheless, the restrictions currently are both unprecedently strict and, strictly unprecedented. These restrictions are affecting not only the passenger but also the cargo operations of the airline. An important note is that Hong Kong has always been a cargo hub for Asia, the main contributing factor towards Cathay Pacific, as the city's flagship carrier, dominant reliance on cargo operations. In fact, cargo operations account for over 60% of the airline's revenue prior to the pandemic. Undoubtedly, the airline's reliance on this sector would only be increasing after the emergence of COVID. The most recent restrictions require all air crew to self-isolate in designated quarantine hotels for an extended period of time. Not only is this regulation taking a heavy toll on air crew's morale; furthermore, it is putting airlines operating in and out of Hong Kong in an overwhelmingly difficult position. Since the implementation of the new regulations, it is estimated that Cathay Pacific's cargo operations have reduced to a fifth, where passenger operations were 2% of pre-COVID levels. [7] These are objectively astonishing numbers, especially when other businesses in the industry are on a steep recovery curve. To consider the recovery of a business, it is also of paramount importance for us to consider its future. Regrettably, the Hong Kong government's "Dynamic COVID Zero" policy is keeping the hands of the airline tied to the breaking point. Consequently, air crew are stuck in plane-to-hotel bubbles for an ample period of time. Being away from their families for so long, Cathay Pacific are offering extra wages for these employees to work. In other words, the airline is hanging on a few very costly strings. Pilots from the airline have mentioned how mentally taxing these policies are and pose a potential aviation safety issue. The importance of pilots' situational awareness in a cockpit does not require further elaboration, but not being in a suitable mental state to operate safely could lead to a catastrophe. It can be argued that regular checks are being out for pilots to be certified; nonetheless, these checks are 1ARTICLE
Additionally,it.
Subsequently, goods of higher priority would have to be sent by air, increasing the demand for cargo operations. Therefore, more revenue could be generated, easing Cathay Pacific's financial crisis. However, to secure the revenue from this increase in air freight, the airline must first have the capacity to accommodate all the extra cargo. The high cost for converting passenger aircraft to cargo aircraft discourages the airline to do so. Furthermore, the flight bans imposed on numerous countries, including populated countries such as the UK and US are, mean that cargo operations would be far from fully functioning.
[1] The recent decision taken by the airline to suspend all long-haul cargo flights will further disallow shipping by air. To sum up, although there are positive signs which suggest a potential recovery, Cathay Pacific's cargo operations are still extremely limited to due strict policies imposed by the government.
Heavy Toll on Worker Morale
The recent travel restrictions have results in long quarantines for air crews. Both pilots and flight attendants are now required to undergo strict isolations in government designated hotels. As a result, they are separated from their family and friends for extensive periods of time. The airline has implemented the plane-to-hotel policy. Pilots who opt to retain their jobs have to undergo a cycle between flying and quarantining, where they will be travelling from their workplace (the aircraft) and their designated quarantine hotel, without any time spent outside of these two locations. This is in the interest for the airline to cut costs and follow government regulations. However, being in similar environments for such a long period of time can be mentally tiring for employees. While being able to work is still a privilege under the current environment, pilots inevitably need rest time after long continuous hours of maneuvering an aircraft with hundreds of lives on
side, the recent port closures in China due to an increase in infection numbers could be a potential stimulus for Cathay Pacific's cargo operations. With the addedon effect by the migration wave, the shipping industry is extremely saturated at the moment of writing. [2] It makes limited economic sense for migrating citizens to ship heavier and larger items by air; thus, worsening the burden on the shipping industry.
countless employees have been sacked or made redundant since the beginning of the pandemic. Cathay Pacific provided an ultimatum for its employees, where they faced a dilemma between accepting harsh conditions or terminating their contracts. Many chose to leave under these circumstances. Saying goodbye to their colleagues must have been devastating and most certainly took a heavy toll on worker morale generally. This impact is further exemplified by the potential financial pressure from long term wage cuts. In 2020, pilots had a week to decide whether to sign up to new deals significantly cheaper
1ARTICLE
Change | 改變 2022 Vol 1 not designed with the current restrictions in mind. This flaw could be further amplified by the company's cost cuts. It goes without saying that in a situation where an incident occurs, the airline's reputation will be further Ondamaged.theflip
Fleet liability If there was one single biggest weak point of Cathay Pacific contributing to its hardship over the past two years, it would be its fleet. Before fully integrating with its regional brand – Cathay Dragon and its budget brand – Hong Kong Express, Cathay Pacific's fleet only consisted of three main aircraft types, the Boeing 777, the Airbus 350 and the Airbus 330; in which, all of them are wide-body aircrafts. A major upside of such aircrafts is their capacity, which is essentially pointless under the pandemic since most planes could not be filled up. The reduction in passenger numbers is further magnified by the strict travel restrictions currently in place. On the flip side, these planes are expensive to operate. These planes could only park at gates where planes of such size could be accommodated. Both landing and parking fees are charged based on the landing weight and size of the aircraft. Thus, wide-body planes would obviously be more expensive to operate for airlines. Since these planes are the only available options for Cathay Pacific to operate; thus, exemplify the already heavy financial burden on the company. Meanwhile, one could argue that Cathay Pacific have been able to sort out deals to prevent this problem from further worsening.
1ARTICLE
Change | 改變 2022 Vol 81than their existing contracts – in some cases seeing their combined salaries and benefits cut by 40 to 60 per cent – or be terminated, rather than made redundant. [5] It has been reported that pilots must move to smaller and more affordable apartments drive by lack of funding. At the same time, other industries have been rapidly recovering (before the recent fifth wave outbreak, of course), providing opportunities for air crew to take advantage of. Per contra, the recent outbreak might be potentially, an end for the strict measures implemented on travelling. As vaccination rates rise and more people have caught COVID within the city compared to before; thus, increased mass opinion prefers to relax policies and live with the virus, as opposed to "COVID zero" policies. The introduction of the "dynamic COVID zero" policy implies that a potential relaxation of current regulations might occur soon. This is especially true since most countries around the world have already been relaxing and scraping their COVID policies, where foreign travel is becoming quarantine-free and even, test-free for vaccinated travelers. For Hong Kong to be economically competitive on international level, experts have suggested that relaxing COVID policies is the way forward. However, it is also evident that the government can be making controversial policies, such as the recent extension of flight bans and quarantine measures. [6] Thus, whether flight crew at Cathay Pacific can return to work normally and with minimal restrictions is still a myth, where the low worker morale will continue to negatively impact the airline in the foreseeable future.
1ARTICLE
The airline has managed to deal with airbus and further delay the delivery of their ordered A350s. Thus, the immediate financial burden to pay off the balance for these new aircraft has been mitigated. On top of this, the recent 777x delay caused by internal problems within Boeing have been in favor of Cathay Pacific. The airline has 21 of these planes on order which is listed at $442 million USD each – an overwhelmingly large amount of money for any entity under the current environment. The delivery of new aircraft is effectively useless since planes of such capacity will not be needed any time before COVID policies are relaxed in Hong Kong. However, in any case, the airline's biggest liability was never its incoming aircrafts, but the current aircrafts. Billions of dollars' worth of metal are sunbathing either at Chek Lap Kok or long-term parking fields at remote locations, which parking all of them cost more than flying the planes.
Conclusion What Cathay Pacific is facing now is undoubtedly challenging. They have had difficult times in the past, such as miscalculated hedging for oil since 2008 and political instability since 2019. Recently, the two crew members who have broken quarantine rules have also brought the company under fire from the government.
Change | 改變 2022 Vol 91
6. The Guardian, 'Deep trouble': Cathay Pacific descends further as punitive pandemic worsens, 21 January 2022
References 1. South China Morning Post, Cathay Pacific cargo flight suspension set to hit Hong Kong consumers hard with industry players warning food shipping costs could rise 30 per cent, 1 January 2022
While there are potential flashes of hope for the carrier, its limited cargo operations, low worker morale and fleet liability will be detrimental for the airline's operations and place the company in an extremely difficult situation. Everyone does hope that Hong Kong's flagship carrier will recover soon; but, unfortunately, remaining hopeful is all we can do and expect at this moment of writing.
2. Hellenic Shipping News, China port closures cause panic in global supply chain, 1 February 2022
4. Simple Flying, Cathay Pacific Expects To Burn $128m+ Each Month Due To Quarantine Rules, 20 February 2022
3. Hong Kong Free Press, Tied to Beijing's 'Zero Covid' strategy, Hong Kong quarantine pushes Cathay Pacific pilots to 'breaking point', 3 December 2021
5. South China Morning Post, Hong Kong's Cathay Pacific offers remaining pilots a deal they can't refuse – major salary and benefit cuts, or termination, 21 October 2020
7. Reuters, Cathay seeks to boost cargo capacity amid pain from new quarantine rules, 9 March 2022
Change | 改變 2022 Vol 1 2ARTICLE STRICT or SOFT Finding a balance between social distancing rules in HK and the UK (The writer wishes to remain annoymous) S ince its emergence in 2019, the pandemic has deeply affected the lives of people worldwide. It does not seem to be disappearing anytime soon, evidenced by the new Omicron variant and others sure to follow. As international students in the LSE, we are afforded the benefit of living in two completely different cities – Hong Kong and London – and witnessing the different ways their governments have handled the virus. A comparative analysis of these two cases may help us in forging the best way Hongforward.Kong has been lauded for its efficient and effective strategy in preventing the virus, but it is now in the midst of battling a fifth wave that has resulted in extreme measures to stop transmission, including the closure of schools and public venues. In contrast, the UK has adopted a much more lax policy, reflected in their high infection rates; but people's lives and businesses are not as disrupted. It may prove useful to take a leaf out of both of their books and find a middle ground. Hong Kong: confusing their priorities? As of March 2022, Hong Kong is undergoing its fifth and worst wave of the pandemic, with daily infection cases reaching tens of thousands. The Centre for Health Protection (CHP) has implemented a number of stringent measures in hopes of containing the spread of the Mostvirus.noteworthy are the social distancing measures that essentially puts the city into a lockdown. Schools have closed indefinitely, with the summer holidays scheduled to start no later than 7 March. Other public venues, such as gyms, cinemas, salons, and religious areas, have similarly been ordered to close. Dining in restaurants is prohibited after 6pm; even before the curfew, customers can only eat at tables of 2 with plastic boards between them. Due to these rules, originally crowded public venues buzzing with life have become deserted. Businesses, especially small and medium ones, may be forced to shut down permanently if they cannot survive this
"Hong Kong's public health system is overwhelmed by the number of positive cases."
Change | 改變 2022 Vol111 2ARTICLE
Sincecompletely.24February, the government has removed many previous restrictions, most notably the legal requirement for those with a positive test and their close contacts to self-isolate. Rules have been substituted by recommendations. The official government website as well as posters on public transport encourage safe behaviours like getting vaccinated, wearing face coverings in crowded and indoor areas, and washing hands regularly. Considering that 85.5 percent of the population have received two doses of the vaccine, most people have some level of immunity. Yet, Covid is still a relatively novel virus; it is not as well-researched as other respiratory infections which have existed for hundreds and even thousands of years.
The UK: 'living with Covid' at a cost? Meanwhile, the UK government has adopted a new strategy of 'living with COVID-19'. This stems from the belief that the Covid virus will become endemic someday –much like other respiratory infections, such as influenza which causes regular winter epidemics. Instead of going into lockdown, the government has changed its tactics
2ARTICLE tumultuous period. Simon Wong, president of the Federation of Restaurants and Related Trades predicted that as many as 500 restaurants may close in March. In addition to social distancing rules, the CHP has introduced another significant measure, namely community isolation facilities. Two have already been built, one in Tsing Yi and another in San Tin. Within one week of opening, the Tsing Yi isolation centre had already filled up 80 per cent of its capacity. A resident reported waiting four to five hours before being let in. These camps may provide a much-needed alternative for patients whose home conditions are unfavourable for selfHowever,isolation. these facilities have been harshly criticised, especially by frontline medical staff, for what they symbolise. Such facilities are not intended to house patients who are severely ill but those with mild symptoms. They are part of the government's zero-Covid strategy: to separate the infected and prevent them from spreading the virus to the larger community. Considering much has changed since 2019, the government's continuation of this strategy does not seem particularly timely or suitable. Now, much more information has been gathered about the virus. Vaccines have been developed, and nearly 80 percent of the population have received two doses. The likelihood of a serious infection drops significantly after vaccination. Those with mild symptoms can recover naturally at home, instead of being transported to isolation centres, which requires much manpower and resources to build and maintain. Perhaps more attention should be directed to the straining public health care system. People with mild symptoms are showing up at emergency departments, adding to the already heavy workload. The situation is dire – hundreds of elderly patients wait long hours in the halls, isolation wards are full, and staff are too busy to check oxygen levels of patients hooked to oxygen cylinders.
Change | 改變 2022 Vol121
The government's zero-Covid strategy is outdated and inflexible. By now, it has become clear that the virus produces new variants, which will undoubtedly result in further waves. It is therefore imperative for the CHP to devise new strategies not to avoid the spread of the virus by shutting down the city, but to adapt to it.
Change | 改變 2022 Vol 1 2ARTICLE
A greater concern is the halting of free universal testing in England. Starting from 1 April, Covid test kits will only be available for purchase by private retailers. Only those over 75, high-risk groups, and social care staff are exempt. This is despite the fact that the UK Health Security Agency retains good stock levels. Following this announcement, some retailers have already publicly confirmed their prices. At Boots, the price for one test is £2.50 and £15 for a pack of five. Its biggest rival Superdrug will sell a test for £1.99 for a single test or £9.79 for five. Lloyds Pharmacy has set its price even lower at £9.49 for five tests online. Admittedly, test kits are not free of charge elsewhere in the world. Some are sold at much higher prices. Superdrug's Hong Kong-based parent A.S. Watson group sells them for 89 HKD, or approximately £8.69. Yet, this has created an opening for retailers to profit from the pandemic. It has also led to stockpiling, with people frantically ordering test kits online and multiple members of the same family collecting tests from local pharmacies. Recently, infection rates have risen once more, with one in 25 estimated to have tested positive, a jump from one in 30. This cannot be clearly attributed to the changing regulations. It does, however, send a message that the pandemic is far from over. The strategy of 'Living with COVID-19' is a bold move, and only time will tell if it is effective or not. A middle ground .The pandemic brings international effects and repercussions. Granted, it is difficult to compare countries owing to a multitude of factors, like population density, culture, history of pandemics, to name but a few. However, when governments around the world each take up separate strategies, it results in vastly different infection rates. When one country's situation improves, the others' worsen; the pandemic becomes impossible to tackle at large. Therefore, it may be fruitful to consider the benefits and drawbacks of each country's method, in hopes of finding a middle ground – one that maximises prevention and minimises disruption to livelihoods and businesses.
Change | 改變 2022 Vol1413ARTICLE References
https://www.telegraph.co.uk/news/2022/02/22/covid-tests-selling-200-box-amid-scramble-kits/covid-patients-at-inundated-hong-kong-hospitals/https://hongkongfp.com/2022/03/04/overwhelmed-medics-unable-to-monitor-oxygen-cylinders-for-covid-zero-as-putting-politics-before-public-health/https://hongkongfp.com/2022/03/06/a-very-stupid-idea-hong-kong-frontline-medics-decry-dynamic-https://www.theguardian.com/world/2022/mar/11/covid-cases-england-omicron-levels-ons-dataresponse-living-with-covid-19https://www.gov.uk/government/publications/covid-19-response-living-with-covid-19/covid-19-https://www.ft.com/content/d9481375-ebe0-4505-a13c-feb12af06e2dhttps://www.covidvaccine.gov.hk/en/dashboard/their-kneeshttps://www.aljazeera.com/economy/2022/2/14/in-hong-kong-zero-covid-brings-small-businesses-to-
The 'Hong Kong Identity' A retrospective F or many of us who grew up in Hong Kong during the 2000s and 2010s, looking back it seems as if for much of our lives society had been grappling and coming to terms with its 'Hong Kong identity', though I must admit I certainly did not notice much of it at the time. Following the unprecedented waves of social and political unrest that engulfed Hong Kong during the 2019-2020 Protests, the concept of a 'Hong Kong identity' has arguably never been more prominent. Certainly, this notion has seen a surge in recent years, in both academic and political contexts. Although such discussions have typically revolved around the meaning of 'Hong Kong identity' and what implications that would have going forward for Hong Kong and its relationship with Mainland China, in this article I'd like to focus more on the historical origins and evolutions of this concept. The beginnings of the 'Hong Kong identity' may seem at first to be inherently modern, rooted as it is in the discourse surrounding the 2014 Umbrella movement and later 2019-2020 Protests. While there may be an element of truth to that, as this was certainly the time period when the idea of a 'Hong Kong identity' was popularized and when people like myself first became consciously aware of it, I'd argue that its true origins lie much further back in time. For many of us who grew up in Hong Kong during the 2000s and 2010s, looking back it seems as if for much of our lives society had been grappling and coming to terms with its 'Hong Kong identity', though I must admit I certainly did not notice much of it at the time. Following the unprecedented waves of social and political unrest that engulfed Hong Kong during the 2019-2020 Protests, the concept of a 'Hong Kong identity' has arguably never been more prominent. Certainly, this notion has seen a surge in recent years, in both academic and political contexts. Although such discussions have typically revolved around the meaning of 'Hong Kong identity' and what implications that would have going forward for Hong Kong and its relationship with Mainland China, in this article I'd like to focus more on the historical origins and evolutions of this concept. The beginnings of the 'Hong Kong identity' may seem at first to be inherently modern, rooted as it is in the discourse surrounding the 2014 Umbrella movement and later 2019-2020 Protests. While there may be an element of truth to that, as this was certainly the time period when the idea of a 'Hong Kong identity' was popularized and when people like myself first became consciously aware of it, I'd argue that its true origins lie much further back in time.
By Ryan Chan
Change | 改變 2022 Vol 1
3ARTICLE
With a much closer connection to a shared Chinese identity, inhabitants of the region enacted widespread resistance to British acquisition in 1898, only submitting after being fired upon by British troops that year. With such a forced inclusion into the colony, and with the borders to mainland China remaining open allowing continued crossborder social exchange, historian Steve Tsang argues that a 'Hong Kong identity' would have remained largely dormant in the New Territories, and to a lesser extent in Kowloon and Hong Kong, during this time period.
The 1950-80s Border closure and end of the 'Touch base' policy These historians therefore argue that it was only with the official closure of the border beginning in the 1950s that Hong Kong as a whole, prompted by the artificial separation with Mainland China, began to develop a political culture and identity of its own. As a result of this isolation, many Hong Kong citizens in the 1950s had little to no connection with Mainland China, mostly being born to people who had fled from there a generation earlier. They were thus less likely to associate with the Chinese identity, instead embracing the local culture and Althoughidentity. the border officially closed in 1950, the New Territories region remained relatively porous, with many Chinese immigrants illegally migrating into Hong Kong over the next 3 decades. This was implicitly accepted by the British colonial government in the 'Touch base' policy, where illegal immigrants from the Mainland were allowed to be localized through various means and gain citizenship. Steve Tsang thus points out that it was only the ending of this policy in the 1980s by Governor MacLehose that provided the catalyst for the Hong Kong Chinese to resolutely distinguish themselves from the Mainland Chinese.
2ARTICLE
Change | 改變 2022 Vol161
Some historians, such as John M Caroll, argue that a 'Hong Kong identity' had already begun to emerge by the late 19th century, observing the formation of a kind of local identity among many of the wealthy Chinese in Hong Kong, who due to association with the British began to see themselves as different from mainlanders. This also plays into the historiographical narrative propagated by British histories, which tend to stress the importance of British colonial governance in turning Hong Kong into more than just a small Chinese coastal fishing However,village.
The beginnings of the Colonial period
concluding that this was when a unique 'Hong Kong identity' originated runs the aforementioned risk of generalizing large groups of different people. In this case, while it may be true that wealthy Chinese began to form a unique 'Hong Kong identity' during this time, this sentiment certainly wasn't shared by those living in the new territories.
The 1967 Hong Kong Riots and the Cultural Revolution
Historians Gordon Matthews and Clement Tsz Ming Tong offer a different view of the origins of a 'Hong Kong identity'. They assert that it was actually the 1967 Hong Kong riots which directly led to the emergence of a 'Hong Kong identity'. In the backdrop of the Cultural revolution, Hong Kong based supporters of the CCP conducted large-scale riots against the British colonial government in Hong Kong, engulfing the city in seven months of violence, where the protestors conducted demonstrations, riots, assasniations and even bombings. This had a massive disruptive impact on Hong Kong society, negating much of the goodwill Hong Kong residents had for China.
Tong points out that 1967 was indeed a watershed moment which saw the emergence of a distinct 'Hong Kong identity'. However, rather than being couched in cultural terms (as Hong Kong had by the mid 1960s already exhibited a level of cultural distinctiveness evidenced in the widespread use of cantonese), the identity that formed out of the 1967 riots were instead one of negation. This meant that the construction of identity was primarily concerned with a rejection of the Hong Kong leftists and revolutionary Chinese politics. The violence and chaos that embodied these events shook many in Hong Kong and made China seem evermore threatening and foreign, with one who visited China during the cultural revolution going so far as to say "I still remember the horrifying experience…. There were lots of songs everyone had to sing together; everyone was dressed in either gray or blue. I felt I was a Hong Kong Chinese; I had to get out from that place."
Change | 改變 2022 Vol 1
2ARTICLE
The Postcolonial Era and the 2014 Umbrella Movement As we've covered above, the conception of a unique and independent 'Hong Kong identity' likely originated during the colonial period. But, tying it back to our present circumstances, the contemporary conception of the 'Hong Kong identity' as we understand it today arguably 'originated', or at least evolved, out of the 2014 Umbrella Movement. After the handover in 1997, the trend towards a distinctive 'Hong Kong identity' separate from that of China continued to play a prominent role in society, dropping to its lowest in 2008 during the Beijing Olympics.
The massacre of pro-democracy student activists in Beijing came at a time of growing hope of continued political freedoms after the handover to China, and the Tiananmen Square incident promptly eliminated most of that hope. The incident forced many in Hong Kong to confront the implications of a Chinese identity and what would be in store for them after the handover. Shocked and horrified, the peoples of Hong Kong were able to strengthen a pre-existing identity based on the rejection of what they considered to be a brutal and unjust government.
Related to this idea is David Faure's argument that the 1967 Riots emphasized to the British the difficulties of colonial management. This followed a broader societal trend away from colonial administration among the British, prompting the growing localization of colonial governance as more locals were allowed to take positions within civil administrations. The ability of one's own people to govern itself, Faure states, was at least one reason for the emergence of a distinct 'Hong Kong identity'
The 1989 Tiananmen Square incident Some historians, however, disagree with Tong and Matthews that the 1967 Riots saw the emergence of a fully realized Hong Kong political identity, from which a distinctly local cultural and economic identity followed. They argue instead that it was the Tiananmen Square incident which marked a crisis point in the 'Hong Kong identity'. Tsang explains that while a recognition of 'Hong Kong identity' may have begun to emerge after the end of the touch base policy in the 1980s, the separate Chinese and Hong Kong identities did not particularly come into conflict with one another until the 1989 Tiananmen Square incident.
Change | 改變 2022 Vol181
3ARTICLE
"The Hong Kong Week of 1967 and the Emergence of Hong Kong Identity Through Contradistinction / 1967 年的香港週與因抵 禦心態而浮現的香港意識 ." Journal of the Royal Asiatic Society Hong Kong Branch, vol. 56, Royal Asiatic Society Hong Kong Branch, 2016, pp. 40–66.
3ARTICLE
Ma, Eric K., and Anthony Y. Fung. "Negotiating Local and National Identifications: Hong Kong Identity Surveys 1996–2006." Asian Journal of Communication, vol. 17, no. 2, 2007, pp. Mathews,172–185.
Ping, Yew Chiew, and Kwong Kin-ming. "Hong Kong Identity on the Rise." Asian Survey, vol. 54, no. 6, University of California Press, 2014, pp. 1088–112.
Change | 改變 2022 Vol191Since then however, polling data has shown that increasing percentages of Hong Kong citizens favor a Hong Kong rather than Chinese identity. This rise in sentiment was largely due to the perceived growth of Chinese influences within Hong Kong, socio-economic as well as political, for example during the 2003/04 attempt to implement Article 23 and the 2014 Umbrella Movement. As a result, the concept of a 'Hong Kong identity' has increasingly coalesced around the younger generation, intrinsically linking the 'Hong Kong identity' to notions of civic and ethnic national identities. By alienating Hong Kongers and threatening Hong Kong's own perceived sense of uniqueness, we see that policies of 'mainlandization' spurred the concept of a 'Hong Kong identity' into taking on more political weight, as it evolved from a socio-cultural characteristic or phenomenon back into a political movement like in the aftermath of the 1967 Riots and 1989 Tiananmen Square incident, resulting in the politically charged 'Hong Kong identity' we see (Imagetoday.above shows a graph of respondents associating with Hong Kong identity vs Chinese identity among young people from In1997-2018)conclusion, while the exact origins of the 'Hong Kong identity' remain disputed, it is undeniable that throughout Hong Kong's separation from Mainland China under colonial British rule, slowly but surely Hong Kong began to develop its own cultural, political and economic systems, mixing its Chinese past with its British present to create something wholly unique, a 'Hong Kong identity' which in many ways resembled its Chinese counterparts, yet differed in small fundamental ways. These small differences would continue to grow, even as Hong Kong returned to China, resulting perhaps inevitably in the current seemingly irreconcilable divide between the two identities. Sources Brearey, Oliver James. "Hong Kong Identity and History - a Review Article." Journal of the Royal Asiatic Society Hong Kong Branch, vol. 49, Royal Asiatic Society Hong Kong Branch, 2009, pp. 295–319. Cooper, Luke, and Wai-man Lam. Citizenship, Identity and Social Movements in the New Hong Kong: Localism after the Umbrella Movement. Routledge, 2018. Lin, Syaru Shirley. "Analyzing the Relationship between Identity and Democratization in Taiwan and Hong Kong in the Shadow of China." The Asan Forum, 20 July 2021.
Tong, Clement Tsz Ming, and 唐子明
Gordon. "Hèunggóngyàhn: On the Past, Present, and Future of Hong Kong Identity." Bulletin of Concerned Asian Scholars, vol. 29, no. 3, 1997, pp. 3–13.
(2) Trials at first instance It is time to turn to examine the second category of criminal trials in Hong Kong — trials at first instance. Trials at first instance can be further divided into two subcategories; the first subcategory consists of what has been described as "trials of serious offences". [3] This means the defendants are alleged to have committed offences of the gravest character, such as murder, manslaughter, rape, armed robbery, etc.[4] These trials are conducted in the Court of First Instance, of the High Court. The second subcategory, then, simply consists of all the other trials at
Should Decision Power Change Hands?
4ARTICLE
A Critique of Lay Participation in Hong Kong's Criminal Trials
By Kenneth Yu T his article is concerned with the procedures of criminal trials in the Hong Kong courts system, focusing particularly on the participation of lay people in such trials. One question will be central to the following discussions: should changes be introduced to modify the level of lay participation in deciding the outcome of such Totrials?begin with answering the question, it will be helpful to divide criminal trials in Hong Kong into two categories: appeals and trials at first instance.
Change | 改變 2022 Vol201
(1) Appeals The status quo of lay participation in appeals is that the courts give lay people no role in deciding the outcome of these cases. The question is whether changes ought to be brought in to increase lay participation here. There appear to be sound reasons that justify the current status quo. The nature of appeals is such that often, it is "a point of law" that is being contested before the court.[1] For instance, in the Court of Appeal hearing of HKSAR v Jutting, the question was whether an "abnormality in mind" could be established in law where the defendant did not have a psychiatric disorder.[2] No one would expect a lay person, who has no background in law, to produce a convincing answer. Therefore, it becomes reasonable that lay people do not take up the role of deciding the outcome of appeals, and that such decisions are left to judges who are well-read in law. Having accepted that it is reasonable to exclude lay people from participating in deciding appeals, it follows that no changes should be introduced to alter this state of affairs. Changes should only be made if the status quo is deemed undesirable.
Change | 改變 2022 Vol211 4ARTICLE first instance which do not qualify as "trials of serious offences". This second subcategory might therefore be described as "trials of less serious offences", and are conducted in either a District Court or a Magistrates' Court. It will be helpful to analyse lay participation in these two subcategories of trials separately. (a) Serious offences The following paragraphs will first look into "trials of serious offences". The status quo is that lay people play a substantial role in deciding the outcome of these cases. A jury of seven or nine lay people is tasked with determining what the court should accept as the facts of the case, and then deciding whether the defendant is guilty or not guilty. [5] It will be discussed whether changes should be brought in here to modify the level of lay participation. There are some arguments in favour of introducing changes to the state of affairs, that is, to decrease lay participation in "trials of serious offences" at first instance. Some might argue along the following lines. Earlier in this article, it was deemed reasonable to exclude lay participation in trials that are appeals. It follows, it is similarly reasonable to exclude lay participation in deciding "trials of serious offences" at first instance. That argument can be rebutted, considering that the nature of appeals is vastly different from the nature of "trials of serious offences" at first instance. It was mentioned earlier that appeals are often centred around "a point of law", to which lay people may be less capable at giving answers. "Trials of serious offences" at first instance are different, and are instead heavily centred around factual allegations. For example, in the Court of First Instance hearing of HKSAR v Kissel, a factual allegation was that the Defendant served her Victim a drink laced with sedatives.[6] The jury was tasked with deciding the truth or falsity of this allegation, i. e. whether this in fact happened or not. There is no reason to think that the jury, composed of lay people, would be incapable of making this determination. Each of them will have life experience of their own, which helps them judge the plausibility that an alleged event happened in real life. In this respect, lay people are no less capable than the legally qualified. On this line of thought, there is no reason to criticise the current system of lay participation in "trials of serious offences" at first instance, which also means there is no reason for change. There are more arguments that might be raised to advocate for changing – in the form of cancelling – lay participation in these trials. One might argue, lay participation is a threat to justice. This argument is based on the fact that jury deliberation must be kept secret.[7] It follows that jurors might decide the outcomes of trials on arbitrary whims, and no one would know. If so, lay participation leads to justice not being done. Note, moreover, that these are "trials of serious offences", and it is hugely against the public interest of safety not to justly decide the outcome of these trials.
4ARTICLE That argument can be rebutted, considering that a jury consists of 7 or 9 jurors, each of whom functions as a check against the conduct of other jurors. They must all discuss their opinions together. It can be expected that during this discussion, if one juror raises some arbitrary or ridiculous reasoning, his or her opinion will hardly win over support from other jurors. Yet, a majority consensus of jury members is required for the final verdict. As such, the final verdict is unlikely to be one formed on arbitrary or ridiculous reasoning. It is shown that lay participation does not undermine justice; there is no reason to change it. At this stage, it would also be interesting to examine some arguments in favour of preserving – that is, not changing – the current level of lay participation in "trials of serious offences" at first instance. Juries operate under principles of equality, as the Registrar, High Court, draws jurors at random from its list, which includes residents of Hong Kong indiscriminate of class and gender.[8] Here it is important to remember, drawing from the highly-regarded writings of Prof. J. A. G. Griffith, that those who decide the outcome of trials are inclined to reinforce the interests of their own class group.[9] Accordingly, it will be disastrous if decision-makers only belong to one class or gender group, as the trial outcomes will be heavily biased in favour of their group. This fortunately is prevented by Hong Kong's jury system which promises equality in class and gender. Thus, the lay jury system practically ensures trial outcomes are fairer. This form of lay participation in "trials of serious cases" is valuable and should not be changed. Not only does this lay participation impact the outcome of trials, it also relays a symbolic message to the wider Hong Kong society. As established, lay people of all genders have an equal chance to participate in deciding the outcome of "trials of serious offences". So, juries symbolise gender equality. Conversely, there is an overwhelming male majority among the top judges in the Hong Kong Judiciary.[10] The Judiciary certainly needs to preserve the jury to symbolise that it is not wholly indifferent to gender equality. Continuing to look beyond the outcome of trials, lay participation in "trials of serious offences" has yet more positive societal impacts. The experience of being a juror helps citizens better understand the Hong Kong courts system, as substantiated by comments made by past jurors in a questionnaire and published by Prof. Peter Duff. One said, "I learnt at first hand so much about court procedure and the law [...]"[11] Another said, "I experienced the judiciary of HK [...] and general idea about HK justice."[12]
Consider that, at the moment of writing, the relationship between citizens and courts in Hong Kong is said to be strained.[13] It seems possible, looking at the comments of the past jurors, for this relationship to be reconciled when citizens understand more about the courts upon participating as lay jurors. This form of lay participation should therefore be kept intact and unchanged. From the arguments above, it becomes evident that the level of lay participation in "trials of serious offences" at first instance should not be changed. (b) Less serious offences It is now time to turn to the second subcategory of criminal trials at first instance, that is, the "trials of less serious offences". Under the status quo, lay people play no role in deciding the outcome of these trials. Instead, the judgment is made by a Judge of the District Court or a magistrate. They must
Change | 改變 2022 Vol221
Valid arguments can be made in favour of making a change, to bring in lay people to decide the outcomes of these trials. It will be remembered that earlier in this article, it was established that lay people are capable of deciding "trials of serious offences" at first instance, since these are centred around factual allegations. In fact, "trials of less serious offences", since they are also trials at first instance, are similarly centred around factual allegations. It follows that lay people will also be capable of deciding the outcome of these trials. Lay people should therefore be given a role in deciding these trials. In this way, a change is warranted. However, there does exist a practical argument against the participation of lay juries in "trials of less serious offences" at first instance. This takes into account the costs of paying jurors. The government has to pay a juror $930 per day or part thereof.
[15] Take a jury as consisting of 7 people. It will cost the government $6,510 to carry out a single trial for one day. However, "trials of less serious offences" can involve very minor offences, such as jaywalking cases.[16] It might be thought an unnecessary use of taxpayer money to spend thousands of dollars on a group of people discussing whether one defendant jaywalked. Therefore, it might be unwise to introduce juries to "trials of less serious offences" at first instance. Juries, however, are not the only conceivable means of lay participation. A change to increase lay participation in "trials of less serious offences" at first instance can be brought by other means. It is hereby proposed that legally-qualified magistrates should be replaced by lay magistrates. There is reason to replace legally-qualified magistrates with lay magistrates. For instance, it has been reported that some legally-qualified magistrates do not exhibit common sense. Magistrates ought to exercise common sense in deciding the outcome of "trials of less serious offences", since some trials are of minor infractions by ordinary people who need to go on with their day-today life. In one such case, Kamala Thapa was accused of jaywalking.[17] This was simple enough. The legally-qualified magistrate, though, conducted the trial for 21 months.[18] This effectively prevented Ms Thapa from going about her ordinary life, so contravened common sense. The introduction of lay magistrates might solve this problem, as they experience the lives of ordinary people, so are better placed to apply common sense in Itdecision-making.hasalsobeen reported that some legallyqualified magistrates are prone to adopting attitudes of superiority over non-legallytrained parties, such as witnesses or defendants, in these "trials of less serious offences". Here are some findings that were presented at the Legislative Council. In one trial, "there was room for improvement on the part of the Magistrate in handling unrepresented defendant".[19] In another trial, "there was room for improvement in respect of the Magistrate's attitude [to the defendant and witness.]"[20] In another trial, "a Magistrate […] threatened the [defendant …] the Magistrate's wording and conduct was inappropriate."[21] These magistrates effectively send an exclusionary message to non-legally-trained parties, leaving these citizens with a negative impression of the courts system. It is believed, however, that this exclusionary message can be mitigated by the introduction of lay magistrates, who will be peers of the non-legally-trained parties.
Change | 改變 2022 Vol231 4ARTICLE have a background in law.[14] The question is then, whether changes should be introduced to increase the level of lay participation here.
4ARTICLE
改變
Change | 2022 Vol241Considering the above, it is recommended that changes be made to the status of lay participation in "trials of less serious cases" at first instance. Namely, lay magistrates should replace legally-qualified magistrates. Bibliography [1] Hong Kong Court of Final Appeal, How cases come to the Court of Final Appeal, 2 February 2015 [2] HKSAR v Jutting, Rurik George Caton [2018] HKCA 5; CACC 361/2016 [3] Hong Kong Judiciary, High Court, December 2018 [4] Ibid. [5] Hong Kong Judiciary, Jury, 30 December 2021 [6] HKSAR v Nancy Ann Kissel HCCC 113/2004 [7] Hong Kong Judiciary, Guidance Notes For Jurors in Criminal Trials, 30 December 2021 [8] Hong Kong Judiciary, Jury, 30 December 2021 [9] J. A. G. Griffith, The Politics of the Judiciary, p. 208 [10] South China Morning Post, Two foreign female judges make history with appointments to Hong Kong's top court, 21 March 2018 [11] Peter Duff, Juries: A Hong Kong Perspective, p.104 [12] Ibid. [13] South China Morning Post, Two steps the Hong Kong judiciary can take to bolster public trust, 14 February 2022 [14] District Court Ordinance (Cap. 336); Magistrates Ordinance (Cap. 227) [15] Allowances to Jurors Order (Cap. 3A) [16] South China Morning Post, Hong Kong woman cleared in jaywalking trial that finally ends after nearly two years, 15 October 2019 [17] Ibid. [18] Ibid. [19] Legislative Council Panel on Administration of Justice and Legal Services, The Mechanism for Handling Complaints Against Judicial Conduct: Review of the progress in implementing the improvement measures, March 2018 [20] Ibid. [21] Ibid.
Change | 改變 2022 Vol 1 5ARTICLE Change | 改變 2022 Vol 1 Hong Kong post-National Security Law 2 years later *The writer wishes to remain annoymous
The Hong Kong Police unveiled a 'purple warning flag' in July 2020 warning protestors that waving certain banners and chanting certain slogans would be deemed illegal by connoting independence and secession from Mainland China [5]. A year later in July 2021, after a legal debate on whether the slogan 'incited secession', Tong Ying-kit became the first person to be convicted under the NSL, handed a 9-year prison term over secession and terrorism by crashing his motorbike into riot police while carrying a protest flag [6]. With at least 120 arrests under the NSL, or more worrying, colonial-era sedition laws, many longtime pillars of the traditional Hong Kong opposition landscape have disappeared, while critics including international legal scholars and the UN Human Rights Council continue to question whether the NSL can allow the judiciary to continue fulfilling their constitutional mandate to by safeguarding the rule of law and protecting human rights [7]. While the Hong Kong Police have relied on COVID-19 social distancing rules to ban most demonstrations instead of the NSL, in February 2022 the National Security Department of the Hong Kong Police arrested 2 women with 'seditious intent' over antivaccination posts [8], further casting shadow on the broad implementation of such laws and its balance with freedom of speech and expression.
Freedom of speech, media and publication The immediate effect of the National Security Law is evident on Hong Kong's pro-democracy unrest in 2020 as common political slogans were banned shortly.
5ARTICLE
O n 30 June 2020, the Standing Committee of the National People's Congress introduced the National Security Law (NSL) directly into the Hong Kong Basic Law in response to massive prodemocracy protests that have swept through the city in 2019-20. The controversial law which bypassed the local Legislative Council criminalises secession, subversion, terrorism and collusion with foreign or external forces [1], and also established a Beijing-led "Office of Safeguarding National Security of the CPG", with its own law enforcement personnel not under local jurisdiction [2]. The controversial law has also reduced Hong Kong's judicial autonomy as the Chief Executive could appoint judges to hear national security cases [2]. While the UK Government has argued that the NSL is a "clear and serious violation" of the 1984 Sino-British Joint Declaration, Beijing has insisted that the law is necessary to bring stability back to the city after massive civil unrest and to renew confidence in the "One Country, Two Systems" model, while asserting its legal role in enacting laws pertaining to national security and defence [3]. Although the Chief Executive Carrie Lam has claimed that the legislation would only affect "an extremely small minority of people" [4], it is obvious that the sociopolitical landscape of Hong Kong, 2 years later in 2022 has fundamentally changed.
Throughout the past year, independent media organisations and journalists have also come under increasing intervention by the Hong Kong Government under the NSL. In particular, the closure of opposition tabloid Apple Daily in June 2021 following the arrest of its owner Jimmy Lai and four other executives under "collusion with foreign forces" instead of "regular journalistic work" and the freezing of HK$500 million (USD$64 million) worth of assets sent shockwaves around the world and more importantly [9], among Hong Kong's pro-democracy citizens who rely on the tabloid as an important news source. The crackdown further promoted an atmosphere of fear for other online media outlets, including Stand News, which shut down on the same day police arrested 7 of its employees and also froze hatred over allegations of 'inciting hatred', again using its colonial-era laws [10]. It is clear that such arrests have cultivated an era of fear and selfcensorship for opposition media, including the closure of independent news website Citizen News and various social media from December 2021 - January 2022. On the other hand, the public broadcaster Radio Television Hong Kong has lost its editorial independence when management reforms spearheaded by the government over claims of 'biassed reporting'; a government bureaucrat has been appointed to review and approve programs while Carrie Lam announced that RTHK will partner with China Media Group to broadcast programming which will "nurture a sense of patriotism" [9]. With virtually all prodemocracy media outlets out of business and the rest overhauled by the government, self-censorship is increasingly rampant and investigative journalism discouraged [11], Hong Kong ranked 80th for media freedom in the world with the 2021 Press Freedom Index naming the NSL a significant threat [12]. While Carrie Lam has said that "law enforcement actions have nothing to do with suppression of press freedom or democracy" [12], an attack on media freedom damages the very foundation of democracy. With regards to education, the effect of the NSL on the tertiary sector is evident as student unions across universities were all disbanded. In a controversial move the Education Bureau rehauled the Liberal Studies curriculum studied by high school students, one that the pro-establishment has blamed for escalating violence during the civil unrest in 2019. The new subject, named 'Citizenship and Social Development' aims to provide an 'objective and correct understanding' of the People's Republic of China's historical narrative aimed at promoting patriotism and national security [13]. Critics have called this attempt 'brainwashing' and 'social engineering', and the lack of critical thinking required in the Liberal Studies curriculum a clear downgrading of Hong Kong's education system. On the other hand, Hong Kong's largest teachers' union PTU disbanded in August 2021, eliminating any coordinated opposition to curriculum overhauls and changes. These attempts are clearly an attempt to change the security landscape of the city, but also presenting clear challenges on freedoms that once defined Hong Kong.
5ARTICLE
In March 2021, the National People's Congress passed significant changes to Hong Kong's electoral system which would provide a strong institutional guarantee for comprehensively implementing the principle of 'patriots governing Hong Kong' and plug electoral loopholes for 'politicised' and 'insufficiently trained' candidates [19]. While the reforms increase the number of seats from 70 to 90 and the Election Committee from 1200 to 1500, potentially allowing for increased representation, the raw number and proportion of directly elected representatives have decreased (from 50% to 25%) on the Legislative Council [19]. Noticeably, 40 of the 90 members will be chosen from the Election Committee (its traditional role is to choose the Chief Executive), and more than 500 seats in the Committee were designated to accommodate Chinese business, political and interest groups [2]. All candidates will now require nominations from each of the five sub-sectors of the Election Committee and must pass vetting by the Candidate Eligibility Review Committee (spearheaded by the NSL Committee) [2].
The Hong Kong Government was clearly concerned about their election prospects with regards to the Legislative Council Elections after a staggering defeat in the 2019 District Council Elections held at the height of the civil unrest in November 2019, when prodemocracy candidates captured 389 out of 451 seats [14]. On one front, the Government began disqualifying members from their seats after requiring all councillors swear a 'loyalty oath' towards the Central People's Government under the NSL, leaving about 60 pro-democracy councillors in office (over 260 of them resigned after ensuing rumours of recouped salaries and benefits if they were disqualified, which didn't happen) [15]. On the other front, the Government invoked Emergency Regulations to delay the Legislative Council vote by a year to September 2021 due to the COVID-19 pandemic [16], giving it ample time to reform the system while tipping the scales in its favour. In January 2021, four months after the elections were supposed to take place, the National Security Police arrested 53 activists and politicians in January 2021 accused of 'conspiracy to commit subversion' after planning a primary intended to coordinate the pro-democratic camp in the Legislative Council Elections [17]. 47 of them remain under trial with many remaining behind bars for one year with cases indefinitely postponed blaming the COVID-19 pandemic. The NSL comes with a stringent threshold requirement for bail, where the presumption of innocence only applies in the second step of the analysis, after a consideration of whether the accused will not continue to commit acts endangering national security [18], keeping many of such prominent politicians behind bars and severely preventing any effective opposition towards their treatment.
Change | 改變 2022 Vol281
Democracy and civic participation
The result of the Legislative Council elections in December 2021 is an overwhelming victory by the pro-establishment camp with only 1 candidate claiming to be from a nonestablishment camp despite a 30.2% voter turnout [20]. The Government, and more importantly the Central Government has announced that these results are evidence that 'democracy in Hong Kong is flourishing' [21], arguing the election has brought in new elites, politically unaffiliated, who have 'proven socioeconomic achievements, professional and administrative experience, and recognised social status [22].' There seems to be an increasing focus on allowing policy elites and business leaders to dictate domestic policy rather than allowing traditional lawmakers well-versed in political organisation and
5ARTICLE
5ARTICLE
However, given the fact that many of these new lawmakers based their support on from over-represented business and professional groups in society and much less from community members (with the exception of the DAB, HKFTU and New People's Party) which traditionally is the strength of District Council Members, the new Legislative Council will face increased difficulties in reflecting the will of the people, much less ensuring the representation of the pro-democratic camp. On the other hand, it is clear that Hongkongers have seen a 'disintegration' of civic society and traditional pro-democratic pressure groups. The Civil Human Rights Front, the organiser of Hong Kong's traditional annual rallies, disbanded in August 2021 following 'unprecedented challenges' stemming from state-backed newspaper rhetoric [23]. More importantly, the Hong Kong Police have utilised provisions in the NSL to request organisations to submit information regarding its sources of income and expenditure while often accusing its leadership of national security offences. Such pressure have prompted other wellknown groups, including the annual vigil organiser TheHong Kong Alliance in Support of Patriotic Democratic Movements of China and the Hong Kong Confederation of Trade Unions to disband itself successively, showing the increasing red-lines being imposed on Hong Kong's civil society and the need to self-censor.
More importantly, these changes are unfolding in a city which is experiencing thousands of COVID-19 cases a day (as of March 2022) but intends to maintain its 'zerocovid strategy', as reopening its borders with Mainland China maintains its priority rather than reopening to international travellers [25].
While the Security Bureau has stated that criminalisation will be a 'last resort', the law might provide serious ramifications for press freedom by encouraging self-censorship and content removal. On the other hand, the Personal Data (Privacy) (Amendment) Bill proposed in July 2021 to outlaw doxxing would further permit overseas employees of technology companies to be arrested if they fail to comply with takedown requests [9]. Silicon Valley-based companies may be forced to choose between complying with censorship requests, or in the long-term quitting the Hong Kong market, leaving it open to being dominated by compliant mainland companies [9] and further government control over social media.
What's Next for Hong Kong Many analysts have indicated that with the complete wipeout of political dissent in Hong Kong, the Central Government will feel increasingly emboldened to possibly introduce further legislation to shrink the opposition. Such measures include possible "fake news" legislation, a self-regulatory model proposed by the Security Bureau including demanding the removal of content and flagging contentious material [24].
Virus-fighting policies have ranged from tight restrictions on cargo flights, which have prompted warnings of a sharp rise in food prices, to a mass culling of pet hamsters, on the theory that they could be vectors of transmission [26]. The lack of transparency emboldened by the lack of civil opposition under the NSL have been criticised by proBeijing businesses alike, including Lan Kwai Fong group Chairman Allan Zeman claiming that the current strategy is hurting the city's international reputation while the lack of clarity over specific policies (e.g. lockdowns and mass-testing) have triggered mass panic buyings and international travel warnings [27]. Another rule, which continues to this
Change | 改變 2022 Vol291campaigning.
Change | 改變 2022 Vol 1 day, caps gatherings in public places at just four people (or two people as of March 2022), with violations punishable by enormous fines or even imprisonment. Critics have argued that while this is a necessary publichealth measure, it's also one more tool that prevents organised opposition and is often used against protestors attempting to organise demonstrations during the COVID-19 pandemic. The fines, which are two times the monthly income of its Filipino and Indonesiamajority foreign domestic workers have resulted in widespread humanitarian issues as many are made homeless after firings upon infection while facing police crackdowns when attempting to socialise with compatriots [28]. The lack of transparency and safeguards would further exacerbate societal problems, and without an organised opposition to provide an alternative point of view, Hong Kong's future looks increasingly gloomy.
Ultimately, while a certain level of stability (in terms of demonstrations and civil unrest) have been achieved under the combined effects of the COVID-19 pandemic and the National Security Law, the underlying societal problems have not been resolved and more importantly, civil society and any form of political opposition has been shrinking as more organisations dissolve and pressure from the Central Government continues to mount on any remaining, independent organisations wanting to make a difference. In the long run if Hong Kong is to regain its international reputation post-COVID, it must reexamine its mechanisms and political tools enacting under the NSL and foster a civil society again where discussion is legal and alternative viewpoints encouraged.
5ARTICLE
Change | 改變 2022 Vol311References [1] oaths-as-democrats-left-in-the-minority/district-councillors-ousted-over-loyalty-more-hong-kong-democratically-elected-[15]world/asia/hong-kong-election-results.html[14]86c1-4875-811b-575df79a502a[13]freedom-in-hong-kong/?sh=2ae6ab171acbewelinaochab/2022/01/03/the-end-of-media-[12]dd25-4869-af54-4051bfa0b634[11]outlet-stand-newssix-journalists-from-independent-media-world/2021/dec/29/hong-kong-police-arrest-[10]freedom-hong-kongnational-security-law-media-and-internet-[9]posts/police-arrest-2-for-sedition-over-anti-vaxx-covid-19-hong-kong-national-security-[8]national-security-arrests-follow-patternopinion/features/new-data-show-hong-kongs-[7]TongYingKitVerdictGCAL.pdfasia/wp-content/uploads/sites/31/2021/10/[6]revolution-protest-chant-security-law/[5]security-law-passed-beijing-expectedpolitics/article/3091119/hong-kong-national-[4]china-57649442[3]research-briefings/cbp-9318/[2]eng/pdf/NSL_Booklet.pdfhttps://www.isd.gov.hk/nationalsecurity/https://commonslibrary.parliament.uk/https://www.bbc.co.uk/news/world-asia-https://www.scmp.com/news/hong-kong/https://time.com/5862683/hong-kong-https://www.law.georgetown.edu/law-https://www.chinafile.com/reporting-https://hongkongfp.com/2022/02/25/https://freedomhouse.org/article/impact-https://www.theguardian.com/https://www.ft.com/content/5d388472-https://www.forbes.com/sites/https://www.ft.com/content/7a8e473d-https://www.nytimes.com/2019/11/24/https://hongkongfp.com/2021/10/21/16- 5ARTICLE [16] research-briefings/cbp-9318/crackdown-hits-domestic-helpers-the-hardestarticles/2022-02-26/hong-kong-s-covid-[28]strategy-is-hurting-hong-kong-videovideos/2022-03-03/zeman-current-covid-19-[27]crackdown/features/2022-apple-daily-china-hong-kong-[26]covid-strategy/org/2022/02/23/hong-kongs-cracking-zero-[25]lastauthorities-will-criminalise-fake-news-only-kong/politics/article/3156382/hong-kong-[24]citing-unprecedented-challenges/demos-civil-human-rights-front-disbands-breaking-organiser-of-mass-hong-kong-[23]community/legislature-lacks-deep-roots-in-the-the-partys-picks-hong-kongs-new-look-[22]democracy/21807016hong-kongs-new-legislature-is-a-mockery-of-[21]china-59717343[20]kongs-election-overhaul-context[19]the-national-security-law/highest-court-sets-new-test-for-bail-under-[18]china-55555299[17]covid-19postpones-elections-for-one-year-citing-world/2020/jul/31/concern-as-hong-kong-https://www.theguardian.com/https://www.bbc.co.uk/news/world-asia-https://ohrh.law.ox.ac.uk/hong-kongs-https://www.lawfareblog.com/hong-https://www.bbc.co.uk/news/world-asia-https://www.economist.com/leaders/https://hongkongfp.com/2021/12/24/https://hongkongfp.com/2021/08/15/https://www.scmp.com/news/hong-https://www.eastasiaforum.https://www.bloomberg.com/https://www.bloomberg.com/news/https://www.bloomberg.com/news/
Change | 改變 2022 Vol321T he right to recognition as a person before the law is guaranteed in numerous human rights treaties, and is a fundamental aspect of affirming the dignity and worth of each person.
However, the recent appeal of Q and Tse v Commissioner (2022) affirmed that transgendered individuals would not be permitted to change their legal sex on documents of identification unless they went through gender reassignment surgery, a decision which has justifiably led to outcry in the LGBTQ+ community. The decision in Tse will be scrutinized in detail to assess its validity. This will be done with the help of academic jurisprudence, as well as queer literature. Overall, it will be argued that the courts' refusal to understand the fluid nature of gender expression is evident of its failure to keep up with progressive human rights values which other countries, such as the UK and Taiwan, have already recognised. Legal recognition of gender identity should be based on self-determination, and should be a simple administrative process free from the financial barriers posed by costly and invasive medical Asprocedures.alawstudent,
By Nicole Luk
Transgender recognition in Hong Kong: A human right? A reflection of Q and Tse Henry Edward v Commissioner of Registration
I have understood first hand that the law does not act on its own. Rather, it is inescapably intertwined with ethics, society, economics, politics, and countless other factors. Tse's case urgently warrants a wider reflection on current social attitudes on LGBTQ+ individuals in Hong Kong, which will be explored in the last section.
6ARTICLE
Change | 改變 2022 Vol331
The court's failure to consider practical issues posed by surgery
The courts argue that a full sex reassignment surgery does not amount to an inhumnane or degrading treatment, and individuals can choose whether to undergo the surgery or not. Thus, it arguably does not violate article 3 of the Hong Kong Bill of Rights. However, they have failed to consider the practical issues posed by sex reassignment surgery. The following section will raise two of such concerns, though they are non-exhaustive. Firstly, the surgery is extremely pervasive and in some cases may be irrevocable. There are evidently also risks of medical complications. In a female to male sex reassignment surgery, muscles and skin from the hands and thighs must be used to create the male reproductive organs. This process has a failure rate of around 5%, and there is a risk of a blocked urethra and urine leaking, which often requires even more surgery to fix. In male to female reassignment surgery, the newly created vagina may not have the required depth, leading to closure of vaginal opening, body rejecting the skin grafts and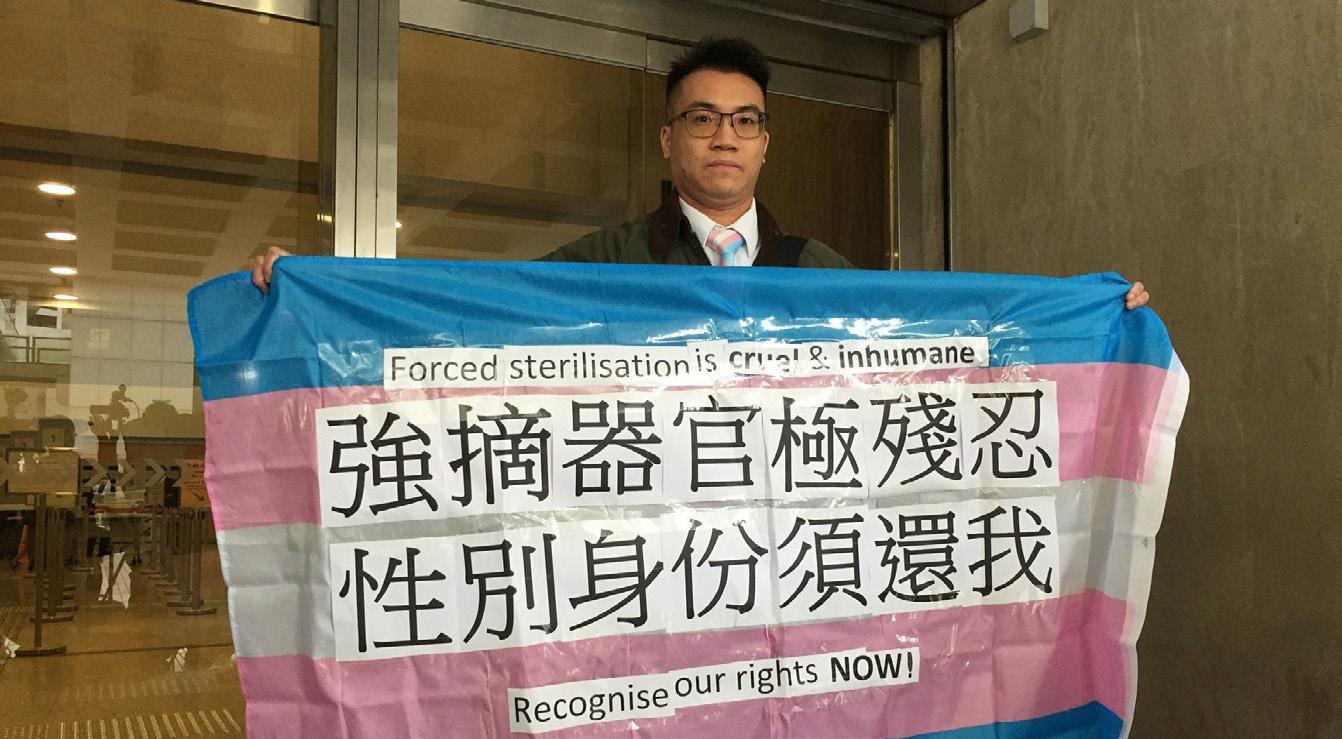 6ARTICLE
Gender as a binary concept/
Philosophical issues raised by the judgment In the past, the predominant understanding of gender reassignment was that every transgender person underwent a single "sex change operation"-- genital surgery– and no transition could be complete without it. However, as medical understanding advanced and as transgender activism and advocacy became more prominent, medical experts on transgender health now recognise that gender transition is an individualized process that can involve a variety of steps– sometimes involving surgery, but often not. As academic Thaler Cole articulated in the American Bar Association's journal: "In short, gender transition is anything but cookie-cutter." This misconception has thus been overturned in other jurisdictions such as the UK, the US and Taiwan, where sex reassignment surgery is no longer a requirement for trans individuals to legally change their gender. Therefore, from a medical standpoint and from the perspective of comparative law, it is puzzling to understand why the Hong Kong courts continue to impose this requirement.
Change | 改變 2022 Vol341difficulty urinating. Notwithstanding these potential complications, however, is the fact that sex reassignment surgery leaves transgender individuals unable to reproduce, effectively forcing them to be sterilised if they want to legally change their gender in Hong Kong. Forced sterilization has been made illegal in most countries of the world, and has been recognized by the International Justice Resource Center as a "human rights violation" and on a moral basis, should evidently not be inflicted on any individual despite their background. With this decision, the courts have thus effectively forced trans individuals to choose between forced sterilization on one hand, or a denial of their gender on the other. Secondly, sex reassignment surgery is extortionately costly. Sex reassignment surgery in Hong Kong in private clinics can range anywhere from 80 thousand HKD to over 200 thousand HKD. In public clinics, the fee is under 2 thousand HKD, but only Hong Kong permanent citizens are allowed to use the service and the assessment process may take anywhere from 1 to up to 4 years. This is excluding consultation fees, post-surgery hormone fees, hospital admissions fees, and any follow-up sessions. By placing such a high financial barrier to sex reassignment surgery, it is frustrating to realise that there are many who cannot have the surgery, even if they genuinely require it to complete the gender transformation and be recongised as their true self. 6ARTICLE
A wider reflection of social attitudes towards gender in Hong Kong
6ARTICLE
Change | 改變 2022 Vol351
The court's decision comes as a disappointment but perhaps not as a surprise, given Hong Kong's current regressive attitudes on trangender issues and on gender in general. As the judgment itself reads in paragraph 74, "...The primary consideration must remain how best the courts in Hong Kong should interpret and develop (law)... according to our..societal values". The court's ignorance of transgender discrimination is clearly reflected in its jugdment of the case, as they argue that "the policy is only an "administrative measure" and does not engage the much broader and deeply controversial considerations pertaining to gender recognition generally" ([70]). However, transgender individuals are not only subject to legal discrimination, but are also victims of social discrimination. A survey conducted by the Chinese University of Hong Kong revealed that some transgender individuals have been subjected to verbal abuse, physical violence, and even sexual assault when attempting to use bathrooms that match their self-identified gender, or accessing pubic bathrooms generally. Over 40 percent also reported experiencing negative treatment when going through immigration. This discrimination is arguably worsened by strict, traditional gender norms despite improvements over the last few decades. For example, growing up as a young girl in Hong Kong, my femininity is frequently judged based on strict beauty standards (for example, whether I have pale skin and a thin figure) or I am told what not to do because it is "unladylike", while it is acceptable for my brother to appear any way he chooses because
Change | 改變 2022 Vol361"it doesn't matter for men". This binary sense of gender is one which heavily impairs the court's decision to require Sex Reassignment Surgery. The judgment states that "males and females bear distinctively different biological appearance and characteristics." ([55]), and therefore, "a transgender person (must acquire) a clear and irreversible resemblance closest to the preferred sex in terms of biological appearance and characteristics. It cannot leave any room for ambiguity" ([56]). Therefore, while it goes without saying that legal recognition for transgender individuals is an urgent issue which the courts should rectify, it should not overshadow current societal attitudes to trans individuals and the resultant discrimination that they face in their day-to-day lives. The most tangible solution towards a better future for transgender legal rights, therefore, might be solved by cultivating a better social awareness towards transgender issues and a better understanding of the fluid nature of gender. Solutions could include better mental health resources, more support in gender reassignment surgery for those who want it, access to gender-neutral toilets, and training on gender issues for service providers in order to support the population.
Ghoshal, Neela, et al. "Rights in Transition: Making Legal Recognition for Transgender People a Global Priority." World Report 2016: Events of 2015, 1st ed., Bristol University Press, 2016, pp. 21–32, https://
MedicalTransgenderdiscrimination%2C%20and%20torture.involuntary,violence%2C%20sterilization%20is%20the%20forced-sterilization/#:~:text=Forced%2010InternationalCenterThe[2022]("Commissioner")vQdoi.org/10.2307/j.ctvndv9bj.5.andTseHenryEdward("Applicants")CommissionerofRegistrationCACV183-184/2019;HKCA172.InternationalJusticeResource(IJRC)."ForcedSterilization."JusticeResourceCenter,Jan.2021,https://ijrcenter.org/ResourceCenter."TransitioningInformation."TGR 跨性別資源中心 Transgender Resource Center, 2014, against-stigma/.kongs-transgender-community-speaks-out-2021,TheCommunityLau,reassignment-surgery.html.com/lifestyle/health/2021/07/29/gender-Julybeyond"GenderMatthew,en.nt&view=article&id=142&Itemid=57&lang=www.tgr.org.hk/index.php?option=com_contehttps://Jimmy,andArunMangalath.ReassignmentSurgery:TheRisksImagination."OnManorama,302021,https://www.onmanorama.Jessie."HongKong'sTransgenderSpeaksoutagainstStigma."–Diplomat,ForTheDiplomat,24Mayhttps://thediplomat.com/2021/05/hong6ARTICLE
Our President:Committee
Editor-in-chief:Contributors
Jovita Leung (LLB Bachelor of Laws)
Social Services Officer: Ian Ling (LLB Bachelor of Laws)
Tony Chui
External Vice President: Electa Yeung (LLB Bachelor of Laws)
Author: Ryan Chan, Kenneth Yu, Nicole Luk and our authors who wish to remain anonymous N. B. LSESU HKPASS is a politically neutral society. Any views expressed belong entirely to the authors themselves.
Internal Vice President: Scarlet Poon (LLB Bachelor of Laws)
Secretary: Coleman Kam (LLB Bachelor of Laws)
Designer: Bosco Hung, Grace Wong, Antonio Mok
Committee & Contributors
Treasurer: Leung Wei Chee (BSc Accounting & Finance)
Publication Officer: Tony Chui (LLB Bachelor of Laws)
Public Affairs Officer: Katrina Leung (BSc Politics & International Relations)
Events Officer: Agnes Wong (LLB Bachelor of Laws)
CONTRIBUTORS
Change | 改變 2022 Vol371