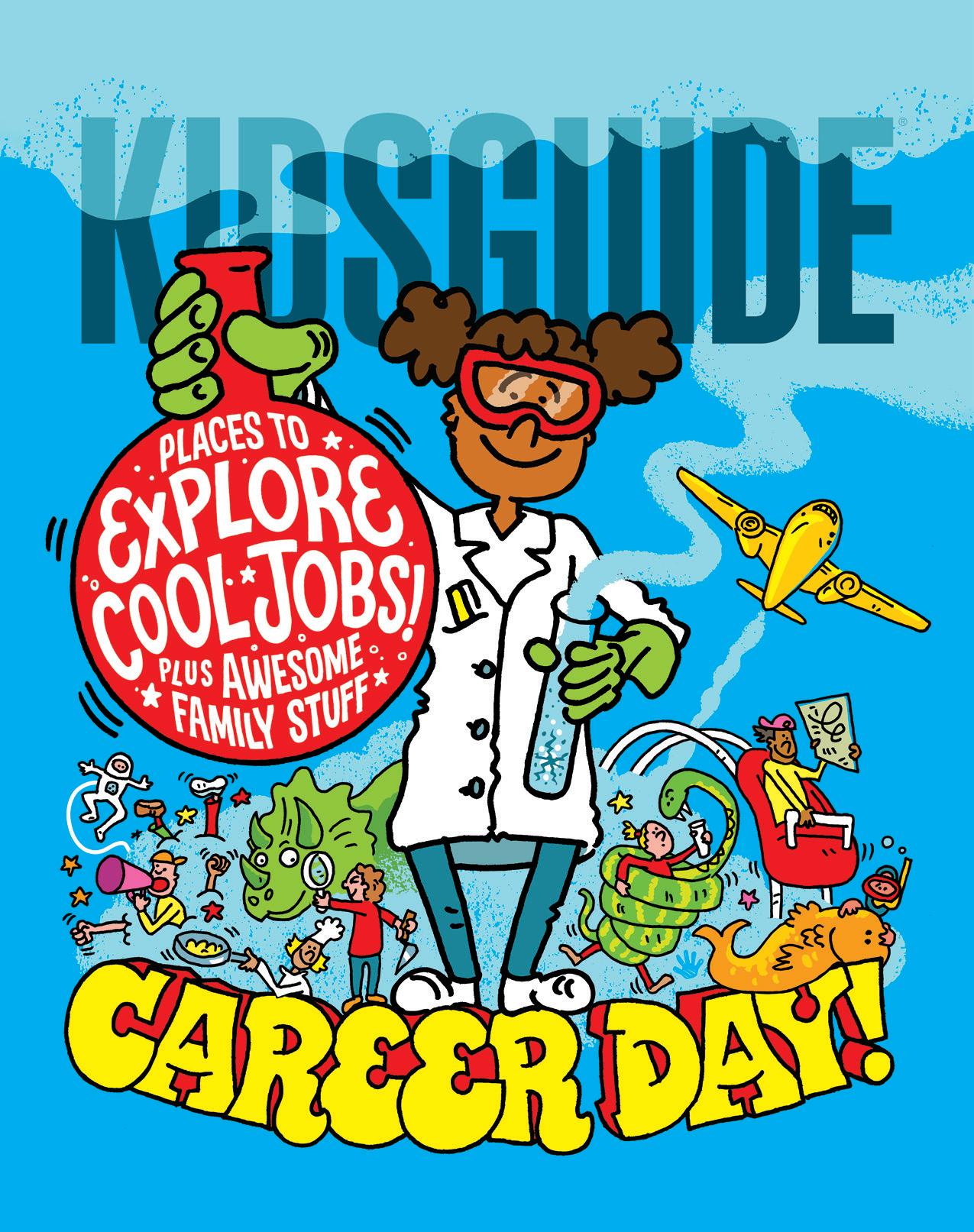 The Ultimate Guide for Families in Greater Long Beach & OC | kidsguidemagazine.com | Fall/Winter 23-24 | Free
City of Long Beach Parks, Recreation & Marine
After School Programs
Free, drop in after-school programs for children ages 5-12 take place at varying times per park, on weekdays from Aug. 28 through Dec. 22. Participants will receive homework assistance and enjoy enrichment activities and games. Pre-registration is required. To register, participants can visit the park of their choice.
Scan code for locations and times of After School Programs.
Community Learning Hubs for Youth
Free Community Learning Hubs are a safe space with high-speed internet for Long Beach Unified School District students ages 5-14 to participate in academic support, fitness and more.
The hubs operate weekdays from 3-6 p.m., Aug. 28, 2023 through June 14, 2024, at Houghton, McBride, Orizaba and Veterans Parks. Scan code for location details.
To enroll, visit your desired location for a registration packet. Registration is available on a first come, first serve basis. The Hubs are made possible by the Long Beach Recovery Act (Recovery Act).
Mobile Recess Program
Free Mobile Recess Programs for ages 5-14 will be held at the following locations this fall:
Monday and Thursday, 2-4:30 p.m.
Grace Park, 361 E. Plymouth St.
Tuesday and Friday, 3-5:30 p.m.
Rose Park, Orizaba Ave. & 8th St.
Wednesday, 3-5:30 p.m.
Hudson Park, 2335 Webster Ave.
For more information, call 562.570.3153
Swimming Year Round
Belmont Pool
4320 East Olympic Plaza, 562.570.1806
King Park Pool
1910 Lemon Ave., 562.570.1718
Silverado Park Pool
1540 West 32nd St., 562.570.1721
Youth Sports
Coed & Boys Flag Football for Ages 5-14
Practices Begin: September 11
Games Begin: September 30
Coed Ball Hockey for Ages 9-14
Registration: November 1-22
Season: November 29 - December 16
Basketball for Ages 5-14
Registration: November 27 - December 31
Season: January 27 - March 2
$10 uniform fee upon registration. Scholarships available. For more information, call 562.570.1707 or visit our website: teamsideline.com/longbeach.
For more information, visit lbparks.org or call 562.570.3150
∙ Full-Day TK/K at Each Elementary Site
∙ International Baccalaureate® Programmes
∙ Extensive AP Course Offerings
∙ WASC-Accredited Middle & High Schools
∙ Early College/Dual Enrollment
∙ CIF Championship Athletic Teams
∙ 25 Career Technical Education Pathways
∙ Spyder Labs, Robotics, eSports & Drone League
∙
∙
Dual Immersion Programs: Mandarin & Spanish
Award-Winning Programs & Sites Districtwide
∙ TK-6 Expanded Learning Opportunities
Golden Bell Awards
National Forum Schools to Watch
California Civic Learning Awards
25 Gold Ribbon Awards
23 Distinguished School Awards
ParentingOC Editor's Choice and More!
ORANGE UNIFIED SCHOOL DISTRICT
Hold on to your hats, because we're about to venture into a world of wild, wacky, and wonderfully interesting careers!
This issue, we've rounded up some awesome outing ideas— places that inspire kids to dream big about who they want to be when they grow up.
Explore these fun Outings (pages 3-29) and discover which ones pique your kids' interest. Future pilot? Take a spin in a flight simulator. Aspiring zookeeper? Seek out those hands-on junior keeper programs. History buff? Time travel awaits at countless museums. Each section is a goldmine of opportunities to explore and "test drive" different careers!
Curious about what it's really like in your dream job? Flip to Career Curiosity (page 4) for questions your kids can fire at their dream job professionals.
Don't skip learning about Crazy Cool Careers (page 12) and Gross Careers (page 32). Maggot Farmer, anyone? And guess what? We're spilling the beans with some Trade Secrets (page 35)! Discover fun facts you may not know about various jobs.
Keep the fun going with Career Crossroads, a "would you rather" game (page 36) that'll definitely spark some interesting conversation. There's also a Guess Who game, plus an opportunity for your kids to tell us all about their dream job!
2 kidsguide fall/winter 2023-2024 KNOW BEFORE YOU GO: Details are subject to change without notice. Confirm with organization. "Kidsguide® Copyright 2023. Liz Davis. All rights reserved. No portion of this magazine may be used for a derivative work, reproduced or copied—mechanically, electronically, or by any other means, including photocopying—distributed, or displayed without prior written permission of the publisher. The materials herein are provided on an "as is" basis and the publisher of this magazine, KIDSGUIDE, Inc., expressly disclaims all warranties, including without limitation the warranties of currentness, correctness, completeness, merchantability, fitness for a particular purpose, noninfringement of intellectual property, and freedom from errors. KIDSGUIDE, Inc. assumes no liability or responsibility for any loss or injury arising out of errors, omissions, uses, or participation as a result of publication of all magazine editions to the fullest extent permitted by law. KIDSGUIDE, Inc. is not in any way recommending or endorsing any program, business, activity, or advertiser listed within this magazine. Names, addresses, fees, descriptions, and services listed in KIDSGUIDE are subject to change. We sincerely request that any errors be brought to the publisher's attention so that they may be corrected in future editions." Places to Go & Dream Big! Career Day Mind-Opening Museums Spotlight Featuring Kidsguide Partners Animal Encounters & Zoos Aquariums & Marine Centers Boats & Ships Family Fun Centers Farms & Barns Indoor Play Spaces Nature & Gardens Space & Science Centers Skating Rinks Trains Winter Camps Career Curiosity Crazy Cool Careers Gross But Fascinating Careers Trade Secrets Career Games Questions or Comments? editor@kidsguidemagazine.com 10552 Humbolt St., Los Alamitos www.kidsguidemagazine.com Advertise With Us: If you would like information and rates for digital or print advertising, email liz@kidsguidemagazine.com. Liz Davis Alina Na Christina Escobedo Andy Smith Publisher & Founder Editor-in-Chief Content Editor Cover Artist 4 12 32 35 36 3 6 7 8 11 12 14 16 18 19 30 Art Museums Auto Museums Aviation Museums Children's Museums Fire & Police Museums Historical Museums & Landmarks Specialty Museums 23 24 24 25 26 26 29 31
More family fun! kidsguidemagazine.com @kidsguide