QUARTERLY JOURNAL OF THE LARZ ANDERSON AUTO MUSEUM
Summer 2023 Issue
STREET RALLY RACE
AN EXHIBITION REFRESH WITH RALLY RACING
AUTOX AT LIME ROCK PARK
PROVING GROUND FOR PERFORMANCE DRIVING
COLLECTOR SPOTLIGHT
TENACITY ON TWO WHEELS WITH DAVE ROPER
STARVING FOR CONTENT
NOT THAT KIND OF MUSTANG
EXECUTIVE EDITOR
SHELDON STEELE
EDITOR-IN-CHIEF
GEORGE KENNEDY
ART DIRECTOR
JENN CORRIVEAU
CONTRIBUTORS
ABBY MCBRIDE
GEORGE KENNEDY
NATALIE HARRINGTON
RYAN PHENEGAR
JIM TRAVERS
ALEX WAGNER
ANDREW NEWTON
PHOTO CONTRIBUTORS
COVER PHOTO BY ETHAN PELLEGRINO
ACURA
ALEX WAGNER
DAVE ROPER
ETHAN PELLEGRINO
FERRARI
GEORGE KENNEDY
JENN CORRIVEAU
JIM TRAVERS
NATE KING
ROB SIEGEL
LETTER FROM THE EXECUTIVE EDITOR
THERE IS ALWAYS SOMETHING HAPPENING AROUND THE ANDERSON CARRIAGE HOUSE. WE ARE IN HIGH SEASON WITH OUR EVENTS, AND, AS YOU KNOW, OUR CIRCLES ARE WIDER LATELY AND OUR EXPANDED ACTIVITY AND PROGRAMMING ENTERTAINS AND EDUCATES OUR MEMBERS AND FRIENDS WELL BEYOND THE GREAT LAWN.
Given our seasonal driving, touring, and track experiences around colorful New England, we hope that it is clear that we constantly endeavor to bring you more. More of what you crave!
Reporting on the above, in this issue, we have it all, from coverage of our fantastic new exhibit "Street | Rally | Race – Will to Win, Spirit to Endure" to a unique examination of the cars in the parking lot of the Greenwich Concours d'Elegance. If you're in the market for a new electric truck, you might pay special attention to the comparison between the Ford F-150 Lightning and the GMC Hummer EV. We've got a full slate of event recaps and schedules for the summer ahead. There's a recap of AutoX at Lime Rock Park, featuring interviews with Museum community members as well as Lime Rock VP and Director of Track Productions, Walter Irvine. Of the event, Irvine said, "The autocross is the great equalizer. It rewards drivers who understand their vehicle." He continued, "The owner who brought the MG to the event seemed to carry the theme of the day...it seemed to say 'try me.'"
There is so much more being covered on each page of UpShift this issue. Please enjoy the magazine, and thanks for reading and supporting our team by your enthusiasm for what we do.
The museum is a better place because of each of you.
Happy motoring, Sheldon
3
PHOTO: NATE KING
05
EXHIBIT SPOTLIGHTS
RYAN PHENEGAR
PAGES 6-7
STREET | RALLY | RACE
ABBY MCBRIDE
PAGES 8-9 03
ABOUT THE MUSEUM LAAM 07
PAGES 18-21 06
KIDS CORNER
ABBY MCBRIDE
AUTOX AT LIME ROCK
GEORGE KENNEDY
PAGES 10-12 04
STARVING FOR CONTENT
ALEX WAGNER
PAGES 14-16
MEET THE CONTRIBUTORS
LAAM
PAGES 24-25
PAGES 22-23 08
MITSHUBISHI PAJERO
ANDREW NEWTON
PAGE 26-27
CONTENTS TABLE OF 02
01
4 UPSHIFT
09
F-150 LIGHTNING VS GMC HUMMER GEORGE KENNEDY
PAGES 28-31
10
THE LOCAL HACK WEIGHS IN ROB SIEGEL
PAGES 32-35
11
IT'S STILL CAR SZN! NATALIE HARRINGTON
PAGES 36-37
13
TENACITY ON TWO WHEELS
NATALIE HARRINGTON
PAGE 38-39
14
LET ME SELL YOU A FERRARI
ABBY MCBRIDE
PAGES 40-41
15
THE OTHER GREENWICH CONCOURS JIM TRAVERS
PAGES 42-43
5
HOME TO AMERICA'S OLDEST CAR COLLECTION
The Larz Anderson Auto Museum is located in the lavish and original 1888 carriage house located on the grounds of the former Weld Estate, now Larz Anderson Park, in Brookline, Massachusetts. The building was inspired by the Chateau de Chaumont-Sur-Loire in France and designed by Edmund M. Wheelwright, the city architect of Boston. First constructed as a working stable, it later served to house and maintain the Andersons' growing collection of motorcars.
Larz and Isabel Anderson began their love affair with the automobile before the turn of the century. In 1899, soon after they married, they purchased a new Winton Runabout, a true horseless carriage. From 1899 to
6 UPSHIFT
PHOTOS: JENN CORRIVEAU
1948 the Andersons purchased at least 32 new motorcars in addition to numerous carriages, thus creating "America's Oldest Car Collection."
As each car became obsolete it would be retired to the Carriage House. By 1927, the Andersons began opening the building to the public for tours of their "ancient" vehicles. When Isabel Anderson passed away in 1948, it was her wish that the motorcar collection be known as the "Larz Anderson Collection," and that a separate non-profit organization be created to promote the mission of preserving the
collection and automotive history. The grounds of Larz Anderson Park include a romantic pond, a picturesque view of the Boston skyline just four miles away, acres of lush open space with walking paths throughout and an ice skating rink that is open to the public during the winter months. Today, the Carriage House is on the National Register of Historic Places. A landmark within the community and both a cultural and educational hub in the automotive world, it continues to house and preserve the fourteen motorcars that remain in the Larz Anderson Collection.
7
STREET | RALLY | RACE • EXHIBIT OPENING
A SPRING REFRESH WITH RALLY RACING
On a warm spring evening in May, the Museum held a festive party to celebrate the annual exhibit opening. This year the reception was in honor of the exhibition "STREET | RALLY | RACE." Rally racing is a tradition that dates back to 1894 in France. This exhibition explores its rich history. Attendees viewed rally cars such as the 1949 62 Series Cadillac that traversed the 9,000-mile Peking to Paris rally race. There was an HP2 Enduro rally motorcycle and a Rosso Corsa Ferrari team racing suit and gloves. Presented in a dynamic format with video and objects, a mini exhibition focused on some of the first female race car drivers and their scintillating history.
Attendees expressed their surprise at seeing the 1901 Winton moved upstairs. This car, designed by Alexander Winton, set a world track speed record, averaging around 38 miles per hour. One attendee mentioned, "What a sight to see one of the first race cars alongside the rally cars."
An eclectic mix of food and drink was served including delicious sushi rolls, tasty Beef Wellington, and a signature
ABBY MCBRIDE | PHOTOS: ETHAN PELLEGRINO
8 UPSHIFT
cocktail. The weather was warm, and the excitement of spring and a new exhibition was in the air. Museum guests mingled, happy to be together. Longtime members were glad to see that once again the Museum has refreshed and reinvented itself with a dynamic interpretation of rally racing.
The atmosphere was lively and one member, who had driven all the way from Connecticut, commented, "I've been coming for a long time, and this is one of the most colorful exhibitions I have seen." Indeed, rally racing lends itself to an exploration of color and pattern: With many of the cars outfitted in traditional European livery, there is so much to see and learn.
9
PROVING GROUND FOR PERFORMANCE DRIVING SHARPEN YOUR SKILLS WITH AUTOX AT LIME ROCK
Any given Sunday (and some Saturdays) throughout the year, you can descend upon the Museum and find your favorite classic and collector automobiles at a Lawn Event or Cars & Coffee. This is a unique opportunity to get up close and personal with fantastic machines and converse with the owners. It's a forum to expand the community, and it's enriching for both drivers and onlookers. But for many of these machines, their real home is out on the track.
While some lower-horsepower cars can be pushed on open roads, for most cars—performance or otherwise—a controlled setting is the only safe place to operate, enjoy, and learn. That's just the ecosystem that was provided in mid-June for AutoX at Lime Rock Park (LRP). While the 1.53-mile road course is known to many enthusiasts, they might not know that the destination of motorsport in the bucolic rolling hills of Northwest Connecticut provides multiple facilities for sharpening your skills behind the wheel. AutoX saw Museum members taking to the FCP
AutoX is an allusion to autocross, but this event was more than that, namely because the facilities are more significant than cones set up in a parking lot. As you'll find out, it's a track within a track. Representing Lime Rock Park's interests at AutoX was Walter Irvine, the park's VP and Director of Track Productions. Irvine has been with LRP for decades, first as a driving instructor for Skip Barber in the 1990s and then with track productions for over a decade. As Irvine explains, the main track is just the tip of the iceberg. "In the infield of the track, we have
GEORGE KENNEDY | PHOTOS: ETHAN PELLEGRINO
Euro Proving Grounds, located in the infield near the Paul Newman Straight.
10 UPSHIFT
a number of driving circuits: teen defensive driving, snow driving, manufacturers renting out track in a neutral area," Irvine continues, "It's a safe area where people can push their cars in ways that they can't on streets legally."
The AutoX event took place on the Proving Grounds, and it followed the format of autocross. Among the participants was Larz Anderson board Vice President Bill Keeney. Bill explained, "Candidly, I didn't know what to expect, and so because of that, there's that fear of the unknown. Between the track staff, who were three pros, professional drivers, it set the whole thing at ease." Participants started with 45 minutes of Autocross 101 basics. "We went through the phases: enter turn, apex, exit turn," Keeney continued. "That helped center my mind and allowed for an amazing day." The morning was set aside for general lapping and education, while the afternoon allowed for timed laps against other participants. "I had no idea how fun it was going to be," Keeney exclaimed. "It's a very safe way to get a chance to flex some competitive muscles."
Drivers could bring their own cars, and many did, but Lime Rock also provided spec Miatas to rent for the day. "It was the right move," Keeney reflected. "It was like driving an oversized go-kart around the track. The full cage gives you all the confidence in the world; the Hoosier slicks are a level up, purposebuilt. It was spectacular….it was the most fun I've had in a car in years."
For the drivers who brought their own vehicles, the AutoX event was an opportunity to match their growing skillset to their tool of choice. "The thing that really struck me was the wide range of cars," recalled Keeney. "Cars from a VW GTI and an Audi TT all the way to a GT4 RS, which is a track missile. And you'd have a hard time deciding who had more fun."
"There was a driver with an MGB GT with a GMtransplanted V6," Irvine observed. "It was a really really neat car." He noted that "autocross is the great equalizer. It rewards drivers who understand their vehicle…and the MG seemed to carry the theme of the day…it seemed to say 'try me.'"
11
The Skip Barber School that calls Lime Rock home is an institution in driver training. Some schools will teach you how to maximize a particular vehicle or formula of racing, but Barber goes deeper. They teach you the fundamentals and skills to understand the physics of any size vehicle and how to safely throw it around a road course or autocross. And this was all done in a beautiful setting, in a format that fostered community and new connections. As Walter Irvine noted, "We love partnering with OEMs and facilities like Larz Anderson where you can bring people, and drive your own cars, and feel excited." He continued, "This experience should be for everyone. To give them a motorsports experience, but also to give confidence when they leave the track, and that can also save their lives."
Lime Rock Park is excited to be working with the Larz Anderson Auto Museum on future events, and expanding AutoX with even more rental spec Miatas for the day. Whether you visit as a spectator for an IMSA race or Historics weekend, or take part in a hands-on event like this, Lime Rock Park is a fantastic facility that's worth a trip, even for the drive through the rolling hills of the Berkshires.
"Driving today is like a chore for many people between what they need to get done," Irvine noted. "Fewer people are driving for the pure enjoyment. The drive is the destination." For an event like AutoX, the rewarding drive out to the facility only gives way to even more fun on the track. Irvine concluded, "Driving…just the act itself is beautiful." Whether it's on a back road or on a closed course, we could not agree more.
12 UPSHIFT EP
S tarving for Content
NOT THAT KIND OF MUSTANG
WORDS: NATALIE HARRINGTON + ALEX WAGNER | PICTURES: ALEX WAGNER
The "Starving for Content" column typically follows Museum staff as they evaluate a vehicle during a trip to one of New England's many foodie-worthy destinations. This time, we're doing things a little differently, featuring Museum member Alex Wagner's story of a once-in-a-lifetime experience with a rather different type of transportation.
Wagner has a 1988 Peugeot 505 wagon and a 2000 Mercedes-Benz SL500, but this particular trip was more about the destination than the drive. Anticipating the straight shot and the many highway miles from his home in Boston out to Westfield, MA, he felt his 2021 Honda Accord Hybrid and its modern driverassistance tech would be better suited to the task. Planes circling overhead began to break up the monotonous scenery as he approached the Westfield-Barnes Regional Airport. This was his destination: He and his friend, Ben Sivonen, were meeting for ridealongs as part of the AirPower History Tour of the Commemorative Airforce.
"Walk through the gate, and the first thing you see is a B-24, then a B-29, a T-6, and then, most importantly, the P-51." It was the P-51 Mustang "Gunfighter" that had drawn them there. Knowing how much Wagner has always loved the plane, Sivonen had purchased the experience as a wedding gift.
Wagner describes the pre-flight briefing as "nerve-wracking," though he says that the excitement of being briefed while standing on the wing of a P-51 made the risk feel very much worthwhile. In his own words:
"Have you ever been skydiving before?" isn't exactly the most comforting question a pilot can ask you before a flight in a 78-year-old aircraft. The briefing continued with the procedure in the event of a catastrophic failure. "I'll pop the canopy and call 'Bail Out! Bail Out! Bail Out!' What you'll do next is roll out of the plane. Aim for the front
Right: View inside the cockpit (I spy a LAAM hat!)
Left: View from the air
14 UPSHIFT
15
wing. Don't just jump straight out, because you don't want to hit the tail on the way out…" "… yessir."
It was a squeeze to fit under the canopy while climbing over the pilot's seat, but once in place beneath that bubble, Wagner forgot all about the limited headroom.
Hearing that Merlin V12 firing up was glorious. Taxiing down the runway was essentially a slalom, because on the ground in a "taildragger," the pilot needs to weave in order to be able to see what's ahead. Up in the air, I don't think the view gets much better. The bubble canopy offers incredible views, and the Pioneer Valley on a sunny day is beautiful. We did some climbs, dives, and banks which showed how maneuverable the aircraft still is at these low speeds. A highlight was a climbing banking maneuver to see the "pilot's rainbow" around the shadow of our P-51 on a fluffy white cloud. It was a view I'll never forget.
As we were returning to the airport, the B-29 Superfortress "FIFI" was taking off. After a high banking turn, we dove down and did some S turns over and below FIFI to give their passengers a good look at Gunfighter. Watching a B-29 from a P-51 was amazingly awesome.
In deference to the fact that this is UpShift's food column, we'll wrap up this story with lunch. The guys chose Local Burger, a New England-based, family-owned restaurant, in part for the winding route from Westfield to Northampton. After burning off some adrenaline with a little spirited driving, they enjoyed fried pickles and burgers as they reminisced over the morning's experience and, as an added bonus, found they were perfectly positioned for a stop at Tree House Brewing Company's primary location in Charlton, MA, right on the route back to Boston.
16 UPSHIFT
EXHIBIT SPOTLIGHT - AUDI QUATTROS CREATING A MOTORSPORTS ICON
The Museum's latest exhibit, "Street | Rally | Race," features iconic rally cars that enthusiasts like myself dream of owning. These cars helped establish their respective marques as motorsport legends, but none more than the screaming five-cylinder, all-wheel-drive (AWD) monster from Ingolstadt.
As the newest kid on the block, the German manufacturer, Audi, was looking to separate itself from the crowd in the ever-competitive world of the German automotive industry. Facing fierce competition from BMW and Mercedes-Benz, Audi executives knew they had to create something special to steal the spotlight from its well-established rivals. By the year 1980, Audi had found exactly what they were looking for.
Making its official debut at the 1980 International Geneva Motor Show, the Audi Ur-Quattro (Original Quattro) took the automotive world by storm. The Audi Ur-Quattro quickly became the focus of automotive enthusiasts. The car featured a glorious-sounding, turbocharged inline five-cylinder capable of producing upwards of 450 horsepower in some rallyspec cars. Paired with its five-cylinder powerplant, the Ur-Quattro stood out from the crowd with its revolutionary permanent AWD system named Quattro (Four). The Quattro system directed power to all four wheels, something that
WRITER: RYAN PHENEGAR | PHOTO: ETHAN PELLEGRINO
18 UPSHIFT
was unheard of for regular passenger cars, which were typically front-wheel-drive (FWD) or rearwheel-drive (RWD). The Audi Ur-Quattro became one of the first production cars with a permanent AWD system, leaving Audi with a problem. How would the company prove that its AWD system made its cars better than its RWD competitors? The Audi Quattro was put to the ultimate test in the Fall of 1981. Entering its first World Rally event at the Monte Carlo Rally, the Quattro overtook the RWD Lancia Stratos, showing its AWD dominance in the snowing conditions. Between the 1981 season and the end of the 1984 season, the UrQuattro accomplished multiple race victories, two manufacturers' titles, two drivers' titles, and the historic feat of the first World Rally Championship (WRC) won by a woman driver, Michele Mouton.
1981 AUDI UR-QUATTRO RALLYE
This 1981 Audi Quattro started its life as an official press car for Audi. One year later, in 1982, this Quattro was converted into full rally spec and assigned to David Sutton Motorsport's official Audi Rally Team. This automobile was primarily used as a practice car for the Audi team's drivers. In the same period, this Quattro was used by American WRC legend John Buffam and the Finnish driver Hannu Mikkola.
Although primarily a practice car, this Quattro also participated in its fair share of rallying events. The Quattro competed in the 1983 Rothmans Circuit of Ireland Rally alongside the WRC legend Stig Blomqvist and was eventually sold off to a private team in 1985.
1983 AUDI UR-QUATTRO CANADIAN IMPORT
This 1983 Audi Ur-Quattro spent much of its life up in Canada, having been purchased new in Quebec as a street spec car, one of the ninety-nine Ur-Quattros imported to Canada.
It was put to the test like its rally-spec sibling, competing in the Quebec ice racing series. During the cold winter months competitors battle it out on tracks plowed out on top of frozen lakes and rivers, racing in an almost frictionless environment. The Quattro AWD system became popular on ice racing circuits, with its ability to perform exceptionally well in slippery environments. The Quattro system helped to establish this car racing pedigree, becoming a champion and fierce competitor in Quebec ice racing circuits.
These Ur-Quattros were eventually imported to the United States and are now featured at the Larz Anderson Auto Museum. Come to see these rallying icons before it's too late in the exhibit Street | Rally | Race, ending April 2024.
19
EXHIBIT SPOTLIGHT - 1978 PORSCHE 911 SAFARI
MEET THE SOURCE OF THE MODERN SAFARI CRAZE
RYAN PHENEGAR | PHOTO: ETHAN PELLEGRINO
In recent years, there has been a push among automotive enthusiasts towards converting fun and lightweight sports cars into "safari" builds. From Safari 911s to Miatas, many of which have been featured during the museum's lawn events, the safari trend seems to be unstoppable. The push for safari builds has finally hit the source itself, the automotive manufacturers. By now, most have heard about the new Porsche 911 Dakar or the Lamborghini Hurican Sterrato. These cars have earned themselves extensive media coverage and praise for straying away from the status quo of typical sports cars, but what if I were to tell you that this "safari" concept was started decades ago by one of the modern contenders?
THE PORSCHE 911, BUILT TO RACE
The Porsche 911 was unveiled as a performance-oriented, 2+2 sports car in 1964. The concept of the 911 was simple: a rear-engined, rear-wheel-drive sports car that was practical for everyday use and performance driving. With the 911, you could bring the car to the mall, then hit up a race track on your way home if you happen to pass one. With this basic concept unchanged, the Porsche 911 has been raced extensively in its nearly 60-year lifespan. Featured in historic races like the 24 Hours of Le Mans and the famous Monte Carlo Rally, the 911 has proven itself as a motorsports icon.
STREET RALLY 20 UPSHIFT
1978 PORSCHE 911 EAST AFRICA SAFARI RALLY CAR - MARTINI LIVERY
In 1978, Porsche decided to further expand its motorsports pedigree by entering two 911 SCs in the East Africa Safari Classic Rally. This grueling race is 94 hours and 3,000 miles long, and it takes on some of the most challenging terrains in the world. Entering two 911 SC rally cars (number 5 and number 14), Porsche took on the challenge, hoping to prove the brand's motorsport history as a rally competitor. Overcoming the challenges of the course while suffering from breakdowns, the two 911 SCs placed in second and fourth place, cementing Porsche in rallying history.
This 1978 Porsche 911 is a replica of the famous number 5 car, which is housed in the Porsche Museum in Stuttgart. Built to the same specifications as the infamous rally car, this 911 is ready to take on any challenge. Finished in a beautiful Martini livery like the one featured on the original car, this 911 SC pays homage to the legendary 1978 rally icon. Come see it before it's too late in our exhilarating exhibit, Street | Rally | Race, ending April 2024.
RALLY RACE RUNS THROUGH APRIL 2024
21
KIDS' CAR CORNER
RAUCOUS RALLY RACE CARS
UPSHIFT KIDS' CAR CORNER SUMMER ISSUE
ABBY MCBRIDE | PHOTO ABOVE: ETHAN PELLEGRINO
22 UPSHIFT
The term "rally" as a racing word was first used in January 1907 at the Monte Carlo Rally in France. The beginning of the word rally comes from the old French word "ralier," which means to bring together or to make a shared effort. Rally racing, although competitive, is about a shared effort: The connection between driver and co-driver and the joint action of competition between racers. Unique in the world of motorsport, rally racing creates competition through collaboration.
Racers drive cars they purchased but then changed, or they will specially build a car. Racers do things like make the brakes stronger, make the car lighter, or put in bucket seats so the driver and co-driver can sit low to the ground. The race happens on closed public or private roads with a co-driver reading maps, and pages of notes describing the road ahead. What is unique about rally race cars is that many of the race cars were designed to be driven on the street by an everyday person. With modifications, they become faster, lighter, and stronger, ready for the rally race. The driver and co-driver then come together and work very hard to drive their best.
A racing livery is the paint and sticker design used on the rally cars to attract sponsorship and advertise sponsors. A sponsor is a company or person who gives money to support the racers. Below are some creative and colorful rally race cars.
Below is a frame where you can design your own Rally Car! Ask a caregiver to help you print this out or just use your own colorful paper. Happy designing!
23
The Contributors
THE TEAM THAT MAKES UPSHIFT POSSIBLE
GEORGE KENNEDY • EDITOR-IN-CHIEF
From open-wheel racecars to specialty off-road vehicles, George Kennedy has driven it all. A career automotive journalist, George has been a contributor, editor, and/or producer at some of the most respected publications and outlets, including Consumer Reports, Boston Magazine, Autoblog.com, and Hemmings Classic Wheels. He helped start Cartender, an automotive marketing technology company, and is currently a contributor to the Boston Globe, U.S. News & World Report. He is also the YouTube host for CarGurus.com. Kennedy brings this breadth of knowledge and experience in compelling automotive content to the Larz Anderson Auto Museum.
JENN CORRIVEAU • ART DIRECTOR
Every weekend as a young girl Jenn would accompany her "Car Guy" dad to Car Events around New England. So, it is only natural that her path would eventually lead to the Larz Anderson Museum where her primary work would become the Lawn Events Manager. While in college, Jenn studied Graphic Design. She found that she had a real passion for it in all of its forms. From photography, logos, branding to designing brochures or even crafting her own Wedding Invitations – Jenn loves to organize, curate ideas and make things pop! Her unique skill set and position at the Museum allows her to play an integral and important role in shaping the Museum's image and message.
NATALIE HARRINGTON • EDITOR + CONTRIBUTOR
Natalie Harrington is a Boston-based motorcyclist, writer, and auto enthusiast. Raised in Syracuse, NY, and Bucks County, PA, Natalie relocated to Massachusetts in 2009 following her graduation from Wellesley College. She has been a LAAM member and volunteer ever since. More than any one marque or vintage, Natalie appreciates the joy and passion she sees in the car community. She believes there is no one right way to be a car person and loves that LAAM embodies that sentiment with its diverse community, varied collection, and long history of sharing its treasures with the world around it. Natalie recently earned a certificate in Professional Fundraising from Boston University and hopes to apply that to her role as a member of the Museum's board. She loves attending car shows and races and visiting auto museums around the world, but thinks that LAAM's unique community and collection top them all. She looks forward to spreading the word.
RYAN PHENEGAR • CONTRIBUTOR
Influenced by a childhood surrounded with his father's passion for modified German cars, Ryan has always had a love for all things German. Joining the Larz Anderson family in 2022, Ryan is the newest addition to our team. As a recent graduate from Bridgewater State University, he's already making a name for himself as the go-to guy for all things audirelated. When he's not tinkering under the hood or cleaning one of his cars, you can find him running car registration at all the Museum lawn events, ensuring every car is ready to go on the lawn.
24 UPSHIFT
ABBY MCBRIDE • CONTRIBUTOR
Abby, the new Education Manager at LAAM finds the beauty and sculptural aspects of car design fascinating. She holds a master's degree in art education from Lesley University and a master's degree in curriculum development from Caldwell University. Abby served for many years as Manager of Family Programs at the Museum of Fine Arts, Boston where she curated curriculum, programs, and interpretation for visitors. Abby believes in looking at museum objects through multiple lenses in hopes of engaging as many visitors as possible.
ROB SIEGEL • SEASONAL CONTRIBUTOR
Rob Siegel has written the monthly column The Hack Mechanic™ for Roundel, the magazine of The BMW Car Club of America, for 35 years, and writes weekly online for Hagerty and BimmerLife. Rob has also written for Road & Track, Sports Car Market, and Forbes, and is the author of eight automotive-related books, including The New York Times-reviewed Memoirs of a Hack Mechanic. Rob has owned over 70 BMWs, most of them 1970s-era cars. He currently owns 13 cars including eight vintage BMWs and a Lotus Europa, and yes, his wife knows where all of them are.
JIM TRAVERS • SEASONAL CONTRIBUTOR
Jim Travers is a lifelong gearhead, and a freelance writer, editor, and photographer specializing in all things automotive. A classic car enthusiast and collector, Jim is a regular judge on the car show circuit and is the author of the Smithsonian Institute's Extreme Cars. His work has also appeared in Automobile, Autoblog, BBC Autos, Car and Driver, Cars.com, Car Talk, Consumer Reports, Hagerty, The NY Daily News, US News, and others. He lives in Duxbury, Massachusetts, a town known for both its beach and its dump. On weekends, Jim can often be found at one or the other.
ANDREW NEWTON • SEASONAL CONTRIBUTOR
Andrew came of age around old cars and vintage racing, and first came to the museum through an internship while attending Clark University. He then served as the Education Manager at Larz Anderson while writing about cars both old and new for Sports Car Digest, James Edition and CarGurus. In 2014, Andrew joined Hagerty as Auction and Valuation Editor to cover the collector car market worldwide and contribute to the Hagerty Price Guide. Andrew has written hundreds of articles on classic car values, market trends and history for Hagerty as well as hosted webinars and attended dozens of auctions each year. He currently lives in Houston, Texas, but gets back to Larz Anderson as often as he can.
25
MITSUBISHI PAJERO EVOLUTION A SPORTY JDM TRUCK WITH RACING HERITAGE AND ROOM TO GROW.
In these "Future Classics" articles, we've talked about modern Japanese classics and vintage trucks/SUVs as two of the most active segments of the collector car market. But we've never talked about a vehicle that ticks both of those boxes. Enter the Mitsubishi Pajero Evolution, a nifty '90s rally racer for the road that's a little bit obscure and already a little bit expensive. But with the performance, technology, and motorsports bona fides of many of today's priciest Japanese collector cars, it still has room to grow.
Known stateside as the Montero, the Mitsubishi Pajero is one of the most popular big SUVs worldwide, with over 3 million sold over 40 years of production. The Pajero Evolution, or "Evo" for short, is no ordinary
grocery-getter, and it has little in common with the pedestrian versions. Hopped-up Pajeros were the most successful vehicles in one of the most intense motorsport events ever—the Paris-Dakar Rally. A perilous and sometimes-lethal rally, the event started in France and put cars, trucks, and motorcycles through thousands of punishing miles of rocks, boulders, dunes, and rivers throughout North and West Africa. Pajeros won the Dakar 12 times, took 41 podium finishes, and swept
ANDREW NEWTON | PHOTOS: BRINGATRAILER.COM
26 UPSHIFT
the podium five times. No other manufacturer has come close. Pajeros had been winning since the 1980s, but event rules in the late 1990s dictated Mitsubishi build a roadgoing version of its Dakar racers to homologate them.
Dubbed the Pajero Evolution, the road-going version has the usual beefed-up, fender-flared looks of a homologation special, covering a full independent suspension and a 3.5-liter V6 putting a reported 276 hp and 257 lb-ft of torque through a five-speed manual and triple differentials. Mudflaps, Recaro seats, and decals only add to the raciness. While Pajeros won the Dakar in 1997 and finished 1-2-3-4 in 1998, Mitsubishi sold around 2,500 road-going Evos from 1997-99 to lucky buyers, none of whom were in the United States. Thanks to our 25year import rule, however, Pajero Evos became eligible to import last year, and a few have trickled into this country. A handful have already sold publicly, all in the $40,000 - $50,000 range, with one high-mile Evo selling for just $35K. Not chump change, but consider all the other rally homologation specials from Lancia, Audi, Peugeot, and Ford that all regularly sell for six figures, not to mention the Nissan Skylines from that era that also bring significantly more money. Also consider that vintage trucks and SUVs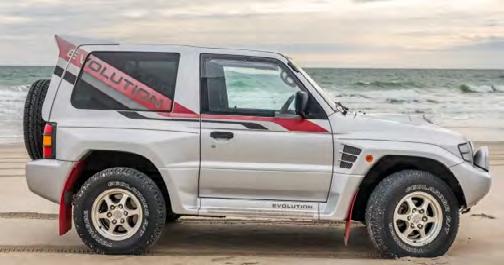 have been one of the most active and fastest-growing segments of the classic car market for years.
A few things may be keeping the Pajero Evolution back. In this country, it's a bit obscure. It's only recently available for import, and just a few have sold. This means the market is still figuring out the model's status. Plus, it wears a Mitsubishi badge, and Mitsubishi hasn't sold anything exciting in America for years. It never sold a sporty SUV here, nothing called a "Pajero," and Mitsubishi hasn't cultivated the off-road fanbase of manufacturers like Toyota.
That said, it's a tempting value in speed, rarity, raciness, history, and cool-factor that can't possibly stay a secret forever.
27
28 UPSHIFT
Vehicle Review
ELECTRIC TRUCK RIVALS
THE FORD F-150 LIGHTNING AND GMC HUMMER EV GO ABOUT EV PICKUPS IN VERY DIFFERENT WAYS
ELECTRIC VEHICLES ARE SEEMINGLY EVERYWHERE RIGHT NOW. THAT IS, IF YOU ARE FOLLOWING NEW-CAR INTRODUCTIONS. OUT THERE ON THE ROAD, THEY ARE STILL A NICHE VEHICLE, BUT THE MARKET IS GROWING, AND AUTOMAKERS ARE KEEN TO CORNER THE SMALL-BUT-GROWING SEGMENT IN ANY WAY THEY CAN.
The most sensible EV is a small, lightweight vehicle, such as the Chevrolet Bolt or Nissan LEAF, but they just don't fit our modern appetites. For much of the country, only a truck will do.
The two biggest truck-makers in America have each entered the electric fray (that's a half-decent band name), and they have gone about it in different formats. The 2023 Ford F-150 Lightning is essentially an electric version of the conventional F-150, offering all the same versatility as the truck on which it is based. Meanwhile, the 2023 GMC Hummer EV is a ground-up new vehicle that is positioned as more of a lifestyle vehicle. In fairness, both trucks are not necessarily going to frequent worksites, but what do they offer the everyday driver? And which of these two trucks has staying power?
Let's get right into the price, because electric vehicles carry a premium over their ICE (internal combustion engine) counterparts. That's just the price of being early. The 2023 Ford F-150 Lightning starts at $59,974 at the time of this writing. We have to note the timing because the Lightning was originally advertised as a $40K electric truck. Considering how much folks are paying for trucks these days, that was an impressive figure. Since then, Ford has announced several price hikes. Now, the Lightning costs as much as a well-equipped F-150 Lariat, and the generous list of standard features on the Lightning helps
justify that, including a fully digital instrument panel, 12-inch touchscreen with Apple CarPlay and Android Auto, heated front seats, and dual-zone automatic climate control. It still has vinyl upholstery and manual front seats. To get actual goodies, you'll want to move up to the actual Lightning Lariat trim, which costs nearly $70,000. The range-topping F-150 Lightning Platinum costs $98,000.
That might seem steep, but that fully loaded price is still less than the starting price for the 2023 GMC Hummer EV, which comes in at $108,300. Unlike Ford, which is offering multiple trim and battery/motor levels, the Hummer EV is only offered in one trim and one massively powerful setup. In the coming year or so, GMC will offer additional, less-powerful battery/motor combinations. In spite of the high price, all initial versions of this truck have been snatched up. And none of these prices for either truck factor in dealer markups, which can be steep.
So what does a six-figure price tag get you in an electric pickup? The GMC Hummer EV has four motors making 1,000 horsepower and a stupendous 1,200 pound-feet of torque. And providing charge for this is a massive 212.7-kilowatt-hour battery pack. The whole truck weighs 9,000 pounds, and yet it can still sprint from zero to 60 mph in just three seconds. With all that weight,
+
KENNEDY
WORDS
PHOTOS: GEORGE
29
the Hummer EV also benefits from regenerative braking, which can capture energy from the deceleration process.
When not putting down 0-60 runs, the Hummer EV has an estimated range of 329 miles, and thanks to DC fast charging, a 350-kW charger (which are not everywhere…yet) can add 100 miles of range in just 10 minutes.
The Hummer EV has four-wheel steering. You may have seen the "crab walk" ads, where the truck can move forward and laterally at the same time. More importantly, the front and rear wheel sets can turn independently from one another, allowing the big truck to turn like a much smaller vehicle. This is critical for maneuvering in the malls and shopping centers in which this truck will likely dwell.
Other fun features on the Hummer EV include a power-retractable tonneau bed cover, GMC's MultiPro Tailgate, and clear, removable roof panels. It also has a futuristic cabin with massive screens, wireless Apple CarPlay, wireless Android Auto, a power-retractable rear window, a Bose premium stereo system, massaging front seats, and GM's Super Cruise semi-autonomous driving system. Towing capacity is listed at 7,500 pounds, and range drops off when towing, though it's not entirely clear yet by how much.
The F-150 Lightning can tow up to 10,000 pounds on the extended-range model, which is certainly better, but not the 14,000 pounds that the ICE F-150 is capable of. The base battery can tow just 5,000 pounds, and like the Hummer, the range with the Lighting falls when towing.
There are two battery sizes available on the F-150 Lightning, dependent upon trim selected. The Pro, XLT, and Lariat trims come equipped with a 98-kWh battery pack. The range-topping Platinum comes with a 131-kWh extended-range battery, which is optional on the XLT and Lariat trims. The extended-range battery provides up to 320
miles on the XLT and Lariat and 300 miles on the Platinum. The standard-range battery provides 240 miles of range. With DC fast-charging, the battery can receive up to 54 miles of additional range every 10 minutes. With any of these batteries (GMC and Ford), using a Level 2 charger will take more than 20 hours. No matter the trim, the Lightning has a 0-60 time of around 4 seconds.
30 UPSHIFT
Ford F-150
Hummer
The large infotainment screen in the F-150 Lightning presents some issues. For one, tasks that previously required one press of a button, such as simply changing the climate control or heated seats, now require multiple keystrokes. GMC seems to have solved this issue in a slightly better manner. There is a row of hard buttons beneath the massive touchscreen, and depending on the menu selected, the function of those buttons changes. In short, if you're not into clunky touchscreens, you're not going to like interfacing with these vehicles. However, if you're in the market for an EV, there is some expectation of consumers possessing some technical literacy; unfortunately, these automakers just do not make it easy.
I can already hear some of you clamoring about the real cost of mining lithium, and while that argument seems to forget how oil is produced and refined, the Hummer EV's battery certainly feels wasteful. GM could produce several Chevy Bolts with the same resources. It begs the question, just who are these trucks for? They certainly are not for the worksite. They are lifestyle trucks, but what do they say about the driver? That they care about the environment, but also that their truck has gobbled up the resources that could have been used to make multiple efficient and affordable smaller EVs?
Electric vehicles have a place in this world, but not as the massive, heavy, premium goods as which they are currently positioned. They should be city and suburban cars, operating where the charging network and driving styles can justify them. The hope is that these vehicles are development platforms that allow each automaker to understand what's possible while they refine the idea of what EVs should be.
31
Hummer F-150
Ford
Both of these trucks have impressive straight line speed, but they also handle quite well. Thanks to the low center of gravity provided by the battery packs, there is little body roll in corners. In fact, you kind of forget just how large the Hummer EV is until you climb into a conventionally powered pickup truck. Whereas the Hummer EV's interior and exterior design are meant to be completely different, the F-150 Lightning is meant to be lived in like a regular truck, where ample cabin space and plentiful cubbies and cupholders are expected. The shifter is the same, and that is a welcome lack of change.
Car Storage Options
THE LOCAL HACK WEIGHS IN
Summer may seem like an odd time to talk about car storage. After all, if you have a treasured car and a place for it to over-winter, you probably just pulled it out of storage. But in my case, it's precisely because of that that the storage issue was once again on my mind. These ideas may be helpful in the fall if you're looking for storage options.
There aren't many absolutes in the vintage car world—as I wrote a few months ago, there's no wrong way to enjoy a vintage car—but one of them is that rust-prone cars must be kept dry. If they're not, the rust simply explodes all over the car. Leaving any 40- or 50-year-old car at the mercy of the elements is proof that you really don't care about it. Doing so risks a visit by the black helicopters operated by The Society for the Prevention of Cruelty to Vintage Cars (trust me, they're real).
As those of us who live in suburban Boston know, storage is problematic. It's hard enough to find a house in the 'burbs with a two-car garage. If you do, frequently the garage is occupied by your and your spouse's daily drivers, leaving a pampered classic with nowhere to hibernate.
Indoor car storage options can be either private or commercial. Private options include portions of garages, whole private garage bays, barns, and privately-owned warehouses. Commercial options include storage units, public parking garages with monthly rental packages, and boutique enthusiast warehouses. What you get depends on how you want to work the tradeoff between cost, distance, access, privacy, and security.
Let's start with the private options. In a perfect world, you'd have a friendly neighbor two doors down with an unused garage bay who just wants car-parts money for it. That's pretty rare. And, of course, highly unrealistic, as if he or she just wanted car-parts money, the bay would be filled with a project car.
In years past, I used Craigslist to search for garage storage. It revealed that affordable storage close to the city or in the affluent suburbs consists mostly of half of someone's two-car garage. Forget working on the car there. Forget even visiting it. The landlords typically want the car in after Thanksgiving and out around Memorial Day. And, for this, they ask $250 to $400 a month.
But the further out from Boston I looked, the more affordable spaces I found with the far-preferable configuration of providing you the key to an individual roll-up garage door. About ten years ago, I began renting
32 UPSHIFT
WORDS + PHOTOS: ROB SIEGEL
a garage in Fitchburg. It wasn't in a great part of town, and the space was cramped and had no electricity for a trickle charger, but at $50/month, I was thrilled to have it. It was one of five adjacent garage bays, and I told the owner that as soon as the others became available, I'd rent them. We developed a relationship, he gave me the right of first refusal when garages came up for rental, and eventually, I rented all five. The price eventually went up to $75/month, but still, $375/month for five garage spaces was dirt cheap.
These days, there are tools other than Craigslist and Facebook Marketplace to find space. The dream of finding a "neighbor" with extra garage space has the website neighbor.com attempting to be the Airbnb for personallyrented storage. You enter your address, select "vehicle storage," select the size, and select spaces that are "indoor." It showed me 15 places within 50 as-the-crowflies miles of my house in Newton for between $120 and $350/month. Not bad. You can sort by price or distance (obviously the ones closest to Boston are pricier), and click on each offering and see what access restrictions there are. Some say "appointment required for each visit," some don't. Be aware that some entries are mislabeled—a too-good-to-be-true garage price may turn out to be an outdoor parking space.
Part of the appeal of oddball, personally-rented garage spaces is that the warts-and-all nature can make them affordable. In addition, their leases are typically less formal than those of commercial rentals. They may even be little more than a handshake agreement with a confirming email. This may be fine for storing an inexpensive car, but
if you've got a six-figure classic, both you and the landlord may want the liability issues formalized. If you're looking for storage space for multiple cars, you're not likely to find something in someone's backyard. There are certainly unused barns in New England, but unless they've been renovated and have a cement floor, barns are generally terrible places for cars—too much dust, too many rodents, and poor security. However, if you're lucky, you may stumble upon some oddball arrangement such as an owner who built a big metal building on his property and is offsetting the cost by renting out space.
When you cross over into commercially rented storage space, you enter a world of formal, multipage contracts that clearly spell out the do's, don'ts, and liability issues. Some storage venues require the car to be registered and insured at all times. It's likely that there'll be a clause releasing the company from responsibility and indemnifying them from any loss, liability, theft, damage, or cost that may arise from storage.
Walking up the ladder of commercial storage, the first rung is renting space from a general storage company. There are many (U-Haul, Life Storage, CubeSmart), but Extra Space Storage has exploded in Massachusetts over the past ten years. Their website allows you to select drive-up enclosed vehicle storage (as opposed to parking lot RV storage or indoor non-vehicle-accessible cubes). Unfortunately, it doesn't appear to show you a list of which locations have these available; you need to drill down into each one to find out. By doing so, I found several inside I-495 for around $200, though that may have been a 35% off Memorial Day special. If you need space and one of these units is nearby, this is a good option, as you have an individual rollup door, 24-hour access via a key code for a locked
33
The five garage spaces I rented in Fitchburg. It was great while it lasted.
gate, as well as 24-hour security. The downside is that you probably can't use a trickle charger.
If you're looking for something right in the city, the least-expensive option might be something that doesn't exist at all in the private realm—a monthly pass in a public parking garage. The public nature would make this far less than optimal for an expensive beloved classic that everyone else in the garage is going to rubberneck, but at least the car is out of the elements. A quick search with spotangels.com shows available covered spaces in downtown Boston garages in the $350-$600/month range.
The best-known commercial option is shared warehouse storage. This is a restrictedaccess space for which you need to make an appointment to pull your own car in and out. At the low end is less-expensive storage where the warehouse is unimproved industrial property. Higher-end storage is usually part of a boutique enthusiast car enterprise— you know, Ferrari banners and Le Mans posters hanging on the walls—that also offers repairs, detailing, and other services. Trickle-charging is generally welcomed. Some offer different prices depending on the ease of access. For example, Silverstone Motor Cars has a rate structure that differentiates parking your car in an aisle for drop-in access during business hours ($275/ mo) versus having the car be one of a bunch of sardines in a can requiring a two-day notice ($235/mo). The Toy Box offers over-winterbut-it-stays-the-whole-winter for $175/month, platinum storage with once-a-week access for $350/mo, and options in between. There's also classiccarvault.com and garagefortytwo.com, both of which show photos of rows of high-end collectibles and list "concierge services" such as delivering your freshly detailed car to you at your house, but neither of which list its prices.
Now that I've laid it out academically, let me circle back to my own personal experience. The downsides of the five spaces I rented in Fitchburg were more than mitigated by their low cost, and the 50-minute drive from my house in Newton was perfect—I enormously enjoyed tooling out there on a Sunday morning and swapping one cool vintage car for another (what I called "doing The Fitchburg Swap"). When the Fitchburg house where the garages were hosted got sold, I found a guy on Facebook Marketplace who owns an enormous warehouse out in Monson, MA, and rents car spaces for the unbelievably low rate of $70/mo. There are, however, several catches. The warehouse is industrial space for his irrigation company, so there's heavy equipment everywhere. Over the winter, the space is rented mostly to RVs, trailers, and boats, so once your car is blocked in, it's not going anywhere. There's no electricity for trickle-charging. The cars routinely get rolled around for warehouse business, so part of the deal means leaving them unlocked with the keys in them. And getting a car out is less formal than making an appointment. Sometimes it's seamless, sometimes it takes hours. Doing "The Monson Swap" is more like a half-day affair. Still, $340/mo for five cars can't be beat.
Time flies, and it will be autumn before you know it. I hope I've provided you with some storage options you didn't know were available. In the meantime, burn rubber while the sun shines.
—Rob
(Rob Siegel has been writing the column The Hack Mechanic™ for BMW CCA Roundel Magazine for 35 years, and is the author of eight automotive books. They can be found here on Amazon, or personally-inscribed copies can be ordered directly from Rob.)
34 UPSHIFT
THE PURIST ENTHUSIAST: A PURIST IS THOUGHT TO BE INTERESTED IN THE PERFECT DRIVING EXPERIENCE
My cars (under grey covers) in the cavernous Monson warehouse.
35
36 UPSHIFT
still it's car szn!
YOUR GUIDE TO MUSEUM EVENTS THROUGHOUT THE SUMMER
We've reached that beautiful point in an enthusiast's summer when car spotting has once again become a daily activity, we've already spent hours behind the wheel, and yet there's still so much to look forward to.
Cars & Coffee
For the Larz Anderson community, the long-awaited outdoor season officially launched with Cars & Coffee on May 13th. Boston Cars & Coffee events are held at the Museum one Saturday every month from May through October, and they look a little different this year: "This season, we have a lot more folks helping with parking and organizing on the day," says Museum Trustee Mez Polad. "Because of this, getting in and parking is so much smoother than in years past." We have also boosted capacity by expanding the footprint of the event—critical because registration is exclusively offered on a first-come, first-served basis.
Great weather made for a full house at the June 10th Cars & Coffee. Embodying the "something for everyone" tradition of the event, Boston Motorsports brought a wideranging collection of cars that included a Ferrari Roma and a Ford Bronco Raptor. Meanwhile, Porsche became something of an unofficial "featured marque" of the day, as many attendees who started their days on the Larz Anderson lawn were then headed to one of the nearby events celebrating the brand's 75th anniversary. That's the beauty of Cars & Coffee: Each one reflects the collective spirit of its participants at that particular moment in
time. And because of that ever-changing nature, each is a unique occasion, not to be missed. Join us for the next one! It's free, thanks to our generous sponsors: AVI Boston, Merrill Lynch Global Wealth Management – The Keeney Group, Boston Motorsports, Art of the Automobile, and CAV Insurance.
Calendar
Months of warm weather stretch ahead of us. Lawn Event season is in full swing, and there are still many fan favorites to come, including American Car & Truck Day on July 23rd, Tutto Italiano on now on September 17, and European Motorcycle Day on September 24th.
Keep an eye on our calendar for more family-friendly programming in the coming months! Families with small kids can look forward to a Free Family Day at the Museum on Tuesday, August 15th, part of the Highland Street Foundation's annual "August Adventures" month-long program.
For those who feel the need for speed, our "Laps with Larz'' rolling event returns on Saturday, October 7th. "Each one gets bigger and better," says Museum board Vice President and event organizer Bill Keeney. The annual excursion to Palmer Motorsports Park gives Museum members an opportunity to get out on the track in their own vehicles or for ride-alongs. Convertibles are allowed and helmets are not required, but take it from this writer: The pace is far from poky.
37
WORDS: NATALIE HARRINGTON | PHOTOS: ETHAN PELLEGRINO
TENACITY ON TWO WHEELS
THIS COLLECTOR SPOTLIGHT EMBODIES THE CURRENT EXHIBIT
Dave Roper is a well-known motorcycle racer and a ("pretty much retired") motorcycle mechanic. He has raced since 1972, never missing a year and in fact never going more than five months without racing. In 1984, Roper became the first American ever to win a race at the Isle of Man TT. In 2019, he was the subject of the documentary film Motorcycle Man. His racing schedule takes him all over the world, but he makes his home in Long Island and commutes (by motorcycle, naturally) to Team Obsolete, the Brooklyn-based classic motorcycle racing team for which he still works.
Roper traces his interest in vintage bikes back to 1978, when he first met Rob Iannucci, the founder of Team Obsolete. It has only deepened since then. "It seems the older I get, the more I'm interested in earlier times,"
he says, observing that what qualifies as "vintage" is something of a moving target.
It was European Motorcycle Day, the annual Lawn Event which draws motorcyclists and collectors from all over New England and beyond, which first brought Roper to the Larz Anderson
Auto Museum many years ago. This year, he generously agreed to loan his 1946 Moto Guzzi Dondolino for the latest exhibit, "STREET RALLY RACE."
While the bike you will see on display was sold as a 1946 Dondolino, it was actually built as a 1939 Moto Guzzi Condor and upgraded post-war
to Dondolino specs. Roper sought it out because it has what he refers to as "the sacred architecture" for a motorcycle: a horizontal engine with the cylinder running parallel to the ground, just like the 350 Aermacchi he first raced at the Isle of Man. "There's something about that architecture that very much appeals to me," he shares.
Rarity and provenance notwithstanding, Roper's Dondolino remains an active racing bike. He has a "what man once made man can make again" philosophy, preferring to honor these machines' intended purpose rather than placing them on a pedestal for pure admiration. Though he doesn't believe a vintage motorcycle can be too valuable to use, he clarifies that there are limits, and
38 UPSHIFT
WORDS: NATALIE HARRINGTON |
PHOTOS: DAVE ROPER
the Dondolino is not a bike he would campaign regularly.
When it comes to the preservation versus restoration debate, Roper's take varies depending on the bike. For an active racer like his Dondolino, he says that form must follow function. It can be challenging to maintain period correctness as safety standards have changed and event entry requirements have evolved. Visitors to the STREET RALLY RACE exhibit will be able to observe that Roper's Dondolino has a belly pan, now a mandatory oil containment measure, as well as hardware securing the safety wiring he was required to add. It also has a period-looking silencer to comply with racetracks' noise limits.
Will it be hard for Roper to live without his Dondolino for the length of the exhibit (which runs until April of 2024) Not really. Roper acknowledges that he has a "tendency to try and do it all," particularly when it comes to motorcycles.
Loaning this bike not only means others get to enjoy it; it also frees up time and space to focus on some of his many other motorcycles and projects. "You could say I'm in a rut," he quips, but, critically, he's found the right rut.
39
Ferrari is celebrated in all its glory at this year's Tutto Italiano on Sunday, September 17. Stop by to marvel at some of the finest cars engineered to give a near-perfect ride.
LET ME SELL YOU A FERRARI
A CELEBRATION OF MODENA'S PRANCING HORSE
ABBY MCBRIDE |
40 UPSHIFT
PHOTO: FERRARI
Last summer, when I was planning the Speaker Series offerings, I read everything I could about the car enthusiast community and came across an article on different types of car enthusiasts. The article talked a lot about the "purist enthusiast." A purist is thought to be interested in the perfect driving experience. I wondered, what kind of car gives a perfect driving experience? The 2020 Ferrari 488 Pista priced at $345,300 seemed to be on the top of the list of cars that can deliver a near-perfect experience. Which made me think, who can sell a $345,000 car?
Not long after, I came across Bob Guarino's new book, Let Me Sell You a Ferrari. I immediately called Bob's publisher, who connected me with him. To my delight, Bob, who lives in Vermont, was thrilled at the prospect of coming to the Museum to discuss his new book. Fittingly in the final days of the Museum's exhibition titled "Masterpiece: Art and Design of Italian Automobiles", Bob Guarino came to speak about his life as a Ferrari salesman and part owner of Autohaus in Cohasset. Bob discussed some of the fascinating details of his trips to the Ferrari factory in Maranello Italy. He talked about how thrilling it was to go with prospective buyers when they test-drove cars, and he reminisced about the exacting design and engineering of a Ferrari. If interested in Ferrari's American history, another recommended read written by Jim Ciardella is The Dealer: How One California Dealership Fueled the Rise of Ferrari Cars in America.
Ferrari has long been known for producing beautiful, lightning-fast cars with an illustrious racing history. The visceral sound of the engine, its lightweight body, and the amazing suspension along with its sleek, elegant beauty make the Ferrari a car for car purists. It all began when young Enzo Ferrari watched the races on the Bologna circuit with his father and brother in the early 1900s. Enzo dreamed of becoming an opera singer, a race car driver, and a sports journalist. He also desperately wanted to work for FIAT, but his application was rejected. This led to a career as a tester at a small torpedo company. In 1919, he became a successful race car driver with Alfa Romeo. However, Enzo preferred running the team to racing, and in 1929, he led the first iteration of Alfa Romeo's racing division. In 1932, not long after Enzo became a father, he gave up racing. In the early 40s, he split with Alfa Romeo and founded Auto Avio Costruzioni, the beginnings of what was to become the prancing-horse-logoed Ferrari company. Over the years, Ferrari expanded its reach and grew from making cars for its tiny boutique shop to providing top-of-the-line, beautiful, precise racing cars for the world.
One race car driver who stands out in the racing history of Ferrari is Luigi Chinetti. At 29 years of age, driving one of NART's Ferrari 265 GTB/4s along with American driver Bob Grossman, Chinetti scored the marque's first win at the race in 1949 as a driver, then its ninth and last to date in 1965 as a team owner. With the brand's storied history, it only seems right that Ferrari is celebrated in all its glory at this year's Tutto Italiano on Sunday, September 17th and stop by to marvel at some of the finest cars engineered to give a near-perfect ride.
41
THE PURIST ENTHUSIAST: A PURIST IS THOUGHT TO BE INTERESTED IN THE PERFECT DRIVING EXPERIENCE
The OtherGREENWICH CONCOURS
The owner of this MGB is ready for one obvious question, and one that they've evidently heard more than once.
42 UPSHIFT
▲
WORDS + PHOTOS: JIM TRAVERS
◀︎ Classic vehicles like this 1940 Buick Super Cabriolet can often be found for sale, complete with a straight eight engine. The owner was ready for questions or offers from the comfort of a nearby lawn chair.
◀ Let's just say ones like the Ferrari GTB are not hard to find at Greenwich.
Porsches are a local favorite, but newer models with a manual transmission are getting harder to find. The owner of this 911 GT3 Touring is proud to point out that theirs is an exception. ▶
▲ Roger Moore played the lead role in The Saint TV series decades ago, driving a Volvo P1800. Yes, we know, his was white.
◀ This Citroen 2CV wears the livery of a limited-production model produced for the German market in 1987. Modifications included racy side graphics loosely translated to mean "Whizzing Duck," along with another on the trunk lid boasting a 0-60 acceleration time of about a minute.
43
45