MIDDLE EAST DECEMBER 2022
EDITOR'S NOTE
We've spoken before about how the pandemic has changed people's perception of Landscaping and made them much more open-minded when it comes to budgeting for landscape design whilst planning their homes and businesses. In our December issue, we feature several residential and commercial projects around the world that showcase how easily nature can be incorporated into everyday living spaces when landscape architects work side by side with architects and developers at the onset of a project's planning phase. Gone are the days when landscape design is an afterthought!
One of those projects is in the heart of the French Capital and has been described as "a building of a new era, where man is no longer opposed to nature and the living." Villa M is a mixed use complex located in central Paris and designed by french-Brazilian Triptyque Architecture together with by Philippe Starck who helped create the interior architectural design. According to its architects, it aims to create a new pact between cities, nature, and health. See page 34
In Singapore, Dubai based architects Zaha Hadid Architects (ZHA) have revealed design plans for a new Lakeside home of the Singapore Science Centre. Designs for the new Singapore Science Centre are inspired by the natural landscape of Singapore's Jurong Lake Gardens.
Located next to Chinese Garden MRT station, the aim is for the new Science Centre to open its doors in 2027, coinciding with the 50th anniversary of the institution. Page 40
Back in the UAE, we feature residential villa projects in Dubai and Ajman, including a farm house in the desert that is made up of large glass windows, aptly named The Sand Box. It's the latest project from Anterra Studios providing residents with uninterrupted views of the garden, all framed by the tall palm trees dotted all around the property. See page 28
Don't miss Dubai based sustainable developer URB's latest project, which plans to develop the world's largest agritourism destination in Dubai. It's expected to create more than 10,000 jobs and give a significant boost to Dubai's green economy in line with the emirate's ambition of opening up its rural and wilderness areas to tourists. Agri Hub by URB aims to become a key tourist destination in Dubai's countryside. Page4
As we approach the end of 2022, we'd like to thank all of our readers and partners for your support throughout the year and wish you all a happy festive season and best wishes for the New Year!
Enjoy the issue!
Please email us admin@landscape-me.com if you would like to have your company's landscape projects featured in the magazine.
The opinions and views contained in the articles in this publication are those of the contributors and not necessarily of the publishers. The publishers cannot be held liable for any mistake or omission enclosed in the publication.
Managing Partner: Ziad Maarouf Amine
Copy Editor: John Hampton
Administrative Assistance: Sarry Gan
Art Director: Ramon Andaya
Contributors: Oskar Szlachetka, Francisco Garofalo, Sejal Nagjee, Kerstin Schöpker, Maher Tayyar, Gin Wingfield, Thanh
Printed by: Al Nisr Publishing LLC
Webmaster: www.pdinventive.com
For free subscription and to view the magazine please visit our website: www.landscape-me.com
The First Specialised Landscape magazine in the Middle East
Our magazine is available in app store and google play, search under Landscape Middle East.
Landscape is distributed free of charge in KSA, UAE, Qatar, Kuwait, Bahrain, Oman, Jordan, Eqypt, and Lebanon by Emirates Post UAE
PUBLISHED BY:
MEMedia Publishing FZ LLC IMPZ PO Box 485005, Dubai, UAE Telephone: +971 4 4470927 Fax: +971 4 4470928
1
in the Middle East
The First Specialised Landscape Magazine
2 December 2022 - Issue 186 CONTENTS 14 20 14 12 24 28 Designing locally relevant spaces Opulence meets Exclusivity in the heart of MBR City Genova's Green Strategy Turning a small townhouse into a green haven The Sand Box From overgrown to space to grow A Naturalistic Architectural Manifesto New nature inspired Singapore Science Centre to open in 2027 40 34 28 30 34 40 30

































consisting of fully natural minerals. Save at least 50% of water Save up to 50% on fertilizers Increase growth of plants 100% natural mineral product Save money & time consisting of fully natural minerals. Zeoplant has an extremely high water holding capacity (WHC) and high Cationic Exchange Capacity (CEC) supplying your plants with extra nutrients for speedy and healthy growth. Fast visual effects can be seen! Guaranteed savings by using Zeoplant: Minimum 50% on NPK fertilizers Save at least 50% of water Save up to 50% on fertilizers Increase growth of plants 100% natural mineral product Save money & time
UAE Green economy is set to grow with new agritourism project in Dubai Desert
Dubai based sustainable developer URB plans to develop the world's largest agritourism destination in Dubai, which is expected to provide food security and entertainment, whilst also creating more than 10,000 jobs promoting a green economy.
In line with Dubai's ambition of making its rural and wilderness areas the most enjoyable and beautiful places in the world; Agri Hub by URB aims to become a key tourist destination in Dubai's countryside. Planned to be located in Dubai's desert, the project will promote a new agritourism experience, whilst offering fun and adventurous services as well as amenities.
Agritourism, short for Agricultural tourism, is commonly defined as an activity where members of the public visit a farm for educational, recreational, or retail purposes. One of the main benefits of agritourism is the sustainability of rural communities, heritage and cultural landscapes. Agritourism provides green job opportunities thus increasing the income of local residents. It also enhances the quality of life of farmers and consumers, whilst improving the environment & enriching the local culture.
The new hub will also feature a nature and heritage conservation center, ecotourism center, an Agri-tech institute & a restorative wellness center. Baharash Bagherian, CEO of
URB, explains the significance of the project in transforming Dubai's rural and suburban districts into popular places of interest:
"Dubai's rural and agricultural rich communities are best positioned to become a global benchmark for agritourism. Agri Hub is a highly attractive and activity-rich environment, which will transform Dubai into the world's best rural visitor attraction in the world. It will provide spaces for local farmers to sell their products directly from their farms, whilst offering a new eco-friendly shopping, dining & edutainment experience for visitors. Beyond becoming a new tourism experience in the countryside and wilderness of Dubai, the project will also promote greater health, wellbeing, and prosperity for rural local inhabitants. Ultimately, it will serve as an innovative blueprint for decarbonized rural tourism hubs of the future."
The typology of the hub provides visitors with a unique agritourism experience whilst giving them a sense of being outside in nature. Agri Hub is intertwined with a unique landscape offering outdoor leisure facilities, camps & lodges. Some of the project's environmental features include 100% renewable energy, 100% water recycling, bio-saline agriculture, green transit systems and onsite zero waste management.
4
Dubai's Agritourism project will create 10,000 jobs, as well as provide food security for local residents
I NEWS & EVENTS
SOME OF THE BEST PERFORMERS ARE ON THE FIELD BEFORE THE MATCH EVEN STARTS
POWERFUL. DURABLE. VERSATILE. Work smarter with the most trusted rotors in the game. Robust gear drives, advanced features, and simple installation ensure that Hunter I-Series Rotors set the industry standard for performance, efficiency, and safety in every application. Score!
RESIDENTIAL & COMMERCIAL IRRIGATION | Built on Innovation® Learn more. Visit hunterindustries.com
5
The First Specialised Landscape Magazine in the Middle East
Godwin Austen Johnson Appointed for New Serenia Living
Godwin Austen Johnson (GAJ) have been appointed by Palma Development as the lead architects for the new Serenia Living residential complex located on The Palm Jumeirah.
The appointment follows the success of the Serenia Residences, also on The Palm Jumeirah, designed and handed over by GAJ in 2018, and will offer an array of 225 exclusive residences featuring a mix of two- three-, and four-bedroom units as well as half floor and full floor penthouses, across four unique buildings. Two of the towers will be dedicated to a collection of 22 penthouses and each building will be crowned with a one-off duplex Sky Mansion.
The project features one of the largest wellness clubs in Dubai, which includes a spacious gym with dedicated training studio and a spa with sauna, steam room and an ice plunge pool. It will also include a children's play area with games room, outdoor pool, cinema and an array of external sports facilities and courts.
"As with the Serenia Residences we wanted to create a contemporary product with clean architectural lines that responds to its unique setting and creates its own unique resort environment," said Jason Burnside, partner at GAJ. "The location of the project has led our design approach through references to the shoreline and city views on one side to the vast expanse of the Gulf and setting sun on the other. These are subtle but elegant and feature the nautical references to curved balconies and champagne colour tones of the razor clam cladding panels of the buildings that change with the sun movement throughout the day. With such
spectacular views on all sides, it was critical to incorporate sliding floor-to-ceiling glass walls with generous balconies to maximise the opportunity for residents to enjoy a truly luxurious connection with nature."
The development also includes a clubhouse on the beach with a café and storage for watersports equipment. Bringing it all together is the landscaping with intentionally placed design elements that help foster connections between the buildings, the beach, and users. The development's anticipated completion is set for December 2025.
About GAJ
GAJ (Godwin Austen Johnson) is one of the largest and longest-established UK architectural and design practices in the UAE. Throughout its history, which spans more than 30 years, the company has created some of the region's most iconic buildings and has helped define the UAE as we know it today.
An award-winning and multi-disciplinary architecture, interior design, specialist lighting and MEP practice, GAJ has particular expertise in hotel and hospitality, residential and commercial, education, sport and leisure design. Despite its years the company remains young and dynamic employing more than 110 employees from its Dubai headquarters with offices also in Abu Dhabi, Sharjah and the UK. The GAJ portfolio of work is extensive with a wide range of built and ongoing projects across the Middle East and North Africa.
6 I NEWS AND EVENTS
Dubai 2040 Urban Plan: Ruler sets out ambitions to create '20-minute city'
Dubai's Ruler has set out the next stage of the city's 2040 Urban Master Plan, with new housing and easier commuting among the top priorities.
Sheikh Mohammed bin Rashid, Vice President and Ruler of Dubai, detailed phase two of the long-term strategy.
The master plan calls for developing a '20-minute city'allowing residents access to 80 per cent of their daily needs and destinations within 20 minutes on foot or by bicycle.
There are further plans to grow food within the city limits. The government has already invested in companies using vertical farming to create produce.
"Today, we have a clear vision for the development of Dubai's urban infrastructure and housing sector until 2040," Sheikh Mohammed said.
"Our goal is for Dubai to be an eco- and pedestrian-friendly city, and a city with a high yield from urban agriculture."
Dubai 2040 Urban Master Plan
New housing
The plan would ensure that supply meets demand in the property sector, at a time of soaring rental prices and a sales boom.
A September report showed the average annual rent for a villa in Dubai reached Dh268,758 ($73,171) last month after prices jumped 26 per cent year-on-year, while average apartment rents soared 27 per cent to Dh89,986.
The plan "calls for proactive initiatives to manage opportunities and changes in the real estate market, achieve sustainable urban development, and boost investor confidence", Dubai Media Office said.
The first phase of the plan, unveiled last year, includes major new housing developments in Dubai South, around the Expo City site and Dubai World Central airport, and in Silicon Oasis, a business park and residential area to the south of Dubai International Airport.
High yield urban farming
The plan calls for high-yield agriculture and farming by identifying suitable locations and developing the infrastructure and facilities required to ensure food security.
"Phase II also outlines plans for preserving urban heritage to enhance the emirate's identity, promote historical areas, landmarks and buildings, and improve the tourism experience at archaeological sites," the report said.
Building a 20-minute city
The master plan also calls for developing a 20-minute city, where residents can reach their destinations on foot or by bicycle within 20 minutes.
"The project involves developing integrated service centres with all the necessary facilities and increasing the population density around mass transit stations, allowing residents access to 80 per cent of their daily needs and destinations within 20 minutes," the report added.
Melbourne and Paris are regarded as two of the best examples, with public transport, shopping districts and schools clustered within a certain distance.
The plan details efforts to enhance and use urban spaces, such as alleyways, spaces underneath bridges and squares, "by augmenting the elements of well-being to make them attractive for residents and visitors".
It further details efforts to provide for pedestrians and people using bikes and scooters.
Hatta and Dubai beach plan
Work is already under way to develop the town of Hatta into an adventure attraction in the coming years around the existing lake and dam.
Work on expanding Dubai's Mamzar and Jumeirah beaches further down the coastline are also under way.
Five urban centres
The plan is built around streamlining five urban centres that already exist.
They include Deira and Bur Dubai in the old city, which will be a hub for museums, traditional markets and put the spotlight on the city's heritage.
Downtown Dubai, Business Bay and Dubai International Financial Centre serve the city's businesses and financial activities.
And Dubai Marina and Jumeirah Lakes Towers serve as major tourist and entertainment draws. Expo City and Silicon Oasis make up the five zones.
8 I NEWS AND EVENTS
Waterfront destinations unveiled by Modon Properties in Al Dhafra
Abu Dhabi is home to two integrated waterfront destinations, Mugheirah Bay and Mamsha Al Mugheirah, developed by Modon Properties and located in Al Dhafra, adjacent to Modon's ecotourism campsite project, Bab Al Nojoum – Al Mugheirah Resort.
The developments were inaugurated by HH Sheikh Hamdan bin Zayed, the Ruler's Representative in Al Dhafra Region.
The 12ha Mugheirah Bay features 15 F&B outlets, 3 retail buildings, a multipurpose gaming and retail centre, and an events lawn. The new Abu Dhabi waterfront destinations also feature a diverse range of unique recreational facilities including a splash park, skate park, outdoor gym, cycling track, multi-purpose courts for basketball, football and volleyball, as well as laser tag and paintball centre.
Meanwhile, Mamsha Al Mugheirah is a boardwalk located between the surrounding natural mangroves, which connects The Bab Al Nojoum – Al Mugheirah Resort and Mugheirah Bay's entertainment projects. The waterfront destination spans approximately 2km in area.
Arada launches fourth phase of Masaar megaproject
Arada launches Azalea, the fourth phase of Masaar, Sharjah's woodland megaproject community. The release of Azalea was brought forward due to the rapid sell-out of the first three phases of Masaar, where the central entertainment district and show villa in September have resulted in a significant increase in sales.
Azalea consists of 566 homes ranging from twobedroom townhouses to six-bedroom villas, which are introduced for the first time within Masaar. Smart features come as standard at every Azalea home while larger villas offer increased privacy, additional lounges, expansive terraces and pristine swimming pools.
The community is anchored by the Masaar Discovery Center, which is surrounded by family attractions and entertainment amenities including a children's adventure playground and waterplay area, an outdoor amphitheatre and a skate park, alongside the second location of the popular Zad food truck park, all of which are set in lush green landscaping.
Azalea is located over the north side of the Masaar master plan, with all homes within easy walking distance from the community's international school. Every home in Azalea will be completed by the end of 2024.
10 I NEWS AND EVENTS
Designing locally relevant spaces
The project is situated right in the heart of Dubai, a new boutique restaurant project aims to create a locally relevant development that is inspired by the local environment.
UAE based landscape architecture practice - plenerr, founded by Oskar Szlachetka has been tasked with assisting T.ZED Architects in developing a sustainable design that focuses on creating natural outdoor spaces that will encourage the customers of this boutique restaurant to step outside and enjoy eating or working surrounded by a refreshing natural setting.
Design Approach
To fulfill the client's brief, plenerr worked closely with T.ZED architects to ensure that the materials specified in the landscape design matched the design vision of the architecture and interior spaces.
The design features several carefully placed walls, cladded with local stone, that act as a design feature and a focal point to key internal spaces. Local stone was also used on the outside of the building as well as internal flooring.
12 I OUTDOOR RESTAURANT
The planting species were selected based on their low water consumption, as well as the ability to adapt to harsh summer heat. Most trees and shrubs present in the design can be found growing naturally all over the UAE. Water features in the design are limited in size and quantity in an effort to minimize water wastage. The team ensured that the water features were placed where they can offer significant aesthetic value, and are placed in shaded areas to avoid excessive water evaporation from the heat.
plenerr.com instagram: @plenerrr_design
13
Opulence meets Exclusivity in the heart of MBR City
By: Sejal Nagjee CEO, Milestone Landscaping LLC
14
I LUXURY
VILLA
The very embodiment of minimalist architecture, contemporary-style villas in District 1, MBR city, feature clean lines, airy interiors, and cutting-edge functionality. Their expert architects have made the best use of natural materials, while also using cool tones to lend an impression of serenity and calm. The sleek finishing, linear clean lines, and superb styling of each of these villas results in a living space that symbolizes sophistication and grace.
Designing this Landscape meant that the design needed an interconnection between the interior and exterior, elevating the synergy with nature and crafting the perfect environment for a modern-day family life.
I created a Design style that is minimalist and matched the architecture of the contemporary villa with neutral, white, beige, gray tones with colors being added through the plants, pool water, furniture cushions and elevation in wood of the pergola.
Modern Pergola with I beams columns and support, cladded with solid meranti wood with a roof that is completely waterproof, stands elegantly tall in the backyard and is the central feature where the family can sit and watch a movie with a drink, chat on the bar and have a cool evening out in the garden with friends and family.
Most families entertain friends, calling generally 4 to 20 people over for a party. On special occasions, 50 Plus people are called. Design of the landscape needs to support this lifestyle so that you can entertain with ease.
The garden space is used to create multiple areas for entertaining. Dining area to BBQ and eat
15
The First Specialised Landscape Magazine in the Middle East
16 I LUXURY VILLA
dinner under the moonlight, seating area opposite the pool to sit and chat with the fire line burning and giving ambient heat in cooler months in Dubai. Use the Swing right behind the pergola as a flow out area to and sit and have a coffee in the evening!
Skimmer pool has a beautiful water feature that flows water into the pool, creating a serene and soothing gurgling sound. The wooden root sculpture with ingrained mosaic art done by Sejal Nagjee Designs is a beautiful piece of art, visible right through the main door of the home when you enter the home. Adding artworks in the outdoor to highlight features creates a nice ambience.
17
The First Specialised Landscape Magazine in the Middle East
The materials used are porcelain tiles in the hues of beige, gray and browns. Stone cladding used on the bar feature wall, water feature wall and villa boundary wall is nicely accentuated with lights. Solid Meranti wood used in the pergola columns and beams is painted gray to combine with the palate and the pergola roof is highlighted and clad with wooden cladding. Artificial turf and plants add nice natural green tones to the color palate.
Lighting design is key to any landscape as that is what really makes a difference at night. Garden spike lights and tree enhancing lights, highlight
the plants and trees. Led strip lights are concealed under the 2 cms thick porcelain and illuminate the planter boundaries and steps besides highlighting the ceiling. Functional, ambient, feature lighting and pool lighting create a balanced overall lighting to the landscape.
The key feature of this landscape design is the perfect match between the architectural lines of the villa, its facade and coordinated tones of colors. It's a mesmerizing personal resort the owners are proud of and truly their neighbor's envy.
18 I LUXURY VILLA
Genova Genova Strategy
By: Openfabric
Genova Green Strategy is a strategy aimed at increasing public green spaces and restructuring public spaces in Genova, Italy. The strategy outlines a series of objectives aimed at increasing soil permeability, mitigating environmental risks and redefining the relationship between city and nature.
The strategy proposes a new interpretation of the city and defines guidelines and pilot projects for the design of open spaces in the short, medium and long term.
A large urban forestry project where thousands of new trees and green spaces are organised according to qualitative and quantitative criteria. The ambition is
to provide the city with a strategic document capable of transforming Genova into an international reference in redefining the relationship between nature and city, an example to follow in terms of mitigating hydrogeological risks and adapting to climate change.
Genova is a city of water, or rather of waters, plural and often conflicting. Genova is slow water and fast water: its sea and its streams; it is history and future: maritime republic and port expansion; it is profit and loss: port economy and floods; abundance and scarcity: rainy and arid. Genoa is a city of the sea and a city of rivers.
20 I GREEN ENVIRONMENT
The strategy proposes a new interpretation of the Italian city's open spaces in the short, medium and long term.
Giorgio Caproni in his "Litania" poem, uses 88 different expressions to describe the physical and sentimental articulation of a city that eschews any simplistic categorization.
The various shades of Genova are the articulated result of the encounter of local identities, urban morphology, territory and administrative divisions. But each portion of the city can be seen as characterized - if not actually forged -by water. The linear development, close to the coast, the main valleys of its streams, the ridge line overarching the city.
21
The First Specialised Landscape Magazine in the Middle East
Multiple urban morphologies coexist in Genova; not only the various local identities of its neighbourhoods, but distinct and autonomous morphologies alternate, narrating the encounter -sometimes conflictualbetween the natural territory and the built city. Genova is interpreted as a complex puzzle where 6 cities alternate: the "plain city", the "uphill city", the "archipelago city", the "garden city", the "agricultural city", the "compact city".
Genova Green Strategy defines a system of priorities that includes ongoing development and regeneration projects and, at the same time, identifies a series of new possible interventions. The coastal system, the valleys system and two large "parks" are identified: the "Grande Parco Ponente" with a technological vocation, and the "Grande Parco Levante" with an agricultural and cultural one. The strategy also identifies a number of "gates", linking spaces of various natures that connect the city with the hinterland. All together these systems reorient the traditional perception of Genova as mere seaside city, towards an articulated and complex urban reality, which has in its diversity of landscapes its essential identity.
Genova Green Strategy Location: Genova, Italy
Team: Francesco Garofalo, Jacopo Gennari Feslikenian, Matteo Motti, Luigi Ettore Ricchioni, Edoardo Bracchi, Ludovica Barcucci, Letizia Alderighi, Marina Montolivo Poletti, Donatella Maiavacca Size: 243 sqkm Client: Comune di Genova in collaboration with: Direzione Rigenerazione Urbana
Design: March 2021 - April 2022
Photography: Gaia Cambiaggi, Anna Positano (Studio Campo)
22 I GREEN ENVIRONMENT
Turning a small townhouse into a green haven
This Vietnamese townhouse is a teacher's dream home
J house was built for a single teacher who bought a small piece of townhouse land in Bien Hoa province, Vietnam with dimensions of 4 x 24m.
The house was constructed with the teacher's preferences in mind: she shared that she likes to spend a lot of time at home and loves to garden so she wanted the house to be bright, airy and close to nature. However, the townhouse layout is narrow in width, in the case of J house it's 4x24 m, and the normal construction method stretches, dividing the room would result in poor natural light, poor ventilation, and noise resistance, as well as insufficient space for a decent sized garden.
After analyzing the typical defects of townhouses, the team put together the criteria of green space, natural light, natural ventilation, and noise prevention as top priorities for the design process. Through the process of working, the team agreed on a solution to layout functions to help limit the disadvantages when designing townhouses:
Firstly, when designing the layout of the townhouse, it's necessary to ensure that each functional space is associated with a green space (skylight, green space). From there, all spaces are exposed to greenery and natural light.
24 I RESIDENTIAL
Second: When letting natural light into the house, it is necessary to calculate, experiment and check the reality to regulate the amount of light to be suitable for daily activities as well as provide enough light for green plants to grow and develop. In J house, solar glass is used to reduce 40-45 % heat for the skylight area. The solution of spreading stones above the glass also regulates light and creates shade. As a result, the indoor space is always filled with natural light without allowing heat in, moreover, the shade from the stone layers creates an effect similar to the sun through the leaves, helping to increase the feeling of nature for the townhouse space.
Third: The design built in two natural ventilation shafts both vertically and horizontally to ensure all spaces in the townhouse are naturally ventilated. The Louvre Z system located above the skylight helps to release hot air and reduce the pressure below the glass roof. Air enters the house from the two front and rear door systems, creating a flow of air that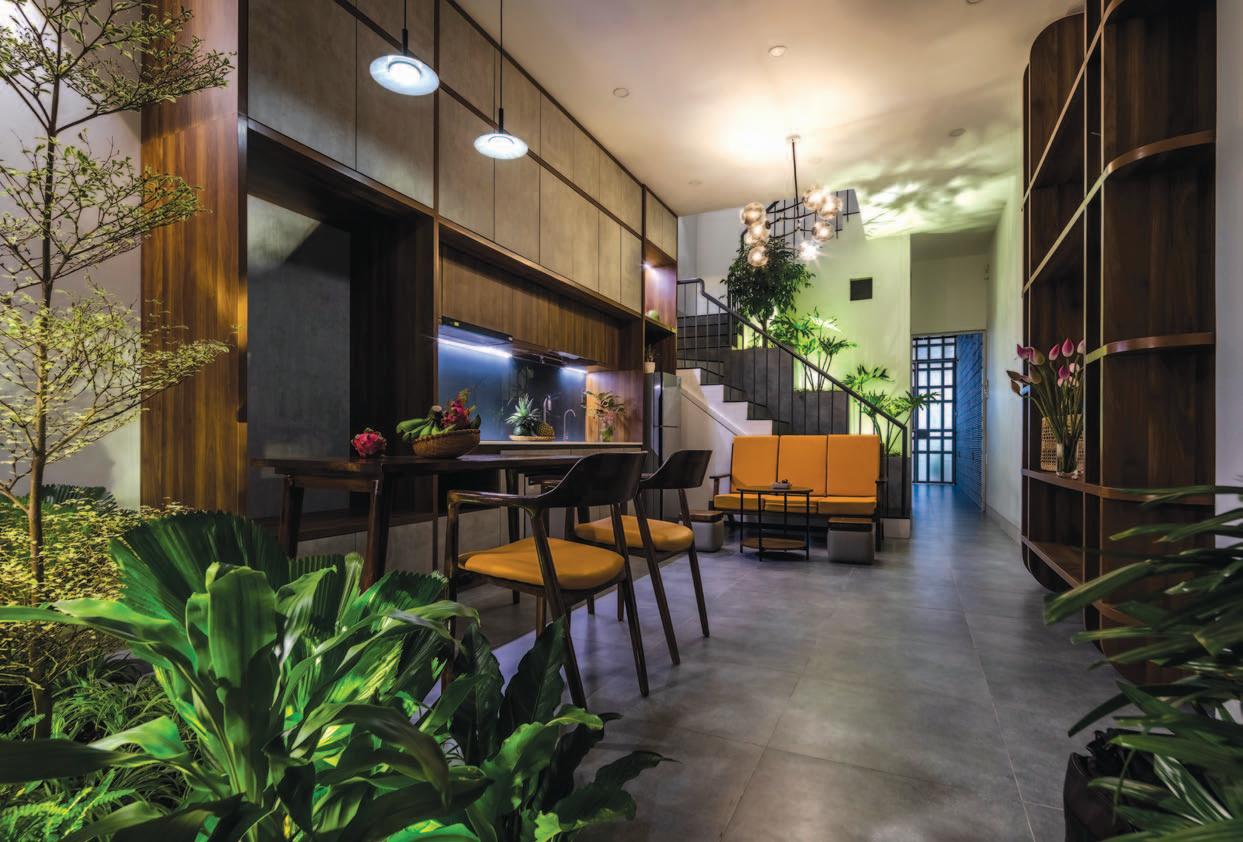 25
circulates throughout the space, then goes to the low-pressure area below the glass roof, takes the heat, upward, and through the louver Z to escape outside. This process keeps the indoor air fresh and cool at all times.
Fourth: For the space of the house near the road that is often affected by traffic noise, the interior walls used finishing materials with a rough surface and the ceiling system is also designed as a hollow frame system with thick layers for both aesthetic effect and noise absorption.
Thanks to these four solutions, J house has turned into an interesting and comfortable living space, with trees, natural light, and an airy feel in contrast to a typical townhouse. After living in the new house, in a living environment full of trees, sunshine, and wind as desired, the teacher wrote a handwritten letter to the design team. The letter is a thank you note full of affection to share the joy of her own peaceful home.
26 I RESIDENTIAL
Year completed: 2022
Location: Bien Hoa province, Viet Nam Ground Floor Area (GFA): 128 m2 Levels: 2
Construction: Local foreman and masons, Phat Thanh Khoi
Interior construction: Legia construction and trade design company limited Suppliers: Inax, Kanly Sanitary. Panasonic Lighting. Hoa Sen Group Steel Sheet. Hoa Phat Group Steel Pipe. Ha Tien Cement Garden:Mr.Vinh
Photographs : Hiroyuki Oki Design: CTA | Creative Architects Address: 35/2C Dinh Bo Linh, Ward 24, Binh Thanh District, Ho Chi Minh City, Vietnam Web: ctacta.com.vn
27
The First Specialised Landscape Magazine in the Middle East
THE SAND BOX
The Sand Box in Ajman is the latest project of Anterra Studio
With its architecture stretching along a corner of the space, this farm house is made up of large glass windows affording a full view of the garden. The Sand Box, named after the form and location of the residence in Ajman, is the latest project of Anterra Studios.
From the inside, residents can see people walking across the floating steps of the pond, kids running through the open lawn, and people talking by the fire. Each of these views are framed by the tall palm trees found all around the property with a few other trees.
28 I RESIDENTIAL LANDSCAPE
Outside, the landscape design of the residence echoes the straight lines that make up the architecture and has a number of towering palm trees to juxtapose the height of the bungalow. The perimeter planting along the space complements the area and environment the home is in as it surrounds the various amenities in the landscape. With a sunken lounge area and firepit, open areas for sports and leisure activities, as well as a pond with a tree pit and floating steps, the Sand Box becomes an ideal area for entertaining and relaxing.
29
The First Specialised Landscape Magazine in the Middle East
FROM OVERGROWN TO SPACE TO GROW
This property in Arabian Ranches, Dubai, needed a professional's help to bring out its best. The garden was incredibly overgrown with large flowerbeds lacking shape and purpose.
The front garden was neglected featuring an uninspiring entrance and throughout the property, there was very little room to move.
With two young boys eager to roam outside, a love for entertaining and the need to make the best of their new home, the brief from the owners was clear: let's free up space!
Gin and her team at Gin Wingfield Designs are known for turning challenging landscaping projects into showcase properties that go far beyond good-looking gardens.
A home's front garden and street view are the first and last things visitors see when they visit. It makes sense to make an effort and put the best foot forward. The first task was to make a good first impression.
The landscaping design focus was to create a low-maintenance and clean area while using the walls as backdrops. A combination of porcelain tiles, artificial lawn and crushed stone ground cover makes it easy to access and upkeep simple. Alternating textures and colours create a contrast that pulls your eye all along the wall. Larger shrubs and trees add height and different shades of green, and the hedge, once fully grown, will finish the look. Areas around the garage and parking received some
30 I RESIDENTIAL LANDSCAPE
A young family needed space and family-friendly surroundings to fully enjoy their home.
much-needed attention and the updated gates and cleaner pathways around the house and towards storage areas improve the look of forgotten corners. All and all the first impression was changed to contemporary and well-ordered.
Ensuring that access to the front door is easy and all gates and locks are in working condition all forms part of a well kept home. Regardless of the style or size of your front garden, paths should be well lit at night.
"Updating the entrance to your home is one of the easiest ways to improve the value of your property, and it always pays off", says Gin. "Although an appealing and well-looked-after
31
East
The First Specialised Landscape Magazine
in the Middle
entrance improves the overall impression of your house and adds value to your property when you are ready to sell, the bigger payoff is that you too will enjoy coming home." Nothing says "welcome home" like a stylish street view.
Moving to the back, the same approach was followed to free up the disorder and claim back space. The landscaping at the back had one goal: clean lines, open areas and no clutter.
A swimming pool often becomes the natural focus of outdoor spaces and this one is no different. The swimming pool was in need of a lot of love and was totally refurbished in the revamp including a slightly adjusted design update to change the shape of the pool; by reducing the big long steps inside the pool, the steps were turned into a deck, giving it an interesting look and less monotonous lines. It also proudly features a wooden deck with seating and an olive tree to the side.
Pool safety was addressed and improved by clearing the back of the pool of vegetation and adding clear fencing all around. This means the family can have designated areas with peace of mind and keep little ones safe when needed.
One of the most impressive touches to this project is the amount of gathering spaces that were created. There is a seamless transition from inside to out and it all feels like a natural extension of the house. Reserving space for a generous table under the shade makes hosting outdoors a breeze and is especially appropriate for this family.
32 I RESIDENTIAL LANDSCAPE
This is an excellent setting for all the entertaining they love to do and includes an outdoor kitchen, sun cover under the pergola, a space to cook meals out of the main traffic area and a variety of seating options.
What we like best about this garden is how it transforms into an even more welcoming space at night. Beautiful lights line the paths. Spotlights shine on the pool and the entertainment area, the outside fireplace adds ambience and the olive trees create eye-catching patterns on the walls.
Whether you enjoy staring into the flames of the fireplace, getting your hands dirty in the kitchen or taking a refreshing shower after your swim, you will do all of it in style. Gin Wingfield definitely listened to the client's needs and matched them with style, attention to detail and future-proof design.
www.ginwingfielddesign.com
33
The First Specialised Landscape Magazine in the Middle East
Services offered by Gin Wingfield Designs includes an outdoor landscaping of new properties, upgrading established gardens, green space renovations and upgrades, outdoor living and entertainment area gardens, fountains & water features, irrigation systems, and custom designs. She continues to offer professional service with experience.
Photography by Kayla Simone
A Naturalistic Architectural Manifesto
Villa M brings the Amazon to Paris with this tropical Building
Designed by french-Brazilian Triptyque Architecture, with the architectural design and art direction of the spaces designed by Philippe Starck, Villa M aims to create a new pact between cities, nature, and health.
A naturalistic manifest: this is the definition of Villa M, a mixed-use complex located in Boulevard Pasteur, in the Parisian borough of Montparnasse, France.
Olivier Raffaëlli and Guillaume Sibaud, Triptyque Architecture, Architects and designers of Villa M explained: "We designed Villa M as a naturalist architectural manifesto: that is, a building of a new era, where man is no longer opposed to nature and the living."
"It's a bubbling, honest, and warm place, where life is good and beautiful, and where it is good to live and eat well. Throughout the restaurant and the bar, fertile surprises, hidden places, and mental games arouse curiosity and guide the gaze of visitors, reminding them that intelligence is one of the most beautiful symptoms of humanity, " added Philippe Starck, Architectural Design and Art director of the spaces of Villa M. The program, imagined by Thierry Lorente and Amanda Lehmann of Groupe Pasteur Mutualité, is a mixed use building including a Hotel by Paris Society, a coworking, and a dynamic healthcare-focused center.
34 I TROPICAL BUILDING
The First Specialised Landscape Magazine in the Middle East
"We could not conceive a building dedicated to health and mutualism without including a notion of hospitality, welcome, hotel business. Mutualism implies sharing," said Lorente.
"We are guided by the well-being of caregivers, to best serve these professionals who follow a vocation from the start, but who experience difficulties and suffering," added Lehmann.
Its architecture stands out with its living building, whose geometry is formed by metallic structure beams, conceived to house medicinal herbal plants, fruit trees, and medium to large sized perennial species.
Designed as an exoskeleton, the building has a minimalist, light look, composed by prefabricated pieces as in a building game.
"The edifice itself is the support for this vertical garden, which will grow and occupy the entire façade, turning the building into a vertical, medicinal forest, and becoming the main architecture," explains Raffaelli.
In addition to the reintegration of nature to the city through architecture, the living-building contributes with sustainability, since it collaborates with the thermal comfort and, therefore, with the building's energetic efficiency.
"We have explored all of the available surfaces to potentialize the greenery and to avoid energy and carbon waste," explains Gui Sibaud, Triptyque partner and architect designer of Villa M. The environmental responsibility is also present in the basic and organic material choices, proposing a low-tech architecture.
Villa M's design is intended for the architecture to bring nature back to the city, with the main goal to provide citizens with a new urbane experience with the advent of a "nature-city".
"Breathing, sunbathing, and connecting to nature are vital needs that the urban lifestyle is no longer able to guarantee," states Rafaëlli. "To resist the urban expansion – unsustainable by nature - the city must provide this experience in addition to stimulating the correlation between external and internal spaces in built areas."
The building's 8,000 m² occupation program also bring an innovative proposal: being a dedicated space for those who chose to help save lives – but open to everyone. The mixed-use complex holds a hotel, restaurant, bar, conference area, a check-up area, a co-working space, and a showroom for start-ups in the world of health to promote mixing, exchanges, and mutual aid between the different specialties and the different generations of health professionals.
36
I TROPICAL BUILDING
Villa M, a Paris Society Hotel
The hotel is designed as an enveloping and relaxing cocoon, with breathtaking views of the City of Light. Its 67 rooms and 6 suites have been designed as green spaces. Some of them have a balcony or terrace to admire the Montparnasse and Invalides districts. And, above all, nestled at the corner of the seventh floor, there is the Pasteur Suite: an exceptional suite with large bay windows, a double green terrace, and a living room open to the capital.
In these spaces, guests will find noble and durable materials, organic colors, warm contemporary furniture, the play of mirrors, and eco-responsible products.
It also features the essentials of a high-end hotel - a boxing and fitness club, and yoga rooms - but also 20 open offices and co-working spaces.
Good Living, Good Eating
A unique and timeless place for families and young people to lunch, dine, meet, and mingle around a generous and accessible menu.
Upon entering, the visitor is plunged into a place of life, energy, and benevolence: an Agora made of wood and concrete, vegetation, a friendly welcome, an open kitchen, all surrounded by a luxuriant terrace with trees. The décor evokes the playful and erudite spirit of the French Riviera, where one forgets time, and where we feel good.
The vast and luminous restaurant is highlighted by wood, leather, shelves of books, knick-knacks, mismatched furniture that seems to have a history, large armchairs, wide benches covered with cushions, and ludic surprises. A plural and joyful universe, and a signature of the Paris Society places.
37
Magazine in the Middle East
The First Specialised Landscape
The Restaurant
On the large outdoor terrace, under the shade of the fig trees in summer, five times a week, at nightfall, Villa M becomes one of the most festive places on the Left Bank, with a careful 100% live music program and cocktail menu.
In spring, weekends incorporate the sign of conviviality! Villa M puts brunch in the spotlight to treat late risers, families, friends, from the neighborhood and the whole of Paris, in a relaxed and warm atmosphere. The menu features varied brunch specials - pastries,
The RoofTop
On the top floor, the RoofTop, with its incredible view of the Eiffel Tower, the Dôme des Invalides, and the roofs of Paris, remains an unparalleled experience. A suspended oasis is composed of fruit trees and plants, with large wooden armchairs, Canadian gardeners, wicker lamps, and garlands guinguettes installed. One comes there to have a drink during the day and late into the night. Paris is a feast.
"The Villa M restaurant has a cultured and joyful spirit, in tune with the times." - Laurent de Gourcuff, founder of Paris Society.
A Health oriented building
The health crisis has intensified, and accelerated healthcare challenges already known and geographic and urbanistic issues have started to figure as health issues as well. On the other hand, healthcare has exceeded the hospital walls, spreading around the city and creating a more open relationship between citizens and health professionals.
Designed before the Covid-19 pandemic, Villa M's groundbreaking program catalyzes the idea of opening healthcare to the city, and the city to healthcare.
38 I TROPICAL BUILDING
eggs of all kinds, burgers or salads, pancakes - and a kids menu for the youngest. Special mention to the floor dedicated to children with an animator and games!
New nature inspired Singapore Science Centre to open in 2027
Dubai based architects reveal design plans for a new Lakeside home of the Singapore Science Centre
Designs for the new Singapore Science Centre, inspired by the natural landscape of Singapore's Jurong Lake Gardens, have been revealed by Zaha Hadid Architects (ZHA) as part of a multidisciplinary bid team that includes Architects 61, Atelier Ten and landscape architecture practice Grant Associates.
The project looks to create a new lakeside home for Science Centre Singapore, currently situated in Jurong East. Located next to Chinese Garden MRT station, the aim is for the new Science Centre to open its doors in 2027, coinciding with the 50th anniversary of the institution.
The centre is designed to provide unique opportunities for all Singaporeans to access science, technology, engineering, and mathematics (STEM), and to allow guests to interact with the surrounding gardens and lake. Incorporating five volumes that appear to float above the surrounding parkland, large windows serving as 'monocles' are installed in each structure to provide strategic views of the lake and enhance the connection between indoor and outdoor spaces. As landscape consultants on this exciting project, Grant Associates role will be to enrich the development
40 I SCIENCE CENTRE
by creating meaningful opportunities to engage with the landscape through a scientific lens. Furthermore, the landscape will look to enhance the sense of place, connecting building and lake.
Through its programs and exhibits, the centre will also educate guests about sustainable practices including the versatility and possibilities of vertical growing systems. The
project will also include a new eco-garden, an observatory where budding astronomers can learn about the universe, a Digital Fabrication Lab with incubator programs that foster entrepreneurial ambitions, and a Makerspace for young inventors to bring their imaginations to life. A new outdoor activity space will be a focal point of the centre, offering STEM programs and community activities.
41
The First Specialised Landscape Magazine in the Middle East
The project is based on sustainable design principles and energy performance strategies to reduce net carbon emissions, with outdoor spaces shaded but exposed to prevailing winds and photovoltaics and insulating rooftop gardens contributing towards renewable energy goals.
"Our ambition for the new Science Center is to be a truly rewarding destination for all ages and abilities. The universal design principles of the new building will facilitate equal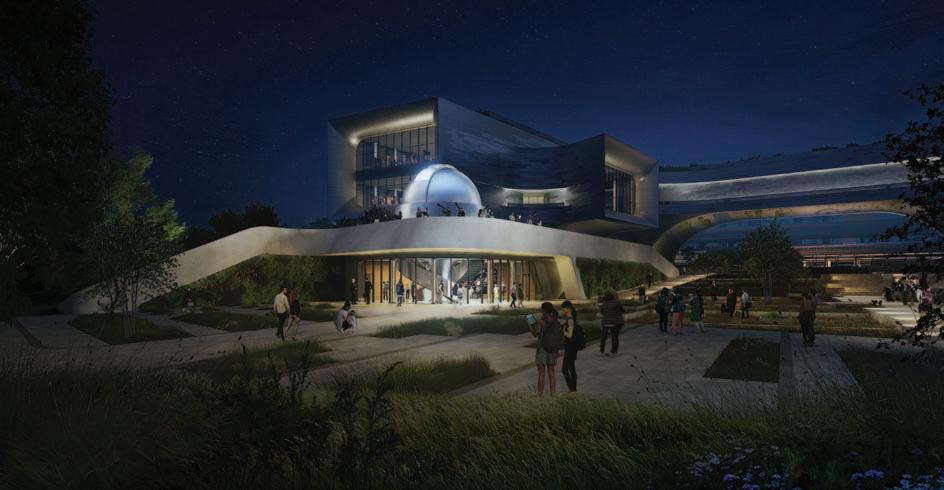 opportunities for all visitors, regardless of demographic or learning abilities," explained Associate Professor Lim Tit Meng, Chief Executive of Science Center Board.
Toby Kyle, Associate Director at Grant Associates added: "This is a hugely exciting project to be a part of. We envisage an outdoor, living laboratory where the wonders of science and nature are celebrated within a regenerative and accessible landscape framework."
42 I SCIENCE CENTRE
Books of interest
oUDoLf HUMMeLo
ISBN-9781580934183 PRISE-215.00Dhs.
BOOK DESCRIPTION:
"Piet Oudolf is best known for his now-iconic designs for the High Line in New York City and Millennium Park in Chicago. Hummelo, his own garden in The Netherlands, is visited by thousands of gardeners each year. It serves as his personal design and plant propagation laboratory, and is where he has honed his aesthetic and created new varieties of plants for over three decades. This title charts how the garden of one of the world's best-known and most-loved plantsmen has evolved, and gives frank assessments of his experiments that have gone both well and awry. Hummelo, timed to coincide with Oudolf's 70th birthday and his acceptance of Holland's most prestigious cultural award, provides his throngs of followers with a chronology of how his naturalistic style and career has developed. Lush photography documents how the garden has changed and inspired him over the years, and text by prolific garden writer Noel Kingsbury will ensure a lively read for all home garden enthusiast"
rooteD in sesiGn
ISBN-9781607746973
PRISE-107.00Dhs.
BOOK DESCRIPTION:
A stylish and full-color guide to creatively integrating indoor plants with home decor from the owners of the popular Sprout Home garden design boutiques.
Indoor plants play a large role in the design and feel of a space. Focusing on indoor gardening--from small containers and vertical installations with air plants to unique tabletop creations--Rooted in Design provides readers with the means to create beautiful and long-lasting indoor landscapes. Tara Heibel and Tassy De Give, owners of the successful Sprout Home gardening stores, offer expert advice for choosing plant varieties and pairing them with unique design ideas. Sharing practical tips honed through hundreds of plant design classes, Heibel and DeGive tell readers everything they need to know to care for their one-of-a-kind green creations
Ur B an e nviron M enta L Lan D scape
ISBN: 9781864706307
Author: Dieter Grau
Hardcover: 256 pages
Publication Date: (10 Jun. 2015)
BOOK DESCRIPTIONS:
The book provides the latest trends in urban environmental landscaping, with informative chapters on basic principles, dimensions, reference standards and considerations across a range of themes, such as public parks, public plazas, waterfront public open spaces, and urban street environments It Showcases a broad range of informative high-quality projects spanning the United States, Mexico, Australia, China, and Europe and provides comprehensive reference material for architects, urban planners, preservationists ,and landscape designers, and all who are directly involved in town planning in the urban environment. For each part, we selected the most striking cases with the newest design standards to showcase spectacular landscape design.
With its headquarter in Tokyo, Japan and world class stores spread over countries like America, Singapore, Indonesia, Malaysia, Thailand, Australia, Taiwan and now in DUBAI – UAE, Kinokuniya is a globally known book seller of repute. The store in Dubai Mall is a massive 68,000 square feet wide paragon book gallery which stocks more than half a million books and thousand magazines in English, Arabic, Japanese, French, German and Chinese at any given time.
The Store is also a distinct cross cultural hub wide range of time to time multicultural events such a comic art demonstrations, language learning workshops, book launches etc.
The pleasant ambiance, stenographic design and add to it the impressive view of modern skyline – world's tallest building, Burj Khalifa, Kinokuniya at The Dubai Mall is just the place to evoke emotions and add pleasure to your book shopping. You may like to visit our website for more information. www.kinokuniya.com
44 44
in the Middle East I Book review
The First Specialised Landscape Magazine
27
The First Specialised
Landscape
Magazine in the Middle East CHANGE YOUR VIEW HARDSCAPE S
LANDSCAPE CONSULTANTS
Plenerr
T: +971 56 5851408 info@plenerr.com www.plenerr.com
JC Melone Landscape
Design FZ LLE
T: +971 50 6410715 jcmelone@gmail.com
LANDSCAPE CONTRACTOR
Zaid Al Hussain Group
T: +971 4 3296630 info@zaidg.com
Green & More
T: +971 4 8830100 T: +971 4 8830101 info@greendmore.com www.greendmore.com
Proscape LLC
T: +971 4 277 0244 info@proscapeuae.com www.proscapeuae.com
Desert Group
T: +971 4 5904000 T: +971 4 3404441 group@desertgroup.ae www.desertgroup.ae
Basatin Landscaping LLC T: +971 2 2077729 info@basatinlandscaping.com www.basatinlandscaping.com
FOUNTAINS
OASE Middle East
T: +971 56 4845412 uae@oase-professional.com www.oase-professional.com
Fluidra Middle East
T: +971 4 8835505 F: +971 4 8836761 info@fluidrame.com www.fluidrame.com
Aquashi
T: +971 4 3208777 sales@aquashi.co.uk www.aquashi.co.uk
TURF/LANDSCAPE PROFESSIONAL PRODUCTS
Polyclean LLC (Turf Division)
T: +971 4 338 8226 F: +971 4 338 8785 babiker.khateeb@polyclean.ae www.polyclean.ae
SOIL ADDITIVES
Gulf Perlite
T: +971 56 1235248 T: +971 55 1539640 Info@uaeperlite.com www.gulfperlite.com
Zeoplant LLC
T: +971 4 4473588 F: +971 4 4473587 info@zeoplant.com www.zeoplant.com
INDOOR LANDSCAPING, POTS, PLANTS & GREEN WALLS
Plantscapes Indoor Plants Trading LLC
T: +971 55 724 6193 plantscapes@desertgroup.ae www.plantscapes.ae
LANDSCAPE PRODUCTS
Tanseeq LLC
T: +971 4 3617199 F: +971 4 3607966 info@tanseeqllc.com www.tanseeqllc.com
Desert Turfcare General Trading Te: +971 52 902 9267 deserttrading@desertgroup.ae www.desertgeneraltrading.ae
IRRIGATION
Hunter Industries
T: +001 760 591 7114 F: +001 760 591 7194 Hanna.Zaidan@hunderindustries.com www.hunterindustries.com
Middle East Agrculture Company (MEAC)
T: +971 4 8861151 F: +971 4 8861152 www.meac.com.sa
METTS FZC
T: +971 4 4470927 F: +971 4 4470928 info@mettsfzc.com www.mettsfzc.com
Alwasail Industrial Co. T: +971 4 8886987 F: +971 2 6733565 hashim@alwasail.com www.alwasail.com
SWIMMING POOLS
Aquaverde
T: +971 4 4538469 T: +971 50 8763630 info@aquaverde.com www.aquverde.ae
Fluidra Middle East T: +971 4 8835505 F: +971 4 8836761 info@fluidrame.com www.fluidrame.com
Pentair T: +971 4 320 8777 malikhan@mettsfzc.com www.mettsfzc.com
Satma International L.L.C.
T: +971 4 2956088 F: +971 4 2956077 satmaint@emirates.net.ae www.satma.ae
Water in Motion LLC
T: +971 4 277 0244 info@waterinmotionllc.com www.waterinmotionllc.com
PRECAST CONCRETE PRODUCTS / HARD LANDSCAPING PRODUCTS
Consent LLC
T: +97143472011 F: +97143472957 sales@consent.ae www.consentblock.com
BUILDING MATERIALS
Stones &Slates LLC
T: +971 4 885 4688 info@stonesandslates.com www.stonesandslates.com
TREES & HERBS
Acacia LLC
T: +971 4 265 3397 info@acacia-ae.com www.acacia-ae.com
SPORTS FACILITIES/ PLAYGROUND EQUIPMENTS
Tanseeq Projects LLC
T: +971 4 361 7199 info@tanseeqprojects.com www.tanseeqprojects.com
WT Burden
T: +971 4 8860700 F: +971 4 8860701 streetfurniture@wtburden.ae www.wtburden.ae
METAL FABRICATOR
Metaline LLC
T: +971 224 3369 info@metalinellc.com www.metalinellc.com
46 Listyourcompany inourListing Pagethatreaches thousandsof subscribers BookyourspaceNow!
•
I COMPANY LISTINGS
Contact: admin@landscape-me.com
Tel: +971 4 4470927
47
STATUS : NEW TENDER
TRADE CATEGORY : AGRICULTURAL, LANDSCAPING AND IRRIGATION
NEW & CURRENT PROJECTS
Tender Name Description Client Region Tender Cost (USD) Post Date Closing Date
Al Oqdah Park Development Development of Al Oqdah Park Buraimi Governor Office (Oman) Oman 65 12/9/2022 2/2/2023
Agricultural & Construction Machine Supply of Agricultural & Construction Machineries.
United Nations Development Programme - UNDP (Iraq) Iraq 0 12/1/2022 1/24/2023
Pilot Tomato Plant Production Supply of Pilot Tomato Plant Production. United Nations Industrial Development Organization (Egypt) Egypt 0 12/21/2022 1/20/2023
Gardening & Cultivation Services Provision of Gardening and Cultivation Services and Maintenance of the Irrigation System.
Ministry of Health (Oman) Oman 65 12/10/2022 1/18/2023
Landscaping & Irrigation Works Establishment Establishment of Landscaping (Lawn) and Irrigation Works at Birkat Al-Mouz Park Al Dakhiliyah Governor Office (Oman) Oman 65 12/13/2022 1/17/2023
Green Buffer Plantation Provision of Green Buffer Plantation at Sur Industrial City.
Trees & Irrigation Networks O&M Maintenance and Operation of Green Surfaces, Trees, And Irrigation Networks.
Public Establishment for Industrial Estates - Madayn (Oman) Oman 182 12/14/2022 1/12/2023
Eastern Province MunicipalityEmara (Saudi Arabia) Saudi Arabia 1467 12/14/2022 1/11/2023
Olive Seedlings Supply of Olive Seedlings. Ministry of Agricultural, Fisheries & Water Resources (Oman) Oman 65 11/30/2022 1/9/2023
Plant Production Provision of Plant Production Department Requests (Nursery and Protected House).
King Faisal Specialist Hospital & Research Centre (Saudi Arabia) Saudi Arabia 213 12/17/2022 1/8/2023
Sensitive Papers Supply of Sensitive Papers for Assessing Pesticides Spray Coverage. Ministry of Agricultural, Fisheries & Water Resources (Oman) Oman 0 12/14/2022 1/8/2023
Butterfly Valves Supply of Butterfly Valves with Manual Insulation. Ministry of Electricity & Water & Renewable Energy (Kuwait) Kuwait 0 11/29/2022 1/8/2023
Mesquite Trees Removal Removal of Mesquite Trees. Ministry of Agricultural, Fisheries & Water Resources (Oman) Oman 65 11/28/2022 1/5/2023
Agricultural Services Provision of the Agricultural Sector Actors with Capacity Building. United Nations Development Programme - UNDP (Lebanon) Lebanon 0 12/21/2022 1/4/2023
Natural Flowers Supply the Halls and Facilities of the Amiri Diwan with Their Needs of Natural Flowers. Amiri Diwan (Kuwait) Kuwait 3222 12/13/2022 1/3/2023
Modification Works
Management Services, Design & Build Modification Works of DHA Nursery.
Dubai Health Authority (Published on eSupply Portal) Dubai 0 12/23/2022 1/2/2023
Consulting Services Consulting Services for the Design and Development of the Cave Park Buraimi Governor Office (Oman) Oman 65 9/21/2022 11/2/2022
Agriculture & Rural Empowerment Activity
Agriculture and Rural Empowerment (ARE) Activity - Annual Program Statement. Chemonics International (Lebanon) Lebanon 4/19/2022 4/12/2023
48
middleeasttenders.com +971 2 634 8495
I NEW
ONGOING PROJECTS