Det började med Intro som belönades med ELLE Decoration Swedish Design Awards 2016. Fortsättning följer i år med Spira, en interiör som bygger vidare på Intro, nu med rundstaven som bärande del i hylla och köksö.
A winner of the ELLE Decoration Swedish Design Awards 2016, Intro is now followed up with Spira. This year's novelty was inspired by and elaborated on Intro with a round rod as the load-bearing part.
– Jag skissade på en hylla, och jo, tanken på rundstav fanns från början, berättar Kvänums designer Per Fernholm. Utmaningen var att få till en dimension som på en gång signalerar kraft och elegans.
– Early in the process, I sketched on a shelf based on the round rod, says our designer Per Fernholm. The challenge was to get the dimension right, not too thin, not too thick; I wished the rod to convey both power and elegance.
2 3
Spira tar rundstaven till en ny nivå, från hobbysnickeri till möbelkonst, från pinne till pelare. En liten trekant i infäst ningen på köksön ger inte bara stadga – den blir också ett
No doubt Spira has taken the round rod to a whole new level, from hobby joinery to professional artistry, from a pole to a pillar. The little wedge of the kitchen isle
dekorativt kapitäl på den smäckra pelaren. Med trekanten föll sista biten på plats och Spira fick sin egen karaktär.
attachments is key; not only does it give stability, but it also forms a decorative pillar head. Each piece matters. With the wedge, everything finally fell into place.
4 5
Man stiger in, slår sig ner, häller upp ett glas vin och är hemma. Spira är enkelt att komma till och lätt att leva i.
Spira is cool and relaxed. You step inside, pour a glass of wine, and there you are, at home, as easy as that.
6 7
Den gamla ladan är ombyggd till en modern bostad i rustik stil med timrade väggar och synliga bjälkar i taket. Golvet är tumlad kalksten Silver Moon i romersk läggning.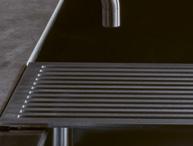 Th e old barn has been refurbished into a modern yet rustic residence with timbered walls and visible ceiling joists. Flooring is tumbled limestone Silver Moon in a Roman pattern.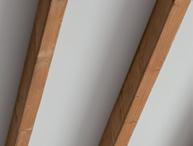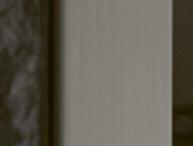 8 9
Spira är lite enklare, tar dagen som den kommer, sommar som vinter, i ett hus vid havet eller ett chalet i bergen, en villa på Falsterbonäset eller en hydda på branten i Alperna, en dansk hytte bland strandråg eller
Spira may be the interior of a place where living is easy, summer or winter, a house by the sea or a chalet in the mountains, a villa at the isthmus of Falsterbo or a hut on a ridge in the Alps, a Danish dwelling among lyme
en svensk stuga bland fjällbjörk med svindlande vyer över hav och berg – men visst, egentligen varsomhelst, en våning stan eller ett ställe på landet.
grass or a Swedish cabin amid mountain birch – but seriously anywhere you like, a flat in town or a cottage in the countryside.
1110
Spira can be mounted floor to ceiling or wall hung of optional size. Panelling is limestone Silver Moon from France.
Spiras hylla finns från golv till tak eller vägghängd i valfri storlek. Panelen är fransk kalksten Silver Moon.
12 13
Våra högskåp med ny slät rostfri lucka flankerar Spiras hylla. Ugnen med sin romerska båge i muren är ett litet under av skönhet – perfekt för en romersk pizza, något tunnare och knaprigare än den napolitanska.
Our new tall cabinets with a plain stainless door flank the Spira shelving. With its Roman arch in the wall, the brick oven is nothing short of amazing – perfect for a wood fired Roman pizza, slightly thinner and crispier than the Neapolitan.
14 15
Underskåp i rostfritt är ännu en av årets nyheter, liksom överskåpens och högskåpens kulörer, mörka Hazel i Ramel vitrin och ljusa Cumulus i täckta Ramel. Det grunda och nätta skåpet i vinkel har en vackert arbetad täcklucka på gaveln som linjerar fint med fönstret. Ytterligare en finess är sockeln i sten.
The plain stainless steel base cabinet door is also premiering, just like the colours of our top and tall cabinets, lustrous dark Hazel of vitrine Ramel and airy light Cumulus of covered Ramel. The neat, shallow cabinet by the window has an embellished gable. An additional finesse is the stone skirting.
16 17
Diskbänken i rostfritt stål har flyttbart avrinningsgaller. Flott stänkskydd och väggpanel är stenen Silver Moon och ovanför svävar Ramels slanka vitrin i kulören Hazel på ek.
The solid stainless steel sink has a movable drain grid. Posh splash guard and wall panel is Silver Moon stone, and hovering above is slender Ramel vitrine in colour Hazel on oak.
18 19
Spiras signum är rundstavens pelare med trekanten som ett stiliserat kapitäl och antkapitäl på köksöns sidor och hörn. Bänkskiva är Silver Moon.
Spira's signature is the rod pillar with the wedge like a stylised capital and ant-capital on sides and corners of the kitchen isle. Countertop is Silver Moon.
20 21
Vitrinens glas är hamrat. Knoppen är Vide och kranen kommer från danska Vola.
The vitrine is hammered glass. Knob is Vide, and the tap is from iconic Danish Vola.
22 23
Den hedniskt grå öppna härden eldas med bioetanol i en brännare från Vauni.

The almost pagan grey hearth is fired with a bioetanol burner from Vauni.
24 25
The door is left ajar to the sacristy of the kitchen, a room where staples are stored, food prepared, dishes washed, and wonders worked.
Spiras hylla med planen trädda på rundstav är lika enkel som utsökt, en Jakobsstege i alm.
The Spira porcelain shelving is purely and simply exquisite, a Jacob's ladder made of elm.
Dörren står på glänt till det allra heligaste, kökets sakristia, där förberedelser och efter arbete sker – skafferi, grovkök och diskrum, allt ett.
2726
Form följer funktion; underskåpens släta rostfria lucka har sobert rottinglindat handtag. Snickerierna är utförda skönt ådrad alm, liksom redskapsrelingen Vide med beslag i rostfritt.
Form follows function; the plain stainless door has an elegantly rattan twined handle. Woodwork is lovely veined elm, and so is the utensil rail, Vide, with stainless fittings.
28 29
Our graceful vitrine is painted in the colour of warm white Cumulus on ash. Sliding door is elegant Brahe. The cabinet also comes with hinged doors in models Brahe and Ramel vitrine. The intriguing hammered glass is a wink to fancy entrances and tea trolleys from the 40s and 50s.
Vår gracila vitrin är målad på ask i varmvita kulören Cumulus. Den eleganta skjutluckan är Brahe. Skåpet finns även med hängda luckor i modellerna Brahe och Ramel vitrin. Luckans hamrade glas är en blinkning åt 40- och 50-talets vattrade rutor och skivor i entrépartier och satsbord.
30 31
Fakta
Spira finns i Alm, Ek Natur, Ek Hazel (nyhet), Ek Amber, Ek Chocolate och Ek Fudge. Rostfri lucka (nyhet) finns. Spira kan även fås i samtliga standardkulörer på Ask inklusive Cumulus och Rain (nyheter).
De kunniga inredarna i våra showrooms kan vägleda dig och ge dig de råd du behöver.
Facts
Spira comes in Elm, Oak Nature, Oak Hazel (novelty), Oak Amber, Oak Chocolate, and Oak Fudge. Stainless steel door (novelty) is available.
Spira also comes in all our standard colours on Ash including Cumulus and Rain (novelties).
The skilled interior design specialists at our showrooms will be happy to provide the advice and guidance you need.
For further information see kvanum.com Join us on Instagram @kvanumofficial
THE COLOURS IN THIS BROCHURE ARE SHOWN AS CLOSE TO THE REAL COLOURS AS PRINTING TECHNOLOGY ALLOWS. © KVÄNUM KÖK AB, 2022.
GRAPHIC DESIGN & PHOTOGRAPHY: FREDRIC SEHÉLER. PRINTING: GÖTEBORGSTRYCKERIET.