ANNUAL
REPORT THE GIFT OF FAMILY
2022
A
Message From Our CEO & President
It's been said that a photo is worth a thousand words. I often wonder what words come to mind when our greater community looks at the many captured moments from around our programs and services. I hope they see joy and happiness, inclusion and belonging, independence and innovation, as well as dreams and opportunities. Most of all I hope they see our family, and how it's continued to grow and blossom for nearly 117 years. The same familial atmosphere is experienced as a Direct Support Professional (DSP) here at KenCrest in the 1970s, is the same one I experience now as the Agency's CEO. What has changed—is my understanding of how deeply rooted and reticular our KenCrest family is;
and the many ways we've supported each other throughout our journeys. It's a part of the 'WHY' that inspires our work daily; and challenges us to think bigger for the thousands of people we support throughout Pennsylvania, Connecticut, and Delaware. This year's annual report highlights two stories of our interconnectedness; and reminds us all of just how fortunate we are for the extended KenCrest family that continues to strengthen our bond and propel our mission forward. As you look at the photos and read the thousands of words accompanying them; I hope that you too will be inspired by the gift of this wonderful family you've helped grow and cultivate.
Sincerely,
KenCrest CEO & President
April Mattox pictured as a young child in COMHAR's Early Intervention brochure.
A Family Connection at KenCrest's Early Learning Centers
At three years old, April Mattox and her family walked into KenCrest's Lehigh Early Learning Center (ELC) with hopes of helping her learn to talk. But, what her family didn't realize was how much of an impact KenCrest would have on them. Not only did April Mattox attend the KenCrest Center, but her older sister, Isel Galarza, now works as a recruiter at KenCrest. She even sent her oldest son to the exact Center April attended, while her youngest son will attend either the Adams or Northeast Center when he's old enough. "KenCrest has turned into my family," says Galarza. "They've been in my life for so long that it made sense to send my children there. When my son first started attending KenCrest, I was happy because there were people I knew from when April attended. Miss Lenore was still the program coordinator at the time; Carmen was there, who worked at the front desk, and she's been there for 20-plus years. It was comforting to see them."
That sense of comfort and familial connection encouraged Isel to send her children to KenCrest's Early Learning Centers. It's also the reason she wanted to work for the organization. According to Galarza, an old coworker at Bayada Home Health Care saw the KenCrest job opening and encouraged her to apply. She didn't know Galarza's connection to KenCrest, just that her son attended the ELC.
When Galarza accepted the recruitment position, she was ecstatic, and she immediately called the Lehigh Center off her new KenCrest phone.
"I remember I called over there and talked to Carmen, and she was like, 'you're calling me off of a KenCrest phone; why are you calling me off of a KenCrest phone?'" laughs Galarza. "So before I went to pick up my son from my mom's, I stopped over there and was like, "I work here now!'"
The Lehigh Early Learning Center has become more than just a school for the two sisters. For Galarza, they are her coworkers and family; they are the people who cared for her son and who've helped her sister overcome her developmental delays.
"She wasn't talking at three, and the doctors told my family she had a learning disability. It was primarily her speech, reading ability, and her speaking. You can throw numbers at her, and she'll know what to do, but reading and writing that's not her forte," says Galarza. "My mom wanted to figure out what was going on and how we could help her, so she asked around and learned about KenCrest. April was soon enrolled, and as time went on, she began making progress. By the time she transitioned out, she was talking and becoming more involved."
Mattox received support during her time at the ELC and through an outside, Early Intervention program called COMHAR—at the time, KenCrest's
04 KENCREST.ORG FAMILY CONNECTION
KenCrest's Early Learning Centers have brought more than just educational support to the Galarza and Mattox family.
Early Intervention program had not yet taken off. COMHAR and KenCrest's ELC program partnered to create the best course of action for Mattox.
Mattox would practice her colors, shapes, and speech during the day at the Early Learning Center while also getting additional support at home.
"I remember everything they did to help April," says Galarza. "So for me, to come to KenCrest and to have that same impact on other families and hire the teachers and staff that can make that change in someone's life is amazing."
Mattox transitioned out of KenCrest's program and has since graduated from Moore College of Art and Design, pursuing a career in graphic design. Galarza's oldest son has also graduated from the program and is attending primary school while her youngest son prepares to transition into the program.
"KenCrest will continue to educate my kiddies before they need to go to school," says Galarza. "And I will continue to help the organization find employees that will impact the people we support lives."
05 KENCREST 2022 ANNUAL REPORT FAMILY CONNECTION
FROM LEFT TO RIGHT: Isel Galarez and April Mattox sitting together in their family home in Philadelphia. //
Photo by Sydney Kerelo
2,110 Number of people employed at KenCrest
Number of Direct Support Professionals (DSPs)
1,298
106 Number of employees with at least 10 years longevity
417 Adults with disabilities
2,015 Children in Early Intervention
769 Children in Early Learning
53 Adults with Disabilities
2,425 Children in Early Intervention
73 Adults with Disabilities
06 KENCREST.ORG BY THE NUMBERS
DE
PA CT
DONORS 2022
$100,000 and up
Barbara & James Beach
$25,000 - $99,999
CBIZ
Doc Bresler's Cavity Busters
Lincoln Investment
PNC Grow Up Great
William Penn Foundation
$10,000 - $24,999
AmerisourceBergen Corporation
Arthur J. Gallagher & Co
James & Mary Jane Brenneman
Marian Baldini & Larry Filtz
Colin & Angela Dougherty
Fidelity Burglar & Fire Alarm
Gordon Charter Foundation
KeyBank
Liberty Lawnscapes
My Dad's Flooring
Pew Charitable Trusts
Philadelphia Foundation
Philadelphia Insurance Companies
PNC
Primex Garden Center
Paul Rossert
Salmon, Ricchezza, Singer & Turchi, LLP
Stanley's Hardware
Truist
Universal Health Services, Inc.
$5,000 - $9,999
Ameriserv Trust
Arlington Heritage Group
Steve & Leigh Anne Bell
Marcia Berner & Charles Dallas
Randall & Shannon Brown
Bryner Chevrolet
Child Development Foundation
Comcast
Gap International, Inc.
The Haverford Trust Company
Kids-N-Hope Foundation
The Market of Lafayette Hill
Mill Spring Foundation
Miller, Turetsky, Rule & McLennan,
PC
Pfizer
Public Health Management Corporation
Ray's Appliances
Reinvestment Fund, Inc.
UGI Utilities, Inc.
United Way of Chester County
WSFS Bank
$2,500 - $4,999
Abriola Company
John Rule & Jill Anderson
Bridge Educational Foundation
Carole Chapin
Christ's Church of the ValleyRoyersford
Kevin & Katie Dougher
Jeffrey & Stacie Dubnow
Carol Hammarberg
John & Melissa Howe
Charles Horn III
Colleen Kelly & Paul Hisem
William Kerr
Aurora Kripa & Jesse Fells
Maryann Ludwig
Eric & Michelle Rahe
RST Solutions
SERVPRO of Doylestown
Stratix Systems
Vanguard
Willits Pharmacy Services, Inc.
$1,000 - $2,499
A. E. Harth, Inc.
Aetna Anonymous
Apple
Bonitatibus Architects
Melanie Brennan
Larry & Loyce Brown
Linda & Robert Bugden
Christopher Butler
Carson Painting Co., Inc.
Mary Anne Cenci
J.P. Morgan Chase
Christian R. & Mary F. Lindback Foundation
Mary Beth Conrad
Fatoumata Coulibaly
CrossAmerica Partners
Richard D'Alessio
Delta-T Group
Eastern Alliance Insurance Group
Mariel Filtz
Jeremy Gajkowski & Megan
Scott
Brian & Susan Gallagher
07 KENCREST 2022 ANNUAL REPORT DONORS | 2022
Deborah & Thomas Grace
Bryce Graham
Rev. Kay & James Hollinger
Holy Trinity Lutheran Church -
Narberth
Natelle & Richard Hughey
KenCrest Human Resources
JDB Service Group
Johnson & Johnson
Rev. D. Craig & Anne Landis
Joe Mancini
Merck
Mutual of America
James & Elaine O'Connor
PW Campbell
Reformation Lutheran Church - Media
Gail & Scott Ruehr
Skyler Scervano
Doris Schoener
Pamela & Mike Schuessler
SimplyHome
Southeastern PA Synod of the ELCA
Therese Simpson & Marc Sternberg
St. Paul's Lutheran Church - Ardmore
St. Peter's Evangelical Lutheran
Church - North Wales
Elmina & Kenneth Stewart
United States Roofing Corporation
Stephen & Barbara Van Osten
Barbara & Todd Vanett
Lynda & Richard Wolff
$500 - $999
Lauren Andrews
Avenue United Methodist Women - Milford
BBD, LLP
Elaine & Steve Brenneman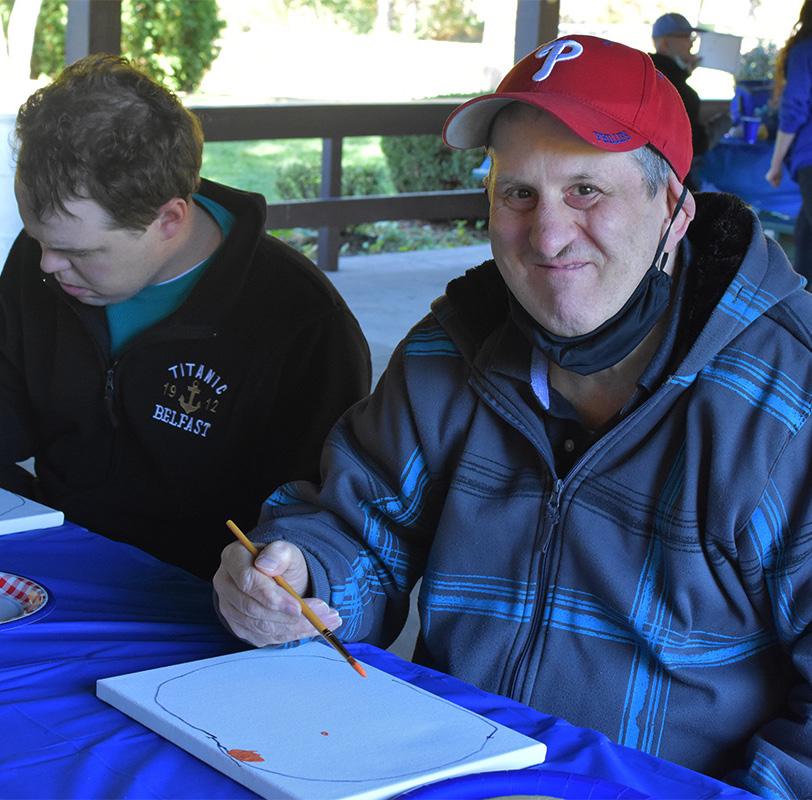 Merri & C. Drew Brown
Sheila & Philip Bruce
Amy &Richard Burnfield
Pat & William Bush
Matthew & Patricia Busillo
Daniel & Lindsey Cuneo
Sami Daniel
Hal & Bonnie Davidow
Rev. Harvey Davis
Catherine DeGroot & Miguel
Velez
Denise & Joseph Dougher
Denise Drake
Lindsay Finan & Matthew
Schmitz
Sinphonie Ford
Frank & Gail Guthridge
HomeFree Pharmacy Services
Ellen Kolodner
Rev. Dayle Malloy
Heather Maltin
Kevin & Margaret McKelvey
Andrew Merrell
Carol & Gary Moll
Brian & Magda Moncrief
Jan & Victor Ostroff
Sean & Julrena Outen
AnnMarie & Cameron Pendleton
Kimberly & Scott Quinn
Joyce & Robert Reiss
James Ryan
Ethel Serianni
Ann Sheafer
Brian Skinner
Kellie & Kevin Smith
Spring-Ford Rotary Club
St. Paul's Lutheran Church - Doylestown
State Farm Insurance
Trinity Lutheran Church - Lansdale
Joseph & Victoria Tyler
Donna Vaselaar
Eileen & Michael Weingram
Elizabeth Lexa Wilson & David Wilson
Maureen & Chris Yamamoto
Leslie & Matthew Yunaska
10 KENCREST.ORG DONORS | 2022
$250 - $499
Alvare Associates, Inc.
AmazonSmile Foundation
Ballard's Landscaping
Margaret Bamford
Bank of America
Martin Belisario
Joyce Benfield
Berney & Sang
Kathleen & Robert Bohrer
Patricia Brubaker
Dean & Marilee Cassidy
Deborah & Kenneth Chiarello
Michael Clarke III
Jennifer Cloud
Marla & Richard Cohen
Dr. Ellen Davis Conroy & Thomas
Conroy
Paula Davis West & Wayne West
DDN Consulting Services
Catherine Dombroski
Katherine & Robert Eaddy
Free Will Brewing
Gannon Chimney Repair
Stephen Gillen
Andy Harrington
Lynn & Mike Hart
Kimberly Heffner
Edward Hoffman
Margaret Howley
Victoria Hyczko
Interstate Fleet Services
Rosaida Iraola
Suzanne Keffer
Barbara & Nick Kochard
Christine Kreamer
LifeSherpa
Salvatore Lombardo
Joseph Lyons
Sheetal Manglani & Jeetendra
Dassani
James & Jennifer McGarvey
Judith Miller
Barbara & Lincoln Noecker
NextGenAT, Inc.
Catherine Nold
Linda Regan
Rob Rudrow
RuthAnn Schell
Allison Smale
Melinda South
St. John Lutheran Church - Blue Bell
St. Peter's Evangelical Lutheran Church - Philadelphia
Megan & Russ Stewart
Lisa Stiefel
Sun Management
Kathy & Paul Trumbore
Jennifer & Seth Van Aken
James & Linda Van Horn
Karen Westray
Jeanne Lee & Robert Wilkinson
$50 - $249
AbbVie
Tarig Abdulla
Act II Playhouse
Roseann & Greg Adamo
Claire & Donald Alderfer
Dawood Amir
Anne Andersen
LaRhonda Anderson
Anonymous (4)
John Archambault
Jane Armstrong
Carol & Paul Arnesman
Maame Afia Baah
Mariama Bah
Megan Bailey
Melissa Bailey-Raison
Shaquawn Baldwin
Hawa Bangura
Janet & Ralph Barndt
Gregory & Patricia Beach
Rev. Paul & Linda Beck
Monica A. Behum
Kathleen Belisario
Hannah & Rodney Bell
Susan Morrison Bellamy
Virginia Benner
Bethel Bible Fellowship - Carrollton
Victoria Black
Boeing
Aram & Linda Bohdjelian
Timothy & Melissa Bosch
Sheryl Bouie
Norma Lee Bradley
Henry & Rita Brady
David Breuning
Stickman Brews
Sandra Brown
Mona & Damen Burke
Matthew Bush
Jeffrey Byard
Nothing Bundt Cakes
Gary & Kathie Calandra
Christopher Campbell
Campus Management
Milton Cannan
Charles Diliberto Plumbing & Heating, Inc.
Chubb Charitable Foundation
Regina Cinkowski
Herta Clements
Lloyd Combs
Carol & Sean Connell
Regina Conway
Dominic & Roberta Costa
Angelica & Kent Cprek
Donna & Howard Creely
Steve & Susan Cunningham
Yvonne Cunningham
11 KENCREST 2022 ANNUAL REPORT
DONORS | 2022
KenCrest Helps These Three PA Sisters
From Adult Community Living to Birth-to-Three, the Messmer Sisters are taking over KenCrest.
In 1999, Sue Messmer accepted her position as a Physical Therapist within the Montgomery County Birth-to-Three Program at KenCrest, changing her life and her two sisters' lives. Being the youngest of three, Sue Messmer wasn't expecting much from her KenCrest coworkers, but shortly after joining the team, they changed everything for her family. When Messmer began working at KenCrest, her older sister Diane, who has intellectual disabilities, was diagnosed with Dementia. Diane was living with their father at the time, but he soon discovered that he could not provide her with the proper care and attention she needed.
"At the time, our staff was having weekly team meetings, and during my first meeting, Roseann Adamo, the Executive Director of the Birth to Five Home and Community Based Program, overheard me telling one of the other therapists that we were having a tough time because Diane wasn't doing well at home," says Messmer. "The caseworker was trying to find her a placement, but there were no other placements besides a nursing home or an institution, which I did not want."
"The next thing I knew, Roseann Adamo was telling me that I needed to go into the conference room and talk to the person who oversaw the residential homes at the time," laughs Messmer. "She set the whole meeting up, and I was able to get Diane into one of our Adult Community Living Homes." With Roseann's help, Messmer got her sister Diane into a perfect residential home in Lansdale, Pennsylvania where she could receive the proper support; and be close enough to her sisters so that they could visit at least once a week for dinner or breakfast. Diane would even stay at her eldest sister's house from time to time.
"Diane is the middle child," says Messmer. "My older sister, Anne, is ten years older than me, so Diane and I were very close growing up; my friends were her friends, and we always did everything together. While my older sister Anne was stricter with Diane."
Diane even told Sue that she considers her the "favored sister" because she's more lenient with
her. But, while Sue may be the favored sister, the trio is extremely close with one another. The sisters take fun-filled vacations with each other quite often. They've been to Disney a few times because Diane loves hugging the characters; they've been on cruises and little day trips. This fall, the trio even made an overnight visit to Longwood Gardens.
"Diane loves to go out," laughs Messmer. "Even when she's home, they'll take her out shopping, to eat and go to Walmart or the Dollar Store or even walk around the mall. I get excellent communication from her home because they know me personally; they'll send me texts or emails, which is great."
Messmer works in the Birth-to-Three Program at KenCrest, helping students and parents accomplish their motor skill goals like crawling, sitting up, walking, etc. Messmer will meet with her clients in their homes weekly to develop a strategic plan and enact that with the parents.
"It's nice to see the children and their parents at home or in school, their natural environment, as opposed to taking them into a medical facility," says Messmer. "You don't get much out of them when they're out of their comfort zones."
Children in the Birth-to-Three program experience developmental delays or have an intellectual disability requiring additional support. Messmer works with these children to help them overcome their challenges and teach their parents ways to help them succeed.
"It's funny because some of the people that support Diane don't know that I also work at KenCrest," laughs Messmer.
14 KENCREST.ORG A FAMILY GIFT
Learn more about KenCrest's Adult Community Living homes and the Birth-to-Three program by visiting KenCrest.org.
Sue Messmer and her sisters Diane and Anne. // Photo courtesy of Sue Messmer
SECOND CENTURY SOCIETY
We recognize these individuals who have made provisions for KenCrest in their estate planning, both in the past and for the future. These friends have made a commitment to KenCrest and those we support, ensuring that our mission continues in our second century of service.
PAST
August Achterman
Mary Anderson
Dorothea Bater
Edith Behring
Alice R. Beltz
Arthur & Sarah Berger
Amos Birdsall
Edwin & Mary Elizabeth
Blumenthal
Dorothy Boeshore
Sr. Collette Brice
Helene Bubikat
Viola Butterworth
Byron H. Callingham
Marie & Walter Camenisch
Sophie Daniel
Frances Devlin
Eleanor Elkin
Olga Fasko
Florence Fiedler
Ann Filon
Margaret Filon
Helen Gallup
Magdalena Gauger
Mary Geschick
Emily Gill
Verna Guterman
Sara Hall
Alma Hansmann
Thomas Hewson
John Holleran
Paula Kadel
Margaret Kellerman
G. Edward Knapp
Eleanor & John Knox
Charles Krauss
Louise Laidig
Lilla Lang Myers
Phyllis Linn
Margaret Leymann
Edna Lickfield
Oscar Long
Kathryn McFaden
Howard McCune
John Molettieri
Edward Moll
Mildred Muellerschoen
Esther Muller
Doris Oelschlager
Helen Oerkvitz
Elizabth S. Opp
Robert Pollock
Sarah Randolph
Helen Rau
Helen Ravenkamp
Elsie Reimann
Paul Richard
Leanor T. Rife
William Roeser
Hermann & Kathy Roether
Karl A. Schneider
Elizabeth Schoenhut
George Schoenhut
Estelle Schull
Anne E. Smith
Roscoe W. Teahan
Ruth Treadway
Douglas Turrell
Charles & Dorothy Urian
Lawrence Uter
Marion Van Arsdale
Laura Wikoff
Margaret Williams
Elizabeth Wodetzky
Roy Woll
FUTURE
Anonymous (3)
James & Mary Jane Brenneman
George Edwards
Carol Hammarberg
Curt & Rebecca Hudson
Jeanne Lee & Robert Wilkinson
Dina & Jim McFalls
Shirley Miller
Rev. Norman & Joanne* Minich
William J. Nolan
Jack Rule & Jill Anderson
Lise Twiford
Bonnie & Paul Zieger
16 KENCREST.ORG
KenCrest Centers Balance Sheet
KenCrest Centers Statement of Public Support, Revenue, and Expenses
8,350,412 382,162 12,228,351 1,448,792 507,845 22,917,562 17 KENCREST 2022 ANNUAL REPORT FINANCIAL REPORT | KENCREST CENTERS
of June 30, 2022 Assets Cash Accounts Receivable (net) Investments at market Plant and equipment (net) Other assets Total Assets Liabilities and Net Assets Accounts payable and accrued expenses Loans and mortgages payable Total Liabilities and Net Assets 1,152,105 1,152,105 21,765,457 22,917,562 $ $ $ $ $ $ $ $ $ $ $ 25,199 353,622 46,742
As
of June 30, 2022 Revenue Public Support: Grants Contributions Bequests Total Public Support Other Revenue Private services fees Gain on sale of property Investment income: Realized/unrealized gains/losses on investments Dividends and interest on investments Rent Miscellaneous revenue Total Expenses 3,636,001 690,960 $ $ $ $ $ $ $ $ $ 425,563 $ Total Other Revenue Total Public Support and Other Revenue Excess of Public Support and Revenue over Expenses 3,738,156 4,790,562 (1,052,406) $ $ $ (1,726,174) 292,058 341,261 78,487 3,312,593 $ Total Liabilities Total Net Assets
As
KenCrest Services Balance Sheet
KenCrest Services Statement of Public Support, Revenue, and Expenses
As
18 KENCREST.ORG KENCREST SERVICES | FINANCIAL REPORT 2,642,455 25,618,345 17,172,409 3,077,973 48,511,182
of June 30, 2022 Assets Cash Accounts Receivable (net) Plant and equipment (net) Other assets Total Assets Liabilities and Net Assets Accounts payable and accrued expenses Loans and mortgages payable Total Liabilities and Net Assets 15,523,828 14,780,089 30,303,917 18,207,265 48,511,182 $ $ $ $ $ $ $ $ $ 761,757 65,642
As
of June 30, 2022 Revenue Public Support: Grants Contributions Total Public Support Other Revenue Government funding services Private fees Miscellaneous revenue Total Expenses $ $ $ $ $ 827,399 $ Total Other Revenue Total Public Support and Other Revenue Excess of Public Support and Revenue over Expenses $ $ $ 128,664,921 4,157,799 1,765,775 134,588,495 $ 135,415,894 134,732,977 682,917 Total Liabilities Total Net Assets
Check out a few photos KenCrest captured from this year's events, including Community Champions, KenCrest's Staff Event, and Masters.
EVENT RECAP
DONORS | 2022
($50 - $249 cont. from page 09)
Valarie Curry
Jonmichael Daly
Julie & Charles Daly
D'Agostino Carpets
Wesley Daniels
Angela Dawkins
Tiffany DeRohn
Mamadou Diallo
Carmel & Charles Diliberto
Dennis & Jeanine Dimmick
Betty & Joseph Dittmar
Robert Doherty
Dianne & Ronald Dorn
Lisa Douglass
Sonya Driscoll
Margaret & Philip Duffy
Gloria Eichner
Freddie Elliott
Eric Espinosa & Patricia Smyth-
Espinosa
Ellen & Joseph Everard
Yontaya Everett
Marilyn Everling
Karen Feeney
Gail Feustel
Marj Fitzpatrick
William Flynn
David Focht
Elaine Francis
Tyrique Freeman
Susan Fullerton
Laura Garstka
Revs. Alina Gayeuski & Daniel
Smith
William Gberi
Eileen & Richard Ghenn
Tia Gibbs
Mary Glickman
Good Works Team
Caesar & Sue Gorski
Jaclyn Greenberg
Judith Guise
Ingrid & Torgny Gustafsson
Jill Gustave
Susan Hagerich
Darlene Hammond
D. Bruce & Rosemary Hanes
Barbara Hannon
Adrienne & Jerard Harris
William & Paula Harris
Edythe Harrison
Barbara Hauptfuhrer
Jacqueline & John Haynes
Nancy Hendrickson
Kristine & Richard Hughey
Imprint Beer Co.
The Inception Company
Independence Blue Cross
Miylena Inthirath
Tahjmal Jackson
Jacobson & John
Dalia Jakas
Sherley Jean-Pierre
J.F. Smith & Associates
Sharita Johnson
Lynne Johnson
Joselynne Jones
Erica Jordan
Dorothy Judd
Ann Marie & Joseph Kachinski
Carol Lynne Kalish
Jeneba Kanu
Kymme & Steven Kaufman
Catharine Keim
Rev. John Kerr
Barbara Keyser
Anna Marie & Steven King
Mary & Tom Kinslow
Beverly & Dale Kochard
Jenn Kresge
Denise Ladoski
Sarah Lauro
Linda Leroux
Catherine & Thomas Lever
Adam & Caren Levin
David Levine
Aisha Locke
Locust Lane Brewery
Bruce Loversidge & Marylou
Schmidt
Nancy & Stephen Lynn
Angie Maher
Stephanie Malone
Angela Marshall
John Masarone & Karen ParkerMasarone
Diane Massey
Mat's Pharmacy & Medical Supply
Mary Ellen Maynard
Harry Mazurek & Susan Shilcrat
Paul McCabe
McCaffrey's Food Markets
Susan McDonald
Karen McGarvey
Aaron McGee
Joseph McGuire
Patricia McRay
Janet McShane
Christina & Michael Miller
William Moore
Kim Moore
Tania Moorer
Audrey Mosley
Mural Arts Philadelphia
Museum of the American Revolution
Alfreda Nagle
Marie & Ralph Neff
New Hanover Lutheran ChurchGilbertsville
Natacha Nord
Debra & Emily Nussbaum
Megan Nussbaum
Susan O'Connor
Sue Oerkvitz
21 KENCREST 2022 ANNUAL REPORT
Yinyinola Olapido
Janyce Olson
Barbara Orwig
Karen Paulus
Peace Lutheran Church - Perkasie
Kate & Matthew Pedicino
LaTonya Penn
Dominique Perkins
Andrea Perrone
Barbara Petroske
Philadelphia's Magic Gardens
Eileen & William Pollick
Janice & Pamela Quinn
Philip Quinn
Sandra & William Raiguel
Joyce & William Rambo
Carl & Vivian Reese
Cathy Rich
Donna & Tyrone Ruley
Barbara & Ralph Russo
Gina Russo
Alimany Saccoh
Sheriff Saccoh
Kelly Sanders
Lucy Sanvitale
Kris Scanlon
Pamela Schaefer
Dr. Scott & Wendy Scheirer
Christopher Scholl
Charles & Dorothy Schulz
Robert Schumm
Trisha Scott
Sesame Place
Allan & Linda Shanholtz
Anthony & Elizabeth Sharkoski
Eric & Starr Shiffer
Erika & Anthony Shulkusky
Jeanette Shurow
Godfrey Shuster
Rosemarie Simmons
Lisa Simpson
Evelyn Spann
Carolyn & Tom Spencer
Barbara & Paul Starner
Jan & Susan Stefanski
Shelly Stewart-Laws
James & Marta Storm
Janet Stott
Tammi Stutzman
Junina Sullivan
Theresa Pia Suriano
Felecia Tanner
Nancy Tartaglia
Robert & Sandra Taylor
Dr. Joel & Mary Temple
David & Trina Terné
Jon Testa
Theraplay, Inc.
Petrelle Thompson
Lauren Tilghman
Ralph Todd
Fatou Toure
Geraldine Trower
Bruce & Caron Ulmer
Uticom Systems, Inc.
Dr. Bruce & Mary Beth Vanett
Isaac Vann
Judith Voyak
Johanna Walters
Dawn Elyse Warden
Tracia Knight Warner
Wanda Webb
Kathryn White
Carol & John Wildmann
Carter & Mary Williamson
Breanna Wilson
Gerald & Marie Winterstein
Aisha Witherspoon
Janet Wong
Daniel Wood
Christina Wright
Lori Zeigler
Ann & Robert Zemsky
Mark Zepp
Daniel Zepp
Robert & Susan Zimmer
Erfan Zoghi
Bendu Zoryeah
$1 - $49
The Academy of Natural Sciences of Drexel University
Applebee's Grill & Bar
Edward & Mindy Abraham
William Anderson
Ann Marie & Bruno Andracchio
Anonymous
Pauline Baker
Sabina Baker-Tegeder
Josh & Rachael Balascak
Joy Ballard
Jan & Kevin Ballard
Pauline Barlow
Josephine Bayinka
Kathleen Belardo
Patricia Benner
Jennifer Bretz
Denise Brooks
Adrienne Browning
Linda Bucher
Raymund Capistrano
Matthew Cibelli
Maryanne Cirigliano
Cheryl & Paul Coffin
Barbara & Jerald Cohen
Michael Colter Jr.
Aruna Conteh
Chantel Coote
The Couch Tomato
Katherine Crozier
Gail Davis
George & Jane Detwiler
Alex Dittmar & Kaitlyn Ide
Janice Doan
Mary Doughty
Ashlee Downing
22 KENCREST.ORG
DONORS | 2022
DONORS | 2022
Kelli Edling
Helena & Samuel Eisenberg
Frederica Foerster
Dana Freeman
Charna Freid
Doris Gadson
Charlene Gallagher
Nashyma Gantt
Alesha Gaus
Janice Gee
Gail & Michael Gilmartin
Dehasia Gonzalez
Olivia Graham
Latoya Grant
Emily & Ron Grizer
Kathleen & Mark Grubelic
Shakia Harris
Madison Harris
Rashawn Hendricks
Lydia Hernandez
Jennifer Hirschfeld
Cheryl Hollins
Lisa Hudson
Anthony & Janet Iorio
Greglia James
Tasheena Jennings
Lana Johnson
Delphine Johnson
Kathleen Johnson
Stephanie Joyner
Ann Marie & Joseph Kachinski
Tilia Kelly
Alyssa Kilpatrick
Edith King
Jennifer Kloss
Carolyn Kulp
Lisa Lambert
Karen Lantz
Domonique Lee
Catherine Lisacchi
Mary Ann Littlefield
Kimberly Long
Lutheran Church Women of St.
Matthew - Glen Mills
Leigh Ann Massinger
Marcell Mateo
John Mberi
Christina McClendon
Arlene & Thomas McGee
Kevin & Margaret McKelvey
Ruth Meas
Ron Mentel
Geoffrey Meyers
Gracynthia Mills
Rose & Russell Milnor
Tyneka Mitchell
Brian & Kelliann Moran
Sarah Morrow
Megan Nachod
Janette Nieves
Annie O'Malley
Catherine O'Shea-Barkley
Edward Owens Jr.
Kathleen & William Pappentick
Amanda Perez
Mathilde Peter
Yolanda Phillips
AnneMarie Pirelli
Fabiola Placide
Bria Powell
Georgette Pressley
Elizabeth Rafferty
Sondra Rakowski
Isabel Ramos
Karen Raymond
Mary Rivera
Theresa Rodkey
Carol & Michael Romano
Eileen & William Roth
Martez Satchell
Nicole Savior
Lois & Robert Schultz
Shady Maple
Pauline Sherry
Mike Sielski
John Sirianni
Kimberly Smith
Margaret Smith
Fatou Sow
Marlene Spector
Leland Spicer
Doris Spina
Kim Sterling
Andrew Stilp
Carol & Donald Storey
Phady Stoutenburg
Sofia Stradinger
Shannon Super
Thierno Sy Savane
Alita Thomas
Cherese Thomas
Wanda Trent
Catherine Tucker
Sabrina Walker
Derrick Walker
Robin Ward
Vincent Waskiewicz
Christina Watkins
Pamela Wetzel
Robin Whetstone
Marsha Williams
MaryEllen Wilson
Jonel Witherspoon
Diane Wurster
John & Lydia Yost
Sara Young
Banasee Zoewah
23 KENCREST 2022 ANNUAL REPORT
This year, KenCrest's Early Learning Centers had many visitors including Councilmember Derek Green, Senator Christine Tartaglione and State Representative Isabella Fitzgerald.
Gifts designated for "where it's needed most" will allow KenCrest to address our most critical needs. You are also welcome to restrict your gift for a specific program or need, such as improvements to a community living home, transportation needs, supplies for our Early Learning Centers, or employment opportunities.
Checks
Please make checks payable to KenCrest.
Credit Cards
We accept credit cards over the phone or online at: www.kencrest.org/donate
United Way
You can designate KenCrest through Donor Choice #00839.
Matching Gifts
Check with your HR department to see if your company has a matching gift program. The doubling of your gift has a huge impact on those we serve.
Legacy Gifts
Many donors choose to fulfill their philanthropic wishes in coordination with their financial and estate plans. You may also choose to name KenCrest as a beneficiary of your will, trust, retirement plan, or insurance policy. You may also choose to establish a gift that pays an income to you, the donor, before ultimately benefiting KenCrest.
To learn more about giving opportunities, contact Ellen Mansfield, Chief Development Officer, at 610-825-9360, ext. 1023.
25 KENCREST 2022 ANNUAL REPORT WAYS TO GIVE
At KenCrest, we offer a variety of ways for our donors to invest in our mission.
Adult Services Children Services Agency-Wide Individuals Corporations Foundations Churches & Community Organizations Bequests Children Unrestricted Endowment Covid Relief Technology Family Fund Rod Hibbard Fund Adults Foundations Churches & Community Organizations Bequests Corporations Individuals 26 BY THE NUMBERS $ 960,561.25 Total Amount Raised 652 Donors 149 New Donors this Year $ 31,629.87 Additional in Goods and Services Received Competitive Government Grants Private Funding Number of Donors Gift Designation KENCREST.ORG
KENCREST LEADERSHIP
KenCrest
Leadership
Steven
Kevin
President
Rev.
Secretary Scott
President-Elect
Sean
Eric
Treasurer Marian
President
Ellen
Chief
Chief
Chief
Joyce
Chief
Aurora
Chief
KenCrest Services Board of Directors Sheila Bruce Mona Burke President Patricia Bush, RN, MSN Hal Davidow Treasurer Mamta Maini Secretary Sean Outen President Jim Van Horn Stephen Van Osten KenCrest Connecticut 80 Ferry Boulevard Suite 102, Stratford, CT 06615 203 | 338-8585 960A Harvest Drive Suite 100, Blue Bell, PA 19422 610 | 825-9360 KenCrest Corporate Headquarters 1113 S. Governor's Avenue Dover, DE 19904 302 | 734-3800 KenCrest Delaware
KenCrest Centers Board of Directors
Executive
Cabinet
Bell Merri Brown Mona Burke
Doughter
Colin D. Dougherty
Alina Gayeuski Charles Horn III
McCloskey
Stephen Van Osten
Outen
Rahe
Baldini
& CEO
Mansfield Chief Development Officer John Howe
Technology Officer James O'Connor
Human Resources Officer Colleen Kelly
Financial Officer
Reiss
of Staff
Kripa
Operating Officer