An Introduction to Iceni Projects Modular
www.iceniprojects.com iceni-projects iceniprojects iceniprojects
Introduction Our Projects Our People Added Value
2 Introduction
Introduction 3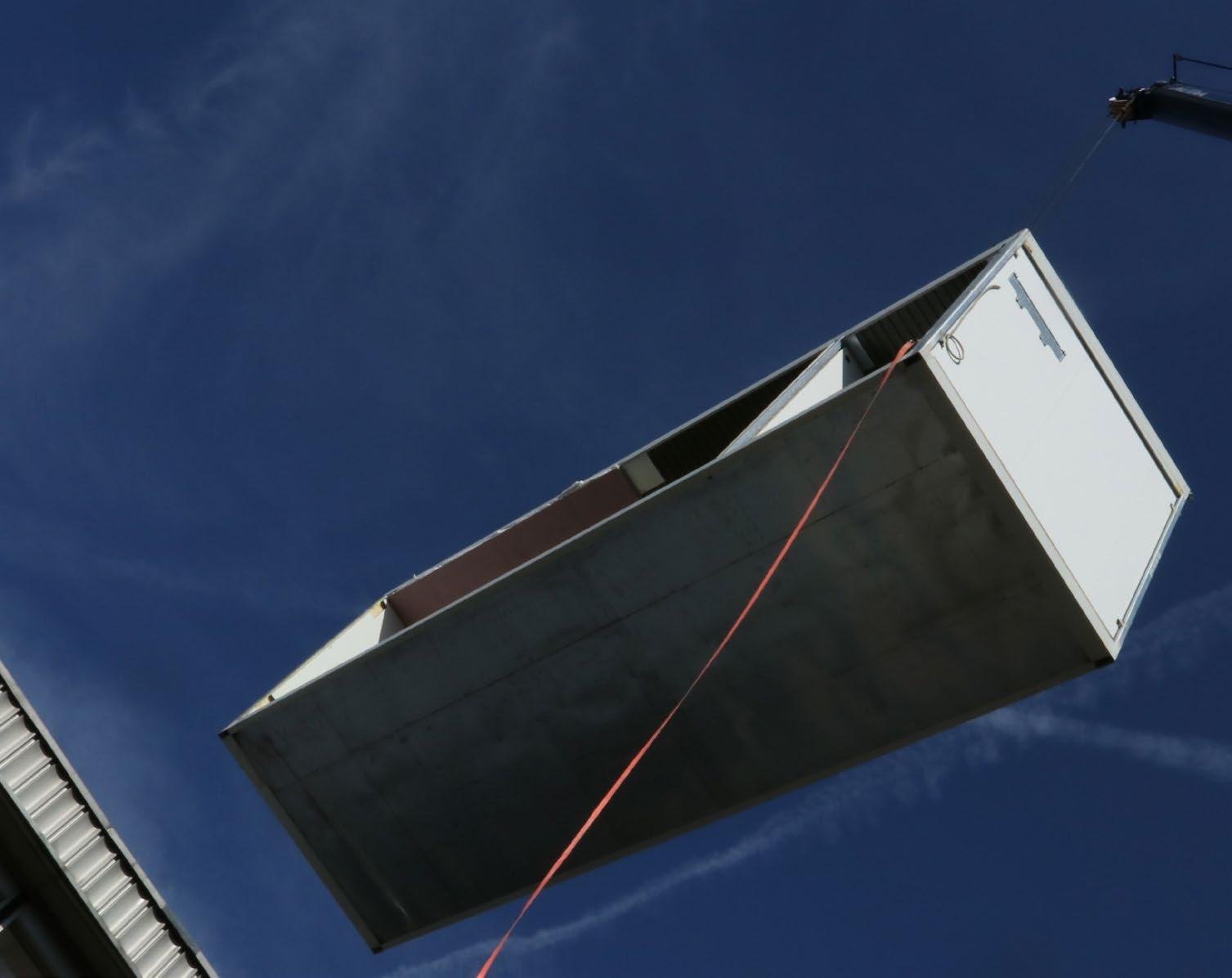 Introduction | A multi-skilled consultancy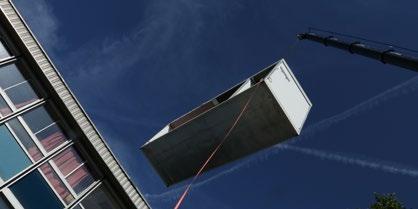 MODULAR BUILD
Formed in 2005, Iceni is now the market leader and preferred consultancy for a fast-growing number of clients. We have always sought to provide the skills of an advisor with the instincts of a developer.
We achieve this by knowing our tradecraft – the technical skills that come through years of education and on-the-job experience that is recognised by professional accreditation. But it is also daring to be different; being proactive and thinking strategically. Our client relationships are built on trust, togetherness, enthusiasm, and a courage to challenge, where appropriate. The technical specialisms that the company hold have widened, but this fundamental objective remains the same. We are committed to putting our client's interests first – and providing them with the tools to significantly improve their performance.
Recent investment in the UK Modular sector has boosted the prospects for modular housing, and its potential to improve efficiency in the construction industry is being well received by many of Iceni's clients. We are therefore at the forefront of this sector, leaving us excellently placed to provide our clients with the trusted advisor they need.
Shifting construction away from traditional methods has the potential to dramatically change the way we build. Off-site manufacturing is able to address some of the challenges that the construction industry is currently facing including rising labour costs, shortage of skilled labour and availability of materials. Given the current market sentiment the potential for cost savings to be made on projects is becoming an increasingly attractive proposition for many of our clients.
This document specifically showcases some of the work we have done on modular housing, experience ranging from advising on a single unit up to schemes of almost 2,000 homes.
We provide specialist advice in the fields of archaeology; delivery; design; EIA management; engagement; heritage; planning; sustainable development, townscape and transport. Our team are talented, relentless, intelligent, bold and experienced. Individually or collectively, you'll know when you're with Iceni Projects.
Ian Anderson Chief Executive
From our offices in Edinburgh, Glasgow, London, and Manchester, we deliver on a variety of schemes across the UK. Our services are offered from project inception through to occupation on site.
5 Introduction
Birmingham
The Colmore Building 20 Colmore Circus Birmingham, B4 6AT T: 0121 262 4148
Edinburgh
7 Alva Street Edinburgh, EH2 4PH T: 0131 370 3486
London
Da Vinci House 44 Saffron Hill, London, EC1N 8FH T: 020 3640 8508
Glasgow
177 West George Street Glasgow, G2 2LB T: 0141 465 4996
Manchester
WeWork, Dalton Place 29 John Dalton Street Manchester, M2 6FW T: 0161 509 2840
Your Strategic Adviser
Landscape Design Engagement Place Planning Economics Archaeology Built Heritage & Townscape Impact Managment Transport Introduction 6
The Team Structure of Iceni
ECONOMICS
LANDSCAPE
TRANSPORT
ARCHAEOLOGY
DESIGN
FUTURES
PLANNING
IMPACT MANAGEMENT
7 Our Projects
Ian Anderson Chief Executive
Andrew Gale Chief Operating Officer
Claire Cogar Director
James Bompas Director | Business Devt. & Strategic Planning
Paul Drew Director
Anna Snow Director
Chris Jones Director Gary Mappin Director
Ian Gallacher Director
Ian Mayhead Director
Jamie Sullivan Director
James Waterhouse Director
John Mumby Director
Kieron Hodgson Director
Leona Hannify Director
Lorna O'Carroll Director
Nick Grant Director
Callum Fraser Director
Clive Burbridge Director
Fred Peters Director
Mike England Director Rob Amey Director
Alex Green Director
Philippa Curran Director
Laurie Handcock Director
ENGAGEMENT & PLACE BUILT HERITAGE & TOWNSCAPE
James Jaulim Director
Nick Ireland Director Matt Kingham Director Paul McColgan Director
Silke Gruner Director
Introduction
Introduction Our Projects Our People Added Value
Our Projects 8
9 Introduction Our Projects
Greenford London Borough of Ealing
Authority: London Borough of Ealing
Proposal: 2,118 new homes + 21,443sqm of flexible commercial / community floorspace
Services: Planning, Engagement, Transport
Status: Under construction
Iceni was instructed by Greystar to lead the preparation of a detailed application at the former GSK headquarters and former Sunblest bakery site in the London Borough of Ealing.
This application obtained approval for a residential-led mix of uses including: 2,118 new homes (including an element of affordable housing); 21,443 sqm of flexible commercial and community floorspace in use classes A1, A2, A3, A4, A5, B1, D1 and / or D2, a new twoform entry primary school, new pedestrian bridge across the canal, car and cycle parking, landscaping and associated works. Iceni has coordinated the planning application submission, including the Environmental Impact Assessment. The application was submitted in September 2016 following engagement with the local community, Council and GLA and approved at Committee in March 2017.
Iceni continues to act through the construction process with regards to the necessary planning conditions to enable prompt delivery on site, and most recently obtained approval of a Minor Material Amendment for an additional 153 homes enabled by, and helping to facilitate, a modular build.
Our Projects 10
11 Our Projects
Nottingham Place Marylebone
Authority: Westminster City Council
Proposal: A modular solution on the fourth storey of a central London apartment. Services: Planning Status: Completed Iceni Projects successfully secured planning permission for a modular solution on the fourth storey of a central London apartment. The planning application was initially refused by the City of Westminster Council; however, was successfully challenged at appeal by Iceni Projects (Ref. APP/X5990/A/14/2212697).
Construction took approximately eight weeks in a factory, with installation taking just 4 days, followed by 10 days to completion. The new space provided 2 bedrooms with en-suite, fully fitted kitchen living area, cloakroom. The styling was key to the surrounding area and properties and so the exterior was a slated mansard roof.
Nottingham Place is positioned within the Harley Street Conservation Area. Harley Street is a large conservation area located in the north-east of the City of Westminster, and which includes most of the Howard de Walden Estate. Harley Street shares boundaries with various other conservation areas: East Marylebone Conservation Area lies to the east; the Portman Estate Conservation Area to the west; Regent Street Conservation Area to the north; and Stratford Place Conservation Area to the south.
Press coverage: https://bit.ly/2G1rmlM
Press coverage: https://dailym.ai/2YJBxCN
Our Projects 12
13 Our Projects
Beechwood Development Basildon
Authority: Basildon Borough Council
Proposal: 587 new homes and 5,424sqm of commercial floorspace
Services: Planning
Status: Approved
The hybrid application for the £100 million regeneration of the 1960's Craylands Estate in Basildon was granted permission in March 2017 for up to 587 dwellings and 5,424sqm of commercial floorspace.
Iceni are now working on the reserved matters for the South Phase of the development, on behalf of Swan Housing Association in coordination with its delivery partner NU Living. The development will utilise innovative off-site construction and delivery methods for the new modular homes from their new factory which can deliver up to 300 modular homes per year. Iceni have also be working on various discharge of conditions, non-material amendments and reserved matters applications in relation to the West Phase of the development, which utilises a pioneering custom-designed approach to the delivery of new high-quality modular housing. This allows new owners to completely customise their new home from the house-type and layout, to the external finishes and brickwork. In June 2021, Iceni represented Basildon Council at the public inquiry for the North Phase Compulsory Purchase Order. This included preparing the Proof of Evidence, Statement of Case and attending the hearing sessions as expert witness.
Our Projects 14
15 Our Projects
Hare Hill Road
Tameside
Authority: Tameside Metropolitan Borough Council
Proposal: 27 affordable modular homes Services: Planning
Status: Planning permission granted
Iceni was instructed by Onward Homes to provide planning consultancy services in respect of an affordable home development in Hattersley.
This application represented the first modular proposal in Tameside, with the houses to be delivered by Ilke Homes, and made available for social rent by Onward Homes, contributing to an identified affordable housing need in the borough.
Iceni Projects were brought on board at the pre-application stage to negotiate with the Council over site viability and the proposed layout. Articulating the practicalities and key benefits of Ilke Homes' modular housing process was critical to achieving Council buy-in at the outset of the project, with sustainability and timescales for delivery at the forefront of discussions.
The application was submitted in December 2020 and granted consent via planning committee in April 2021. Following the completion of a Unilateral Undertaking, the decision notice was issued in December 2021 and Onward Homes are looking to commence development of this pilot modular project as soon as possible.
Our Projects 16
17 Our Projects
House Type Assessment Etopia
Authority: Various
Proposal: Delivery of zero-carbon developments, utilising Eco-MMC as pioneered as part of Project Etopia Services: Futures
Status: N/A
Eco-MMC is a set of modern methods of construction (MMC) pioneered as part of Project Etopia. It delivers a light-weight, structurally insulated panellised build system that is manufactured off-site and assembled on-site. This aids in reducing both the carbon emissions associated with the manufacture and transport of the materials, as well as the volumes of waste generated during the construction process. As part of the development of Project Etopia, Iceni undertook detailed energy modelling of a range of house types delivered through Eco-MMC. This included the calculation of the carbon dioxide emissions associated with each house type according to three building fabric and building systems specifications, as well as a calculation of the associated Energy Performance Certifications (EPCs).
Iceni have also supported the planning applications for two of Etopia's proposed developments seeking to employ Eco-MMC through the provision of Sustainability and Energy Statements. The first of these developments, located on Clarke's Lane in Wilburton, seeks to provide 20 new dwellings, and received planning approval in February 2021. Through employment of EcoMMC, alongside renewable technologies, the proposals achieve a minimum 102% reduction in carbon dioxide emissions compared to Part L of the Building Regulations, thereby directly responding to the Climate Emergency declared by East Cambridgeshire District Council in October 2019. The second development, located on Gore Lane in Eastry, seeks to provide 50 new dwellings, and received planning approval in June 2021. The proposals achieve a minimum 100% reduction in carbon dioxide emissions compared to Part L of the Building Regulations, thereby directly responding to the Climate Emergency declared by Dover District Council in January 2020.
Our Projects 18
19 Our Projects
Fossett's Way Southend-on-Sea
Authority: Southend-On- Sea Borough Council
Proposal: Residential development comprising of up to 221 units with associated access, parking, landscaping and associated infrastructure Services: Planning
Status: Permission granted in September 2021
Iceni Projects took a lead role in securing full planning permission for 221 affordable dwellings on a greenfield urban site at Fossetts Way in Southend-on-Sea, in September 2021, on behalf of Ilke Homes, a highly sustainable modular developer. The planning application sought permission for residential development comprising of up to 221 units with associated access, parking, landscaping and associated infrastructure.
Iceni led on the planning application submission by providing initial planning advice, coordinating a large technical team to produce the application submission and collaborated with Southend-on-Sea Council planning and legal teams to facilitate a resolution to grant planning permission within five months from the planning application submission. Iceni also provided impact management services in support of the planning application.
The planning strategy focused on providing much needed affordable housing needs in the Borough in a range of tenures and mix of homes, the volumetric housing sustainability benefits and landscaping improvements. As a result of this strategy, the application received overwhelmingly positive consultation responses and therefore a recommendation for approval at Planning Committee and the Section 106 was signed within two weeks of the committee resolution. Given this success, Iceni have also been instructed on another project in Linford in Thurrock by Ilke Homes for 230 units which has been submitted to the Council for consideration.
Our Projects 20
21 Our Projects
East Tilbury Thurrock
Authority: Thurrock Council
Proposal: Residential-led development for 1,000 homes Services: Under Consideration
Status: Planning, Transport, Engagement, Impact
Iceni Projects has a strong and committed presence in the Thames Estuary.
We have over a decades' experience in helping our clients to deliver sustainable growth across the region. Iceni works constructively with developers, local communities and councils, as well as regional bodies and national government, to support the Thames Estuary in realising its ambitious growth potential.
Key to this is long-term, strategic thinking. This means linking employment hubs to new and existing communities, facilitating growth through infrastructure investment and delivering meaningful benefits in the places where development is taking place.
East Tilbury is a place that is strategically well-placed in the Thames Gateway. It is positioned to the east of London; is well connected by rail and the Strategic Highway Network (with the M25 and A13) and has an abundance of economic-led projects coming forward in the area – including London Gateway which is the single largest economic regeneration project in the UK.
Our Projects 22
23 Our Projects
Introduction Our Projects Our People Added Value
24
Our People
25 Our People
Ian Mayhead Director, Planning
T: 020 3435 4204
M: 07807 773 885
E: imayhead@iceniprojects.com
Ian is experienced in delivering large scale and high profile projects.
Ian shares the leadership of the Urban Planning team, and specialises in the delivery major regeneration projects. His work ranges from largescale redevelopments on brownfield land, with particular knowledge of Build to Rent (such as Greenford Quay for Greystar) and Industrial and Logistics developments (such as Magna Park MK and Willen House for Gazeley). His skills lie in the management and motivation of project teams to coordinate and manage the planning application process for schemes of all sizes, from inception to completion on site.
Ian initially graduated in Geography and Applied French and went on to complete a Master's degree in Planning, Policy and Practice from South Bank University. He went on to work as part of the team who represented the Olympic Delivery Authority and subsequently the London Legacy Development Corporation to deliver the Olympic Stadium and Media Complex on time and on budget.
Our People 26
Isobel
Isobel has an eye for detail and works efficiently for her clients.
Isobel has been with Iceni Projects since 2016 and has managed a range of large-scale projects for a range of clients.
Isobel has a variety of experience having led on large-scale strategic promotion, change of use applications, as well as brownfield regeneration schemes.
Isobel has led on the preparation and submission of planning applications across the Country involving the management of multi-disciplinary project teams. She is keen to work proactively and alongside Local Authorities to ensure the best possible outcome is reached for sites. Isobel has a particularly keen interest in modular housing and the efficiencies this construction method can facilitate for planning and delivery.
McGeever Associate, Planning T: 020 3657 5036 M: 07584 077 886 E: imcgeever@iceniprojects.com
27 Our People
Introduction Our Projects Our People Added Value
Added Value 28
29 Added Value
Iceni Futures
The Iceni Futures team was set up in response to the rapidly changing world and the acknowledgment that more than ever, we need to create futureproofed and sustainable development. The teams role is to assess, predict and influence change across the development industry. In practice that means exploring how places and people will function in the future, analysing existing barriers and providing strategic advice which aligns with clients goals and aspirations to ensure development is fit for the future.
The team doesn't claim to be experts in every new discipline or product, but they understand the existing barriers and outdated development processes that persist across the industry and the importance of working innovatively and smarter to deliver client visions and change that actually works. It's understood that each client will need tailored advice and the Futures team look to work collaboratively to provide advice which is tailored to a specific site, company strategy or product. Essentially, if you're looking to plan for or capitalise on the future, Iceni Futures can be there to support you and drive that ambition.
Futures: Smarter Sustainability
Added Value 30
Iceni
31 Added Value
Added Value: iSite
iSite pulls together a number of services to enable the promoter of a project – but equally the respective consultant, local authority, consultee, local community and wider interested party – to gain the knowledge and understanding of a site or location that historically has only been possible from an in-depth site visit. Moreover, many projects are of the size and scale that even a physical site visit renders difficult to comprehend.
The key focus of iSite is to provide an intelligent digital design and consultation tool. This incorporates the use of drone photography, 360° camerawork (think Google Street View for buildings), interactive, virtual consultation halls and project web sites that can pool together all of the information for effective file management and sharing. So whether you need to initiate an initial site survey appraisal, team site visit, pre-application meeting, public consultation event or committee presentation, iSite can help.
iSite wont be for everyone. We understand that. But if you are looking for cost-effective ways to progress with your proposals, it could be the answer.
To discuss iSite please email isite@iceniprojects.com
Added Value 32
33 Added Value
The Sustainable Development Scorecard
The National Planning Policy Framework (NPPF) has running throughout it the 'golden thread of sustainable development'. In spite of this, there is no clear-cut, NPFbased assessment criteria to consider a site or project's sustainable development credentials, making current assessment processes both tricky and subjective.
The Sustainable Development Commission was established to address this recognised issue with our planning system. Made up of a balanced cross-section of industry professionals, the Commission has debated the issues and found solutions, culminating in the creation of the Sustainable Development Scorecard.
The Scorecard website is free to use and accessible to anyone with a vested interest in development, including developers, architects, planners, community groups and members of the public. By crystallising the NPPF's guidance into a simple, online analysis tool, the Commissionaims to provide a more consistent approach to sustainable development, leading to a more sustainable built environment.
www.thescorecard.org.uk
www.iceniprojects.com iceni-projects iceniprojects iceniprojects