MAKES DIFFERENCE MAKERS
THE MAGAZINE OF INDIANA STATE UNIVERSITY FALL/WINTER 2023
SOAKING IT IN
Future Sycamores running through the fountain during one of the many State Orientation visits this summer.
is published by University Communication of Indiana State University. ©2023
PRESIDENT OF INDIANA STATE UNIVERSITY
Deborah J. Curtis Ph.D. '86
CHIEF OF STAFF, OFFICE OF THE PRESIDENT
Rex Kendall '88, GR '91
ASSOCIATE DIRECTOR OF UNIVERSITY COMMUNICATION & STATE MAGAZINE EDITOR
Zeke Torres
GRAPHIC DESIGNER, UNIVERSITY COMMUNICATION
Kelli Cheever
CONTRIBUTORS
Andrea Angel, Advancement
Tony Campbell, Photography
Tracy Ford '88, GR '05, Photography
Angie Lansing '98, Athletics
Jill Moore '07, MSN '11, Ph.D. '14, Nursing
Seth Montgomery, Athletics
Sophie Morgan '20, Photography
Dr. Christopher Olsen, Provost/Academic Affairs
Allanee Quick '18, Alumni
Tammy Shike, Athletics
Amber Stinson '19, GR '21, Advancement
Jeremiah Turner '19, Advancement
Linda Walters '97, MSN '09, Ph.D. '14, Nursing
SEND SUGGESTIONS FOR CONTENT OR QUESTIONS ABOUT THE MAGAZINE TO:
ISU STATE Magazine
University Communication
200 North 7th Street
Parsons Hall, Room 203 Terre Haute, IN 47809
ISU-Magazine@indstate.edu
SEND ADDRESS CHANGES & SUBSCRIPTION QUESTIONS TO:
ISU Foundation
30 North Fifth Street Terre Haute, IN 47809
812-237-6100
800-242-1409 (toll-free)
fdn-giving@indstate.edu
All photography in this magazine is provided by Indiana State University, including University Marketing, Martin's Photo Shop/ISU Archives, Sycamore Athletics, unless otherwise noted.
FALL/WINTER 2023 3
4 STATE MAGAZINE 26 8 28
FEATURES
FALL/WINTER 2023 5 8
8 THE POWER OF GIVING BACK 12 PEDALING ACROSS AMERICA 17 $30 MILLION MILESTONE 20 FACULTY MAKING A DIFFERENCE 21 STUDENT-ATHLETES' COMMUNITY IMPACT 26 DISTINGUISHED ALUMNI AWARDS 28 HOMECOMING OTHER NEWS 6 LETTER FROM THE PRESIDENT 10 BOARD OF TRUSTEES COMMUNITY HUB FOR YOUTH 11 SYCAMORE TRADITION OF SERVICE 14 NURSING STUDENTS ACHIEVE PERFECTION SYCAMORE BECOMES NASA INTERN STUDENT LEADERS PRIORITIZE MENTAL HEALTH 15 TERRE HAUTE PRIDE FEST NEW GOVERNMENT RELATIONS LEADER 16 PHILANTHROPY AWARDS 21 SYCAMORE INFLUENTIAL LEADERS 24 TRANSFORMATIONAL GIVING 25 ALTERNATIVE BREAKS DANCE MARATHON SUCCESS 30 ALUMNI CLASS NOTES 32 IN MEMORIAM 33 MAX GIBSON REMEMBERED 34 THEN & NOW 20 12
PRESIDENTIAL VISIT
President Deborah Curtis welcomed the newest class of President's Scholars to her home, the Condit House.
LETTER FROM THE PRESIDENT
Dear Sycamore Family and Friends,
Fall is one of my favorite times of the year; a new school year is underway, and the campus is busy. What sticks out to me is the energy and excitement about the work being done at Indiana State University. As President, it is an honor and privilege to see first-time students become confident leaders, difference-makers, and alums ready to change the world.
We've added 2,584 new students to our Sycamore family. Our freshmen class is made up of 1,568 first-time, full-time students, a two percent increase from last year, which puts the freshmen class up by about 10% in the last two years. Of the new first-year class, 349 are in the Honors College program, shattering last year's record. This prestigious program continues to see remarkable growth and is one of the largest new student cohorts at ISU.
The Class of 2027 has an infectious energy about getting a world-class education and experience at Indiana State. Not only will that positivity radiate across our beautiful campus and in the various organizations they join, but it will spread in the community. These will be the faces living, shopping, eating, and potentially working in the Wabash Valley.
Our generous donors continue to invest in ISU and make a difference for future generations. Indiana State University's Division of University Advancement raised $30 million in 2023 and during the first year of the public phase of the Be So Bold campaign. This marks the highest annual fundraising amount in University history. These dollars will empower future Sycamores through a transformative educational experience to ensure a brighter and bolder future for the Sycamores of today and tomorrow.
Our student-athletes continue demonstrating outstanding work ethic in the classroom and in their sport. The fall athletics program is continuing the momentum from the Spring, and it reflects in the increase of community involvement with our teams and more fans joining our loud student section, The Forest. We look forward to seeing you at Homecoming to cheer on our Sycamores.
As you read this edition of State Magazine, we hope you remember the difference-makers you've met at ISU. This publication is a small glimpse into the transformational work done daily by students, faculty, staff, and alums in their communities, jobs, and more. Be sure to visit campus and see why we're proud to be the State of Indiana's university.
Sincerely,
Deborah J. Curtis, Ph.D. President
FALL/WINTER 2023 7
THE POWER OF GIVING BACK
8 STATE
MAGAZINE
DON DUDINE'S VISION FOR ISU'S STUDENT PHILANTHROPY ORGANIZATION
Beyond academics, Sycamores are leaving a legacy that ISU can proudly claim—a culture of philanthropy, carefully cultivated by the Student Philanthropy Organization (SPO) and its visionary founder, Don Dudine.
Don Dudine has always had a strong sense of giving back to his alma mater. Since graduating in 1967, he has been a longtime supporter of both Student Philanthropy and the School of Music. His generosity has been a vital part in the advancement of Indiana State University. In addition to his support, Dudine is the immediate past chair of the Foundation Board of Directors, where he was a leader in the promotion of joyful giving.
It was this very sentiment that led him to establish the Student Philanthropy Organization in 2019. His mission was simple yet profound: to inspire a culture of philanthropy among the student body and to foster a sense of gratitude for the opportunities ISU provides.
Since its establishment, they have successfully ignited a passion for giving back in the ISU community through various events and initiatives. Whether it be organizing a run to raise money for cancer research or handing out flowers for Valentine's Day, SPO is always working to encourage Sycamores to give back to their University.
One of SPO's flagship events is the annual Give to Blue Day. This day of giving in March has become a campus-wide tradition, with students, faculty, staff, alumni, and the local community coming together to support ISU's vital programs and scholarships. All over campus and Terre Haute, people can make purchases or donations that will directly go towards a specified area at ISU. The funds raised on Give to Blue Day have a tangible impact on the University, allowing ISU to enhance its facilities, provide financial aid to deserving students, and continue its mission of academic excellence.
But SPO's work goes beyond just fundraising. They have made it their mission to educate their peers about the importance of philanthropy. SPO members aim to instill in their fellow students a sense of responsibility and a desire to give back, no matter how big or small the contribution.
"As SPO President, I am so excited for the year ahead and the opportunities it holds," said Grace Longyear. "The Student Philanthropy Organization plays a pivotal role in creating a campus community that encourages giving back with our time, talents, and treasures. It empowers us to invest in our shared goals and aspirations, creating a legacy of positive change for generations of students to come."
As Don Dudine often says, "It's not about the amount you give; it's about the heart with which you give." At Indiana State University, that heart beats strong, nurturing a culture of philanthropy that will endure for years to come.
One of the remarkable aspects of ISU's Student Philanthropy Organization is that it has a ripple effect that extends far beyond the campus. ISU alumni who have benefited from the University's scholarships and programs often find themselves inspired to give back. The culture of philanthropy
(continued on page 11)
FALL/WINTER 2023 9
Above: SPO members helped man the Cash Cab during Give to Blue Day; Opposite page: Students (L-R) Livy Gilman, Aidan Carter, Drew Daming, and Grace Longyear posed with Dudine at the 2023 SPO luncheon.
ISU BOARD OF TRUSTEE ANNOUNCES NEW AND REAPPOINTED MEMBERS
This summer, Governor Eric Holcomb announced the reappointment and addition of members to Indiana State University's Board of Trustees.
Kathleen Cabello of Indianapolis, Indiana, and Robert (Bob) Casey of Westfield, Indiana, will serve another four-year term.
Casey was also unanimously voted to serve as Chair of the Board.
Additionally, Holcomb appointed Cheryl Roberson to a four-year term and Kate VanHyfte as the new Student Trustee to a two-year term.
President of Indiana State University, Dr. Deborah Curtis: "I'm thrilled by this announcement. Kathy and Bob have been fundamental to the success of Indiana State University during their time on the Board, and I know they'll continue to help advance our great University. ISU proudly welcomes Cheryl and Kate to the Board of Trustees. Their creativity and professional backgrounds are what ISU needs as we continue to serve our students and community to the best of our ability. The Board fills an important role at our University; only the best are called upon to serve on it."
FUTURE SYCAMORES VISIT CAMPUS
For several years, Indiana State University's Community School of the Arts (CSA) has hosted a summer camp focusing on an artistic approach with a weekly average of 20-30 campers. In 2023, CSA averaged 200-250 kids a week. The largest number ever recorded.
Using a Science, Technology, Engineering, Art, and Math (STEAM) approach, the camp focuses on students between the ages of K-12, learning, using, and applying several lessons through traditional STEM with arts as a foundation. Each week they had a different theme to keep campers engaged.
In August of last year, ISU received a grant of $800,000 from Lilly Endowment Inc. through its initiative, Indiana Youth Programs on Campus, and a contribution from the University. The funds expanded STEAM summer camp offerings and made them more accessible to area youth. Nearly a year later, the grant has successfully brought 150 kids from the Vigo County School Corporation, 30 from Camp Rave (Chances and Services for Youth), and another 30-40 from Camp Navigate.
"I think we have to lean on each other in this community. We want to see the youth succeed. We must work together
to make [area kids] succeed and thrive. This will help build our community, plus it gets Indiana State University's name out there," said the Community School of the Arts Director Cynthia Phillips-Sabla.
Cabello is the President of Cabello Associates, Inc., and Casey heads the department of global security with Eli Lilly and Company.
Roberson is from Mooresville, Indiana, and works as a Director for the Rolls-Royce Corporation. She is an alum of Indiana State University.
VanHyfte is a sophomore psychology and biology double major from Zionsville, Indiana.<
With the summer behind them, CSA is looking to build upon a successful year. The group of counselors and administrators are constantly looking at what is going right and what they can do better from feedback received from parents. The goal is to make ISU a community hub, and at this pace, CSA will make that dream a reality.<
10 STATE MAGAZINE
CABELLO CASEY ROBERSON VANHYFTE
THE SYCAMORE TRADITION OF SERVICE BEGINS WITH DONAGHY DAY
Even as the sun beat down on the Wabash Valley and the humidity level skyrocketed, scorching hot weather didn't deter Indiana State University's first-year students from positively impacting their community through an annual tradition.
Donaghy Day was established at ISU in 1976 to celebrate the greater Terre Haute and surrounding communities by volunteering. Before the first day of classes, students spent hours doing various beautification projects at 30 different sites, including on campus, local parks, and neighborhoods.
"Community engagement is a core value of ISU. Donaghy Day is an important way for us to demonstrate to our students, during their first days on campus, how important it is to give back to the community where you live. It is also a great opportunity for students to learn about the community and the nonprofit organizations that work so hard to make the Wabash Valley a great place to live, all while getting to know their fellow Sycamores in a casual and fun environment. Every year I am impressed by the work our students complete on this important day," explained Dr. Nancy Rogers, Vice President of University Engagement.
Among the 500 students at the Hulman Center who helped package meals delivered to the Vigo County School Corporation was incoming freshman Matthew Bierbaum, who said the day was busy but inspiring to see the number of people willing to lend a helping hand.
"I know this is a tradition here, so I wanted to come be a part of it and to continue it. I like being able to help out with everything I can. Everyone I have met is really friendly, so that's an added bonus to the good work we're doing," he said.
Helping Bierbaum pack boxes was his roommate, Will Ross, who shared the same sentiment.
"I came out here to be a part of the tradition and to give back to the community; it is always good to do that. Seeing the impact we can make is rewarding. Donaghy Day
POWER OF GIVING BACK (continued)
fostered by SPO transcends generations, ensuring that ISU's legacy of giving will continue to flourish.
Their legacy is not measured in dollars alone but in the countless lives they have touched and the enduring sense of gratitude they have instilled in the hearts of the ISU community.
"This year, we have an exciting lineup of activities and initiatives planned, much different than in years past. From the anticipation of Give to Blue Day to the introduction of networking events, we're looking forward to a year filled with impactful connections and meaningful contributions," Longyear said. "We center ourselves at the root of this organization which is to be Sycamores Supporting Sycamores. To do this we will encourage and be a part of a spirit of generosity. All of this with the hope to leave a philanthropic mark on our alma mater."
As ISU continues to evolve and adapt to the changing landscape of higher education, the Student Philanthropy Organization and Don Dudine's vision remain steadfast. They serve as a reminder that, no matter how challenging the times may be, the spirit of giving back can unite a community and create a lasting impact.<
is great. There are so many people here to help make things efficient, so it's nice to see how we can help," explained Ross.
Donaghy Day honors Fred Donaghy, a graduate of the Normal School (1912) and was a professor of life sciences. These festivities are an exciting time at the University as it's become an annual tradition to kick off the fall semester. Still, it also displays ISU's commitment to experiential learning and fostering a sense of service in our students by teaching about community, public service, and a chance to connect over a project emphasizing the greater good.<
FALL/WINTER 2023 11
PEDALING ACR ANDREW TIELKING'S THOUSAND-
On a summer day, accounting major Andrew Tielking found himself in Seattle, Washington, with his fraternity brothers headed to our nation's capital, Washington D.C. All that stood in his way were over 4,000 miles of bumpy terrain and a bicycle.
Yes, you read that right. He was about to go from coast to coast on two wheels and pedals. That distance is a four-and-a-halfhour flight and a 40-hour car ride.
Biking across the country sounds a little crazy. But what's not crazy is why Tielking did it. It is pretty inspiring. He's a member of the Journey of Hope that benefits The Ability Experience, a philanthropic initiative of the Pi Kappa Phi fraternity.
It's the one philanthropy owned solely by a fraternity across the nation.
The Ability Experience raises money and awareness for people with disabilities, which goes directly to organizations whose mission is to improve people's lives with disabilities.
"There's a lot of factors that are motivating during the ride because not only is it physically taxing, it's more so a mental battle, in my opinion, between giving up or telling yourself you're going to make it to the end of a 100-mile ride. The most important motivators start with are the people I have met and will meet along the way that have disabilities, that wake up every day and don't complain, live their lives with a smile and love in their hearts without discrimination. It is a blessing to be able to spend a few hours with them and enjoy laughs and interests is a huge motivating factor. Second, it would have to be the guys around always pushing to be better. It's motivating to be surrounded by others who want to achieve greatness and set you up for greatness. Last, but not least, it's my loved ones back home who talk to me as much as they can, giving me unconditional love and support that motivates me," he said.
He learned about the race last year and signed up to participate alongside Neil Jones. But he got sidelined with a knee injury after tearing his ACL and meniscus and underwent knee surgery.
PHOTOS ON THIS PAGE ARE COURTESY OF TIELKING
ACROSS AMERICA MILE JOURNEY FOR A GOOD CAUSE
"I focused hard on recovery and decided to sign up again, and here I am," the Pi Kappa Phi stated.
Aside from Tielking being a big supporter of the Ability Experience, his ride is personal. The St. Paul, Indiana native has family members with Down Syndrome and wants everyone to know that disability doesn't mean inability.
"When this is over, I will be proud of the obvious accomplishment of riding a bike across the country. But, most importantly, [I'm proud of] the man I will become along the way. I'm excited to see how this affects me for years to come." he explained.
Early in their travels, the cyclists saw the Space Needle and Mount Rainier, traveled the rolling farmlands and the windy beaches of Idaho, and stood on top of the Teton Mountains.
"The scenery was nothing short of gorgeous," he said.
Tielking's bike carried him through a total of 13 states, including Colorado, Missouri, Kentucky, West Virginia, and Virginia. But, the most memorable spot was on July 25, as the group pedaled
through Terre Haute, Indiana, and onto the campus of Indiana State.
When the bicyclist was asked what he wanted to see during his grand arrival, he answered, "I would absolutely love to see everyone who has supported me along the way. At arrival, it would be electric to ride in and see the people who have supported me, cheering me on daily."
And what he saw surpassed any expectation. The group was greeted by several media members, a barrage of his closest friends, and Indiana State's 12th President, Dr. Deborah Curtis.
"It was an extraordinary experience," Tielking recalled. "It was the first time on the trip I got that welcome home feeling, so I couldn't help but grin from ear to ear. I had the moment to talk to my friends after being gone for so long, and just the chance to share my stories from the road was something I don't think I'd ever give up."
In August, the squad arrived at their final destination. All was going according to plan until someone in the group started calling out how many miles were left. As the distance grew shorter, the reality set in that the trip of a lifetime was slowly ending.
"As we kept getting closer, I could feel my heart sinking and my feet getting heavier. I didn't want the trip to end, and I didn't want to leave the 23 guys who became my family. The last mile was the longest because I felt my body and mind conflicting, knowing I was about to return to a very normal life. I tried to savor every moment I could with my new family. I cried some of the happiest and saddest tears of my life that day," he said.
As you read this, ISU's star cyclist is back in class, hitting the books and taking in his final years of college. He may not wear his helmet or athletic clothes daily, but the trip is anything but an afterthought; it's etched into his being. Two wheels forever changed countless lives in three months; as a Sycamore and a team of what started as complete strangers became one and showed that nothing is impossible.
"I'm yearning for the next challenge to take me out of my comfort zone. Time has slowed down since I left D.C. Mentally, it's been a good challenge to see how productive I can be, and physically, I feel great," explained Tielking.
He raised nearly $8,000 individually, and the group collectively raised $500,000.<
FALL/WINTER 2023 13
Above: President Curtis and Tielking during his team's stop on campus; Left: Snapshots of his travels, including his final stop in Washington, D.C.
SCHOOL OF NURSING ACHIEVES PERFECTION
In May, Indiana State's School of Nursing (SON) accomplished a rare milestone for the first time in nearly 26 years. Thirty-four nurses took and passed the National Council Licensure Examination for Registered Nurses (NCLEX-RN) on their first attempt.
Additionally, the Licensed Practical Nurses (LPN) to Baccalaureate Science Degree in Nursing (BSN) May 2023 graduates had a pass rate of 96%. The School of Nursing's second-quarter pass rate is a combined 98%.
The national average and ISU's previous year's pass rate was 79%. ISU's SON faculty strive each semester to meet the 90% benchmark, but consistency, preparation, and effort put forward by faculty and students surpassed that goal.
The NCLEX is the right to practice, so passing the exam is critically important. Future nurses are tested on their higher-level application skills, which include questions about patient care, understanding physicians' orders, medication knowledge, and much more.
Indiana State's competitive SON programs help prepare students to be outstanding nurses, and the NCLEX milestone must be mastered before these students can practice. Faculty help prepare future healthcare workers through foundational courses, prerequisites, the basics of nursing, practicum skills, and NCLEX preparation.
The result may be new, but the work behind the scenes to prepare future nurses has been ongoing for quite some time. Efforts include coaching these students post-graduation until taking the NCLEX, working with Union Hospital to hire a nursing student specialist, and evaluating NCLEX prep course changes based on trends, platforms, and recent exam changes.<
A SYCAMORE AT NASA
Persistency pays off after years of rejection, computer science student, Ashan Khan, achieved the dream of a lifetime—interning at the National Aeronautics and Space Administration (NASA).
As a software engineer, Khan began a year-long remote internship at the Katherine Johnson IV & V Facility in September. His duties include working on the communication software for the Orion spacecraft. Under the supervision of his project manager, he'll review and modify software while helping with some of the coding.
Unlike most internships, NASA's pool of applicants comes from across the country with impressive backgrounds. Khan wasn't worried about the "no." He was motivated and confident in his skills. He just needed a chance.
"It's been a dream of mine for a long time to be with NASA. It went from maybe one day to now it's here. I want to make NASA believe in my expertise and abilities," stated Khan. "Young Ashan could never have envisioned this. I'm excited for this journey to start."
Khan is also a Senator for the Student Government Association, a Student Assistant in the Office of the President and Provost, a brother of Pi Kappa Alpha, and owns a company, Tech Tide Solutions <
STUDENT LEADERS PRIORITIZE MENTAL HEALTH EDUCATION
When the new Student Government Association was elected, the group quickly went to work. At the top of its list was spreading awareness of mental health resources on campus.
In collaboration with Public Safety and Parking Services, SGA President Nick Bement and Vice President Chase Pondel placed mental health resources on the back of all new student ID cards for those who got their card after June 5. Listed on the back of the cards are the phone numbers for the Suicide & Crisis Lifeline and the ISU Student Counseling Center.
As mental health education becomes more discussed across college campuses, Indiana State's emerging leaders are taking a proactive approach to lend a helping hand to their fellow students; letting them know help is always available and it is okay to not be okay.
The mental health initiative was also a platform task Bement and Pondel.<
14 STATE MAGAZINE
ISU HOSTED THE TERRE HAUTE PRIDE FEST
On September 16, Indiana State University boldly demonstrated that all walks of life are welcomed on campus no matter race, gender, or sexual orientation by hosting the second annual Terre Haute Pride Festival.
For several hours, Indiana State University's quad was packed by over 75 vendors, food trucks, performers, various local LGBTQ+ friendly businesses and community organizations.
Before the festivities began, the University hosted a college visiting day for students to offer a more extensive overview of the University's LGBTQ+ community, gender inclusivity, and campus resources. Afterward, a student led a tour of our beautiful campus to the visitors and their families.
At ISU, one of our core values is inclusivity by honoring the diversity of individuals, ideas, and expressions to ensure everyone is genuinely recognized, valued, and welcomed. As a host site, not only did ISU help bridge a gap between the University and community, but the festival served as a haven for those who needed it most.
Indiana State University contributed as a Tier 1 sponsor. The Pride Center of Terre Haute led the event <
NEW ASSISTANT TO THE PRESIDENT FOR STATE GOVERNMENT RELATIONS ANNOUNCED
Susan Preble began a new role at Indiana State University as the Assistant to the President for State Government Relations. She started on September 18.
Preble serves as one of the University's liaison to the Indiana General Assembly, Governor's Office, Commission for Higher Education, the United States Congress, and local governments. Her responsibilities also include staying up to date on all legislative activity pertinent to the interest of ISU and interacting with legislators regarding University concerns, priorities, and more.
"We are excited to welcome Susan to Indiana State University. Her position is critical to advancing our College on the state level and serving as a voice for our wonderful faculty, staff, and students. With her impressive career in state government, we have no doubt she will make a smooth transition to ISU," said Dr. Deborah Curtis, President of ISU.
Preble has worked in fiscal and government relations for over 20 years. For the last 15 years, she's held the title of Fiscal Analyst for the Senate Democratic Caucus, overseeing fiscal policy for the caucus, focusing on state and local tax policy, education, and the state budget. She also helped staff the Senate Appropriations and Tax & Fiscal Policy committees and the State Budget Committee and served on the Revenue Forecast Technical Committee.
She earned her BA in political science, an MPA, and a law degree from Indiana University. Preble lives in Hendricks County with her husband, Jack Stark.<
FALL/WINTER 2023 15
2023 PHILANTHROPY AWARDS
Indiana State University announced its 2023 Philanthropy Award recipients, including the March On! Award, the John P. Newton Spirit of ISU Award, and the Student Philanthropy Award recipients. Honorees will be recognized at the President's Dinner on Friday, November 10, along with the Distinguished Alumni Award recipients.
The March On! Award has been presented annually since 2015 to recognize exceptional donors who assist in the advancement of Indiana State University.
Dave and Jeanne Husain
Dave Husain's passion for Indiana State University began when he was a child as he grew up in Terre Haute, and his father was a faculty member. Dave and Jeanne established a scholarship honoring Dave's parents and recently created the first endowed fund supporting the Project Success initiative.
Darwin McCallian
Darwin McCallian is a 1975 Indiana State alumnus, earning a bachelor's degree in political science and economics. His gifts have largely supported initiatives in the Scott College of Business through the creation of an executive leadership forum and an endowed professorship.
Robert and Penny Schafer
Former Vice President of Administrative Affairs Robert Schafer and his wife, Penny, are both alumni of Indiana State University. Bob graduated in 1961 from the Scott College of Business and earned his graduate degree in 1963, while Penny graduated with her first bachelor's in 1967, her master's in 1970, and her second bachelor's degree in nursing in 1991. Their philanthropic support has been strong in Sycamore Athletics, the Scott College of Business, and the College of Health and Human Services.
North American Lighting
North American Lighting is a leading producer of innovative automotive lighting systems based out of Paris, Illinois, that works closely with Indiana State University by creating opportunities for students in the form of internships, scholarships, faculty support, and hiring graduates for full-time positions.
The John P. Newton Spirit of ISU Award honors alumni who demonstrate a deep commitment to Indiana State. The award was established in 2010 to honor Newton's longstanding dedication and service to the University.
Todd and Michelle Hein
Todd and Michelle Hein are loyal Sycamore fans, and their passion for ISU is rooted in their son, Jacob. The Hein family cares deeply for the success of Indiana State's student-athletes. They can be seen at most ISU sporting events and provide a "second home" feeling to many Sycamores during their time in Terre Haute.
The Student Philanthropy Award was created in 2021 to honor a student organization across campus that has dedicated its time, talent, and treasure to better the lives of Sycamores.
WZIS
WZIS, the radio station run by students on campus, embodies the spirit of philanthropy by consistently implementing positive change and providing support for Sycamores. The group assists in organizing and promoting events such as Picnic Palooza, Dance Marathon, Toys for Tots, and their Game On Giveaway, which provides students a cost-free opportunity to win gaming consoles, autographed memorabilia, and gift cards.<
16 STATE MAGAZINE
and staff. With a clear vision of empowering future generations through transformative education, donors are ensuring a brighter and bolder future for ISU students.
"Our Indiana State University community is sincerely grateful to our generous donors for their philanthropic support this year. This investment will have a significant impact on the lives of countless students for years to come. Vice President Andrea Angel and our University Advancement team are to be congratulated as they establish new high points in fundraising at ISU. Great leaders and heartfelt donors are creating a lasting tradition to lift up more and more Sycamores as they achieve their dreams of earning an ISU degree," said Dr. Deborah Curtis, President of Indiana State University.
More than 6,800 donors made financial contributions in the last year—1,200 of which were recognized as members of the President's Society, contributing at least $1,000 in the fiscal year; 1,565 of those donors gave for the first time this year; and 2,220 reside in the Wabash Valley. The local community contributed $4.5 million to support Sycamores.
"Our Foundation team, in consort with the campus community and loyal donors, has worked hard to create a culture of philanthropy that ultimately transforms the lives of students," said Rich Porter, Chair of the ISU Foundation Board of Directors and '77 ISU graduate. "I am thrilled that we achieved a record fundraising year and congratulate the entire team for their continued efforts."
Donor dollars allow the University to foster innovation, expand academic offerings, and provide greater access to education for students from diverse backgrounds. Gifts to the University's endowment totaled more than $12.6 million and 19 new endowed funds were created, providing more scholarship opportunities to current and future Sycamores.
This fundraising year was capped by the largest individual donation in University history: $8 million from Steve Bailey, a 1970 alumnus, and his wife Gloria to name the Bailey College of Engineering and Technology.
"We are thrilled to announce the extraordinary success of fundraising in the past year, as we surpassed our goal and made history," said Angel. "The overwhelming support from our donors has truly been awe-inspiring, and their belief in our mission continues to enable us to enhance the educational experience for Sycamores."<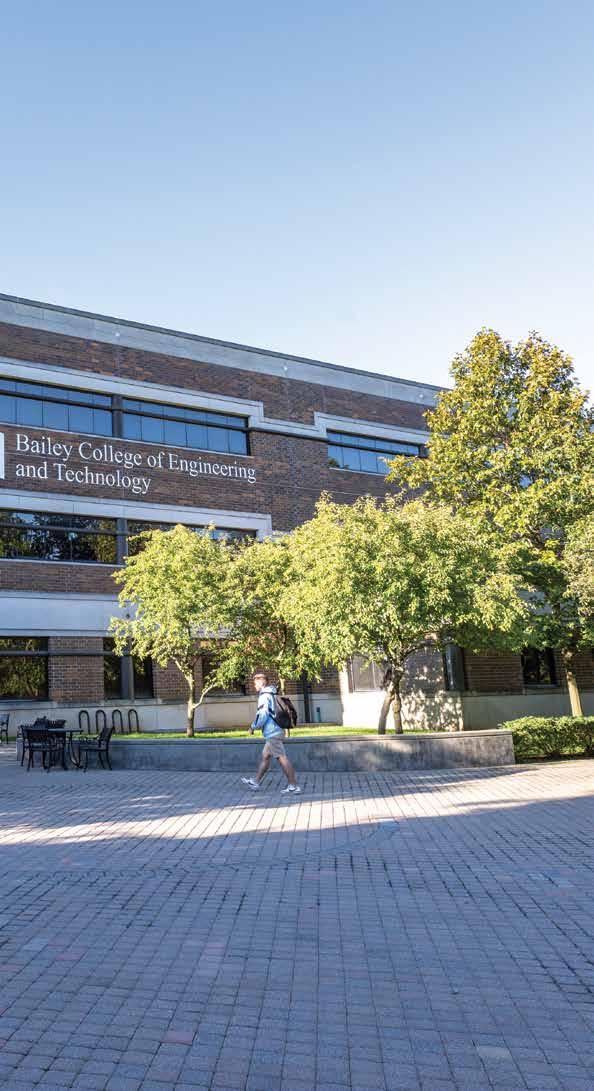 FALL/WINTER 2023 17
GLORIA & STEVE BAILEY
world-renowned faculty
Sycamore difference
connection and community humility
faculty
ence community
bracing change
college challenge economic prosperity
powering student success
the next generation of leaders
Building a legacy
perity success
ation of leaders
Breaking through barriers
social barriers
Sycamore to the core
Providing amazing experiential learning opportunities barriers
generational expectations
Leaving it better than you found it
experiential learning opportunities
undergraduate research
transformations happen here
pectations
you found it opportunities research
Give back to Blue with a gift to Indiana State University during the Be So BOLD Campaign as we approach our $100 million goal!
opportunity for all
Engaging with world-renowned faculty
Discovering the Sycamore difference
Visit besoboldisu.com to learn how your generosity will make a difference in the lives of current and future Sycamores.
a sense of connection and community
amazing experiential learning opportunities
Innovating with undergraduate research
ational expectations
better than you found it
learning opportunities
graduate research
Ensuring opportunity for all
Elevat
Innovating
Elevating generational
Providing amazing experiential learn
Ensur Foster
Ensuring opportunity for Provid
Breaking through barriers
Elevating gener Leaving
Providing amazing experiential
Elevating generational expectations
Leaving it better than you found
Discovering
Discovering the Sycamore differ Graduating
Stepping up Elevating Inspir
Empowering student Inspiring the next gener Being Inspiring the next generation of leaders
ISU FACULTY MAKING A DIFFERENCE IN STUDENTS' LIVES
One of the hallmarks of an Indiana State education is the chance for students to work closely with world-class faculty in and out of the classroom. These are opportunities that don't exist in the same ways at small colleges or much larger universities. As we often say, our faculty could succeed anywhere but they often choose to be at ISU because they want to pursue cutting edge research and work closely with students. This relationship allows faculty to become leaders, mentors, and difference-makers for students. Among our hundreds of talented, dedicated faculty, three outstanding representatives are Dr. Frank Wilson, Dr. Kelsey Bogard, and Dr. Lindsey Eberman.
Dr. Frank Wilson is an internationally recognized scholar in the School of Criminology and Security Studies. His research focuses on crime, race, and the media, and he is well-known for his many publications that examine how the police and crime are represented in media. More recently he has spent years identifying lost prisoners (more than 700 so far) who died but "vanished" from the records at the nearly 200-year-old Texas State Prison Cemetery. He teaches a variety of courses in the Criminology program, including Crime and Media, Race and Crime, and research methods. In 2023 he received the Academy of Criminal Justice Sciences prestigious Outstanding Mentor Award, the first faculty member from a university in Indiana.
"I have had the best results in terms of making a difference by helping students see the world in a different way by using unique approaches. Most all my mentors researched new and innovative things and would bring that to the classroom. They were also always experimenting with the latest technology and its implications on society and the criminal justice system." Dr. Wilson has also embraced Artificial Intelligence (AI) to study crime and efforts to prevent it. "While crime has been decreasing in the United States since 1990, recent research showed that nearly 100% of the decrease since 2000 was due to the alleviation of social determinate factors of crime rather than traditional crime control methods. So currently I am using various forms of AI to help me teach my undergraduate students how to use it to solve various social determinate factors of crime."
Dr. Kelsey Bogard is an Assistant Professor in the Department of Educational Leadership and Program Coordinator for Student Affairs and Higher Education (SAHE). Her research focuses on intersectional identities, particularly race and gender, and pedagogy in the classroom. In 2023 she was nominated by her students for the prestigious Zenobia Lawrence Hikes Award in the Faculty Women of Color in the Academy. The Hikes Award honors someone for her scholarly work and professional accomplishments. Dr. Bogard is active on campus and in the community and has a strong record of supporting women of color in the academy and in their postgraduate careers.
"I believe the best difference-makers are those willing to lead from the inside out. Authenticity is what I encourage in the classroom. I invite students to show up as they are, and I remain available as they navigate their growth. I often remind them, that to do this work, you must know who you are because there will always be a student who shares those same identities. Difference-makers are careful and empathetic." Dr. Bogard is also an alum of ISU. "Indiana State University has provided me with a unique opportunity to grow personally and professionally. While a student at this institution, I was nurtured and refined by my department chair and colleagues. I was allowed the space to interrogate and define the academy through presentations and publications. I was encouraged to find my voice and develop a leadership philosophy. I hope to make that same lasting impact on my students and this institution."
Dr. Lindsey Eberman, in the Department of Applied Medicine and Rehabilitation, is a nationally honored scholar of Athletic Training. In the past year she published her 200th article and received the LGBTQ+ Award for Inclusive Excellence from the National Athletic Training Association (NATA) in 2022. Her research focuses on improving care for minoritized and marginalized populations through professional development and continuing education. Relative to LGBTQ+ patients and athletic trainers, Dr. Eberman has served as an author on multiple articles in The Physician and Sports Medicine, the Journal of Contemporary Athletics, and more. In addition to her research, Dr.
20 STATE MAGAZINE
ISU ALUMS RECOGNIZED AS INFLUENTIAL LEADERS
Last year, the Indiana Business Journal (IBJ) began recognizing Hoosiers across Indiana that are making significant impact and improvements in their career field and community. The list, also known as the Indiana 250, is compromised of the most influential and impactful business and community leaders representing public and private companies, law firms, universities, not-for-profits, government, and community organizations.
The honorees were chosen by IBJ executives, editors, and newsroom staff after a month-long process that included reviewing nominations, researching Indiana organizations, and talking with community leaders across the state.
These Indiana 250 leaders are a forces of nature that create a positive impact daily and strive to leave their communities a better place for generations to come. Indiana State congratulates the following honorees on this much-deserved and well-earned accomplishment.
The 2023 class of Indiana 250 was headlined by Indiana State University's 12th President, Dr. Deborah Curtis She was recognized for her work in not-for-profit and education. As a Ph.D. graduate, Curtis is the first woman and the second graduate of Indiana State University to serve as its president.
Other alumni recognized as IBJ's Indiana 250 leaders were:
Robert Coons (Class of 2023) was recognized for his work in not-for-profit and education. He graduated from Indiana State in 2000 after receiving a Master of Business Administration. Coons currently is the President at RoseHulman Institute of Technology.
Dr. Lisa Harris (Class of 2022 & 2023) was recognized for her health care and life sciences work. Harris is a member
Eberman serves the LGBTQ+ community through her work as an ally.
As noted in the NATA press release, "Dr. Eberman served as a mentor to the three individuals who initially started the NATA LGBTQ+ workgroup, which ultimately grew to become the current NATA LGBTQ+ Advisory Committee. Dr. Eberman's continued commitment to the profession and advancement to the LGBTQ+ community through mentorship, allyship, research, and impact on future students as an educator is unparalleled."
In the past year Dr. Eberman has also guided ISU's new degree completion program. "I think the work that has made the biggest difference for students is the Leadership and Professional Development (LPD) program because
of ISU's Class of 1979 after graduating with a Bachelor's in Life Science. Dr. Harris is the CEO of Eskenazi Health.
Kent Kramer (Class of 2022 & 2023) was recognized for his work in not-for-profit and education. Kramer graduated from the Scott College of Business in 1990 after earning a degree in management. He is the CEO and President of Goodwill Industries of Central and Southern Indiana and a former ISU alumni board member.
Marsha Stone Wurster (Class of 2022 & 2023) was recognized for her work in civil leadership. She graduated with a degree in accounting from the Scott College of Business in 1989. Wurster is the Senior Director of Commercial Enterprise for the Indianapolis Airport Authority. She serves on the boards of Tourism Tomorrow Indy, OneZone Chamber of Commerce, and Visit Hendricks County.
Paul Thrift (Class of 2022 & 2023) was recognized for his work in real estate. Thrift is a 1991 graduate of ISU. He founded Thompson Thrift Development in 1986 and currently serves as the President and CEO. The company is nationally recognized and has developed more than $4 billion of ground-up real estate projects, has over 500 employees, and is active in 21 states.
Linda White (Class of 2022) was recognized for her work in health care and life sciences. She retired from Deaconess Health System after serving as President and CEO of the company; she also served as the Director of Nursing and Chief Operating Officer. White is the current Vice President and Chief Administrative Officer for Deaconess Henderson Hospital. She has chaired several boards including the Boys and Girls Club and was a board member of the Indiana Economic Development Corp.<
it speaks to my core values around accessible education. Making inroads around accessible education started with robust opportunities for our residential, baccalaureate level athletic training students. We took large groups of athletic training students to experience Ironman triathlon competitions as medical volunteers." Dr. Eberman emphasizes her passion for degree completion.
"When I interact with the LPD students, they are so grateful to have another opportunity to finish their degree and prove to themselves they can do it." She is also passionate about ISU. "I think being curious and having the skills to keep learning are the greatest tools one can have to change their life. This is why ISU and I get along so well. ISU has always been a place where teaching is the most important thing and
folks have encouraged me to target my creativity and innovation at that teaching and learning. Lots of places in higher education would only support faculty who are grant getters and scholarship focused and as much as I have been successful publishing, I would not have thrived in those places."
"We are fortunate to have Lindsey, Kelsey, and Frank at ISU," said Provost Christopher Olsen. "Their commitment to world-class scholarship while working closely with all students, from freshmen to doctoral level, is a hallmark of what sets ISU apart. They are three outstanding examples but—and I'm sure they would agree—we have hundreds of outstanding faculty like them."<
FALL/WINTER 2023 21
MORE THAN STUDENT-ATHLETES
SYCAMORES STEP UP OFF THE FIELD & COURT
Indiana State University's student-athletes balance a traditional and non-traditional college experience. On top of the everyday academic tasks, these elite athletes spend countless hours training, watching film, recovering, and preparing for game day. Their off time may be limited, but these dedicated Sycamores and coaches prioritize serving the community and fans that support them.
Community service is viewed as an opportunity for athletes to immerse themselves in their local community. All are charged with volunteering throughout the Wabash Valley each academic year. The hope is that by giving back, enjoying social interaction, or simply making a difference, student-athletes will make community service a focal point for the rest of their lives.
After a devastating tornado hit Sullivan, Indiana, the entire Wabash Valley rallied behind a community in need. In late March, a powerful EF-3 tornado swept through the area, killing three, destroying homes and hundreds needing essential resources. The slight shine of positivity was highlighted by how neighbors and strangers all stepped up to lend a helping hand. Among the volunteers were players from Sycamore football, volleyball, swimming and diving, and soccer teams helping with clean up and aid for families in need.
Special Olympics Indiana has been a partner with Indiana State Athletics for years.
The Hulman Center serves as the home of the opening ceremonies. In addition to student-athletes serving as escorts for the delegations, as they enter the arena, they are part of the opening ceremonies, welcoming the Special Olympics athletes with the University Fight Song. Our students volunteer in specific events throughout the competition. Early in the partnership, a Special Olympics athlete saw the Spirit Squad at opening ceremonies and set a goal to come back the next year, win a gold medal, and give it to a team member. That young man did indeed come back, win his medal, and gave it to
a member of the Spirit Squad. In the years since he has become an honorary member of the team.
The biggest eyes on our athletes come from the tiniest humans. Many kids dream about playing their favorite sport on the biggest stage, wearing royal blue and white. In Terre Haute, area youth can visit ISU's world-class facilities to see their favorite athletes in action; however, our teams go above and beyond to make lifelong impacts as role models. On National Reading A Book Day, ISU's women's basketball team read to kids at Dixie Bee Elementary.
Komen More Than Pink Breast Cancer Walk is a longstanding partner in community service events. The men's and women's basketball, the Spirit Squad, and other sports have escorted survivors, led warmups, helped with preevent activities, and cheered on participants.
The 14th and Chestnut Community Center is a favorite volunteer opportunity for student-athletes. Last year, men's basketball and the Spirit Squad attended chapel with the children served by the center and spent some one-on-one time afterward.<
22 STATE MAGAZINE
Above-clockwise: a member of the ISU women's basketball team read to Dixie Bee Elementary School children; women's swimming and diving team members helped with the Sullivan tornado cleanup; members of the men's basketball team participated in the Diversity Walk; and ISU student-athletes greeted the Special Olympics athletes and their families.
The impact of donor giving at Indiana State University is helping establish and advance University programs and initiatives. The philanthropic passions of our donors are improving the lives of our students through scholarships, hands-on learning, program and facility development, and much more.
Team Green Law and R.T. Green committed $250,000 to support the Sycamore Athletics Sponsorship Program and the Men's Basketball team.
Forté Sports Medicine and Orthopedics, Indianapolis, IN, provided a gift-in-kind of $237,000 through physician services and medical support for Sycamore Athletics.
The Estate of James L. Hafner provided $177,000 for student scholarships in the Department of Psychology.
Judy Brett, Terre Haute, IN, donated $155,000 to create the Judy L. Brett Endowed Scholarship for first generation students in the School of Music.
James and Sara Gutting, Indianapolis, IN, made a $150,000 commitment through their estate to create scholarships supporting students who receive a high school equivalency degree and have financial need.
The Estate of Myra Daniels provided $138,000 to support various initiatives in the Scott College of Business.
Brenda and Mike Patrick, Aurora, CO, made a $120,000 commitment through their estate to support the Vanita
Gibbs Endowed Scholarship for students majoring in elementary education.
The Estate of Joseph Haro provided $106,940 for scholarships in communication and journalism.
Mike and Amy Alley, Indianapolis, IN, made a $100,000 commitment to support the Men's Basketball team.
Stephen Kash, Terre Haute, IN, made a $100,000 commitment through his estate to support the Stephen M. Kash Study Abroad Scholarship for students in the College of Arts and Sciences
Stephen and Bonnie Clinton, Fishers, IN, made a $100,000 commitment through a Charitable Gift Annuity to support the greatest needs at ISU.
Jerry and Jan Cockrell, Terre Haute, IN, committed $100,000 to create the Dr. Gerald W. and Janet M. Cockrell Experiential Learning Endowment. This scholarship will support first generation students, veterans, and nontraditional students in the Bailey College of Engineering and Technology and the College of Health and Human Services.<
24 STATE MAGAZINE
Donor gifts are reflective of giving from May 2023 through August 2023.
JUDY BRETT JERRY AND JAN COCKRELL
COLLIN AND R.T. GREEN
ISU'S ALTERNATIVE BREAKS EXPAND SYCAMORES' IMPACT
Serving the communities we live in and community engagement are two of the most essential values Indiana State University strives to instill in our fellow Sycamores. Our faculty and students embody what it means to be difference-makers and leave a lasting impact on future generations.
For decades, ISU has actively participated in A.B.s, also known as alternative breaks. Through these trips, ISU's selfless servants spend their free time away from the classroom in the United States and around the globe, helping communities in need by working with the youth, participating in environmental rehabilitation, and more. Students not only foster a sense of citizenship, but gain knowledge, learn practical skills, and become more aware of social and environmental issues worldwide.
Below is a small glimpse of the transformational work done by Indiana State in the last year.
Washington D.C.
During Fall Break, ten students learned about our nation's history while serving Washington D.C.'s community. They mulched, pulled weeds at the Marvin Gaye Community Garden, and sorted vegetables.
Puerto Rico
In 2022 during winter break, nearly 20 students flew to the Caribbean Island of Puerto Rico to assist with various
beautification projects. The group painted a mural and worked on a yard for the Marine Turtle Museum. Trail maintenance was completed at El Yunque National Forest La Coca Trail. At the Ecosol Marine Center, our Sycamores helped clean up hurricane debris at a local beach. They also served at a local Boys and Girls Club. In 2023, a group of 18 students returned to the Caribbean for an alternative Spring Break trip. The team completed similar projects done by the Winter Break time while also assisting in rainforest service, painting, humanitarian work, and a Natural Reserve project.
Costa Rica
Before Summer 2023 ended, ISU students ventured to Central America to help some friends in Costa Rica. Projects included cleaning up branches on a pineapple farm and constructing a shower for a local family. At a local school, the group spent their days teaching students English, building a stove, and painting.<
INDIANA STATE UNIVERSITY DANCE MARATHON WINS HIGH HONOR
On August 6, Indiana State University's Dance Marathon was recognized with the Miracle Maker Award.
This prestigious honor is awarded to Dance Marathon programs in the $75,000$149,000 fundraising level and the highest combined monetary and percentage increases in their overall fundraising in the previous year.
At Indiana State University, State Dance Marathon is the largest student-led organization on campus. This 12-hour event is hosted at the Student Recreation Center and features games, food, fundraising opportunities, and the opportunity to hear the stories of Riley Hospital families.
On April 15, over 191 ISU students raised over $114,000 for Riley Hospital for Children
in Indianapolis, Indiana. Of those students, nine fundraised $1,000 individually.
State Dance Marathon also supports three area high school programs, has 10 Riley families, and will add on Terre Haute South Vigo High School.
The next State Dance Marathon will be April 6, 2024.<
FALL/WINTER 2023 25
HONOREES ANNOUNCED
26
The Distinguished Alumni Award will be presented to three outstanding Sycamores. Presented annually since 1957, the Distinguished Alumni Award recognizes Sycamores who have made significant achievements professionally and within their communities, locally and globally. The honorees will receive their awards at the President's Dinner.
BRIAN DORSETT PRESIDENT, DORSETT AUTOMOTIVE
Brian Dorsett attended Indiana State University from 1979-1983. He studied business administration and played baseball, and was inducted to the Sycamore Athletics Hall of Fame in 2008.
Dorsett is currently President of Dorsett Automotive, having served on the Regional Advisory Board Council for Nissan USA and Hyundai USA, and Principal Owner of the Terre Haute Rex. Before his business career, he played 14 seasons in the professional baseball ranks, making it to the Major Leagues with six different teams.
Dorsett has been an ardent supporter of Sycamore Athletics and his commitment to the Terre Haute community is evident through his active involvement in local philanthropy and economic development initiatives. He has consistently championed education, youth programs, and economic revitalization, leaving an indelible mark on the University and the surrounding area.
CLAUDE GRIMES DIRECTOR OF HUMAN RESOURCES, SIEMENS
Claude Grimes graduated from Indiana State University in 1975 with a bachelor's degree in political science. During his time on campus, he was an active member of Kappa Alpha Psi fraternity, served as the Prime Minister of the Black Student Union, and participated in the Student Government Association. He went on to receive his master's degree from National Louis University.
Currently serving as the Director of Human Resources for Siemens, Grimes manages employee relations for the global technology company by focusing on relationshipbuilding, leading by example, and having a solution-based mindset.
Grimes has previously served on the ISU African American Council, ISU Foundation Board of Directors, and received the National Pan-Hellenic Council Advisor of the Year for Kappa Alpha Psi in 2016 and 2017. He currently serves as the Chairman for the Northeast Indiana Neighborhood Engagement (NINE) Board.
MARY MCGUIRE OWNER AND CONSULTANT, M2MCGUIRE & ASSOCIATES
Mary McGuire received her Bachelor of Science in packaging technology in 1979 from Indiana State University and went on to receive her Master of Science in management from Indiana Wesleyan University. She has been intrinsically involved in the betterment of Sycamores since her time on campus and currently consults for her own business, M2McGuire & Associates, delivering process and systems improvements for organizations.
McGuire has Six Sigma Green and Black Belt certifications, Lean certification, and is a certified trainer and a Malcolm Baldrige Quality Systems Examiner. She is a retired Engineering manager with more than 34 years of experience working in various operations and engineering leadership positions.
McGuire currently serves on the ISU Foundation Board of Directors as Treasurer, on the Capitol Technology University Board of Trustees, and is Co-Leader and CoFounder of Destination Success, a program that focuses on mentoring women in STEM majors at Indiana State. She previously served as President and Treasurer of the ISU Alumni Association Board and Chair of the Bailey College of Engineering and Technology Advisory Board.<
FALL/WINTER 2023 27
JULIA BRUCE IS GRAND MARSHAL OF THE 2023 HOMECOMING PARADE
28 STATE MAGAZINE
MONDAY, OCTOBER 16 11:00 a.m.-1:00 p.m. Homecoming Kickoff Dede Plaza Lawn 11:00 a.m.-5:00 p.m. Homecoming Bleed Blue Blood Drive HMSU, Dede II & III TUESDAY, OCTOBER 17 11:00 a.m.-5:00 p.m. Homecoming Bleed Blue Blood Drive HMSU, Dede II & III 7:00-10:00 p.m. Sycamore Sync/Sessions (doors open at 6:30 p.m.) Hulman Center WEDNESDAY, OCTOBER 18 7:00-10:00 p.m. Blue Light Party HMSU, West Pay Lot (Rain–HMSU, Dede I, II & III) THURSDAY, OCTOBER 19 7:00-10:00 p.m. Casino Night HMSU, Dede I, II & III FRIDAY, OCTOBER 20 11:00 a.m.-1:00 p.m. Blue and White Spirit Day Dede Plaza Lawn (Rain–HMSU, Dede II) 12:00-2:00 p.m. Black Alumni Networking Panel AACC Multipurpose Room 4:00-6:00 p.m. Trike Derby Simmons Student Activity Center & Rec East Track 7:00-10:30 p.m. NPHC Stroll Off (presale $10/at the door $15) Tirey Hall, Tilson Auditorium SATURDAY, OCTOBER 21 9:00-11:00 a.m. Homecoming Blue & White Parade Downtown Terre Haute 11:00 a.m. Homecoming Tailgating (free & open to all) Memorial Stadium 1:00 p.m. Indiana State University vs. South Dakota Memorial Stadium 6:00-8:00 p.m. Black Alumni Reception Hulman Center SUNDAY, OCTOBER 22 12:00-1:30 p.m. Homecleaning Wabash Avenue to Memorial Stadium 29
1970s
Mark Zimmerman, '74, of Valparaiso, IN, has returned to devoting time to artwork following retirement. He finished a watercolor piece of Indiana State University's campus. Zimmerman taught art after graduating from Indiana State. He then spent the majority of his career in human resource management.
Samuel Smith, '77, of Palm Coast, FL, is nearing retirement after graduating from Indiana State University with a BS in broadcasting. Smith has worked at several small and midsize markets in Indiana.
John Scott, '79, of Plymouth, IN, recently retired from the Plymouth Community Schools after working as a teacher, coach, and athletic director for 42 years.
1980s
Emily Foltz, '83, of Brownsville, TX, retired in 2023 after 36 years of teaching high school and middle school English in Brownsville public and parochial schools. In 2016, Foltz was named Secondary Teacher of the Year for the Brownsville Independent School District.
Scott Watson, '85, MS '89, of Joliet, IL, continues to volunteer at the Hibbler Help Desk. Watson was named the Hibbler Help Desk Volunteer of the Year for 2020.
William Niederer, '85, MS '88, of South Bend, IN, now serves as the Music Department Accompanist and Secretary at Mishawaka High School.
30 STATE MAGAZINE
ZIMMERMAN
Tim Shipp, '86, MS '05, of Evansville, IN, was inducted into the Indiana Football Hall of Fame and The Indiana Sports Hall of Fame. This comes after a 35-year teaching and coaching career that included two Indiana Class 4A State Football Championships.
Paul Widner '87, of Nappanee, IN, received the 2023 National Athletic Trainers' Association Servants Heart Award for District 4 in June 2023. This honor is given by the Secondary School Athletic Trainers' Committee. Widner has been an Athletic Trainer at NorthWood High School in Nappanee, Indiana, for 36 years.
2000s
Thomas Loomis '01, of Bremen, IN, was promoted to Director of Communications and Marketing in the College of Engineering at the University of Notre Dame.
Laura (Hueber) Williams '02, '10, of Bedford, IN, opened a financial advising and planning firm, Williams Wealth, in February 2023 alongside her husband, Dustin.
Daniel Askren '03, of Covington, IN, was elected to a second term as the Fountain County, Indiana, Prosecuting Attorney for the 61st Judicial Circuit.
Sarah (Smith) Amidon '06, of Indianapolis, IN, graduated with a master's in dietetics from Eastern Michigan University. Sarah now has a private practice with a nutrigenetics and nutrigenomics approach called Root & Fruit Nutrition.
Cody Murphy '08, of Cleveland, OH, was awarded a 2023 National Academy of Arts Television and Sciences
Ohio Valley Emmy award for his photojournalism work during a breaking news event with WSYX ABC 6 Columbus, Ohio.
Dakota Tucker '09, of Indianapolis, IN, has been hired by KemperSports and was named General Manager at Best Choice Fieldhouse in Fishers, Indiana, in 2022.
2010s
Kurt Baer '10, of Unionville, IN, received his Ph.D. in ethnomusicology from Indiana University in 2023 and works as the full-time Program Specialist for the Society for Ethnomusicology.
Marty Ledbetter '11, of Terre Haute, IN, has extended his agreement to be the Weekend Sports Anchor at WTHI-TV in Terre Haute. Ledbetter has worked at WTHI-TV since June 2014.
Benjamin Kimmell '12, GR '20, of Avon, IN, recently celebrated his one-year work anniversary with the Indianapolis Metropolitan Police Department as a Civilian Intelligence Analyst.
Rodney Lockman '16, MSPAS '19, of Westfield, IN, recently got engaged to Kayla Dunagan, '18. The couple currently resides in Westfield and works at IU North. Lockman recently accepted a job as a Physician's Assistant in the Emergency Department of IU North.
Emily (Denny) Hayhurst '18, MS '20, of Whitestown, IN, welcomed her first baby in the spring of 2022. Hayhurst also accepted a position as a School Counselor for Plainfield Community Schools.
2020s
Matthew Houseworth '20, of Warrensburg, MO, has been appointed as Chair of the Department of Management at the University of Central Missouri.
Anne Bowen '22, of Indianapolis, IN, accepted a position with Apex Benefits in Indianapolis after graduation. Bowen has also recently been appointed to the Terre Haute Chamber of Commerce Health and Wellness Task Force.<
FALL/WINTER 2023 31
Class Notes are self-reported to the Alumni Association.
Contact the Alumni Association office at 812-237-6100 or alumni@indstate.edu
you have noteworthy news to share, please visit indstate.edu/alumni or scan the QR code to submit your Class Notes and photos.
Questions?
If
Indiana State University dedicates this page to employees and friends who passed away this academic year. These bios are just a short glimpse into the significant role all four played by either financially donating towards the advancement of ISU or helping give students the skills and confidence to find success in their fields. We remember these leaders who leave behind a lasting legacy.
Ronald L. Baker
Dr. Ronald L. Baker is remembered as a folklorist, historian, scholar, author, and lover of jazz, baseball, and his dogs. Baker earned both a bachelor's degree in business administration and a master's degree in philosophy from Indiana State, and a Ph.D. from Indiana University. His educational career began at ISU in 1966, where he rose through the ranks to become a professor and chair of the English Department for 26 years before his retirement in 2006. Baker's dedication to research has been recognized with prestigious accolades, including the ISU Research and Creativity Award and ISU's Presidential Medal in recognition of exemplary performance as a faculty member.
Marvin Henry
Dr. Marvin Henry is remembered as a lifelong learner and always valued the gift of education. He graduated from Indiana State Teachers College in 1953 and later rejoined ISU as a Supervisor of Student Teachers, Director of Student Teaching, and Department Chairperson until his retirement. His contributions to the field of education were nationally recognized; he was the President of the Association of Teacher Education ('77-'78), served in countless professional organizations, was a published author, and was selected for the Indiana Teacher Educator Hall of Fame. Dr. Henry served two years in the U.S. Army.
Donald W. Scott
Donald W. Scott is remembered as a local businessman, philanthropist leader, and a dear friend of ISU. As the President of the Sycamore Agency Inc., he hired ISU students and graduates to help them get their foot in the industry. Scott was a proud fan of the University and supported ISU with his time, effort, and financial contributions. He volunteered on several leadership boards. In 2009, Indiana State named the Donald W. Scott College of Business in recognition of a major gift from him and his wife, Susan. He said he viewed this donation as a way to give back to this community and institution.
Larry Tinnerman
Dr. Larry Tinnerman was known as a decorated educator and friend. He joined the Bayh College of Education in August of 2007, and six years later, he worked his way to Associate Professor. Aside from being a dedicated teacher, he was a mentor to countless educators as he served for several years as the Ph.D. Program Director, Dissertation Committee Chair, and Faculty Senate member. In 2010, his vision of a space where students and faculty could meet to discuss research became a reality with the opening of the BCOE's Center for Collaboration. Tinnerman's work has been recognized with several awards <
32
Indiana State University and Sycamore Athletics have been fortunate to experience the influence and immeasurable impact of benefactor and friend, Max Gibson. Max graduated from ISU in 1962. He left a lasting impression on campus and the surrounding community. The relationships established over the years through Max's humble leadership and selfless service to the University and community in which he lived and worked have left a legacy that will never be forgotten. Max will always be remembered as a man who was willing to help others and someone who improved the lives of many.
Max invested in the cross country and track and field community, in particular, through philanthropic efforts associated with the Lavern Gibson Championship Cross Country Course and the Gibson Track & Field Complex. The complex is located on the banks of the Wabash River at the intersection of First and Chestnut Streets. It is a superb, $4.3 million track facility that commands the western edge of Indiana State's campus. The Gibson Track & Field Complex is named for
longtime Indiana State supporters Max and Jackie Gibson and their family, whose gift enabled initial construction of the facility. The Gibson Track & Field Complex will serve as host to the Missouri Valley Conference Outdoor Track and Field Championships May 10-12, 2024.
The Gibsons were also instrumental in the development of the nationally renowned LaVern Gibson Championship Cross Country Course, which has hosted the NCAA Championships a total of 13 times since 2002. LaVern Gibson donated the land for the course and the development of the facility. Indiana State and Boston Celtics basketball star Larry Bird made a donation to the facility in honor of his father, Joe Bird, and the donation was matched by Max and Greg Gibson in the name of their father and grandfather, respectively.
There have been countless studentathletes and fans who have made their way to Terre Haute as a result of participation in an event at the LaVern Gibson Championship Cross Country Course. Ground was broken in the
summer of 1995 with the first race, the Indiana Intercollegiate, conducted in October 1997. Over the last nearly three decades, there has been a draw to do business with our community partners and a certain vibrancy in town. Terre Haute, Indiana has been coined Cross Country Town, USA.
Max and his family have been an inspiration to countless others, and their generosity is appreciated beyond measure. Max and his wife Jackie's philanthropy has not gone unrecognized. In 2021, ISU established the Max & Jackie Gibson Award. The award recognizes athletic supporters who have made a significant and lasting impact on Sycamore Athletics through exceptional service or major philanthropic giving. It is only fitting the inaugural award was named after such selfless individuals. It is no wonder that so many staff, studentathletes and coaches have benefitted from a man whose life was so very well lived. Indiana State University will forever be grateful for the life and legacy of Max Gibson.<
FALL/WINTER 2023 33
34
CHEMISTRY, 1940
CHEMISTRY, 2023
35
Get Indiana State University news delivered to your inbox. Keep up with what's happening on campus with the same email newsletter students, faculty, and staff receive. Subscribe
in the body of the message. Email signatures or attached vcards will prohibit the subscription process. No subject line is needed.
You will receive an email with a link to finalize your subscription. Click that link, and you should be sent one more email verifying your subscription to ISU Today.
State University University Communication 200 North 7th Street
Haute, IN 47809 RETURN SERVICE REQUESTED
Indiana
Terre
ISU Today
to
ISU-COMMUNITY-L
to
by sending an email
listserv@listserv.indstate.edu with only the words subscribe