VOL 31 DECEMBER 2022
Beauty is
merry bright COSMETIC DERMATOLOGY MEDICAL DERMATOLOGY HAIR TRANSPLANT SURGERY LASER REJUVENATION nakatsuiderm.com
joyful
Highlights
Note
Holiday Cheer and lots to look forward to in Modern Luxuria 2023 – Editor's Note 8
Profile
Creating legacy by elevating patient care – Sharlene Rutherford 10
Fashion
Holiday Masquerade in time for New Year's Eve 18
Cuisine
Tasty decadence of Acadian Sturgeon Caviar: a luxury treat for the holiday season 48
Drinks
Cheers to the New Year with Marca J. Hamm's recommendations of sparkling wines 52
Art
Jay Slay; a musician, mental health advocate and an author 60
Events
Festive events to get you into the Holiday Spirit 74
- 5December 2022
PUBLISHED BY MODERN LUXURIA LTD.
FOUNDER
Elsa Amorim
EDITOR-IN-CHIEF
Jelena Bojic
MANAGING
EDITOR
Beryl Bacchus
GRAPHIC DESIGNER
Brandy Belitsky
COPY EDITOR
Lucie Oosterveld
BRAND AMBASSADOR
Gordana Bosiocic
COVER Photo By Emily Welz
CONTRIBUTORS
Brandy Belitsky
Mona Butler
Twyla Campbell
ConcertSocks
Marcia J. Hamm
Steven Hope Nev Ostoin
Steve Roland
Emily Welz
Modern Luxuria is a digital magazine and is published monthly.
For subscription inquiries email: hello@modernluxuria.com
No part of this magazine, including text, photographs, illustrations, advertising layouts or other graphics may be reproduced in any way without the prior written consent of the publisher. Modern Luxuria Magazine is not responsible for loss, damage or any other injury to unsolicited manuscripts, unsolicited artwork (including but not limited to drawings, photographs, or transparencies) or any unsolicited material. By accepting and publishing advertisements, Modern Luxuria Magazine is in no way endorsing or guaranteeing the quality of service or product with those advertisements.
Thank you
VOL 31 DECEMBER 2022
Beryl Bacchus Managing Editor
Beryl Bacchus has had an extensive career with over 20 years in the fashion, events and entertainment worlds. Spending time in Montreal, Toronto and New York, she moved to Edmonton just over a decade ago and is excited to bring her passion for community to Modern Luxuria Magazine and help showcase the talent and vibrancy of Edmonton from a fresh perspective.
Contributors
Twyla Campbell is a freelance writer and food columnist for CBC Radio (Edmonton). She is a seasoned traveler who seeks unique destinations both local and abroad. A proud supporter of Canadian wine and sustainable food producers, Twyla is a regularly sought food panelist and judge for culinary competitions in Canada.
Steven Hope is an award-winning photographer and director. He has worked in commercial and film around the world and brings an extensive portfolio of photography to Edmonton.
Nev Ostoin is a lover of the outdoors, and winter being her favourite season makes her a perfect fit in Edmonton. Her passion is capturing every-day moments around the city, obsessing over perfectly framing each shot. Nev's favourite transportation method is her bike, and she can be found enjoying coffee at Kaffa or a good glass of wine at Rosso. Her photography focus is always on and the camera is always within arm's reach.
Marcia J. Hamm is a lover of all things wine, but is especially passionate about Italy's native grape varieties. She is a WSET diploma holder, an Italian Wine Scholar and one of only 15 Italian Wine Experts In the world through the Vinitaly international Academy (VIA). Marcia also loves to sing, ride her bicycle, have dinner parties and relax on the patio.
Emily Welz is an internationally published photographer and stylist. Before running her photography studio full-time, she worked in media communications and literacy advocacy. Her passion for storytelling inevitably led her to pursuing photography, creative direction, modelling, styling, and set design.
Brandy Belitsky is a mom, wife, graphic designer, photographer, writer, and singer. Her passion for art and design has kept her busy in both the working world and in play. If she's not working, she's probably spending time with her family, creating something, singing, or cooking something up in the kitchen.
- 7December 2022
ASa publication, we are constantly evolving and looking for ways to provide great content related to luxury, innovation, business, and community in Edmonton. With the final edition of 2022, December is an opportunity to reflect on this year and share some interesting facts with you.
Modern Luxuria reaches up to 44,000 people monthly, and is read in 30 countries. With 230,000 impressions, we are proud to say we're getting exceptional readers' engagement.
Editor's Note
beautiful new home of Edmonton's radio personality and Edmonton Oilers' game host Chelsea Bird, to the best champagne picks by our wine aficionado Marcia J. Hamm, we've focused on sparkle, cheer, and holiday spirit.
Looking at the future, we are excited for what next year will bring to Modern Luxuria, as we continue to grow, evolve, and focus on the best of Edmonton. Whether it be health and wellness, emerging cuisine or latest fashion trends, we will continue to feature categories that our readers want to hear about, and showcase the world of modern lifestyles. With the luxury market continuing to grow and diversify, we will continue to search for experiences, trends and categories that will be compelling and engaging. Through this journey, we are most grateful for our readers and supporters - people who continue to read, advertise and share our publication every month. We hope you continue to do so, and together we are building another wonderful Edmonton-made brand!
We wish you a season filled with joy, kindness, and big and small luxuries.
Happy holidays,
As we enthusiastically continue to showcase Edmonton and the best our city has to offer, this month's theme is, of course, holiday cheer. From the
- 8www.modernluxuria.com
Jelena & The Modern Luxuria Team
780 428 6565 | WWW.MOUSTARAH.COM
WORDS BY BERYL BACCHUS PHOTOGRAPHY BY STEVEN HOPE
Building a Legacy in Healthcare
Heading into the holiday season, we often think of special ways to make magical moments for others. Sharlene Rutherford has propelled her career into a lifetime of creating magic through philanthropy and expanding innovation in healthcare across Canada.
- 10www.modernluxuria.com
- 11December 2022
- 12www.modernluxuria.com
Chances are if you hear Sharlene Rutherford's name right now, it is associated with the new Indigenous Cultural Partnership at the Royal Alexandra Hospital. The programs will hire dedicated Indigenous staff to allow for a safe and integrative model of care.
But long before this historical initiative, Sharlene has consistently proven her strength in creating and successfully implementing national healthcare brands such as the medical centres of excellence, the Eye Institute of Alberta, the CK Hui Heart Centre, and the Lois Hole Hospital for Women.
She was also on the forefront of launching the Alberta Women's Health Foundation, a pan-provincial health charity and division of the Royal Alexandra Hospital Foundation focused on women's health research initiatives and health outcomes, and the Women's Health Collective Canada, in partnership with the BC Women's Health Foundation and the Women's College Hospital Foundation in Toronto. The charity now works with corporate brands to close gaps in women's health research and deficits in care across Canada.
Sharlene's business acumen, steadfastness and creativity can be credited to a few things. Born in St. Walburg, Saskatchewan, her family's farm was a multigenerational mixed farm – both cattle and grain. To hear Sharlene talk about her childhood is beautiful and takes you back to a time gone past. She will tell you of the learned sensibilities that come with seasons of seeding, growing, and harvesting – of calving out and managing an operation. She reminisces about having both a lot of freedom and a lot of responsibility at a young age. "There were chores both indoors and outdoors. And I sometimes marvel at how much space I had to roam freely and with less supervision than what kids have today. I had the best pets – most of them towered over me."
Then came the 80s and Sharlene was old enough to understand the farming crisis at the time.
Sharlene began her tenure with the Royal Alexandra Hospital in 2005. After serving as Vice President for eight years, she was named CEO in March 2020 at the start of the pandemic. It did not deter her from restructuring the organization and maintaining growth in healthcare distribution. Last year alone, the Royal Alexandra Hospital Foundation distributed more than $11 million to advance health care outcomes.
"Interest rates spiked and farms carrying an operating loan or owing on equipment were in trouble. Values of land and commodities also plummeted. It was a stressful time for entire families -- some farmers were walking into banks and handing over the keys." Sharlene says it impacted her greatly, shaping her thinking and decision making later in life. This would shape her development of skills in business. "Growing up on the farm, I saw hard work and I witnessed risk-taking; I saw success and I also felt the sting of bitter disappointments, and these remain with me today."
- 13December 2022
Sharlene obtained her post secondary education in communications media, using journalism as the door opener to new experiences. "I was always pretty inquisitive so my career took off pretty quickly when I realized that long-form reporting in print media was something I both loved and excelled at. My time with Hollinger Corporation and Southam News took me across three provinces and several mastheads. I relished the entire experience of newspaper reporting, production, and the business of circulation – and I count myself among the "old guard" who still lament the demise of the product."
inform through my work; this time in crafting the stories that would shape the development of healthcare."
Over the course of the next several years, her role at the foundation continued to evolve and she was able to demonstrate a capacity to envision new goals and lead teams to succeed. Some of these goals are still very recognizable and talked about to this day including the Kilimanjaro Climb in 2011 in support of orthopedic surgery, followed by the successful da Vinci Robotic Surgery campaign for the Lois Hole Hospital for Women in 2014.
In a world saturated with blogs and social media, content development is fast paced and not always mindful of the traditional natural storytelling as in the past with investigating, fact-finding, and fact-checking. Sharlene realized that the capacity she had built as a journalist offered her a transferable skill. "As journalists left the traditional locations where we practiced our craft, we found new homes within the private, public, and not-for-profit sectors as communications officers and public relations specialists."
In 2005 the Royal Alexandra Hospital Foundation was resourcing to take on its largest campaign at the time – funding for a new women's hospital. It is here where Sharlene's journey in the not-for-profit world began. "What kept me in the room was the exciting opportunity to once more influence and
Sharlene is aware no one achieves these successes on their own. "I was really fortunate in my early days at the foundation to be able to stand on the shoulders of giants. Titans in our community like Linda Hughes, Frank Calder, Maureen McCaw and Grant Ericksen. I worked with and learned invaluable lessons from strong women leaders. Many of these people served on our board of directors so I felt privileged to have access to so much knowledge, good guidance, and strong business acumen. I had the good fortune of having a wonderful mentor and strong example to follow, too, in Andrew Otway, who successfully led the foundation for twenty years, and whose model for relationships with his team and workplace culture is one I will always maintain."
- 14www.modernluxuria.com
- 15December 2022
You can hear the passion and urgency in Sharlene's voice when she talks about the new Indigenous initiatives at the Royal Alexandra Hospital Foundation. "Innovation in health care is not only new technology – it's also a new program or the integration of a new practice that improves the patient's journey and their return to health. I believe it's widely known and, finally, an accepted truth that no Canadian can be proud of our past when it comes to our relationship with Indigenous people. Health systems across Canada, in all jurisdictions, are specifically called out for the systemic disparities that are at best dismissive of Indigenous people and at worst, blatantly racist. The Royal Alexandra Hospital is not only an active participant in the calls to action in Truth and Reconciliation, it's leaning in and leading change. The Indigenous Wellness Program at the RAH and, now, the Indigenous Cultural Partnership at the Lois Hole Hospital for Women are new programs that call for an integration of practices that have been developed and will be led by Indigenous health leaders to inform and improve care."
Sharlene has, and continues, to make her mark in healthcare. She hopes to leave a legacy of elevated patient care at the Royal Alexandra Hospital, and be a driver of greater success in women's health through the success of the Alberta Women's Health Foundation and Women's Health Collective Canada.
- 16www.modernluxuria.com
Sharlene most recently received the Queen Elizabeth II Platinum Jubilee Medal for years of service in the advancement of patient care at the Royal Alexandra Hospital and dedication to the advancement of care of marginalized populations and in women's health.
WWW.ROYALALEX.ORG
- 17December 2022
PHOTOGRAPHY BY STEVEN HOPE MODELS SERGIO RAIMONDI,
Masquerade into the New Year
AMY-JEAN
AGENCY CHAN INTERNATIONAL MODEL & TALENT AGENCY WWW.GUESS.COM WWW.BLUS.COM WWW.COACH.COM WWW.SJPBYSARAHJESSICAPARKER.COM Navigating a new world with a modernized twist on an old luxury fashion: Holiday Masquerade GUESS Left to right: Sergio - Fulham Velvet Blazer- black, Warehouse V neck Knit Tee Amy-Jean - Bronwyn Feather Dress Kaleb - Guess, Fulham Velvet Blazer- Vino, Turtle neck Natalie - Eco Edrea Dress, Nora Faux-Fur Jacket
TAYLOR, KALEB STAUFFER, NATALIE THORGRIMSON
GUESS Left to right:
Sergio - Fulham Velvet Blazer- black, Warehouse V neck Knit Tee
Amy-Jean - Guess by Marciano Bronwyn Feather Dress
Kaleb - Guess, Fulham Velvet Blazer- Vino, Turtle neck Natalie - Eco Edrea Dress, Nora Faux-Fur Jacket
- 21December 2022
GUESS
Kaleb - Eco Quattro G Shirt
Natalie - Estella Sequin Dress
GUESS
Kaleb - Eco Quattro G Shirt
Natalie - Estella Sequin Dress
SJP Bowles Loki Blk Velvet Bow
- 24www.modernluxuria.com
Colorblock Horse And Carriage Sweater- Tan Multi Tabi Chain ClutchBrass / Sport Red
COACH
COACH Essential Crewneck In Signature- Charcoal League Belt Bag In Signature Canvas With Rexy Print
- 26www.modernluxuria.com
Left to right: Sergio - GUESS Fulham Velvet Blazer- black, Warehouse V neck Knit Tee, Eco Straight Jeans Natalie - Blus Dress To Knee W/ Exaggerated Sleeve- Red, SJP Rampling shoes( pink & red ) Amy-Jean - Imka Cashmere Midi-Dress, SJP Fawn 100 Scintillate shoes Kaleb - Guess, Fulham Velvet Blazer- Vino, Eco Quattro G Shirt
- 27December 2022
GUESS Fulham Velvet Blazer- black, Warehouse V neck Knit Tee, Eco Straight Jeans
If I Gave you Diamonds and Pearls
PHOTOGRAPHY SUPPLIED Wrap yourself up this winter in luxurious, timeless pieces of jewellery
Maison Birks Salon Sapphire and Diamond Teardrop Pendant
Birks 1879 ™ Pear Cut Diamond Engagement Ring With Single Halo And Diamond Band
JB Star
Platinum Emerald-Cut Diamond Pendant
JB Star Platinum Diamond Cluster Stud Earrings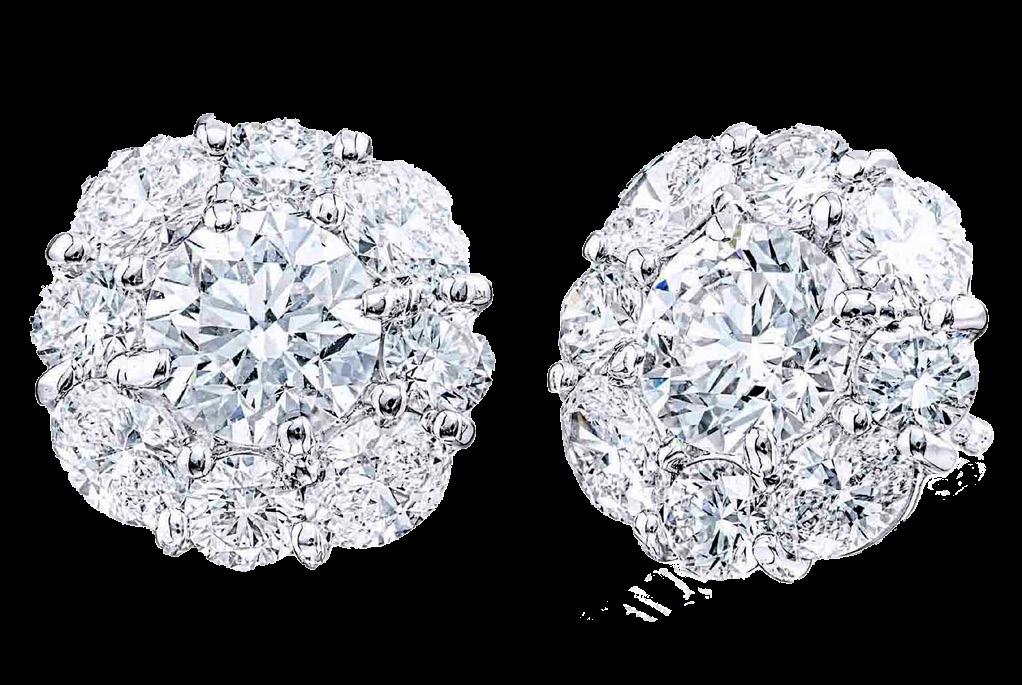 Omi Privé Oval Sapphire and Diamond Ring
JB Star Three-Row Diamond Wedding Band
JB Star Emerald-Cut Diamond Twogether Ring with Single Halo
Maison Birks Salon
Emerald and Diamond Linked Necklace
Maison Birks Salon
Oval Ruby and Sunburst Diamond Halo Stud Earrings
WWW.MAISONBIRKS.COM
Peretti Three-Row Pearl Bracelet Tiffany South Sea Noble Pearl Earrings
Elsa
Ziegfeld Collection Pearl Wrap Necklace
Tiffany HardWear Pearl Lock Necklace
Paloma Picasso Olive Leaf Three-Row Necklace
Tiffany Signature Pearls Earrings
Tiffany Victoria Tennis Bracelet
Tiffany South Sea Noble Pearl Bracelet
Tiffany HardWear Freshwater Pearl Ring
WWW.TIFFANY.CA
- 38www.modernluxuria.com
WORDS BY BRANDY BELITSKY PHOTOGRAPHY SUPPLIED
Arriving In Style
With the holidays closing in, many people are preparing for corporate Christmas functions and other holiday events. You've got your outfit ready, but have you thought about how you're arriving? We've scoured the city and are sharing our top 4 finds in Edmonton for getting there in style.
- 39December 2022
Go With A Classic
The classic limousine is a top choice for plenty of good reasons. Travel to your function in comfort with your friends or co-workers while sipping champagne and taking in Edmonton's beautiful skyline. You can make a grand entrance upon arrival with front door service that will make a great conversation starter with other attendees. Booking with Prestige Limousine will guarantee five-star service with a professional driver who knows the city and can safely navigate the best route. Taking a limo will also allow you to have a few drinks without worrying how you're getting home. Prestige also offers Sedans, SUVs, stretch limos, and coach vans.
- 40www.modernluxuria.com
WWW.EDMONTONPRESTIGELIMOUSINE.COM
- 41December 2022
- 42www.modernluxuria.com
Go Vintage
Why be ordinary when you can be extraordinary?
A chauffeured classic car rental will have everyone dropping their jaws when you arrive. Val Gal Motors is a local classic car rental company owned by vintage car enthusiast, River Sky. River's cars are rented out for everything from weddings and other special events, to date nights and photo sessions. River is also a professional photographer and offers photo sessions with her rentals so you can also get some beautifully captured memories of the event. Some of River's vehicles include a 1964 Plymouth Valiant Sedan, a 1965 Plymouth Valiant Convertible and a 1964 Ford Thunderbird Convertible and some of her upcoming rentals include vintage boogie vans, a classic Ford truck and a 1958 Plymouth Belvedere.
- 43December 2022
WWW.VALGALMOTORS.COM
Go Exotic
If you want to get really fancy, roll up in a Mercedes and be the talk of the party. If you've ever wanted to drive your dream car without spending your life savings, check out KO Exotics. Labeled one of the first exotic car rental companies in Edmonton, KO Exotics' fleet features a 2021 Lamborghini URUS, a 2021 Mercedes AMG G63, and a 2022 Tesla Model Y. KO Exotics also has luxury vehicles and offers chauffeur services.
WWW.KOEXOTICS.CA
- 44www.modernluxuria.com
- 45December 2022
- 46www.modernluxuria.com
Be The Party
Like a nightclub on wheels, a party bus is called a "party" bus for a reason. Fitting up to 30 people, you can get the party started as soon as you board the bus. Party buses take the comfort, amenities and privacy of a limo and step it up with a larger and more entertaining space. Most party buses are equipped with luxury seating, a wet-bar, TVs, laser lights, and a fully controllable sound system, offering everything you need for a dance party on the move.
- 47December 2022
WWW.PARTYBUSEDMONTON.NET
WORDS BY TWYLA CAMPBELL PHOTOGRAPHY BY NEV OSTOIN
Acadian Sturgeon Caviar: A Homegrown Delicious Delicacy
Celebrate the season with an ultimate indulgence
Wondering what to pair with that bottle of bubbly this holiday season? Look no further than our own eastern shores for some tasty decadence.
The caviar produced by Acadian Sturgeon and Caviar near Saint John, New Brunswick, is superior to the best in the world, according to owner Cornel Ceapa, and by best he means beluga, ossetra and sevruga, eggs of legendary status.
"Our Atlantic sturgeon is the only fully marine/salt water sturgeon species in the world," Ceapa says, claiming that the salinity, complex flavour, texture, and size of the eggs (called grains) is what makes it top notch.
Ceapa says a reason why those three are so well known is because for 120 years, they were the only caviars marketed on a global scale. But little do people know that North America was a leader in caviar production, and it was served to saloon patrons to encourage them to drink more because of the product's saltiness.
"From about 1860 to 1900, most caviars in the world used to come from North America," Ceapa explains, "and they were actually from the two sturgeon species that only our company offers now in the whole world—Atlantic sturgeon and shortnose sturgeon."
Cornel Ceapa knows a few things about sturgeons. He holds a PhD in Sturgeon Biology (specifically the sevruga species) and has been studying aquaculture and fishery operations since the early 90s.
He and his wife, Dorina, started Acadian Sturgeon and Caviar in 2005. Their strategy of producing both wild and farmed caviar and sturgeon is unique and economically viable. Production and sales have substantially increased every year since.
Overfishing of wild sturgeon in the Black and Caspian Seas has led to importation bans by several countries over the years. Ceapa offers that overfishing of Atlantic sturgeon in the Saint John River didn't happen most likely due to the cold climate.
"Our farmed sturgeon are farmed more naturally and responsibly than other available farmed caviar," he says, noting that the gravity fed, land-based fiberglass tanks offer a natural cycle that allows the fish to sleep, in a sense, during the winter. This is something he says is contrary to recirculation systems "where fish are kept in warm water year-round or cage aquaculture in lakes (like in China) that is very bad for the environment."
- 49December 2022
Which caviar will grace your table this holiday season? This should help you decide:
Acadian Wild: at 1.8 to 2.4 mm, the grains of this caviar are similar in size to that of sevruga. This caviar is umami forward, nutty and buttery in flavour with a melt-in-the-mouth texture.
Acadian Gold has larger grains, akin to ossetra at 2.5 to 2.8 mm. The texture is medium-firm, and the flavour is milder than the Wild with buttery notes and hints of sea salt.
Acadian Emerald's grains have a green hue with amber reflections. They can run slightly larger than the Gold (2.5 to 3.0 mm) and have a creamy, buttery flavour with notes of seaweed.
- 50www.modernluxuria.com
To fully embrace the flavour and texture, the best way to eat caviar is to "bump" it—a technique that involves putting a small amount of caviar on the back of your hand and licking it off. Using your tongue to push the briny beads to the roof of your mouth helps to crush the eggs and release their flavour. Bumps are usually followed with a sip of dry champagne or chilled vodka.
Caviar is also enjoyed on toast points or blinis (tiny buckwheat pancakes) with a bit of crème fraîche and fresh herbs like chives or dill.
Treat yourself to a little decadence, this year. You've earned it.
Acadian sturgeon caviar can be ordered online, or through Costco's (Canadian) website. Prices start around $90 for a 30 g tin.
What wine goes with Acadian sturgeon caviar? See Marcia Hamm's recommendations on the next page.
WWW.ACADIAN-STURGEON.COM
- 52www.modernluxuria.com
WORDS BY MARCIA J. HAMM PHOTOGRAPHY SUPPLIED
- 53December 2022 Celebrate the Season with a Sparkle! Bubbles Anyone?
Whether you drink your bubbles out of a flute, coupe, wine glass, or even a tumbler, anytime is a good time to pop the cork of your favourite sparkling wine this Holiday Season!
'TIS
the season to break out the bubbly and toast to health, prosperity, and happiness for the new year to come and reminisce on the year past. By yourself, with friends, family, or co-workers, it's always a good time to crack open something that sparkles.
Sparkling wine is made all over the world from many different grape varieties, but perhaps no place is more important for sparkling wine production than Champagne. For many, the term "Champagne" means anything that has bubbles, but nothing could be further from the truth. Champagne is a region in northern France and only wines produced there are allowed to have the term on the label. Made with the grapes Pinot Noir, Chardonnay and Meunier in varying percentages and sweetness levels, they will typically spend three years aging before they are "disgorged" and sent off to market. These wines are special and as such, command high prices.
Champagne Lombard Blanc de Noir- This Premier Cru features 100% Pinot Noir coming from the Montagne; with three years on the lees and disgorged as an extra brut, it is dry and crisp. Toasted strawberries, brioche, forest floor and mushrooms give this champagne a real sweet and savoury combination. Speaking of strawberries, it's delicious with fresh strawberries in cream.
Cool climates and high acid grapes make for a perfect combination in sparkling wine production and it's no wonder that Canada has its hand in the game. On both our east and west coasts, one can find exceptional
- 54www.modernluxuria.com
quality sparkling wine. Now is the perfect time to crack open a bottle of bubbles made in our own back yard, and pair it with Canadian caviar for a truly "local" experience. From the east coast, Benjamin Bridge is no stranger to any of us, being firmly established as Canada's premier sparkling wine house for over two decades. Their brut is made with Chardonnay and the local grape L'Acadie. There's something to be said about a "sense of place", because with aromas and flavours of lemon rind, smoke and sea salt, it's meant to be enjoyed with a salty, briny caviar. On the west coast, Frind Estate Winery located on the banks of Lake Okanagan, is relatively new on the scene. With stunning views and state of the art technology, the winemaker is seasoned, having worked at Summerhill Pyramid Winery since their genesis, now making fabulous sparkling wine at Frind. A blend of Chardonnay and Riesling, this sparkling is bright and fresh with laser sharp acidity and notes of lemon zest, green apple, and soda crackers. (Check out the article on Canadian caviar for a truly delectable pairing)

Rizzi Alta Langa Pas Dose- Many overlook Italy for sparkling wine production and much less known is the Alta Langa DOCG from Piemonte in northwest Italy. If you find yourself in the region, be sure to have a glass of Alta Langa at the bar, because they are outstanding. This is made with mostly Chardonnay, is intense and rich with nuances of grapefruit, peach, herbs and wildflowers. It's lean and austere with a delicate bubble. Put the little black dress on and pour yourself a glass.
Cheers to 2023!
- 55December 2022
- 56www.modernluxuria.com
WORDS BY MONA ROSE BUTLER PHOTOGRAPHY BY NEV OSTOIN
The Art of Medicine
From her Edmonton surgical practice, Dr. Korus is helping women look and feel their best through cosmetic and reconstructive surgery, thanks to significant medical training and a keen eye for what will be the most aesthetically pleasing.
Dr. Korus carries her many titles well: Assistant Clinical Professor with the Division of Plastic Surgery at the University of Alberta, Site Chief of Plastic Surgery at the Grey Nuns Hospital, and Fellow of the Royal College of Surgeons of Canada. She is a member of numerous committees, societies, and associations; she's a mom, and, of course, she is the head of her own surgical practice, newly relocated to the Brewery District.
universities across North America; having decided to go into medicine due to her love of science and a desire to connect with people through her work. She was drawn to cosmetic and reconstructive surgery because of the focus on improving quality of life, rather than the focus on life or death.
Before Dr. Korus became one of the leading plastic surgeons in Alberta, she studied at
"These surgeries often rely on creativity and problem solving, so they gave me a chance to stimulate the "right" side of my brain. They very much embody the 'art of medicine'," Dr. Korus explained.
- 57December 2022
Dr. Korus is not only trained to enhance the look of a regular breast, but she has also trained extensively in reconstructing them from scratch when they have been removed or damaged, usually due to cancer treatment.
"These two training streams have proven to be invaluable in complimenting each other and giving me more surgical tool sets and different ideas of approaching breast surgery -- especially when I consult with new patients for revisions of previous surgical work," she said.
Throughout her career, Dr. Korus has seen both societal and surgeons' attitudes change in unique ways that have vastly improved the field of cosmetic surgery. She has watched the stigma around cosmetic surgery wane with procedures becoming more mainstream, especially as people become more health conscious. There is an increased desire to augment the results achieved thanks to diet and exercise with these kinds of enhancements.
Profound knowledge in surgical practices is imperative, but one of the main pillars of her practice is patient experience. These surgeries play a key role in her patients' recovery in many forms of the word: recovery from cancer, recovery from childbirth, and even recovery of self-confidence. She acknowledges the immense trust that her patients place in her and her team, and works hard to put them at ease at every step of the journey. From the initial consultation, to the point where they can be considered fully healed, Dr. Korus follows them to ensure everything is going as expected.
These enhancements can only evolve when the outcomes are analyzed and shared throughout the medical community and these discussions vital to the advancement of the field are happening now more than ever.
"Surgeons on an individual level analyze their own results and share their experiences. This shared, collaborative knowledge, allows each individual surgeon to improve techniques over time."
- 58www.modernluxuria.com
WWW.DRLISAKORUS.COM
- 59December 2022
WORDS BY BERYL BACCHUS
Music is Not Always What it Seems
Edmonton's Own Electronic Producer Jay Slay Showcases the Diversity of His Musical Background
Communicating with Slay fills the room immediately with a sudden positive high energy and excitement. And while some may hear a song that is electronically inspired, they may not always understand the thought and planning that goes behind it. Slay lives and breathes his obsession with music and lyrics, and can easily explain the endless possibilities and thoughts that go into producing a hit electronic song. Slay is rolling in the accolades. His hit "All Night Long" has reached 1 million+ streams across direct streaming platforms, and he has now garnered FM Radio Play across North America.
Slay has started his own record label and events' company, Vibe Raiders, that he runs with his business partner, Edmonton rapper Thug Shells. While he continues to rise in the electronic music world, Slay does not forget where he started, sharing his time as a music educator, a musician mental health speaker, and contributing author.
- 60www.modernluxuria.com
- 61December 2022
PHOTOGRAPHY SUPPLIED
- 62www.modernluxuria.com
PHOTOGRAPHY BY CONCERTSOCKS
You are a classically trained pianist. Was music always a passion?
Obsession really. I was that 8 year-old who actually wanted to practice piano. I knew fairly early on that it would be a big focus in my life, that it being a hobby on the side wouldn't cut it. I was quite musically involved throughout my life in various capacities, and pursued my piano studies all the way through to a Bachelor of Music degree at the University of Alberta and my Royal Conservatory Piano Performance diploma.
a series of teasers and then a music video with Edmonton's MOBLpixl, which received a best music video award at the Indie Gathering International Film Festival. Also, it was an official selection at Indie/Children's/Halloween film festivals around the world including Montreal, Vancouver, Toronto, New York City, and more.
I absolutely loved working as a professional piano accompanist for various organizations over the years including the Edmonton Public Schools' Music Enrichment Program, the University of Alberta's Concert Choir and the Kokopelli choir organization's Shumayela choir.
Tell us about some of your collaborations.
I've been really lucky to work with many amazing vocalists like Michelle Molineux (Edmonton), Jesse Peters (Calgary), The Sissy Fits (Edmonton), and DJ/Producer RamJamSam (Edmonton). My most successful song to date, "All Night Long", ended up having several spinoff projects that did well. Digital Empire records hosted a competition for producers from around the globe to remix my track. When we released the remix competition winners, they achieved a #1 most added charting in the electro genre on North American Indie FM radio. We did
A year ago, after doing exclusively original productions, I decided to venture into making my own cover versions of holiday classics for my A Very Vibin' Christmas collection. A huge highlight was working with two internationally-renowned vocalists, American Idol finalist Robbie Rosen and Los Angeles-based vocalist collective Nevve, who are one of the top-recognized and followed acts in the electro industry.
You are listed as a musician, DJ and Producer. Creatively, do you have a preference?
They all feed into each other quite nicely. The years of work as a professional musician and deep understanding of music theory give an indisputable head start. From the DJing side, it's really handy if you can make your own edits even if you can't make your own tracks, and from the producer side, it carries more clout if you can properly DJ and actually get invited to share what you've produced. It's also a major touchpoint for connecting with your audiences. The music producing is the coolest part to me.
- 63December 2022
I love the virtually unlimited possibilities of electronic music. Digital means allowing for sharing and distribution worldwide, which has opened things up immensely for independent artists. When you break it down, electronic music means making use of any existing recorded sound you want, or synthesizing almost any sound imaginable, then layering and punctuating time with these sounds in ways that create a beautiful and cohesive whole.
What are you listening to on your playlist?
At the moment, it's my Electro Christmas Refresh playlist that I'll be sharing on my socials soon! It opens with my "A Very Vibin' Christmas", then ventures into selections from my all-time electro Christmas fave, the Kaskade Christmas album, several songs from Mad Decent record label's "A Very Decent Christmas" series, and loads of others that also tickled my eardrums during some recent Christmas music crate digging.
Tell us about your mental health advocacy.
In addition to writing music, musician mental health is a little subniche I've been involved in as a speaker, conference panelist, panel facilitator, and even as an author. This past summer, amidst performing at other festivals, I had the chance to lead my own musician mental health workshop at Bass Coast music festival in BC, which was a huge honour as it's one of the most respected and forward-thinking music festivals in Canada.
What's next?
For upcoming projects, I'm planning to release another track with The Sissy Fits soon, and the next upcoming event I'm co-hosting will be Vibe Raiders' 4th Annual Velvet & Velour Valentine's.
WWW.JAYSLAY.COM
- 64www.modernluxuria.com
- 65December 2022
PHOTOGRAPHY BY STEVE ROLAND
WORDS BY JELENA BOJIC PHOTOGRAPHY BY EMILY WELZ
- 66www.modernluxuria.com
Christmas Castle The holiday luxury in the modern new home of Chelsea Bird
Chelsea's
- 67December 2022
Chelsea and Vijay were looking for the perfect place to build their dream home, they knew it had to be centrally located, but in a mature residential area where they could still feel a homey and comfortable ambiance when going out for a walk.
WHEN
They found the perfect spot, nestled on a mature street with large trees and lots of greenery, but steps away from cafes, boutiques and the city-life feel. Their house is impressive from the outside, keeping with the character and style of traditional homes, and it fits wonderfully with the neighbourhood. But the real miracle is stepping inside, especially after Chelsea's holiday makeover.
Their house is a reflection of Chelsea and Vijay's personal style: comfortable, luxurious, bright and functional. The design was mostly done by the couple, and impressively, every inch of their home is not only aesthetically pleasing, but serves a great purpose (like the secret wall that looks like fireplace wood but is in fact, hidden storage).
- 68www.modernluxuria.com
- 69December 2022
- 70www.modernluxuria.com
Chelsea Bird is a familiar face; not only has she been a voice of local radio, but we also get to see Chelsea as the game host during all of the Edmonton Oilers' home games. Hosting a morning show on 630 CHED means she's up at 3 am, and during those hockey game nights, she's working until 11 pm, making it a very long work day. However, she brings this cheerful energy to everyone around, and you don't sense that she might be tired from all of these responsibilities. And when you add a toddler to the mix, you must wonder, how does she do it all? With a husband who is a physician and on a busy schedule as well, they must be exceptionally well organized. Everything is planned in detail, so they make it look almost easy.
Walking through their house certainly feels like we're transported to a breathtaking showroom; the modern living room with high tech elements, the luxurious kitchen with tons of workspace, and a separate pantry closet. The dining room fenced by an indoor glass window has the most holiday feel of all the spaces; white faux fur chair covers, a beautiful tree and the charming table setting makes the room completely holiday ready.
Are there any family traditions they will follow this Christmas season? "The beauty of it is this is the first Christmas in this house, so we get to make new traditions, and we are so looking forward to doing that with our families coming to spend the holidays with us," Bird says.
- 71December 2022
Days before the guests arrive, they will start thinking of the menu; aside from the all-time favourites and traditional holiday food, there will be some Indian flavoured cuisine added to the dinner. Vijay will be the master chef, but the menu preparation is a team effort.
The immaculate house, beautiful décor, a gorgeous daughter and a loving husband – is this what Chelsea imagined Christmas would look like one day? "I think this is beyond what I ever hoped for. I feel like I waited for Vijay my whole life, he's a dream come true…I look around and think about how lucky I am. This exceeds all my expectations."
As we are talking about all things Christmas, their 18 month old daughter, Layla, wakes up from her afternoon nap, and all of a sudden, toys come out from hidden drawers, baskets and wall units. Our team is amazed at how everything can look so impeccable one moment, then turn into a perfect play area for a toddler.
One word to describe what Christmas means to her? "Joy"
And you can feel it in this warm and luxurious home, filled with joy and laughter.
- 72www.modernluxuria.com
WORDS BY MONA ROSE BUTLER PHOTOGRAPHY SUPPLIED
Festive Cheer to End the Year
As 2022 comes to a chilly close, resist the urge to tuck yourself away until the first signs of spring. All month long, lift your spirits, drink some spirits, and enjoy the festive energy that can be found across the city.
Edmonton Christmas Market
Fort Edmonton Park - November 30th to December 18th
If you're looking for a place to enjoy unique culinary treats, shop local artisans, and take in cheerful lights and holiday performances, then a visit to the Edmonton Christmas Market is due. Located in charming Fort Edmonton Park, you are sure to find gifts for your loved ones and yourself among the over 100 vendors for you to stroll through.
WWW.PUBLICXMASMARKET.COM
Edmonton Opera - Home For The Holidays
Northern Alberta Jubilee Auditorium
- December 12th
For one night only, come take in Edmonton Opera's rousing holiday concert on the main stage of the Jubilee Auditorium. Be wowed by Christmas classics performed by soprano Jamie Groote, tenor Spencer Britten, the Edmonton Opera Chorus and the Edmonton Symphony Orchestra, all conducted by Karl Hirzer. It's a must for your family's Christmas event schedule
WWW.EDMONTONOPERA.COM/EVENTS/2022/12/12/HOME-FOR-THE-HOLIDAYS
Alberta Ballet - The Nutcracker
Northern Alberta Jubilee Auditorium - December 7th to 11th
Alberta Ballet returns once again with this seasonal must-see. This year's dazzling performance promises to wow audiences with sumptuous sets, glittering costumes, and surprises and enhancements new to the rendition for you to discover.
WWW.ALBERTABALLET.COM/THE-NUTCRACKER
- 77December 2022
The Citadel Theatre - A Christmas Carol Maclab Theatre - November 26th to December 23rd
What's not to love about this classic Christmas play? Enjoy this rendition of Ebenezer Scrooge's transformation from a miserly old man to a generous member of his community set in the style of classic late 1940's cinema. You are sure to find yourself dancing along in your seat to the timeless Christmas tunes incorporated throughout the play.
WWW.CITADELTHEATRE.COM/SHOWS/A-CHRISTMAS-CAROL-2022
Festive
Dining
At The Fairmont Hotel MacDonald
Fairmont Hotel Macdonald - November 13th to January 1st
Looking to mark the upcoming holiday events in a luxurious setting? Book a holiday brunch, Christmas brunch and dinner, and a celebratory New Year's meal at the gorgeous Hotel Macdonald. From sipping morning tea in style, to champagne cheers at midnight on the 31st, you can celebrate with your loved ones at the hotel from now until 2023.
WWW.FAIRMONT.COM/MACDONALD-EDMONTON/DINING/HOLIDAY-DINING
The Two Coupe Society: Violette's Confidential Cocktail Club Of The Tease
Woodwork - December 30th
Consider ending 2022 with an event that can only be described as luxuriously risqué. Ensconced in the historic McLeod Building, discover this city's best burlesque performers hosted by the world-renowned Violette Coquette. There will be no bad seats, as the whole room is the stage and you are now part of the secretive Two Coupe Society. \WWW.VIOLETTECOQUETTE.COM
- 78www.modernluxuria.com
The Northern Lights Dining Experience
U of A Botanic Garden - November 23rd to December 31st
Within the warmth of your own personal dome, enjoy 3 courses of delicious fondue while surrounded by twinkling lights. This is a winter date-night must! As part of the experience, diners have access to Luminaria, the U of A Botanic Garden's candle-lit festival inspired by alpine winter markets. You're free to stroll through the festival at any point in your dining experience.
WWW.UALBERTA.CA/BOTANIC-GARDEN/EAT/THE-NORTHERN-LIGHT-DINING-EXPERIENCE
Fire & Ice New Year's Eve Social
JW Marriott Downtown Edmonton - December 31st to January 1st
Ring in the New Year and be a part of JW Marriott's first-ever Fire and Ice New Year's social. Enjoy an evening of culinary masterpieces, artful beverages, awe-inspiring live performances, and, of course, a DJ so you can dance your way into 2023. Instead of competing for Ubers and cabs once the party is over, take advantage of the Fire and Ice room packages to sleep off the party in one of their luxurious hotel rooms.
WWW.MARRIOTT.COM/OFFERS/FIRE-ICE-NEW-YEARS-EVE-SOCIAL-BY-JW-OFF-61305/YEGJW-JWMARRIOTT-EDMONTON-ICE-DISTRIC
2023 Edmonton International New Year's Eve Gala
Beverly Hills Ballroom, Fantasyland Hotel - December 31st to January 1st
Ring in the New Year while being wowed by world-renowned circus performers for a good cause! This family-friendly New Year's Eve gala in support of the Stollery Children's Hospital includes a silent auction, a gourmet meal, and a performance by members of Cirque du Soleil. If your kids are going to stay up past their bedtime this New Year's Eve, why not make it an unforgettable experience?
WWW.WEM.CA/EVENTS/PERFORMANCES/NEW-YEAR-S-EVE-GALA
- 81December 2022
NOW WORLDWIDE IN 30 COUNTRIES ADV ERTIS E W ITH US TO DAY HEL LO@ MODERNLUX URIA .COM | PHONE 780-906-7235