the official journal of the health & community services union tasmania
WINTER 2022 ISSUE
INFORM
Responsibility for any electoral comment in this publication is taken by Tim Jacobson, 11 Clare Street, New Town, Tasmania 7008. Produced by Health and Community Services Union Tasmania Branch (ABN 80 085 253 953). 2022. All rights reserved. Articles published in Inform express the opinion of the authors and are not necessarily those of HACSU. While all efforts have been made to ensure details are correct at the time of distribution, these are subject to change. Contents 01 HACSU who's who 02 Tim Jacobson: Glimpses of positive change 03 Lucas Digney: From chocolates to crumbling services 04 The superannuation myth 05 Delegate Fabio Flamingi 06 Your HACSU admin team 07 Public sector - It's time to campaign 08 Delegate Rebecca Ainslie 10 RHH medical orderlies fight on 12 Disability Workers Week 14 St Helens holiday home for members 15 Meet HACSU's Rachel Brown 16 And the ramp goes on and on 20 Meet intensive care paramedic Simone 21 We always support NAIDOC Week 22 DSPL Big profits but still nibbling away 23 BYO? Health isn't a Sunday BBQ! 24 Fighting for aged care 28 Massive win for SCC members 30 Fighting for aged care 32 Uniting AgeWell's bully tactics fail 33 Delegate Kristy Youd 34 Sandy Bay holiday home for members 35 Delegate training in Devonport 36 Your rights when taking unplanned leave 39 Delegates Justin Thorpe and Adam Fowler 40 Meet HACSU's Desmond Marcenko 41 Southport holiday home for members 42 Union representation, it's your right 42 Professional indemnity malpractice insurance 43 HESTA, for health and community workers 44 COVID-19 Worker Helpline 45 HSU National Women's Plan
Dave Member,ThomasNAmbulance Tasmania
Adam Fowler Alan Blank
Kristy Member,YoudMasonic Care Launceston
INDUSTRIAL ORGANISERS
Marlene Member,McHenryBeaconsfield District Health
HACSU ASSIST
Nina Member,ManningAlcohol and Drug Services
LAUNCESTON
HOBART:assist@hacsu.org.au11ClareStreet New Town
Tim Jacobson
Raylene Woods - Launceston Admin Officer
Chris Kennedy - Industrial Officer
Jan Pur Simone Haigh Steve Pacheco
Marcus Barton Martin Rose who's who
Carolyn Member,ShearerOakPossability Tasmania
STATE SECRETARY
COMMUNICATIONS
DEVONPORT
Geoff MeganKristenBlythSwainThomas
Sarah Langfeldt - Membership Officer
Fiona Jones Janet NinaNatashaHowellsMeerdingManning
DEVONPORT: Oldaker Street
Sonia Serbanescu - Admin Team Leader
SUB-BRANCHESDENTAL 1 HACSU
ASSISTANT STATE SECRETARY
HOBART
COMMITTEE MANAGEMENTOF STAFF Published in September 2022 - Craig Griffiths, Media & Publications (2018-2022)
Tim President,AssistantStateJacobsonSecretaryLucasDigneyStateSecretaryJudyRichmondMerseyCommunity Hospital
James Milligan - Legal Officer
Stephen Hayes Vanessa Ireland
Dorothy Liu Communications & Marketing Ness Finn Systems & Comms Manager
80
Carly Swards Finance & Admin Officer
Leigh Trustee,GorringeOralHealth Services
Paige ShaleeAshwoodRichardson
Shane TammySharonKunzeSwardsMunro - Lead Organiser
Peter Trustee,MooreNW Disability Services
HACSUassist
Bec CamGibsonJohnson
Aiden DanielBenAnne-MarieStalkerAveryMcGregorMoore
Melissa Member,BibeLaunceston General Hospital
Kristen OdetteSwainSeabourne
Lucas Digney
LAUNCESTON: Suite 104, 287 Charles Street
Chris SeniorWebbVice-President, HACSU
James Watkins
Rachel RobbieBrownMoore - Industrial Manager
CONTACT US
Hobart Private Hospital
Leigh SophieLeonieGorringeHalleyMummery
Shane Hamel
Desmond Marcenko
NURSES
1300 880 032
Susan Banks-Smith
ADMINISTRATION
Alison JohnChristineMcKenzieHanssonCoutts Judy LuisLeanneRichmondCowendelValle
Holiday Home Maintenance Officer
Lizi TroyRichardRalphParkinsonBaker
Tanya Member,CliffordRoyal Hobart Hospital
ALLIED HEALTH PROFESSIONALS
Eastern JuniorChristineShoreHanssonVice-President, Healthscope
Member,ParksideAndrewChallisNorth West Private Hospital
Angela Cook - Finance Manager
AMBULANCE
Chelsea Menzie Media & Publications
Laura Binns - Launceston Admin Officer
I don't need to tell you about the pressures that already exist right across our workforces, and that's without the extra strain caused by the We'vepandemic.hadour own workload issues at HACSU due to absences
Along with the ACTU we discussed the things that need to change to ensure we have a bargaining system that delivers real wage
positive for the virus, including me and my family.
COVID's ability to mutate and throw up new strains leaves us all uncertain about how our work and lives will be affected in the future.
The case will take a little more time to work through, with hearings and submissions still to be finalised, but employers and big business finally conceded they also support the case.
We also spoke to the health, aged care and disability ministers about how important it is to address workforce issues so we can ensure decent jobs and quality care into the Theyfuture.know our systems are failing and that work must be done urgently to fix the mess.
Here in Tasmania, our government has sleepwalked into a perfect
Whether it be in the aged care, disability or public health sectors I'm confident that, at the very least, we have a government prepared to listen.
I recently spent a week in Canberra with two aged care workers to meet with numerous government ministers and discuss the immediate pressures we face.
TIM JACOBSON STATE SECRETARY
TIMES are tough but there are glimpses of positive change. Well over two years into the pandemic it feels like a neverending nightmare.
In spite of all that, the election of a federal government with a plan for our industries offers a glimmer of hope for us all.
I could be cynical about their recent change of heart... but I won't... point made.
In early August the government introduced its first piece of legislation that creates the legal environment to change aged care. We look forward to working with them to address the myriad of issues in that space, but we also know they'll introduce further legislation to address all our Theyindustries.wrote to the Fair Work Commission supporting our claim for a 25% wages increase for workers - a sharp contrast to the previous government that ran a country mile from doing that when they were at the helm.
significant staff shortages and inability to recruit new staff, continuing COVID outbreaks across our hospitals, the Commission of Inquiry, youth justice and child safety in a parlous state and public sector wage negotiations underway it certainly doesn't feel like the Rockliffe Government actually has a plan.
It's only a year and a bit since the last state election but it seems they've already run out of ideas, not to mention that they also seem to be running out of ministers.
Glimpses of positive change
Yet the government can't explain how getting rid of Communities Tasmania will address these issues.
LUCAS
3
But the crucial areas of housing, family violence, youth justice and child safety will now go back into the giant department of education.
Just four years ago the Tasmanian Government took these services from another giant department, Health and Human Services, because they were so vital they needed to be a priority and have their own oversight.
CommunitiesthePremierINASSISTANTDIGNEYSTATESECRETARYFEBRUARYthisyear,formerGutweinannouncedgovernmentwouldabolishTasmania.
The only place where these services have been combined is South Australia, an unmitigated disaster that resulted in children being neglected or worse.
Since the announcement we've talked with various bureaucrats and in August met with the premier and the minister to
All the government wants to talk about is the creation of a new mega Meanwhile,agency.kids and other vulnerable Tasmanians are being let down so we're ready to fight for our members and our Memberscommunity.from around the state, along with our colleagues from the CPSU, met in mid-August and resolved to fight this move every step of the way until real action is taken to address the crisis facing workers right now.
From chocolates to crumbling services
We have no idea what's changed but something must have because the government wants you to believe returning to a mega department is the way forward. The fact is there are significant issues in all these crucial areas.
We'veworse.demanded that a proper consultation process begins immediately with the government to discuss the real issues and what can and should be done to improve our services right now.
and meaningful consultation have been fruitless and frustrating.
Just one example of how bad things are is in Child Safety
That's 215 vulnerable kids with no one they can count on.
That's a disaster and tragedy in itself but has the potential to be even
This relatively new department oversees vital services meant to provide direct support to our most vulnerable, and workers do not support its abolition.
After a South Australian Royal Commission, the communities elements were pulled out of education and put back in their own stand-alone agency.
We don't want pie in the sky structural change that delivers nothing.
We'll campaign and fight until there are well resourced and sustainable services for the most vulnerable in our community.
We'd love you to join the fight too.
We see child safety overwhelmed by demand, youth justice confused by a stalled reform agenda and ongoing Ashley issues, and housing and homelessness services failing struggling Tasmanians.
IT'S A TOTAL myth that superannuation is a tax on business.
1 July 2022 - 30 June 2023 10.5%
1 July 2021 - 30 June 2022 10%
Some industries now support continuing super payments when employees access conditions like unpaid parental leave in an effort to reduce the gender gap in superannuation balances.
1 July 2020 - 30 June 2021 9.5%
As Paul Keating said in 2007:
In response to this agreement the vast majority of employees under the accord got a below inflation wage rise, in effect a real pay cut. Businesses that contributed to superannuation paid less payroll tax and workers comp insurance premiums were lower, so the cost benefit to employers was improved compared to paying the same amount in direct wages.
Super was expanded to all workers in 1992, with an annual 1% increase to contributions each year until 9% was achieved.
We encourage you to constantly check your superannuation balance, including checking that the amounts on your payslip appear in your super account. There have been numerous cases where employers never forwarded payments to super funds.
For those with an eye on history, or old enough to have lived it prior to 1985, superannuation was really just the realm of high flying executives and public servants. The vast majority of Australians who retired before 1985 had few assets and simply had to rely on the aged pension.
4
The Liberal government then delayed the remaining super increases by 7 years, so the next increase wasn't until July 2021.
1 July 2023 - 30 June 2024 11%
Until July 2022, workers earning less than $450 a month didn't get Allsuperannuation.juniorworkers under 18 don't get Workerssuperannuation.under25are generally not insured by default by their superfund for death or injury or income support.
In a show of restraint by unions it was agreed that 3% for small businesses and 4% for big businesses would be directed to superannuation, but only for those workers under the accord.
DID YOU KNOW?
YEAR RATE
Today's retirees need both superannuation and the age pension, though the luckier ones can just rely on their super accounts and maybe some savings and investments too.
Guaranteed super payments will be increase by 0.5% for the next 3 years up to 12%.
"When you upwardlabourThelying.informedtheyasuperannuationdaysconservativeshearthesespeakofastaxonemployers,areeitherill-ortheyarefallinunitcostsandtheshiftinthe profit share during the period of the Superannuation Guarantee Charge is simply a matter of statistical record, it is not a matter of argument."
The Labor government legislated further changes in 2012 and then increased to 9.5% by July 2014 on its way to 12%.
They may have made an allocation to pay later, in line with the 3-month minimum payment schedule, but we've started asking for employers to pay it each pay period and some EBAs now stipulate this.
In 1985, inflation was running at 10% per annum and most wages were controlled by the 1983 Wages Accord, an agreement between trade unions and Labor leadership for fixed wage increases, determined by the arbitration system.
TheBlahsuperannuation myth
HACSU supports industry super funds, and we work regularly with HESTA who support health and community-based workers.
Always get good financial advice before changing your investment strategies or funds.
1 July 2025 - 30 June 2026 12%
1 July 2024 - 30 June 2025 11.5%
Every year in the 90s where the Superannuation Guarantee increased labour costs fell, so the cost of super was never borne by employers as it was absorbed into the overall wage cost.
When choosing or changing a super fund there are many things to consider, but always view it as a long-term investment knowing that overall most superfunds grow but in some years they don't.
Remember that it must be paid by your employer every 3 months at a Someminimum.employers pay into your super fund each fortnight, but others don't even though it appears on your payslip that they did make a payment.
Imanagement.hopetoincrease
I've been doing this for 4 years and before that I was a chef.
Your HACSU workplace delegate
FABIO LEAPDISABILITYFLAMINGISUPPORTWORKEROCCUPATIONALTHERAPY
As a delegate I'd like to think I've been able to help out when it comes to what's right and what's wrong and raise the issues where need be with either HACSU or
I've been a HACSU member for about two years and became a delegate to help members and staff in my workplace.
5
I'M A DISABILITY Support Worker with LEAP and my average working day is about caring for Ipeople.loveto work with participants, they make my working day.
I'm passionate about being a support worker and like to give extra to help the participants have a better, happier life and would like all people to be the same.
at work I love to go fishing, and my is The Old Man and the Sea by Earnest Hemingway.
the number of HACSU members we have so as to have a powerful voice within our Whenworkplace.I'mnot
Your knowledge and skills are so valued and we really appreciate the time you spend helping us all.
ADMINISTRATIVE professionals are the key to the smooth running of any organisation.
They are the ones who keep everything ticking along, often without being noticed.
to Sonia, Sarah, Laura, Raylene, Angela and Carly for all you do to support HACSU.
They enable us to do our jobs effectively so we can provide you, our membership, with the service you deserve.
6
Whether known as Admin Support, Admin Assistants, or Admin Officers no workplace can be successful and productive without the best people in those roles. Here at HACSU we depend greatly on the skills of our Administrative Officers.
Our Admin team work extremely hard across all areas of HACSU and we simply couldn't function without them.
They manage our finances, your member benefits and our three member-owned holiday homes, and they send out bulletins, formal correspondence and keep our member details up to date.
They are the people who at the drop of a hat will photocopy and
Your admin team is so important
scan documents for an industrial organiser and they're the friendly faces who'll have a referral ready for you to sign at the front desk. They are our backbone and without them things would quickly fall Thankapart.you
If they want to keep people out of hospital or get people home sooner, they must invest in allied health professionals and support staff who do exactly that.
Public sector - it's time to campaign
For nearly all of them we've given the government comprehensive logs of claims that outline solutions to the current health crisis.
We're now ramping up actions across the state including stop work meetings.
Now is the time to act to ensure you get a decent pay rise and better conditions.
You need a pay rise that keeps up with the increasing inflation and Tasmania needs pay rates that are competive with other states.
This is the government that's failed to meet and negotiate in good faith around most of the public sector agreements.
agreements and is failing to meet at all, or regularly, and either won't respond to your logs of claims or make an actual offer.
But the government is dragging its feet with those expired workplace
7
It's no wonder a lot of workers were rightfully outraged.
We've met with the Premier and made it clear that workers won't be taken for granted like this.
It's insulting that $2000 is being offered to staff who left, but not to those who stayed and put in the hard yards – can you feel the love?
They're also refusing to pay the incentive payment that was given to health workers in NSW, Victoria and WA to reward loyal staff for the incredible work they've done to get their state health systems through this pandemic.
Then, out of nowhere, we heard the Premier offer $2000 to workers who've left the service in last 12 months if they have an AHPRA professional registration and will return to work.
If they're genuine about fixing our health system, opening up more beds, and stopping the frequent bed closures due to lack of staff they must pay wages that are competitive with other states.
Now is the time to stand up to this government that's ignoring you
MOST public sector agreements expired on 30 June this year.
This includes the major Public Sector Unions Wages Agreement (PSUWA), the allied health agreement and others except the nurses agreement that expires on 30 June 2023.
This is the government that's refused to pay incentive payments to current staff - the loyal ones across our health and human services who've worked through the past two terrible years.
If I finish the deliveries in good time I help out with an assist meal if the other carers are behind.
the horses, dogs, cat and chooksby then its time to feed the family. Before working in aged care I was a stay-at-home mum for a couple of years before going mad being at home so I enrolled in an aged care course, and before that I was a cleaner and kitchenhand at Cradle Mountain.
Before breakfast we help people sit up in bed with their table, or toilet and sit in their chair, some residents simply need help with a dressing gown before they go to the dining room for brekkie.
REBECCA AINSLIE
What shift I'm doing affects what job I have at breakfast, usually making cups of tea or coffee in the dining room and serving porridge, toast etc, or I push the meal trolley and deliver breakfast to those who like to stay in their rooms.
As a delegate I help staff with issues they may have with another staff member, a new contract, picking up or dropping shifts or just pointing out what they're entitled to with breaks or pay etc. Most recently we had an issue over UAW wanting to remove paid meal breaks before agreement
After work I sometimes call in at the supermarket for a few things before going home to ride and train a horse and take feed out to
My average working day sees me out of bed with enough time to feed the horses before leaving for my half hour drive to work.
Your HACSU workplace
Lunch is much the same as breakfast except the slow risers manage to get to the dining room so it's a lot busier and louder, and after the rush I have my own lunch.
I'VE BEEN at Strathdevon in Latrobe for 9 years and Tandara Lodge in Sheffield for 4 months and work at both sites as an Extended Care Assistant.
As soon as breakfast is done the rest of the morning is filled with helping with showers, toileting and dressing, making beds, tidying rooms and doing progress notes.
AGED STRATHDEVONCARER & TANDARA
help it was taken to Fair Work who stated there was to be a vote by staff to ascertain Yes to remove the paid break or No to keep it, and after much drama the final vote was to keep it.
As a delegate I like to feel I've done my part encouraging people not to vote away our entitlements and encouraging those who don't
At some point I'll find somewhere suitable during the morning for a coffee break.
6
Withnegotiations.HACSU's
Some residents love it when I help them as they catch up with the latest gossip on how my horses are performing and what I've been up to with them or what new horse I've bought or am going to buy.
I've been in the union for 6 or 7 years and I got roped into being a delegate as a co-worker left the facility leaving one delegate behind and she wanted a united front so talked me into helping her, though she's also since left.
At handover, I see if we have a full crew of staff and, if not, a plan is worked out on how to best manage the morning.
The afternoon is filled with changing sanitary items, repositions, transfers, toileting, more documentation and whatever other issues need addressing.
is around 7 hours, it depends on the track and the weather.
9
Then it's up before daylight on Saturday for a 40km leg, another vet check before a quick break and then the next 40km leg.
Endurance riding allows me to set up camp on a Friday and have the horse vet checked ready for Saturday, followed by drinks with mates around the campfire.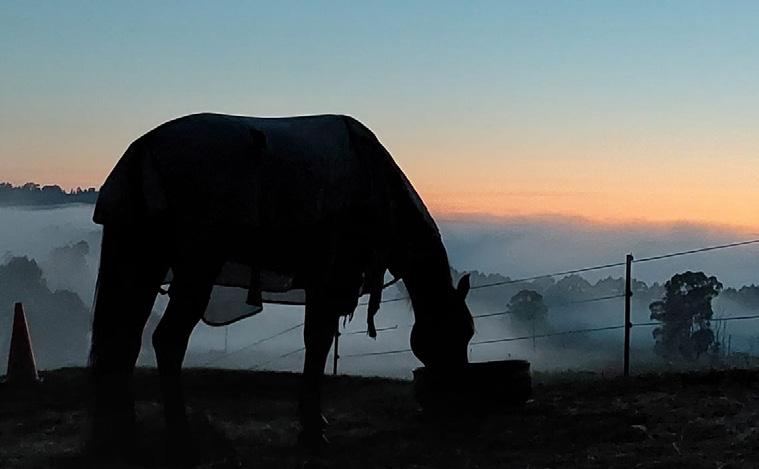 get a paid break to vote because once it's gone we can't fight for everyone else to get it.
While riding I like playing my spotify country album on loudspeaker off my phone.
When I'm not at work, horses pretty much take over my life and I compete in endurance riding.
I hope the future brings harmony between workers, more funding to allow for improvements and better equipment to make care work easier and a decent payrise in line with what carers actually do.
There's a final check of the horse at the end to give the successful all good or "sorry your horse is lame or too stressed to pass" etc.
Most rides are 80kms and on my fit horse we usually finish in 5.5 to 6 hours, but my inexperienced mare
It's not just the riding though, it's also catching up with mates and de-stressing that I really enjoy.
workplace delegate
Last time I checked, Zeus and I were both 1st in our weight division for distance in Australia.
Members further advise that having 'wellbeing' on the agenda of each meeting as a management solution is an attempt to reduce the significance of the issue to a tick and flick.
RHH want to shift them from three patterns of 34 weeks, 8 weeks and 12 months to two new roster patterns of 16 weeks.
Members maintain that the proposed roster with the block of night shifts without adequate breaks is unsustainable and the dot point responses in your letter amount to a recognition of this".
Members highlight the complete lack of proper consultation in addressing legitimate concerns raised during the process such as but not limited to the failure to properly address the issues of fatigue after blocks of night shifts, not addressing the higher number of night shifts in the roster cycle, not addressing the issue of vacant lines in the roster and the reintroduction of split weekends into the Membersroster.demand
As the union representing these workers you'd think we'd have heard of any complaints, but nobody had ever said, 'so and so gets more penalty shifts than me'.
As you are aware, the award sets out minimum conditions of employment, there is no impediment to provide better conditions in a workplace."
Five months later management replied with the offer of an implementation committee, but the response on the night shift issue was poor, so we responded:
meetings with the orderly team to get feedback, and individual members sent more than 100 emails wanting clarification on certain points of proposed rosters. Most were worried about how an increase in night shifts would affect their family life.
for all members, but especially in shift work environments. However, the concern presented with this current draft is that there is not adequate provision for rest following a block of night shifts. Therefore HACSU, on behalf of members, proposes that rostering business rules be drawn up that provide the principles of rostering within the MoD and that included in those rules is that there be 3 days' (full 24hr days beginning at midnight) break between the end of a block of night shifts and the commencement of the next shift (afternoon shift).
On 17 May our members invoked the dispute clause of the award and provided a workable roster to management, in effect a continuation of the previous roster with all lines covered, appropriate staffing levels, safety for patients and operations of the Royal able to continue unabated.
MAY 2022
IN MID-2021 Medical orderlies at the Royal Hobart Hospital got a change proposal from management that wanted to change roster patterns for full time members.
Management said they'd already consulted widely and something had to be done as they'd received numerous complaints about the inequity of the rosters.
RHH medical orderlies
We met with our members on 10 May and resolved the following: "HACSU members in the medical orderly department of the Royal Hobart Hospital condemn management for their contempt towards employees and management's attempts to force employees onto an unfair and unreasonable roster.
It is our belief that by ensuring that other shift patterns, for example day shift blocks, be a minimum 5 days' in length would allow this to Otherhappen.rostering business rules could and should be drawn up in a further consultative process in line with current award conditions.
"The days off following a block of night shift is both inconsistent and too short. Part of the reasoning behind the proposed change is an effort to improve fatigue HACSUmanagement.fullyendorses the premise of managing fatigue and workload
SEPTEMBER 2021
APRIL 2022
In invoking the dispute clause we advised the status quo was to remain, which lead to one of the most bizarre letter exchanges our
This is what you'd expect in any other ward, office, off-site facility, regional hospital or tin shed operated by the Tasmanian Health WeService.held
Our September letter to management reflected member concerns, raising topics like no change to the current amount of lines in the roster and questioning the financial impact on members, how lines would be rotated, the creation of a relief supervisor and how rec leave would be managed,
The big concern was night shifts, as addressed in part of our letter:
an urgent meeting with RHH management to be held this week. In the event that management do not meet with HACSU representatives and members to address these serious concerns then members will meet again on Tuesday next week and will consider implementing industrial action should management continue to attempt to go ahead with this unfair and unreasonable roster."
10
In late April management declared consultation was over and the new roster would come into effect.
FEBRUARY 2022
"It is particularly concerning that the 'management plan' appears to be acceptance of an increase in unplanned leave.
• Rebalance penalties to provide equitable annual remuneration
• Ensure shifts aren't overstaffed We have no issue with these points, our members know they
It's been a long fight and there's been anger, frustration and exasperation - but most of all there's been a determination to see it through.
have a shift job that means working nights, but they do want a fair work life balance that doesn't cost them their families.
A breakthrough finally came when the CEO asked to meet, so in
early June we met with her, her assistant, HR and Medical Orderly management members and resolved that a roster committee of 10, including 6 medical orderlies will produce a roster that will:
11
organiser Shane Kunze has ever experienced – an argument around the definition of 'status quo'!
The unity that this group has shown gives us hope for the challenges ahead.
As of writing, in the last week of June, we've again met with our members and they've chosen their reps for the working group and the first meeting is this week.
orderlies fight on
JUNE 2022
We kept meeting with members early in the morning, late at night and on weekends - and we maintained a consistent line to management: "Meet with us, talk to us, there must be a way to resolve the night shift concerns".
It was great to see that members stayed united and strong despite all that was being thrown at them during this process.
• Reduce potential for negative financial impact from future roster •changesRebalance current and add additional shifts to areas with greater service demand
Disability
Workers
We also handed out scratchies to give disability workers the chance to win one of three main prizes - $150, $300 and $600 - in their choice of Coles or Woolies gift cards.
The pandemic has brought a lot of attention to hospitals and aged care, but disability workers are still far too often overlooked compared to other frontline workers, so we're saying it loud and clear: Disability workers are essential workers!
To thank all disability support workers, we visited workplaces, ran BBQs and held other community events throughout Disability Workers Week.
On top of that, there were multiple $50 gift cards up for grabs, and a second chance draw of $300.
OUR annual Disability Workers Week highlights the invaluable work of everyone in the disability services sector around Tasmania.
12
13 Workers Week
St Helens holiday home for members
14
member-onlyHACSUHACSUHOLIDAYSAFFORDABLEFORMEMBERSownsandoperatesholidayhomes in three amazing locations across Tasmania: St Helens, Sandy Bay and Southport. Our homes are fully furnished and fitted out with everything Whetherneed. you want to spend your holiday adventuring or relaxing, St Helens is the perfect location. Relax on the world-famous Bay of Fires, or take a trip down the Great Eastern Drive and experience the breathtaking views of the East ForCoast.more, call 1300 880 032.
I've previously been a delegate for Spotless at Nyrstar and before starting in my new role I was a HACSU delegate in aged care.
I also love travelling and watching Supercars when they're down here and enjoy going to the speedway and car racing at Baskerville when I I'mcan.really looking forward to meeting members and having a good chat.
members to understand, and stand up for, their rights.
In my free time I enjoy catching up with family and friends.
I'M RACHEL, the new industrial organiser for HACSU members working in disability worksites.
As a delegate I was involved in EBA meetings and raising issues around workers' rights with Thismanagement.inspiredme to become an organiser and to help empower
15
Meet HACSU's Rachel Brown
And the ramp
goes 16
goes on and on
17
and on and 18
and on and on 19
20
Senator Anne Urquhart with concerns about the mental health of paramedics nationally, a serious matter, and she then organised the inquiry.
At the time of the reply to the report, the black summer bushfires had concluded.
Workplace culture is slowly getting better but I think it's a priority and will make for a safer and happier workplace if it can be improved.
My favourite thing to do when not at work is showing my dogs or dog sports such as tracking and track and search with my 2 Weimaraners Oskar and Ned.
Meet intensive care paramedic Simone
Sadly, the since deposed federal government produced a very poor reply to the Firstrecommendations.inquiry'srespondershavea
The government neglected to address any other first responder throughout the country – only those involved with the fires.
SIMONE HAIGH Intensive Care Paramedic Ambulance Tasmania Devonport
It's incredibly disappointing that the Coalition government neglected those who keep the community safe.
I started as a volunteer 20 years ago and as a student paramedic with Ambulance Tasmania nearly 18 years ago.
My proudest achievement as a delegate is the senate inquiry into the mental health of first Iresponders.approached
significantly higher rate of mental injury, PTSI and suicide than the general public.
In the future I hope to see the service move forward as it seems to be stuck for a while with no forward momentum.
My favourite song is Nothing Else Matters by Metallica, fave film is a tie between the original Ghostbusters and Hot Fuzz, and fave book is A Short History of Nearly Everything by Bill Bryson.
This meant the majority of the reply was about public, not first responder, mental health support in relation to the fires.
Funding commitments for support in the reply put first responders in with the general public, but they have specific needs and need appropriately trained providers.
Before that I studied sports science at uni and was a manager at I'veMcDonalds.beenaHACSU member for the entirety of my employment with Ambulance Tasmania and a delegate for 10 or 11 years.
Now Labor is in power in Canberra I'll continue to lobby and fight for better support for first responders. Other than that it's the usual delegate stuff and lots of campaigns of various sizes.
EVERY day is different, which is one of the positives of the job, as you never know what's going to happen during your shift.
In 1974 the celebration extended to a week, with a mourning day on the second Sunday.
We always support NAIDOC Week
It meets each year and develops a theme and the important issues
fighting for equal rights and even basic human rights.
In 1955 it moved to the first Sunday in July and became a celebration of culture as well as a protest against the treatment of our First Nations people.
This could be seeking cultural, heritage or protections,environmentalcampaigning for constitutional change, engaging in the process of truth-telling, working towards treaties or simply calling out the racism that we see. We can all be a part of it and we can all do it together.
This became an annual event known as 'Aborigines Day' and it was held on the Sunday before Australia Day for the next 15 years.
This includes supporting Australia's First Nations community in their constant struggle against the systematic issues they face.
Since then the committee has been known as the National Aborigines and Islanders Day Observance Committee (NAIDOC).
NAIDOC Week is a time to stand together and support institutional, structural, collaborative and cooperative reform.
In 1991 the growing understanding of the differences in culture and history between Aboriginal and Torres Strait Islander peoples led to NADOC's expansion to recognise Islanders separately.
This includes celebrating the many throughout history who've driven and led change in our communities
and events that are to be the focus of reflection for that year's week.
The history of celebrating Aboriginal and Islander history, culture and achievement goes back nearly twice as long as that.
The 2022 theme was 'Get Up! Stand Up! Show Up!', to celebrate the proud history of Aboriginal and Torres Strait Islander communities doing exactly those things.
Each year we join the Indigenous community to celebrate NAIDOC week, in its 48th year in 2020.
The first event was the Day of Mourning in Sydney on 26 January 1938, where thousands got together at one of the first major civil rights gatherings in the world.
The formation of the Department of Aboriginal Affairs in 1972, a result of the 1967 referendum, saw the creation of the original National Aborigines Day Observance Committee.
THE UNION movement has been fighting countless workers' rights battles over the past 200 years, but we've never strayed from helping protect and support the underprivileged and disadvantaged here and overseas.
From the frontier wars and their earliest resistance fighters to their modern-day activists who continue getting up, standing up and showing up for systemic change.
21
Discussions around the term of the next agreement are ongoing.
DSPL are one of those companies that've gone from strength to strength during the pandemic, with profits at an all-time high and likely to continue into the future.
Members want a 3 year agreement but DSPL are pushing for 4 or more.
There'd inevitably be disagreements over whether a break was worked or not and proof around this.
Big profits but still nibbbling away
Term of agreement
Travel payments and when they are and aren't paid is an ongoing Wediscussion.havescenarios regarding distances, times and locations that we must ensure will be covered in the drafting of the clause and wording is being exchanged on this.
DSPL proposed a cap on redundancy payments but a number of longterm staff would be disadvantaged by this, particularly those who were employed before April 2008.
Paid meal breaks
To try and manipulate a simple process such as this highlights the
We've asked for more info and asked them to identify every individual who'll be worse off.
This is standard practice but DSPL want to complicate this simple concept which will mean a reduction to current conditions.
So if you had to complete duties for 15 minutes during your meal break on an 8 hour shift, this will only reflect 7.5 hours worked.
Travel
Annual leave
This ridiculous premise would snowball onto other entitlements such as leave accumulation, wages and the number of days at work to accrue the same hours of work.
They propose meal breaks remain paid but, unless the whole of a break is physically worked, it won't reflect time accrued at work.
We've put DSPL on notice that any variation to current arrangements will be met with strong opposition.
22
Compassionate/bereavement leave
2022 NEGOTIATIONS for the state-wide Diagnostic Services agreement got off to a shaky start.
We've only had concerningly vague answers to this question, and we've said HACSU will not support a cap.
DSPL have always maintained redundancies aren't being considered, so it curious why there's any need for change.
After a couple of fruitless meetings, DSPL tried to blindside staff by putting the agreement out to vote before any mutual positions had been reached with HACSU.
Redundancy
With drastic increases in living costs, getting locked in to anything longer than 3 years would be a gamble that would likely see the gap between inflation and wages further increase.
Despite these increases in wealth, DSPL and other large organisations want to maximise shareholder profits even more by nibbling away at workers' conditions.
We proposed an increase compassionate/bereavementin leave, but DSPL want these as individual entitlements in the agreement
The situation as of July 2022:
We've reiterated that a 3 year agreement is the most practicable
lengths being taken to penny pinch any dollars where they can.
We ran a 'vote no' campaign and staff did just that, angered by their employer's antics, which forced DSPL back to the discussion table.
The annual leave calculation for shift workers has had variations from DSPL's original proposal in terms of required weekend shifts, but it still has Theirperimeters.proposalwas more palatable regarding required weekend shifts but it wasn't clear about staff who work nights but not weekends.
Because meal breaks are paid, staff must be onsite and available for duties, so the break is included as time worked.
with parameters around availability Severalperiods.legitimate scenarios were put forward to show where their proposed arrangements wouldn't work, leaving DSPL with no option but to review their proposal.
with these so as not to hit underthe-pump workers with extra workrelated expenses.
BYO MASKS? Yes, one disability workplace in the northwest decided it was up to the workers to spend their own hard-earned money and supply their own masks.
thing, but to then to ask them to BYO PPE is a disgrace!
23
Disability, community, aged care and health care workers have all done a fantastic job through the They'vepandemic.continued to keep themselves and their colleagues and - most important of all - their clients, residents and patients safe.
So we recently raised this BYO mask issue with a committee of senior health officials and with the Premier himself.
Whilst the rules around PPE and mask wearing are changing it's never too late to raise issues to ensure people are aware of what some workers are putting up with in their already stressed Askingworkplaces.workers to go above and beyond during hard times is one
However, it's still important to continue to raise any COVIDrelated issues within your Ifworkplace.weneed to, we can pass these concerns on when we meet with people further up the food chain, like the Premier, so we always want members to keep us in the loop.
Workplaces have also helped to ensure their workers can do this safely by supplying an abundance of personal protective equipment for them to use.
BYO? Health isn't a Sunday BBQ!
As the disability workers union, it's part of our job to regularly sit down with relevant stakeholders to raise awareness of issues in the disability sector and to give examples of how some employers are treating their workforce.
As we move into July 2022 the Tasmanian Government is starting to roll back certain measures contained in the current public health orders relating to TheseCOVID-19.aresteps towards learning to live with the disease and returning to a new normal.
Before announcement of the new rules about compulsory mask wearing, it was a given that most workplaces supplied their workers
HACSU fighting 24
fighting for aged care 25
HACSU fighting 26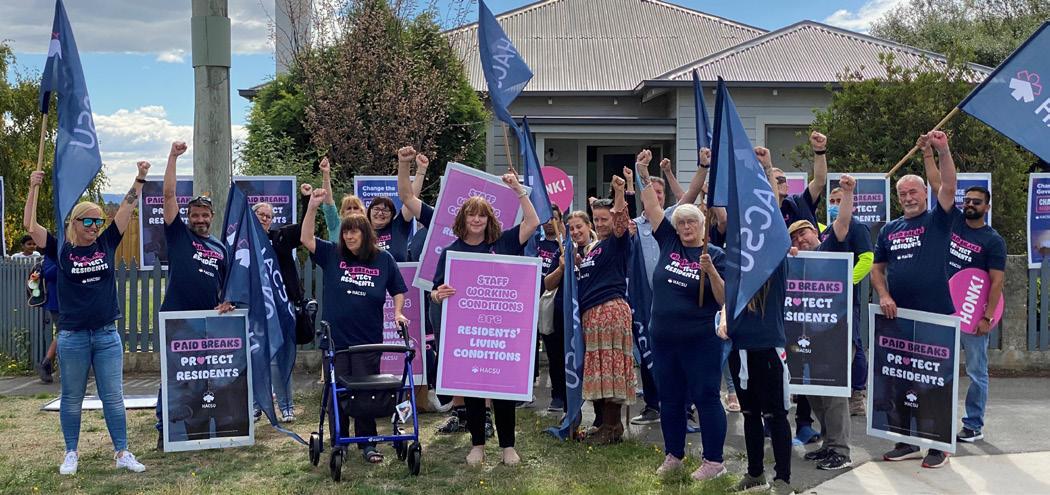 fighting for aged
care 27
It was clear from the outset that Southern Cross Care had no regard for their staff and were set on slashing several conditions.
Massive win for
has seen 23 changes in senior managers and facility managers over the last couple of years.
Most importantly, the cuts would put residents' safety at risk.
This very long process had a number of interruptions, from COVID-19 to management simply refusing to sit at the discussion table with their staff.
28
HACSU members at sites across Tasmania remained strong and united against management. This was no easy feat with little continuity for members given SCC
Over this same 2-year period HACSU's membership within Southern Cross grew by 250, which greatly increased workers' power at the bargaining table.
The games played by senior management and constant threats to workers' conditions all came to a head in December 2021 when staff voted to take industrial action.
In solidarity with their comrades across the state, staff began
BARGAINING for Southern Cross Care's Agreement began years ago, way back in February 2020.
This included removing paid meal breaks, cutting Sunday penalty rates, cuts to afternoon and night
These cuts were going to see staff thousands of dollars worse off every year, with staff taking an effective pay cut with a dismal wage offer and no backpay.
shift penalties and even diminishing staff redundancy provisions.
for SCC members
Pressure from the community, negative media coverage and industrial action taken by members got SCC back to the table to finally begin genuine negotiations.
Staff let everyone know why they were taking action, and residents, families and the community began writing to SCC to support workers.
Members then escalated their action with stop work meetings taking place across the state.
Management backed down on the cuts to current conditions including penalty rates, redundancy provisions and paid meal breaks.
The action taken by HACSU members also led to employees being offered a decent wage rise with backpay and for SCC to pay for mandatory police checks and working with vulnerable people cards for staff.
It also means management should and will think twice about cutting pay or conditions next time the agreement comes up for negotiation.
29
These meetings saw numerous members walk off to wobbleboard with their colleagues and supporters from the broader union community, which led to several stories run by various Tasmanian media outlets.
Industrial action was enforced at facilities with the list of bans growing each week for a month, which saw management having to take to the floor to cover gaps.
a campaign focused on the importance of paid meal breaks and how they protect residents.
This was a massive win for members that saw their power in the workplace grow.
HACSU fighting
fighting for aged care
The protest was organised in response to the proposed variation to Uniting AgeWell's paid meal break
Instead of supporting everyone to have paid breaks, UAW gave their money to security guards to block all exits to the Kings Meadows facility to stop us coming in and obviously to try and intimidate members who wanted to walk out.
They then instigated another voting process and must have spent a considerable amount money and resources with paid meetings with their staff.
Membersallowance.ofthecrowd, which neared 100 people, positioned themselves outside Uniting AgeWell's Kings Meadows facility near the busy Six Ways Thisintersection.welland truly let Uniting Agewell management know that they wouldn't take the loss of their paid meal breaks lying down.
However, with only hours before the ballot was due to close, UAW withdrew that ballot, and all the voting evidence was lost...
On the day of the rally, just when you thought things couldn't get any worse, there were unexpected attendees as we were joined by a whole private security team.
UAW had sunk to a new low. No aged care employer has ever called security on their own members before.
When the vote was finally counted it was a resounding NO vote!
In the week leading up to the vote all the UAW aged care homes in Tasmania were awash with suitedup management.
AGED care workers gathered in Launceston in May to protest one employer's attempt at further cuts to staff pay.
The attempted removal of these breaks would put the safety of residents at risk and mean that staff would lose over $2000 a year, which they could not afford.
This attempt to bully workers failed, and the workers continued to stand tall.
32
entitlement and stop the attack on workers by their employer.
ACTU general secretary Sally McManus, aged care workers from other facilities, members of the general public and some local politicians stood beside UAW workers to support them in their quest to keep the paid meal break
Uniting Agewell had refused the HACSU request to deal with this issue in the next round of bargaining and the company put out a ballot to allow employees to vote on whether their entitlements would be reduced.
Uniting AgeWell's bully tactics fail
Members were there en masse with banners and a good old fashioned chant.
The walls of their facilities were adorned with 'vote yes' posters and one worker even said that posters were put up on the back of the toilet stall doors.
HACSU posters put up in their lunch room were removed.
Your HACSU workplace delegate
33
I also want so see better staffing for aged care.
Work is even more busy when we're short staffed.
I've worked as an Extended Care Assistant for nearly 17 years. Before I started at Masonic Care I was raising my children and doing casual work in stocktaking and I'vecleaning.been a HACSU member for almost as long as I have been Afterworking.being approached by a delegate in my workplace I became a delegate about 10 or 12 years ago.
KRISTY
In that position I always want to gain more understanding of worker's rights and my role as Idelegate.wanttosupport and advocate for my colleagues.
My average working day is very busy, supporting and attending to resident needs.
With better pay and more staff we can provide the absolute best care, support and compassion that the residents deserve.
When I'm not working, I love to spend time with my family and friends, or pottering in the garden. I enjoy reading true crime books or watching the Supernatural tv ...forseries…the hundredth time over.
My hopes for the future are for fair renumeration for the work we do as carers of some of our most vulnerable Tasmanians.
FredI'MMASONICEXTENDEDYOUDCAREASSISTANTCARELAUNCESTONANECAatMasonicCare'sFrenchHomeinLaunceston.
34
member-onlyHACSUHACSUHOLIDAYSAFFORDABLEFORMEMBERSownsandoperatesholidayhomes in three amazing locations across Tasmania: St Helens, Sandy Bay and Southport.
Sandy Bay holiday home for members
Our homes are fully furnished and fitted out with everything you'll Headingneed. to Hobart? Stay right on the water's edge in Sandy Bay, in strolling distance of popular beaches, cafés, shops, parks and a secure modern playground. Just seconds from Wrest Point Casino and minutes to the CBD. For more, call 1300 880 032.
35
Delegate training - Devonport
Some awards and agreements have more than 10 days.
The NES includes paid and unpaid leave entitlements.
In some instances employers will allow you to access annual leave when personal leave is exhausted.
HOW MUCH PAID SICK AND CARER'S LEAVE DO I GET?
• unpaid carer's leave
WHO GETS PAID SICK AND CARER'S LEAVE?
You may need time off to care for an immediate family or household member who is sick or injured or help during a family emergency, this is carer's leave but it comes out of your personal leave balance.
• paid personal/carer's leave
WHEN CAN I TAKE SICK AND CARER'S LEAVE?
The NES establish minimum entitlements for permanent employees, including:
You can take paid personal/carer's leave:
• if you're unfit for work because of your own illness or injury, including pregnancy-related illness
Your rights when taking
These are designed to help you deal with things like personal illness or injury,
Sick and carer's leave comes under the same leave entitlement. It's also called personal/carer's leave.
An award, enterprise agreement or other registered agreement, contract of employment or workplace policy can't provide for conditions that are less than the national minimum wage or the NES and can't exclude the NES.
All employees except casuals are entitled to paid sick and carer's leave as part of the National Employment Standards (NES) in the Fair Work Act 2009.
• paid compassionate leave
DO I ALWAYS GET PAID WHEN TAKING PERSONAL LEAVE?
YOU may have absences from work for unexpected reasons.
• unpaid family and domestic violence leave.
The yearly entitlement is based on your ordinary hours of work and is 10 days if full-time and pro-rata if part-time. This can be calculated as 1/26 of your ordinary hours of work in a year.
Sick leave can be used when you're ill or injured.
The most common of these is personal leave, but unexpected leave can also be compassionate leave and family & domestic violence 'Personalleave.leave' is a term that covers sick leave and carer's leave. Sick and carer's leave lets you take time off to help deal with personal illness, caring responsibilities and family emergencies.
You may have to give notice or evidence to get paid for sick and carer's Personal/carer'sleave. leave, compassionate leave and family and domestic violence leave form part of the NES that apply to all employees covered by the national workplace relations system.
caring responsibilities, family emergencies, family and domestic violence, and the death or lifethreatening illness or injury of close family members.
• to provide care or support to a member of your immediate family or household because of a personal illness, injury or unexpected emergency affecting the member
36
Casual employees are entitled to take leave such as unpaid carer's leave, unpaid family and domestic violence leave and unpaid compassionate leave.
When your accrued entitlement is exhausted you may have access to unpaid sick leave or carer's leave.
A household member is any person who lives with you.
Your entitlement to paid personal/
You are entitled, even if casual, to 2 days of unpaid carer's leave for each occasion a member of your immediate family or household requires care or support because of a personal illness, injury, or an unexpected emergency.
WHAT RATE OF PAY WILL I GET WHEN PERSONAL/CARER'S LEAVE IS TAKEN?
• spouse or former spouse
carer's leave accumulates during a year of service, based on your ordinary hours of work. The entitlement to 10 days leave can be calculated as 1/26th of your ordinary hours of work in a year. Personal/carer's leave accumulates from year to year, and continues to accrue when you take paid personal/carer's leave or paid annual leave. Personal carer's leave and compassionate leave will not accrue on unpaid leave.
Compassionate leave is a separate form of leave to personal leave used to spend time with a member of your immediate family or household who suffers a lifethreatening illness or injury. on next page)
• 10 days each year if full-time
• allowances
WHAT IS COMPASSIONATE LEAVE?
37
• de facto or former de facto
• pro-rata 10 days each year if part-time
• loadings
WHAT ARE THE MINIMUM ENTITLEMENTS TO PERSONAL/CARER'SPAIDLEAVE?
considered a paid entitlement when you finish employment and is not part of your final pay.
An immediate family member is your:
Youagree.can't take unpaid carer's leave during a particular period if you could instead take paid personal/ carer's leave. This doesn't apply to casuals who have no entitlement to paid personal/carer's leave.
(continued
••••••partnerchildparentgrandparentgrandchildsiblingchild,parent,
The minimum requirement is that you must be paid at your base rate of pay for the ordinary hours you would have worked during the period. Your base rate of pay, other than for a pieceworker, is the rate of pay payable to you for your ordinary hours of work, but not including any of the following:
• overtime or penalty rates
Personal leave accrues for the full period of your employment from year to year ready to use when needed. This leave is not
IMMEDIATE FAMILY MEMBERS OR HOUSEHOLD MEMBERS
taking unplanned leave
WHAT HAPPENS TO UNUSED PERSONAL LEAVE?
WHAT ARE THE MINIMUM ENTITLEMENTS TO UNPAID CARER'S LEAVE?
This includes step-relations, such as step-parents and step-children, as well as adoptive relations.
You may take unpaid carer's leave for each occasion as a single continuous period of up to two days or any separate periods to which you and your employer
grandparent, grandchild or sibling of your spouse or de facto partner or former spouse or de facto partner
The term 'personal/carer's leave' covers both sick leave and carer's leave, and you get:
WHAT ARE THE MINIMUM ENTITLEMENTS COMPASSIONATETOLEAVE?
• it's required by law
38
WHAT PAYMENTS ARE REQUIRED COMPASSIONATEWHENLEAVE IS TAKEN?
• it's necessary to protect the life, health or safety of you or another person
Your employer can ask for evidence showing you took the leave to deal with family & domestic violence. If you don't provide this, you may not get family & domestic violence leave.
Some awards and agreements have more than 2 days.
• documents issued by a court
• if you or your current spouse or de facto partner has a miscarriage You may take compassionate leave for each occasion as:
• documents issued by the police
You can take the leave if you need to do something to deal with the impact of family & domestic violence and it's impractical to do so outside your ordinary hours of Forwork.example, this could include:
• accessing police services
The evidence has to convince a reasonable person that you took the leave to deal with the impact of family & domestic violence. Types of evidence can include:
You can check your entitlement for unplanned leave by contacting HACSUassist on 1300 880 032 or assist@hacsu.org.au
Unplanned leave continued
CONFIDENTIALITY
NOTICE AND REQUIREMENTSEVIDENCEFORFAMILY & DOMESTIC VIOLENCE LEAVE
This includes information about you giving notice you're taking leave and evidence you provide. Employers are not prevented from disclosing information if:
You and your employer can also agree for you to take less than one day at a time, or for you to take more than 5 days.
You must be paid at your base rate of pay for the ordinary hours you would have worked during the Ifperiod.you're a casual employee you're not entitled to any paid personal/ carer's leave or compassionate leave, but you are entitled to unpaid carer's leave and compassionate leave.
The leave doesn't need to be taken all at once and can be taken as single or multiple days.
• after the death of a member of your immediate family or •householdifachild who would have been part of your immediate family or household is stillborn
•documentsastatutory declaration
For example, your employer may request that you provide a medical certificate.
You are entitled to the full 5 days from the day you start work, and don't have to build it up over time.
For all periods of personal/carer's leave, family & domestic violence leave or compassionate leave, you must give your employer notice of the taking of the leave.
Some awards and agreements have more than 5 days.
Source: fairwork.gov.au
An award or agreement may include terms relating to the kind of evidence you must provide to be entitled to paid personal/carer's leave, unpaid carer's leave or compassionate leave.
Your employer can ask you to provide evidence for as little as one day or less off work.
• any separate periods to which you and your employer agree
You are entitled, even if casual, to 2 days of compassionate leave, and you are also entitled to take compassionate leave:
You are entitled to 5 days' unpaid family & domestic violence leave each year, even if casual.
Notice must be given as soon as practicable, which may be at a time after the leave has started, and must advise of the period or expected period of the leave.
The 5 days renew each 12 months but don't accumulate from year to year if not used.
• family violence support service
• 2 separate periods of 1 day each
WHAT ARE THE MINIMUM ENTITLEMENTS TO FAMILY & DOMESTIC VIOLENCE LEAVE?
ARE THERE NOTICE AND EVIDENCE REQUIREMENTS?
Your employer must take reasonably practicable steps to keep information about your situation confidential when they get it as part of a leave application.
• a single continuous 2-day period
Your employer can request evidence that would substantiate the reason for leave, and a failure to provide notice or, if required, evidence that would satisfy a reasonable person about the reasons for the leave, means you would not be entitled to the leave.
Employers must be aware that any information about your experience of family & domestic violence is sensitive and, if mishandled, could have adverse consequences for Employersyou. should work with you to discuss and agree on how this information will be handled.
• attending court hearings
• making arrangements for your safety, or that of a family member, including relocation
Your HACSU workplace delegates
39
I WORK as an attendant at the Spencer acute mental health clinic in the ward then help patients with breakfast and ADLs (activities of daily living), general maintenance, observation on the ward and help nursing staff with
I joined HACSU when I started this job and became a delegate because I'd like to help improve staff safety and work life balance.
ADAM ASAMBULANCEPARAMEDICFOWLERTASMANIAAPARAMEDICinthesouth
When not at work I love spending time with my family, travelling and Quitters Never Win.
I've been doing this for 7 years and before that was an operator on a
I'd like to help improve communication channels between HACSU and AT members, and also help members achieve better training including multiple paid CPD days as part of Inemployment.thefutureI'd like to see the Royal Hobart Hospital improve and decrease ramping for AT members and that we can achieve pay parity with other Australian ambulance Iservices.alsohope the training can improve and we can return to being an extremely good ambulance service. When not at work my favourite things to do are to hang with family, rock climbing, kayaking, bushwalking and Myreading.faves:
Film - Love Actually, Book - Catcher in the Rye, Song - Pearl Jam's Nothing Man, Ben Harper's Beloved One.
my average working day has great variety, helping patients with a wide range of healthcare needs and acuity.
I've been in this job for at least 9 years, ever since finshing school and uni, and I've been a HACSU member for around 8 years and became a delegate in late 2021 to help improve AT as an Hopefullyorganisation.Icanhelpimprove the conditions for AT employees and help my AT colleagues understand their rights and responsibilities and feel supported in their roles.
40
I'M DESMOND, your newest industrial organiser. and I started working at HACSU in mid-May of 2022.
I'm still finishing up my uni studies where I'm studying a Bachelor of Arts, majoring in English and BeforePolitics.coming to work at HACSU, I worked in fast food and childcare, as well as being the editor of my
University of Tasmania student I'mmagazine.passionate about building workers' power in lutruwita/ ForTasmania.toolong here, the labour of workers has gone unappreciated by state and federal governments. This is reflected by our state having some of the lowest wages in the country.
I believe that when workers stand up and organise, we can negotiate better pay and conditions for all.
The mighty trade union movement has been among the greatest forces of social transformation in Outsidehistory. of work, I'm a big fan of film, reading and getting involved in activism - solidarity forever!
Meet HACSU's Desmond Marcenko
Southport holiday home for members
member-onlyHACSUHACSUHOLIDAYSAFFORDABLEFORMEMBERSownsandoperatesholidayhomes in three amazing locations across Tasmania: St Helens, Sandy Bay and Southport.
41
Our homes are fully furnished and fitted out with everything you'll Goneed.to Southport and experience far south Tasmania surrounded by coastal walks and plenty of places to surf, swim and fish to your heart's content, not to mention incredible thermal hot springs at Hastings Caves, the Tahune Airwalk, Lune River and Australia's southernmost pub meals. For more call 1300 880 032.
IF YOU work in a role where you provide personal care, your HACSU membership includes free Professional Indemnity Malpractice Insurance (PIMI).
You can also check agreements and policies to see if there's a special process for disciplinary meetings or anything else relevant to the issue you want to discuss.
Professional indemnity malpractice insurance
HACSU's policy covers members for claims up to $20,000,000. And it's free.
Many personal care workers pay far too much for third-party PIMI or don't have PIMI at all.
1300HACSUassist880032
6 42
It's a good idea to ask management for a copy of all relevant information in writing before the meeting, and this includes your right to access your own personnel file if needed.
changing your roster or statement of duties and tasks.
It's absolutely essential to have PIMI if you're in a personal care role, and your employer doesn't provide this insurance - it's your responsibility to make sure you have it.
Please check with us for eligibility and exclusions.
For a copy of the policy terms and conditions, ask your HACSU organiser or call us on 1300 880 032.
IF YOU'RE a HACSU member who needs to meet with management to discuss your working conditions you have the right to union representation.
Union representation, it's your right
Most employment agreements and workplace policies include processes the employer must follow before doing things like
We suggest calling HACSUassist to contact the employer to make an Youappointment.mayalso need to sit down with a HACSU organiser before the meeting to properly prepare by looking at what the issue is and what your preferred outcome is. HACSUassist offers support and guidance for HACSU members and all calls are confidential, just call 1300 880 032.
PIMI is a type of insurance which protects you in the case of someone making a claim for loss, damage or injury as a result of how you've performed at work.
The meeting could be to discuss hours, workload, workplace flexibility, rosters or any issue that affects your working life.
Choose HESTA as your super fund.
80% of HESTA members are women: a major reason why we're so committed to gender equality and addressing why women retire with around half the super of men. We're leading this change though how we act, advocate, and invest.
Insurance for you and yours
Support for parents
Expert help
43
You'll have access to affordable cover that protects you and your family. From income protection to death insurance, we've got you covered.
We invest in the future of your industry, your community, and our planet. From health and aged care infrastructure to clean energy and affordable housing, your super will shape a better tomorrow.
Strong long-term returns
Gender equality
HESTA super and HESTA Personal Super members can get up to a 12-month break from paying insurance fees on parental leave — and stay protected 24/7. Find out more hesta.com.au/parental-leave
Investing in today, and tomorrow
Profit to members
The industry super fund dedicated to people working in health and community services Join us today. Visit hesta.com.au/joinISS307/221484.5HS
Be with a strong performer. The HESTA MySuper authorised default option Balanced Growth, has delivered an average annualised return of 8.79% p.a. over 10 years* to our members. And we keep our administration fees and costs down.
We're an industry super fund, so we're run only for you.
* Annualised return as at 30 April 2022. Visit hesta.com.au/performance for up to date performance information. Past performance is not a reliable indicator of future performance. The returns shown are net of investment fees, indirect costs and taxes.
Get expert superannuation advice on your terms, at no extra cost: it's all part of being with HESTA. Access it whenever and wherever you like: online, over the phone, through an information session or face-to-face.
DM:covidhelp@unionstas.com.au7616@unionstasmania
44
Do you need advice on your workplace conditions, rights, wages or health and safety?
Do you have questions around JobKeeper or other support for workers?
WorkerCOVID-19Helpline
What has COVID-19 meant for your work?
Unions Tasmania is providing FREE advice to any Tasmanian whose job has been impacted by COVID-19. If you need workplace advice, please get in touch: (03) 6216
HACSU'S NATIONAL OFFICE HAS WORKED WITH YOUR TASMANIAN AND OTHER STATE BRANCHES TO FINALISE THE FOLLOWING 24-PAGE WOMEN'S PLAN.
45 WOMEN'SPLANHSUNational
It includes clauses that would make meaningful changes for women at work, and HACSU organisers will discuss these issues with members when finalising logs of claims and what clauses you'd like to include.
Urgent Boost to Publicly Funded Women's Health
HSU's Industrial Wins and Campaigns
Parental and Birthing Leave
Introduction: Our Plan for Women
Free and Universal Early Childhood Care and Education
Implementation of Recommendations from the Royal Commission into Institutional Responses to Child Sexual Abuse
Leave to Receive Treatment for Addiction
New Reforms and Industrial Tools
Gender Equity
Family Violence Leave
Equitable Access to Addiction Treatment and Rehabilitation Housing and Employment
25.24.23.22.21.20.18. 3
Pregnancy Loss Leave
Lactation and Express Breaks
46
Organisational Reform and Confidential Workplace Reporting
Reproductive Health and Wellbeing
Sexual Harassment Leave
Contents
181664 12.11.10.10.9.8.7.
Superannuation Reform
People work primarily during the day as that is when the human body functions best. We have lunch breaks to refuel because that's what the body requires. We have toilets available because they are essential to how the body works. The workplace is modelled around the human body. But today's workplace does not consider the unique needs of the female body and the participation of women in the workforce. Women have worked the best we can with the system we have, but now is the time for change.
All women and girls are entitled to respect, dignity and bodily autonomy. We have made some progress in seeking that recognition through parental leave (primary carer), sick and carers leave. However, these entitlements still imply that a woman's primary role is looking after children, ageing parents or both - that a women's role is predominantly caring. Whilst that may be true to a certain extent, there is more to women. Women have enormous potential to change the workplace, legislation, and the way people live. We can contribute more to the workplace, lead organisations and corporations, and inspire change.
Attempting to rectify structural, generational change for working women is multifaceted, arduous and often contradictory. Gender equality must begin in the workplace to ensure that women are afforded full financial equity, support to report bullying and harassment and are granted the flexibility to take care of their children and their reproductive health and wellbeing.
This is not good enough.
The Health Services Union (HSU) is a specialist union with branches in every State and Territory, with over 95,000 members working in the healthcare and social assistance industries across Australia. We are uniquely placed to lead the way with achieving progressive change, as the industries we cover are largely dominated by women. It is also our members that provide care and assistance to women from all other workforces.
4
In 2022, the women of Australia demand more.
47
We believe that such changes will encourage women to not only remain in the workforce but to reach higher levels of leadership and to engender a more profound sense of solidarity between working women.
In today's workplace it is still primarily women who take leave to care for loved ones. There are still workplaces that make women feel like they are a problem when they request flexibility for child-caring responsibilities. Women are still earning and retiring with less and worryingly, the demographic who is now most likely to become homeless are women over 55.
Our Plan for Women
These changes are more critical than ever, particularly as we as a community grapple with challenges from the COVID-19 pandemic.
Meaningful change for working women begins in the workplace and is amplified by courageous policy makers.
48
We are leaning on healthcare workers and the caring industries more than ever.
Given that these sectors are primarily dominated by women, it is imperative that industrial change and economic equity is encouraged, celebrated and
HealthJuniorKateimplemented.MarshallVicePresidentServicesUnion 5
The last two years have been some of the most testing years on record for HSU members and the people they support. Every step of the way, HSU members have risen to the challenges facing the Australian healthcare system, showing grit, determination, and compassion. HSU members have continued to look after our most vulnerable — often in full PPE, working overtime, spending time away from friends and family, and risking their own health and safety.
Over the pandemic, many have labelled HSU members "healthcare heroes" and "essential workers" — titles that, they've always held in our view. While we welcome this newfound appreciation for this critical work, our priority is ensuring that appreciation translates into better wages and conditions for the sector. We believe that this must also be extended to those working in the childcare and community services settings such as public and social housing services.
The caring sectors are riddled with instances of labour hire, an emerging gig economy and industries that have not been afforded the opportunity to bargain effectively for better working conditions. This results in weakened industrial rights, burnout, unsafe working conditions and mass job insecurity. The childcare, AOD, aged care, disability, social and public housing and mental health workforces must be afforded the opportunity to bargain effectively. Short, fixed-term funding for community services must be halted to address the gender pay gap.
The dismissal of the work of HSU members as "caring" and "women's work" has led to a historical, gendered and systemic underfunding of the sector. This has led to the undervaluation of these
6
49
Ourroles.health and community services heroes deserve more.
For far too long, HSU members and other caring industry sectors have been undervalued and underpaid, with the average woman working in health care, social assistance and education earning approximately $30,000 less than the average man working in the most male-dominated industries of construction and manufacturing.
To achieve this the HSU is calling on the Fair Work Commission to order pay increases for these workers in female dominated industries. As called for by the new Federal Labor Government, the Fair Work Act must be changed to force the Commission to consider pay equity as central to targeting the gender pay gap. A Pay Equity Panel must enshrine equal remuneration principles and policies with a unit dedicated to research and rollout.
Higher Wages and Better Working Conditions
HSU's Industrial Wins & Campaigns
To date, the HSU has campaigned hard to include progressive clauses in our enterprise agreements to assist with achieving gender equity in the health and community services sector. We believe that employers should adopt these clauses in all enterprise agreements, and state and federal governments should implement them as policy.
• Five days paid leave for employees experiencing reproductive health matters for the purpose of attending and recovering from specialty appointments and treatments.
Reproductive Health and Wellbeing
- Fiona Patten MP Leader of the Reason Party
• The availability of flexible work arrangements for those experiencing reproductive health matters.
For many women, small adjustments to working arrangements that assist in accessing treatment or alleviating symptoms associated with reproductive issues can improve the working lives of women without the need for employees to take extra leave. For example, a reasonable and flexible start time could allow persons undertaking hormone or IVF treatment to manage nausea/ vomiting without losing an entire day to personal leave.
These measures enhance gender equality by removing the stigma associated with reproductive health issues while also increasing female participation in the workplace.
50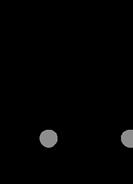 In this clause, reproductive health matters include In Vitro Fertilisation (IVF) and other forms of assisted reproductive health services (for example, IUI or hormone injections/replacements), or speciality treatment for conditions that cause excessive pain or excessive bleeding.
While not exclusively experienced by women, reproductive issues impact significantly on women in the workforce. Women are often forced to utilise paid and unpaid personal leave because of reproductive health issues. Access to paid reproductive health leave for all employees experiencing reproductive health issues increases workforce participation, reduces the gender pay gap and reduces the superannuation gender pay gap at retirement.
Our claim:
"I endorse this plan and it is extraordinary that in 2021 we are still campaigning for women's reproductive health to be recognised in the workplace. I can't help thinking if men got pregnant we would not be having this conversation."
HSU National Women's Plan 7
• Employees are entitled to a period of paid pregnancy loss leave if the pregnancy comes to an end before 20 weeks' gestation.
• An employee, and their partner, are entitled to five days of paid pregnancy loss leave if the pregnancy ends between one and 10 weeks.
Currently, most women in the public sector have access to the full provision of parental leave when they lose a pregnancy after 20 weeks. We are grateful that such provisions are in place. However, an estimated one in five women lose a pregnancy in the first 20 weeks of their pregnancy, and the trauma and impact of such a loss can have debilitating effects.
8
Pregnancy loss leave, like reproductive leave, prevents employees from going to work without having the proper time to grieve and process their loss. It is also allows women to attend any medical appointments and procedures following the miscarriage. Without these leave entitlements, individuals are forced to inappropriately use up their personal leave entitlements in instances that should not be considered as "illness or injury".
Our claim:
Losing a pregnancy after 10 weeks also has effects on mental health, however the physical trauma may be more significant as a worker may require surgeries, meaning more recovery time and potentially more financially stressful for the person/s experiencing the loss.
Pregnancy Loss Leave
• An employee, and their partner, are entitled to 10 days of paid pregnancy loss leave if the pregnancy ends between 10 weeks and 19 weeks and six days.
• Employees who experience pregnancy loss after 20 weeks are entitled to access paid parental leave entitlements under their applicable enterprise agreement.
Losing a pregnancy before 10 weeks can have a massive effect on a person's mental health, compounding the physical trauma of the loss. Accordingly, our claim is five days of paid leave to ensure that both the person who has lost the pregnancy, and their partner, can support each other through that trauma.
Industrial Campaigns
52
Women face a greater risk of experiencing poverty in their old age due to low superannuation accumulation during their working life. This is partially attributable to the traditional role of women as carers and the impact of parental leave and part time working arrangements impeding superannuation growth.
• A commitment that the employer will support a dedicated HR role and elected Health and Safety Representative to deliver workplace health and safety with a gendered lens inclusive of education, training and designing responsive and flexible workplace health and safety arrangements.
Our claim:
Our claim seeks to enhance gender equality while simultaneously ensuring compliance with the principles espoused in the Gender Equality Act 2020 (Vic) or Workplace Gender Equality Act 2012 (Vic). Including a claims process to address issues of gender inequality provides a direct mechanism for employees and unions to improve the working conditions for women.
Our claim seeks to improve women's superannuation balance by expanding the categories of leave that attract superannuation, and changing the frequency of superannuation being paid. We estimate that changing the superannuation payments from quarterly to fortnightly could result in individuals having up to $8,000 more in their accounts come retirement.
Gender Equity
• A claim process regarding systemic gender equality issues.
• Superannuation to be paid into superannuation funds on the day workers are paid.
• Superannuation to be paid on both employer and government parental leave payments, as well as unpaid parental leave.
• Paid on all paid leave entitlements.
• Paid on unpaid NES entitlements.
Industrial Campaigns 10
• A commitment that the employer will work collaboratively and consult with employees and relevant HSU branches to identify, support and implement strategies designed to eradicate the gender pay gap, gender inequality, gendered violence and discrimination.
Our claim:
Superannuation Reform
leave will also apply to surrogates, giving them one month to recover from the birth of the child.
Parental and Birthing Leave
HSU National Women's Plan
9
Workplaces such as Maurice Blackburn and KPMG have already successfully adopted these clauses in their agreements. We are eager to see this change adopted in the mental health, disability, AOD, aged care, food, domestic support, allied health, diagnostic services, community services and the private sector in the future.
In addition to the parental leave which can be accessed by both parents, the person who gave birth will be entitled to one month extra leave ("Birthing Leave") in order to recover from the Birthingbirth.
Our claim:
Our claim seeks to ensure that parents can have more time at home with their child/ren. In Victoria, HACSU Vic have secured four extra weeks for primary caregiver and one additional week for secondary caregivers in Public Sector Mental Health – meaning that primary caregivers have 14 weeks, whilst secondary have two weeks.
• More parental leave for both primary and secondary caregivers and the introduction of birthing leave.
Our next campaign will seek to amalgamate the primary and secondary streams of parental leave. This will ensure both men and women have access to the same amount of parental leave and eradicate the notion of the "secondary carer". Such change is important to enhance gender equality by providing opportunities for men to play an equal part in parenting responsibilities. It will also remove any hesitations associated with hiring or promoting women, whilst facilitating greater female workforce participation.
• Employees cannot be discriminated against for breastfeeding or chestfeeding, or expressing milk in the workplace.
• Appropriate refrigeration will be available in proximity to the area for breast milk storage. Responsibility for labelling, storage and use is with the employee.
• Paid lactation breaks are in addition to normal meal and rest breaks provided for in this Agreement.
• Employers will provide a comfortable place, other than a bathroom, that is shielded from view and free from intrusion from co-workers and the public, which may be used by an employee to express breast milk or breastfeed a child in privacy.
• An employee who wishes to continue breastfeeding or chestfeeding after returning to work from a period of parental leave or keeping in touch days, may take reasonable time during working hours without loss of pay to express breast milk for a nursing child each time such employee has need to express the milk, or breastfeed the child within the workplace.
Lactation breaks are critical to ensure women can participate in the workplace following the birth of their child/ren. Workplaces must allow women to express milk during work hours to ensure that babies are fed, and assist with milk supply and avoid breast engorgement.
Therefore, workplaces should ensure that women have a safe, comfortable and private place to breastfeed or express milk, and that this is considered paid time. Such measures ensure that women do not suffer further disadvantage due to their predominant role as carers and are also consistent with the prohibition under the Sex Discrimination Act 1984 (Cth) against discrimination on the grounds of breastfeeding. The Community and Public Sector Union has successfully won this clause in the Victorian Public Service Enterprise Agreement 2020.
HSU National Women's Plan 11
Lactation and Express Breaks
Our claim:
Family Violence Leave
Our claim:
A report for the Royal Commission into Family Violence in Victoria estimated that the total cost to the community and broader economy was $918 million, with the cost to individuals and their families being $2.6 billion and the total cost to the state at $5.3 billion.
Industrial Campaigns 12
55
This leave will be in addition to all existing leave entitlements and may be taken as consecutive or single days or as a fraction of a day and can be taken without prior approval.
IV. a change to their telephone number/s and/or email address to avoid harassing......... .....contact;
V. any other appropriate measure including those available under existing provisions .....for family friendly and flexible work arrangements
III. temporary or ongoing relocation to suitable employment at a suitable location;
• The employer is committed to providing support to those employees and will provide leave to those who are experiencing, or being threatened with violence due to physical and/or psychological injury, as well as to attend counselling appointments, legal appointments or proceedings and all other activities related to, and as consequence of, family violence.
• A commitment that the employer recognises that employees sometimes face situations of violence or abuse in their personal life that may affect their attendance or performance at work.
• The employer is not to provide any personal information – including but not limited to – personal address, phone numbers, email address, working hours etc. to anyone unless pivotal to the work engaged in by the employee.
II. temporary or ongoing job redesign or changes to duties;
Employees are also eligible to utilise this clause in conjunction with existing leave provisions to assist a person experiencing family violence.
This clause is available to all employees including full-time, part-time and casual and includes a commitment from the employer to implement temporary or ongoing changes to assist in the employees working life including and not limited to:
An employee experiencing family violence will have access to 20 days per year of paid special leave for medical appointments, legal proceedings and all other activities related to family violence (this leave is not cumulative but if the leave is exhausted reasonable consideration will be given to providing additional leave and will not be unreasonably refused).
Far too often, women experiencing domestic violence are excluded from the workforce due to the ongoing and associated effects of family violence.
I. temporary or ongoing changes to their span of hours or pattern or hours and/or shift .... patterns;
Familywomen.violence is a health issue.
Whilst we have successfully achieved the inclusion of some of the above claims (or various iterations of these claims) in enterprise agreements to date, the fight is unfortunately not over.
The HSU will continue to fight for the widespread inclusion of progressive claims in all agreements, covering all workforces.
56
Going forward
This clause centres on a commitment from the HSU and employers that we will do everything possible to ensure that women can continue to thrive in the workplace, even in the face of family violence. We believe that flexibility, leave and financial status should never preclude a woman from fleeing violence.
HSU National Women's Plan
- Rosie Batty Australian of the Year award speech
Violence and abuse cut across lines of income, class and culture with long-term effects on women's mental health. Violence is still the leading contributor to death, disability and illness for
13
"Family violence is an entrenched epidemic that we've lived with since time began, so we've got a long way to go. But I do believe the tide is turned. It's no longer a subject that only occurs behind closed doors".
ofchildren.women considered retiring
severe.symptomsmenopausalwere45%
Domestic violence and sexual assault perpetrated against women costs Australia the figure is likely to rise steps are not taken.
$13.6 billion each year, and
if extra
Domestic and family violence is the number one cause of homelessness in the country, where almost 50% of those homelessnessexperiencingarewomen, often accompanied by or taking a break from work when their
Workplace sexual harassment has a high cost. As well as having a devastating and profound impact on individuals, it's estimated that workplace sexual harassment cost the Australian economy $3.8 billion in 2018.
From May through to November 2021, casual jobs made up over 60% of new jobs and women filled 62% of those jobs.
72%
23%
of Australians over 15 have sexualexperiencedharassment in their lifetimes.
of women and 16% of men said they had been harassed at work.
Major gaps are present all over the country.
Women make up the majority of consumers in the healthcare system but our public and private systems are not designed to cater to women's unique needs. Australia's inherently patriarchal health care system, coupled with chronic underfunding of women's health services, makes the case for urgent and ongoing funding boosts.
While we acknowledge that Queensland has significantly improved abortion laws including safe access zones, they don't have regional abortion services available and like Tasmania, still have consent laws that are out of step with every other Criminal Act in Australia. Aside from nonhealth specific grants to various women's organisations, the New South Wales Government hasn't announced any dedicated funding or programs aimed specifically at addressing issues with diagnosis and waiting lists for women and women's reproductive health. In the Northern Territory domestic violence related assaults have increased by nine per cent and the Territory holds the title of the worst homelessness rate in the country.
16
The South Australian Liberal Government failed at every stage to recognise the importance of the health needs for South Australian women. The 2021-22 SA Budget only offered $25 million over five years for programs related to women's health and wellbeing. The South Australian Government still uses outdated gendered terminology for parental leave in its public sector enterprise agreement and has repeatedly rejected the HSU's claims for reproductive health leave.
59
Urgent Boost to Publicly Funded Women's Health
Australian women may live longer than Australian men, but they are not healthier. Over half of our population are women. Research shows that although they live longer, they're more likely to live in poverty and with a chronic, disabling disease.
In May 2021, former federal health minister Greg Hunt announced a $353.9 million investment in women's health over four years, including support for mental health, endometriosis, breast and cervical cancer and reproductive health. While we welcome this overdue investment, we know that much more needs to be done to fill the gap after years of chronic underfunding.
During research into HACSU Vic's Reproductive Health and Wellbeing campaign, it was discovered that Victorian women have to wait three years on average to see a publicly funded specialist. That is three years of pain, excessive bleeding and other symptoms without a diagnosis or access to treatment. The widespread inability to access women's health specialists has contributed to the fact that, on average, it takes 6.5 years to diagnose endometriosis.
17
Of serious concern to union women is how these complexities further harm marginalized communities. It's estimated that Indigenous women live up to 20 years less than non-Indigenous women. Women with a disability are over-represented in institutional care, experience higher rates of poverty, and higher rates of difficulty in accessing health services. Refugee women have higher instances of co-occurring chronic disease, reproductive health issues and mental health issues, and still experience difficulty in accessing publicly funded health services.
While we welcome the introduction of policies such as publicly funded IVF access in Victoria, we are concerned that Australia has no national women's sexual and reproductive health strategy to guide research, policy, program development and evaluation appropriately.
60
The healthcare system in Australia – and therefore healthcare policy – is often written to be blind to gender. However, this narrative further solidifies the concept of masculinity as the 'default' and femininity as 'other'. This is the case, despite evidence confirming that even medical conditions experience by all genders are experienced differently by men and women – from physical conditions like heart attacks to psychological conditions like ADHD. Women and men experience these conditions uniquely and denying policies specific to women's experiences is a blight on our healthcare system.
Some states in Australia still outlaw abortion and many clinics where abortion is legal, are still attached to denominational organisations. Recently, a national survey of general practitioners conducted by the Australian Women's Health Network found that 40 per cent are not confident in their knowledge of their state and territory's abortion laws. There is no Medicare item number for a rebate on medication abortion. We are thrilled to see progressive investment and reform politically in this space, but we must ensure that women can access these services when and where they need them the most.
It is estimated that the health care cost of domestic violence for 2020-21 will cost Australians $445 million, on top of an already underfunded sector. Urgent reform is necessary and well overdue.
Australian women deserve more. By investing in women's health, Australia invests in women in the workplace.
• Changes to allow a worker who is sexually harassed at work to apply for a Fair Work Commission order to stop the sexual harassment.
• Making sexual harassment in connection with an employee's employment a valid reason for dismissal.
New Reforms and Industrial tools
61
Twelve of the 55 recommendations require legislative change. While it is disappointing that the former Morrison Government only enacted six, it is pleasing that we have voted in a new Federal Government that is committed to implementing all the recommendations. It is also pleasing to see The Fair Work Commission has new powers to stop sexual harassment in the workplace. The Sex Discrimination and Fair Work (Respect at Work) Amendment Act 2021 amends the Fair Work Act 2009 to include:
These are welcome, long overdue changes – however serious concerns remain about their efficacy, particularly for women working in casual employment, labour hire and the gig economy.
It's unsurprising that sexual harrassment is worse in workplaces with low union density and sectors with casualised workforces. For decades, women have been over-represented in these industries, leading to the entrenchment of poor working conditions and an ingrained fear of speaking Economicup.insecurity
Only 27 per cent of those who experienced sexual harassment made a formal complaint. Forty per cent told no one.
should never prevent a person from speaking up about sexual harassment. However, a recent survey by the Australian Council of Trade Unions found that 54.8 per cent of the 9600 respondents had experienced sexual harassment at work – from customers, clients, coworkers and for 38 per cent, a supervisor.
Gender inequity in the Australia labour market is of grave concern. Some state governments have made bold moves, such as Victoria's introduction of Gender Equity laws. However, unless women are afforded economic equity in the form full or part-time employment with a range of leave provisions and entitlements, the fear of speaking up and reporting will continue. Of the 2.3 million Australia workers reliant on minimum wages, 61.8% are women.
• The ability to give the Fair Work Commission the power to stop sexual harassment following a single instance of harassment.
Sexual Harassment Leave
18
The Respect@Work Report, authored by Sex Discrimination Commissioner Kate Jenkins, shed light on the prevalent and pervasive nature of workplace sexual harassment. It demonstrated what women have known for decades: that reform is urgent and necessary in every workplace, at every level and in every industry.
• There is no faith in the complaint process;
Atdisadvantage.present,the
• There is a fear of the negative consequences for the complainant.
Victorian State Government is trialling paid sick leave for casual employees in response to the spread of COVID-19 in insecure workplaces. This trial will provide up to five days of sick leave or carer's leave at minimum wage rates. Should this trial be successful, it should be legislated to assist our gig economy, labour hire and casual workforces to be empowered to report sexual harassment.
It is unfair to put workers through this, leaving them in precarious circumstances – financially, physically, and mentally. Fundamental changes to workplace reporting and legislative amendments will take considerable time to filter down to workplaces, so we must start now. We believe that a five-day leave provision must be enshrined in all workplace agreements and awards, in the first instance. This leave will give employees the ability to look after their mental health when reporting harassment, and allows employers time to mitigate any further risks to the complainant and address the incident. Much like the our Reproductive Health and Wellbeing clause and Family Violence clause, these industrial measures will assist working women to be more empowered to report assault without fear of negative consequences or economic
To address the fears of negative consequences and a lack of faith in the complaint processes, we believe that a special leave entitlement must be enshrined in policy, enterprise agreements and awards for sexual harassment leave. Of course, addressing the high instances of insecure work and stamping out the gig economy is of great importance across our movement. In the meantime, a leave entitlement must be enacted to assist our most marginalised workforces when they have experienced sexual harassment.
Far too often, members tell us that they are unable or unwilling to report harassment because they are casual. As a union, we have had multiple occurrences of casuals forcing themselves to return to a workplace after a sexual harassment incident due to fear or financial pressures.
Real change begins with industrial and economic equality.
When workers are put through this trauma many will not report harassment because:
Women working in these highly casualised workforces have no industrial power to address or report sexual harassment. The Victorian Government Inquiry into the Labour Hire Industry and Insecure Work demonstrated that far too often, workers are routinely denied fundamental employment rights and evidence of abuse, violence, sexual harassment and excessive working hours are rampant. To assist these workers, we need urgent reform to leave provisions to protect women and ensure they are not subjected to economic disadvantage.
HSU National Women's Plan 19
• There is no confidence that the complaints process would be confidential;
1. A dedicated people and culture manager and health and safety representative who carries the portfolio of workplace safety with a gendered lens
This role should be in all workplaces and should be tasked with implementing all workplace health and safety and workplace policy with a gendered lens. Duties should include making recommendations on workplace design, flexible working arrangements, workplace health and safety issues, issues relating to menstruation and menopause and investigating instances of bullying, harassment and sexual harassment. A key part of this job should be an obligation to report to the CEO and their commitment to reporting the incident, investigation proceedings and outcome to the board. This should also include training and education for workplaces to assist working women of all ages to continue to thrive when experiencing issues relating to menstruation, menopause and reproductive health.
Countless reports, submissions to inquiries and surveys have revealed that overall, women are unwilling to report instances of harassment as they have no confidence in the reporting mechanisms. To combat this, the HSU is calling for the following policies to be implemented in all workplaces:
Recently reported in Circle In's report 'Driving the Change', when asked to define what was most challenging about their experience while working during menopause, almost half of the women surveyed reported a drop in confidence, and 83 per cent said that the stress of juggling work during menopause had a negative impact on their work. Almost half of the respondents considered retiring due to severe menopausal symptoms with 28 per cent surveyed going through with it. One in eight women surveyed left the workforce due to their symptoms. Two in eight would if financial reasons did not hamper them.
2. The introduction of a disputes panel in all workplaces
63 New Reforms and Industrial Tools
HACSU Vic recently won a clause in the Public Area Mental Health Enterprise Agreement to implement an independent disputes panel to investigate workplace disputes. The panel includes an independent chair, a representative from the employer and a representative from the relevant trade union. Our view is that this would provide working people another mechanism to report sexual harassment, in line with surveys conducted by the Australian Council of Trade Unions which found that unionised workplaces are far safer for women. To have strong union involvement in this space is essential to ensuring all Australian workplaces are safe.
Organisational Reform and Confidential Workplace Reporting
A recent survey by The Victorian Women's Trust found that 86 per cent of respondents wished they had better access to flexible working arrangements to cope with menopause. Developing a framework of flexibility for all Victorian workplaces and a robust education program for employees is urgent. It would go a long way to ensuring that working women are not isolated, embarrassed, or forced to leave the workforce earlier than they should.
20
Modelled on the CPSU's Leave to Attend Rehabilitation clause in the Victorian Public Sector Enterprise Agreement, we believe that a leave provision must be added and available for all working people after passing probation to attend rehabilitation. This clause should be a 28-day minimum and should accrue further leave with years of service. We see this as a harm-reduction measure that makes economic sense for business, community, and family.
21
3. A policy commitment to encourage health and safety representatives and the establishment of designated working groups in all Australian workplaces
At present, policy settings cost the Australian community approximately $55 billion annually due to the knock-on effects of addiction. It is economically responsible to invest in addiction leave, equitable rehabilitation and harm reduction measures because every $1 invested saves the community $27.
While we acknowledge the positive steps taken by the former Federal Government in expanding the scope of the FWC, we believe it is imperative that a gender equity panel be established within the FWC to tackle complex issues of sexual harassment and gendered bullying in the workplace and that training be given to all commissioners, in line with the Respect@Work Report.
A key barrier to women accessing treatment for addiction is a lack of leave entitlements. Women are usually the primary caregivers to children and the elderly, and often have to use sick leave for their reproductive health and wellbeing. Specific leave provisions need to be added to enterprise agreements and awards as standards to assist women in seeking addiction treatment.
Leave to Receive Treatment for Addiction
HSU National Women's Plan
Workplaces with elected health and safety representatives and designated working groups are safer, more productive and encourage employees to speak up about unsafe work conditions. Recently, occupational health and safety training providers have included a specific gendered violence refresher course for Health and Safety Representatives (HSRs) to combat instances of gendered violence, harassment or bullying in workplaces. This training should be mandated for HSRs and included in all workplaces as a non-negotiable policy to give workers another avenue to report safely.
4. Insertion of a gender equality panel and training for all Fair Work Commissioners
We aim to build on what the Foundation House NSW has created. Ideally, we will be looking to open four services in Victoria after a successful trial period, with one specifically for women and children.
Collaborative, community-based services with the support of the trade union movement will reduce addiction-related harms for women, while ensuring that they stay employed and have continuous support via their workplace.
New Reforms and Industrial Tools
22
Women-only services that can accept children benefit women, by tackling the addiction as a family unit. There is a national shortage of these services – e.g. in Western Australia, of the 16 state-run rehabilitation services, only three can take children.
The Victorian union movement is working to open a worker-led rehabilitation, outpatient and outreach service in partnership with publicly-funded rehabilitation services. This program is based on Foundation House, the successful NSW union-initiated rehabilitation service.
Every year, around 500,000 Australians seek assistance for addiction but are unable to access help. Current policy settings negatively impact working people, with long wait times, long treatment times, and costs that are impossible for the average person. Workers are forced to choose between keeping their job, re-mortgaging their house or withdrawing their superannuation – or simply not getting the healthcare they need.
Overall, women face more difficulties than men in accessing rehab services. According to Professor Nicole Lee, women often have a history of trauma, high prevalence of common mental health issues such as anxiety or depression, and face economic barriers to accessing treatment.
Equitable Access to Addiction Treatment and Rehabilitation
Of particular concern is the lack of rehabilitation options for mothers. Across the country, there is a shortage of drug rehabilitation beds and few facilities that also accept children. Women are more likely to be the primary caregiver, which leaves mothers sitting on long waiting lists to access help.
Offering a service that has a 28-day inpatient program, with extensive ongoing outpatient support, will ensure that working people can retain their employment and build community, all while receiving life-changing treatment. The NSW service has had great success, expanding into toolbox talks, health and safety training and union delegate training. Funding has been secured via enterprise agreements, and industry donates to the service as they see ongoing benefits.
66 HSU National Women's Plan
However, despite this landmark investment, this will not ensure that the state will meet the national average of social housing as a percentage of total dwellings. For Victoria to reach the social housing average, it is estimated that the state would need to build at least 3,400 dwellings each year until 2036.
Worryingly, women over 55 years old are the fastest-growing demographic of homelessness in Australia. We need viable ways forward to ensure that those seeking housing are afforded the opportunities for employment, studies or apprenticeships, while also receiving mental health support.
As a movement, we know that the housing crisis has become more urgent due to direct and indirect economic impacts of the COVID-19 pandemic. Women are the most disproportionately affected due to insecure work, family violence and a lack of superannuation in retirement.
According to the Victorian Inquiry into Homelessness, demand for services has exceeded availability of support, with 112,919 Victorians seeking assistance in the 2018-19 period. Of those who sought assistance for short-, medium-, or long-term accommodation, most could not be assisted by government or not-for-profit services due to overcapacity.
The Victorian Inquiry into Homelessness noted:
• 32 per cent could not be provided crisis accommodation.
The trade union movement applaud the Andrews Government's record $5.3 billion investment to build more than 12,000 public housing dwellings with projected job creation at 43,000. This move will represent a 10 per cent increase in the overall Victorian social housing stock.
Housing and Employment
• 62 per cent could not be provided transitional accommodation
23
Homelessness affects many demographics; young people, mothers and children escaping domestic violence, older people, people with a disability, and community members grappling with mental health and addiction.
Approximately 116,000 Australians will be homeless tonight. In the 2018-19 period, one in 57 Victorians accessed a government funded homeless service. This is a devastating number and also one that is highly likely to underestimate the extent of the issue.
In the year leading up to December 2020, Victorian Police attended 92,521 family violence incidents. Each night, 66 women and 55 children spend the night in motels due to a lack of available housing. In the 2019-2020 period, 51,000 Victorians became homeless due to family violence.
• 76 per cent could not be provided long-term housing
Our plan provides solutions highlighted in the Victorian Inquiry into Homelessness, specifically in providing housing for women and housing that has employment opportunities attached.
$3 billion has been committed by the Victorian Government to tackle domestic violence. However, five years after the Royal Commission into Family Violence, 26,000 women and children are being turned away from housing services each year and police reports are at an all time high. There are severe shortages in emergency and long-term housing options for victims of family violence with some waiting times up to eight weeks.
Furthermore, we are demanding that every State and Territory implement every recommendation of the Royal Commission. We are concerned that loopholes still exist in criminal legislation across the country. For example, in Queensland and Tasmania, the Acts still have not included provisions that make it a crime for those with caring responsibilities such as teachers and priests to groom, coerce or have sexual relations with 16- and 17-year-olds. Loopholes like this are present across the country. Given the evidence of the psychological impact that such cases have on women and children, we must act.
Trauma can be a key indicator that precludes women from employment. Any intervention that can be safe for women to address these harms is an urgent, positive investment. Not doing so further engenders harm and a culture of not speaking up.
We believe this issue must be addressed collaboratively with government, businesses, NGOs, and trade unions as a matter of urgency.
We are still waiting.
67
This would be another mechanism for working women to utilise when facing present or historical sexual abuse. It is imperative that this centre, as promised and in line with recommendation 9.9 of the report, is actioned. While we welcome all programs that include prevention, it is our view that a centre like this needs to be focused on survivors to give another avenue of seeking confidential and wrap-around support.
In May 2021, the former prime minister announced a national strategy to prevent child sexual abuse at a cost of $146 million. Unfortunately, $100 million of this investment has gone to law enforcement with no mention of the centre for survivors.
New Reforms and Industrial Tools 24
As a matter of urgency, we believe that this centre must be funded and done so in every state.
Implementation of all Recommendations from the Royal Commission into Institutional Responses to Child Sexual Abuse
Three years ago, as part of the national apology to victim-survivors of child sexual abuse, former prime minister Scott Morrison pledged to open a National Centre for Sex Abuse Survivors.
Collaborative partnerships to provide affordable housing with job training attached are crucial to filling this gap. Women deserve the dignity of housing with employment opportunities connected in a supportive setting.
Childcarecondition.reform
HSU National Women's Plan
We contend that a positive way forward would be to ensure that state and federal governments:
3. Scrap primary and secondary caregiver provisions to level the playing field.
There are approximately 2.6 million families with dependent children under 15-years-old in Australia. For decades, Australian families have struggled with early childhood education and care (ECEC) costs consuming a high proportion of the household income, with it being largely inaccessible for working families. In many instances, it is cheaper for women to not return to their workplace rather than pay for childcare. Our view is that the economic benefits of free ECEC involve much more than encouraging women back to the workforce. This shift also needs to be expanded to include better working wages and conditions for those who provide this care and a recognition that this care fosters incredible educational outcomes for our young people.
2. Raise the wages and conditions of those working in these sectors to solidify this as a long-term career path.
4. Introduce workplace measures with flexibility, working from home arrangement and on-site childcare
25
1. Make childcare and early education universal and free to ensure equitable access.
Free and Universal Early Childhood Care and Education.
We must fund these services across the board. They must include culturally and linguistically diverse learning environments and cater to children who identify as having a disability or a mental health
Progressive childcare, early education, parental leave and flexibility are not a luxury. They are a right.
The positive mental health and confidence of parents, particularly women who are still considered the primary caregiver, is an urgent endeavour that should be front of mind for all of Australia. The 'motherhood penalty' narrative has merely been perpetuated by COVID but has always been present when discussing the economic disadvantage of mothers and workplace discrimination. Many international studies have found that mothers are viewed as 'less competent' and 'less committed' due to child-caring responsibilities. The reality is that affordable childcare and early education are significant barriers for working mothers to return to the workplace and to rise within the ranks of a workplace.
has been an urgent matter for years, and the COVID pandemic has exacerbated this. Parents are reporting much higher levels of emotional distress and isolation, with Melbourne University finding that in 2020, employed parents with a primary school aged child are four times more likely to be in higher mental distress relative to 2017 statistics. Furthermore, the consequences of 'the pink recession', mean that women are far more negatively impacted due to job losses and reduced hours.
26
Change needs to support women in their intersectional diversity, across race, class, sexuality, age, and disability.
- Yasmin Poole Award-winning speaker, writer and youth advocate
"For generations, women have been expected to remain silent about injustice they have faced. No more.
Sexual harassment must be brought out of the shadows, and it starts with our leadership recognising that enough is enough.
Gender equality cannot be achieved by handing down crumbs. It requires an unapologetic commitment to reform the systems that build and uphold the barriers to begin with.
This report does just that."