A quarterly resource celebrating family life in Butte County since 2004
Summer Issue 2023 May - June - July
magazine
Cover Photo by Wild Sage Portraits
Cover Photography by: Wild Sage Portraits (530) 588-4949
www.dianenicolephotography.com
Diane Nicole Photography is home to two brands: Wild Sage Portraits is Diane Nicole's family brand and all about capturing the fleeting moments. Her commercial brand, Social Lifestyle Photography, focuses on visuals for branding your business and headshots.
On The Cover: Shawn, Briana, Charlie, and Lilijana Clark.
Advertising Deadline:
To advertise in our fall issue, please contact us by June 15th. Our fall issue will be on stands August, September, and October.
Contact Jason at: 530-591-2634 or jason@growingupchico.com
Growing Up Chico Magazine is published quarterly and available, free, at over 200 family-friendly locations throughout Butte County. We are also available online at www.growingupchico.com.
Copyright © 2023 by Growing Up Chico Magazine. All rights reserved. Reproductions without permission are prohibited. Articles and advertisements found in Growing Up Chico Magazine do not necessarily reflect the opinions of the management or ownership. We reserve the right to edit. Every effort is made to avoid errors, misspellings, and omissions. If an error is found, please accept our sincere apologies and notify us of the mistake.
For Advertising Information, Contact Jason Corona: (530) 591-2634 jason@growingupchico.com
Aveed Khaki Publisher
aveed@growingupchico.com
(530) 519-5683
Kristiane Ransbarger, M.D.
Dr. Ransbarger's passions are preventing childhood vision loss, educating families, and restoring single vision. She and her husband have three vibrant children, two daughters and a son. In her spare time, she enjoys running, cooking, and outdoor adventures with her family.
Andrea Chalmers
Andrea is a social media manager, photographer, and graphic designer for non-profit businesses in Oroville. She loves art, volunteering for charitable causes and events, and a good cup of coffee.
Maddie Rodriguez
Maddie Rodriguez is a writer and editor living in Chico. She loves animals and nature and a nice cup of hot chocolate with marshmallows.
Tim Milhorn
Born and raised in Chico, Tim graduated from Chico High and Chico State. He is an English teacher at Orland High School and soccer coach for Butte United, Orland High, and Butte College. He was also awarded California Interscholastic Federation Model Coach of the Year, 2020-2021.

Shelly Brandon
Shelly is Mom to two daughters, one in college and the other in high school. She is an avid traveler, and a lover of animals and the outdoors. She has been a high school biology teacher, a zookeeper, and lately, a freelance writer.
Jessica Wilhelm
Michelle was born and raised in Chico with big dreams of changing the world. She is the CoFounder and Executive Director of Reading Pals, mother of 4, avid traveler, and has come to believe that perhaps the most effective way to change the world is one child at a time.
Jessica Wilhelm
Jessica is a mama of four, a local business owner, an emergency medical technician, and an art teacher. Often called "Jess of all Trades," she loves working on backyard projects and knows how to fix almost anything. She has a passion for all things natural, painting murals, and being in the kitchen. She also sings in the worship band at Chico Community Church.
Reading Pals Builds Self Esteem: Learning to read is not just important for literacy, but for the health and wellness of our community at large. See what Reading Pals is doing to encourage literacy and bring it to the forefront.
Care for All Children, All the Time! Valley Oak Children's Services provides necessary support and services to keep our community thriving! Find out how they help, and how you can assist or use their services yourself!
Parenting
Water Safety: There's no better way to enjoy hot summer months than in one of the many pools or bodies of water around Northern California, but practicing proper water safety is key. Jessica Wilhelm helps ensure this summer is just as safe as it is fun for kids and parents alike.
Getting Your Child Ready for An Eye Exam: Doctor's visits are rarely easy, but planning for them ahead of time can make all the difference. Pediatric Ophthalmologist Dr. Kristiane Ransbarger details the importance of eye exams and how to best prepare your child for theirs.
Summer Fun
14 18 21 30
Butte County Summer Camps: There's no shortage of summer camps this year to keep kids engaged during the break from school. Check out the list and find one that's right for yours!
Mud Run: Get out and get dirty! This summer's annual Mud Run in Oroville is sure to be a hit with the littles. Check out what the Lord's Gym has in store this year!
Llamas, and lions, and goats—oh, my! Shelly Brandon takes us on a tour of some of the area's best kept secrets and the perfect places to visit this summer to learn about—and interact with—some furry friends.
Summer Calendar: Summer is finally here, and we've got a whole list of must-visit events throughout May, June, and July! Check out our summer calendar and see what's in store for you!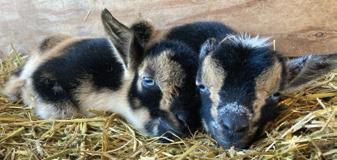 6 GROWING UP CHICO MAGAZINE SUMMER 2023 12 14 18
09
12 25
see what's inside...
Community 09 28 25 28 21
8 GROWING UP CHICO MAGAZINE SUMMER 2023