A quarterly resource celebrating family life in Butte County since 2004
Spring Issue 2023
February - March - April
magazine
Cover Photo by Wild Sage Portraits
Cover Photography by: Wild Sage Portraits (530) 588-4949
www.dianenicolephotography.com
Diane Nicole Photography is home to two brands: Wild Sage Portraits is Diane Nicole's family brand and all about capturing the fleeting moments. Her commercial brand, Social Lifestyle Photography, focuses on visuals for branding your business and headshots.
On The Cover: The Samuels Family
Advertising Deadline: To advertise in our summer issue, please contact us by March 30th. Our summer issue will be on stands May, June, and July.
Contact Jason at: 530-591-2634 or jason@growingupchico.com
Growing Up Chico Magazine is published quarterly and available, free, at many family-friendly locations throughout Butte County. We are also available online at www.growingupchico.com.
Copyright © 2023 by Growing Up Chico Magazine. All rights reserved. Reproductions without permission are prohibited. Articles and advertisements found in Growing Up Chico Magazine do not necessarily reflect the opinions of the management or ownership. We reserve the right to edit. Every effort is made to avoid errors, misspellings, and omissions. If an error is found, please accept our sincere apologies and notify us of the mistake.
For Advertising Information, Contact Jason Corona: (530) 591-2634 jason@growingupchico.com
Aveed Khaki Publisher aveed@growingupchico.com (530) 519-5683
Talia Swangler
Talia Swangler M.S., CF-SLP works at Full Circle Speech Therapy in Chico. On the weekends you can find her running, reading, or spending time with family!
Carla Aoyagi
Carla Aoyagi has lived in Butte county for most of her life, with a short stint in Southern California to get her BS in material engineering. Her real job is as a media director for a fairly large company, while her magical job is creating and sharing her art and ancient mythological inspired tales. She homeschools her four children and works to keep the small family farm growing some food.
Maddie Rodriguez
Maddie Rodriguez is a writer and editor living in Chico. She loves animals and nature and a nice cup of hot chocolate with marshmallows.
Michaela Gulbransen
Michaela is the regional administrator for High School Exchange Students through ICES (icesusa.org). She is passionate about foreign exchange and the impacts of raising culturally aware children. She is a proud mom to 3 kids ages 7, 5, and 4. Michaela is a life long learner and enjoys having great conversations over coffee.
Shelly Brandon
Shelly is Mom to two daughters, one in college and the other in high school. She is an avid traveler, and a lover of animals and the outdoors. She has been a high school biology teacher, a zookeeper, and lately, a freelance writer.
Ashley Baer
Ashley is the Marketing Manager (and content captain) for Explore Butte County. She loves always learning more about Butte County and using her writing and photography experiences to tell its story.
6 GROWING UP CHICO MAGAZINE SPRING 2023 Family Time 14 16 20 Uniting Families on the Ridge: Helping Mothers Build Community Growing Up Globally: Seeing the World Through Hosting Teaching Children to Save Money 14 16 28 Parenting Spotting a Speech Disorder Is Homeschooling a Good Fit For Your Family? Perinatal Mood & Anxiety Disorders 09 10 12 Feature Our Annual Women in Business Spotlight 21 10 Spring Fun 26 28 30 Feathered, Furred, or Floral: Take Your Pick! Get Ready for Butte County Museum Week! Spring Calendar see what's inside...
FEBRUARY
CHICO COMMUNITY BALLET: Sleeping Beauty
PILOBOLUS BIG FIVE-OH!
NEIL BERG'S
50 Years of Rock & Roll
TREELOGY: A Musical Portrait of California's Redwood, Sequoia and Joshua Trees
MARCH
TAKE ME TO THE RIVER: NOLA LIVE!
Dumpstaphunk, George Porter Jr. & Jon Cleary
PINK MARTINI featuring China Forbes
LOS LOBOS with special guest Gaby Moreno BANFF
MASTERWORKS 3: HAYDN'S DRUMROLL
Guest Soloists, Young Artist Winners: James Johnston, violin; Sarah Harris, soprano
MTAC Youth Orchestra; Shasta College Youth Strings
Join local youth orchestras and Young Artist winners in a humorous and quirky, upbeat performance showcasing the young performers in our communities.
Saturday, Feb. 11 | 7:30 PM | Laxson Auditorium, Chico
Sunday, Feb. 12 | 2:00 PM | Cascade Theatre, Redding
MASTERWORKS 4: RACHMANINOFF & DVOŘÁK
Guest Artist Charlie Albright, piano
Join North State Symphony as they capture in sound the iconic beauty of nature's endless charm.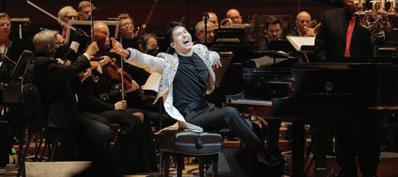 PROGRAM:
BAJZER - Lassen Awakes! *World Premiere*
RACHMANINOFF - Piano Concerto No. 2
DVORAK - Symphony No. 8
Saturday, May 13 | 7:30 PM | Cascade Theatre, Redding Sunday, May 14 | 2:00 PM | Laxson Auditorium, Chico
77 2022–2023 Season Tickets Now On Sale www.chicoperformances.com
2022–23 Season Joy experience Tickets to both performances are available at northstatesymphony.org
Scott Seaton | Music Director
Sarah Harris, soprano
James Johnston, violin
FILM FESTIVAL APRIL THI BUI: THE BEST WE COULD DO THE BALOURDET QUARTET 3–5 17 24 28 2 9 19 24–25 5 23
MOUNTAIN
THI BUI
Pink Martini
The Balourdet Quartet
Pilobolus: Big Five-Oh!
Sleeping Beauty
Neil Berg's 50 Years of Rock & Roll
8 GROWING UP CHICO MAGAZINE SPRING 2023