ANNUAL REPORT
2022 // 2023
OUR MISSION
Goodwill changes lives every day by empowering people to increase their independence and reach their potential through education, health and employment.
WHO WE SERVE
One-
HOW YOUR SUPPORT EMPOWERS PEOPLE
8,075 diplomas earned since 2009
education
Gifts Shopping
5,253 individuals directly employed or placed in a job in 2022
1. U.S. Bureau of Labor Statistics. Persons with a Disability: Labor Force Characteristics Summary. March 9, 2023. 2. U.S. Census Bureau. Educational Attainment. American Community Survey 2017-2021. 3. National Conference of State Legislatures. Barriers to Work: People with Criminal Records 2018. 7 .6% The percentage of persons with a disability who are unemployed compared to 3.5% without a disability.1
The number of working-age Hoosiers who lack a high school diploma.2
424,804
in-three
The number of adults who have a criminal record.3
6,707 moms served since 2011 Donations
employment health 2
President's Message
You did it again! Thanks to your support, Goodwill had another fantastic year across all areas of the organization. In addition to significant growth in our Retail, eCommerce and Commercial Services divisions, we employed nearly 4,500 Hoosiers in 2022 — 60% of whom have barriers to employment, like a disability, criminal history or lack of a high school diploma.
We served nearly 7,000 students enrolled at our high schools last year. We also expanded Goodwill Nurse-Family Partnership®, our maternal health program, doubling the number of Indiana counties we serve. In fact, we serve more than 10,000 individuals every single day through our retail operations and mission and education programs.
None of this impact would be possible without your support.
We recently celebrated the first anniversary of our 2022-24 One Goodwill Strategic Plan, which was designed to forge a future that supports equitable outcomes, provides lasting impact and allows Goodwill to serve even more Hoosiers. Read on to learn more about the significant strides that have been made over the past year. There are also some significant initiatives currently underway, including a substantial contract with Crane Naval Base that will employ 25 individuals — 75% of whom are persons with disabilities. Additional jobs will be created for Hoosiers with barriers through the opening of two new retail locations, growth within the Senior Community Service Employment Program for individuals age 55 and over, and reaching full employment at our new manufacturing facility, which serves the northeast side of Indianapolis.
Thanks for all you do. Together, we're changing lives. Let's keep the good going!
Gratefully,
Kent A. Kramer President and CEO Goodwill of Central & Southern Indiana
TABLE OF CONTENTS 5 EMPLOYMENT 11 EDUCATION 19 HEALTH 22 LEADERSHIP & FINANCIALS 28 GIVING
ANNUAL REPORT 2022-23 | 3
I hope you're proud of the personal stories in this Annual Report because they illustrate the impact that your support of Goodwill is having on your neighbors and the people in our community.
GOODWILL'S STRATEGIC PLAN ONE GOODWILL
One year ago, Goodwill of Central & Southern Indiana launched its three-year Strategic Plan with the goal of leveraging and expanding existing opportunities while also identifying, exploring and developing new ones. The Strategic Plan includes five primary areas of focus: social enterprise, generational impact, people, community, and diversity, equity and inclusion. The following highlights provide a brief look into our progress.
View the full report at: GOODWILLINDY.ORG/STRATEGICPLAN
SOCIAL ENTERPRISE:
SUSTAINABLY BALANCING REVENUE AND IMPACT
GOAL:
Grow operating margins within retail, which will enable more investment in mission
RESULT:
2022 produced operating margins on target with strategic plan goals
GENERATIONAL IMPACT:
PEOPLE:
GOAL: Improve the availability of and access to mental health resources for the people we educate, employ and serve
RESULT: Goodwill launched a new mental health benefit that provides employees with 15 free appointments to a mental health provider each year
COMMUNITY:
GOAL: Secure mission-critical resources by connecting the aspirations of current and future high-capacity funders with compelling opportunities to support Goodwill
INCREASING
ECONOMIC MOBILITY THROUGH EDUCATION, HEALTH AND EMPLOYMENT
GOAL:
Develop education and certification solutions for individuals with a high school diploma to increase their economic mobility and close the growing skills gaps in our communities
RESULT:
Goodwill recently formalized its partnership with Per Scholas, an evidence-based IT training program, which launched its first free Indianapolis training cohort in March 2023
RESULT: Funds raised through the Annual Campaign are on track to deliver on the strategic plan goal
DIVERSITY, EQUITY AND INCLUSION:
GOAL:
Actively work to remove barriers to inclusion
RESULT: Goodwill is currently building a mentoring program with 100 Black Men, a local organization, to help support The Excel Center®
A STRONGER COMMUNITY,
OUR HOLISTIC APPROACH IS THE KEY TO SUCCESS
ENGAGING PARTNERS AND ADVOCATES BUILDING
ONE PERSON AT A TIME
4
GOODWILL EMPLOYMENT Goodwill Outlet Store - East 2023 RETAIL SITE OF THE YEAR
4,4 50 individuals employed directly by Goodwill in 2022
803 job placements in 2022 at an average wage of $17.49 per hour
Kris Busse y
2023 EMPLOYMENT ACHIEVEMENT AWARD
OVERCOMING ADVERSI TY
Kris Bussey was only 10 years old when she was first introduced to painkillers on the school bus.
"I was raised in a broken home, so the idea that drugs could solve my problems appealed to me," Kris admits.
She struggled with long-term drug use which eventually led to a six-year incarceration. In 2019, she was released from the Indiana Department of Correction into a work release center for highrisk parolees.
"The only property I owned was the outfit the prison provided me upon release — velcro shoes, black slacks and a white button-up shirt. I hoped it would allow me to get a job," Kris said.
However, she was denied work by 17 different employers due to her criminal history. Lacking any support system, she was feeling hopeless — until she connected with Goodwill.
"Initially, I was not a star employee," Kris said. "I was going to be late to my interview but couldn't call to let the manager know because I didn't have access to a phone. I also needed flexibility with my schedule when parole called me in for a random drug screen."
Despite these challenges, the managers at Goodwill saw potential in Kris and offered her a part-time position, which she quickly turned into multiple promotions. She was also selected for Goodwill's 2023 Employment Achievement Award.
"After six years of incarceration, I suffered from what is called institutionalization," Kris said. "I felt like an outcast, but over time, I learned that Goodwill was the only place where I fit in."
In less than three years, Kris was promoted to site leader of her own Goodwill store, where she has taken an active role in hiring individuals seeking second chance employment and shares her own story as proof that they, too, can overcome their challenges.
"My goal right now is to continue serving people, delivering results and doing the work needed to achieve that," Kris said.
ANNUAL REPORT 2022-23 | 7
"I felt like an outcast, but over time, I learned that Goodwill was the only place where I fit in."
Sarah Schwartz
8
2023 BARBARA ROBINSON MEMORIAL AWARD
DEFINING
SUCCESS
Sarah Schwartz graduated from Indiana University Southeast in 2014 with a bachelor's degree in education and a concentration in math. There weren't many positions available for math teachers near her home in southern Indiana, so she continued to work part-time in the IU Southeast math lab. She also got a second job at a Goodwill retail store to earn extra income.
Shortly after, she was diagnosed with muscular dystrophy (MD), a disease that causes progressive weakness and degeneration of the skeletal muscles, making it difficult to do things like walking, climbing stairs and sitting and standing. However, Sarah didn't let her disability stop her from pursuing her passion.
"When I learned that Goodwill was opening an Excel Center in Clarksville, I told one of my co-workers that I was going to be one of the math teachers," Sarah said. "Not only am I now one of the math teachers, but I also ended up being the first teacher hired at the school."
The Excel Center is a tuition-free high school for adults that helps students remove barriers
to completing their diploma. Ms. Sarah, as her students call her, has had a huge impact on those around her.
"I struggled with math growing up, but Ms. Sarah helped me understand things in a clear way, which helped me build confidence and the belief that I can learn," said Ashley Neal, one of Sarah's students at The Excel Center.
Sarah's position at The Excel
In addition, she is currently working to complete her master's degree in math education to help with The Excel Center's dual credit program.
"Muscular dystrophy doesn't define me and won't keep me from doing the things I want to do," Sarah said.
Center has provided her with a means to serve by doing what she loves and also allows her to live independently .
Goodwill employed
1,914 persons with a disability in 2022
ANNUAL REPORT 2022-23 | 9
Nurturing a New Beginning
In 2020, five years after experiencing the justice system, Phlica Ford found an employment opportunity at Goodwill Commercial Services. She worked her way up from a temporary employee to a full-time associate and then a line lead.
Phlica's career success was hard-earned. Due to her experiences with the justice system, she struggled to secure and keep a job, but she was diligent and persistent, taking full advantage of the opportunities she had at Goodwill to improve her employment and well-being.
Phlica also participated in Goodwill New Beginnings, a program designed to help Hoosiers reenter their communities after being involved in the justice system. It offers resources and support to help individuals secure housing and health care, reinstate their driver's license and address legal challenges.
She received supplemental support from the program, helping her advance in her role and break down barriers involving the justice system. With help from Goodwill New Beginnings, Indiana University McKinney Law School, and Professor Lahny Silva, Phlica started the process of getting her license reinstated.
She is currently working with a Goodwill mission coach to clear her record through the Legal Expungement Advice Program (LEAP), designed to assist participants in filing for expungement. She's also honed her soft skills such as problem-solving and communication by working with her mission coach. She continues to grow and learn each day, appreciative and proud of how far she has come.
"I'm very grateful for the opportunities Goodwill has given me," Phlica said.
Reentry services for 177
Hoosiers in 2022
"Goodwill is
10
PHlica Ford
more tha n just a job . "
GOODWILL EDUCATION How Are We Different? Small class sizes • Life Coaches • College and Career Readiness Coaches Transportation assistance • Housing and food support • Family support • Onsite child care
875 diplomas earned in 2021-22 429 job certifications earned in 2021-22 3,5 61 college credits earned in 2021-22
BYRON PILLOW
LIFE - CHANGING OPPORTUNITIES
Students who left high school can pick up where they left off at The Excel Center and earn an Indiana Core 40 diploma. The Excel Center offers flexible scheduling and a fast-paced, rigorous curriculum that has helped thousands of adults graduate with a state-recognized diploma, including Byron Pillow, Jr.
"When you have learning disabilities, you are often pushed to the side or to the back of the class," Byron explained.
At the age of 17, Byron dropped out of school to focus on work, but after seeing his sister and mother earn their bachelor's degrees, he was motivated to complete his own education.
"At first I was only focused on getting my diploma as quickly as possible to make my mom smile," Byron said. "But soon, I realized, I was also doing this for me."
He decided to earn two industryrecognized certifications while enrolled at The Excel Center one in Core Construction & Research and a Commercial Drivers License (CDL). In December 2022, he walked across the graduation stage, making not only his mom and sister proud but also himself.
"The Goodwill Excel Center has opened a million and one doors for me," Byron said.
Using his CDL, he recently accepted a new job as part of a large company's fleet service and
finally has a career that does not require him to work multiple jobs simultaneously. He makes a higher wage now than he ever has before.
"The Excel Center has changed my life," Byron said.
Designed to meet the needs of adults, The Excel Center helps students prepare for life after high school by offering college credits and industry-recognized certification courses all at no cost. Free onsite child care and transportation assistance are also available to students.
The Excel Center is perfectly positioned to help adult learners realize their potential.
ANNUAL REPORT 2022-23 | 13
"The Excel Center has changed my l ife."
ACHIEVING SUCCESS
Dakota McLaughlin experienced significant challenges growing up. His mother passed away when he was young, and he was also bullied at school, especially when he came out as gay, which often left him feeling alone. After experiencing domestic violence from a family member, Dakota felt safer leaving home, even though he had nowhere else to go.
"I dropped out of school and ended up homeless," Dakota said. "I fell in with the wrong crowd and started using methamphetamines. My life quickly spiraled out of control."
Dakota ended up involved with the justice system, but that wasn't the main catalyst for his change.
"I knew I had hit rock bottom when I woke up on the sidewalk after a three-day bender, covered in ice," Dakota admits.
His probation officer suggested enrolling at The Excel Center, Goodwill's tuition-free high school for adults, to earn his diploma. He was initially reluctant due to a learning disability, but he decided to give it a try.
"The Excel Center helped me develop a growth mindset, which alleviated some of the anxiety I was struggling with," Dakota said.
He also worked with a Goodwill Mission Coach a life and career coach who assisted him through the college application and financial aid process. Mission coaches help students map out their education and career paths post-graduation, pushing them to strive for more.
At his graduation in 2021, Dakota courageously shared his story and how The Excel Center presented a new path and opportunity to help others who have faced similar challenges. He is currently enrolled at Ivy Tech Community College pursuing an associate of science degree in criminal justice and plans to continue his education upon graduation.
"What I've experienced does not define me," Dakota said. "How I use my experience defines me."
ANNUAL REPORT 2022-23 | 15
Dakota M c LaughL in 2023 EDUCATION ACHIEVEMENT AWARD
2023 INDY MET OUTSTANDING STUDENT ACHIEVEMENT AWARD 16
Damiyah Lawrence
"I had a lot of teachers helping me with anything I needed, making sure I understood everything, and they were there every step of the way."
GROWING WITH GOODWILL
When Damiyah Lawrence enrolled at Indianapolis Metropolitan High School during her freshman year, she struggled with a learning disability.
"I knew I needed help, but I was too embarrassed to ask for it," Damiyah said.
The COVID-19 pandemic struck during her sophomore year, and students were required to finish out the school year through remote learning.
"It was especially difficult to focus and get help when I was trying to learn from home," Damiyah said.
When students returned to in-person classes, Damiyah worked with the staff at Indy Met to bring up her grades. Her confidence increased, and she was no longer reluctant to seek help from her teachers.
"The staff at Indy Met wants to see students succeed," Damiyah said. "I had a lot of teachers helping me with anything I needed, making sure I understood everything, and they were there every step of the way."
She took a leading role on the Puma Advisory Council, encouraged the school to bring back the cheerleading squad and
was selected as the prom queen. Damiyah also earned a Certified Nurses Aide certification at Indy Met, which she needed for her current job at a retirement home.
"I'm grateful that I had the opportunity to earn a certification that allows me to have a job with a decent wage," Damiyah said.
Indy Met is a best-fit school for students experiencing circumstances that may present a barrier to education and places an emphasis on ensuring students enroll in college or enter into a career that offers a living wage post-graduation.
ANNUAL REPORT 2022-23 | 17
Goodwill Partnership with Per Scholas Brings New Opportunities
Goodwill of Central & Southern Indiana recently received a generous $2.8M grant from Lilly Endowment Inc, which will support Goodwill's collaboration with Per Scholas, a national organization that advances economic mobility by connecting graduates to highgrowth careers in technology. Together with Per Scholas, the partnership will bring training and employment opportunities to hundreds of Indianapolis residents in an effort to increase equity and diversity within Indianapolis' technology sector.
"These funds from Lilly Endowment will help support the ambitious goals of this partnership, and we're thankful to have their support in bringing technology training and employment opportunities to our community," said Kent A. Kramer, president and CEO of
Goodwill of Central & Southern Indiana. "We hope our work will inspire additional partnerships that connect individuals with equitable opportunities to access the education and training needed to secure in-demand career opportunities, like those available in the technology sector."
Through an innovative relationship, Per Scholas will become a community partner with Goodwill, and the Per Scholas Indianapolis office will operate and offer its tuition-free technical training from Goodwill's headquarters at 1635 W. Michigan St. in Indianapolis.
Per Scholas has advanced economic equity for more than 25 years by offering evidence-based, tuitionfree technology training and connecting Per Scholas graduates to high-growth careers in technology. Aligned with its commitment to diversity, equity, inclusion, and
belonging, 85 percent of Per Scholas learners are people of color, and more than a third identify as women. Graduates are hired into tech roles by employers ranging from Fortune 500 to innovative startups.
"We are so grateful to Goodwill of Central & Southern Indiana for the warm welcome to Indianapolis, as well as the incredible support of both Lilly Endowment and Salesforce," said Plinio Ayala, president and CEO of Per Scholas. "Indianapolis is a growing tech hub in America's heartland, and we're looking forward to bringing our best-in-class technology skills training to the city."
The five-year grant will support Per Scholas' expansion to Indianapolis, the national tech training nonprofit's 20th city. The first course offered by Per Scholas Indianapolis began in the spring of 2023.
JACOB BARRETT RECEIVES
NATIONAL AWARD FROM GOODWILL INDUSTRIES
Congratulations to Jacob Barrett, a 2018 graduate of The Excel Center, for being honored as Goodwill Industries International's Achiever of the Year. This award honors a person who has shown great progress and accomplishment in overcoming challenges to finding employment, and who still benefits from the Goodwill work environment or receives services to support employment at a community site. Jacob was selected among candidates from more than 150 Goodwills in North America.
18
GOODWILL HEALTH Lac ee McCorkle 2023 HEALTH ACHIEVEMENT AWARD
PERSEVERING AND PAYING IT FORWARD
When Lacee McCorkle connected to Goodwill Nurse-Family Partnership (NFP) in 2019, she was at a turning point in her life. She had recently graduated from a recovery home after 15 years of drug use and a period of incarceration.
"I was homeless and hopeless prior to sobriety," Lacee said. "I had no responsibilities and no drive to achieve a better life."
After learning she was pregnant with twins, her probation officer encouraged her to enroll in Goodwill NFP for additional support. NFP is a maternal health
program that pairs first-time moms with a registered nurse who makes home visits from pregnancy until the child is two years old.
"I am nearly 5 years sober, a married, stay-at-home mother of two-year-old twins, and will graduate from Purdue University Global this summer," Lacee said. "One of the greatest things I can attribute to my success is the Nurse-Family Partnership program.
Empowered through her own hardearned success, Lacee is eager to pay it forward in her community.
"When I was released, I realized there is a lack of rehabilitative services for women," Lacee said.
She now leads a support group at the Shelby County Jail that prepares women for life once they're released from incarceration. She also earned a Peer Recovery certification, which allows her to work with individuals struggling with addiction. She couldn't have imagined it at the time, but that turning point four years ago has exceeded her expectations.
"My kids not only changed my life they saved my life," Lacee said.
20
"My kids not only changed my life – they saved my life."
Partnership
Expands to Serve More Families
Goodwill Nurse-Family Partnership will expand to serve even more Hoosiers in the coming year. Thanks to funding from both the Indiana State Department of Health and Lilly Endowment Inc., the evidencebased model can now be implemented in 61 Indiana counties, increasing the NFP Nurse capacity for families facing concentrated barriers.
Goodwill NFP Nurses are specially educated to provide prenatal care and support to families so they can achieve a healthy pregnancy and birth. The nurses share trusted information on how to bond with and keep their babies safe. They assist parents and their families with breastfeeding, safe sleep, prenatal care, reducing infant death and encouraging smoking cessation – all in an effort to support the Indiana Department of Health and Governor Holcomb's goal to be "Best in the Midwest" in lowering the state's infant mortality rate.
Since its implementation in 2011, Goodwill NFP has served more than 5,000 families experiencing overlapping barriers.
Highlights of the program include:
• 80% of NFP-enrolled parents who self-reported tobacco use during pregnancy quit or reduced before their child's birth.
• 89% of NFP-enrolled Indiana babies are born full term.
• To date, the program has ensured the best start for more than 4,000 babies.
As the program expands into more counties, some of which are maternal health care deserts, these metrics of success should only increase. Most importantly, the Indiana infant mortality rate can be improved even further by a greater area of service. Goodwill NFP is resolutely committed to lowering this rate, which is not only affected by factors like inadequate prenatal care and unsafe sleep conditions, but also socioeconomic factors.
"Research indicates poverty, education and employment status can greatly affect infant mortality," said president and CEO of Goodwill of Central and Southern Indiana, Kent A. Kramer. "Goodwill Nurse-Family Partnership works to break generational cycles to provide the very best start for Hoosier children."
806 Moms served in 2022 481 Babies born in 2022 43% of Goodwill NFP clients increased their education level in 2022
Nurse-Family
GOODWILL LEADERSHIP & FINANCIALS
Goodwill of Central & Southern Indiana, Inc. GW Commercial Services, Inc. Goodwill Education Initiatives, Inc. Goodwill Foundation of Central & Southern Indiana, Inc.
INCOME STATEMENT | Goodwill Consolidated
Consolidated For the Year Ended December 31, 2022 | Dollars in Thousands REVENUES Retail Sales $139,531 Commercial Services 14,420 Mission Services 8,094 Education Services 30,254 Community Support 13,871 Total Revenues $209,170 EXPENSES Program Expenses $180,817 General & Administrative 13,990 Fundraising 1,238 Total Expenses $196,045 Operating Income $13,125 Investment return, net ($11,701) Foundation Management Fees 1,638 Gain on Interest Rate Swaps 2,676 Gain on Disposal of Property and Equipment (3) Net Assets Released From Restriction 4,750 Other 57
Goodwill of Central & Southern Indiana, Inc. | GW Commercial Services, Inc. | Goodwill Education Initiatives, Inc. | Goodwill Foundation of Central & Southern Indiana, Inc. BALANCE SHEET | Goodwill Consolidated December 31, 2022 | Dollars in Thousands ASSETS Cash $30,377 Accounts Receivable 7,150 Inventories 7,422 Land, Buildings & Equipment, Net 154,203 Investments Held 66,686 Investment in Workforce Housing Affiliate 1,353 Other Assets 4,658 Total Assets $271,809 LIABILITIES Accounts Payable & Accrued Liabilities $9,526 Bonds & Notes Payable 29,573 Lease Liabilities 55,681 Other Liabilities 7,773 Total Liabilities $102,553 NET ASSETS $169,256 TOTAL LIABILITIES AND NET ASSETS $271,809 NET INCOME $10,042 EXPENSES Program Expenses 92.2% General & Admin 7.1% Fundraising 0.6% SOURCES OF REVENUE Retail Sales 66.7% Education Services 14.5% Commercial Services 8.3% Community Support 6.6% Mission Services 3.9%
INCOME STATEMENT | Goodwill
2022 SUMMARY FINANCIAL STATEMENTS
For
REVENUES Retail Sales $139,531 Commercial Services 14,420 Mission Services 8,094 Education Services 30,254 Community Support 13,871 Total Revenues $209,170 EXPENSES Program Expenses $180,817 General & Administrative 13,990 Fundraising 1,238 Total Expenses $196,045 Operating Income $13,125 Investment return, net ($11,701) Foundation Management Fees 1,638 Gain on Interest Rate Swaps 2,676 Gain on Disposal of Property and Equipment (3) Net Assets Released From Restriction 4,750 Other 57 ANNUAL REPORT 2022-23 | 23
the Year Ended December 31, 2022 | Dollars in Thousands
Making a Difference
Launched in 2014, the Goodwill Young Leaders is an advisory board of young professionals who are committed to promoting Goodwill's mission to change lives every day. The objective of the board is to build future philanthropic leaders at Goodwill. They impact the mission through direct volunteer service, philanthropic giving and the facilitation of new relationships. Since its founding, the group has raised more than $138,000 to support some of the most vulnerable members of our community.
"One of the primary goals of the Goodwill Young Leaders is to advocate for Goodwill's mission, especially among our peers, by encouraging financial donations and illustrating the impact Goodwill has in the community," said Alex Swider, chair of the Goodwill Young Leaders Board.
One of the group's most significant initiatives is its annual Mission Impact Grant, which awards a program at Goodwill with $10,000 to fund mission needs. These grants have supported financial literacy incentives, a legal expungement program, and a program that hired and trained doulas to help with childbirth. Most recently, the grant helped the Anderson Excel Center launch a program that offers students food on site, which will be considered for replication at Excel Centers statewide if successful.
Goodwill Young Leaders perform mock interviews with students at Goodwill's schools to help prepare them for their post-high school careers and organize other volunteer opportunities, like sorting through donations at Goodwill's retail operations and supporting graduations at The Excel Center.
"I was attracted to the Goodwill Young Leaders because of the important work Goodwill is doing in the community," Alex said. "Beyond being charitable, Goodwill empowers individuals who want to change their lives by providing them with the tools needed to achieve their independence."
To connect with the Goodwill Young Leaders, contact: camaray.vican@goodwillindy.org
LEADERSHIP
Lists reflect active board members and officers as of December 31, 2022.
GOODWILL OF CENTRAL & SOUTHERN INDIANA, INC.
GW COMMERCIAL SERVICES, INC.
Board of Directors
Mark Denien, Chair
Anthony Warren, ViceChair
Kent A. Kramer, President
Daniel J. Riley, Secretary/ Treasurer
Elaine E. Bedel
Brittany Blau
Peggy Boehm
Claudia Cummings
J. Scott Enright
Mark Graham
Jeffrey A. Harrison
Michelle Mahaffey
Michael O'Connor
Mandy Parris
Don Palmer
Jasmin Shaheed-Young
Jean Wojtowicz
Ex-Officio Directors
Andrew Morris
Doris L. Pryor
Honorary Directors
C. Perry Griffith, Jr.
Bruce M. Jacobson
Thomas A. King
Owen B. Melton, Jr.
James T. Morris
Thomas H. Sams
Maribeth Smith
Fred C. Tucker, III
Darell E. Zink
GOODWILL EDUCATION INITIATIVES, INC.
Board of Directors
Doris L. Pryor, Chair
Gita Baker, Vice Chair
C. Perry Griffith, Jr.
Jay Oliver
Don Palmer
Laura Pickett
Joshua Shelton
President & Ex-Officio Director
Kent A. Kramer
Honorary Directors
Gwen A. Fountain, PhD
Fred C. Tucker, III
GOODWILL FOUNDATION OF CENTRAL & SOUTHERN INDIANA, INC.
Board of Directors
Andrew Morris, Chair
Karen Glaser, Vice Chair
Kent A. Kramer, President
Daniel J. Riley, Secretary/ Treasurer
Chris Bean
Craig Caldwell
Matt B. Carter
Patricia Castaneda
Chris Cockerham
Keith Faller
Gwen A. Fountain, PhD
Otto N. Frenzel, IV
Mark Graham
Dawn Griffin
C. Perry Griffith, III
Robert Herzog
Elizabeth Hilbrich
John F. Hirschman
Matt Howard
Kelley Jacobsen
Thomas A. King
Rob Martinson
Greg Maurer
William K. McGowan, Jr.
Ralph Meyer
Andrea Neely
Dewand Neely
Shiv O'Neill
Steven C. Robinson
Megan Savage
Anne Shane
Lily Smith
Tony Snider
Jason Spilbeler
Eric Stolberg
Fred C. Tucker, III
W. Michael Wells
Drew White
Ex-Officio Directors
Mark Denien
BOARD CHAIRS' MESSAGE

When a family or an individual is struggling economically, there are often multiple contributors and challenges to overcome. For example, someone who struggles with homelessness may also have a limited education or criminal history, or lack transportation, health care or child care, which makes getting and maintaining employment a significant challenge.
Since these challenges are often interdependent, it's difficult to remove one without addressing them all, which is why Goodwill's unique approach provides holistic services to individuals by wrapping multiple resources around them simultaneously.
As the inspiring stories throughout this Annual Report illustrate, people can change their lives when they're empowered with the right tools, and that's exactly what we do at Goodwill, with the support of people like you who donate, shop and give financially.
The Goodwill Foundation of Central & Southern Indiana celebrated its most successful Annual Fund year ever in 2022, with both individual and institutional donors showing that they see Goodwill as a wise and safe investment for their charitable giving. With community partners who are as dedicated to the mission of changing lives as we are, there's no doubt that we are equipped to not only meet but also exceed the promise of our mission.
Thanks to your dedication to changing lives, we a re positioned to grow and expand our m ission to more Hoosiers than ever before!
MARK DENIEN, CHAIR
GOODWILL OF CENTRAL & SOUTHERN INDIANA
GITA BAKER, CHAIR GOODWILL EDUCATION INITIATIVES
ANNUAL REPORT 2022-23 | 25
KAREN GLASER, CHAIR GOODWILL FOUNDATION OF CENTRAL & SOUTHERN INDIANA
Goodwill: UNBOXED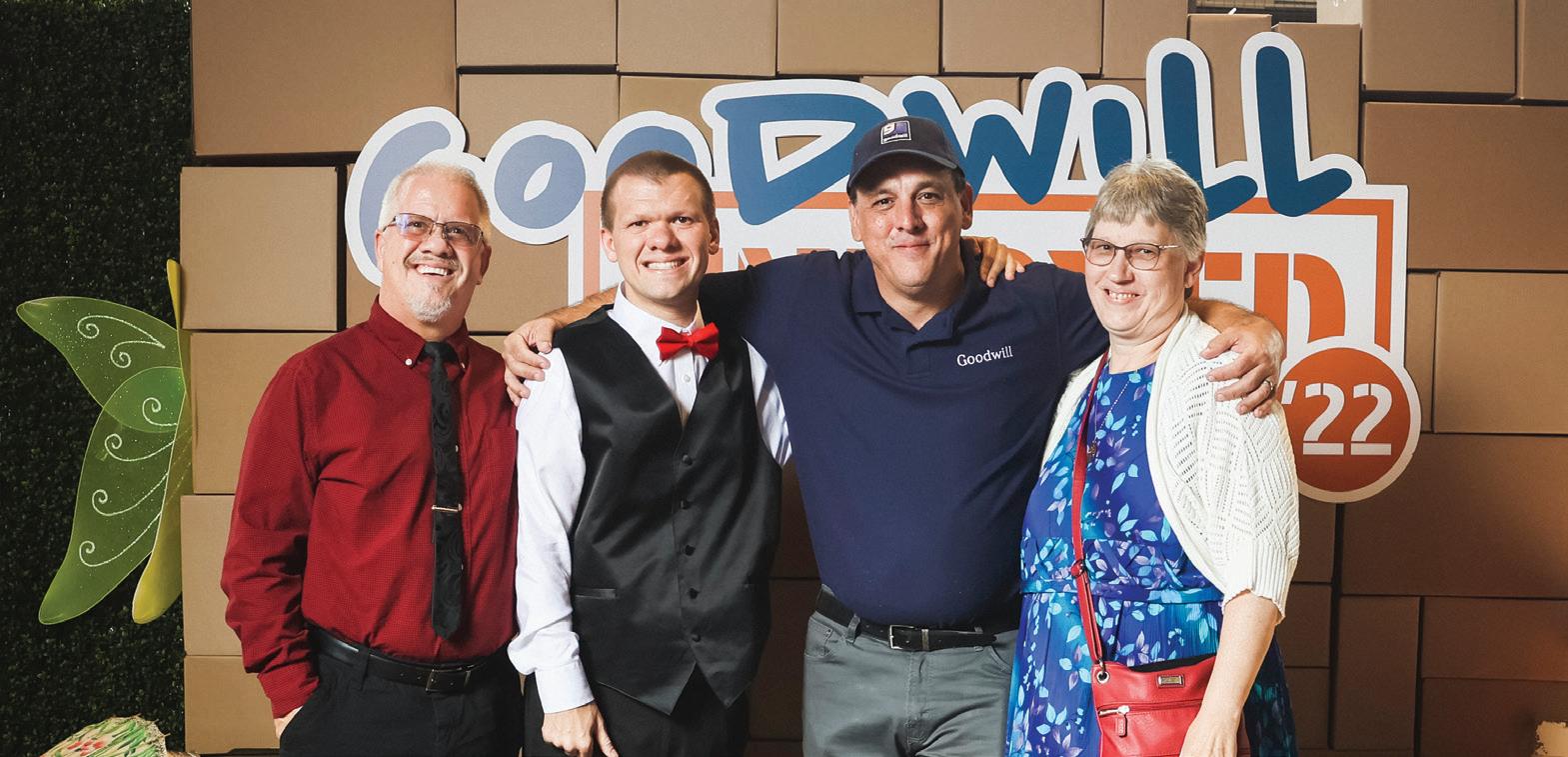 Ever wonder what happens to your box of donated goods when you drop it off at a Goodwill store? At Goodwill's signature event — Goodwill: UNBOXED — guests got to experience the life of a donation, including how a box of donated goods can change a community. Join us for our encore this fall to see how we turn your items into life-changing opportunities throughout central and southern Indiana.
26
Save
FOR EVENT UPDATES, FOLLOW US ON FACEBOOK, TIKTOK AND/OR INSTAGRAM: @ GOODWILLUNBOXED
THE LEGACY CLUB
A group of our most generous supporters whose combined giving creates lasting impact. Dustman Society and 1635 Society members are invited to join us for events throughout the year.
Jack and Betsy Dustman both served as board members and were incredible ambassadors of the Goodwill mission. In their honor, this society recognizes those who help ensure Goodwill's future with cumulative giving of $50,000+.
1635 Society donors support current programs and services designed to help improve people's lives through health, education and employment with gifts of $1,000+ to the current years' Annual Fund.
the date: September 1 4, 2023
ANNUAL REPORT 2022-23 | 27
We our donors!
THANK YOU 2022 Donors
$25,000+
Anonymous
Annie E. Casey Foundation
Anthem, Inc.
Eric and Elaine Bedel
Robert and Terry Bowen
CareSource Management Services LLC
Charter School Growth Fund
Columbus Regional Health Foundation
Cook Medical
Community Health Network
The Cummins Foundation
Mark and Molly Denien
Eli Lilly & Company Foundation
EmployIndy
Family and Social Services
Administration (FSSA)
Floyd County Government and the American Rescue Plan
Indiana Department of Education
Indiana Department of Health's Maternal and Child Health Division
Indiana Office of Rural and Community Affairs
Indiana State Department of Health
Lilly Endowment, Inc.
Lumina Foundation for Education
Lutheran Child & Family Services
Metro United Way
Alan and Sally Mills
Nicholas H. Noyes, Jr. Memorial Foundation, Inc.
Nina Mason Pulliam Charitable Trust
Opus Foundation
Ruth Lilly Philanthropic Foundation
Anne and David Shane
Sullivan Commercial Supply, LLC
United Way of Central Indiana
Wilson Sheehan Foundation
$15,000–$24,999
Anonymous (2)
Kent and Jamei Kramer
Richard and Jamie Schulte
Gene and Mary Ann Zink
$10,000–$14,999
Abby and Christopher Bean
Eleanor F. Bookwalter
Katherine Davis
J. Scott and Lisa Enright
Otto N. Frenzel, IV
Kyle and Sally Lanham
Mavpak
Andrew and Jennifer Morris
J. Mark and Katherine Mutz
$7,500–$9,999
Jonathan and Julia Birge
Karen and Joe Glaser
James Kincannon
Fred C. Tucker, III
$5,000–$7,499
Anonymous (2)
Gary and Sally Baxter
Mary Behe
Bowen Family Foundation, Inc.
Central Indiana Community Foundation
J. Scott and Lorraine Davison
Delaney & Delaney LLC
Duke Construction, LLP
William and Edie Enright
Jim and Gwen Fountain
Darrell and Michelle Frye
Fred and Alice Hecker
J.P. Morgan Chase
Wendy and Philip Larman
Rob and Cory Martinson
Greg Maurer
Jim and Jane McClelland
Nina Mutone and Andrew Mulvey
William and Carolyn Neale
Old National Bank
Don and Carolyn Palmer
Aaron and Mandy Parris
Randall and Mary Rogers
Lily Smith and Leonid Sirotkin
Anthony and Amy Snider
Jason Spilbeler
Thank you to the following individuals, businesses, & organizations who support Goodwill and the people we serve. Your gifts change lives every day. Every effort has been made to ensure the accuracy of this donor list, representing gifts received from January 1, 2022 –December 31, 2022. Should you have a question or correction, please let us know by contacting Cindy Tow, Director of Individual Giving, at cindy.tow@goodwillindy.org *deceased
Eric and Elizabeth Stolberg
TRIMEDX
United Healthcare
United Way of Delaware County
$2,500–$4,999
Ben Baldwin
Bedel Financial Consulting, Inc.
Blue & Company
Theodore and Peggy Boehm
Bose McKinney & Evans LLP
Craig and Diana Caldwell
Matthew and Leslie Carter
Crowell & Moring
Cushman & Wakefield
Anne Davis
Rachel Cline Eble and Nicholas Eble
Evernest Financial Advisors
Keith and Sarah Faller
Faegre Drinker Biddle & Reath LLP
FORVIS
Eugene and Marilyn Glick
Family Foundation
Marianne Glick and Michael Woods
Goodwill Industries International, Inc.
Mark and Susan Graham
Gregory & Appel Inc.
Dawn Griffin
Earl B. Harris*
Jeffrey and Celia Harrison
John and Leigh Ann Hirschman
Sue Hirschman
Matthew and Betsy Howard
Jared Isaacman
Kelley and Eric Jacobsen
Robert P. Kassing
Michael and pegg Kennedy
Key Bank
Kevin Kolodsick
Bruce and Jamie McCaw
Ralph and Connie Meyer
James and Jackie Morris
John and Carolyn Mutz
OSO Digital
Pacers Sports & Entertainment
Joshua and Maggie Phelps
Laura and Jon Pickett
Richard and Elizabeth Pilnik
Prolex Compacting Solutions
Doris and Johnny Pryor
Daniel and Lisa Riley
N. Clay and Amy Robbins
Shift4 Payments LLC
Gregory Simons
Jeffrey A. Small
Mike and Barb Stewart
Michael and Susan Wells
Drew White
Young & Laramore
Will and Alison Zink
$1,000-$2,499
Anonymous (4)
AimHire IT
Allegion
Lisa Allen
Michael and Amy Alley
Dan and Kate Appel
Kenneth Appel
Constance Applegate
AppSalute
Shelley Ashley
Nancy Ayres
Gita and Nick Baker
Todd Becht and Michelle Barrett
Mark and Katy Bradford
Andy and Jan Brown
Michael and Dixie Burke
Matthew Cambridge
Daniel and Kathryn Cantor
Patricia Castaneda and Carlos Sosa
Celerant
Janet R. Clark
Lance Cline and Sue Nonweiler
Cockerham Commercial, LLC
John Cochran
John and Peggy Cody
Shane A. Cody
Patrick T. Cody
Cody Family LLC
Brian and Emma Copsey
Kevin and Trisha Corcoran
Ivan and Joy Cropper
Dennis Cuffel and LeeAnne Nazer
Claudia Cummings
Betsy Delgado
Tom and Margaret Denari
Fred and Joan Dennerline
Sheila Dollaske
Stephen R. Dunlop
ANNUAL REPORT 2022-23 | 29
Lori Efroymson-Aguilera and Sergio Aguilera
FCCI Insurance Group
Mac Fehsenfeld
Kenneth A. File
Frye Insurance Group LLC
C. Perry Griffith, Jr. and Michelle Griffith
C. Perry Griffith III
Brian and Nancy Henning
Robert Herzog
Thomas and Elizabeth Hilbrich
Richard and Wendy Horn
Douglas Huff
James and Rachelle Humphrey
Timothy and Virginia Hupfer
Johnson Melloh
J. P. Morgan Chase Foundation
Nancy Kincannon
Thomas and Verletta King
Gary and Marie Koenig
Stephen and Alma Lathrop
Fredric and Janice Laughlin
Jay and Nedra Lytle
Michelle Mahaffey
Victor and Kiersten Mai
Marketing Specialties, Inc. Packaging
Mark and Sherry Milnamow
Joshua Moore and Emily Shrock
Meyer Plastics, Inc.
Dewand Neely
Andrea Neely
Evan and Susan Noyes
Michael and Anne O'Connor
Jay and Leanne Oliver
Benjamin Pecar and Leslie Thompson
Jack B. Pence
Phelps Creative House
Edward and Sara Pollack
Prolific, LLC
Robert and Carol Reynolds
RJE Business Interiors, LLC
Rotary Club of Indianapolis
Ryan Fire Protection
Roger and Barbara Schmenner
Daniel and Megan Scott
Eric and Marcia Servaas
Jasmin Shaheed-Young and Ahmed Young
Dr. Francis Sheski
Parker Smith
Suik Family Foundation
Alexander and Hollyn Swider
William and Janet Taylor
Mary Ann Thiel
John and Deborah Thornburgh
James R. Tuerk
Tynan Equipment Company
Abby VanDerHeyden
Vasey Facility Services
Ashley and Frank Vukovits
Matt Waggoner
Anthony and Detra Warren
Guy Westermeyer
Jean Wojtowicz and John von Arx
Shawn Wolfgram
Albert Wurster
David Ziegler
$500-$999
Acorn Distributors
Deanna Addison
Wilton Aebersold
Dr. John E. Albrecht
Barnes & Thornburg, LLP
Brittany Blau
Mark and Abby Breedlove
Randy Bruce
Victor Childers
Christ's Fellowship Ministries INC.
John and Joan Cleveland
Zebulun Cummings
Michael Daniel
Sean Davis
Concepcion De Castro
Details & Associates, LLC
Nancy and Berkley Duck
Duke Realty Services
Douglas and Nancy Dunn
Douglas Dunn
Fritz and Shele French
Genevieve and Ryan Gardner
Kristine Green
Dr. Larry Greenbaum and Cassia Margolis
Lynn Greggs
Hancock County Community Foundation
W. Seymour and Rheta Holt
Holy Trinity Greek Orthodox Church Ladies Philoptochos Society
Paul and Martha Knapp
Megann Kramer
Dr. Jill E. Robinson Kramer and Raymond Kramer
LUNA Language Services
Stephen and Audrey Marmon
Zaida Monell
Sara and Chad Morris
The National Bank of Indianapolis
Shiv O'Neill
Amelia and Kurt Renshaw
2022 Donors (CONTINUED) 30
Jean and Lamar Richcreek
Trevor Rogers
Susan Rosenthal
Megan Savage
Richard and Christine Scales
Dara and Jim Spicer
Daniel Stevens
Sarah and Bobby Thomas
William and Karen Thompson
Gwendolen Tyler
Andrea Voisard
Erica Wade
Michael and Cynthia Whalen
Workday
$250-$499
David and Mary Allen
Lynn Baldwin
Alexander Barko
Jacob Barrett
Marilynn Berry-Stamm
John Beyer
Cecile Blau and Alan Omen
Christopher and Bettie Caldwell
Christian Church Foundation, Inc.
Natalie Cline and Phil Schlanger
Chris Cockerham
Paul and Frances Corsaro
David and Ellen Crabb
Mary Cushman Wood
John and Patricia Custer
Katherine Custer
Travis Darden
Margaret Del Re
Steven Dillon
Thomas and Nancy Dinwiddie
Katherine Finch
Jim and Gracia Floyd
Emily Fritsch
Sandra Henselmeier Funk
Mark Gastineau
Beth Gentry
Randall Gerard
Kevin Gettelfinger
Michael Glaser
Alexis and Dustin Harrison
Darrin Haynes
Carol Henderson
Tabitha Hendricks
Julianne A. Hipskind
Steven and Pamela Immel
Nicholas Ison and Whitney Babbitt
Clinton Johnson
Ben Kincaide
Stephen and Susan Kraabel
Shawn Lange
Christina Lear
Cody Lents
George and Kim Lewis
Mark and Vivian Liechty
Gloria Long
Charles and Karen Lunsford
Angela and John Mager
Steven McNeil
Nick and Lisa Melloh
Lawrence and Mary Moore
Michelle Morgan
A.J. Morris
Pete and Betsy Morse
Georgianne Neal
Gregory Nelson
E. Van and Ruth Olson
Khalilah Palmer
Rachel Patten
Christian Payne
Karen Porter
Robert Powers
Steven and Jane Pratt
Matthew Presley
Sentta Ralston
Anant and V. Ramdas
Kurt Reusze
Steven C. Robinson and Kristin Girk-Robinson
Max and Judy Schumacher
Carolyn and Richard Sharp
Philip Sicuso
James Strickland
Thomas P. Miller and Associates
Andy Vetor
Robert J. Voss
Clara Walker
Frank and Jane Walker
Danielle and Robert White
Susan Brock Williams
Vivian Williams
David and Swathi Williams
Kent Winingham
Jeremy Woods
Brittany Woods
$100-$249
Anonymous (3)
Constance Alexander
Jacob Baldwin
Kevin Banks
Phillip Barnes
Dawn Bass
Donald and Carla Bennett
Morris and Ellen Bloomer
Scott Bova
The Box Media Space
Victoria Bratcher
Jennifer Bray
William Brinson
Mary Busch
Andrew and Shirley Carr
Josephine Carson
Brandon Clark
John Coker
Jo Coleman
Kelly Connell
Cynthia Cook
Dwight Cooper
Vivian Crumlish
Pamela Cummings
Edward Daly
Gracia-Jean and Edward Darling
Amanda Davila
Robin Davis
Joshua Day
Elise Densborn
Richard and Sue DiMarchi
Bailey Dominguez
Ashley Donaldson
Beth Ebeling
Pamela Edney
Jack and Nancy Engledow
James and Jacqueline Faris
James and Joan Ferguson
Whitney Fields
Robert and Sarah Ford
Kelly Ford
Randall Foster
Diane and Martin Friedman
Elaine Gaulin
Danny Gebby
Richard Geupel
Charles Goad
L. Richard and Anne Gohman
Zach Goldfine
Erika Greenwood
Franki Griesbaum
Amanda Grube
Kris Deckard
Genna Hartog
Jeff and Jeanette Hathaway
John Heiligenstein
Jayne Heinrich
Ingrid and Markham Hensley
Jocelyn Herrington
Richard T. Hill, Jr.
Larry and Eva Hinnergardt
Ryan and Joni Hornaday
Hephzibah Igwe
ANNUAL REPORT 2022-23 | 31
2022 Donors (CONTINUED)
Rebecca and Rebecca Irons
Matthew Jarvis
Beth Jenkins
Olive Johnson
Andre Joly
Jim Kauffman
Fritz and Kathleen Kauffman
Harold and Sharon Kennedy
Carol Kershaw
Courtney Kinkade
Thomas and Shellee Klausmeier
Jak Kramer
Dr. Ned and Martha Lamkin
Jeffrey and Diana Larson
Nicholas Lawrence
Lead Inc
Nick Leer
James Liu
Tori Lockett
Breanna Lomax
Doreen Makamba
Michael Maleto
Katie Masell
Sherry Matemachani
Truman McCarter
Ray W. McDonald
Mary and Bill and Mary McDonald
Bruce and Kaye McSpadden
Andrea McVicker
Jason Millet
Lloyd and Sheila Milliken
Adam Mills
Joyce Mitchell
Nancy Morris
Taylor Morrison
Analeshia Moss
Anna Munoz
Carolyn Nossett
Pat and Dan O'Neill
Angela Okragly
Lakia Osborne
Naveena Pagadala
Angi Parks
Coy Porter
J. Thomas and Jane Ann Porter
Milton Pressler
James and Charlotte Price
Allison Price
Quintera Quinn
Jason Rager
G. Dean Rainbolt
Richard Ramsey
Jacob Rangel
Sara Rasmuson
Edward Rickenbach
Robert Rigdon
Martyn and Sarah Roberts
Zach Rodenbarger
Lindzy Rogers
James and Marjorie Root
James and Rita Rosensteele
Jennifer Ruggieri
Angie and Jared Scaringe
Natalie Cline and Phil Schlanger
Robert Schwartz
Joan Scott
Gene and Joanne Sease
Yaning Shen
Betty Shine
Jennifer Short
Linda Simmons
Jerrold and Ellen Simon
Sean Sinimbou
Robert and Ava Smith
Brian and Carla Smith
Snack Sisters Vending LLC
John and Barbara Snepp
Linda and Ronald Snow
Wantai Spencer
Luke Steffe
Evan and Suzy Steger
Tarryn Stewart
Noelle Straub
Elizabeth Stunson
Kristopher Subler
Jeffrey Teepe
Michael and Elizabeth Terry
Trenae Thomas
Justin Todd
Cindy and Derek Tow
Marlon Turner
Lawrence and Nancy VanArendonk
vCom Solutions
Cameray Vican
Zach Wagner
Marita Washington
Donald and Anna Weiser
Jason Wiley
Crystal Williams
Matthew Yacone
Jeri Zawadzki
Lawrence Zetzi
Under $100
Anonymous (4)
Ardella Aikens
Allure Dance & Fitness
Altrusa International INC of New Albany Indiana
Sarrah Arvin
Sherri Auckley
32
Kenneth Auten
Rachel Bandy
Caroline Barlow
Sicily Beatty
Christopher Berg
Tom and Joanne Black
Tracey Blake
Joseph Blassberg
Robert and Margaret Blome
Destiny Boles
Kristi and Eric Borchardt
Betty and C. Bowers
Caroline Bravard
Melinda Brown
Travis Bryant
Nigel Bryant
Melanie Bucher
Benjamin Burris
Paul and Gwen Butler
Kevin Caldwell
Jennifer Carlson
Anna Carver-Gay
Michelle Cissell
Wanda Clay-Petty
Millard Clemmons
Evelyn Cleveland
Karee Cunningham
Dea'Jenay Daniels
Christopher Davis
Andre Davis
Darryl Decker
Paul and Lisa Dovey
Jacquelyn Duffy
Ofelia Durham
Mark and Meredith Easley
Eden United Methodist Women
Stephen and Julia Enkema
Marta Fetterman
Pablo Frezza
Ashley Fritsch
Nancy Gilbert
Cindy and Michael Graham
Brandon Graves
Noelle Gray
Heidi Green
Michael Gritt
Elizabeth Hagman
Robert and Kathleen Hall
Coyene Halpern
Davey Hammer
John Hampton
Andy Hart
Charla Hayes
Dominick Hedges
Ramona Hittle
Denise Holland
Stephanie Horna
Ruth Huitema
Alaska Hunter
Claire Huntley
Nichole Hutchinson
Devin Ingersoll
International Medical Group
Jeremy Johnson
Hunter Jones
Jenny Joy
Kathryn Kaelin
Jennifer Kakasuleff
Marina Kanare
Kelly Karbowicz Riley
Kelly Keenan
Casey Kelly
Karen Kidd
Joie and Mary Kipka
Carol Kirk
Adam Kirsch
Corrine Komacko
Natasha Koopman
John and Theresa Krakowski
Arlyn and Renzo La Rosa
Ayoola Ladapo-Ogunleye
Angela Lazaro
Brenda Leake
David and Lois LeVine
Reigan Lewis
Kelsey Like
Jonathan Lorenzini
Amy Loudd
Wana Lowe
Daniel Luca
Markus Maack
Lucian Majors
Ryan Mallory
Donna Malone
Judith Marich-Doeppers
Todd Marshall
Patrick Maxwell
Jennifer McKinsey
Linda McPherson
Sarah Miller
Ernest and Mary Mills
Amiah Mims
Brian Mitchell
Markita Murry
Shari Neal
Cynthia Neely
Jennifer Neff-Whitlow
Wyatt Newman
Philip and Susan Nicely
April Norman
Sally Northcutt
Timothy O'Donnell
Candace Owoeye
Brandon Packer
Heather Perez
Samantha Phillips
Timothy Plummer
Steven Powell
Rich Prestholt
Christopher Radde
Nicole Randolph
Recruiting Experiences
Kaydence Riff
Ja'Millah Robinson
Frances Robinson
Kattoline Rospopo
Heidi Sander
Chase Sanders
Analeshia Sanders
Brooke Sawyer
Christine Schacht
Donald Schakel
Shelley Scott
Beverley Scott
Jennifer Shaw
Joshua Shelton
Samantha Sherers
Nathan Simpson
Dr. Harold and Mary Smith
Angela Spells
William and Carol Stephan
Leevi Straber
Emma Strenski
Samantha Sutor
Robert Thompson
Brandy Todd
Ethan Tukis
Rachel Turbeville
Shawnie Turner
Gloria Turner
Lester Wafford
Darlene Walker
Willard Wass
Pamela Watkins-Pinkleton
Daniel and Karen Watts
Caitlin Webber
Joseph Wehlacz
David Westol
Tera Wetzel
Norma Whisman
Candace Williams
Joanna Williams
Ashlee Wilson
Mary Wilson
Stephanie Wilson
ANNUAL REPORT 2022-23 | 33
2022 Educators Of The Year
MEMORIAL/HONOR GIFTS
Goodwill would like to recognize those who have made gifts in honor or memory of someone in 2022. We remember and honor the following people and their connections to Goodwill.
In memory of Malcom Applegate
Constance Applegate
In honor of Jacob Barrett
Todd Becht and Michelle Barrett
In honor of Helen K. Barth & Jane Barth Anderson
The Cody Family
In memory of Ervin Blish
Jeff and Jeanette Hathaway
In honor of Craig Caldwell
Christopher and Bettie Caldwell
In memory of Carolyn and Bill Carter
Ray W. McDonald
In memory of Angelica Castaneda
Carlos and Patricia Sosa
In memory of Betsy Dustman
Kent and Jamei Kramer
Richard and Elizabeth Pilnik
In honor of Rachel Cline Eble
Lance Cline and Sue Nonweiler
In memory of Orien Wesley Fifer
Georgianne Neal
In memory of former Goodwill Employee, Ken Guhr
Betty and C. Robert Bowers
In memory of Chuck Herron
Sue Hirschman
In memory of Susan B. Hetherington
Kent and Jamei Kramer
In honor of Jim Humphrey
Kent and Jamei Kramer
In memory of Troy Kassing
Robert P. Kassing
In memory of Kathryn Kipka
Joie and Mary Kipka
In memory of Howard Lytle
Kent and Jamei Kramer
In honor of Rob Martinson
Richard and Jamie Schulte
In honor of Jim McClelland
Kent and Jamei Kramer
John and Carolyn Mutz
In memory of Alan M. McNeil
Olive Johnson
Kent and Jamei Kramer
Steven McNeil
In honor of Zaida Monell
Kent and Jamei Kramer
In honor of Andrew Morris
Nancy Morris
In memory of Margaret Paddock
Christian Church Foundation, Inc.
In memory of Shobha Pagadala
Naveena Pagadala
In honor of Dan Riley
Kent and Jamei Kramer
In memory of Philip Salathé
Joseph Blassberg
Jennifer Carlson
Ernest and Mary Mills
In memory of Sam Shine
Betty Shine
In honor of Daniel Starr
James and Jacqueline Faris
In honor of Abby VanDerHeyden & Matt Presley
Matthew Jarvis
In honor of all Volunteers
Coyene Halpern
34
Tha
nks for a ll you do. Tog e ther , we're changing lives.
L et's keep the good going!
goodwillindy.org | 317.524.4313
OF CENTRAL & SOUTHERN INDIANA 1635 W. Michigan Street Indianapolis, IN 46222
GOODWILL