WELCOME
Welcome to our latest edition of the College Newsletter. Thank you to those who provided feedback through our recent Newsletter survey. It was wonderful to hear your appreciation of a regular Newsletter and your desire for a format that is engaging and informative. Our Newsletter is a platform where we aim to celebrate the many wonderful things that happen across our campus. It is also a space where we aim to provide updates and highlight upcoming events.
Building Projects
It has been great to see the visible progress on both current building projects in recent weeks. The project near our oval is progressing well with the two ground floor classrooms in operation for our students studying Agriculture and Physical Education. These classrooms have a beautiful outlook and they provide easy access to the Agricultural farm and to the oval or sports courts for Physical Education classes. The two new ball courts are underway, and we expect them to be completed along with the two upstairs classrooms at the start of June.
Stage 22 is now visible above the fence line with many of the concrete columns being poured. This project is currently on time and scheduled to be completed by the end of the year, ready for opening in 2024. Thank you for your patience in moving around the campus as we do acknowledge that with these building projects comes some changes. Part of the project is to build a new amenities block for Lower Primary students and this will adjoin the current Learning Village classrooms. This will provide some further changes to College access. Please watch out for more information regarding these changes.
In closing, I would like to sincerely thank you for contributing to the recent MYP Community Survey issued to families. We look forward to reviewing this feedback and using it to help guide us with future planning.
Blessings,
Paul Sterling (Principal)
Behaviour Development
Restorative Practice
At Genesis Christian College, we believe that healthy relationships are essential for teaching and learning. That's why we use restorative approaches to matters relating to behaviour development. Restorative practice is a philosophy and application that supports the development of well-rounded, socially and emotionally competent students who recognise how their behaviour impacts others and understand that they are accountable for their actions and words.
Positive interpersonal relationships have a major influence on behaviour. Evidence from restorative practice suggests that staff-student relationships have a major influence on student engagement and achievements. Nurturing positive, respectful relationships with students has a profound impact on their overall behaviour and learning outcomes. Restorative practices help build a student's capacity to self-regulate behaviour, gives them the tools and strategies they need to have good relationships which in turn, contributes to their behaviour development.
A restorative approach leads to individuals taking responsibility for their behaviour. Restorative practice has been described as doing things 'with people' rather than 'to' or 'for' them. The idea is that if people are part of the process, they are more likely to make positive changes. A restorative approach focuses on accountability and meeting the needs of those involved, rather than the emphasis being on blame and punishment. Attention is given to the 'harm' not on the wrongdoer.
Teachers use restorative chats to help students understand how the decisions they make can affect the people around them. These are normally quick informal interactions, where teachers can model thinking to the students.
If teachers notice they are having the same conversations and the behaviours are not improving, a restorative conference is booked during break with one of our facilitators. This replaces the traditional detention/reflection room and is a more formal conversation, often involving multiple students. Restorative dialogues/conversations use a scripted set of questions to explore and resolve a problem or problems in a respectful way. These conversations provide a structured framework for listening, communicating, and problemsolving, enabling individuals to understand the impact of their actions, repair harm, and make amends.
To clearly articulate expectations for all sectors of our College community, we have an established Code of School Behaviour with accompanying rights and responsibilities. Our students will be encouraged to live out the gospel values in all activities across the College, and where possible, expectations and strategies will be reinforced with visible charts and icons in classrooms and playgrounds. Rules for playground equipment use will be clearly displayed and reinforced in daily notices and messages at assemblies. It is expected that all members of the Community will abide by this code of conduct, respecting the rights of others and understanding and fulfilling the accompanying responsibilities.
We believe that a restorative approach to behaviour development is crucial for creating a safe, supportive, and respectful learning environment. It enables students to take responsibility for their actions, build positive relationships, and develop the skills they need to navigate complex social situations. We look forward to working together with our students, staff, and families to promote a culture of restorative practice and build a community that is inclusive, empathetic, and just.
Written by Jacqui Grotius
–
Director of Care & Conduct/Learning Innovation & Technology Leader (Primary)
What an amazing journey!
Originally scheduled to premiere in 2022, the preparation of Annie was again impacted by COVID, but we can all agree it was definitely worth the wait.
Annie's heartfelt theme had universal appeal to our audience and was performed four times over three big days. Annie's amazing cast captivated our audience as they joined her quest to find her real parents. They laughed and cried as the story of Annie unfolded with high quality acting, singing and dancing. The stage was transformed time and again by the crew with brilliant sets that featured a magnificent backdrop and a show-stopping chandelier. The band was, as always, an integral part of the show, delivering consistently polished performances.
Audiences agreed - the scale and quality of our College musicals continue to improve every production.
To the core staff team who brought this show to life, we extend our sincere and heartfelt thanks. Parents, we deeply appreciate the support and encouragement you provided your children throughout their Annie experience. Finally, to the student cast and crew, we have been so blessed by your hard work and positive attitudes. Congratulations and thank you for your energy and endurance to bring this fantastic story to life for the Genesis Christian College family!
We are thrilled to share the recent efforts of our students who have been conducting fundraising events to support the Mini Farm Project. The Mini Farm Project is a not-for-profit organisation that focuses on promoting sustainable agriculture and providing healthy, fresh produce to local communities impacted by food insecurity.
Our students took the initiative to organise various fundraising events, including BBQs, raffles, bake sales, car washes, and a stall at the Lawnton twilight markets to raise money for this worthy cause. We are proud to report that their hard work and dedication paid off, and they raised a significant amount of money to support the Mini Farm Project.
In addition to their fundraising efforts, our students also had the opportunity to visit the Mini Farm and assist in weeding the garden beds. This experience was not only educational but also allowed our students to contribute to the community in a meaningful way.
We believe that these efforts are a testament to the values we strive to instil in our students. At Genesis, we encourage our students to be socially responsible and to take an active role in serving their community. We are proud to see our students embody these values through their support of the Mini Farm Project.
We would like to extend our sincere thanks to all the parents, teachers, and community members who supported our students' fundraising efforts. Your contributions were vital in helping us achieve our fundraising goals and support this worthy cause. We hope to continue our partnership with the Mini Farm Project and support their mission to promote sustainable agriculture and provide fresh produce to local communities.
Primary Library Update
The primary library space, and in fact the entire library space, has seen significant physical changes this year. Amongst the demolition and early signs of reconstruction happening within the College, the primary library has shifted into the main library space. But fear not! This furniture shuffle and reimagination of how to optimize space without compromising a suitable land of stories to cater for primary aged students has not diminished the effectiveness of our modern-day library space. Our library remains a fantastic physical space within which, as I have previously suggested, students can both learn and escape to the natural habitat of the bookworm. Indeed, our library continually extends its boundaries according to the ever-growing digital world.
A new edition to the library spaces used by primary students has been the introduction of Einstein's Garden. Einstein's Garden aims to challenge the mind in a range of different ways including mind puzzles, games, riddles, art, construction and more. It aims to challenge and stretch thinking for students who will benefit from these types of activities. The garden itself is designed space within the library lounge and is for students seeking to challenge their thinking skills during second breaks.
A partnership between the library and the classroom continues to evolve, particularly in the development of digital and information literacy. As a teacher-librarian, I have worked with students throughout the primary school to teach and implement skills needed to learn and present ideas in a world that continues to advance at an ever-increasing rate, an information-rich world that needs to be navigated in a safe and meaningful way.
Written by, Mr Swift
Primary Teacher-Librarian
Genesis family assists to establish Lighthouse School in remote Papua New Guinea
Over the Easter holidays, Genesis staff member, Wendy Jones, along with her husband, Mick, and their three children (also Genesis students in Years 6, 4 and 2), embarked on a mission to the Autonomous region of Bougainville (off PNG) to start up a village school in the remote mountains. This is a very remote location without services such as power, running water etc.
As a College, we were grateful to be able to donate supplies for the Jones family to take with them. Additionally, our parent community rallied around this mission and provided pre-loved uniforms for the students to wear. Together with delivering the supplies, Mick and Wendy also facilitated teacher training workshops.
The school's motto is Jeremiah 29.11, "a hope & a future". As you can imagine, establishing a new school in the remote village of Siuema is no small undertaking and it requires both hope and faith in the future.
Earlier in May, the school had their official opening. The Lighthouse School of Siuema is so grateful for the support from Genesis in the early days of their establishment.
The Secondary NISSA (Northside Independent Schools Sports Association) competition has had a successful launch, after a couple of years of work on its development.
It has been wonderful to see teams from like-minded schools including Grace College Rothwell, The Lakes College and Prince of Peace Lutheran College, visiting our venues and enjoying challenging competition in netball, volleyball, touch football and futsal. With quality venues and healthy rivalries, there have been many exciting matches and teams are noticeably improving with weekly training and competition.
A special mention goes to our Year 9/10 Boys Volleyball team led by Levi T, who has already displayed great improvement, winning 3 out of their 5 games so far despite many of the players having little prior experience.
Check out the Genesis team standings from the halfway point in the season:
• 7/8 Girls Touch - 3rd
• 7/8 Boys Touch A - 3rd
• 7// Boys Touch B - 4th
• 7/8 Girls Netball A - 1st
• 7/8 Girls Netball B - 6th
• 7/8 Mixed Netball - 5th
• 7/8 Girls Futsal - 2nd
• 7/8 Boys Futsal A - 2nd
• 7/8 boys Futsal B - 7th
• 7/8 Girls Volleyball A - 1st
• 7/8 Girls Volleyball B - 5th
• 7/8 Boys Volleyball - 4th
• 9/10 Girls Touch A - 1st
• 9/10 Girls Touch B - 3rd
• 9/10 Boys Touch A - 1st
• 9/10 Boys Touch B - 4th
• 9/10 Girls Netball A - 2nd
• 9/10 Girls Netball B - 5th
• 9/10 Mixed Netball - 1st
• 9/10 Girls Futsal - 2nd
• 9/10 Boys Futsal - 3rd
• 9/10 Girls Volleyball A - 1st
• 9/10 Girls Volleyball B - 5th
• 9/10 Boys Volleyball - 4th
Weekly games are played at the following venues from approx. 1.00pm:
• Touch Football - Genesis Christian College
• Volleyball – Boys (Grace College, Rothwell) & Girls (The Lakes College)
• Netball - Pine Rivers Netball Association, Lawnton
• Futsal - South Pine Sports Association
Performing Arts Overload!
Year 6 Drama Club Easter Chapel Performance
Launch of Year 4, 5 and 6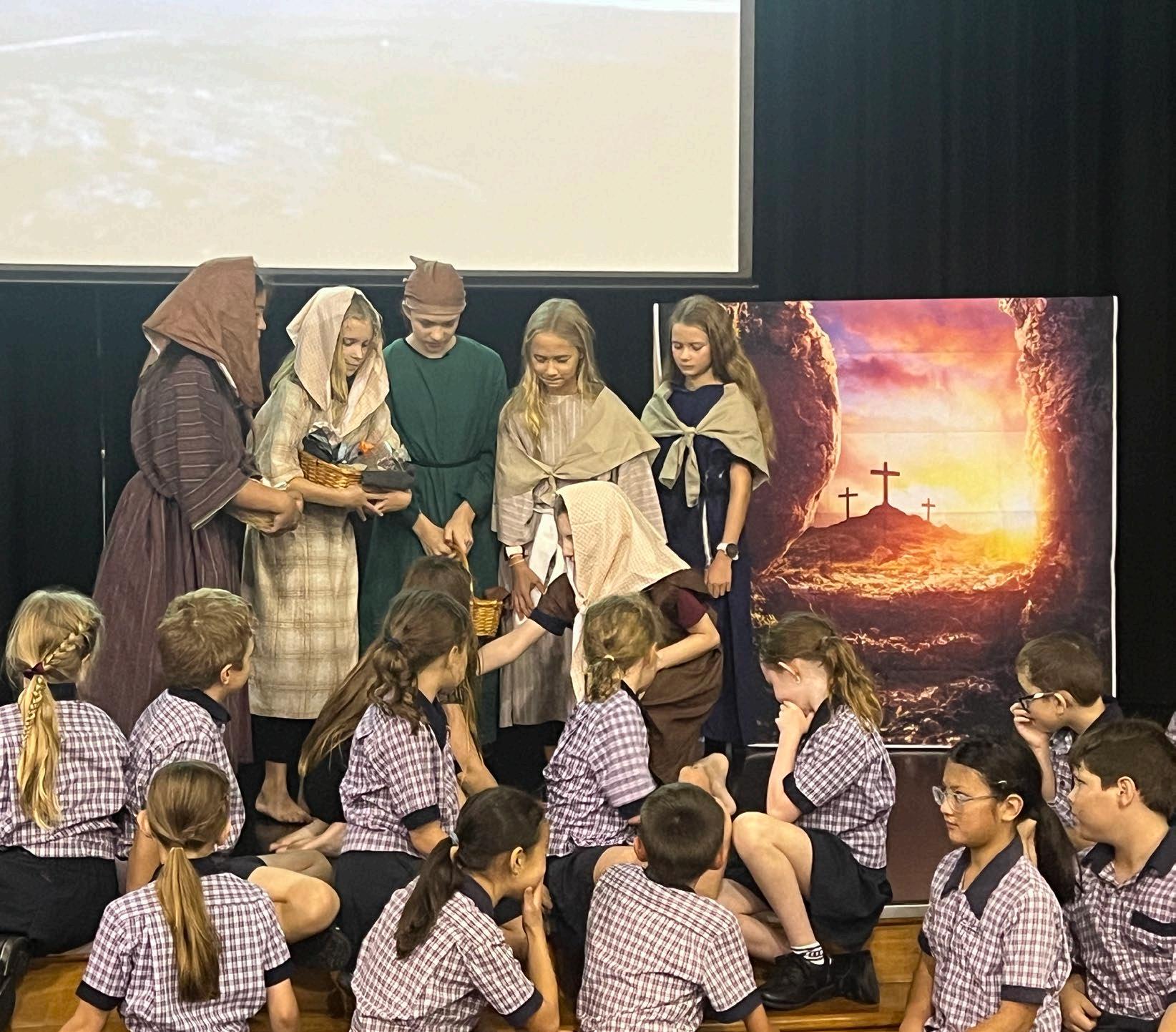 Drama Club
Movie Tunes
Senior Dance Company Easter Chapel Performance
Senior Dance Company
Minokamo assembly performance
Secondary Music Camp
Dance Camp 2023
Year 11 Workshop with Australasian Dance Collective
Annie the Musical
Sustainability at Genesis
The Genesis Environmental Club (GECko) runs weekly in both the Secondary School and Primary School (Years 4-6). Our Primary GECko club members exhibit strong leadership skills by regularly emptying our recycling and compost bins, picking up litter, and encouraging other students to use the correct bins.
We are incredibly proud of Kate, a Primary GECko student who submitted a winning entry in the Australian Marine Conservation Society's colouring competition. The AMCS organised this competition to celebrate the $100,000 raised by ocean lovers who donated their refunds from recycled drink containers. Kate will receive a prize pack valued over $200. Genesis will also donate all funds received from our Containers for Change program this year to the AMCS. So far, we have raised $356.90, which corresponds to 3,569 containers saved from ending up in landfills. We are very grateful to our Secondary GECko members who helped sort the containers from Annie the Musical. We encourage all students to deposit their eligible containers into our special Containers for Change bins. Additionally, we have noticed that popper cartons in the Lower Primary bins are often still very full. By checking with your little one if they can manage a whole popper, you may be able to save some money and prevent wastage.
The Genesis Environmental Club (GECko) runs weekly in both the Secondary School and Primary School 6). Our Primary GECko club members exhibit strong leadership skills by regularly emptying our recycling and compost bins, picking up litter, and encouraging other students to use the correct bins.
Commemorating ANZAC Day at Genesis and in our community
Mums enjoyed their Mothers' Day Celebration! Wheelies Week in PE
Year 3 students attended a Starlab incursion as part of their Science unit - Earth and Space Sciences
Prep B learning the 'vvv' sound by making volcanoes!
Year 2 Bush Dance!
Duke of Edinburgh activities underway
Yr 9 LEEP COGs students learn to think about their thinking (metacognition)
Year 12 Leadership Commissioning Service – House Captains
Year 10 into 11 Subject Selection Info Session
Eddie the Eagles gives it her best shot to dunk Mr Sterling in the tank at the Middle School Swimming Carnival
Congratulations to Gilead, Cross Country champions!
Year 7 Camp
Year 12 Camp
Family Friday's
In March, we held our first Family Friday of the year. More than 250 members of our community gathered for a pancake breakfast provided by Genesis P&F Association. Following the breakfast, families moved into Oasis Church for a short time of worship.
Family Friday's have become a much-loved tradition at Genesis, they are a special opportunity for students to share in worship with their families and for parents to connect with one another.
We warmly invite you to come along to our next Family Friday on Friday, 9 June.
P & F Mother's Day Stall
On the 4th and 5th of May, the Genesis P&F Association hosted their annual Mother's Day Stall.
Over the two days, students from across the College visited the stall and thoughtfully picked out special gifts for Mum.
The Mother's Day Stall would not be possible without the support of our incredible volunteers. A big thank you to all those who volunteered their time to serve at this event.
Fuel for School has kicked off again for Term 2. Funded by Genesis P&F Association, Fuel for School offers a free breakfast of cereal and fruit for all Genesis students. Fuel for School takes place outside Eden Eats on Tuesday, Wednesday, and Thursday morning from 7:45am-8:15am.
Your child is invited to attend the inaugural Youth Sports Stars event. This event will bring together rising sporting stars, from across our region for one special morning. At the event you will hear from inspirational guest speakers who are excelling in their chosen sport. You will also have the opportunity to meet and connect with other athletes from throughout the Moreton Bay region. 7am – 9am | Tues, 1 Aug | Norths Leagues Club, Kallangur. For more information contact Kate White k.white@genesis.qld.edu.au
SAVE
For more information contact Kate White k.white@genesis.qld.edu.au
THE DATE
all Alumni from the classes of 2003 2013
Calling
Christian College
20 Year Reunions
You're invited to attend our Genesis
10 and
Eatons Hill Hotel Sat, 21 October
TENNIS
The tennis program is off to a great this Term! The new structure within the tennis program is proving to be very functional and efficient. Welcome to Coach Jacob, our new assistant coach.
This term we have 3 teams from Genesis representing for the Queensland Secondary School Team Tennis Competition, we have 13 players representing the college at Shaw Park Tennis Centre on the 10 & 12 May.
In addition to all of this we have trials for the Primary School Cup taking place on the 23rd of May for the event in Mid-August. This is a large event across Queensland Schools and a great opportunity for players in the Orange and Green ball levels to show of their skills.
We still having available spots in our Red Junior Development tennis program for the players that are in the 6-8yrs age group wanting to give tennis a go.
If your child would like to give tennis a go, all players are welcome for a free trial lesson to see if they enjoy our sessions and want to continue!
MULTISPORTS
Multisport has had a great term and participation numbers have more than doubled.
We had a fantastic day at districts and CSSAQ cross country events with plenty of PB results and selections to teams for regionals.
We look forward to athletes vying for selection to states.
With Athletics season coming up we have started to focus on performance for these events.
FITNESS CENTRE
Our Fitness Centre has seen great growth in the past 6 months with record number. In saying that stay tuned as exciting new changes are coming soon!
Over the past six months, Johnny has embarked on a journey and has been training for the Cairns 70.3 Ironman event in June. During this time, he has swum, run, ridden and hundreds of kilometres and lost over 25kgs with the guidance of Steve Moss. We wish him all the best on his up coming event
ROWING
Genesis Rowing has competed in two regattas so far this term. In the first event, we had excellent results that included several first places before the regatta was called off due to high wind conditions. Last Saturday we competed in a 500m Head-to-head sprint regatta, in which we again came away with a large number of wins. The hard work the squad has been putting in is paying off and we are looking forward to the final practice regatta in two weeks, with the focus of the term being the Trophy regatta at the end of week 8.
FOOTBALL
What a fantastic start to the GSA Football 2023 Season, not just games on a Saturday, in all areas including training, Football Fun and Social Football. So good to see the excitement on the players' faces and a great turn-up to the clinic in the last holidays. Saturdays have been fantastic with our home games and worth a look. This year we introduced the Genesis Shooting Stars program which was a huge success.
SWIMMING
The Swim School has amazing, passionate long term staff and we have seen a huge number of children moving up a level and getting stronger and safer in water. Term 1 has seen increased numbers in all levels and we have had several children progressing. We love seeing all our little swimmers having fun whilst learning in the pool
Our pool is warm, and our coffee is hot! We look forward to seeing more great results from our little swimmers across term 2 !
• What's been happening inside your classroom?
o A selection of our Grade 3 RAD Ballet students will be examined in May and so are preparing for this over the holidays with exam workshops
o A number of grades of Jazz students are also working very hard in holiday exam workshops to get ready for their CSTD Jazz exam come June.
o Our Performance teams are getting performance ready for their first Eisteddfods in April.
o Our Drama and Musical Theatre students are getting ready for their annual Term 2 Parent and Friends concert. Its busy, hard work and great fun!
o Our new 9.30am Tuesday Tiny Stars class for 2-4 years olds has been a wonderful success, especially for the dancers from Little Genesis that are collected by our team each week and bought over to join the class.
• What's been happening outside your classroom?
o Outside of the classroom we are talking concert… can you believe it? We have a little surprise change to our concert this year and we are very excited about it!
o We have new admin/Social Media support on the team, Stephanie McLean our Musical Theatre Teacher has come on board to freshen up our social media and we just adore this multi-talented lady!
• What has been your 2023 highlight, so far?
o We had our first Solo and Duo Dance Eisteddfod a few weeks back and our team did fantastically.
o We also had one of our beautiful ballet dancers, Lucy Wood enter the Jaqueline Morland Awards in March, which is a RAD Ballet (Royal Academy of Dance) run competition. Lucy did exceptionally well and we are so proud!
• What can we celebrate and share with parents?
o Excited to share any of the above!
o A big welcome to the many new families who have joined GDA from both inside and outside the GCC community
• Any key dates or events you'd like to remind parents of?
o Saturday 13 May - Measurement Day
o Saturday 21 October - Photoshoot Day
o Saturday 04 November - Dress Rehearsal & Concert Costume Collection
o Friday 10 November - AV and Technical Run (3.30pm onwards)
o Saturday 11 & Sunday 12 November - Concert Weekend
Fri, 2 June
Tues, 6 June
JUNE
Years 3-6 Athletics Carnival
Secondary Colours Assembly
Wed, 7 June Prep 2025 & Beyond Virtual Tour
Thurs, 8 June Year 10 SETP Parent Night
Tues, 13 June P&F Meeting
Tues, 20 June Year 10 SETP Interviews
Wed, 21 June Year 10 SETP Interviews Year 8 Camp
Thurs, 22 June
Primary Wintersong Year 8 Camp
Fri, 23 June Year 8 Camp Term 2 ends
JULY
Mon, 10 July – Fri, 14 July Year 10 Work Experience
Mon, 17 July Term 3 Commences
Tues, 18 July Year 11 Camp Year 9 into 10 Information Night
Wed, 19 July Year 11 Camp
Thurs, 20 July Year 11 Camp
Fri, 21 July Year 11 Camp
Primary NISSA Gala Day
Mon, 24 July Year 6 Camp
Tues, 25 July Year 6 Camp
Wed, 26 July Year 6 Camp
Secondary Parent / Teacher Interviews
Thurs, 27 July Year 6 Camp
Secondary Parent / Teacher Interviews
Fri, 29 July Year 6 Camp
Dates correct at the time of printing. Please check the App for the most up to date calendar information.
Date Claimers