Gonks are not just for Christmas!
Spring is in theair andfive newGonk families areheretoshowjust what aspring makeovercan do
Tinkling Toadstools

Garden favourites for bright borders.
Melodic
chimes for relaxation &mindfulness
Agardenkissed by sunshinewith pure, perfectlytunedmelodic chimes carried on the gentle breeze is the most perfectplace forpeace and tranquillityonearth.
Wall Art on thewing
The pureperfection of nature'scolours as lifelikebutterflies, ladybirds, bees anddragonflies rest awhile on garden walls and fences and become most welcome year-round visitors!
Come andvisit us at Glee (Stand6J20-20A21)
We arealso at HarrogateHome& Gift (StandB1) and Birmingham Autumn Fair (Stand 6A25)
Please turnoverfor areminder of our other brands
Formoreinformation please email info@fountasia.comorcall 01303873311
APRIL 2023
Singing and dancing characters 3D model kits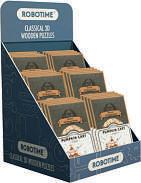 Wooden play sets
Formoreinformation please email info@fountasia.comorcall 01303873311
PERRYWOOD PROFILE Simon Bourne Interview BRITISH PLANTS Retailers securing supply Advice &information for garden centreprofessionals gardentradenews.co.uk SALES IN THE SUN Spanish garden centrevisit APRIL 2023 Garden Re-Leaf Day 2023 FUNdr MARCH SALES SUFFER GTNBestsellers Analysis Re-Leaf Day 2023 FUNdraising for Greenfingers hits new heights
Getyourfreeticket! Grow your offering with Glee… Browse 1000sofproducts, from 400+ exhibitors,across 10 sectors gleebirmingham.com/registerhere