YEAR 26 ISSUE 307 FEBRUARY 2023
Blanch New Main Street Leader
6chris allen duly-noted
27wisdom o. cole BHM keynote speaker
Porch talk
4 on the porch...life in fredericksburg
7everything greens: 8 plants & how to kill
8In the Garden: whither weather
9growing & crawling:hello hellebore
10i have a friend: you are amazing
12tidbits...small bites of local news
13 season's bounty: mardi gras
14ever try fresh vegetables ?
15vino: wine & chocolates
16-17Calendar of Events
18history's stories: benjamin t. pitts what's in an soda fountain? goolricks
19 Our Heritage a tradition of black enterprises
20mental health: the healing power of music
23auto known better: young's market
24art in the burg ...galleries in february
25penny a parrish award winning cover artist
26 Sara poore departs fam
28companions: .chocolates
29astrology & you poetryman: variance
30fredericksburg sketches
31 get to know amber ridgeway
...And More!
5 anita crossfield: civic leader & business owner
11 teen dating violence awareness month
21 John McLaughlin: functional medicine coach
Cover: "Entwined" By Penny A Parrish
contents
closeups
3Cori
3 27 2 February 2023 Front porch fredericksburg 6
Cori Blanch, who took on the role as President of Fredericksburg Main Street initiative (FVMS) in January, has the heart, vision, and experience that make him a perfect fit for the organization.
"As a business owner, I see great value in what Main Street provides for the business community as well as advocating for changes that business owners need, especially in the transformative time that we are in," Cori said. "There are many new and young business owners and different kinds of businesses that are thriving and locating downtown. Our nonprofit is a chapter of
Cori Blanch takes the helm of fxbg va main street
By Collette Caprara
Samples became active in Fredericksburg Main Street in 2020 after they launched first business venture, taking on ownership of the Curitiba Art Cafe, and were invited by former director Ann Glave to serve on the board as co-chairs of the Economic Vitality Committee. Megan will continue her work in this capacity as Cori moves to his new role.
Main Street America, whose primary mission is to support historic preservation and promote economic development of towns like Fredericksburg. We pursue our mission by advocating for the business community in an effort to keep our downtown healthy and vibrant for business owners, employees, residents, and visitors alike."
As a couple, Cori and Megan
A guiding maxim of all the endeavors that Cori and Megan pursue has been the importance of collaboration and mutual support to engender benefits for all. "Megan and I both take community service and advocacy very seriously and look forward to working with other entities as we continue to move forward," said Cori. "In addition to Main Street, I also collaborate with the Virginia Black Business Directory and the Arts Commission, and Megan also serves on the board for Continuum of Care as a liaison between services for those in need and the business community. Together, we host a number of community entities, artists, and nonprofits at Curitiba Art Cafe, and do quite a bit of advocacy work outside of the Fredericksburg community as well."
Cori says that business ownership has brought new insight and appreciation for the unique quality of our town. "Through our business, we have gotten to see diversity that continues to grow in downtown Fredericksburg. As an art
location, we also get to see the incredible talent and the support that the Fredericksburg residents give to our art community here. We also see the opportunities to continue to make things even better for the business community and those who serve our great downtown, which is a large part of why I am looking forward to serving as the President of Main Street for this upcoming term."
"One of our greatest current challenges is addressing the ongoing difficulties of inflation and lingering impacts from COVID such as shipping and worker retention issues to name a few, and trying to be creative and effective at meeting these challenges in a holistic way," Cori said. "Brendan Kelly is our new Executive Director. We have enjoyed working with him the past 7 months and look forward to what can be done in the future."
"My vision for Main Street is to help grow our chapter into its full potential and to be more effective in how we serve our community as we continue to promote collaboration and create innovative solutions that will move our community forward. We can do that by compiling the wisdom of lessons that have been learned by the 120 plus businesses here in Fredericksburg to make downtown a place that will attract future entrepreneurs, property owners, tourists, and great employees alike. We want to take our collective wisdom and pay it forward to all the future entrepreneurs, helping them to be successful and to avoid some of the mistakes that may have been made."
Collette Caprara is a local artist and writer.
The mission of Fredericksburg Virginia Main Street is to preserve Fredericksburg's historic fabric and rich cultural history while encouraging a thriving economic future www fredericksburgdowntown org fb@FxbgDowntown
front porch fredericksburg February 2023 3
Penny A Parrish Guest Porch Editorial
Contributing Writers & Artists
Elyse AdamsRita Allan
Jessica Addis Sally Cooney Anderson
Dianne BachmanLaurie Black
Meghan BudingerSonja Cantu
Collette CapraraChristien Coniff
Janet DouberlyJeannie Ellis
Jenna Elizabeth EdwardsEm Ford
Caroline FordFrank Fratoe
Bill FreehlingJon Gerlach
Liese HaleyKathleen Harrigan
Ralph "Tuffy" Hicks
Nancy KellyDavid C. Kennedy
Ray MikulaVanessa Moncure
Pete MorelewiczPatrick Neustatter
Penny A ParrishEmily Pawlak
M.L. PowersGerri Reid
Paula RaudenbushRob Rudick
Gaila SimsMandy Smith
Anne TimpanoRim Vining
Tina WillNorma Woodward
Front Porch Fredericksburg is a free circulation magazine published monthly by Olde Towne Publishing Co.
Virginia Bigenwald Grogan, Publisher.
The mission of Front Porch Fredericksburg is to connect the diverse citizenry of Fredericksburg with lively features and informative columns of interest to our community's greatest resource, its people.
Messages from our readers are welcome. All article submissions must be received by e-mail by the 16th & calendar items the 19th of the month preceding publication.
Writers / Artists / Photographers are welcome to request Guidelines and query the Publisher by e-mail.
Front Porch Fredericksburg PO Box 9203 Fredericksburg, VA 22403
Ad Sales: E-Mail: frntprch@aol.com
Web Site: www.frontporchfredericksburg.com
Facebook:
@Front Porch Fredericksburg
The opinions expressed in Front Porch Fredericksburg are those of the contributing writers and do not necessarily reflect the opinion of Front Porch Fredericksburg or its advertisers.
Copyright 2023
Front Porch Fredericksburg Magazine All rights reserved.
ON THE PORCH love
by penny a parrish
A four-lletter word we could use more of lately.
February brings us Valentine's Day, a celebration of hearts and flowers. But perhaps in the midst of this cold winter month, we should re-examine what "love" means to us.
For couples it can be a time of new beginnings or treasured rituals. For others it can be a time to reflect on special relationships that make life meaningful.
I am thankful for friends that I love. Some live close by and I see them often downtown at restaurants, walking our wonderful trails or visiting art galleries (like Brush Strokes where I am a member!). Others live in various states or in other countries. I see them less frequently, but love abounds when we meet. I even came to love "ZOOM" during these three difficult COVID years because faces that make me smile could come into my living room and change my mood from grumpy to joyful.
I love the animals who have brightened my life, who shared years of devotion and warmth. From dogs to turtles to birds - and of late, especially cats. Little old Sweet P, now 18 and deaf, continues to bring furballs and laughter to my life.
I love my old car - a 1963 MGB named Toodles. She runs when she feels like it, and being a good British car that means only on sunny days when the temperature hovers between 62 and 76. I've had her since the late 70s and driving her, top down, on a gorgeous spring or autumn day lets me take in the scenery and fresh air. I only wish there was less traffic and fewer pickup trucks on my bumper.
I love music and live in an area where I can benefit from symphonies, bar bands and street musicians. I love history. What better place to live than Virginia, to learn from its past and help shape its future. I probably had classes in high school in Illinois that touched on the Civil War. But living here I have benefitted from those who study it and share their research. To live here is to find a deeper meaning in our history.
Other things that I love: pickleball with the Pickle Belles. We are "women of a certain age" and we play outdoors, even in the winter when we bundle up in warm clothes. We're not going to win any tournaments, but we share the gift of laughter and get some exercise at the same time. I love wine and good food, and enjoy sharing local eateries with friends and relatives from out of town. They are amazed at the quality and variety of restaurants in the Burg.
I have used the word "love" a dozen times so far. Now let me focus on some areas where I think we all could use or share a little bit more of it.
Politics The art of civil discourse has all but disappeared in in so many places. We do not have to love those with differing opinions, but we should strive to treat them with respect or tolerance. We need to learn to listen to each other again I just finished a book where the protagonist always counts to ten before speaking or taking any action. A very solid plan.
Those of us on the "back nine" as they supposedly say in golf (not my sport) should be doing more to reach out to the younger generation Yes, many of us are in awe of their ability to type with their thumbs on their phones and don't understand half the words they are using. But it behooves us as adults - or seniorsto reach out to them, to mentor them, to validate them. They have had a very
tough three years with school interruptions and isolation from friends. In all my years, I never had to go through anything like that. They are our future. Treasure - and love them.
This month reflect on all that you love, and those who love you. Go beyond the concept of cards and chocolate. Do something special for someone you care about, and you will get love in return. Then grab a cup of coffee, or a glass of wine, and celebrate one more thing we all love: Front Porch Magazine, cover to cover.
Following her careers in television journalism and law enforcement, Penny Parrish now pursues a new passion: photography
4 February 2023 Front porch fredericksburg
Fredericksburg's Strongest anita
Fredericksburg and Anita Crossfield go together like cappuccino and cornetti. If you know and love the city, you'll love the inspirational civic leader and owner of the iconic Italian Station in historic downtown.
Anita's journey began as a teenage mother in war-torn Kosova. She has overcome and accomplished more in her forty-three years than most will in a lifetime. Yet her hard work and generosity of spirit have never faltered, with her beautiful daughter, Kristiana Kuqi, 26, as her angel and guiding light. Anita has paved the way for Kristiana to not only survive, but thrive. Kristiana is a graduate of Randolph College with a dual degree in Political Science and History. She has also had the privilege of accompanying the President of Kosova Vjosa Ismani, Former President of Kosova Atifete Jahjaga, and Prime Minister Albin Kurti to the funeral of Secretary Madeleine Albright
Kristiana is blessed to soar towards her greatest dreams knowing that she always has a safe place to land in Fredericksburg. While visiting for Christmas and New Year's Eve 2022, Kristiana referred to Fredericksburg as her hometown. "Hearing that was the greatest and most special gift I could ever receive," Anita says.
Anita has built far more than a business here; her leadership and example have made Italian Station a beacon of love, hospitality, and fortitude; a refuge for the marginalized; a servant of the frontline; a host for warmth, belonging, and connection; and an advocate for all that is good, right, and beautiful in the world. In other words, a home for her cherished home and family of Fredericksburg. Her integrity has earned her the respect, attention, and admiration of the most
crossfield: civic leader & business owner
by Jenna ELIZABETH eDWARDS
powerful civic leaders, from the local to the international; her humility, authenticity, and accessibility have led her to serve, nourish, and uplift those in need of kindness and compassion.
During the COVID-19 pandemic, Anita continued to open her heart and her doors to the community, while respecting and complying with public health and safety regulations. Anita collaborated with leaders from Juan More Taco FXBG, Orofino Restaurant, Rappahannock Area Agency on Aging, and Fredericksburg Cupcake to prepare, package, and deliver 3,778 meals and 868 hospital boxes to the elderly. She led the RappahannockFredericksburg Rotary Club in visiting frontline workers and residents at the Greenfield Senior Living Facility of Spotsylvania Italian Station also hosted weekly meetings of Olga's Hats, a local volunteer group committed to knitting hats, gloves, and ear warmers for the area's homeless population. With the support of the Silver Companies and Fredericksburg Regional Chamber of Commerce, of which Italian Station is a member, Anita launched a Pay It Forward Initiative that garnered national attention and the special recognition of former Virginia state delegate and Fredericksburg resident Hon Joshua Cole. Nearly 2,000 Italian Station patrons continued to pay forward the price of a cup of coffee for the next customer for three weeks following Random Acts of Kindness Day
Anita remains a steadfast proponent of local businesses and service members, as well as community causes and traditions. She serves as a Board Member for the Fredericksburg Area Museum, and loves supporting local creatives, such as her friends and neighbors at PONSHOP Italian Station has hosted special appreciation days for veterans, city
employees, and law enforcement officials, including the annual Coffee with a Cop Day
Anita regularly participates in fundraisers for community organizations, including the Fredericksburg Regional SPCA, Downtown Dolls, Ellie's Elves, Fredericksburg PRIDE, Gwyneth's Gift Foundation, Cooking Autism, Inc , the Rappahannock Council Against Sexual Assault, The Ruyts Foundation of Veteran Suicide Prevention, and Downtown Greens
Italian Station has enthusiastically supported traditions including T he Great Train Race; the Marine Corps Marathon; Operation Tulip Drop; Fredericksburg Main Street's signature A Downtown Affair event; the annual Costume Stroll and Treats on the Streets; and the FXBG Pride March and Festival
I would argue that there is no one who embodies the concept of #FXBGStrong as graciously or more consistently than Anita Crossfield, which is why I have deviated from my normal Fredericksburg's Finest column, to instead name her Fredericksburg's Strongest, a small token of appreciation for her loving, loyal, and devoted spirit that has touched the lives of countless people in this beautiful city that holds the honor and privilege of being her home.
Jenna Elizabeth is a partner of Edwards Law Firm PLLC and a local realtor. She highlights local business owners and community members to showcase why the Fredericksburg region is an amazing place to live.
front porch fredericksburg February 2023 5
Anita Crossfield (r) with daughter Kristiana Kuqi
DULY NOTED paper goods galore
by M.L. Powers
Fredericksburg has a knack for attracting novel and unique shops. Duly Noted is a new gift/paper goods shop that fits this criterion to the tee. Owners Chris Allen (above) and Tobin Traxler opened the store in May 2022 at 714 Caroline St. Prior to this, they owned a similar shop in Georgetown. Not really enjoying the feel of the big city, they moved to the smaller, more community oriented Fredericksburg. Chris, a graduate of The Art Institute in Chicago stated he had
when I'm working on an article, but that I would definitely be back to get some Valentine's Day goodies.
Duly Noted jumped right into the community tone of Fredericksburg. They collaborated with different local businesses to promote events. They helped host a dinner with local chef, Joy Crump from FOODE. Their backyard adjoins the PONSHOP, and they have had joint social events there. They did a cookie
Once there was time when we relished a letter in the mailbox, but now we mostly hit a quick click for a hello on our social media platforms. A shop like Duly Noted reminds us to slow down and really communicate with someone. Just a couple of lines can make a person's day in a time when we need to connect more than ever before. Stop in and check out their gift selections, and maybe pick out a special card for someone you are thinking about. Or just stop in, and meet Chris and Stetson!
Duly Noted
714 Caroline Street shopdulynoted com
fb@shopdulynoted/fredericksburgVa
always dreamt of a stationery shop. His husband Tobin works for Fredericksburg city schools as STEM coordinator, but is also involved in the store. Stetson, their adorable beagle is Chris's assistant, most days.
In additional to being a purveyor of cards and paper goods, Chris is a graphic designer who uses letterpress printing in wedding invitations Letterpress printing is a method by which an image is produced by repeated direct impression of an inked, raised surface against paper. It is a time intensive technique that produces a unique product and a method that is considered one of the dying arts.
Most of the greeting cards and stationery products are unique and come from local vendors The day I spoke to Chris, he was in the process of breaking down the Christmas stock and installing the Valentine's Day merchandise (Above: "All I Need is Love" display) I joked with him that I try not to purchase anything
swap of sorts called Backyard Treats where many of the businesses contributed. What great neighbors to work with!
Duly Noted plans to offer various classes and workshops. Over the holidays they held a Making Christmas Wreaths class. Chris said there is more fun in the works for the Spring, which will soon be posted on their Facebook page and website. Shopdulynoted.com is a great preview of some of the merchandise they have available.
Mary Lynn enjoys meeting and writing about interesting people and businesses in the 'Burg
6 February 2023 Front porch fredericksburg
8 plants & how to kill them: pt 1
By Meghan budinger & elyse adams
A love of gardening doesn't necessarily translate into a green thumb. In fact, sometimes the greatest lovers of the flora are actually serial murderers when it comes to the plants in their care. Learn from Meghan and Elyse's mistakes!
African Violets - M
An African Violet was gifted to me when I moved into my first apartment. I took care not to over water, as I had been warned that was the surest way to kill African Violets. That's why I was very surprised that after a month or so the entire plant just…fell off. The entire plant just rolled right off the pot one day. Turns out, you can't water African Violets from above You have to put water under them, and allow the roots to soak it up
Peonies - E
My grandparents' home was surrounded by several flowering plants that seemed to grow effortlessly, and my favorite of them were my grandfather's Chinese Peonies After buying my first home, I went to the greenhouse to find those pink flowers with piles of soft, weightless petals. They didn't have them, but they did have some coral-colored hybrid called a 'Singing in the Rain'/ Itoh Peony As a huge fan of musical theater, the name alone stole my heart. I had planted them in the perfect place, I thought, right by the patio with the best soil- where the grass grows tall and green. But with tall grass comes the need for mowing, and let's just say that 14-yearolds are NOT the most observant of their surroundings, and they were mowed right over by my son, all because I wanted them to have the best spot in the yard.
Shamrock Plant - M
I bought one of these to give to a friend who had recently lost an elderly
(and Irish!) family member. I managed to kill it in the short period of time between buying the plant and delivering it. I had assumed that an "Irish" plant would need a lot of water. I was wrong. Especially when that plant is headed into a dormant season and should actually be put away in a dark corner and utterly ignored for a while. I killed it with my attentiveness
Yucca - E
My cat peed in the pot. Like, dozens of times. I'm not even going to take credit for this, cats are like that.
Zinnias - M
I have tried growing them from seed and starter plants. I put them in pots and on the ground. I place them in bright sunlight. I give them some shade. I water regularly - I let them get a little dry. I have killed Every. Single. Zinnia. Meanwhile my neighbors have bed after bed of
enormous, brilliant colored flowers all summer. And those neighbors just look at me and shrug. To be honest, there's no lesson here. I really don't know what I'm doing wrong.
Will the authors ever learn? Have they had enough? Tune in next month for the thrilling conclusion of 8 Plants and How to Kill Them
Meghan Budinger and Elyse Adams are shameless plant murderers and do not work at Downtown Greens for obvious reasons.
It's time for the Downtown Runaround! Go to www downtowngreens org for info and to sign up!
front porch fredericksburg February 2023 7
Everything Greens
donatelifevirginia.org SUZY STONE LANDO MASSEY REAL ESTATE 1119 CAROLINE ST Cell:540.847.0630 Office: 540-368-1234 suzystone22@gmail.com Landomassey.com Work Locally Shop/Dine Locally Play Locally Where Customer Service and Title Insurance Become One 12225 Amos Lane, Ste 204 Fredericksburg, VA22407 540-907-0574 www.elitetitleva.com
In the Garden
it is to do this, and was eager to share not only the procedure, but also the wonderful health benefits of fresh greens and sprouts. Of the generous sample of seeds she gave out my favorite was the Sunflower seeds, though the Cress and Radish are great too, just spicier. Many different kinds of greens and sprouts are available as we have seen in stores. The nutrients in these tiny plants are abundant. A study done by NIH in 2020 attests to this: www.ncbi.nlm.nih.gov/pmc/articles/PMC7 587365/, and two studies referenced in that article showed that "sprouts, microgreens or "baby" vegetables at early growth stages are better sources of nutrients than their mature counterparts [21,22]." That's a big claim! Sources of
seed germinating kits are available on the internet. Read reviews and proceed with courage once you understand more and know how to grow them with success. Another helpful link is: microveggy.com/sprouts-vs-microgreens/. My seeds sprouted within two or three days, and were ready to eat within 5 to 7 days. They were delicious and we enjoyed over several days.
Maybe February will look more like Winter. As I write this, warm temps and a rainy forecast don't look at all like Winter. A year ago Fredericksburg was buried in the aftermath of the January 3rd storm: snow, ice, and broken trees. I still expect cold and snow, even if things look entirely different right now. But what is there to do when all seems dormant?
First: Take on an easy food growing task that can be done on the kitchen counter or near a window: grow sprouts and/or microgreens. Master Gardener Jessica Addis showed us how easy
Next: Welcome Spring by planning to attend the MGACRA Symposium scheduled for April 1 at Gari Melcher's Home and Studio. The theme is 'From Roots to Blooms.' Registration is open, and can be done by mail or online with payment through Paypal: www.mgacra.org/2023-springsymposium.html. Bryce Lane from North Carolina returns to talk about soil building for strong roots. Stacey Chapman will talk about growing flowers for cutting. She and her husband own Westwind Flowers in Orange, VA. Nancy Berlin, a Master Gardener in Prince William County will talk about Container Gardening. Come and learn; it's an informative day at a beautiful venue!
June and August: With information from our Symposium speakers, grow flowers for our next Flower Show, and help rebuild the population of pollinators while you are at it. Master Gardener Laurie Clarkston led us through our first Flower Show last year, and this year the efforts will kick off in June when MGACRA volunteers will give short talks on the basic needs of a seed and flower. We hope to see lots of children and adults grow and show
their flowers. In late August, flowers that people have grown can be brought to the downtown library for showing. Ribbons will be awarded. Dates, times, and more information will be on our website: https://www.mgacra.org/june.html.
Tina Will is a Master Gardener and lives in Stafford County. She can be reached at brianandtina.will@gmail.com photos y Jessica Addis
8 February 2023 Front porch fredericksburg
whither winter?
Where Fredericksburg Gets Engaged Valentine Special! Your choice: take 20%off any repair or 20%off any in-stock item! 606 Caroline Street Old Town 373-7847 gemstonecreations.org Tues-Fri: 10a-5p Sat: 10a-4p
by tina will
Growing & Crawling hello hellebore
By janet douberly
What kind of plant is crazy enough to bloom in February? That would be the helle-poisonous Hellebore! Commonly called Lenten Roses or Christmas Rose, hellebores are a perfect spot of beauty during a dark and cold time of the year!
Despite its common names, hellebores are not in the rose family but are instead cousin to the buttercup in the Ranunculaceae family. There are 20 species of hellebores, some being evergreen while others send up their leaves in the late fall/early winter and send up their bowed blooms in winter and early spring.
A distinctive feature of hellebores is how the blooms face downward. One can only imagine they do this out of shame for hellebores are extremely poisonous!
Eating any part of the hellebore plant is a big no-no as it will make you very sick, at best. The poison of hellebores was first used in the First Sacred War at
the start of the sixth century BC to poison the water supply of the city of Kirrha!
Just touching certain species of hellebore can cause extreme irritation for some people. It is recommended, when collecting seeds, to wait for the seed pods to dry completely and then just shake the seeds from the pod into a container.
With such a beautiful yet dangerous reputation it is no wonder that hellebores have two meanings in the Victorian Language of Flowers. They can mean both scandal and hope!
Janet Douberly is a helleboring employee at Downtown Greens.
front porch fredericksburg February 2023 9
"I Have A Friend" you are amazing!
By Laurie Black
visit a senior, but for the past year has been providing "cards of hope" monthly to some of our program participants who for various reasons are not able to have a volunteer visit each week.
All of these connections and kindnesses large and small given by volunteers and community members truly make a difference. Thank you to all who reach out to others. You are amazing!
Laurie Black is the Senior Visitors Program Coordinator at Mental Health America of Fredericksburg
Last month I wrote about light and connection. This month I have a wonderful example of both to share.
In October of 2022 Elody Shojinaga reached out to Mental Health America of Fredericksburg (MHAfred). Elody had connected with MHAfred staff earlier in July at a fundraising event at Mellow Mushroom. She wanted to bring together the community to make cards for seniors participating in the Senior Visitors Program.
In her own words Elody says, "I came up with the idea because I also make cards for an organization called Letters Against Isolation (lettersagainstisolation.com/) which was started during COVID to send letters to Seniors in Nursing homes and to those who used Meals on Wheels. They are primarily based in the U.S. but also have recipients in Israel, England, Australia, and Canada.
"I enjoy making cards and sending them to those seniors but wanted to do something more local. I was already familiar with Mental Health America of Fredericksburg and the senior program. At first I thought about just contacting The Senior Visitors Program and suggesting they get on the LIA distribution. Then I thought maybe we could just have a local effort to support our local seniors. As a Fredericksburg Food Co-oop member I know that they support all sorts of good causes, so I thought maybe it would be a good combination.
"Thus far it seems to be a popular activity at the Co-op. I had no idea how many people to expect at the first event and was surprised at the turnout. Both adults and kids seem to enjoy the activity. I plan on continuing as long as there is plenty of interest in participation from people, and Mental Health America of Fredericksburg wants cards, and as long as the Co-op allows!"
The November card making project provided handmade holiday cards. In January the card project provided handmade valentine cards. All the cards also have personal notes from those who came out for the event. The Senior Visitors Program has over 110 older adults currently participating in the program. All have been able to receive these cards and enjoy being remembered by community members. As one senior stated, "It is always nice to get a cheerful card and know someone is thinking about you"
Another card project is planned for the Spring. Anyone can stop by. You do not have to be a Co-op member to participate. We so appreciate Elody sharing her "light" and to the Fredericksburg Food Co-op for supporting the events! Information on the next card project will be posted on MHAfred's and the Food Co-op's Facebook pages.
In addition to this ongoing effort, another individual community member reached out in January of last year, asking how she could help. She was not able to make a weekly commitment to
If you know a senior who could benefit from having a weekly, friendly visit or if you would like to volunteer to visit a senior, call the Senior Visitors Program at (540) 371-22704 or visit our website at mhafred org Refer a senior or sign up to be a volunteer! The Senior Visitors Program is a free community service program of Mental Health America of Fredericksburg
10 February 2023 Front porch fredericksburg
Donate to a Cancer Organization Let's Find a Cure!
donatelifevirginia.org
donatelifevirginia.org dmv.virginia.gov/drivers/#organs.asp
#The OneThing
Teen Dating Violence Awareness Month
February is a time to celebrate love as we recognize Valentine's Day. However, not every relationship is healthy or filled with love, which is why Empowerhouse joins in a nationwide prevention and education effort during February to help young people as part of Teen Dating Violence Awareness Month (TDVAM).
1 in 3 teens in the United States will experience physical, sexual, verbal, or emotional abuse by someone they are in a relationship with before they become adults. In addition, nearly half (43%) of college women report experiencing violent and abusive dating behaviors.
During Teen Dating Violence Awareness Month (TDVAM) and throughout the year, Empowerhouse works with schools and other organizations to educate teens about healthy and unhealthy relationships, recognize warning signs of abuse, and help build self-esteem. These are vital tools in assisting young people and those who support them. These include sharing our "Be Real" materials, which are targeted to teens, asking them to join us in promoting healthy relationships and connecting them to resources like our website and our 24hour confidential, hotline number.
For TDVAM 2023, the theme is #1Thing. The theme was chosen by "love is respect" a national resource to disrupt and prevent unhealthy relationships and intimate partner violence by empowering young people through inclusive and equitable education, support, and resources.
According to "love is respect," the #1Thing campaign encourages teens and
By nancy kelly
those who support teens to join in "learning one thing about teen dating violence and sharing that with a friend, every person can make a difference." For example, some teens confuse jealousy with love and consider abusive demands to be "normal". Read Empowerhouse Be Real: Start the Conversation With Your Teens About Healthy Relationships Parent & Teen Advocate Discussion Guide for more information.
Empowerhouse will be part of this important effort to promote and build healthy relationships by starting critical conversations about teen dating violence. We know that by raising awareness during the month of February, we can help stop teen dating abuse and provide essential resources to support teens and their families. If you're an adult, please continue to engage with the young people around you to discuss healthy relationships and dating abuse.
For more information (including the guide referenced above) about teen dating violence or our youth services, please go to Empowerhouseva.org, teen resources page, or call Sandra, 540-3739372 during business hours. Empowerhouse has resources available in English and Spanish. To request an educational classroom presentation on healthy relationships and teen dating violence warning signs for your school or organization, e-mail mendyp@empowerhouseva.org.
If you, or someone you know is experiencing domestic violence, please call Empowerhouse's free, confidential 24hour Hotline at (540) 373-9373.
front porch fredericksburg February 2023 11
Supporting Non-Profits Since 1997 Shop Local Welcome to Downtown Fredericksburg's Main Street District fredericksburgdowntown.org
Nancy Kelly is the Development Director of Empowerhouse.
Moment Diner Opens in Eagle Village
Moment Diner has opened in Eagle Village. At 1201 Emancipation Highway, in the building that what was once Country Cookin', Moment Diner is now open from 7am-3pm daily.
Moment Diner's menu includes Undeniable Classics such as 2 Eggs & Meat and Biscuits & Gravy, as well as Greatness from the Griddle such as Golden Brown Pancakes and French Toast. They also serve all-day lunch and dinner, and have "Main Events" that are unique to Moment Diner, such as an 8oz Rib-Eye Steak and Smothered Chicken.
Moment Diner also has catering options, such as boxed lunches and sandwiches. As they begin their journey in Eagle Village, Moment Diner is committed to providing high quality food and hospitality to the City of Fredericksburg. Follow Moment Diner on Facebook.
TidBits
small bites of local News
Nothing Bundt Cakes Opens in Central Park
By Bill Freehling
Central Park has gained a brand new, unique, and delicious bakery. Nothing Bundt Cakes recently opened at 1420 Carl D. Silver Parkway, and specializes in a variety of delectable bundt cakes.
Bundt cakes are baked in a bundt pan, providing them with a doughnut shape. Some of the items at Nothing Bundt Cakes include 8-10" decorated bundt cakes, and Bundtlets, which are individually packaged, miniature bundt cakes. You can order an Individual Bundtlet, a Bundtlet Tower, or even a Bundtlet Bundle of 12 miniature cakes.
Open 9:30am-7pm MondayFriday, and 9:30am-6pm Saturday-Sunday. Follow them on Facebook.
Fredericksburg Area Museum to Host Black History Month Walking Tour
On Saturday, February 18th, the Fredericksburg Area Museum is partnering with the Historic Fredericksburg Foundation for a Black History Month Walking Tour. Starting at 11am on the 18th, Black Businesses & Entrepreneurship in Fredericksburg, 1787 - Present will begin its tour at the HFFI Offices, at 1200 Caroline Street. In honor of Black History Month, this walking tour will uncover how Fredericksburg has contributed to such a deep layer of history, and how the stories of black citizens have continued to grow the culture of this city.
Chick-ffil-A A in Central Park Re-OOpens with Renovated Drive-TThru
Renovations are complete at the Chick-fil-A at 1698 Carl D. Silver Parkway in Fredericksburg's Central Park shopping center, and the popular restaurant has reopened for business.
The drive-through at the location was widened as part of the renovation, preparing the popular restaurant for the bustling crowds..
Fredericksburg Visitor Center Property
Now on the Market
The downtown Fredericksburg property that currently houses the City's Visitor Center and the adjacent parking lot is for sale.
Fredericksburg's Economic Development Authority (EDA) purchased the property at 700-706 Caroline Street from the City of Fredericksburg in December. The EDA is now marketing the property to prospective purchasers.
The City is leasing back the property while it plans a new Visitor Center and Economic Development and Tourism Office at 601 Caroline Street (Executive Plaza).The property includes a historic, 5,319-square-foot building and a 14-space parking lot (two separate parcels).
Rebellion Named One of Top Whisky Bars
A downtown Fredericksburg establishment has been named one of the top whisky bars in the U.S. Rebellion, which has a location at 309 William Street, is on Whisky Advocate's list of 101 top U.S. "bars, taverns, restaurants and more to delight any whisky drinker."
Green Fitness & Wellnes Purchases the Purina Tower
The Purina Tower, a historic downtown Fredericksburg landmark, was recently purchased by Green Fitness & Wellness owners Garrett and Dorothy Green. The Green's have plans for this historic property to incorporate the tower into part of their fitness center. You can follow Green Fitness & Wellness on Facebook or view their website.
Bill
Freehling, Fredericksburg's director of economic development and tourism
12 February 2023 Front porch fredericksburg
Serving Up Local "Good" News For a Quarter Century Front Porch Fredericksburg Fredericksburg's Hometown Irish Pub & Restaurant Since 1961 Mon-Thurs,11am-9pm Fri & Sat,11am-10pm Sun,11am - 9pm Bar open until 2am everyday 200 Hanover St. ~ 373-0738
You don't have to live in New Orleans to celebrate the annual event known as Mardi Gras (or in English gras=fat and Mardi=Tuesday, also known as Fat Tuesday, Pancake Tuesday or Shrove Tuesday)
But why those names? Everyone familiar with Christian holidays will recognize the terms Shrove Tuesday, Mardi Gras, Ash Wednesday and Lent, all of these days leading up to the festival of Easter. Some days are joyous and full of revelry, while Lent is a period of penitence and reflection starting on Ash Wednesday. The exact days of Easter fall on a different day each year, with the season of Lent preceding Easter by 40 days, symbolically the 40 days Jesus spent in the wilderness, a period of grief and fasting. The final day of Shrove Tuesday has become associated with indulgence and merrymaking before the austerity of the Lenten season - a time to eat, drink, and be merry to excess before being historically forbidden by the Church for the following 40 days.
New Orleans is America's preeminent site of Mardi Gras, occurring this year on Tuesday, February 21, 2023 There would be no Fat Tuesday without excesses of food, New Orleans-style - you can find beignets, waffles, pancakes, crepes and the traditional King Cake, decorated in the traditional colors of green, gold and purple. Extravagant parades and floats are sponsored by the many krewes or community societies - beads, hand decorated throws, doubloons, baubles and candies are thrown to the crowds. The first parades traditionally begin on January 6th, or Twelfth Night, and this is known as the beginning of the Carnival season. The largest and most flamboyant of the krewes, Zulu, Rex and the Mardi Gras Indians are the final floats in the Mardi Gras parades. So mark Fat Tuesday on your calendar and don't forget to eat up meat, eggs and butter before the 40 days of reflection before Easter!
Being from Mississippi gives me a bit of a pull to the Coastal foods and customs. I still love dark chicory coffee, those Central Grocery muffulettas, piping hot beignets liberally dusted with confectioner's sugar, freshly made pecan pralines poured from a large copper vat, and the fun of people watching at the Cafe du Monde French Market My grandfather would often take me with him when calling on customers - I developed a lifetime love
of Galatoire's Restaurant, and the Garden District favorites Pascal's Manale and Commander's Palace. And I hope the Gulfport Yacht Club, washed away in Katrina, still has their delicious recipe for gumbo!
MARDI GRAS PANCAKES
I love these dripping with a butter pecan topping. Preheat a griddle or large skillet over medium high heat. Beat together 2 eggs, ½ cup melted butter, one cup whole milk buttermilk and 2 tsp. vanilla in large bowl. Set aside. Sift in separate bowl 2 cups flour, ? cup sugar, 3 tsp. baking powder, ½ tsp. each baking powder and salt, then stir into liquid mixture, adding more buttermilk if needed. Scoop ? cup onto hot buttered or greased skillet, turn when bubbles form, and cook through.
BUTTER PECAN TOPPING
Finely chop ½ cup fresh pecans, then spread on a baking sheet and toast at 350F 6-10 minutes, stirring occasionally, until lightly toasted. Mix with ½ cup melted butter and serve with pancakes, waffles or as a topping for chocolate-filled crepes.
Another delicious pre-Lenten supper is JAMBALAYA In a large Dutch oven, cook over medium heat one large diced onion, one medium diced each green
and red pepper, 3 grated pods garlic, 8 ounces andouille sausage in 3 T. canola oil until vegetables are softened. Stir in one diced raw chicken breast, one cup diced ham (smoked or not), 1 T. Jambalaya seasoning (like Slap 'yo Mama or Paul Prudhomme), 1 ½ cups long grain rice, 2 ½ cups water, 2 tsp. chicken base, S&P to taste. Stir well and simmer with the top on about 25-35 minutes until the rice is done and chicken is cooked through. Turn off stovetop. Stir in 16 peeled and deveined 16-20 whole shrimp or one pound crayfish tails, 2 cups defrosted frozen okra (optional)and 3-4 green onions, sliced. Replace the lid and let the residual heat cook the seafood and okra 5-10 minutes. Stir and serve with crusty French bread and Maque Choux
MAQUE CHOUX
This vegetable dish is very easy and delicious, especially in the summer with fresh vegetables. In a large skillet, melt 4T butter. Stir in 2 cups corn - fresh is best, although frozen, roasted, or drained canned can be used - one half chopped green pepper, one half chopped red pepper, one small chopped onion. Add several tablespoons of water, S&P to taste and jalapeño to taste if desired. Cover and simmer, stirring occasionally, adding more liquid if needed.
Vanessa serves up yummy recipes for every season
front porch fredericksburg February 2023 13
The Soup & Taco, Etc. 813 Caroline St. Fredericksburg, VA Serving Traditional Mexican, Tex-Mex Food and Something More!! Tuesday to Saturday 11am-9pm Sunday 11am-6pm Phone: 540-899-0969 soupntaco@yahoo.com The Sunken Well Tavern Eat Well Drink Well Live Well 720 Littlepage sunkenwelltavern.com 540-370-0911 S e a s o n ' s B o u n t y mardi gras vanessa moncure
Ever Try Fresh Local Vegetables?
by christien coniff & liese haley
A labor of love, the Volunteers of FACSAP believe in the message of bringing Healthy Food to its Members by connecting them to the small area farmers who believe in the same message.
What is a CSA?
It stands for communitysupported agriculture, and it's one of the easiest ways to get fresh, local produce. Our CSA is a program in which members purchase a "Share in Harvest" before the season begins.
The share price reflects the cost of producing and distributing the harvest using environmentally sound practices.
A variety of produce is harvested from several different farms and distributed each week to members throughout the 16-week season.
What is Certified Naturally Grown (CNG)?
From the start of the Summer Season, from mid-May to the end of August, you will come upon a beautiful sight of volunteers unloading and organizing Produce from Local Farms to be passed out to members of the Fredericksburg Area Community Supported Agriculture (CSA)
The Fredericksburg Area CSA will set up what is called a Harvest Bar, where its members will bring their own basket or bag and choose from the share of that week's Harvest.
A direct link from the Farms to the Members who pre-pay to support local farmers and share in the collective Harvest.
The Fredericksburg Area CSA was established in 1996 and is still the only CSA in the area that offers CNG-CCertified or organically raised produce
For over 25 years the Fredericksburg area CSA has been striving to bridge from Farm to Member.
Certified Naturally Grown, is a US-based farm program that certifiesproduce, livestock, and apiaries for organic farmers who sell locally and directly to customers.
With CNG, you will know your produce is grown with sustainable, environmentally friendly practices.
Come Join Us!
Our 2023 Summer Share Harvest Season will run from May 17 through August 31st.
Every Thursday evening from 6 pm-7 pm for pickup, our members can select their produce from the Harvest Bar.
For more information, please visit our website at www fredericksburgcsa com or email us at info@fredericksburgcsa.com.
We look forward to seeing you in May!
Christien Conniff and Liese Haley are CSA Volunteers
FACSAP is Fredericksburg's first CSA committed to providing organic food from local farmers since 1997 FACSAP is committed to providing both local and organic/Certified Naturally Grown produce All FACSAP farms are within a 100 mile radius of the City of Fredericksburg, with a majority within 50 miles
www.fredericksburgcsa.com
14 February 2023 Front porch fredericksburg
you'll never eat store-bought again!
Olde Towne Butcher 401 William St - Fredericksburg 540-370-4105 - OldeTowneButcher.com Traditional Butchery - Fresh Perspective Clean, local, sustainable, humane foods prepared fresh. Better for you and your family, better for our planet, better for local economy, better food!
Become a Member
Love is in the air once again, as Valentine's Day is rapidly approaching. Many stores are filled with displays of chocolate-filled, heartshaped candy boxes to give to the ones you love. At City Vino we an help you choose wines to share with your love, gift to one you love, or to pair with chocolates from those heart-shaped candy boxes.
Our first wine is the non-vintage Sartori di Verona Love Story Sparkling Soave Turn the TV on to the Hallmark Channel, or another channel, and watch a love story unfold before your eyes, paired with this bright sparkler made from 100 percent Garganega. This wine has deep aromas and flavors of ripe apples, freshly baked pie crust, and a touch of vanilla. Pair this wine with a white chocolate nut cluster, to complement the apple in this wine. Try it with a white chocolate caramel, for a play on a caramel apple.
The next wine we open our heart to is the 2017 Zolo Cabernet Sauvignon Reserve Estate from Mendoza region of Argentina. This medium bodied red wine has aromas and flavors of violet, red raspberries, mint, and earthy spices. Our suggested chocolate pairing would be a dark chocolate coated raspberry cream The similar raspberry notes will play off each other nicely.
Our third wine is the 2018 Scheid Family Wines Very Dark Red Estate Grown from Hames Valley in California. The wine is full-bodied, with 60 percent Petit Verdot, and 40 percent Petite Sirah. Aromas and flavors of very dark fruit, like black currants and black raspberries dominate this wine, with gentle notes of crushed violets. With this wine, and its firm tannins and dense flavors, we lean toward a dark chocolate, with high levels of cacao that don't have a lot of sweetness. All in the name of experimentation, you might want to try this with a dark chocolate that has dried fruits and nuts in vory Italian dishes, and smoked cheeses.
To wrap up with a lovely red bow, is the 2019 Doña Paula Smoked Red Blend, from the Luján de Cuyo sub-region of Mendoza in Argentina. This complex wine is comprised of 60 percent Cabernet Sauvignon, 30 percent Malbec, and 10 percent Bonarda. Here, the aromas and flavors are of red fruits, baking spices, and vanilla, wrapped up with a hint of
by Rita Allan
smokiness. Due to the red fruits and spices, this wine may fare well with a dark chocolate-ccovered cherry An additional suggestion may be to play off the vanilla in this, and try it with a dark chocolate vanilla caramel
What's the Best Wine for your Favorite Style of Chocolate?
Shiraz or Zinfandel and Spiced Chocolate
Especially if the wine has a little residual sugar, the spice flavors in Shiraz and Zinfandel will highlight notes of cinnamon, chili or ginger in the chocolate.
Pinot Noir and Milk Chocolate
While many pairing recommendations favor sweeter wines with milk chocolate, we have found that a fruity Pinot Noir is a great alternative if you don't want sweet wine.
Moscato d'Asti and White Chocolate
The fruity sweetness of Moscato d'Asti and the buttery smoothness of white chocolate pair very well. The acidity and bubbles of the wine will help cut through the richness of the chocolate.
Cabernet or Malbec and Dark Chocolate
Pairing red wine and dark chocolate is a little tricky since both have tannins and can cause bitter flavors, especially in the wine. To avoid this, choose a high percentage cocoa chocolate (i.e 90%) so that the tannin of the chocolate is a little more than the wine. This will help pair against the tannins in the wine and let more of the wine's fruit flavors show through.
Port and pretty much all chocolate
The sweetness in port is generally as sweet as, or sweeter than, the chocolate so it won't make the chocolate taste bitter. Ruby ports play well with chocolates that include fruit, while tawny ports go with chocolates that include nuts or caramel. City
You
find owner Rita Allan
to provide answers to all your wine questions.
Vino is located at 810 Caroline St.
can
on-site
front porch fredericksburg February 2023 15 Vino Wine & Chocolate: Perfect Pairings
Old Town's Greatest Tour 35 Monuments, Markers, & Attractions ANDthe Fredericksburg Battlefields Weddings Reunions Shuttles Parties Group Outings 540-898-0737 Fredericksburgtrolley.com Join Us on the Rooftop for Chill VIbes, Tasty Eats, & Cold Drinks 314 William St..656-2500..fb@vivifyburger..vivifyburger.com 540-373-8300 ~ 620 Caroline St. FXBG, VA Join Us for Lunch $6 Weekday Lunch Specials 11am - 2pm Daily 320 Emancipation Hwy fxbgfoodcoop@gmail.com fredericksburgfoodcoop.com
CALEND
Wednesday February 1 Trivia Night, Sunken Well at 6:30pm 720 Littlepage
Jeopardy nights at Adventure Eagle Village 7:30 pm.
Thursday February 2
Groundhog Day…will he or won't he?
Civil War Book Club: Robert E Lee & Me, by Ty Siedle, CRRL Main, 6-7p
Great Lives Series: Gladys West, Tech Pioneer, 7;30p, Dodd Auditorium, UMW. FREE
First Thursday Live Music @Colonial Tavern, The Acoustic Onion, 7-10p, 406 Lafayette Blvd
First Friday February 3
FCCA Celebrate Black Artists, 813 Sophia Street
Spring Home Show Get a jump start on your remodeling, decorating, and landscaping builders, designers, decorators, landscapers, general contractors, and more!" FXBG Expo Center show thru Feb 5
Brush Strokes Gallery featured artist Norma Woodward "Perception", opening reception, 5-9p, 824 Caroline St
"Shades of Red". All Member Show, Artful Dimensions, 922 Caroline Str, opening reception 6-9p
"Putting the Art in HeArt, all member show w/a Tribute to JohnnyJohnson, opening reception 6-9p
Live Music @FXBG Square, Give Back TOUR Shannon Peterson, 525 Caroline St, 7-9p
Karaoke Night @Amy's Cafe , 8p, by the Falmouth Bridge
Open Mic W/Green Bean @ Adventure Brewing Eagle Village, 6:30-9:30p
Live Music@Adventure Brewing North, 3 Exits to Memohis, 7-9p
Saturday February 4
Art Extravaganza join other kids for a variety of hands-on activities to express their creativity at over 15 different art stations. Ages 4-12. Two sessions: 9-11:30 AM and 12:30-3 PM at the Rowser Building, 1739 Richmond Highway, Stafford
YMCA Winter Pickleball Tournament, Massad YMCA, 212 Butler Rd, 8a Puppy Manners Workshop, Be Proactive in Training with your puppy will help to alleviate future unwanted behaviors. Woof House, 445 Emancipation Hwy, 9a-12noon
UUFF Chili Cook Off Think your chili is something special? Put your recipe to the test against fellow chefs in seventh annual Chili CookOff 6-8p, 25 Chalice Circle
Live Music @Cowboys Jack's, JD Roberts & Crowfoot Bottom, 7p, 2312 Plank Rd
Live Music@Adventure Brewing North, Phenomenal Conundrum, 7p
Dance FXBG Every Saturday night from 7:30-11pm we host swing dances above Picker's Supply in downtown FXBG. Beginner lesson from 7:308pm and dance from 8-11pm. No partner or experience needed 902
Caroline St
Sunday February 5
Sunday Brunch Sunken Well Tavern, 720 Littlepage, til 1p
Sunday Brunch at the Colonial Tavern 11:30-3p
Tuesday February 7
"Singular People, Singular Stories:`Black History in FXBG", Dr. Gaila Sims Curator of African History at FAM will offer a presentation in honor of Black History Month @FXBG Food CoOP, 320 Emancipation Hwy, 6-7p
Great Lives Series, Fannie Lou Hammer, Civil Rights Activist, 7;30p, Dodd Auditorium, UMW. FREE
Wednesday February 8
Woof & Wine? Let's toast to our pups! We have an array of wines to choose from and our Paw Patrol on standby to keep your pups safe while they meet new fur friends and play. Small bites will be served. Woof House, 445 Emancipation Hwy, 6-7:30p
Trivia Night, Sunken Well at 6:30pm 720 Littlepage
Jeopardy nights at Adventure Eagle Village 7:30 pm.
Friday February 10
"Valentine Extravaganza" The Artist Alliance, 100 Taylor St, Colonial Beach, open 11a-5p
Live Music @Highmark Brewery, The Cold North, 6-9p, 390 Kings Hwy Open Mic W/Green Bean @ Adventure Brewing Eagle Village, 6:30-9:30p
Live Music @3B&G, Something Shiny, 7-9:30p,
Saturday February 11
Dance Matrix & Co present "Second Chances" a performance event to benefit FXBG SPCA, Downtown Library Theater, 7p. Dancers, singers & actors come together to share their art & raise funds& awareness for the SPCA
FXBG Snowball Fight Melee, 3-5p, Fred Nats Stadium
FXBG KidFEst FXBG Expo Center for play the day away at this awesome e Dance the night away like it is 1959! century attire for the Downtown D Gwyneth's Gift. Foundation, Frater Springs Rd, 5-9:30p
Reptile Expo sales and educationa amphibian enthusiasts , FXBG Fairgr
Sunday February 12
Sunday Brunch Sunken Well Tavern, Sunday Brunch at the Colonial Tave Possum Storytie, fun animal expe 12noon
"Be My Valentine" Dessert and Danc for an elegant night of live music Desserts by FXBG Cupcake, and Sa Ballroom, 101 Washington Square P
Monday February 13
Valentine's Beer Pairing Dinner @6b
Tuesday February 14
Happy Valentine's Day
PreSchoolPalette, curated classes ce nurtures your child's creative spiri walks, colorful process-based sensory Home & Studio, 10-11a, 224 Washi
Live Music & Book Signing , Toni Cro shares her newly released book, "the Harmonious Mind, Body & Spiri Emancipation Hwy
Great Lives Series, Ted Kennedy, 7;3
Wednesday February 15
PreSchoolPalette, nurtures your chil books, garden walks, and colorfu explorations Gari Melchers Home & Trivia Night, Sunken Well at 6:30pm minds. Prize! 720 Littlepage Jeopardy nights at Adventure Eagle
16 FebruaRY 2023 Front porch fredericksburg
Become a Friend Advocate ~ Donate ~ Volunteer
february 2023...Groundhogs, Sweethearts & Presidents 540~479~4116 1013 Princess Anne St , FXBG
fabtrail.com
DAR of events
FXBG KID FEST! Climb, bounce, and event celebrating kids!
Grab your sweetheart and best midDolls Sweetheart Swing, benefitting rnal Order of the Eagles, 21 Cool
al event geared toward reptile & rounds, 9a-4p
, 720 Littlepage, til 1p
ern 11:30-3p
erience and craftd, Possum-bilities,
e Night at Bella Joy Ballroom. Come by Spanglish American Band's Trio, alsa lessons by Bella Joy . Bella Joy Plaza, Suite 102A, 6p
b&G, 6P
Thursday February 16
PreSchoolPalette,Gari Melchers Home & Studio, 10-11a, 224 Washington St
I Love Gymnastics Pre-School Party, Join your friends for an obstacle course, craft & playtime, plus parachute and pit time with coaches. Ages 2-5., 1-3 PM at Stafford Gymnastics & and Rec Center, 500 Nelms Circle
Great Lives Series, J.Edgar Hoover, 7;30p, Dodd Auditorium, UMW. FREE
Friday February 17
StarQuest Regional Dance Competition, FXBG Expo Center , 1-10p
Live Music @Colonial Tavern, Dave Guy, Acoustic Rock, 8p, 406 Lafayette
Open Mic W/Green Bean @ Adventure Brewing Eagle Village, 6:30-9:30p
UMW Philharmonic presents "East Meets West", Dodd Auditorium, 7:30p
Latin Nights w/Elle Jay@Curitiba Art Cafe, 6-9p
Saturday February 18
Black Business & Entrepreneurship in FXBG 1787-Present Walking Tour. Tour begins at HFFI Office, 1200 Caroline St. 11a. Purchase tkts at famva.org
Happy Birthday George! Join us at the Mary Washington House as we celebrate the birth of our nation's first president! Included with your standard admission ticket are free cake and crafts for kids 5-7, 11a enjoy a FREE story time. WHM members receive FREE admission
Tuesday February 21
Mardi Gras
Black History Family Trivia Night,Test your knowledge, win prizes, learn something new and have fun. Rowser Building, , 1739 Richmond Highway, Stafford. FREE www.staffordparks.com
Wednesday February 22
Ash Wednesday
Trivia Night, Sunken Well at 6:30pm 720 Littlepage
Jeopardy nights at Adventure Eagle Village 7:30 pm. P
Thursday February 23
FXBG Civil Rights Trail Unveiling Event 2 pm Jepson Alumni Center 1119 Hanover St, @VisitFxbg For info 540-372-1216 or visit FXBG. Com
Great Lives Series, Rembrandt, 7;30p, Dodd Auditorium, UMW. FREE
Guest Bartender Event @Sunken Well Tavern, 720 Littlepage, 5-8p, to benefit The Fairy Godmother Project
Live Music @Colonial Tavern, FXBG Blues Society Jam, 7p, 406 Lafayette
"Girls Night Out The Show"@Highmark Brewery, 9-11:30p, Kings Hwy
Friday February 24
Live Music @Casey's, Give Back Tour Shannon Peterson, 7-9p, 622 Kenmore Ave
lebrate the experience of discovery. it through engaging books, garden y and art explorations Gari Melchers ington St
owder entertains with some jazz and e Mindfulness of Signing: Creating a it", 6-7p FXBG Food CoOp, 320
30p, Dodd Auditorium, UMW. FREE
ld's creative spirit through engaging ul process-based sensory and art Studio, 10-11a, 224 Washington St
m Match wits with the 'Burgs finest Village 7:30 pm.
FXBG Symphony Orchestra Valentine;s Day special "Romanti Classics" Concert , 7:30p, 1400 Central Park Blvdt
Live Music 90's Rock Band Waking Napster @ Adventure Brewing N, 6-9p
Live Music@ Cowboy Jack;s, Southern explosion Band, 7p, 2312 Plank RD
Sunday February 19
Sunday Brunch Sunken Well Tavern, 720 Littlepage, til 1p
Sunday Brunch at the Colonial Tavern 11:30-3p
"She Said Yes" Wedding Expo vendors that include DJ's, photographers, videographers, florists, bakers, and so much more! Don't miss out on the wedding fashion show to find your perfect look!
Monday February 20
Presidents Day
Half-Price Admission Day, In Honor of Washington's Birthday Hugh Mercer Apothecary Shop, Mary Washington House, Rising Sun Tavern open regular hours. 11a-4p
Saturday February 25
Spirits Festival Sample some of the best distilled Spiirits in VA, FXBG Fairgrounds 11a-4p
Paws for Reading, Practice your reading with therapy dogs trained to be avid listeners. Grades K-6. Sign up at CRRL Snow Branch to book your time. 2:30-4p
Sunday February 26
Sunday Brunch Sunken Well Tavern, 720 Littlepage, til 1p
Sunday Brunch at the Colonial Tavern 11:30-3p
Monday February 27
Non-Traditional Book Club @Capital Ale House read a book of your choice and be prepared to share it with the group, 6-8:30; 917 Caroline
If you are reading this 307th issue of FPF, thank an advertiser now in our 26th year of continuous publication!
List your events email frntprch@aol com: subject Calendar Deadline for March 2023 issue is February 19th
Helping
front porch fredericksburg February 2023 17
homeless children and families in City of Fredericksburg, Counties of Caroline, Stafford & Spotsylvania
371 0831 FB @ FABeerTrail donatelifevirginia.org dmv.virginia.gov/drivers/#organs.asp
540
Benjamin T. Pitts
By Ralph "Tuffy" Hicks
By jon gerlach
was a Virginia state senator from Fredericksburg, and his legacy lives on in the city to this day. The company that he established in the early 1900's is still very active with the management and ownership of many business and residential rental properties. Benny was a resident of Fredericksburg since his birth on January 21, 1889.
In 1909 he became involved in the building of movie theatres that would result of his ownership of thirty-eight with one being in West Virginia. Many of us may remember the two that were located in Fredericksburg. The Colonial theatre and Victoria theatre both of which were on Main (Caroline) Street a block apart on the opposite side of the street. The Colonial is adjacent to another old family owned business Ulman's Jewelry Store Benjamin Pitts was also involved in building some of the first amusement parks in the country. In 1910 he leased a large parcel of land near Hanover Court House that was a baseball park. He built a merry-go-round and other amusement rides that operated during the day and evenings.
Today the Victoria has been renovated and used by the Fredericksburg
Baptist Church. The Colonial was much smaller than the Victoria, however the others were designed in the same likeness. I can remember attended movies in Culpeper and Emporia along with the Colonial and Victoria.
Benny was a generous man he set up scholarships for many of the students in the area along with the many charitable events that he sponsored that included the Rescue Squad fund raising, Salvation Army year round especially the Christmas Toys for children. Every Christmas he would give silver dollars to all the children he came in contact with. I found one he had given me in 1949 inscribed "Merry Xmas B. Pitts."
He was the founder of Pitts Enterprises which is still in operation today. He would buy residential properties in the area and rent them at affordable rates. Benny served a term on Fredericksburg City Council prior to his reelection to the Virginia General Assembly that he held until he sent a letter of to than Governor Almond resigning due to his failing health in 1958. He would live until his death on July 21st 1964, he is buried in Sunset Memorial Gardens.
The Fredericksburg City Council honored him in 2001, by placing his name on the Wall of Honor for his contributions to the City of Fredericksburg and the citizens of the entire state of Virginia. He still has relatives that still contribute to the area.
(HAPPY VALENTINES DAY ANNE)
Dedicated To: Alvin Jones, Chuck Smith, Jim Canty, Lucille Henderson, Allen Durrett, and Harvey Walsh
Tuffy is Front Porch's Resident Historian
A historic gem in downtown Fredericksburg, the iconic Goolrick's Pharmacy is undergoing a serious makeover by its owner, Jarrell Properties, Inc (JPI) Its memorable Soda Fountainknown as America's longest continuously operating soda fountain - is also being restored.
The owners along with Jeh Hicks, JPI's Community Relations Director, gave me a guided tour of the inside of the building recently, and it reads like a book: each chapter in its long life of repairs and embellishments can be traced through time while the "bones" of the structure are temporarily visible.
Sometime perhaps in the 1930s a fire apparently burned through the sidefacing gabled roof. Instead of rebuilding the gabled roof (see BW photo), a flat roof was constructed after the fire, eliminating the half story. The "ghost" of the gabled roof can still be seen today between the two chimneys on the side of the adjoining building (see color photo). The second floor in the front of the building may have also been substantially rebuilt after the fire that took the roof. For example, the three detached windows in the second story facing Caroline Street were replaced with the tripartite window arrangement we see today. The architectural analysis currently underway might help shed light on these and other changes
Also of note, the second floor was a boarding house with several bedrooms sharing a communal bathroom. Boarding houses were common back in the day. An early type of "workforce housing", presumably many working folks who lived along Caroline Street in the early 1900s were boarding house residents. According to Indiana University history professor Wendy Gamber, up to one half of 19th Century city dwellers across America lived in boarding houses. To be sure, boarding
houses played a key role in the history of Fredericksburg, and we will hopefully learn more about that as we uncover more untold stories about our past.
Goolrick's customers could buy a 5 cent Cinco Cigar made by the Eisenlohr Factory in Bucks County, PA, a 5 cent Coca Cola, a bottle of mouthwash, and maybe even an adult beverage. During the 13 years of Prohibition (which ended in 1933 with the repeal of the 18th Amendment), the U.S. Treasury authorized the sale of medicinal alcohol by physician prescription. Presumably, medicinal alcohol was dispensed at Goolrick's. We do know that common medicines contained alcohol too. For example, Spirit of Ammonia (at a hefty 120 proof) was used to stave off fainting among other uses. That might explain the iron safe in the basement. This is where alcohol-based prescription drugs and of course, any medicinal alcohol, were presumably kept during the Prohibition years.
On the website of Jarrell Properties, Inc. you can share your memories of Goolrick's and learn more about the renovation and rehabilitation of this historic building. Also, check out the excellent 2019 film by Keith Elliott about Goolrick's, available on YouTube. I'm told that when it reopens, the Soda Fountain will feature an expanded menu and some great comfort food. I can't wait, although grilled cheese on rye with a side of chips was always my favorite there.
So … what's in a Soda Fountain? Here … a historic building that's getting a new lease on life.
An attorney and retired archaeologist, Jon Gerlach serves on Fredericksburg's City Council, Ward Two.
BW photo courtesy Historic Fredericksburg Foundation, Inc.
Benjamin "Benny" Pitts
18 February 2023 Front porch fredericksburg history's stories
W h a t ' s i n a S o d a F o u n t a i n ? Goolrick's
One of the most compelling and underrecognized aspects of Fredericksburg's history is the long tradition of African American-oowned businesses in the city. As a newcomer to this area, I was astonished by the research unearthed by local historians and history enthusiasts as I delved into the town's fascinating past. To showcase these incredible stories, the Fredericksburg Area Museum, in partnership with the Historic Fredericksburg Foundation, Inc., will offer a Black History Month Walking Tour entitled Black Businesses and Entrepreneurship in Fredericksburg, 1787-Present on Saturday, February 18, starting at 11 a.m. Tickets are available at famva.org.
This walking tour was inspired by three African American entrepreneurs, all of whom will be included on the tour. The earliest, John DeBaptiste , came to Fredericksburg from the island of Saint Kitts and served with Fielding Lewis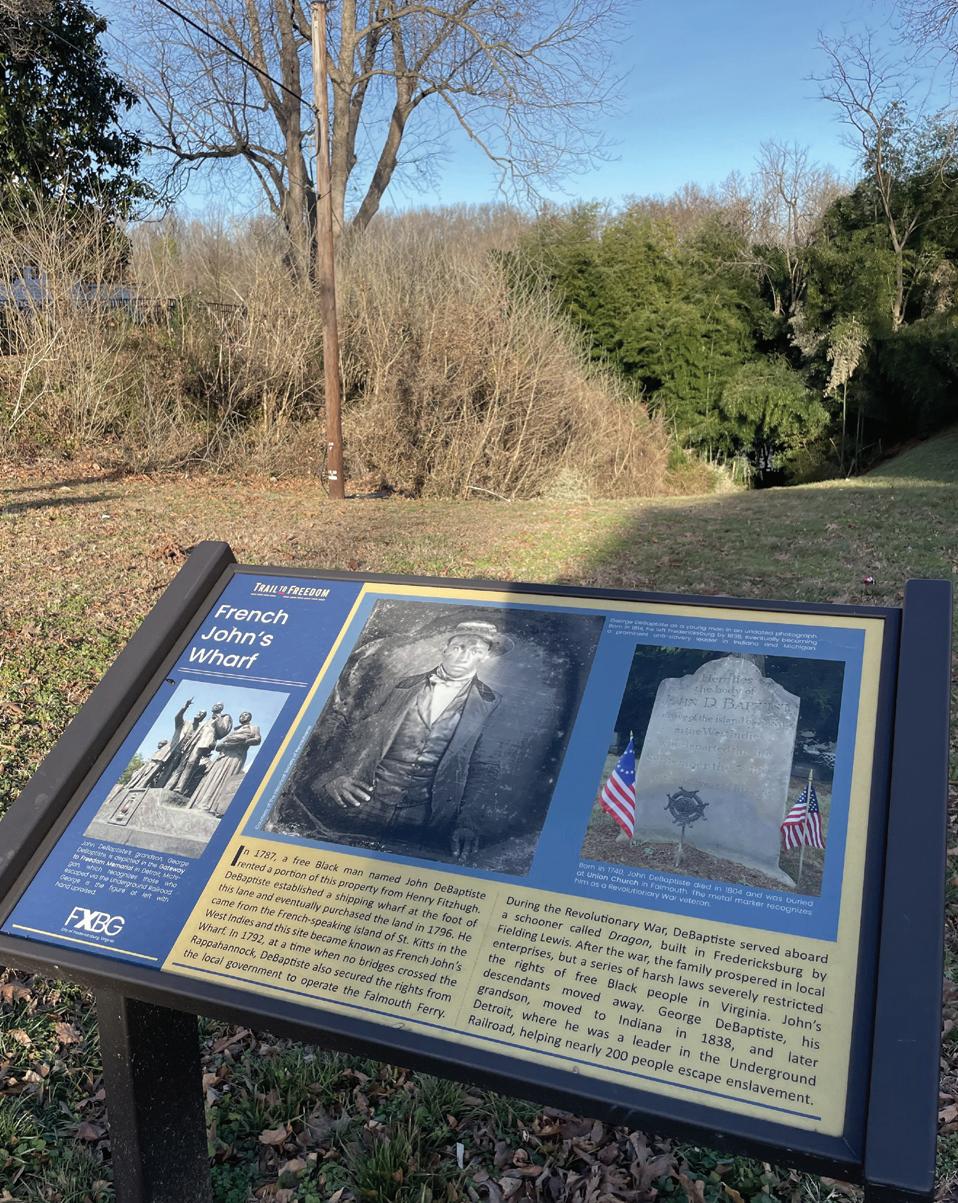 OUR HERITAGE a tradition of black enterprise
By Dr. gaila sims
interests. He became the first Black DJ on Fredericksburg's WFVA and opened Sonny's Record Shop and The Soda Fountain at 503 Princess Anne. Recognizing a gap in athletic opportunities for Black youth, he established the Fredericksburg High School All Stars Baseball Team, welcoming players ages 1620 from the surrounding region. Sonny Dyson was sent to Vietnam in 1965 and killed in action on February 23, 1966, a devastating loss to the Fredericksburg community.
While not always hospitable to Black entrepreneurship, Fredericksburg has long benefited from the incredible
aboard the ship Dragon during the Revolutionary War. Following his participation in the war, DeBaptiste established French John's Wharf on the shores of the Rappahannock River and operated the Falmouth Ferry, a lucrative endeavor before the construction of nearby bridges. DeBaptiste's children absorbed his entrepreneurial spirit, establishing their own businesses in Fredericksburg, and his grandson, George DeBaptiste, became a businessman and a prominent conductor on the Underground Railroad
Another compelling story is the life of Charles "Sonny" Dyson, Jr. Born in 1934, Dyson attended the John J. Wright Consolidated School and worked for General Motors in New York City before returning to Fredericksburg to serve as the city's first Black policeman in 1957. While patrolling the 500 block of Princess Anne, a thriving center for Black businesses at the time, Dyson expanded his
contributions of local Black businesspeople. One of the city's most celebrated culinary treasures is FOODE, an eatery focused on local, seasonal food at 900 Princess Anne Street. Joy Crump, Founding Partner, acts as Executive Chef, overseeing the ever-changing, everdelicious menus at the heart of the restaurant's success. Crump graduated from the culinary course at the Art Institute of Atlanta and started FOODE as a home-based operation in 2009. After partnering with Beth Black in 2011, the two settled into the historic National Bank Building where John M Washington, another important Fredericksburg-born African American entrepreneur, had been enslaved in the midnineteenth century. Joy Crump based FOODE's famous fried chicken entree on her mother Rosie's recipe, showcasing once again the intergenerational links of Black creativity.
Black Businesses and Entrepreneurship in Fredericksburg, 1787-Present will expand on each of these and share 10 other, lesserknown stories of individual African American business owners and entrepreneurs throughout Fredericksburg's history.
front porch fredericksburg February 2023 19 The
research 900 Barton St #111, Fredericksburg, VA www.crhcarchives.org contact@crhcarchives.org 540-373-3704 Volunteers Wecome! Contact us about donating collections of documents and photographs 907 Princess Anne Street, Downtown Fredericksburg
Dr. Gaila Sims is the Curator of African American History and Special Projects at the Fredericksburg Area Museum.
Central Rappahannock Heritage Center is a non-profit, all-volunteer archives whose mission is to preserve historically valuable material of the region and make it available to the public for
Former Dentist Office of Dr Philip Wyatt, local Civil Rights Leader, saved from demolition in 1997 by HFFI
John DeBaptiste marker at the intersection of Caroline & Canal Streets
Mental Health the widely neglected healing power of music
By emily pawlak
In 2022, I listened to 22,885 minutes of music - that's more than 75% of other Spotify users in the U.S.
Music, I've found, can communicate; it can become in tune with our bodies and brains, not just our ears. The layers making up a song - the symphonic blend of lyrics, instruments, beats and rhythms - not only generate basic pleasure, but also help us to understand, express and release our more complex emotions and experiences
I encourage you to think of your favorite song for a moment. What is it about the song that makes you enjoy it so wholeheartedly? Maybe it's the lyrics that resonate with you and your life experience in a way that makes you feel understood to your core. Perhaps the beat and flow of the song encourage and inspire you to take on a challenge or to embrace a new day. Whatever the reason may be, that particular song likely connects to you on such a personal level that it manages to elicit raw, unrestrained emotion from within.
In other words, the purpose of music goes far beyond its auditory appeal; it is a critical tool to understanding ourselves and improving our mental health
What Research Has To Say
The subject of music's therapeutic process has also captured the attention of researchers. Dr Shahram Heshmat Ph D , believes that listening to music gives voice to the emotions we feel unable to express ourselves. "Sad music enables the listener to disengage from the distressing situations and focus instead on the beauty of the music," he wrote.
So, how is this important to you? The answer lies inside our brains.
Experts say that listening to music stimulates the nucleus accumbens part of the brain, in turn increasing dopamine levels in the body. Research suggests that listening to music is not only pleasing but is effective as a form of therapy and emotion regulation as well.
These benefits are critical for young adults struggling with mental illness, especially in cases where there is limited access to professional mental health care resources, which can be expensive and time consuming.
Music Is Critical To Young Adult Mental Health
As a high schooler who has struggled with mental health years before the pandemic even began, I have found that music is the single thing I can rely on to get me through my darkest times.
Every day seems to bring another tragedy plastered across the news channels and mental illness and teen suicide are on the rise. The one thing that continues to not only survive, but thrive, is music - which is why it needs to be recognized and used as a form of therapy. Music continues to prevail as a way for young people to cope with their emotions when all else fails
It's time that our society harnesses the power of music and embraces it within the mental health community. The next time you listen to music, reflect upon how it is emotionally affecting your mind and body. Think to yourself - how does this make me feel?
And then listen again. And again. And again.
Emily Pawlak is a senior in high school
She has always loved to read and write and aspires to have a career in psychology. Emily's passion for mental health awareness inspired her research on this topic.
Aboutt NAMI
NAMI envisions a world where all people affected by mental illness live healthy, fulfilling lives supported by a community that cares.
NAMI provides advocacy, education, support and public awareness so that all individuals and families affected by mental illness can build better lives.
Our Values:
·Hope: We believe in the possibility of recovery, wellness and the potential in all of us.
·Inclusion: We embrace diverse backgrounds, cultures and perspectives.
·Empowerment: We promote confidence, self-efficacy and service to our mission.
·Compassion: We practice respect, kindness and empathy.
·Fairness: We fight for equity and justice.
The National Alliance on Mental Illness (NAMI) is the nation's largest grassroots mental health organization dedicated to building better lives for the millions of Americans affected by mental illness.
What started as a small group of families gathered around a kitchen table in 1979 has blossomed into the nation's leading voice on mental health. Today, we are an alliance of more than 600 local Affiliates and 49 State Organizations who work in your community to raise awareness and provide support and education that was not previously available to those in need. nami org
Available at Amazon.com 20 February 2023 Front porch fredericksburg Sign Up For A CPRClass 540-903-8090 classycpr.com
By Patrick Neustatter, MD
There is something of a conflict, or skepticism, between regular, allopathic, doctors, and practitioners of alternative medicines. So, when good friend and colleague John McLaughlin, MD, an allopath practicing interventional radiologist with Radiology Associates of Fredericksburg told me how he is training to become a Functional Medicine health coach through the Institute of Functional Medicine, I was intrigued. He was all enthusiasm and told me "you should write about functional medicine."
A Confusing Lexicon I was not very conversant with Functional Medicine.
I am aware of a massive list of alternative or holistic medicines, categorized into "five domains." Mindbody; biologically based; manipulative; energy; and whole medical systems - stuff like chiropractic, acupuncture, ayurveda, homeopathy, herbalism, naturopathy - to mention just a very few.
I understand that Integrative Medicine is when you incorporate some of these alternatives into a conventional Allopathic practice - and there are several Integrative practitioners in the Fredericksburg area doing this.
But I was not very clear what Functional Medicine was. I got to find out by talking to John as he drove home from Richmond, where he'd been "torturing" patients in a satellite office (it's one of my bad jokes that the needling, catheterizing and other interventions he subjects his patients to, for their own good of course, is torture - but maybe no more so than a dentist or a physical therapist?)
"Functional medicine addresses the cause" John explained. Or, in the words of the Functional Medicine Institute, it "determines how and why illness occurs and restores health by addressing the root causes of disease for each individual."
It's different to allopathic medicine, which John describes as "downstream" medicine because it is just treating the symptoms, not the cause.
He got interested in functional medicine when he was trying to prep for hip replacement surgery, and "I wanted to optimize my health."
He changed his diet. Learned about phytonutrients. Read Why We Sleep by Dr. Matt Walker that expounds the virtues of good sleep and how it can make us "healthier, safer, smarter and more productive"
"Within days I noticed a difference" he told me.
I have to note, John is a bit of a maverick. A bit of a hybrid, and not your average allopath. Sure he's an interventional radiologist but he teaches meditation and is a trained instructor in Mindfulness Based Stress Reduction He's always working on some aspect of his own wellbeing and shows an impressive selfdiscipline.
A Commonality
The common theme of all these systems of alternative and functional medicine is that they go deeper in addressing the things that are compromising a person's health. They take account of lifestyle, environment, nutrition, exercise, sleep, stress, psychological and spiritual factors - the kinds of things allopathic medicine is not so good at.
To some extent we have come full circle, to how things were before the scientific method highjacked medical care - though we are still feeling the repercussions of the American Medical Association's 1910 Flexner Report, that resulted in some 80 percent of medical schools in the country being unfunded because they weren't following the scientific method and research-based model.
I asked John if his being involved with functional medicine didn't clash with his conventional medical practice. "I don't feel a conflict" he said, but it's made him more aware of how allopathic treatments may be doing harm - like how antibiotics and non-steroidal anti-inflammatory drugs (NSAID's) disrupt bacteria and the microbiome.
The challenge is spreading the word and educating people about how lifestyle and environment are so important to pay attention to.
Then you have to get people to throw off their apathy and put in the effort to make changes - motivating them to do that is what John will be doing in his role as a functional health coach.
Patrick Neustatter, MD is the Medical Director of the Moss Free Clinic
front porch fredericksburg February 2023 21 Have You Tried Acupuncture? Call Now to Schedule 540.847.6985 AcupunctureFredericksburg.com Dianne Bachman,LCSW Psychotherapist/Astrologer Now offering psychological astrology & astrological consultations In addition to Individual, family & marital therapy Hypnosis Expressive Arts 540.845.7622 diannebachman.com dbachmanlcsw@gmail.com E m a n c i p a t e d P a t i e n t s functional medicine
www.donatelifevirginia.org (540) 269-4911 commonsensehealing.com Painless Acupuncture PEMF Cellular Wellness Best Holistic Health Care
22 February 2023 Front porch fredericksburg
Auto Known Better Young's store
By Rim Vining
Before you could drive you had a bicycle and before you were old enough to frequent your local Cheers establishment for a frosty pint you had a local store. No matter where you lived it was never too far to ride to a neighborhood store for candy and ice cream or the pack of cigarettes you were "buying for your mother."
Young's Store was a bike ride away from our house in Sudbury, Mass. Wooden floors, yard long licorice for a penny and Fireballs in a glass jar. I'm sure there were pickled eggs and pig's feet in jars as well but my palate was not yet fully developed. My first long distance ride to the store was on my 16" solid tire handme-down bike, orange and white. Fascinating freedom that couldn't have lasted more than two miles. That Christmas in Massachusetts, before we moved back to Virginia, I got a new 20" Raleigh Mountie with real air in the tires… and three feet of snow on the ground! Southerners… like a sled in Georgia.
We moved to Hartwood when there was only one stop light on Route 17 between the Falmouth light and Warrenton so the eight miles to town took about ten minutes. We got here just in time to enjoy all the local "Young's Stores" before they met their demise. I personally think local Mom and Pop stores deserve their own time signatures in some biblical sense with monikers like B.C. and A.D. I'm trying to work it out with pre-WAWA and Sheetz vs. the end of time days. Like BTM - Before the Mall.
We frequented Hartwood Grocery on Rte 17 where you got hand-dipped ice cream from Jeff or Mike and they stocked your favorite beer! It was known as 'Kathy Beer' in the store so friends could stop by and pick her up a six-pack on the way to the house… "Just ask for it by name!" Come to find out Jeff and Mike are from
Tryon, NC where my grandparents lived and Jeff did yard work for my grandfather as a kid. Hence my favorite phrase, "Only a hundred people in the world… the rest is done with mirrors!"
My wife Kathy grew up with a local store as well, Thelma's. It was about a mile from her parent's house in Great Falls, Virginia and good for about 20 cents worth of pop bottles collected along the way. Six-ounce shorts were worth 2-cents and twelve-ounce 'tall-boys' a nickel. Good money in the day. Thelma made her own ice cream and everyone had their favorite flavor and her husband had an Amphicar! Drive it on the road and then straight into the lake for a boating adventure… just pray the door seals hold or it sinks like a car in water.
But beware! When you're young on a bike and no one is expecting you home until dinner or dark, danger lurks. Again, during our time in Massachusetts, one of my older brothers and a friend rode far enough to find themselves in a neighboring town hungry and broke and decided that purloining a few Twinkies might solve their dilemma. Imagine a world where two young males are popped for a Twinkie heist, ride home in a patrol car with their bikes in the trunk and are released into the custody of their older sibling who was all of thirteen.
Yes, the terror of "waiting until your father gets home…"
Here's to M&P, Hartwood Grocery, Stern's Store, Johnny's Grocery and all the other's and may Mountain View Market continue to thrive. Really cold beer!
~autoknownbetter @ gmail.com
Rim Vining, humorist, friend and a devoted community volunteer
front porch fredericksburg February 2023 23
SUZY STONE LANDO MASSEY REAL ESTATE 1119 CAROLINE ST Cell:540.847.0630 Office: 540-368-1234 suzystone22@gmail.com Landomassey.com Work Locally Shop/Dine Locally Play Locally
Art in Burg
Art Galleries in February
tribute to a row of now-retired mailboxes that were once a common site on America's street corners and played an important role in residents' lives.
Norma's hope is that folks who experience her exhibit will leave with the feeling that there is so much to see and appreciate in our world. "Don't overlook the interesting things around you. Even though I have traveled to many countries around the world and love to take photographs of sites in different cultures, many of my favorite images were taken not far away from where I live. Keep your eyes open and notice common things that surround us!"
Collette Caprara
"Shades of Red"
All Member Show
Artful Dimensions, 922 Caroline St
"Perception", Norma Woodward
Opening Reception First Friday, Feb 3
Brush Strokes Gallery, 824 Caroline St
Norma Woodward offers visitors a new "Perception" of our environs. In her her exhibit of photographs, Brush Strokes Gallery's featured artist in February, offers visitors the opportunity to "walk in her shoes." Through her artwork, she beckons all to experience the unique realm she perceives in her explorations off the beaten path and through eyes and a heart that, uniquely, decipher quiet messages that may be undetected by others.
Norma's photography often conveys not only visual images, but also a sense of "Time Travel," as objects in a state of disrepair or deterioration seem to lift the curtain on their previous life and function in the world.
The striking scene of "Windblown," in which, as Norma explains "The tattered curtains blowing in the wind from an open window, the crumbling plaster on the wall, and the remains of a once-ornate mantel, speak of a historic grand mansion that is now slowly deteriorating and gives clues to the story of the people who lived there." In addition, "You've Got Mail" serves as a
Opening Reception, First Friday, Feb 3, 6-99pm
If months were each assigned a color, February would be shades of red. And all around the world, Artists would be fedWith ideas and dreams and inspiration. Making works to look at and to wear. Visit Artful Dimensions during February, And see the things we want to share.
~ Sally Cooney Anderson
"Putting the Art in HeART: An All-MMember Show with Select Works in Tribute to Johnny Johnson
Opening Reception First Friday, Feb 3, 6-99pm
Art First, 824 Caroline ST
The theme for the All-Member Exhibition during the month of February will be "Putting the Art in HeART: An AllMember Show with Select Works in Tribute to Johnny Johnson". We hope you are going to L-O-V-E it!
This exhibition will feature the work of 25 local artists who are active Art First Gallery members and enthusiastic participants in the local art scene of Fredericksburg. Art First Gallery has some new members, so be sure to stop by to see the newly expanded offerings!
.
~Anne Timpano
"Seasons of the Heart"
Darbytown Art Studio
241 E Charles St
Aja Albertson. Albertson attended the New World School of The Arts in Miami, FL, where she showed her work at many venues, including the Miami Art Museum and the Museum of Contemporary Art, as well as earning a BFA in Sculpture. She will be presenting a new body of work entitled, "Seasons of The Heart". Also on display at Darbytown are media as varied as painting, drawing, sculpture, quilling, woodworking, photography, textile arts, and jewelry. Artists studios include Van Anderson, Heather Balancio, Dolores Bumberry, Leland Burke, Leslie Caliri, Jane Cariker, Rob Carroll, Ben Collins, Henry Day, Jeannie Ellis, Jacque English, Dawn Etterenee, Jerome Golden, James Hinz, Erin Holey, Andrea Landauer, Lana Lechkina, Jeff Lohr, Tresa Lohr, Chris McClintock, Kris Patterson, Delana Renee, Cliff Satterthwaite,Stephanie Turman, Gina White, and David Willingham.
~ Jeannie Ellis
"Valentine Extravaganza"
Second Friday, Feb 10, 6-99p
The Artists' Alliance
100 Taylor St, Suite 101 Colonial Beach Gallery open Sat-SSun, 11a -55p
You are invited to be the judge in a brownie baking contest hosted by our members. Come out and vote for your favorite chocolate confection. Browse through the collection of original Valentine cards and view the Valentine art exhibit. Bask in the warm bliss of fellowship and music by guitarist Steven Ball
Rob Rudick
Featured Artist, Aja Albertson
24 February 2023 Front porch fredericksburg
810 Caroline Street, Downtown 540.371.4099 Artist on Site Saturdays
Arial Freeman "Shenandoah" @ Art First
"Eight Points",Robyn Ryan"Autum Hues",Beverley Coates "Sunrise Princess Anne St",Lynn Abbott
"WindBlown", Norma Woodward @Brushstrokes
"Shades of Red"@Artful Dimensions
Rob Rudick "Rose Red" @Artists' Alliance
"Seasons of the Heart", Aja Albertson @Darbytown Art Studio
Following her careers in television journalism and law enforcement, Penny A Parrish now pursues a new passion: photography.
After her retirement from the FBI Academy in 2012, she found her creative home at Brush Strokes Gallery
Penny A Parrish Award Winning February Cover Artist
While Penny is extremely active in the Fredericksburg Arts Community, she nevertheless enjoys the solitude of working alone with a camera. She is inspired by simple scenes: the colors of our seasons, snowfall before foot prints, abstracts, and the lines and angles of buildings.
Penny, who moved to Fredericksburg from Minnesota, is also intrigued by the history of Virginia and the images it creates for a photographer.
Socially and environmentally conscious, she seeks to "repurpose" old frames, giving them second life, enhancing her many thoughtprovoking and beautiful, fine art photographs.
An award winning photographer, Penny has received both national and regional recognition for her creative work. In her second career, it seems Penny has truly come home.
front porch fredericksburg February 2023 25
Penny is a writer and photographer who has contributed frequently to Front Porch.
"MG Portrait"
"Cold Feet"
Sara Poore departs fam after seven incredible years
By Caroline Ford
popular and impactful exhibitions and programs, garnered strong foundation support, and established solid relationships with our city and community partners.
It is with mixed emotions that the Fredericksburg Area Museum Board of Directors announce that after seven incredible years leading the Fredericksburg Area Museum (FAM), Sara Poore, President and CEO, has decided it's time to pursue the next chapter in her career. We know we speak for the entire FAM family and Fredericksburgcommunity when we say we will miss her leadership, dedication, and expertise that has served us so well.
Sara has a long and deep commitment to FAM. In 2007 she was hired as the first Director of Education and Programs, a role she held for five years. In 2016 she returned to FAM as President & Chief Executive Officer and steered the organization through the move back to its original home in historic Town Hall/Market House. During her tenure, she led a rebranding campaign, assembled an incredible staff, stewarded
Sara leaves FAM in a strong position bolstered by a talented and dedicated staff and solid financial foundation. The organization is well positioned for a bright and exciting future. We will find time to celebrate Sara in the months ahead, but for now we simply want to thank her for the unwavering commitment, enthusiasm, and motivation she has shown the museum during her time as President & CEO.
Sara's role and commitment to FAM will continue until a new leader is selected and comes on board, as she will remain with FAM in a part-time capacity to ensure continuity and continued growth while the search proceeds. "I feel very blessed to have been a part of the growth of this tremendous community organization and will continue to support the Board of Directors and staff through this transition. I am excited to see what the future holds for the museum," said Ms. Poore.
The Board of Director's first step in the process of finding a new leader was to identify a professional partner to help guide this process. The FAM has retained Good Insight, a Washington, DC-based executive search firm that works exclusively on nonprofit leadership
transitions with a focus on community organizations in the arts and culture, education, social service, and environmental sectors. The Board was drawn to Good Insight's broad experience and understanding of FAM's needs, as well as their deep commitment to advancing equitable hiring practices and anti-racist principles in their search work.
Next Steps
We plan to advertise the position shortly and hope you'll join us to share that announcement widely among your networks. Good Insight will take confidential referrals and inquiries about the role at any time. To that end, you are welcome to email project lead Claire Huschle, at claire@good-iinsight org
As we value transparency, we will continue to share periodic updates with our FAM family. If all goes to plan, we will be proudly sharing the news of our next President & CEO by this summer.
We appreciate your continued support through this transition and beyond, and again thank Sara for all she's done for FAM and the Fredericksburg region.
For more information, please email Claire Huschle, at claire@goodinsight.org
The FAM collects, researches, interprets, teaches, and preserves the history, heritage, and culture of the Fredericksburg region We serve a diverse community through a commitment to inclusion, integrity, credibility, and relevance We will facilitate an understanding and appreciation of how the acts of those who preceded us have shaped this community and the nation at large- providing both lessons and inspiration as we work together to forge a greater community
Caroline Ford is the Director of Operations and Annual Giving
26 February 2023 Front porch fredericksburg
Black History Month
Month long celebration at UMW
Great Lives Series: Gladys West
Thursday, Feb. 2, 7:30 p.m. Dodd Auditorium, George Washington Hall
When Dr. West arrived at Dahlgren in 1956, she was only one of four African Americans at the lab, and only the second woman. Specializing in the field of satellite geodesy-the science of measuring the shape and size of the earth from space-she created algorithms and programs for analyzing satellite data using early super computers. Her work contributed to numerous projects, including GPS and SEASAT, the first satellite to map oceans from space. As one of her colleagues noted, "Her competence, not her color, defined her." This panel conversation will explore the life and legacy of Dr. West, from her determined pursuit of education, through her distinguished career at Dahlgren, to her continuing efforts to inspire young STEM students.
Gospelfest
Saturday, February 4, 3 pm Dodd Auditorium, George Washington Hall
Join gospel choirs and praise dance teams as they engage in spiritual song and dance.
Black Mary Washington:
Past, Present, and Future
Monday, Feb. 6, 6 p.m, Chandler Ballroom A&B, Cedric Rucker University Center
Join the UMW NAACP College Chapter in an intergenerational panel about the Black Mary Washington experience and activism throughout the years.
Jazz Ensemble Black History Tribute: Iconic Jazz Greats
Tuesday, Feb. 7 7:30 p.m.
The Underground, Lee Hall
UMW Jazz Ensemble! Doug Gately, a senior lecturer in the Department of Music, directs this concert featuring music from iconic jazz artists.
Great Lives Series: Fannie Lou Hamer
Tuesday, Feb. 7, 7:30 p.m. Dodd Auditorium, George Washington Hall
Fannie Lou Hamer, a poor Mississippi sharecropper with a sixthgrade education, faced down white supremacists and challenged President Lyndon Johnson and other national civil rights leaders to secure voting rights for all Americans during the 1960s. She was an improbable leader whose beginnings gave no hint of the powerful woman she would become. The work of elite, welleducated men dominated leadership roles in the civil rights movement, and their lives and stories remain the focus of much of civil rights history. Hamer reminds us that at a movement's center sits unlikely leaders, forged through difficult circumstances and who use their unique gifts to face the challenges posed at
critical crossroads. She channeled her anger, her courage, her faith, and unwavering commitment to human rights in a battle against entrenched racism and bigotry. Using recently opened FBI records, secret Oval Office tapes, new interviews, and more, Dr Kate Clifford Larson will share fresh details from her highly acclaimed biography Walk With Me about Hamer's determination to make her light shine in the face of disabling physical abuse and death threats to bring revolutionary change to America.
Black History Month Keynote Speaker: Wisdom O Cole
Wednesday, February 8,7 p.m. Chandler Ballroom C, Cedric Rucker Center
Wisdom O. Cole is the National Director of the NAACP Youth & College Division
In this role, he serves more than 700 youth councils, high school chapters, and college chapters actively involved in the fight for civil rights. Wisdom brings extensive experience in civil rights advocacy training institute, electoral action training, grassroots organizing, issues toolkits, and webinars at the local, state, and national level. He has managed national campaign efforts focused on building Black political power through youth leadership development, advocacy, and direct action organizing for the past 3 years with the NAACP, formerly as the National Campaigns & Training Manager.
In his time at the NAACP, he has worked on campaigns around the cancelation of student debt, removing police from schools, as well as increasing voter access for young Black people. He has been featured on NPR, VICE, NBC Washington News, Brooking Institute, and The Economist as an advocate for Black youth voter turnout through issue-based campaign organizing. In 2020 he was named one of Complex Life's 32 young activists who are changing the world.
Bail Out Bake Sale
Monday, Feb. 13,| 1 p.m., Campus Walk
The UMW NAACP College Chapter will be selling baked goods and donating the proceeds to the Richmond Community Bail Fund to aid the many marginalized individuals behind bars in Central Virginia's jails.
The History of Afrofuturism in Music
Thursday, Feb. 16, 5 p.m. Chandler
Ballroom C, Cedric Rucker Center
This interactive presentation will be led by Ronald Turner II, known as DJ RTistic and Assistant Director of the James Farmer Multicultural Center, Chris Williams. They will take the audience on an oral, visual, and sonic tour on the history of Afrofuturism in classic R&B, soul, funk, jazz, and hip-hop records.
Black Cultural Karaoke
Friday, Feb. 17, 7 p.m. The Underground, Join For the Culture for a funfilled karaoke program honoring Black History Month with a very special playlist from the R&B and soul genres! There will be snacks and drinks provided.
Step Show
Saturday, Feb. 18, 7 p.m. Dodd Auditorium, George Washington Hall Join area step teams from high schools, regional colleges and universities as they engage in a high-energy, entertaining competition.
Black Men and Masculinity:
An Honest Conversation
Monday, Feb. 20, 7 p.m. Colonnade Room, Cedric Rucker University Center
Sponsored by Brothers of a New Direction
Join BOND for a fun-filled karaoke program honoring Black History Month with a very special playlist from genres like blues, R&B, jazz, and gospel!
MLK Virtual Project
Wednesday, Feb. 22 - Thursday, Feb. 23 |
Digital Auditorium, Hurley Convergence Center
The vMLK Project out of North Carolina State University focuses on Dr. Martin Luther King, Jr.'s "A Creative Protest" speech, commonly referred to as the "Fill up the Jails" speech, for which no recording exists. The vMLK Project brings together recreations and various technologies to allow viewers and visitors to experience the speech Dr Max Renner, Assistant Professor of Digital Humanities & New Media at Molloy College and Dr Candice Edrington, School of Journalism & Mass Communication, University of South Carolina will provide a formal presentation on Wednesday, February 22 at 6 pm in the Digital Auditorium.
front porch fredericksburg February 2023 27
Wisdom O Cole, Keynote Speaker
C o m p a n i o n s
Love is a box of chocolates?
by gerri reid, dvm
Love is in the air!February is not only Heart Health Month but Valentine's Day.We take the time to recognize our loved ones and lavish them with gifts such as Roses and of course, Chocolate!This is the month Veterinary Hospitals see numerous cases related to ingesting chocolate.So, as pet owners, we need to know what chocolate toxicity is and what to do when your pet ingest chocolate.
People always worry when their pet accidently eats a few Hershey Kisses or get a piece of their candy bar. The severity of chocolate toxicity depends on the kind of chocolate, the amount ingested and the size of the pet Chocolate that is dark and is less sweet or bitter tend to be the chocolate we worry about.Dark Chocolate and Baker's chocolate are high in methylxanthines, specifically theobromine and caffeine.Ingestion and high levels of these can lead to vomiting, diarrhea, elevated heartrate, hyperactivity, abnormal heartrate, tremors, seizure and even death if untreated.
What do you do if your pet ingest chocolate? Call your Veterinarian immediately or if it is after hours, call the local Emergency Clinic.They can advise you if your need to bring your pet in immediately for treatment.Treatment commonly done if treated soon after ingesting chocolate is removing the contents of the stomach with medications that induce vomiting.This will prevent the absorption of the chocolate into your pet's body.It is very common to provide supportive treatments such as intravenous fluid therapy to help stabilize your dog and promote theobromine excretion.Often, medications to slow the heart rate may be necessary to treat the elevated heart rate and rhythm.
The size of your pet, type of chocolate ingested and the amount of
chocolate is important when determining the severity of toxicity.A large breed dog that eats a few milk chocolate candies, this may not be an emergency due to the small amount that was ingested.But a small dog may ingest the same amount and need immediate treatment.You can calculate if the chocolate your pet ingested is a mild concern or a severe concern by using the chocolate toxicity calculator atwww.petmd.com/dog/chocolatetoxicity.But it is always recommended to seek the advice of a Veterinarian.
Other foods that can be of concern if your pets ingest them are food or candy that contain nuts Also, be aware that some chocolate-containing products may contain other toxins such as macadamia nuts, raisins, coffee or espresso beans, or xylitol.The candy or food may have milk chocolate in it but if they contain these ingredients, it can be toxic to your pet.
With Valentine's Day fast approaching, we can't wait to indulge in a good box of chocolates!We sit down and savor that tasty, sweet little morsel of goodness.While some of us love chocolate, be aware that chocolate ingestion can be a medical emergency for your pet and even lead to death.Keep those chocolates tuck away somewhere safe where your pets cannot get them.Lastly, always consult with your Veterinarian if your pet has consumed any amount of chocolate.
Dr. Gerri S. Reid is the Owner/Veterinarian of Reid Mobile Veterinary Servicess 540-623-3029 or reidmobilevetservices.com
Dr. Gerri S. Reid is the Owner/Veterinarian of Reid Mobile Veterinary Services. 540-623-3029; reidmobilevetservices.com ; facebook eVetServices
28 February 2023 Front porch fredericksburg
THE THE POETRY MAN POETRY MAN
By Frank Fratoe
Variance Variance
Another sunrise in February has given winter a reprieve when buds forming around us shiver in cold that lingers and wind drives a snowfall across ground needing energy to restore animation and awe. Why variance has come again is somehow incomprehensible as it continues to give us this morning of agelessness yet bodes well for adventure far beyond the present hour until glory rouses the Earth.
the city.he loves.
Astrology & You goodbye
On February 1, the Sun will be at 12 degrees Aquarius, a few notches short of halfway to Pisces. Some might see the influence of this sign in a feeling of restlessness and the urge to express their opinions and ideas, even though they may be quite different than that of their neighbors or peers. The sign of Aquarius (in modern astrology) is ruled by the planet Uranus and its natural home in the Zodiac wheel is the 11th house. It is of the element Air and is a fixed sign. A few Aquarius archetypes are the scientist, the
aquarius, hello pisces
By Dianne Bachman
innovator, and the rebel (or revolutionary). Ideals are naturally favored over emotions, being an air sign, and can harbor some strong opinions. Aquarian energy can also tend to be passionate about causes and issues impacting the collective Famous Aquarians include Frederick Douglass, Abraham Lincoln, Thomas Edison, Rosa Parks, Yoko Ono, Oprah Winfrey, and Michael Jordan.
As the days grow longer (thankfully), Pisces season begins at 5:34 pm on February 18. The sign of Pisces is ruled by the planet Neptune and its natural home in the Zodiac wheel is the 12th house. Pisces is of the element water and is a mutable sign. Some Piscean archetypes are the mystic, the artist, the daydreamer. Neptune is watery, deep, and intuitive, bringing a sense of boundlessness and can be highly creative on the one hand or delusional or confusing on the other. Joseph Campbell reflected, "The psychotic drowns in the same waters in which the mystic swims with delight." Some famous Pisceans are George Harrison, Albert Einstein, Kurt Cobain, Johnny Cash, Nat King Cole, Ruth Bader Ginsberg, and Queen Latifah. Before we know it, Aries will be knocking on the front door again, beginning an entirely new cycle as we continue our travels around the Great Wheel. Here are planetary highlights for the month of
February 1 the Moon makes a tight square with Neptune. If you are feeling a bit of confusion or emotions overtake you, this will pass quickly as the Moon moves on in a day or so. Spend time in nature, allow music to soothe you, or spend time grounding.
February 2 Venus trines the South Node of the Moon and makes a sextile to the North Node. This has the potential to bring positive changes regarding relationships or finances, even if it does not appear beneficial at first glance. Also, the Sun squares Uranus and this could create a climate of restless anticipation of change. Be true to yourself and pave your own path forward
February 3 Venus squares Mars and brings, and this aspect brings passion. Whether it is a love interest or simply something that makes your heart sing, enjoy!
February 5 Full Moon in Leo and its time to party! Music, friends, entertainment, and fun are on the menu for today If your Sun or Moon sign is Leo, consider a visit with your favorite hair designer.
February 10 Mercury conjunct Pluto could bring up fears or anxiety from deep within, however, the influence of Capricorn can enhance the ability to order and add structure to any of these worries. If you have been putting off any planning, the next few days are optimal for getting it done.
February 11 Mercury enters Aquarius. Opportunity knocks. Be innovative and original in your thinking and be sure to share and discuss your ideas with others.
February 16 Venus conjunct Neptune. What a creative, dreamy time! Splurge with the time budget and allow yourself to daydream. Not particularly a good day to make decisions or to get much done. Any day over the next week would be great to take a mental health day off from work!
February 17 Moon trines Uranus and squares Chiron. If there is healing to be done, expect unexpected opportunities to take positive steps. Try to remain open and flexible.
February 18 Sun enters the Pisces. Dare to dream, enjoy the deep calm, pause, feel the connection with all sentient beings.
February 20 new Moon in Pisces. Wine, song, and poetry! Some of us could feel a bit other worldly. The veil is very thin over the next few days and an open heart is the key to unlocking the mysteries that lie in the depths of this Moon. Intuition is at a peak.
February 20 Venus enters Aries. We may find our desires strong. Avoid a tendency toward impulsivity when it comes to affairs of the heart. Allow logic and reason to catch up with the emotions before taking a leap.
February 21 Mercury squares Uranus. An exciting few days for bursts of insight or innovations but can bring on a bit of anxiety. Embrace any interruptions as they can lend time to think things through.
February 28 We end the month with the potential for mental acuity with a touch of courage Mars/Moon action promises abundant energy in the air today, so go for the gusto!
Dianne Bachman is a psychotherapist & astrologer practicing in FXBG. She can be reached at FourwindsastrologyLLC@gmail.com
Artwork "Living on the Moon", By Salvador Dali
front porch fredericksburg February 2023 29
Frank Fratoe lives & writes in
Jack Frost Nipping at Your Nose?
Fredericksburg Sketches
A visual Celebration of our community
By Paula Raudenbush
In the cold, dreary months of winter it's often hard to sketch outside. It's also hard to find things in the house that I haven't sketched many times. So when interesting things happen inside it's fun to sketch something new.
This was one of the Sunday afternoon concerts at St. George's Episcopal Church and because I didn't want to drag out all my watercolors, I decided to just use pencil. Sketching musicians is tricky because they keep moving but, unlike athletes, they do sort of stay in one place and their movements are repeated so if you miss them the first time, just wait and they'll do it again. Still they are harder to capture than the audience members so sit relatively still. And, of course, I couldn't resist drawing a bit of the architecture. Nothing is drawn to scale and it was done very quickly but I mainly wanted to capture the event.
Don't let the cold weather keep you from sketching. There's plenty to draw inside. If you can't get to a concert, just draw your kitchen table, or the dog sleeping by your chair. There's always something to sketch. Cheers!
Paula Raudenbush is an admin for the Fredericksburg Chapter of the Urban Sketchers and maintains a studio in Libertytown Arts Workshop.
30 February 2023 Front porch fredericksburg
Terra Voce At Gt George's
810 Caroline Street (540) 371-5684 Give a Child Something to Think About Books, Games, Amusing Novelties M-Sat. 10am-6pm; Sun. 1pm-4pm
a
Drink where warm hearts wish you Happy New Year
Have
Hot
GetToKnow...
Amber Ridgeway, Business & Traffic Assistant at B101.5
Hello! I'm Amber Ridgeway and I'm the Business & Traffic Assistant at B101.5. I was born in Prince William County. My parents moved to Stafford County when I was 3 years old, which is where I spent most of my school years until the 11th grade when we moved to Spotsylvania County. During my middle school years, I loved being on the track & field team at Stafford Middle. GO SPARTANS! I was an avid sprinter and was quite fast, as set many school and county records. My junior and senior years were spent at Spotsylvania High where I graduated with honors in 2003. Along that journey, I met my good friend Johnna, whom I am still good friends with today.
Here are some fun facts about me!
I have an amazing niece, Emma (10) and a super sweet nephew, Ronnie (3) who I love spending time with and spoiling, like awesome Aunts are supposed to do.
I love food and I make it a rule, that if I'm "out of town" I will not eat at a
place that has food that I could easily make at home. I love trying new food places!
I am a longtime fan of the Washington Capitals and I'm super excited to watch Ovechkin go for the title of #1 goal scorer in the NHL… he's definitely going to surpass Gretzky.
My favorite T.V. show: most definitely The Office. For some reason if I can't find anything current to watch… The Office will never let me down!
I love to travel and see new sights…. beach, mountains, and beautiful sunsets… those are my kind of things! Sunny and 75 is my kind of weather.
Must say that I do LOVE my concerts! I have been to A LOT over the years. In 2022 alone, I have been to at least 50-60 concerts. Some of which have included: Phil Collins, Post Malone and Roger Waters of Pink Floyd in DC. My boyfriend David and I even traveled to see Metallica in Pittsburgh.
Before working at B101.5, I worked as a Patient Services Specialist at Urological Associates of the Piedmont in Warrenton Va. I assisted patients in the office, made appointments and dealt with the insurance side of getting authorizations for surgical procedures.
When I got the opportunity to be the Business & Traffic Assistant at B101.5/ WFVA back in May 2022 I was so excited! I've listened to the B since I was a kid. My job duties includes: greeting listeners and clients, inputting commercial sales orders and scheduling those onto the radio log. Many other office tasks, including helping our wonderful Business
Manager, Kristie with "all the things" and making sure the candy and coffee is stocked for Jeremy Grey.
I am thankful that I work for this amazing local station. I've learned so much about radio. There's a lot that goes on behind the scenes and I'm happy to be apart of it. Everyone here at the station is just so nice, from Management to the radio jocks & Sales, we are like a little family. I love coming to work and getting to be a part of essentially everyone's day who listens to B101.5.
front porch fredericksburg February 2023 31