MAGAZINE
COVER BY ERICK BUENDIA MODEL LEO KAPLAN
FRAY
AFTER HOURS
SPRING 2023
FRAY MAGAZINE
TABLE OF CONTENTS
Smokescreen by Sarah Liu
Before by Alex Ober La Sirena
by Julie Andrea Ordonez
Ritual by Xandra Chen and Emmett Levy
untitled by Norman Slate Stall
by Siggy Soriano and Victoria Cornejo
Indie Sleaze by Margo Morris
In Your Dreams:
Fantasies, Nightmares & the Absurd by Lila King and Lauren Horowitz
Night Light by Gino Palacios
Fear Extinction by Michael Fadugbagbe
Antiquity by Kalita Hon
The Black Razz Experience by
Kofi Agyei-Yeboah
Organizers
TEAM
Ruby Baden-Lasar
Xandra Chen
Victoria Cornejo
Siggy Soriano
Mia Foster
Anika Kewalramani
Layout Editors
Ali Eckstein
Gaile Ng
Norman Slate
Michael Fadugbagbe
Cate Baldwin
Lila King
Jenney Ongele
COLLABORATORS
erick buendia
ray huang
leo kaplan
gino palacios
jenny ongele
ali eckstein
lilly hoefflin
kalita hon
michelle valentine
sarah liu
liam mackenzie
coco cooley
gaile ng
ella matthews
brooks olson
geo wood
katie meyer
dylan cundiff
alex ober
aisyah nurriza
zach berkenkotter
lucas buu-hoan
julie andrea ordonez
maseo refuerzo
jordan rivera
aoife reynolds
sylvia maxwell
ezekiel poppola
tyler schimpff
eugenia shakhnovskaya
lila king
lauren horowitz
lucy pelletier
amelie boose
tess macfarlane
ken wu
samiya shetty
zoe cramer
jo harkless
aniya akhtar
margo morris
alex glotzer
vansh kapoor
emma steckline
minyoung huh
x house
laurence fine
michael fadugbagbe
leevon matthews
natalie williams
mirembe
mcduffie-thurmond
pelumi sokunbi
kofi agyei-yeboah
dylan ng
laila kewalramani
sophie clapacs
neo fleurimond
abbi abraham
ayer richmond
brianna johnson
cassidy mcdonough
danae williams
ellis carter
grace warner-haakmat
hyacinth tauriac
jalen richardson
jazmin davis
judely jean-charles
kailer brothers
kaina remy
kayla penza
kelsey onyia
keren mikanda
kyla danquah
langston woody
lauren berthoumieux
matty shields
tiah shepherd
xavier samuel
cate baldwin
norman slate
lucy rossi reder
otto do
emmett levy
What hidden parts of ourselves arise in thenight? What is behind the veneer of our public, presentable daytime selves? Part photo series and part interview, this project aims to shine a mirror to the most secretive, vulnerable parts of ourselves that come to the surface in the night.
Models (left to right): Brooks Olson, Ella Matthew, Gaile Ng, Geo Wood
By Sarah Liu
I feel safer being vulnerable enough to be seen by myself and others at night because I know that there's this literal safety of not being fully visible.
Taking a second to relax even if I've gotten a lot done during the day feels like a pleasure I can't afford. But at night, I feel like I can lean into the nothingness a little more because all that's ahead of me is sleep.
It gives them space to breathe. They're not really being looked at; the distortion of perception feels like it goes down. It feels more naked and raw.
Sometimes the nighttime feels filled with a yearning.
In the day, I have expectations for myself and who I should be and what I should be doing. But at night time, I can just be free and loose: do whatever I want to do, be whoever I want to be.
I feel like there's such an expectation during the day that I put on myself to be productive and busy. What I do during the daytime is already mapped out for me. But at night, I feel like the only expectation is to have fun.
At night, I feel like whatever emotion I'm having is more dramatic.
When I'm busy throughout the day, that's when I'm working through my emotions and then night time is when I reflect on and document those emotions.
At night I can easily just allow myself to truly be bored and mess around, to just exist and not put any pressure on myself to be doing anything.
Because of what I do in school, nighttime is my time to lean into more of my creative side. Lately, something I've really been enjoying is just watching a show and making jewelry. I like thinking about and assembling my outfit for the next day.
The part of myself that is more neurotic and emotional is pretty loud all throughout the day, but I feel like the freedom I have at nighttime allows me to truly just get lost in a thought or in something that I'm grappling with.
At night, everyone's walking to places and going places with their friends. It's almost inviting: you can feel the campus kind of buzzing.
I feel more shy during the day. The sun's out, everything's exposed. At night is when I feel more confident; I want to go out and I feel more outgoing… I feel more me at night.
I feel like the realest version of myself is when I'm getting ready, that space between day time order and nighttime party. Because I'm with my friends, I'm getting excited but I'm not really crazy yet.
There's a certain uncertainty to the night time that isn't related to the daytime. Getting ready to go out, it's like, I don't know what could happen… it could be a really good night, it could be an awful night. I could meet someone. We'll find out.
b e f o r e
b y a l e x o b e r
models: alexober aisyahnurriza
collaborators: zach berkenkotter lucasbuu-hoan ottodo xandrachen
Ritual
by Xandra Chen and Emmett Levy
Capturing the vulnerable moments of fear, joy, and love associated with getting ready.
With Dylan Ng Sophie Clapacs Jo Harkless Emmett Levy
Xandra Chen
Project by Norman Slate
http://site.ebrary.com/lib/wesleyan/Doc? id=10397484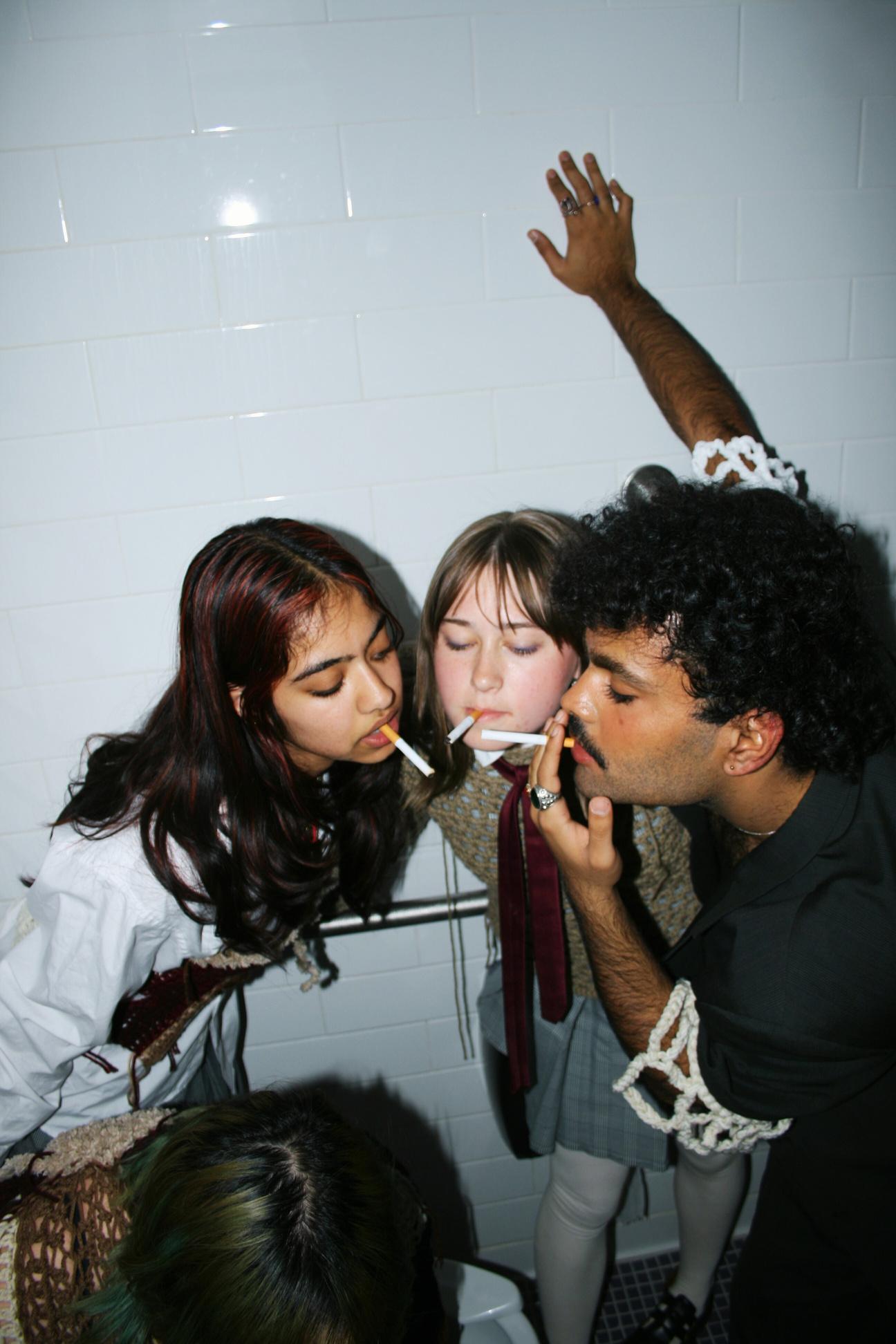 OUT WITH THE OLD AND IN WITH THE… OLD?
The Return of the Indie Sleaze and Rockstar Girlfriend Aesthetic
The Return of the Indie Sleaze and Rockstar Girlfriend Aesthetic
MARGO MORRIS
Throw away your stick slick for ballerina buns, your darling little lip gloss, your cutesie mini gold hoops, and your makeup remover wipes. Make way for a thick bed head, stained red lips, six layered necklaces, and day-old smudged eyeliner. We are gone with the clean girl aesthetic because the indie sleaze rockstar girlfriend look that once dominated the night scene is back, and it is better than ever.
Think back thirteen years. Circa 2010. Vampire Weekend and Azealia Banks are playing on everyone's iPod nanos, Tumblr is dominating the internet, and it is hard to go dancing and not bump into a hipster clad in heavy bangs, sunglasses at night, layered bottoms, and a bold red lip. In a post Y2K world, everybody was done with the maximalist nature of fashion and looked for a more stripped down look.
Something effortless. In comes Alexa Chung, Chloe Sevigny, and the queens of the self proclaimed walk of shame chic, Mary Kate and Ashley Olsen. Suddenly, juicy couture and belly button rings were in the rear-view mirror and Alexa Chung's ripped tights were all anyone could see. Chloe Sevigny wore suspenders with jeans and a t-shirt causing hipsters everywhere to lose their minds.
Mary Kate and Ashley reigned supreme in the after hours of downtown New York with their messy beach waves, sunglasses that nearly covered their whole faces, purses that could fit a small pony, and vintage cowboy boots. The two of them sum up the aesthetic perfectly, reclaiming the look of walking home at seven in the morning, high heels in one hand and cigarette in the other. Fashion responds to the real world. The 90s look was a direct rebellion of the government regime. However, the indie sleaze movement was weirdly aligned with the politics at the time: decadent and wasteful attitudes. But that wasn't on anyone's mind as they flailed around to "Right Round" by Flo Rida. According to someone who was alive in this era and lived to tell the tale, "gender was at play. It was the first time we were sexy in a while."
And now flash forward to summer 2022. Scrolling through Instagram is almost like looking in a time capsule from over a decade ago. However, with some new twists. Influencer and blogger
@megsuperstarprincess seems to be at the forefront of the new grunge indie sleaze. In 2017 she dropped out of Parsons to become an "ugly hot fashion girlie" stylist and photographer.
On her instagram you can see her sporting ratty fur coats, raccoon eyeliner, low rise skinny jeans, and flat rims on an angle. What is so interesting about her look is the incorporation of the indie sleaze with modern fashion trends. She makes sure she still fits in her vintage mid-calf boxing shoes and frilly torn dresses a la Collina Strada. In addition to her seemingly effortless but probably thoughtfully curated wardrobe, she developed a blog called, "Le Hipster Portal" that consists of unfiltered and unfocused photographs and diary entries from her nightlife jaunts and bad behavior.
Below is an excerpt from an entry titled, "Le Prozac Birthday":
After kicking off le month of May with an exhausting week of moving and socializing like my life depended on it (I hit le Marc Jacobs party, le avenue A dives, a private dinner at Christies, le Chelsea hotel, a rando recording studio, and obv flung moi-self down canal street to dimes square barz).... I HIT A MEGA WALL. A MEG WALL. typical. I convinced moi-self that a new apartment (even in brooklyn), a new psychiatrist, a new prozac prescription (OUI I've joined le prozac nation), and new shoez would make for an entirely new lifestyle.
Throwing in some of the watering holes for lower east side sleazers, the openness with which she talks about her Prozac, psychiatrist, and new apartment in Brooklyn is something that Mary Kate and Ashley would never come close to. Not to mention, these words from Meg: "I'm insufferable, but it's feminist because it's being real." Spoken like a true fourth wave feminist, gen z, lower east side girlie, with a hint of the untidy qualities from our indie sleaze mothers, Mary Kate and Ashley.
The icons of modern day, after hours, rock star girlfriend sleaze go beyond just megsuperstarprincess.
The chaotic and messy behavior described here certainly has original indie sleaze sentiments, but it is also seeped in Gen Z.
Julia Fox is arguably the most modern version. She redefined what it means to wear thick eyeliner, with her debut look at Paris Men's Fashion Week. Not to mention, her homemade wardrobe of leather handbags, chunky gold earrings, and denim pants tucked into her boots. She has taken the elements of the original sleaze and made it her own, revolutionizing grunge and making it modern. She is known for the wet hair, leather, and strappy look, all key parts of the night life aesthetic in the mid 2000's. However, she pairs this with structure and high end creativity, giving it her own spin. Some designers have also caught onto the trend. Collina Strada's fall collection of 2022 was sleaze galore. Filled with low cut pants and loosely fitting belts, uneven hemlines, layered bottoms, enormous bags, and messy hair, the collection caught onto the trend.
However, just like Fox, they also added a 2022 twist, adding vibrant colors, chrome materials, and cinched lines.
As for why we are seeing the resurgence in the afterhours, grunge sleaze, "ugly hot," chic, the easy answer is the trend cycle. We are coming out of the renaissance of Paris Hilton, Juicy Couture, whale tails, and everything we know and love about Y2K, thanks to Youtuber and influencer, Devon Lee Carlson. Naturally, we are heading on to the next era of indie sleaze. The more complicated answer has to do with, just like everything else, COVID-19. While we were all cooped up in our sweatpants and feeding our sourdough starters, we reminisced on the days when we were shoulder to shoulder with strangers. We yearned to sweat, accidentally spill drinks on people and have them spill drinks on us, and see people besides immediate family members, dogs, and significant others.
When restrictions finally started lifting and selfies with strangers became a possibility again, we did not have time for petty lip gloss, perfect contour, and slicked back buns. There was a mass rejection of perfection, leading people to embrace the excitement of being messy, some for the first time ever and others for the first time in ten years. Not to mention, the affordability appeal. A Maybelline eyeliner is easier to swing than one from Dior.
So how does one incorporate the rock star girlfriend indie sleaze aesthetic into their everyday look, you might ask?
Drugstore eyeliner is always a great place to start. And while you are at your local CVS, might as well pick up a pair of tights to create your own runs in. Mini skirts and some combat boots can never hurt either. Don't forget a huge bag to fit all of your crumpled up loose pieces of paper, lip stains, flat shoes for the walk home, and your Ottessa Moshfegh book. And lastly, for la piece de resistance, a faux fur coat, the faker the better. Oh! And if you enjoy a puff every now and then, make the switch from Juuls to cigarettes (sorry sorry! Cheesy I know). Now go out and be the ugly hot fashion girlie that you have always wanted to be.
IN YOUR DREAMS
Fantasies, Nightmares, & the Absurd
andLilaKing
a u r e n Horowitz
L
FANTASY
Lucy Pelletier
NIGHTMARE
JACOB CARTON
THE ABSURD THE ABSURD
Amelie Boose Amelie Boose
CLICK BELOW
model: Kalita Hon
models: Lilly Hoefflin, Ali Eckstein photography: Jenny Ongele Make-up: Michelle Valentine
Night Light promotes sustainability and ethical manufacturing through a miniature line of upcycled, handmade looks. Each of the outfits shown were created by Gino Palacios (2025) and combines thrifted clothes, sheets, and blankets. Model Ali Eckstein (2026) wears a sweater created from a thrifted turtle neck and a crochet blanket, and shorts upcycled from sheets and parts of the turtle neck. Model Lilly
Hoefflin (2026) wears a fluffy pink hoodie with a matching pair of shorts, both made from the same thrifted blanket. Model Kalita Hon (2023) wears a long cardigan made from a thrifted plush blanket and lavender shorts upcycled from sheets. Night Light goes to show that we don't just need to look to clothes for fashion inspiration and upcycling—virtually anything can be made into, or inspire a wearable garment.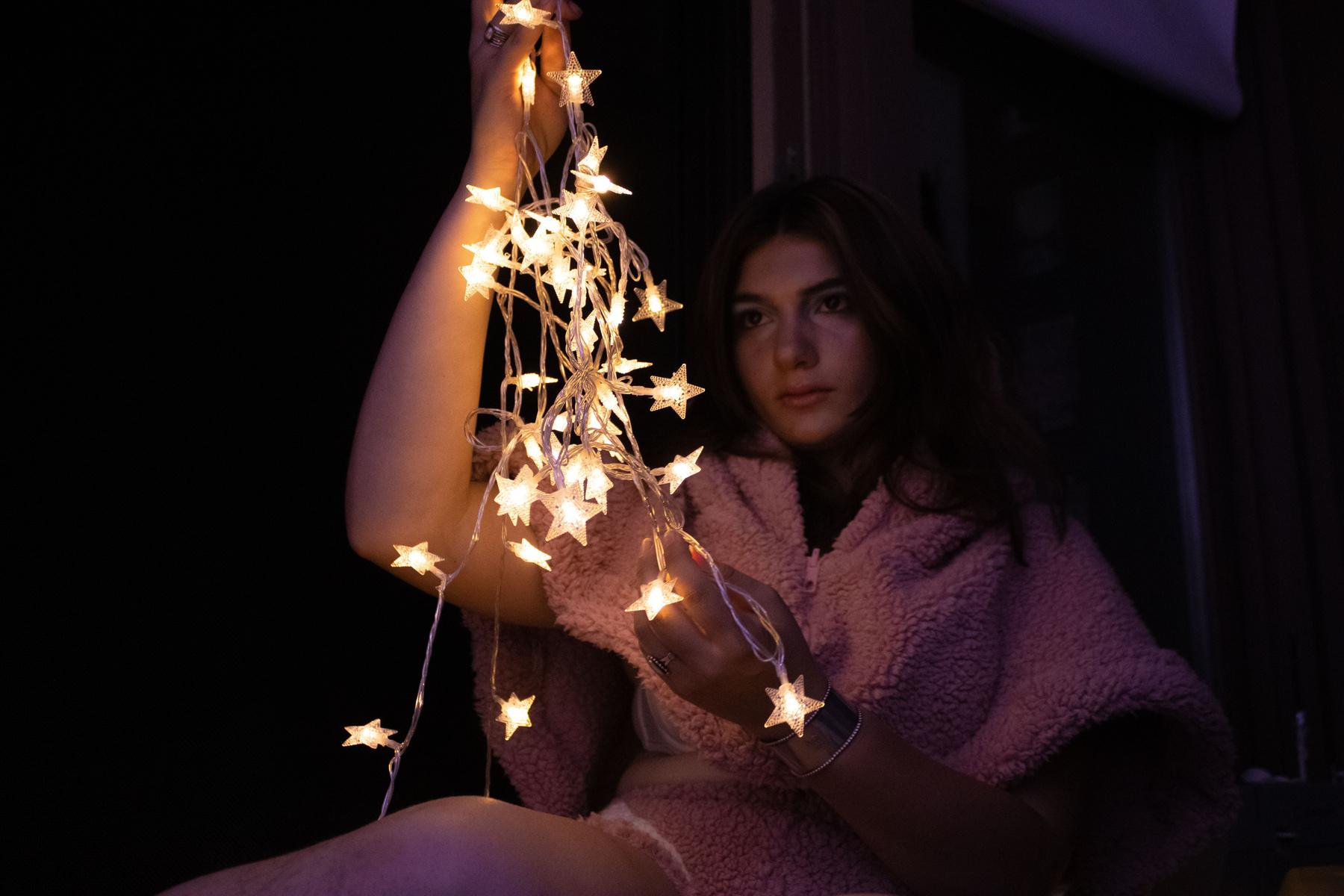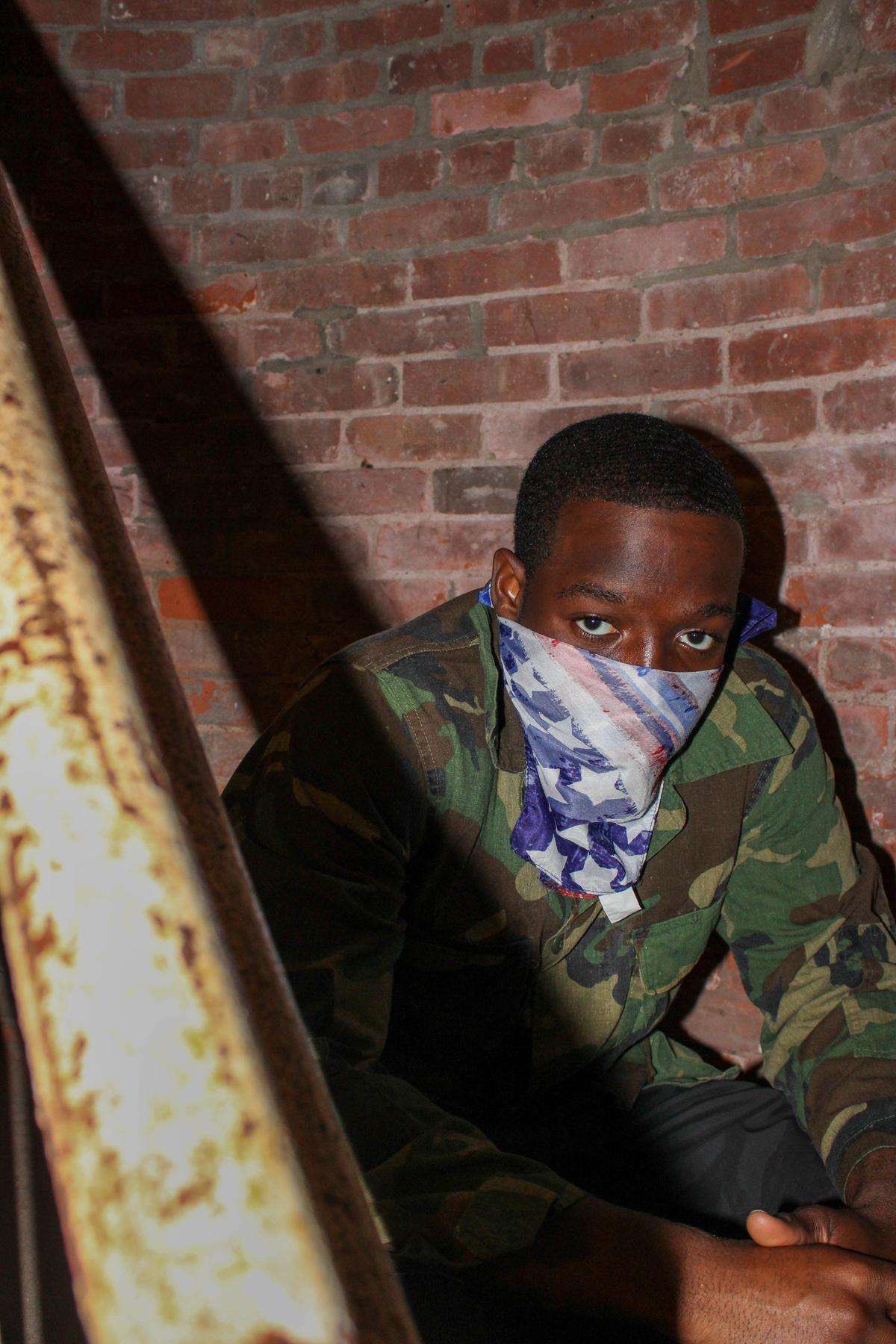 Fear Extinction
by Michael Fadugbagbe
Ezekiel Poppola
Kofi Agyei-Yeboah
Special Thanks to Siggy Soriano
The experience
kailer Antio ayer m i r e m b e michael n e o k f g racie Xavier el l i s lauren pelumi j u deley
tia
kyla kaina abbi jaz tre
danae
jalen
a m a r i k e l s e y christina
brianna
keren matty
kayla
wo dy hyacinth
cassidy
"
fashion is such a big part of my life! i love how i'm able to express both my femininity and masculinity through the clothes i wear. it brings me so much joy and is one of my favorite forms of self expression"
shot by anika kewalramani & pelumi sokunbi / graphic design by aniika kewalramani / directed by kofi agyei-yeboah
A Letter from the Editor...
Thank you for reading through our fifth Fray edition, our After Hours issue. Over the past year, the organizing team has worked day and night to transform the culture of Fray within our team and across campus. We are proud to say that this issue, After Hours, is unequivocally the biggest and best publication yet. We have nearly one hundred collaborators across twelve unique, yet connected, projects ranging from written pieces to videos to thought provoking photo shoots.
This year, we have hosted soirees and parties and pop-up events to connect students across campus through a mutual love of fashion and desire for sustainable shopping. After Hours represents our first ever print issue, a sign of resilience through the pandemic and a continued desire to spread Fray's art throughout Wesleyan.
After Hours has been a bittersweet experience for me. I have been involved in every issue of Fray – from our first publication to Bacchanalia to Recess to Regeneration and now, After Hours. I have watched the community change and grow and become a family of creatives on campus. I am grateful for the organizers before me, who laid the groundwork and created this magazine, and I am most grateful for the current organizers, Anika, Xandra, Siggy, Victoria, and Mia, for being the strongest, funniest, and most creative group of people at Wesleyan. I cannot wait to see what you do with Fray next year and the year after. I also cannot wait to see what the new iteration of Wesleyan students bring to Fray. I will be rooting for you all -- and reposting every Fray story -forever. Always grateful for this community.
Love, Ruby
issue five wesleyan's first fashion magazine
FRAY's AFTER HOURS EDITION