HERITAGE FALL VOLUME20224, ISSUE 3 FIlIpIno Historic St. Malo Village | p. 20 p. 12 Domestic AwarenessViolence| p. 29 Legendary Vietnam Troop | p. 42
St. Bernard is my home. Let's make it yours too! ST. BERNARD REALTY 504-273-2292 Jacques Alfonso 504-228-3803 2 FALL Issue 2022
Catch our Culture Only 5 miles from the Historic French Quarter VisitStBernard.com | (504) 278.4242t o u r i s t c o m m i s s i o n 5-8 JANUARY BATTLE OF NEW COMMEMORATIONORLEANSWEEK LOURDES BALL KNIGHTS OF NEMESIS PARADE FEBRUARY 114 BLUES, BREWS & BBQ PHILIPPINE HERITAGE DAY SUGAR FEST ST. BERNARD REDFISH FEST WIND DOWN WEDNESDAY GIVE A HOOT TRIVIA NIGHT CHS HOMECOMINGFOOTBALL GAME OCTOBER 6-9811121528 2610965 TOUR DA VETERANSPARISHDAYPARADE & WINDCEREMONYDOWN WEDNESDAY SIPPIN IN THE SUNSET SHOP SMALL SATURDAY NOVEMBER CHALMETTE HIGH CHRISTMAS SHOW CHRISTMAS AT THE COMPLEX LOS ISLEÑOS CHRISTMAS PEARLBONFIREHARBOR MEMORIAL SANTACEREMONYONTHE BAYOU SBPSB CHRISTMAS CHILDREN WREATHSFESTIVAL ACROSS AMERICA DECEMBER 1-2237101017101415 SEPTEMBER CRUZIN DA PARISH WIND DOWN WEDNESDAY SIPPIN IN THE SUNSET 23-264-5411 MARCH ST. BERNARD SPORTS HALL OF LOSFAMEISLENOS FIESTA COOK - OFF FOR THE COAST LOUISIANA CRAWFISH FESTIVAL ST. BERNARD IRISH, ITALIAN, ISLEÑOS PARADE TOMATO FEST APRIL 21-231 2022 2023 ST. BERNARD BIRD FESTIVAL MAY 5-6 3

12 40 29 36 What's Inside 7 Publisher's Pen 8 Readers Write 12 Filipino Heritage Month at Nunez 15 Filipino Recipe 20 Historical St. Malo 24 Paddle The Parish: Dinner & Scenery 27 Tomato Legacy: Gallo Retires 29 Celebrating 35: Family ProgramViolence 36 Scholar Sisters 40 Old Arabi Sugar Fest 42 Vietnam Troop Reunion 45 Veterans Day Parade 47 Youth FootballTackle 49 ConditioningBaseball 50 Fall Plantings SCAN TO READ MORE ISSUES 4 FALL Issue 2022
5
Designer Sharon
Art Director Lawton Copy Editor Dawson Designers Palmer Waller Ads Hueschen Photo Farrah ApplemanRoss Consultant Fisher Writers Brogan Burns Bill Hyland . Charles Jackson Aubree Jones Glenn Jordan Lance Lacoste Lemoine Rudlow Anna Timmerman Liz Williams Photographers Farrah Ross Appleman Maddie Hayes David RayDavidRaymarJohnsonPhotographyRudlowSolis
Brionna
Cover
David
Barry
Faith
Vol. 4, Issue 3 - Fall 2022 St. Bernard Magazine, subsidiary of JPR Enterprises, LLC, Chalmette, LA, Charles D. Jackson, president. Printed by Fox Press, Hammond, LA. About the Publisher
Charles D. Jackson earned his bachelor's degree in mass communications from Florida State University in 1981. He has served as a sports, business, city, regional, and lifestyles editor for five newspapers in the South, and national communication director for a college and community organization. He has lived in Chalmette since 2012. JPR Enterprises, LLC, Chalmette, registered with the Louisiana Secretary of State on 2/23/18, Charter No. 42965547K. Member, New Orleans Press Club; St. Bernard Chamber of Commerce Mail: 2429 Octavia Drive, Chalmette, LA 70043 jacksonprnola@yahoo.com Phone: (504) 609-7509 Mark and
Dianne
Wednesday 8-4; Friday, 8-1Hours: 200 W. Judge 504-354-1121ChalmettePerez, TinneyDentistry_qtrpg.pdf 1 8/15/22 7:42 PM 8101 E. St. Bernard Highway Poydras, LA 70085 email: clifford.wuertz@yahoo.com WUERTZ BROS. TIRE & POWERSPORTS Locally Owned & &LicensedOperatedInsured 504-682-1933 • Oil Change • New Tires • Tire Repair • Front End Parts Monday - Friday 8 a.m. - 5 p.m. Saturday - 8 a.m. - 12 p.m. PROOF PLicensedROOF PROOF PROOF PROOF PROOF PPROOF ROOF WuertzBrosTire_qtrpg_2.pdf 1 7/26/22 6:33 PM 6 FALL Issue 2022
Email - stbernardmagazine@yahoo.com Website - stbernardmagazine.com Phone - (504) 609-7509
Tony
Tinney, D.D.S. Tuesday
© 2022 JPR Enterprises, LLC, New Orleans, LA. All rights reserved. Printed in the USA. The information contained in St. Bernard Magazine is intended for educational purposes only. JPR Enterprises, LLC, publisher of St. Bernard Magazine, does not endorse or promote any of the products or services described in the pages of St. Bernard Magazine, and the publisher does not verify the accuracy of any claims made in advertisements contained.
Herbie
Contributing
Dr.
Publisher and Editor-in-Chief Charles D. Jackson, President JPR (Jackson Public Relations) Enterprises, LLC Office - 2429 Octavia Drive, Chalmette, LA Mail - P.O. Box 57801, New Orleans, LA 70157

Our reach – 10,000 free copies picked up quarterly at grocery stores, restaurants, pharmacies, small businesses, and offices in St. Bernard, Orleans, Jefferson and St. Tammany parishes. Find us online at stbernardmagazine. com. Call: 504-609-7509 Email: stbernardmagazine@yahoo.com
Thelma Deano, founder of the Battered Women's Shelter, received a Civil Defense certificate in the mid-1960s for a program that instructs volunteers on procedures to follow in the event of a nuclear attack.
Publisher's Pen by Charles D. Jackson
The magazine highlights the rich history, people, progress, traditions, culture, resilience, diversity, civics, small business, schools, organizers, and the extraordinarily welcoming community atmosphere of St. Bernard Parish. This mixture makes 'Da Parish "The Most Unique County (Parish) in the Country."
In 1978, the same year Congress passed the first resolution naming October National Domestic Violence Awareness Month, the Battered Women's Shelter of St. Bernard (now Family Violence Program) was established by Thelma Deano. This issue features the Family Violence Program, celebrating 35 years; and its 28-year executive director, Gail Gowland, the longest-serving domestic violence administrator in the state.
In 2009, Congress recognized October as Filipino American History Month. St. Bernard Parish is home to the country's first Asian-American settlement of Filipino fishermen at St. Malo. The "Manilamen," first featured in Harper's Weekly (1883), are credited for pioneering the state's dried shrimp industry. On Oct. 6, the Filipino influence on American foods will highlight the opening of the South's largest culinary research center at Nunez Community College. In This Issue Filipino Culinary Exhibit at Nunez, beef stew recipe, St. Malo past and present, Family Violence Program services, Old Arabi Sugar Fest local lineup, Miss Chalmette High and younger sister, OLPS undefeated girls softball, youth tackle football, baseball conditioning, and fall gardening tips. Plus, Johnny Gallo's tomato legacy, Veterans Day Parade, Vietnam troop's reunion, and kayak-fishing on Lake Borgne.
7
October Awareness Domestic Violence & Filipino Heritage Month
Photo provided by Deano Family St. Malo drawing by Charles Graham appeared in Harper's Weekly in 1883.
8 FALL Issue 2022
P B S & T ROFESSIONAL USINESS ERVICES AXES • Light Bookkeeping • Payroll • Taxes Chalmette, LA 70044 Email: pbst1313@aol.com Cheryl Sass, Owner Gene A. Labit, Manager/Owner Phone: 504-279-5135 • Fax: 504-279-5143 McKay & Associates, L.L.C. ENGINEERING - LAND SURVEYING Engineering: • Drainage Studies • Civil Site Design • House Plans With 3-D Rendering Views • Coastal Use Drawings & Permitting • Building Permits Phone: (504) 509-7603 7216 W. Judge Perez Drive Arabi, LA 70032 Email: Charlie@mckayassociatesllc.com Surveying: • FEMA Elevation Certificates • Boundary Surveys • ALTA/ACSM Land Title Surveys • Construction Layout • Topographic Surveys • Re-Subdivisions McKay_qtrpg_9-2022.pdf 1 6/20/22 6:26 PM Reader Writes
WOW Turns Purple
Every October, WOW Cafe & Wingery teams up with Project Purple of St Bernard. We display lifesize cutouts depicting women who have been victims of domestic abuse. Each cutout has a written message on it from a victim or a surviving family member. We try to raise awareness throughout the entire month by sharing things on our social media pages, decorate the restaurant in purple, have the life-size cutouts in front of the restaurant, and even make sure we get our kids aware and involved in smaller ways. They have coloring sheets while dining that say, " it's a Bully Free Zone," and we give them pins and stickers to wear that say "Hands aren't for Inhitting."addition, we plan a fundraiser in October to support Project Purple's efforts to raise awareness of domestic violence. Last October, we presented a check for $725, thanks to the continued support of our community. Help us turn the Parish Purple in October! - Brook Songy, Wow Cafe & Wingery

October 8, 2022 1pm – 9pm The Aycock Barn | 409 Aycock Street | Old Arabi MUSIC LINEUP 1pm | Christian Serpas & Ghost Town 3pm | The Soul Project Funky Uncle All Stars with Cristian Duque 5pm | Grammy nominated Cameron Dupuy and the Cajun Troubadours 7pm | The Irene Sage Band For more information visit www.oldarabi.org FREE ADMISSION Proceeds from the Sugar Fest benefit the Old Arabi Neighborhood Association, a non-profit organization dedicated to preserving and promoting the area through community outreach. FEATURED ACTIVITIES 1:30pm | Dessert Competition entries are due 4:30pm | Donut Eating Contest PRESENTING SPONSORS OldArabiSugarFest2_fullpg.pdf 1 8/17/22 9:53 PM 9
Join Shrimp Cook-Off (Sponsored Content)
Enjoy the SOS Shrimp Cook-Off on Saturday, Sept. 24, from 11 a.m. to 4 p.m. at Aycock Barn, 409 Aycock St., Arabi. To register a trade booth or participate in the cook-off, go to https://facebook. com/sostbernard or call 504-616-7312. Celebrity judges, Rod Knockers Antique Car Show, kids activities, arts and crafts, vendor booths, raffles, and silent auctions are on tap. For $25, consume all the boiled shrimp you can eat. Children 12 and under are free. Beverages will be extra. No outside food or drinks allowed. Save our St. Bernard is a 501 (c)4 nonprofit formed to advocate, demand transparency, gather and disseminate information, and OPPOSE The Port of New Orleans' construction of the Louisiana International Terminal (LIT) in St. Bernard Parish. Go to our facebook page to join the campaign.
10 FALL Issue 2022
3523 Paris Rd. • Chalmette, LA 70043 "Family Owned & Operated" Hours of Operation: Monday - Saturday 5AM-10PM Sunday 6:30AM-9PM 504-267-5509 BREAKFAST • LUNCH • DINNER 1530 E. JUDGE PEREZ DRIVE, CHALMETTE 504-279-9114 Hours Thursday, Friday, Saturday & Monday 6 AM - 9 PM Sunday 6 AM - 2 PM Par3_qtrpg_9_2022.pdf 1 8/16/22 7:12 PM
Over 50 years, Torres Law has earned a reputation as one of the most successful and highly respected firms in Louisiana. Our experienced and competent attorneys, notaries public, and support personnel are always ready to assist and provide solutions to our clients' needs, including such areas as personal injury claims, class action litigation, business litigation, estate planning, and real estate transactions. PAID ATTORNEY ADVERTISEMENT 11
Southern Food & Beverage Museum has amassed a collection of 40,000 volumes in multiple languages, including braille, covering the broad gamut of issues related to food and drink. Filipino Heritage Month Recipe, p. 15 12 FALL Issue 2022
Joint Project of Nunez Community College, National Food & FoundationBeverage South's Largest Culinary Research Center Opens Nunez grad and Chef Roni Dacula preps Kalderetang Baka, a Filipino beef stew dish.
By Liz FarrahPhotosWilliamsbyRossAppleman
On October 6, 2022, at 10 a.m., the SoFAB Culinary Research Center at Nunez Community College officially opens its doors with all the appropriate fanfare. Combining the South's largest collections of culinary archives, the SoFAB Research Center incorporates the John & Bonnie Boyd Hospitality & Culinary Library, the SoFAB Culinary Archives, and the SoFAB Culinary Material Collection, making it a complete resource for students, scholars and researchers, and the curious general public.
The Collections Way before it opened on June 9, 2008 in New Orleans, the Southern Food & Beverage Museum had been collecting books, pamphlets, ephemera, and rarities about food and drink and the hospitality industry.
Anew resource center has come to St. Bernard Parish, adding to the historical, cultural and educational assets already in place.
"Nunez Community College is fortunate and honored to house the SoFAB archive," said Nunez Chancellor Dr. Tina Tinney. "We are incredibly fortunate to be the beneficiary of such a rich and unique collection that deserves to live in a community with such a diverse culinary background."
The Boyd Library contains a number of special collections, such as the community cookbook collection, the books of Paul Prudhomme, the works of the members of Les Dames d'Escoffier International, the Bonnie Tandy Leblang collection, and Ken Smith's collection of rare African American cookbooks.
The research center is a joint project between the innovative Nunez Community College, and the unique National Food & Beverage Foundation, whose division is well-known in the region – the Southern Food & Beverage Museum of New "TheOrleans.food of southern Louisiana is celebrated throughout the world, and thanks to Nunez Community College, there is now a place where it can be studied, which adds a new layer of understanding to the basic layer of eating the delicious food," says Brent Rosen, president & CEO of the National Food & Beverage Foundation.
Now a division of the National Food & Beverage Foundation, SoFAB has amassed a collection of 40,000 volumes in multiple management,fooddrink.relatedgamutcoveringincludinglanguages,braille,thebroadofissuestofoodandThismeanssystems,waste agriculture, history, fishing, foraging, cooking, canning and preserving, service, businesses, bartending, eating, plating, philosophy, sustainability, trade, international law, food safety, industry, the science of food, nutrition, art, table linens and furniture, the science of cooking, business and finance, and many more topics as well as cookbooks.
The center integrates research by making it possible to cross-reference all collections – the library, the archives, and the artifacts – to provide the most complete research potential.
In addition to books, SoFAB has collected menus, other ephemera such as chef's papers, pamphlets, the papers of food writers, and handwritten recipe collections. There are postcards and photographs, and many more areas of ephemera – even paper cocktail napkins.
13
Nunez Partnership Nunez Community College is an active partner in this endeavor. Although its highly touted hospitality program will make use of the research center, what's more innovative is the vast reach of Nunez with its articulation agreements throughout the region that make the collection accessible to scholars and students throughout the region. Through its commitment to the community and the public at large, the college's openness makes the collection open to the public, with the catalog available online and at the library.
We are incredibly fortunate to be the beneficiary of such a rich and unique collection that deserves to live in a community with such a diverse culinary background.
"This repository and special collection is a true asset to our institution and serves as a rare com plement to our culinary program. We look forward to welcoming our local community, and the larger community, to experience SoFAB and get a taste of all Nunez has to offer," Tinney said.
14 FALL Issue 2022
The SoFAB Research Center celebrates its opening by mounting an exhibit during Filipino Heritage Month (October) about the influence of Filipino Louisiana on the food of the region, including a discussion of the first Asian settlement in America, St. Malo in St. Bernard Parish, as well as the famous dried shrimp industry that continues to the pres ent. The center is located on the second floor of the library at Nunez Community College. - Dr. Tinney, Nunez Chancellor
CELEBRAT NG 30 YEARSNEXT TERM STARTING SOON @ NUNEZ.EDU RegisterNow!
Chef Ruth Varisco, instructor for Nunez's Culinary Arts program, joins Chancellor Dr. Tina Tinney, former student Roni Dacula and Liz Williams of the Southern Food & Beverage Museum during a recent cooking demonstration.Artistrendering of research center on the 2nd floor of Nunez Library.
3. Stir in tomato paste until it smells toasted, or appears caramelized in color. Make sure to stir
*For pickling peppers: Your choice of peppers
1. In a heavy bottom stock pot or Dutch oven, brown all sides of short rib with 1 tbsp. of oil. Add water until it covers the meat. Add ½ cup of soy sauce, quartered onion, vegetable trimmings, salt and pepper (only to flavor the meat). Boil until "fork tender" (2- 3 hours). Remove short rib and set aside.
*To make pickled peppers, boil water, sugar and vinegar. Pour over peppers. After cooling, store in the fridge. It's good for 4 days! Baka": in Stew with Directions: 15
Kalderetang always had a special place on my family's dinner table, which is why I love to share it. From a culinary perspective, the dish represents Filipino history because of the international influences that come together on one plate. The Spanish colonial with olives and tomatoes, soy sauce from the Chinese, and liver paste being wholly Filipino, making use of the entire animal. Whether it's for a special occasion or a simple dinner, my Lola and mama would make this dish with either beef or pork, and it was always a staple in our Growinghousehold.up to the present, the aroma of tomato stewing in the morning is reminiscent of how no matter the circumstances our family was facing, there's always Kaldereta in the pot to come home to.
1 cup soy sauce 1 quart of beef stock ¼ cup tomato paste 1 ½ quarts tomato sauce 2 tbsp. fish sauce
3 small bell peppers (red, yellow, green), coarsely Powderedchopped dehydrated mushroom (optional) 1 cup pimento stuffed olives
Ingredients: "Kalderetang
A Filipino Staple Beef
5. Stir in liver paste, making sure it is well mixed in sauce. Add carrots and peas; cook for 10 minutes.
1 tbsp. calamansi juice or lemon juice
2. Place heat on medium; in the same pot add the garlic. Cook until fragrant. Add diced onion and cook until caramelized.
4.occasionally.Addtomato sauce; let simmer for 10 minutes. Add short rib, fish sauce, black pepper. Increase heat on high; add beef stock. Boil for 15-30 minutes, or until the sauce is slightly reduced.
7. Serve hot; garnish with pickled peppers* and olives, alongside steamed rice
3 tbsp. preferred cooking oil
6. Add bell peppers; cook for 4 more minutes.
Olives With Chef Roni Dacula
2 lbs. bone-in short rib ½ cup cooked chicken liver or liver pâté 6 garlic cloves 2 medium onions (1 quartered; 1 diced)
1 bundle green onion 1 large carrot diced 1 small can or pack frozen peas
½ cup water ½ cup sugar ½ cup rice vinegar
Tomato
Road.16 FALL Issue 2022
on
Marker
Image of St. Malo Community on Lake Borgne documented by Harper's Weekly, 1883.
By Liz FarrahPhotosWilliamsbyRossAppleman at Los Isleños Museum Bayou
Nunez Exhibit
Through family photographs, drawings, maps, and archival material, the Nunez Community College exhibit sets the stage for the Filipino migration to the United States, and tells the story of our own St. Malo, the first permanent Filipino settlement, celebrating the vibrant culture that continues to thrive today
Celebrating Culture Festivals, observances, and celebrations in Louisi ana always involve food. The exhibit explores the food traditions surrounding Filipino American fes tivals in Louisiana. The elements of this section will include the unique dishes that are served primarily on special occasions, as well as more common food items and dishes that take on greater signifi cance during holidays. The exhibit is free and open to the public during the normal hours of Nunez Community College Library. The research center is located on the second floor of the library.
Growing Produce
The Southern Food & Beverage Museum is partner ing with the Honorary Consulate of the Republic of the Philippines, the Philippine-Louisiana Historical Society, and Nunez Community College to cre ate an exhibit that highlights Louisiana's Filipino community and the impact Filipinos have had on our shared culture, in particular our shared food Theculture.vibrancy of the food will show through in photos, stories, and artifacts that demonstrate the richness of the food influences, the long history of Filipinos in Louisiana, and the continuing impor tance of their contributions to Louisiana.
Roni Dacula, a native of the Philippines and graduate of the Nunez Culinary Arts program, serves as a chef ambassador at the exhibit; here demonstrating how rice is packed in a "Bumbong ng Kawayan" (bamboo tube) for steaming over an open fire.
17
In conjunction with the opening of the SoFAB Research Center at Nunez Community College, a new exhibit opens on October 1 to coincide with the celebration of Filipino Heritage Month
Home Cooking Filipino home cooking is highlighted in the exhibit with a section on the men and women carrying on Filipino food traditions from the Philippines to Louisiana. SoFAB has worked to identify home cooks and culinary professionals who are sharing their favorite Filipino recipes so that the exhibit can reflect Filipino cooking today in Louisiana. Each entry in this exhibit has a black and white portrait of the cook, a recreation of the physical recipe, and a short story about the significance of the dish to the person portrayed.
St. Malo "Manilamen"
Perhaps the best known influence of Filipino Louisianans is the development of the shrimp drying industry. The exhibit focuses on the Filipino influence on the industry in Louisiana with photo graphs and artifacts such as rakes, shrimp baskets and barrels, special shoes, and shrimping nets and equipment. Those working the nets and doing the dance were known as Manilamen. And their descendants continue to influence the Louisiana culinary culture ever since. The industry still exists today.
St. Malo, the first permanent settlement of AsianAmericans in the United States, was founded by Filipinos in the mid-1700s on Lake Borgne in St. Bernard Parish. It began as a fishing village and continued to thrive until 1915, when it was de stroyed by a hurricane. When it began it wasn't populated by the usual immigration patterns. Filipino men crewing mostly Spanish ships that were traveling the globe stopped off in Louisiana when a ship made its way upriver to the port.
Shrimp-Drying Legacy
The exhibit also focuses on the Filipino-American garden. Like many people who have not been able to find the foods from their ancestral home that they crave, Filipinos grow their own. The vege tables, herbs, and fruits that are common in the Philippines are more difficult to find in the United States. The Filipinos grow this produce in order to make traditional dishes with traditional ingredients without having to make substitutes. The exhibit features culinary plants such as malunggay, mala bar spinach, mirliton, long beans, cucuzza squash, and calamansi. Even the list of garden vegetables and fruits make evident the cross-fertilization of cultures that has taken place in Louisiana.
The Filipino story is not only St. Malo. The exhibit showcases a developing story, looking forward to the future. This story is being told with the participation of Filipino Louisiana, people of Filipino her itage as well as people who become Louisianans. The recipes, the gardens, the dishes, the festivals, and everyday life all reflect not only the influence of Louisiana, but also the Philippines.
St. Bernard Parish Hospital 8050 West Judge Perez Drive Chalmette, LA 70043 Every child is one of a shouldPediatrickind.carebetoo. General pediatrics, plus more than 30 pediatric specialties and subspecialties to help you face anything, minor or major. Access to MyOchsner, an online tool that lets you see medical records, pediatricianonline,appointmentsschedulemessageyourandmore. Same-day appointmentsnext-dayandavailable. Access to the #1 Children's Hospital in Louisiana (U.S. News & World Report ranking), featuring a withemergencykids-onlyroomspeciallytrainedpediatricERstaff. To schedule an appointment call 504-294-8926 or visit ochsner.org/forchildren Everything your growing child needs is right here at Ochsner Health Center for Children – St. Bernard 18 FALL Issue 2022
print web graphic design 504.837.5444 info@ScottOttCreative Scott Ott Creative St. B ernardSOLD on For a complete list of Showcase Homes visit our website www.SoldOnStBernard.com St. B ernardSH OWC AS E Tour the latest NEW CONSTRUCTION HOMES! SATURDAY, OCTOBER 15 TH • 11AM-4PM 19
First Filipino Community in America
Native Americans
By William de Marigny Hyland, St. Bernard Parish Historian
Location of St. Malo, southeast of Lake Borgne.
Remote Village Root of Cultural Diversity in Parish
St. Malo
Recreational and commercial fishermen are familiar with St. Malo, nestled along the shores of Lake Borgne and Bayou St. Malo.
Very few are aware of the fascinating history of the site, which likely extends back more than 1,000 years. St. Malo is a mound constructed by prehistoric Native Americans between 500 B.C. and 200 A.D. Native Americans were the first human beings to occupy the site. Later in the 18th century, Jean St. Malo established a colony of runaway enslaved people who were victims of a society built upon the injustice of slavery. Still later, perhaps in the very late 18th and 19th centuries, Filipinos occupied the site, which was celebrated throughout the late 19th century. This settlement became the very first documented (to date) Filipino community established in the United States.
The abandoned bird's foot delta of the Mississippi River, today known as the Biloxi Marsh, began to form around 500 B.C. Native Americans were the first to inhabit the area. They were huntergatherers occupying areas with abundant seafood and game. Sherds of the pottery they made are scattered throughout scores of Native American archaeological sites remaining in St. Bernard. These people traded pottery for stone projectile points with tribes from areas north of this region. Stone hatchet points, arrowheads, cooking stones and bone tools are among the vestiges of this ancient culture still found in St. Bernard sites. Since these tribes existed during prehistoric times, their names remain unknown.
Filipino Heritage Month 20 FALL Issue 2022
Filipinos began to occupy the shoreline of Lake Borgne reputedly in the very late 18th century at the end of the Spanish colonial period. They lived together with Catalan Spanish fishermen and the Cimarrones. By the late 1820s or early '30s, the Filipinos had established themselves firmly at St. Malo. They built a village that one could also see in the Philippine Archipelago. The Filipinos and Catalans were founders of the modern commercial fishing industry in St. Bernard and Louisiana. The original Canary Islanders or Isleños had been farmers but learned about commercial fishing in large measure from the Filipinos. Isleños learned about the value of dried shrimp and fish and over time extensively intermarried with Filipinos. Today, many St. Bernard families boast Isleños and Filipino roots.
Rendering of Jean St. Malo from files of Ralph Zachary. Illustration of Bayou St. Malo Oldest house in St. Malo 21
Enslaved Africans Following the introduction of slavery by the French in Louisiana during the 1720s, the enslaved made their mark on Louisiana. The modern Louisianan should never doubt that the enslaved built colonial Louisiana, introduced a cuisine rooted in the marriage of West African, Native American and European influences widely celebrated as "Creole cookery," and largely evolved a vernacular architectural style, known as Creole or Cajun, in reaction to the hot and humid climate encountered in western Africa, the Caribbean and WhileLouisiana.the enslaved, through the Code Noir, were granted the right to be freed by their masters or to purchase their freedom, hence giving birth to the population of free people of color, others chose, inevitably, to run away, thus establishing a population of enslaved people known in French as Les Marons and in Spanish as Cimarrones or runaway enslaved people.
St. Malo Martyrdom Enter now Jean (Juan) St. Malo, an enslaved person working a plantation along the Mississippi River in the German Coast upriver from New Orleans from which he escaped during the early 1780s. St. Malo site is named for Jean St. Malo and recalls the Cimarron settlement he and his followers established. An area of wetland downriver from New Orleans known as Bas du Fleuve or the Côte D'en Bas (Lower Coast or perhaps more literally Down Below) included the modern-day St. Bernard Parish. That area included the Gaillarde, La Maranga in Isleño Spanish, and now known as the Biloxi Marsh. In that remote, virtually impenetrable wetland, teeming with fur-bearing animals, alligators, poisonous snakes, groves of trees and brush, plagued with gnats, multiple species of flies, mosquitoes – an indescribably hostile environment, St. Malo chose to establish his colony of Cimarrones along the shore of Lake Borgne. St. Malo was arrested and put to death by colonial officials in 1784. In death, St. Malo achieved martyrdom, becoming a symbol of the promise of freedom for enslaved Africans throughout the remainder of the 18th and 19th centuries until the American Civil War. Google maps show "Negro Lagoon" near the St. Malo site.
Filipinos-Isleños Fishing
In Harper's Weekly, March 31, 1883, the Filipino fishing village of St. Malo was documented as the country's first Asian-American community; illustrated by Charles Graham and reported by Lafcadio Hearn.
22 FALL Issue 2022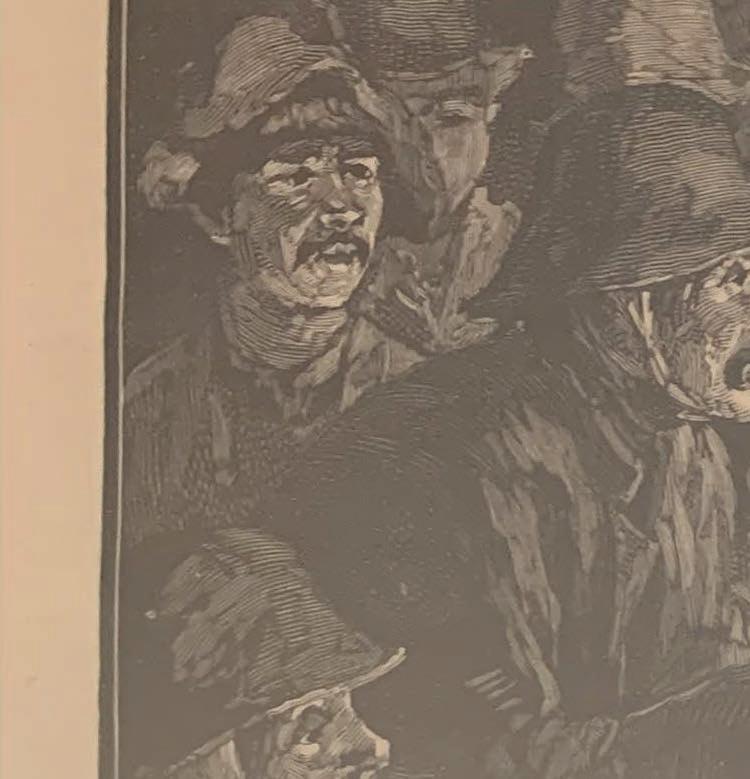 St. Malo in Harper's Weekly 1883 Lafcadio Hearn, the great 19th century Louisiana journalist and author, wrote an article that was published in the Harper's Weekly of March 31, 1883. Hearn described a quintessentially Filipino cultur al community, living in the remote reaches of St. Bernard. The illustrations showed structures built over the water; the high-hipped roofs clearly had a Philippine origin. The Filipinos were an independent people with their own code of living. Louis Alfred Ducros, M.D, treated the Filipinos in the late 19th century and early 20th centuries. He had known them in his childhood and spoke Spanish with them. Ducros admired the innate integrity and fierce indepen dence displayed by Filipinos, as did Hearn. While the catastrophic 1915 Hurricane destroyed St. Malo, resulting in the building of Manila Village in Jeffer son Parish, Filipinos remained in St. Bernard Parish and continue to do so. Today, St. Malo is owned by retired attorney and community leader Anthony A. Fernandez Jr., who wants to transfer the remote site to a group, including the state of Louisiana, that will work to stabilize and preserve it.
William de Marigny Hyland, of Creole descent, is the distinguished St. Bernard Parish historian who has authored publications on Islenos, Creole, African, Irish, Italian, Filipino Asian, German and American influences on Southeast Louisiana. Since 1997, he has served as site manager/director of the Los Islenos Museum Complex, owned by St. Bernard Parish Government, on Bayou Road.
The erected St. Malo state historical marker in 2019 by the Philippine Louisiana Heritage Society.
So, after 40 years of interest, the pivotal role of Fili pino heritage in the history of St. Bernard, the state and nation were finally recognized locally in 2019.
The Filipinos form an integral element in the mosa ic of cultural diversity which distinguishes St. Ber nard Parish in this region. Moreover, Filipino Asians represent an ongoing contribution to the fabric of life in Louisiana stretching over two centuries.
Join us this year as we celebrate Filipino heritage October 1 at Los Isleños Museum Complex in St. Bernard Village. E pluribus unum –out of many came one. 23
Historical Marker University of New Orleans librarian Marina Espina met Frank Fernández, the first St. Bernard Parish historian, in the late 1970s and shared some of her research placing the first Filipinos in St. Bernard in the 18th century. Later, Honorary Consul General of the Republic of the Philippines in Louisiana, Robert Romero, began working with St. Bernard Parish Government and our local community to memori alize the highly significant Filipino presence in our Thehistory.Philippine Louisiana Heritage Society sub sidized and erected a state historical marker in 2019 on the lawn in front of Ducros Museum and Research Library. There is a small exhibition of Philippine artifacts inside Ducros as well. Several hundred people attended the dedication ceremony including high-ranking Filipino diplomats and local elected officials. That night, a cultural gala was held in the Frederick Sigur Civic Center in Chalmette.
Photo by David Johnson Fort Proctor at Lake Borgne near Shell Beach.
Catch Dinner & Scenery In Marshes of Lake Borgne D
o you want to catch the fish of a lifetime, check out some alligators up close, or go back in time and explore the ruins of a 19th century fort by water? Look no further than St. Bernard. There are a plethora of places to put in and paddle within the Parish. Let's look at two of my favorites and some tactics to bring that fish fry to fruition!
Popular Places Shell Beach lies on the shores of the MRGO, and is one of my favorite places to launch. If you're looking to fill your cooler, it's likely you won't have to go far. Fish around the rock piles, past them into the marsh, or anywhere with moving current and structure (rocks, pilings, oyster reefs, pond drains, etc). You have a chance at becoming tight to speckled trout, red drum, flounder, sheepshead, and more! If you'd rather not wet a line, you're in the right place for some incredible sightseeing.
Fort Proctor sits just under a mile from the launch and is a must see if you have access to the water. Dating to the 19th century, this retired fort lies in ruins on the edge of Lake Borgne. Keep your eyes peeled while you paddle; dolphins frequent the area as well.
The MRGO Rock Dam and its surrounding marsh es are another popular place to paddle, especially amongst anglers. The Rock Dam is a short paddle from the launch and can hold some monster speckled trout, as well as other species. Toss out some live shrimp rigged 3-4 feet under a pop ping cork about a foot from the dam. Pop it back towards you parallel with the rocks, pause, and repeat. If you're not getting bites, try using a Caro lina rig along the ledges near the dam.
24 FALL Issue 2022 Paddle the Parish by David Rudlow
Gator Sightings
The fish will be in different parts of the water column and around different areas of the dam depending on conditions, often stacked up in a small area. Don't be afraid to spend a decent amount of time searching around for fish. If you can find that big school of feeding specks, it's not rare to pull in one fish after the next. Smaller topwater lures and soft plastic jigs are my go-to baits when fishing the Rock Dam. These methods aren't as simple as using live bait and require a bit of practice to get used to, but they can produce bigger fish and draw more strikes in the hands of an experienced angler. If you're looking to bag some redfish, time your trip with a high tide and head into the marshes armed with a popping cork and live shrimp. Look for pond drains, cuts with moving water, and small points and divots in the shoreline. Redfish use these areas to ambush baitfish and shrimp as they move through the marsh.
Get Your Bait Here! We Beat The Competition: Green Bridge for Bait and Seafood 2651 Paris Rd., New Orleans, LA • 504-271-4601 We Sell the Freshest Local Seafood (Shrimp, Blue Crabs, Crawfish) Live Shrimp ONLY $.35 ea (Best price in da parish) NowCrabsellingBait Poggy ONLY $35 Flat Crab Bait Fresh Shrimp and Live Blue Crab, best quality at the best prices. Straight from our boats to you!! Shrimp Season is here. Green Bridge EddiePintos_qtrpg2.pdf 1 8/21/22 9:21 PM Stay Safe with Fall & Winter Supplies PoydrasHardwareFall_qtrpg.pdf 1 7/5/21 7:00 PM
Fish Holes
I am an electrical engineering student at UNO and spend every waking moment possible floating around on my kayak. I travel all over Louisiana and the Gulf Coast to fish; however, I spend a majority of my time in St. Bernard due to its vicinity, and the fact that the fishing in the parish is spectacular. I love helping others learn how to catch fish and have a fun, safe time on the water. If you see me out there, stop by and say hello!
Alligators love these shallow water marshes as well - keep your eyes peeled and you'll become uncomfortably aware of just how many there are around. Don't mess with them, and they generally won't mess with you. These marshes and waterways are fragile ecosystems, and it is our job to make sure they continue to thrive as they are for future generations to enjoy. Leave no trace while on the water. Even better, bring some trash back to the dock with you.
Editor's Note: If you have fishing stories to share, email stbernardmagazine@yahoo.com, or call 504-609-7509. 25


YouYoucombine.save. When you combine home and auto, you save. I can help you get the right coverage at the right price. Like a good neighbor, State Farm is there. 1002 W. Judge Perez Drive Chalmette, LA 70043 (504) cindi.meyer.rnnt@statefarm.com252-9800 Cindi Meyer, Agent CindyMeyer_qtrpg_2022.pdf 1 2/2/22 8:59 PM "Louisiana:AJourneyThroughTime"coversaselectionofthemoreinteresting events in our state's exciting history. Louisiana and New Orleans are unique in America and our story reflects that exceptionalism. AThroughJourneyTime"coversaselectionofthemoreinteresting our and our Ron Chapman Professor of History RonBook2_qtrpg.pdf 1 8/21/22 7:50 PM 26 FALL Issue 2022
June's final sales were part of the first full crop Gallo has harvested in two years. He said hail and rainwater in successive years damaged tomatoes weeks before picking. "They say doing this is faith and it's gambling. It's up to the good Lord if you're going to have a crop or not." They say doing this is faith and it's gambling. It's up to the good Lord if you're going to have a crop or not.
- Johnny Gallo Jr., 87, Lifetime Farmer SCAN TO READ MORE! Sicilians & Creole Cusine Summer Issue 2020 - Page 23 Gallo's Family Tradition Summer Issue 2020 - PagesNEW24-26FEATURE 27
By Charles D. Jackson
Johnny Gallo Jr. sold his final box of Creole tomatoes in June, closing a 132-year-old family business of growing the hybrid tomatoes in St. Bernard Parish. The 87-year-old was the last fulltime farmer of nearly 40 Sicilian families who once harvested tomatoes in the parish. Historians credit St. Bernard Parish truck farmers for nurturing the Creole cuisine as primary suppliers of tomatoes sold at the French Market and served in New Orleans restaurants at the turn of the century. In the mid-to-late 1800s, an influx of Silician families flocked to New Orleans from Italian regions with crop-yielding environments similar to South Louisiana. Gallo's great-grandfather, Gaetano "Vincent" Gallo, migrated from Ustica, Italy, to New York City in 1890, and shortly afterward moved to St. Bernard, where he purchased farmland on Charles Drive in Meraux. Vincent Gallo planted a tomato tradition grown by four generations: son, Sam; grandson, Johnny; great-grandson, Johnny Jr.; and great-great grandson, Jason. After the family sold the Charles Drive property, Johnny Gallo Sr. farmed on Rosetta Drive in the 1940s; later Johnny Jr. bought 20 acres of his own in Kenilworth in the early 1970s. "I've been doing this since I was 6 years old, following my daddy around the farm," Gallo said. "I'm 87 years old now, and I think it's time to slow down. I'm not going to stop altogether. I have a lot of things to do on the farm, like cutting the grass and tending to my trees. I might raise a few tomatoes for my friends."
Gallo Tomato Legacy Johnny Retires From Century-Old Family Farm
28 FALL Issue 2022
Carlee Jones and her daughter Aubree were helped by the Family Violence Program. Aubree's "Door Story,"
Page 31 29
Family ProgramViolence
A Safe Place for Survivors
History The Sheriff's$1Hospital,BernardfromprogramJackiefromwithbyestablishedofWomen'sBatteredShelterSt.Bernardwasin1987ThelmaDeanocooperationLynnandDean.TheoperatedtheoldSt.GeneralleasedforayearfromtheOffice.
The Family Violence Program operates not just as a safe haven for survivors. The nonprofit also brings community members together at the Deano Center. It's a multi-use building where residents can enjoy weekly bingo nights or rent the facility for special events.
Celebrating 35 Years
The court program guides survivors through legal procedures, such as obtaining restraining orders and navigating the court system. The housing program helps them find permanent homes they can afford in a safe location. Additionally, the program offers assistance with child care, and provides a pet sanctuary so families can stay with their four-legged friends.
By Glenn Jordan
Because the safety of clients is a priority, the shelter's location is secret. On site is a diverse staff of dedicated and deeply caring individuals – some who've served over 20 years – providing an array of services, 24 hours a day. The program offers families (and individuals) private and semi-private living quarters, and provides legal and housing assistance while they recover.
ctober is Domestic Violence Awareness Month. For 35 years, the Family Violence Program of St. Bernard (formerly Battered Women's Shelter) has provided a safe place for families who encounter domestic abuse to live happily, while preparing for self-sufficiency.
Aubree Jones shares with counselor Dawn Asevado at the Family Violence Program. and the estate of Marion Woolledge. Two years ago, the shelter rebranded itself as the Family Violence Program to reflect domestic abuse that affects not only women, but all genders, ages and orientations.
The original Thelma Deano Center was destroyed in Hurricane Katrina's flood waters; the new location at 9069 W. Judge Perez Drive opened its doors on Oct. 22, 2021.
30 FALL Issue 2022
After Hurricane Katrina, the staff resumed outreach/non-residential programs in a donated trailer and at the Disaster Recovery Center. In July 2007, the center moved to its newly renovated administration buildings, which was purchased and renovated through generous donations from the Meraux Foundation, Michael and Terri Ward,
Deano Center
O
At the Deano Center office, staff members coordinate with governmental agencies, businesses, churches, nonprofits and other organizations to help raise awareness about and prevent domestic violence. They also provide training to other individuals and organizations.
How the Public Can Help
15th - Give A Hoot Trivia Night: Docville Farm in Violet - 5 p.m. All Month - Community Campaign: Project Purple Cutouts at Businesses
My home wasn't always an awful place until a few years ago. It was Mother's Day when my dad nailed the door shut, and a few other nasty events happened. I sat with mom on the bed a day or so later, and we came to an agreement. Fast forward to May 25, my mom puts him in jail. We left the home I lived in since I could remember. It was hard to leave all my friends and people I loved most behind. We came to the Family Violence Program. It was scary to start new at first, but I learned to love it and find myself. I'm now a junior at Chalmette High, and have some of the best friends and 'family' I'd ever met. I joined the chorus/theater when I moved here. I will never regret anything, and I'm proud of where we are today. - Aubree Jones, 16 31
The program receives funding from individuals, organizations, and grants from the Meraux Foundation and the Department of Children and Family Services, and local refineries. But community assistance is welcomed. Monetary donations and gently used clothes and supplies are accepted. During the holiday season, the center has an "Adopt a Family" fundraiser to help bring Christmas to sheltered families. To support, call 504-231-1247.
5th - Candlelight Vigil: Torres Park at Government Complex - 6 p.m.
October Events
Domestic Violence Awareness
4th -Proclamation: St. Bernard Parish Council Chambers - 7 p.m.
Signs of Abusers Abusers may hide behind charisma and smiles in public, but may nonetheless employ subtle and manipulative tactics. A common sign of abuse is controlling behavior. Abusive individuals may isolate their partners so that their partner can only turn to them for their needs. Signs of those being abused include physical injuries such as bruises, hearing loss, unexplained falls and accidents and general emotional distress; as well such behavior as wearing long sleeves or turtlenecks in summer, reluctance to go home or even workplace disruptions. Abusers also show signs of jealousy, unrealistic expectations, isolation, blaming others for their own emotions or feelings, verbal abuse, rigid social sex roles, cruelty toward children or animals, accusations of cheating, and preventing an individual from seeing family and friends. Domestic abuse can happen in any relationship. Call the Family Violence Program at (504) 277-3177 anytime day or night or visit fvpsb.org.
32 FALL Issue 2022
How has the vision of founder Thelma Deano changed during your time withthe Family Violence Program of St. Bernard? What milestones are you mostproud of during your time as executive director?
How did you originally become involved with the St. Bernard Battered Women'sShelter? In 1994, my self-employment was coming to an end as we were closing La Belle Epoque (our perfume shop/manufacturing company). At the time, my husband worked for the Sheriff's Office teaching at the Juvenile Detention Center and knew that there was an opening for a director at the shelter. I applied for the position and was hired. They wanted someone with a business background to help bring their grants up-to-date. What was described to me as a part-time position quickly became a 60-hour work week; however, as grants stabilized and grew, we were able to add staff to share in the work.
After 28 years, she is the state's longestserving domestic violence executive director.
Can you share more about how community involvement/partnerships havechanged over the years and the impact to the program?
Future Looks Bright
Q&A with Gail Gowland of the Family Violence Program of St. Bernard.
Community involvement has only grown stronger over the years. Staff is involved in local groups as well as statewide groups to further our cause. In 1994, when I started with the program, we were not a member of LCADV. Once I learned what their mission, goals, and visions were, we quickly became members. This partnership, like many others, has had its ups and downs. Under current leadership, LCADV has grown and has become a powerful voice for survivors on a national level. Locally, we have donors who have been supporting us for 10 or 20 years; some through United Way deductions designated to our program, some through volunteerism, and some through direct donations. Local donors such as the Meraux Foundation, Valero, and Chalmette Refining, just to name a few, can be counted on to fill any gaps in funding and/or to approve grants to improve our programs.
Miss Thelma's vision was to have a safe haven for battered women and their children to come. Early in my tenure, we adopted what is our mission today, "to empower all survivors of domestic violence — through strong programs that promote quality assurance and continuous growth — to live independent lives free from power and control by other individuals." Some milestones that my staff and I are most proud of is the ability to maintain services through adversity, with Hurricane Katrina being the worst. We did not know if we would even have a place of employment to return. Through our networking with the other domestic violence programs around the state, the Louisiana Coalition Against Domestic Violence (LCADV), and our state, local, and federal partners we were able to come together to continue to provide services.
Most of our grants want to see that our programs are not relying entirely on their support. For this reason, we hold various fundraisers throughout the year. These had been put on hold since the Covid-19 pandemic; however, we will have our Give a Hoot Trivia fundraiser on Oct. 15 at Docville Farm. In 2019, we purchased a building that we named Deano Center after Miss Thelma. The building is used for meetings and outreach services. In March, we started conducting Charitable Gaming (bingo) at this location to assist in fundraising. Plans are in the works to have life skills training and a female AA group at Deano.
Plan your escape (if there is time). Get in touch with your local domestic violence program to see what services are available in your area. They will guide you through making a plan, how to stay safe, how to keep your children safe, what to take upon leaving, etc. Most programs will offer you phone counseling if you are unable to go into the office. If the abuse escalates and there is no time to plan, call 911. The responding officers should be able to provide you with the number of your local program if you are in need of shelter or need assistance filing for a protective order to stay safe. What has been the driving force behind your longevity and success?
Some of my staff might say, "She did it her way." However, I would like to be remembered for assisting our board of directors in growing our program. When we became independent in 2000 from the Sheriff's Office, we had $9,000 to open a checking account for the program. All of our grants were still intact; however, we had to bring them up to date to keep them. We were operating out of donated space and using out-ofdate computers and had no database. Today, we own two buildings, have more grants, and have housing for survivors, and the future looks bright for continuing to provide these services.
What new initiatives or new partnerships are you planning that seek toimprove services for survivors?
I have been fortunate to have staff that have stayed with our program and we are a support system for each other. While I have been here since 1994, some others have been here 10, 15, and 20 years also. As far as our success, we need to be ready to ask community leaders for assistance when needed — whether monetary support, letters of support, or extra passes around our premises to ensure safety — they always come through.
5440 E. Judge Perez Drive, Violet, LA Scan QR Code for Menu at cheesecakeheidi.com 504-381-5613 155% WE DELIVER OFF Serving St. Bernard, Metairie, Westbank & Slidell In-store grab & go selections CheesecakeHeidi_2022_QtrPg.pdf 1 8/11/22 6:17 PM 33
What is one piece of advice you would give to a survivor or their loved one whenit comes to fleeing domestic violence?
As the state's long-serving domesticviolence executive director, what do you hope your lasting legacy to be?
504-579-6410 "Batman", Vincent Montalbano (owner), Vito Montalbano 120 E. Morales St., Chalmette, LA 70043 504-579-6410 Food, Drinks and Door Prizes Entire Month of October Free Diagnostics Chalmette Mobile Tire, LLC Open Monday - Friday • 9-5 cmtirellc@gmail.com#st.bernardstrong 4th Year Re-GrandandAnniversaryOpeningOctober8th ChalmrtteMobileTires_fullpg.pdf 1 8/17/22 9:46 PM 34 FALL Issue 2022
SHOP SMALLSt. Bernard The St. Bernard Chamber of Commerce is proud to host "Shop Small St. Bernard" on Saturday, November 26th. We hope you join us as a part of this exciting day! If you are a business who would like to participate, you do not have to be a member of the St. Bernard Chamber. Our goal is to drive commerce into your stores and help each of you gain exposure on one of the biggest shopping days of the year. This event is open to ALL businesses (restaurants, car washes, salons, gyms, bars, etc.) Learn more at STBERNARDCHAMBER.ORG/SHOPSMALL 35
Although small in stature, Avani Miller leaves some incredibly big shoes to fill when she heads to Philadelphia this fall to begin her college career at Villanova University.
36 FALL Issue 2022
Photos by Farrah Ross Appleman TaeganAvaniWilliams,Miller
Avani Miller receives the American Legion Award presented by Michael Pechon. The 18-year-old Chalmette High School Student of the Year and a multi-award winner throughout her school career leaves behind an incredible legacy. But if there is any one person who may be able to live up to Avani, it may be Taegen Williams, her younger sister. Although they are nine years apart, each of these honor roll students has already made their mark on the parish and have big plans to impact the future.
Courtesy of PhotographyRaymar
Avani said despite all her accolades, she wants to be remembered as a caring person. "Helping others has always been a top priority of mine," she said. "As a child, my mother always told me that for all the good someone does, they will be blessed 10 times over. Consequently, I made it my personal mission to do as much good as I possibly could."
Parish Pride by Barry Lemoine Scholars
During the graduation season, Avani was voted Miss Chalmette High School, and was a recipient of its Golden Owl Award, two of the school's highest honors. She was also named student of the year and elected senior class president and president of the Beta Club. A gifted student-athlete, Avani also served as captain of the basketball team. At graduation, she was presented with the American Legion Award, given annually to the one student who represents all the best qualities of integrity, honesty and citizenship. Avani was also one of three POSSE scholars from this year's senior class. Her full, four-year leadership scholarship to Villanova is valued at $250,000.
Sister
Doing Good Deeds
Avani's good deeds can be seen through her
37
Straight-A Student To her credit, Taegen seems to be following that advice quite nicely. Although she is only 9 years old, Taegen's list of accomplishments is impressive. A straight-A student, Taegen has maintained a 4.0 GPA her entire career. She is also heavily involved in extracurricular activities, including dance, gymnastics, tumbling, and swimming. Taegen was also a Junior Saintsation for the New Orleans Saints, dancing pregame and at halftime.
extensive volunteer work. Over the years, she has helped and fed families in need. She has also worked with veterans and children with a number of service organizations. In fact, for her leadership and service Avani's classmates voted her "most likely to be a politician." But it was her experience attending the FBI Teen Academy that really cemented her future plans. After graduating from Villanova, Avani plans to be an agent, so she can continue to serve and to lead.
In addition to being smart, funny, well-mannered, and friendly, Avani holds another title that she enjoys – big sister. She offers this advice to her younger sibling, Taegen: "Always do the right thing, and do not stray from the path to success." Avani also stressed the importance of enjoying life. "I want her to have fun and enjoy school while simultaneously reaching for perfection and excellence."
Taegen's personality is also one of her strengths. Compassionate, passionate, bubbly and sweet, Taegen has never met a stranger. She has met some influential people over the last few years, highlighted by a special visit from her friend Gov. John Bel Edwards. Taegen met the governor after church one afternoon and invited him to visit her at her school, Joseph Davies Elementary. He did, surprising her and a gym full of her classmates and Taegenfriends.
also did a school research project on New Orleans Mayor LaToya Cantrell. Before long, Taegen knew everything about Cantrell, and was even dressing up like her. Soon afterward, Taegen was personally invited to City Hall and visited the mayor in her office. Loving Science Like her sister Avani, Taegen is also drawn to science and technology, highlighted by a trip to Houston as part of The National Youth Leadership Forum. There she worked to help solve a mystery, gathering data based upon three core elements: medicine, engineering, and CSI, crime scene investigation. She also learned how to build a model lung, a robot, and how to work with fingerprints to gather evidence.
Barry Lemoine is an award-winning writer and educator. His commitment to and passion for the Parish and its performing arts have earned him the moniker of "The Bard of St. Bernard."
Proud Mom Ashanti Santa-Cruz, the mom of these outstanding young women, said all of their family successes are built on a spiritual foundation. "God is our solid rock on which we stand. We trust in God's word and promises over our lives. It may not be popular or fascinating to others, but God gets all the credit in the success of our family's life."
38 FALL Issue 2022
Taegen's dad, Timothy Williams, said the key to her success is confidence, and "not letting fear grip and control what she can do. As her dad, I try to instill in her that fear will stop and derail your every move if you let it."
A registered nurse working with veterans, SantaCruz gets joy and fulfillment "taking care of America's heroes." She also loves watching her daughters grow and shine - in their own skin. "They don't imitate anyone, but embrace the gifts and talents they possess and allow their light to shine bright in their differences."
&B FEED STORE, INC.J 8213 E. ST. BERNARD HWY. ST. BERNARD, LA 70085 504-258-1902 EMAIL INFO@JNBFEEDSTORE.COM WEBSITE WWW.JNBFEEDSTORE.COM LOCATED BEHIND POYDRAS HARDWARE Now Available MetalandBuildingsCarports J&B FeedStore_qtrpg4-22.pdf 1 4/14/22 8:51 PM 5442 E. Judge Perez Drive • Violet, LA 70092 272-0262Tuesday-Friday 6 a.m.- 6:30 p.m. Saturday 7 a.m. - 1 p.m.Sunday 7 a.m. - 2 p.m.Daily Specials •• FULL MENU AVAILABLE •MONDAY• •2 TUESDAY• $9.50 Red or White Beans, Hot or Smoked, Liver and Onions,Greens & Corn Bread •WEDNESDAY• $9.50 Meatballs & Spaghetti, Veggie •THURSDAY• $10.95 Fried or Baked Chicken (Sides Vary) •FRIDAY•(Pricevariesperselection)Seafood FOR PennysCafe_9-22qtrpg.pdf 1 7/26/22 6:35 PM


39
Our Lady of Prompt Succor Junior Girls' Indoor Ball team finished the season as the undefeated city champions in the Catholic School Athletic League. "These girls had an absolutely amazing season," Coach Kathy Scheuermann said. "Throughout the season these girls never had trouble getting on base. They sure did know how to run the bases with countless steals in every game. This team out scored their opponents 188-68. They averaged 24 runs a game and only allowed an average of 8 runs per Karsyngame."Christoffer was named the Most Valuable Player, and Kamryn Creel earned the Coaches' Award.
Our Lady of Prompt Succor Champs: Back row from left, Coach Kathy Scheuermann, Kamryn Creel, Isabella Dalon, Manager Avery Crescioni, Karsyn Christoffer, Aubrie Fleming, Ella Schneida. Front row from left, Makenzie Armstrong, Joelle Guillory, Blakely Rebouche, Lily Faciane, Aubrie Watts, Sophia Huerta, Addisyn Amadeo.
221 West Judge Perez Drive • Chalmette, LA 70043 (504) 271-6500 • Fax: (504) 279-7778 Physical Medicine Center Shoemaker Chiropractic · Spine, Nerve, Disc Issues · Auto Accidents – Whiplash · Arm-Leg Pain · Headache Website: Shoemakerchiro.com Dr. Lesichia Jarrell 13 Years Experience New Owner, Same Quality Care Shoemaker_hlfpg_9-22.pdf 1 8/17/22 5:53 PM Undefeated Champs
Food, Fun, Music at Old Arabi Sugar Fest
Photo by Ray Solis
By Barry Lemoine From narrated tours of its Cultural Arts District, to an old-fashioned donut eating contest, the Old Arabi Sugar Fest offers something sweet for Thiseveryone.fun,family-friendly festival celebrates its 12th anniversary on Saturday, Oct. 8, from 1-9 p.m. at the Aycock Barn, 409 Aycock St. Like all great Louisiana celebrations, the Sugar Fest features top-notch mu sic offerings and amazing food and drinks.
Vocalist Irene Sage and her band close the Old Arabi Sugar Fest each year.
How Sweet It Is
FALL Issue 2022
But just as Old Arabi is a unique community, so too are some of its other offerings. In addition to the narrated tours of Arabi's historic neighborhood led by Parish Historian Bill Hyland and Gerald's annual donut eating contest, the Sugar Fest also boasts a dessert-baking competition, Domino sugar give aways and games, and kids' activities. Ray Lauga, aka Sugar Ray, has been the festival chairman since its inception in 2009. He said the annual event is both a celebration of the neigh borhood and a fundraiser for the preservation and beautification of Old Arabi. "Old Arabi has a lot of history and charm and our Sugar Fest reflects that," he said. "The opportunity to tour the area, visit the Sugar Museum, and learn about our hometown really brings to life what a special place Old Arabi is to live and visit."
The festival stage will host some of the best musicians on the local scene with St. Bernard native Christian Serpas kicking things off at 1 p.m. with his band Christian Serpas & Ghost Town. The Soul Project Funky Uncle All Stars with Cristian Duque will follow at 3 p.m. Then Grammy nominated Cameron Dupuy & the Cajun Troubadours will perform at 5 p.m. And as it has each year, the Sugar Fest will close with the music stylings of Old Arabi icon and vocal powerhouse Irene Sage and her band.
40 St. Bernard native Christian Serpas & Ghost Town kicks things off at 1 p.m., Saturday, Oct. 8, at Aycock Barn, 409 Aycock St. in Arabi.
Local Bands
1207 E. Judge Perez Dr. Chalmette, LA 70043 Mickey & Debbie Michalik 504-277-6594 • 504-277-6595 Hoghead HomemadeCheeseSausageCustomCutMeats Tags_qtrpg.pdf 1 4/19/22 9:09 PM BecauseBecauseItMatters!ItMatters! Gerald'sBurgers & DonutsGerald'sBurgers & Donuts CHALMETTE 2101 E. Judge Perez Drive (504) 252-9498 ARABI 6901 St. Claude Avenue (504) 277-0030 KENNER 2560 Williams Blvd. (504) 468-8226 Geralds_qtrpg2.pdf 1 10/24/20 1:23 PM Plenty of activities for kids, including arts & crafts and contests Donut Contest For those seeking to make history and procure Sugar Fest bragging rights, entries for the dessert baking competition along with a recipe card should be turned in to the judge's table by 1:30 p.m. And competitors looking to take part in the wildly popular donut eating contest should be in position for 4:30 p.m. Proceeds from the Sugar Fest benefit the Old Arabi Neighborhood Association, a non-profit organization dedicated to preserving and promoting the area through community outreach. Joining OANA as major sponsors for the Sugar Festival are Domino Sugar and the Meraux Foundation. Other sponsorship opportunities are available. In addition to recognition on stage and in print, all event sponsors are honored at the Sugar Soiree, a patron party taking place later in the year. For more information about sponsorship packages or in becoming a food, art, or craft vendor, please visit www.oldarabi.org 41
Campout of Vietnam War's 'Blackhorse' in Old Arabi
They were members of the only U.S. Army ground unit that traveled throughout the Vietnam War, supporting troops and winning skirmishes in Cambodia. Today, they are still traveling – to St. Bernard Parish for an annual gathering of the 3rd Squadron of the 11th Armored Cavalry.
It all started in 1996 during Mike Gunn's first national convention of the 11th Armored Cavalry Veterans of Vietnam and Cambodia wars, held in Louisville, Kentucky. The Arabi resident ran across men who served with him, and met others who served in the 3rd Squadron immediately before or after him. He wanted to stay in touch. Since 2008, Gunn has hosted an annual springtime crawfish boil at his home on Mehle Street in Old Arabi for members of the regiment. They all fought in the Vietnam and Cambodia wars between 1969 and 1971 with the elite squadron known as "The Blackhorse Troop," which left a lasting legacy as winner of the Cambodia campaign. The Vietnam War (1955-1975) was the longest and costliest conflict in American history. It deeply divided the population, setting off protests, heckling and anti-war demonstrations. Yet, after returning home, these veterans continued to live the creed of the Blackhorse Troop. We embrace the responsbility of upholding a legacy that was established in 1901, representing steadfast loyalty to the United States, the Army and these colors, each other and our families.
By Charles D. Jackson
42 FALL Issue 2022
Legendary Troop
- Blackhorse Troop Creed From left, Dave Seymour, Mike Gunn (host), Scott Whitcomb, Mark Van Atta, Tom Patten, Homer Rustebery and Marla Reynolds.
Regiment's Storied History
Gunn thanked cook Darrell Pecar for helping get donations and serving the veterans, and Tommy Tommaseo of Rocky & Carlo's for providing macaroni and cheese. Van Atta said the national conventions reconnected them, but the smaller gathering at Gunn's house brings them closer together. "We have to keep track of our brothers."
"Once we started getting back together, it started a camaraderie," Gunn said. "We sit here, eat good food, and talk about what we went through, and about our hobbies and veteran activities. It's like a big campout for most of us."
According to the Blackhorse website, during the Vietnam and Cambodia wars, the 3rd Squadron of the 11th Armored Cavalry performed counter offensives and provided personnel, administrative, and logistical support to all units in both the field and garrison. "While providing this support, the troop protected the force and provided superb quality of life for its troopers and families."
In the Cambodia campaign, "The regiment had captured or destroyed massive amounts of supplies and equipment depriving the enemy of desperately needed succor," said Neil C. Morrison, museum director of the 11th Armored Cavalry Research Museum.
According to Blackhorse, "After attaining victory in the Spanish-American War of 1898, the United States found itself with the new task of Territorial Administration. In large part, the job fell to the regular Army. Found to be undermanned for the mission, Congress increased the standing Army by five infantry and five cavalry Regiments. In February 1901, the 11th Cavalry regiment was the first of five newly formed cavalry regiments. It was named "Black Horse Troop" in 1915 by senior Army
Pat Callaghan Mortgage Loan Originator NMLS# 1801504.544.6302129310E.JudgePerez Dr Chalmette, LA PatCallaghan@gulfbank.com70043 gulfbank . com patcallaghan 833.578.4663 • GULFBANK.COM/HOMELOANS • Co. NMLS# 450086 Your LocaL St. Bernard Home LoanS Lender Purchase, Refinance, Renovation & Construction Contact a lender today to discuss your options: Conventional, FHA, VA, USDA, FHA 203K, Bond Programs, First Time Homebuyer, Jumbo, Investment Property, One-Time Close Construction, & Renovation. Normal credit qualifications and other terms & conditions apply. See lender for complete details. 43
Keeping Legacy Alive Marla Reynolds (widow of Johnny Reynolds) continues her husband's legacy by traveling from Nebraska to enjoy the annual fellowship at Gunn's house. Tom Patten of Cartheze, Texas, has attended every year. This year was the first meeting for Homer Rustebery of Highland, Illinois; the second for Mark Van Atta of Phoenix, Arizona; the fourth for Dave Seymour of Conroe, Texas; and the 10th for Scott Whitcomb of Orlando, Florida.
CW3 Chad D. Hampton, a former Sebastien Roy and St. Bernard High School student, celebrates the end of 22-plus years of active duty service in the United States Army on September 24, 2022, from 3 to 6 p.m. at Sterling Hall. Please help us congratulate and celebrate his accomplishments as he takes off the uniform for the last time.
ArmyRetirement_qtrpg.pdf 1 8/21/22 8:09 PM Photo Provided
officer Gen. John J. Pershing, himself nicknamed "Black Jack" due his service with the 10th Cavalry (Buffalo soldiers)." In January 1943, the regiment was redesignated as the 3rd Cavalry Group (Mechanized), using armored fighting vehicles in modern warfare. During the Vietnam War between 1966 and 1970, the regiment instituted strategic skills that became a model in "Skepticswarfare. questioned whether armored (tanks) vehicles could play an effective role in the jungles of Vietnam," Morrison said. "The regiment responded to those skeptics by developing innovative tactics, techniques and procedures that established a reputation of a relentless fighter. 'Find the bastards, then pile on' became a slogan, then a way of life."
44 FALL Issue 2022
504-279-8323 613 W. St. Bernard Highway, Chalmette, LA Open Tuesday-Saturday 11 a.m. to 7 p.m. for the last 56 Years From the Gioe & Tommaseo Families Thanks EVERYONE for Supporting Rocky&Carlos_qtrpg_2022.pdf 1 4/14/22 8:27 PM
The 3rd Armored Cavalry Regiment was the last heavy armored cavalry regiment in the U.S. Army until it officially became a Stryker regiment on Nov. 16, 2011.Tom Patten, left, Mike Gunn and "Bagby" served in the same unit during a tour of Vietnam.
Honoring Our Heroes Veterans Day Parade & Ceremony Sunday, November 6, 2022 Organized by St. Bernard Parish Government, the parade starts at 10 a.m., beginning at Old Hickory Avenue and West Judge Perez Drive in CeremonyChalmette.follows the parade at the Veterans Monument, 8245 W. Judge Perez Drive, near Civic Center To participate, call Maurine Liuzza at (504) 278-1506. 45
all means football in St. Bernard, but not just for high school. The Parish has become home to two successful youth tackle football programs – the St. Bernard Rage and Louisiana Wolfpack. The programs have separate focuses: Rage teaches the basics of the game and player safety to ages 6-13, while the Wolfpack focuses on sharpening skills of players 13 and up, preparing them for high school and college
Mones –- Coach Mike to his players – started St. Bernard Rage football in 2019. Rage works with a younger age group, 6-to-13-year-olds, teaching them the game from all aspects. Mones' journey to Rage football began when his 6-year-old son, Mason, started playing in the recreation Monesleague.noticed his son's coach struggling, so he decided to help. He must have made a big impact over the course of the season because he was elected athletic director of the Versailles Cardinals in 2018. His tenure, however, would not last long. In 2019, the St. Bernard Parish Recreation Department scrapped tackle football and decided to only offer flag football. Mones knew he could not let tackle football disappear, which led to his decision to start Rage football. Teaching the game starts with safety and quality coaching. Mones makes sure that Rage follows this rule. Rage coaches must gain certification from USA Football before serving. USA Football is a nationally accredited organization that equips coaches with the tools to teach the game and the knowledge to keep players safe.
St. Bernard Rage & Louisiana Wolfpack
Youth Tackle Football
By Brogan Burns
46 FALL Issue 2022
Although they cater to different ages and teach different aspects of the game, coaches in both camps prioritize lessons of hard work, camaraderie and teamwork. The unceasing success of each program shows that the coaches' efforts are paying Michaeloff.
F
Former Wolfpack player and current De La Salle High School wide receiver Jace Bienemy got the It's always bigger than football. I want to build character and try to teach them life lessons. Michael Mones, Rage Coach 47
Another program offering youth tackle football is Louisiana Wolfpack. Started by former NFL player Lionel Smith Jr., the program works with players ages 13 and up. It focuses on preparing them to go to Division I schools, such as Smith's alma mater, Texas A&M University. The Wolfpack plays between 18-20 games in its regular season, including four tournaments. These tournaments have taken the team as far away as Las Vegas. Parents, sponsors and Smith often fund the trips for athletes whose families cannot pay for their children's travel, food and accommodations.
-
Without Rage, youths of St. Bernard would have to look elsewhere to learn tackle football skills. Their first opportunity to play wouldn't come until their sixth-grade year. This means players miss vital development in techniques, which ultimately leads to safety hazards or not making the team. In middle school programs, the players do not compete out of the parish, limiting the amount of exposure they get from area high schools.
Safety is always the top priority and tackling techniques are a big deal.
"We're teaching them a new form of tackling called the Seahawk ("Hawk") tackling, created by the (Seattle) Seahawks. It's a form of rugby style tackling," Mones said. Youths learn more than just the fundamentals of the game, but also lessons that can be used off the field, such as teamwork and brotherhood. These lessons quickly paid off. After losing most of its games in the program's first season in 2020, the Rage let go of those losses and came together to win a championship in 2021. The Rage will play in the Slidell Youth Football Association (SYFA) in the upcoming regular season and potential tournament play elsewhere.
The Wolfpack, which won a travel-league championship in 2021, also plays eighth-grade teams at local high schools in surrounding parishes. "We schedule games to play against them to give the coaches a chance to look at the kids down here," Smith said. "We don't really get enough people coming down to look at our schools in Chalmette and St. Bernard to get those Smithscholarships."stresses exposure for St. Bernard athletes so they have a chance to play at the next level.
Brogan Burns, a 2021 graduate of Chalmette High School, is a sophomore majoring in journalism at Nicholls State University in Thibodaux, LA. He served as an intern for St. Bernard Magazine during the summer. He returns this fall as a sports writer for the Nicholls Worth, where he covered sports in his freshman year. exposure needed to play for one of New Orleans' top Catholic schools. Bienemy credits Smith's efforts for this achievement. "Wolfpack helped me put my name on the map with different high schools and made me see my full potential," Bienemy said. "I feel that I am prepared because Coach Lionel pushed us every day on and off the field." In his sophomore season, Bienemy earned the 2021 Class 3A Offensive Player of the Year award, and has started receiving interest from Tulane University. Every aspect of the players' future careers is important to Smith and the Wolfpack coaching staff. Academics are a priority.
- Lionel Smith Jr, Former NFL Player & Wolfpack Coach
201 Bayou Rd., St. Bernard, LA 70085 Phone: (504) 372-3537 GO WOLFPACK!! Proud Sponsor of Wolfpack Football Team C M Y CM MY CY CMY K Beaus_qtrpg9-2022.pdf 1 8/15/22 7:39 PM DINE IN CATERING TAKE OUT 3201 E. Judge Perez Dr. Meraux, LA 504-676-3697 PARISH BORN! PARISH PROUD! Crave_qtrpg_new.pdf 1 2/10/21 11:07 AM
Smith takes this philosophy to heart, hiring tutors to make sure the players get the help they need. Academics and accountability are major focuses of the program. "Once you get to college and the NFL, they don't play," Smith said. "If you miss a practice or if you're late for a practice you're going to be fined heavily." Being timely and studious is good practice for athletes aiming to play at the next level. For more information, contact Rage Coach Mike Mones (504) 516-5007; Wolfpack Coach Lionel Smith (979) 574-9792. Being a good, preachstudent-athleteall-aroundiswhatwefirst-wecan'tplay any college ball if our grades aren't right.
48 FALL Issue 2022
Ask a Specialist by Lance Lacoste, Kinesiology
eriodization training, or training yearround in phases, can help athletes reach peak performance and prevent injury. For baseball players, periodization training starts post-season and continues throughout the season. The training combines endurance training, exercising to increase muscle tone, strength training and power training. In the off-season, the weight room should take precedence. This is the time of year an athlete should focus on hypertrophy training — or building muscle — and improving body composition. Strength becomes the focus, and athletes should see progress in their running, speed and agility. Examples of exercises to focus on in this training phase include squats, rows, chinups, lunges and bench presses. An athlete should focus on strength, power and finding ways to apply weight room work to the field during pre-season. Adding Olympic lifts, weighted plyometric exercises — skipping, jumping rope, lunges and jump squats — or tools such as bands or chains can help athletes increase power. During the season, athletes should work on strength exercises the furthest out from gameday, and power moves closer to game day to prevent playing through soreness. Examples of strength exercises include squats, lunges and pushups; while power moves could consist of squat jumps, lateral jumps and Olympic lifts. Post-season training is all about endurance. Good exercises for this training phase are core exercises and moves that focus on flexibility and mobility — like lunges, squats and stretches. A comprehensive training routine will help prevent common injuries by strengthening muscles and benefiting an athlete's overall health, fitness and recovery.
Lance Lacoste is an Ochsner Performance Training manager. He has a Bachelor of Science in Kinesiology and is a certified USA Weightlifting instructor. He played safety at Northwestern State University. To schedule an appointment with an Ochsner Sports Performance Training specialist, orochsner.org/services/performance-trainingvisitcall504-703-9166
49
Year-Round Training Can Help Baseball Players Prevent Injury P
Pansy
It is best to not add any fertilizer to the soil when planting dormant plant material. Doing so may cause them to break dormancy early and leaf out, which makes them vulnerable to frost damage. Fertilize new trees and shrubs in the landscape in the spring once the danger of frost has passed.
Season Flowers Fall is also a great time to spruce up flower beds and add a little winter color to the landscape. Remove any old warm season annuals from the beds, add some compost to the soil to recharge the organic matter, and fertilize lightly with a slowrelease source of nitrogen. Snapdragons
Most of these will bloom into the spring months with some light fertilizing and deadheading. Mulch around these plants to prevent weeds from becoming a problem and to help regulate soil moisture and temperature. by Anna Timmerman
Some good cool season flowers to plant in the fall include dianthus, delphinium, foxglove, petunia, viola, pansy, columbine, cyclamen, alyssum, nasturtium, snapdragons, calendula, lobelia, strawflower, and stock.
50 FALL Issue 2022
Autumn Planting
Fall is often overlooked as an ideal planting time, being a better time of year for getting new shrubs, ornamental woody plants and trees into the ground than the springtime. When we plant in the fall, the root systems are active, becoming established before the heat of the following summer. Don't let the lack of growth and activity above the soil fool you — below the ground these trees and shrubs have plenty of growing taking place. When choosing new plants to add to the landscape, make sure they are suited to grow in USDA Hardiness Zone 9. There are usually plenty of nursery plants to choose from at the local independent garden centers. Some of the available trees and shrubs are sold dormant.
Diggin' in The Garden
Other cool season veggies that can be directly seeded into gardens include lettuce, spinach, Swiss chard, turnips, beets, radishes, carrots, mustard, peas, Asian greens like bok choy, and arugula. Plant garlic and onion sets, leek sets, and shallots in the fall as well for a later harvest the following spring/summer. In a warm fall, you can get another crop of bush beans, summer squash, zucchini, and butter beans before it gets too cold. Herbs like borage, cilantro, dill, fennel, chervil, parsley, chamomile, chicory and oregano can be planted.
The fall and winter growing season typically brings fewer pest and disease problems in the vegetable garden. For more information on gardening, including fall and cool season planting, please visit www.lsuagcenter.com.
CONVENIENCE STORES Locally Owned & Operated Since 1985 4 LOCATIONS IN ST. BERNARD PARISH 617 Bayou Rd. Saint Bernard, LA 70085 (504) 272-0661 2004 Paris Rd. Chalmette, LA 70043 (504) 277-5573 4725 E. Judge Perez Dr. Meraux, LA 70075 (504) 278-1799 3225 E. Judge Perez Dr. Meraux, LA 70075 (504) 276-4643 QC Discount_qtrpg_9-22eps.pdf 1 8/14/22 9:49 PM Smitty ' s Tire CHALMETTE • MERAUX Tony & Scott OwnersCuccia Monday-Friday: 8a m -5p m • Saturday: 8a m -2p m 4333 E. Judge Perez Dr., Meraux • 504.279.2770 2615 Buffon St., Chalmette • 504.271.5821 "We Specialize in Hard-to-Find Tire Sizes" • Tires • Brakes • Shocks • Front End Alignments • Oil Changes • Tire Pressure Monitor System & Programming Visit our NEW Chalmette Location! Louisiana Brake TagPrivate"WeInspectionsCarryAllMajor&Brands" 51
Cool Vegetables
Cauliflower
The vegetable garden can also be planted for fall and typically becomes very productive in the cooler weather. Plant broccoli, cabbage, cauliflower, kohlrabi, brussels sprouts, kale, and collards from transplants for best results.
Anna Timmerman is an LSU AgCenter horticulture agent working in the Greater New Orleans area. Email her: atimmerman@agcenter.lsu.edu
2. Longtime Arabi residents Amie and Yon Davis enjoy the Tomato Festival with children Elijah and Marilyn, who attend OLPS.
3. Lifelong residents Mason and Kelsey Maitre with baby Wyatt (left) celebrate Mason's birthday with her brother Robert, sister-in-law Caitlin Royce, and nephew Beckham at Crave Restaurant.
4 5 6 13 2 52 FALL Issue 2022
4. Lori and Carl Treitler of Meraux enjoy the Tomato Festival. "I married into the parish. He was born and raised here. We've been married 26 years," she says.
5. Longtime resident Debbie Ansardi is proud to say she's lived in Arabi for 50 years.
Faces of the Parish Newcomers and Longtime Residents
1. Lifelong resident Peggy Myer enjoys grandchildren Jayne, 9, and Aubrey, 7, at Par 3 Restaurant. Both are honor roll students at M.L. King Charter School.
6. Archie Gray, 2, eagerly waits for Dad to win him a stuffed prize at WOW Cafe & Wingery in Chalmette.
1 2 3 4 5 6 53
6. Marty and Candace Mayer live in Arabi. The couple moved here in 2007 from MidCity. "I'm from Alexandria, and he was a friend of the family. We were apart for 20 years, and I found him."
Faces of the Parish Newcomers and Longtime Residents
2. Donald Martin is a lifelong resident of St. Bernard. He's the drummer for Six Gun Solutions, which performed at the OLPS Tomato Festival.
5. Newcomers Angelina Morales and Stephen Stasiowski moved from Thibodaux to Chalmette in January after graduating from Nicholls State University.
3. Fida Muhammad, holding daughter Iqra, has lived in the parish since 1994. His wife, Sumaira, moved here in 2015 from Pakistan.
1. Linda Le (left), her brother Andrew Le, niece Gracie Nguyen, and their separate households moved to St Bernard after Katrina. Gracie was "Big Chyna" on the CHS volleyball team from 2017 to 2020.
4. Recent arrivals Victoria and Ian Burke, with sons Grayson and Arlo, enjoy their first day in the parish on May 18, 2022, at Crave. The military family moved from Albuquerque, New Mexico, to Meraux. Ian is stationed at Belle Chasse Naval Station.
Resource Directory ✸ All Beauty Services including Tanning Salon • Massage Therapy Shop: 504.234.2012 Cell: 504.267.3921 2909 Paris Chalmette,Rd.LA 70043 Trisha Diaz Owner/Stylist $5 OFF Any Service WITH COUPONExp. 3/1/21 Hair Gallery Call for Appointmentan 504-277-8607 115 W. Morales St. Chalmette, LA 70043 Holiday Gift CardsAvailable CALL 504-609-7509 TO ADVERTISE 10% OFF With Coupon Offer Expires 7/15/22 5351/5349 Paris rd Chalmette, la 504-766-995370043(insideMarinaMotel) Daily Specials FamilyCajunKitchen_Resourse4-22.pdf 1 4/21/22 Celebrating 59 Years of Bicycle & Lawn Mower Experience! Chalmette Bicycle Store 271-8260 • • • 271-3665 111 E. St. Bernard Hwy., Chalmette 70043 SALES • SERVICE • REPAIRS • BICYCLES LAWN MOWERS • CHAIN SAWSThe Largest Adult Game Room in St. Bernard Open 7 days a week at 6 a.m. Open 24 hours Friday, Saturday and Sunday Daily Specials Trivia/Ladies Night on Wednesday Night J'sTavern_Resourse.pdf 1 10/31/21 9:37 AM A PRIVATE Janicevolz@gmail.comEmail:CALL JANICE AT (504) 621-8148 PrivateCaregiver_Resourse2.pdf 1 7/1/22 8:00 PM 318 W. Judge Perez Drive Chalmette, LA 70043 (504) 676-3055 Americaninctax@att.net American Income Tax Service DEBORAH T. CHAISSON, RTRP 54 FALL Issue 2022
DTS Direct Appliance Showroom 504-766-0738 Appliance Showroom 3240 Paris Rd., Chalmette, LA 70043 Open Monday-Friday 9 AM – 4 PM 504-766-0738 www.dts-direct.comsales@dts-direct.com The kitchen of y r dreams is clos to reality than y think! Call for an Appointment 55
504.277.6622 318 W. Judge Perez Dr. • ChalmetteMonday - Friday 9 am - 5 pm EXPRESS MOTOR VEHICLE SERVICES In and Out in Minutes Betty Marchand, Notary ★ DL & ID Renewals & Duplicates ★ ★ Handicap Hang Tags ★ ★ No Insurance Reinstatements ★ ★ Title Transfer and License Plates ★ in the Parish LOUISIANA NOTARY & INSURANCE INC. ★ Real ID Issued Here ★