FRÜHJAHR/SPRING 2023 DR. CANTZ'SCHE VERLAGSGESELLSCHAFT
ACKERMANN, SANDRA
ADÉAGBO, GEORGES
AGAM, YAACOV
AL-SALIH, FAHAR ALBERS, JOSEF
ALLOUCHE, DOVE ALŸS, FRANCIS
AMADYAR, TAMINA
AMARAL, TARSILA DO ANHOLT, TOM ANNICCHIARICO, YANN ARAKI, NOBUYOSHI
ARDELEANU, MONA ARDLEY, COLIN
ARMAN XX
ARMLEDER, JOHN ARP, HANS ARTEMOVA, INNA ARTSCHWAGER, RICHARD AUBERTIN, BERNARD AUFLEGER, KATJA
AZZAM, TAMMAM BALDEN, THEO BALDESSARI, JOHN XX BARLACH, ERNST BARTANA, YAEL BASCH, GABRIELE BASELITZ, GEORG BASKIN, DAVID BAUER, RUDOLF
BAUMEISTER, WILLI BAUMGÄRTEL, TILO BECKMANN, MAX
BEECROFT, VANESSA BEIRENDONCK, WALTER VAN
BELLING, RUDOLF
BENGSTON, BILLY AL BERTELLI, RENATO GIUSEPPE
BERTLMANN, RENATE BERTRAM, MICHAEL BEUYS, JOSEPHBIELICKY, MICHAEL BINSCHTOK, VIKTORIA
BIXHAIN, LAURIANNE BLOOM, BARBARA BLUME, BERNHARD JOHANNES
BLUMENTHAL, HERMANN BOCCIONI, UMBERTO BOCK, JOHN BOLLENTE, CARNE BOLLINGER, BILL BOLTANSKI, CHRISTIAN BONVICINI, MONICA
BORNSTEIN, EMMANUEL BORNSTÜCK, FRITZ
BORTNYIK, SÁNDOR
BOUVY, ALINE
BRANCUSI, CONSTANTIN BRANDENBURG, ULLA VON BRAQUE, GEORGES BRĂTESCU, GETA BREITZ, CANDICE
BRENNER, BIRGIT BREUER, LARS
BREUNING, OLAF BROSCHÁR, MONA BRUEGHEL, PIETER BRUMMELN, LONNIE VAN & HAAN, SIEBREN DE BUCHANAN, EDWARD L. BUCHHEISTER, KARL BUCHHOLZ, ERICH
BUCKLEY, STEPHEN BUETTI, DANIELE BUGGENHOUT, PETER BUHLMANN, JESSICA BUHS, BUSSI BURY, POL BUTZER, ANDRÉ CAGE, JOHN CALABRESE, MANUEL CALAME, INGRID CANELL, NINA
CARNEIN, ANNE CARRÀ, CARLO
CECCHI, MONICA
CHAGALL, MARC CHAMBERLAIN, JOHN CHAPMAN, JAKE & DINOS
CHARAFEDDINE, CHAZA CHARLES, MICHAEL RAY
CHASELING, CLAUDIA CHIN, MEL
CHIRA, ALEXANDRU
CHIRICO, GIORGIO DE CHODOWIECKI, DANIEL CHRISTIANSEN, HENNING
CLAUS, JÜRGEN
CLEMENTE, FRANCESCO
CLOSE, CHUCK
COPLEY, WILLIAM N. CORINTH, LOVIS
CORNELISSEN, ROBBIE CREMER, FRITZ
CSÁKÁNY, ISTVÁN
CZUPRYN, DAVID DÄHNICK, ARINA
DAIKOKU, TAKAYUKI
DALÍ, SALVADOR
DANNER, DITTMAR AKA KRÜGER
DAVEY, MOYRA
DEAN, TACITA
DEBALL, MARIANA CASTILLO
DEJANOFF, PLAMEN DELAUNAY, ROBERT DELVOYE, WIM
DEMANDT, SIMONE
DENES, AGNES
DEUTER, ANNE DEXEL, WALTER DIBBETS, JAN DICK, INGE DIEKER, BIRGIT DIETZE, ANNEDORE
DILLENKOFER, SINJE DISLER, MARTIN
DIX, OTTO
DOBAI, SARAH DODGE, JASON
DORFNER, OTTO DREYER, PAUL UWE
DROESE, FELIX
DROESE, IRMEL
DUBOIS, JOËLLE
DURHAM, JIMMIE
EDDY, AUSTIN
EHMSEN, HEINRICH EICHER, MARGRET ELISA, ALI ELSNER, SLAWOMIR
EMIN, TRACEY ERIKSSON, ANDREAS ERNST, MAX
ESSIG, UTE
ETCHEVERRIA, ARANTXA EXPERIMENTAL SETUP
FÄHRENKEMPER, CLAUDIA
FALLS, SAM
FAULHABER, JULIAN
FEININGER, LYONEL
FELDMANN, HANS-PETER
FELIXMÜLLER, CONRAD
FENDER, TANJA
FETTING, RAINER
FINI, LEONOR
FINN, EWA FIORI, ERNESTO DE FISCHER, OSKAR
FISCHINGER, OSKAR
FISCHL, ERIC FLATZ
FLAVIN, DAN
FLEGEL, GEORG
FLINT, KATJA
FOECKING, MAREIKE FÖRG, GÜNTHER
FRANCKEN, FRANS FREETERS
FRIEDMAN, DARA
FRITSCH, SABRINA
FUHRMANN, PAUL FÜRHOFER, PHILIPP
FUX, ANDREAS GAASTRA, ROM GÄFGEN, WOLFGANG GALOWITZ, CARA GANAHL, RAINER GANIJEWA, ALISSA GENZKEN, ISA GEYER, GERHARD GHENIE, ADRIAN GILBERT, ANDREW GILL, JAMES FRANCIS GLASER/KUNZ GLEICHMANN, OTTO GODFREY, ILAN GODINHO, MARCO GOEPFERT, HERMANN GOLDFARB, ANDERS GOLDIN, NAN GOLDSTEIN, JACK GOMES, SONIA GONTSCHAROWA, NATALJA GONZÁLEZ-TORRES, FÉLIX GONZÁLEZ, JULIO GOTTMANN, GOSBERT GRAFIA, NICHOLAS GRAMATTÉ, WALTER GRAU, LENNART GREER, FERGUS GRIESHABER, HAP GRIS, JUAN GRÖNLUND, TOMMI GROSSI, ANDREA GROSSMANN, DAVE GROSZ, GEORGE GRÖZINGER, PHILIP GRUNDIG, HANS GRÜNFELD, THOMAS GÜNTHER, KURT GURSKY, ANDREAS GUTHEIL, OSKA GUYON, BERTRAND HAACK, SIMONE HAHNE, RUTHILD HALLEY, PETER HALMER, DOMINIK HALPERIN, ILANA HAMPKE, RENATE HARING, KEITH HASSANI, TOULOU HECKEL, ERICH HEEMSKERCK VAN BEEST, JACOBA HEIFETZ, ROEY VICTORIA HEILIGER, BERNHARD HENNEKEN, UWE HERBIN, AUGUSTE HERNÁNDEZ, DIANGO HERRERA, CARMEN HERZOG, OSWALD HILAL, ZUHRA HILDEBRANDT, GREGOR HILL, GARY HIRSCHFELD-MACK, LUDWIG
HIRSCHHORN, THOMAS HÖCH, HANNAH HOCHSTATTER, KARIN HOCHT, MARC VON DER HOCKE, NATALY HOCKNEY, DAVID HODLER, FERDINAND HOEPFFNER, MARTA HOETGER, BERNHARD HÖFER, CANDIDA HOFER, KARL HOFMANN, HANS HOFMANN, JULIUS HÖING, BEATE HOLSTEIN, FRANZISKA HOLZER, JENNY HÖRL, OTTMAR HORN, ANAÏS HORN, RICHARD HORNIG, SABINE HOSNEDI, IGOR HUANCA, DONNA HUANG, CHUNQING HUGHES, SHARA HUSAIN, NADIRA,
INGARDEN, AGATA ITTEN, JOHANNES JABLONOWSKI, DAVID JANKOWSKA, MAŁGOSIA JANKOWSKI, CHRISTIAN JAWLENSKY, ALEXEJ VON JERMOLAEWA, ANNA JEZIERSKI, MICHELLE JINKS, SAM JONES, STEPHEN JÖRRES, KLAUS JUDD, DONALD JULIEN, ISAAC JUNG, SOPHIE KADAN, NIKITA KAFCHIN, HORTENSIA MI KAHN, WYATT KAJZER, ANETA KALUZA, STEPHAN KANDINSKY, WASSILY KANOLDT, ALEXANDER KAPOOR, ANISH KARA, MELIKE KARSTIESS, MARKUS KASEMIR, MANUELA KÄSTNER, SILKE KATZ, ALEX KAUFMANN, RUPRECHT VON KAWARA, ON KEINING, HORST KENTRIDGE, WILLIAM KESTING, EDMUND KHAN, HASSAN KIAER, IAN KIEFER, ANSELM KIKOL, LARISSA KIM, SUMI KIM, YONGCHUL KIMURA, KANTA KINTERA, KRIŠTOF KIRCHNER, ERNST LUDWIG KIRKWOOD, NICHOLAS KIWITT, STEPHANIE KLAUKE, JÜRGEN KLEE, PAUL KLEIN, YVES KLEYBE ABONNEC, MATHIEU KLIMSCH, FRITZ KLINE, JOSH KLINT, HILMA AF KLOS, TIMO KLOTZ, FRANZISKA KNAACK, SUSANNE KOBE, MARTIN KOKO BI, JEMS KOKOSCHKA, OSKAR KOLBE, GEORG KOLIUSIS, NIKOLAUS KÖLLE, FRITZ KOLLOWA, KATJA KOLLWITZ, KÄTHE KONRAD, KARSTEN KOONS, JEFF KOUNELLIS, JANNIS KRAJEWSKI, PIA KRAUSS, CLEMENS KRÜGER AKA DITTMAR DANNER KRUGER, DANIEL KRÜGER, MARKUS MATTHIAS KRUMBHOLZ, MARTIN KUBALL, MISCHA KUBIN, ALFRED KUEHN, GARY KUNBI, TEGENE KUNZ, KARL KUO, LI-WEN KUTSCHBACH, MICHAEL LACHNIT, WILHELM LAMMERT, WILL LANGE, GESA LARIONOW, MICHAIL LASERSTEIN, LOTTE LASSNIG, MARIA LAURENS, HENRI LE VA, BARRY
LEBUSA, CORINNE VON LÉGER, FERNAND
LEHMBRUCK, WILHELM LEITNER, BERNHARD LEMPERT, JOCHEN LEMPICKA, TAMARA DE LEMSALU, KRIS
LEONARD, ZOE
LERGON, DANIEL
LEVIN, ERIC
LEVINSON, INNA LEWITT, SOL
LEX-NERLINGER, ALICE LICHTENSTEIN, ROY LINDNER, RICHARD
LIPCHITZ, JACQUES LIST, NIKOLAUS
LLOYD CORPORATION
LOEBER, LOU
LÖFFELBEIN, KAI LONG, RICHARD
LONGO, ROBERT
LORENT, CATHERINE LOS CARPINTEROS
LUCAS, CRISTINA LUCAS, SARAH
LÜPERTZ, MARKUS
LUTZ, DIETMAR
MACHARIA, OSBORNE MACKE, AUGUST MAGRITTE, RENÉ
MAJERUS, MICHEL MANGOLD, ROBERT MANN, ALICE
MARC, FRANZ
MARCACCIO, FABIAN MARCKS, GERHARD MARDEN, BRICE
MARES, NICO MARGOLIS, ALISA MARKIEWICZ, FILIP MARKIEWICZ, KAROLINA MASSON, ANDRÉ
MATSUBARA, KATSUHIKO MATTA, ROBERTO
MATYSIK, REINER MARIA MAY, ALEX & DUMITRIU, ANNA MCMILLIAN, RODNEY MEESE, JONATHAN MEIDNER, LUDWIG
MELZER, MORIZ
MENSE, CARL MERCER, VERA MÉRELLE, FABIEN MERZ, GERHARD MICHALKO, MONIKA MICHEL, JENNY MINTER, MARYLIN MIRÓ, JOAN MIRRA, HELEN MITTELSTAEDT, INGO MODERSOHN-BECKER, PAULA
MOHOLY-NAGY, LÁSZLÓ MOLL, MARG
MÖLLER, OTTO
MOLZAHN, JOHANNES MONTEIRO, FABRICE MORELLET, FRANÇOIS MORRIS, SARAH
MOSES
MOSES & TAPS TM
MUCHE, GEORG MUCHE, JAN MUELLER, OTTO MÜHE, KONRAD
MÜLBAIER, FELICIA MÜLLER, GINA NADINE
MÜLLER, HENRIK U. MUNCH, EDWARD
MÜNTER, GABRIELE
NAGEL, CORNELIA
NAKAHARA, KAZUKI
NAMILIA NAUMAN, BRUCE
NAUMANN, HERMANN
NAY, ERNST WILHELM NEGENBORN, HEIKE
1UP
KÜNSTLER:INNEN / ARTISTS
Den zweiten Frühling als unabhängiger Verlag begrüßt DCV mit drei großen Monografien: Michael Sailstorfer und Gabriel Vormstein legen jeweils beeindruckende Werkschauen der vergangenen beiden Dekaden vor. Gregor Hildebrandt bringt es auf den Punkt: A Blink of an Eye and the Years Are Behind Us . Um Zeit geht es auch bei der 1UP -Crew und Moses & Taps TM , wenngleich in einem existenzielleren Sinne: Die Kunstkritikerin Larissa Kikol hat die Graffitisprayer auf ihren Touren begleitet. Ihr Buch Signed ist der spannende Bericht einer Reise hinter die Grenzen der erlaubten Kunst. Dass Letztere ein erhebliches gesellschaftskritisches Potenzial zu aktivieren vermag, ruft uns Lars Breuer mit einer konzeptionellen Serie zu Schusswaffen in Erinnerung. Angesichts des Kriegs von höchster Aktualität ist das Werk von Ruth Wolf­ Rehfeldt , der Grande Dame der DDR-Mail-Art, deren Typewritings die Bedrohung des Friedens im Kalten Krieg wachrufen.
Mit Büchern zu Michael Williams , Sam Falls und Logan T. Sibrel stellen wir drei spannende Positionen der amerikanischen Malerei vor. Ein gewisses Faible für Elemente der frühen Computer(spiel)ästhetik eint Julius Hofmann und Nikolaus List , die beide mit sehenswerten Bildbänden ihrer jüngsten Gemälde begeistern. Neue Bücher zu Birgit Werres, Ann Wolff, Alexandru Chira, Wolfgang Thiel und Kai Schiemenz zeigen unterschiedliche Formen von Skulpturen – welche seit den 1950ern auch akustisch wahrnehmbar sind, wie uns On Air eindrucksvoll lehrt. Einzigartige Highlights sind die großen Publikationen zu Steven Shearer, Ernst Wilhelm Nay und Tobias Pils und natürlich der umfassende Rückblick auf Michel Majerus , der nun zum Ende des landesweiten Ausstellungsmarathons erscheint.
In unserem Editionsprogramm finden Sie neue Arbeiten von Michelle Jezierski und Gabriel Vormstein sowie ein olfaktorisches Kunstwerk, das Michael Sailstorfer geschaffen hat.
Viel Freude beim Schnuppern, Lesen und Schauen wünschen Ihnen Ihre
At DCV, we welcome our second spring as an independent publishing venture with three major monographs: Michael Sailstorfer and Gabriel Vormstein are featured with imposing surveys of their oeuvres of the past two decades. As Gregor Hildebrandt puts it succinctly: A Blink of an Eye and the Years Are Behind Us Time is also key—indeed, of existential importance—for the 1UP crew and Moses & Taps TM . The art critic Larissa Kikol shadowed the graffiti artists as they roamed the city. Her book Signed is a thrilling report from a voyage beyond the bounds of permissible art. Lars Breuer 's conceptual series on firearms reminds us of the considerable potential for incisive social criticism that such art can tap into. The current war has lent added urgency to the art of Ruth Wolf­ Rehfeldt , the grande dame of East German mail art, whose typewritten works evoke the precariousness of peace during the Cold War.
Books on Michael Williams, Sam Falls , and Logan T. Sibrel invite you to discover three cutting-edge positions in American painting. Julius Hofmann and Nikolaus List share a soft spot for elements of early computer and videogame aesthetics, as is evident in the absorbing tomes showcasing their most recent paintings. New books on Birgit Werres, Ann Wolff, Alexandru Chira, Wolfgang Thiel , and Kai Schiemenz chart the diversity of contemporary sculpture—which, since the 1950s, has sometimes even been heard rather than seen, as On Air illustrates with striking examples. Other singular highlights include the major publications on Steven Shearer , Ernst Wilhelm Nay , and Tobias Pils and of course the comprehensive Michel Majerus retrospective released as the marathon of exhibitions throughout Germany concludes.
Don't miss out on our program of artist's editions , which includes new creations by Michelle Jezierski and Gabriel Vormstein and a work of olfactory art by Michael Sailstorfer
We hope you'll enjoy browsing our gorgeous, inspiring, and fragrant offerings!
Sincerely,
3
EDITORIAL
Foto: Jim Rakete
4 NEW Deer, 2020
Michael Sailstorfer (geb. 1979 in Velden/Vils, lebt und arbeitet in Berlin) ist einer der bekanntesten deutschen Bildhauer und Objektkünstler seiner Generation. Seine oft aufwändig produzierten skulpturalen Arbeiten entstehen durch Reflektion und Umdeutung alltäglicher Gegenstände. Es sind verblüffende, skurrile Versuchsanordnungen und Objekte, die mit der Umwelt interagieren, Räume schaffen oder sich selbst dekonstruieren. Diese transformativen Prozesse wirken ebenso konzeptuell wie poetisch und erzählen von Zeitlichkeit und Auflösung.
Michael Sailstorfer studierte von 1999 bis 2005 bei Olaf Metzel an der Münchner Akademie der Bildenden Künste und 2004/05 am Goldsmiths College in London.
& Große Monografie mit den wichtigsten Werken aus Sailstorfers bisherigem Schaffen
Michael Sailstorfer (b. Velden/Vils, Germany, 1979; lives and works in Berlin) is one of the most renowned German sculptors and object artists of his generation. His sculptural creations, which often require complex production processes, are the results of reflections on and reinterpretations of everyday objects: intriguing, bizarre experimental arrangements and artifacts that interact with their environments, create spaces, or self-deconstruct. These transformative processes combine conceptual depth with poetic allure and tell stories of the passage of time and disintegration.
Michael Sailstorfer studied with Olaf Metzel at the Munich Academy of Fine Arts from 1999 until 2005 and at Goldsmiths College, London, in 2004–05.
& Extensive monograph featuring the most important works from Sailstorfer's creative career
Authors: Johanna Adam, Maria Bremer, Kris Douglas, Bernd Euler, Lukas Feireiss, Johanna und Friedrich Gräfling, Sigurd Larsen, Magdalena Mai, Frank Steinhofer, Neville Wakefield
Design: Heimann + Schwantes
Clothbound hardcover, 24 x 30 cm, 320 pages, 450 illustrations, German/English
9 783969 121061978-3-96912-106-1 € 45
5 NEW Heavy Tear 05 MAC EROS, 2018 Heavy Tear 39 MAC FLAT OUT FABULOUS, 2018
MICHAEL SAILSTORFER –MS 00 22: WORKS 2000–2022 EDITION BESTSELLER
6 NEW
1UP, Entstehung eines Wholetrains, Berlin © 1UP, photo: musa.frames
Wem gehört die Stadt? Eine Frage, auf die Graffitisprayer und Politik unterschiedliche Antworten geben. 1UP und Moses & Taps TM sind internationale Größen der Szene, ihre Aktionen spektakulär, ihre künstlerischen Konzepte radikal. Die Kunstkritikerin Larissa Kikol hat sie auf ihren nächtlichen Streifzügen begleitet. Das Buch ist ein Making-of ihrer Werke im Spannungsfeld von zivilem Ungehorsam, Gesetzesbruch und der Freiheit des Trotzdem. Die Autorin fährt quer durch Deutschland und erlebt verschiedene Welten: Die legale und die illegale Kunstwelt, zwischen Malerei und Protest. Dabei entsteht ein Porträt Berlins und der Machtverhältnisse, die auf eine Stadt einwirken. Eine Reise hinter die Grenzen der gestatteten Kunst in U-Bahntunnel, auf Hausdächer und Abstellgleise. Dort beginnt eine Suche nach Autonomie – nicht nur der Kunst.
& Ästhetik des Ungehorsams: eine Kunstkritikerin im Sperrkreis der illegalen Graffitiszene
Who owns the city? It is a question to which graffiti artists and politicians have very different answers. 1UP and Moses & Taps TM are international stars of the scene, realizing radical creative concepts in spectacular actions. The art critic Larissa Kikol shadowed them on their nocturnal forays. The book lets us witness the genesis of their works on the knife's edge between civil disobedience, criminal liability, and an irrepressible freedom. Traveling throughout Germany, the author experiences two different worlds: the legal and the illegal art world, between painting and protest. A portrait emerges of Berlin and the power relations that shape a city. A voyage beyond the bounds of permissible art, into subway tunnels, up on roofs, across switchyards, where a quest for autonomy—of art, but not only of art—begins.
& Aesthetic of disobedience: an art critic ventures into the illegal graffiti scene
7 NEW
Author:
Design:
Softcover, 14,5
783969 121214
€ 18 Release Spring 2023
KIKOL – SIGNED UNTERWEGS MIT DER 1UP-CREW UND MOSES & TAPSTM
Larissa Kikol
Book Book, Berlin
x 21 cm, 286 pages, 28 illustrations, German 9
978-3-96912-121-4
LARISSA
©
Moses & Taps TM Dortmund © Moses & Taps TM
Larissa Kikol
photo: Moritz Krog
HIGHLIGHT
EINZELAUSSTELLUNGEN / SOLO EXHIBITIONS 2023
Neuer Berliner Kunstverein bis / until 5. Februar / 5 February Kunstverein in Hamburg bis / until 12. Februar / 12 February Institute of Contemporary Art, Miami bis / until 19. März / 19 March MUDAM, Luxemburg / Luxembourg 31. März – 31. Oktober / 31 March – 31 October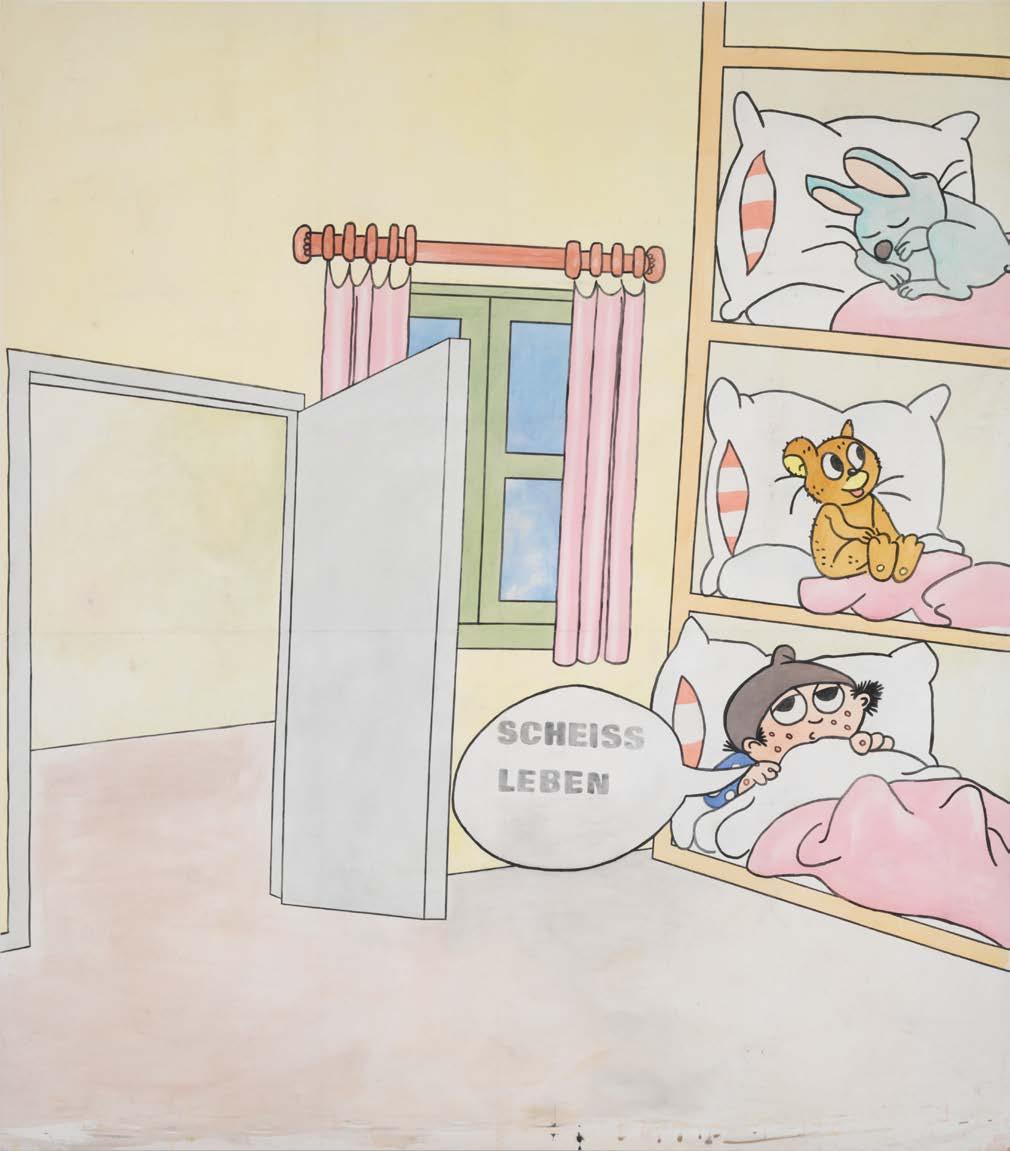 8 NEW Untitled, 1991
MICHEL MAJERUS 2022
Michel Majerus (1967–2002) zählte zu den interessantesten Malern seiner Generation und hinterließ ein einzigartiges Werk, das bis heute hochaktuell ist. In seinen Arbeiten zitiert er Phänomene der Alltagskultur wie Comics, Werbung und Computerspiele ebenso wie kunsthistorische Vorläufer von Minimal bis Pop-Art. Dabei dekontextualisierte er die verschiedenen Bildelemente und band sie in neue Bedeutungskontexte ein, indem er sie beispielsweise mit kunsthistorischen Referenzen auf die gleiche Ebene setzte. In f ü nf Einzelausstellungen in Berlin und Hamburg wird das Œuvre von Michel Majerus in einem noch nie da gewesenen Umfang gew ü rdigt. Parallel dazu präsentieren dreizehn deutsche Museen Werke von Michel Majerus aus ihren Sammlungsbeständen.
& Große Monografie über den Ausnahmekünstler zum 20. Todestag
& Internationale Ausstellungen 2023
Michel Majerus (1967–2002) ranks among the most interesting painters of his generation and left a singular and multifaceted oeuvre that still speaks powerfully to contemporary concerns. His works quote phenomena of everyday culture such as comic strips, advertisements, and videogames as well as sources of inspiration from art history ranging from minimalism to Pop Art. Decontextualizing the different elements of pictures, he integrated them into novel contexts of meaning by, for instance, setting them on a par with art-historical references. Five solo exhibitions in Berlin and Hamburg pay tribute to Michel Majerus's art in unprecedented breadth. Concurrently, thirteen museums mount presentations of works by Majerus from their collections. & Grand monograph on the singular artist, twenty years later & International exhibitions in 2023
Editors: KW Institute for Contemporary Art, Kunstverein in Hamburg, Neuer Berliner Kunstverein, Michel Majerus Estate
Authors: Cory Arcangel, Karen Archey, Diedrich Diederichsen, Brigitte Franzen, Rirkrit Tiravanija
Design: Book Book, Berlin
Hardcover, 24 x 31 cm, 256 pages, 170 illustrations, German/English
if we are dead, so it is, 2000
978-3-96912-091-0 € 38 Release Spring 2023
9 NEW
BESTSELLER
Das Brett, 2020, French Castle, 2021, Nicht alle Wohnungen sind vermietet, 2021, Das Hochhaus, 2021, Pawn Shop, 2022, Schachbrettboden, 2016 (exhibition view A Blink of an Eye and the Years are Behind Us , Kunsthalle Praha, 2022)
10 NEW
Seit zwei Jahrzehnten verarbeitet Gregor Hildebrandt (geb. 1974 in Bad Homburg, lebt und arbeitet in Berlin) analoge Tonbänder sowie Musikkassetten und Schallplatten zu Collagen, Skulpturen, Tafelbildern und Installationen. Aus der Verbindung von bildender Kunst und Musik ist ein künstlerischer Gesamtentwurf entstanden, den er konsequent weiterentwickelt. Der Künstler schöpft dabei aus seinem persönlichen Repertoire an Bands, denen eine melancholische Grundstimmung gemeinsam ist. Ein Lebensgefühl, das sich auch in Hildebrandts Werk widerspiegelt. Das Buch zeigt alle Schaffensphasen und enthält Archivmaterial aus Hildebrandts Atelier, seinem Projektraum Grzegorzki Shows und dem Musiklabel Grzegorzki Records. Seit 2015 ist Hildebrandt Professor für Malerei und Grafik an der Akademie der Bildenden Künste in München.
& Große Monografie zu Gemälden, Installationen und Skulpturen des deutschen Künstlers
For the past two decades, Gregor Hildebrandt (b. Bad Homburg, 1974; lives and works in Berlin) has transformed analog audiotapes, cassettes, and records into collages, sculptures, panel paintings, and installations. Melding visual art with music, he has charted a complex creative vision crossing boundaries of medium and genre that he continually refines. The artist's output draws on his personal repertoire of bands that share a melancholy keynote. The same attitude toward life is reflected in Hildebrandt's work. The book offers insight into all periods of the artist's oeuvre and is rounded out by archival materials from Hildebrandt's studio, his project space Grzegorzki Shows, and the music label Grzegorzki Records. Hildebrandt has been professor of painting and graphic art at the Academy of Fine Arts in Munich since 2015.
& Grand monograph on the German artist's paintings, installations, and sculptures
11 NEW
Wand (Les 100 Plus Belles Chansons –J. Brel), 2011, Komm und gib mir etwas, 2018 (exhibition view, Kunsthalle Praha, 2022)
Editor: Christelle Havranek Authors: Ivana Goossen, Friedemann Hahn, Christelle Havranek Design: Studio Homburger, Berlin Softcover, 23 x 31,5 cm, 288 pages, 131 illustrations, English 9 783969 121153978-3-96912-115-3 € 48 GREGOR HILDEBRANDT – A BLINK OF AN EYE AND THE YEARS ARE BEHIND US
12 NEW Swansong III, 2021
GABRIEL VORMSTEIN
Gabriel Vormstein (geb. 1974 in Konstanz; lebt und arbeitet in Berlin) erforscht die Themen Vergänglichkeit, Zeitlichkeit und Scheitern in einer einzigartigen Bildsprache. Er verwendet vorwiegend Zeitungspapier als Malgrund oder kombiniert gefundene Äste zu Installationen. Diese "armen" Materialien untergraben die in der westlichen Kultur vorherrschende Vorstellung der Konservierung eines Kunstwerks auf dauerhafte Präsenz. Mit unterschiedlichen adaptierten Stilen und Symbolen verweist auch seine Malerei auf das Entstehen und Verschwinden von kunsthistorischen und kulturellen Strömungen. Das Buch bietet einen Überblick über Vormsteins künstlerisches Schaffen der letzten zwanzig Jahre und gibt einen atmosphärischen Einblick in die Thematik und Arbeitsweise des Künstlers.
& Mit allen wichtigen Werkserien der letzten beiden Dekaden
& Auch erhältlich als limitierte Edition, eingeschlagen in Zeitungspapier mit Originalsiebdruck
Gabriel Vormstein (b. Constance, 1974; lives and works in Berlin) explores themes of impermanence, temporality, and futility through a unique visual language. He paints using newspapers as a canvas, and creates installations out of tree branches and other organic matter. These "poor" materials subvert a prevailing notion in Western culture that an artwork should be eternally preserved. Through the adaptation of various styles and symbols, Vormstein's paintings likewise speak to the transience of art historical and cultural trends. The book provides an overview of Vormstein's oeuvre over the past two decades, while also offering an atmospheric glimpse into the artist's source material and working methods.
& Features all major series of works from the past two decades
& Also available as a limited edition wrapped in newspaper with original silkscreen print
Author: Gean Moreno
Design: Annette Lux, HIT studio
Softcover, 22,5 x 30,4 cm, 296 pages, 271 illustrations, German/English
9 783969 121054978-3-96912-105-4 € 40
13 NEW
nOo-gOo, 2004
EDITION
14 NEW
Herring Cove (Slight Edit), 2021
Shadow of a Doubt, 2022
LOGAN T. SIBREL BUT I'M DIFFERENT
Die Gemälde und Zeichnungen von Logan T. Sibrel (geb. 1986 in Jasper, IN, lebt und arbeitet in Brooklyn, NY) zeigen Augenblicke von großer Freude und Schönheit, aber auch Furcht, Trauer, Verlangen und Aggression. Es werden fragmentarische Geschichten erzählt, die durch ihre Authentizität, Intimität und Verletzlichkeit berühren. Zu Sibrels künstlerischen Mitteln gehören Überschneidungen, versetzte Perspektiven oder Textfragmente, die den Effekt einer Collage erzeugen. Dieses Buch ist die erste umfassende Publikation des Künstlers mit Gemälden und Zeichnungen der letzten 20 Monate. Logan T. Sibrel absolvierte bis 2009 sein Bachelorstudium an der Indiana University in Bloomington und bis 2011 sein Masterstudium an der Parsons New School of Design in New York.
& King of Cool: 95 Jahre nach Hemingway wagt Logan T. Sibrel einen hinreißenden Blick auf "Männer ohne Frauen"
Logan T. Sibrel's (born 1986 in Jasper, IN, lives and works in Brooklyn, NY) paintings and drawings depict moments of great joy and beauty, but also fear, sadness, desire and aggression. Sibrel's cropping can feel simultaneously intimate and alienating—fragmentary stories are told that touch you through their authenticity and vulnerability. Sibrel's artistic maneuvers include overlapping, shifted perspectives, and text fragments that create a collage effect. This book is the artist's first comprehensive publication with paintings and drawings from the last twenty months. The first part presents the artist's paintings, the second part shows his drawings. Logan T. Sibrel completed his bachelor's degree at Indiana University in Bloomington in 2009 and his master's degree at Parsons New School of Design in New York in 2011.
& The king of cool: ninety­ five years after Hemingway, Logan T. Sibrel ventures an enchanting look at "men without women"
Authors: Meg Remy, Max Steele
Design: Nils Reinke-Dieker
Softcover, 24 x 31 cm, 160 pages, 74 illustrations, English
9 783969 121139978-3-96912-113-9 € 50
15 NEW
16 NEW
Venus and Adonis (Line 1, 019), 2020