SOUTH CAROLINA
AN EXPLORE CHARLESTON PUBLICATION
Table of Contents
Lodging Services
Dining
Bakeries
Casual Dining
Food Trucks
Seafood
Soulfood / Gullah
Southern
Vegan / Vegetarian
Retail
Art Galleries
Food Product
Gifts
Jewelry
Online Retailer
Shoes & Accessories
Artists
Artists
Sweetgrass Artisan
Historical & Cultural Sites
Planning & Visitor Services
Caterers
Events
Event Planning / Rentals
Performers
Wellness, Spas & Salons
Tours & Transportation
Tours
Transportation
We'd like to thank the talented content creators that made this publication possible:
Copywriter: Latria Graham
Graphic Designer: Ashley Canzater
Photographer: Sirena Singleton
Cover Art: Jonathan Green
The cover art, Charleston Colors, was painted by Jonathan Green. Jonathan is an internationally acclaimed and awarded professional artist. He is a native of South Carolina and serves as the Ambassador for the Arts for the City of Charleston.
We'd also like to thank the state of South Carolina for the partnership on publishing this book.
Please scan to submit your locally owned Black business for a listing in this visitor publication.
The Charleston area is compomised of many historic houses, churches and public buildings that are still in daily use. Visitors are encouraged to help preserve the dignity of these sites by being appropriately attired while visiting them.
For more minority and Black-owned businesses, please visit Kharis Connect (KharisConnect.com) and Black Charleston Professionals (BlackCharlestonPros.org)..
6 12 14 14 15 16 17 17 17 20 22 23 24 25 26 27 28 30 31 34 42 44 45 46 46 48 52 54 55 1
Note: Let Us Break Bread Together is a song that was first recorded among the students of the Penn School, St. Helena Island, South Carolina in 1925.
Since 1526 when the first enslaved Africans were brought to South Carolina by Spanish explorers, people of the African diaspora have shaped the Lowcountry landscape in and around what is now the city of Charleston. Known for its history, timeless architecture, and unique experiences tied to the land, this geographic and cultural region around the city, known as the Lowcountry, is home to some of the most naturally beautiful places in the world. In 1670 the English created a settlement called Charles Towne, after King Charles II, on the western bank of the Ashley River. They brought enslaved West Africans from the rice-producing cultures in modern-day Angola, Gambia, Sierra Leone, and Senegal to North American shores. Today, that location in Charleston is known as Charles Towne Landing. At this location in Charleston, there isn't much to mark either population's existence--for the latter, a wooden sign with words "African American Cemetery" printed in white lettering. But they were here. The evidence of Black life is often temporal--covered over, left to decay, all but erased. It was their hands that filled in the marshlands and made life along the Charleston peninsula bearable.
For a time, Charleston was the capital of the North American slave trade, and Gadsden's Wharf was its center. Commerce was so prolific that historians estimate between 40 and 60 percent of African Americans can trace an ancestor back to this place. Fueled by fertile land stolen from Indigenous people and tended to by the enslaved, the South Carolina Lowcountry was a place of unfettered prosperity, and Charleston the epicenter. Prior to the American Revolution, the goods procured during the plantation economy— indigo, rice, and later, sea island cotton, all harvested by enslaved labor—made it the wealthiest city in the thirteen colonies. For the people forced to build these opulent structures and the meticulously groomed formal gardens that surrounded the homes, the landscape was unforgiving. Mired in marsh, toiling in hot, humid conditions rife with mosquitos, their hands reshaped the Lowcountry geography, clearing forests and filling in the muck to reclaim arable land from the grip of the ocean.
Isolated out on these coastal plantations, these West Africans were able to retain some of their culture, passing down songs, stories, rituals and foodways from their home across the Atlantic. After Emancipation some folks stayed in these places and created selfsustaining communities on the swath of land along the coast stretches from Wilmington, North Carolina, down to Jacksonville, Florida. Their descendants became known as the Gullah Geechee, and the land they lived on, the Gullah/Geechee Cultural Heritage Corridor.
2
Many of the tours and previous explorations of Charleston's distinctiveness and all that the historic region has to offer were often set in the past and when Black people were present in the narrative, focused primarily on their enslavement. The origin story of Black people in the Lowcountry may begin with enslavement, but it does not end there. For hundreds of years the Black community has grappled with the struggles and triumphs of a people determined to endure, and pass on what they knew, and how they survived. There is so much more to this vibrant coastal city and the community that resides in its boundaries. Modern history makers and current cultural catalysts still live here. Because of them the Lowcountry is a place of innovation, creativity, color, and joy for the Black community living here, and after years of seeing their family's stories obscured or erased, they are now featured front and center. Their voices, skills, and imagination add color to this community. Diverse, multifaceted, aspects of Black life/culture that exist in the region and learn more about Black history that is briefly referenced in other guides. Examining the underpinnings of this magnificent place means approaching the local way of life with grace, reverence, and compassion for all that came before.
Comprised of landmarks, stories, and immersive experiences, the book you now hold in your hands is a compilation of some of the characteristics that make this entire area special. After all, the story of Charleston comes alive through the city's people. Constantly evolving, centering progress means finding ways to tell the whole truth about the history, including the city and country's beginnings. The Black denizens of the Charleston area are still making history, and still transforming this landscape. On music stages, in the culinary scene, on tables at Charleston Market and in the churches on Sundays, their impact reverberates across the city, out into the Lowcountry, throughout the region and around the world. There's always something new to discover.
Welcome to Charleston. Let's begin.
4
Discover STORIES OF CHANGE VOICES EXPLORE AFRICAN AMERICAN HISTORY & CULTURE FIRSTHAND CHSVOICES.COM
LODGING SERVICES
LODGING SERVICES
COURTYARD CHARLESTON HISTORIC DISTRICT
marriott.com/chshd
Located in the heart of Charleston's Historic District, and next to Marion Square and Charleston's Gaillard Center, this hotel incorporates over 7800 sq. ft. of event space.
INN AT 257
257rutledge.com
Located in the Old City District, experience this renovated Victorian inn where historic southern charm meets modern amenities. Run by a mother-daughter duo, this Inn offers four private entrance suites in the heart of Downtown Charleston.
JONATHAN JASPER WRIGHT INN
jjwinn.com
Named after the first Black state supreme court justice, this charming Inn is located in Charleston's charming historic CannnonboroughElliottborough offers 2 accommodations options: the Elliottborough apartment and the Cannnonborough Suite.
THE MILLS HOUSE
info@millshouse.com | millshouse.com
At The Mills House, part of the Curio Collection by Hilton – you'll experience historic charm and playful, modern spirit. Step into the heart of Charleston with modern guest rooms, two restaurants, an outdoor pool and oh-so much more. When you're here – you're home.
PARSON INN
parsoninn@gmail.com | parsoninn.com
Parson Inn is a boutique home in the heart of the historic district. It boasts the charming architecture of Charleston and is one block from the Medical University of South Carolina and a quick walk to King Street.
SIMPLITRAVEL BY KIM, LLC
kim@simplitravelbykim.com | simplitravelbykim.com
Traveling opens doors to creating memories! Personalized Travel Planning & Travel Management. Full-service travel agency, specializing in group travel. Will customize individual travel as well. Whether a short trip in the town or a trip around the world, I got you covered!
For additional lodging choices in the Charleston area, please visit ExploreCharleston.com.
8
Start Your Story Here
In Charleston, hospitality is part of our culture, part of our heritage. It's who we are, as reliable as the rhythm of the changing tides. We invite you to join us. From full-service resorts to inviting bed & breakfasts, Charleston offers something for every wedding style. CharlestonWeddingGuide.com
The diversity of buildings preserved in Charleston is responsible for much of its charm and is one of the great highlights of the area. Eight different architectural styles, representing almost five hundred years of aesthetic trends are featured in and around the peninsula: Colonial, Georgian, Federal, Classic Revival/NeoClassical, Gothic Revival, Italianate, Victorian, and Art Deco. These buildings, for all their beauty, represent an aspect of the legacy of the African diaspora in South Carolina, and can shift our perspective on spaces built by enslaved people. This realization, of the workforce behind magnificent artworks that has survived floods, fires, earthquakes, and other disasters, also presents a unique opportunity to celebrate another facet of African American history and offers a chance to look at the city with new eyes. Even when the architectural style is imported from elsewhere, South Carolinians always put their spin on things. The Charleston single house is a Lowcountry take on the English row house. Often situated on narrow but deep lots facing away from the street, these homes are known for a distinct piazza with an entrance facing the street. Rarer than the aforementioned style, the Charleston Double House is similar, but the front of the house faces the street, taking up more visible real estate. Both hometypes are found throughout the historic district.
Another often lauded element of the city's iconography is Charleston's propensity for color. Many of the homes near the water are painted in vibrant hues that bring exuberance and high spirits to all that pass by. It was the hands of the Black community that built so many of these grand structures, and their construction skills-- from the ability to fabricate bricks to their expert knowledge for metalwork, made much of the Charleston you see possible. Their touches, and sometimes even their fingerprints, are visible on every street in this great city--in the colonial style of the city's oldest government buildings, or the symmetrical themes and cornice entries grace the fronts of Georgian homes.
10
DINING
BAKERY
CKBAKES4U
ckbakes4u@gmail.com | ckbakes4u.com
Baking up the best Crab Pies EVER, as well as other sweet and savory dishes. Whether it's a pound cake for dessert after Sunday dinner or a full spread complete with crab pie bites, seafood rice, dessert bars, and an array of shooters, let The Crab Pie Queen, CK, bake for you!
DADDY'S GIRL BAKERY
daddysgirlsbakery@gmail.com | daddysgirlsbakery.com
Daddy's Girls Bakery is a family owned business that includes Nate and Chasity Brown along with their five kids. The company specializes in specialty baked goods including custom cakes, pies, cheesecakes, Charleston Chewies, and ice cream made in house.
MINI BLESSINGS BAKERY, LLC
theminiblessingsbakery@gmail.com | miniblessingsbakery.com
Mini Blessings Bakery specializes in homemade baked goods such as cupcakes, small-tired cakes, poundcakes, and other dessert treats.
TWINZ & M HOMEMADE TREATS, LLC
Instagram: Twinzm_treats | FB: Twinz & M Homemade Treats LLC
At Twinz & M Homemade Treats, LLC; we will meet your sweet needs. We are a small family owned home bakery that specializes in a variety of different treats from cupcakes, freshly baked ooey gooey cookies to cakes; with the favorite being the Real Red Velvet Cake.
CASUAL
GRAFT
graftchs.com
Graft is a wine shop and wine bar now open in Charleston. Created by two long-time friends, it is a celebration of good wine, community, and great times.
NOT YOUR AVERAGE WINGS
priscill602390@yahoo.com | Facebook: Not Your Average Wings
Not Your Average Wings offers chicken wings in over 34 plus flavors accompanied by sides including fried okra, fried picks, waffles, onion rings, crinkly fries and more.
14
FOOD TRUCK
B&T DAIQUIRIS, LLC
bntdaiquiris@gmail.com | bntdaiquiris.com
B&T Daiquiris LLC is a mobile daiquiri bar serving frozen alcoholic and non alcoholic daiquiris in Charleston and surrounding areas. Our mobile daiquiri bar offers a unique flair to any event. Laissez le bon Temps rouler!
CHANEL'S GULLAH CUISINE KITCHEN & CATERING
chanelgullahcuisine@gmail.com
Facebook: Chanel's Gullah Cuisine Kitchen
Food For the Soul. Chanel's Gullah Cuisine started off in 2019 with catering services and personal chef services. As the business grew, and in the pandemic with many restaurants closed, we decided a food truck would be good for the business. We specialize in Gullah cuisine and soul food!
CHUCKTOWN MOBILE SEAFOOD, LLC
chucktown.mobile.seafood@gmail.com | facebook.com/frydaddie
Premier indoor and outdoor seafood catering company providing Lowcountry southern sides. Specializing in family reunions, weddings, corporate and private events. Est. 2011.
KEONI'S LOW COUNTRY DIASPORA
facebook.com/middletonmadecuisines
Pop-up turned Food Trailer, Marcus Middleton is serving up Southerninspired fares, and specializing in smoked foods, fresh ingredients, and soulful dishes served at any location.
NANA'S SEAFOOD & SOUL
kane@nanasseafoodsoul.com | facebook.com/nanasseasoul
One of Charleston's lead interpreter of Lowcountry soul, now a mobile food trailor. Dishing up down-home grub such as fried whiting, deviled crab and pork chop sandwiches.
SEAFOOD
GILLIE'S SEAFOOD
gilliesseafood.com
Gillie's is a restaurant that gives recognition to all Grandmothers as their scratch made soul food brings the memories of childhood to every customer that visits!
NIGEL'S GOOD FOOD
nigelsgoodfood.com
Nigel & Louise Drayton, present their #1 Geechie One Award winning, family friendly restaurant serving up soul food, seafood, and Lowcountry favorites! Visit one of our three locations today!
SOULFOOD / GULLAH
BERT & T'S DESSERTS
hello@bertandtsdesserts.com | bertandtsdesserts.com
Bert & T's Desserts is a Charleston, South Carolina based bakery and creamery specializing in old school southern/ Gullah desserts and small batch handcrafted ice cream.
GAIL'S SOUL FOOD
gailssoulfood@gmail.com | gailssoulfood.com
Founded by a team of like-minded foodies; a group of friends who have always liked to eat, drink, and create amazing food together. Our hobby quickly led us to opening this Restaurant, a place where people from all over Goose Creek can meet to enjoy our special dishes and comfortable atmosphere. Freshness and creativity are our favorite ingredients.
HANNIBAL'S KITCHEN
info@hannibalkitchen.com | hannibalkitchen.com
Family Black-owned business serving soul food to the Charleston community. Established in 1983, and Feeding the Soul of the City.
MY THREE SONS OF CHARLESTON
mythreesonsofcharleston@gmail.com
mythreesonsofcharleston.com
My Three Sons of Charleston offers a modern twist on original Charleston dishes ranging from deviled crab to chicken & waffles priding themselves on something for everyone to eat!
RODNEY SCOTT'S BBQ
rodneyscottsbbq.com
Rodney Scott's BBQ serves true South Carolina whole-hog barbecue alongside Southern favorites in a lively, upbeat atmosphere in Charleston.
VEGAN / VEGETARIAN
VIBRANT ALKALINE VEGAN MEALS, LLC
vibrantalkalineveganmealsllc@gmail.com
vibrantalkalineveganmeals.com
Vibrant alkaline vegan meals is a nationwide vegan meal prep company and service the Lowcountry as well. We offer cooking classes, health seminars, catering and immunity teas. We have recently expanded our business model to service the community with a mobile food truck.
SOUTHERN
17
Shrimp and grits, crab rice, okra soup, benne wafers--so many of the beloved hallmark dishes associated with Southern cuisine have their roots in West African culture and made their way to the Americas through the port of Charleston, known as Gadsden's Wharf. Lowcountry cooking is about sharing history, making memories, and celebrating the special regional ingredients that happen to be in season. People living along the coast foraged and fished to supplement what they could cultivate, and this region was doing farm-to-table cooking before it was a popular philosophy.
Many of the enslaved West Africans brought to the Carolina coast came from rice cultivating cultures and the grain is the foundation for many of the one-pot cooking recipes like red rice and seafood purloo. Celebrated staples like watermelons, yams, okra and a variety of peas and beans all made the transatlantic voyage to the Americas.
Traditional Gullah Geechee cooking is some of the earliest examples of fusion food, blending influences from European, Native American, and African tastes. The herby and aromatic flavor combinations intersected with cooking methods slow roasting meat, and readily available seasonal goods like fresh-caught seafood, or abundant leafy greens.
Now thought to be decadent, celebratory dishes, these hearty innovative meals helped the Black community survive long days of hard work, and over time fed hundreds of years of Charlestonians, both Black and white. Much like the other arts of storytelling, music making, and sweetgrass basket weaving, the multigenerational knowledge of these recipes are passed down through family lines, but at times can be found in specialty cookbooks, and in some of the internationally renowned restaurants within Charleston area. Many of the young chefs that grew up cooking these heirloom recipes have also added modern, fresh takes to their menus, moving the fusion food into modernity, adding a new chapter in the Charleston culinary story.
19
ART GALLERIES
CHUMA GULLAH GALLERY
barbaranwokike@yahoo.com | gallerychuma.com
Artwork that reflects the Gullah culture. Beautiful art that have bold colors and comes both unframed and framed. Many of the artwork reflects all budgets.
NEEMA GALLERY
1stdibs.com/dealers/neema-gallery/shop/ Specializing in original works by African American artists.
OKEEBA JUBALO GALLERY
okeebajubalogallery.com
Started by Atlanta-based advocate and world-class gallerist, Okeeba Jubalo with a focus on giving the Fine Artists of African descent a stable platform. This gallery serves as a cultural showcase for artists from all ethnic backgrounds.
FOOD PRODUCTS
GULLAH TINGS, LLC
info@gullahtings.com | gullahtings.com
Handmade, one of a kind products that will trend to keep the Gullah art, culture and cooking alive. Seasonings, dry goods, kitchenware, handmade crafts, oils. Gullah Tings is a new and original business that contains a part of culture it seeks to always be included in history.
LILLIE'S OF CHARLESTON
ttr@lilliesofcharleston.com | lilliesofcharleston.com
Southern & Gullah family recipes uniquely blended for tons of flavor in our award-winning hot sauces, BBQ sauces & spices mixes. May you never feel unwanted, unloved or hungry.
MAMA BEA'S CHICKEN SALAD, LLC
mamabeaschickensalad@gmail.com | mamabeaschickensalad.com
Offering pre-packaged chicken salad made from my Mother's over 40+ year old recipe. Made from premium ingredients and love. We want each customer that eats it to feel the love we felt every time we ate it. We also offer catering and lunch service.
MINI
BLESSINGS BAKERY, LLC
theminiblessingsbakery@gmail.com | miniblessingsbakery.com
I specialize in mini and regular sized cupcakes, poundcakes, tiered cakes, and dessert treats. My cakes are made from scratch and with love.
TASTEE TREATS
tasteetreats22@gmail.com | tasteetreats-sc.com
Tastee Treats is a family owned business that was established by Latanya and Michael Allen. It was founded on the principles of maintaining the Gullah/Geechee foods and cultural traditions, and passing them on to future generations. Tastee Treats gives consumers the opportunity to experience a slice of Gullah culture, traditions, cuisine, and desserts.
TIPSY LADY CARIBBEAN COCKTAILS
tipsyladycocktails@gmail.com | tipsyladycocktails.com
Get ready to drink Caribbean inspired canned cocktails.
23
GIFTS
ALL OCCASIONS GIFT BASKETS
chappellrobin5@gmail.com
Handmade gift baskets for all events, birthdays and baby showers.
GULLAH DOLLS OF CHARLESTON BY GENYA, LLC
gullahgal1217@gmail.com | gullahdolls.com
Authentic, hand-crafted Gullah Dolls. Representing African traditional childhood dolls. Genya's dolls originated from her childhood. She began creating her dolls in 1957.
HIPBONE, LLC
hipboneclothing@gmail.com | hipboneclothing.com
With 28 years custom screen printing & embroidering experience, we "Help You Look Better Than You Did Yesterday". Our 15 piece printing minimum or one item for embroidery will help you invest into your project without breaking the bank.
JACKSON TREASURED PHOTOGRAPHY
jacksontreasuredphotography@gmail.com
jacksontreasuredphotography.com
Photography/landscape prints and creator of Charleston Umbrellas.
LASER FOCUSED ENGRAVING & DESIGN
engrave@laserfocusedllc.com | laserfocusedllc.com
Laser focused engraving & design specializes in one-of-a-kind gifts and keepsakes for any occasion. We use the latest 3D Laser Engraving Technology to bring you quality personalization from our collection of custom gifts and keepsakes and signs. Our company mantra is summed up in three words. Customize. Celebrate. Cherish. Come see us when it has to be special.
THE TINY TASSEL
thetinytassel.com
We make life more joyful! Visit our shop & explore our brightly colored clothing, jewelry, and gifts- designed & handmade here in Charleston, SC.
24
JEWELRY
COPPER COHENS
hello@coppercohens.com | coppercohens.com
Copper Cohen's is led by a jewelry designer of hand-painted wood jewelry for the family, as well as a published author, model and Alopecia Awareness advocate.
J. VAMM DESIGNS
gwendolynroper@gmail.com
75% of the jewelry at J. Vamm Designs is handmade. Half of the designs are made using Semi-precious stones with Sterling silver findings.
MOON-SEED, LLC
williams.devinmi@gmail.com | moon-seed.com
Moon-Seed creates statement jewelry and homewares with a fun, bold play on circular forms, geometric shapes, classic art movements, Caribbean vibes, and colorful patterns.
THE TINY TASSEL
thetinytassel.com
We make life more joyful! Visit our shop & explore our brightly colored clothing, jewelry, and gifts- designed & handmade here in Charleston, SC.
ONLINE RETAILER
BR DESIGN CO.
brdesign1@yahoo.com | shopbrdesignco.com
Founded by sisters Carlene Browner and Cassandra Browner Richardson. They handcraft clay jewelry and accessories. The sisters began making clay jewelry as young girls with their mother Queenie Shannon Browner. BR Design Co can be found as a local feature at the Charleston City Market. They launched the Mobile Shopping Truck "Queen Julia" during Spring 2022.
CRAFTS BY CAMILLE, LLC
craftsbycamillellc@gmail.com | craftsbycamillellc.com
Crafts By Camille, LLC creates unique and handmade gifts for everyone. From acrylic business signs, logos, keychains, and more, we are here for all of your custom needs.
ESCAPE HAVEN & CO.
info@escapehavenandco.com | escapehavenandco.com
Created to provide self-care essentials such as soy wax candles and body products. We are here to educate people on the importance of self care through products. We are an e-commerce store, but have grown with the addition of monthly workshops, and classes for upcoming candle business owners.
FUEL FLO
admin@fuelflosc.com | fuelflosc.com
We provide mobile fuel delivery services! Don't waste your time in the city looking for a gas station. We come to you so that you can spend all of your time exploring Charleston!
GEORGIA BELLE CANDLE CO.
info@georgiabellecandle.com | georgiabellecandle.com
We handcraft candles, skincare, soaps, beard care and accessories.
KULTURE BEAUTY AND BARBER SUPPLY STORE
ar@naturallyhautechic.com | kulturebeautynbarber.com
Providing you with all your beauty and barber supply needs. Locally owned beauty supply store offering hair care essentials, wigs, weaves, extensions, and accessories. We carry Braider, Stylist, and Barber Supplies. Shop with licensed professionals that are knowledgeable and use the same products as you.
26
LAURA VIVIAN + COMPANY
jermainejenkins@hotmail.com | lauraviviancompany.com
Inspired by two women who fostered creativity, my grandmothers, Laura and Dorothy (Vivian) are two women who always prefer the simple things in life. Both women are spicy and visionaries in their own rights. This brand desires to create expressive products provisioned towards the simple things in life with keeping it just as simple, creative and spicy like the owners grandmothers.
MANZI LUX
contactus@manzilux.com | manzilux.com
Bold & unapologetic scents. We are a natural handcrafted candle retailer and boutique manufacturer based in Moncks Corner, SC, that takes pride in providing you with the ultimate relaxation experience. We specialize in luxury plant-based candles, wax melts, massage candles, and diffusers. We provide services under private, white, and wholesale labels.
SHE BIOLOGY SKINCARE
chinenyem@shebiology.com | shebiology.com
She Biology is a CBD skincare brand turning skincare routines into self care rituals for people all over world, so they can honor and love themselves. We are a clean, sustainable, and non-animal cruelty brand using only organic farm sourced ingredients.
SOUL SWEET
ebony@ohsoulsweet.com | Facebook.com/ohsoulsweet
Sweet Creations from Soulful Inspiration!
THE TINY TASSEL
thetinytassel.com
We make life more joyful! Visit our shop & explore our brightly colored clothing, jewelry, and gifts- designed & handmade here in Charleston.
SHOES & ACCESSORIES
GOLA SWEETGRASS
jocelyn@golasweetgrass.com | golasweetgrass.com
Gola Sweetgrass is a retail footwear company based in Charleston, SC. Inspired by the sweetgrass baskets, our company is focused on shining a light on the artform of Sweetgrass baskets and the basket-makers. Our mission is to educate and preserve the history of Sweetgrass baskets within the Gullah/Geechee culture and create a comfortable, high quality sandal that reflects Lowcountry living.
27
ARTISTS
ARTISTS
AD FOLK ART, LLC
adrumm1@gmail.com | arundrummond.com
Self-taught SC folk artist painting since 2004. Educating visitors through his art and his passion for storytelling. His mixed media works that incorporate sweetgrass baskets have been featured on Food Network and in Conde Nast Traveler magazine. Find his art exclusively at the Historic Charleston City Market.
JONATHAN GREEN STUDIOS, LLC
jonathangreenstudios.com
The studio represents or features other artists whose work reflects the themes of work, love, belonging, and one's relationship to the environment. By appointment only.
PICTURE PERFECT PHOTOGRAPHY BY MONIFA BASDEO
monifabasdeo@p3photography08.com | p3photography08.com
We are a phenomenal photography business specializing in wedding and lifestyle portraits.
QUILTED ARTISTRY BY RENEE
quiltedartistry@gmail.com | quiltedartistrybyrenee.com
Contemporary textile artist.
SWEETGRASS ARTISAN
COREY ALSTON SWEETGRASS BASKETS
corey.alston@comcast.net | facebook.com/sweetgrassbasket/
A generational sweetgrass weaver who designs his artwork in a variety of styles. The coiled woven basket was first used during days of enslavement for the rice cultivation.
GEECHEE GYAL SWEETGRASS BASKETS
geecheesweetgrassbaskets@gmail.com
etsy.com/shop/GeecheeGyalBaskets
I'm a basket weaver that makes and sells sweetgrass basket in Charleston and surrounding areas.
GULLAH SWEETGRASS BASKETS
andrea@gullahsweetgrassbaskets.com | gullahsweetgrassbaskets.com
Andrea Cayetano-Jefferson proudly represents the rich Gullah culture through her peerless creations as a sixth generation sweetgrass basket artist. As a child she studied the intricacies of basket sewing from her mother and aunt whom she attributes her commitment to continuing the traditional art form honoring her Gullah ancestors and history.
HENRIETTA SNYPE
hsbaskets@gmail.com | myhsbaskets.com
A native of Mount Pleasant, Henrietta learned the art of weaving Sweetgrass Baskets at the age of 7 from her mother, Mary Mazyck, who learned the art from her mother Elizabeth Johnson and so on since before the Middle Passage. She has taught this valuable skill to her children and grandchildren. Henrietta continues teaching this art in schools, universities, giving demonstrations, and workshops around the world.
SWEETGRASS BASKETS BY TONYA AIKEN
tonyaaiken2@icloud.com | FB: Sweetgrass Baskets by Tonya Aiken
As a sweetgrass basket maker, Tonya Aiken has been making baskets for over 40 years. She is proud of the heritage that her family has left for her and her children. She can be found at your favorite Charleston City Market, as well as City Night Market in Charleston.
SWEETGRASS CREATIONS BY LYNETTE
lynetteyouson@hotmail.com
facebook.com/sweetgrasscreationsbylynette/
Weaving baskets is one of the earliest African crafts to take root in America over 300 years ago. Baskets are coiled together using native materials grown naturally by the marsh- sweetgrass, pine needles, bulrush and palmetto palms. Fifth-generation basket maker who learned her craft as a child from her greatgrandmother, Maggie Jefferson Williams still weaves daily with her mother, Marilyn Williams Dingle.
31
Art gives meaning to our lives and helps us understand our world. It can capture a moment in time, historical events, social ideas, and political commentary. Stirring art can create feelings of awe, wonder, or inspiration in the beholder, and foster a sense of belonging and community. The medium allows people to express emotions, commemorate history, expose injustices, overcome obstacles, and celebrate survival. For the Gullah Geechee community in the South Carolina Lowcountry, traditional arts, often passed from generation to generation through family lines, is often a way to connect to the ancestors, to find out how those that came before endured and overcame the brutality of living in the region during unjust conditions.
For many of the Black artists living in the region,the traditional arts designed by their ancestors emerged out of innovation and necessity. Daily items like cast nets for fishing, sweetgrass baskets, and clothing were elevated beyond their utilitarian function, creating beautiful but often practical pieces. Modern Black artists have also incorporated painting into their repertoire. In paintings, Gullah Geechee artists often use art elements like flow lines, patterns, and vibrant colors to convey a sense of identity and celebrate aspects of everyday life in the region. Captured scenes usually take place in nature, often by the water, an important element to the Black community that live here. Colorful, with an emphasis on visual movement, Black art in and around Charleston is often referenced but impossible to imitate.
Charleston's local arts scene is constantly expanding and diversifying, and the city is replete with galleries, museums and leisure spaces that showcase photography, paintings, sculptures and installations. The performing arts also thrive here, with concerts, plays and ballets occurring weekly. Art walks, which routinely happen on weekends, are a fantastic way to discover local artists, art galleries and art exhibitions. Future generations will learn about modern Charleston and its current events through the works practicing artists will leave behind. Viewing and interacting with Charleston's art and the artists at work is a way to appreciate the history of a people that have always found a way to showcase their talents, and celebrate their heritage.
32
McLeod Plantation Historic Site
Museums and other cultural institutions are the intellectual backbone of a historic city like Charleston, which touts the oldest museum in the United States. Spaces like these, when executed well, are knowledge sites, empowering structures where visitors as well as community members can engage with information that illustrates how their personal stories, the nation's history, and global cultures intersect. Exhibitions in these places give context to the social, political, economic, religious and cultural forces at play in the community and illustrate how an area's values and identities are shaped, reflected, and communicated.
Plantations are included in this classification—while often lauded for their grand beauty, their grounds present a powerful opportunity to talk about a harrowing aspect of America's history, and the enslaved labor force that built and maintained much of what still exists on these properties today. Recently updated heritage tours recast local history, presenting complicated and inclusive understandings of the past, asking visitors to look beyond the lavish furniture and elegant chinaware to understand the perspective and stories of the enslaved people whose labor that world that these white families relied on to accumulate their wealth. Meant to prompt honest reflection in a way that asks tour takers to reflect critically upon their own life experiences, as well as their interactions with historical narratives, plantations can transform how the region presents its history and celebrates its cultural heritage.
Segregation attempted to keep Black people from contributing to the larger narrative of progress in America, but the Black communities in the Lowcountry built their own organizations and institutions that would allow them to provide context to their stories, and illustrate their struggles and resilience in a more humane light. Local Black intellectual repositories, whether they're churches, museums, community centers. or even regularly scheduled informal gatherings, are places for collecting and sharing cultural materials.
Often created at a time when items created and used by Black and working-class people were frequently overlooked or excluded from collections, the community gathered toys, tools, clothes, furniture, diaries, letters or family records that were important to their personal stories, as well as those living around them. In these settings, the belief that there is value in all forms of history means that oral traditions and folk histories are just as important as written documents and books.
36
These enduring institutions are important keepers of not just Black culture but American history and global knowledge. Often found within the walls of these organizations are the materials that sustained the Black community throughout the eras of slavery, segregation, and other hardships. They celebrate the creativity, resiliency, and optimism deeply rooted in Black culture, educating future generations on the multiplicity of ways to interpret the story of Charleston, and America.
37
International African American Museum
HISTORICAL / CULTURAL SITES & SOCIETIES
AIKEN-RHETT HOUSE MUSEUM
historiccharleston.org
AVERY RESEARCH CENTER FOR AFRICAN AMERICAN HISTORY & CULTURE
avery.cofc.edu/visit
BOONE HALL PLANTATION
boonehallplantation.com
BRIGGS V. ELLIOT VR EXPERIENCE
The Charleston Visitor's Center - 375 Meeting St. Charleston
CHARLES TOWNE LANDING STATE HISTORIC SITE
charlestownelanding.travel
CHARLESTON MUSEUM
charlestonmuseum.org
38
DRAYTON HALL
draytonhall.org
GIBBES MUSEUM OF ART gibbesmuseum.org
GULLAH GEECHEE ANGEL NETWORK
gullahgeecheeangelnetwork.com
HAMPTON PLANTATION STATE HISTORIC SITE southcarolinaparks.com
Hampton Plantation State Historic Site is a former rice plantation in the Santee Delta. Visitors can learn about the lives and impact of multiple generations of men and women of African descent through a variety of exhibits and park programs.
INTERNATIONAL AFRICAN AMERICAN MUSEUM iaamuseum.org
The International African American Museum tells the unvarnished stories of the African American experience across generations, the trauma and triumph that gave rise to a resillient people.
MAGNOLIA PLANTATION AND GARDENS
magnoliaplantation.com
MCLEOD PLANTATION HISTORIC SITE ccprc.com/1447/McLeod-Plantation-Historic-Site
39
HISTORICAL / CULTURAL SITES & SOCIETIES
MIDDLETON PLACE NATIONAL HISTORIC LANDMARK
middletonplace.org
Visitors in Middleton Place National Historic Landmark learn about those both free and enslaved who lived and worked here. The "Beyond the Fields: Enslavement at Middleton Place" program is offered daily and facilitates an important conversation about slavery in American history.
OLD SLAVE MART
oldslavemartmuseum.org
The Old Slave Mart Museum is the first African-American slave museum. It is often staffed by individuals who trace their history to the enslaved people of Charleston. At one point during slavery, as many as 35-40% of enslaved people entered the United States through Charleston.
THE PRESERVATION SOCIETY OF CHARLESTON
preservationsociety.org
A non-profit advocacy organization located at 147 King Street with a retail store featuring local makers. Explore the Lowcountry's African American history via the Black Businesses of Charleston Oral History Project and the Charleston justice journey at preservationsociety.org.
SOUTH CAROLINA HISTORICAL SOCIETY
The Charleston Visitor's Center - 375 Meeting St. Charleston
More than a museum, library, or archives: a treasury of knowledge to be discovered. As the state's oldest historical society, our mission is to expand, preserve, and make accessible our invaluable collection, and to encourage interest in the rich history of our state. Housed in America's first fire proof building located at 100 Meeting Street.
40
Courtesy of Avery Research Center Mike Ledford, College of Charleston
PLANNING & VISITOR SERVICES
CATERERS
CAROLIMA'S LOWCOUNTRY CUISINE
carolimas.com
Authentic Gullah Geechee & Lowcountry menu. From our made from scratch dishes to our southern desserts, we are here to serve you! We cater rehearsal dinners, wedding receptions, corporate events, birthday parties and corporate events.
THE DRIZZLED PEAR
grhondawil@gmail.com | thedrizzledpear.com
The Drizzled Pear is a full service off-premise catering company serving the Lowcountry and surrounding areas. We pride ourselves on offering classic Southern cuisine with fresh ingredients and a modern twist that is sure to please your palate! Exceeding expectations in both service and taste is always our goal!
CHARCUTERIE HAPPY BOARD
charcuteriehappyboard@gmail.com | charcuteriehappyboard.com
Tanya Waring Hearn is the owner of Charcuterie Happy Board, a business specializing in charcuterie experiences, curating boards, platters and more for meetings and special events.
GULLAH PARTIES BY BARBARA, LLC
barbaranwokike@yahoo.com | gullahpartiesbybarbara.com
Creating beautiful events for ten years reflecting the Gullah culture thru food/ bar service, decorations and entertainment. Events decorated with Sweetgrass baskets and live greenery. Our Chefs create delicious Gullah dishes up to 1000 people. Full service event company licensed and insured in the City of Charleston.
IT'S A WIN-WIN CATERING, LLC
itsawinwincatering@gmail.com | itsawinwincatering.com
Charleston Premier Caterer serving great food, great service at a reasonable price!
LUXE CIGAR LOUNGE
luxemobilecigarlounge@gmail.com | luxecigarlounge.com
Cigar lounge and accessories live music and libations.
MON AMIE
avecmonamiesc@gmail.com | Facebook.com/avecmonamie
Mon Amie provides luxe picnic setups that can be held in the city's beautiful parks and also at private locations as well as upgrading luxe accents to hotel rooms for special occasions.
THE REBELLIOUS GENTLEMAN COCKTAIL CATERING AND VENUE SUPPORT
rebelgent.llc@gmail.com | alcomyjones.org
Luxury cocktail catering company that specializes in craft cocktails and highend spirit events.
44
EVENTS
For a full list of events, please visit the events calendar on explorecharleston.com
FREE VERSE POETRY FESTIVAL
hello@freeversefestival.com | freeversefestival.com | ongoing dates, check website.
Free Verse is a poetry community started by Marcus Amaker, Charleston's first poet laureate. The collective hosts open mics, publishes books, and puts on a festival. Free Verse events are safe spaces for people of all gender identities. Follow @freeversefestival on Instagram.
CHARLESTON CARIFEST | JUNE 29 - JULY 1, 2023
lorna@charlestoncarifest.com | charlestoncarifest.com
A traditional Caribbean Carnival celebration during June, Caribbean American Heritage Month. We celebrate with a Carnival Street Parade, a Caribbean Village in the Park with Food, Music, Soca, Reggae Artistes, Colorful costumes and more. Fun & exciting family friendly events.
MOJA ARTS FESTIVAL | SEPT. 28 - OCT. 8, 2023
mojafestival.com
The MOJA Arts Festival is a celebration of African-American and Caribbean Arts. Selected as one of the Southeast Tourism Society's Top 20 Events for many years, the MOJA Arts Festival promises an exciting line-up of events with a rich variety of traditional favorites.
AFROFEST FILM FESTIVAL | NOVEMBER 3-5, 2023
afrosouth.com
The premier showcase event highlights the contributions and inclusions of the African Diaspora on Southern Culture through the art of filmmaking. Through a cultural homecoming celebration and Industry education, those engaged will enjoy heightened awareness, deeper field connectivity, and acknowledge all to promote, protect, and honor the historically silenced and disenfranchised contributors within the filmmaking industry with diverse cultural relationships as the dominator.
CHOIR SHOWCASE | SPRING 2024
choirshow.com
For the past 16 years, the Choir Showcase has inspired and entertained millions worldwide, celebrating Gospel music's powerful messages and soulful harmonies. With past performances from Grammy Award-winning artists such as Yolanda Adams, Tamela Mann, and Tye Tribbett, among others.
OFFICIAL GULLAH GALA | SPRING 2024
@officialgullahgala
The official Gullah Gala brings together Fashion, Entertainment, & Music provided by black influences and black creatives. These series of events encompass a celebration of the official "Charleston Renaissance."
45
EVENTS
BLACK FOOD TRUCK FESTIVAL | APRIL 26-28, 2024
blackfoodtruckfestival.com
A 2-day family-friendly, community-driven event featuring the top regional food trucks showcasing diverse cuisines and local music performances all in support of black and minority-owned businesses.
LOWCOUNTRY JUNETEENTH WEEK | JUNE 2024
lowcountryjuneteenthweek.com
This week-long celebration has events around the Charleston region celebrating the freedom and empowerment of African Americans while celebrating the importance of the history of Juneteenth.
JUNETEENTH FAMILY FEST | JUNE 2024
jffcharleston.com
This1-day free event in North Charleston at Riverfront Park provides food, fun, and entertainment for the community to come together to celebrate the history and culture of the African American community while celebrating the importance of Juneteenth as a holiday.
EVENT PLANNING
J WHITE CONSULTING FIRM
https://about.me/jwhite
The JWhite Consulting Firm is a full service special event/Corporate function company which focuses on community/corporate events. We position ourselves as a resource to nonprofit and corporate management teams to support growth through the flawless execution of weddings, events, and meetings.
THE LUXE EVENT LAB, LLC
yolandah.nasb@gmail.com | luxeeventlab.com
We plan events for any occasion. Let us help you celebrate!
SOUTHERN CHIC EVENT RENTALS
deadra@southernchicllc.com | southernchicrental.com
Southern Chic Event Rentals is your go-to for the most trendy, elegant, highend decor and furniture. We'll help you take your event to the next level. We also offer chairs, tables and decor, and we are constantly updating our inventory with the latest trends.
PERFORMERS
BME, LLC
quentin@baxtermusic.com | baxtermusic.com
Currently touring world-wide with GRAMMY Award Winning Gullah Sensation RANKY TANKY and GRAMMY-Nominated vocalist René Marie, Baxter regularly performs many prestigious venues and festivals.
46
WELLNESS, SPA & SALON
CHARMING ENHANCEMENTS
keimanistory@gmail.com | charmingenhancements.com
We are a full service wellness center located in Charleston, SC. We offer non-medical weight loss, body sculpting, waxing, facials, saunas and more.
CYCLING OPPORTUNITIES OF SC
aaarichburg@gmail.com
Cycling rides and tours.
KASADA BEAUTY SUPPLY STORE
kasadabeautysupply@outlook.com | kasadabeautysupply.com
The friendliest beauty supply store in the Charleston area providing high quality retail and professional beauty supply products. We are a premium store with premium products and premium customer service.
MMM FIT CLUB
mmmfitclub@gmail.com | mmmfitclub.com
MMM FiT Club provides unique fitness experiences for predominantly women and young ladies (ages 13 and Up) in the form of classes, virtual classes, private parties and private sessions. They also offer community fitness services through engagement with organizations, businesses and corporations. Fitness experiences include boxing, dance cardio, bootcamp and yoga.
RENEE MOORE BEAUTY BAR
nails@reneemoorebeautybar.com | reneemoorebeautybar.com
Luxury nail salon specializing in abstract nail art, unparalled customer service and custom crafted cocktails.
SATURA STYLES
hair@braidedbeautiesbysaturastyles.com
braidedbeautiesbysaturastyles.com
A licensed master braider of 20+ years and nationally certified hairloss practitioner, Satura Styles provides braiding services specializing in short, relaxed, hairloss, and natural hair.
SIMPLY YOUR SPA
simplyyourspa.com
A personal, all-inclusive day spa with experiences that meet every guest's needs. With a licensed and professional staff, they offer a wide range of services including massages, manicures, pedicures, facials, and complete spa packages.
48
Since the arrival of West Africans into the landscape of Charleston, music served to communicate. In fact, it was so powerful a medium that after the Stono Rebellion of 1739, the largest uprising of enslaved people in the British mainland colonies prior to the American Revolution, lawmakers banned the use and ownership of drums, horns, and other clamorous instruments that enslaved people might use to communicate. The art form found a way to thrive anyway. Enslavers could not ban the hand-clapping, foot-stomping, call-and-response techniques that the Gullah Geechee community generated. They sang in the praise houses as well as the fields. There are work songs, children's ditties, as well as ceremonial repertoire, meant for events like funerals. Many of the rhythms, melodies, harmonies, and dynamics/ forms are the building blocks/the foundation of American music--gospel, spirituals, jazz and the blues.
Current community members use music to remember their ancestors. The spiritual, a type of song that blends suffering with hope, is so significant to the region that it was designated as the official state music of South Carolina.
In recent years the drums are playing again if you know where to find them. From youth performing in Marion Square on Saturday mornings to ancestral remembrance ceremonies out on Sullivan's Island, and community celebrations like the Emancipation Day Parade on January 1, music is still the heartbeat of the city, you just have to take a moment to stop and listen.
50
Denmark Vessy at Hampton Park
TOURS
AVERY RESEARCH CENTER
avery.cofc.edu
Reading room, archives & scheduled tours. 1990 Carolopolis Award. Beautifully restored facility, site of the former Avery School built in 1865. Tour includes art and historical exhibits.
CHARLESTON AFRICAN AMERICAN TOUR
nhutchinson1155@outlook.com
charlestonafricanamericantours.com
A Gullah Geechee Tour showcasing Charleston's rich Black History. Immerse yourself in the culture with a certified native born Gullah speaking historian. Bin yah not come yah.
FRANKLY CHARLESTON
franklycharleston@yahoo.com | franklycharleston.com
Come experience the African American's contributions to Charleston. Our captivating riding and walking tours will leave you wanting to learn more about "the other" Charleston. Listed as one of the top 6 standout Black History Tours in the US from California to Charleston, by Conde Nast Traveler.
GULLAH GULLAH TOURS
info@gullahgullah.tours | gullahgeecheetours.com
Certified tour guide Godfrey Gullah Jac is full blooded Gullah Geechee. Godfrey speaks in great detail about African American history and history of the enslaved Africans right here in Charleston, SC. Come have a look and take a listen to an ancient history about the mysterious people descending from way across da water. The Gullah Geechee people broke the chains of slavery into freedom.
GULLAH TOURS
info@gullahtours.com | gullahtours.com
Explore the sites relevant to the culture & traditions of the AfricanAmericans history in Charleston. Given by a Gullah speaking Charlestonian whose ancestors were enslaved.
SIGHTS & INSIGHTS TOURS
ajm@sitesandinsightstours.com | sitesandinsightstours.com
Explore Charleston's Black history and Gullah/Geechee culture from a Black perspective in our 1, 2 & 2 1/2 hour motorized Black History, Porgy & Bess and Sea Islands Tours.
54
TRANSPORTATION
AIRPORT LIMO-TAXI ASSOCIATION
charleston-arrives.com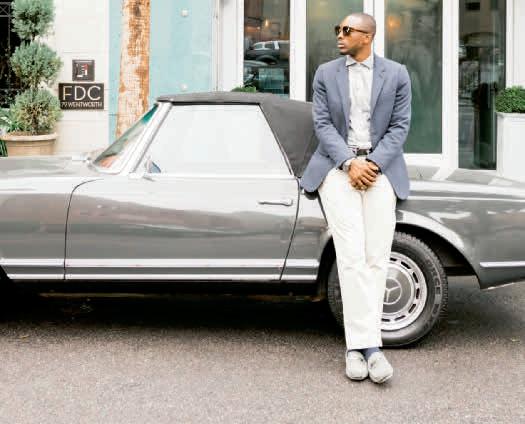 Outstanding service with a smile and clean, quality vehicles. Located at the airport's ground transportation booth, opposite the baggage claim area. Featuring the no wait taxi, no reservation or shuttle service. To downtown, hotels, barrier islands, resorts or any destination throughout the Lowcountry area. Reservations required on return trips.
CHARLESTON BLACK CAR LIMOUSINE
nhutchinson1155@outlook.com
We provide transportation within parts of the Gullah Geechee national corridor. Contact us at 843-276-0117.
N&S TRANSPORT
nstours@carolina.rr.com | nsbustours.com/home
N&S transports passengers to airports groups, schools, tour group, and more.
The protest song "We Shall Overcome" originated here in Charleston, South Carolina.
From 1945 to 1946, Black women, some of the least protected employees in the United States, exercised their right to strike while seeking a pay raise from the American Tobacco Company. They sang as they picketed/demonstrated, the latest activists in a long line of champions/crusaders for racial equity. Their improvised lyrics "We will organize," "We will win our rights," and "We will win this fight." are now familiar to freedom fighters all over the world, and offer courage, comfort, and hope to demonstrators protesting poverty, violence, and discrimination.
Other locales outside of the Lowcountry are often thought to be the locus of the Civil Rights Movement, but ever since West Africans touched these shores in 1526, they found ways to resist the powers that attempted to subjugate, brutalize and exploit them. Through/ From enslavement to emancipation, the Jim Crow period and into modernity, the Black community's desire to educate and liberate themselves from unfair and unequal treatment is a mainstay. From Martin Luther King Jr.'s frequent visits to the Lowcountry to the 1969 Charleston Hospital Strike, and the 2020 calls for racial reconciliations that led citizens into the city's historic streets, Charleston is still working its way to become a city that cares for its denizens without regard to a person's complexion, religion, or social background.
Modern Black activists still advocate for resources to combat the devastating effects of urban renewal, which entrenched/exacerbated the dire economic circumstances for Black people living in the city. Their work is the latest testament to the continued efforts to understand, heal and shift the narrative about racism in America, strengthening a legacy of innovation, resilience, and creativity that has endured for almost 400 years. From the moment West African laborers were brought to these shores, their skills—agricultural, culinary, artistic—changed America. The aesthetics, philosophies, and cultural sensibilities of their descendants still do. Despite all the barriers, policies, and intentional erasures, Black people of the Lowcountry are still here, and the things created in this place are often at turns graceful, lyrical, soul-deep and powerful. They are doctors, lawyers, artists, and history makers leading the communities they love towards a more equitable future.
Their journey--America's journey, continues.
56
Meet
Make your family reunion in Charleston unforgettable. Start planning at MeetCharleston.com.
Traveling to the Charleston area for a family reunion or with a social group? Need help planning a meeting for an association or religious organization? MeetCharleston.com can assist you from start to finish with hotel room blocks, venue rentals, dining options, and transportation. Log on today!
MeetCharleston.com