Cheers 40TOTHISWINNERS!YEAR'S Best Bar in the City: Mo's House Modern Victorian home in Newburgh David Ragland starts a new chapter at UniversitytheofEvansville SEPTEMBER/OCTOBER 2022 $4.95 The Best of
Limited Edition NOMOS '50 designed exclusively for Brinker's Jewelers' 50th Anniversary 111 South Green River Road • Evansville, IN 47715 • 812-476-0651 18701 North Silverleaf Drive • Scottsdale, AZ 85255 • 480-515-3200 Ext. 252 www.brinkersjewelers.com BRINKER'S JEWELERS wwwww w w wwwwwwwwwwwwwwwwwwwwwwwwww w w wwwwwwCELEBRATING OUR
812-453-0779 • Janice.miller@ERAFIRST.comjanicemiller.comInformationdeemedreliablebutnotguaranteed. VIEW THESE HOMES! Janice Miller Welcome to this exquisite custom French Provincial home known as 10488 Ashton Court with views of the Ohio River. Boasting 5 plus bedrooms, 4 full and 1 half bathrooms, and a full basement! This is a must see! 5 Bedrooms, 4 Full + 1 Half Baths • 6,500 SF • Newburgh 10488 Ashton Court Call Janice today! Experience MATTERS $1,050,000 Stunningly beautiful, well maintained home located in Ashbury Parke! Featuring a 2-story foyer, open floor plan kitchen, cozy family room, home office, screened in porch, salt water pool, and so much more! 5 Bedrooms, 6 Full + 2 Half Baths • 5,973 SF • Newburgh 4222 Ashbury Park Drive Call Janice $860,000today! Welcome to 12815 Bataan Lane. This impressive one owner home offers a partially finished basement, attached 3 car garage, 2 lakes, 64x30 pole barn, 3 parcels totaling 17 acres, and so much more! 4 Bedrooms, 4 Full Baths • 6,732 SF • Evansville 12815 Bataan Lane Call Janice $899,000today! Beautiful luxury home located in Woodfield Subdivision. This home features six or seven bedrooms with four full and one half bath PLUS a finished walk out basement! 6 Bedrooms, 4 Full + 1 Half Baths • 5,685 SF • Newburgh 6311 Fieldwood Court Call Julie Bosma $869,000812-457-6968today!
5611 E. MORGAN AVE., EVANSVILLE (812) 474-4266 | LEAMATTHEWS.COM | Open Tuesday through Saturday 10 a.m. - 5 p.m. | Monday by appointment. LEA MATTHEWS FURNITURE AND INTERIORS Making your home your favorite place to celebrate the holidays.
You andhavecancancer hope
© Ascension 2022. All rights reserved.
A cancer diagnosis can be overwhelming. With Ascension St. Vincent Cancer Care, you're not alone. Your first step is to sit down with a cancer specialist who listens. Your doctor will help you personalize a care plan with a goal of getting you back to the daily life you enjoy. You'll have an entire care team beside you. With a plan, comes hope.
Get a care plan personalized for you
Talk to a cancer specialist. ascension.org/StVincentCancerCare
After nearly 20 years coaching college basketball across the country, David Ragland is back on hometown hardwood. The University of Evansville men's basketball coach sheds light on what brought him home and why he believes the program is ready to break out. with the best Tenderloin:Breaded Hilltop Inn
SEPTEMBER/OCTOBER 2022 EVANSVILLE LIVING 5
When Evansvillians want to sip after-dinner drinks or celebratory cocktails, they head to Mo's House, which was voted "Best Bar" in this year's Best of Evansville awards. Raise a glass of French 75, an Old Fashioned, or Freaky Tiki to our 2022 winners starting on page 42 Photo by Zach Straw. Styling by Laura Mathis.
Features SEPTEMBER/OCTOBER 2022 • VOL. 23, ISSUE 6
Sporting Life 32 60 Restaurant
Best of the City
Our readers have voted, and these 33 winners — plus a few of our editors' picks — take home the top prize as this year's Best of Evansville.
ON THE COVER
Cindy and Steve Basinski fell in love with an old Victorian in downtown Newburgh but soon learned their new house had big problems. Here's the story of how the couple and their homebuilding team pivoted to lovingly create a modern masterpiece.
Home of the Issue
6 EVANSVILLE LIVING SEPTEMBER/OCTOBER 2022 Evansville Living is published bimonthly with a seventh issue in April by Tucker Publishing Group, 25 N.W. Riverside Drive, Suite 200, Evansville, IN 47708. Evansville Living is printed at LSC, Lebanon Junction, Ky. Periodicals postage paid at Evansville, Ind., and additional offices. U.S. Postage Service ID: Evansville (ISSN 1533-0613) POSTMASTER: Send address changes to Evansville Living, 25 N.W. Riverside Drive, Suite 200, Evansville, IN 47708. © 2022 Evansville Living. Inside SEPTEMBER/OCTOBER 2022 10 Editor's Letter Ship Shape 13 Conversations 15 Snapshots 17 Epilogue Peters-Margedant House embraces the next 100 years 160 Final Detail Go behind the scenes with the Penguins of Patagonia GOOD LIVING 19 Trending Now Birds have a new sanctuary at Wesselman Woods 20 In the Spotlight Evansville celebrates Halloween 20 We Were Curious The story behind Evansville's symbolic pillars of freedom 21 Worth the Drive
Evansville Civic Theatre takes Theater
the Old Columbia
stage for the last time 24 Entertainment Center Sean Stemaly's big breakout comes from small town roots 24 Shelf Life 25 Creating Lauren Beth Petersen fuses function and art 26 The Guide 30 Social Life DEPARTMENT 38 Travel Journal Discover these hidden Halloween gems in Indianapolis HOME & STYLE 55 What's in Store These vintage finds are "darling" 56 Curb Appeal Slate gray brick basks in sunshine and colorful landscaping 56 On the Market The ashomeBernadin-Johnsonisashistoricitisbeautiful 58 In the Details New lightinganshinesHarmonybrightforinternationalcourse 58 Get Inspired JT McCarty shares the do's and don'ts of fall planting FOOD & DRINK 71 Anatomy of a Dish 2nd Language's Signature Smoked Ramen proves broth is boss 160 72 In the Kitchen Kari sweetbaconMobley'srosesareandsavory 72 Now That's Sweet The Sisters of St. Benedict bake blessings 73 Think Drinks Say "cheers" to fall beers 73 Chew on This 149 Dining Directory Peruse the cuisine of Tri-State restaurants23 72 24
Western Kentucky Botanical
Garden blooms with activity CULTURE 23 On the Stage
CHERONA HAJEWSKI
the area's top nursing professionals who provide a critical community service COMING IN EVANSVILLEISSUENOVEMBER/DECEMBERTHEOFLIVING 812.777.5220 • TeamMcClintock.com • F.C. Tucker Emge
JODI FEHRENBACHERMETZGER-
Receive
of the Tri-State, learn about the professionals across the industry who keep us healthy Excellence
–Bob H.
highlights, guide listings, and station-wide happenings for October and November Inside SPECIAL SECTIONSADVERTISING Holiday Gift
Celebrating
AUTHORITYEVANSVILLE'S
into gear with tips on new vehicles, repair options, and financing 142 WNIN
I Haynie! lot M.
" "
exclusive industry advice straight from the experts 135 Drive
Explore WNIN's program Guide Profiles
" "
CAROL McCLINTOCK
JD OPEL
the
As medical hub in Nursing
SEPTEMBER/OCTOBER 2022 EVANSVILLE LIVING 7 75 Evansville's Authority
upcoming
CINDY HOWARD ANDROS L'GRAND
Get
Carol McClintock is THE BEST REALTOR® THERE IS.
could gush all day about Carol McClintock and Susan
to process and coordinate. Carol and Susan were there each step of the way. They went beyond just the purchase of our home, they helped connect us with financing, moving services, etc. We would have been so lost without those extra touches. They truly have made our move to Indiana so welcoming. I could not recommend them enough! Oh, and they were able to get us into a dream of a home! –Julie
Discover ideas for every wish list using our handy guide of local products and services Doctor
We were relocating from out of state and had a
KELSEY SIMMONS ELLEN TOPPER MINDY WORD
Publishing Group 25 N.W. Riverside
• fax
Ste. 200, Evansville, IN 47708 ph
DESIGN
Kevin Goodbar Director
Morgan Dean Designer and Administrator
Tucker Drive, 812-426-2115 812-426-2134
Senior Account Executive Jennifer
Senior Staff Writer
Laura Mathis Director
Advertising
Todd A. Tucker
Kristen K. Tucker
EDITORIAL
Managing Editor
8 EVANSVILLE LIVING SEPTEMBER/OCTOBER 2022
• evansvilleliving.com
EDITOR & PUBLISHER
PRESIDENT, TUCKER PUBLISHING GROUP
Creative
ADVERTISING Hoffman Rhoades Sitzman
Sales and Marketing Coordinator CIRCULATION Gregg Martin Distribution and Circulation Manager CONTRIBUTORS Christine Beyer, Dallas Carter, Greg Eans, Steve Geis, Michelle Mastro, Matt A. Sheen, Audra Straw, Zach Straw TUCKER PUBLISHING GROUP Todd A Tucker President Kristen K. Tucker Vice President VOLUME 23 • ISSUE SEPTEMBER/OCTOBER6 2022 Merle Norman Cosmetic Studio – Evansville 507 N. Green River Road, Evansville, IN 47715 (behind Acropolis Restaurant) Phone: 812.476.0657 – Hours: Monday-Saturday 10am-6pm; Sunday 12pm-4pm Merle Norman Cosmetic Studios have been independently owned and operated since 1931. © 2022 Merle Norman Cosmetics Inc. COMPLEMENTARY COLOR Shop matte to luminous shades that pair seamlessly in Fall's limited-edition Dual Beauty Eye & Cheek Palette
Jodi Keen
Jessica
Riley Guerzini
Senior Account Executive Logen
Art
Graphic
As an independent, fee-only financial services firm, our highly trained professionals have earned the trust of hundreds of families by proving comprehensive, unbiased financial council. pettinga.com
CALENDAR ITEMS, COMMUNITY UPDATES, DINING GUIDE
Subscriptions are $18 for one year; $24 for two years; or $30 for three years. To start a new subscription, renew an existing subscription or to change your address, visit evansvilleliving.com/subscribe; call 812-641-5919 or 818-286-3122 from 9 a.m. to 6 p.m. CST Monday through Friday, or send an email to elbcs@magserv.com.
Follow our updates on social media: Facebook,company/tucker-publishing-groupTwitter,facebook.com/evansvillelivingtwitter.com/evansvilleLinkedin,linkedin.com/Instagram,@evansvilleliving
PUBLISHING GROUP Todd A. Tucker, President Kristen K. Tucker, Vice President Copyright © 2022 Tucker Publishing Group. No part of this publication may be reproduced in any form without written permission from Tucker Publishing Group.
SUBSCRIPTIONS
MISSION STATEMENT
SEPTEMBER/OCTOBER 2022 EVANSVILLE LIVING 9
TUCKER
Take advantage of Evansville Living's prime advertising space. Call us at 812-426-2115 or visit our website.
812-436-4000 • info@pettinga.com INVESTMENTFINANCIALMANAGEMENTPLANNINGRETIREMENTPLANS
Learn why we're trusted at www.pettinga.com 519 Main Street, Suite 100 •
Please email events@evansvilleliving.com information NO LATER than eight weeks prior to the magazine cover date. Details may be edited or deleted for space.
ADVERTISING
The staff of Evansville Living strives to inform, instruct, amuse, and entertain our readers, helping them get the most out of living in Evansville and the surrounding area. With each issue, we provide a targeted audience of active, well-educated consumers for our advertisers. to positively chronicle the many unique aspects of living in Evansville and the TriState to benefit our community.
evansvilleliving.com
CONNECT WITH US
How well do you trust your financial advisor?
In financial circles, the word "trust" is significant. It implies complete confidence in one's ability and integrity. If you don't have complete trust in your financial advisor, you're working with the wrong person.
PHOTO OF THE AMERICAN HERITAGE PROVIDED BY EVANSVILLE REGIONAL ECONOMIC PARTNERSHIP
Driving into Downtown on a Monday morning a couple of weeks after American Heritage's trial stop in Evansville, I round ed the bend from South Fulton Avenue onto Northwest Riverside Drive and, in the distance, I could see the riverboat moored at the old LST dock.
he winds are picking up; shadows are lengthening, and soon, the af ternoon sun will pierce the south west-facing windows of my office. I'll close the blinds for a few hours each day – but not for long; I like to keep my eye on the Dependingriver.on your vantage point, you may or may not give the Ohio River much thought going about your day. Our office is located on Riverside Drive; we look out over the bend in the riv er. Our first two office locations were Downtown near the riverfront but not overlooking the river. We've enjoyed this closer proximity to the mighty Ohio for several years.
10 EVANSVILLE LIVING SEPTEMBER/OCTOBER 2022 From the Editor
T
boats for afternoon and dinner cruises. Some were around for a few years; others stopped in for passenger excursions.
I've written before about my level of excitement to be moving to a river city when my family relocated here 50 years ago. I liked the idea that Evansville histor ically had excursion boats – small river SHIP SHAPE
PHOTO OF KRISTEN TUCKER BY MAXWELL TUCKER.
REACH OUT!
The American Heritage's August trial stop in Evansville was successful enough that the American Cruise Line added the River City to its Ohio River itinerary in late summer and fall 2022.
That would be exciting! Evans ville could again be a river city with a riverboat.Asalways, I look forward to hearing from KristenSincerely,you.K. Tucker Publisher & Editor
cruise line, four more stops in Evansville were added to the Ohio River itinerary this fall. Berggren says that the cruise line travels with its own transportation and employees to escort passengers on onshore excursions, which can include tours, dining, shopping, and visiting cultural attractions.
the island in the overnight hours as the dredging was completed this year. (We couldn't help ourselves; please see "Best of Evansville," page 49.)
Late this summer, the public learned that American Cruise Lines, Inc., pro moted as "America's #1 River Cruise Line," was adding a trial stop in Evans ville on its 11-day Ohio River itinerary from Pittsburgh, Pennsylvania, to St. Louis, Missouri. On Aug. 8, the city wel comed 97 passengers aboard the Amer ican Heritage for a four-hour port visit.
We witnessed, as we have in past summers, the creation of "The Pump Out" sand island in the middle of the riv er directly across from Downtown as the U.S. Army Corps of Engineers dredged the channels. And we could see from our windows – and better with binoculars – the 1970s camper that showed up on
Alexis Berggren, President & CEO of Visit Evansville, shared later that day that due to the success of the trial which Visit Evansville managed with the
In late 1995, a boat returned in the form of Casino Aztar's riverboat casino, "City of Evansville." While she moved up and down the river for a short time, the "City of Evansville" spent most of her years permanently docked on the riverfront. When the casino moved onto land in 2017, the riverboat set sail for New Orleans, Louisiana. In 2019, af ter a complete renovation, it opened as a permanently docked upscale event center, the Riverboat Louis Armstrong.
In 2018, plans were announced to relocate the LST-325 from its Marina Pointe location to Riverfront Park across from Tropicana Evansville (now Bally's) in the spot previously occupied by the casino's riverboat. In June 2020, the LST325 moved to its attractive new port on Riverside Drive. This move made available the LST dock at Marina Pointe – certainly large enough for small cruise ships since it had secured the massive 327-foot-long historic landing ship tank in 2005.
Letters to the editor can be sent to letters@evansvilleliving.com.
"We are so excited to be reactivat ing riverboat visits to our shore, and we hope the American Heritage, and our partnership with American Cruise Lines, only marks the beginning of new tourism opportunities and amenities for our community," Berggren says. "Along with the cruise lines, our team continues to work toward attracting a riverboat to Evansville full time, which will offer day and nighttime excursions for the local public and visitors alike."
MAKE THE MOVE TO Fast Internet INTERNET STARTING AT $1999 /MO* No Data Caps30 Day Money Back Guarantee No Contracts Refer Frienda Advertisedpromotionalpricesarevalidfor12monthsfrominstallationdate.110MbpsInternetofferincludesupto110MbpsInternetserviceat$19.99permonthfor12monthsfrominstallation.Regularratesapplyafterpromotionalperiodends.Offer includesanadditional$5monthdiscountforenrollmentinbothautomaticpayments(autopay)andpaperlessbilling(e-bill);validemailaddressrequired.Mustenrollwithin30daysofplacingtheorder.Withoutenrollment,themonthlyservice chargeautomaticallyincreasesby$5month.Discountisfor36monthsandappearsonbillwithin1-2billcyclesafterenrolling.Ifeitherauto-payore-billiscancelled,servicesarechanged,oraccountisnotingoodstandingduringthe36months period,the$5monthdiscountwillbediscontinued.OffersvalidfornewresidentialsubscribersthathavenothadRCNserviceinpast60days.OffersexpireDecember31,2022.ReferaFriendProgramsubjecttomodificationorcancellationatany timeatthediscretionofAstoundBroadband.Otherrestrictionsmayapply.Toreceiveyourreferralcredit,bothreferrerandrefereemustmaintainAstoundBroadbandserviceforaminimumof90days.ServiceofferingsarecontingentuponAstound BroadbandverificationthatthespecificaddresscoveredbytheservicerequestisanAstoundBroadbandserviceablelocation.Pricesdonotincludetaxes,franchisefeesorothersurcharges.Servicesandpricingaresubjecttochange.Nocontractis requiredtotakeadvantageofthepromotionalpricingandsavings.Noearlyterminationfeesapplyintheeventserviceisterminatedinadvanceofthepromotionalenddate.Customerisresponsibleforanyaccruedservicechargesintheevent serviceiscanceled.Subjecttocreditcheck.Visitastound.com/official-noticeforadditionaltermsandconditions.Otherrestrictionsmayapply.AOne-TimeActivationfeeof$9.99inadditiontoyourinstallationchargeswillbeapplied.Theactivation feeoffsetsaportionofourcostofsettingupyouraccount,allocatingandrestockingequipmenttoourinventory,activatingyourdevices(boxesandmodems)onthenetwork,andconnectingyourhometoourservices.Allnames,logos,imagesand servicemarksarepropertyoftheirrespectiveowners.Notallservicesareavailableinallareas.Formoreinfovisitastound.comorcall.AppliestoResidentialservicesonly;commercialandbusinesspricingandserviceofferingsdiffer.Offerssubject tochangewithoutnotice.©2022RCNTelecomServicesofIllinois,LLC.AllRightsReserved. astound.com/in-referALREADY A CUSTOMER? Refer a friend and get up to $50 off your bill. 1.800.4.ASTOUNDastound.com/in-bu
Pamela Dittmer McKuen via Facebook
The "On the Cover" cutline in the July/ August issue missed some important details. Those mouthwatering tomahawk steaks were cooked on a Big Green Egg by Jeff Raymond at Bassemier's new Grilling Supply Co. on Morgan Avenue.
Molly and Shon Shourds of Beatrice the Bus via Instagram
Thank you to Evansville Living for this wonderful article about the basketball court mural in Tepe Park. ("On the Court," July/August 2022)
Great article with excellent family history. ("Keeping the Culture," May/June 2022) Talmadge Vick via Facebook
Have you seen our e-newsletter? Insider is released on Thursdays and features exclusive stories.
We just love the article so much! Thank you all again! ("Too Cool for School," July/August 2022)
HOME IS WHERE THE HEART IS Our home is featured in Evansville Living. Feeling proud! ("A Slice of Paradise," July/August 2022)
MONKEY BUSINESS
evansvilleliving.comCONNECTWITHUS
Someone please … pinch me! Thank you Evansville Living for the opportunity to showcase my edible art with the Tri-State. What an absolute dream! I have each and every one of you to thank for you love of my cookies
Melissa Mattingly, Henderson, Kentucky
CORRECTION
I was privileged to write about renowned photographer Mark Edward Harris and his work to save orangutans from extinction for Evansville Living magazine. ("Pensive Primates," May/June 2022)
Corderro Stith via Facebook
STUNNING STUDIOS
SEPTEMBER/OCTOBER 2022 EVANSVILLE LIVING 13 Conversation
Community One via Facebook
ON THE ROAD
The WhiskWhimsyviaFacebook
TRUE TREASURE (Staff Writer) Dallas Carter, I just received and opened the box of Evansville Living magazines — joyous day! Your article ("The Patron and the Painter," July/ August 2022) is just superb. My family will treasure this tribute to mother and Katie – and I know Katie feels the same. A big thanks to you and (Publisher and Editor) Kristen Tucker for including this story in such a beautiful magazine.
ONE FOR ALL…
We just made this month's issue of Evansville Living magazine. Full page spread. Dreams are only dreams until you do something about it. ("On the Court," July/August 2022)
Karen Walthall via Facebook
SHOOT FOR THE STARS
Saint Louis Craft Alliance via Facebook
FRESHYOURRIGHTCONTENTININBOX
… I am AugustUp,"heart.bottomyougrateful!soThankfromtheofmy("BatterJuly/2022)
Thanks Evansville Living! Come see our studios for our #thirdfriday Makers Market. ("New Direction," May/June 2022)
DAYDREAMING
ALL IN THE FAMILY
Letters to the editor can be sent to letters@evansvilleliving.com.
On the Road Again: Sharon and Ed Anderson were bit by the travel bug again this summer. Their June-July trip through France, Germany, and Switzerland included a stop at Mont Saint-Michel in Normandy with the March/April 2022 issue of Evansville Living
All Roads Lead to Evansville: While visiting the Caribbean island of St. Lucia in June with a copy of the May/June 2022 issue of Evansville Living, Newburgh, Indiana, residents Tom and Jill Dean chatted with Gaurav Sandhi, general manager of Sandals Grande St. Lucia, and learned Sandhi used to live in Newburgh and manage Evansville's Ri Ra Irish Pub, which closed in 2018.
Remodeling By Popham! French doors lead to a large kitchen area Call Us Today! (812) www.pophamconstruction.com479-5850Year-round1978SINCE spacious sunroom!
Fun in the Sun: International travel writer and Evansville resident Debbra Dunning Brouillette took a copy of the March/April 2022 issue of Evansville Living along for a road trip to Navarre Beach on the Florida Panhandle in April.
Traveling Sisters: Five alumna of the University of Evansville's chapter of Phi Mu, Sylvia DeVault, Dee Carithers, Susan Van de Bittner, Sally Rideout, and Kaylynn McCallister, attended the sorority's 50th anniversary celebration with a copy of the March/April 2022 issue of Evansville Living from May 28-31 at Harlaxton College, UE's study abroad campus in Grantham, England.
SEPTEMBER/OCTOBER 2022 EVANSVILLE LIVING 15 Snapshots
Sweet Music: While attending a concert Aug. 7, Shane and Andrea Pollard of Evansville hauled out a copy of the July/August 2022 issue of Evansville Living for a group photo. The Pollards met friends for a night of music by Rodd Rundgren and Daryl Hall on the "Live from Daryl's House Tour" at Kings Island in Maineville, Ohio.
Enjoy the rolling southern Illinois countryside where you can sip your way along and discover truly surprising and authentic wine culture on the Shawnee Hills Wine Trail.
The Shawnee National Forest offers hiking, horseback riding, rock climbing, and some of the best fishing around. You won't want to miss the Garden of the Gods — rock formations more than 300 million years old — sculpted patiently over time by wind and rain. Follow the popular Observation Trail at Garden of the Gods where breathtaking views can be found.
Bed and breakfasts dot the region and are great launching pads for wine tasting, hiking, or biking enthusiasts. Cabins in the area offer a secluded getaway, some that are pet friendly and some with hot tubs.
Breathtaking natural beauty and great opportunities for outdoor recreation, a trip to Giant City State Park near Makanda is sure to delight. Check out the 82-foot, 100,000-gallon water tower with a 50-foot observation deck that provides memorable panoramic views. Visit Giant City Stables to
arrange a guided horseback trek or a pony ride for the kids.
Shawnee Bluffs Canopy Tour offers a three-hour adventure through the trees with eight zip lines and two suspension bridges.
An old railway converted into the bike path, The Tunnel Hill State Trail is a 48-mile trail winding through farmland, thick woods, lush wetlands, and a tunnel for which it was named.
Advertisement
SEPTEMBER/OCTOBER 2022 EVANSVILLE LIVING 17 Epilogue
A Tecumseh High School class studying housing and interior design recently visited the home to learn about the Usonian style.
Peters-Margedant House educates a new generation of design students
A PURPOSERENEWED
"UE backed the initiative and helps maintain the house; we, in turn, work with students to cre ate a space to learn and study from," Wilderman says.
M
The house is open for free tours and hosts students for learning activities, which can be mutually beneficial. A spring 2020 ChangeLab class provided significant improvements, includ ing upgraded interior lighting, in a collaboration that Wilderman says gives students "real-world issues to work on."
Keep your retirement in the fairway Wayne Hentrup wayne@retirehfg.com(812)President/Wealth482-6200 Matthew Effinger Financial Advisor (812) matthew@retirehfg.com482-6200 INTRODUCING: Hentrup Financial Group is an independent financial firm with an emphasis on retirement planning. Our primary focus is helping folks to keep the assets they've worked their entire life to accumulate while maintaining their lifestyle in a "work optional" retirement. Wayne Hentrup is an investment advisor representative of, and securities and advisory services are offered through USA Financial Securities Corp., Member FINRA/SIPC. Also, Matt Effinger is an investment advisor representative of, and advisory services are offered through USA Financial Securities Corp. A registered investment advisor located at 6020 E. Fulton St., Ada, MI 49301. Hentrup Financial Group is not affiliated with USA Financial Securities Corp. www.retirehfg.com STRAWZACHBYPHOTOS SIMPLE PLEASURES petersmargedanthouse.com
"The students in this class were very engaged; they asked wonderful questions," Wilderman says. "That's a goal of ours, to outreach to schools to get more classes in to visit."
BY JODI KEEN
any know of famed architect Frank Lloyd Wright, but Evans ville's 1934 prototype of his Usonian style continues to fly under the radar — hopefully, says curator Emily Wilderman, not for much Evansvillelonger.resident and Wright collaborator William Wesley Peters built the 552-square-foot curiosity, complete with geometric architec ture and a flat roof, for his relatives the Margedants at 1506 E. Indiana St., a fascinating story captured by [Evansville Living] in the July/ August 2013 article "Not Quite Wright." With support from Indiana Landmarks, the University of Evansville, and the city's Department of Metropolitan Development, the now-called Peters-Margedant House was lifted and moved in 2016 to UE, Peters' alma mater. A private foundation has custody of the house.
Landscapes Foster ... with
by Dallas
Through a wide array of services including design and installation, water features, consultation, maintenance, seasonal displays, and more,
for lives
brings each client's dream space to life with beautiful, harmonious, natural works of art — inside or out. Design • Install • Maintain (800) www.dallasfoster.com659-0719 Vincennes 3729 N. Camp Arthur Road (812) 882-0719 Evansville 829 Canal Street (812) 423-7098 Inspiring with nature
insight
TOTUNNELNATURE
WOODLAND OASIS Wesselman Woods marked 50 years of preservation and conservation work by revealing the Bernhardt Family Bird Sanctuary, a curious tunnel of stacked logs that has become an instant hit with visitors. wesselmanwoods.org
SEPTEMBER/OCTOBER 2022 EVANSVILLE LIVING 19
riginally opened in May 2018, the Welborn Baptist Foun dation Nature Playscape at Wesselman Woods Nature Preserve received a major facelift this summer with the addition of the Bernhardt Family Bird Sanctuary. Built by Wilde Horticulture and Adam Green Architect, the two additional acres are filled with interactive structures that are perfect for child's play and bird habitats alike. Come through the tree-stump archway into this National Natural Landmark's world of wood, brush, and natural fun from 9 a.m. to 5 p.m. Tuesday-Saturday and noon to 5 p.m. on Sunday.
Wesselman Woods debuts new bird sanctuary
TRENDING NOW PHOTO BY STEVE GEIS FOR THE BIRDS
STORIES AND SCARES P.20 PILLARS OF FREEDOM P.20 BLOOMING BEAUTIES P.21
O
Good Living
BY DALLAS CARTER
"I remember getting homemade candy, like chocolate-dipped pretzels or a popcorn ball," he says. "When we reached about 13 or 14, entering high school, we stopped going trick or treating because we were considered too old."
By Firelight
WE WERE CURIOUS
Holiday World, 452 E. Christmas Blvd., Santa Claus, IN Tickets: $64.99 per person per holidayworld.com/shows-events/dayhappy-halloween-weekends
G
uarding the Ohio riverfront Downtown, the Four Freedoms Monument is one of Evansville's most familiar landmarks. Passersby may be curious about its history, which dates to decades before its installment.
"Most of my stories are for children," she says, "but I've observed adults enjoying them as well."    "Kids come, but so do adults," Huff echoes.  "Adults seem to have a need for this type of storyAnotheralso." of the group's tale-tellers, Jeff Jones has held onto his own childhood love of Halloween.
facebook.com/RiverTownStoryTellersvchshistory.orgnutclub.org
"Because the event at Camp Rudolph is an outdoor setting, it's not practical to use visuals as the audience is sitting around a campfire in the evening," says Barbara Klamer who joined the group after re tiring. Klamer has found sim ple sound effects for stimulat ing listeners' imaginations still work well.
Happy Halloween Weekends Weekends Sept. 24-Oct. 30
famous 'Four Freedoms' speech before WWII," Schmitt says.
Four Freedoms Monument's limestone columns had a prior life
7,500 people contributed a total of $137,000 to create the monument, a round plaza with 13 steps for the original colonies; the four columns; and a ring of 50 pedestals, one for each state. The monument was dedicated in 1976.
A local love of Halloween is still evident, however, and has existed since long before even the first Vanderburghfestival.
KNOW YOUR HISTORY
PHOTO BY ZACH STRAW
According to past West Side Nut Club pres ident Richard Barchet, the festival moved from its original date of Halloween to Oct. 24 in 1941 and then to Oct. 21 in 1946, mainly to avoid cold weather. As it has grown and diversified, the fall festival seems to have abandoned its roots in the pumpkin patch. Barchet says these days, the festi val's only connection to Halloween is that "the Nut Club participates in the West Side Trick or Treat Day, which was initiated a few years ago. Nut Clubbers hand out candy along with other West Side merchants on Franklin Street."
County Historical Society Sec retary Stan Schmitt notes Halloween in Evans ville originated as widespread pranks, parties, and masking and decorating. As the popularity of Halloween has grown, its commercial possibil ities have exploded, but the (ghostly) spirit of the occasion is still observed in traditional activities.
"Looking fairly impressive, the columns were chosen to stand in for President Franklin Roosevelt's
Evansville celebrates Halloween
EVEN WITH THE GREATER Evansville area preparing for its ballyhooed West Side Nut Club Fall Festival Oct. 3-8, there's time to get ex cited about Halloween, too.
For the past 20 Halloween seasons, Mary Jo Huff and the RiverTown StoryTellers have kept the
BY MICHELLE MASTRO
Made from Indiana lime stone, the 26-foot columns built in 1907 once embellished the fa cade of the C&EI Railway Depot near Downtown, a symbol of In diana's identity as the crossroads of America. The building hosted the USO during World War II, later became a community center, and was razed in 1961.
jack-o'-lantern lit, telling scary stories around the campfire at (the ironically named) Santa Claus, Indiana's Lake Rudolph Campground, for seven Friday nights.
AREA HAUNTS
House of Lecter Haunted House Weekends starting Sept. 23 325 Main St., Evansville Tickets: $20 per person per venue oldcatacombs.com
Lake Rudolph Halloween Weekends starting Sept. 16 Sun Outdoors Lake Rudolph 78 N. Holiday Blvd., Santa Claus, facebook.com/SunOutdoorsLakeRudolphIN
Murphy Auditorium, 419 Tavern St., New Harmony, IN Tickets: $40 per jonimayhan.comperson
20 EVANSVILLE LIVING SEPTEMBER/OCTOBER 2022 Good Living IN THE SPOTLIGHT
Haunted New Harmony Ghost Walks 7-8:30 p.m. weekends starting Sept. 9 Historic New Harmony, Indiana Tickets: jonimayhan.com$20
BY MATT A. SHEEN
"Back in the 1970s, the national bi centennial was a big to-do," says Vander burgh County Historian Stan Schmitt. "Here in Evansville, the Downtown Ci vitan Club was looking for a community project. Until then, the stone columns had sat in storage for 10 years."
The monument still serves as a gathering spot where Evansville residents practice the civil liberty of a peaceful protest.
REPURPOSED PILLARS
FDR evocated the importance of these universal freedoms — freedom of speech, freedom of worship, freedom from want, and freedom from fear — in his Jan. 6, 1941, State of the Union address.
Huff often wears a costume to suit the oc casion — "it is important to look different, folks expect the unusual," she says. Flickering firelight on a dark night offers atmospherics equal to hightech modern effects.
Old Courthouse Catacombs Weekends starting Sept. 23 201 N.W. Fourth St., Evansville Tickets: $20 per person per venue oldcatacombs.com
Paranormal Investigation, presented by Haunted New Harmony 8-11 p.m. Oct. 1
MARY JO HUFF
"The visitor experience in 2022 is complete ly different and improved," Strehl says. "Even entering the garden in a new way makes it feel brand new. The garden has never looked bet ter because of all the exciting things that have happened and countless volunteer hours."
WORTH THE DRIVE WEATHERBERRY HOME DAYLILY GARDENS BUTTERFLY SCULPTURE
The botanical garden's signa ture annual event is its Dazzling Daylilies festival each June, of fering a plein air paint-out, live music, and daily tours, along with thousands of blooming daylilies.
Since March, the garden has welcomed guests via its new visitor center located in the WeatherBerry. The 1840s Greek Revival home once was
SEPTEMBER/OCTOBER 2022 EVANSVILLE LIVING 21
collaboration between the garden, glass artist Scott Poynter, and metal fabricator Chris"ChrisSchartung.masterminded the engineering.
DailyClosedMonday-Fridayonallholidayssingleadmission
He made the butterfly anatomically cor rect so we can use it as an educational component," Executive Director Laurna Strehl says. "We hope people are more intentional about being outside and ex perience the healing power of nature."
WHEN YOU GO
is $5 for adults, $3 for senior citizens and veterans, and $1 for children and students. Cash or Venmo payments are accepted.
owned by Bill and Susie Tyler, who donated the original eight acres that began the garden that was established in 1993. The WeatherBer ry served as a bed and breakfast during the 1990s, and after several owners in between, was purchased by the botanical garden in late 2020. It provides guests with a convenient entrance and gift shop directly off Second Street. In turn, the garden's new Path of Hope & Healing connects the WeatherBerry to the existing botanical gardens.
Spread across more than 15 acres less than two miles west of downtown Ow ensboro, the garden offers a lush arrange ment of sculpture and artwork, herbs, flowers, native plants, and trees. Although daylilies are the specialty, the grounds contain spaces devoted to conifers, ros es, Japanese plants, meditation, and a koi pond. The botanical garden mixes natu ral beauty with art in its Path of Hope & Healing, decorated with a dozen colors of glass ribbons signifying the top 12 cancers diagnosed in Kentucky. The path leads to a similarly colored butterfly sculpture, a
2731 W. Second St., Owensboro, Kentucky 270-993-1234 • wkbg.org
TOP LEFT PHOTO BY GREG EANS. TOP RIGHT PHOTO PROVIDED BY WESTERN KENTUCKY BOTANICAL GARDEN. WEATHERBERRY HOME PHOTO BY ADAM PARIS, AP IMAGERY AND PROVIDED BY WESTERN KENTUCKY BOTANICAL GARDEN
Western Kentucky Botanical Garden buzzes with activity
WESTERN BOTANICALKENTUCKYGARDEN
OWENSBORO, KENTUCKY, only a 40-mile drive southeast of Evansville, can feel like a world away. Known for its bluegrass music, tangy barbecue, and lively riverfront park, Owensboro also hosts a hidden gem in its Western Ken tucky Botanical Garden.
In Full Bloom
BY JODI KEEN
Guests can amble through the Moon lite Children's Garden or children's play house; survey the 16-foot-tall "smart flow er," whose 12 solar panel petals generate 2,500 watts of electricity; and attend spe cial sculpture and gardening exhibitions throughout the year. The garden regular ly hosts volunteer work sessions on the first Saturday of each month and spe cial events such as the Family Fun Day planned for Sept. 24 from 10:30 a.m.-12:30 p.m. Scarecrows also make their return this fall and will be in stalled through Halloween.
March-October: 9 a.m.-4 p.m. Monday-Friday, Noon-4 p.m. Sunday November-February: 9 a.m.-3 p.m.
CURTAIN CALL
"The building changes, but as long as I have anything to say, as long as our board has any thing to say about it, this orga nization isn't going anywhere anytime soon," Roach says. "We want a legacy, not a building."
SEPTEMBER/OCTOBER 2022 EVANSVILLE LIVING 23 Culture SMALL TOWN COOL P.24 ARTISTIC JOURNEY P.25 FALL GUIDE TO EVENTS P.26
BY RILEY GUERZINI
was a movie theater and then a beer garden before hosting liveTheperformances.CivicTheatre's future venue will be a homecoming of sorts. The Coliseum was the site of some of the group's earliest performances in the 1920s and '30s when it was known as the CommunityMaintainingPlayers.the 222-seat Columbia Theater has been costly. The ECT fell well short of a $150,000-minimum fund raiser launched at the start of the HVACrewiring,updatedandkeepbareRoachpandemic,COVID-19whichsayswastheminimumtothevenuesafefunctionalwithplumbing,andanewsystem."Wehavelovedbeing
In the meantime, the Civ ic Theatre is working with the Evansville Vanderburgh School Corporation to tempo rarily hold performances inside Benjamin Bosse High School's auditorium. The collaboration includes acting, directing, stage production, and other educa tional workshops that ECT will host for Builtstudents.in1910, the old Co lumbia Theater at the corner of East Columbia Street and North Fulton Avenue first
Auditions for each show
ON THE STAGE
THE SHOW GOES ON evvcivic.org
here, and it is going to be extreme ly sad leaving it, even for me," Roach says. "But the building has just become more expensive to maintain every year."
Evansville Civic Theatre will leave its longtime venue following 97th season
PORTRAIT OF KEVIN ROACH BY ZACH STRAW OTHER PHOTOS PROVIDED BY EVANSVILLE CIVIC THEATRE
he Evansville Civic Theatre will take its final bow at the old Columbia Theater this season, moving on from the venue it has called home for 48 Managingyears. Artistic Director Kevin Roach says the troupe will host shows at the Soldiers and Sailors Memorial Coliseum at 300 Court St. when an esti mated $35 million renovation is completed on the facility in the coming years.
The troupe's final season in its current location opened Aug. 26 with a staging of "Tick, Tick … Boom!" ECT will present "Fairview," a fourth wall-break ing interactive drama that con fronts modern-day racism, in late October. In December, the Civic Theatre will break from its traditional Christmas play
STAGE MANAGEMENT Managing artistic director Kevin Roach says he sees the Civic Theatre's return to the Soldiers and Sailors Memorial Coliseum as a "homecoming" for the organization. The troupe hosted some of its earliest performances at the venue nearly 100 years ago. open during the previous show. Season tickets and more show information is available on the organization's website.
"Fahrenheit 451," a play based on the classic literature novel, will open March 31. The season will close with a small cast version of "Big Fish," based on the Daniel Wallace novel and Tim Burton film.
with a performance of the critically acclaimed comedic drama "Steel Magnolias" be fore previewing its temporary new home at Bosse High School with "She Kills Monsters" in January as part of the theater's annual Next Wave production.
T
"I haven't been doing music my whole life," Stemaly says. "A lot of peo ple I grew up with are blue-collar workers, and I feel like I'm a blue-collar guy. The experiences from living that kind of lifestyle helped me write the songs that I've made."
Stemaly is on tour promoting his debut album and will open on three dates of Justin Moore's "The Country On It Tour" in September. seanstemaly.com
COUNTRY ROAD
HOMETOWN HOMAGE Country singer Sean Stemaly performs songs from his debut album "Product of a Small Town," a tribute to growing up in southwestern Indiana, on July 27 at the Vanderburgh County Fair.
"Valentine's was now only a day away and Bonnie's 'Greg' was due back five days later, on the 19th. I wasn't looking forward to the big event, or to be more specific, I didn't want to share my new and only best friend with this stranger." — chapter 2
PHOTOS PROVIDED
Sean Stemaly's 'Product of a Small Town' pays homage to River City roots
Wide Open Evansville R. Erick Jones 2022, Fanolia Publishing
PHOTO BY RILEY GUERZINI
The Locked Trunk: Secrets from the Past Judy Elizabeth Busby 2022, Dorrance Publishing Co.
The William Henry Harrison High School graduate has rocketed into the country music scene from humble roots, spending his days in fields singing along to the radio atop a tractor while working for his family's business, Ste maly Excavating. He released a few videos online in the mid-2010s showcasing his singing prowess but had no intention of breaking out into the compet itive country music industry. It wasn't until a friend convinced him to go to Nashville, Tennessee, to try his hand at songwriting that he became obsessed.
One of Pandora's 2021 country artists to watch, Stemaly moved to the Music City in 2017, and two years later, his dreams became a reality when he signed with Big Loud Records after the success of his single "Georgia." His music has already garnered more than 135 million on-demand streams, and his debut album "Product of a Small Town," released earlier this year, pays homage to his experiences growing up in Southern Indiana and re lates to his days as a heavy equipment operator.
SHELF LIFE
"I've been in this crowd so many times back whenever I didn't even know I could do music," he says. "This one specifically is kind of cool to me just because five years ago, I never would've thought I would be on the stage side of things."
24 EVANSVILLE LIVING SEPTEMBER/OCTOBER 2022 Culture ENTERTAINMENT CENTER
Blankets of Love Kathy Tuley 2022, Miracle Blue Press
Author and Evansville resident Kathy Tuley's first children's book tells a story inspired by her daughter Michelle, who unexpectedly died at age 12. "Blankets of Love" highlights the compassion of a child's heart and shows big and little readers alike how easy it is to make a difference in the lives of others.
Full Circle
THE GRANDSTANDS OF the Vanderburgh County Fair were rocking July 27 in a homecoming for Sean Stemaly, who returned to the same venue where he's attended countless live music shows. Only this time, it was Stem aly entertaining fairgoers using his charming southern drawl, heartland soul, and catchy country tunes.
BY RILEY GUERZINI
"I'd work all day for my dad (Jeff) and grandpa (Larry) and then write songs all night," he says. "Eventually, I had to make a choice between the two."
"Nana started to make plans. Soon, those plans turned into blankets. Beautiful, warm, colorful soft blankets. Each made with love." — page 17
Written by Owensboro, Kentucky, resident Judy Bus by, "The Locked Trunk" holds two love stories and a devastating secret, following protagonist Linda as she navigates a broken heart through a failed relationship and new beginnings with the possibility of rebirth in a new love and faith.
"Wide Open Evansville" offers remarkable insight into the investigation and trial of 1920s Evansville Police Chief Edgar Schmitt, who was accused of sell ing confiscated liquor from the police station as In diana observed Prohibition. Author Erick Jones, the great-grandson of the police captain in charge of the infamous "booze boat," uncovers the true story of the whiskey ring conspiracy.
"One night Captain Friedle and some officers used that boat to smuggle li quor from Kentucky into Evansville. They ended up getting caught by the sheriff and, after an investigation, Police Chief Schmitt was implicated as the ringleader. They were all prose cuted and found guilty." — page 1
Memorial High School alum says. "Positive affirmations are really important to me, but I do not want my art to tell the story of positivity without telling the opposite story of the benefit of diving into your pain."
FUNCTION MEETS ART
After graduating from the University of Southern Indiana in 2019, Petersen worked in health care. But for her, painting everyday items such as TV remotes, planter pots, and jewelry boxes has blossomed into more than just a side hustle: It's a way for her to send messages she believes in.
"I started sharing my art with people on social media in 2016," she says. "In January 2020, I quit my job and started doing art. And then the world stopped from COVID."
Roger Kalia, Conductor
CONCERT SPONSORS Phil & Linda Palmer Fassett William E. Schmidt Foundation CHORUS SPONSOR Friends of the Chorus GUEST ARTIST SPONSOR Neal Franklin in memory of Joseph E. Franklin, Jr. Heavenly Spheres REQUIEMMOZART Featuring the SubscriptionsPhilharmonicEvansvilleChorusNowOnSale!812/425-5050www.evansvillephilharmonic.org Sunday November 13 4 TheatreVictoryp.m. Also hear Mozart's Ave verum corpus & Aaron Jay Kernis' Musica Celestis PAINTING APLENTY laurenbethpaintz.com PHOTOS PROVIDED BY LAUREN BETH PETERSEN
Creating Beautiful Music For You Evansville Philharmonic Orchestra 2022-2023 Season
"Lately, my focus has been on trying to put my not-so-positive emotions into my art," the Reitz
rtist Lauren Beth Petersen believes ordinary doesn't have to mean boring. Life is just too short not to add some visual interest.
Lauren Beth Petersen applies colorful, upbeat designs to everyday items
A
Her art journey has impacted her own life in a dramatic way.
SEPTEMBER/OCTOBER 2022 EVANSVILLE LIVING 25 CREATING
BY MICHELLE MASTRO
Petersen sometimes was discour aged but worked toward becoming a full-time artist. Soon, she got into window and mural painting, receiv ing so much positivity that she has moved onto similar projects, such as a scene in Washington Square Mall for Annalee's Twice Chosen and another mural for Schymik's Kitchen. She's painted windows at Massage For Your Health and has a new project next door at the Warrick Veterinary Clinic.
"I love that my art can make people's days a little better," she says. "I've gotten such a positive response. It still feels unreal to be doing some thing I love and impacting people in this way."
Culture THE GUIDE
7:30 p.m. Ford Center, 1 S.E. Martin Luther King Jr. Blvd. fordcenter.com
All Saints Parish and Seton Harvest are bringing back their produce van full of free, fresh vegetables. Produce is first come, first served until all is gone.
Browse the work of more than 100 regional artists at Fall Funk in the City. The day in cludes food vendors and other local merchants and provides a district.theshopenvironmentfuntoandexploreDowntownarts
Tracy Lawrence, John Mor gan, and Dee Jay Silver.
Editor's Note: Event dates were accurate as of press time. Please check directly with the organization or venue for the latest event news before attending. If your organization would like to share events with Evansville Living, please email events@evansvilleliving.com.
Evansville Colman,Berloiz,offOrchestra'sPhilharmonic88thseasonkickswithaclassicsconcertofTchaikovsky,ValerieandRespighi.
SEPTEMBER 24 Party in Paradise
SEPTEMBER 30
5-10 p.m. Friedman Park, 2700 Park Blvd., Newburgh, IN. partyinparadise.org
All proceeds support local housing restoration and neighborhood revitalization work.
SEPTEMBER 29
SEPTEMBER 24
26 EVANSVILLE LIVING SEPTEMBER/OCTOBER 2022
PARTY IN PARADISE PHOTO BY RILEY GUERZINI. ALL OTHER PHOTOS PROVIDED
SEPTEMBER 23 Community One Golf Outing
SEPTEMBER 25
Enjoy an evening of live music, food trucks, and cold beer at this gathering to benefit the Warrick Parks Foundation and Warrick Trails.
10 a.m.-5 p.m. Haynie's Corner Arts District, corner of S.E. Second and Adams hayniescorner.comstreets.
Opening Night: Tchaikovsky and Pines of Rome
OFS Cool Springs, 9412 IN-64, Velpen, IN.
Jason Aldean Concert
Community Produce Giveaway
SEPTEMBER 24
Fall Funk in the City
Multi-platinum artist Jason Aldean will stop in Evansville for his "Rock N' Roll Cowboy Tour" featuring special guests
Boonville Lions Club Spaghetti Dinner and Auction
Clays for a Cause
SEPTEMBER
3 p.m. St. Anthony Catholic Church Campus, 704 N. First Ave. 812-423-5209 or tbogenschutz@evdio.org
Join the Boonville Lions Club for a spa ghetti dinner funding yearly scholarships for Boonville High School seniors.
SEPTEMBER 24
7 p.m. Victory Theatre, 600 Main St. 812-425-5050 evansvillephilharmonic.orgor
4-7 p.m. Studio Bee Community Youth Center, 120 Flint St., Boonville, IN. 812-897-5000
Enjoy a day of golf, host a team, or promote your organization.
Cambridge Golf Course, 1034 Beacon Hill. community1.org
A day of sporting clays, music, and food will benefit the Ronald McDonald House Charities of the Ohio Valley. Each squad of five will take 100 shots at 20 stations around a scenic onemile course.
CHECK OUT OUR NEW WEBSITE! Visit evansvilleliving.com
he inaugural Edward D. and Regina Rechnic Holocaust Series at the University of Southern Indiana will honor late Evansville resident Irene Rechnic's parents' and their struggle to survive the tothroughHolocaust19,nearlaterBelgiumRechnicsfamilywhotheirRechnicsationWorldconcentrationAuschwitz-BirkenaucampduringWarII.AftertheAllies'liber-ofAuschwitz,thereunitedwithdaughterIrene,livedwithaPolishduringthewar.TheimmigratedtoandeightyearssettledinEvansville,arelative.Irene,whodiedonJuly2022,establishedtheSeriesin2020anendowmentgifttheUSIFoundation.
5:30-8:30 p.m. Main Street, Downtown Evansville. downtownevansville.com
T
SEPTEMBER CONTINUING28 A LEGACY
SEPTEMBER 30 Downtown Evansville Fall Wine Walk
6 p.m. Victory Theatre, 600 Main St. victorytheatre.com
6 p.m. Americanp.m.30-Oct.Sept.1,1Oct.2.Legion
SEPTEMBER/OCTOBER 2022 EVANSVILLE LIVING 27
Love, Sex, and the I.R.S
CHECK IT OUT
Kapperman Post #44, 711 State St., Newburgh, newburghcommunitytheater.orgIN.
Join the Newburgh Commu nity Theater for a come dic theater.dinner
The fund will support annual speaker programs on Holocaust toThetoquestionser,willAttorneyremembrance.CharlesBergerserveasguestpresent-withanopportunityforandareceptionfollowthepresentation.eventisfreeandopenthepublic.
SEPTEMBER 30OCTOBER 2
— Riley Guerzini
7-8 p.m. University of Southern Indiana – Carter Hall, 8600 University Blvd. usi.edu
BERGERCHARLESATTORNEY
This evening of wine, shopping, and live music is in partnership with Bloomington, Indiana-based Oliver Winery. Tickets are required.
Napoleon Dynamite: A Conversation with Jon Heder, Efren Ramirez, and Jon Gries
The charming quirkiness of adolescence in the 2004 film "Napoleon Dynamite" reso nates during a special screen ing and moderated discussion with stars Jon Heder, Efren Ramirez, and Jon Gries.
SEPTEMBER 30
Historic HalloweenNewburghIlluminations
OCTOBER 1-2
The Riverside Historic District and Haynie's Corner Arts District tours bring to life the secrets and tales of historic Evansville mansions, each echoing stories of history, mystery, and tragedy.
11 a.m.-6 p.m. Wesselman Park, 560 N. Boeke Road. events/wesselman-parkfacebook.com/
Preservation Hall, 200 State St., Newburgh, IN. historicnewburgh.org
GhostHauntedOCTOBERTHROUGHOUTHistoricEvansvilleWalks
Chalk It Up to Awareness
OCTOBER 3-8
21st Annual SMILE Mile S.M.I.L.E. on Down Syndrome's SMILE Mile celebrates National Down Syndrome Awareness Month, promotes acceptance and inclusion of people with Down syndrome, and raises funds for critical programs.
6-9 p.m. Gene Aurand Trailhead, corner of SR 662 and Yorkshire Drive, Newburgh, historicnewburgh.orgIN.
9 a.m.-noon. Vanderburgh 4-H Fairgrounds, 201 E. BoonvilleNew Harmony smileondownsyndrome.org.Road.
Various community locations ywcaevansville.org
OCTOBER 1
OCTOBER 1-31
West Side Nut Club Fall Festival
9 a.m.-3:30 p.m. Old National Events Plaza, 715 Locust St. swimga.org
OCTOBER
OCTOBER 2
SWIMGA Fall Conference
The Southwestern Indiana Master Gardener Association presents its fall conference with a day of guest speakers, lunch, and a unique shopping experience.
All proceeds from this citywide race will benefit the YMCA's youth programming, Camp Carson, Y-Cap, and more. A self-run half mara thon for kids concludes with participants running the final mile together on race day.
The famous weeklong festival on Franklin Street includes carnival attractions, more than 100 food booths, amateur talent competitions, live enter tainment, and a parade. West Franklin Nutclubfallfestival.comStreet.
OCTOBER 13-16, 20-23
Great Pumpkin Metric
The Beehive Arts Market
8 a.m. Vanderburgh County 4-H Fairgrounds, 201 E. Boonville-New Harmony Road. evansvillebicycleclub.org
OCTOBER 14-16
Historic Newburgh Ghostly Hayrides
Evansville Half Marathon
OCTOBER 15
First Presbyterian Church, 609 S.E. Second St. hauntedevansville.com
OCTOBER 8-9
Browse a variety of arts and crafts from more than 100 vendors across the Tri-State.
Chalk It Up will launch a com munity-wide campaign using sidewalk chalk to share images, facts, and statistics related to domestic violence.
Culture THE GUIDE PHOTOS PROVIDED
OCTOBER 2
11 a.m. Garvin Park, 1600 N. Main St. parksfestevv.com
10 a.m.-5 p.m. Oct. 8 and 11 a.m.-3 p.m. Oct. 9. Thyen-Clark Cultural Center, 100 Third Ave., Jasper, IN. jasperarts.org
Fiesta Evansville
Discover the spookier legends of Newburgh, Indiana's history and river lore.
28 EVANSVILLE LIVING SEPTEMBER/OCTOBER 2022
Henderson Lions Arts & Crafts Festival
This market of local artists and makers will feature treasures and wares from dozens of ar tisans, makers, and craftsmen and will include crafts, music, food, and more.
Enjoy a free all-day music festival, food and drink vendors, a beer garden, and a lineup of live music from Mock Orange, Cynthia Murray, Georgia Funk adelic, and Soul N The Pocket.
10 a.m.-3 p.m. John James Audubon State Park, 3100 U.S. Hwy 41, Henderson, KY. hendersonlions.org
OCTOBER 9
The annual Latino festival re turns with cultural performers, cultural exhibits, international food booths, and entertain ment for the whole family.
Enjoy this scenic, rural bicycle tour through southwestern Indiana. Riders can choose from 100K, 50K, or 25K routes with rest stops, water and food, and sagwagons as needed.
OCTOBER 1 ParksFest
Meander a self-guided walk along the Rivertown Trail as family-friendly ghosts, carved pumpkins, and lights illumi nate the path.
7 a.m. Downtown evansvillehalfmarathon.orgEvansville.
Mesker Park Zoo's annual event for family Halloween fun offers live entertainment, décor, trick or treating, story telling, animal encounters, a nightly costume contest with prizes, and more.
NOVEMBER 3
Junior League of Evansville Women's Conference
NOVEMBER 3
12th Annual Wandering Owl Twilight Tasting
11:30 a.m.-1 p.m. Bally's Evansville, 421 N.W. Riverside easterseals.com/in-swDrive.
1-5 p.m. Friedman Park, 2700 Park Blvd., Newburgh, IN. warrickparksfoundation.org
Easterseals "Passion for Fashion" Style Show
9 a.m.-4 p.m. Lincoln Pioneer Village and Museum, 928 Fairground Drive, Rockport, IN. indianasabelincoln.org
Evansville Vanderburgh Public Library West Branch, 2000 W. Franklin St. evpl.org
Boo is a different take on trunkor-treating: Attendees can collect candy from the warmth and safety of their vehicle. The collection queue begins at the back of the parking lot.
Evansville Thunderbolts Opening Night
The Thunderbolts kick off their 2022-23 home games with a match against the Knoxville, Tennessee, Ice Bears.
8 a.m.-4 p.m. Old National Events Plaza, 715 Locust juniorleagueofevansville.orgSt.
3-7 p.m. Wesselman Woods Nature Preserve, 551 N. Boeke Road. wesselmanwoods.org
— Riley Guerzini
SEPTEMBER/OCTOBER 2022 EVANSVILLE LIVING 29
Various times. Mesker Park Zoo & Botanic Garden, 1545 Mesker Park Drive. meskerparkzoo.com
OCTOBER 22
Celebrate the Day of the Dead with crafts, food, dancing, and more.
CHECK IT OUT
Celebrate Wesselman Woods Nature Preserve while savoring great food, beer, and wine in the Nature Playscape, enjoying special encounters with resi dent wildlife, and bidding on items in the live auction.
NOVEMBER 5
OCTOBER 15
Día de los Muertos Festival
"It was wonderful that par ents could keep their children in the vehicles, and it was kind of a come-as-you-are event," says event organizer Nikki Da vis. "Parents could either dress their kids up or they could just come in their pajamas, which was really fun."
Easterseals' annual style show benefitting people with disabili ties includes a luncheon, fashion show, floral arrangements by lo cal designers, and silent auction. Registration is required.
OCTOBER 29
OCTOBER 29 DRIVE SPOOKTACULARTHRU
Halloween in the Park
NOVEMBER
OCTOBER 21-23, 28-30
Though the event is free, sponsorships will benefit VOICES, a nonprofit advo cating for nursing home and assisted living residents.
This spooktacular fundraiser for the Warrick Parks Foun dation includes food trucks, costume contests, photo booth, live entertainment, and enough candy for 3,000 participants.
Walk in Abraham Lincoln's footsteps while visiting with costumed interpreters and demonstrators and taking part in children's activities, museum tours, music, food, and more.
Avoid any thisinclementpotentialweatherHalloweenwith a trick-or-treating experience that keeps you out of the elements and focused on sweetVOICES'treats. second annual Drive-Thru Boo is a free, costume-optional drive Halloween event in the Washington Square Mall parkingBornelot.out of COVID-19 precautions, the Drive-Thru
Fall Heritage Day
Boo at the Zoo
7 p.m. Ford Center, 1 S.E. Martin Luther King Jr. evansvillethunderbolts.comBlvd.
1-3:30 p.m. Washington Square Mall, 4800 S. Green River Road. facebook.com/voicesinc
This three-tiered conference program includes workshops, a vendor's expo focused on wom en's careers and leadership, and presentation of the Woman of Empowerment Award.
GINA MOORE CELEBRATES 40 YEARS AT THE YMCA OF SOUTHWESTERN INDIANA July 28, Downtown YMCA Gina Moore and Johnathan Pope
DARRELL PENNINGTON SURPRISE BIRTHDAY PARTY July 27, Pennington Residence Aaron Cashmer, Kristi Ernspiger, Geoff Oxley, David Ernspiger, Neil Gilles, Penny Pennington, Darrell Pennington, Jacqueline Pennington, Bert Sandefur, Natalie Sandefur, Joe Salpietra, Karen Brandon, Dan Brandon, Mike Johnson, Amanda Kelley, Stacey Carter, Robyn McFadden, Garret Carter, and Todd McFadden
RIBBON CUTTING FOR NEW RESIDENCE HALL Aug. 16, University of Evansville Tracy Gerth, Adam James, and Amanda Wood
STRAWZACHBYPHOTO
July 15, Farmer & Frenchman Winery & Café, Robards, Kentucky Karleen Wink, Nan Byrd, Jo Keating, Peggy Chastain, Pat Bateman, and Lucy Himstedt
EVANSVILLE OTTERS VOLUNTEER FOR HABITAT FOR HUMANITY EVANSVILLE
30 EVANSVILLE LIVING SEPTEMBER/OCTOBER 2022 Culture SOCIAL LIFE WOODSWESSELMANBYPROVIDEDPHOTO
BERNHARDT FAMILY BIRD SANCTUARY GRAND OPENING June 28, Wesselman Woods Nature Preserve Annika Wilson, Viggo Rodenberg, and Lucinda Latini
July 6, East Louisiana Street Brett Adcock, Anthony Torreullas, Tim Calderwood, Joel Padfield, Tom Ballard, Tom Loehr, Andy McCauley, Greg Head, Dave Brickey, Keith Marvel, Augie Gallardo, Oliva B., Ryan O'Reilly, Dave Gambrall, Matthew Will, Preston Leinenbach, Patrick Landry, and Nolan Vandergriff
EVANSVILLEHUMANITYFORHABITATBYPROVIDEDPHOTO KEENJODIBYPHOTOPHOTOPROVIDEDBYCHRISHARP
RUN FOR RECOVERY June 25, Evansville State Hospital Park Melissa Standley and Melissa Eve Garcia
FALL ORIENTATION Aug. 18, University of Southern Indiana 1. Chloe Smith, Brady Robinson. Paige Ausenbaugh, and Reyna Avila 2. Mika Koiso, Asuka Nakagawa, Reaksa Pin, Diana Ismailova, and Kana Kondo
LEMON SHAKE-UP STAND July 9, Lombard Avenue Liana Hartman and Layla Reffett
21 3
FUN DAY May 28, Young & Established Frank Patton Jr., Ben Shoulders, Parker Shoulders, and Courtney Johnson
KEENJODIBYPHOTO MULTIMEDIAANDPHOTOGRAPHYUSIBYPROVIDEDPHOTOS
12JR.PATTONFRANKBYPROVIDEDPHOTO
SEPTEMBER/OCTOBER 2022 EVANSVILLE LIVING 31 TUCKERTODDBYPHOTOS
REFFETTSARAHBYPROVIDEDPHOTO
PURPLE ACES WELCOME BACK EVENT Aug. 6, University of Evansville President's Residence 1. Landon Amick, Nkosi Graham, and Kyler West 2. Marshall Ray Jr. 3. Marshall Ray and Christopher Pietruszkiewicz
Living back on the East Side, Ragland says moving to Evansville has allowed him to show his two children, Ava and Josh, where he met his wife Annie at USI, where they lived in college, and where they worked prior to their current jobs.
Sporting
PHOTO BY
ZACH STRAW
32 EVANSVILLE LIVING SEPTEMBER/OCTOBER 2022
BY RILEY GUERZINI
rit, perseverance, and dedication drive David Ragland's approach to his first season at the helm of the University of Evansville men's basketball program. The latest stop in a 19-year coaching career in college basketball, the Evansville na tive and standout player at William Henry Harrison High School returns home to guide a new era of Aces basketball that has grappled with the tumult of two head coaching changes in three seasons and a new athletic director.
Shocked when their son, quiet and re served as a child, took on coaching as a career, Ragland says his parents inspired him to be a servant leader. Coaching college basketball, he adds, allows him to positive ly impact young players and youth in the community."Fortunately, my parents taught me to
BACK IN TOWN New University of Evansville men's basketball coach David Ragland returns to his hometown to lead the Aces after nearly 20 years as an assistant coach in college basketball. All eyes will be on the USI alum as he attempts to lead the team to postseason play for the first time since 2015.
AHEAD OF THE GAME
Life DAVID RAGLAND
G
His father, Darrell, worked as a technician at Alcoa (now Kaiser Aluminum) for 25 years and served on the Indiana Civil Rights Commission under three governors.
David Ragland's return to Evansville is more than a homecoming: it's a chance to build a contender out of the Purple Aces
Ragland, who played point guard for two seasons of college ball at the University of Southern Indiana and led the team in assists both years, comes from strong local roots. His mother, Karen, is an Evansville Vander
serve others, to work hard, to be respectful and that's what I believe life is about: How do you help other people?" Ragland says.
burgh School Corporation board trustee.
"Moving back home has been a great adventure because we moved to a place where we have relationships, friendships, and family," he says. "My wife and kids now
Ragland landed his first college basket ball coaching job in 2004 as an assistant at Frank Phillips College in Borger, Texas, before returning to the Tri-State to coach at Vincennes University for five years, first as an assistant and then as its 27-year-old head coach. His debut in the top job with the Trailblazers netted 44 wins in two seasons.
"Next thing I know, Dr. Ziggy" — Ken neth "Ziggy" Siegfried, who was named UE's athletic director in April — "calls and asks about my interest in UE," he says. "For
"FORTUNATELY, MY PARENTS TAUGHT ME TO SERVE OTHERS, TO WORK HARD, TO BE RESPECTFUL AND THAT'S WHAT I BELIEVE LIFE IS ABOUT: HOW DO YOU HELP OTHER PEOPLE?" — DAVID RAGLAND
His last year at Valparaiso, his father Darrell died after a 15-year battle with pan creatic cancer. It was a tough blow to Rag land, who still spoke with his father every day as he was coaching across the Midwest. Wanting to fulfill one of this father's dreams of living out West, he took a coaching job at Utah State University in Logan, Utah, in 2018 and helped guide the Aggies to two NCAA tournament appearances.
HELPING
WITH ALL OF YOUR REAL ESTATE NEEDS!
At 41 years old, Ragland already has as sistant coached for six Division I programs. He landed his first D1 job at Indiana State University in Terre Haute from 2010 to 2014 under coach Greg Lansing, before a one-year stint each at Bowling Green State University in Bowling Green, Ohio, and Northern Ken tucky University in Highland Heights, Ken tucky, and two years at Valparaiso University.
"It was tough," he says. "He was my best friend. After he passed, I would start to pick up my phone (and remember) … I can't call Ragland'shim."latest coaching stint came at Indianapolis' Butler University for the 202122 season. He expected to stay in the same position this season despite a head coaching change from LaVall Jordan to Thad Matta.
have a more in-depth look at how I was raised, the places I grew up, the places I played, as well as the places that have left lasting memories for me in my journey."
Cyndi's in the neighborhood!
CYNDI BYRLEY
812.457.4663 | cyndi.byrley@erafirst.com
SEPTEMBER/OCTOBER 2022 EVANSVILLE LIVING 33
"I thought I knew it all, and I quickly found out I didn't," he says. "But it was a great experience, and I learned a lot."
Sporting Life
"I THINK ABOUT THE AMOUNT OF PEOPLE THAT HAVE COME TO SEE OUR PRACTICE OR VISIT ME OR BRING THEIR GRANDKIDS OR KIDS TO CAMP." — DAVID RAGLAND
me, this is home. I love the place. It was a no"Tobrainer."come back home to a place that means so much to me. I think about the amount of people that have come to see our practice or visit me or bring their grandkids or kids to camp," adds Ragland, who inter viewed for the UE head coach position in 2018 but was passed over for former NBA player Walter McCarty, another Harrison graduate. "It's a special place."
"David brings a wealth of experience that will help our program in every way, while his familiarity with the Evansville
We have appreciated the close working relationship we have enjoyed with Tucker Publishing Group over the years. We continue to be impressed with the staff responsiveness, marketing talent and value for our marketing budget. Our most recent insert brochure has garnered very positive customer feedback and we could not be happier with the project!
RISING UP Ragland ascends for a layup during a game in his junior season at USI. He suited up for the cross-town Screaming Eagles for two seasons from 2001 to 2003, leading the team in assists both years.
Last season's disappointment came atop a tumultuous 2019-20 season under McCarty, whose tenure ended in scandal after an investigation into alleged his sexual misconduct and violations of the school's Title IX policy. UE would end that season on a 19-game losing streak and the program has struggled to recover: The team has to taled just 24 wins in the past three seasons.
Center for us to do the same thing," he says. The program will have to make some serious strides to be a Missouri Valley Conference contender. The Aces finished the 2021-22 season with just six wins and ranked near the bottom of the conference in scoring offense, rebounds, and assists under coach Todd Lickliter.
Julie McCarty, Vice President Colonial Classics Landscaping & Nursery
INDIANASOUTHERNOFUNIVERSITYTHEBYPROVIDEDPHOTO ADVERTISE TODAY! 812-426-2115 • 25 N.W. Riverside Dr., Ste. 200, Evansville, IN 47708 • evansvilleliving.com WHAT ADVERTISERSOURSAY
Siegfried says Ragland separated himself from other candidates during the national search through his experience and connec tion to the city.
SEPTEMBER/OCTOBER 2022 EVANSVILLE LIVING 35
At the Y, there are no strangers - only friends and family. While you improve your health with countless fitness options, you also make memories, form lifelong friendships, and shape the social fabric of our community. You'll find people from all walks of life. The Y has connected people in Greater Evansville for 165 years. We're celebrating all year with no joining fees or contracts.
Learn
Not daunted by the tough task ahead, Ragland must energize the program and build a strong culture if the team is to return to postseason play for the first time since its 2015 CIT title.
Lickliter and his entire coaching staff were fired two months after the Aces' season ended in March, leaving Ragland, hired May 24, little time to assemble a coaching staff and recruit new players. Ragland quickly has rounded out his coaching staff, hiring the likes of former UE players Craig Snow and Marcus Wilson. Completing the ros ter likely will be a bevy of transfer players and freshman recruits; only five players are returning from last season.
Ragland, who describes his coaching style as honest, open, fair, and tough, says his strategy stresses defense, rebounding, and playing downhill.
more about becoming a member, engaging in programs, and making an impact together at www.ymcaswin.org. OFSOUTHWESTERNIND celebrating 165years 1 8 57 YMCAOFSOUTHWESTERNINDIANA 20 2 2 HERE FOR YOU HERE FOR GOOD
FAMILY FIRST David Ragland poses with his mother Karen, daughter Ava, son Josh, and wife Annie during a community introduction at the University of Evansville's Meeks Family Fieldhouse on May 25.
Sporting Life
36 EVANSVILLE LIVING SEPTEMBER/OCTOBER 2022
"I want to be transparent with all the players that we brought in to know what our expectations and goals are for them," he says. "The reality is we're going to win but it's going to be tough, and if you're not ready for tough, you may not want to stay put here, and that's OK."
"I want to recruit good players who are good people," he says. "Do we have to work a little harder to find them? Maybe, but it's 100 percent worth it."
"We're going to play fearless, but not reckless," he says.
EVANSVILLEOFUNIVERSITYTHEBYPROVIDEDPHOTO HOME COURT gopurpleaces.com 516 Court St 6846 Oak Grove Rd 1930 S. Garvin St 516 Court St 2034 Outer Lake Rd Ascension St. Vincent YMCA Dunigan Family YMCA Community Outreach at the CenterPoint Energy YMCA YMCA Child Care Services YMCA Camp Carson Five branches serving Southwestern Indiana. For more than a workout. For a better us.
Command your world with confidence. 2022 Bronco® Sport SUV CUSTOM ORDER YOUR BRONCO SPORT TODAY! Wanderers Unite An SUV built for the thrill-seeker, the sightseer and the day-tripper.
From lesser-known historical tours to hidden gems, Indianapolis offers minor chills and thrills perfect for the Halloween season
Whileeducation."thehistory of medicine may at times be scary, the museum is meant to showcase the strides made in the fields of medicine and science. There's a medicinal plant garden on the grounds, a medical amphitheater, and guided tours. Here, guests can look through 19th-century microscopes and see hand-cranked centrifuges still working.
Now a food hall, the City Market in Indianapolis once was a bustling public market built in 1886. Hidden below the City Market resides a network of preserved tunnels complete with Romanesque brick arches. Dubbed the catacombs, these tun nels don't house crypts, like you might find in Paris. Instead, these tunnels allowed gro cers to store their wares in cooler temperatures. Tours of the catacombs occur on select Thursdays in September and October. While these tours are for adults only, it's not due to the frights. Rather, guests are encouraged to purchase beverages from the location's tap room. Tours last about 45 minutes and start at the Tomlinson Tap Room.
"The Old Pathology Building is very much a time capsule," says Sarah Halter, the museum's executive director. "Very little inside it has changed since it opened as a research facility in 1896. It's a unique and fascinating step back in time, and it's a very tangible reminder of Indiana's long-held reputation as a leader in medical research and
s soon as the early morning air turns autumnally crisp, lovers of fall start hopping into their cars to peep at hauntingly beautiful displays of fall foliage. If you're ready for some new fall travel ideas a bit out of the ordinary, might I suggest some unique sites hidden around Indianapolis?Whileafew provide subtle scares, others offer family fun everyone can enjoy. There are bountiful pumpkin patches, after-hours catacombs tours, and turn-of-the-century medical facilities full of Victorian horror vibes — think Dr. Jekyll and Mr. Hyde. Here are some of the best things to do and see this fall in Indianapolis.
ALL PHOTOS PROVIDED BY THE FEATURED ORGANIZATIONS
MEDICAL HISTORY MUSEUM
A
HARVEST NIGHTS AT NEWFIELDS
CITY MARKET CATACOMBS
38 EVANSVILLE LIVING SEPTEMBER/OCTOBER 2022 Travel Journal INDIANAPOLIS, INDIANA
MEDICAL HISTORY MUSEUM
INDIANAPOLIS CITY MARKET CATACOMBS AFTER HOURS TOURS
During the day, Newfields is a great place to see art by celebrated American Impressionist painter and Hoosier T.C. Steele. Several of his works on display de pict the beautiful rolling hills and autumnal shades of Brown County, Indiana. Later, during October nights, Newfields' gardens are where you can see those fall motifs of amber leaves come to life with a modern update. Throngs of jack-o-lanterns glow in all the colors of the rainbow, as guests wind through an enchanted forest on the grounds and walk past an orchard full of scarecrows. Mischief Manor, the Lilly House, is decked out in ghostly delights. Harvest Nights also hosts a beer garden with apple and pumpkin flavors from Sun King and Ash and Elm Cider.
HARVEST NIGHTS
SPOOKY SPOTS IN INDY
BY MICHELLE MASTRO
There's nowhere else quite like this museum.
SEPTEMBER/OCTOBER 2022 EVANSVILLE LIVING 39 601 N. BOEKE • EVANSVILLE • 812-476-4912 • WWW.GOODSAMHOME.ORG • Private rehab suites with Wi-Fi, cable TV, and phone included • 24-hour nursing care Our staff is committed to helping those with memory loss maintain their independence for as long as possible. Our custom programs provide compassionate care and meaningful interaction that provide our residents with daily moments of success. Visit our secured Good Samaritan also MemoryoffersCare unit • Full-time Chaplain • Independent Living • Physical therapy, occupational therapy, and speech therapy • Creative arts and activities programs LET OUR HOME BE YOUR HOME Quality Custom Cabinetry, Made Just for You 8766 E 450 N, MONTGOMERY, IN 47558 // 812-486-2503 Scan the QR code to visit our website!
Your skin deserves the best. Michael J. Crowe, M.D. • Artis P. Truett, III, M.D. Brett Austin, M.D. • Katie Glenn, PA-C Trevor Warfield, PA-C ourfamilyderm.com • 1-888-DERMS-22 • ALWAYS ACCEPTING NEW PATIENTS! WHERE LEADERS MAKE THEIR MARK otsutilities.com • 812-483-7923 • We treat damage prevention like it's our job. When it comes to keeping our homes, businesses and commu nities safe, our team of skilled technicians go above and beyond to ensure our marks are as On The Spot as can be. From gas and electric to water and sewer, we're here to help show what's below! ALWAYS CONTACT 811 AT LEAST 2 FULL WORKING DAYS BEFORE YOU DIG! IT'S FREE IT'S EASY IT'S THE LAW

GO APE ZIPLINE AND ADVENTURE PARK 5855
Although the cemetery offers a bevy of fall-inspired tours around the Gothic chapel and gate, a notable gravesite worth checking out on your own is that of infa mous bank robber John Dillinger. The story goes that 5,000 people attended his funeral at Crown Hill Cemetery and many of them took home handfuls of dirt or grass from the grave. Fearing the body itself might be stolen, Dillinger's family asked to have him reburied in iron and concrete to deter graverobbers. In 2019, Dillinger's nephew Michael Thompson filed a lawsuit to have his uncle's body exhumed but dropped the lawsuit a year later. Still, if stopping by the grave during the daytime, check out the chipping and wearing away of the head stone, indicating where others have man aged a few grisly souvenirs.
YOU GO Indianapolis INDIANA MEDICAL HISTORY MUSEUM 3270
•
23rd President Benjamin Harrison was from Indiana, and his Italianate-style home built in 1875 has become a museum of pres idential memorabilia. Guided tours take guests through rooms left unchanged since his time, but during fall, the museum hosts
WHEN Kirkbride Way 317-635-7329 imhm.org E. Market St. indycm.com Michigan Road discovernewfields.org W. 38th St. 317-920-4165 crownhillhf.org Delong Road 800-971-8271 N. Delaware St. 317-631-1888 bhpsite.org
CITY MARKET CATACOMBS 222
CROWN HILL CEMETERY 700
its special Halloween Candlelight Theatre full of ghost stories. A spooky tale comprises most of the mansion, with each scene unfolding in different historic rooms. This special performance takes place Oct. 14-15 and 23, so history buffs wanting a good spooky story should get their tickets as soon as they can.
BENJAMIN PRESIDENTIALHARRISONSITE
CROWN HILL CEMETERY BENJAMIN HARRISON PRESIDENTIAL SITE GO APE ZIPLINE AND ADVENTURE PARK
GO APE ZIPLINE AND ADVENTURE PARK
•
• indiana-indianapolisgoape.com/location/BENJAMINHARRISONPRESIDENTIALSITE 1230
SEPTEMBER/OCTOBER 2022 EVANSVILLE LIVING 41 Travel Journal
JOHN DILLINGER'S GRAVE IN CROWN HILL CEMETERY
317-639-4534 •
317-923-1331 •
Why look up at fall foliage when you can zip through it? Located inside the sprawl ing Eagle Creek Park, Go Ape Zipline and Adventure Park lets lovers of fall colors get closer to the leaves than one may have thought possible. There are five ziplines, several of which are daringly high and not for the faint of heart (this includes a 40-foottall tree-to-tree crossing). Plus, guests can try the heart-stopping Tarzan swings and canopy-high obstacle courses. Visitors must be at least 10 years old to zipline through this park's mix of fall beauty and thrills.
NEWFIELDS 4000
•
* BEST GARDEN CENTER* BEST COFFEE SHOP 42 EVANSVILLE LIVING SEPTEMBER/OCTOBER 2022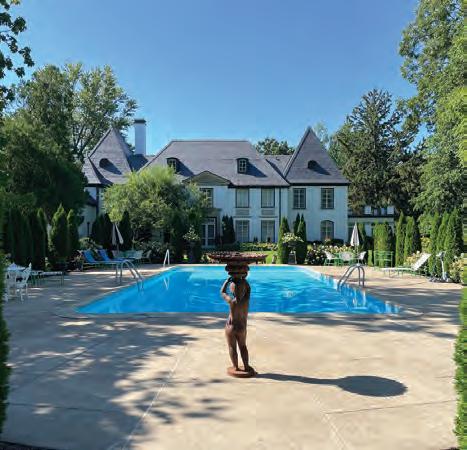 SEPTEMBER/OCTOBER 2022 EVANSVILLE LIVING 43
* BEST VENUE TO GET MARRIEDBEST BOOKSTORE
OF IGELHEART GARDENS BY JODI KEEN; PHOTOS OF HONEY MOON, COLONIAL CLASSICS, AND YOUR BROTHER'S BOOKSTORE BY ZACH STRAW; PHOTO OF THE BAUERHAUS PROVIDED BY THE VENUE.
PHOTO
Looking for Evansville's leading places to score local art, jewelry, and gifts? Want to know who cooks up the best food and pours the best drinks? How about the top spots for recreation and hanging out? Wonder no more: Votes have been cast, and 40 winners have been crowned in our 2022 Best of Evansville awards. Celebrate our readers' top picks, plus a few of our own. By the staff of Evansville Living
KEENJODI
TUCKERK.KRISTEN
Hidden behind a gated drive at the crux of Lincoln Avenue and Newburgh Road is Igleheart Gardens, one of the most beautiful estates you've likely never seen. The well-heeled Igleheart family turned the original 25 acres of farmland into a lush oasis filled with mature trees, ponds, vibrant azaleas, fountains, and a bird sanctuary. Before her death in 2016, philanthropist
EDITORS' PICK BEST KEPT SECRET IGLEHEART GARDENS
13605 Darmstadt Road • 812-867-3169 thebauerhaus.com
If you spot a black mili tary-style truck commuting across town with a smoker in its flatbed, know that its mission isn't combat — it's barbecue. Armed with smoked briskets, ribs, chicken, pork, and more, our readers sa lute Mission BBQ for its military-precision catering, mouthwatering meats and clas sic sides, and dedication to the stars and stripes. The restau rant's efforts also extend to the community: Mission BBQ rolled its smoker to the East Side and helped feed emergen cy personnel responding to the Aug. 10 home explosion on North Weinbach Avenue.
201 N.W. Fourth St. • oldcatacombs.com
Phyllis Igleheart established a foundation to maintain her family's Edward J. Thole-designed chateau and manicured grounds. So why haven't you heard of Igleheart Gardens? At present, only garden clubs, visiting horticulturists, and select high school reunions have been welcomed so as to keep potentially damaging foot traffic to a minimum. Evansville Living staff members have had the privilege of attending gardening lectures at Igleheart Gardens — invitations are emailed, and admission generally costs $20, which then is donated to a local cause— and wish more community members could see and appreciate this Evansville treasure.
BAUERHAUSTHEBYPROVIDED
1530 N. Green River Road • 812-213-0200 mission-bbq.com
Brinker's Jewelers is no stranger to our "Best of Evansville" awards, earning our readers' votes for "Best Jewelry Shop" for the 10th consecutive year. From custom designed rings, hand-selected diamonds, and top brand watches, Evansville shop pers know that if it comes in a little green box, they're in for something special.
Paying to cower through dark tunnels under the Old Vander burgh County Courthouse is one of Evansville's premier fall experi ences. One half of Downtown's haunted house hub, the catacombs are a dungeon of horrors amplified by the tunnel's spooky history, making it the most popular Hallow een haunt each fall.
BEST VENUE TO GET MARRIED THE BAUERHAUS
5500 Lincoln Ave. • igleheartgardens.com
44 EVANSVILLE LIVING SEPTEMBER/OCTOBER 2022
BEST MISSIONRESTAURANTBARBECUEBBQ
JEWELRYBEST BRINKER'SSHOPJEWELERS
No need for beach weddings or hotel ballrooms when you can get hitched Bavarian style at The Bau erhaus. As a full-service venue, The Bauerhaus takes care of it all across its 9,000-square-foot, multi-level dining room and accompanying 15acre park — a picturesque scenery for nuptials. The Darmstadt, Indi ana, event venue even has its own pastry chefs to bake the wedding cake of your dreams.
JEWELERSBRINKER'SBYPROVIDED
BEST HAUNTED HOUSE THE OLD CATACOMBSCOURTHOUSE
111 S. Green River Road • 812-476-0651 brinkersjewelers.com
BBQMISSIONBYPROVIDED
5301 Nurrenbern Road • 812-435-5602 • burdettepark.org
A fixture on Tri-State tele vision for three decades, Randy Moore's mainstay in the Evansville market is in no small part due to his methodical approach to covering news stories, whether it's a U.S. visit by Pope John Paul II or 1992's C-130 plane crash near the airport. Moore has some bling in his trophy case, including a recent Ohio Valley Emmy Award from the National Academy of Television Arts and Sciences.
BEST TV RANDYPERSONALITYNEWSMOORE
Two words describe Evansville transplant Dakri Sinclair's child hood: paint and papi er-mache. A River City resident since 1980 and voted Best Local Artist two years in a row, her whimsical murals of funky, colorful cityscapes and custom-designed goods sold on Etsy have become popular items that Tri-State residents can't get enough of.
14news.com
8566 Ruffian Lane • 812-629-2142 • nelliesnewburgh.com
It's the most important meal of the day, served up Nellie's way. Whether you start with fluffy pancakes or waffles, savory om elets and skillets, or classic French toast, a Nellie's breakfast will get you going for the day. And for those who like to sleep in, the Newburgh, Indiana, restaurant offers breakfast all day long.
There's no love lost when these two schools square off for the West Side Nut Club trophy. Dating back to their first meeting in 1952, Reitz leads the series 47-23. But we'll see who claims bragging rights this year when the Panthers meet the Wildcats on Oct. 14 at the Reitz Bowl.
BEST DAKRICRAFTSPERSONARTISAN/ARTIST/LOCALSINCLAIR dakrisinclair.com
SINCLAIRDAKRIBYPROVIDED PARKBURDETTEBYPROVIDED SCHOOLHIGHDEIMATERBYPROVIDED STRAWZACH STRAWZACH
BEST PLACE FOR BREAKFAST NELLIE'S
SEPTEMBER/OCTOBER 2022 EVANSVILLE LIVING 45
Our readers beat the summer heat by visiting Burdette Park to cool off, explore the outdoors, and get restless children out of the house. A sprawling 170 acres of rolling hills, the park is ide al for day trips to the pool or fishing pond, and overnights with cabin rentals, campgrounds, and a spectacular event venue.
BEST HIGH SCHOOL FOOTBALL RIVALRY MATER DEI/REITZ materdeiwildcats.com/athletics • reitzfootball.com
BEST PLACE FOR A FAMILY OUTING BURDETTE PARK
STRAWAUDRA MORGANALEX BEYERCHRISTINE
Evansville's food truck frenzy is led by The Pizza Revolution, which takes home our readers' pick for "Best Food Truck" for the second consecutive year. Climb aboard Stephanie and Aaron Peckenpaugh's 1986 Leyland Olympian double-decker bus for a slice of authentic Neapolitan-style pizza smeared with a fig glaze or speckled with hot pepper flakes.
612 Weinbach Ave. • 1211 Tutor Lane 20 W. Water St., Newburgh, honeymooncoffeeco.comIN
Growing from a small shop near the University of Evansville's campus, Honey Moon Coffee Co. has been crowned Evansville's "Best Coffee Shop." Now with three locations and an expanded menu including wine slushies, ice cream, tea, and breakfast que sadillas, you'll be over the moon when you taste one of its sig nature roasts from Black Lodge Coffee Roasters in New Harmony, Indiana, or a Nutella-topped Hong Kong-style bubble waffle.
In addition to holding a finger on the pulse of city development, Kel ley Coures is a walking encyclopedia on local history, architecture, and LGBTQIA+ culture. He will tell you that the Hotel Lincoln's Blue Bar got its name from its dark blue walls, painted so as to cov er the line where the 1937 Ohio River flood stained them. What is Evansville's tallest structure? Coures knows it's the former Swans Down flour mill at 1600 N. First Ave., not the Fifth Third Bank tower. He is the friend Evans ville Living phones with questions about Historic District streetlights or old nightclubs, and he always answers in exquisite detail, making Coures our BFF for trivia nights.
STRAWZACH
1550 Mesker Park Drive 812-435-6075
GOLFHELFRICHCOURSE
BEST COFFEE SHOP HONEY MOON COFFEE CO.
Based at Farm 57, 3443 Kansas Road 812-760-0186 • thepizzarevolution.com
EDITORS' PICK BESTKELLEYPHONE-A-FRIENDCOURES
46 EVANSVILLE LIVING SEPTEMBER/OCTOBER 2022
BEST FOOD TRUCK
BEST GOLF COURSE
BEST MAKAILATEACHERBLACKBURN
STRAWZACH
It's the "lightbulb" moments from her students that drives Makaila Blackburn in her 34th year as an educator. The first-grade teacher at Highland Elementary School has inspired students for generations, but she isn't slowing down. "I love kids. I always have," she says. "I like that they keep me busy and young and moving." The Evans ville native and grandmother of three followed in her mother's footsteps when she began teaching in 1983. Our readers say she made the right choice.
THE PIZZA REVOLUTION
Teeing off through Helfrich Golf Course's tree-lined fairways and driving balls across its many hills and valleys remains a favor ite pastime for Evansville golfers. Helfrich was built in 1923 and designed by renowned architect Tom Bendelow. (Watch out for the water on Hole #6.) If you'd rather eat than play, the Sandbox Bar & Grill overlooks the hilly fairways.
Executive Director, Evansville Department of Metropolitan Development
Furry, four-legged, scaly, or shy — it's doesn't matter what kind of cuddly critter needs sanctuary, the VHS' doors are always open. Housed in a 20,000-square-foot-facility, the humane society cares for Evansville's cutest residents through its shelter, spay and neuter clinic, Happy Tails Resale Shop, River Kitty Cat Cafe, and community events such as Cardio for Canines.
SEPTEMBER/OCTOBER 2022 EVANSVILLE LIVING 47
STRAWZACH INDIANASOUTHERNOFUNIVERSITYBYPROVIDED STRAWZACH BEYERCHRISTINE
BEST TURONI'SPIZZAPIZZERY AND BREWERY
408 N. Main St. • 4 N. Weinbach Ave. 8011 Bell Oaks Drive, Newburgh, IN • turonis.com
EDITORS'
What do a pizzeria, a brewery, and a cartoon Italian named Vinny have in common? They're all found under one roof at Turoni's. With three locations across the Tri-State, the iconic Evansville brand keeps diners coming back for slice after slice of its signature thin-crust pizza topped with rich sauce and gooey cheese. Pair it with a pint of their own Honey Blonde craft ale, and you've got a classic Evansville meal.
BEST FALL FEST FOOD PRONTOITEMPUP
BEST TOGOING,BESTHUMANEVANDERBURGHNONPROFITSOCIETYCHARITYGALAGOING,GONETHEDOGS!
BEST STEAKHOUSESMITTY'SATMOSPHEREDINING/PATIOOUTDOORITALIAN
RONMAGNETICMOSTPICKSMILEROCHON SouthernUniversityPresident,ofIndianausi.edu
West Franklin nutclubfallfestival.comStreet
Nothing brightens USI's campus quite like President Ron Rochon's beaming grin. From greet ing incoming students at freshman convocation to cheering on USI athletes, Rochon's radiant aura is a friendly indication of his warm personality. Maybe it's an abundance of Screagle Pride, but it's tough not to perk up a grin yourself around infectiousRochon'ssmile.
Saving lives is a costly business, but VHS makes it look easy with its annual fundraising event, the Going, Going, Gone to the Dogs! benefit dinner and auction. In addition to a cocktail party and dinner, guests are treated to in-person snuggles with kittens and puppies. What other fancy gala does that?
In a haven of fried foods and outrageous combina tions, the classic Pronto Pup reigns supreme as Fall Fest's best menu item. And yes, it IS different than a corn dog. In fact, this regional staple made of a hot dog dipped in pancake batter for extra sweetness is also known as the origi nal corndog.
Step away from bustling Franklin Street and into a picturesque alfresco meal under twinkling lights on Smitty's patio. Complete with a trickling fountain in the center and lush foliage creating a secluded area, it's no surprise our readers voted this local spot Evansville's "Best Patio Atmosphere."
400 Millner Industrial Drive vhslifesaver.org812-426-2563
2109 W. Franklin St. smittysevansville.com812-423-6180
STRAWZACH
GIFTSUNCOMMONRAREGIFTBOUTIQUE/BESTSHOPBIRD
Specializing in products from independent makers and fair-trade vendors, you're sure to find the remarkable at Rare Bird Uncommon Gifts. From singing bowls and hand-felted birdhouses to magnetic, mesmerizing MOVA Globes, it's no surprise Evansville Living readers are charmed by the unique wares at this East Side shop.
HILLTOPTENDERLOINBREADEDTHEWITHRESTAURANTBESTINN
BEST LOCAL BAND THE HONEY VINES
48 EVANSVILLE LIVING SEPTEMBER/OCTOBER 2022
STEVEGEIS
1100 Harmony Way hilltopinevv.com812-303-3732
BEST GARDEN CENTER COLONIAL LANDSCAPINGCLASSICS&NURSERY
EDITORS' PICK BEST PLACE TO PLAY WITH YOUR FOOD AGAPE GRAZE
Finger food takes on a whole new meaning with Agape Graze's gourmet charcuterie boards. You're encouraged to dig in with your hands and load up your plate with meats, crackers, cheese, chocolatecovered strawberries, and more treats. Owner and crafty curator Jessica Machen also offers DIY charcuterie classes and team-building workshops so you can play with your food and eat it too.
Peace, love, and harmony. Those are the keys to Andrea Wirth and Melanie Bozsa's successful run in the local music scene. Voted "Best Local Band" by our readers for the second year in a row, catch The Honey Vines perform an eclectic array of original songs at local farmers markets, bars, summer festivals, and wineries.
2605 Lincoln rarebirdgifts.com812-473-0645Ave.
1401 N. Boeke Road • agapegraze.com
GIFTSUNCOMMONBIRDRAREBYPROVIDED STRAWZACH
3633 Epworth Road, Newburgh, IN • colonialnewburgh.com812-853-6622
Colonial Classics is Newburgh, Indiana's own plant expert with a sprawling nursery and expanded garden center. A longtime gardening anchor with multiple specialties and friendly staff, it's no wonder that so many homes Evansville Living calls on for its Curb Appeal and Most Beautiful Homes stories have entrusted their gardens to Colonial Classics.
thehoneyvines.com
What's a more iconic Evansville food than a breaded tenderloin? If you're looking for a top notch River City tenderloin, Hilltop Inn on the West Side is the place to be. Forget the brain sandwich: The only meat that needs to go between two buns here is a crunchy, flattened, breaded pork cutlet from one of the city's oldest taverns.
GRAZEAGAPEBYPROVIDED
724 N. Burkhardt Road la-campirana.com812-550-1585
And because we must … Evansville Living's editors' pick for "Best Tribute to the Camper" goes to Rachel Wambach of Sprout Design, who was inspired to create cheerful, tongue-in-cheek merch emblazoned with the sunken saloon against a setting sun
BEST LARESTAURANTAMERICANLATINCAMPIRANA
BEST RADIO HOST/PERSONALITY
PEPPERSARAHBYPROVIDED COMPANYBREWINGMYRIADBYPROVIDED WAMBACHRACHELBYPROVIDED
Ever participated in an adult coloring contest? How about a Downtown block party? At Myriad Brewing, you can do it all. Opened in 2018, the taproom has expanded this year with a new location in Newburgh, Indiana. Can't stay for the fun? Most homemade taps can be taken to-go in cans or growlers.
Evansvillians display their ingenuity during the annual dredging of the Ohio River. Boaters circle the U.S. Army Corps of Engineers' pumping operations like moths around a flame, ready to jump on the sand-laden island that springs to life. The novelty of a white-sand beach in the middle of the river is too much to resist, and the island attracts recreationists for swimming, sunbathing, and picnicking each day of its short-lived life. This year, a prankster upped the ante by hauling a camper onto the island in the dead of night, enshrining it with a delightfully vulgar name, and then leaving it to eventually be overtaken by a rainwater-swollen river — much to the consternation of authorities. As it sank, the "saloon" was celebrated by irreverent boaters and followed by a curious public via a 24-hour "camper cam." Its story, like the island, was brief, but its time in the spotlight was endless and notorious.
SARAH PEPPER
Whether you're a collector or looking for a new, one-of-a-kind piece for your home, River side Antique Mall is our readers' one-stop shop for all things antiques. Peruse more than 12,000 square feet to find vintage decor, rare collectibles, or even an old fire horn.
STRAWZACH
STRAWZACH
EDITORS' PICK BEST WAY TO MAKE SOMETHING OUT OF NOTHING PUMP-OUT ISLAND
HOT 96 Morning Show listeners know they can begin each workday with endless fun delivered by dynamic host Sarah Pepper. Having started her career in Evansville, Pepper re turned to HOT 96 in 2021 after 11 years charming the airwaves in Houston, Texas. She's a jolt of rapid fire energy first thing in the morning, whether playing "What's in Sarah's Purse" or grilling cohost Clay Roth about his wedding registry selections.
MATHISLAURA
hot96.com
101 S.E. First St. Suite 1 8245 High Pointe Drive, Newburgh, Indiana • myriadbrewing.com
East, West, and North Siders alike are drawn to the image of a sun cresting over a hill as a sign that authentic Mexican food is near by. But La Campriana isn't famous for its
BEST MYRIADBREWERYBREWING COMPANY
SEPTEMBER/OCTOBER 2022 EVANSVILLE LIVING 49
logo. Diners continue to return for its fresh ingredients, diverse options, and lunchtime specials. You can't leave without a signature smoothie, or stop by La Campirana's Downtown outpost inside Arcademie, 22 N.W. Sixth St., for its newest culinary venture, Botanas.
ANTIQUEBEST ANTIQUERIVERSIDESTOREMALL
1205 E. Riverside Dr. iversideantiquemall.com812-469-2255
BEST PLACE TO BUY LOCAL ART HAYNIE'S CORNER ARTS DISTRICT hayniescorner.com
Nothing says "date night" like a trip to Cork N' Cleaver. Re nowned for its amorous, South western decor, romantic lighting, crackling fireplaces, and highend entrees, our readers voted this Arcadian chophouse as their top choice for an intimate night out with their significant other. Though the food is simple and straightforward (who doesn't love their overflowing salad bar?) Cork N' Cleaver delivers on elevated, consistent quality and elegant dining.
Frog Follies isn't just home to the best cool cars — it also has the most cool cars. Packed into the Vanderburgh County 4-H Fairgrounds, Frog Follies features more than 3,000 pre-1949 street rods, making it the largest event of its kind in the world. Why is it called the Frog Follies? The name stems from a bull frog race at the first event in 1975. Make no mistake, though, the modified classic cars are what draws thousands of auto enthusiasts to this event every year.
A cultural heart of the Downtown-adjacent community known for its diversity, music, nightlife, events, and — of course — art, Haynie's Corner is as hipster as it gets.
From festivals such as First Fridays and Funk in the City to the walls of Haynie's Corner Brewing Company, you'll find art in all forms everywhere you look.
STRAWZACH
Mo's House has a unique rule: "If it ends in the word bomb, we don't do it. No Jager, Vegas, etc. …" But at this craft cocktail lounge, the menu is anything but limiting. The highly trained staff has curated a standout menu of
STRAWZACH
MO'S HOUSE
201 E. Boonville-New Harmony Road • 812-428-3764 • frogfollies.org
drinks only found at this Haynie's Corner locale, making it Evansville Living readers' "Best Bar" two years running.
6 Walnut St. • riverwalkevv.com812-758-4644
MATHISLAURA
BEST DOROSCHEFHADJISAVVA
EDITORS' PICK BEST COOL CARS
BEYERCHRISTINE
E'VILLE IRON STREET RODS FROG FOLLIES
Growing up in a sunny Cypriot village, chef Doros Hadjisavva's extensive knowledge of Mediterranean fare has charmed local din ers since opening Acropolis Restaurant and Catering in Evansville in 2003 with wife Ellada. Patrons have savored Hadjisavva's herb-rich food with the occasional "Opa!" He's also learned a thing or two from Evansville cuisine, incorporating favorites like the breaded tenderloin into the menu of his latest restaurant, Riverwalk, and Venue 812 event business.
650 S. Hebron Ave. • 812-479-6974 evansvillecork.com
50 EVANSVILLE LIVING SEPTEMBER/OCTOBER 2022
BEST CORKDINNERROMANTICSPOTN'CLEAVER
PHOTOGRAPHYGBYRODSHOTOFGREENFIELDJOHN
1114 Parrett St. • 812-401-3800 mos-house.com
BEST BAR
WRITE-IN WINNER: BEST BOOKSTORE
With dozens of Mexican cookies, freshly kneaded breads, and three-milk cakes to choose from, this bakery's fresh and fluffy pastries somehow still fly under the radar. For now, we'll be glad there are more conchas and cerillos for us.
SEPTEMBER/OCTOBER 2022 EVANSVILLE LIVING 51
YOUR
Adjacent to 200 acres of oldgrowth forest, Wesselman Park is our readers' preference for outdoor fun. Take to the tennis courts, dig into sand volley ball, have a picnic, or explore the park's walking trails. The endless entertainment options and sprawling grounds make Wesselman Park a neighbor hood favorite. Plus, don't miss the little-known cemetery that hosts one of Evansville's earliest pioneer families on the nearby par 3 golf course.
1007 Parrett St. • 812-909-0388 • bokehvibes.com
GUERZINIRILEY STRAWZACH LOUNGEBOKEHBYPROVIDED STRAWZACH STRAWZACH
BEST LIVE MUSIC VENUE
tic Asian cuisine. Place an order, and you'll be rewarded with good fortunes — triple fortune, actually — in the form of creamy crab Rangoon, steamed handmade dumplings, custom dim sum, lemongrass-marinated tilapia, Mongo lian-style tofu, and sliced ginger pork.
504 Main St. • 812-612-1222 • yourbrothersbookstore.com
5636 Vogel mat888chinabistro.com812-475-2888Road
2004 Washington Ave. 812-814-8037
BOKEH LOUNGE
WESSELMAN PARK 551 N. Boeke Road • 812-435-6141
EDITORS' PICK HIDDENBEST SANPANADERIAGEMMIGUEL
Step inside the elegant Ma T 888 China Bistro for authen
Open less than a year, Your Brother's Bookstore already has won the hearts (and votes) of our readers. The Main Street bookstore is brimming with works from local authors and artists, board games, rare books, and gaming gear, and hosts book clubs, workshops, game nights, and readings. The store also is home to a fascinating piece of Evansville his tory: Ask owners Sam and Adam Morris about the recently discovered secret Prohibition tunnel underneath the store.
BROTHER'S BOOKSTORE
You may not have heard of Evansville's only Hispanic bakery, but the word on the street is you can't beat Panaderia San Miguel's bountiful Mexican and Salvadorian pastries.
NEIGHBORHOODBEST PARK
BEST CHINAMARESTAURANTASIANT888BISTRO
Drag shows and rock 'n' rollers alike have graced the stage at the neighborhood hot spot, which welcome acts to its patio during the pandemic. Bokeh Lounge is embracing a surge in live music by giving its indoor space an industrial chic vibe and adding a new outdoor stage and covered seat ing. Exterior renovation is slated for completion in Septem ber; work on the interior is expected to begin this winter.
52 EVANSVILLE LIVING SEPTEMBER/OCTOBER 2022 www.thebauerhaus.com | 812-867-3169 Corporate Events | Luncheons | Dinner Parties Weddings & Receptions | Holiday Parties Birthday & Anniversary Celebrations Deliveries available 24 hours a day, 7 days a week Breakfast, lunch or dinner Boxed meal, plated or buffet style Office Deliveries | Receptions Corporate Events | Private Celebrations Find our menus at: www.thebauerhaus.com | 812-759-9000@thebauerhaus After a two-year hiatus, Wandering Owl Twilight Tasting returns to Wesselman Woods this fall! Enjoy an evening of live music, beer, wine, and food from regional favorites. Guests will also enjoy special encounters with our resident wildlife in the Welborn Baptist Foundation Nature Playscape and Bernhardt Family Bird Sanctuary. All proceeds fund the work of Wesselman Woods. Buy tickets at wesselmanwoods.org/events 21+ Event • IDs Required General $50 VIP $75 Designated Drivers $25 ADMISSIoN Sponsor the event or become a vendor! 812-479-0771 ∞ info@wesselmanwoods.org october 15 ∞ 3-7 P.m. WANDERING oWL TWILIGHT TASTING
SEPTEMBER/OCTOBER 2022 504 Main St. • 812-612-1222 • yourbrothersbookstore.com ROLL ON OVER TO TURONI'S FOR YOUR FAVORITE PIZZA & BEER! 812-424-9871 TURONIS.COM • DINE-IN & DRIVE-THRU AT ALL 3 LOCATIONS! 812-477-7500 8011 Bell Rd., 812-490-5555Newburgh Whether you need a unique gift, or something for yourself, we know you'll find it at Rare Bird! We focus on small makers, women owned businesses, American/locally made products and Fair Trade items. Gift wrapping is always free! We would love for you to stop by and see what we're all about. In the meantime, visit us at rarebirdgifts.com 2605 Lincoln Ave, Evansville, IN 47714 (812) 473-0645 Free Local Delivery CONGRATULATIONSTOOUR2022BESTOFEVANSVILLEWINNERS!

The Tri-State's largest furniture store. Family-owned and operated for over 40 years. High-quality, money-saving furniture and home decor. SO YOUR HOUSE FEELS LIKE HOME. 6664 N. 900 Blvd. Keensburg, IL • 618.298.2474 • timberlake-furniture.com "My husband and I communicated to Josh, manager at Benny's Flooring, that we have a busy lifestyle with the kids and their activities, plus our dogs. We wanted durable flooring that would be able to sustain some wear and tear. And that's just what Benny's Flooring provided." -Jamie Espenlaub 1035 South Green River Road, Evansville 812-392-1891 Peachwood Drive, 812-858-7024Newburgh bennysflooringin.com Hardwood • Tile & Stone • Carpet • Laminate
PHOTOS BY ZACH STRAW FOR THE BIRDS DarlingStarlingVintagefacebook.com/
Darling Starling Vintage offers shoppers a curated collection
BY DALLAS CARTER
"I don't ever want stuff to sit here for months and months," she says. "That's the whole point. This is not a get-rich scheme; this is just a little bit extra every month to help me with my classroom supplies, bills, whatever, and it's mostly just fun."
The spouses, who met teaching science at Harwood Career Preparatory High School, married in 2019. They pull most of their in ventory from their personal collections and late grandmothers' belongings stored in their West Side home, which they share with two daughters and five cats. But they also visit local estate and garage sales to find one-of-a-kind items.
WHAT'S IN STORE
Home & St yle
SEPTEMBER/OCTOBER 2022 EVANSVILLE LIVING 55
"I love birds," she says. "I was trying to think of something that would stick in people's heads, and starlings are everywhere, all over Evansville constantly, and in the sun their colors are really pretty. But that's kind of what we do: We have a bunch of old stuff that people kind of discard, but it's really pretty stuff, so: Darling Starling."
Lindsay says the best sellers are miniature figurines she calls "tinies." Furniture also moves fast but is sold online only. The Scotts hope to soon expand into a larger booth space to bring bigger items from their social media pages into the store. Part of Darling Starling's popularity has been based on its varying purchase methods and revolving inventory. Lindsay updates the booth's
RETRO REVIVAL
COLOR POPS P.56 BRIGHT IDEAS P.58 21st CENTURY VICTORIAN P.60
O
n the back wall of His N Hers Flea Mar ket at 2418 N. First Ave., a bright yellow booth overflows with carefully curated items taken from Lindsay and Earl Scott's vastOpencollections.sinceFebruary 2021, Darling Starling Vintage is quickly becoming a popular spot for its unique Consistinginventory.ofretro home decor and kitch enware from the 1950s to the '80s, the yellow booth's other identifier is a sign designed by Earl when the cou ple started selling furniture online in 2020. While he refinishes furniture, Lindsay is to credit for the catchy business name.
TIMELESS TREASURES
Lindsay and Earl Scott stock Darling Starling's shelves with ceramic pots, collectible glassware, vintage suitcases, whimsical wall hangings, and more mid-century finds. Among Lindsay's favorites are intricately painted miniature figurines that she calls "tinies."
stock about every two weeks.
S
BY JODI KEEN
tyle and class meet quality and character inside the historic Ber nardin-Johnson home. The majestic Colonial Revival famously owned by Mead Johnson (now Reckitt) founder Edward Mead Johnson is on the market and ready for its next owner.
PHOTO BY ZACH STRAW PHOTO PROVIDED BY LANDMARK REALTY
THE PURRFECT SPOT Laura and Kelly Ballard's slate-colored cottage on Bayard Park Drive is warmed by lush planters, yellow daylilies, and colorful bushes. The pretty spot on the block is a favorite among neigh borhood cats, who frequently enjoy napping on the sun-drenched front stoop or shaded on the porch.
GRAND OLE' HOME
Muted exterior offers subtle contrast to this property's colorful flowers
Painted gray brick is trimmed neatly in a bright white, offering a delicate juxta position between the hues. But if you walk along the street in late summer, fresh blooms offer a brighter, more surprising contrast.
The porch has become somewhat of a local cat hotspot, with Ballard even set ting out a bowl of fresh water for the felines.
"We bought the house in the fall, so we had no idea that we'd have such pretty azaleas and hibiscus," says homeowner Laura Ballard, who purchased the home in 2018. "As we've lived here, we've fallen in love even more with the exterior."
Bursts of white and lavender azaleas perk up in summer and are offset by cor al-hued hibiscus. To add more color, Ballard planted daylilies and placed potted plants, enhancing the petite front porch that she decorates according to season. By fall, bright gold mums will line the porch. Ballard chooses their shade to match the colors of the home's front-facing stained-glass window.
Take a seat in history in the Bernardin-Johnson house
Its history is evident in its slate gable roof and pedimented portico with fluted Ionic columns. Just off the stately foyer is a den with a fireplace and built-in bookshelves. The dining room walls are lined with wainscoting, and the spacious kitchen features Fehrenbacher cabinets, a sub-zero fridge, and a new convection oven along with a wet bar/coffee bar.
Not enough room? The basement has a full bath, family room, and two unfinished areas, one of which serves as a wine cellar. Enjoy a glass in the back yard's private brick patio overlooking the 1.05-acre property.
BY MICHELLE MASTRO
Built in 1916 for Emma Bernardin, this is the original house and namesake of the East Side's picturesque Johnson Place subdivision. The two-story abode was designed by prominent Evansville architect Edward Joseph Thole of Clifford Shopbell & Co. and was added to the Na tional Register of Historic Places in 1989.
ON THE MARKET
17 JOHNSON PLACE
Listing Price: $950,000
56 EVANSVILLE LIVING SEPTEMBER/OCTOBER 2022 Home & Style CURB APPEAL
At 7,230 square feet and with four bedrooms and four-and-a-half bath rooms, the Bernardin-Johnson home features several large rooms with soaring windows, lively period wallpaper, and intricate crown moulding and trim.
Listing Agent: Stacy Stevens, Landmark Realty
Gray Gardens
DRIVE EAST ON Bayard Park Drive, and you will find a 1940s cottage-style home with a gray exterior. Muted shades have been all the rage in terms of paint trends, and certainly this house's curb appeal draws from the understated-yet-cozy feel of popu lar cottage and farmhouse style abodes.
"There's a little tomcat that pops by for a visit," Ballard says. "A calico named Chloe had been a constant companion — everyone thought that she had been my cat because she would recline on the bricks on the side porch."
"Clearly, we love our cat neighbors," she says. "And we really like the way this home looks, simple and neat. We plan to keep it that way, a classic look."
(812) 453-7965 • 7955 Bell Oaks Dr. • Newburgh, IN • ANNIVERSARY SALE OVER 2,000 RUGS IN STOCK BEST PRICES! 2211 N. Burkhardt Road • 812-916-4350 • bonedry.com/evansville • Scan for Special Offers! EVERYTHING UNDER ONE HELLUVA GOOD ROOF® ROOF REPLACEMENT & REPAIR • GUTTERS & DOWNSPOUTS Free Inspections and Estimates. No Deposit Required! BEFORE 10% GUARDS*GUTTEROFF *Mention special offer when scheduling. One offer per household. Exp. 10/31/22 AFTER
This is the first time the global course, which is held each spring and fall, will take place in the Midwest. Mitchell will serve as a mentor during this year's course Nov. 3-8.
TRI-STATE RESIDENTS have a front row seat when the International Landscape Lighting Institute illuminates New Har mony, Indiana, during its autumn intensive course.
BY RILEY GUERZINI
homework first: Pick the right plant for the right spot in the right quantity, and plant it at the right time," he says. "If you don't educate yourself about which plant should go in which spot, you're committing the first sin of landscaping."McCartysays plants fre quently look better if they're clustered or grouped together, but giving greenery enough breathing space is important. Likewise, permeable weed barriers need to leave enough room for water and fertilizer.
BY JODI KEEN
"To keep plants healthy, you want to give your plants the right kinds of nutrients," McCarty says. "It doesn't hurt to augment our heavy clay soils with compost. Add gypsum or lime to the soil to raise the pH."
"It's an education process for the attendees and frank ly the mentors too, because it helps us understand what lighting can be and not to be afraid of that," Mitchell says. "It's made me a better lighting designer, which is better serv ing my community."
58 EVANSVILLE LIVING SEPTEMBER/OCTOBER 2022
Prep your garden with these fall planting tips
The key, says Colonial Classics Landscaping & Nurs ery co-owner JT McCarty, is to plot out your plants so they will
s the sun grows a bit gen tler, Tri-State residents will take to their gardens to pull weeds, prune shrubs, and prepare perenni als. Autumn is a terrific time to get next year's plants into the ground so they can take root before winter's cold.
Home & Style GET INSPIRED STRAWAUDRABYPHOTO PHOTO PROVIDED BY THE INTERNATIONAL LANDSCAPE LIGHTING INSTITUTE
IT'S LIT illieedu.org
KEEP
GAINING GROUND
Groups will be assigned a zone in New Harmony to cre atively illuminate using hun dreds of fixtures and proto types supplied by lighting manufacturers.Thefinal night of the course will feature a public reveal of the lighting displays beginning about 30 minutes after dusk. Each group will speak about their design and what they learned. Mitchell says New Harmony restau rants and shops will be open to welcome ILLI guests, who are encouraged to peruse the lighting displays and seek their own"Itinspiration.givesourregion the op portunity to see lighting with no budget," he says.
A
Final night of international illumination course features public reveal
SCENE FROM LAST YEAR'S CONFERENCE AT THE MERCER BOTANIC GARDENS IN HUMBLE, TEXAS
Lighting up the Town
IT CLASSIC colonialnewburgh.com
The ILLI fall intensive course gathers 24 lighting experts from across the world to learn new techniques and test prototypes. The attendees are split into three groups that are matched with a lead mentor and two supportive mentors to help guide their education in landscape lighting.
Chris Mitchell, the design/sales manager of Owensboro, Ken tucky-based Niteliters — which is celebrating 25 years in business — attended the course in 2010 and has served as a mentor six times.
"Thethrive.best thing any home owner can do is do a little
IN THE DETAILS
"One of my attendees in my group had been doing ar chitectural lighting in down town Chicago for 30 years, so she was no newbie to lighting," he says. "She just wanted to learn about landscape lighting because that's what the course is mainly focused on."
Statement Collection
YOUR LOCAL SHOWROOM: EVANSVILLE
The experts at Ferguson Bath, Kitchen & Lighting Gallery are here to help create a home that's as extraordinary as you are. Any project, any style, any dream—bring your inspiration to Ferguson Bath, Kitchen & Lighting Gallery. Visit build.com/ferguson to schedule your personalized showroom experience today.
BRING YOUR VISION TO US
43532050822LLCEnterprisesFerguson©2022
ORIGINAL HOME PHOTOS PROVIDED BY STEVE GEIS
60 EVANSVILLE LIVING SEPTEMBER/OCTOBER 2022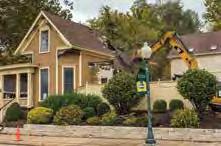 Masterpiece
The new home at 24. W. Jennings St., Newburgh, Indiana, offers a sleek, modern take on the site's prior architecture. Cindy and Steve Basinski had planned to renovate the original Victorian house, but its structurally integrity was so compromised that it had to be torn down.
Stylish Victorian home combines clean lines with historic designs
BY JODI KEEN • PHOTOS BY ZACH STRAW
Cindy and Steve had considered selling their custom Mediterranean-style home on Newburgh Road but hadn't yet pulled the trigger. A push came when another Evans ville resident fell in love with the property and made an offer in summer 2020. The Basinskis accepted the offer, realizing they had to move fast to find a new dwelling of their own. Six days later, while strolling on Jennings Street in Newburgh, they impul sively visited the dollhouse-like Victorian painted a warm taupe and knew it was the house for them.
Using Mullen's artful sketches, the plan was to renovate the existing 3,200-squarefoot house and 700-square-foot addition by opening the interior and modernizing the exterior. The whole renovation was slated to take just a few months. It didn't happen that way.
omes are private, personal re treats, where you can shake off the day's stress and relax with the people and things you love. They also can be works of art, as the stately new Victorian at 24 W. Jennings St. in Down town Newburgh, Indiana, can attest.
McCullough Designers, "but the main thing we ran into was holding the old structure up and putting the new structure in."
Drs. Cindy and Steve Basinski were look ing to instill a modern Victorian vibe in the charming 1895 abode originally existing on that lot. But one month into the renovation, they learned their new property had big prob lems. Making the gut-wrenching decision to raze the existing home and build anew, a team of contractors and designers forged ahead with the Basinskis to bring to life a Victorian home that not only featured sleek modernity but was respectful of its past.
A Quick Start … and Stop
The Basinskis envisioned a modern Vic torian look with a more open floor plan, connectivity to Jennings Street, and lots of natural"Welight.were trying to incorporate big ger spaces, especially along the east side, which was the most closed off," says Greg Mullen, a principal home designer at H.G.
Key to the home renovation was making the property appropriate for Historic Newburgh and more welcoming to passersby on Jennings Street. Bringing this vision to life were Jeremy Kiesel, Elpers Brothers Construction; home owners Cindy and Steve Basinski; Paul Elpers, Elpers Brothers Construction; Greg Mullen, H.G. McCullough Designers; interior designer Beth Greer; and Keith Fehrenbacher, Wood Specialities by Fehrenbacher.
— Homeowner Cindy Basinski
SEPTEMBER/OCTOBER 2022 EVANSVILLE LIVING 61
"We felt like it picked us," Cindy says. "We walked in with our family, and we said, 'This is it.' We felt like we were home."
FRONT ELEVATION DRAWING BY GREG MULLEN
H
"We felt like it picked us. We walked in withour family, and we said, 'This is it.' We feltlike we were home."
Once Elpers Brothers Con struction began tearing into the home in August 2020, the Basinskis' dream home quickly became a nightmare. The foundation sat on a sand bed and was crumbling. The rafters had termite, water, and mold damage. Studs were rotted and unbalanced. The house also was sinking in the back — concrete had been poured underneath in an un successful attempt to level uneven floors — and would have to be hydraulically lifted.
The intent was to keep the original bones, but one month and several thou sands of dollars of renovation work re vealed the home couldn't be saved. The homeowners were devastated.
"The Basinskis had us working there for a month trying to salvage the house," Kiesel says. "It's hard to tell a client, 'This remodel is going to turn into 10 times more than you were planning to put into the Byhouse.'" lateSeptember, the team knew they needed to pivot, but first, they had to convince local officials this was necessary. Hesitant to see a beautiful old home razed in a neighborhood revered for its history, Newburgh officials and historical society members weren't originally sold on the updated plan. So, Paul Elpers, president of Elpers Brothers Construction, invited them to tour the home in October and
62 EVANSVILLE LIVING SEPTEMBER/OCTOBER 2022
DRAWING BY KEITH FEHRENBACHER
"We didn't expect to see what we saw," Jeremy Kiesel, a partner at Elpers Brothers Construction, says. "With an older house, you know there are going to be some things that need to be addressed, but every time we turned around, it was something else."
Using designs by Beth Greer that then were drawn by Keith Fehrenbacher, 18,000 square feet of moulding and period-inspired trim accent each room of the home, from the plaster medallion above the dining table to the trim enveloping door frames. Modern appliances mix with tradition al elements, such as antique furniture and a reproduction of a French Régence-style fireplace mantel, and help balance the different eras represented.
see the damage firsthand. Their resistance faded immediately.
"At the door, everyone said, 'We're not going to let you tear it down.' After seeing it them selves, they said, 'This house is beyond repair,'" Elpers says.
SEPTEMBER/OCTOBER 2022 EVANSVILLE LIVING 63
The Newburgh Town Coun cil unanimously approved the new building plans. By Nov. 4, what once was a classic Victo rian with gingerbread corbels and a sweeping porch was reduced to rubble. But from the splintered remains, a new dream arose.
The New Plan
The Basinskis were pro ceeding with their home, al beit a revised version. Despite their heartbreak, the couple embraced the opportunity to completely customize their new floorplan — but many of their original goals remained.
The Basinskis' home may be a love letter to the Victorian era, but it doesn't skimp on modern comforts. The main suite includes a back-lit walk-in closet and separate shower and tub areas in the attached bathroom. A crown jewel of the first level is a large Schonbek chandelier with individually strung crystals suspended above the kitchen.
64 EVANSVILLE LIVING SEPTEMBER/OCTOBER 2022
The largest chandelier hangs from a staggering vaulted ceiling over the kitchen's gleaming quartz counters by Cabinets & Counters and ap pliances by Ferguson Bath, Kitchen & Lighting Gallery and is supported
DRAWING BY KEITH FEHRENBACHER
"These features were typical of the Victorian home, but we ever so slightly cleaned up the profiles and simplified the designs to give it a more modern flair," Fehrenbacher says.
— Keith Fehrenbacher, Wood Specialties by Fehrenbacher
"Steve and Cindy were adamant about keeping the home true in design to the town of Newburgh. They have great respect for Newburgh and want ed the home to feel as if it was always there but with an updated, modern feel," says Keith Fehrenbacher of Wood Specialties by Fehrenbacher.
As the foundation was dug in Janu ary 2021, Mullen, Fehrenbacher, Elpers Brothers, and interior designer Beth Greer were hard at work implementing a fresh take on a traditional Victorian. Intricate mouldings would hark back to the impressive trim frequently used at the turn of the 20th century.
Tying the styles together is 18,000 feet of breathtaking interior plaster and wood mouldings, designed by Greer and then drawn and supplied by Fehrenbacher. Installation could be a painstaking process: Each piece had to be laid precisely to seamlessly link together. Gaze up at the stunning plaster medallion over the dining ta ble, and you'll never spot the separate pieces that were carefully carved and gluedCompositestogether.
such as Versatex were used in certain areas of construction for their longevity over typical wood, but the home's 16,000 feet of exterior siding and trim is genuine western red cedar painted white. The front en try's custom mahogany doors sport a high-gloss red finish. The hardwood flooring laid in a chevron pattern was imported from France. Gorgeous Schonbek crystal chandeliers illuminate the kitchen and second floor stairwell. The crystals were individually wrapped, and Cindy and her daughter Rachel hand-strung every single one onto the light fixtures.
"Steve and Cindy were adamant about keeping the home true in designto the town of Newburgh."
SEPTEMBER/OCTOBER 2022 EVANSVILLE LIVING 65 THE FUTURE OF BANKING! Tiered, INTEREST-EARNING accounts with zero monthly service charges. Set up your account today at any First Federal Savings Bank or by calling (812) 602-6405.
Whenever the Basinskis want a little privacy, one click of their Lutron automatic shades from Budget Blinds of Evansville brings down synchronized coverings over their new windows from Pella Windows & Doors Evansville.
The couple started by removing a polar izing privacy fence along Jennings Street.
"We want it to look more inviting than the last home," Cindy says. "We want to have it become part of the town."
by wainscoting, paneling, fluted pilasters, and acanthus leaf and rope pediment over the "Bigwindows.windows change the whole hori zon. The original house didn't have a lot of views; the windows were tall, but they didn't capture the outside elements," Mullen says. "We put a bay window in front and windows in the kitchen and dining room so you can see more of downtown."
As the team worked to create a period look meshed with contemporary furnish ings, they plugged into their new surround ings. Understanding all eyes were on their home due to its prominent spot in Historic Newburgh, they sought opportunities to connect with neighbors and smooth over community concerns.
"When you're shutting down lanes of traffic, to either move equipment around or to unload building materials, that definite ly creates conflicts. The neighbors worked with us and were understanding. Everybody worked together," Kiesel says.
The home incorporates spaces for cutting loose or working. Fans of welcoming family and friends, the Basinskis' brick-lined basement includes a pub and karaoke machine. A second-floor nook serves as a workspace in case Cindy and Steve need to handle business at home.
66 EVANSVILLE LIVING SEPTEMBER/OCTOBER 2022 (888) 301-7277 • (812) 483-1637 • www.passpest.com While there are DIY treatments for bedbugs, they're wildly ineffective. Instead, we offer a different solution: whole house fumigation. This is a oneand-done solution to your bedbug problems. • FREE ESTIMATE!SAMEDAYPESTCONTROLINKY,IN,&SOUTHEASTERNIL PROTECT YOUR HOME FROM A BEDBUG INFESTATION
— Jack V.
The Rug Merchant has beautiful rugs and are extremely helpful and courteous employees. They are the best!!
" ""
— Ted G.
"Atremendous selection of rugs. Ownership is superb and knowledgeable.very
World-renowned knowledge, excellent selection, and superior customer service.
812-423-2338 • 1019 Lincoln Ave. • therugmerchantevansville.com
" "
— Brad D.
EST. 1970 Evansville, IN
If you're in the market for a great looking rug look no further. You won't find the same service or hospitality anywhere else. Very satisfied customer!
68 EVANSVILLE LIVING SEPTEMBER/OCTOBER 2022 The mission of Evansville Goodwill Industries, Inc, a not-for-profit 501(c)(3) organization, is to help people, families, and communities thrive through the power of relationships, education, and work. Adult 18 and$30Older Youth 17 years & $25younger Family 6 or more$25people Proceeds from the event will go towards programs that help change lives through the power of work for individuals with barriers to employment. Scan the QR Code registerto or Evansville/TurkeyDay5KRunhttps://runsignup.com/Race/IN/visit Downtown Evansville 8AMNovember 24, 2022
Enjoying a beautiful summer day in your back yard shouldn't be de railed by errant flying bugs and a lack of shade. It's actually practical and fairly easy to enclose part of your yard and create an indooroutdoor space.
Feightner says any house has the conditions for an outdoor liv ing space."When we're talking about creating outdoor living space, most people tend to think of that as fire pits or deck chairs, but it also includes outdoor rooms such as screen rooms or glass room enclo sures," he says. "Consumers should note that it's not always neces sary to build a room addition in order to create a comfortable space or to increase your home's usable square footage. Outdoor room enclosures can be a viable, less expensive option to accomplish those goals. Where there is a will, there's a way."
Special Thanks To Our Sponsors
A Degree of Separation
Enhance your outdoor space with a room enclosure
"We want to design things for the long term, and we'd like them to be as maintenance free as possible. Consumers want to spend time enjoying the space, not repairing it," Feightner says.
"The pandemic has opened people's eyes to the need for com fort in our homes," says Jason Feightner, president of All-Weather Products, Inc. "Room enclosures are all about creating a space to decompress from the day and the stresses of life. To have these kinds of spaces to retreat to is good for our physical and mental health."
ALL-WEATHER PRODUCTS, INC. allweatherproductsinc.com • 812-867-6403 SPONSORED CONTENT
enjoy cleaner, soft
"There's would
LOCAL RESOURCES
in every part of your home. 377
OF ALL THE BODIES OF WATER IN THE WORLD, KIDS' BODIES ARE THE MOST IMPORTANT.
change,"
With a Culligan Water System, your people can water Fuquay
"There's not a single thing I would change," Cindy says. "That's extremely rare."
Heirlooms and irreverence give this re fined home a personal touch. German china that belonged to Cindy's mother, Kimmie Tomi Maiden, rests in a powder blue custom hutch designed by Brad Schnur of Custom Woodcrafters. A wood and gold partition that was owned by Cindy's parents stands in the upstairs sitting room. The Basinskis' karaoke machine currently is perched in the brick-lined basement bar.
ceilings were only eight feet tall, so dropping the main floor helped us incorporate taller windows and make it feel more spacious when you walk in. They wanted to increase the horizon line when they look out."
After unexpectedly spending more than a year crammed into a two-bedroom apart ment, Cindy and Steve finally feel at home.
Road Chandler, 812-853-5000IN
"This home was one of my favorite proj ects," Fehrenbacher says. "Steve and Cindy assembled a great team. We all chipped in and bounced ideas and designs off each other."
BUDGET BLINDS OF EVANSVILLE 812-490-4457 evansvillebudgetblinds.com/CABINETS&COUNTERS 7387 State Road 66 Newburgh, 812-858-3300IN cabinetscounters.comCUSTOMWOODCRAFTERSINC. 5288 Vann 812-457-1755Newburgh,RoadIN ELPERS CONSTRUCTION,BROTHERSINC. 11911 Winery Road Wadesville, 812-963-9540IN elpersbrothers.com FERGUSON BATH, KITCHEN & LIGHTING GALLERY 6620 Interchange Road 812-473-1721South comfergusonshowrooms.H.G.MCCULLOUGHDESIGNERSINC. 2146 Glenview Drive 812-428-0174 hgmccullough.comPELLAWINDOWS&DOORSOFEVANSVILLE 5420 Vogel 812-228-7000Road pellaofevansville.comWOODSPECIALTIESBYFEHRENBACHER 8920 Big Cynthiana Road • 812-963-9414 wsfinc.com
"Everything flows really well. There's not one piece that overpowers anything else," Mullen says. "All the features of the house coincide with each other. There's no one focal point. The whole house is the focal point."
SEPTEMBER/OCTOBER 2022 EVANSVILLE LIVING 69 SPECIALIZING IN: • Landscape renovation • Season-long maintenancelandscapeprograms • Mulch installation and delivery • Design services • Outdoor lighting Corressell received a 2017 Industry Award of Excellence from the Indiana Nursery and Landscape Association for work done at this Newburgh Residence. • corressell.com •
not a single thing I
— Homeowner Cindy Basinski
JOIN US FOR BOURBON, STEAKS, AND MORE IN EVANSVILLE, INDIANA Lift Your Spirits at the Newest Bar and Restaurant in Town! 1700 Morgan Center Drive / Evansville, Indiana 47715 812-303-6560 / thebarrelhouse.com
IS'BROTHBOSS'
Soft Egg
t 2nd Language Ramen, 401 N.W. Second St., owner Randy Hobson says time is the key ingredient to any dish. When it comes to creating traditional ramen with that special Pan gea-brand spin, the local restauranteur emphasizes prep work to meticulously craft each ingredient before layering them in a scientific-like manner.
And it all starts with the broth.
Black Garlic Oil
A traditional pork-based broth, Tonkotsu Soup (meaning pork bone in Japanese) is made in a cooker from Japan and features in two of the ramen offerings, including 2nd Language's most popular dish, the Signature Smoked Ramen. For $15.75, diners are served a steaming bowl of diligently prepared ramen with tonkotsu, a shio base, black garlic oil, cold smoked cha su pork belly, napa cabbage, green on ion, bean sprouts, menma (marinated bamboo shoots), sweet corn, and half a soft-boiled egg.
SEPTEMBER/OCTOBER 2022 EVANSVILLE LIVING 71 GO HOG WILD P.72 BAKED BLESSINGS P.72 FALL BREWS P.73
"The broth is the boss," Hobson says. "If we're executing it right, the broth speaks for itself."
BY DALLAS CARTER
A
Part of what Randy Hobson says makes the dish unique, the flavored oil is made by frying garlic chips into three different finishes (light brown, medium brown, and charred), mixing them together, and grinding them up and infusing into oil. The oil rises to the top of the dish so the noodles can be pulled through and grab the flavor.
"It's a learning experience because there are some elements in it that some people aren't used to," Hobson says. "People take ramen too seriously sometimes, but there are no rules. It's fast food in Japan. Relax and enjoy it."
2nd Language's Signature Smoked Ramen is filled with culinary creativity
This isn't your mama's boiled egg. Soft-boiled to a creamy perfection inside, the eggs then are peeled and marinated in soy sauce for a sweet and tangy flavor profile.
PHOTO
Taken from the fatty belly of a pig, this hearty slab of meat is marinated, cooked, and then cold smoked. It's seared to create a crispy, caramelized finish prior to serving, which adds a unique, smoky flavor without drying out the meat.
SUPER SOUP Taste2ndlanguage.com
Cold Smoked Chasu Pork Pelly
BY ZACH STRAW
Food & Drink
Sisters of St. Benedict 802 E. 10th St., Ferdinand, thedome.org/monastery-baked-goodsIndiana
CRISPY CREATION
Popular demand led the sisters to add their own recipes for almond-flavored almerles and spiced Hildegard cookies, the latter in honor of the 12th century Benedictine scientist and healer. Sim ply Divine Bakery sprang up as a result, adding to the sisters' income, and was re named Monastery Baked Goods in 2015.
GET YOUR COOKIES
Using a muffin tin to hold the roses in place, Mobley bakes the bacon at 375 degrees for 5-10 minutes until crispy. Be careful not to over cook. She removes the roses from the oven and, once cooled, takes out the toothpicks.
SIMPLY DIVINE
BRINGING HOME THE BACON If you're looking for a savory way to jazz up your next party, try your hand at Kari Mobley's recipe for bacon roses. The eye-catching blooms can serve as a small center piece that doubles as a tasty snack.
72 EVANSVILLE LIVING SEPTEMBER/OCTOBER 2022 Food & Drink IN THE KITCHEN NOW THAT'S SWEET
erman heritage is abundant in Southern Indiana, but the Dubois County town of Ferdinand may have one of the most delicious slices of regional Deutsch history.
This sentiment holds true in the River City, where the WIKY Extortion Breakfast hosts all kinds of morning meals. This summer, cured pork belly was front and center, cour tesy of bacon roses by Mobley, Visit Posey County's executive director.
"It's really easy. You kind of just do it in waves," she says. "It's easier to work with when it's cooked a little bit, but not all the way cooked or raw."
Find Mobley's tutorial online at visitposeycounty.com
Blooming Bacon
"You always have to bring bacon when you go there," says Mobley, who baked the roses for the first time for the June 10 break fast. "I like doing things outside of the box, so I was like, 'I'm going to make them some flowers on this bacon.'"
ROSES ARE RED, violets are blue, but bacon is best, and Kari Mobley shares why, too. Sometimes flowers don't cut it when it comes to putting a smile on someone's face. Bacon roses, however, are just the flo ral flair to brighten anyone's day.
BY RILEY GUERZINI
BY JODI KEEN G
In addition to community service, guest rooms, and event space, the Sisters of St. Benedict have added a flavorful layer to their legacy. The abbey traces its roots back to 1860s Germany, when four sisters immigrated to Ferdinand to teach at a Cath olic settlement there. The heavily German area celebrates Christmas with a traditional Christkindlmarkt, and the sisters joined in by baking stamped springerle cookies.
Add a sweet and savory twist to your next soiree with bacon roses
Treats aren't limited to sweets: Guests can shop in person or online for soup and dip kits, fruit cake mixes, mint tea sets, pesto bread, and even multi-fla vored "prayerful pretzels." Purchases support the sisters' mission and minis tries in Ferdinand, including housing, hunger, and health care.
PHOTOS BY ZACH STRAW
To add some sweetness to the bacon bouquet, melt a small amount of sugar in a separate pan and pour over top of the ros es for a glossy finish. Once the sugar cools, the roses are ready to satisfy those bacon lovers. And no, it's not too pretty to eat.
St. Benedict sisters bake blessings
The bacon roses are five to six layers of the savory strips curled around each other to create a flowery display. Mobley suggests microwaving the bacon for two minutes be fore layering each piece in a circle and using toothpicks to hold it together.
NOW OPEN
DEARLY DEPARTED
Turoni's 408 N. Main St. // 812-424-9871 turonis.com
RAISE A GLASS Fall beer is known for its brown, spiced flavorings, and the local selection stays true with seasonal drafts. Toast to the new season with a glass of imported Spaten Oktoberfest Märzen at Gerst Haus.
NIBBLES
Knob Hill Tavern
Pair your sauerbraten roast or fried kraut balls with a famous fishbowl draft of light Märzen courtesy of Grand Rap ids, Michigan-based Founders Brewing Co. Bottled suds like Ciderboys' Peach County or Pom 'n Cherry also offer a fruity fall kick.
Available at its North Main Street location beginning at the end of September, the Turoni's version of Oktoberfest is brewed in-house with German hops and a healthy dose of Vienna malt. But be careful on the pizza brick road! This festbier has 7.1% ABV.
THINK DRINKS
SEPTEMBER/OCTOBER 2022 EVANSVILLE LIVING 73
CHEW ON THIS FALLING FOR HOPS
Sam's EaterySouthern location at 3904 N. First Ave. on the North Side.
FOR BEER ENTHUSIASTS, one thing comes to mind when the weather cools down — Oktoberfest. Local pubs and breweries share in the world's largest beer celebration, but for those looking to step outside of the German lager, there are other fall brews to try.
PHOTO BY RILEY GUERZINI
From the minds that brought Evansville Pangea Kitchen and 2nd Language, Pangea Pizzeria at 401 N.W. Second St. is Downtown's newest pizza place, serving Neapolitan pizza, made-from-scratch gelato, and cookies. The Milk Barn Café's storefront is now open at 421 Read St. in the former Read St. BBQ building. The former food truck will offer firecakes, coffee, and ice cream seven days a week. Featuring spe cialty dishes made from local produce. Cosmos Bistro at 101 S.E. First Street is architectural restoration expert and USI computer science professor Scott Anderson's latest venture. Los Alfaro's Restaurant has opened its new location at 5201 Kratzville Road on Evansville's North Side in the former Kennel Club and Duffy's PubHouse.
Celebrate autumn with these seasonal brews
Gerst Haus 2100 W. Franklin St. // gersthausevansville.com812-424-1420
BY RILEY GUERZINI
Jake and Kelsey Smith are the new owners of Flourish Plant-Based Eatery after purchasing the restaurant from Brandie and Nick Scott. Danie and David Hodge have sold Siciliano Subs and Siciliano Charcuterie to new owners and say both businesses will continue to operate nor mally. Cap & Cork is currently renovating the former Tacoholics location on Water Street in Henderson, Kentucky, for a new upscale-casual spot serving locally sourced food. Great Harvest Bread Co. is reopened by new owners Joe, Debbie, and Braden Henson after a seven-month closure. Kite & Key Café on Franklin St. has debuted a new coffee bar inside the breakfast spot. Bokeh Lounge is updating its location in Haynie's Corner with more seating, new furniture, new bathrooms, an outdoor stage, and covered outdoor seating. After closing its dining room and walk-in dining, DiLegge's Restaurant and Banquet Room's North Main Street location is now for sale. Chick-OFish, a locationchain,seafoodLouisiana-basedandchickenisopeningaintheformer
Myriad Coffee House, located inside Myriad Brewing Company's Newburgh Taproom, closed Sept. 11. The taproom and bar will remain open.
Want to go full German for the season? Grab an imported Oktoberfest Märzen (spring-brewed beer) from Munich, Ger many brewers Hacker-Pschorr or breweraknuckles.toen-Franziskaner-Löwenbräu-GruppeSpatgowithyourheartysausagesandpigSamplearegionalselectionwithMunsterfestbeerfromMunster,Indiana,3FloydsBrewing.
1016 IN 662, Newburgh, IN 812-853-9550 // knobhilltavern.com
Damsel Brew Pub 209 N. Wabash Ave. of Flags 812-909-1956 // damselbrewpub.com Brewed onsite, the Munich Dunkel "Erika" is just the beer to put you in the fall spirit. The malty, dark lager is named after Erika Lehmann, the main character of Evans ville author Mike Whicker's "Evansville's Finest Hour," his latest novel about the German spy who infiltrated Evansville's LST shipyard during World War II. How about that? A beer with a story!
Myriad Brewing Company
101 S.E. First St., Ste. 1 // 812-402-1515 myriadbrewing.com Malty with mild hop bitterness, Myri ad's Märzen is a red-hued, slightly sweet brew common with American Oktoberfest beers. Virtue Cider's Michigan Cherry and Myriad's Own "This is Kevin" stout also are great fall-flavored selections.
Enjoy four exciting speakers: Judy Burris & Wayne Richards, Irvin Etienne, and Charlie Nardozzi. In addition to speakers, there will be opportunities for great shopping from over 25 vendors and, of course, delicious food.
Southwestern Indiana Master Gardener Association Fall Conference Saturday, October 15, 2022 • 9 a.m.-3:30 p.m. Old National Events Plaza • Open to the public! For more information visit swimga.org Scan the QR code to register online!
T he Southwestern Indiana Master Gardener Association (SWIMGA) is pleased to announce its biennial Fall Conference "Imagine."
SEPTEMBER/OCTOBER 2022 EVANSVILLE LIVING 75 Baird . . . . . . . . . . . . . . . . . . . . 76, 77 Brinker's Jewelers 78, 79 Budget Blinds 98 Cabinets & Counters 99 Center PediatricforTherapy . . . . . . . . . 80, 81 Colonial Classics . . . . . . . . . . . . . 100 CommonwealthPain&Spine . . . . . . . . . . . . . . 82, 83 Encompass Health Deaconess Rehabilitation Hospital 102 Evansville Catholic Schools 103 Evansville Hearing Aid Center . . . . . . . . . . . . . . . . . 104 Evansville Primary Care . . . . . . .105 Evansville Vanderburgh Public Library . . . . . . . . . . . . . 84, 85 F.C. Tucker Emge 106 Gateway Cosmetics 101 German American Bank . . . . . . . 107 Give a Dog a Bone . . . . . . . . . . . 108 H.G. DesignersMcCulloughInc. . . . . . . . . . . . . . . . 109 Healthy Spaces 110 Hutson, Inc . . . . . . . . . . . . . . . 86, 87 Illuminating Expressions 111 J.A.D.E. Consulting LLC . . . . . . . 113 J.E. Shekell, Inc. 112 Kelley Custom Pools . . . . . . . . . . 114 Lamar Architecture + Design 115 Liberty Federal Credit Union . . . 116 Liquor Locker . . . . . . . . . . . . . . . . 117 McMahon Exterminating, Inc. 118 NiteLiters, Inc. . . . . . . . . . . . . . . . 119 Nussmeier Engraving and Printing 120 Pella Windows and Doors of Evansville 121 Real ManagementPropertyResults 122 Rug Merchant, The 123 Shannon Aleksandr's . . . . . . 88, 89 SITEX Corporation . . . . . . . . 90, 91 Southern Machines,BusinessInc. . . . . . . . . . . . . . . . 125 Stephan G. Sanders Fine Men's Clothiers 124 Tourcy, LLC . . . . . . . . . . . . . . . . . . 126 Tri-State SurgeonsOrthopaedic 127 Turpen's Painting Co. . . . . . . 92, 93 U-Vet Animal Clinic . . . . . . . . 96, 97 Uniqu-E-Scapes 94, 95 University Of Southern Indiana 128 West ChiropracticSide Center 129 Wood Specialties by Fehrenbacher 130 Woodward Commercial Realty, Inc. 131 Woofie Joe's . . . . . . . . . . . . . . . . . 132 SPECIAL ADVERTISING SECTION
PHOTOGRAPHY BY CHRISTINE BEYER, AUDRA STRAW, AND ZACH STRAW
D o you have a problem to solve or a project to tackle, but need some guidance to complete it? Evansville's authorities on everything from insurance, real estate, and banking to higher education, house painting, and health care are ready to advise you as you take the next steps forward. Don't go it alone. Turn to Evansville's Authority.
Phillip Roberts, Managing Director and Branch Manager
What core services do you provide to your clients?
Group (ARG), comprised of associates from across the firm, helps identify and facilitates opportunities for all associates to get involved.
Founded in 1919, Baird is an international financial services firm with more than $415 billion in client assets. As employee-owners, we manage for the long term, continuously building capabilities to best serve our clients. We conservatively manage our balance sheet and capital position to maintain financial flexibility in all types of market conditions.
What sets Baird apart from other financial and investment firms?
Our commitment to being a great place to work helps us attract and retain exceptional people from across our industry, ensuring the quality and con tinuity of our advice and service for our clients. Baird has always believed the best outcomes result from collaboration among people with different backgrounds, experiences, and perspectives – all working toward common goals.
WEALTH MANAGEMENT BAIRD
How does Baird help to support the community they live and work in?
Baird provides private wealth management, asset man agement, investment banking/capital markets and pri vate equity services to clients across our offices in the United States, Europe, and Asia.
AUTHORITYEVANSVILLE'S
We believe our business is improving lives and futures, and that's a passion that extends beyond what we do for our clients. Baird Foundation donated $5.4 million to qualified nonprofits in 2021. Our Baird Cares program offers paid time off for our associates to volunteer in their communities. Our Baird Gives Back Associate Resource
Much has changed since our founding, but we know our business is still fundamentally about trust, partnership, and building better futures for our clients and in the communities we share.
76 EVANSVILLE LIVING SEPTEMBER/OCTOBER 2022
SPECIAL ADVERTISING SECTION 110 MAIN ST • 812-426-1481 • EVANSVILLE.BAIRDWEALTH.COM
Fourth row: Scott Lobel, Jake Schiff, Kristen Runyon, Michelle Vanover, Grace Murrell, Kim Vollman, Mary Decamps
Third row: Meg Dill, Karen Canary, Stacia Miller, Mark Wright, Teri Hollander Albin, Beth Vincek, John Schutz, Steve Provost
From left to right, first row: Rebekah Dodd, Jackie Russell, Sara Rogier, Ron Boren, Mark Gerst, Libby Wagner, Madeline Marx, Sara Springer, Neoshia Anoskey Second row: Stacy Boyer, Tawne Wandling, Savanah Scarlett, Jeffrey Berger, Peggy Hardesty, Troy Reynolds, Debbie Guth, David Perigo, Eric Provost, Jill Pate
Back row: Christina Scherry, Eric Miller, Tricia Hollander Henning, Phillip Roberts, Rob Wathen
SPECIAL ADVERTISING SECTION SEPTEMBER/OCTOBER 2022 EVANSVILLE LIVING 77
SPECIAL ADVERTISING SECTION 111 S. GREEN RIVER ROAD • 812-476-0651 • BRINKERSJEWELERS.COM
This year marks a landmark anniversary for Brinker's Jewelers. The 50th anniversary has made all three generations of the Brinker family reflect on their sacrifices and their accomplishments. "We feel very blessed and are extremely proud and grateful," says Dean Brinker, President and CEO of Brinker's Jewelers. "We know this type of success would not be possible without our employees' hard work and our customers' support along the way."
t Created exclusively for Brinker's Jewelers' 50th Anniversary, this third installment in the Brinker's Limited Edition Nomos Series is truly special, featuring a custom color dial and strap. It is like no other timepiece. Only 50 limited edition timepieces will be produced.
Roland and Jeanette Brinker started with 500 square feet and a handshake lease agreement. Today, Brinker's Jewelers has two physical locations (Evansville, Indiana, and Scottsdale, Ar izona), 40 employees, and customers from all over the world
thanks to our personalized service and relationships with our customers in-person and online. A remodel has begun on our headquarters in Evansville to not only accommo date the increased demand for our products and services locally, but to support future smaller locations like Scotts dale, as well as our manufacturing and wholesale divisions.
Since 1972, Brinker's Jewelers has been honored to be a part of and serve the Tri-State. "To have an operation of this magnitude is 100 percent an evolution. You can not just build this type of facility and expect it to have everything – most importantly, the relationships we have with the community, our customers, our staff and our re tail partners," says Kyle Brinker, Chief Financial Officer and Chief Marketing Officer of Brinker's Jewelers.
In Evansville, Brinker's Jewelers offers two large onsite service centers. The jewelry service center features nine jewelers on staff that have more than 200 years of combined experience in jewelry design, manufacturing, and repair. The watch ser vice center features four certified watchmakers on staff, in cluding a Rolex apprentice, who repair and service timepiec es. Brinker's Jewelers' watch service center is also recognized as a Rolex Plaque Service Center, which is the highest service distinction an Official Rolex Retailer can obtain.
How has the jewelry business expanded over the years?
JEWELRY BRINKER'S JEWELERS
AUTHORITYEVANSVILLE'S
78 EVANSVILLE LIVING SEPTEMBER/OCTOBER 2022
How long has Brinker's Jewelers been part of the community?
What qualities make Brinker's Jewelers an authority in the jewelry industry?
SEPTEMBER/OCTOBER 2022 EVANSVILLE LIVING 79 SPECIAL ADVERTISING SECTION
How can parents get their children started with CPT's programs?
Our families comment about our caring, pediatric-focused staff. There is a feeling of love and relationship among the children we treat and their parents. CPT really is a place where children succeed.
• Therapists are in tune with children's needs.
Our therapists have a wide range of professional experi ence from working in the local NICUs to working at Riley Children's Hospital in Indianapolis. Continuing education on the latest treatment is an integral part of our knowl edge and expertise. CPT therapists are compassionate, dedicated, and comfortable working with a variety of di agnoses and pediatric illnesses.
What are some advantages of working with a pediatric therapist?
SPECIAL ADVERTISING SECTION 4900 SHAMROCK DRIVE, STES. 100-102 • 812-479-7337 • CPTEVANSVILLE.COM
• Pediatric therapists create a homelike atmosphere and develop relationships with their patients.
In 2005, Center for Pediatric Therapy evolved into an outpatient pediatric therapy clinic serving patients from birth to age 18. Its mission is to provide quality pediatric therapy services to each child and their family. Our therapists nurture and encourage the very best within each child. This allows each child to build characteristics of con fidence and positive self-worth for a strong foundation of productivity in the future. CPT offers occupational, physical, speech, nutritional and developmental therapies to our outpatient clients and in the First Steps Program.
Why should parents choose CPT for their child's therapy needs?
Ginger Whitler, Owner and President
AUTHORITYEVANSVILLE'S
CENTER
PEDIATRICS FOR PEDIATRIC THERAPY
• Children receive specialized treatment relating to skills used in daily life.
Each child needs a physician's order for a specific treat ment. Our staff will discuss all insurance needs and de termine benefits for the therapies needed. Parents will be asked to sign all privacy forms and discuss understanding of obligations and attendance policies.
• Patients are only around their peers.
What do people say about CPT?
80 EVANSVILLE LIVING SEPTEMBER/OCTOBER 2022
SEPTEMBER/OCTOBER 2022 EVANSVILLE LIVING 81 SPECIAL ADVERTISING SECTION
PAIN MANAGEMENT COMMONWEALTH PAIN
The physicians at Commonwealth Pain & Spine are some of the finest experts in the country. Our team members are double board certified in anesthesiology and pain man agement and are trained under the country's leading in terventional pain fellowships. They consistently deliver the
What do patients say about Commonwealth Pain & Spine?
AUTHORITYEVANSVILLE'S & SPINE
What makes Commonwealth Pain & Spine an authority in the healthcare industry?
We offer interventional procedures, including various nerve blocks, epidural steroid injections, spinal injections for arthritis, and joint injection procedures with and without steroids. We also offer a few types of small surgical interventions, including outpatient kyphoplasty for compression fractures of the spine and neuromodulation, which is a great treatment alternative for any type of nerve pain, no matter the cause. All our pro cedures are done in the office, potentially saving the patient more than 300 percent over hospital-based procedures.
Where is Commonwealth Pain & Spine located and what are your hours of operation?
82 EVANSVILLE LIVING SEPTEMBER/OCTOBER 2022
SPECIAL ADVERTISING SECTION 5435 PEARL DRIVE • 700 KIMBER LANE • 812-476-7111 • MYPAINSOLUTION.COM
"Everyone at the office is so friendly, kind, and very effi cient at their job. They are professional and yet very much feel like an old friend that you are so happy to see. I can honestly say due to the care and attention I received, I feel better than I have in years. I would absolutely take any of my family there and be confident in the care and treatment they would receive." – Verified Patient
safest, most innovative, responsible, and clinically proven pain relief care available.
At Commonwealth Pain & Spine, we empathize with the needs of our pa tients. We recognize that their pain is exhausting and debilitating and limits their quality of life. We believe relief from chronic pain is achievable in various degrees through our intelligent and multi-modal team-based ap proach. Our caring staff is what separates us from many other clinics. In our offices, we preach common courtesy and respect for each patient. From our front desk staff who always smile and know every patient's name to our knowledgeable and experienced nurse practitioners and doctors who efficiently see patients in a timely manner, we are here to treat patients' pain-related issues and improve their quality of living.
We have two convenient locations. Our west side office is at 5435 Pearl Drive, and we just opened an east side location at 700 Kimber Lane. Our office hours are 8 a.m. to 5 p.m. Monday-Friday.
What types of treatments do Commonwealth Pain & Spine specialize in?
SEPTEMBER/OCTOBER 2022 EVANSVILLE LIVING 83
Nicolaus Winters, M.D. - Managing Partner; S. Kyle Young, M.D. - Managing Partner; Joseph Folz, D.O. - Partner; Katherine Williams, D.O. - Partner
SPECIAL ADVERTISING SECTION
From babies to seniors, there is something for everyone at EVPL. We start by building early literacy and kindergarten readiness skills through our programs like 1,000 Books Be fore Kindergarten, Storytime To Go kits, and regular weekly storytimes. Through our programs and resources, library us ers of all ages can explore new hobbies, prepare for a change in careers, or find inspiration in a work of fiction.
84 EVANSVILLE LIVING SEPTEMBER/OCTOBER 2022
Students have access to databases, one-on-one tutoring, and a wide collection of educational materials.
How does EVPL support lifelong learning?
What can I learn at EVPL?
No matter the stage of life you're in, EVPL has tools and resources to keep you learning!
LIFELONG LEARNING EVANSVILLE VANDERBURGH PUBLIC LIBRARY SPECIAL ADVERTISING SECTION EIGHT TRI-STATE AREA LOCATIONS • 812-428-8200 • EVPL.ORG
access. There are hundreds of thousands of physical materials, including books, movies, and music, in our collection, with thousands more digital materials avail able. We also recently introduced the Library of Things, which features outdoor entertainment, gardening sup plies, cooking and baking equipment, musical instru ments, and health and fitness equipment. All items in the Library of Things can be borrowed by EVPL card holders at no charge. EVPL also has programming, both in-person and online, for all ages and for all interests.
The Evansville Vanderburgh Public Library has served our com munity for more than a century. With eight locations throughout Vanderburgh County, immediate access to hundreds of thousands of digital resources, and a dedicated team of library professionals, EVPL strives to create opportunities for you to discover, explore, and connect with your library.
AUTHORITYEVANSVILLE'S
One of our most valuable assets is the EVPL staff. Our dedicated and professional team can help you find the answers to your questions, find your next great read, and point you in the direction of how to accom plish your goals.
EVPL is here to cultivate your curiosity. Whether that means diving into one of our dozens of databases, con necting with others in our meeting spaces, or looking for a film for movie night, we're here to help. Make EVPL your next stop on your journey of lifelong learning.
Our eight locations throughout Vanderburgh County are full of resources. Each location has Wi-Fi and several com puters equipped with Microsoft Office and free internet
We also offer material deliveries to those who are home bound, thanks to a partnership with Meals on Wheels. EVPL also regularly visits senior centers to provide books, programs, and information about library resources.
What does the library provide to the community besides books?
SPECIAL ADVERTISING SECTION SEPTEMBER/OCTOBER 2022 EVANSVILLE LIVING 85
someone is always willing to help you out if you have a question or are not sure about a particular approach to a problem. We have road technicians, Large Ag technicians and Turf Only technicians.
Hutson, Inc. began in 1928 as a seed and fertilizer store in Murray, KY. Decades later, Hutson operates as one of the largest John Deere Dealerships in North America. Hutson, Inc. is now comprised of more than 700 team members proud to sell and service a wide range of John Deere equipment, including products specialized for agriculture, turf, light construction, commercial, and lawn and garden applications. Hutson remains committed to growing and evolving to meet the needs of customers.
86 EVANSVILLE LIVING SEPTEMBER/OCTOBER 2022
Recently, the Hutson difference is our ability to keep our shops full of quality and trained technicians. A lot of in dustries are struggling to find quality employees, but here at Hutson we have focused immensely on growing our teams in every state we operate in. Right now, we have a great pipeline of Ag Tech Students that will get a $2,500 toolbox, $1,000 yearly tool allowance and all their classes paid for by Hutson, so that has been a big help in our ability to secure good employees.
What is unique about the Hutson shops?
Our technicians are all close, so there is a lot of camara derie with those teams. They all have similar interests and get along great. There are varying levels of experience, and
AUTHORITYEVANSVILLE'S
Simply put, anyone and everyone. Hutson isn't just a farm store; in fact, a major part of our business is con sumers. We sell Stihl equipment and Honda push mow ers as well as all things John Deere. Many of our loyal customers have one acre or less. So, you definitely don't need to be a farmer or large property owner to visit our stores or have us service your equipment. A large part of our service business is servicing mowers during the winter months. We pick them up and deliver them back to you for free.
LAWN EQUIPMENT AND SERVICE HUTSON, INC. SPECIAL ADVERTISING SECTION 10300 TELEPHONE ROAD, CHANDLER, IN • 812-424-5507 • HUTSONINC.COM
What makes Hutson Inc. an authority in the lawn equipment industry?
What kind of customers shop at Hutson?
SEPTEMBER/OCTOBER 2022 EVANSVILLE LIVING 87 SPECIAL ADVERTISING SECTION
Twenty twenty-two marks 16 years of friendship, beauty, com munity, and business for the partner-ownership team and tribe at Shannon Aleksandr's Salon and Spa, a milestone the owners attribute to the dedication and loyalty that their guests, patrons, and employees exude. The salon and spa continues to set the bar high for what the local salon experience should be when it comes to hair, skin, and nails — and they're not slowing down.
What are your full range of services?
We are a full service salon and spa! We have more than 30 hairstylists providing all the current hair trends, from color and cuts, to glamorous hair extensions. Some of you
may not know, we also have a full service barbershop, offer ing the freshest fades and clean shaves. Our spa team is here for all your skincare needs, our esthetician's offer the most relaxing and luxurious skincare services in the Tri-State.
What do Shannon Aleksandr's service providers enjoy most about their work?
TOTAL BEAUTY DESTINATION SHANNON ALEKSANDR'S SPECIAL ADVERTISING SECTION 5600 E. VIRGINIA ST., STE. H • 812-491-1000 • SHANNONALEKSANDRSSALON.COM
The salon and spa just completed a major renovation. What changes are in store for guests?
The renovation is taking Shannon Aleksandr's expe rience the community knows and loves and refreshing it! A new design esthetic, a fresh vibe and a beautiful rebranding are all in store, we can't wait for the com munity to see it.
We call ourselves a "tribe" and that's exactly what we are. We are a family of artists who get to express our selves through their work but also collaborate as a team to make sure we provide the best services for our guests and perform to our highest abilities!
88 EVANSVILLE LIVING SEPTEMBER/OCTOBER 2022
AUTHORITYEVANSVILLE'S
SEPTEMBER/OCTOBER 2022 EVANSVILLE LIVING 89 SPECIAL ADVERTISING SECTION
What makes SITEX different from other businesses in the uniform industry?
AUTHORITYEVANSVILLE'S UNIFORMS
90 EVANSVILLE LIVING SEPTEMBER/OCTOBER 2022
SITEX works closely with every customer, listening to their needs and helping them implement programs that meet their operational and financial goals. We strive to be easy to do business with by empowering and encouraging our team members to provide exceptional customer care. We take great pride in having the most skilled and best trained team members in the industry, as well as in delivering the highest quality products to the best customers in the area. Our in novative technology also gives us a competitive advantage to ensure 100-percent delivery accuracy for our customers through our automated tracking system, SITRAX.
What are the benefits your customers enjoy working with a third-generation family-owned company?
SITEX CORPORATION
SPECIAL ADVERTISING SECTION 1300 COMMONWEALTH DRIVE, HENDERSON, KY • 800-278-3537 • SITEX-CORP.COM
Our service footprint spans about a 200-mile radius from our corporate office in Henderson, Kentucky. Founded in Henderson, the Sights family has been dedicated to keeping the heart of SITEX at home. With four branch locations in
• Integrity — We do what we say we will do.
• Caring — We listen to our customers and help them develop programs to meet their needs.
• Ease of Doing Business — When decisions need to be made quickly, our ownership and leadership team are never farther than down the hall or a quick call away. We are always ready to respond.
Jon Sights, Executive Vice President & COO and Wes Sights, President & CEO
SITEX Corporation is the leading provider of industrial rental uniforms, linen and facility services, first aid and hygiene solutions, and custom promotional apparel in Kentucky, Indiana, Illinois, and Tennessee. We are a family-owned and operated business that has provided manufacturing, industrial, restaurant, and hospitality customers with quality products and services for over 60 years. As The Image Makers, we understand that your image is our business! That is why we continually invest in the latest tools, training, and technology to deliver the most reliable products backed by the best customer care in the industry. We take great pride in getting it right…every order…every time.
• Value — We don't answer to Wall Street stockholders who demand higher earnings each quarter from national uni form suppliers that are forced to continually increase their customers' pricing. We answer to our customers—because we live, give, play, dine, and serve right beside them each week. This focus on long-term partnerships over shortterm gains has served us well over the last 60 years.
What is SITEX's service area?
Jasper, Indiana; Louisville, Kentucky; Nashville, Tennessee; and Paducah, Kentucky, SITEX is prepared to meet your every need in a timely, complete fashion.
SPECIAL ADVERTISING SECTION SEPTEMBER/OCTOBER 2022 EVANSVILLE LIVING 91
PAINTING
How do you stay up to date on the latest in industry standards?
Before After
As an industry leader, we stay up to date on all the latest trends and industry standards by working with other in dustry leaders in home decorating and design. As a past
board member of the American Painting Contractor, we're asked to review/share information on the latest trends and products.
SPECIAL ADVERTISING SECTION 1652 N. FARES AVE. • 812-205-7848 • TURPENSPAINTING.COM
TURPEN'S PAINTING CO.
Chad Turpen, Owner
Customers love the communication, detail, and profession alism of our process and employees. We walk our customers through the best colors/products to fit their needs, the estimat ed time the job will take to complete, and process we will take to complete their scope of work, removing any questions or concerns to insure a smooth painless process/finish.
92 EVANSVILLE LIVING SEPTEMBER/OCTOBER 2022
What's new in the painting industry?
How do you support the local community?
AUTHORITYEVANSVILLE'S
Turpen's Painting aims to raise the standard for customers when hiring professional painters. Their crews are neat, efficient and accessible for any questions throughout the process. Customers can rely and trust in Turpen's to tackle any painting/staining project in their home or office. The crew's professional look extends to its colorful vehicles you can spot driving to and from jobs around town. Turpen's takes great care with each project to ensure they achieve the desired finish. In their time off, you're likely to catch Turpen's crew members spending time with family and friends at the lake or supporting other local business throughout the community.
With state-of-the-art products like Surf Prep and Festool sanding/vacuum devices, we're able to ensure our cus tomers' surfaces are prepped properly with minimal dust in the air and less to clean up.
What do you find most rewarding about your work?
You get to sit back and look at the change you made to a customer's business/home and see the joy when they see it for the first time.
We select a local non-profit to give to each year. In the past we've donated to Salvation Army, volunteered at the Dream Center Evansville to update the interior of their facility, vol unteered to paint at Mickey's Kingdom, volunteered to paint for my alma mater Harrison High School, and this year we're teaming up with the JD Sheth Foundation to paint a home for a veteran and their Home of the Brave project.
What sets Turpen's Painting Co. apart from other painting companies?
SEPTEMBER/OCTOBER 2022 EVANSVILLE LIVING 93 SPECIAL ADVERTISING SECTION
What should new clients consider when thinking about what they want in an outdoor space?
Our recently updated website has our latest completed projects posted. This is a great place to start. Following the first appointment at your home, we begin designing
94 EVANSVILLE LIVING SEPTEMBER/OCTOBER 2022
Visualize how you want to use the space. Think big pic ture. It can be done in phases or all at once. If you are in stalling or have a pool, do you want a structure for shade and a bathroom, so people are not walking through your house dripping wet? Do you want a grilling station or an extensive outdoor cooking area? Do you need various conversation areas, like a fireplace seating area, a bar area, or a TV viewing area? Do you need landscaping to add privacy from neighbors?
your dream. If you have opted for the 3D design, we have you in our offices for a virtual walk-through of your customized design. At that time, we will also show you samples of the materials we are suggesting. We can also take you to actual installs where you can see firsthand our workmanship and product materials, like our travertine hardscape that is never hot to walk on, or actual bubblers, waterfalls, fire pits, putting greens, turf installs, and more.
What does the team find most rewarding about the work?
OUTDOOR LIVING UNIQU-E-SCAPES SPECIAL ADVERTISING SECTION 1804 N BURKHARDT ROAD • 812-423-8883 • UNIQU-E-SCAPES.COM
AUTHORITYEVANSVILLE'S
How can a client best view designs and make product selections?
Hearing h ow much our customers enjoy the space once we complete a job as well as working with the client on their dream and watching their faces as the design is unveiled and begins to take shape is the most rewarding part about our work.
Uniqu-E-Scapes is a full-service outdoor living company serving the Evansville area. Imagine spending time around your fire pit, eating dinner prepared in your outdoor kitchen, listening to the tranquil sound of water from your nearby bubbler rock, or simply gathering around to watch the big game in the comfort of your extended home outdoors. We collaborate with you to create a design that fits your style and needs, so your dream space will provide a relaxing getaway and an entertainment hub for you, your family, and your friends.
SEPTEMBER/OCTOBER 2022 EVANSVILLE LIVING 95 SPECIAL ADVERTISING SECTION
Thorough check-ups and preventive care can help alleviate seri ous health problems. All our staff has been trained on using the
• Dentistry, Digital Dental X-Ray, and Dental Prophylaxis
• Domestic and International Pet Travel Certification
• Nutrition and Pet Food Consults
Fear Free & Low-Stress Handling techniques. We will do what ever it takes to make you and your pet feel comfortable within our clinic. In addition to annual exams, we offer:
Dr. Chih-Ming "Jimmy" Yu earned his Master's degree in Public Health from Tulane University and received additional training at Purdue University. After working for five years at an Evansville animal hospital, Dr. Yu established U-Vet Animal Clinic in 2010. Dr. Yu and his family live with their dogs Do-Do, Tim Tam, Coffee, rescue cats Bean, Rocky, Almond, and 24 hens.
VETERINARY CARE U-VET ANIMAL CLINIC SPECIAL ADVERTISING SECTION 8680 HIGH POINTE DRIVE STE. F, NEWBURGH, IN • 812-490-7352 •.MYUVET.COM
Dr. Chih-Ming "Jimmy" Yu, DVM, MPH, ECFVG, and Dr. Katherine Turpen, DVM, LSHS, FFE
AUTHORITYEVANSVILLE'S
• Blood Pressure Monitoring and Electrocardiography (ECG)
• Behavior and Aggression Consults
• Internal Medicine, Allergy, and Pain Management Consults
96 EVANSVILLE LIVING SEPTEMBER/OCTOBER 2022
• Vaccinations and PetSites App
• Medication, Prescriptions, and Online Pharmacy
• Euthanasia and Cremation
• Hospitalization and IV Fluid
• Laser Surgery, Digital Radiograph, and Ultrasound
• In-house Laboratory and Reference Laboratory Testing
• Photobiomodulation (PBM) and CryoPen Cryosurgery
U-Vet Animal Clinic is one of only three AAHA-accredited veter inary practices in the Tri-State. The accreditation signifies that the practice meets and exceeds stringent standards that encompass all aspects of veterinary medicine, from pain management to medical record-keeping, and has committed to a path of continuous im provement. U-Vet offers a unique, state-of-the-art CO2 Laser used in soft tissue surgical procedures for tumors or anal gland removal to decrease pain by sealing nerve endings, decrease bleeding by seal ing vessels, and speed recovery by reducing inflammation. Another advantage of CO2 Laser ablation procedures is to increase cancer patients' quality of life after surgery than traditional surgical blade procedures. The clinic also offers customized behavior consultation and exceptional medical care for exotic pets: birds, reptiles, ferrets, rabbits, rodents, amphibians, marsupials, and hedgehogs.
• Microchip Application and Registration
• Urgent Care and Pet Health Library at myUvet.com
Why do you stress the importance of annual physical examinations for pets?
Dr. Katherine Turpen completed her Doctor of Veterinary Medicine from The Ohio State University. She pursued further avian and exotic pet medicine education at the University of Illinois Veterinary Teaching Hospital. She obtained both the Low-Stress Handling Silver Certification and Fear Free Elite Certification. Dr. Turpen is the proud owner of three dogs, Mal, Book, and Zeus, two cats, Sebastian, Lu-Lu, and a green cheek conure, Deanie.
What sets you apart from other veterinary practices?
SEPTEMBER/OCTOBER 2022 EVANSVILLE LIVING 97 SPECIAL ADVERTISING SECTION
What do you and your team find most rewarding about your work?
What are some of the benefits of Budget Blinds of Evansville being backed by the top provider of custom window coverings in North America?
BUDGET
Tyler opened Budget Blinds of the Greater Evansville area 16 years ago and has become the leading authority on window treatments in the area. Prior to opening his own window covering business, Tyler spent 15 years in the pre-press industry where he was the production manager and color coordinator between the pre-press department and the printer. His prior background and experience working with Disney, American Media, and Harcourt Brace, among others, has given Tyler years of experience in color and coordination. Tyler and Budget Blinds offer products from the top brands in window coverings, like Hunter Douglas, Norman Window Fashions, Lafayette, Graber, Lutron and more! They have solutions for every window, door, arch, indoors or outdoors. Budget Blinds is the #1 provider of custom window coverings in North America.
With more than 1,000 franchises, Budget Blinds sells more window coverings than any box store or online re tailer. That gives us buying power over our manufacturers
How do customers get to view the products?
WINDOW
We offer a Free In-Home Consultation. We bring the showroom to you! You get to view products, colors and options in the comfort and lighting of your own home!
Left to right: Jeff Barbour, Justin McCallister, Tyler Steckler, Dakota Madden
SPECIAL ADVERTISING SECTION 812-490-4457 • BUDGETBLINDS.COM/EVANSVILLE
with pricing and warranties, such as our exclusive five-year No Questions Asked Warranty. We also offer exclusive prod ucts, materials, and colors through our manufacturers.
AUTHORITYEVANSVILLE'S TREATMENTS BLINDS
p Budget Blinds owner Tyler Steckler going over the Lutron App with homeowner Cindy Basinski. From the company that revolutionized the lighting control of your home, Lutron Shades have revolutionized window shades. Smart Device Control uses the Smart Bridge and the free Lutron App for convenient control from anywhere in the world. You can integrate shade control with other smart home solutions, including Amazon Alexa, Apple® HomeKitTM, Google® Assistant, and more! No cords means a safer solution for homes with children or pets.
We love working with people; assisting them with their vision and bringing them that finishing touch in their new home or remodel. At the same time, making sure what they purchase not only is beautiful in their home, but functions how they need it to for privacy, child-safety, energy efficiency, security and more!
Tyler Steckler, Owner
98 EVANSVILLE LIVING SEPTEMBER/OCTOBER 2022
SEPTEMBER/OCTOBER 2022 EVANSVILLE LIVING 99
COUNTERTOPS CABINETS & COUNTERS SPECIAL ADVERTISING SECTION 7387 IN-66, NEWBURGH, IN • 812-858-3300 • CABINETSCOUNTERS.COM
What are the most popular products you offer?
Justin Kinsey and Ashley Kinsey, Owners
busy schedules. Lastly, during installation, our ex perienced crew completes our services quickly and carefully and makes sure to leave you with a clean space and a beautiful new countertop.
Justin began working at Cabinets & Counters in 1996. In the past 26 years he's had the opportunity to learn and work in every area of the business. Justin is extremely knowledgeable and has a talent and passion for fabricating countertops. Ashley, a former elementary school teacher, has a background in art and love of design. Owners Justin and Ashley purchased Cabinets & Counters in 2019. The pair works together tirelessly to ensure the business is running smoothly, and they are putting out a top-quality product.
We strive to give each and every customer a great, hands-on experience throughout the entire coun tertop purchasing process. This begins with first assisting customers to select the perfect countertop material for them both aesthetically and function ally. Next, when measuring for your new counter tops, we answer and troubleshoot all those detailed questions the customer may have. During fabrica tion, we take extra time to ensure each top is care fully fabricated, finished, and polished by hand. When scheduling installation, we always make sure it is a day and time convenient for our customers'
Granite and quartz are certainly our most popular countertop materials by far. However, quartzite coun tertops have been growing in popularity. Quartzites are a natural material that is harder than granite and have a unique look, flow, and feel. In today's market, there are so many unique color and material choices to choose from. The options are endless!
AUTHORITYEVANSVILLE'S
What sets Cabinets & Counters apart from competitors?
Julie McCarty was delighted to join Colonial in 2016 after retiring from Old National Bancorp as Senior Vice President, Director of Talent Management. Julie has a pas sion for design and brings over 30 years of experience designing and managing all aspects of custom residential building projects.
What are your areas of expertise?
• Our technology – Colonial Classics uses state of the art 3D rendering technology to plant our landscaping designs and builds.
How do you support your local community?
JT is proud to follow in his father's and grandfather's footsteps as a third-generation graduate from Purdue University in Horticulture. He started working for Colonial Classics in high school and assumed the presidency in 1990.
Colonial Classics is unique due to the fact that all of our landscaping designers, horticulturists, Master Gardeners, nurserymen and nurserywomen are highly trained and experienced in what they do. The members of our team understand that when they know more about your needs, they can meet and exceed your expectations.
• Garden consultation – our nursery professional will come to your home and walk the property with you to identify flowers, plants and trees, and to discuss fertiliz ing, watering, and pruning.
• Outdoor Lighting
• Lawn and garden care
LANDSCAPING COLONIAL CLASSICS SPECIAL ADVERTISING SECTION 3633 EPWORTH ROAD, NEWBURGH, IN • 812-853-6622 • COLONIALNEWBURGH.COM
What sets you apart from other landscapers?
• Landscape installation – our installation teams use only the best plants and materials to bring your design to life.
Our experienced landscape design specialists can tailor a plan and installation to your budget and lifestyle. Some of the wide variety of services we offer are: custom patios, re taining walls, water features, shape and prune trees, amend and prepare soil, design low-voltage lighting, and more.
• Landscape maintenance
100 EVANSVILLE LIVING SEPTEMBER/OCTOBER 2022
At Colonial Classics, we believe each of us has a responsi bility to use our opportunities for the good of others, and we're proud to collaborate with a number of local organi zations as they support our community. We were extreme ly blessed to be able to donate over $75,000 to 20-plus non-profit organizations, schools, and clubs in 2021.
JT McCarty, President and Julie McCarty, Vice President
AUTHORITYEVANSVILLE'S
The Gateway Cosmetics team, led by Dr. Kottwitz and Dr. Greeney, offers a full spectrum of surgical and non-surgical cosmetic treatments in a safe, medi cal environment to help patients achieve their cosmet ic goals. Gateway Cosmetics is committed to restoring confidence and empowering individuals through ex ceptional aesthetic care developed just for you.
Dr. Kottwitz and Dr. Greeney share a similar approach to consultations. As a new patient, you
PLASTIC SURGERY AND COSMETIC DERMATOLOGY GATEWAY COSMETICS SPECIAL ADVERTISING SECTION 4233 GATEWAY BLVD., NEWBURGH, IN • 812-463-4770 • GATEWAYCOSMETICS.COM
Our special offers can always be found on our website, www.GatewayCosmetics.com. Plus, you can be the first to know about our specials by visiting and liking our Gateway Cosmetics social media accounts on Facebook and Instagram.
Dr. Dylan Greeney and Dr. Kate Kottwitz
SEPTEMBER/OCTOBER 2022 EVANSVILLE LIVING 101
What can a new patient expect from a consultation?
Gateway Cosmetics offers the most advanced care for plastic surgery, aesthetic procedures, and cosmetic dermatology in and around Evansville. Dr. Kate Kottwitz, the region's only female plastic surgeon, specializes in cosmetic and reconstructive plastic surgery as well as non-surgical aesthetic procedures. Dr. Dylan Greeney is a board-certified dermatologist specializing in cosmetic, medical, and surgical dermatology. As a cosmetic dermatologist, he performs aesthetic procedures with little-to-no downtime. Both Dr. Kottwitz and Dr. Greeney share the goal of providing safe, physician-delivered treatments. At Gateway Cosmetics, we want patients to feel more confident so they can enjoy a full and active life.
can expect to discuss your desired results for your face or body. After listening to you, a customized plan will be curated to help you achieve your desired goals.
AUTHORITYEVANSVILLE'S
What are your areas of expertise?
What is the best way to find out about specials the clinic is offering?
What can a new patient expect?
What makes Encompass Health Deaconess a great choice for inpatient rehabilitation care?
Getting back to your routine and the activities you love can be physically and emotionally challenging after experiencing a life-altering illness or injury like stroke, brain injury, spinal cord injury, or hip fracture. At Encompass Health Deaconess Rehabilitation Hospital, we use an interdisciplinary team approach that includes physical, speech and occupational therapists, rehabilitation physicians, rehabilitation nurses, case managers, dietitians and more, combined with our advanced technology and expertise, to help you achieve your goals.
REHABILITATION ENCOMPASS HEALTH DEACONESS REHABILITATION HOSPITAL SPECIAL ADVERTISING SECTION 9355 WARRICK TRAIL, NEWBURGH, IN • 812-476-9983 • ENCOMPASSHEALTH.COM/DEACONESSREHAB
Our hospital provides state-of-the-art rehabilitative care to patients recovering from stroke and other neurological disorders, brain and spinal cord injury, amputations, and orthopedic, cardiac and pulmonary conditions. We provide a comprehensive team approach to rehabilitation services
At Encompass Health Deaconess, interdisciplinary teams work together to create an individualized treatm ent plan for each patient, specific to their condition and their personal goals. Our teams of therapists, nurses, physicians and support members are thoroughly experienced and highly specialized in rehabilitation. Patients will receive a minimum of three hours of therapy at least five times a week and access to 24-hour nursing care. Patients spend an average of 10-13 days in inpatient rehabilitation at our hospital.
Left to right: Dr. Tony Zenger, Anita Shaw, Dr. Ashok Dhingra, Dr. Mohammed Adeel, Lauren Weil, Doug Zehner, Misty Wolford, Adam Oglesby, Blake Bunner, Julie Heerdink
102 EVANSVILLE LIVING SEPTEMBER/OCTOBER 2022
including physical therapy, occupational therapy and speech therapy. Our advanced programs incorporate the latest technology and treatments and are available to pa tients throughout the region.
Encompass Health Deaconess Rehabilitation Hospital's unique approach to rehabilitation involves a team of experts with extensive experience in today's most advanced therapeutic methods and technologies to help patients return to their communities safer, stronger, and with a renewed sense of confidence.
What areas of rehab does Encompass Health Deaconess specialize in?
For more information, contact Encompass Health Deaconess at 812-476-9983 or visit www.encompasshealth.com/deaconessrehab.
AUTHORITYEVANSVILLE'S
AUTHORITYEVANSVILLE'S
SEPTEMBER/OCTOBER 2022 EVANSVILLE LIVING 103
What makes Catholic schools in the Diocese of Evansville a great choice for a child's education?
How many schools are located within the Diocese of Evansville and what are some recent accolades they have received?
• Students continue to excel on the ILEARN state assessment including highest in the state for science,
How are families eligible for tuition assistance and what steps should prospective families take to enroll in one of the Catholic schools within the Diocese of Evansville?
The Diocese of Evansville coordinates a system of 26 Catholic schools across eight counties in Southwestern Indiana. The Catholic Schools Office works with the administrators, faculties, staffs, and families of our schools to transform the world in response to the call of Jesus Christ to educate, inspire, and proclaim. Catholic schools welcome all and focus on forming students as faith-filled, well-rounded, highly educated, well-equipped individuals who serve in their families and communities. Visit evdio.org/catholic-schools for more information.
• Marian Educational Outreach partners with our schools to provide support to students with unique learning needs.
CATHOLIC EDUCATION EVANSVILLE CATHOLIC SCHOOLS SPECIAL ADVERTISING SECTION 4200 N. KENTUCKY AVE. • 812-424-5536 • EVDIO.ORG/CATHOLIC-SCHOOLS
We believe parents are their child's first educators. We recognize the importance of partnering with parents to provide a Christ-centered learning environment that reflects a culture of excellence. We believe ev ery child is unique, and students thrive when they are matched with a learning environment that meets their individual needs.
There are 26 Catholic schools in the Diocese of Evansville with approximately 6,800 students. We're very proud of some of these recent accomplishments:
Finances shouldn't stand in the way of parents choosing Catholic education for their child. Indiana's School Choice Scholarship Program provides financial assistance to approximately 50 percent of families in our diocese. Other sources of financial assistance include the Indiana's Scholarship Granting Organization, Catholic Education Foundation and parish and school scholarships, and tuition-assistance programs. For more information, visit https://www.evdio.org/tuition-assistance.
third highest in the state for English/Language Arts, and seventh highest in the state for math.
Bishop Siegel with seniors from the 2022 Catholic Schools Week Mass Catholic Schools team of administrators
HEARING AIDS EVANSVILLE HEARING AID CENTER
Evansville Hearing Aid Center is known for its outstand ing customer service. Many of our reviews state phrases such as "went above and beyond," "goes out of their way,"
At Evansville Hearing Aid Center, we work with all major hearing aid manufacturers. This allows us to repair almost all makes and models of hearing aids. We can also offer many dif ferent options when selecting a new pair of hearing aids as they are not "one size fits all," allowing us to fit customers experienc ing a very mild hearing loss up to a very profound hearing loss.
What is a service offered that you would not typically find at other hearing aid offices?
How would your customers describe you?
Do you have any new products and what are the latest advancements in hearing health?
Amanda is proud to follow in her father's footsteps of owning and operat ing the oldest hearing aid business in Evansville. She worked closely with her father for several years and officially took over in 2016. She was state certified in 2014 and nationally certified in 2018 as a Hearing Instrument Specialist. She has earned many awards for her outstanding work.
Brett Mattingly was excited to join Evansville Hearing Aid Center in 2020. He worked as a superior welder/fabricator in many high-end shops for the prior 22 years. Brett is a natural at problem solving and can repair almost anything. He takes pride in his prestigious work and loves helping others. He is continuing his education in the hearing instrument field and will soon be a state certified Hearing Instrument Specialist.
Brett Mattingly, Front Office Manager and Repair Specialist and Amanda Cates Bennett, BC-HIS - Owner
AUTHORITYEVANSVILLE'S
SPECIAL ADVERTISING SECTION 2424 STRINGTOWN ROAD • 812-424-5116 • EVANSVILLEHEARINGAIDCENTER.COM
104 EVANSVILLE LIVING SEPTEMBER/OCTOBER 2022
Starkey He aring Technologies' new Evolv AI is a complete line of hearing aids, from the smallest to the most powerful. With artificial intelligence, it can make up to 55 million adjustments an hour that deliver genuine sound quality in every listening environment without doing anything extra. Along with remarkable sound quality, Evolv AI introduces effortless connection with smartphones and features healthable technology to help track your health and wellness.
We also offer many other custom products such as a full line of hearing protection for hunters and industrial work ers, sleep earplugs, swim earplugs, musician stage monitors, newscaster molds, and racecar receivers.
"they are about helping people not money," "reward ing and successful experience," "honest," "extremely helpful," "explains options," "very knowledgeable," "great listeners," and "great service."
Evansville Primary Care has one of the area's larger pediatric practices and provides proven, sound, and current pediatric medical principles; promotes women's preventive health; and performs in-office medical procedures that are highly effi cient and less costly to our patients. EPC also has one of the strongest internal medicine practices for our adult and aging populations, specializing in diabetes management, COPD care, and congestive heart failure. EPC is accessible through MyChart, and by phone, Google messaging, and our website.
PRIMARY CARE EVANSVILLE PRIMARY CARE
What makes Evansville Primary Care a great choice for family medicine?
Family medicine takes a holistic view of a person's health and strives to prevent multiple diseases and maintain and improve a person's quality of life. We care for our patients from birth until their last days, and our relationships with our patients become very personable.
Lindsey Morrison, FNP-C; Brittney Phipps, FNP-C; David Schultz II, M.D. FAAFP; David Brougher M.D.; Krista Hollingsworth, FNP-C; and Stacey Ricketts, FNP-C
Evansville Primary Care was founded in 1974 and has operated under its current name since 2005. We are an independent clinical setting providing true excellence in medicine. Our patient service area incorporates a 75-mile radius in the Tri-State. Our Board-certified family medicine physicians and experienced family nurse practitioners persevere to solve your medical problems. Our practice extends into the Deaconess and Ascension St. Vincent health systems; when our patients are ill, we will be their primary attending physician during their hospital stay.
Know this office? Scan to give a Google review for your great care!
SPECIAL ADVERTISING SECTION 4933 PLAZA E. BOULEVARD • 812-479-6907 • EVVPRIMARYCARE.COM
• Quality: We listen intently to your symptoms and needs and get to the bottom of them.
SEPTEMBER/OCTOBER 2022 EVANSVILLE LIVING 105
What are Evansville Primary Care's four core values?
• Integrity: We treat you as we do our own families.
• Perseverance: We don't stop until we have met your health care need.
What do the providers find most rewarding about a career in family medicine?
AUTHORITYEVANSVILLE'S
• Kindness: EPC has developed a fantastic staff who are skilled, friendly, polite, and understanding.
What type of training do your Realtors® go through?
REAL ESTATE F.C. TUCKER EMGE
Our 8-week, intensive training program is second to none. The days of starting a new agent with only a desk and a
phone book are long gone. Our training sessions focus on contracts, marketing, financing, and most importantly, cli ent relationships. In fact, by the time a new agent finishes the program, he or she is usually already working with a client. But the training and learning don't stop there. With company-wide sales meetings and training sessions, our agents continue to strive to learn the latest in their field.
We are often asked what it takes to be a real estate agent… what personality trait is required. It's hard for us to provide a cut-and-dried answer because we have agents of various personality types. But…the most important characteris tic that our agents have, that we feel is key, is the ability to establish and maintain relationships. For some real estate companies, the client relationship ends at the closing table. At F.C. Tucker Emge, we see many friendships form as our agents position themselves as the client's "go-to" resource.
With more than 200 full-time real estate professionals, including agents, management, and staff, F.C. Tucker Emge is southwest Indiana's leader in residential real estate. The professional exper tise and excellent service of our entire team have helped us take our clients from listing to offers to the closing table with ease since 1910. Locally owned by second-generation real estate experts, you can trust that your real estate needs are in capable hands, whether you are searching for your primary residence or a vacation home.
John Briscoe, Gretchen Muchnick, and Ken Haynie, Owners
SPECIAL ADVERTISING SECTION 7820 EAGLE CREST BLVD. • 812-402-0200 • FCTUCKEREMGE.COM
106 EVANSVILLE LIVING SEPTEMBER/OCTOBER 2022
AUTHORITYEVANSVILLE'S
In addition, our management team and highly-qualified staff are second to none when it comes to supporting our agents. From accounting to transaction processing to market ing to information technology, we have implemented effective systems and processes with the best client service in mind.
What do you feel are the key characteristics of Realtors® at your firm?
As with many others, the real estate industry has certainly evolved over the last 20 years. The advancement of tech nology alone has made it tough for some companies to adapt to changing times. At F.C. Tucker Emge, we have embraced technology and pride ourselves on the best train ing and tools in real estate. Buying and selling a home can be a stressful experience, and our tools allow our agents to work with their clients to keep stress levels at a minimum.
What sets F.C. Tucker Emge apart from other real estate firms?
Customers have been the focus of German American Bank since the day we opened in 1910. Our team puts the needs of the individuals, families, and businesses we serve first. With a full range of financial services including banking, insurance, and wealth management, we're committed to providing exceptional service and value to our customers and communities.
GERMAN AMERICAN BANK
Jody Giles, John Lamb, Lindsay Botsch, and Tony Loudermilk
People are on-the-go more than ever. We offer online ac count opening for checking and savings accounts and online loan applications for auto, debt consolidation, home equity, mortgage, credit card, and more. Free credit score monitor ing, check deposit, and easy ways to pay your bills or your friends - and much more - are embedded in our mobile banking app.
SEPTEMBER/OCTOBER 2022 EVANSVILLE LIVING 107
What are your areas of expertise?
German American Bank is deeply rooted in, and engaged with, every community we serve, including the Evansville and Newburgh area communities. From giving back to local schools with our School Spirit Card program, raising needed funds for the YMCA programming by sponsoring the Evans ville Half Marathon, supporting Historic Newburgh commu nity events, and so much more, German American Bank is rooted in community and believes it's our obligation to sup port the communities we serve so its people can prosper.
SPECIAL ADVERTISING SECTION EIGHT TRI-STATE AREA LOCATIONS • 812-482-1314 • GERMANAMERICAN.COM
AUTHORITYEVANSVILLE'S
German American Wealth Advisory clients have access to a mobile app to view account information and transactions, ac cess tax documents, download important documents and access valuable information. Our Wealth Advisory team is ready to help clients prepare for the future by managing and diversifying assets and giving powerful tools to keep track of the progress.
What technology do you offer your customers?
box service, and check and ACH positive pay to merchant card services, our Treasury Management team is prepared to help businesses achieve success.
Our Treasury Management services are designed to help hardworking business owners. Business online banking gives businesses access to financial information needed to make critical business decisions. From desktop express, lock
How do you support the local community?
BANKING
Our expertise is in the talent and commitment of our people. Working with bankers and wealth manage ment specialists who have the knowledge and talent to help you prepare financially for the future is important. This is where the German American Bank team excels. We listen to learn before we offer financial solutions.
SPECIAL ADVERTISING SECTION 5626 E. VIRGINIA ST. • 812-402-2663 • DOGBONEMARKET.COM
To help the cats and dogs in our community live healthier and happier lives through quality nutrition, eco-friendly accessories, and a calm, welcoming atmosphere.
Quincy Zikmund and Elizabeth Zikmund, Owners Murphie and Otis
AUTHORITYEVANSVILLE'S FOR DOGS AND CATS A DOG A BONE
108 EVANSVILLE LIVING SEPTEMBER/OCTOBER 2022
GIVE
What qualities set Give a Dog a Bone apart from competitors in the pet supplies industry?
What is the mission at Give a Dog a Bone?
How long has Give a Dog a Bone been a part of the community?
Elizabeth and Quincy Zikmund are the owners of Give a Dog a Bone, an independent natural pet supply store in Evansville. They have two pugs, Murphie (12) and Otis (10), who love coming to work and testing out new products. They have a deep passion for nutrition and learning and love using their passion, knowledge, and experience to offer healthier foods and products to dogs and cats in Evansville.
We set high standards and demand a lot from the brands we carry, including how ingredients are sourced, who formulates the products, who owns the brand, food safety practices, and more. In short, we ask the hard questions. Our team also is equipped with the knowl edge to discuss and recommend the foods and products we carry based on a pet's specific needs.
We're at 5626 E. Virginia St. on the East Side of Evans ville. We're open Monday-Friday from 9 a.m. to 7 p.m. and Saturday from 9 a.m. to 6 p.m.
NUTRITIOUS FOOD
Where is Give a Dog a Bone located, and what are your hours of operation?
We've been in business for more than 17 years, having opened our doors in 2005. We're proud to be 100 percent independently and locally owned.
First, a client meets with H.G. McCullough's design team to establish their design objectives. A conceptual sketch of the proposed project follows. Once the cli ent approves it, the conceptual sketch can be used to
What makes your design firm unique?
How do you start the process of designing a new home with a client?
SEPTEMBER/OCTOBER 2022 EVANSVILLE LIVING 109
ARCHITECTURAL
SPECIAL ADVERTISING SECTION 2146 GLENVIEW DRIVE • 812-428-0174 • HGMCCULLOUGH.COM
Designing a new home is an intensive but rewarding pro cess. "Our clientele is like family to us; when you're working alongside someone, you really get to know them, and you have to, in order to understand their design needs and how they envision the finished product. It's rewarding to us," says Geralyn Ruminer, a co-owner of H.G. McCullough and daughter of company founder Harry G. McCullough.
meet with the contractor(s) to estimate construction costs. The final phase is construction drawings. From conceptual layout to space planning, structural en gineering, and finishing details, Ruminer says, their experienced design team can map plans out correctly the first time, expediting the construction process and reducing the risk of costly errors.
Our designers handle all phases of custom architec tural design. Detailed planning eliminates guesswork by contractors in critical decisions, like bearing loads and other important structural details.
AUTHORITYEVANSVILLE'S HOME DESIGN MCCULLOUGH DESIGNERS INC.
Since 1946, H.G. McCullough Designers has been a family-owned and managed company dedicated to custom residential design. Its design team works with clients from conceptual layout and space planning to structural engineering and finish details required for sound construction and client satisfaction while working closely with the contractors. No job is too large or small, nor is location an obstacle. The team's portfolios feature new and remodeled homes in the Tri-State and beyond. Over the years, its exceptional designs have been featured in the Robb Report, Architectural Digest, Midwest Living, Southern Living, and Habitat for Humanity.
H.G.
Another benefit is our dedicated service department. Most companies don't want to hear from you again once they complete the work in your home, but not us — we encourage it! We offer a yearly maintenance program to be sure all equipment is working properly and in good condition. Should your system run into a problem, our service technicians will diagnose it within 24 hours. We stand by our work, and when you call, we always show up!
HEALTHY HOME HEROES SPACES
AUTHORITYEVANSVILLE'S
HEALTHY
SPECIAL ADVERTISING SECTION 2280 N. CULLEN AVE. • 812-720-9418 • HEALTHYSPACESSYSTEMS.COM
What are the biggest benefits of your services to a homeowner?
What are your areas of expertise?
Investing in your home will not only improve the value of the house but also its health, structure, and efficiency. Before undertaking a major home repair project, you want to make sure it is going to be worth every penny. We can add a return on investment to your home through lower energy bills, improved indoor air quality, increased home value and resale value, and peace of mind.
We create a healthy home environment through mold prevention, crawl space encapsulation, base ment waterproofing, foundation repair, and total basement finishing. We also want to educate the cus tomer about their home's issues and how best to fix them. When we visit your home for the first time, you can expect a thorough inspection, including a detailed description of the problems your home is experiencing, as well as a comprehensive explana tion of the solutions we propose and why. We do not offer cookie-cutter fixes for your home, but rather customized, quality solutions for the longevity of your home. If you decide to sell your home, it is all transferable to the new homeowner.
Your home is likely your greatest investment and where you keep everything that's precious. You shouldn't trust its care to just anyone. We understand this, and 23 years of feedback from our clients have given us the opportunity to con tinue making them feel we are a trusted leader in creating healthy spaces. Our team stays focused on the customer experience to ensure peace of mind and comfort, knowing that your home is in the best hands.
Jimmy Schaefer, General Manager and Tim Runyon, Owner
110 EVANSVILLE LIVING SEPTEMBER/OCTOBER 2022
How does your professional knowledge contribute to a client's experience choosing lighting?
I love knowing that the products we sell will create a personal touch and a lasting impression, that when customers see their lighting, they remember the experi ence they had with us as a great one. I'm proud to see our products used in many businesses and community centers in the area and to know we are a resource for improving our community.
Lighting defines a space. Rochelle Fichter understands the importance of design choices and supports the client in selecting the perfect pieces.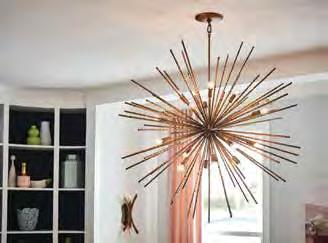 Rochelle's lighting industry experience spans more than 37 years, and her showroom opened 17 years ago. She lights up our community, one light at a time, working with individuals, designers, builders, and contractors from the blueprint stage, through the design of the lighting, and up to the installation process.
LIGHTING ILLUMINATING EXPRESSIONS SPECIAL ADVERTISING SECTION 5810 VOGEL RD • 812-437-5483 • ILLUMINATINGEXPRESSIONS.COM
What do you find most rewarding about your work?
SEPTEMBER/OCTOBER 2022 EVANSVILLE LIVING 111
Rochelle Fichter, Owner
AUTHORITYEVANSVILLE'S
Clients who are building businesses, homes, and va cation homes seek the input and personal styling of our team at Illuminating Expressions because we have the experience and knowledge to help you from blueprints to final design of the lighting in your space.
When you choose Illuminating Expressions by Rochelle, you receive more than lighting. It is imperative to con sider scale, proper placement, and application of prod ucts when guiding clients in lighting decisions. This is what sets me apart. I spend much of my time extensive ly researching the many products I represent and the various applications of those products. I consult with contractors as the project begins through completion. My skills developing a lighting layout are an important aspect of design. When this much care is put into the design stage of the process, the outcome is going to give the "wow" factor the client is seeking.
What has contributed to J.E. Shekell's success?
AUTHORITYEVANSVILLE'S
One of the things that sets our company apart is quality, whether it's in the products we install, the service(s) we provide, or the experience of our 60-plus licensed and trained service technicians. With 110 vehicles on the road, the company can provide rapid service to those in need. The business continues to base its operations on John's original cornerstones.
With 44 years of experience, J.E. Shekell has become the Tri-State's trusted source for residential, commercial, and industrial heating and air conditioning, plumbing, electrical, refrigeration, and more. J.E. Shekell's trustworthy experts are on call for every situation, from casual service to emergency repairs. Your comfort is our goal. We strive for 100 percent customer satisfaction and doing the job right the first time, a foundation established by John E. Shekell in 1978 and encouraged by President Kevin Shekell today.
SPECIAL ADVERTISING SECTION 424 W. TENNESSEE ST. • 812-425-9131 • SHEKELL.COM
Has J.E. Shekell won any recent awards?
Yes, J.E. Shekell, Inc. earned the 2022 Carrier® President's Award. The President's Award is presented only to Carrier Factory Authorized Dealers. This is a distinguished group of dealers who must continually meet strict Carrier standards in order to earn and sustain the title of Carrier Factory Au thorized Dealer. As J.E. Shekell, Inc. Sales and Marketing Manager Jeff Bruce notes, "This award acknowledges the commitment our team has sustained in achieving total cus tomer satisfaction with the Carrier products we provide. We are so proud of their dedication as they continually meet and exceed the requirements it takes to even be considered for the Carrier President's Award. Only the top two percent of Carrier Factory Authorized Dealers qualify to be in the running, so it is a huge honor to have won this award four years in a row. We thank the J.E. Shekell, Inc. team for their integrity and commitment to our customers."
112 EVANSVILLE LIVING SEPTEMBER/OCTOBER 2022
What qualities set J.E. Shekell apart from the competition?
J.E. SHEKELL, INC.
Kevin Shekell, President
COMFORT
The fact that J.E. Shekell is a one-stop shop makes it easy for customers to call about HVAC, electrical, and plumbing needs. This diverse product portfolio, available to both residential and commercial customers, succinctly is summed up with this motto: "If it moves water, air, or electricity, then we can work on it."
Clients enjoy working with J.A.D.E. because of the per sonal connection we are able to make. To be effective in this work, you have to provide a place of trust in order for
Recent cultural movements have changed the social expectations of customers, clients, and employees. The J.A.D.E. Consulting team provides direct consultation, speaking engagements, and training to help build a diversity and inclusion strategy, recognize untapped business potential and attract socially-conscious customers, clients and employees. Our CEO, Lori Sutton, has 26 years of corporate experience with interactions at all levels and through her vision and expertise, we have the ability to tailor our services to meet the needs of our clients.
Our services primarily focus on diversity, inclu sion and equity. Within these areas lies strategy develop ment, training, positive engagement experiences, lead ership development, facilitation and organizational alignment. In addition to consultation, J.A.D.E., or Join A Distinct Evolution, also offers coaching and mentoring services for organizations and individuals.
DIVERSITY, EQUITY, AND INCLUSION STRATEGIES
What are clients saying about your services?
your clients to be transparent. Clients go through a series of assessments and activities to truly understand where they are on the journey. At the end of the engagement, we see our clients as an extension of our brand.
How have the recent cultural movements changed the social expectations of customers, clients and employees?
SPECIAL ADVERTISING SECTION 812-760-1949 • JADESCONSULTING.COM
J.A.D.E. CONSULTING LLC
What are your areas of expertise?
AUTHORITYEVANSVILLE'S
This profession and work is not going away. If anything, topics are growing and there is positive momentum. Em ployers and communities can no longer sit on the side lines hoping that this is just a fad. Research shows that individuals want to work for an organization that aligns with their personal values.
Aaliyah Sutton, Administrative Assistant; Lori Sutton, CEO; JaDrien Sutton, Vice President of Strategy Development
SEPTEMBER/OCTOBER 2022 EVANSVILLE LIVING 113
about making sure what needs to be done is done correctly. We take pride in being the only company in town with nearly 70 years of experience.
What does your team find most rewarding about your work?
Wayne Kelley, Owner/On-Site Consultant; Tommy Kelley, Construction Lead; Chris Kelley, Owner/Service Operations; Jake Kelley, Projects and Sales
Our company rebranding is simply for brevity. We are still the same family and same owners, and we have the same high standards for all our goods and services. Our company has grown and evolved even more than Floyd could have anticipated. By shortening the name, we simply make it easier for those moving in from other areas to know exactly who we are and what we do.
We love making customers happy. A pool is the perfect investment for a family to build memories around. What we do is hard work, but at the end of the job, we get to witness the smiles our pools put on their faces.
Kelley Custom Pools is a family owned and operated company dedicated to offering the Tri-State top-quality custom swimming pools and service. Founded in 1953 by Floyd Kelley, three generations of the Kelley famly have strived to adhere to the principles, work ethic, and build quality of the business's founder. Specializing in custom pool design and installation, Kelley Pools primary goal is to ensure that owning a pool is what it is supposed to be — Fun.
114 EVANSVILLE LIVING SEPTEMBER/OCTOBER 2022
CUSTOM
SPECIAL ADVERTISING SECTION 3501 INTERSTATE DRIVE • 812-477-POOL • KELLEYPOOLS.COM
Why was the company renamed from F.T. Kelley & Sons to Kelley Custom Pools earlier this year?
Kelley Custom Pools is a long-established company. From sales, to design, to installation, to service, to retail, someone in our family oversees the process and cares
AUTHORITYEVANSVILLE'S POOLS
KELLEY CUSTOM POOLS
What sets Kelley Custom Pools apart from other pool companies?
What do you most enjoy about working with clients?
Jonathan Lamar, AIA, LEED AP and Jason Barisano, AIA, LEED AP
AUTHORITYEVANSVILLE'S AND DESIGN LA+D
ARCHITECTURE
It is rewarding to see every project come to comple tion. There are challenges even with the smallest jobs,
so when we see our clients using the spaces that we worked with them to create, we feel a sense of pride. Client satisfaction is the main thing we strive for. Watching our client's businesses or organizations thrive because of their new space is a true full-circle moment. You can check out our current featured proj ects on our website under the "Work" tab at www.la mar-arch.com. You can also view our projects in prog ress (sketches, renderings, etc) by clicking on the "On the boards tab" on our website.
We take pride in our one-of-a-kind designs. Staying ahead of the design and technological curve is one of our top priorities to ensure we deliver creative results. Our project types include healthcare, government, educational, retail, restaurants, residential, and religious designs. We love creating something from nothing, helping a person or entity make their mark on the world, and watching architectural projects tell the story of communities.
Our team members have freedom to work with each client through the design phase to mold designs that are aesthetically pleasing and functional. We utilize a software platform called Revit to create a 3D model of a building, and this model is saved to our server. Each team member can access the same shared model and modify the design according to the needs of the client. Our team members have freedom to work with each client through the design phase to mold designs that are aesthetically pleasing and functional. We also create docu ments that can be used to obtain permit bids from contractors who will construct our projects. We have some team members who are typically involved with projects during the construc tion phase who visit the job sites on a regular basis to ensure the building is being constructed per the contract documents.
SPECIAL ADVERTISING SECTION 10400 STATE ROUTE 662 W., NEWBURGH, IN • 812-890-2237 • LAMAR-ARCH.COM
Our clients are very creative, and it is enjoyable to listen to their initial concepts for what they envision for their proj ects. Many times our clients have ideas that are unique, and creating drawings and renderings that illustrate these ideas is a lot of fun. Our interpretation of a client's idea sometimes is different even than what they had in mind, and the marriage of their ideas with our experience and ability to illustrate can yield some powerful results.
SEPTEMBER/OCTOBER 2022 EVANSVILLE LIVING 115
What have been some of your most rewarding projects to date?
How does your team work together to complete projects?
Tate Mhaka, Mortgage Loan Closer; Andy Miles, Regional Vice President of Mortgage Sales; Erin Schmitt, Director of Mortgage Operations
What sets Liberty Federal Credit Union apart from other mortgage lenders?
Erin is a graduate of the University of Southern Indiana with a degree in marketing. She is in her eighth year with Liberty Federal.
What are Liberty Federal Credit Union's areas of expertise?
Tate is a graduate of the University of Southern Indiana with a degree in finance. He's been with the credit union for two years.
Shasta Ligon, Mortgage Loan Officer
How does Liberty Federal Credit Union support the local community?
MORTGAGE LENDING LIBERTY FEDERAL CREDIT UNION SPECIAL ADVERTISING SECTION SEVEN TRI-STATE AREA LOCATIONS • 812-477-9271 • LIBERTYFCU.ORG
Since its founding as Evansville Teachers Federal Credit Union in 1936, Liberty FCU has concentrated on giving back to its members and the community at large. With its roots in education, it is known for supporting schools, students, and teachers through the EVSC Foundation, Teacher Locker, the Ted Hitch Scholarship Program (which awards 10 $5,000 scholarships each year), and Hangers, the EVSC clothing re source center. It also supports many more community-mind ed non-profits, including Habitat for Humanity, Chemo Bud dies, Youth First, and Cops Connecting with Kids.
mortgage company in the annual Readers' Choice Awards and why it leads all credit unions in the Midwest in mortgage lending. Liberty FCU is known for its quick turnaround time on issuing mortgages and its ability to match competitors' rates and offer up to a $500 gift card at closings.
Andy joined the credit union's mortgage department eight years ago. He graduated from the University of Southern Indiana.
Whether you're a first-time home buyer, someone who has outgrown their current house, or looking to refinance or pull equity out of your mortgage, Liberty Federal has a program that will fit your needs. We offer fixed rate conven tional loans of 30, 20, 15, or 10 years; adjustable rate and second mortgages; government loan options such as FHA, VA, and USDA; and our popular LF100 purchase pro gram. We also finance one-time close construction loans and newly built homes, and we have special programs for physicians and other community heroes.
Kevin Kirk, Mortgage Loan Officer, at a closing with Brianna Cundiff
As a federally insured credit union owned by its members and guided by a non-paid volunteer board of directors, Liberty FCU offers low rates and premium service. That's one reason it has consistently been named Evansville's top
AUTHORITYEVANSVILLE'S
116 EVANSVILLE LIVING SEPTEMBER/OCTOBER 2022
The Liquor Locker, with 10 convenient locations in Evansville, has the widest selection of alcohol in the area. Our friendly staff is ready to serve you and will order any specialty items that might not be in stock. All stores have cigars. Our First Avenue, St. Joseph, and Riverside locations have walk-in humidors. Our bourbon, craft beer, and wine selections are terrific, and we deliver!
LIQUOR AND CRAFT BEER LIQUOR LOCKER
Our hand-selected bourbon barrels are special, and some have been recognized by national blogs. Free tastings are available for some of these bourbons.
whiskey and bourbons, and great customer service, the Liquor Locker is the local go-to for spirits for more than 15 years. Whether you are a craft beer aficionado, a boutique liquor enthusiast, or a wine connoisseur, rest assured, the Liquor Locker has it all.
SEPTEMBER/OCTOBER 2022 EVANSVILLE LIVING 117
SPECIAL ADVERTISING SECTION 10 TRI-STATE AREA LOCATIONS • LIQUOR-LOCKER.COM
What sets your stores apart from others in the area?
How does your delivery service work?
Our stores are clean, well lit, and safe to sho p. The selections are varied, and some are unique. With more than 400 craft beer options, hard-to-find
Do you offer any unique brands or products?
How has The Liquor Locker grown and expanded over the years?
The Liquor Locker was formed many years ago, and in 2009, the chain started to develop by adding nine more locations to the original on Weinbach.
Just call the delivery hotline at 812-479-7979 and choose from thousands of new as well as well-known products. Give us a call, place your order, and alcohol will be delivered to your doorstep in the Evansville area! Don't let the party stop — call us, and we will deliver!
AUTHORITYEVANSVILLE'S
SPECIAL ADVERTISING SECTION 1605 THEATER DRIVE • 812-475-1100 • MCMAHONCAN.COM
118 EVANSVILLE LIVING SEPTEMBER/OCTOBER 2022
PEST
MCMAHON
Luke McMahon, Vice President; Charlie McMahon, President; Jack McMahon, Founder
McMahon Exterminating, Inc has grown from a small family business into a large family business. Just this July, we welcomed customers of The Pest Experts, Inc into the McMahon family, making this the first of what we hope are many acquisitions. We are all about family. We celebrate four father-and-son teams, along with a husband, wife, and their nephew. The family atmosphere resonates loud and clear among our team members. The culture of "Family First" is the backbone of our company.
p Sparrow, Raven, and Indiana "Indy"
How does your team work together to provide a high level of customer service?
Charlie: What makes me proudest is my "pops." I fully understand the sacrifices my father made 51 years ago. The culture he instilled in me at age 18 lives on today at McMahon Exterminating, Inc. Not a day goes by, when I'm tasked with making an important decision, that I don't first ask myself, "What would pops do?"
When you think about your business, what are you most proud of?
Are there any new services you are offering customers?
AUTHORITYEVANSVILLE'S CONTROL EXTERMINATING, INC.
Charlie: Our full team meets every week for training. Our on-staff entomologist works with our technicians, and I work with our management team and office team mem bers. Training is an integral part of how we continue to provide the highest level of customer service.
Luke: We now offer canine scent detection as part of our bedbug program. We recently welcomed three Labrador Retrievers to our team: Raven, Sparrow, and Indy. Our trainer Shelby has been instrumental in helping train and teach not only our canines, but also our handlers, Trevor and Jake. We now can pinpoint exactly where bed bugs are hiding. Reports show that humans are approximately 30 percent successful in finding bedbugs. Essentially, the tech must see an actual bedbug, whereas our canine counter parts can smell bed bug scent even when that rascal is hiding inside an electrical outlet, behind a baseboard, deep inside the box spring of the bed, inside a book on the nightstand, or on the bottom side of the nightstand drawer. Canines are also 97-98 percent accurate, making them the best op tion for successful eradication of the dreaded bedbug.
Whether we're lighting a home, a commercial building, a statue, or an entire outdoor community space, our design team has training to provide exceptional results. Our commitment to our clients doesn't end with design and installation either. In fact, we are best known for our exceptional service and maintenance plans.
Another important reason to light your home is safety and security. This includes your own safety as you light your stairs, driveways, pools, and other outdoor areas of your home. It also includes pre ventative measures against burglary. Studies have shown that most burglars would move on from a well-lit home and choose another house. Design is also essential in safety. A company must be able to see the needs of a homeowner and design a safe, practical lighting system while not sacrificing art istry and NiteLitersbeauty.isa fully-insured outdoor lighting de sign firm committed to quality and dependability. For more than 20 years, we have been designing, in stalling, and servicing outdoor lighting systems. We enhance your home's exterior by adding lighting to landscaping, architecture, and outdoor living spaces.
SEPTEMBER/OCTOBER 2022 EVANSVILLE LIVING 119
David Reed, Designer and Chris Mitchell, Designer
SPECIAL ADVERTISING SECTION 812-431-7250 • NITELITERS.COM
Why should a person consider adding professional outdoor lighting to their home?
There are many reasons to add lighting to your home, starting with curb appeal and property value. A well-lit home and properly designed lighting can increase your home's beauty and value. An emphasis on design is im portant. When considering outdoor lighting, avoid a cookie cutter design that does not consider the unique ness of your home and your lifestyle. A few generic lamps in the ground will never do your home justice. Look for a company who will create a custom design for your home with a variety of high-quality lamps and fixtures and will take your needs and opinions into consideration.
AUTHORITYEVANSVILLE'S
OUTDOOR LIGHTING NITELITERS, INC.
Being able to see your house and landscaping in the dark is not the only reason to light up your home. Lighting does so much more for your home than just provide visi bility, although that is important too.
Since 1998, NiteLiters has become known for bringing exceptional outdoor lighting design and unsurpassed service to homeowners, businesses, and organizations near southern Indiana and central Kentucky. Our primary goal is to create a design and installation plan that highlights and accentuates the architectural elements of the featured property.
David and Steve Nussmeier
Francisco, California — has taken off since last year. We have also expanded into graduation products, such as announcements and diplomas.
AUTHORITYEVANSVILLE'S
Nussmeier's packaging products are made using almost ev ery aspect of our production line. Our digital printing presses create four-color, gradient color, and white-on-dark color de signs on the chocolate bars, as well as other projects. The wine labels started on one of Nussmeier's 12 traditional engraving presses, which are all American made by the Cronite Compa ny. Production for packaging and other projects can include foil stamping with one of the company's six foil presses or run ning the packaging through die cutters and gluing stations.
How has your business grown and changed over the years?
SPECIAL ADVERTISING SECTION 933 N. MAIN ST. • 812-425-1339 • NUSSMEIER.COM
What is Nussmeier's business philosophy?
Nussmeier Engraving has been your complete printing services company for more than 106 years. We are a third-generation family-owned business that has earned a reputation for the highest quality products and personal service. By creating a distinctive design and using the most effective processes, our international award-winning team can help your company stand out above the rest. While Nussmeier is known for our high-end engraving products, we take that same approach to your everyday printing needs. This allows our clients to maintain their image throughout. Printing and brand consistency are our forte.
120 EVANSVILLE LIVING SEPTEMBER/OCTOBER 2022
PRINTING, ENGRAVING, AND FOIL STAMPING NUSSMEIER ENGRAVING AND PRINTING
Our philosophy is to produce the highest quality prod ucts. This has always been a hallmark to success for our business. You simply cannot find a company with higher quality standards or capabilities.
Since 2017, the company has moved from stationery products as its mainstay into packaging. We now pro duce high-end chocolate bar wrappers for several choc olatiers located in the Los Angeles area. Our company's newest packaging project — custom, luxury wine labels produced mainly for clients in Napa Valley and San
How are your high-end packaging products made?
At Pella Windows & Doors of Evansville, we invite you to visit our newly remodeled showroom and let our experts show you how to transform your home space. As a leader in technology and product innovation, we keep quality at the heart of what we do by creating products that are built to last. Whether you are looking for new or replacement windows and doors, we have the skilled team to help you find the perfect Pella product. Stop by our beautiful showroom and see "The Pella Difference" that has made us adopt and embrace change for the better since 1925.
SEPTEMBER/OCTOBER 2022 EVANSVILLE LIVING 121
• Show you design, material, and color options
WINDOWS AND DOORS
• Price, quality, and convenience
• Measure your windows and/or doors for replacement
We offer a Limited Lifetime Warranty with a local service department that backs up our product.
As one of the most recognizable window manufacturers on the market, Pella has a reputation for high-quality products with excellent workmanship.
PELLA WINDOWS AND DOORS OF EVANSVILLE
What is the process Pella takes new clients through?
At Pella, we start with understanding what you need and want for your home and wrap up with clients having the best quality products in windows and doors. Whether we visit your home or you visit our showroom, your Pella expert will:
What are some of the latest trends in windows and doors?
We are seeing black and bold windows that are taller and wider with broader expanses of glass.
SPECIAL ADVERTISING SECTION 5420 VOGEL ROAD • 812-228-7000 • PELLAOFEVANSVILLE.COM
Why should you choose Pella?
Ray Butler, Nick Wood, and Cherie Simpson
What types of warranties are available on Pella products?
• Review plans and elevations for new construction
AUTHORITYEVANSVILLE'S
• Local showroom, sales staff, delivery, and service
• High-efficiency standards
• We can help our customers evaluate the investment merits and performance of their properties. Our pro prietary Wealth Optimizer service tracks and eval uates the financial factors important to real estate investors. This software tool really helps investors evaluate the investment merits of rental properties they own or that they are considering purchasing.
SPECIAL ADVERTISING SECTION 1322 E. DIVISION ST. • 812-461-1676 • RPMRESULTS.COM
122 EVANSVILLE LIVING SEPTEMBER/OCTOBER 2022
What types of properties do you manage?
PROPERTY MANAGEMENT REAL PROPERTY MANAGEMENT
Our services include comprehensive marketing and advertising, thorough tenant screening and selection, full-service leasing, routine property evaluations, online reporting, cost-effective and reliable maintenance, time ly rent collection, and strict and compliant evictions.
What can a rental property owner expect when they select you to manage their real estate investment?
What do your professional property management services include?
Rental property owners can expect communication and feedback about all aspects of their rental proper ty, as well as timely financial reporting, and honesty if something goes wrong.
What sets you apart from other property management companies?
We manage everything from single-family rental homes to multi-family apartment communities.
Front row, left to right: Kerri Owen, Chad Sander Back row, left to right: Owen Baumholser, Seth Pauli, Missy Lankford, Luey Davis, Selene Deom
• We offer a tiered pricing schedule with service guar antees, so that we can design a property manage ment program that will best fit our customer needs.
• Quality maintenance provided by experienced pro fessionals. We stand behind the repair work that our internal maintenance team performs.
Chad Sander and his team at Real Property Management Results do more than manage properties. They deliver peace of mind to rental property owners. RPM Results will help you protect your investment, provide professional service, minimize your costs, and maximize your income — without interrupting your daily life. Real Property Management, a Neighborly® company, is the largest residential property management franchise organization in North America. Managing rental homes can be costly and stressful, but the right property manager can make all the difference. For more than 35 years, thousands of rental property investors nationwide, and now locally in Evansville, have trusted Real Property Management.
AUTHORITYEVANSVILLE'S RESULTS
AUTHORITYEVANSVILLE'S
SEPTEMBER/OCTOBER 2022 EVANSVILLE LIVING 123
SPECIAL ADVERTISING SECTION 1019 LINCOLN AVE. • 812-423-2338 • THERUGMERCHANTEVANSVILLE.COM
Yes, The Rug Merchant is home to the Tri-State's only certified rug repair technician. Terry Lewis, founder and president of The Rug Merchant, has more than 52 years of experience and knowledge in rug repair and restoration to assist in prolonging the life of your treasured rug. The Rug Merchant team can also help with the assessment of your piece to determine its val ue. They offer in-home and in-store appraisals to meet your needs and can provide tips to preserve the life of your rug for the next generation.
The Rug Merchant team's unrivaled product knowledge means that as a customer, you receive the best possible price and quality. Are you looking for a wow factor, or something to match your current style? Do you need to consider that you have pets? The Rug Merchant team will work with the client to understand how the rug will integrate into its intend ed space so that the piece will be a treasure you can enjoy for years to come. The Rug Merchant also provides a unique "in-home trial" to ensure complete customer satisfaction.
RUGS
How do The Rug Merchant's consultants help a client select the perfect rug for their space?
What makes the experience of buying a rug locally superior to purchasing online?
THE RUG MERCHANT
When you buy online, you don't always understand the way a rug will look in your space, the difference in the materials used in the rug, or the way it will wear or hold value. The Rug Merchant's extensive collection of rugs al
lows their clients the opportunity to see, feel and touch the product before purchase and understand the best option for the rug's intended use. Even if you have a strict budget, The Rug Merchant team can show you a variety of options within your budget and help you determine what features mean the most to you.
Do you offer rug repair and restoration?
Terry Lewis and Lynne Lewis, Owners Integrity, honesty, and loyalty are the cornerstones on which Terry Lewis, his wife Lynne, and daughter Emily have built their family business. For the past 52 years, The Rug Merchant has provided the most extensive rug selection for any space or budget to the Tri-State area. The Lewis family's knowledge of hand-knotted and machine-woven rugs and dedication to selecting the perfect pieces for their customers sets them apart from the competition. There's no need to pay big city prices to find high quality and style. Instead, shop with a locally owned family business…The Rug Merchant!
What do you and your store specialize in?
AUTHORITYEVANSVILLE'S
Stephan has built a reputation on providing exceptional personalized service and quality branded apparel.
When it comes to customer service, what can clients expect?
Stephan has more than 50 years as a full-service Men's Career Retailer, representing some of the finest labels and brands available in the industry. Joining Stephan is Master Tailor Marla Beaven. Marla has more than 40 years of ex perience in the tailoring of fine men's and ladies apparel. Before joining SGS Clothiers, Marla was the Supervisor of Alterations for two fine clothing establishments. Here at SGS Clothiers, we enjoy building relationships along with servicing our customers with all of their apparel needs.
At Stephan G. Sanders Clothiers, we cater to the gentleman who is interested in getting the most impact out of his wardrobe. Whether it's custom clothing featuring extraordinary fabrics from around the world or famous brand clothing from some of the most established manufacturers in the industry, we invite you to visit our store in D
124 EVANSVILLE LIVING SEPTEMBER/OCTOBER 2022
Stephan Sanders, Owner
FINE MEN'S CLOTHING
SPECIAL ADVERTISING SECTION 20 N.W. FOURTH ST. (DOWNTOWN) • 812-962-3333 • YOURSUITMAN.COM
We specialize in men's suits, sport coats, formalwear, dress and casual trousers, topcoats, lined rainwear, casual and luxury sportswear, dress shirts, neckwear, shoes, furnishings, and accessories. SGS Clothiers offers everything a gentle man needs to dress confidently for the week or weekend.
STEPHAN G. SANDERS FINE MEN'S CLOTHIERS
What sets Stephan G. Sanders Fine Men's Clothiers apart from other area retailers?
When it comes to men's apparel and being able to shop in comfortable surroundings with someone who takes a sincere interest in your wardrobe, SGS Clothiers is a refreshing exception in a world dominated by big box stores and nameless sales associates. Since 1974,
Southern Business Machines, Inc. strives to provide great customer service to all our customers. We continue to operate locally and pride ourselves on being able to respond to our customers in a timely manner. Our team takes the time to listen to concerns and do what we can to meet our customers' needs, as quickly as possible, to ensure optimum performance of their equipment. We are here to help when they need to adjust workflows and can help guide them to the best solutions available to optimize efficiency.
SOUTHERN
AUTHORITYEVANSVILLE'S
SEPTEMBER/OCTOBER 2022 EVANSVILLE LIVING 125
How has your business grown and expanded over the years?
Hands down, building relationships. Being a locally owned business goes far beyond the transactional sale. It's being greeted with a hug and not just a handshake. It's asking how children and grandchildren are doing. "Many of our customers have watched our children grow up over the last 10 years. Some of them even knew Vernon Jr. when he was an adolescent," Dawn says. It's having an hour-long appointment block and spending 45 of those minutes catching up on life. "We enjoy the retirement parties and birthday lunches be cause we get to know the people we are interacting with. They are just as important to us as the business being done," Dawn says.
SPECIAL ADVERTISING SECTION 2040 E. DIVISION ST. • 812-475-8895 • SOUTHERNBUSINESSMACHINES.COM
personalized in a controlled environment, compliant with regulations, and fully auditable from a single design platform. INSPIRE is also rated the #1 CCM and OMNI channel delivery software by Forrester, Gartner's and many others.
Advancements in technology are happening in every facet of our lives. This includes the way our customers are communicating with their customers and how their customers want to receive those communications, including invoices, statements, and marketing pieces. While enhancements are continuously made to our mailing systems and folder inserters, like remote diagnostics and AIMS closed loop security verification, those are only a piece of that puzzle. We need to approach this task from the front end, before a document is printed or even created. Southern Business Machines, Inc. and our partners at Quadient have made adaptations to meet these needs. Having the ability to deliver a personalized experience to your customers, while empowering your business users, is now more important than ever before. Utilizing a Customer Communications Management (CCM) solution, like Quadient's INSPIRE, can help your organization create communications guided by the customer journey, delivered via any channel (inc. print, HTML5 email, SMS, WhatsApp, web & mobile),
What do you enjoy most about working with customers?
Vernon Stevens, Sr., Jennifer Stevens, Dawn Stevens, and Vernon Stevens, Jr.
MAILING SOFTWARE AND EQUIPMENT BUSINESS MACHINES, INC.
AUTHORITYEVANSVILLE'S TRAVEL AND TOURS TOURCY, LLC
• You'll relax more and worry less.
• You'll step out of your comfort zone.
• You'll get unrestricted travel protection.
• You'll have more peace of mind.
L
• Your money will go further.
• You'll make more friends. People often tell us that their favorite part of touring is the people they meet along the way.
et's face it: Guided travel has a bit of a stigma attached to it. Does it make you think of large groups, being herded from one tourist attraction to the next, just barely skimming the cultural surface of a destination? Or rigid itineraries with no room to wander off on your own and get lost? If so, it's time to do some myth-busting.
Here are just a few of the reasons why guided travel is a great way to see the world:
• You'll be surprised by the convenience and the flexibility.
Guided travel is a great way to make friends, break down cultural barriers, and try new things. And you'll be surprised at the freedom you'll have to make the trip uniquely yours, with choices along the way and plenty of free time to do the things that are important to you.
Tracy Wilson, Owner and Experience Curator
• You'll save money. On hotels, transportation, events, meals, and more.
• You'll save time. If you've ever planned a trip your self, you know how time consuming it can be. Choos ing and booking the right hotels and lodging, figuring out transportation and travel routes, and researching ticket prices can add up to literally hours of internet research and phone calls, especially if you're travel ing abroad. With guided travel, you book the tour that suits you best, and let Tourcy handle the rest.
GUIDED
SPECIAL ADVERTISING SECTION TRACY@TRAVELWITHTOURCY.COM • 812-781-0201 • TRAVELWITHTOURCY.COM
Tourcy takes care of all the important details that go into making your travel experience one to enjoy thoroughly!
• You'll get an authentic experience.
126 EVANSVILLE LIVING SEPTEMBER/OCTOBER 2022
Travel has changed, and it's more evident than ever that Tourcy, LLC offers unpar alleled access to the world with peace of mind and protection every step of the way. Piecing together a comprehensive journey, whether domestic or international, can be an overwhelming task given all the details. Leave behind the stress of planning and choose an innovative guided tour provided by Tourcy to make your travel dreams come true.
WHAT SETS US APART
EXPERTISE
AUTHORITYEVANSVILLE'S
TSOS provides specialty care across the entire spectrum of musculoskeletal medicine. We have experts in sports medi cine, spine care, joint replacement, foot and ankle, hand, trau ma, pediatric orthopedics, and neurosurgery.
In 2019, the surgeons of TSOS transitioned our surgical pro cedures to the Ascension St. Vincent Orthopedic Hospital. At this new facility, TSOS doctors perform advanced surgical procedures in an innovative, modern orthopedic-dedicated surgical facility.
COMMUNITY
TSOS doctors use the most advanced surgical techniques, in cluding minimally invasive arthroscopic surgery, robotic surgery, and the most modern, sophisticated orthopedic technologies. Our talented surgeons care for patients in state-of-the-art facilities along side an all-star team of highly skilled health care professionals.
by delivering care that is as good or better than that available in many larger communities.
Giving back to our community is a core value at TSOS. Many members of the TSOS family are em bedded with civic and charitable organizations in the Tri-State. We are proud to provide care for many of our local schools at the university and high school levels. Our doctors and leadership team sit on many community boards and are an integral part of many philanthropic endeavors in the region. We give the same kind of diligent care to our community that we give to our patients.
TSOS excels in two important respects. As a large collection of super subspecialists, TSOS punches well above our weight
Second, we love what we do, and it truly shines through in the care we give. We are proud of our or ganization's culture, and we are confident that our pa tients see that it sets us apart in our community.
ORTHOPAEDICS TRI-STATE ORTHOPAEDIC SURGEONS SPECIAL ADVERTISING SECTION SIX TRI-STATE AREA LOCATIONS • 812-477-1558 • TRISTATE-ORTHO.COM
The TSOS approach to your care has two important elements: It is highly specialized, and it is highly collaborative. Your care is specifically tailored to the problem that causes you to need us, and our approach is integrated with a large care team that includes team members skilled in physical and occupational therapy, medical imaging, nursing, and minimally invasive as well as advanced surgical techniques.
SEPTEMBER/OCTOBER 2022 EVANSVILLE LIVING 127
Founded in 1949, TSOS has been an integral part of the Tri-State medi cal community for more than three generations of patients. Twenty-one highly trained doctors are at the center of our specialty practice and are supported by 13 nurse practitioners and physician assistants as well as an entire elite staff of health care professionals.
According to the Bureau of Labor Statistics, workers with bachelor's degrees earn 67% more than people with only high school diplomas. But it's more than good paying jobs. At USI, we prepare an educated citizenry — one with diver gent ideas and cultural understandings — that will lead and make positive contributions to our communities, our state, and wherever else they may go. Our students become lifelong learners serving an increasingly diverse and global society.
AUTHORITYEVANSVILLE'S
USI has a strong tradition of leadership in its four col leges, igniting passion and creativity that lead to student success. USI's graduate nursing program is ranked among the best in the country (U.S. News). The Romain College
128 EVANSVILLE LIVING SEPTEMBER/OCTOBER 2022
Why is a college degree so important?
HIGHER EDUCATION UNIVERSITY OF SOUTHERN INDIANA SPECIAL ADVERTISING SECTION 8600 UNIVERSITY BLVD. • 812-464-8600 • USI.EDU
of Business is accredited by The Association to Advance Collegiate Schools of Business (AACSB International), an honor earned by less than 5% of the more than 16,000 business schools worldwide. USI engineering students de signed and built a satellite for NASA, the first aircraft built and flown by a public institution in the state of Indiana, which was deployed from the International Space Station. USI's Radio and Television program earned the 39th Top Winning Overall Program and 7th Audio Program in the U.S. in the first ever ranking conducted by the Broadcast ing Education Association. The program also ranked in the top 30 for Sports Broadcasting.
If you don't know which college is the best fit for you, Uni versity Division and the Center for Exploring Majors will help you find the right path. If continuing your education is the goal, our School of Graduate Studies can help you soar.
Dr. Zane Mitchell, Dean, Pott College of Science, Engineering, and Education; Dr. Constance Swenty, Interim Dean, College of Nursing and Health Professions; Dr. Sudesh Mujumdar, Dean, Romain College of Business; Dr. Del Doughty, Dean, College of Liberal Arts
Dr. Del Doughty recently joined the University and brings a wealth of expertise from his previous dean role at Texas A&M University, where he served since 2016. Dr. Sudesh Mujumdar, former USI faculty, returned to USI in July after serving as a business dean at Savannah State University since 2019. Dr. Constance Swenty, USI faculty member since 2006 and former assistant dean, has served in her interim role since January. Dr. Zane Mitchell, a veteran of the U.S. Air Force, joined USI's faculty in 2009 and became dean in 2016.
What sets USI apart as a leader in higher education?
Are chiropractic adjustments customized for each patient? Chiropractic adjustments are customized for each patient because each patient responds differently to an adjustment, and even though symptoms may appear similar, the cause of the problem is originating in a different spot. Also, no two spines are structurally the exact same.
What makes West Side Chiropractic Center a great choice for chiropractic care?
Ten years ago, Dr. Jessica Ignacio opened West Side Chiropractic Center, and every year since, she has been voted "Best Chiropractor" in the Courier & Press' annual Readers' Choice awards. Today, her practice has grown to include 10 compassionate and caring employees. For Dr. Jessica, the most rewarding part of being a chiropractor is the ability to help people feel pain free without the use of medication. She accomplishes this by offering an all-natural approach using manual and instrumental adjustments to the spine. Being able to help patients feel better so they can enjoy their lives to the fullest is the most rewarding part of West Side Chiropractic Center.
On the first visit, we complete a full health history, do multiple chiropractic exams, and perform a neurolog ical SEMG scan. This will confirm where the nerves
are most irritated and where the muscles are tight, and we will take or update X-rays of the spine if the patient does not have current ones. This is to show what exactly the underlying structure looks like and also rule out any ailments that may alter the way we will adjust the patients.
What can a new patient expect at their first appointment?
Dr. Jessica Ignacio
SEPTEMBER/OCTOBER 2022 EVANSVILLE LIVING 129
West Side Chiropractic is a great choice for chiropractic care because we listen to the patient and have a large passion for helping patients get out of pain. We're not just adjusting the spine, but also improving a patient's quality of life.
AUTHORITYEVANSVILLE'S
CHIROPRACTIC CARE WEST SIDE CHIROPRACTIC CENTER SPECIAL ADVERTISING SECTION 2732 MT. VERNON AVE. • 812-425-5686 • GOWESTSIDECHIRO.COM
ARCHITECTURAL WOODWORK SPECIALTIES BY FEHRENBACHER
ness has grown to more than 20 employees and we now have multiple locations of operation.
• Beams
WOOD
SPECIAL ADVERTISING SECTION 8920 BIG CYNTHIANA ROAD • 812-963-9414 • WSFINC.COM
Our experienced sales staff will personally meet with cli ents to develop a trim package that meets their needs and help their vision come to life. Our showroom is designed to showcase examples of various design styles for doors, mouldings, hardwood flooring, hardware, and much more. Having access to these products, and with our help on how everything fits together, you are one step closer to creating your dream home.
How has your business grown and expanded through the years?
When Wood Specialties by Fehrenbacher was started in 1986 by our father Gary, we only had a handful of ma chines and produced running trim and millwork. Today, we operate a 6-head Weinig moulder, gang rip saw, finger joint machine, optimizing cut-offs, CNC routers, lathes, and a variety of specialized woodworking machinery. Our busi
Since 1986, Wood Specialties by Fehrenbacher has been a family-owned and operated business that specializes in producing high-quality architectural woodwork. With years of experience, and the finest craftsmen in the industry, we take pride in producing outstanding quality millwork at a competitive price. From entry-level homes to grand estates, we strive to meet every customer's needs. We believe a well-designed trim package not only adds value and functionality to your home but personality and character too.
What are some specialties your business offers?
Specialties and the finest quality millwork are where we excel. All of our material is made to order and we man ufacture almost everything we sell in-house. With more than 60 specialized wood-working machines at hand and the talented craftsmen who operate them, there isn't much we can't do. Some of our specialties include:
• Mouldings
• Stair parts
130 EVANSVILLE LIVING SEPTEMBER/OCTOBER 2022
How does your team provide a great customer experience?
• Wainscoting
• Interior and exterior columns
AUTHORITYEVANSVILLE'S
• Mantels
• Interior and exterior doors
• Shutters
SEPTEMBER/OCTOBER 2022 EVANSVILLE LIVING 131
centers, corporate headquarters, and Class A office spac es. While the company can work with clients on any land development, Woodward also offers 15 commercial and industrial subdivisions ranging from 20 to 140 acres, with a variety of custom facilities available for lease or sale.
What services does Woodward offer?
What kind of projects has Woodward completed recently?
COMMERCIAL REALTY WOODWARD COMMERCIAL REALTY, INC.
SPECIAL ADVERTISING SECTION 4763 ROSEBUD LANE, NEWBURGH, IN • 812-474-1900 • WOODWARDREALTY.COM
Woodward's expertise includes all types of com mercial and industrial sales and leasing, investment properties, business brokerage, build-to-suit/lease, and commercial development. From finding buyers or sellers and setting a fair market price to understanding market trends and financing requirements, the Woodward team navigates these procedures with knowledge and experience.
Woodward built and leased the 75,000-square-foot Frito Lay Distribution Center and the 150,000-squarefoot Windstream Communications facility during 2021. Woodward also constructed a 100,000-squarefoot Shell Building in the North Warrick Industrial Park (shown below).
Woodward Commercial Realty, Inc., has been a leader in commer cial real estate sales, leasing, and development for more than 30 years. With specialists in industrial, office, retail, multi-family, farm ground, and land development, Woodward covers southern Indiana and west ern Kentucky with industry-leading expertise and a client-first focus. Woodward's brokers work as a team to help each client reach specific real estate goals; it's a commitment the Woodward team brings to every customer. With Woodward Development and Construction available for build-to-suit opportunities, Woodward truly can promise "if we can't find it, we'll build it for you." Let Woodward Commercial Realty help you with all your commercial real estate needs.
The team at Woodward can design and construct custom facilities for lease. The company has built a variety of facil ities, from manufacturing plants and warehouses to retail
How can Woodward help businesses find their location?
AUTHORITYEVANSVILLE'S
How has your business grown and expanded in the last few years?
AUTHORITYEVANSVILLE'S AND DOGGIE DAYCARE WOOFIE JOE'S
Our staff does so much for the pets, and they all bring their own gifts to the table. No two dogs are alike, so our staff works hard to ensure every pet has a positive experience, whether it be through a little extra attention, training, or redirection. They even look for health issues.
We know our limits. It's really hard in this industry to draw that line, but it is very necessary. We want each pet and every staff member to have a positive experience every day, so we make sure that there is no overcrowding at either location.
PET BOARDING
SPECIAL ADVERTISING SECTION 4400 LENN ROAD, NEWBURGH, IN • 812-853-9352 8144 ROBIN HILL ROAD, NEWBURGH, IN • WOOFIEJOES.COM
What sets you apart from other pet facilities?
Each pet gets its own full view or privately enclosed 5 footby-5 foot kennel. The space is fully air conditioned and heat ed year-round, and we have plenty of room for indoor play in the event of inclement weather. Our boarders play together during the day and have a great time socializing, running, chasing balls, and playing with toys. The dogs love lounging on our leather benches, rolling outside on the new turf, play ing in pools and sprinklers, or just lying around. At bedtime all dogs are tucked in with their special toys and blankets from home, and we leave the TVs running through the night. It's just a great place, and I'm so excited every time I walk in. It's still hard to believe my dream finally became a reality.
Angie Stanley, a 30-year veteran in the pet industry, has always dreamed of having a place for dogs to play and board in a safe, fun environment. She also competes with her two dogs in an array of events, earning several titles. Dogs are a huge passion in her life, and her daughter Mary Stanley has become an invaluable asset to the company, taking over the managerial aspects needed to run such a large undertaking.
Describe the new boarding space.
Mary Stanley, Angie Stanley, and Chico
How does your team provide a great customer experience?
132 EVANSVILLE LIVING SEPTEMBER/OCTOBER 2022
When I first opened Woofie Joe's, I remember sitting on a bench looking at the empty yard and envisioning maybe 10 dogs running around. By the next year we had grown to the point of expanding the play yard and having eight employees to look after more than 20 dogs. In 2021, we found ourselves turning clients away due to being at ca pacity, and that's not something to take lightly. Present day, we have a staff of 20 and have recently opened our new boarding facility on Lenn Road to allow both loca tions room to grow.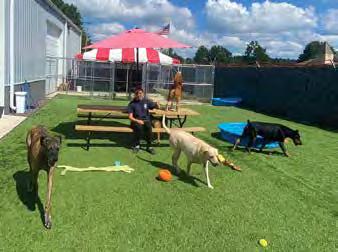 Command your world with confidence. 2022 Bronco® Sport SUV CUSTOM ORDER YOUR BRONCO SPORT TODAY! Wanderers Unite An SUV built for the thrill-seeker, the sightseer and the day-tripper.
Subscribe today at evansvilleliving.com WANT TO KNOW EVERYTHING ABOUT EVANSVILLE?
Does your vehicle have dents, dings, creases, or hail damage? Call or text 812-499-4683 for expert Paintless Dent Repair service in the Tri-State area! MINOR DENTS HAIL DAMAGE Dent Medic did a fantastic job removing what looked like hundreds of hail dents from the hood of my Explorer. My SUV looks like new Due to urging from a friend on Facebook, I contacted Jesse from Dent Medic and he came out and removed a dent on the rear quarter panel of my Infinity while I was at work - I cannot even tell where the dent was anymore. My only regret was not calling him sooner! -Brandon P., Newburgh, IN CELEBRATING 10YEARSBEFOREAFTER WHAT OUR CUSTOMERS ARE SAYING: f Scan the QR code to visit our website • dentmedicrepair.com • Call or text 812-499-4683 for an appointment • 639 E. Lincoln Ave., Chandler, IN
SEPTEMBER/OCTOBER 2022 EVANSVILLE LIVING 135 DRIVE SPECIAL ADVERTISING SECTION
"General Motors has pledged to be fully electric by 2035, and we've start ed to see some of the models that will contribute to this lineup," says Hender son Chevrolet Buick GMC General Man ager Kate Faupel Grealish.
HENDERSON
It's Electric
BY RILEY GUERZINI
The dealership currently is taking reservations for all three models, and Grealish says she can't wait to see them arrive. Reservations can be made by call ing the dealership at 888-332-4583 or by stopping in the showroom at 2746 U.S. Hwy. 41 North, Henderson, Kentucky, from 7:30 a.m. to 7 p.m. Monday-Friday and 8 a.m. to 6 p.m. Saturday.
DRIVE | SPECIAL ADVERTISING SECTION
COME VISIT THE CHEVROLETHENDERSONFAMILY!
New GMC model coming to dealership
Kate Faupel Grealish & Ron Faupel
GET INTO GEAR
Other electric models to come in clude the Chevrolet Silverado EV and Blazer EV, both featuring GM's best technology. They will be available in sport-performance trim levels.
tery and can go from 0 to 60 miles per hour in three seconds with up to 11,500 pound-foot of torque and more than 1,000 horsepower. The first Hummer EV is expected to be delivered to the dealership this fall.
One of the most anticipated vehicles in the electric vehicle market is set to ar rive on Henderson Chevrolet Buick GMC's lot. The world's first all-elec tric supertruck, the GMC Hummer EV pickup, is powered by an Ultium bat
Shopping for and owning a vehicle can be exciting — and a little daunting. What are the best features on the latest models? How should you finance a purchase? What happens if your vehicle gets a dent? Let these area experts guide you on your journey to the auto of your dreams.
The Hummer EV will have a 329mile battery range and feature a CrabWalk mode, which allows all four wheels to move diagonally.
Don't DingedGet
Jesse Virgin, Owner of Dent Medic of Southern Indiana
Buff out car dents with professional help
Some areas of a vehicle's exterior such as the bumpers, hoods, liftgates, or trim are made of plastic. These can get dents in them from minor impacts like when a stray golf ball hits your car. With this kind of dent, profession als typically use a heat gun and suc tion dent puller to pop out the dent. It might take several attempts to heat up the area to make sure the dent
BY MICHELLE MASTRO
SEPTEMBER/OCTOBER 2022 EVANSVILLE LIVING 137
Henderson Chevrolet Buick GMC Celebrates Our 21Year Anniversary! We have grown from one of the smallest GM dealerships in Kentucky to one of the largest. We are fortunate to have acreage, allowing us to keep a large selection of new and used vehicles and a small showroom so we can keep our prices low. As a small-town family-owned dealership we are proud to be involved and to give back to our community through a variety of nonprofits. We believe in investing in a community our employees and customers will be proud to live in. We strive to help you find the right vehicle for your needs and budget.
2746 HWY. 41 | Henderson, KY 42420 | 270-826-7600 | HENDERSONCHEVROLET.COM HENDERSON DRIVE | SPECIAL ADVERTISING SECTION
Vehicle dents can significantly impact the way your car looks. Even just one or two in the wrong spot can make your ride look older or ill-kept. Luck ily, dents are easily removed with the help of knowledgeable professionals.
pops out, but these are easily fixed with the right tools and expertise.
Other times, dents can occur on the metal pieces of the car, such as the main body or doors. To repair this type of dent, professionals will use what is
called a bridge puller head and filler to buff out the dent and fill the open space. Sometimes, dents are just too serious to simply be massaged out of the metal, and portions of the car may need to be replaced with new ]
MAKE EVERY DAY LEGENDARYThe Ultimate Driving Machine®
Another way to finance your vehi cle purchase is through a dealership directly. Dealerships, however, tend to have higher interest rates to recoup more money both for the dealership and the "Withmanufacturer.our'WeWant Your Auto Loan' promotion, customers can get one percent of their loan amount back, with up to $400 back for qualifying purchases or refinances from another financial institution," Server says.
Borrowers can finance their vehi cle purchase by applying in person, by phone, or online.
The 2023 BMW X7 offers a com fortable ride and high-end cabin with luxurious features. This vehicle has a user-friendly infotainment system with three rows of seats, though the last row might take away from some of the car's back cargo space. Regard less, this large SUV offers well-round ed performance and amenities. Not to be outdone, the Mercedes Benz 2022 C300 Sedan features a four-turbo engine boasting 255 horsepower and is electrified with a new 48-volt mild hybrid system, making the C-Class both more ener gizing and energy conscious to drive. The C300 features Dynamic Select dial-in performance with the tap ]
While you might assume it is just as easy to remove these dents at home, working with an experienced professional is the better option for several rea sons. A trustworthy auto shop will offer warranties on their repairs. Plus, the experts will have access to all the necessary tools along with the knowledge of how to fix a variety of dents in different areas of your car. When the job calls for polished dent removal, it may be best to leave it to the pros such as Dent Medic of Southern Indiana.
Tips on financing a vehicle purchase
Sit in the lap of luxury at D-Patrick Motoplex
DRIVE | SPECIAL ADVERTISING SECTION
FindBackingYour
Shopping for a car might be more interesting than figuring out a way to finance it. Perhaps for this reason alone, shoppers may not think about financing their vehicle purchase until they are standing in a dealership's fi nancing office. To ensure you know all your options before falling in love with your dream car, check out these three ways you can finance your vehicle pur chase via a lender.
SEPTEMBER/OCTOBER 2022 EVANSVILLE LIVING 139
Thus, the second way to finance your car is through a loan from your local credit union. Evansville Federal Credit Union is a cooperative owned by its members, so interest rates on loans tend to be lower.
"The perks are we make it easy to apply however is most convenient to them," Server says.
DrivesRefined
BY MICHELLE MASTRO AND JODI KEEN
panels. A professional will match your car's original paint, making the new addi tions match seamlessly with the rest of your car.
One of the first ways to finance your vehicle is through a loan from a bank, which may apply less pressure to buy than a dealership's financing depart ment. Borrowing from a credit union can be even better since they tend to offer lower interest rates than banks.
"Customers at Evansville Federal Credit Union will get a great rate and local servicing, and we have a variety of loan terms to fit most any bud get," says Brian D. Server, assistant vice president of consumer lending at Evansville Federal Credit Union.
If a high-end luxury vehicle is what you are after, look no further than the selection of new models from BMW, Mercedes Benz, and Audi at D-Patrick Motoplex.
BY MICHELLE MASTRO
The 2022 Ford Expedition seats up to eight people and has excellent towing capacity, a massive cabin, and plenty of perks. The front-end styling is refreshed for 2022 and has a partially automated drive mode, making
Top of the Line
of a console button. Selectable drive modes fine-tune the ninespeed transmission, throttle, steer ing, and more. An agile four-wheel multi-link suspension offers a firm grasp on the road, so you can en joy drive modes ranging from an easygoing ECO to a sharp Sport. A bonus: AMATIC all-wheel drive adapts to any road, giving you the proper and correct amount of traction no matter if you're forging ahead through winter snow or glo rious sunshine — a solid choice for the Tri-State's seasonal weather.
140 EVANSVILLE LIVING SEPTEMBER/OCTOBER 2022 DRIVE | SPECIAL ADVERTISING SECTION
Ford's and Lincoln's latest lineups sparkle with superb new models. Before you start shopping at D-Patrick Ford/Lincoln, check out these attractive 2022 options from both manufacturers.
Ford and Lincoln 2022 models boast refined features
BY MICHELLE MASTRO
The all-electric 2022 Audi Q4 e-tron should be admired for its balanced ride, refined cabin, and — new for 2022 — a Chronos Edi tion trim that replaces the Prestige trim of prior models. This e-tron is a fully electric SUV and comes with smooth handling and mini mal body that moves with preci sion around curves. Adaptive air suspension softens the unpleas antness of any bumps on the road, making for an enjoyable ride by any standards. Guests also can enjoy an intuitive dual-screen in fotainment system with Apple Car Play, Android Auto, and Amazon Alexa smartphone integration.
Text or call us at 812-424-2621
Visit our website or stop by any Evansville Federal Credit Union branch to open an account. The $5 minimum balance in your savings account, also called a "share account", enables you to vote for our board of directors. Please bring photo ID that has your current address with you when you open your account. Once you've opened your share account, you are a member of EFCU and can enjoy all of the benefits of membership!
these some of the outstanding updates to the model. For those considering this car to purchase or lease, the Expedition is a roomy choice as a large, family-friendly SUV with loads of passenger room. It also boasts ample cargo space to fit everything you need to take this car on a road trip or weekend getaway with the kids.
Simply finance your new vehicle with us or refinance your qualifying* auto loan from another financial institution, and we'll pay you 1%, up to $400, PLUS give you a GREAT rate. It really is that simple! Apply through our free EFCU mobile app (from your mobile/smart device), online, in branch or call to speak with a loan officer today!
SEPTEMBER/OCTOBER 2022 EVANSVILLE LIVING 141
Become a Member
For a luxurious ride, check out the 2022 Lincoln Aviator, a luxu ry midsize SUV. This vehicle has a V6 powertrain, large cargo area, high-end interior, great tech fea tures, and a third row of seats, among more amenities. It accom modates up to seven people and is free of any jostling due to the vehicle's sturdy suspension. Driver assistance features take away the worries of driving with blind spot monitoring and automatic emer gency braking, making this a won derful choice for anyone looking for a bit of luxury.
*Minimum loan amount of $7,500. Excludes existing EFCU loans. Subject to credit approval. Cash back incentive will be deposited into your EFCU savings account once the third scheduled payment has been made.
The 2022 Ford Bronco Sport is another great option from Ford. While it handles well off-road, the ride isn't impacted by bumpy roads. The Bronco Sport has agile handling and easy-to-use features like a turbocharged engine and four-wheel drive.
We'll pay you cash for your auto loan!
evansvillefcu.org DRIVE | SPECIAL ADVERTISING SECTION
This is only the beginning! WNIN, on both TV and FM, intends to continue adding more local programming. These initial efforts are thanks to a generous donor who recently gave a major gift with specific instructions to begin a local programming fund. We couldn't be happier to oblige! The local program ming fund will not only allow us to purchase content that will be found only on WNIN, but it will also allow us to pursue truly local efforts that have long been on the proverbial drawing board but with no likely chance to become a reality because of a lack of funding. We have LOTS of ideas and concepts. The new, local programming fund will go far in assisting our efforts to take these ideas to air, but we will ALWAYS continue to need YOUR help too. If you like what you are see ing and hearing and you want more, we can do it but only with your continued support. Please consider making your gift, right now, at www.wnin.org or by calling us at 812-4232973. Thank you when you do!
fabulousAhhhhh...2022fall!
Lora
Tim Black, President and CEO
142 EVANSVILLE LIVING SEPTEMBER/OCTOBER 2022
Timothy Deisher Treasurer
Beginning at 7 p.m. central time, we contin ue to produce new episodes of our public affairs show, "Newsmakers" and the popular David James radio show that is also showing up on television, "Two Main Street." We have added a new show at 9 p.m. central time that is exclusive to WNIN. Based on the crime-novel series by author Caroline Graham, "Midsomer Murders" follows the efforts of Detective Chief Inspector John Barnaby to solve crimes that occur in the wealthy, isolated English county of Mid somer, a picturesque and peaceful place on the outside but one filled on the inside with amoral and snobbish eccentrics with all kinds of vices. Chief Inspector Barnaby is the younger cousin of DCI Tom Barnaby who retired in 2011. His right-hand man is Detective Sergeant Jamie Winter, who is young, keen, and smart as a whip. "Midsom er Murders" is the UK's longest-running contemporary detective drama, having aired on British television since 1997. "Midsomer Murders" will also air Saturdays at 8 p.m. central time on WNIN.
Claybourn Nancy ShawnRichardHodgeKuhnMcCoy Tara AnnaleeMarvinJordanGeneMikeDanielaAlfonsoThomasStephanieDr.AmberOvertonRascoeRonRochonRolandSillimanVidalVidalWalshWarrenWhitledgeWrightBaltimore Student Board Member Nora Ruotolo Student Board Member
Thur sday night on WNIN has become a night of local programming. Check it out!
President's Message
Lawrence Taylor Secretary
WNIN BOARD OF DIRECTORS
a new home on tri-state televisions. "The Carol Burnett Show – Carol's Favorites" is a collection of episodes personally chosen by the iconic comedian herself, as they originally appeared on television during the show's run from 1967 to 1978. Starring Carol Burnett, Harvey Korman, Tim Con way, Vicki Lawrence and Lyle Waggoner, the main cast is complemented by a legendary group of guest star celebrities and musicians. These appearances include Don Rickles, Ethel Merman, Bing Crosby, Dame Maggie Smith, The Pointer Sisters, Steve Martin and Betty White, among others. One of the most influential television shows ever, "The Carol Burnett Show" won 25 Primetime Emmy Awards during its original run and has appeared on numerous lists for greatest TV shows of all time, including from TV Guide and Time magazine.
Sinc erely,
It's the time of the year at which most of us are deep into school, work and family. The long, lazy days of summer have ended, replaced by the daily routines of life. At WNIN we have a new routine on Thursday and Saturday. I hope you have noticed and have enjoyed. For those of you to whom this is new information I invite you to check it out. I've used this message, often, to discuss one of my primary objectives as I lead WNIN. The staff and I have focused quite ag gressively on producing and distributing more local content. We know the PBS and NPR programming have long brought many eyes and ears to WNIN. Of course, that also means welcome and needed financial support. But I
believe local content is becoming increasingly important as we become a streaming consum er who is able to find much of the popular PBS and NPR programming on various platforms. Local programming forces viewers and listeners to seek out, specifically, WNIN channel 9 and WNIN FM 88.3 as well as the digital platforms associated with each.
TWO MAIN STREET • EVANSVILLE, IN 47708 812-423-2973 • WNIN.ORG • EMAIL: INFO@WNIN.ORG OCTOBER/NOVEMBER 2022 SPONSORED CONTENT CHANNEL 9.1 CHANNEL 9.2 88.3 FM
A.J. Manion Chair
Arneberg
Susan Hardwick Vice Chair
Tim Black President
Austin
Dr. Michael
Joshua
Then, get ready to laugh on Saturday evenings. One of the most beloved series in TV history returns for viewing on WNIN at 6 p.m. central time and on Sundays at 4 p.m. central time. The ultimate variety show with music, larger-than-life guest stars and, of course, timeless comedy has found
How did you get into journalism/radio: I got my journalism degree at Northwestern University. After graduating, I started my first job in the Tri-State at (then) Fox 7 News. Next, I moved around the country working in print news. Now, I'm happy to be back where it all began, bringing news to the Tri-State at WNIN.
Favorite thing about working for WNIN: Public media/NPR has been my goal and dream for several years, and I'm still a little surprised I ended up here. But, the people here are great, the city is pretty vibrant, and of course, I love producing fun, audio-rich stories and videos with a fair amount of freedom to bring ideas to the table.
It's the support and partnership of listeners like you that allow our on-air staff to showcase the tri-state's history, culture, and share unique stories that open a window to the rest of the world. It allows us to continue to bring more local programming and stories about real people and places you care about to the tri-state.
Favorite thing about working for WNIN: I am a mom of three young boys and WNIN made it possible for me to cover the biggest story of my career and still help my family navigate the pandemic. WNIN has a sterling reputation in this area and I'm honored to help in any way I can.
Favorite thing about being on-air: [My favorite thing is] running into friends in the community and having them say, "I heard you on the radio!"
SEPTEMBER/OCTOBER 2022 EVANSVILLE LIVING 143
Kenton McDonald • Vice President of Radio and All Things Considered Host
I started as a photojournalist/ writer/editor at the University of Michigan-Flint Newspa per in 2009. This led to a 10-year newspaper career, which led to producing video documentaries and finally, focusing on public media the past few years.
Premieres at 8 p.m. Nov. 14 on 9.1 WNIN PBS and American Experience will present "Taken Hostage," a new fourhour, two-part documentary about the Iran hostage crisis starting on Nov. 4, "Taken1979.Hostage" explores the backstory of how America became mired in the Middle East and the nation's role in igniting the firestorm that has consumed the most strategi cally important part of the world for the past 40 Unfoldingyears.likea political thriller, the documentary includes an extraordinary treasure trove of never-before-seen archival film footage. Filmmaker Robert Stone and his team were also given unprecedented access to film in the former American Embassy in Tehran.
Northwest has a NPR member station on campus called KXCV. They employ students to host, report news and assist with sports broadcasts. It was an invaluable public radio experience.
How did you get into journalism/ radio: My first radio job was at KLOS-FM in Los Angeles, where I worked in radio research, calling people who'd agreed to rate new music, playing new songs for them over the phone and getting their feedback.
Favorite thing about being on-air: I love the intimacy of radio and its power to inform and entertain.
Timothy Jagielo • Journalist/ProducerMultimediaHowdidyougetintojournalism/radio:
I attended the University of Southern Indiana and was involved with their radio program/station. Ever since I was a kid I wanted to be a sports play-by-play broadcaster on the radio and have been fortunate to do that along with working in radio during the day.
Your commitment to our organization provides critically needed funding that makes our work possible. Make your gift today to support our on-air staff who tell the stories we all depend on daily. To make your gift, call 812-423-5678, visit us online at www.wnin.org, or find us on PayP al. Thank you when you do.
Favorite thing about being on-air: My favorite thing about being on air is finding a connection with my audience. What information is the most important at this time for someone driving, listening at work or home? I also enjoy working to improve my delivery and sound — no break or newscast is perfect. I still can't believe I get to talk on the radio. It was a dream job as a kid and I don't take the opportunity for granted.
Sarah Lovett Kuper • Reporter/Producer
How did you get into journalism/radio:
Peggy Pirro • FM host, Traffic Coordinator, and the voice of underwriting at WNIN
How did you get into journalism/radio:
Jevin Redman • On-Air Host/Production
How did you get into journalism/radio: I started my journalism career at the University of Evansville as editor of the Crescent news paper. I also wrote obituaries for the Evansville Courier while in
Twice a year, WNIN staff and community leaders come to you live from 88.3 FM studios to make a case for why you should support the station and how you can make a difference with your contribution and this year is no different. Join us this fall as we set out to reach our biggest goal of the year during the Fall 88.3 FM Pledge Drive!
Have you ever wondered whose voice you hear each morning on "Morning Edition" and each afternoon on "All Things Considered?" Do you wonder who reports on the stories that matter to you and the community? Or who makes sure that we all know what the weather and traffic are like each day? WNIN 88.3 FM's team is made up of dedicated and skilled journalists who are passionate about creating work that keeps you up-to-date and connected each day.
I began my broadcast jour nalism career at the University of Southern Indiana in 1987 before accepting a news position at WIKY in 1989.
college and was a feature writer for the Evans ville Sunday Courier and Press. After graduation, I was a radio reporter at WGBF, then had a 41-year-career at WFIE TV as news anchor and managing editor. After retirement, I was induct ed into the Indiana Broadcasting Hall of Fame.
Favorite thing about working for WNIN: WNIN has a small but dedicated staff and the goal each day is excellence.
David James • Host of Two Main Street on WNIN-FM and WNIN-TV
Favorite thing about working for WNIN: I have really enjoyed working with an experienced and respected radio/media staff. Everyone trusts each other to do their job at ahigh level, but at the same time are always there to help/answer any questions when they come up.
I started working in radio while in college at Northwest Missouri State University.
"Taken Hostage" to Premiere this November
John Gibson • News Manager, Host of NPR's Morning Edition, and Host of the Lawmakers program
How did you get into journalism/radio:
MASTERPIECE: MISS SCARLET AND THE DUKE, SEASON TWO Airs Sundays at 7 p.m. starting Oct. 16
MASTERPIECE: ANNIKA
NATURE: WOODPECKERS:
Airs at 9 p.m. Oct. 14
THE HOUSE THAT NORM BUILT Airs at 8 p.m. Oct. 3
THE ROOTS RESIDENCY
After more than four decades, the Master Carpenter of "This Old House" and pioneer of the home improvement television genre Norm Abram is officially leaving the show and hanging up his toolbelt. Norm will be sent off in style with a one-hour tribute special: "The House that Norm Built."
October 2022 Highlights
MAKING BLACK AMERICA: THROUGH THE GRAPEVINE Airs Tuesdays at 8 p.m. starting Oct. 4
Go on the case with private eye Eliza Scarlet, Victorian England's first-ever female sleuth, as she solves crimes – and sometimes flirts – with her partner and childhood friend, Detective Inspector William "The Duke" Wellington.
THE HOLE STORY
FIGHT THE POWER: THE STORY OF HIP-HOP Airs Fridays at 8 p.m. starting Oct. 7
144 EVANSVILLE LIVING SEPTEMBER/OCTOBER 2022
will deconstruct the origins of this bold and revolutionary art form through the voices of those who were there at the start.
One of hip hop's vital voices and most respected acts, four-time Grammy Award–winning band, The Roots, will explore the full range of their creative expression in their Kennedy Center residency. Through performance and other cultural activations, The Roots Residency will highlight the legendary crew and its joint front men: acclaimed emcee, writer, actor, and artist Tariq "Black Thought" Trotter and awardwinning drummer, DJ, producer, director, journalist, and best-selling author Ahmir "Questlove" Thompson.
Developed by Chuck D and his manager Lorrie Boula, this four-hour series rewinds to the birth of hip-hop and traces its role in the story of America from the past 40 years, right up to the present day. Featuring first-hand accounts from some of rap's most integral players, the series
This four-part series from executive producer, host and writer Professor Henry Louis Gates Jr., will chronicle the vast social networks and organizations created by and for Black people beyond the reach of the "white gaze." The series recounts the establishment of the Prince Hall Masons in 1775 through the formation of all-Black towns and business districts, Historically Black Colleges and Universities, destinations for leisure, and the social media phenomenon of Black Twitter.
Airs at 7 p.m. Nov. 2
There are more than 240 species of woodpeckers who live on every continent except Antarctica and Australia. Woodpeckers come in all shapes and sizes, each uniquely engineered for their lifestyles.
Spotlight
November 2022 Highlights
LET MY CHILDREN HEAR MINGUS
Airs at 9 p.m. Oct. 7
Airs Sundays at 9 p.m. starting Oct. 16
Fishing bodies from the waters around Glasgow, Scotland, DI Annika Strandhed and her newly formed Marine Homicide Unit face a steady stream of murders in this new series, starring Nicola Walker as the title character. Confiding her thoughts directly to viewers, Annika juggles baffling cases and a rebellious teenage daughter. The former is easier to solve than the latter.
"Let My Children Hear Mingus" premieres. The Kennedy Center celebrates legendary jazz and music icon Charles Mingus on the anniversary year of his 100th birthday. Anchored by a performance featuring the Mingus Big Band in the Terrace Theater, we tell the story of how Mingus' outsized personality and unique style, fusing classical styles of jazz with gospel and world music, pushed musical and cultural boundaries, influencing future artists in the worlds of contemporary jazz, R&B, soul, and beyond.
A mystery author dies under suspicious circumstances, with his last book seemingly unfinished. This leaves two mysteries: What happened to him? And how does his latest potboiler end? Oscar nominee Lesley Manville ("The Crown," "Phantom Thread") stars as the author's editor, Susan Ryeland, who assumes the role of detective in the case. Based on Anthony Horowitz's ("Foyle's War") ingenious bestselling novel, the six-part series also stars Conleth Hill, Michael Maloney, Alexandros Logothetis, and Claire Rushbrook.
SEPTEMBER/OCTOBER 2022 EVANSVILLE LIVING 145
Join filmmaker Byron Hurt at his extended family reunion as they celebrate the joy of family in the African diaspora amid the enduring legacy of slavery. With the help of scientists and genealogists, the Hurt-Wallers discover new details of their history that they thought were lost forever.
INDEPENDENT LENS: MOVE ME Airs at 9 p.m. Nov. 7
Chronicle the sad history, precarious present, and optimistic future for the United States' most endangered wild cat: the ocelot. Told through the lens of wildlife filmmaker Ben Masters, the viewer goes on a brush dive into deep south Texas chaparral to meet the biologists studying the rare cats, the ranchers with the habitat, and the cats themselves.
POINT OF VIEW: MIDWIVES
Airs at 9 p.m. Nov. 21 Filmed over a period of five turbulent years, "Midwives" tells the story of a makeshift medical clinic in Myanmar run by two women – Hla and Nyo Nyo – in
NOVA: CRYPTO DECODED Airs at 8 p.m. Nov. 9
NOVA: LOOKING FOR LEE AND LIZA Airs at 8 p.m. Nov. 2
Airs at 8 p.m. Nov. 22
NOVA: ZERO TO INFINITY Airs at 8 p.m. Nov. 16
In her day job, professor of statistics Talithia Williams ponders the power of data, looking for answers and spotting patterns in huge collections of numbers. But as the anticipated host of "Zero to Infinity," she takes a step back and turns her attention to the digits themselves, exploring their origins and discovering the wonder that arises from simple, yet profound concepts like nothingness, infinity, and the mysteries embedded in special numbers like primes.
From Bitcoin to NFTs, cryptocurrencies are making headlines and claiming a growing slice of global financial activity. But what exactly are they, and how do they work? A wide range of experts go beyond the hype to unravel the social and technological
underpinnings of "crypto" – exploring the possibility that this new technology may change much more than just money.
NATURE: AMERICAN OCELOT Airs at 7 p.m. Nov. 9
With a remarkable career spanning more than six decades, Buffy Sainte-Marie's influence on popular music is undeniable. The Indigenous activist who inspired women and Indigenous people around the world with her fierce and uncompromising independence is more elusive in private. Through a unique collaboration, this illuminating documentary reveals how Sainte-Marie overcame extraordinary obstacles and personal demons to become one of the most loved and enduring artists of our time.
KING TUT: ALLIES AND ENEMIES
This two-hour special was made by an entire Egyptian Crew for the centennial of the opening of King Tut's tomb on Nov. 26, 2022. Led by Egyptian archeologist Dr. Yasmine El-Shazly, this special made by Egyptians seeks an answer to their own great civilization's mysteries.
On Nov. 4, 1979, student protesters seized the American embassy in Teheran and took 66 Americans hostage. For the next 444 days, the world watched as the United States received a daily barrage of humiliation, vitriol, and hatred from a country Americans knew little about. The Iran hostage crisis, as it came to be known, transformed both Iran and America and thoroughly upended the focus and direction of American foreign policy.
AMERICAN MASTERS: BUFFY SAINTE-MARIE: POWER IN THE BLOOD
a region torn apart by violent ethnic divisions between the Buddhist majority and Rohingya Muslim minority.
Airs at 7 p.m. Nov. 23
SPONSORED CONTENTOCTOBER/NOVEMBER 2022
Beneath the waters of Lake Superior off the shore of Wisconsin, Kelsey Peterson underwent a transformation. On the eve of Independence Day 2012, she dove in and smacked the lake bottom headfirst, suffering an injury that would rob her of her ability to move her limbs and strip her of her self-identities as an athlete and dancer.
AMERICAN EXPERIENCE: TAKEN HOSTAGE Airs at 8 p.m. Nov. 14-15
9 p.m. Midsomer Murders
7 p.m. Antiques Roadshow
8 p.m. onGrantchesterMasterpiece
10:30 a.m. Pinkalicious & Peteriffic
TUESDAY6p.m.
11 a.m. TrainDinosaur
2:30 p.m. Wild Kratts
6 a.m. Molly of Denali
5 a.m. Mister NeighborhoodRogers'
PBS Newshour
8 p.m. Two Main Street
8:30 a.m. Daniel NeighborhoodTiger's
7 p.m. History Detectives
PBS Newshour
146 EVANSVILLE LIVING SEPTEMBER/OCTOBER 2022
88.3 FM SCHEDULE MONDAY - FRIDAY 4 a.m. Morning Edition 9 a.m. 1A 11 a.m. Fresh Air Noon Mon.- Wed. - Here and Now Thurs. - Two Main Street Fri. - The Friday Wrap with John Gibson 1 p.m. Mon.- Wed. - Here and Now Thurs. - Here and Now Fri. - Science Friday 2 p.m. Mon.- Wed. - Here and Now Thurs. - Here and Now Fri. - Science Friday 3 p.m. All ConsideredThings 7 p.m. Fresh Air 8 p.m. Classical Music SATURDAY7a.m.Weekend Edition Saturday 9 a.m. Wait Wait ... Don't Tell Me! 10 a.m. A Way With Words 11 a.m. Two Main Street Noon This American Life 1 p.m. Milk Street Radio 2 p.m. Latino USA 3 p.m. TED Radio Hour 4 p.m. Weekend All Things Considered 5 p.m. It's Been A Minute 6 p.m. Live Wire 7 p.m. The Song Show 8 p.m. American Routes 10 p.m. Night Lights Jazz 11 p.m. Afterglow SUNDAY7a.m. Weekend Edition Sunday 9 a.m. The Song Show 10 a.m. Hidden Brain 11 a.m. This American Life Noon Wait Wait ... Don't Tell Me 1 p.m. Live Wire 2 p.m. A Way With Words 3 p.m. Radiolab 4 p.m. Weekend All Things Considered 5 p.m. Snap Judgment 6 p.m. Planet Money/ How I Built This 7 p.m. It's Been a Minute with Sam Sanders 8 p.m. Travel with Rick Steves 9 p.m. Beat Latino 10 p.m. American Routes All Times Central. Check WNIN.org for up-to-date program dates and times.
7:30 p.m. Firing Line
8 p.m. Midsomer Murders
9 p.m. Specials
7:30 a.m. Alma's Way
11 p.m. Nature
6:30 a.m. Wild Kratts
8 p.m. Arts
9 p.m. Secrets of the Dead
7 p.m. Nature
9 p.m. LensPOV/Independent
11 p.m. Nova
MONDAY - FRIDAY
10 p.m. Amanpour & Company
7 a.m. Hero Elementary
5:30 a.m. Arthur
1:30 p.m. Let's Go Luna
FRIDAY6p.m.
2 p.m. Nature Cat
DAYTIME TV SCHEDULE
7 p.m. Newsmakers 2022
11:30 a.m. Elinor Wonders Why Noon Sesame Street
7 p.m. Washington Week
5:30 a.m. Arthur
PBS Newshour
7:30 p.m. Rick Steves
Carol Burnett
PRIMETIME TV SCHEDULE
10 p.m. Amanpour & Company
10 p.m. Austin City Limits
10 p.m. Amanpour & Company
SATURDAY6p.m.
WEDNESDAY6p.m.
8 p.m. Specials
3:30 p.m. Xavier Riddle
PBS Newshour
4:30 p.m. Arthur
5 p.m. Molly of Denali
SATURDAY & SUNDAY
6:30 a.m. Wild Kratts
7 p.m. Finding Your Roots
11 p.m. Antiques Roadshow
9 a.m. Rosie's Rules
10 p.m. Amanpour & Company
6 a.m. Molly of Denali
8 a.m. Curious George
10 p.m. Amanpour & Company
11 p.m. Specials
8 p.m. Antiques Roadshow
9:30 a.m. Donkey Hodie
11 p.m. This Old House
11:30 p.m. Ask This Old House
10 a.m. Sesame Street
11 p.m. Specials
4 p.m. Odd Squad
9 p.m. Drama
7 a.m. Hero Elementary
3 p.m. Alma's Way
5 a.m. Xavier Riddle
8 p.m. Nova
PBS Newshour
SUNDAY7p.m. Specials
MONDAY6p.m.
THURSDAY6p.m.
SEPTEMBER/OCTOBER 2022 EVANSVILLE LIVING 147 BEST IN BOTOX® & JUVEDERM® FILLERS • COOLSCULPTING® • MICRONEEDLING HYDRAFACIALS® • LASER TATTOO REMOVAL • LASER HAIR REMOVAL • & MUCH MORE SKIN & HEALTH CENTER MEDICALNEWBURGH-EVANSVILLE'S SPA
148 EVANSVILLE LIVING SEPTEMBER/OCTOBER 2022 ENDLESS THRILLS AT EVERY TURN 1-800-342-5386 | BALLYSEVANSVILLE.COM | 421 NW RIVERSIDE DR. | EVANSVILLE, IN See Players Club for details. Bally's Evansville is a registered trademark of Bally's Corporation. BALLY'S and the BALLY'S Logo are service marks and registered service marks of Twin River Management Group, Inc. Must be 21 or older to gamble at casinos. Know When To Stop Before You Start.® Gambling Problem? Call 1-800-9 WITH IT (1-800-994-8448). ©2022 Bally's Corporation. 24-HOURCASINO! Lots Of Slot Games, Exciting Live & Electronic Table Games, Fun Promotions & Giveaways Cavanaugh's On the River, Tap House, The Deli Bally's Evansville Hotel, Legend's Tower From Small Indoor Meetings To Large Outdoor Events FREE ATTACHED PARKING! 24-HOUR SECURITY! FIND DETAILS AND PLAN AN OVERNIGHT STAY AT BALLYSEVANSVILLE.COM 3 DINING OPTIONS! 2 FIRST-CLASSHOTELS! CONFERENCE & MEETING FACILITIES! PLUS! You do not have to be a AAA member to use AAA Travel. AAA Missouri members must make advance reservations through AAA Travel to obtain Member Benefits and savings. Member Benefits may be available for a limited time only, are subject to availability and restrictions may apply. Offers and benefits are subject to change without notice. Not responsible for errors or omissions. The Automobile Club of Missouri acts only as an agent for its travel vendors and is a motor club with a principal place of business at 12901 N. Forty Drive, St. Louis, MO 63141. Copyright ©2022 Automobile Club of Missouri. All Rights Reserved. Now is a good time to prepare for your next well-deserved vacation. AAA has you covered with services to help you travel with confidence, including Travel Insurance, passport photos and exclusive rates on expedited passport courier service. Our friendly and experienced advisors can help you navigate the changing travel landscape and SAVE money on cruises, rail trips, Alaskan adventures and tropical vacations to Hawaii, Mexico and more. Travel with Someone You Trust–AAA! Let's get Traveling Call or visit your AAA Travel office in Evansville today! CALL: 812-477-9966 • VISIT: 7820 Eagle Crest Boulevard
THE COLLECTIVE: 230 Main St. above Comfort by the Cross-Eyed Crick et. 812-202-8051. Specialty, fresh appetizers and entrees and an extensive beverage list.
BAR LOUIE: 7700 Eagle Crest Blvd., 812-476-7069. Full bar, expansive menu with mini Kobe hot dogs, the Luigi sandwich with shaved rib eye, and large hamburger selection.
EVANSVILLE COUNTRY CLUB: 3810 Stringtown Road, 812-425-2243. Exec utive chef on staff. Diverse menu selection. Member-only dining.
JIMMY JOHN'S: 701 N. Burkhardt Road, 812-401-5400; 130 N. St. Joseph Ave., 812-402-9944; 330 Main St., 812-402-5653; 2320 N. Green River Road, 812-402-5747; 8680 High Point Drive, Newburgh, IN, 812-4907111. Deli-style sandwiches, fresh-baked bread, vegetables prepared daily, and cold cut meats.
EMGE'S DELI AND ICE CREAM: 3848 N. First Ave., 812-422-3026. Sandwiches, homemade deli salads, soups, and daily specials.
COSMOS BISTRO: 101 S.E. First St. A collaboration of local chefs making dishes from local produce and preferences that range from gourmet specialties to comfort food.
BIAGGI'S RISTORANTE ITALIANO: 6401 E. Lloyd Expressway, 812-421-0800. Italian cuisine.
BAKERIES, COFFEEHOUSES, AND ICE CREAM
THE WINE DOWN: 8666 Ruffian Lane, Newburgh, IN, 812-490-0066. A wide selection of wine with appetizers, flatbreads, and desserts.
CLEO'S BAKERY & BROWN BAG LUNCHES: 9 W. Jennings St., Newburgh, IN, 812-853-0500. Full bakery with cookies, scones, muffins, cupcakes, coffee, and lunches including signature sandwiches paired with choice of chips, pickles, and homemade soup.
COMFORT BY THE CROSS-EYED CRICKET: 230 Main St. 812-909-3742. Full breakfast menu, home-style favorites, sandwiches, and salads.
OLD TYME DELI & MEAT SHOP: 307 N. 1st Ave., 812-401-1030. A traditional deli and meat shop offering plate lunches.
NICOISE SALAD FROM COSMOS BISTRO
WHICH WICH: 5401 E. Lloyd Expressway, 812-471-2818; 6401 N. Green River Road, 812-867-0826. An extensive menu of customizable sandwiches and sides.
D-ICE: 800 N. Green River Road (inside Eastland Mall), 812-319-9071. Thai-fried ice cream rolls.
BE HAPPY PIE COMPANY: 2818 Mount Vernon Ave., 812-449-7718. Madefrom-scratch pies, cookies, scones, and cookie pies.
DONUT BANK BAKERY AND COFFEE SHOP: 210 N. St. Joseph Ave., 812-426-1011; 2128 N. First Ave., 812-426-2311; 1031 E. Diamond Ave., 812-426-0011; 5 N. Green River Road, 812-479-0511; 1950 Washington Ave., 812-477-2711; 3988 State Highway 261, New burgh, IN, 812-858-9911; 1200 Lincoln Ave., 812-402-4111; 1303 W. Broadway St., Princeton, IN, 812-385-3711; 2630A U.S. Highway 41, Henderson, KY, 270-212-0181. Donuts, coffee, cookies, other baked goods, and smoothies.
LIC'S DELI AND ICE CREAM: 800 E. Diamond Ave., 812-424-4862; 4501 Lincoln Ave., 812-477-3131; 2311 W. Virginia St., 812-423-4173; 2001 Washington Ave., 812-473-0569; 11 N.W. Fifth St., 812-422-2618; 8700 Ruffian Lane, Newburgh, IN, 812-858-0022. Deli-style soups, salads, sandwiches, locally made ice cream, and sorbets.
BEA SWEET TREATS: 4111 Merchant Drive, Newburgh, Indiana, 812-454-7728. Custom cakes and cookies, macarons, cookies, and other baked goods.
PHOTOS BY ZACH STRAW
AMY'S ON FRANKLIN: 1418 W. Franklin St., 812-401-2332. Comfort food influenced by the French Quarter, Mexico, and Texas.
COPPER HOUSE: 1430 W. Franklin St., 812-909-8089. Unique cuisine meets comfort food.
SCHYMIK'S KITCHEN: 1112 Parrett St., 812-401-3333. Globally influenced restaurant and wine bar.
BEANS & BARISTAS: 800 N. Green River Road (inside Eastland Mall), 812-475-8566. Full coffee bar, gourmet coffees and teas, Italian sodas, and various pastry treats. Retail gourmet coffee beans and teas and unique gifts.
BRU BURGER BAR: 222 Sycamore St. in the former Greyhound bus ter minal, 812-302-3005. Signature burgers, classic sandwiches, salads, appetizers, desserts, and an extensive drink menu.
THE DELI: 421 N.W. Riverside Drive (inside Tropicana Evansville), 812-4334000. Deli sandwiches, salads, hot dogs, polish sausage, and pizza.
listing key
MADELEINE'S FUSION RESTAURANT: 423 S.E. Second St., 812-491-8611. Appetizers, soups, salads, entrées, including day catch seafood and prime steaks, extensive bar selections, and wine cellar. Special di etary requests honored. Private meeting rooms and in-season patio dining available.
CAVANAUGH'S: 421 N.W. Riverside Drive (inside Tropicana Evansville), 812-433-4000. Steaks, fresh seafood, overlooking the Ohio River, and entertainment in piano bar.
MCALISTER'S DELI: 2220 N. Green River Road, 812-618-2050; 5301 Pearl Drive, Ste. 100, 812-228-4222; 3788 Libbert Road, Newburgh, IN, 812490-3354. Deli sandwiches, salads, spuds, and sweet tea.
SEPTEMBER/OCTOBER 2022 EVANSVILLE LIVING 149
PENN STATION EAST COAST SUBS: 137 N. Burkhardt Road, 812-479-7366; 4827 Davis Lant Drive, 812-402-7366; 5310 Pearl Drive, 812-434-7366; 8887 High Pointe Drive, Newburgh, IN, 812-401-7366; 1111 Barrett Blvd., Henderson, KY, 270-826-7361; 3525 Frederica St., Owensboro, KY, 270-683-1515. Grilled, made fresh-to-order sub sandwiches, homemade hand-cut fries, and fresh-squeezed lemonade.
UPSCALE CASUAL
H 2022
OF EVANSVILLE" WINNER
CHICKEN SALAD CHICK: 1414 Hirschland Road, 812-594-9820. More than 12 flavors of chicken salad, soups, sides, and desserts.
OAK MEADOW COUNTRY CLUB: 11505 Browning Road, 812-867-1900. Chef-created menu in full-service dining room and diverse op tions ranging from traditional to cutting edge. Breakfast served on weekends. Member-only dining.
JASON'S DELI: 943 N. Green River Road, 812-471-9905. Sandwiches, salads, and other healthy meals with fresh ingredients and no artificial trans fats, MSG, or high fructose corn syrup.
ENTWINED WINE AND COCKTAIL BAR: 303 Main St., 812-550-1393. A robust wine, beer, and cocktail list and a seasonal tapas menu.
SICILIANO SUBS: 2021 W. Franklin St., 812-303-3382. Specialty sandwiches like the Cuban and Siciliano subs.
FINE DINING
Dining Directory RESTAURANTS THAT DEFINE OUR CITY
CAMBRIDGE GRILL: 1034 Beacon Hill, 812-868-4653. Salads, sandwiches, pizzas, entrées, and an expanded wine menu.
WALTON'S SMOKEHOUSE AND SOUTHERN KITCHEN: 956 Parrett St., 812467-4255. Formerly Walton's International Comfort Food, serving smokehouse delights in a unique atmosphere.
DELIS
H CORK 'N CLEAVER: (Best Romantic Dinner Spot) 650 S. Hebron Ave., 812-479-6974. Steak, prime rib, chicken, seafood, salad bar, soup, and sandwich lunches.
ROLLING HILLS COUNTRY CLUB: 1666 Old Plank Road, Newburgh, IN, 812925-3336. Executive chef on staff. New and classic dishes including chicken, seafood specials, and pastas. Member-only dining.
CRUMBL COOKIES: 939 N. Burkhardt Road, Ste. B, 812-965-4133. Delivery and carry-out homemade, gourmet cookies.
HONEYBAKED HAM: 1446 N. Green River Road, 812-471-2940. Boxed lunches, sandwiches, salads, as well as whole, half, or slices of ham. Variety of desserts and side items.
BONEFISH GRILL: 6401 E. Lloyd Expressway, 812-401-3474. Wood-burning grill, fish, steaks, pasta dishes, soups, salads, and its famous Bang Bang Shrimp.
PANERA BREAD: 220 N. Burkhardt Road, 812-476-7477; 5201 Pearl Drive, 812-250-7088; 4015 Gateway Blvd., Newburgh, IN, 812-706-6386. Breads, sandwiches, paninis, soups, salads, and specialty coffee drinks.
THE BARREL HOUSE: 1700 Morgan Center Drive, 812-303-6560. A steak house with dining room, patio, and bar seating to enjoy a diverse menu of burgers, steaks, salads, flatbreads, and more.
UNLESS OTHERWISE NOTED, restaurants are handicapped-accessible and accept major credit cards. City and county ordinances prohibit smoking in many facilities. We suggest calling ahead to check which venues are exempt. Evansville Living has made every attempt to present an accurate guide. Please notify us of significant changes in a restaurant's management, location, or menu. This directory is compiled by editorial staff and not based on advertising. "BEST
PRIVATE CLUBS
THE BISTRO: 1 Main St. (Old National Bank), 812-424-5801. Fresh soups, salads, sandwiches, paninis, desserts, and daily specials. Catering available.
THE GRANOLA JAR CAFÉ & BAKERY: 1033 Mount Pleasant Road, 812-4371899; 333 State St., Newburgh, IN, 812-437-1899; 5600 E. Virginia St., 812-401-8111. Specializes in house-made granola, breads, and vegetarian and vegan options.
RIVERWALK RESTAURANT & CATERING: 6 Walnut St. (inside the Hadi Shrine building), 812-758-4644. Cocktails, burgers, sandwiches, seafood, fish, and specialty plates from the Acropolis menu.
SAMUEL'S: 113 SE. Fourth St., 812-777-0047. A wide range of shareable bites for the table, specialty entrees, and sandwiches rotating seasonally for those 21-plus only.
H MA .T.888 CHINA BISTRO: (Best Asian Restaurant) 5636 Vogel Road, 812-475-2888. Specialties include lemongrass fish, Peking duck, and chicken lettuce wraps.
FIREHOUSE SUBS: 1031 N. Green River Road, 812-909-4445. Hot and cold subs with toppings such as smoked turkey, sliced chicken, veggies, and white chicken salad.
HOUSE OF COMO: 2700 S. Kentucky Ave., 812-422-0572. Baked chicken dishes, lamb chops, fish entrées, and oversized steaks with Lebanese and Middle Eastern influence.
FIVE GUYS BURGERS AND FRIES: 5402 E. Indiana St., 812-401-1773. Burgers, hot dogs, sandwiches, and Cajun fries.
PIE PAN: 905 North Park Drive, 812-425-2261. Traditional American cuisine. Homemade pies sold by the slice and whole.
G.D. RITZY'S: 4810 University Drive, 812-425-8700; 4320 N. First Ave., 812-421-1300; 601 N. Green River Road, 812-474-6259. Grilled ham burgers, grilled chicken, chicken strips, kids meal, hot dogs, peanut butter and jelly sandwiches, ultra-thin shoestring-style French fries, old-fashioned ice cream, and milkshakes.
KITE & KEY CAFÉ: 2301 W. Franklin St., 812-401-0275. Breakfast and lunch options, coffee, espresso drinks, and desserts.
RIVER CITY COFFEE + GOODS: 223 Main St., 812-550-1695. Espresso bar, brewed coffees, pour-overs, and teas.
TROPICAL SMOOTHIE CAFÉ: 2101 N. Green River Road, 812-297-9727. Smoothies, flatbreads, wraps, sandwiches.
WAYLON'S DINER ON MAIN: 606 N. Main St, 812-777-0088. All-day break fast, homemade desserts, lunch specials, and cold sandwiches and wraps for grab-n'-go lunch.
PARLOR DOUGHNUTS: 301 N. Green River Road, 812-303-4754; 12 N.W. Third St., 812-303-5906. Fresh doughnuts, croissant doughnuts, and coffee from Proper Coffee Roasters.
BURGER BANK: 1617 S. Weinbach Ave., 812-475-2265. Mini-burgers cheese burgers, fries, and more.
CAFÉ COURT (RIDGWAY UNIVERSITY CENTER AT THE UNIVERSITY OF EVANS VILLE): 1800 Lincoln Ave., 812-488-2951. Hot entrées, salad bar, deli and grill; Chick-fil-A; Starbucks Coffee, sandwiches, and salads at Rademacher's Cafe; convenience store Aces Place.
Dining Directory
STARBUCKS: 624 S. Green River Road (inside Barnes & Noble), 812-475-1054; 504 N. Green River Road, 812-476-7385; 6401 E. Lloyd Expressway, Ste. 16, 812-401-1771; 4700 W. Lloyd Expressway, 812-549-4053; 4650 First Ave., 812-421-0461; 601 Walnut St., 812-423-5002; 7755 State Highway 66, Newburgh, IN, 812-858-0234.
HOOSIER BURGER CO.: 325 S. Green River Road, 812-437-0155. Fresh-toorder burgers, fries, ice cream, and milkshakes.
150 EVANSVILLE LIVING SEPTEMBER/OCTOBER 2022
VFW 1114: 110 N. Wabash Ave. of Flags, 812-422-5831. Friday buffet, prime rib on Saturday, and brunch on Sunday.
LOGAN'S ROADHOUSE: 5645 Pearl Drive, 812-421-0908. American fare including handcut steaks, baby-back ribs, mesquite-grilled chicken, appetizers, salads, and seafood.
MR. BUBBLE TEA: 503 N. Green River Road, 812-550-3166. Smoothies, Asian beverages, and bubble tea in different flavors.
CLEAVERS: 5501 E. Indiana St., 812-473-0001. A casual restaurant serving sandwiches including pulled pork, Chicago-style Italian beef, pork loin, and steak.
THE KITCHEN BUFFET: 421 N.W. Riverside Drive, second-level mezzanine, Tropicana Evansville, 812-433-4000, ext. 6059. Home-style buffet options for breakfast and lunch. Dinner buffet available Friday and Saturday nights.
PATTIE'S SAND TRAP AT FENDRICH GOLF COURSE: 1900 E. Diamond Ave., 812-435-6028. Burgers, sandwiches, chicken, and other entrées.
FREDDY'S FROZEN CUSTARD & STEAKBURGERS: 2848 N. Green River Road, 812-909-4395; 5501 Pearl Drive, 812-303-6137. Steakburgers, various sandwiches, and frozen custard.
FLOURISH PLANT-BASED EATERY: 222 S. Red Bank Road, 812-602-3202. A rotating menu of vegan meals, juices, smoothies, and wellness shots.
LIBBY AND MOM'S: 2 Richardt Ave., 812-437-3040. Home-cooked meals for breakfast, lunch, and dinner.
DUNKIN': 3960 N. First Ave., 812-550-1500; 850 N. Green River Road, 812303-5797; 3955 Orchard Lane, Newburgh. Donuts, pastries, breakfast sandwiches, and a variety of coffees.
ORANGE LEAF: 701 N. Burkhardt Road, 812-401-5215. Up to 70 flavors of frozen yogurt.
THE CAROUSEL: 5115 Monroe Ave., 812-479-6388. Classic American cuisine.
THE TIN FISH: 707 State St., Newburgh, IN, 812-490-7000. Fresh fish flown in daily, clam chowder, gumbo, salads, and sandwiches.
SAM'S SOUTHERN EATERY: 420 S. Green River Road, 812-410-2220; 1765 S. Green St., Henderson, KY. Southern-style food including po' boys, chicken, and seafood.
APPLEBEE'S: 5100 E. Morgan Ave., 812-471-0942; 5727 Pearl Drive, 812426-2006; 1950 U.S. Highway 41-N., Henderson, KY, 270-826-9427; 5120 Frederica St., Owensboro, KY, 270-926-3472. Soups, sandwiches, salads, and various dinner entrées.
THE NEW FRONTIER RESTAURANT AND BAR: 12945 Highway 57, 812-8676786. Bloody Mary bar, appetizers, sandwiches, soups, salads, steak, fried chicken, and pork chops.
THE NEW OLD MILL: 5031 New Harmony Road, 812-963-6000. Steaks, chicken, catch of the day, sandwiches, soups, and salads.
PIER 17 CAJUN SEAFOOD RESTAURANT AND BAR: 600 N. Green River Road., 812-303-6338. Cajun classic appetizers like fried calamari and seafood from shrimp and oysters to catfish served in combo specials, fried baskets, and boils.
SPUDZ-N-STUFF: 601 E. Boonville New Harmony Road, 812-867-7783; 2403 Washington Ave., 812-402-7783. Steak potatoes, steak fajitas, chicken and mushroom potatoes, taco potatoes, pitas, and more.
BOB EVANS: 1125 N. Green River Road, 812-473-9022. "Homestyle" American menu.
CRACKER BARREL: 8215 Eagle Lake Drive, 812-479-8788. Classic Amer ican cuisine.
H NELLIE'S RESTAURANT: (Best Place for Breakfast) 8566 Ruffian Lane, Newburgh, IN, 812-629-2142. Breakfast and lunch items, such as omelets, pancakes, waffles, sandwiches, burgers, and salads.
BBQ BURGER FROM DRAKE'S
PIECE OF CAKE: 210 Main St., 812-424 2253. Customized cakes, cookies, coffee, sodas, breakfast items, and more.
GAYLACAKE: 320 N. Main St., 812-454-9791. Homemade cakes, mints, chocolate caramel pretzels, and candies.
FRIENDSHIP DINER: 834 Tutor Lane, 812-402-0201. Breakfast, sandwiches, pasta, and home-style favorites.
JUICY SEAFOOD: 865 N. Green River Road. 812-303-6869. Seafood boils, fried seafood, and appetizers.
BIG-TOP DRIVE IN: 1213 W. Maryland St., 812-424-7442. Sandwiches, chicken strips, and ice cream.
CROSS-EYED CRICKET: 2101 W. Lloyd Expressway, 812-422-6464. Traditional American cuisine.
H PANADERÍA SAN MIGUEL: (Best Hidden Gem) 2004 Washington Ave., 812-814-8037. Traditional Mexican bakery with cakes, pastries, and bread.
BISCUIT BELLY: 945 N. Burkhardt Road, 812-777-8300. Shareable breakfast dishes, biscuit sandwiches, biscuits and gravy, and more.
JUST RENNIE'S COOKIE CO.: 100 S.E. Fourth St., 812-490-8098. Gourmet lunches, chicken salad sandwiches, club wraps, and cookies.
SUGAR FIX: 333 State St., Newburgh, IN, 865-851-1164. A candy shop with a variety of candies, chocolates, and sweet treats.
DINER BY MELE'S: 550 N. Green River Road, 812-402-1272. Regional spe cialties, Mexican-inspired dishes, and all-day breakfast.
GOLDEN CORRAL FAMILY STEAK HOUSE: 130 N. Cross Pointe Blvd., 812-4731095; 1320 N. Green St., Henderson, KY, 270-869-9310. Large buffet selections, steaks, shrimp, and chicken.
MAJOR MUNCH: 101 N.W. First St., 812-499-0160. Cheeseburgers, chili, grilled chicken sandwiches, grilled cheese, and catfish.
THE MILK BARN CAFÉ: 421 Read St., 812-777-0073. Warm, made-to-order firecakes (doughnuts), gourmet drops, and ice cream.
RIVER KITTY CAT CAFE: 226 Main St., 812-550-1553. Coffee, tea, croissants, cookies, biscotti, and savory pastries.
JOURNEY FISH AND CHICKEN: 825 S. Green River Road, 812-303-2420. Sandwiches, gyros, fried fish, and fried chicken.
MERRY-GO-ROUND RESTAURANT: 2101 Fares Ave., 812-423-6388. Traditional American cuisine.
BEN'S SOFT PRETZELS: 800 N. Green River Road (inside Eastland Mall), 812-471-7905. Amish-inspired, fresh-baked pretzels and pretzel dishes.
DRAKE'S: 1222 Hirschland Road, 812-401-2920. An American chain known for craft beer, burgers, and sushi.
DINERS, CAFÉS, AND FAMILY RESTAURANTS
CULVER'S: 1734 Hirschland Road, 812-437-3333; 4850 W. Lloyd Expressway, 812-492-8000. ButterBurgers and frozen custard.
JAKE'S WAYBACK BURGERS: 115 Cross Pointe Blvd., 812-475-9272; 624 E. Diamond Ave., 812-422-4999. Burgers, hot dogs, and hand-dipped thick milkshakes.
THE LANDING: 1 E. Water St., Newburgh, IN, 812-518-1200. Flatbreads, burgers, sandwiches, pasta, and other entrées.
BUBBA 33'S: 1 N. Burkhardt Road, 812-901-6409. Fresh burgers, pizza, sand wiches, entrees, classic pub-style appetizers and sides, and a full bar.
AMERICAN FARE NATIONAL CHAINS
H HONEY + MOON COFFEE CO.: (Best Coffee Shop) 612 S. Weinbach Ave., 812-602-3123; 1211 Tutor Lane, 812-893-2945; 20 W. West Water St., Newburgh, IN. 812-746-8168. Curated coffee, drinks, fresh food, and Bliss Artisan ice cream.
ZESTO: 102 W. Franklin St., 812-424-1416; 920 E. Riverside Drive, 812423-5961. Hamburgers, fish and chicken sandwiches, tenderloins, soups, and ice cream.
LIL' TATE'S CUPCAKES: 333 State St. Newburgh, IN, 812-499-3906. Custom or fresh cakes, cupcakes and treats.
GREAT HARVEST BREAD COMPANY: 423 Metro Ave. 812-476-4999. Freshbaked bread, breakfast items, sandwiches, salads, homemade soups for lunch, and specialty sweets
BJ'S RESTAURANT AND BREWHOUSE: 1000 N. Green River Road, 812550-9320. Soups, salads, pizza, pasta, burgers and sandwiches, and other entrées.
CHEDDAR'S: 2100 N. Green River Road, 812-491-9976. Garden-fresh salads, homemade soups, and varied entrée selections including pasta, lemon pepper chicken, and tilapia.
MULBERRY JEANS: 600 State St., Newburgh, IN, 812-490-5835. High tea served with sandwiches, desserts, an extensive collection of premium coffee beans, and a variety of loose-leaf tea.
1820 CAFÉ: 5721 E. Virginia St. (in the Vineyard Bookstore), 812-479-8777. Croissants with chicken salad, gourmet coffees, and fruit smoothies.
CATFISH WILLY'S: 5720 E. Virginia St., 812-401-2233. Chicken, burgers, and seafood like crab, lobster, shrimp, and gator.
MILK & SUGAR SCOOP SHOPPE: 2027 W. Franklin St., 812-602-1423; 10931 Highway 66. Premium ice cream shop.
THE HORNET'S NEST: 11845 Petersburg Road, 812-867-2386. Soups, sand wiches, salads, daily lunch specials, steaks, seafood, and chicken.
PENNY LANE COFFEEHOUSE: 600 S.E. Second St., 812-421-8741. Fair trade organic espresso and espresso drinks, gourmet coffees, Italian sodas, fresh-baked pastries, and vegetarian soups.
GARDO'S ITALIAN OVEN: 13220 Darmstadt Road, 812-868-8071. Pizza, sandwiches, wings, appetizers, and salads.
O'CHARLEY'S: 7301 E. Indiana St., 812-479-6632; 5125 Pearl Drive (at Red Bank Road and Lloyd Expressway), 812-424-3348. Soups, salads, sandwiches, and dinner entrées.
NEEDSESTATEREALYOURFORALLCALLDIANASCHNAKENBURG812.449.8772F.C.TUCKERREALTORS Trusted Name Entertain at home with a FARM BOY FOOD SERVICE 2761 N. KENTUCKY AVE. • 812-425-5231 Farm Boy Food Service stocks more than 5,000 products, supplying fresh and frozen meats, seafood, entrees, pastries, fresh produce, canned vegetables, dairy products, and more. farmboyfoodservice.com
FARM 57: 3443 Kansas Road, 812-626-9315. Wood-fired, brick-oven pizza from The Pizza Revolution and weekly food truck events.
LYLE'S SPORTSZONE PIZZA & PUB: 1404 E. Morgan Ave., 812-425-7729. Home of Lyle's original loaded stromboli. Also serves pizza and sandwiches.
WINGSTOP: 499 N. Green River Road, Ste. B, 812-909-3445. Classic, boneless, and crispy tenders wings in 11 flavors.
PIZZERIAS
TGI FRIDAY'S: 800 N. Green River Road (in Eastland Mall food court), 812-491-8443. Specialty salads, sandwiches, burgers, steaks, chicken, pasta, and seafood entrées.
LITTLE CAESARS: 2007 Washington Ave., 812-471-5755; 7755 B Fruitwood Lane, Newburgh, IN, 812-858-2984; 130 N. St. Joseph Ave., 812-4019555; 2411 Stringtown Road, 812-401-8555; 2539 Highway 41 N., Ste. A, Henderson, KY, 270-831-1800. Pizzas and breads, including cheese bread, pepperoni cheese bread, and crazy bread.
TERIYAKI MADNESS: 8833 High Pointe Drive, Newburgh, IN, 812-4900048. Japanese inspired, Seattle-style teriyaki customizable bowls of chicken, steak, tofu, veggies, noodles, white rice, fried rice.
AZZIP PIZZA: 5225 Pearl Drive, 812-401-3572; 8680 High Pointe Drive, Newburgh, IN, 812-518-3810; 2121 N. Green River Road, 812-901-0490; 3800 Frederica St., Owensboro, KY, 270-215-7741.  All personal sized pizzas (8 or 11 inches) made with one meat and all the vegetable toppings included. Thin and crispy pizza. Warm cookies, salad, beer, and wine also available.
RED LOBSTER: 4605 Bellemeade Ave., 812-477-9227. Soups, salads, sand wiches, seafood entrées, fresh-catch, and daily specials.
FAT BOY'S PIZZA: 10722 Highway 662 W., Newburgh, IN, 812-518-3061. Local una-style pizza serving take out orders only.
HEADY'S PIZZA: 4120 N. First Ave., 812-437-4343. Pizza, subs, wings, and pasta. Late night delivery available.
GATTITOWN: 316 N. Green River Road, 812-473-3800. Buffet-style pizzas, pastas, salads, and desserts all in a kids' festival-like arcade.
RED ROBIN: 6636 E. Lloyd Expressway, 812-473-4100. A variety of ham burgers including the "Banzai Burger," the "Royal Red Robin Burger," and the "Whiskey River BBQ Burger." Full bar menu.
RAFFERTY'S: 1400 N. Green River Road, 812-471-0024. Soups, salads, sandwiches, and dinner entrées.
PANDA EXPRESS: 2445 Menards Drive, 812-479-8889. Chinese fast food like orange chicken, sesame chicken, and fried rice.
NOBLE ROMAN'S: 222 S. Red Bank Road, 812-303-4010; 1216 Washington Square Mall, 812-473-4606. Pizzas, salads, breadsticks, garlic bread, hand-sauced chicken wings, pasta, and sandwiches.
LONGHORN STEAKHOUSE: 320 N. Green River Road, 812-473-2400; 2974 Heartland Crossing Blvd., Owensboro, KY, 270-686-2220. Steak, chicken, ribs, seafood, sandwiches, and burgers.
TEXAS ROADHOUSE: 7900 Eagle Crest Blvd., 812-477-7427. Ribs, steaks, side items, and fresh baked bread.
DONTAE'S ON MAIN PIZZA PARLOR: 606 N. Main St., 812-437-8080. The second location of Dontae's Highland Pizza serves its traditional menu as well as exciting new twists on classic pizzas.
KIPPLEE'S STADIUM INN: 2350 Division St., 812-476-1963. Fried appetizers, soups, salads, sandwiches, and pizza.
ARCHIE & CLYDE'S RESTAURANT & BAR: 8309 Bell Oaks Drive, Newburgh, IN, 812-490-7778. Pizza, fried cheese ravioli, wraps, salads, soups, gyros, and barbecue.
MOD PIZZA: 6401 E. Lloyd Expressway, Ste. C, 812-602-5525; 2710 Heart land Crossing, Ste. C, Owensboro, KY, 270-240-2646. Custom, ar tisan-style pizzas.
PHILLY GRILL: 600 E. Boonville New Harmony Road, Ste. D, 812-602-4027. Philly cheese steaks made-to-order, wraps, hot dogs, burgers and grilled chicken sandwiches, wings, and salads.
THE LOBO LOUNGE: 1200 Edgar St., 812-550-1001. Pizza, adult beverages, and more.
DONATOS PIZZA: 710 S. Greeen River Road, Ste. 3, 812-618-3868. Pizza, oven-baked subs, salad, calzones, and desserts.
SEPTEMBER/OCTOBER 2022 EVANSVILLE LIVING 151
OUTBACK STEAKHOUSE: 7201 E. Indiana St., 812-474-0005. Specialty steaks, chicken, seafood entrées, salads, and vegetable side dishes.
FRANKLIN STREET PIZZA FACTORY: 2033 W. Franklin St., 812-602-3028. Pizza, sandwiches, appetizers, and salads.
LOMBARDI'S NEW YORK PIZZA AND WINGS: 3311 N. Green River Road, 812-602-5255. Authentic New York-style pizza sold by the slice or whole and buffalo wings.
DONTAE'S HIGHLAND PIZZA PARLOR: 6669 Kratzville Road, 812-777-0016. Pizzas, strombolis, paninis, and salads.
INDIAN
CHOPSTICK HOUSE RESTAURANT: 5412 E. Indiana St., 812-473-5551. Chi nese buffet.
WOLF'S BAR-B-Q: 6600 N. First Ave., 812-424-8891. Barbecue pork, chicken, beef, pork ribs, large variety of vegetable side dishes, homemade soup, and chili.
KANPAI: 4593 Washington Ave., 812-471-7076. International fare, Japanese sushi bar, beer, wine, and sake.
BIG BANG MONGOLIAN GRILL: 2013 N. Green River Road, 812-602-1400. Open-bar Mongolian grill stir fry, lunch and dinner options, and appetizers.
SPANKEY'S UNA PIZZA: 4404 W. Lloyd Expressway, 812-402-6776. A pizza joint with a variety of specialty pizzas such as The Westsider with an assortment of meat toppings, and the Alfredo chicken bacon.
JIMMY GAO'S SZECHWAN CHINESE RESTAURANT: 669 N. Green River Road (in Eastland Place), 812-479-7600. Extensive Chinese menu.
LINCOLN GARDEN: 2001 Lincoln Ave., 812-471-8881. Chinese appetiz ers, soups, lunch platters, and entrées including crab rangoon and General Tso's chicken.
VIETNAMESE CUISINE: 4602 Vogel Road, 812-479-8818. Vietnamese fare, including traditional noodle dishes.
GERST HAUS: 2100 W. Franklin St., 812-424-1420. Soups, salads, sandwiches, and dinner entrées. Traditional German cuisine. Large imported beer list.
EL PAISANO GROCERY AND TAQUERIA: 225 S. Green River Road, 812-6023536. Authentic Mexican dishes like tacos, tortas, and burritos with a small grocery store attached.
152 EVANSVILLE LIVING SEPTEMBER/OCTOBER 2022
H TURONI'S PIZZERY AND BREWERY: (Best Pizza) 408 N. Main St., 812424-9871. Pizza, salads, sandwiches, and fresh-brewed beers.
YEN CHING: 406 S. Green River Road, 812-474-0181. Weekday lunch specials and evening menu items.
CHINA KING: 590 E. Diamond Ave., 812-423-1896. Traditional Chinese entrées.
CHIPOTLE: 499 N. Green River Road, 812-471-4973. Tacos, burritos, salads, drinks, chips, and guacamole.
OSAKA JAPANESE HIBACHI AND SUSHI: 5435 Pearl Drive, 812-303-0359. Hibachi-style cuisine, sushi bar, and specialty dishes for dine-in and carry-out.
KABOB XPRESS: 3305 N. Green River Road, 812-402-0244. Hummus, stuffed grape leaves, falafel, fresh salads, sandwiches, gyro plate, and many kabob plate options.
DOMO JAPANESE HIBACHI GRILL, SUSHI, AND RAMEN: 215 N. Green River Road, 812-491-0003. Authentic Japanese dishes, bento boxes, sushi, ramen, and hibachi.
GRACIE'S CHINESE CUISINE: 12500 U.S. Highway 41-N., 812-868-8888. JAYA'S RESTAURANT: 119 S.E. Fourth St., 812-422-6667. Authentic Korean cuisine and sushi.
HICKORY PIT STOP: 1521 N. Main St., 812-422-6919. Barbecue chicken, turkey, pork, mutton, and a variety of side dishes.
ROPPONGI JAPANESE STEAK & SUSHI: 7221 E. Indiana St., 812-437-5824. Sushi, filet mignon, New York strip, and hibachi.
MILANO'S ITALIAN CUISINE: 500 Main St., 812-484-2222. Pizzas, pasta, baked sandwiches, and dinner entrées.
CHAVA'S MEXICAN GRILL: 4202 N. First Ave., 812-401-1977. Authentic Mexican cuisine offering burritos, tacos, and more.
CHICKEN 'N SALSA: 122 N. Weinbach Ave., 812-303-3004. Authentic Mexican breakfast, lunch, and dinner made with fresh ingredients.
ANGELO'S: 305 Main St., 812-428-6666. Pasta, chicken, seafood, veal, and pizzas.
ROYAL INDIAN CUISINE: 7799 Highway 66, Newburgh, IN, 812-518-4018. Au thentic Indian cuisine like samosas, tandoori chicken, curry, and more.
ASIAN
YANG'S SHABU SHABU: 4700 Vogel Road, 812-471-8889. Chinese, vegetarian, seafood, Japanese, and more.
CASA FIESTA MEXICAN RESTAURANT: 2121 N. Green River Road, 812-4014000. Traditional Tex Mex entrees are offered alongside Evans ville-centric dish such as chicken on the beach.
BARBECUE
POKÉ PIRATE: 315 E. Diamond Ave., 812-303-2131. Signature bowls and build-your-own poke.
LATIN AMERICAN EX MEX
PIZZA KING: (dine-in facilities) 220 N. St. Joseph Ave., 812-424-7976; 7777 State Highway 66, Newburgh, IN, 812-853-3368; 1033 S. Weinbach Ave., 812-476-4941. Pizza and baked stromboli-type sandwiches.
PANGEA KITCHEN: 111 S. Green River Road, Ste. E., 812-401-2404. Offering authentic Neapolitan and Detroit-style pizzas, Thai cuisine, and Italian gelato.
LITTLE ANGELO'S: 8000 Bell Oaks Drive, Newburgh, IN, 812-853-8364. Italian cuisine featuring appetizers, sandwiches, pizzas, pasta, and chicken.
TASTE OF NYC: 800 N. Green River Road (inside Eastland Mall), 812-4774848. Pizzas, pastas, strombolis, calzones, and more.
YAK & YETI: 815 S. Green River Road, 812-909-2022. Family recipes passed down from multiple generations from the Himalayan region.
MAMA'S KITCHEN: 1624 N. Green River Road (inside Aihua International Market), 812-479-7168. Stir-fried dishes and soups.
OLIVE GARDEN: 1100 N. Green River Road, 812-473-2903. Soups, salads, pasta, and luncheon entrées.
Dining Directory
NINKI JAPANESE BISTRO: 4222 Bell Road, Ste. 7, Newburgh, IN, 812-5183055. Authentic Japanese cuisine.
GERMAN MAN
POKÉ RIVER: 6240 E. Virginia St., 812-303-8003. Poke and sushi dishes, like poke bowls, sushi burritos, or poke salads.
CAFÉ ARAZU: 17 W. Jennings St., Newburgh, IN, 812-842-2200. Pitas, wraps, and shish kebabs with lamb, chicken, and beef.
THAI PAPAYA CUISINE: 1434 Tutor Lane, 812-477-8424. Authentic Thai cuisine, including Pad Thai, papaya salad, spicy prawn soup, and satay.
FUJI YAMA: 915 North Park Drive, 812-962-4440. Soups, salads, noodles, rice, sushi, hand rolls, chicken, beef, and shrimp dishes.
ETHNICORIENTAL
STEVE'S UNA PIZZA: 1005 S. St. James Blvd., 812-477-5411. Dinner-only takeout, thin-crust pizzas and extras.
WASABI EVANSVILLE: 1122 Hirschland Road, 812-602-3737. Sushi, hibachi meals, appetizers, soups, and salads.
ZUKI: Japanese Hibachi Grill & Sushi Lounge: 1448 N. Green River Road, 812-477-9854; 222 Main St., 812-423-9854. Sushi and hibachi-grilled foods.
SAKURA: 4833 Highway 261, Newburgh, IN, 812-490-0553, Japanese cuisine like sushi, sashimi, fried rice, tempura, and hibachi dinners.
2ND LANGUAGE: 401 N.W. Second St., 812-401-2500. Authentic Asian cuisine, ramen, and desserts. Open for lunch and dinner service.
GANGNAM KOREAN: 518 Main St., 812-550-1171. Korean cuisine, rice and noodle dishes, seafood, and sushi rolls.
TWISTED TOMATO PIZZA CO.: 2333 St. George Road, 812-401-2323; 1101 Harmony Way, 812-242-8882. Specialty pizza and sandwiches.
ROCA BAR AND PIZZA: 1618 S. Kentucky Ave., 812-422-7782. Sandwiches, salads, pasta entrées, pizza, steaks, and chicken. Live entertainment and patio dining.
TAJ MAHAL: 900 Tutor Lane, 812-476-5000. Tandoori chicken, paneer tikka, panjabi curry, kadai paneer, and more.
TASTE OF CHINA: 4579 University Drive, 812-422-1260.
H TURONI'S PIZZERY AND BREWERY NEWBURGH: (Best Pizza) 8011 Bell Oaks Drive, Newburgh, IN, 812-490-5555. Pizza, salads, sandwiches, and fresh-brewed beers.
PANGEA PIZZERIA: 401 N.W. Second St., 812-401-2500. Neo-Neapolitan pizza, scratch-made gelato from Pangea Kitchen, and Grande cookies.
SAM'S PIZZERIA: 2011 W. Delaware St., 812-423-3160. Pizza, sandwiches, calzones, and breadsticks.
CANTON INN: 947 North Park Drive, 812-428-6611. Cantonese and Ameri can-style appetizers, soups, poultry, beef, pork, and seafood dishes.
CHINA VILLAGE: 8423 Bell Oaks Center, Newburgh, IN, 812-858-8238.
CRAZY BUFFET: 701 N. Burkhardt Road, 812-437-8833. Chinese buffet.
GOLDEN BUDDHA: 3221 Taylor Ave., 812-473-4855; 5066 Highway 261, Newburgh, IN, 812-853-2680.
ITALIAN/MEDITERRANEAN RRANEAN
THE SLICE: 2011 Lincoln Ave., 812-402-8518. Pizza by the slice or pie. Non-traditional varieties.
LITTLE ITALY: 4430 N. First Ave., 812-401-0588. Italian and Mediterranean pizzas, soups, salads, pasta, chicken, and sandwiches.
H SMITTY'S ITALIAN STEAKHOUSE: (Best Outdoor Dining/Patio Atmo sphere) 2109 W. Franklin St., 812-423-6280. Premium steak, pasta, pizza, and Italian favorites.
BANDANA'S BAR-B-Q: 6636 Logan Drive, 812-401-9922. Pork, beef, chicken, and ribs specially prepared over a pit of select hardwoods for a signature smoked flavor.
SWEET AND SOUR CHICKEN FROM CANTON INN
TOKYO JAPAN RESTAURANT: 3000 N. Green River Road, 812-401-1020. Hibachi grill: chicken, beef, shrimp, and scallops.
H MISSION BBQ: (Best Barbecue Restaurant) 1530 N. Green River Road, 812-213-0200. Barbecue, made-from-scratch sides, and sandwiches.
PIZZA OVEN: 5806 Stringtown Road, 812-425-1455. Pizza, strombolis, and Texas barbecue sandwiches.
ROCA BAR NORTH: 12301 U.S. Highway 41-N., 812-868-8898. Pizza, salad, sandwiches, and entrées.
MANNA MEDITERRANEAN GRILL: 2913 Lincoln Ave., 812-473-7005. Stuffed grape leaves, gyros, and shish kebabs.
ROUNDERS PIZZA: 510 W. Mill Road, 812-424-4960; 12731 N. Green River Road, 812-867-7172. Specialty pizzas including the Nameless Spe cial, a pie with the tomato sauce on top, and the Bavarian, a pie served with mustard.
MARX BBQ: 3119 W. Maryland St., 812-425-1616. Barbecue chicken, pork, and ribs.
SAUCED: 1113 Parrett St., 812-402-2230. Pasta, steak, and seafood.
PAPA JOHN'S PIZZA: 4814 W. Lloyd Expressway, 812-423-7272; 5436 E. Indiana St., 812-473-5200; 3955 Haley Drive, Newburgh, IN, 812858-7272; 303 N. Weinbach Ave., 812-477-7700; 4204 N. First Ave., 812-425-2345; 2510 Frederica St., Owensboro, KY, 270-684-3300; 418 Center St., Henderson, KY, 270-826-4444. Pizza, cheese sticks, bread sticks, chicken strips, and hot wings.
EL CHARRO MEXICAN RESTAURANT: 720 N. Sonntag Ave., 812-421-1986. Occasional mariachi band performances. Specialties include paella and chimichangas.
CARIBBEAN CUISINE: 1010 S. Kentucky Ave., 812-303-0631. Caribbean and Haitian dishes like red beans and rice, oxtail, and fish.
H TURONI'S FORGET-ME-NOT-INN: (Best Pizza) 4 N. Weinbach Ave., 812477-7500. Pizza, salads, sandwiches, and fresh-brewed beers.
ENA RESTAURANT: 920 Main St., 812-550-1019. Authentic Latin food from countries including Mexico and El Salvador.
BUFFALO WILD WINGS GRILL AND BAR: 713 N. Green River Road (in East land Place), 812-471-9464; 5405 Pearl Drive, 812-423-9464. Chicken wings cooked with various seasonings, burgers, salads, and chicken.
Let us make your smile PICTURE PERFECT 7244 E. Virginia St. • 812-476-1377 • GILLORTHODONTICS.COM Tues.–Sat. 11 a.m.– 9 p.m. Closed Sun. and Mon. 6 Walnut riverwalkevv.com812-758-4644Street Now serving your favorite Acropolis menu items! OCT 21-23 & 28-30, 2022 • FRI & SAT 5-8PM; SUN 3-6PM www.meskerparkzoo.com | 812-435-6143 Let's get Upcoming Events! SENSORYBooattheZoo,Sensory Spooktacular, & Breakfast with Santa!
THE TAQUERIA COMPANY: 800 N. Green River Road (inside Eastland Mall), 812-297-0258; 2519 N. First Ave., 812-550-1505. Tacos, quesadilla, nachos, fajitas, and burritos with homemade tortillas.
JALISCO MEXICAN RESTAURANT: 4044 Professional Lane, Newburgh, IN, 812-490-2814. Authentic Mexican cuisine.
QDOBA MEXICAN GRILL: 922 N. Burkhardt Road, 812-401-0800. Mex ican eats.
INKAS CHARCOAL GRILL & BAR: 8401 N. Kentucky Ave., 812-810-0325. Authentic Peruvian/American restaurant.
EL PATRON: 943 N. Park Drive. 812-402-6500. The owners of El Char ro opened this restaurant on the North Side, offering authentic Mexican cuisine.
LAS AMERICAS STORE AND RESTAURANT, INC.: 812-475-3483. Offers Mexican ingredients for purchase and food made in house.
HOT HEAD BURRITOS: 5625 Pearl Drive, 812-437-5010. Burritos, salad bowls, tacos, nachos, quesadillas to order with meat options including chicken, steak, pork, barbacoa, and taco meat.
H L A CAMPIRANA: (Best Latin American Restaurant) Road, 812-550-1585. Fresh Mexican cuisine and fresh juice bar.
GOLLITA PERUVIAN CUISINE: 4313 E. Morgan Ave., 812-303-5100. Authentic Peruvian cuisine like Peruvian minestrone, tamales, and papa a la huancaína.
SEPTEMBER/OCTOBER 2022 EVANSVILLE LIVING 153
NACHOS GRILL: 821 S. Green River Road, 812-471-9481. Authentic Mexican fare made from scratch with fresh ingredients.
HERRADURA MEXICAN RESTAURANT BAR & GRILL: 812-402-0355. Mexican restaurant, bar, and grill.
DOC'S BAR: 1305 Stringtown Road, 812-401-1201. Appetizers, salads, sandwiches, burgers, pizza, and desserts. Family room and kids menu available. Free Wi-Fi and full bar.
HOOTERS: 4620 Lincoln Ave., 812-475-0229. Appetizers, including cooked and raw oysters, soups, salads, and sandwiches.
LOS ALFARO'S RESTAURANT: 5201 Kratzville Road, 812-550-1186. Authentic food from Mexico, Argentina, Peru, El Salvado, Columbia, and four other countries. Home to the 2-foot California Breakfast Burrito and the Foot Long Taco.
KC'S MARINA POINTE: 1801 Waterworks Road, 812-550-1050. Seafood options and full bar.
EL RIO: 1919 N. Green River Road, 812-471-1400. Authentic Mexican dishes.
MOE'S SOUTHWEST GRILL: 6401 E. Lloyd Expressway (inside The Evansville Pavilion), 812-491-6637. Fresh Mexican cuisine.
GHOST QUESADILLA: 5501 Pearl Drive, 812-985-8477; 4222 Bell Road, Newburgh, IN, 812-490-6000. Mexican favorites like quesadillas, tacos, and burritos.
BURGH HOUSE AT SHOWPLACE FEC: 8099 Bell Oaks Drive, Newburgh, IN, 812-853-6843. Specialty burgers, sandwiches, pizza, pasta, and drinks.
FRANKLIN STREET TAVERN: 2126 Franklin St., 812-401-1313. Drink specials and pizza.
CHASER'S BAR AND GRILL: 2131 W. Franklin St., 812-401-1699. Sandwiches, pizza, burgers, salads, and lunch specials.
LOS BRAVOS: 3534 N. First Ave., 812-424-4101; 6226 Waterfront Blvd., 812474-9078; 4630 W. Lloyd Expressway, 812-464-3163; 3311 Liberty Blvd., Boonville, IN, 812-897-3442. Traditional Mexican menu.
RIVIERA MEXICAN GRILL: 10604 Highway 662, Newburgh, IN, 812-4909936. Fajitas, quesadillas, nacho platters, taco salads, and chimidogs.
TAQUERIA Y PUPUSERIA MIRANDA: 2008 Washington Ave., 812-492-9992. Specializing in authentic Salvadorian Pupusas and street tacos with a variety of fillings.
SALSARITA'S: 3910 E. Morgan Ave., 812-437-2572; 4077 State Route 261, Newburgh, IN, 812-490-5050. Mexican cuisine like burritos, tacos, taco salads, and its signature Quesorito.
CORNER POCKET BAR & GRILL: 1819 N. Fulton Ave., 812-428-2255. Soups, salads, sandwiches, plate lunches, pizzas, stuffed baked potatoes, and appetizers.
HACIENDA: 990 S. Green River Road, 812-474-1635; 711 N. First Ave., 812-4236355; 5440 Pearl Drive, 812-422-2055; 600 E. Boonville New Harmony Road, 812-401-2180. Tex-Mex menu available all day.
SPORTS BARS
LOS TRES CAMINOS: 12100 U.S. Highway 41-N., 812-868-8550. Authentic Mexican cuisine including chimichangas, burritos, Mexican pizza, and quesadillas.
FIESTA ACAPULCO: 8480 High Pointe Drive, Newburgh, IN, 812-858-7777. Authentic Mexican dishes, grilled steak dinners, and more.
LOS PORTALES MEXICAN GRILL: 3339 N. Green River Road, 812-475-0566. Authentic Mexican dishes, grilled steak dinners, and more.
private Venue
Host your event in the heart of Historical Newburgh, Indiana. The Knob Hill House, with a cozy indoor atmosphere and outdoor patio space, is nestled behind the popular neighborhood tavern, the Knob Hill Tavern. The Knob Hill House is ideal for a quaint reception, fundraiser, wedding shower or business meeting.
1024 HWY 662, NEWBURGH, IND. • knobhillhouse.com Contact Aaron: 812-205-7039 • knobhillhouse@gmail.com
• Reserve today for Parties and Special Events • All Ages Welcome • Outdoor covered seating
154 EVANSVILLE LIVING SEPTEMBER/OCTOBER 2022
MARCH/APRIL LIVING 73 72 MARCH/APRIL evated views of the East Side. The homes on this se cluded street off the crest of the Lincoln Avenue hill also are quite the sight themselves. A standout among the custom builds is 440 Scenic Drive. Designed by lo cal architect Ralph Robert Knapp in 1955, the home is one of the most authentic examples of mid-century modern architecture in the area. Mid-century modern design is de fined by its clean lines, minimalist aesthetic, angular structures, and a flowing connection between the indoors and outdoors. A mid-centu ry decor and furniture collector, Dan Hendrickson was immediately drawn to the home built for Iley B. Browning Jr. and his wife Elizabeth Lowry Browning. Hendrickson even added the house to the Indiana Register of Historic Sites and Structures in the Brownings' name in 2018. "I definitely thought it was one of the better examples of this type of architecture in the city," he says. "Elizabeth is largely responsible for the design. She was a writer and very progressive for her time. In the '50s, especially, she was eating organic and doing yoga. She wrote book called 'With Love and Elbow Grease' about fixing up furniture." untilAsecondownerwouldbuythehomein1974andresidethere2017,whenitwaspurchasedbyHendrickson—anEvansvillenativeandchiefbankingofficeratPeoplesBank—forhim-selfandhispartnerGraceStevens,ownerofGrowingThroughGracepsychotherapeuticservices.Thetwo-levelstructure'swal-nutinteriorandcorkfloorswereenhancedbyvintagefurnitureanddecorsuchasgeometricblockclockandintricateshelvingunitoriginaltothehomethatgaveittheimpressionofbeingfrozenintime. S ROOM WITH in 1955 for Iley and ElizabethwasBrowning,modernfrom the start largely due to Elizabeth's progressive influence. She authored Love and Elbow Grease" while living at Drive. Former owner wantedHendricksonandtopreserve her mid-century vision with authentic featuresaddedfurnishings,newlikethefloatingstaircase. M LOVEDERN DALLAS CARTER PHOTOS ZACH STRAW East Side home preserves a slice of mid-century life HENDRICKSONPHOTOFront exterior in the 1950s Front exterior in 2022 SHOW OFF YOUR HOME!
Do you own a home or know of a house that would look great in the pages of Evansville Living magazine? Each issue, we feature a unique house in the Tri-State that is distinguished by its impressive architecture, attractive location, stunning interior/exterior, and the remarkable people who live there. Contact us by calling 812-426-2115 or emailing webmaster@evansvilleliving.com for an opportunity to have your home featured in an upcoming issue of Evansville Living!
ST. JOE INN: 9515 Saint Wendel Road, 812-963-9310. Soups, salads, sandwiches, plate lunch specials, fiddlers, steaks, and fried chick en dinners.
TIKI TIME BAR & GRILL: 1801 Waterworks Road, 812-425-1912. Burgers, hot dogs, gyros, small pizzas, fish dinners, and cold drinks. Open seasonally.
DAMSEL BREW PUB: 209 N. Wabash Avenue of Flags, 812-909-1956. Pub food and beer brewed on site.
H MYRIAD BREWING COMPANY: (Best Brewery) 100 S.E. First St., 812402-1515; 8245 High Pointe Drive, Newburgh, IN, 812-402-1515. Housebrewed and guest beers.
PEEPHOLE BAR & GRILL: 201 Main St., 812-423-5171. Cheeseburgers, onion rings, fries, and the splitter (a fried hot dog).
SEPTEMBER/OCTOBER 2022 EVANSVILLE LIVING 155
PRIME TIME PUB & GRILL: 8177 Bell Oaks Drive, Newburgh, IN, 812-490-0655. Prime rib, burgers, half-pound burgers, salads, more than 30 bourbons, and more.
ARCADEMIE: 22 NW. Sixth St., 812-303-7771. Craft cocktails, regional beer on tap, and fresh Mexican classics from Botanas by La Campriana.
H THE HILLTOP INN: (Restaurant with the Best Breaded Tenderloin) 1100 Harmony Way, 812-303-3732. Sandwiches including brains, fried bologna, fried fish, salad bar, steaks, chicken, and seafood entrées.
DARMSTADT INN: 13130 Darmstadt Road, 812-867-7300. Soups, salads, sandwiches, and plate lunches. Dinner entrées include steaks, fried chicken, and seafood.
FIDEL'S BOURBON AND CIGAR BAR: 950 Parrett St. (above Walton's), 812-467-4255. More than 100 premium bourbons, prohibition-era cocktails, and extensive cigar lockers.
BUD'S ROCKIN' COUNTRY BAR AND GRILL: 2124 W. Franklin St., 812-4011730. Southern comfort food, daily plate lunch and beer specials, and gourmet flatbreads.
HORNVILLE TAVERN: 2607 W. Baseline Road, 812-963-9318. Soups, salads, sandwiches, dinner entrées including 16-ounce smoked pork chops, fried chicken, steaks, and daily specials.
HAYNIE'S CORNER BREWING CO.: 56 Adams Ave., 812-909-2668. Craft ale, beers, and local wine.
HIGH SCORE SALOON: 323 Main St., Ste. F., 812-909-3229. Arcade bar with local and regional brews, full bar, and trash tots.
BUFFALO
O'BRIAN'S SPORTS BAR & GRILL: 1801 N. Green River Road, 812-401-4630. Irish tavern food, Reubens, burgers, soup, and salad.
DEERHEAD SIDEWALK CAFÉ AND BAR: 222 E. Columbia St., 812-425-2515. Soups, salads, sandwiches, and double-decker pizzas.
HIGHLAND INN: 6620 N. First Ave., 812-909-1500. Appetizers, salads, burgers, sandwiches, pizzas, and customer-favorite Bloody Marys.
THE SPORTSDEN BAR + GRILL: 701 N. Weinbach Ave., Ste. 110, 812-479-8887. Lyleboli, TNT burger, and Brew City fries.
BREWERIES, WINERIES, AND CRAFT COCKTAILS
MOJO'S BONEYARD SPORTS BAR & GRILLE: 4920 Bellemeade Ave., 812475-8593. Bar food including chicken wings, burgers, and strombolis.
STOCKWELL INN: 4001 E. Eichel Ave., 812-476-2384. Plate lunches, home made soup, salads, sandwiches, steak, pork chops, fiddlers, and brain sandwiches.
WINGS ETC.: 628 E. Diamond Ave., 812-909-2945; 8833 High Point Drive, Newburgh, IN, 812-490-0550. Chicken wings, burgers, wraps, salads, and wide beer selection.
H MO'S HOUSE: (Best Bar) 1114 Parrett St., 812-401-3800. Two bars serving craft cocktail made from scratch, ample lounge seating, patio space, and snacks.
SPORTSMAN'S BILLIARDS AND GRILLE: 2315 W. Franklin St., 812-422-0801. Hamburgers, chicken breasts, and catfish plates.
JENNINGS STREET PUBLIC HOUSE: 300 W. Jennings St., Newburgh, IN. 812-5184007. Local craft beer, wine, domestics, scratch cocktails, and spirits.
K.C.'S TIME OUT LOUNGE & GRILL: 1121 Washington Square, 812-437-9920. Shrimp jammers, loaded fries, fried ravioli, egg rolls, Southwest burger, pulled pork sandwich, Italian beef and gravy, and more.
ENIGMA BAR & GRILL: 4044 Professional Lane, Newburgh, IN, 812-4900600. Appetizers, salads, sandwiches, burgers, and various entrées as well as a tequila menu.
BOKEH LOUNGE: 1007 Parrett St., 812-909-0388. Open daily at 11 a.m. Offering a full menu including steaks, kabobs, burgers, salads, sand wiches, and vegetarian meals. Brunch on Sunday and late-night breakfasts served Friday and Saturday.
LAMASCO BAR & GRILL: 1331 W. Franklin St., 812-437-0171. Basic tavern menu including soups, salads, and sandwiches.
Dining Directory
ST. PHILIP INN: 11200 Upper Mount Vernon Road, 812-985-5558. Soups, salads, sandwiches, and plate lunch specials. Dinner including fried chicken, steaks, and shrimp.
CHICKEN NACHOS FROM THE ROOFTOP
HORSTKETTER'S TAVERN: 5809 Stringtown Road, 812-423-0692. Traditional tavern serving cold beer and deli meats.
FOOL MOON GRILL AND BAR: 5625 Pearl Drive, 812-467-7486. Appetizers, wings, signature salads, and burgers.
ZAPS TAVERN: 3725 St. Philip Road, 812-985-2121. Tavern-style food includ ing wings, burgers, dinner entrees, and weekend breakfast service.
MUSIC. NEWS. INFORMATION.
TAVERN FOOD
THE GHOST SPORTS BAR: 4222 Bell Road, Ste. 2 (Next to Ghost Quesadilla), 812-490-6000. Classic bar favorites and spicy specialties.
KNOB HILL TAVERN: 1016 Highway 662 W., Newburgh, IN, 812-853-9550. Soups, salads, sandwiches, and dinner entrées including shrimp, steak, chicken, fiddlers, and hand-tossed pizzas.
H AGAPE GRAZE: (Best Place to Play with Your Food) 1401 N. Boeke Road, 812-518-0008. Charcuterie catering and gift delivery services.
THE BALLROOM AT SAUCED: 1119 Parrett St., 812-422-2230.
REGIONAL DINING
ELBERFELD, IN
3 CHICKS FUDGERY: 305 Main St., Mount Vernon, IN, 812-457-2633. Fresh fudge, gourmet coffee, unique gifts and décor, and charcuterie from Board and Wheel.
BOONVILLE, IN
PIZZA CHEF OF BOONVILLE: 423 W. Main St., Boonville, IN, 812-897-1600. Pizza, baked Italian entrées, sandwiches, salad bar, and hot food bar.
BRISTOW, IN
SCHNITZELBANK CATERING: 409 Third Ave., Jasper, IN, 888-336-8233 or 812-634-2584. Caters home-cooked favorites to elegant cuisine.
NORTH MAIN ANNEX: 701 N. Main St., 812-250-4551. Gourmet catering from breakfast to dessert, and a daily, fresh-made menu of breakfast, salads, baked goods, and deli classics.
FRANK'S CATERING: 812-475-9880 or 812-746-0214. Homemade meals available for any occasion.
DILEGGE'S: 607 N. Main St., 812-428-3004. Fine Italian-American cuisine available for catering or served in the in-house banquet room.
HAUBSTADT, IN
COMMANDER'S GRILL: 118 W. Locust St., Boonville, IN, 812-715-0055. A sandwich shop with fried chicken, salads, steaks, and pork chops.
BLACK LODGE COFFEE ROASTERS: 610 Church St., New Harmony, IN, 812-6822449. Pour-overs, presses, cold-brew iced coffee, espressos, and more.
3,686 SQFT.
ELBIE'S ICE CREAM: 70 SE. Front St., Elberfeld, IN, 812-403-3778. Ice cream stand with specialty dishes, ice cream nachos, unicorn sundaes, and more.
SCHNITZELBANK RESTAURANT: 393 Third Ave., Jasper, IN, 812-482-2640. Authentic German food.
BAUERHAUS MOBILE CATERING: 13605 Darmstadt Road, 812-759-9000. Customized menus from simple party trays with gourmet hors d'oeuvres to elegant seven-course meals.
CHERYL MOCHAU, PERSONAL CHEF: 812-499-4631. Specializes in preparing and teaching others to prepare food for low-fat and special diets, including Atkins, salt-free, gluten-free, sugar-free, and others.
YOUR WAY CAFE: 111 E. Water St., Ste. 1000, Mount Vernon, IN, 812831-3644. Family-owned restaurant serving traditional breakfast and lunch items.
THE NEW HARMONY INN & CONFERENCE CENTER: 504 North St., New Harmony, IN, 812-682-6150. Caters within a 50-mile radius of New Har mony, Indiana, and offers a variety of food from steaks to sandwiches.
WINZERWALD WINERY: 26300 N. Indiana Lake Road, Bristow, IN, 812-3577000. German-inspired wines, flatbreads, salads, Bavarian pretzels, charcuterie trays, and paired wine and food flights.
LOG INN: 12491 Country Road 200 E., Haubstadt, IN, 812-867-3216. Fried chicken, ham, roast beef, and fiddlers.
SNAPS BAR & GRILL: 1115 Main St., Jasper, IN, 812-848-7627. Sandwiches, burgers, salads, steaks, chicken, and pasta dishes.
156 EVANSVILLE LIVING SEPTEMBER/OCTOBER 2022
JUST RENNIE'S CATERING: 100 S.E. Fourth St., 812-401-8098. Specializes in fine foods.
This home is settled on 2 lots on the desired golf course in Christmas Lake Village. This 3 bed, 2 bath home has over 3,175 square feet. The spacious Master Suite with balcony includes a walk in closet, and a new Hot Tub. The living areas include vaulted ceilings, 3 fireplaces, hardwood floors and beautiful golf course views. Off of the dining room there is a stunning sunroom. The kitchen is equipped with granite countertops and an abundance of cabinet storage. There is a full walkout basement with a full bath and bedroom, storage room and bonus room. The outside is beautifully landscaped and includes storage for under the house. This is a must see!.
Dining Directory
MONTGOMERY, IN
DUSTY BARN DISTILLERY: 6861 Carson School Road, Mount Vernon, IN. 812-454-0135. A distillery making bourbon, rye, and liqueurs with a tasting room open for sampling, cocktails, and bottle purchases.
CARRIAGE INN: 103 Gibson St., Haubstadt, IN, 812-768-6131. Plate lunches, sandwiches, soups, salads, steaks, and assorted dinner entrées.
POSEYVILLE, IN
SANDY'S PIZZA: 609 S. Main St., Fort Branch, IN, 812-753-3972; 111 E. Broadway St., Princeton, IN, 812-635-9128. Pizza, strombolis, sand wiches, and spaghetti.
MOUNT VERNON, IN
This elegant home has it all. Featured is a spacious gourmet kitchen with granite counter tops and natural oak cabinetry. The second large dining area opens to the kitchen and is loaded with natural light. Off the casual dining area is a comfortable relaxation area with a gas burning fireplace, built-in wet bar and beautiful engineered wood flooring. This room also sports a full bathroom with a marble topped vanity, tile flooring and your very own sauna. Large 26 x 24 attached garage. Upstairs you'll find a full bath, two additional bedrooms, and the very spacious Master suite. Behind the house there is a 29 x 32 detached garage for that extra space you've always wanted! $589,900 Old Plank Road NEWBURGH, IN
RED GERANIUM: 520 North St., New Harmony, IN, 812-682-6171. Con temporary American.
www.erafirst.com812-473-HOME WE WORK TO GET YOU HOME All Listings Viewable at www.ERAFirst.com RELOCATION 812-473-4663 Let us pair you with one of our knowledgeable agents who can introduce you to the local sights and provide services to help you expedite your transition to your new -community.AreaOrientation Tours - Destination Services - Home Finding Assistance - Rental Assistance - Home Sale Assistance - Referral Assistance Contact us by calling 812-473-HOME (4663) or emailing relo@erafirst.com our Relocation Department can handle the heavy lifting Considering a move? Start your search at erafirst.com CATERING Let us cater your next corporate event! 3 DAY NOTICE (812) 475-9880 (812) 746-0214 209 N. Boeke Road, Evansville, IN 47711 FRANK JR. IS RETIRING IN DECEMBER. GET YOUR ORDERS BOOKED! SIDE DISHES: AU GRATIN POTATOES GREEN BEANS MACCORN& POTATOCOLETOSSEDMASHEDCHEESEPOTATOESSALADSLAWSALAD APPLE, PECAN, CHESSTACOSPAGHETTICHILIPOTPORKHAMMEATBAKEDFRIEDMEATS:PIES:CHICKENCHICKENLOAFROASTBAR$9.95 ONLY $9.95 per person 22MEATS,SIDES22MEATS,SIDES CATERING AVAILABLE 7 DAYS A WEEK!
CATERING
2ND STREET BISTRO & BAKERY: 115 S. Second St., Boonville, IN, 812-573-8887. Freshly baked desserts, cookies, cakes, pies, and more.
$675,000
3,986 SQFT.
KOKIES FOOD SERVICE & BANQUET CENTERS: 11917 Highway 66, 812-4238229. Can prepare anything from tacos to lobster.
1619 Riverview Court EVANSVILLE, IN
JAYSON MUNOZ CATERS: 4593 Washington Ave., 812-471-7076. Favorite dishes from Chef Jayson Munoz.
THAI CHOW ORIENTAL FOODS: 1007 S. McCreary St., Fort Branch, IN, 812-753-3878. Classic Thai food.
YELLOW TAVERN: 521 Church St., New Harmony, IN, 812-682-3303. Must be 21 to enter. Traditional American food.
ON THE ROCKS: 305 Walnut St., Rockport, IN., 812-438-6344. Local bar favorites such as wings, burgers, and pizzas, as well as fresh sand wiches and specialty appetizers.
4 BEDS | 3.5 BATHS
R'Z CAFÉ AND CATERING: 104 N. Main St., Fort Branch, IN, 812-615-0039. Classic comfort food to modern cuisine, including breakfast and lunch combinations as well as daily specials.
4 BEDS | 3 BATHS 3,483 SQFT.
SCHNITZ BREWERY & PUB: 2031 Newton St., Ste. B, Jasper, IN, 812-8482739. American and German craft beers, pizza, and sandwiches.
PAPPA BEAR'S CATERING: 812-568-8890. Whole hog roasts, hand-sliced brisket, smoked pork chops, rib-eye steaks, pulled pork barbecue, baked chicken, side items, and desserts.
FORT BRANCH, IN
NEW HARMONY, IN
SARA'S HARMONY WAY: 500 Church St., New Harmony, IN, 812-682-3611. Various wines, specialty beers, and an assortment of cheeses and salamis. Extensive wine list.
H PIZZA REVOLUTION: (Best Food Truck) Downtown Evansville Farmers Market and various locations, 812-430-5945. Mobile wood-fired pizza and salads.
$550,000
HAWG N' SAUCE: 6580 Leonard Road, Mount Vernon, IN, 812-838-5339. Barbecue entrées and home-style side dishes.
GASTHOF AMISH VILLAGE: 6747 E. Gasthof Village Road, Montgomery, IN, 812-486-4900. Amish-style buffet.
4 BEDS | 2.5 BATHS
3RD STREET SALOON: 118 S. 3rd St., Boonville, IN. Traditional pub food with unique homemade twists made with local meats.
SMALLEY COFFEE: 2955 Newton St., Jasper, IN, 812-482-2442. Handcrafted drinks including tea, coffee, and frozen drinks.
TF ICE CREAM: 1002 E. Walnut St., Boonville, IN, 812-715-3367. Ice cream, sherbet, and more.
JILL LUCY themorebeautifulisownerinstouchesforconcept4thinkEvansvilleOhioTheselikeEvansville?Want812-459-0036avacationhomeinOratleastfeelyouareonvacation?viewsoftheRiverindowntowncouldmakeyouyouare!Thisallbrick,bedroom,3fullbath,openhomeiswaitingyoutoputyourpersonalonit!Tonsofbuiltinthiscustom,onehome.Mastersuiteverylargeandalsohasviews.Thereare3bedroomswithoneonmainlevel.
DEANNA HOFFMAN 812-483-0239
NISBET INN: 6701 Nisbet Station Road, Haubstadt, IN, 812-963-9305. Homemade soups, desserts, and barbecue.
1089 S. Snowball Ln. SANTA CLAUS, IN
1711
ROCKPORT, IN
JASPER, IN
ROBERT BIRKLE 812-518-9433
HAUB STEAK HOUSE: 101 E. Haub St. (next to railroad tracks), Haubstadt, IN, 812-768-6462. A la carte menu. Steak, prime rib, seafood, chicken, pork, vegetable side dishes, and desserts.
THE RED WAGON: 6950 Frontage Road, Poseyville, IN, 812-874-2221. Catfish, oyster, shrimp scampi, and grilled salmon.
SEPTEMBER/OCTOBER 2022 EVANSVILLE LIVING 157
Santa Claus, Ind.HolidayWorld.com/Halloween
158 EVANSVILLE LIVING SEPTEMBER/OCTOBER 2022 8th Annual FIESTA EVANSVILLE Largest Latino Festival in the region for the whole family! • International Performers • Cultural Exhibits • International Food Booths • Entertainment Booths October 9 11 a.m. - 5 p.m. wesselman park SPONSORED BY
MISTER B'S: 1340 Hirschland Road, 812-402-2090; 2611 U.S. Highway 41, Hen derson, KY, 270-826-1111. Pizza, wings, sandwiches, soup, salad, and pasta.
RE/MAX/Richardson, Mike 3
SEPTEMBER/OCTOBER 2022 EVANSVILLE LIVING 159
Tourcy, LLC 126
SPOTTSVILLE, KY
ROOKIES SPORTS BAR & RESTAURANT: 117 S. Second St., Henderson, KY, 270-826-1106. Angus beef steaks, seafood, pasta, chicken, sandwiches, and Arabian salad.
TACOHOLICS KITCHEN: 122 First St., Henderson, KY, 270-957-5001. Enchi ladas, sopes, quesadillas, Mexican street tacos, and more.
Southernmost Illinois Tourism Bureau 16
MR. D'S: 1435 S. Green St., Henderson, KY, 270-826-2505. Classic American cuisine.
FROGGY'S RESTAURANT & SPORTS BAR: 7247 Main St., Wadesville, IN, 812-673-4996. Burgers, pizza, sandwiches, and more.
Pella Windows and Doors of Evansville 121
WINDY KNOLL WINERY: 845 Atkinson Road, Vincennes, IN, 812-726-1600. Wine tastings, fruit wines, and wine slushies.
THE DAIRIETTE: 711 Atkinson St., Henderson, KY, 270-826-2401. Hamburg ers, tenderloins, fries, milkshakes, and soft-serve sundaes.
Southwestern Indiana Master Gardener Association 74 Team McClintock/ F.C. Tucker Emge 7
ELLIS PARK: 3300 U.S. Highway 41-N., Henderson, KY, 812-425-1456 or 800-333-8110. Clubhouse dining.
HENDERSON BREWING COMPANY: 737 Second St., Henderson, KY, 270200-4314. IPAs, porters, farmhouse ales, and more.
HENDERSON, KY
VINCENNES, IN NNES, IN
THOMASON'S BARBECUE: 701 Atkinson St., Henderson, KY, 270-826-0654. Barbecue varieties of pork, mutton, ribs, chicken, ham, or turkey, with sides like potato salad, slaw, and barbecue beans.
COMPANY PAGE AAA Travel .......................................... 148 All-Weather Products, Inc. 68 Ascension St. Vincent EvEvEvD-PatrickCustomCulliganCorressellCommonwealthCCenterCabinetsBudgetBrinker'sBoneBenny'sBauerhaus,BarrelBally'sBairdAstound...................................................124BC2,76,77Evansville148House,The70The.....................................52Flooring54DryRoofing57JewelersC2,78,79Blinds98&Counters99forPediatricTherapy80,81olonialClassics100Pain&Spine82,83Landscaping69Water69CabinetsFurniture39Ford/Lincoln37,140,141D-PatrickMotoplex138,139,140DejaVuSkin&HealthCenter......147DentMedicofSouthernIndiana134,137,139DentonsBinghamGreenebaumLLP14DianaSchnakenburg/F.C.TuckerEmge........................151EncompassHealthDeaconessRehabilitationHospital102ERAFirstAdvantageRealty1,156ERAFirstAdvantageRealty/Byrley,Cyndi33ansvilleCatholicSchools103EvansvilleChristianSchool33EvansvilleFederalCreditUnion139,141EvansvilleGoodwillIndustries,Inc..............................68ansvilleHearingAidCenter104EvansvillePhilharmonicOrchestra25ansvillePrimaryCare105EvansvilleSurgicalAssociatesBC1EvansvilleVanderburghPublicLibrary84,85F.C.TuckerEmge106 Farm Boy Food Service 151 Ferguson Bath, Kitchen & Lighting Gallery 59 Field & Main Bank 69 Fiesta Evansville.................................158 First Federal Savings Bank .............. 65 Frank's MaterLiquorLibertyLeaLandsLamarKnobKennyJ.E.J.A.D.E.IlluminatingHutson,HolidayHentrupGermanGatewayCatering..................................156Cosmetics101AmericanBank107GillOrthodontics153GiveaDogaBone108GoodSamaritanHome39H.G.McCulloughDesignersInc.109HealthySpaces110HendersonChevroletBuickGMC136,137FinancialGroup17World/SplashingSafari157Inc86,87Expressions111ConsultingLLC113Shekell,Inc....................................112KelleyCustomPools.......................114KentLexus................................11HillHouse154Architecture+Design115capesByDallasFoster,Inc18MatthewsFurniture&Interiors2FederalCreditUnion116Locker......................................117DeiHighSchool.....................35MayfieldGravesCountyTourism35McMahonExterminating,Inc.118MerleNorman8MeskerParkZoo&BotanicGarden153MidwestCommunications155NewburghDermatology40NewburghMercantile65NiteLiters,Inc.119NussmeierEngravingandPrinting120OldNationalEventsPlaza-BroadwaySeries.........................22OntheSpotUtilityContractors40PassPestControl66
SITEX Corporation 90, 91
WADESVILLE, IN
Dining Directory
HENDERSON JUICE CO.: 13 S. Main St., Henderson, KY, 270-832-3767. Fresh juices, smoothies, breakfast items, soups, and wraps.
ADVERTISING INDEX
Shannon Aleksandr's 88, 89
LOS TORIBIO: 1647 S. Green St., Henderson, KY, 270-831-2367. Traditional Mexican cuisine.
..................
Rare Bird uncommon gifts 53
Tri-State Orthopaedic Surgeons 127 TuckerGroupPublishing..........13, 27, 34, 53, 133, WoodWNINUniqu-E-ScapesU-VetTurpen'sTuroni's.....................................................15453PaintingCo.92,93AnimalClinic96,9794,95UniversityOfSouthernIndiana128WAYFM157WesselmanWoodsNaturePreserve52WestSideChiropracticCenter129WEVV-44158142-146SpecialtiesbyFehrenbacher130WoodwardCommercialRealty,Inc.131WoofieJoe's132YMCAofSouthwesternIndiana36YourBrother'sBookStore53Zeidler'sFlowers66
Pettinga Financial Advisors 9
Riverwalk by Acropolis 153 Rug Merchant, The 67, 123
Pet Supplies Plus ...................................8
SouthernMachines,BusinessInc. 125
SAINT MEINRAD, IN
SILVER BELL RESTAURANT: 4424 St. Wendel Road, Wadesville, IN, 812963-0944. Sandwiches, fiddlers, pizza, salad bar, and vegetable side dishes. Family-style fried chicken dinner specials. Now serving Flavor Burst soft serve ice cream.
BURRITO EXPRESS MEXICAN GRILL: 2630 US Highway 41, Henderson, KY, 270-577-1225. Authentic Mexican cuisine and local specials.
CANCUN MEXICAN RESTAURANT: 341 S. Green St., Henderson, KY, 270-8260067. Fajitas, burritos, quesadillas, enchiladas, seafood, Mexican-style steaks, and more.
HOMER'S BARBECUE: 128 Second St., Henderson, KY, 270-869-2214. Local barbecue with smoked meats, craft sides, cold beer, and cocktails.
MORGANFIELD, KY
FEED MILL RESTAURANT & BAR: 3541 State Highway 60-E., Morganfield, KY, 270-389-0047. Seafood and barbecue. SPOTTSVILLE, KY
Stephan G. Sanders Fine Men's Clothiers 124
TAYLOR'S GRILL ON WHEELS: 130 N. Water St., Henderson, Kentucky, 270-854-4302. Classic smoked meats, barbecue favorites, loaded mac & cheese, and desserts. Take out only.
FARMER & FRENCHMAN: 12522 U.S. Highway 41-S, Robards, KY, 270748-1856. Café featuring cheese and charcuterie trays, salads, Napolitana pizzas, pasta, sandwiches, desserts, beer, and Farmer & Frenchman wines.
Popham Construction 15
CHEFWHAT BBQ & MORE: 422 7th St., Henderson, KY., 270-212-0742. Breakfast sandwiches and fresh barbecue lunch specials made to order daily.
PUBLISHER'S STATEMENT
MONKEY HOLLOW WINERY: 11534 E. County Road 1740 N., Saint Meinrad, IN, 812-357-2272. Local organic meats and cheeses, Saturday evening concerts in summer, and tasting room.
BOUCHERIE VINEYARDS AND WINERY: 6523 Keyway Drive, Spottsville, KY, 270-826-6192. Wine tastings and winery tours.
METZGER'S TAVERN: 1000 Powell St., Henderson, KY, 270-826-9461. Traditional tavern appetizers, soups, sandwiches, and breakfast.
RealManagPropertyement Results 122
The Rug Gallery of Newburgh 57 Timberlake Furniture ....................... 54
HOMETOWN ROOTS: 136 Second St., Henderson, KY, 270-212-3653. South ern comfort food like mac and cheese, pulled pork, and fried chicken.
CAFE ON WATER STREET: 104 N. Water St., Henderson, KY, 270-577-9402. Casual.
PEPPER'S RIDGE WINERY: 4304 N. County Road 200 W., Rockport, IN, 812-649-9463 (WINE). Free wine tastings, picnic areas, pizza delivery, local meats and cheeses, wine slushies, and weekend live music.
J & B BAR-B-CUE AND CATERING: 48 S. Holloway St., Henderson, KY, 270-8300033. Chicken, turkey, ham, and pork with a variety of salads and sides.
SIDEWALK CAFE: 228 Second St., Henderson, KY, 270-831-2233. Gourmet chicken salad, Italian beef, tomato basil turkey wrap, loaded potato soup, and strawberry cake.
AGAVES MEXICAN GRILL: 2003 Stapp Drive, Henderson, KY, 270957-5028. Mexican fare like burritos, quesadilla, enchiladas, and chimichangas.
Townsquare Media 147
iving and swirling through their 40,000-gallon, tempera ture-controlled pool at the Penguins of Patagonia exhibit, the 14 Humboldt penguins that have inhabited Mesker Park Zoo & Botanic Garden since October 2021 look right at home. That is thanks to their expert care and behind-the-scenes mechan ics of the $7.2-million exhibit, partly funded by a donation from Wayne and Beth Kinney.
"There are a lot of neat things going on here, and they're a very fun animal," adds primary penguin zookeeper Chris Felts. "They're always doing something. Sometimes they get the zoomies and run around like crazy little penguins do."
colony and isolation rooms both have a floor textured with grit to help prevent bumblefoot (blisters on the feet), which are caused by too much time on flat, wet concrete. Felts also spends his days scrubbing the indoor floors to decrease the risk of aspergillosis, a fungal infection that can be common and fatal in penguins.
Each day, zoo guests are greeted by the flightless birds each of whom is tagged on its wings to tell them apart. They also have microchips under their skin, but executive director Erik Beck says most of the keepers can tell the penguins apart on sight.
Final Detail BIRD IS THE WORD
160 EVANSVILLE LIVING SEPTEMBER/OCTOBER 2022
"We have a pretty nice exhibit, first of all," Felts adds. "I don't know if everyone naturally thinks that the Evansville zoo is going to have state-of-the-art exhibits, but it's kind of what we have. We have a lot of water space, a lot of land space. It's a fun exhibit; a lot of work went into it, so hopefully, people come see it."
The entire building is centered around the penguins' health. The
Editor's note: This is an excerpt of a longer story that can be read online at evansvilleliving.com.
BY DALLAS CARTER
D
In addition to underwater viewing areas, cave-like openings in the back wall of the enclosure lead to a nesting room, with space for each season's pairs to lay and watch over their eggs until they hatch. Also inside is an isolation room for safe quarantining and a colony room. Connecting these spaces is a human-centered space for zookeepers to store and prepare food and medicine, information, camera monitors, and other technical care equipment.
The pool's temperature control system uses a natural geothermal technique that saves water and energy by pulling coolant from Mesker's Lake Victoria, running it through filtration systems, using it, and sending it back down. Be sides saving energy and money, the exhibit's systems also save an enormous amount of water. Unlike a residential swimming pool, which pumps water in, filters it, disinfects with chlorine, and then discards the old water, Mesker Park recycles it.
Penguins of Patagonia is a new jewel at Mesker Park Zoo
WALK THIS WAY meskerparkzoo.com
PHOTOS BY ZACH AND AUDRA STRAW
GOING SWIMMINGLY 14 Humboldt penguins enjoy a state-of-the-art living space. Their 40,000-gallon pool and enclosures are centered around the pen guins' health thanks to planning by a dedicated team including Mesker Park Executive Director Erik Beck.
More than expert surgical care. Compassion. Strength. Support. AT EVANSVILLE SURGICAL ASSOCIATES, we have been providing our patients compassionate, comprehensive surgical cancer care for over 50 years. Last year alone, the surgeons at Evansville Surgical Associates treated over 3,000 inpatient and outpatient patients with a wide range of cancers. Our surgeons and specially-trained staff treat benign breast conditions and breast cancers at both the Deaconess and Ascension St. Vincent Evansville. We work closely with medical oncologists and radiation oncologists to ensure that our patients receive the best possible care. EVANSVILLE SURGICAL ASSOCIATES 520 MARY STREET, SUITE 520 EVANSVILLE, IN 47710 ASCENSION ST. VINCENT BREAST CENTER 100 ST. MARY'S EPWORTH CROSSING SUITE A400, NEWBURGH, IN 47630 812.424.8231 | 800.264.8231 | www.evansvillesurgical.com | ft Advanced care for the treatment of breast cancer. Joshua M. Aaron, M.D. Mallory S. Bray, M.D. Kristi K. Peck, M.D. Matthew S. Field, M.D. Katharine A. Lasher, M.D. DEACONESS CHANCELLOR CENTER FOR ONCOLOGY 4011 GTWY NEWBURGH,BLVD.IN47630 ST.VINCENT MULTI-DISCIPLINARY BREAST CLINIC AT OHA 3699 EPWORTH RD. NEWBURGH, IN 47630
Discover the Best of Both Worlds Baird 110 Main 812Evansville,StreetIN47708426-1481 • 888- 426 -1481 ©2022 Robert W. Baird & Co. Incorporated. Member SIPC. MC-887502.
With industry-recognized expertise in wealth management, equity research, asset management and more, we have all the capabilities you'd expect from a big Wall Street firm. But because we're independent and employee-owned, you can be sure we answer only to you.
Visit bairdwealth.com and discover the difference Baird has been making for clients since 1919.