LEADERS OF THE PACK
Sustainability, functionality, convenience shape packaging design
PROTEIN PROLIFERATES
Offerings high in this attribute are available across the store
DRINK AND BE WELL Milk and juice ght to retain their healthy halos
Super Regionals: Publix, H-E-B and Meijer thrive with hyper-local strategies
October 2023 Volume 102, Number 10 www.progressivegrocer.com HERE COMES TOMORROW
on a new class of emerging grocery industry leaders 2023 GenNext Award Winner: Rebecca Robinson PCC Community Markets POWERED BY
The spotlight shines

we grow together Scan to discover what makes Chiquita better Meet us at the IFPA Global Floral & Produce Show in Anaheim, CA October 19th – 21st
Contents 10.23 Volume 102 Issue 10 MINTEL GLOBAL NEW PRODUCTS Departments 12 ALL'S WELLNESS Shopping for Mental Well-Being and Mindfulness 74 AHEAD OF WHAT'S NEXT Plant-Based Evolution 6 EDITOR'S NOTE Your Time to Shine 8 IN-STORE EVENTS CALENDAR December 2023 10 NIELSEN'S SHELF STOPPERS Frozen Foods COVER STORY Here Comes Tomorrow PG spotlights a new class of emerging grocery industry leaders. 14 PROGRESSIVE GROCER October 2023 3 12
2023 GenNext Award Winner: Wesley Yang Ahold Delhaize USA
Protein Power
Liquid Assets
Despite
8550 W. Bryn Mawr Ave. Ste. 200, Chicago, IL 60631 Phone: 773-992-4450 Fax: 773-992-4455 www.ensembleiq.com
BRAND MANAGEMENT
VICE PRESIDENT & GROUP BRAND DIRECTOR
Paula Lashinsky 917-446-4117 plashinsky@ensembleiq.com
EDITORIAL EDITOR-IN-CHIEF Gina Acosta gacosta@ensembleiq.com
MANAGING EDITOR Bridget Goldschmidt bgoldschmidt@ensembleiq.com
SENIOR DIGITAL & TECHNOLOGY EDITOR Marian Zboraj mzboraj@ensembleiq.com
SENIOR EDITOR Lynn Petrak lpetrak@ensembleiq.com
MULTIMEDIA EDITOR Emily Crowe ecrowe@ensembleiq.com
CONTRIBUTING EDITOR Barbara Sax
ADVERTISING SALES & BUSINESS
ASSOCIATE PUBLISHER, REGIONAL SALES MANAGER (INTERNATIONAL, SOUTHWEST, MI)
Tammy Rokowski
248-514-9500 trokowski@ensembleiq.com
REGIONAL SALE MANGER Theresa Kossack (MIDWEST, GA, FL) 214-226-6468 tkossack@ensembleiq.com
REGIONAL SALES MANAGER (EAST COAST)
Dave Cappelli 312-505-3385 dcappelli@ensembleiq.com
ACCOUNT EXECUTIVE/CLASSIFIED ADVERTISING Terry Kanganis 201-855-7615 • Fax: 201-855-7373 tkanganis@ensembleiq.com
CLASSIFIED PRODUCTION MANAGER Mary Beth Medley 856-809-0050 marybeth@marybethmedley.com
PROJECT MANAGEMENT/PRODUCTION/ART
ART DIRECTOR Bill Antkowiak bantkowiak@ensembleiq.com
ADVERTISING/PRODUCTION MANAGER Jackie Batson 224-632-8183 jbatson@ensembleiq.com
MARKETING MANAGER Rebecca Welsby rwelsby@ensembleiq.com
SUBSCRIPTION SERVICES
LIST RENTAL mbriganti@anteriad.com
SUBSCRIPTION QUESTIONS contact@progressivegrocer.com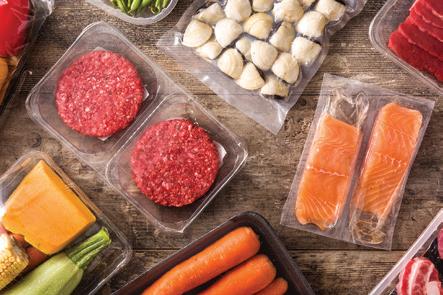 CORPORATE OFFICERS
CHIEF EXECUTIVE OFFICER Jennifer Litterick
CHIEF FINANCIAL OFFICER Jane Volland
CHIEF OPERATING OFFICER Derek Estey
CHIEF PEOPLE OFFICER Ann Jadown CHIEF STRATEGY OFFICER Joe Territo
PROGRESSIVE GROCER (ISSN 0033-0787, USPS 920-600) is published monthly by EnsembleIQ, 8550 W. Bryn Mawr Ave. Ste. 200, Chicago, IL 60631. Single copy price $14, except selected special issues. Foreign single copy price $16, except selected special issues. Subscription: $125 a year; $230 for a two year supscription; Canada/Mexico $150 for a one year supscription; $270 for a two year supscription (Canada Post Publications Mail Agreement No. 40031729. Foreign $170 a one year supscrption; $325 for a two year supscription (call for air mail rates). Digital Subscription: $87 one year supscription; $161 two year supscription. Periodicals postage paid at Chicago, IL 60631 and additional mailing offices. Printed in USA.
POSTMASTER: Send all address changes to brand, 8550 W. Bryn Mawr Ave. Ste. 200, Chicago, IL 60631. Copyright ©2023 EnsembleIQ All rights reserved, including the rights to reproduce in whole or in part. All letters to the editors of this magazine will be treated as having been submitted for publication. The magazine reserves the right to edit and abridge them. The publication is available in microform from University Microfilms International, 300 North Zeeb Road, Ann Arbor, MI 48106. The contents of this publication may not be reproduced in whole or in part without the consent of the publisher. The publisher is not responsible for product claims and representations.
4 progressivegrocer.com 40 FEATURE Winners in a Crowded Market Publix, H-E-B and Meijer are standing out and thriving with hyper-local strategies.  54 TECHNOLOGY Top of Mind A closer look at how grocers can keep their replenishment operations robust amid lingering issues. 56 SPECIAL REPORT Plenty to Unpack Trends relating not just to sustainability, but also functionality and convenience, are influencing the latest packaging solutions. 64 SOLUTIONS
offerings expand well beyond the meat case into a variety of categories. 72 BEVERAGES
Higher-protein
for you. Contents 10.23 Volume 102 Issue 10
attempts to dislodge their healthy halos, milk and juice are coming on strong with new offerings that highlight why these venerable beverages are good
56 72
Crispy. Savory. Authentic. Your snack lovers are sure to enjoy Chicharrones – Pork Rinds and Pork Cracklin's from GOYA® ! Stock up and let them crunch away on this zero-carb, Keto-friendly snack that's as authentic as it is craveable. Contact your GOYA representative or email salesinfo@goya.com | trade.goya.com ©2023 Goya Foods, Inc. Learn More!
By Gina Acosta