SEPTEMBER 2023 DRUGSTORENEWS.COM
INSIDE
Beauty buzz: key takeaways from our inaugural forum
Page 24
IN THE CARDS
Prescription discount cards are popular among consumers, but they bring fees and their partnerships with PBMs may dilute profits. Some retailers are concerned.
SEPTEMBER 2023 DRUGSTORENEWS.COM
From Walls to Rooms We Do It All!
PreWired
Rooms and Counter runs:
UL Listed pre-engineered and factory built ... All connecting cables provided.
Electrical outlets per your specification; regular, utility, ISO, clean, dedicated.
Future Ready
Need more space or a change in operations layout, you're not locked into your original design. Room sizes, counter run configurations, and accessories are unlimited!
Modular and High Density
For over 50 years, Uniweb, Inc. has been manufactured domestically allowing for delivery of durable products in weeks - not months.
Designed with fewer components and engineered with tight tolerances, Uniweb products will not rip or tear and exceed stringent U.L. standards.

Corona CA American Made since 1970 uniwebinc.com 800.486.4932 80% of Americans Aren't Getting Enough Omega-3s Get ultimate support for heart, brain, immune health, and more.*
*These statements have not been evaluated by the Food and Drug Administration. This product is not intended to diagnose, treat, cure or prevent any disease.
Murphy RA, et al. BMJ Open, 2021
FEATURES
IN THE CARDS
24 INSIDE BEAUTY: FORUM RECAP
Key Takeaways from DSN's First Inside Beauty Forum
The role of wellness in beauty, personalization, underserved markets and TikTok were the hot topics at the inaugural beauty event
38 INSIDE BEAUTY: NATURAL & CLEAN Navigating the Clean Beauty Maze
No matter how they define it, consumers want clean products. But is it enough to move the needle?
42 PHARMACY: SPECIALTY REPORT
Cutting Edge Specialty Offerings
Innovative offerings from a variety of players are available to help specialty retailers
46 HEALTH: VMS REPORT
Goal Oriented
Consumers are looking for vitamin, mineral and supplement solutions that help them reach their weight and fitness goals.
52 HEALTH: HOMEOPATHIC REPORT A Return to Nature
Many consumers are putting their purchasing power into natural remedies
6 September 2023 DRUGSTORENEWS.COM DSN (ISSN 0191-7587) is published monthly 12 times a year by EnsembleIQ, 8550 W. Bryn Mawr Ave, Suite 200, Chicago, IL 60631. Subscription rate in the United States: $125 one year; $230 two year; $14 single issue copy; Canada and Mexico: $150 one year; $270 two year; $16 single issue copy; Foreign: $170 one year; $325 two year; $16 single issue copy. Periodicals postage paid at Chicago, IL, and additional mailing offices. POSTMASTER: Please send address changes to DSN, 8550 W. Bryn Mawr Ave, Suite 200, Chicago, IL 60631. Vol. 45 No 7, July 2023. Copyright © 2023 by EnsembleIQ. All rights reserved.
Facebook.com/DrugStoreNews linkedin.com/company/drug-store-news/ instagram.com/dsn_media
DEPARTMENTS 8 EDITOR'S NOTE 10 INDUSTRY NEWS 16 PRODUCTS TO WATCH 19 WOMEN IN THE NEWS COLUMNS Vol. 45 No. 9
EXPANDED BEAUTY
20 18 GUEST COLUMN By Kroger Health's Jim Kirby 58 LAST WORD By David Orgel, Circular argument for marketing 09.23 Prescription discount cards are popular among consumers, but they bring fees and their partnerships with PBMs may dilute profits. Some retailers are concerned.
NEW:
CONTENT!
Safe and Effective At-home Ear Irrigation Patent Pending Safety Tips protect sensitive ears from over-insertion 12 million Americans visit the doctor's office every year due to Ear Wax Impactions. Smallest Shelf Size For Planogram Learn about all our innovative ear wax removal and daily ear cleaning products at CleanseRight.com WINNER Buyer's Choice Award Private Labeling Avaliable Highest Ear Care Category Margins Now there's a safe and affordable Made in the USA Solution from an ISO 13485 certified, American Manufacturer. 2022 Healthcare Program www.cleanseright.com 1: Clinical practice guideline: cerumen impaction: https://pubmed.ncbi.nlm.nih.gov/18707628/ 1 Ed Wagner 503-789-7843 Proudly Made in the USA ed@cleanseright.com Contact:
The Beauty Factor
As the beauty industry grows and evolves, mass retailers are leading the surge
Beauty is having a moment.
Management consulting firm McKinsey & Company said COVID-19 forced the closure of premium beauty-product outlets so approximately 30% of the beauty-industry market was shut down. Some of these stores will never open again, and new openings will likely be delayed. Other estimates say that at the peak of the pandemic, beauty sales had slumped close to 36% due to workfrom-home orders, social distancing and limited gatherings.
But there has been a reversal of fortune. McKinsey says on its website that the beauty market—skin care, fragrance, makeup and hair care—generated approximately $430 billion in revenue in 2022. "Today, beauty is on an upward trajectory across all categories," the consulting firm writes. "It has proven to be resilient amid global economic crises and in a turbulent macroeconomic environment. Beauty is now an industry that many people, from top-tier financiers to A-list celebrities, want to be a part of—and with good reason."
What's more, Statista estimates that revenue in the beauty and personal care market will amount to $579.20 billion in 2023 and is expected to grow annually by 3.53% (CAGR from 2023 to 2028).
Because mass beauty is part of this beauty conversation, Drug Store News held its first in-person beauty event earlier this summer. In addition to exclusive research from Spate and Coresight Research and hearing from executives at TIME magazine, Spotify and Popcorn Growth, attendees heard from retailers about the moves they are making in the beauty segment.
Key executives from Walgreens, CVS and Walmart shared their thoughts on important and timely topics—serving shoppers in underserved groups, such as menopausal women and the physically challenged; the importance of personalization in beauty; and the important link between health and beauty. Our extensive coverage of the conversations with these retailers begin on page 24.
What's clear is that as the beauty industry grows and evolves, mass retailers are competing with prestige outlets and becoming a key destination for today and tomorrow's shoppers.
EDITOR'S NOTE
EDITORIAL ADVISORY BOARD John Beckner, Becky Dant, J.
Doug M.
Nancy
Katie
Heidi
8 September 2023 DRUGSTORENEWS.COM
CORPORATE OFFICERS Chief Executive Officer Chief Financial Officer Chief People Officer Chief Strategy Officer Chief Operating Officer
Jeremy Faulks,
Long,
Lyons,
Scanlon
Snyder,
WHAT'S CLEAR IS THAT AS THE BEAUTY INDUSTRY GROWS AND EVOLVES, MASS RETAILERS ARE COMPETING WITH PRESTIGE OUTLETS AND BECOMING A KEY DESTINATION FOR TODAY AND TOMORROW'S SHOPPERS.
Aldi to acquire Winn-Dixie, Harveys Supermarket
Aldi announced it has entered into a definitive agreement to acquire Winn-Dixie and Harveys Supermarket as part of a larger divestiture of Southeastern Grocers to various entities.
The acquisition continues the growth of Aldi, expanding its ability to serve the region with great products at the lowest possible prices, the company said.
"Like Aldi, Winn-Dixie and Harveys Supermarket have long histories and many loyal customers in the Southeast and we look forward to serving them in the years to come," said Jason Hart, CEO of Aldi. "The time was right to build on our growth momentum and help residents in the Southeast save on their grocery bills. The transaction supports our long-term growth strategy across the United States, including plans to add 120 new stores nationwide this year to reach a total of more than 2,400 stores by year-end."
Aldi said that despite many retailers shuttering stores due to economic conditions, the retailer is doubling-down on expansion plans, supporting its position as one of the fastest-growing grocers in the country. The Southeast-focused acquisition includes approximately 400 Winn-Dixie and Harveys Supermarket locations across Alabama, Florida, Georgia, Louisiana and Mississippi.
"This merger agreement is a testament to our successful transformational journey and the tireless work of our dedicated associates who serve our communities," said Anthony Hucker, president and CEO of Southeastern Grocers. "Aldi shares our vision to provide exceptional quality, service and value - and this unique opportunity will evolve our business to benefit our customers, associates and neighbors throughout the Southeast."
The transaction will bring together three brands that share a
long-standing commitment to delivering an exceptional grocery experience and making a positive impact in the communities where they operate, the company said. Aldi first established its presence in the Southeast in the mid-1990s and has invested $2.5 billion in the region. Most recently, Aldi opened its 26th regional headquarters and distribution center in Loxley, Ala., to help support new stores, with plans to open 20 new locations in the area by the end of the year.
"Aldi will operate Winn-Dixie and Harveys Supermarket stores with the same level of care and focus on quality and service, as we also evaluate which locations will convert to the Aldi format to better support the neighborhoods we'll now have the privilege of serving," added Hart. "For those stores we do not convert, our intention is that these continue to operate as Winn-Dixie and Harveys Supermarket stores."
Deutsche Bank served as financial advisor to Aldi. Baker & McKenzie was transaction counsel to ALDI and Kayne Law Group served as real estate counsel to ALDI.
The transaction is expected to close in the first half of 2024.
INDUSTRY NEWS 10 September 2023 DRUGSTORENEWS.COM
A PRODUCT OF:
Walmart makes leadership changes
Walmart has promoted Sam's Club chief executive Kathryn McLay as the new head of its international business, succeeding Judith McKenna, who is retiring. Chris Nicholas will become the president and CEO of Sam's Club U.S.
Doug McMillon, president and CEO of Walmart, sent this note to Walmart associates announcing the leadership changes:
"I feel a great deal of gratitude today as I share news about a retirement and several promotions. Judith McKenna, president and CEO of Walmart International, has made the decision to retire following an incredible 27 years with the company. With her retirement, I'm happy to share that Kath McLay will become the president and CEO of Walmart International and Chris Nicholas will become the president and CEO."
McMillon continued, "I'll start with gratitude for Judith. I first met Judith when she was CFO of our business in the U.K., and I was struck by her combination of intelligence and heart. She went on to become COO of Asda before moving to our home office in Bentonville where
she led strategy, real estate, M&A and other areas for our International segment. From there she led our Neighborhood Market business and our early work to transform into an omnichannel business as chief development officer of Walmart U.S., before being promoted to COO. As COO, Judith played an integral role in strengthening our Walmart U.S. business, shaping our e-commerce offering and digital transformation by leading the online grocery pickup business. This was a foundational moment that helped us achieve the omnichannel position we have today."
McMillon added, "Nearly six years ago, we asked Judith to lead our International business. She and the team have re-architected the segment and led a multi-year transformation that resulted in International delivering more growth and stronger financial results across the board. More importantly, Judith's leadership
INDUSTRY NEWS 12 September 2023 DRUGSTORENEWS.COM
*These statements have not been evaluated by the Food and Drug Administration. This product is not intended to diagnose, treat, cure or prevent any disease. ® TO: ME, WITH LOVE Treat yourself to feeling your best.*
has positively impacted countless lives by creating opportunity and showing us how to lead with purpose. Her deep care for our associates around the globe and her passion for developing people has made a difference. Judith will remain with the company until Jan. 31, 2024, to help ensure a smooth transition and to continue serving on our Walmex, Flipkart and PhonePe Boards."
McMillon went on to say, "Judith, we are extremely grateful for everything you've done for our associates and for our business. I have appreciated your partnership and have loved watching you lead and make the world a better place through your work. We're grateful to you, Phil, Alex and Charlie, and we hope the chapters in front of you are full of joy. I'm thankful for the depth of leadership in our company, and I am excited to see Kath McLay step into the role of president and CEO of Walmart International. Kath joined our company in 2015.
Hy-Vee opens infusion clinic in Chicago
Hy-Vee has expanded into infusion care with a new Hy-Vee Health infusion clinic located at 1 East Erie Street in Chicago. The clinic opened on Aug. 17.
The infusion clinic will be referral-based and provide treatments for rheumatology, gastroenterology, pulmonary, neurology, dermatology, oncology and other chronic conditions. The independent, physicianmanaged clinic is staffed by licensed physicians and nurse practitioners and features six semi-private infusion rooms. The clinic accepts insurance from private insurers, as well as Medicare and Medicaid.
The Hy-Vee Health infusion clinic is a further extension of Hy-Vee's operations in specialty care. Since 2014, Hy-Vee has operated Amber Specialty Pharmacy, an award-winning specialty pharmacy provider licensed in 50 states with 19 locations across the United States, including a location in Chicago, located adjacent to the Hy-Vee Health infusion clinic.
DRUGSTORENEWS.COM September 2023 13
Say hello to OLLY: Sales@OLLY.com
CVS Health Foundation awards $6.6M in grants to improve maternal health outcomes
CVS Health Foundation has awarded $6.6 million in grants to Massachusetts General Hospital, the American Heart Association and March of Dimes to remove barriers to maternal health services, bridge the gap to quality care and expand the doula workforce to reflect the communities it serves. Each grant will be focused on improving maternal health outcomes for historically marginalized communities by addressing the conditions most often associated with maternal mortality and severe morbidity.
"Black women have a maternal mortality rate 2.6 times higher than White women, and studies continue to show that over 80% of maternal deaths in the U.S. could have been preventable," said Sheryl Burke, senior vice president of corporate social responsibility and chief sustainability officer at CVS Health. "By collaborating locally with organizations who know the community best, we are working to diversify the doula workforce, and bring maternal health services and educational resources to the people that need it most."
The CVS Health Foundation is working with:
Massachusetts General Hospital. The CVS Health Foundation awarded MGH $1.66 million over three years to support the Mass General Brigham DrEaMH (Driving Equity and Maternal Health outcomes) Initiative. This effort will expand the MGB Birth Partners Program and launch the Maternal Health Equity Postpartum Program in Suffolk County. The programs aim to deliver maternal health services through a mobile van and increase access to doula care for people who are most likely to have adverse pregnancy outcomes during their third trimester and 12 weeks post-birth.
"To promote maternal health equity, we need to offer perinatal and
postpartum services in a manner that is most accessible during and immediately after birth," said Elsie Taveras, chief community health and health equity officer for Mass General Brigham. "These resources can set families up for a lifetime of physical and mental wellbeing and are vital to ensuring health equity in underserved populations."
March of Dimes. The CVS Health Foundation awarded $4 million over five years to support March of Dimes' work to expand doula care regionally, diversify the doula workforce and provide educational materials to consumers and healthcare providers that highlight the benefits of doula care. The doulas will provide physical, emotional and informational support to pregnant people and their partners before, during and after childbirth. March of Dimes is actively researching where this program will have the greatest impact and will select six locations later this year to implement it.
American Heart Association. The CVS Health Foundation awarded the American Heart Association $1 million over two years to help address hypertension, which is a key risk factor in the most common killer of new mothers.
The program will link women and healthcare providers to hypertension education, monitoring and treatment during pregnancy and postpartum. It will use strategies, including doula-mediated referrals, to increase the percentage of Black birthing people with controlled hypertensive disorders during pregnancy and postpartum in Hampton Roads, Virginia, and Orlando, Fla.
"Cardiovascular disease is the number one killer of new moms," said Nancy Brown, CEO of the American Heart Association. "Addressing the maternal health crisis in our country is at a critical point. By meeting new mothers where they are and using culturally relevant resources and messengers to address hypertension, we are helping women have healthier pregnancies which will improve the lifelong health of both moms and their babies."
Correction: In the July 2023 article "Diabetes Education is Crucial," a caption on page 44 incorrectly labeled Intuity Medical's Pogo Automatic as Medtronic's Pogo. DSN apologizes for the error.
INDUSTRY NEWS 14 September 2023 DRUGSTORENEWS.COM
presents CALL TO LEARN MORE ABOUT OUR STORE-IN-A-STORE AND DEPARTMENT SOLUTIONS. 800-654-6960 www.cardsmartstoreinastore.com Use Code: DSN-SEPT BRING CARD$MART INTO YOUR PHARMACY! BETTER Cards • BETTER Service • BETTER Programs • BETTER Margins
New & Noteworthy
HRG's five notable products from August 2023
Product introductions dropped again in August, after two straight months of increases.
For the month of August, suppliers introduced 94 new products, which is 75 fewer items than the 169 they released in the previous month. Waukesha, Wis.-based HRG reviewed 25 products in the health category, 34 items in the wellness sector and 35 items in the beauty aisle to see which ones stood out as Products to Watch.
Here is what they found:
1. Biofreeze Overnight Pain Relief Roll-On
Reckitt's Overnight Pain Relief Roll-On is launching new products to assist with nighttime discomfort from pain, including a menthol pain relieving gel in an on-the-go roll-on. The mess-free form offers the brand's Biofreeze formulation and includes soothing lavender essential oils to promote a good night's sleep. It comes in a 2.5-oz. roll-on bottle.
2. Hyland's Naturals Baby Diaper Rash Cream
Hyland's Naturals has developed a new line of pediatriciantested baby product, including a hypoallergenic Baby Diaper Rash Cream. The cream contains organic ingredients and is free from petrolatum, talc, parabens, phthalates, fragrances and dyes. It includes zinc oxide as a skin protectant to help soothe, treat and prevent diaper rash. The cream comes in a 3-oz. tube.
3. O'Keeffe's Working Hands Pain Relief Cream
To combat the pain that can come from dry, cracked and itchy hands, O'Keeffe's has launched Working Hands Pain Relief Cream. O'Keeffe's started with its hydrating Working Hands formulation, and then the brand added 4% lidocaine and cooling peppermint oil for pain relief. It comes in a 3-oz. container.
4. MiraFIBER Gummies
Bayer, Inc. said it developed MiraFIBER Gummies daily prebiotic fiber supplement to feed the good bacteria in the gut. With 8 g of fiber per serving, the dietary supplement was designed to support digestive health and the metabolism of carbs, fats and proteins with the help of B vitamins. Available in six fruity flavors, the product comes as a 72-ct. bottle.
5. Olay Sensitive Eczema Therapy Skin Relief Cream
Procter & Gamble's Olay Sensitive Eczema Therapy Skin Relief Cream is a treatment with colloidal oatmeal and vitamin B3 to provide hydration and temporary relief from eczema. It also treats other minor skin irritations, such as dryness and itchiness. The cream is formulated for sensitive skin and is free from steroids, fragrances, parabens, phthalates, dyes or mineral oils. The cream comes in a 1.7-oz. tube. dsn
PRODUCTS TO WATCH 16 September 2023 DRUGSTORENEWS.COM
REACH, TEACH & INFLUENCE YOUR CUSTOMERS
• Webinar Sponsors Reached over 25k 2021 Retail Pharmacy Registered Attendees!
• Webinar Sponsors Spent an average of 43 minutes per webinar with retail pharmacy attendees and customers!
CONTACT YOUR SALES REP TO LEARN HOW YOUR BRANDS CAN DELIVER VALUABLE INSIGHTS AND SPEND QUALITY TIME WITH YOUR RETAIL PHARMACY CUSTOMERS!
Alex Tomas Sales Account Manager 212.756.5155 atomas@drugstorenews.com
Steven Werner Regional Manager 312-961-7162
swerner@drugstorenews.com
DSN WEBINARS
Revolutionizing Clinical Trials
How organizations can make clinical trials more diverse and accessible
By Jim Kirby
clinical trial participation, improving accessibility for patients who have previously faced barriers to clinical trials.
Jim Kirby,
Historically, clinical trials have fallen short when it comes to representing diverse populations, and conversations around these gaps have been growing louder. An FDA study conducted between 2015 and 2019 discovered that 78% of clinical trial participants were white, and most were clustered in three states: California, Texas, and Florida. This study revealed an absence of voices from underrepresented communities in U.S. clinical trials.
We can and must do better to ensure all communities are reflected in health research, and there are countless incentives to do so. Research suggests that diversifying the studied patient groups in clinical trials could help unlock innovation and accelerate the delivery of life-changing treatments. In addition, different patient populations may exhibit distinct medical responses to investigational drugs or therapies, and by underrepresenting specific demographics we risk compromising the quality of care.
When we include a diverse group of people, it means we can achieve better health outcomes for everyone. As a pharmacist by training, I believe the retail health sector is uniquely positioned at the intersection of healthcare and community to improve day-today health outcomes and revolutionize how we approach research and patient care.
In May 2023, the FDA announced new guidelines to advance the model of decentralized clinical trials. Initial DCT guidance released in 2020 as a response to COVID-19 allowed trial-related activities to occur at participants' homes or other convenient locations, increasing the protocol options of how clinical trials are conducted when people cannot get to a trial site.
The updated guidance indicated that trial-related activities can, and should, continue beyond traditional clinical trial sites and also provided stakeholder DCT recommendations. It is expected that DCTs will increase the breadth and diversity of
Clinical trials have historically had a number of access barriers for patients. Geography has remained one of the primary limiting factors, with more than half of patients not having access to trials at a localized treatment center in or near their communities. In the past, becoming a trial participant has largely been hampered by lengthy time commitments or expensive travel plans.
Additionally, an analysis from the National Cancer Institute revealed that a mere 9% of Americans reported ever receiving an invitation to participate in a relevant clinical trial, leaving countless individuals unaware of potential breakthroughs that could transform their lives. Addressing accessibility and awareness gaps means ensuring every patient has the information and opportunities they deserve.
Studies consistently reveal pharmacists and nurse practitioners rank among the most trusted health professionals, making retail health clinics and pharmacies ideal platforms to bridge the gap and actively promote trial participation. By leveraging the trusted relationships built within these community healthcare settings, we have a unique opportunity to engage patients. We can redefine the narrative of trust in clinical trials to ensure that every patient feels supported, valued, and confident in their choice to contribute to scientific advancements.
The pandemic accentuated the importance of community healthcare sites, such as retail health clinics and pharmacies, as a place to receive preventive and clinical care. With more than 300 million COVID-19 vaccines given through these settings, pharmacies have emerged as a cornerstone of public health as well. This, coupled with the fact that 90% of the U.S. population lives within 5 miles of a pharmacy, community healthcare locations are primed to address accessibility issues plaguing clinical trial engagement and provide an equitable step forward.
With their trusted healthcare professionals and prominent retail locations, community healthcare sites are essential for establishing and expanding decentralized clinical trials. Moving forward, I believe they hold the key to tearing down barriers and unlocking widespread participation for a future where no patient is left behind in their quest for better treatments and improved outcomes. dsn
GUEST COLUMN 18 September 2023 DRUGSTORENEWS.COM
PharmD, BCPS, FAPhA, is chief commercial o cer at Korger Health
Ritual Rising
By Gisselle
Ritual, known best for its sciencebacked supplements, is shaking up the wellness industry with a brand-new partnership at Target. The brand announced that its products would launch at the retailer as part of its Zero and Clean collections, making Ritual one of the first traceable multivitamins available at Target, the brand said.
DSN spoke to Katerina Schneider, founder and CEO of the brand, about how the partnership with Target came to fruition, which was part of its plans to expand to mass retail.
"We always knew we wanted to expand to mass retail, but first, we wanted to cross a certain threshold as a direct-to-consumer business. We've spent over seven years building a sizable, profitable business and earning the trust of consumers online. We have had more than one million customers and in 2021, surpassed nine figures in annual revenue and we have been rapidly growing since," said Schneider. "We are at a point now where we are confident we can bring our commitment to traceability and highquality supplements with bioavailable ingredients to the masses. And there is no better retailer to do that with than Target."

Before launching at Target, Ritual made its debut on the shelves at Whole Foods Market, which helped play a role in providing education about the brand's products and also helped build on its online presence.
"Target was a natural progression of where we always wanted to go next," said Schneider. "They create a curated experience for their guests and provide joy in discovering new brands. They are also accessible and further our mission of empowering people to make confident choices for their health wherever they shop, whether that be online on our website or at their nearest Target location."
The Ritual products that Target will be carrying include Essential for Men 18+ and Essential for Women 18+ and Essential Prenatal, which will be
part of the Zero and Clean offerings.
"As a Certified B Corporation and a company that has been committed to sustainability since day one, we were excited to launch our products as part of Target Zero. Our vegan multivitamins are packaged in bottles made from 100% post-consumer recycled plastic and our retail cartons are made from 100% post-consumer recycled paper," said Schneider.
Although the brand is formally launching its products at Target, there are no current plans to expand its portfolio with exclusive items, as Schneider explained.
"We're not launching anything new for Target and that is very unique for mass retail at this moment. We spend years developing our products and we invest significant capital in scientific research, clinical studies, third-party testing, and leading certifications. We've become known for this and it was important to us that people be able to shop for the same products on the shelf that they have come to trust us for online," Schneider said.
The only newer initiative the brand will embark upon for its retail debut is launching products in unit cartons made from 100% postconsumer recycled paper. Following this partnership's success, Ritual plans to continue expanding its retail footprint across additional retailers to make its products accessible everywhere its consumers are. In addition, the brand also will be focusing on a new advocacy program. dsn
WOMEN IN THE NEWS DRUGSTORENEWS.COM September 2023 19
DSN spoke to Katerina Schneider, founder and CEO of the supplements brand, about its new retail partnership with Target
Gaitan
"We are at a point now where we are confident we can bring our commitment to traceability and high-quality supplements with bioavailable ingredients to the masses. And there is no better retailer to do that with than Target."
— Katerina Schneider, found and CEO, Ritual
commitment
IN THE CARDS
BY MARK HAMSTRA
Prescription discount cards represent a rapidly evolving aspect of the pharmacy ecosystem that many consumers seem to enjoy. But that can be a two-edged sword for pharmacy operators.
The cards, which are offered free to consumers, are either provided by PBMs, or are operated by other entities that have partnerships with PBMs. The cards allow consumers to take advantage of the discounts offered by PBMs, and generally charge a small fee to the retailer, which is then split between the PBM and the card provider.
"These programs appeal to patients by offering immediate savings at the pharmacy counter," said Luke Greenwalt, VP of market access for health care technology firm IQVIA, which recently released a report on the discount card space.
The cards, which are primarily used to pay for generics, according to the IQVIA report, help consumers cover medications that do not fall under insurance, for example, or when the card company actually offers a better price than their insurance, Greenwalt said.
20 September 2023 DRUGSTORENEWS.COM COVER STORY
Prescription discount cards are popular among consumers, but they bring fees and their partnerships with PBMs may dilute profits. Some retailers are concerned.
They cannot be used in combination with a patient's insurance or other benefits to obtain deeper discounts.
The IQVIA report found that prescription discount card use has increased 60% during the last five years, and discount cards accounted for 5.4% of pharmacy adjudications in 2021, up from 3.3% in 2017.
GoodRx is the largest player in the space and accounted for much of that growth, according to the report. Benecard, Inside Rx, Paramount, Sav-Rx, Scriptcycle, Scriptsave, Singlecare and United Networks of America (UNA Rx Card), are all among the dozens of other discount card programs consumers have to choose from.
While pharmacies can generate traffic and revenues by accepting the discount cards they may be risking their profit margins because of the fees they are charged, according to some retailers.
Drew Massey, director of pharmacy operations at Fruth Pharmacy, a regional operator based in Point Pleasant, W.Va., said his company decided some time ago to work with a single discount card provider because it could be difficult to turn a profit when accepting a broad range of discount cards. When the overall cost to dispense is factored in, the pharmacy can end up taking a loss on a prescription, he said.
In addition, the cards can present other challenges, such as when customers bring multiple cards to the counter and ask the pharmacist to check the discount on all of them. Each of those price checks costs the retailer a small amount, in addition to the time that it consumes.
Massey said Fruth did lose some prescription volume when it stopped accepting other discount cards.
"A noticeable amount [of prescriptions] were transferred to some competitors," he said.
He also noted, however, that many of the customers who tend to shop around for the best deals on every prescription were probably never going to be loyal in the first place.
Fruth continues to review its options regularly, and could seek to accept more discount cards in the future if the terms were better, Massey said.
Aware of the Challenges
Jim Sheninger, pharmacy strategy officer at GoodRx, said his company is aware of the hurdles that have prevented some pharmacies from accepting the cards.
The company's business model already seeks to take some of the administrative burden off the pharmacy, he said, by combining the discounts offered from multiple PBMs in a single Rx BIN number to allow easier processing, he said.
Discount Cards Challenging for Independents
While pharmacy retailers concede that prescription discount cards can drive traffic into their stores, they can carve away the already thin margins of many independent pharmacy operators. This has led many independents to decline to accept the cards.
"In a lot of cases these discount cards actually make more off the prescription than the pharmacy does, which makes no sense," said Patrick Berryman, senior VP and chief operating officer at the National Community Pharmacists Association.
Pharmacies are being reimbursed at a low contracted rate, which may be only pennies, while the discount card could be recouping multiple dollars, he said. In addition, the card companies charge pharmacies a fee for accepting the card, which they then split with the PBM that they work with to provide the discount.
"There are also patient data concerns, because in most of these cases, these are the pharmacies' patients, and the pharmacies are concerned about where that data goes," said Berryman. "They're concerned with what these companies are doing with the patient's data because they're getting the patient information, they're getting the drugs they're on, etc. They're concerned that data may be going places it shouldn't be going and it's getting sold."
In addition, some of the discount cards either don't work with independents, or treat independents differently than they do large chains, he said. Some cards, for example, require that in order for a pharmacy to be listed in their pharmacy locator service, they need to be certified by the National Association of Boards of Pharmacy, which may be too expensive for many independents.
In addition, some of the cards also promote the mail-order services of the PBMs they work with, Berryman said. They often also promote telehealth, which may conflict with the relationships that independent pharmacies have with local physicians, he said.
"We just encourage patients to ask their pharmacists, and shop around and ask what the cash price is," said Berryman. "That's how patients can do the best, frankly."
DRUGSTORENEWS.COM September 2023 21
"We know we drive traffic, and I think we're trying to put ourselves in the seat of the retailer," Sheninger said. "How do we drive the right traffic? You can drive all the traffic you want, but if it's a losing proposition, it doesn't really matter."
Sheninger conceded that the company, much like most of the other pharmacy discount providers, was built with the PBMs and the customers in mind, and did not initially give much consideration to the implications for retailers.
A key consumer benefit of the GoodRx app, Sheninger said, is that it allows customers to search for the lowest-price prescriptions in their area using the app. In fact, the company was created with the goal of making it easier for consumers to compare prescription drug prices online. GoodRx is accepted at more than 70,000 pharmacies across the U.S., including Walgreens, Rite Aid, CVS, Costco and other national and regional food and drug chains.
VCRx Gives Hy-Vee a Card of Its Own
West Des Moines, Iowa-based Hy-Vee not only owns its own PBM, called Vivid Clear Rx, but also offers a prescription discount card associated with it, called VCRx. The company recently made the discount card available through a mobile app, so consumers can store their card digitally.
CVS Works with Patients to Achieve Savings
While CVS Pharmacy accepts most third-party discount cards, the retailer said it also seeks to find other avenues for saving money on their prescriptions, a CVS spokesperson said.
"Patients can search for discounts on CVS.com or the CVS Pharmacy app, or they can ask their pharmacist to perform a savings review at any time," they said. "Using our digital tools, CVS Pharmacy patients can get a comprehensive look at savings across the board which accounts for many scenarios and looks at a wide range of savings options."
The company said it leverages the clinical expertise of its pharmacy teams to conduct custom savings reviews, with each patient's medical and cost history in mind. Following are some examples of savings opportunities:
• Generic medications and therapeutic alternatives, as well as other alternatives that are commonly used to treat similar conditions;
• Manufacturer coupons, which can often be used with insurance to lower out-of-pocket costs;
• Patients with chronic conditions that necessitate longterm use of a medication may be able to save money by filling a 90-day prescription instead of the standard 30-day prescription;
• The Pharmacy & Health Rewards available through CVS's ExtraCare loyalty program allows patients to earn credits for filling prescriptions, getting vaccinations and more.
"While CVS Pharmacy does provide visibility into third-party discount card savings options for patients, we recognize this type of savings alone may not meet every patient's needs due to the complexities of health care costs," the CVS spokesperson said. "At the end of the day, CVS Pharmacy works with patients to provide them access and visibility to their full range of savings levers."
22 September 2023 DRUGSTORENEWS.COM COVER STORY
In a lot of cases these discount cards actually make more off the prescription than the pharmacy does, which makes no sense.
– PATRICK BERRYMAN, SENIOR VP AND CHIEF OPERATING OFFICER, NCPA
Jessica Ringena, president at Vivid Clear Rx, said the company has tried to make the system as retailer-friendly as possible—for example, by having a flat, predictable fee that pharmacies pay.
"In a nutshell, what you're doing is you're giving a cash-paying customer access to insurance-like rates without having insurance themselves," said Ringena. "Or they might be a customer who has a very high deductible plan, or for whatever reason, they have a large cash responsibility themselves. So this allows customers to access those rates in a way that they wouldn't be able to otherwise."
Although it is ultimately owned by Hy-Vee, a regional grocer in the Midwest, VCRx is accepted at 35,000 retailers all across the country, including many large retail pharmacy operators.
The VCRx app primarily seeks to help consumers look for the best prices and save on money on their prescriptions, Ringena said. The app also adds additional layers of functionality for the patient on top of the discounts, by giving them the ability to text and share the card with other family members anywhere in the country, for example, she explained.
"The nice thing about the app is that it gives consumers the ability to sit on their couch and just check the prices of the prescriptions they are taking," Ringena said. "It shows the price at different retailers, so it really gives the consumers the power of choice."
Smarty Adds Rx to its Discount Portfolio
Among the newest entrants to the discount card market is Smarty, which has an extensive global business offering a cashback service in the e-commerce space. Its new SmartRx card is just breaking into the prescription space, said Vipin Porwal, founder and CEO at Smarty and SmartRx. "We thought that SmartRx is a natural fit for us," he said. "We can extend the benefit of these cards to our existing users, because we've got millions of users in our database."
While SmartRx, like other pharmacy discount programs, is free for patients to use, it is seeking to differentiate itself in the market by doubling prescription discounts and offering rebates for a variety of other medical services, Porwal said. These include rebates for checkups, telehealth visits, prescription glasses, vaccines, pet medications and home delivery of prescriptions, for example.
"We keep on exploring more benefits that we can extend to our consumers," Porwal said.
Similarly, GoodRx also has a premiere level, called Gold, that offers deeper discounts on some medications, free home delivery and discounted telehealth visits.
Outlook for Rx Discount Cards
Efforts to ease prescription drug costs for price-conscious consumers have approached the market from multiple angles. The cards are reliant on the discounts available through their PBM partners, while other discount initiatives, such as Mark Cuban's CostPlus Drug Company and Amazon Pharmacy, are seeking to drive the savings themselves, said Greenwalt of IQVIA.
"Pharmacy discount cards are already changing the industry by equipping patients with price transparency and a savings option outside of traditional insurance," Greenwalt explained. "So far this has been limited to generics, but the conversation is shifting where patients are more knowledgeable and empowered. Technology plays a role in that, but the patient as a consumer is an irrefutable driver."
Greenwalt said he expects that during the next five to 10 years, more and more consumers will seek ways to supplement their insurance coverage, and pharmacy discount cards could play a significant role."The industry will have to watch and see how the Inflation Reduction Act and other policies influence discount cards' ability to expand savings to brands, including the costlier specialty medicines where net price transparency is especially critical for patients," he said.
Ringena of Vivid Clear Rx said she thinks connectivity between payors, including discount cards, will continue to evolve. "With the rise in high deductible plans, and consumers becoming responsible for more of the out-of-pocket expenses of medical care today, I think you're going to see a lot of integrations between cash discount cards and insurance medical plans," she said. "Basically, there will be technology that will stitch those two together." dsn
DRUGSTORENEWS.COM September 2023 23
The nice thing about the app is that it gives consumers the ability to sit on their couch and just check the prices of the prescriptions they are taking.
– JESSICA RINGENA, PRESIDENT AT VIVID CLEAR RX
Key Takeaways from DSN's first Inside Beauty Forum
The role of wellness in beauty, personalization, underserved markets and TikTok were the hot topics at the inaugural beauty event
Shoppers have really been influenced by a change in the definition of wellness. If you think about how our customers define wellness, even five years ago, it was about the back corner of the store and the products that lived in front of the pharmacy.
– Andrea Harrison, vice president of merchandising beauty, CVS Health
Marie Driscoll, Managing Director, Coresight Research
Executives from Walgreens, Walmart and CVS shared insights into their beauty strategies with high-profile representatives of leading brands during DSN's first Inside Beauty Forum. Here are key takeaways from the event held in New York City on June 7.
Serving the Underserved
Although women comprise the majority of shoppers in drug stores, some segments feel "unserved," according to Heather Hughes, Walgreens group vice president of beauty, personal care and seasonal.
Pulling from her pharmacy background, where wellness is at the forefront, Hughes discussed first-hand experiences. "Women are under-researched, they are misunderstood and physicians are under-trained on what women experience—they sometimes dismiss what they say." That cascades into the beauty industry, as well. There are segments of the market where brands spend their dollars while not focusing on all sides of life stages.
"There is a lack of research for products for women," Hughes said. A few overlooked markets included women older than 50 as well as
differently abled people that could benefit from adaptive products.
"I always say that a product developed for a senior consumer is good for everyone,"Hughes continued "If you make products that work for things like easy opening jars that work for everyone; it will be better for everyone and be more successful. The beauty world has an opportunity to have this mindset."
The good news, said Hughes, is that brands are starting to realize the need. "They are saying we hear you, but there is still a long way to go."
A case in point is Coty's #UndefineBeauty which aims to undefine beauty rather than define what's considered beautiful. Hughes applauded Coty's efforts to push the dictionary to rewrite its entry for "beauty," which currently includes
INSIDE 24 September 2023 DRUGSTORENEWS.COM
words like young. "It is wrong as a society to define beauty related to age," added Hughes.
With America becoming more diverse, Hughes said Walgreens is working hard to make sure multiracial shoppers feel represented but not overwhelmed. "We've been focused on how to deselect and localize better," she said, noting that is a hefty challenge for a chain with nearly 9,000 stores. And the decisions are being made with what the future consumer will require 10 years down the road.
Men are also on her radar. "There are a lot more products for men. There is a premiumization happening as men discover beauty. There is a blend of making sure there are products for him while keeping in mind that 80% of shoppers entering the door are female—but they might be shopping for him."
Hughes gave a nod to Walgreens' fleet of beauty consultants. "They go through rigorous training that occurs all year long," she said. They are trained in various underserved markets, such as those needing adaptive products, diverse shoppers and men. "We make sure when customers walk in, they get a sense of caring." That's amplified by cross-training between pharmacists. Walgreens beauty consultants are trained to transfer a shopper to the pharmacists for needs that are health based.
"They [beauty consultants] are our boots on the ground," she said. The merging of wellness and beauty has been a learning, Hughes said, adding the retailer is experimenting with new ways to merchandise in the best way to help people shop. "We are on a journey together," she concluded.
Making an impact
BECKY EWERT Social Media Specialist
Look Beauty
The Intersection of Health and Beauty
When it comes to skin care, we not only want beautiful results, we want healthy skin. This involves creating our products to nourish, heal and soothe and protect your skin. Our skincare
products are formulated for all skin types, including sensitive skin and put an emphasis on repairing damage. We like the idea of not changing your skin, but of enhancing your natural skin's appearance. We don't adhere to one beauty standard, your authentic self is beautiful whatever your complexion is. Our products provide our customers with skin that glows, smoothes and heals imperfections. Understanding the impact skincare companies have on the environment is important. That's why we strive to be as sustainable as possible. We use clean and green ingredients and all of our sheet masks are biodegradable!
SCOTT KESTENBAUM Chief Growth Officer Maesa
Serving the Underserved
At Maesa, our dedication to serving the underserved takes shape in two transformative ways. Our first approach is bringing innovative
INSIDE 26 September 2023 DRUGSTORENEWS.COM
Creighton Kiper, Merchandising VP, Beauty, Walmart (center) and Vinima Shekhar, VP Merchandising Wellness, Walmart (right), spoke about the intersection of beauty and wellness and how the two departments work together.
DERMATOLOGICAL SKINCARE SOLUTIONS FOR ALL PATIENTS #1 DERMATOLOGIST* & PHARMACIST† RECOMMENDED SKINCARE BRAND
FASTEST GROWING SKINCARE BRAND IN THE US**
®
*IQVIA, ProVoice Survey, rolling 12-month data as of March 2023. †Based on an independent national survey of pharmacists. **Among top 25 brands based on dollar sales reported by NielsenIQ for the "Total Skincare" category, for the 52W ended 7/17/23, vs. same period in 2022.
The Power of Personalization
The customers' path to purchase has changed exponentially since the pandemic. "Shoppers have really been influenced by a change in the definition of wellness. If you think about how our customers define wellness, even five years ago, it was about the back corner of the store and the products that lived in front of the pharmacy," said Andrea Harrison, vice president of merchandising beauty at CVS Health. "Now when you ask customers how they define wellness, it is much broader— it is about physical health, sleep, nutrition, mental health, fitness and appearance."
The new shopper is savvy about the safety of products right down to where ingredients came from, she added. "People's priorities have changed and the lens they are putting into their shopping decisions has changed," said Harrison. "Rather than just treating beauty shopping as a quick in-and-out purchase, they spend more time researching and choose to "spend their dollars with purchase."
Social media is having a big impact, especially on beauty. "I joke that I'm the only person in our building who says 'TikTok' a hundred times a day," she said. "But we have to think about how to bring that external discovery and convert it in the store." The recipe, she said, is to have the right brands, products and trends that are relevant so the customer can experience it on their mission in our stores and take a minute for themselves while they are serving other people in their lives.
Experiences are moving to the forefront and CVS is experimenting
products to market at accessible prices, exemplified by the extraordinary Koze Place brand. Koze Place demonstrates that design and functionality can coexist in perfect harmony. With custom packaging tailored for the Dollar General shopper, these exquisitely crafted scents turn the home into a tranquil haven. The best part is they're all parabenfree, phthalate-free, formaldehyde-free, leadfree, and cruelty-free, without breaking the bank — Koze Place products are $5 or less, proving luxury and affordability can go hand in hand.
We also know that innovation requires talent, and we understand the barriers underserved founders often face when building successful businesses. We're incredibly proud of our latest initiative, the #MaesaMagicIncubator. This groundbreaking program is designed to empower early-stage entrepreneurs in the beauty and wellness sectors. We understand the challenges they face — from insufficient revenue to not being shelf-ready — and we're here to break down those barriers.
At the heart of the #MaesaMagicIncubator lies inclusivity, as we welcome aspiring entrepreneurs from all walks of life. By amplifying the voices of underrepresented communities, we not only transform their lives but also create a more dynamic and equitable industry for all.
SEAN LAVIN Vice President of Impact at Liquid I.V. Liquid I.V.
The Impact Incubator: The Making of the Liquid I.V. Inaugural 2023 Confluence Summit
Access to clean water is a basic human right, yet millions of people across the United States still struggle with the consequences of water insecurity and lack of clean water access. More than 2.2 million people do not have access to clean water in their homes, and more than 44 million others have inadequate water systems, which could put their health at risk.
INSIDE 28 September 2023 DRUGSTORENEWS.COM
Andrea Harrison, VP Merchandising, Beauty, CVS Health (middle) and Krystal Walker, Lead Director, Beauty Experience, CVS Health (right), spoke about the retailer's efforts to make personalization easier for customers.
NEW NEW
with new formats. The first foray was in 2018 with the BeautyIRL concept that Harrison called a "learning ground." As the consumer has evolved, so has the store concept. "We are trying to lean into our beauty consultants a little bit more through our Skin Care Center pilot. It allows customers to interact in a way that's driven by them and can be married with their personal interests to drive sales."
Social commerce has an impact on stores, acknowledged Krystal Walker, lead director beauty, beauty experience, at CVS. "Social commerce is definitely part of our tool kit—it is the digital version of a Tupperware Party." It helps get CVS in front of customers.
Recent CVS introductions highlight how the retailer is reaching various market segments in a personalized manner. One is the retailer's new store brand called one + other—a range of 200 personal care products from tweezers to body wash.
"I never thought in a million years I'd be talking about things like nail clippers and cotton balls," Harrison said. She explained in the past, there were products in feminine packages and duplicate items to attract men.
The recently introduced collection celebrates individuality and reflects how people use products without SKU duplication as well as the need for accessible self-care for everyone.
The other is John Legend's Loved01, a unisex skin care collection formulated for melanin-rich skin tones, created by the singer and dermatologist Dr. Naana Boakye.
"The motivating factor for both [one+other and Loved01] was to do a better job and work a little bit harder to reflect the communities we serve," Harrison said. "It doesn't matter what gender you are; you
One of the moves the Liquid I.V. team has taken toward increasing water security and is hosting our first leadership gathering and grantmaking program: Confluence.
What is Confluence?
This past spring, Liquid I.V. brought together 20 leaders from 10 organizations that are the top changemakers advocating for clean water security at our very first Confluence event. Liquid I.V. provided $500K in grants to ten individual organizations who are purposedriven experts in the space for water equality.
The Liquid I.V. team describes Confluence as an inflection point in the brand's purposedriven work, building onto the $1.3M in grants provided to MAP International, DigDeep, and UCLA Sustainable LA Grand Challenge earlier this year. Confluence truly marks a special moment for Liquid I.V. and the development of their Impact program. Liquid I.V. brought together a group of people and organizations that normally are not able to be in the same room, offering them the opportunity to talk through what they needed, what they wanted, and what their goals are in water security and clean water access.
As the organizations discussed their desires and struggles to fight for universal water rights, Confluence brought their unique perspectives and expertise to the table, focusing on different areas around clean water, including policy, environment, access, equity, and infrastructure.
Clean water is a vital resource, and Liquid I.V. recognizes it as the bedrock for wellness. The team at Liquid I.V. knows that clean water security is a human right and Confluence is one of the ways to create an impact. It's an example of how organizations and individuals can lean into their strengths to help reach the collective goal of universal water security by 2050.
INSIDE 30 September 2023 DRUGSTORENEWS.COM
Sheryl Teo, Founder / CEO, Popcorn Growth, (middle) and Marissa Thomas, Head of Partnerships, Popcorn Growth, (right) spoke about the nuances of working with social media juggernaut, TikTok.
have nails to be clipped. With Loved01, we were intrigued with the formulation because it was created with skin with more melanin in mind." CVS moved swiftly to secure the brand.
Harrison continued, "We felt it was speaking to a consumer who might not feel seen. Personalization at the shelf is about feeling more reflected. The customer is looking for new [products] and we want to be where the customer is." Legend even appeared in a store in Los Angeles, posting as a CVS employee for social media content.
New is great, but CVS is also focused on repeat purchases. "New DTC products coming to retail are great and exciting," Harrison said. "But volume is largely still coming from the iconic brands. The way we've been able to maintain volume and be successful is a balance. Some great brands will never go away and have built trust. We don't want to lose those in a sea of new things. But there are also great innovations that follow the customer."
Harrison used CeraVe as an example of a legacy brand that has remained relevant by being innovative, including exposure on TikTok and via dermatologists.
CVS goes deeper into personalization, harnessing its free ExtraCare loyalty program—roughly 1 in 4 people in the U.S. are members. For example, Harrison explained, just because a customer purchases a Gillette razor once, it doesn't mean they haven't been influenced to try something new. "We can bring value to our members through highly personalized offers, savings and rewards, targeting those to what they buy on repeat and what we think they might want to try for the first time."
Other uses for technology include testing virtual try-ons and skin assessments in Skin Care Centers.
The human touch is crucial, too. "We lean heavily on our Beauty Consultants. They are an aid in personalization. We get so many letters
JEREMY LOWENSTEIN
CMO at Milani Cosmetics & KELLY SOBOL
SVP of North America Sales & Customer Development
Milani
The Power of Personalization
Recognizing the need for diversity in beauty, Milani's Conceal + Perfect 2-in-1 Foundation and Concealer are available in 45 shades and the brand's standalone Conceal + Perfect Concealer in 18 shades, ensuring everyone finds their perfect match. Earlier this year, Milani launched the #NoFilterJustMilani campaign, where we emphasize the genuine beauty of real, unfiltered skin. It's a celebration of authenticity, showcasing real people and real results with our foundation, without the need for digital enhancements.
Understanding that different skin types have unique needs, Milani offers a range of primers. Whether customers have oily, dry, or combination skin, they can find a primer tailored to their needs, ensuring makeup longevity and a flawless base. In addition, from matte to dewy finishes, our Make It Last Setting Sprays cater to different preferences and skin types. These products are formulated to keep makeup fresh while addressing specific skin concerns like oiliness or dryness.
Milani invests significant research and development into creating a diverse color palette that works with a wide breadth of skin tones and undertones for not only their face products but with their color cosmetics as well. Milani aims for every shade to be adaptable and blendable, allowing individuals to mix and match to achieve their desired look. We continuously collect feedback from consumers about the shades they wish to see, ensuring our collections evolve to match the desires and needs of our diverse community.
INSIDE 32 September 2023 DRUGSTORENEWS.COM
THE NEW WAY TO MASQUE Look Beauty Inc. Toronto | London | Seoul www.masque.bar e: allanlever@hollywoodal.ca | t: +1 416-485-7555
from guests talking about how they have helped them," Harrison said.
The Skin Care Centers are designed to help demystify the category for shoppers in a category where new items debut at a breakneck pace. Walker noted that the centers do a good job of being informative at the shelf as well as offering digital tools and trained beauty consultants.
Looking ahead, CVS is working to tap all the tools to build wellness and beauty, including virtual events (with a localized twist) and using its expertise to help simplify the shopping experience. This 360-degree approach is a competitive edge. "We are a convenience play, we are a wellness play, and we should always be at the forefront for when consumers are thinking about wellness needs," concluded Harrison.
The Intersection of Health & Beauty
A lot is at stake as the boundaries between wellness and beauty blur. Per statistics from Mckinsey and Circana, combined U.S. sales of wellness and beauty exceed $1.6 trillion. Even in tough economic times, consumers have shown they won't abandon products they believe contribute to healthy lives.
As the largest retailer in America, Walmart is positioned to lead the charge in bringing the best in wellness and beauty to consumers.
Walmart's Vinima Shekhar, vice president of merchandising, wellness, and Creighton Kiper, merchandising vice president of beauty, shared their thoughts on wellness, beauty and how the two interact.
To Shekhar, the definition of wellness is multifaceted. "It is biological, psychological and social," she explained. Mental health is a big component of wellness, she noted, and many shoppers are stressed and pressured. That's unsurprising since the average person makes 35,000 decisions a day, she said.
PAULETTE HELLER Vice president
of marketing Conair
The Intersection of Health & Beauty
The look-good, feel-good connection works both ways. When you look good, you feel good. When you feel good about yourself, your natural beauty will shine. There is a strong connection that exists between beauty and mental health.
Conair understands that freshly done brows or a beachy wave blow out can directly build our consumer's confidence and boost their selfesteem. Regular at home self-care routines physically feel good and are known to improve moods, inspire calm and reduce anxiety. For many women, beauty regimens have become a daily elixir for their mental health.
At Conair, we relish in the opportunity to develop quality, trusted products that bring moments of joy and offer peace of mind to the millions of consumers who engage with our products every day. Our recent line of Girlbomb® provides professional-quality hair removal tools made exclusively for women seeking the same exceptional power, performance and precision found in tools made for men.
They are designed to appeal to a generation of shavers who value form as much as function.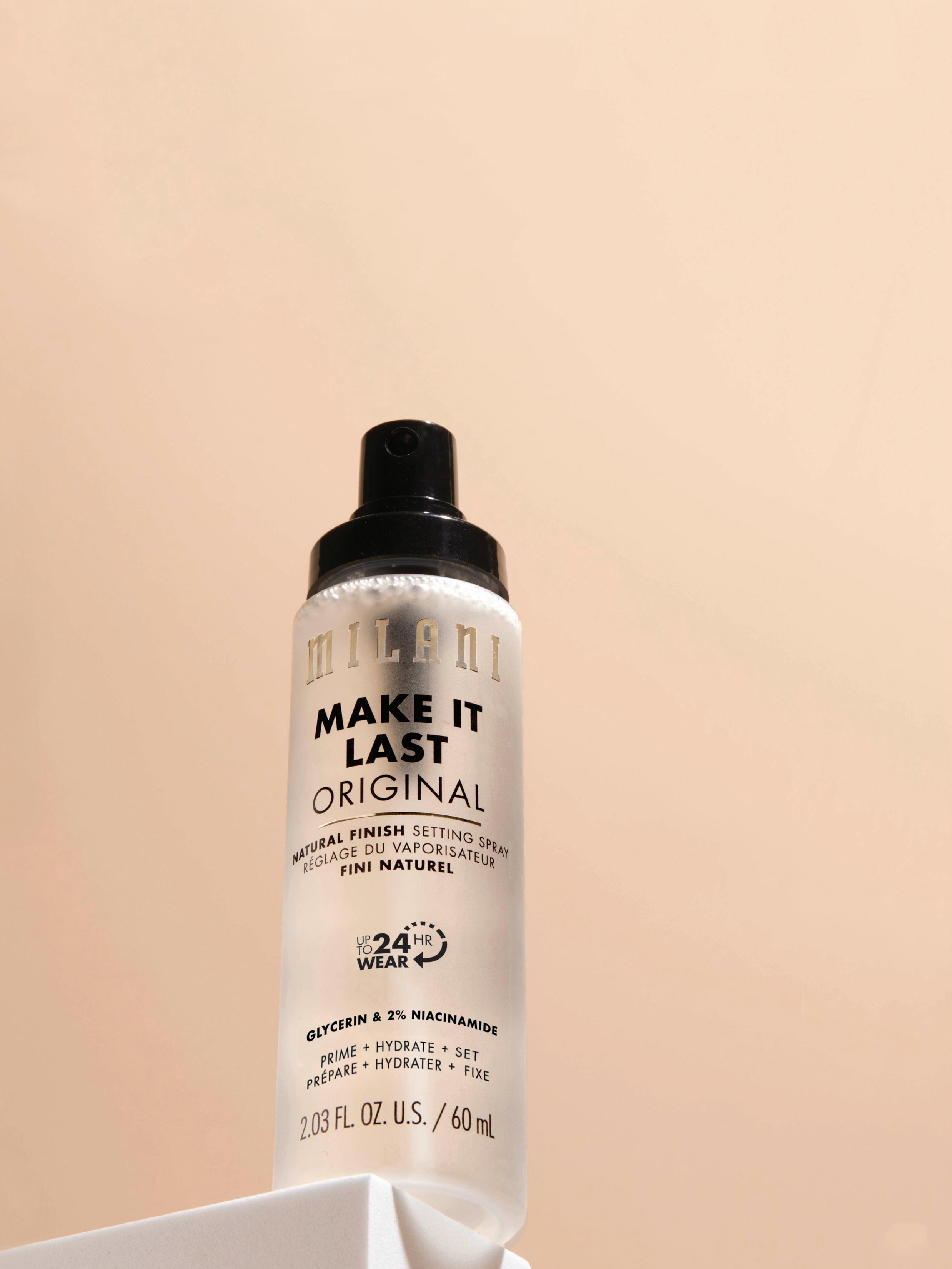 "We've done extensive research to determine what women want most in their grooming tools and what has been missing. First and foremost, they were seeking tools with the same power and precision as those made for men," said Paulette Heller, vice president of marketing for Conair. "It was our goal to launch a line that delivered that performance with the female aesthetic in mind."
If reviews—and word of mouth—are any indication, the women in our perfectly groomed #GIRLBOMBSQUAD are getting the tools and results they've always wanted.
INSIDE 34 September 2023 DRUGSTORENEWS.COM
Heather Hughes, Group VP & GMM Beauty, Walgreens (right), spoke about the retailer's strategy and efforts in serving underserved populations and demographics.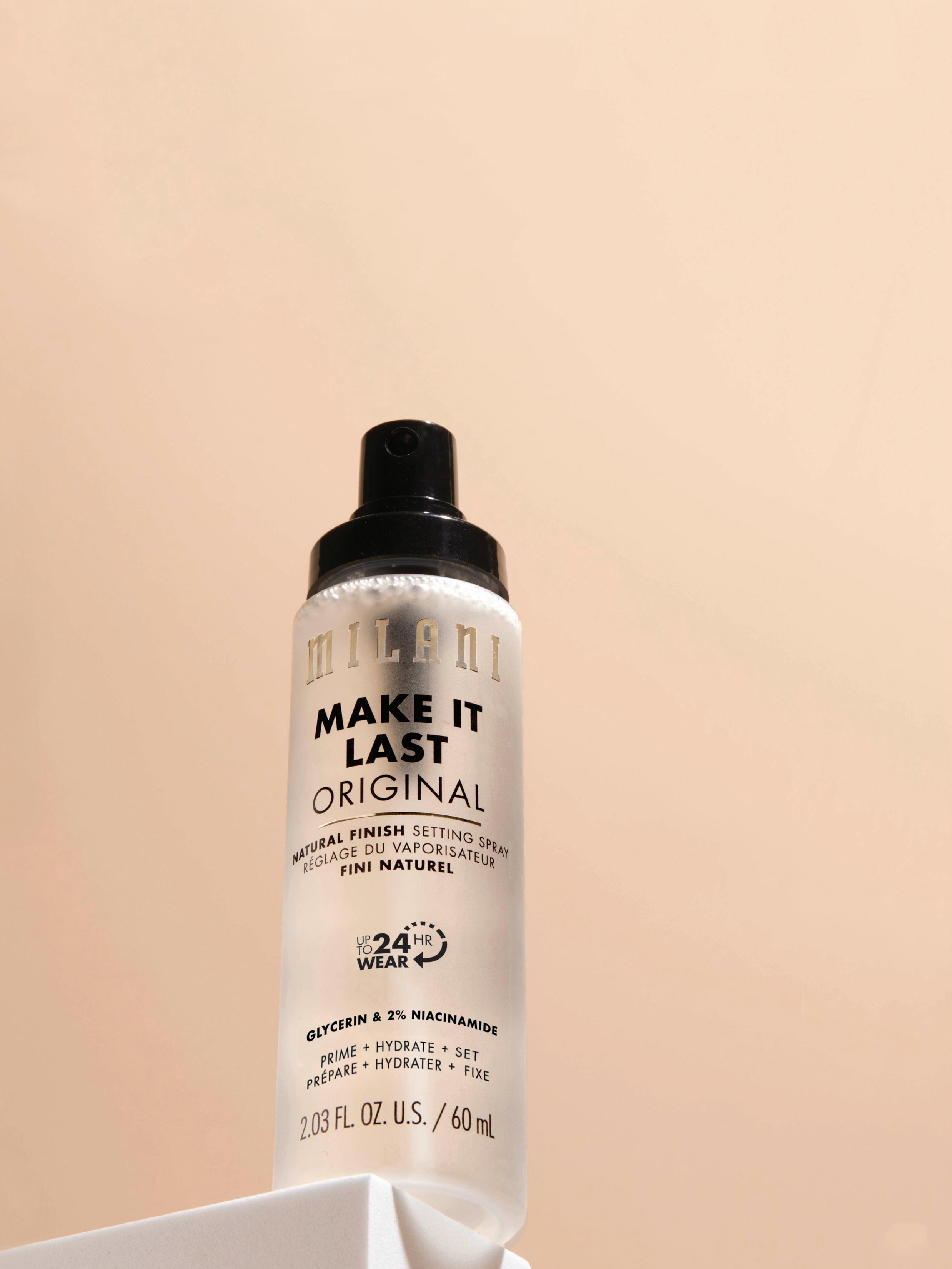 WITH UP TO 24HRS OF WATERPROOF AND SWEAT-PROOF WEAR ** AMERICA'S #1 SETTING SPRAY * *BASED ON NIELSEN $ SALES FOR THE MAKE IT LAST ORIGINAL VARIANT FOR THE 52 WEEKS ENDING 5/20/23 **WEAR CLAIMS BASED ON CLINICAL TESTING OF MAKE IT LAST ORIGINAL
There is a big cause and effect in wellness products. For example, Shekhar said stress leads to hair loss, and that has raised awareness of solutions such as biotin for hair health.
Consumers are more informed, savvy and aware than ever. They understand the link between wellness and beauty. That's evident, she said, in interest in gut health and its impact on beauty from the inside out. "The hashtag #guthealth has been trending with 3.7 billion views on TikTok."
Some trending ingredients in wellness she pinpointed included: superfoods, food as medicine, ashwagandha, turmeric and protein. "People are getting the idea that what you put in is what you get out," she said.
Shekhar aims to enhance Walmart's "live better" promise as the chain continues to expand its wellness offerings. That includes removing friction during the shopping experience and helping shoppers save money.
Within beauty, Kiper hopes to create a space where shoppers can escape and treat themselves without pinching their wallets. "People shouldn't have to decide between food and beauty," he said.
His goal is to be the most inclusive beauty retailer, offering customers accessible options to "confidently be themselves." Beauty, he added, isn't only about aesthetics but people being their authentic selves. "We are looking to democratize beauty," he said. "We need to be responsible around the notion of what beauty is."
His hit list of trending products included ingestibles with beauty benefits, hyaluronic acid, niacinamide, azelaic acid, ceramides and peptides, snail mucin and white cherry. To keep ahead of the curve, Walmart's team has its ear to the ground and leverages its own proprietary search data.
Going forward, Walmart is also focusing on clean, sustainable and socially conscious brands that consumers have made clear are important to them. Earlier this year, the retailer launched Clean Beauty at Walmart to help customers find beauty products that meet their and Walmart's standards at every price point.
The chain is not always first out of the market but wants to be the best. "The early bird gets the worm, but the second mouse gets the cheese," he said.
Kiper identified underserved markets he's building up, especially women 50+. Less than 5% of marketing dollars are put against that cohort even though in 2030, there will be more seniors than children in the U.S.
"This is an important, underserved, underappreciated segment. Walmart wants to better serve this community," he said, adding the focus is on aging well.
Admitting the beauty shelves can be daunting, Kiper said Walmart is working to make it easier for customers, which includes tapping into technology capabilities.
In discussing how their businesses overlap, Shekhar and Kiper said they are trying to be more intentional about messaging wellness and beauty together and taking a data-driven approach.
In discussing how their businesses overlap, Shekhar and Kiper said they are trying to be more intentional about messaging wellness and beauty together and taking a data-driven approach. "We are meeting the customer where they want to be," said Kiper. dsn
INSIDE 36 September 2023 DRUGSTORENEWS.COM

*Conair is #1 in Hair Accessories with a 39.4% dollar share based on IRI 52 weeks ending 7-16-2023. Conair is #1 in Hair Fashion Appliances based on IRI latest 52 weeks ending 7-16-2023. Conair Hairbrushes are #1 in dollar sales based on IRI Scan Data through 7-16-2023. Conair Cosmetic Bags are #1 with a 70% dollar share based on IRI 52 weeks ending 7-16-2023.
Navigating the clean beauty maze
Standing on a busy New York City corner dressed as a cactus, Mike Indursky, the founder of Hear Me Raw, asks passers about their skin care regimens and clean beauty.
Despite proclaiming they buy clean products; many are surprised that ingredients, such as crude oil, are in several of their favorites.
The interviews underscore the confusion surrounding clean and conscious beauty—a segment without a clear definition and scant regulation in the U.S., according to Indursky.
Hear Me Raw was created by Indursky, who has worked at L'Oréal, Bliss, Burt's Bees and Unilever, and his daughter Emma. They created the plant-based and refillable line to "be better for people and the planet."
APTO Skincare, sharing data from Kline, said the clean beauty market in the U.S. grew almost 10% in 2022 with a strong future ahead.
consider clean skin care."
The words clean, natural, organic and better for you are all bandied around in marketing today without any way to check claims. "You see the words 'made with,' or 'free of' and 'pack with,'" said Okay Pure Naturals Marketing Director Chris Lopez. Several retailers have their definitions but what constitutes clean is still a fuzzy concept.
trust
Some consumers trust labels while others turn to blogs and social media for guidance, said Danielle Lindeman, senior marketing specialist.
"As a result, there can be a wide range of what people
No matter how "clean" is defined, consumers say they are on the hunt for formulas with fewer questionable ingredients.
There are more than 6.1 million posts on TikTok and Instagram combined that use the hashtag #cleanbeauty. Statista reports that 70% of consumers across all generations seek products that are conscious and ecologically friendly. Spate research noted that clean beauty amasses 5.3 million monthly searches.
"Consumers are understanding more than they used to about 'clean' but there is still a lot to learn," said Sonia Summers, founder of Shielded Beauty. "So many brands call themselves clean now that it's become baseline for consumers; simply saying your products are clean just isn't enough anymore." She added that consumers demand healthy ingredients, but they also want efficacy.
Product testing to validate safe ingredients is one way brands are differentiating from those with unsupported claims.
"Clean has become a term often misunderstood and misused within our
38 September 2023 DRUGSTORENEWS.COM INSIDE MY CY CMY K
No matter how they define it, consumers want clean products. But is it enough to move the needle?
people
APTO's assortment offers eight products suited for all skin types loaded with ingredients including turmeric, seaweed and rosemary.
Raw Sugar was a pioneer in the clean movement and among the first to expand in the mass market. Distribution includes Walgreens, Walmart, Rite Aid and Target.
OUR SIMPLICITY RUNS DEEP.
cotton seed into a rain-fed plant which in turn becomes a versatile, Earth-grown fiber that can go anywhere and do anything. For cotton, "simple" isn't a trend— it's what we've always been.
Learn more at cottonworks.com
AMERICA'S COTTON PRODUCERS AND IMPORTERS. Service Marks/ Trademarks of Cotton Incorporated. © 2023 Cotton Incorporated.
industry," said Logan Bilderback, vice president of marketing at Beauty Partners LLC, which markets Nailtopia among other brands. "What truly matters is how brands offer ingredient transparency to their consumers and whether the formulations undergo rigorous third-party toxicology reviews to ensure safety." The desire for clean has been accelerated along with greater attention to ingredients people are applying to their bodies, Bilderback added.
Allison Carey, vice president of marketing for Raw Sugar Living, an early entry in the clean segment, agreed that consumers are learning more about what ingredients are good or bad for them.
"Clean is still a broad term that can be defined and interpreted in many ways," Carey said. "Over the past 10-plus years consumers have become much savvier and more educated on ingredients and their benefits."
The current definition of clean beauty, according to Indursky, falls short and needs to evolve.
Without regulations, cleanwashing still exists, although a law passed late last year was a step in the right direction. APTO Skincare's Cross sees an opportunity to take education and transparency to the next level. "We firmly believe that beauty brands and experts should work hand-in-hand to empower consumers with the knowledge they need to make informed decisions." Technology, such as generative AI, will help, she added.
Ulta Beauty, Walmart, Target, Sephora, Walgreens and CVS are among the retailers that identify clean products in stores or online.
Walmart, for example, uses a Made Without List curated with the help of state and federal regulations. According to Creighton Kiper, vice president of beauty at Walmart, there are currently more than 1200 ingredients on the MWL, and more than 900 clean beauty products offered under its clean beauty initiative. "Nearly 80% are under $10," he said, an important point because clean is sometimes associated with being more expensive.
Is Clean Enough?

Looking ahead, brands will need to do more than remove certain ingredients, experts said.
Raw Sugar's positioning has hit the mark with retailers and is now in more than 2,000 doors at CVS and 4,000 at Walmart. The brand added to its
All CamWell botanical skin care products are vegan, gluten-free, cruelty-free, nut oil-free, BPA-free, paraben-free, harsh chemical-free and made in the USA.
body wash and liquid hand wash categories with a Grow Pro Shampoo and Conditioner. In kids, the brand rolled out Slime Goo, a slime-like body wash that turns bath time into playtime, she said.
Nailtopia, she added, is adapting to the new reality that clean is evolving beyond a simple label by providing verifiable information and embracing responsible, cruelty-free approaches to remain competitive and meet consumers' preferences.
APTO Skincare checks off all the boxes that retailers are looking for under the clean banner. No parabens, sulfates, phthalates, propylene glycol or synthetic fragrances that could be problematic are used. The company eliminated secondary packaging and switched from plastic to aluminum for bottles and post-consumer recycled materials for tubes.
Retailers have noticed an uptick in cases of sensitive skin. Unitech Medical's CamWell botanical skin care products are suited for sensitive skin but also for cancer patients, according to Grace Li, the company's CEO.
The company's portfolio includes evidencebased natural solutions. CamWell Hand to Heal and Herb to Soothe maximum strength creams are oncologist-formulated, clinically studied natural clean skin care designed to help cancer patients naturally manage skin side effects of cancer treatment. All CamWell botanical skin care products are vegan, gluten-free, crueltyfree, nut oil-free, BPA-free, paraben-free, harsh chemical-free and made in the USA, Li said. The range is well-suited for stores with pharmacies where many patients or their caregivers frequent for other medical needs. dsn
40 September 2023 DRUGSTORENEWS.COM INSIDE
NATURAL & CLEAN
The
Nailtopia, which has a new Disney collection, is the leading bio-source, eco-friendly nail care and color brand in the U.S., according to the company.
Cutting edge specialty offerings
Innovative offerings from a variety of players are available to help specialty retailers
The specialty medicine segment is having its moment. It now accounts for 51% of spending, up from 32% in 2012, driven by growth in immunology and oncology, according to the IQVIA Institute for Human Data Science's "The Use of Medicines in the U.S. 2023" report.
What's more, the specialty share of net spending across institutional and retail settings rose from 35% in 2013 to 51% in 2022, driven by innovation and the declining share for traditional medicines, as growth has slowed due to higher off-invoice discounts and rebates and patent expirations.
The report also noted that the largest proportion of new medicines launched in the past decade has been specialty drugs, and specialty spending per person has nearly doubled from $338 in 2013 to $662 in 2022, while traditional net medicine spending has declined by $16 per person over the same period.
The burgeoning specialty market has many retail players that are aiming to be successful in providing patients with these medications.
Here are some innovative offerings that are available to help specialty retailers:
Camber | Piscataway, N.J.
Camber has made a commitment to launching a deep pipeline of specialty products with dosage forms that include injectable, ophthalmic, infusion and oral solids. Camber's parent company, Hetero, can produce 90 million units of liquid injectables, 60 million units of lyophilized injectables and 20 million units of powder injectables per year. Camber Specialty will support the increasing demand for these products by providing hospitals, clinics, government facilities and other institutional partners with high-quality generic choices.
"Communication and transparency are at the core of Camber's commitment to partnership. Our strategic account management teams enhance collaboration and information flow with our partners. One of our most important goals is to mitigate risk for our customers," said Tom DeStefano, executive vice president of Camber Specialty. Oncology care remains at the heart of the organization's goals for future products. The company has a deep pipeline of products within the therapeutic oncology drug class. Hetero is a global supplier of critical care products, including those used for rare disease therapies. Our institutional partners will benefit from Camber's focus on bringing to market important generic injectable molecules.
The Compliance Team | Spring House, Pa.
Sandra Canally, founder and CEO of The Compliance Team, an accreditation organization, explained that pharmacies that provide specialty drugs and management of complex chronic conditions are bound to adhere to complicated protocols and must coordinate patient care with other healthcare professionals and entities to ensure safe, effective and optimal care.
"Care coordination and patient adherence is one of the most important sections in the specialty accreditation standards," Canally said.
To that end, the section includes a detailed list of adherence requirements for the development of a plan of care, communication with other healthcare professionals and data reporting.
PHARMACY: SPECIALTY REPORT 42 September 2023 DRUGSTORENEWS.COM
KNAPP is on a mission to transform pharmacy by automating virtually every aspect of prescription filling and pickup.
LESS COMPLEXITY
Automated putaway, DSCSA scanning, stock bottle management, and Will Call order packing enable low-touch, high-throughput dispensing — with no additional staff. Automatic indoor kiosks and 24/7 outdoor terminals facilitate low-touch "Fast Lane" pick up.
MORE TIME
1 Pharmacies can reduce operating costs while increasing revenue streams and freeing space for new services
2 Pharmacists and technicians can spend more time with patients and improve care outcomes
3 Patients can conveniently pick up prescriptions when, where and how they want
Making complexity simple
Demand less. Expect more. Rethink everything.
EnlivenHealth | Fort Worth, Texas
Matthew Feltman, senior director division sales at EnlivenHealth said that more than 60% of drugs in the FDA approval pipeline are specialty medications.
"In this rapidly changing landscape where specialty drugs are on the rise and reimbursement margins are declining, specialty pharmacies need more help than ever to meet growing demands," said Feltman.
To meet emerging needs efficiently, specialty pharmacies must integrate technology and automation into patient care processes to address inefficiencies in therapy eligibility, medication authorizations, adherence, patient assistance and other requirements, Feltman noted. "Patient engagement technology can automate these processes, reducing speed-to-therapy and operational costs while meeting consumer expectations for convenience," he said.
EnlivenHealth's Touchpoint Management suite is specifically designed for specialty pharmacies, enabling them to scale services without increasing headcount and enhancing bottom-line profitability.
"The technology allows specialty pharmacy teams to focus on high-touch clinical services, while also providing self-service options for patients who prefer it. Touchpoint Management improves adherence, ensures ongoing accreditation, enhances medication access and ultimately boosts revenue and net promoter scores," Feltman said.
KNAPP | Kennesaw, Ga.
Follett | Easton, Pa.
Patient care is our top concern, and Follett medical-grade refrigerators and freezers are engineered to provide the highest safeguards for storing your medications and vaccines. The new Infinity Series refrigerators feature a patented "infinite" variable speed control technology, which delivers only the precise amount of refrigeration needed at any given time for optimal temperature performance.
This new technology reduces noise and energy consumption without sacrificing the precise temperature uniformity, recovery and stability you need to protect the efficacy of your pharmaceuticals, vaccines and other valuable products requiring safe cold storage. Follett's tried and true industry exclusive back plenum air distribution system, which delivers cold air to each storage level, further ensures consistent and precise temperatures throughout the storage cabinet.
Follett Infinity Series refrigerators have been tested and certified to NSF/ANSI 456, the new voluntary standard developed by the NSF Joint Committee, which defines temperature performance attributes and testing protocols for safe vaccine storage. For added protection, the touchscreen user interface features a full suite of user-programmable alarms, and the refrigerator can be equipped with a network interface card allowing you to stream temperature data to the cloud via Wi-Fi for remote monitoring. In addition, the use of a natural hydrocarbon, low GWP refrigerant supports environmental sustainability initiatives.
Designed for long-term reliability and convenience, our new flexible storage system allows you to customize the configuration of your refrigerator to meet your changing needs. Choose from shelves, baskets, drawers or any combination of these interchangeable options that best meets your storage requirements.
Follett is committed to delivering high-performing refrigerators and freezers, distinctive in maintaining uncompromising performance and lasting peace of mind coupled with the outstanding service that health care expects.
"KNAPP Pharmacy Systems continues to expand benefits for our Specialty Pharmacy customers with our A-3000 KNAPP-Store TWIN," said Brian Sullivan, principal of pharmacy solutions, North America at KNAPP. Noting that this system provides the pharmacy with complete visualization of their inventory, both ambient and refrigerated, Sullivan explained that medications are automatically scanned for DSCSA and stored logically for automated FEFO dispense.
The pharmacy system is run by KNAPP's KiSoft One Pharmacy Execution Software, which provides proactive guidance from order intake through order sortation. Integral to the system are the predictive redPILOT labor management module as well as the most granular maintenance systems available with KiSoft CMMS & SCADA.
The end results, according to Sullivan, include a significant reduction in time for incoming medication put away, and picking and labeling medications; almost eliminating the time required for pharmacist verification; and a significant reduction in expired medications with higher order accuracy. dsn
PHARMACY: SPECIALTY REPORT 44 September 2023 DRUGSTORENEWS.COM
Infinite Control When Every Degree Counts
INTRODUCING THE NEW INFINITY SERIES™ WITH PRECISE, PATENTED TEMPERATURE CONTROL
Variable Speed Temperature Control
Patented infinite speed control technology delivers only the precise amount of refrigeration needed to reduce energy consumption without sacrificing performance.
Durable Design
Our cold storage solutions deliver uncompromising performance and lasting peace of mind over years and years of continuous use.
Flexible Storage
Interior cabinet space can be configured to your exact needs.
FOLLETTHEALTHCARE.COM
Goal Oriented
Consumers are looking for vitamin, mineral and supplement solutions that help them reach their weight and fitness goals.
By Kathie Canning
Back in May, the World Health Organization declared the end of the COVID-19 public health emergency. But that announcement had little impact on the self-care journey on which many consumers had begun during the height of the pandemic.
"Post-COVID, people are prioritizing their health and fitness more than ever," noted Suleen Mak, vice president, brand and strategy for Iovate Health Sciences, Oakville, Ontario (which offers the Six Star Pro Nutrition, Hydroxycut and other brands). "They are also trying to capture their pre-pandemic bodies as some aspect of post-COVID normalcy starts to emerge."
It should come as no surprise, then, that many of today's consumers are looking for solutions to help them reach their health and wellness goals. That reality is that there are opportunities for drug stores offering vitamins, minerals and supplements to support sports nutrition and weight management.
Going Beyond the Serious Athlete
The sports nutrition space is no longer reserved for Olympians and professional athletes. The category has expanded to embrace everyday consumers, Mak said.
"This widening drives the demand for convenience and flavor without compromise, and this trend will fuel the growth of functional food and beverages for years to come," she pointed out.
Kimberly Vigliante, senior vice president, sales and marketing for Ronkonkoma, N.Y.-based Piping Rock Health Products, noted that the category also is seeing an increase of sports enthusiasts. "People are more focused and seeking greater control over their own unique supplement regimens, with a desire to be able to customize them on their own," she said.
A noteworthy driver within the category, Mak noted, is the aging of the millennial generation. These consumers want holistic solutions that offer benefits tied to mental and physical performance, as well as anti-aging, vitality and more.
The sports nutrition category certainly is in tune with these trends. Today's assortment includes products that support strength and vitality, low-/no-caffeine supplements that promote focus and concentration and electrolyte hydration solutions, said Marie A. Spano, MS, RD, CSCS, CSSD—sports performance nutritionist for Kings Mountain, N.C.headquartered Dymatize Enterprises.
On the hydration side, El Segundo, Calif.-based Liquid I.V. recently
launched Liquid I.V. Hydration Multiplier SugarFree. According to Marc Adler, director of sales, drug, the non-GMO product features a proprietary amino acid/allulose blend that hydrates more effectively than water alone. It has no sugar and no artificial sweeteners and comes in Lemon Lime, White Peach and Green Grape flavors.
"One serving stick has three times the electrolytes of the leading sports drink with eight vitamins and nutrients for faster hydration," Adler explained. A kids' line also is available, he noted, with 50% less sugar than other sports drinks. It comes in Tropical Punch, Grape, Cotton Candy and Apple varieties for ages 12 months and up. And
HEALTH: VITAMINS, MINERALS AND SUPPLEMENTS 46 September 2023 DRUGSTORENEWS.COM
Goli Nutrition introduced Beets Cardio Gummies to help support cardiovascular health.
NaturesTruth.com | 1-844-544-1030 Br gh Br **Source: Nielsen L13W xAOC ending 5/20/2023. | *Compared to Magnesium Oxide. ©2023 Nature's Truth LLC
Piping Rock's Nature's Truth brand recently introduced a family of Electrolyte Hydration† supplements in formats that include gummies, chewables and easy-to-mix powders with a "clean and refreshing flavor," Vigliante said. Unflavored Electrolyte Hydration† tablets are available, too, for those who prefer the ease of swallowing a tablet.
These types of products, as well as readyto-drink options, mesh with consumer demand for non-lifestyle-disrupting products in today's fast-paced environment, Spano noted. "Consumers are on the go and expect products to fit their needs and demands— products that are portable, shelf-stable and fast," she said.
Within the convenient gummy space, West Hollywood, Calif.-based Goli Nutrition recently debuted Beets Cardio Gummies. Made with CoQ10 to help support cardiovascular health—certainly in line with sports nutrition goals—they also contain Vitamin B12 to support heart-healthy cellular energy and beet root extract, one of nature's superfoods.
Michael Vercelletto, chief marketing officer, calls the gummies, along with the newly launched Goli 3-in-1 Pre+Post+Probiotics gummies, "the biggest successes" for the company since its 2021 Goli Ashwa (Ashwaghanda) gummies introduction.
Vigliante noted that sports enthusiasts really are embracing beetroot supplements.
"The superfood naturally rich in antioxidants is outpacing the vitamin category by 20 times and the herbal supplement segment by more than 10 times," she said.
Despite the popularity of gummies and other convenient formats, consumers still value options, noted Ambi Kanthasamy, associate director for Six Star Pro Nutrition, New York.
"At Six Star, we recognize the importance of catering to diverse preferences," he said. "That's why we offer a wide range of formats, including capsules, tablets, powders and, eventually, ready-to-drink options. By providing such variety, we empower individuals to choose the format that best aligns with their personal preferences and lifestyle."
New from Six Star Pro Nutrition, in partnership with Kellogg's, is 100% Whey Protein Plus inspired by Kellogg's First Flakes and Froot Loops cereals.
High-quality ingredients are critical, too. On the protein front, Spano noted that the Dymatize ISO100 whey protein isolate fits the bill here, helping to drive performance and post-performance muscle recovery. It is available in several flavors.
Six Star's sports nutrition offerings, meanwhile, contain ingredients that are backed by scientific research, Kanthasamy said. "This commitment to efficacy gives our consumers confidence that they are making progress towards their health, fitness and athletic goals."
One of the brand's most recent innovations is its Pre-Workout Explosion 2.0, Kanthasamy added. Designed to help consumers take their workouts "to the next level," the pre-workout formula boasts energy-, focus- and endurance-boosting ingredients, including beta-alanine, L-Citrulline and electrolytes per two scoops. Also new from Six Star, in partnership with Kellogg's, is 100% Whey Protein Plus inspired by the cereal brand's First Flakes and Froot Loops cereals. "It's a delightful fusion of nutritious whey protein and the nostalgic taste of your favorite breakfast cereals," Kanthasamy explained.
Functional Ingredients Gain Traction
Despite the high interest in fitness and sports nutrition, more than 70% of the U.S. population is overweight or obese, noted Jonathan Clinthorne, Ph.D., director of nutrition for Denver-based Simply Good Foods Co., which owns the Atkins and Quest brands. It makes sense, therefore, that many consumers are looking for weight management solutions.
Post-COVID, people are also attending more events, engaging in more travel and even celebrating the return of the "wedding season" concept, Mak added.
HEALTH: VITAMINS,
AND SUPPLEMENTS 48 September 2023 DRUGSTORENEWS.COM
MINERALS
"Consumers are on the go and expect products to fit their needs and demands—products that are portable, shelf-stable and fast."
— Marie A. Spano, sports performance nutritionist, Dymatize Enterprises
REACHES YOUR TARGET MARKET Drug Store News Connect With Your Customers 17,906 Social Followers 35,000 Circulation 211 Avg Webinar Registrants 102,504 Avg Monthly Website Users 77,243 Unique e-newsletter recipients 212,515 Audience Visit www.drugstorenews.com for more information
So many of them have even more reasons to commit to weight loss/weight management programs than they did a couple of years ago.
"The fact that key weight-loss drugs have become water cooler conversation has helped the entire category," she pointed out, "as the topic is weaving its way into the fabric of everyday life and not hidden behind a veil of self-doubt beyond closed doors."
As they do within the sports nutrition space, consumers want weight management solutions that fit their busy lifestyle, driving growth in formats such as on-the-go drink sachets, daily wellness drinks and meal replacements, Mak noted. And, of course, they want these solutions and others to be science-backed.
Convenient functional beverages have been of particular consumer interest, Clinthorne pointed out. The trend is evident with the growth of energy drinks, especially those offering functional ingredients.
"These functional ingredients include things like caffeine, polyphenols from green tea and other vitamins or minerals associated with metabolism," he explained.
Speaking of metabolism boosters, Nature's Bounty, a brand of Bridgewater, N.J.-based Nestlé Health Science, recently unveiled its Metabolism Booster supplement. Featuring a clinically studied blend of citrus extracts, it is said to boost fat metabolism and reduce waist circumference. Black ginger extract, meanwhile, helps promote abdominal fat loss and support a healthy metabolism.
On-trend flavors boast appeal, too. Iovate's Hydroxycut brand flavored up the category this past August with the introduction of mocktailflavored nootopic Ultra Shred Drink Sticks for energy and weight loss. Available in Tangerine Mimosa and Lime Mojita flavors, they are part of the new Hydroxycut Hardcore lineup and are designed "to meet the growing needs of younger consumers who want alternatives to alcoholic beverages," Mak said.
Simply Good Foods also is seeing protein as a "big driver" within the weight management space, Clinthorne added. Driving interest here is increasing recognition that weight loss without adequate dietary protein leads to increased loss of muscle mass, as well as a higher risk for weight regain.
Nature's Bounty recently unveiled its Metabolism Booster supplement. It features a clinically studied blend of citrus extracts to boost fat metabolism and reduce waist circumference, as well as black ginger extract to promote abdominal fat loss and support a healthy metabolism.
To help weight-conscious consumers on the protein front, Simply Good Foods just launched the Atkins Creamy Root Beer Float with 15 grams of protein, 5 grams of fiber and only 1 gram of sugar, he noted.
Think Beyond the Right Product Mix
Armed with the right selection of vitamins, minerals and supplements, drug stores will be wellpositioned to meet consumers' sports nutrition and weight management needs. To get the most out of growth opportunities here, however, they will need to position those solutions "in modern and approachable ways" on the social and digital platforms where consumers—particularly the growth-driving millennial and Gen X consumers— spend the most time, Mak said.
Drug stores also should understand that supplement taste and flavor have become more important to consumers and factor that reality into their product assortment.
"They want products that are not only effective, but also enjoyable to consume," Kanthasamy stressed.
Ensuring efficacy across the assortment is critical, too. Products that don't deliver could hurt category sales overall, Spano suggested.
"When consumers try something that does not work, they may be reluctant to try a similarlooking yet better-quality product," Spano noted. On the weight management side, drug stores also should pay attention to the recent influx of effective new pharmaceuticals within the space, Clinthorne advised.
"Currently, it's unclear as to whether these drugs will impact the [over-the-counter] weight loss and nutrition category, but it will be important to watch how this develops," he said. dsn
HEALTH: VITAMINS, MINERALS AND SUPPLEMENTS 50 September 2023 DRUGSTORENEWS.COM
Ultra Shred Drink Sticks, in mocktail-inspired flavors, are part of the new Hydroxycut Hardcore weight loss supplement lineup.
CHECK
OUT OUR TOP WOMEN 2023 AGENDA
Tuesday, Nov 14th
•Networking Reception, Winners, Guests & Sponsors
•It's (NOT) A Man's World: What I learned from Female Managers & How Men can Advocate for Women's Empowerment in the Workplace
•Top Women Awards
Wednesday, Nov 15th
•Keynote: Resilience with Dr. G Resilience Expert, Author and Consultant, Dr. Deb Gilboa, will share her insights on how to identify the mindset and strategies to turn stress to an advantage.
•Youth Is Served: The Future of Health, Wellness & Beauty
Retailer & Supplier Next-Gens discuss their aspirations, what they're passionate about and how to recruit more talent to the industry.
•Step Up & Rise
The WE Group discusses the power of community and how to harness collective strength in order to build confidence for the next step in your career.
•Hard Conversations
Retailers and suppliers provide insights and practical examples of negotiating deals and your career, the best way to deliver and receive bad news, telling the truth—even when it hurts—and how to prepare, react and move forward.
•Get Media Ready!
Learn how to stand out from the crowd, enhance credentials, build your brand, and interact with the media on behalf or your company and yourself
CONTACT JOHN KENLON FOR MORE INFORMATION: Join us in Chicago to celebrate the honorees! Visit Our Website for More Information, www.dsntopwomen.com THE SHERATON GRAND CHICAGO RIVERWALK Agenda is subject to change
A Return to Nature
Many consumers are putting their purchasing power into natural remedies
By Patrick Williams
When searching drug store shelves for solutions to improve their health and prevent disease, many people are opting for natural products.
In 2017, researchers from the University of Minnesota and Chapman University published a study in the Journal of Patient Experience, stating that more than one third of U.S. respondents reported using herbal supplements. Consumers tended to be older than 70, with a higher than high school education and with diseases such as stroke, cancer and arthritis.
The natural products space also includes homeopathic products. Homeopathy is a medical system that subscribes to the belief that the body can heal itself. It also believes products that would cause symptoms in large quantities can be used as treatments in much lower, diluted doses.
In 2018, the journal Homeopathy published a study (by researchers from Massachusetts General Hospital and Beth Israel Deaconess Medical Center) concluding that more than
2% of the U.S. population used homeopathy, "predominantly for respiratory, otorhinolaryngology and musculoskeletal complaints."
While consumers may vie for specific natural products for individual reasons, Nathan Jones, founder and owner of Xlear, a manufacturer of xylitol-based natural hygiene products, said he believes one broad trend is that some consumers have lost confidence in the pharmaceutical industry. "I think people are looking and trying to find non-pharmaceutical ways to help them stay healthy, and even when they're sick, to help them get better," Jones said.
Of U.S. respondents to a 2021 Deloitte study, 50% disagreed or strongly disagreed with the statement, "I trust pharmaceutical drug companies." Study members said their reasons for distrust were companies' profit motives and high medicine prices.
"Consumers are increasingly interested in natural options in more and more healthcare areas, so we've seen growth across most of the categories we play in now," said Annie
HEALTH: HOMEOPATHY 52 September 2023 DRUGSTORENEWS.COM
"Today's consumer accepts homeopathic options because they use natural active ingredients and consumers are seeking those natural alternatives."
– Annie Chen, VP, marketing, Hyland's Naturals
Natural Eyes THE RELIEF PRODUCTS ® Stay Healthy, Naturally. ® Get Relief for Your Patients at: info@trpcompany.com or Call: 888-969-6855 Available at: FDA Disclaimer: Claims based on traditional homeopathic practice, not accepted medical evidence. Not FDA evaluated. ª New Name, Same Natural Ingredients.
Chen, VP, marketing at Hyland's Naturals, a maker of homeopathic products and dietary supplements.
Homeopathy in the Home
Hyland's Naturals has been going strong for the past 120 years. The company sells products for immune health, headache, pain relief, cold and cough, and more.
The largest recent change to the homeopathic category has been that consumers have increased their use and familiarity with the products, Chen said.
"Today's consumer accepts homeopathic options because they use natural active ingredients and consumers are seeking those natural alternatives," Chen said. "We are proud to offer a wide range of options in this area for consumers, and our product offerings make it easy for families to switch to homeopathic options."
Mothers comprise a top demographic that purchases Hyland's homeopathic products, Chen said, adding that "we've seen the most growth in products for babies and kids as many moms prefer to use natural alternatives for their children."
Some of the reasons consumers like and purchase Hyland's Naturals products are because they are clean, gentle, natural and manufactured in the U.S., Chen said. The company's homeopathic products contain active ingredients in low-dose designations that have been outlined by the Homeopathic Pharmacopoeia of the United States.
Hyland's Naturals ensures products are free of harsh
A Primer on Homeopathic Dilutions
Plants, minerals and animals can all be used as a basis for homeopathic remedies, according to the Mount Sinai Health System, which states on its website: "These substances are first crushed and dissolved in a liquid, usually grain, alcohol, or lactose, mechanically shaken, then stored. This is the 'mother tincture.'" Using alcohol or lactose, a homeopath will dilute a tincture by 1 part to 10 and write it as "x" or dilute it to 1 part to 100 and write it as "c," the health system further explains. When a tincture is shaken, its dilution becomes 1x or 1c. If a homeopath dilutes a 1x tincture two or three times, it becomes 2x or 3x and so on, and if they dilute a 1c tincture two or three times, it becomes 2c or 3c, and so on.
chemicals, which Chen said is especially important among products for babies. In addition, the products do not contain petroleum, parabens, phthalates or synthetic fragrances.
Over the past few years, Hyland's expanded its products beyond homeopathy into the dietary supplement and skin care categories.
"From an initial offering of four gummy supplements, we have since expanded our pediatric line with organic supplement offerings supporting cough and sleep, and launched a gentle baby skin care line," Chen said, noting that the skin care line uses organic-certified ingredients when possible, meets the highest clinical testing standards for dermatologically tested products, and is safe for sensitive skin.
Uses of a Sugar Substitute
Xlear's xylitol-based natural hygiene products, including nasal sprays, dental products and sugar substitutes. When the company conducted a demographic study in 2019, Jones said, consumers were about equally split between men and women. Many consumers skewed older, he said, though consumers were purchasing for children and grandchildren. Consumers are gravitating toward natural products for symptom prevention as opposed to curative care, Jones said. "I think that the trend in the market is people doing stuff to stay healthy rather than waiting until after they get sick, and that's where hygiene products shine."
In 1998, Jones' father, physician Dr. Lon Jones, created a nasal spray with xylitol—a natural sugar alcohol—to block the adhesion of bacteria in babies' nasal passageways and to prevent ear infections. Research supports xylitol's link with reduced ear infections. In one 2016 review, scientists from the University of Toronto and Cochrane Acute Respiratory Infections Group wrote that children who took xylitol had a reduced risk of middle ear infections from 30% to around 22%.
In Xlear's Spry Dental Defense product line, offerings include toothpaste, mouth wash, gum and mints.
"The big body of science with xylitol, originally, was in oral care, tooth decay," Jones said. "Those studies were coming out in the late '60s." He also pointed to more recent studies in which researchers from the University of Washington and the University of Michigan discovered that xylitol could reduce and reverse tooth decay.
On the dietary front, Xlear offers its line of XyloSweet sugar substitute products. XyloSweet has a glycemic index of seven, compared with a glycemic index of 65 for most table sugar, according to Xlear's website. XyloSweet also has 40% fewer calories than sugar, per the site.
"Xylitol looks like sugar, tastes like sugar, you can use it oneto-one like sugar, it's granulated like sugar," Jones said. "It just doesn't feed any of the pathogenic bacteria that cause oral disease or respiratory disease."
"We've known about how effective washing your hands is," Jones said. "We've known about how effective brushing our teeth is, using good oral hygiene, supporting oral hygiene products and nasal hygiene products that actually support a healthy oral and nasal microbiome."
HEALTH: HOMEOPATHY 54 September 2023 DRUGSTORENEWS.COM
in Pain & Arthritis Relief
From Arnicare®, a trusted name in pain relief, comes a breakthrough in arthritis care. Arnicare Arthritis Cream is one of the first and only topicals to combine Arnica and Harpagophytum (devil's claw), providing dual action relief for minor joint pain and muscle stiffness.*
Powered by plants
Available now Dual action pain relief
NEW © 2 0 2 3
HOMEOPATH IC ARNICA
PAIN B
* M H M H M
From the maker of Oscillococcinum®
•
•
RAND
"The gut microbiome—a lot of people are talking about that now—but the gateway microbiomes are actually your mouth and your nose, and that's going to affect your gut microbiome."
Soothing Cough and Throat Irritation
Lifelab Health sells products in multiple categories, such as digestive health, cold and cough. All of the business' SKUs are either pure organic or contain natural ingredients, said Louis Machin, managing director.
Some of the business's most popular products are in its HoneyWorks cough and cold line, Machin said. HoneyWorks syrup and throat sprays contain 100% U.S.-sourced, USDA Certified Organic dark honey from wildflowers.
Machin highlighted that a bestseller is the HoneyWorks Organic Soothing Throat Spray Plus Zinc, a metered-dose spray for ages 12 and up. It's not only soothing but safe, he said, adding that with some other sore throat sprays on the market, customers are advised to spit them out.
"The bottom line is, ours, you should swallow it," Machin said. "It's good for you, and it soothes you, and it's got organic ingredients that are beneficial."
As far as demographics purchasing these products, Machin said it runs the gamut. "If you have a sore throat, you can use the spray," he said. "So, if you're in the boys' choir, you want that spray. If you're an adult singer, you want that spray. If you're talking all day as a teacher, that kind of job, you want that spray."
HoneyWorks currently has three other honey products, all for children and containing zinc: a throat spray, a daytime syrup with ivy leaf extract and a nighttime syrup with melatonin. In the first quarter of 2024, Lifelab Health will introduce the HoneyWorks Plus line, which includes daytime and nighttime cough syrups for adults and children, Machin said. The syrups are made with dark honey, other natural ingredients and the active ingredient dextromethorphan, with the nighttime syrups also containing doxylamine succinate.
Machin said he anticipates HoneyWorks to capture a sizable portion of market share in the adult cough syrup space, adding that "when we launch the HoneyWorks Plus, it's going to give consumers an alternative to taking a product that's loaded with chemicals and artificial ingredients." dsn

PRODUCT PICKS
Hyland's Naturals Kids Sleep Calm & Immunity Gummies
Multi-benefit gummies are formulated for kids to promote sleep and calm, while supporting immune health. Hyland's Naturals is giving kids sleep options with a low-dose melatonin formula and a USDA Organic formula with a soothing botanical blend. The mixedberry flavored, vegan gummies are free of nine allergens, gelatin, synthetic dyes and artificial flavors.
Xlear Saline Nasal Spray
Xlear's secret is the natural saline spray containing xylitol, an ingredient that cleanses and moisturizes. Normal saline nasal sprays can dry out the nasal passage, leaving it more irritated and susceptible to external contaminants. But with the addition of xylitol, Xlear Saline Nasal Spray will moisturize and soothe sinus and nasal passages, the company said. Plus, the formula alleviates congestion while preventing bacteria and other pollutants from sticking to nasal tissues.
Lifelab Health HoneyWorks
HoneyWorks is the first 100% U.S.-sourced USDA organic option available in the Kid's cough/cold category, the brand claims. Lifelab also said the metered-dose pump sprays are the only "honey on the go" options available in the market today.
HEALTH: HOMEOPATHY 56 September 2023 DRUGSTORENEWS.COM
SEE YOUR PRODUCTS ON MORE STORE SHELVES
ONE-ON-ONE MEETINGS BETWEEN BUYERS AND SELLERS
We prioritize personalized face-to-face interactions, creating an environment free from distractions to drive deeper connections—helping get your products on more store shelves.
Why Attend ECRM Sessions
• Guaranteed one-on-one meetings
• Connect with influential buyers and sellers



• Experience products in person
Scan the QR code and learn more about the most anticipated in-person sessions of 2023 and 2024!
Circular Argument for Marketing
Retailer decisions to pull back on print circulars are complex because they impact ingrained customer habits
By David Orgel
Kroger's switch in marketing strategy attracted a lot of attention earlier this year. The grocery retailer said it was discontinuing the use of print weekly ad circulars in newspapers in certain markets. Its focus would instead be on digital ads, while print copies of circulars would still be available in stores.
This development was widely reported in the press and created a buzz on social media. You might ask why this print pullback would be considered such big news. Kroger certainly isn't the first grocery chain to have made this kind of move, and some drug store chains have already done so.
The answer is that Kroger's huge footprint guarantees a lot of customers will be impacted, and it provides further evidence that print is eroding as a retail marketing tool. Kroger said it considered customers' changing media consumption habits, the contribution to sales from the printed circular, and the impact of distribution costs.
Data Spotlights Print Circular Usage
Recent industry research from FMI found that about three quarters of food retailers made use of print circulars last year, and those finding them very effective fell from 55% in 2021 to 38% in 2022. Digital circulars, meanwhile, were used by 89% of food retailers last year with 36% saying they were very effective.
Dennis Host, senior vice president, marketing and communications for food retailer Coborn's, told me the most effective retailer digital efforts leverages personalization based on shopper data.
Two Perspectives on This Issue
Those supporting a transition from print to digital circulars point to enhanced customer experiences, less paper and ink waste and better returns for retailers. Others contend, however, that eliminating access to print ads and coupons
David Orgel is an award-winning business journalist, industry expert and speaker. He is the principal of David Orgel Consulting.
Recent industry research from FMI—The Food Industry Association— found that about three quarters of food retailers made use of print circulars last year, and those finding them very effective fell from 55% in 2021 to 38% in 2022
would be unfair to customers who lack digital skills or don't own digital devices.
Giant Eagle Adjusts its Circular Decision
The recent case of another retailer, Giant Eagle, shows how complex it can be to shift marketing in ways that impacts customer habits. The retailer had decided to stop distributing weekly ads in the mail and via local newspapers in markets that include Pittsburgh and Cleveland. However, the retailer adjusted course after just a couple of months by introducing a new print circular to be mailed to shoppers. This circular is just two pages\ and includes a QR code that takes shoppers to a more expansive list of deals on the retailer's website.
The "Messy Middle"
Coborn's Host says his retail operation is still "in the messy middle" on the print versus digital issue. "We still believe there is a place for print but have surgically cut print distribution over the last year," he said. Meanwhile, Coborn's has launched a "dynamic digital circular" on its mobile app that enables the company to embed videos and recipe content to modernize the experience.
Letting the Market Decide
Decisions on marketing vehicles need to be based on the unique strategies and customer bases of each retailer. These choices are about far more than print or not print. The same FMI research, from its 2023 Food Retail Industry Speaks, tracks nearly 20 different marketing platforms being used by food retailers, from social media to TV/radio to in-store. Clearly, retail marketers have a lot of tools to leverage as they analyze the changing landscape. Some are taking a middle ground on print circulars by reducing their availability but not completely eliminating them at this stage. That helps to avoid losing the engagement of a portion of the customer base as new strategies are put in place. dsn
LAST WORD 58 September 2023 DRUGSTORENEWS.COM
Save money. Live better.