Is AI promising?
Garden Connect explores the difference AI can make for garden centres
September 2023 Issue 70
TECHNOLOGY SPECIAL
Investing in EPoS Gates Garden Centres talks through the benefits of system upgrades
Deciding to go digital SignageLive on getting your signage correct using digital means
'Smart' purchases Exciting connected smart products for sale in garden centres





The UK's National Pet Industry Event TELFORD INTERNATIONAL CENTRE 1-2 October 2023 To register for FREE entry visit www.patshow.co.uk PATS largest show with over 250 exhibitors • FREE entry & parking • FREE show catalogue • 100's of new launches • Thousands of products
Welcome
Firstly, thank you for all your kind words following my return to Garden Centre Retail. It's been great immersing myself in the market again, and wonderful to hear from so many of you. There's lots going on in this sector and I couldn't be more excited as I get stuck into it again.
Now, welcome to the September issue of Garden Centre Retail. This is a unique edition where our focus shifts to technology within garden centres.
We're all increasingly relying on technology in our everyday lives, whether that's our mobile phones acting as a computer in a pocket, or our smart speakers and TVs to keep us informed, entertained and in control of our needs, wants and desires.
And technology is being used increasingly in retail. It's helping stores get a better grip on their customer base, buyers understand what's needed to fill shelves, and customers to make more informed choices when buying.
A lot of these technological enhancements are making lives easier, and now it's time to embrace these innovations to make our livelihoods better –more efficient, less time-consuming and generally more organised.
Many garden centres have adopted EPoS systems, but what is the next step in retail technology? Well, we've got a fantastic article from digital signage experts SignageLive (p. 21), a full round up on trends in this specific sector (p.30) and we've also got smart products covered – products that are part of the Internet of Things, constantly connected, adjustable by an app on a smart phone.
Next issue is also a special one, and it's one on a subject that means a lot to me and the rest of the Garden Centre Retail team – sustainability. We'd love to hear from you with regards to what you're doing to become more sustainable as a business, and how you're conveying that to your customers. As always, please do get in contact if you'd like to have your say.
Joe Wilkinson
Joe Wilkinson Head of content
Eljays44 Ltd
3 Churchill Court, 112 The Street, Rustington, West Sussex, BN16 3DA
EDITORIAL
Head of content – Joe Wilkinson joe.wilkinson@eljays44.com
Tel: 01903 777 587
Senior subeditor – Katrina Roy katrina.roy@eljays44.com
Tel: 01903 777 570
Subeditor – Sam Seaton sam.seaton@eljays44.com
Tel: 01903 777 570
Senior designer – Kirsty Turek kirsty.turek@eljays44.com
Tel: 01903 777 577
ADVERTISING
Portfolio director – Luke Page luke.page@eljays44.com
Tel: 01903 777 580
Sales director – Rob Dwyer rob.dwyer@eljays44.com
Tel: 01903 777 573
MANAGEMENT
Managing director – Jamie Wilkinson Chairman – Jim Wilkinson
CIRCULATION
Subscription enquiries – Tyler Gould tyler.gould@eljays44.com
Tel: 01903 959 390
Printed by Stephens and George Ltd
Published by ©Eljays44 Ltd
Garden Centre Retail is published by Eljays44 Ltd.
The 2023 subscription price is £125. Subscription records are maintained at Eljays44 Ltd, 3 Churchill Court, 112 The Street, Rustington, West Sussex BN16 3DA. Articles and information contained in this publication are the copyright of Eljays44 Ltd and may not be reproduced in any form without the written permission of the publishers. The publishers cannot accept responsibility for loss of, or damage to, non-commissioned photographs or manuscripts.
Whilst every effort has been made to maintain the integrity of our advertisers, we accept no responsibility for any problem, complaints, or subsequent litigation arising from readers' responses to advertisements in the magazine. We also wish to emphasise that views expressed by editorial contributors are not necessarily those of the publishers. Reproduction of any part of this magazine is strictly forbidden.
3 Garden Centre Retail September 2023 gardencentreretail.com Welcome
WE'RE ALL INCREASINGLY RELYING ON TECHNOLOGY IN OUR EVERYDAY LIVES
News
A round-up of the latest industry news
Sustainable steps forward Peter Burks of the GCA shares sustainable trends in the sector
12
Gardening has got even greener GIMA members turn to tech for more effective solutions
14 17 21 24 27 30 34
Why technology is the key Andrew Burton on tech boosting garden centres
Gates Garden Centre on EPoS systems
Sarah Crawford highlights the system enhancements
How to boost business with digital signage
SignageLive boosts ROI with cloud signage
The opportunities of AI
Garden Connect reveals AI perks for centres
Seven ways technology is being utilised in retail GCR explores innovative retail tech integration
The tech trends shaping the future of garden retail Exploring tech's impact on the sector
Urban gardening
Lisa McCormack of Battersea Flower Station on a rising trend
Smart products
A round-up of tech-forward products available to the market
Hand tools
What's what in the hand tools sector?
5 Garden Centre Retail September 2023 gardencentreretail.com Contents
Contents
News
First new rapid EV charging sites open at British Garden Centres' stores
British Garden Centres has partnered with Osprey Charging, one of the UK's largest and leading electric vehicle (EV) charging networks, to increase access to public charging at its stores, supporting residents, businesses and visitors with reliable EV infrastructure.
The UK's largest family-run garden centre group has recently installed three high-powered EV chargers at both Newton Regis Garden Centre in Tamworth and Wolseley Bridge Garden Centre in Stafford.
Situated in both stores' car parks, the chargers are an ideal place to charge while browsing the store or using BGC's Gardener's Retreat Restaurant.
Amy Stubbs, project and development manager at British Garden Centres, says: "The
new rapid EV chargers at our stores will allow our growing number of EV-driving customers to charge their vehicles at a time and location that is convenient for them, whilst shopping or enjoying a meal at our Gardener's Retreat Restaurant. We're delighted to be providing this service for our customers whilst helping support the transition to EVs across the UK."
These two sites are the first locations following the announcement last year that Osprey would provide rapid EV charging at 12 British Garden Centres locations which are Carmarthen, Wimborne, Osterley, Harrow, Braintree, Wolseley Bridge, Albrighton, Carr Gate, Newton Regis, Gillberdyke, Towneley and Brigg. britishgardencentres.com
Squire's electrifies its footprint
Squire's Garden Centres has introduced electric delivery vehicles to its fleet.
The move sees Squire's get three electric vehicles, with these based at the Twickenham, Stanmore and Long Ditton centres. Complete with redesigned livery, the new vans provide a zero emission home delivery service. This aims to reassure customers that they are shopping in a more sustainable way. Three further EVs are planned to join the fleet during 2024.
The new vehicles are designed for use in urban locations, suited to 'stop-start driving' conditions. They will be used by centres included in or close to the expanded ULEZ scheme and in the high volume traffic zones.
Blue Diamond to build brand-new centre in Alnwick, Northumberland
Plans to open a new £13m garden centre in Alnwick could create 150 full and part-time jobs.
Northumberland Estates has revealed plans to build an 8,130sqm store. There will be 618 parking spaces on land at Cawledge, to the east of the A1. Local residents and future customers are being invited to have their say ahead of a formal planning application.
If approved, Blue Diamond – which runs 44 garden centres throughout the UK and the Channel Islands –would operate the site. It is claimed that it will "further enhance Alnwick's reputation as a destination for retail, leisure, food and hospitality."
Colin Barnes, the director of planning and development for Northumberland Estates, says:
"Our ambition is to have the best garden centre in the North East based here in Alnwick. We are delighted that Blue Diamond has selected the town. We look forward to working with them to deliver the development which will bring a range of benefits to the town." bluediamond.gg
News 6 Garden Centre Retail September 2023 gardencentreretail.com
Sarah Squire, chairman of Squire's Garden Centres, comments: "My grandfather, D.J.Squire introduced the first vehicles to a very young business in 1930s.
"Who could have imagined 87 years later, we would be making deliveries using electricity?
"Our new electric delivery vehicles illustrate how the business has adapted to new challenges and how we continue to evolve.
"The introduction of our electric vehicles is the latest initiative to help us be a cleaner, 'greener' business.
"We continue to look at ways we can be more sustainable in many areas across the business. Our move to start introducing e-vehicles is the latest initiative. Using e-vehicles within our centre network and for home deliveries will make a significant contribution to reducing our carbon footprint, as well as saving fuel costs across the business." squiresgardencentres.co.uk
Aylett Nurseries invests £180k in solar power to aid growth
Aylett Nurseries is investing in driving sustainability with £180,000 support from Lloyds Bank.
Aylett Nurseries, based south of St Albans, used the funding to invest in 455 new solar panels for its site. This will provide renewable energy for 30% of its annual electricity consumption.
The new solar panels also follow previous investments in electric vehicle chargers for customers and LED lighting throughout its centre. It aims to set an example for protecting the environment.
Aylett, which was founded in 1955, has previously introduced advanced computercontrolled greenhouse systems to ensure that heat and energy use is optimised throughout the growing process.
Adam Wigglesworth, director at Aylett Nurseries, says: "Forward-thinking is at the heart of how our business operates. The investment in the new solar panels is a prime example of that.
"We know our customers are engaged with the environment, given they're keen gardeners, and we want to do all we can to make a difference.
"Becoming more sustainable is crucial to our growth, as well as being the right thing to do. In time, we'll save money on our energy bills which we can re-invest elsewhere in the centre, helping to improve the customer experience and the range of what we can offer.
"The future looks bright and the support from Lloyds Bank is putting us in a position to flourish."
aylettnurseries.co.uk
Comprehensive plant database launched by Garden Connect
Garden centres, growers, and trade nurseries can now access an extensive plant database filled with over 300,000 photos of 75,000 different plant species through Garden Connect. This provides detailed descriptions and over 25 characteristics per plant species. Ideal for webshops, stores, brochures, and marketing.
Professional photos are crucial for selling plants but can be difficult to create and
expensive to purchase. With Garden Connect's solution, users have unlimited access to the full database for a fixed annual fee. This enables all businesses in the garden industry to showcase a comprehensive and high-quality assortment.
Thanks to the user-friendly system allowing access to our plant data and photos, users can easily download the plant data through the dedicated portal. Furthermore, the information is accessible through an API, allowing direct
integration with other systems, such as webshops, ERP, or PIM systems.
Retailers and growers can also utilise the plant data for in-store signage. With the wizard in the Garden Connect platform, personal price and information signs can easily be created. By using photos and plant properties, professional signs for the store can be generated in no time.
gardenconnect.com
News 7 Garden Centre Retail September 2023 gardencentreretail.com
A UNIQUE PRODUCT FOR ALL GARDEN AND DOG LOVERS
is a 100% natural solution to urine
patches on
caused by pet
urine. The Peterals solution consists of
natural minerals to purify
drinking water and reduce levels of ammonia and nitrates in the dog's urine, which in
helps prevent grass burn. Simple and very effective, a winning formula. 36,000 units sold in 2 years UK stock ready 100% Natural Guarantee Visible results possible in 4-6 weeks Trusted by thousands of dog lovers www.peterals.com E-mail: matthew@peterals.com Tel: 020 8798 0665 1 2 3 4 5 Fromthis... ...tothis!
Peterals
burn
grass
dogs'
completely
pets
turn
Sustainable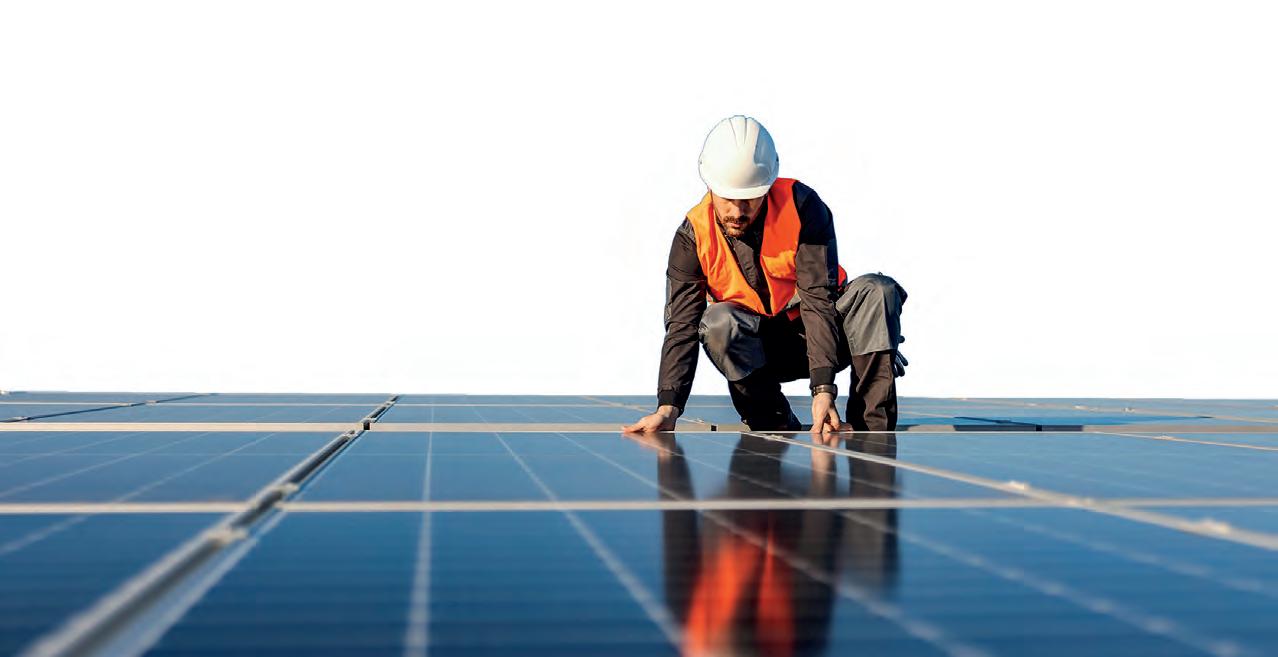 steps forward
PETER BURKS, CHIEF EXECUTIVE AT THE GCA, SHARES SUSTAINABLE TRENDS AND EXPLORES CHANGES UK GARDEN CENTRES ARE MAKING
The more forward-thinking garden centres have undergone significant technological advancements in recent years, revolutionising the way they operate and enhancing the overall customer experience. One commonly seen technology in garden centres is the use of automated systems for watering the right amount at appropriate times, eliminating the need for manual watering and reducing water waste. These systems can be programmed to adjust watering schedules based on weather conditions and plant requirements.
DIGITAL SIGNAGE AND INTERACTIVE DISPLAYS HAVE BECOME INCREASINGLY COMMON IN GARDEN CENTRES
Another area where automation has made significant strides is in inventory management. Garden centre chains can use data from their EPOS systems to determine which products are making the most profit and then optimum stock facings and placement. Furthermore, digital signage and interactive displays have become increasingly common in garden centres. These displays provide valuable information to
customers, such as plant care tips, gardening ideas, and product details. Some advanced displays even incorporate augmented reality (AR) technology, allowing customers to visualise how plants or garden features would look in their own outdoor spaces.
Smart technology has also made its way into garden centres. Smart gardening tools, such as soil moisture sensors and weather monitors, provide real-time data on environmental conditions, allowing gardeners to make informed decisions about watering, fertilising and protecting their plants.
Robots have become an increasingly common sight in recent years in many retail environments and are beginning to find their way into garden centres. Garden Connect were demonstrating one at the recent spoga+gafa show. These automated assistants will revolutionise the way garden centres operate and offer a wide range of benefits for both customers and staff.
One of the main advantages of robots in garden centres is their efficiency. These machines can perform tasks such as watering plants, restocking shelves, and guiding customers to specific products with precision and speed. They are equipped with sensors and cameras that allow them to avoid obstacles and ensure the safety of customers.
Robots will speak to absolutely everyone, can provide information
about plants, offer gardening tips, and even help customers with plant selection based on their specific needs and preferences. This level of personalised assistance can greatly improve customer satisfaction.
From a business perspective, robots can contribute to cost savings in the long run. While the initial investment in robotics technology may be significant, the efficiency and productivity gains can outweigh the costs over time.
Lastly, sustainability has become a major focus for garden centres, with a large section on this topic included in the Garden Centre Association's annual inspection form and technology has played a significant role in promoting eco-friendly practices. Renewable energy sources are increasingly integrated into garden centre facilities, enabling selfsufficiency and minimising carbon footprints.
So, the garden centre industry is embracing technology and using it, where possible, to best advantage.
9 Garden Centre Retail September 2023 gardencentreretail.com Opinions
Garden Centre Expo 2024 is an unmissable event; an event which enables business professionals to make strong and valuable connections for the future development of garden retail – from startups, small and growing businesses to large organisations, both groups and independents.
You'll be in good company, with thousands of like-minded professionals exhibiting, attending and speaking. Garden Centre Expo acts as a meeting place and information hub, for you, your colleagues and associates to view the latest products, materials, technology and services that matter to you in your work.
Garden Centre Expo is the premier event designed exclusively for garden centre decision makers, buyers, and influencers like you. If you're seeking to thrive in a rapidly evolving market while harnessing the power of innovation, sustainability, technology, and a wide array of other crucial areas, this is a must-attend event.
ExCeL London, 16 - 17 October 2024 gardencentreexpo.co.uk A brand-new conference and event for the garden centre sector, focusing on business growth through effective product selection, sustainability, technology and innovation. Media partner For exhibitor and partnership opportunities contact Luke luke.page@eljays44.com | 01903 777580 For speaker opportunities contact Joe joe.wilkinson@eljays44.com | 01903 777587
GARDENING EVEN GREENER
has got
HOW GIMA MEMBERS ARE UTILISING TECH TO CREATE MORE EFFECTIVE SOLUTIONS
Technology is shaping every corner of our lives and garden retail is no different. Here, GIMA members outline how they've turned to technology to not only improve their offering and educate consumers at the point of sale, but to also create greener solutions within manufacturing and distribution.
QR codes
When asked, QR codes were one of the most commonly promoted elements for GIMA members. From grass seed to plant feeds and everything in between, QR codes have been added to product packaging to ensure a more confident journey for consumers.
Talking about the introduction of QR codes, Johnsons Lawn Seed, The AMES Companies, Burgon & Ball, The Natural Plant Food Company, Southern Trident and Sipcam Home & Garden all agreed that the on-pack codes enable a more convenient and accessible way to deliver detailed instructions. It was also noted by Southern Trident that QR codes are the perfect way to save space on the packaging. But why QR codes? Put simply, GIMA members tell us that the codes are an incredibly simple way to provide consumers with everything they need to know about a product, including how to use video tutorials, step-bystep guides, guarantee info or even technical MSDS files. Steve Harper from Southern Trident summarised it perfectly by saying: "QR codes allow for real-time updates, ensuring that consumers always have access to the latest information and troubleshooting tips.
Moreover, it fosters a more sustainable approach by reducing the need for extensive printed materials. Overall, QR codes on packaging enhance the consumer experience, facilitate product comprehension, and contribute to an ecofriendlier packaging solution."
Printing and personalised content
At AutoPot Watering Systems the company has adopted Flexo printing for the packaging of its dedicated garden centre range. Working with The Box Factory Ltd, the team has "pushed the capabilities of this innovative print technique to its limits in producing packaging that is contemporary, informative, and sustainable". Flexo printing has enabled AutoPot to introduce FSC-certified cardboard, organic inks, and complete biodegradability to their retail boxes. Wildlife World's new range of digital Print Your Own POS factsheets for its wildlife products enables trade customers to access free printable materials to sit alongside its on-shelf
product ranges. These factsheets highlight the USPs of the product as well as functionality and sustainable credentials. A Wildlife World spokesperson said: "Available from our trade website, these factsheets form a part of a whole
library of resources available to our customers. What's more, the 'print to need' element cuts down printing costs and reduces wastage. This
Opinions 12 Garden Centre Retail September 2023 gardencentreretail.com
THE 'PRINT TO NEED' ELEMENT CUTS DOWN PRINTING COSTS AND REDUCES WASTAGE
simple use of technology goes to show that you can move towards a more sustainable industry standard with minimal effort."
Trade portals and tech support
The AMES Companies has also recently added even more digital assets to its trade portal. Featuring high-res images, SEO-ready product descriptions and digital brochures, the portal is fast becoming the go-to for AMES customers that want to optimise their marketing channels.
The company – home to brands such as Kelkay, La Hacienda and Apta – also optimises the online ordering app, Pixsell. Used by AMES sales representatives, the partcatalogue, part-order form allow sales agents to respond proactively to conversations with customers, moving between brands, categories and offers to show customers what is available right now, before placing the order in real time. To further support this, the team is also transitioning from using the legacy systems in place at individual operating companies to using a single ERP system, Infor. This system
will support automation and processes in the supply chain, services, procurement, some aspects of website management and more.
Finally, for the Kelkay brand, the AMES Companies has also introduced a new aggregates coverage calculator to the website, which can be used to calculate how much material is needed for a particular project using just the length and width of the space. Available for both trade and consumer usage, this new tool has already received positive feedback since its launch.
Elsewhere, Dymak boasts a customer portal that provides 24/7 access to its 'product universe' of over 50,000 items. Housed on the portal is new product info, seasonal storybooks and information regarding the company in a move to minimise excessive emails and increase continuous inspiration.
Dymak customers can easily browse projects, tracking orders and shipments on the portal whilst also accessing contact information
for their specific team and sourcing stats to diversify their sourcing strategy.
Technology for a greener future
To be positioned as a meaningful brand, Elho has committed to being the most sustainable in the category by 2024, with 100% of its production made from recycled materials, whilst the product themselves can also be recycled, helping to close the loop even further.
Further afield, Elho's distribution centre in Tilburg, Holland, is the most sustainable warehouse in Europe, featuring light-sensitive, automatic LED lighting, solar panels, and a wind turbine, boasting the largest energy storage system in the Netherlands. It even has an electric bus to transport employees from one site to the other.
About GIMA
Garden Industry Manufacturer's Association (GIMA) is a membership organisation of around 150 members representing the majority share of suppliers and manufacturers in the UK gardening industry. Formed in 1999, its goal is to promote commercial, trading and industrial interests of UK and EU based companies. GIMA is run by a small team of dedicated professionals and governed by a council of members.
gima.org.uk
Opinions 13 Garden Centre Retail September 2023 gardencentreretail.com
Why technology is the key
to the future for garden centres
TECHNOLOGY IS INCREASINGLY BEING USED TO IMPROVE THE DAY-TO-DAY RUNNING OF MANY INDUSTRIES – HOW WILL IT IMPACT GARDEN CENTRES?
The last two decades have seen fantastic advances in technology: the way it has improved every aspect of our daily garden centre lives including processes, customer experiences and communication has made it one of the most significant factors in business development.
Over the past few months, we've been hearing an increasing amount about artificial intelligence (AI) and how effective it is, analysing data that would take humans days in a split second. There is a fine line between artificial intelligence enthusiasts who believe the technology will take us to new heights of problem-solving and innovation, and those who consider it to be leading to the end of the world as we know it. What is clear is that AI is a huge part of our lives and has been for many years. It is not a new concept, and when we consider facial recognition devices or customer
service automated responses, we realise it affects most of us on a day-to-day basis. When it comes to the garden centre sector,
All that said, there is no doubt in my mind that we still need, and will always need, personal touches and human contact within our services, but technology is a great tool, saving time by streamlining processes or data analysis, thereby enabling staff to focus on other vital aspects such as delivering outstanding customer service, merchandising and creating inspirational displays.
This is by no means an exhaustive list, but here are four things to look for in technological developments now and in the future:
I think AI and technological advancements will prove a huge asset in the future development of businesses and their customer experience: as Amazon have done with their contactless stores, garden centres will need to take steps in the future to stay ahead of the curve and meet customer expectations.
1. Improved till service
Whether this is through automated retail tills such as those in supermarkets, or via touch-screen ordering processes in cafes (a technology that hospitality businesses such as Black Sheep Coffee Shops, McDonalds and other fast food chains have developed
Opinions 14 Garden Centre Retail September 2023 gardencentreretail.com
AI IS A HUGE PART OF OUR LIVES AND HAS BEEN FOR MANY YEARS
quickly), this technology development looks to be here to stay. As customers of all ages become familiar with using these tills in other environments, we are also likely to see changes in this cash receipt process, even if during early days it is a hybrid selfservice and till staff process.
I am already working with some garden centres to introduce these concepts as part of their layout and service offering.
As businesses face increasing costs and recruitment challenges, there has never been a better time for garden centres to consider scan-as-you-shop systems.
I feel it is inevitable that those garden centres that are on top of their EPoS and barcode processes will make this transition, and we'll gradually see customers scanning their purchases on their own phones as apps develop further.
2. Virtual reality salesmanship
We all know customers want to be inspired. In garden centres we achieve this through knowledge, displays and customer interaction – however, in the future, I believe that we will see inspiration coming from the home into the garden centre to help customers visualise what they are buying. Paint suppliers have long since used this technique, allowing customers to upload a photo of their room while a computer generates an image of how a colour scheme will work within it.
When it comes to VR and its benefits, as an example, I think it
be a valuable tool for garden centres in the future. By using real-life images of a customer's garden, technology will allow the customer to see how it will look with some landscaping, a new plant, a summerhouse or a set of furniture in situ. Such technology could also increase inspirational selling by adding value to the customer journey, giving them completely new ideas for their gardens. The sky could be the limit, allowing customers to envisage Christmas and other seasonal displays in their homes simply by bringing a photo into the selling environment, and I can see garden centres having virtual personal shoppers in the team in the future.
3. Improved stock management
Technology is already used on a daily basis to control stock and prices and support with processes, but as it develops we might further rely on its help in ordering processes and controlling overspends. The hospitality industry uses specialist equipment to identify what products have been wasted, something that could really help businesses control portion sizes and therefore ultimately support profit and efficiency in cooking.
Technology also might help further with stock control and availability on the shop floor. Our current EPoS systems can generate 'suggested orders' based on their data, but it isn't fool-proof as stock can be incorrect for many reasons. Future technology may be able to better identify stock in store, and use data analysis to both predict sales for the period ahead and suggest orders.
4. Customer service through robots
Yes, it sounds scary and there will be a lot of businesses that will never want to go down this route, but like it or not, we do live in a world where robots serve drinks and take your money. I was dismissive of this concept until my daughter visited Prague and went to Karlovy Lazne – the largest facility of its kind in central Europe. This music club is one of the best technically equipped venues in the world and, you guessed it, customers' drinks are served by robots. How long will it take for garden centres and other retailers to do this, time will tell, but never say never.
A little piece of my heart gets broken when I think about limiting human contact, but we cannot deny progress. Whether technology improvements help to reduce your processes, overheads, stock levels or improve customer service, I am certain there are going to be developments that centres need to consider to future-proof themselves, while ensuring they maximise 'human' efforts into that all-important customer experience.
Opinions 15 Garden Centre Retail September 2023 gardencentreretail.com
About Andrew Burton Andrew works for garden centre and farm shop business strategy and rural planning specialists Malcolm Scott Consultants. He provides commercial, operational and business development experience and commercial advice to clients in the retail and catering sectors. Andrew now sits on the Farm Retail Association Council, having previously been on the Garden Centre Association Board. andrewb@malcolmscott.co.uk
How has
implemented an EPoS system? Gates Garden Centre
EPOS MANAGER, SARAH CRAWFORD, ELABORATES ON HOW THE GARDEN CENTRE'S SYSTEM ENHANCEMENTS CAME TO FRUITION
Gates Garden Centre is a large garden centre on the Rutland and Leicestershire border that offers over 12,000 square metres of retail and leisure facilities.
Established in 1948 by Fred and Ivy Gates, the garden centre was originally created within the walls of a large Victorian kitchen garden belonging to Cold Overton Hall. Still on the same site today, the centre has expanded
considerably over the years, but still retains its traditional family values.
Now in the hands of the third generation, Gates Garden Centre has experienced an 'explosion' of growth in the past 10 years, with the past three years accelerating faster than ever.
Having had an early EPoS system at the centre, two years ago, following the appointment of Sarah Crawford as EPoS manager a year
before that, the centre installed WinRetail through Corby+Fellas.
With a background in buying for an Australian website, Crawford had experience with certain technologies. And joining Gates during the Covid-19 pandemic, she spotted a gap in the system that she believed could be exploited.
"We saw a huge uplift in online sales and telephone sales, so we had to adapt to that
17 Garden Centre Retail September 2023 gardencentreretail.com
Features
quickly. Having an EPoS system with stock data and that information right in front of you really helped in that situation" Crawford explains.
Because of the difficulties that the pandemic threw up in the trading sector, and with the increase in online and telephone orders and deliveries into the business, it was time to upgrade the system, which in turn helped the business become more efficient almost instantly.
"We saw an opportunity to restructure quite a lot of the business. We reorganised all our categories and sub departments and everything from a data perspective" says Crawford. "It was a good opportunity to clean everything up because in the past there were several people inputting the data, in slightly differing ways. We restructured all the departments because we had a surplus of categorisation, so we've narrowed that down to what we want to look at when we're looking at our buying."
This led to a change in the way goods were received at the centre. Previously, this used to be done on the shop floor and each team was responsible for their own goods, but more control on stock levels was required.
Says Crawford: "We've now got a dedicated goods in department, for both the warehouse and the garden centre. We split our stock between the two. We employed a stock controller which we didn't have before because we didn't have the warehouse system before. Now, she's really on top of identifying where we might have received something in wrong, or the supplier delivered in the wrong flavour of something, so we're not left with product that we don't want, or we're not left with any gaps with products that we need."
Orders are now raised on the system by the department managers on the shop floor and processed by Crawford's team. During this process, products are reviewed and price-checked to make sure that margins are maintained. The order is then raised with the suppliers.
"The 'goods in' team will then receive that delivery," explains Crawford. "This will go into the warehouse, which is organised into locations. Our Christmas stock, barbecues and furniture go straight to the warehouse and get located, then the guys on the shop floor can just do shop floor replenishments."
If it's a goods in for the garden centre, a member of the team will create a delivery on WinRetail and receive it in against that, and deal
18 Garden Centre Retail September 2023 gardencentreretail.com
Features
WITH THE INCREASE IN ONLINE AND TELEPHONE ORDERS AND DELIVERIES INTO THE BUSINESS, IT WAS TIME TO UPGRADE THE SYSTEM
with any anomalies with the supplier or with the department head. If there are extras, these are noted and discussed with the department head to decide whether to send back or to keep for sale. And this is all highlighted on the system which is something Gates didn't have before. It means that issues with products are spotted and dealt with before they hit the shop floor.
The beauty of the new EPoS system integration is that the new supplier helped Gates migrate information from its previous system. That's not to say that Gates didn't export further data, a belt and braces approach was the one the company decided to undertake.
The service also provided to Gates by Corby+Fellas can't be faulted, not that this happens often. It seems that any issues that do arise may be due to the age of the hardware, more than the capability of the software.
A new system implementation in any business is often fraught with issues. But, although Crawford says the tradition wasn't seamless (as nothing ever is), one thing that has made things easier is the way the staff have got onboard.
"We do have a really good team here" says Crawford. "Natalie Gregg, who heads up the team of people who work the tills, is very logical and understands things. It's very important to have someone in place who understands the knock-on effect for other areas of the system, for anything that isn't done correctly, and understands the logic of doing things the right way"
If a sales order goes through wrong, say as a collection instead of a delivery, then the warehouse doesn't see the pick, and the customer will go down and not have a product to take home. Natalie has shown an understanding of the role she plays, and the knock-on effect of anything that isn't done
right, and comprehends the logic of doing things in the right way.
"It's then Natalie's responsibility to pass that onto her team and she's great at making sure that everyone fully understands what they are doing", explains Crawford.
It's not only the garden centre that has benefitted from the new EPoS system. Last year, the restaurant at Gates received a new till interface that mirrors exactly what customers see when ordering to their tables on an app. This means customers can instantly see any products that might be out of stock, any daily specials, or any brand-new items on the menu.
This has made a huge difference in the day to day running of the restaurant. "We had an issue with large queues, especially over our busy periods like Christmas or during events," explains Crawford. "We've switched around the way that we take
orders to make it more efficient. Previously we used to make all the drinks while the customer was waiting at the counter and then the customer took it to their table, but now, instead of kitchen printers, we have kitchen screens and the staff at the bar can run drinks to the table."
This was a move that greatly reduced queues at the restaurant and has made ordering easier for customers. It's seen an increase in transactional value and the speed of service, meaning that the restaurant team can turn tables quicker.
But it's the garden centre that is seeing the biggest developments, thanks to the data that can now be collected and analysed. Gates is currently undergoing a project where they specifically analyse the customer purchases in one of their departments – including data points like time of purchase, method of purchase, consumer preference for certain products, purchase frequency, and other similar metrics that measure how people shop for your products. This has helped Gates understand the best use of their shop floor space – what products sell where in which position on the floor. This had led to a metaphorical map which shows the route a customer takes through the space, which means that Gates will be able to strategically set up things like Christmas displays in the most economical, profitable way.
"This is something that just makes sense for us," says Crawford. "We've obviously got a lot of products on the shop floor, and we've got a big store, so we need to make sure we're making
Features 19 Garden Centre Retail September 2023 gardencentreretail.com
CUSTOMERS CAN INSTANTLY SEE ANY PRODUCTS THAT MIGHT BE OUT OF STOCK, ANY DAILY SPECIALS, OR ANY BRAND-NEW ITEMS ON THE MENU
the most of it and the customer has the best experience – they can find what they're looking for at the right time of year.
"We've found that candles and room fragrances take a bit of a dive during the hotter weather so we can fill that space with more appropriate products when it comes to next year. It's just making the best of it – we've got the data there so we might as well use it."
Further development is a given, and since implementing the WinRetail system, Gates has worked with Corby+Fellas to create a module they can use for deliveries. This has made logistics more efficient when it comes to
delivery routes. But there's more that can be done.
Crawford says:" Our dashboards are basic now, so we're working with Corby+Fellas to get some more detailed data at a glance. Personally, from my background, I'm used to exporting a lot of information and manipulating it to be able to read it better, whereas the department heads want to spend time on the shop floor with the customers, so to give them a visual snapshot of how their days, weeks and months are going so they can actually use that dashboard to help them to buy more effectively, so that would be the next step for us."
And as much as the system has worked for Crawford and the Gates Garden Centre team, there are new avenues to be explored. With Corby+Fellas also always looking to improve its product, this is a two-way street that will be beneficial to the next group of centres looking to advance their technology in the EPoS area.
Features 20 Garden Centre Retail September 2023 gardencentreretail.com
WE'VE OBVIOUSLY GOT A LOT OF PRODUCTS ON THE SHOP FLOOR, AND WE'VE GOT A BIG STORE, SO WE NEED TO MAKE SURE WE'RE MAKING THE MOST OF IT
How to boost business with
DIGITAL SIGNAGE
BUILDING BETTER RETURN ON INVESTMENT WITH CLOUD-BASED DIGITAL SIGNAGE
Digital transformation is widely considered to be one of the most effective ways to future-proof a business and drive profitability, but how easy is it to achieve? How can garden centres affordably kick-start the process, and use the move to grow their business? Cloud-based digital signage offers one popular solution, only requiring a digital signage software subscription, and one or more screens and media players.
Simple to set-up, with no requirement for any on-site servers or I.T maintenance, it's designed
to grow with your business. The digital signage software or "content management system" (CMS) can be used on as many screens as required across multiple garden centre locations. Content is easy to create, manage, edit and deliver to one, some, or all the screens, either remotely or locally on-site.
The most advanced solutions come with 500+ built-in content creation tools to help users of all abilities create everything from high-resolution imagery to interactive HTML presentations, complex videos, and data reports.
So, what can cloud-based digital signage do in real terms for garden centres?
Time-sensitive promotions
With this kind of solution, garden centres can deliver more impactful and timely promotions, offering exactly the right messaging, when and where it's needed.
Traditional communication methods, such as posters, display boards and USBloaded screens often prove to be slow and time-consuming to manage, making
Features 21 Garden Centre Retail September 2023 gardencentreretail.com
it difficult for staff to keep content fresh and up to date.
Cloud-based signage makes real-time customer engagement possible. In a few clicks, content can be changed in seconds. It's ideal for boosting sales on expiring or seasonal stock that, if left unsold, will otherwise devalue over time and take up valuable storage space.
With its advanced scheduling functionality, you can remotely select the start and end times of messaging, so that time-sensitive and seasonal promotions never over-run. You can also edit, correct or update live content.
Whether for one or more locations, this solution can drive more ambitious marketing strategies, enabling garden centres to deliver all-store or location-specific campaigns and messaging.
Overcome staffing challenges
In a sector often dependent on seasonal and part-time staff, it also helps by-pass the need for any specific in-store employee training.
Instead of having to rely on staff, who might not have the industry knowledge to update any printed signs with the relevant information, a centralised team of managers can remotely create content for multiple in-store screens across various locations.
Sign holder alternatives
Additionally, cloud-based digital signage is a cost-effective way to deliver more information and pre-empt customer enquiries, which in turn helps to alleviate pressure on staff.
Sign holders, such as garden label stakes and bed card holders have become staple garden centre tools, but the reality is, they're not always practical. They take time and effort to maintain, and can only convey limited information, which, depending on the size, is often not even that visible to customers.
With no space or text-size constraints, freestanding digital signage kiosks and/or screens are great alternatives, allowing staff to create more in-depth and eye-catching content that can be updated at a moment's notice.
BY MOVING FROM CHALK TO DIGITAL MENU BOARDS, MENU ITEMS AND PRICING CAN
On-site restaurants
Generating additional on-site revenue streams is also easier with cloud-based digital signage. For instance, garden centres can streamline and modernise operations for their restaurants and cafeterias. Simply by moving from chalk to digital menu boards, menu items and pricing can be instantly updated.
In the case of many Notcutts Garden Centres, the centrally managed Signagelivepowered digital signage system has made it
Features 22 Garden Centre Retail September 2023 gardencentreretail.com
SIMPLY
BE INSTANTLY UPDATED
quick and simple to reflect changes between the breakfast and lunch services, as well as to advertise seasonal updates.
More than this, with scope to create headturning imagery and/or videos of food items and special offers, the system serves as a powerful marketing tool to drive footfall.
"Showing vibrant imagery to accompany our menu options allows us to draw customers into our restaurants", says Andy King, Notcutts IT manager.
For garden centres looking to quickly and cost-effectively transition to using digital cafeteria or restaurant menu boards, there is plenty of support. Digital signage software solutions, such as Signagelive, offer builtin features like the Menu Board application which are available to help create menu boards from scratch, providing a whole host of design template options. The Menu Board app makes it easy to update menu items and pricing, automatically refreshing and displaying information as you update it on a pre-selected Google Sheet with the app.
Social media
Another advantage of using digital signage solutions is that garden centres can instantly modernise their business and leverage the
power of social media, which now offers community hubs for people of all ages. It's a way to engage with the local community to build rapport, trust and deliver value.
With built-in digital signage platform applications, such as Screenfeed and Seenspire, garden centres can bring social media channels to customers in-store. On their digital signage networks, they're able to display curated social media feeds in real-time, either as full-screen displays, or simply as a sidebar, which sits alongside other content.
Back office operations
Digital signage isn't just a way to modernise and improve customer communications. It also happens to be a highly effective back-office tool, which can help streamline operations.
With this support, garden centres are able, for example, to deal with the issues caused by high seasonal staff turnover. They can on-board and train new staff much more efficiently, running live streams of training sessions for
staff across multiple locations via built-in digital signage apps, like YouTube and IBM Cloud.
It can also help management make faster, more informed business decisions. With built-in digital signage data applications, garden centres can use selected screens to share real-time insights, such as key performance indicators and quarterly results from business intelligence tools, including Microsoft Power BI and SharePoint.
Sustainability
Another benefit of digital signage is that it can advance centres' sustainability goals. It's a more environmentally friendly solution, requiring none of the carbon-emitting paper, ink, paint and chemicals that are used for physical signs.
Digitisation can seem like a daunting, and cost-prohibitive process, but with solutions like Signagelive, garden centres are now able to kick-start their plans with minimal upfront investment and no interruptions to the day-today running of business. signagelive.com
Features 23 Garden Centre Retail September 2023 gardencentreretail.com
of AI The opportunities
GARDEN CONNECT'S FOUNDER SHARES AI-DRIVEN STRATEGIES THAT COULD ELEVATE YOUR BUSINESS TO NEW HEIGHTS
Artificial intelligence holds the potential to offer a myriad of benefits within the garden centre industry, benefiting both retailers and suppliers by enhancing business operations, services, and product offerings.
However, during the spoga+gafa and GLEE events in June, Garden Connect observed that numerous companies remain unaware of the diverse potential offered by AI. Admittedly, it is sometimes hard to understand if you don't know your way around tech jargon; but that shouldn't put you off.
To avoid missing out on opportunities, Garden Connect founder, Edwin Meijer, listed some practical examples below. You will notice that AI is easy to deploy, and the applications are endless. Here, Meijer has included all of the essential information, so you are able to get started right away...
1.
Photos with pets
During spoga+gafa, Meijer spoke with Beeztees. This company makes toys for pets, and its challenge is to take the "perfect" photo where the dog, cat or hamster looks well into the lens while he (or she) is playing with the newly developed toy. A tricky job that sometimes takes hours, we are told.
Thanks to Drag Gan, that's now a thing of the past, as this technique allows you to set each pet's face just right.Drag Gan was developed by
a number of universities and is available for free. Scan the QR code for more information.
2. Product concepts
At the same spoga+gafa, Garden Connect stood inbetween the stands of Capi, Esschert and Ter Steege – all of these suppliers introduced new products on the tradeshows.
Developing a new product often involves a significant investment of time and financial resources. You have to develop an idea, work out a concept and then produce the product.
With tools like Midjourney, you can have any idea turned into
24 Garden Centre Retail September 2023 gardencentreretail.com
AI IS EASY TO DEPLOY, AND THE APPLICATIONS ARE ENDLESS
Features
that you immediately get an idea of how it will turn out in reality.
A company planning to create birdhouses in new colours or shapes, for example, could use Midjourney to come up with a number of possibilities within 30 seconds. Or perhaps a business crafting fresh pot designs could turn to Midjourney to help get imaginative ideas.
With Midjourney's suggestions, generating a new design happens much faster compared to brainstorming ideas and making sketches. In the end, you'll still need product designers, but coming up with the fundamental concept has become considerably easier now.
3. Garden centre concepts
At GLEE in Birmingham, the Garden Connect stand was also close to Smiemans Projecten; these are designers and builders of beautiful garden centres. Midjourney could lend a hand to such companies, helping it to come up with creative ideas for garden centre owners.
This garden centre facade is perhaps more innovative than the standard facades found throughout the UK (and far beyond). Whether it is price-wise interesting to build, we do not know, but at least you can suggest and show designs that deviate from the beaten path.
Incidentally, you can also specify very specific requirements. This is the prompt I entered at Midjourney:
"Can you make a photorealistic shot of a modern garden centre greenhouse in natural environment. One level only. The size is 120 x 40 metres. Entrance in the middle of the building. Parking in front of the entrance. Modern building with round cornered rooftop. Birds eye view with drone. Wooden elements on entrance. Large outdoor plant area. Use existing but innovative garden centre designs. Garden centre parking has lots of plants."
And the result is something that will no doubt make Smiemans happy if they get to build it.
4. Data analysis with AI Texts and photos are fun, but what else can you do with AI? A simple tool to analyse data is DeepSheet. You simply upload an Excel file with raw data and then ask questions. I did this using an Excel file containing transaction records from our online shop. For example:
• How much shipping costs have I charged customers in the Norwich area? Answer: £279.60 in total. This question can help determine if you need to adjust shipping regions.
Features 25 Garden Centre Retail September 2023 gardencentreretail.com
Midjourney building generation
Midjourney specific building generation
• Give me the average weekend order value.
Answer: 27.25%.
• W hat is the average purchase value of my 5% best customers?
Answer: £373 – which, by the way, is not bad for a webshop that only sells plants.
You can give this tool a try for free, and it's a great way to work with datasets that aren't organised well and ask questions in a natural manner. This tool is quite limited, but it shows the power of AI. Other tools are more expensive but can also do a lot more.
IS
Future of AI in the garden industry and beyond
Innovation is often expensive, and AI is not necessarily an exception. However, everything explained above could be done with online tools costing less than $50 a month combined. If you want to try more advanced solutions, it quickly becomes more expensive.
AI is now a reality, available to everyone. So, let's lean towards using it positively without going overboard. The examples here will show you how you can get started today on conceptualisation – saving time on figuring
AVAILABLE
out innovative ideas, no matter what kind of business you have.
AI also adds to the ease and fun in our lives by handling many tasks for us, giving us more time, and sparking a quick boost in creativity. The opportunity is there, and it is up to you to get the most out of it.
Head to Garden Connect's website where you can find several more examples, including links to helpful videos. For any further questions, contact edwin@gardenconnect.com. gardenconnect.com
Features 26 Garden Centre Retail September 2023 gardencentreretail.com
AI
NOW A REALITY,
TO EVERYONE. SO, LET'S LEAN TOWARDS USING IT POSITIVELY
TECHNOLOGY
Seven ways IN RETAIL is being utilised
INNOVATIVE AND INSPIRING WAYS DIFFERENT RETAIL SECTORS ARE INCORPORATING TECHNOLOGY
There's no way around it –technology is changing the way that retail business is undertaken. It gives a unique perspective to customers whilst making the day to day running of retail stores that little bit easier. Here, Garden Centre Retail has picked out seven examples of technological innovations to highlight.
In-queue checkout
M&S became the first UK food retailer to incorporate on-the-spot payment in its stores in late 2020. Pay With Me allows customers with a small number of items to check out with a M&S staff member while they are queuing, rather than having to wait for a till to become available.
A handheld device controlled by staff is used to take contactless payment for items, freeing up long queues to make the store less crowded.
This technology has been rolled out to 200 stores, as part of its wider effort to make shopping at their brick-and-mortar stores more
efficient, convenient and safe, which includes being able to book a shopping slot in advance.
Nike's Speed Shop
In 2018, Nike opened a flagship store in New York City called the 'Nike House of Innovation 000'. As you might expect from the name, it's not your ordinary store, including digital elements to create an immersive and highly convenient experience for shoppers.
Alongside customisation studios and instant checkout points, a stand-out feature of the six-floor studio is the 'Speed Shop'. This allows customers to reserve shoes online to try on in store. More specifically, customers can arrive (through a dedicated entrance) to find
a locker with their name on, which can then be unlocked via their smartphone. Mobile check-out is also available, meaning customers do not even need to speak to anyone (let alone stand in a queue) if they want to buy the shoes in question.
Automated checkout
Amazon has revolutionised the online shopping experience, but the brand is now intent on taking a slice of the physical retail pie too with its Go stores (branded as Fresh in the UK). They use a combination of computer vision, deep learning, and sensor fusion technology to automate the payment and checkout process. This means that customers can enter the store,
27 Garden Centre Retail September 2023 gardencentreretail.com
Features
pick up items, and leave without queuing or checking out, while payment is automatically made through the Amazon Go app.
There are now 27 Amazon Go stores open in the US and reported plans for thousands more worldwide.
In August 2020, Amazon unveiled its Amazon Fresh concept store to coincide with its push to expand its grocery offering with demand at a record high. The store, which has fully opened in Woodland Hills, California, features the Amazon Dash Cart Lane – a dedicated checkout area which allows customers to skip queues in other lanes if they have signed into the store using a QR code in the Amazon app.
Integrated Alexa devices placed around the store help shoppers navigate their way around more quickly and check off items on their Alexa Shopping List as they go.
Digital price tags
In 2018, US grocery chain Kroger rolled out digital price tag technology across hundreds of stores. Called 'Kroger Edge', it digitally displays pricing and nutritional information, allowing the store to instantly and remotely update it.
Edge, formed in 2019, is part of a retail-as-aservice project between Kroger and Microsoft, which aims to redefine the shopping experience.
The Edge technology is said to have an impact on the retailer's sustainability efforts. According to Microsoft, the tech runs on renewable energy, while the illuminated pricing means Kruger will be able to turn down overhead lighting and reduce energy costs.
Augmented reality (AR) window displays
In 2018, Zara introduced AR technology to its stores for a limited time through exterior window displays and special in-store AR zones.
Visitors to selected Zara stores were prompted to stand in a specific area of the shop floor and use their phone as a lens when held up to a sensor. Models then appeared wearing the latest collections and interacting with the space around them. This gave shoppers a clearer idea of the way the clothes hung on the body, and how they could be styled, without needing a changing room if they were pushed for time.
The exterior window displays worked in just the same way, except the virtual models used the empty display unit behind the window as if it were a catwalk and treated shoppers on the
street as the audience.
AR was also rolled out onto product packaging, ensuring Zara's e-commerce customers also got a taste of the technology and tempting them to visit the full virtual experience themselves in-store.
Virtual reality (VR) showroom
The experience of buying a car no longer starts at the dealership. Consumers often research via websites, social media, and forums before purchasing, with some brands now offering online purchasing for convenience since their dealerships were forced to close during covid.
Audi proved it was ahead of the game in 2017 when it launched a virtual reality experience in global showrooms to offer a point of difference. Through VR technology, Audi offers consumers a dynamic and interactive buying experience, transferring the process from a digital tablet to something much more immersive.
Robotic floor scrubbers and shelf analysts
AI company Brain Corp supplies
Sam's Club robotic floor scrubbers with such technology to help automate monotonous tasks that humans would typically perform to free up staff for crucial customer service and checkout roles.
As automated technology like this becomes more commonplace in retail stores and fulfilment centres around the world, it is likely that we'll see it being gradually adapted to carry out other administrative tasks in the day-to-day running of brick-andmortar retail.
Features 28 Garden Centre Retail September 2023 gardencentreretail.com
IMPROVE YOUR PROFITABILITY
Red Sky Hospitality consultants provide practical advice on all areas of catering operations. If you are looking for advice on improving the financial performance, enhancing customer experience, support for a future development or simply looking for a catering business health-check then we can help.
1. Operation review, customer journey and proposition
2. Effective business monitoring and controls, EPOS Management and establishing controls.
3. Supplier management, tender process with brand owner support
4. Catering designs - assessment and adjust meant to maximise productivity (front and back of house)
5. Mystery shopping and Competitor analysis
6. Manpower planning, from selection, training through to efficient deployment
For further, more detailed information please call either David 07770 862011 or Richard 07913 562042 for an informal chat.
Alternatively email us on David@redskyhospitality.co,uk, Richard@redskyhospitality.co.uk or visit our website on www.redskyhospitality.co.uk
For more info contact: sales@kfretail.co.uk
187502 A wide range of highquality consumer fireworks from Selection Boxes through to Single-Ignition Displays Innovating new products in low noise categories Dedicated importers and wholesalers A strong margin is achievable without compromising quality Advocates for safe and responsible firework use A heritage brand ideal for garden centres
07870
that will shape the future
OF GARDEN RETAIL THE TECH TRENDS
HOW THE PANDEMIC RE-SHAPED THE GARDEN CENTRE INDUSTRY THROUGH TECHNOLOGICAL DEVELOPMENTS
Much of our modern world heavily relies on technology, shaping how we communicate and conduct business. Garden retailers must keep up with emerging tech trends and adapt to provide their customers with a differentiated, seamless shopping experience.
Businesses in 2020 had to adapt to new retail and technological trends, creating a new normal. This trend further accelerated with the pandemic and the fallout from lockdowns, which forced garden retailers to find new ways to navigate challenges as sales soared.
Where should garden retail go from here?
How can it leverage the latest technology trends and what factors should it consider in the coming months? The GCR team takes a look.
EPoS
Business owners are often busy juggling multiple responsibilities, making it hard to stay productive. Fortunately, tools like Electronic Point of Sale (EPoS) systems can improve workflow, identify high/low-performing inventory, and boost profits.
putting key information at your fingertips. Whether it be payment at the tills, linking to a catering module for your restaurants, enabling online selling including 'click and collect' or home delivery, connecting to a customer loyalty scheme or checking stock availability in-store, companies such as Corby & Fellas, CSY, Swan Retail, Easitill, Open Retail Systems and many other EPoS providers can show you how their systems address these points to make running your store easier than ever before.
E-commerce
The internet is reconstructing the way we shop. Clientele are now seeking out the lowest prices at the click of a button. There is a growing demand for e-commerce and 'click and collect' options as consumers shop 24/7 from the comfort of their homes.
places to shop, with business owners having to anticipate customers' needs and invest in leading technologies to continuously improve the online shopping experience.
British Garden Centres, the UK's largest family-owned garden centre group is always looking for new ways to connect with the next generation of gardeners and has launched a new platform for shoppers to order without leaving their sofas. The online store is easily accessible from the British Garden Centres' website.
EPoS can take the time and costs out of processes within your garden centre, whilst making management reporting easier and
An e-commerce platform should be an essential part of overall business growth plans for garden retailers. Garden centre stores are no longer seen as just brick-and-mortar
Other leading retailers such as Old Railway Line, Gates Garden Centre, Longacres, Bents, Dobbies, Cowell's, Hillier and Blue Diamond have now joined e-commerce stores like Primrose, Crocus, Gardening Express, Marshalls Garden and Gardenesque to offer outdoor
Features 30 Garden Centre Retail September 2023 gardencentreretail.com
EPOS CAN TAKE THE TIME AND COSTS OUT OF PROCESSES WITHIN YOUR GARDEN CENTRE
living straight to the door, tapping into a new generation of shoppers in the process.
E-pay cards
To ensure that its gifting scheme remains relevant for consumers, and operationally fit for the future, the HTA has taken the step to stop producing its paper 'national garden gift vouchers' and continue with its popular gift card. Since 2020, the customer demand for the traditional garden gift vouchers has fallen by 70%, meaning the end of the paper trail.
E-pay gift cards offer several big advantages, not least of which is security. As well as this, paper vouchers need more labour to batch up, resulting in increased operational administration costs for collection, count and secure storage and postal return.
Touchscreen technology
Joy of Plants – a plant information company – created the Plant Finder and Touchscreen Kiosk for the garden centre's websites and plant areas, so customers can have an easier and more familiar garden centre experience.
Terri Jones, managing director at Joy of Plants, explains: "The industry is buying into our 'Plant Finder' kiosks in plant and houseplant areas. They're problem-solving plant assistants for the team, helping train staff into experts by answering customer questions together – while crossselling the correct care products for every plant too. And, of course, customers expect product lookups on touchscreens nowadays. It helps bring the digital generations into gardening too, which is crucial to us all.
"Conversely, one technology area we're avoiding right now is AI. All our plant data and descriptions come from plant experts, and always will. Our tools champion human intelligence!"
QR codes
QR codes are becoming more common on plant and supplier packaging to provide consumers with a more personable experience. These
codes on the packaging allow for easy access to detailed instructions and information about a product. This includes video tutorials on how to use the product, step-by-step guides, warranty information, the latest updates, and troubleshooting tips. The use of QR codes also promotes sustainability by reducing the need for extensive printed materials, with planting instructions or sowing instructions now available on your phone at the touch of a button.
Heat mapping
HTA revealed that member garden centres are now utilising advanced security systems equipped with heat mapping sensors. This allows them to track customer traffic and adjust their stock and merchandise accordingly. These CCTV systems also offer insightful analytics on customer footfall, allowing for better identification of the most popular products and busiest hours. With these tools, garden centres can make informed business decisions that improve their overall profitability.
Mobile devices in restaurants
In garden centre restaurants and cafes, there has been a significant move towards app-based table ordering systems. Centres including St Peter's, Gates and Fosseway have entered a new era of dining where you can order and pay for your food without having to leave your seat.
This technological solution is already in pubs around the country but now garden centres can take advantage of this solution as diners are encouraged to go contactless with the old-fashioned physical menu replaced with a contactless restaurant QR code menu or built into the store's app.
Social media and 'how-to' vlogs
The rise of social media as a PR and marketing tool cannot be ignored. There were 57.10 million social media users in the United Kingdom in January 2023, according to research by Meltwater and We Are Social. One in ten adults used TikTok for news in 2023, according to Ofcom's annual news consumption report, meaning social platforms are now becoming an important information source that retailers have to use.
Features 31 Garden Centre Retail September 2023 gardencentreretail.com
Garden centres and staff are a font of knowledge. Customers will always ask questions about what plants are suited to what conditions and what products are best for certain garden problems. Social media channels provide the ideal way to speak to your customers, and are increasingly being used as search engines for questions they might have. And let's not forget Instagram, which inspires millions of wannabe gardeners every day with its plant trends.
Influencer, TV presenter and podcaster Michael Perry, recently gave us some insight into
CUSTOMERS WILL ALWAYS ASK QUESTIONS ABOUT WHAT PLANTS ARE SUITED TO WHAT CONDITIONS
the best examples of social media he has seen in the garden industry. "I believe every retail outlet needs a presence, as people search for companies in a very different way now, looking them up on Instagram first, so you must always have a good presence – professional, exciting and clear. Pink Kisses Dianthus by Selecta is currently one of
the best-performing brands of a plant which has used socials to enhance and amplify its presence through imagery and videos to make sure it was firmly in the spotlight.
"I also think the Concept Store displays at Glee this year were very interesting, as they were 'Instagrammable', but simple for a store to recreate and to share and bring others into the garden centre too."
Gardening apps
Taking the first steps into the gardening world can be daunting, but thankfully consumers can get a little bit of help from many apps on the market. Whether amateur gardeners are starting a small flower bed, buying indoor plants or planting a vegetable plot, a range of apps are available to offer extra assistance, including RHS Grow, LeafSnap, GardenTags and Garden Answers.
The latest app to take digital consumers by storm is Iris, a smart gardening app from Crocus. Iris prides itself on being different to other apps because it focuses on all garden plants. Built by a nursery, 20 years of growing experience has been put into it for gardeners by gardeners – not just a plant ID app.
Not only is this a beneficial piece of technology for retailers to embrace, but also creates a community feel that gives shoppers
AI
more confidence when purchasing. They feel they can ask questions without experiencing any sense of embarrassment or reluctance in doing so, whilst also getting a valuable response from either the other community members or plant doctors.
AI is the latest buzzword to hit our everchanging world, but how can it help garden centres? Edwin Meijer, founder of Garden Connect outlined some AI concepts from OpenAI he saw at spoga+gafa in a recent article for his website. Innovative retail concepts included using AI to allow customers to visit their future garden digitally, the use of AI assistants to answer questions in-store and even a Smart Garden station – an information point where comprehensive details around smart gardening products come together in a test garden so you can try before you buy.
Garden Connect also recently introduced BloomBot, its customer chat service at spoga+gafa and Glee. Using AI, and a database of more than 50,000 plants as well as the information on the garden centre's website, customers can have a conversation with a virtual garden centre employee with a wealth of information in a matter of minutes.
Features 32 Garden Centre Retail September 2023 gardencentreretail.com
Are you ready to take control of your energy costs and reduce your carbon footprint?
World of Solar specialise in providing customized solar solutions for garden centres.
Why Choose Solar Power?
Drastically reduce your energy bills, increase the profit within your business and contribute to a clear sustainable future.
Free No-Obligation Consultation
Quick Return on Investment
Expert Assessment of your Energy Needs
Bespoke Solar System Design
Latest Solar PV and Solar Battery Technology
Professional Installation by Certified Technicians
Comprehensive Product Warranties
FREE 2 Year Technical Support
Finance Available
Contact us for a free over the phone quotation. Our experienced team will assess your property and energy requirements to provide you with an accurate quote.
" " hello@worldofsolar.com www.worldofsolar.com 0333 0020 720 WOULD YOU LIKE TO SAVE
UP TO 95% ON YOUR BUSINESS ENERGY BILLS
A FREE NO OBLIGATION QUOTATION
A YEAR
SAVE
GET
£18,188
ON YOUR ENERGY BILLS LIKE ONE OF OUR PREVIOUS GARDEN CENTRE CLIENTS? QUOTE CODE: GARDENCENTRE CALL US ON 0333 0020 720
URBAN
GARDENING
Since the covid-19 pandemic of 2020, floods of people have been keen to connect with nature in any way possible. From the daily walk, to becoming more self-sufficient with food preparation, the common denominator is a need to be at one with the environment.
And so, comes the rise of urban gardening. In 2019, it was estimated that 56.3 million people live in Britain's urban areas – that's almost 83% of the population. With city living comes an absence of outdoor space to relax in, grow plants in and entertain in.
One in eight households in Britain has no garden. The average size of a garden in the UK is 188sqm. In urban environments, that average drastically falls, with London's gardens averaging 16sqm, while the average size of a garden in Brighton is 23sqm.
A sizable percentage of city-dwellers now are of the millennial generation – a group of people who value sustainability, nature, biodiversity and self-sufficiency. These people are driving the urban gardening movement and are looking for ways to utilise any outdoor space they have access to –whether that's a small courtyard garden, a shared garden, or even a balcony on their apartment.
We know that millennials are holding off on starting families, favouring a houseful of pets and houseplants over a houseful of children. The increased interest in houseplants is shared all over
Instagram and other social media channels. But what about the people who are interested in more traditional gardening – even if there is a modern twist to it?
Lisa McCormack, co-founder of Time Out London's number one garden centre in the capital Battersea Flower Station, says: "We're in Battersea in South West London, so even for London, a lot of the gardens for the houses around us are small. There's a lot of container gardening, and we've seen quite a shift in our demographics. We've been here 10 years – it used to be sort of families and older people, I don't mean old, but not young people, who would be interested in gardening or their gardens. Then we saw an enormous increase in younger people coming in for houseplants just before covid, during the pandemic and since. What's interesting is those people are also now
interested in grow your own, herb gardens, container gardening and seasonal. It's nice to see as it seems like we skipped a whole generation of people who were interested in gardening and now, people in their twenties and early thirties are enthusiastic. Now there's a mixture."
WITH CITY LIVING COMES AN ABSENCE OF OUTDOOR SPACE TO RELAX IN, GROW PLANTS IN AND ENTERTAIN IN
McCormack believes that the generation of customers who came in for houseplants five years ago are braver gardeners than ever. She says: "We pride ourselves, and hopefully we get it right, on being a garden centre for people who might be intimidated by lots of Latin names. The number of times we get people asking what they're doing wrong, but we really encourage people; they can come in with a photo of their balcony, or their small garden, or they can bring
Features 34 Garden Centre Retail September 2023 gardencentreretail.com
AS BRITAIN'S POPULATION GROWS, AND THE AVERAGE GARDEN SIZE DECREASES IN URBAN AREAS, WHAT ARE THE NEXT GENERATION OF WOULD-BE GARDENERS LOOKING FOR TO START THEIR GARDENING JOURNEY?
a photo of a plant that's suffering and ask what's wrong with it and ask for advice on putting it right. They'll bring pot plants back that need repotting. We do find that the younger people are braver, they'll grow some seed or take more risks – they are prepared to put more time into it. I wasn't doing that when I was in my twenties!"
And these customers aren't after ready-made, ready-planted pots or hanging baskets. They want to give it a go themselves, make their own mistakes and learn the craft in their own way. These customers will, however, always be the ones that are looking to expand their knowledge, leaning on the staff members of the garden centre for confirmation of their thoughts, alternatives if things won't work, and, I'm sure, for the satisfaction of getting things right in the first place. McCormack says: "The houseplant trend gave people the confidence to garden outside as well. We try to help our customers; we
don't want people putting things in the wrong place."
So, what about product trends – are people looking for space-saving ways to green up their spaces? Well, no, not now. But there has been a seismic shift towards eco-friendly and sustainable products. Battersea Flower Station now stocks Hairy Pots, a plastic-free alternative, and is seeing much more of an uptake on peat-free compost, for example.
The centre is trying to become more sustainable itself by giving customers plastic pots the plants come in, allowing customers to return the plastic pots for reuse, and by selling compost by the scoop, allowing customers the opportunity to bring in reusable bags and fill up, saving more plastic packaging from going to landfill.
But, aside from sustainability, McCormack and her team are still focused on plants, and so
are their customers. It's becoming increasingly difficult to know what to stock to keep the changing customer base happy. McCormack says: "Yes, it is hard. We'll always make sure we've got staples – but we have a lot of repeat customers, and obviously garden centres change through the seasons anyway, but if I've got someone coming in weekly, they need to see something different. We probably have 80% of the staples that obviously change throughout the year, but then we always want to make sure we have 20% of magic that will cater for someone who knows exactly what they want."
Advancements in urban gardening are coming, though it's not as easy to predict what's going to happen since the covid pandemic. The model of the business changed for Battersea Flower Station, along with its ever-changing customer base, which in part is thanks to the pandemic, so it's a lot less simple to call the future. With her parting comment, McCormack says: "The pandemic really showed us that we'll keep moving and keep evolving with the times!"
Features 35 Garden Centre Retail September 2023 gardencentreretail.com
THE HOUSEPLANT TREND GAVE PEOPLE THE CONFIDENCE TO GARDEN OUTSIDE AS WELL
Products Smart Products
WORK SMARTER, NOT HARDER...
The LX PB21 Solar Panel Power Bank Yard Force
The brand new LX PB21 Solar Panel Power Bank combines a sleek design with high functionality. It is compact, lightweight, and efficient, transforming how we power up devices on the go. The power bank has three highly efficient, integrated solar cells that can convert up to 24% solar energy into electricity providing 21W of reliable and sustainable power. Featuring dual USB ports and a triple charging cable which fits most mobile phones, digital cameras, laptops, tablets and even drones - delivering reliable portable power anywhere.
RRP £99.99 yardforce.eu
Spotlight Cam Pro Battery Ring
Spotlight Cam Pro Battery offers 3D Motion Detection, Colour Night Vision, Two-Way Talk, and HDR video to provide pro-level security for your outdoor spaces. Receive realtime notifications whenever motion is detected or check in on a live stream of your camera at any time from the Ring app. Put it anywhere, adjust the viewing angle with the included mount, and stay powered with the included Quick Release Battery Pack that simply swaps in and out.
RRP £199.99 ring.com
Automower® 450X NERA
Husqvarna
A robotic lawn mower which gives a perfect cut 24/7 on lawns up to 5,000m². From intelligent object avoidance to reliable operation – rain or shine – with less tracking and smooth performance, it navigates every corner with ease. Even cleaning is simple with a hose. Achieve precision mowing with virtual boundaries via the Automower® Connect app and Husqvarna EPOS™ Plug-in Kit, available as an optional accessory.
RRP £4,849 husqvarna.com/uk
Weber Connect Smart Grilling Hub
Weber-Stephen Products (U.K.) Limited
An advanced gadget that can turn any barbecue into a smart barbecue, the Weber Connect Smart Grilling Hub gives access to a step-by-step grilling assistant that sends push notifications directly to a smartphone app. Features include a food-readiness countdown and tells you when it's time to "flip-and-serve".
Compatible with any barbecue, the Weber Connect comes with one meat and one ambient probe included, plus a four probe-capacity. Additional temperature probes can be purchased separately.
RRP £157.99 weber.com
Products 36 Garden Centre Retail September 2023 gardencentreretail.com
Smart Home Weather Station Netatmo
With Netatmo's Weather Station you can experience weather tracking like never before. Get real-time weather data straight from its doorstep sensors. Uncover insights from past data, monitor current conditions, and predict the future using the app. Discover indoor and outdoor weather data, such as temperature, humidity, barometric pressure, CO 2 , and noise levels. Plus, enjoy seamless compatibility with Apple HomeKit and Amazon Alexa for a truly smart weather experience.
RRP £169.99 netamo.com
Cloud Controller
Hozelock
Offering the perfect solution for gardeners into tech or for those looking to embrace automatic watering, the Cloud Controller gives ultimate control of garden watering from anywhere in the world, using a smart phone. The app allows users to remotely set, pause and adjust watering schedules and features a local weather summary. The hub plugs into the internet router and links wirelessly with tap unit that can be positioned up to 50m away.
RRP £149.99 hozelock.com
Bluetooth 'Rock' Garden Speaker
Lithe Audio
This all-in-one Bluetooth Rock Garden Speaker is designed to blend in perfectly with garden surroundings and offers superb sound quality. It comes ready to plug and play with an in-built amp – no drilling and cabling required. Simply plug in using an IP68 outdoor power connector, connect your Bluetooth device, and play. Voice control is available when connected to Alexa or Google devices. Housed in tough resilient fibreglass, it's waterproof for use all year round.
£300 (single speaker);
£450 (pair).
litheaudio.com
Smart Water Control Set Gardena
The Gardena smart Water Control Set, consisting of the Smart Water Control and smart Gateway, automatically controls the water supply in your garden and thus ensures flexible irrigation of your plants. The set is ideal for automatic irrigation with the Gardena MicroDrip-System or the Gardena Sprinkler system.
RRP £244.99 gardena.com
Products 37 Garden Centre Retail September 2023 gardencentreretail.com
20% DISCOUNT CODE: GREENUP20 PET AND CHILD SAFE WETTING AGENT SPRING-AUTUMN USE HOLDS MOISTURE IN FOR LONGER FAST ACTING, RAPID GREEN UP & ORGANIC BASED GREEN UP YOUR LAWN IN JUST VIEW OUR FULL RANGE ON OUR WEBSITE 24 HOURS! GREEN UP YOUR LAWN AVAILABLE TO PURCHASE ONLINE AT WWW.GRASSGAINS.CO.UK FEED YOUR DOG AS NATURE INTENDED find us... @CotswoldRAW or #CotswoldRAW COTSWOLDRAW.COM
Products Hand tools
HANDY PRODUCTS FOR THE TOOLBOX...
Dead Head snipz
Creative Products
Regular dead heading with these great mini snips promotes longer flowering, improved appearance and healthier plants. Ideal for pinching back annuals and cutting herbs. Spring action handles for simple pinching and carbon steel blades for a sharp, clean cut. Compact size for easy reach into the centre of plants. £2.99
creativeproducts.ltd.uk
Heart-shaped trowel
Wilkinson Sword
Ideal for gifting to a loved one is the Heart Shaped trowel by Wilkinson Sword, made of rust-resistant stainless steel and with a sustainably sourced handle. It merges good looks with practicality, as the pointed tip is perfect for planting seeds and bulbs, patting down soil, and digging out stones and weeds, while the wide head moves soil easily.
RRP £9.99
barrus.co.uk
Products 39 Garden Centre Retail September 2023 gardencentreretail.com
the soil towards the gardener. It
Products Hand tools
Traditional stainless Dutchstyle trowel Spear
& Jackson UK
A unique midi-length trowel with a heart-shaped head featuring a pointed tip for creating a planting hole or shallow furrow in the soil. For use when planting out seedlings, small plants or bulbs. Easy to clean, rust-resistant, mirror-polished stainless steel. A pointed tip easily breaks the ground and chamfered edges cut through the soil. Durable, weatherproofed ash wood handle with leather hanging cord
RRP £23.99
spear-and-jackson.com
Heritage seven-piece garden tool set
Draper Tools
The seven-piece Draper Heritage garden tool set includes an array of essential stainless steel hand tools including a trowel, weeding fork, dibber and more. The handles are made from solid ash and there is a soft leather strap attached for storage. Designed to give many years of
Sophie Conran for Burgon & Ball heart-shaped trowel
This covetable trowel combines eyecatching design with outstanding performance. It's invaluable for shallow digging and scooping when planting bulbs, bedding or plug plants, and is ideal for container gardening. The ergonomic design gives enhanced digging power, since the head is in line with handle, rather than angled. An etched ferrule in solid brass brings a touch of distinction. Presented in a stylish gift box, it's covered by a 10-year guarantee.
RRP £22.99
burgonandball.com
The Handy cordless shrub shear and grass blades
The Handy
This is the perfect tool for shaping hedges and grass edges in the garden. With lightweight and super sharp blades, it offers an effortless alternative to secateurs and shears. The shears come with two attachments for trimming shrubs and hedges, as well as trimming the lawn. Powered by a 3.6V lithium battery, it provides up to 45
Products 40 Garden Centre Retail September 2023
Huge range of quality hand and power tools available.
Our high stock levels and state-of-the-art UK warehouse means we fulfil orders quickly. We offer dropshipping, enabling you to sell a wider range without holding stock, and we'll deliver direct to your customer.
With award-winning products and a TrustPilot 'Excellent' rated customer service team, why not see how we could help grow your sales this season?
• Latest news • Online features • Special focuses • And more... gardencentreretail.com NEW WEBSITE
Visit drapertools.com to become a stockist or call +44 (0) 23 8049 4333 Grow your business with Draper Tools
Next Issue 42 Garden Centre Retail September 2023 gardencentreretail.com What's coming up... With you from 27 September 2023 October Food Waste Plant Choice Plastic Packaging Tax Solar Panels and more!
is the home of the 'Hands-free Dog Walking Bag'
Bark Avenue is the home of the 'Hands-free Dog Walking Bag'
Designed to give all dog owners a pleasurable dog walking experience. You can easily clip your dog's lead directly onto the bag or waist belt. Our iconic bag features a discrete poop bag dispenser, multiple clips to secure your dog to the bag or waist belt and wipeable pockets. We also provide luxury designer accessories, including matching collars, anti-tangle leads, heavy-duty harnesses, warm jumpers and high quality waterproof coats.
Designed to give all dog owners a pleasurable dog walking experience. You can easily clip your dog's elad directly onto the bag or waist belt. Our iconic bag features a discrete poop bag dispenser, multiple clips to secure your dog to the bag or waist belt and wipeable pockets. We also provide luxury designer accessories, including matching collars, anti-tangle leads, heavyduty harnesses, warm jumpers and high quality waterproof coats.
Looking foward to seeing you at PATS Telford 2023! Come and say hello at stand N8 in the New Starter Zone.
Designed to give all dog owners a pleasurable dog walking experience. You can easily clip your dog's lead directly onto the bag or waist belt. Our iconic bag features a discrete poop bag dispenser, multiple clips to secure your dog to the bag or waist belt and wipeable pockets. We also provide luxury designer accessories, including matching collars, anti-tangle leads, heavy-duty harnesses, warm jumpers and high quality waterproof coats.
Looking forward to seeing you at PATS Telford 2023! Come and say hello at stand N8 in the New Starter Zone.
Contact: 07460451978 or sales@barkavenue.co.uk
Looking forward to seeing you at PATS Telford 2023! Come and say hello at stand N8 in the New Starter Zone.
Contact: 07460451978 or sales@barkavenue.co.uk
Use 'BARKAVENUE5' for 5% off Trade Prices
Use 'BARKAVENUE5' for 5% off Trade Prices
Contact: 07460451978 or sales@barkavenue.co.uk
Use 'BARKAVENUE5' for 5% off Trade Prices
Ligneolus can offer the best timber and steel retail POS displays. Our exiting new products include firepits, steel display frames, tower crate displays and more..
Tel: 01482 526599 - E-mail sales@ligneolus.co.uk
www.ligneolus.co.uk
Glasshouses supplied, erected, dismantled. Bespoke structures. Expert reroofing in polycarbonate and composite panels. All aspects of glasshouse work and refurbishments. Maintenance, cleaning. Gutter and door replacement.
Tel: 01724 734374 Fax: 01482 648032
Email: info@newcenturyglass.co.uk
Web: www.newcenturyglasshouses.com
See us at Four oaks Stand E146 & E147
VALEKA BV • Heliniumweg 14 • 3133 AX Vlaardingen, The Netherlands Tel: +31-10 599 74 02 • info@valeka.nl • www.valeka.nl New and
Semi
mobile and
second hand aluminium benching: Fixed,
rolling,
sales benches.
T: 01778 422700 E: sales@timberdisplays.co.uk All sizes and prices can be found in our price list or on-line at www.timberdisplays.co.uk www.timberdisplays.co.uk INSPIRATIONAL BENCHING & DISPLAY STANDS The very best quality pressure treated timber display products. T: 01778 422700 E: sales@timberdisplays.co.uk All sizes and prices can be found in our price list or on-line at www.timberdisplays.co.uk www.timberdisplays.co.uk NEW PRODUCT 2 RAIL 2 TIER FLOOD BENCH A decorative unit with a flood tray in the base & the versatility on height OUR EVER FLOODEXPANDINGBENCH RANGE £335.00+ vat All products remain the property of timber displays until paid for in full. Offer is valid until end September and must be paid for and delivered by end of September. www.timberdisplays.co.uk OFFER PALLET DEAL 12 GENERAL DISPLAY BENCHES T: 01778 422700 E: sales@timberdisplays.co.uk All prices are excluding vat & have free delivery. ONLY £1,300 All products remain the property of timber displays until paid for in full. Offer is valid until end September and must be paid for and delivered by end of September. www.timberdisplays.co.uk OFFER PALLET DEAL 6 FLOODHEXAGONALBENCHES T: 01778 422700 E: sales@timberdisplays.co.uk All prices are excluding vat & have free delivery. ONLY £600 12 STANDARD FLOOD BENCHES All products remain the property of timber displays until paid for in full. Offer is valid until end September and must be paid for and delivered by end of September. www.timberdisplays.co.uk OFFER PALLET DEAL T: 01778 422700 E: sales@timberdisplays.co.uk All prices are excluding vat & have free delivery. ONLY £1,500 T: 01778 422700 E: sales@timberdisplays.co.uk All sizes and prices can be found in our price list or on-line at www.timberdisplays.co.uk www.timberdisplays.co.uk NEW PRODUCT WE NOW OFFER A WIDE RANGE OF FLOOD TRAYS IN VARIOUS SIZES 1990mm x 990mm £60.00 1990mm x 600mm £55.00 1000mm x 1100mm £55.00 Hex Tray 955mm x 1105mm £60.00 (across the flat x point to point) DANISH TROLLEY TRAYS 1260mm x 555mm 4 drain sumps £22.50 1260mm x 555mm no drain sump £22.50 1260mm x 555mm black recycled £18.50 630mm x 555mm (1/2 CC Tray) £15.00 no drain sump BUNGS & FILTERS Bungs £2.50 Filters £3.00 FLOOD TRAY RANGE