Accident waiting to happen
By Tamara O'Connell
A LOCAL man whose brother was killed in a collision while walking to school is afraid there is "an accident waiting to happen" near a school in Lordship.
Stephen O'Connor from Rampark, Jenkinstown is concerned that newly installed 'speed cushions' are not sufficiently slowing down drivers in the area.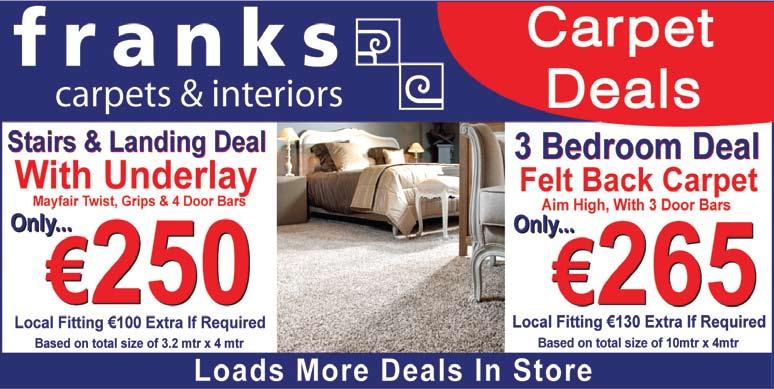 "The speed ramps have not been re-instated as per their original design. The ramps are still very small. They are big cushions really. They are not ramps," said Stephen.
"Traffic is moving so much faster. There is no need to slow down. I contacted Louth County Council about this issue but to date, I've not had a response.
"There was a council meeting recently and Councillor Andrea McKevitt put in a motion about the issue."
Stephen added: "I'm hopeful of getting a good result. I lost a brother in 1989 on that stretch of road when we were both walking to school.
"He got hit by an oncoming vehicle and died on the way to hospital so you can understand why I am so concerned about road safety."
Continued on Page 2
DUNDALK'S FREE NEWSPAPER Wednesday, 13th September, 2023. Vol. 16, Issue 37 • 9A Crowe Street, Dundalk, Co. Louth Tel: 042 932 0888. | Email: editorial@dundalkleader.com; advertising@dundalkleader.com Page 11 Page 8 Allsún ready to tackle Ironman World Championship Great Enjoyment at Inclusion Louth Fun Family Day Page 4 A Night not to be missed in aid of SOSAD Valid until 19-09-2023
The winner of the Dundalk Senior Scratch Cup 2023 Eoin Murphy (centre) pictured with Martin McDonnell of One Finance and Dundalk Golf Club captain Noel Reid
The Dundalk Leader supports the work of the Press Council of Ireland and Office of the Press Ombudsman, and our staff operate within the Code of Practice of the Press Council. You can obtain a copy of the Code of Practice, or contact the Press Council, at 01-6489130; email info@presscouncil.ie.
The Dundalk Leader is a member of Free Media Ireland, a network of free newspaper publishers committed to supporting local journalism and delivering engaging content while providing highly effective print advertising with unparalleled circulations. Visit https://freemediaireland.ie to learn more.
The Dundalk Leader is printed at Web P r I n T, 2023 bianconi Avenue, Citywest business Campus, naas road, Dublin 24, D24 eH50. Our paper is sourced from sustainable forests. The paper mills take great care to ensure the viability & sustainability of their forests. The forests that they plant act as massive carbon sinks that more than offset their carbon output. They are a carbon negative industry.
Continued from Page 1
He continued: "Heavy goods vehicles can now speed straight past the entrance of St Patrick's GFC, which has multiple cars entering and leaving at all times, not to mention the hundreds of local children walking in and out of the gate.
"Prior to this, the people of Lordship campaigned for years to have these ramps installed, and although they provided the children of the school some level of the previous ones were still not completely effective in protecting them from the speeding lorries.
"Now we have been greeted with replacement ramps, which are completely ineffective at slowing down
large vehicles.
"Are we going to have to wait for someone else to be killed for this to be addressed?"
Councillor Andrea McKevitt told the Dundalk Leader that it is "absolutely ridiculous" that the ramps have been removed in the first place "without prior notice".
"The ramps were installed for the safety of children. There has been a fatality along this stretch of road," she said.
"The change appears to be a new policy by the council. Gardai are out there at the moment doing a speed count review. I hope the council will re-visit this topic and re-install the ramps."