ELEVATING THE ART OF REAL ESTATE
DUDUM REAL ESTATE GROUP
Dudum Real Estate Group is an independently owned, thriving brokerage comprised of highly motivated, resourceful, and successful real estate professionals. Formed by Julie Dudum Del Santo — who comes from a long line of Bay Area entrepreneurs — Dudum Real Estate Group is one of the preeminent and finest real estate brokerages in the East Bay. With offices in Walnut Creek, Lamorinda, Danville, Brentwood, and Sierra Tahoe, Dudum Real Estate Group agents work collectively to give their clients the best possible real estate buying and selling experience in the East Bay. At the core of our business philosophy is a commitment to extraordinary service, cooperation, honesty, and communication.
Our team of experts, knowledgeably and competently, cover a wide territory from the Oakland/Berkeley area, continuing east along Highway 24, throughout Lamorinda, the communities along both sides of Highway 680 down to 580, as well as East Contra Costa County and West Contra Costa County serviced by Highway 4.
"A client is the most important visitor on our premises, he is not dependent on us. We are dependent on him. He is not an interruption in our work. He is the purpose of it. He is not an outsider in our business. He is part of it. We are not doing him a favor by serving him. He is doing us a favor by giving us an opportunity to do so."
GANDHI
MAHATMA
INTRODUCING OUR EXECUTIVE TEAM
Our experienced executive team provides the strategic direction for the firm and combined with their acute real estate and financial acumen, they offer sound guidance and innovative solutions to our clients. They also inspire our agents to achieve their full potential by giving them the tools they need to be successful.
JULIE DEL SANTO Broker/Owner
LORI LEGLER Regional Vice President
J OHN SEFTON Director of
TRACEY CASELLA Director of Operations and Relocation
JANA CATANIA Director of Agent Services
Compliance
OUR ADMINISTRATIVE MANAGEMENT TEAM
Each member of our administrative management team performs a vital role within our organization. Each of them was hand selected for their amazing expertise and qualities. Cooperating as a team, their support of our agents and our clients is unequaled in the industry.
RAMIREZ Administrative Director Lafayette GINA HERTING Office Administrator/ Commission Demands
SHARMA Office Manager Danville
MENDEZ Office Manager Brentwood TINA FRECHMAN Associate Manager Lafayette JAMIE CONNORS Associate Manager Brentwood SABRINA KYHN Sr. Graphic Designer TRISH HEANEY Graphic Designer VALERIA MEJIA Social Media Manager ANDI BOTTO Graphic Designer KRIS PRENDERGAST Risk Management Specialist JERRY KIDD Technology Support/Training Coach MARTY HENDREN Sweet 16 New Agent Training Manager LUCY CASELLA Technology Support RISK MANAGEMENT TRAINING/AGENT SUPPORT MARKETING SCOTT HUMPHRIES Associate Manager Danville JOHN FONDNAZIO Associate Manager Sierra Tahoe OLIVER BROWN Associate Manager Walnut Creek ADMINISTRATION ASSOCIATE MANAGEMENT JILL MONTAQUILA Executive Transaction Coordinator
TERESA
ANEEL
CARESSA
WE'RE DIFFERENT
Unlike typical brokerages, we cooperate, instead of competing with each other. We strive for company success as a whole. Ours is an environment that leverages the best of everyone's skills and knowledge for the ultimate benefit of our clients. We all have a service-focused work ethic, top negotiating skills, and have established similar highly successful track records of excellence. Each agent is independent, yet the energy created by the cooperative spirit results in beyond satisfied clients and smooth transactions for all.
833 UNITS SOLD 2022 $1.11B SALES VOLUME 2022 BEST PLACE TO WORK 2015-2022 Voted Best by San Francisco Chronicle TOP 10 BROKERAGES IN CONTRA COSTA COUNTY* Ranked #4 out of 1387 Brokerages; Ranking by Market Share RANKED #2 IN LAFAYETTE* Total Sales Volume; Ranking by Market Share RANKED #2 IN WALNUT CREEK* Total Sales Volume; Ranking by Market Share RANKED #5 IN DANVILLE* Total Sales Volume; Ranking by Market Share *Source: Trendgraphix, January 1, 2022 - December 31, 2022 2015-2022 30% TOP OF BROKERAGES NATIONWIDE RIS MEDIA: 2021 Power Broker Survey, By Sales Volume 3 TOP BROKERAGES IN CONTRA COSTA COUNTY* When ranked by Units Sold per agent 2010-2022 71% MORE PER AGENT $ PRODUCTIVITY * Than the brokerage average in Contra Costa County 12% 35% 21% GREATER. FASTER. MORE. Our agents sell more homes at higher sales prices in a shorter time than the competition. MORE UNITS SOLD * Than the next closest competitor GREATER AVG. SALES PRICE * Than the brokerage average in Contra Costa County FEWER DAYS ON MARKET * Than the brokerage average in Contra Costa County *Source: TrendGraphix, January 1, 2020 - December 31, 2022 *Source: TrendGraphix, January 1, 2020 - December 31, 2022 AWARD OF EXCELLENCE MILLION DOLLAR CLUB
GET TO KNOW DUDUM REAL ESTATE GROUP
This dynamic group equips and educates themselves regularly so that you can always rely on the accuracy of the information given. From continuing education to real estate seminars, legal updates, and negotiation strategy training, this group continuously stays ahead of the industry standard. This allows them the ability to provide their clientele with the latest market insight, information, and quality service in every aspect of a transaction.
Our agents are geographically situated throughout the communities they serve. They utilize their networks, modern real estate tools, and resources to guarantee maximum marketing and exposure of a property, as well as ensuring that their clients gain reliable access to property information throughout the greater East Bay.
AREAS OF EXPERTISE:
• Single-family homes
• Condo and townhomes
• Luxury and estate homes
• Worldwide relocation
Lots and land
Probate transactions
Foreclosures
Historic properties
Commercial real estate
Leasing
YOUR BAY AREA REAL ESTATE TEAM
Opening Doors of Opportunity
OUR KNOWLEDGE BENEFITS OUR CLIENTS
Collectively, our agents have hundreds of years of real estate experience and have successfully closed thousands of transactions. The uniqueness of our agents uniting and working together simply gives our clients a better experience, and has set a peerless standard of practice not often seen in the real estate industry. In the spirit of reciprocity, our agents love to share their knowledge, skills, and talents with each other, all with the paramount goal of providing the highest level of professional service. We take pride in the way we handle a transaction from start to finish, including our skilled and service oriented staff, who are attentive to the details and treat clients with exceptional care.
RELOCATION: CONNECTED LOCALLY AND BEYOND
Years of combined work in real estate has connected us to professional agents all over the world and allows us to assist clients in buying or selling a home anywhere in the United States, or across the globe. Our established international relocation network, Leading Real Estate Companies of the World®, ensures that clients can find or sell a home anywhere and still experience the same standard of care we would give locally. It is through our relocation services that each referred agent is hand selected and prescreened to ensure the best match to fit the needs of each client.
RESOURCEFUL AND RELIABLE
Buying or selling a home usually involves a crew of different people, from plumbers, painters, and roofers to fence menders, house cleaners, and pet sitters. Whatever the need is, we have a full list of trusted service providers that we can refer so the buying or selling process goes that much smoother. This golden list of dependable providers continuously improves as Dudum Real Estate Group agents discover new and extraordinary businesses, all to make your transition as seamless as possible.
REPRESENTING THE EAST BAY'S HOME BUYERS & SELLERS
Dudum Real Estate Group represents a wide variety of clients in the East Bay who work in many fields including banking, finance, healthcare, government offices, professional athletics, higher education and technology. We view our clients as our partners and we work both diligently and intelligently with them to ensure that their real estate needs come first and are met — effectively and with results.
All product and company names are trademarks™ or registered® trademarks of their respective holders. Use of them does not imply any affiliation with or endorsement by them.
REALTOR ® SERVICES
As your REALTOR®, I will handle the complexities of the transaction documents, inspections, escrow, marketing, and the important art of skilled negotiation… so you enjoy the peace of mind that the sale of your home will be smooth, efficient, and satisfying. Here is a look at the professional duties I may perform on your behalf.
PRESALE ACTIVITIES
Initial consultation to determine client needs, priorities, and timeline
• Research and determine market value
• Review estimated net sheet to determine possible proceeds
Prepare initial timeline calendar for important presale activities
Prepare all documentation for signatures
• Review agency relationships
• Discuss and create pricing and marketing strategies unique to your property Sign listing agreement
Order pre-sale home warranty with seller's coverage Schedule consultation with home stager
• Schedule pre-sale inspections
• Prepare pre-sale disclosure packages
Refer attorney and/or CPA for legal and/or tax advice, if needed
MARKETING PLAN
Preparation
• Obtain bids on repairs, if needed
• Coordinate home repairs as needed Coordinate updates & improvements, if needed Stage property, if applicable Schedule housekeeping, window washing, carpet cleaning, and landscaping, if needed
• Have property professionally photographed and create virtual tour
• Order "For Sale" sign and appropriate riders Install lockbox at home
Determine showing availability and communicate with other agents
• Input listing on Multiple Listing Service which syndicates to over 25,000 websites
• Host broker's open house*
Host public open house(s)*
Offer twilight tour*
Advertising & Collateral Materials & Social Media
Create custom color property brochure customized and tailored to your property*
• Create single property website, i.e. www.yourhome.com
Enter property listing on websites including Dudum.com, listing agent's website, Zillow.com, Trulia.com, Realtor.com, and more
Create open house invitation and mail to surrounding neighborhood, to agent's SOI, and to other prospective buyers*
Create e-blast and send to 4,000+ local agents and brokerages
Create social media designs; post to Facebook, Instagram, and other social media channels
• Create newspaper and/or magazine ads including open house ads, and submit to publications*
Networking
Promote to agent network and announce at all office meetings*
Promote listing to out of area, out of state, and out of country buyers via our relocation network
• Promote to listing agent's SOI including prospective buyers and agent's networking groups
Promote at weekly marketing meetings* Promote within neighborhood*
Ongoing
• Schedule showings and show property to potential buyers*
Communicate updates to sellers on a regular basis and share activity feedback and comments
Continuous tracking of market conditions, sharing results, and discussing competition, if any
• Respond quickly to all buyer inquiries
• Revise marketing plan and pricing strategy, as necessary and if needed
Give updates on activity, number of online views, and clicks for online and social media ads
of these services may be impacted by CAR rules due to COVID-19 pandemic
*Some
•
NEGOTIATE OFFERS/ACCEPTANCE
Schedule offer presentation with seller
• Present offer(s)
• Explain ramifications and/or benefits relating to terms and conditions of contract(s)
Negotiate terms on behalf of the seller(s)
Negotiate actual occupancy
Coordinate actual close date
Complete necessary paperwork in order to execute chosen agreement
• Organize and facilitate copies of offer, counter offer, and addendums to appropriate parties for ratification
Coordinate opening of escrow
FACILITATE AN ESCROW
Much of the following is done with the assistance of a Transaction Coordinator, whom I employ:
Deliver completed contract to both parties involved in the contract as well as to the title company, lender and/or appraiser, when necessary
• Confirm title company is in receipt of buyer's earnest money as specified in the contract
• Identify and disclose any new or additional information or details concerning property to the buyers through any additional disclosure paperwork beyond that in original disclosure package
• Coordinate and confirm all inspection appointments with sellers
• Receive and review title report
Negotiate any post inspection concessions
Strive to resolve problems and challenges relating to property condition or buyer's concerns
Complete ongoing necessary transaction paperwork
Facilitate contingency removal
Coordinate and attend final signing in preparation for the closing*
• Work with seller on organizing utility shut-off
• Work with seller to finalize moving plans, warranty transfer, or any other move out needs
Arrange and attend buyer's final walk-through* Work to resolve any problems or challenges that may come up
• Confirm loan funds and remaining buyer money has been deposited into escrow, if applicable Call sellers with Congratulations! Deed has been transferred and recorded and escrow is closed Deliver keys to new owners
AFTER CLOSING
• Provide final HUD and final closing flash drive keychain with all supporting home sale documents for seller's file and tax purposes
Possibly help you find your next home or direct you to out-of-area agents, or assist you with possible relocation services, if needed
• Work with seller to ensure the transition to new residence is smooth
Provide a list of trade professionals and resources who can help with repairs or upgrades needed on your new home Serve as a community resource and great REALTOR® to your friends and family for all of their real estate needs
• Check in periodically
Add client to gift and mailing campaign
Coordinate appraisal appointment
• Meet appraiser with applicable comparables
Negotiate any negative impact relating to appraisal should discrepancy arise
Order home warranty policy for buyer's coverage, when applicable
Invite to client parties such as Shredfest, Sundae Sunday, Client Appreciation, and Santa Party* Follow up with market updates! *Some
these
of
services may be impacted by CAR rules due to COVID-19 pandemic
INTEGRATED MARKETING
Online, Print Publication, PR, and Collateral Services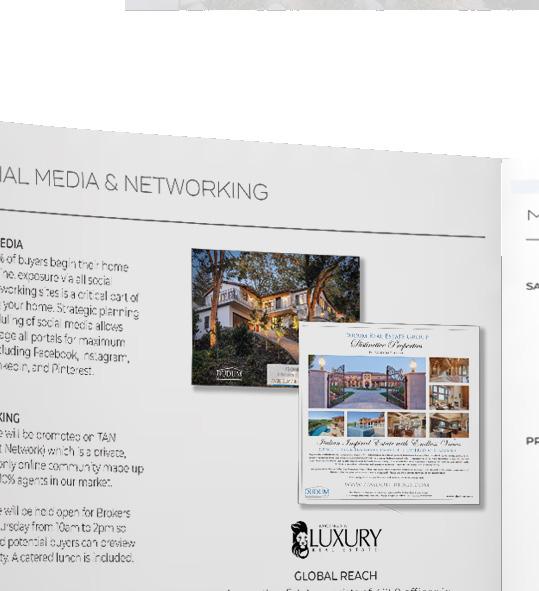 The more exposure your home receives, the more opportunity you will have to achieve your financial goals. Dudum Real Estate Group's in-house, full service marketing team goes into action when we list a property to ensure all online and offline essentials are handled.
With our finger on the pulse of the market, we utilize an integrated marketing approach which couples traditional advertising and visibility campaigns with extensive social media outreach leading to an immediate impact on the visibility of your home.
Our marketing team consists of a Marketing Director, Graphic Designer, Social Media and Public Relations Strategist, Advertising Coordinator, and IT Consultant.
WE OFFER:
• Dudum.com
• Property syndication
• Multiple Listing Service
• Realtor.com
• Enhanced property listings
• Exclusive property website
• Social media/e-blasts
• RE/SOURCE™ e-magazine
Traditional media advertising
• Public relations
• Property flyers
• Direct mail and event marketing
• Professional photography
• Broker network caravan
• Open houses
• Relocation connections
• Referral network
Market data reports
DIABLO MAGAZINE
Covering topics ranging from travel, culture, and personalities to entertainment, recreation, and food, Diablo Magazine is the only monthly publication written specifically for the San Francisco East Bay market. With locally driven editorial, beautiful photography, and resource listings, Diablo Magazine is a unique celebration of the area we call home.
TRADITIONAL ADVERTISING
While most real estate advertising has moved online, we still believe in advertising in traditional media outlets such as newspapers and magazines including Homefolio, Homes & Land Magazine, 110° Magazine, and several others.
DUDUMLIVING.COM
Dudumliving.com is our innovative blog which provides clients and prospects with cutting-edge trends, information, and statistics on the local real estate market and beyond. Clients can sign up to learn about off-market and coming soon listings, open houses, invitation only events, research, market updates, and more.
DIRECT MAIL & EVENT MARKETING
We employ an aggressive direct mail campaign strategy to advertise your home. Resident letters are also sent to advertise your property to neighbors who may know someone looking to relocate to your area.
In addition to Saturday and Sunday open houses, we also hold brokers tours, twilight tours, and occasionally special receptions, showings, and invitation only events.
PROPERTY FLYERS & BROCHURES
Professionally designed and meticulously crafted, our property marketing collateral is designed by our in-house marketing department who have decades of real estate marketing experience.
Our company standard is to always use professional photography and printing. The quality of these photographs, print, and layout enhance a buyer's perception of value and help create a strong impression for your property.
PRESS & PUBLIC RELATIONS
Dudum Real Estate Group and its agents have been featured in Diablo Magazine, East Bay Times, The San Francisco Chronicle, Realtor Magazine, Walnut Creek Magazine and more throughout the years. We work with our clients to design and implement a tailored, fullservice marketing approach utilizing our relationships with traditional and new media outlets to ensure maximum exposure for every property.
Phone: 925.284.1400 Walnut Creek | California | United States DUDUM REAL ESTATE GROUP Serving: Lafayette, Moraga, Orinda, Walnut Creek, Alamo, Danville, San Ramon, Pleasanton, CA Affiliation: Who's Who in Luxury Real Estate Additional Information: Dudum Real Estate Group is an independently owned, brokerage comprised of highly motivated, resourceful and successful real estate professionals work collectively to give clients the best possible real estate buying and selling experience. Formed by Julie Dudum Del Santo – who from long line of Bay Area entrepreneurs –Dudum Real Estate Group operates under a model of "cooperation not competition." Julie originated this concept years ago when she formed Dudum Real Estate Team, with some of the real estate professionals in her own office. This cohesive energy yielded great results and success for their clients, and from that, she continuously strived to have associates work together. She realized that combining agents' expertise in real transactions made for much powerful and positive outcome. She now applies this successful model to her own brokerage. With offices in Lafayette and Walnut Creek, Dudum Real Estate Group Realtors knowledgeably and competently cover wide territory from west of Berkeley, continuing east along highway 24, throughout Lamorinda, as well as the communities along both sides of highway 680. Address: 999 Oak Hill Road #100, Lafayette, CA 94549 E-mail: julie@dudum.com Web: www.dudum.com Walnut Creek | California | United States 1 DUDUM  REAL  ESTATE  GROUP  CONTINUES  TO  TOP  LOCAL  MARKET; WELCOMES  LYNSEY  CLARK DUDUM  REAL  ESTATE  GROUP WALNUT  CREEK Dudum  Real  Estate  Group  is  delighted  to  welcome  Lynsey  Clark  to  their  group  of outstanding  agents. Growing  up  in  a  small  town  in  Iowa  allowed  Lynsey  to  closely  watch  her grandmother's  Real  Estate  career  benefit  those  in  her  community.  She  felt  the  excitement  of  matching buyers  and  sellers  in  their  quest  for  their  dream  home  and  knew  that  a  career  in  Real  Estate  would  be  in her  future.  Lynsey  moved  to  California  nine  years  ago  and  immediately jumped  into  the  Real  Estate world  in  order  to  help  those  in  her  new  community buy  and  sell  their homes  Lynsey  is  a  customer service  professional  and  prides  herself  on  exceeding  her  clients'  expectations.  She  is  a  full time,  around the  clock  Realtor  with  years  of  experience  in  her  arsenal  to  make  sure  that  every  client  experience  is  top of  the  line. In  her  free  time,  Lynsey  enjoys  camping,  playing  with  her  three  dogs  and  spending  time  with friends  and  family. Please  visit www.lynsey clark.com for  contact  information. The  agents  of  Dudum  Real  Estate  Group  came  together  in  April  to  host  ShredFest  2014  as  a  way  of ying  thank  you  to  their  clients  for  their  continued  support,  trust  and  referrals.  Clients  dropped  off  old paperwork,  files  and  even  electronic  recycling  items  such  as  TVs  and  DVD  players  to  be  shredded  and recycled  at  no  cost.  This  yearly  event  was  a  wonderful  opportunity  to  celebrate  Earth  Day  and  spend time  with  clients. Dudum  Real  Estate  Group  is  celebrating  their  continued  success  in  the  combined  local  markets  after placing  in  the  top  2%  of  all  real  estate  brokerages.  Additionally, four of  our exceptional  Realtors  are amongst  the  top  ten  highest  producing  agents The  cooperation,  not  competition,  between  the  agents fosters  an  environment  that  leverages  the  best  of  everyone's  skills  and  knowledge  for  the  ultimate benefit  of  their  clients.  This  guiding  force  has  allowed  Dudum  Real  Estate  Group  to  maintain  their  high standing  in  the  local  market. contained herein and therefore, assumes no legal responsibility for it's accuracy. 271 LARK AVENUE ALAMO, CA OFFERED AT $3,650,000 271LARK.COM Bryan@HurlbutTeam.com www.HurlbutTeam.com CalBRE#01347508 BRYAN HURLBUT REALTOR 1259 REDWOOD LANE LAFAYETTE, CA Dudum Real Estate Group has not independently verified the information contained herein and therefore, assumes no legal responsibility for it's accuracy. Buyer should investigate any matters or items disclosed, identified or about which they have concerns to their own satisfaction. 925.818.5500 julie@dudum.com www.dudum.com BRE# 01290985 JULIE DEL SANTO BROKER WWW.1259REDWOOD.COM WWW.1259REDWOOD.COM & A PRESENCE... LANE Opening Doors of Opportunity... BRENTWOOD DANVILLE LAFAYETTE WALNUT CREEK
HOW TO FIND BUYERS
FRIEND: 6%
OTHER: 9%
YARD SIGN: 11%
BUILDER: 10%
ONLINE: 44%
REALTOR®: 20%
Understanding where buyers come from allows Dudum Real Estate Group professionals to market your home more effectively. While buyers use a variety of information sources to learn about homes for sale in their target neighborhood, we know that the vast majority will discover your home with the assistance of a real estate professional and the Internet. That is why it is so important for Dudum Real Estate Group to offer a powerful combination of expert real estate reputation and a dominant web presence.
• The average online consumer spends 15 minutes looking to acquire more information
• Online consumers make an average 5-6 additional inquiries
50% of all internet inquiries/leads go completely unanswered
• Our agents are committed to joint success; they do not leave these calls unanswered
• Our agents are equipped with the latest in mobile technology and are ready to respond
DUDUM.COM
We maintain a strong online presence through Dudum.com which has powerful searching tools, community reviews, marketing resources, and listing alert capabilities. Our website and blog attract over 20,000 unique visitors annually.
SOCIAL MEDIA
Social media is a powerful way for us to reach savvy buyers and sellers throughout the East Bay. From placing listings on Facebook to posting virtual tours on YouTube, social media is a great way to reach a designated group of loyal followers and instantly expose your property to a multitude of target prospects. By implementing a comprehensive social media campaign using Facebook, Twitter, Pinterest, YouTube and more, our goal is to increase the impact and visibility of your home to garner the widest exposure from the start.
As a member of Leading Real Estate Companies of the World,® our company is a global — not just local — real estate company working on your behalf. LeadingRE provides world-class marketing and resources, allowing us to provide the very best services. Our invitation-only network was responsible for $405 billion in annual home sales volume among the top 500 U.S. real estate firms in 2021.
YOU
OF OUR NETWORK
BRINGING
THE POWER
OUR GLOBAL NETWORK 1.2 MILLION TRANSACTIONS 550 COMPANIES 70+ COUNTRIES Volume shown in billions of dollars. For informational purposes only. In compiling this report, LeadingRE relies on third party sources. The information set forth in the chart above is sourced from REAL Trends Top 500 for 2021, realtrends.com. Neither LeadingRE nor its member companies are responsible for the accuracy of third-party data presented herein. 2021 U.S. HOME SALES VOLUME NETWORKS, FRANCHISES AND COMPANIES $353 KELLER WILLIAMS $405 LEADINGRE $251 COMPASS $139 BERKSHIRE HATHAWAY HOMESERVICES $132 EXP REALTY $39 CENTURY 21 $115 SOTHEBY'S INTERNATIONAL REALTY $35 HOMESMART INTERNATIONAL RE/MAX $113 COLDWELL BANKER $317 WE'RE LOCAL. WE'RE GL0BAL.
LARGE GLOBAL NETWORK
Dudum's by-invitation-only membership with Leading Real Estate Companies of the World® offers our agents the ability to join with the leading real estate organization that has affiliates in over 70 countries around the world.
Throughout the Leading Real Estate Companies of the World® network, Dudum Real Estate Group has an office in London as well as high-quality agencies from Hong Kong, Paris, and Johannesburg to Buenos Aires, Christchurch, and Nassau, bringing you a truly global perspective.
POWERFUL LEAD GENERATION
Additionally, agents have privileged access to the industry's strongest broker-to-broker referral network, Leading Real Estate Companies of the World®, generating 30,000-40,000 referrals a year with an impressive 50% conversion rate.
LeadingRE also owns a growing relocation management company, RELO Direct®, Inc., another lead generation source that provides corporate relocation referrals as well as national and global website traffic. CONSISTENT
AWARD
Volume & 72 Units in
Referrals in 2021
Volume & 22 Units in Incoming Referrals in 2021
WINNERS $64,118,374
Outgoing
$29,288,700
HIGH TECH & HIGH TOUCH
Dudum Real Estate Group agents leverage the latest technology to reach the widest audience of homebuyers. We are committed to keeping pace with how customers are searching for homes and to making your listing highly visible and accessible to buyers.
REALSCOUT
RealScout is an award-winning listing alert platform utilizing computer-vision powered home search and revolutionary buyer data driven listings tools. Our agents can look at real buyers for your listing and contact agents with quality buyers!
MYTHEO

myTheo provides the most accurate and up-to-date property information at the touch of a screen! Access important property information including price, features, photos, and more! Search and share listings in a neighborhood instantly.
LISTHUB SYNDICATION
ListHub provides a platform for real estate brokers to manage their most important asset, your listing, in today's most important marketplace, the internet. We syndicate your listing worldwide on over 25,000 websites to achieve maximum exposure.
At a time when most real estate companies were unwilling or unable to reinvest in their brands, Dudum Real Estate Group saw an opportunity to further improve their client experience. We introduced new logos, colors, upscale design, luxury collateral, video, social media, and high touch technology to increase the visibility of our company and the homes we represent. In addition, our agents draw from an expansive library of professionally designed marketing materials as well as have a fully staffed marketing and creative department for any custom materials.
Prospective Client Interest Successful Real Estate Transaction Website & SEO Brand Identity Social Media & Blogs Location Branding Listings Community Outreach Online Newsletters & Announcements Print & Online Advertising Public Relations Business Collateral
THE DUDUM REAL ESTATE GROUP EXPERIENCE...
VISIBLE
HIGHLY
CONCIERGE SERVICES
RE | CONCIERGE
Our full-service RE | CONCIERGE program facilitates ROI-driven, designer-curated home improvements with 100% of the cost deferred until the close of escrow.
Our proprietary platform of professional vendors, including contractors and stagers, undergo our vetting process to ensure they are licensed as required by law and carry prudent insurance coverage(s), including traceable workers' compensation insurance if the vendor has employees who may enter your home.
ZOOM FORWARD
Unlock your equity today. Buy before you sell with conventional financing. No credit application, no interest, no hidden fees, no hassle.
THE BEST WAY TO BUY BEFORE YOU SELL.
• Buy your dream home with a non-contingent offer without rushing to sell first
• We handle preparing your old house for sale while you enjoy your new home
• Our listings sell for 5.3% more and twice as fast as the broader market
• Avoid the cost and complexity of moving twice and paying two mortgages
• Qualify for conventional financing on your new home
FORWARD
THE EASIEST WAY TO SELL
STAGING
PUTTING YOUR HOME'S BEST FACE FORWARD
According to the National Association of REALTORS®, staged homes sell 80% quicker and for up to 11% more money than non-staged properties. At Dudum Real Estate Group, we believe buyers tend to gravitate toward a home based on curb appeal and its first impression. That's why we'll work closely with professional stagers to ensure that your home is best prepared and ready for sale before potential buyers see it. From creating an appealing walkway to the removal of furniture, or even renovating a room, staging will help transform your home, as needed, in order to give you the best advantage for a quick sale at the highest possible price.
INCREASE SHORTER RECEIVE GREAT FINAL SALES PRICE DAYS ON MARKET ADDITIONAL OFFERS INVESTMENT
PROFESSIONAL PHOTOGRAPHY
More than 90% of today's home buyers use the Internet to search for properties, making professional photographs more important than ever.
At Dudum Real Estate Group, we know that great photography can draw in a buyer. A talented photographer always shows a property at its very best. Working with distinguished photographers throughout the East Bay, we create a look that showcases your home to ensure it comes across as beautiful online and in print as it is in real life.
PRICING YOUR PROPERTY
IT IS IMPORTANT THAT WE PRICE YOUR HOME PROPERLY FROM THE START, WHILE BUYER INTEREST IS AT ITS HIGHEST.
Pricing your home is a complex task that requires the expertise of an experienced real estate professional. Consider the following:
• If the listing price is set outside of the proper parameters, potential buyers may be deterred from considering your home
Arriving at the optimal price requires evaluation and understanding of current marketing conditions, the marketable features of your home, and recent trends in the real estate market
• The closer your home is priced to fair market value when it first comes on the market, the more likely it will sell quickly at the highest price
• The higher your home is priced above market value, the smaller the number of available buyers
Your Dudum Real Estate Group agent will advise you of the following factors when assisting you to determine a listing price for your home:
• What have buyers recently paid for similar properties?
• Will this price attract enough attention from buyers to generate showings and acceptable offers?
Which properties are competing for the attention of your buyers right now?
• Which properties have not sold, indicating what prices buyers are unwilling to pay under current market conditions?
BUYER INTEREST OVER TIME
ACTIVITY
WEEKS ON MARKET
A property attracts the most excitement and interest from the real estate community and potential buyers when it is first listed; therefore it has the highest chance of selling for the highest possible price when it is new to the market.
0 2 4 6 8 10 12
EFFECTS OF OVERPRICING
"
You never get a second chance to make a first impression. It's extremely important not to miss the mark from the get-go. Once the gates open, all systems and marketing should be accurate and ready to go."
— Julie Del Santo, Broker/Owner
Overpricing your home will attract fewer potential buyers and may cause it to sit on the market for longer than desired. To the buyer, too much time on the market indicates an overpriced property and often is perceived as an opportunity to negotiate a lower price than the market might typically bear.
Pricing your home competitively at the start will create more activity among brokers and buyers, decrease the time it takes to sell, and ultimately yield the highest possible price.
MARKET VALUE STRATEGIES
STATISTICS HAVE SHOWN
Pricing is extremely important in the real estate market. The diagram on the opposite page illustrates the importance of placing your property on the market at a competitive price from the very beginning.
• 95% of buyers will want to see your home if priced at fair market value
50% of buyers will try to view your home if priced at 5% over market value
• 30% of buyers will make an effort to see your home if priced only 10% over market value
• 20% of buyers will be interested in your home if priced at 15% over market value
PRICE MATTERS
You want to price your home to allow for the most exposure possible, in order to get the most buyers in the door, and get your property the highest possible price!
Over Market Value 15% Over Market Value 10% Over Market Value 5% Fair Market Value 20% of Buyers 30% of Buyers 50% of Buyers 95% of Buyers
TIMELINE It is essential to understand that selling a home is a step-by-step process that should begin with the selection of an agent who will skillfully guide you through the entire transaction. Below is a sample of the typical buyer/seller transaction, and
to expect. DUE DILIGENCE GETTING STARTED CLOSING AFTER SALE SERVICE Present Offer Package & Purchase Contract in Person Negotiate the Best Possible Price for Your Home! Offer Accepted Escrow Set Up Inspection Review Submit Home Info to Lender Home Insurance Contingency Removal Inspections & Property Condition Loan Underwriting & Appraisal Negotiate Possible Repairs Final Walk-Through Moving Details Sign Off & Loan Funding Record & Close Escrow Possibly Help You Find Your Next Home Assist You with Relocation Needs Provide Resources for After-Sale Homeowner Needs Be a Referral Resource for Friends & Family Seeking Same Great First-Class Service 1 2 3 4
ESCROW
what
DOCUMENTATION
It is essential that the seller prepare all paperwork required before a buyer can put together their best offer. This can include the following:
DISCLOSURES
We will provide the Transfer Disclosure Statement to you and be there as you fill it out, should you have any questions. Please note: it is required that you fill out this document yourself, to the best of your knowledge. We will assist in gathering additional information, if necessary.
CONDOMINIUM OR CO-OP DOCUMENTS
If your property is a condominium, loft, or co-op, it will be necessary to provide the CC&Rs, By-Laws, Articles of Incorporation, budget, homeowners' association meeting minutes for the previous 12 months, and any other information relevant to the homeowners' association. (This is typically coordinated with the escrow company once the property has gone under contract).
TENANT-OCCUPIED PROPERTIES
If your property is tenant-occupied, all information relevant to the tenancy such as rental agreement(s), notice(s) of change in tenancy, notice(s) of rent increases, and recent correspondence with tenants should be gathered as well.
CLOSING COSTS: WHO PAYS WHAT?
Closing costs are the various fees charged by the lender, title company, real estate agents, and other service providers in order to complete a real estate transaction and are paid through escrow. Which party pays for specific closing costs can be negotiated between the buyer and seller.
Title insurance premiums
Escrow fee
Document preparation, if applicable
• Notary fees
• Recording charges for all documents in buyers' names
Tax proration (from date of acquisition)
All new loan charges (except those required by lender for seller to pay)
Appraisal fee
Interest on new loan from date of funding to 30 days prior to first payment date
• Assumption/change of record fees
• Beneficiary statement fee
Pro-rated HOA dues, if applicable
Inspection fees (roof, pool, property inspection, pest, geological, etc.)
Home warranty (according to contract)
City transfer tax (half of city transfer tax, if applicable)
• Fire insurance premium for first year
Real estate commission
Document preparation for deed
Documentary transfer tax (half of city transfer tax, if applicable)
Payoff of all loans against property
• Interest accrued on loans being paid off, reconveyance fees, and repayment penalties
• Home warranty (if specified in contract)
Any judgment or tax liens against seller
Property tax proration
Prorated HOA dues, if applicable
HOA fee for providing all updated homeowner's documents, if applicable
• Bonds or assessments
• Delinquent taxes
Notary and recording fees
Third party Natural Hazard Disclosure Statement & California Tax Disclosure Report
Pre-sale inspection fees
Negotiated credits to buyer, if any
• Negotiated repairs, if any
BUYER CUSTOMARILY PAYS THE SELLER CUSTOMARILY PAYS
THE
RISK MANAGEMENT & LEGAL SUPPORT
Research shows that 1 out of every 100 transactions in California results in litigation.
At Dudum Real Estate Group we are committed to avoiding such an outcome and to providing the highest level of risk management by working to ensure that all sales are handled appropriately from beginning to end. You can be confident that the sale of your home will take place in full compliance with California real estate law and with a level of integrity consistent with the National Association of Realtors' strict code of ethics.
To this end we provide regular legal updates and training to our agents to help them stay current on the latest legal developments and the most current versions of the standard paperwork used in the process of buying and selling real estate. Further, our management team supervises our agents' work and, if problems are noted, works with those agents to ensure that best practices are followed.
A major part of any real estate transaction is the paperwork. At Dudum Real Estate Group we work hard to be sure all files are complete and accurate. From listing to closing, transaction files are regularly audited by our file review team. Our file reviewers work to ensure that each file is in compliance with strict state and brokerage requirements.
We also have the legal support of two well-known and highly-respected local real estate law firms. One of these is the Shannon B. Jones Law Group. Ms. Jones, along with her associates, has a long and successful history of risk management in the Bay Area. Shannon was even selected by the California Association of Realtors as a member of its Strategic Defense Panel. We have also retained the firm Broker Risk Management, whose principals Vickie Naidorf and Bill Jansen have many years of combined Bay Area real estate law experience.
With this expertise on the part of our agents, management, and legal team we do everything we can to make each transaction as problem-free as possible.
WHAT OUR CLIENTS SAY
"Dudum Real Estate Group were good communicators, very responsive, considerate of our opinions, and very honest with us. Impressive work... thanks for a job well done."
JOHN LUCAS & ANN NORBY
"Dudum Real Estate Group exhibits great confidence in their knowledge about the current real estate market, they invested a lot of themselves into the sale of our home. They get results!"
LARRY & ELLEN BROWN
"Dudum Real Estate Group was very patient in explaining all the steps. They were a pleasure to work with and we appreciated their professionalism."
ED & ELIZABETH BOYD
"Dudum Real Estate Group guided us through the purchase of our first home. They gave us great advice and were honest throughout the entire process."
JUSTIN & JOANNE VERRIPS
"We could never have thought of anyone but Dudum Real Estate Group to escort us through our journey of buying a home. Their insight and patience meant so much to us. We knew we were in good hands."
THE AHITUV FAMILY
"Dudum Real Estate Group was very patient and very enthusiastic. I would recommend Dudum Real Estate Group to everyone I know. They know the Bay Area well!"
KEITH JOHNSON & ALLISON MURPHY
"Dudum Real Estate Group was always available and very dependable. I would definitely refer any of my friends and colleagues."
NIKHIL GERA
"Dudum Real Estate Group did a tremendous job of prepping our house for sale, handling negotiations, and worked hard to fit our specific needs. We could not be more pleased and are recommending Dudum to everyone we know!"
CRAIG & HEATHER BUCKSER
"Dudum Real Estate Group did an excellent job of explaining every part of the sales process. They are the best brokerage we know and have been referring them to everyone we know."
IVAN & LEANNE DODIC
"Dudum Real Estate Group is an outstanding brokerage. They never pressured or pushed us and made us feel comfortable and confident in all steps of this crazy process. We have and will recommend Dudum to friends and family. We loved them and appreciate all of their hard work."
KEVIN & RYANN KUIPER
COMMUNITY INVOLVEMENT
COMMITTED TO THE COMMUNITIES IN WHICH WE SERVE
Dudum Real Estate Group is grounded deeply in the core values of the communities in which we serve. We are committed to giving back and lending a helping hand wherever possible. Whether property or philanthropy, we strive to improve upon these relationships and give back to the community that has given us so much.
Several of the organizations we support appear here.
THE POWER OF COMMITMENT
Commitment is what transforms a promise into reality. It is the words that speak boldly of your intentions. And the actions which speak louder than words. It is making the time when there is none. Coming through time after time, year after year. Commitment is the stuff character is made of, the power to change in the face of things. It is the daily triumph of integrity over skepticism. Once one commits, providence happens, and things are able to fall into place. Here at Dudum Real Estate Group, we are committed to you!
OPENING DOORS OF OPPORTUNITY
It's what we do. We look forward to opening doors for you!
is not my intention to solicit other brokers' listings. DRE# 01882902 Rev 01/2023
WWW.DUDUM.COM WALNUT CREEK | LAMORINDA | DANVILLE | BRENTWOOD | SIERRA TAHOE DRE# 01882902 ©2023 The information herein was obtained by sources deemed to be reliable by Dudum Real Estate Group. Dudum Real Estate Group has not independently verified the information contained herein and therefore, assumes no legal responsibility for its accuracy. Buyer should investigate any matters or items disclosed, identified or about which they have concerns to their own satisfaction. If your home is currently listed, please disregard this notice as it