Rental Information Welcome to the Queen City! DickensMitchener 704.661.2402 2330RandolphRoad dickensmitchener.com Charlotte,NC28207
welcome to charlotte
People love to live in Charlotte. Our experience with relocating companies demonstrates repeatedly that they are successful in recruiting highly talented individuals from all regions of the U.S. and abroad. Charlotte has one of the highest in-migration rates in the nation. Once they are here, most transferees do not want to leave, and here are a few of the reasons why:
With a population of more than 2.4 million, metropolitan Charlotte offers all of the advantages and amenities of a major urban area.
Charlotte's composite cost of living at 96.2 is one of the lowest for cities of its size. A key component of that figure is housing, which in Charlotte is 84.7 percent of the national average. Charlotte is rapidly bouncing back from the recession with one of the strongest housing recoveries in the nation.
Charlotte and Mecklenburg County offer a comparatively uncomplicated system of taxation. Because the city and county jointly operate one tax department, taxpayers are only subject to one payment. Charlotte has the 17th lowest residential property tax rates compared to the largest city in each state.
Charlotte is strategically located in the U.S. and is only a two-hour plane ride from 60 percent of the U.S. population. The highest mountains in eastern North America are a short 2-hour drive away, while some of the best Atlantic coast beaches can be reached by car in only 3 to 3.5 hours.
Charlotte Douglas International Airport provides superior air service with nonstop daily service to 159 destinations, including international service to Dublin, Frankfurt, Munich, London, Montreal, Toronto, Mexico City, Rome, Madrid and many Caribbean islands.
For relocating spouses and partners, job opportunities in Charlotte are greater than in most other U.S. cities. Charlotte boasts 291 Fortune 500 operations, more than 1,300 companies that regionally employ 100 or more, and seven Fortune 500 headquarters. During 2014, 1,133 different companies in Mecklenburg County alone announced the creation 13,134 new jobs. It is no
surprise that Charlotte experienced the second-fastest population growth in the country in 2014.
Charlotte's economy is also highly diversified. No single industry sector, including financial services, has a dominant share of the employm ent market. All major industry groupings are represented. While the finance, manufacturing, and technology sectors all have a major presence, Charlotte is consistently named a top city for entrepreneurs wishing to start their own business. Though Charlotte is not immune from swings in the economy, this diverse mix provides greater stability than what is found in many other urban markets.
Charlotte also offers a highly developed and sophisticated international business environment. There are currently more than 950 foreign-owned companies in the metro area, and their presence spawns a large number of international business and cultural organizations. Expatriates will find many of their countrymen in Charlotte and a valuable support network
Charlotte is firmly established as one of the country's most recognized and respected regional health care centers. Cutting-edge facilities offer top-notch care, and a very wide network of senior living facilities supports relocating professionals with family members in need of such services.
Charlotte offers a nationally acclaimed level of higher education. The 51 colleges and universities within the area serve more than 222,000 students. Annual In-state tuition starts at $4,629 per year in the highly regarded North Carolina state university system. Residency status requires that individuals live in the state at least one year.
Charlotte-Mecklenburg Schools (CMS), the public school system serving Mecklenburg County, continually ranks as one of the best urban systems in the country. Thirty-four CMS schools were recently named honor schools of excellence or distinction by the state of North Carolina.
Charlotte neighborhoods and residences have distinct personalities and offer diverse housing options. At any given time, more than 20,000 homes are available to choose from.
Charlotte's thriving arts community enhances an already rich and stimulating quality of life. Symphony, dance, theater, opera, art museums and a wide range of other venues are supported by the Arts & Science Council, which conducts one of the highest per capita annual campaigns of its type in the country. A large number of arts venues are located downtown within walking distance of each other and the LYNX Blue Line light rail.
If sports are your pleasure, Charlotte has it all: NFL, NBA, NASCAR, PGA, MLL, USL, AAA baseball and an NHL/AHL affiliate, not to mention collegiate sports.
Outdoor recreation opportunities abound in Charlotte: canoeing and kayaking at the U.S. National Whitewater Center; boating and fishing on lakes Norman, Mountain Island an d Wylie; golfing on courses that are accessible from all residential and business areas; skiing in the Appalachian mountains; and camping, horseback riding, hiking and more.
Nothing could be finer than Charlotte's North Carolina weather. Four distinct seasons with balanced summers and winters prevail. Extreme conditions are rare, allowing year-round use of the city's 17,600 acres of parks, 37 miles of greenways and more than 30 public and private golf courses. More courses are available in outlying counties. Only half of winter days fall below the freezing point, and sub-zero temperatures have been recorded in Charlotte only five times since 1878. Spring and fall seasons are protracted and extremely pleasant, and weather rarely interrupts outdoor activities
Median 1BR Rent $980 $820 $700 $880 $1,200 $1,200 $950 $1,010 Median 2BR Rent $1,140 $950 $820 $1,020 $1,390 $1,420 $1,100 $1,180 M/M Rent Growth 0.2% 0.1% 0.2% -0.1% 0.9% 0.8% 0.2% 0 Y/Y Rent Growth -0.6% 0.2% 0.6% 3.1% 4.4% -0.8% 1.9% -0.6% City Charlotte Concord Gastonia Rock Hill Huntersville Matthews Cornelius Fort Mill
Charlotte Apartment Rent Ranges *Source: RentCafe $501 - $700 1% $701 - $1,000 26% $1,001 - $1,500 55% $1,501 - $2,000 13% >$2,001 5%
Charlotte Area Rental Report – August 2020
Third Annual Apartment List Renter Satisfaction Survey
Responses from over 45,000 renters
- "Overall satisfaction" with Charlotte from renters was given grade of "A-"
- "Social life" and "jobs and career opportunities" were Charlotte's highest ranked categories with grades of "A-"
- Millennial renters give Charlotte an overall "A-"
- Renters with children give Charlotte an "A"
- Worth noting that renters on this survey tended to talk about how pet-friendly of a city Charlotte is
Median Rent Comparisons to other large cities in 2019 (Apartment List)
Transportation
LYNX Blue Line Light Rail - $2.20 for one-way ticket
Charlotte Area Transit System (CATS) Bus Service - $2.20 for one-way ticket, $3 for express buses
Bike-share - Charlotte B-cycle
24-hour pass - $8.00
Annual membership - $100.00 + $.27/day for unlimited 2 hour rentals
GasBuddy 2019 - Average price of a gallon of gas in Charlotte - $2.64
GasBuddy 2019 - National average price of a gallon of gas - $2.87
Studio Size 1 Bedroom 2 Bedroom 3 Bedroom $875 Charlotte $969 $1,130 $1,523 $988 Atlanta $1,036 $1,197 $1,572 $1,899 New York City $2,098 $2,499 $3,222
How Rental Scams Work
Rental scams have become more prominent in recent years. Using a licensed professional to obtain a rental will reduce the risk of being scammed.
Scammers know that nding the right apartment or vacation rental can be hard work, and a seemingly good deal is hard to pass up. They've been known to game some vacation rental websites and bulletin boards. The take-away: when you're looking for a rental, it's caveat renter — renter beware.
Hijacked Ads
Some scammers hijack a real rental or real estate listing by changing the email address or other contact information, and placing the modi ed ad on another site. The altered ad may even use the name of the person who posted the original ad. In other cases, scammers have hijacked the email accounts of property owners on reputable vacation rental websites.
Phantom Rentals
Other rip-off artists make up listings for places that aren't for rent or don't exist, and try to lure you in with the promise of low rent, or great amenities. Their goal is to get your money before you nd out.
Signs of a Scam
Being savvy when you're in search of a rental is well worth the effort. Here are some signs you may be dealing with a scam:
They tell you to wire money
This is the surest sign of a scam. There's never a good reason to wire money to pay a security deposit, application fee, rst month's rent, or vacation rental fee. That's true even if they send you a contract rst. Wiring money is the same as sending cash — once you send it, you have no way to get it back.
They want a security deposit or rst month's rent before you've met or signed a lease
It's never a good idea to send money to someone you've never met in person for an apartment you haven't seen. If you can't visit an apartment or house yourself, ask someone you trust to go and con rm that it's for rent, and that it is what was advertised. In addition to setting up a meeting, do a search on the owner and listing. If you nd the same ad listed under a different name, that's a clue it may be a scam.
They say they're out of the country
But they have a plan to get the keys into your hands. It might involve a lawyer or an "agent" working on their behalf. Some scammers even create fake keys. Don't send money to them overseas. If you can't meet in person, see the apartment, or sign a lease before you pay, keep looking. What if the rental itself is overseas? Paying with a credit card or through a reputable vacation rental website with its own payment system are your safest bets.
Charlotte in Detail
population
A city's population says a lot about its quality of life. With a population growth of almost 40 percent in the last 10 years, it is easy to see why people are flocking to the Charlotte region. Boasting a young and diverse populace, Charlotte ranks No. 16 in total population among U.S. cities. The Charlotte metropolitan area ranks No. 23. Having recently surpassed the one-million mark, Mecklenburg County is expected to keep growing, reaching a population of 1.3 million by 2030.
Percent of Population by Age Group
Mecklenburg County
Source: U.S. Census Bureau, American Community Survey 2009-2013 5-Year Estimates
Population Projections
Source (2013-2015): North Carolina Department of Commerce, Labor and Economic Analysis Division; South Carolina Employment Security Commission, Labor Market Information Department
Source
U.S. Census Bureau; Charlotte Chamber Population Estimates
Population rankings
U.S. population rank, City of Charlotte
16
23
U.S. population rank, MSA
Median Age
Source: U.S. Census Bureau; Charlotte Chamber Population Estimates
Source: U.S. Census Bureau, 2013 American Community Survey. Table B01002, "Median Age by Sex"
0-14 15-24 25-34 35-44 45-54 55+ 21.2 13.4 16.7 15.7 13.8 19.3
Year City of Charlotte Mecklenburg County Charlotte MSA 2014 809,958 1,012,539 2,376,688 2009 716,874 935,304 1,725,759 2004 614,330 790,809 1,500,338 2000 540,828 695,454 1,330,448 1990 395,934 511,433 1,024,096 1980 315,473 404,270 855,538 1970 241,420 354,656 741,118 1960 201,564 272,111 426,549
1.6 mil. 1.4 mil. 1.2 mil. 1 mil. 2015 2020 2025 2030
(1960-2013):
United States North Carolina Mecklenburg County Charlotte
Total Male Female 37.9 36.3 34.5 33.2 37.6 36.2 33.3 32.5 38.5 35.6 39.5 34.2
Household
U.S. Census Bureau, 2013 American Community Survey 1-Year Estimates. Note: In 2013 inflation-adjusted dollars.
Household
Population Comparisons
population
Income City of Mecklenburg Charlotte County Median income $52,375 $54,278 Mean income $78,641 $80,917 Source: Nielsen Site Reports, Mecklenburg County
Race 2004 Population 2014 Population % Change American Indian or Alaskan Native, Non-Hispanic 6,883 8,553 24% Asian, Non-Hispanic 41,339 75,302 82% Black, Non-Hispanic 395,878 523,200 32% Hispanic all races 124,431 237,607 91% Native Hawaiian or Pacific Islander, Non-Hispanic 628 1,188 89% Two or More Races, Non-Hispanic 18,598 40,104 116% White, Non-Hispanic 1,292,277 1,490,734 15% Total 1,880,033 2,376,688 26% Source: EMSI, Charlotte MSA
Income City of Charlotte Mecklenburg County Total Households 292,150 362,465 Less than $10,000 7% 7% $10,000 to $14,999 5% 4% $15,000 to $24,999 10% 10% $25,000 to $34,999 11% 11% $35,000 to $49,999 15% 15% $50,000 to $74,999 18% 18% $75,000 to $99,999 11% 11% $100,000 to $149,999 12% 13% $150,000 to $199,999 5% 6% $200,000 or more 6% 7% Source:
quality of life
Attractions
There are more than 14 unique attractions including Carowinds Amusement Park, NASCAR Hall of Fame and U.S. National Whitewater Center in the Charlotte area.
Sports
• Bank of America Stadium, home of the NFL's Carolina Panthers
• Time Warner Cable Area, home of the NBA's Charlotte Hornets
• BB&T Ballpark, new home of the Charlotte Knights AAA baseball team
• Bojangles Coliseum, home of Charlotte Checkers AHL ice hockey team
• New Professional (USL) Soccer Team –Charlotte Independence
Culture
• Arts & Science Council impacted 183 organizations with almost $13 million in investments in 2014
• United Way of Central Carolinas raised $26.2 million and partnered with 84 agencies in 2014
• Charlotte is home to 15 museums and 10 performing arts venues
• More than 20 breweries in Charlotte MSA with additional breweries, cideries and distilleries announced
Medical
• 7 acute care hospitals and 5 specialty care hospitals
• 90+ Independent living, assisted living and nursing facilities
• 7 Nursing programs
Worship
• 500+ Protestant Churches
• 16 Catholic Churches
• 6 Temples
• 40+ other places of worship
Recreational District, Neighborhood and Community Parks 210 Miles of Greenway 37 Total Park Acres 19,000 Nature Preserves 21 Public and Semi-Private Golf Courses 16 Private Golf Courses 18 Country Clubs 17 Parks With Public Boat Launches/Docks 3 Disc Golf Courses 14 Dog Parks 6 Equestrian Center 1 BMX Track 1 Skate Parks 1 Athletic Fields 200+ Tennis Courts 144 Playgrounds 100+ Basketball Courts 100+ Source: Mecklenburg County Park and Recreation
migration
The Charlotte metropolitan area has one of the highest in-migration rates in the country and is consistently considered one of the top moving destinations in the U.S. People are coming to Charlotte not only from surrounding counties and states, but from many different countries as well, creating a more diversified city each year. People moving to Charlotte can expect a relatively low commute time compared to other large cities, averaging 15 to 30 minutes.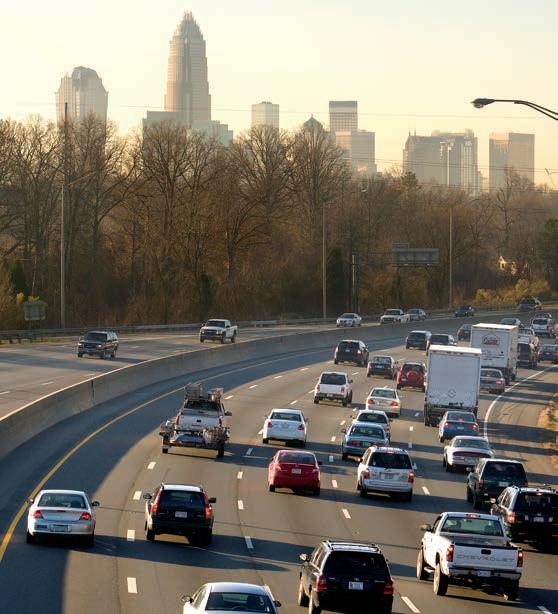 Domestic In-Migration: Top 10 States
Travel Time to Work
Rank State No. of People 1 Other NC Counties 22,690 2 South Carolina 4,705 3 Florida 3,960 4 New York 3,950 5 Virginia 2,705 6 Georgia 2,590 7 New Jersey 1,532 8 Pennsylvania 1,487 9 Maryland 1,329 10 Ohio 1,324 Minutes Meck. Gaston York, SC Cabarrus Iredell Lincoln Lancaster, SC Rowan Stanly Catawba Less than 10 9.9% 10.3% 11.5% 10.4% 12.7% 11.3% 11.0% 13.6% 17.4% 12.6% 10 to 14 13.4% 12.4% 13.6% 13.4% 17.6% 11.9% 14.5% 18.5% 15.9% 18.8% 15 to 19 16.3% 17.0% 15.2% 16.3% 17.3% 11.7% 14.3% 17.2% 14.9% 21.4% 20 to 24 17.9% 16.7% 14.9% 13.5% 15.2% 11.1% 12.2% 15.3% 11.1% 17.5% 25 to 29 7.7% 8.3% 7.6% 7.6% 5.5% 5.5% 4.7% 6.6% 4.9% 5.5% 30 to 34 16.8% 16.5% 15.6% 13.7% 11.1% 16.3% 13.8% 10.4% 8.6% 10.6% 35 to 44 7.2% 7.3% 7.7% 8.9% 5.6% 10.6% 9.4% 4.2% 5.8% 3.1% 45 to 59 6.0% *7.8% 8.5% 10.0% 8.5% 13.3% 11.7% 6.8% 11.2% 4.4% More than 59 4.8% *7.8% 5.5% 6.2% 6.6% 8.4% 8.5% 7.4% 10.2% 6.1% Average 24.7 24.4 25.1 26.4 24.4 29.4 27.5 23.4 25.7 22.4 Source: U.S. Census Bureau, 2009-2013 5-Year American Community Survey. *Note: Due to some data collection error, these numbers do not sum to 100%
Source: 2008-2012 American Community Survey Migration Flows
IREDELL Out: 12,827 In: 6,079 GASTON Out: 28,959 In: 7,792 ROWAN Out: 7,508 In: 2,403 CABARRUS Out: 31,433 In: 12,394 STANLY Out: 4,263 In: 752 UNION Out: 37,359 In: 9,103 LANCASTER Out: 6,008 In: 2,020 YORK Out: 28,135 In: 8,587 S.C. S.C. N.C. N.C. LINCOLN Out: 9,544 In: 1,665 0 40 20 Miles MECKLENBURG Total In: 275,433 Total Out: 103,741
Commute To and From Mecklenburg County Source: U.S. Census Bureau Local Employment Dynamics, 2012 commuting
Number of People Who
Public transportation plays a significant role in connecting the people of Charlotte. The Charlotte Area Transit System (CATS) is growing at a rapid pace, serving Mecklenburg County and the five surrounding counties. The LYNX Blue Line is the region's first light rail system, running from South Charlotte to Center City and is currently being extended 9.3 miles through northeast Charlotte. Charlotte Douglas International Airport (CLT) hosts over 43 million passengers a year with nonstop flights to 151 destinations, 38 of which are international. In 2014, Norfolk Southern opened a new intermodal facility at CLT that links air, rail and truck services to East Coast seaports.
Commercial Airport Charlotte Douglas International Major Airlines 8 Regional Carriers 4 Foreign Flag Carriers 3 Daily Flights 680 Direct/Nonstop Flights . . . . . . . . . . . . . . . . . . . . 151 Rankings Total operations ..................................... 6 Total passengers 8 Cargo 34 Air Cargo Unloaded (tons) 68,434 Air Cargo Loaded (tons) 63,910
transportation
Source: Charlotte-Douglas International Airport, Fast Facts
Source: Charlotte-Douglas International Airport, 2014 Aviation and Activity Report
(Thousands of people) Total Air Passengers (Millions of people) 1,600 1,400 1,200 1,000 800 600 400 200 0 '14 '04 '05 '06 '07 '08 '09 '10 '11 '12 '13 25 20 15 10 5 0 '14 '04 '05 '06 '07 '08 '09 '10 '11 '12 '13
Total International Air Passengers
Air – Charlotte Douglas International Airport (CLT)
• CLT ranks 6th nationwide and 7th worldwide for total operations
• It is the 8th largest airport based on passenger totals
• 9 Major airlines
• 683 Daily flights
• Nonstop service to 151 destinations, 38 of which are international
Public Transportation
• Covers 11 municipalities
• Spans 425 square miles
• Largest system between DC and Atlanta
• Charlotte Area Transportation System (CATS) Buses
• 374 buses; 13 hybrid electric
• 74 routes
• ADA accessible
• 24.3 million passengers
LYNX Light Rail
• 9.6 mile track
• ADA accessible
• 15,000 riders per day
transportation
Charlotte Area AMTRAK Station Locations
• Charlotte
• Gastonia
• Kannapolis
Highways & Trucking
• Charlotte is the meeting point for major U.S. Interstates 77 and 85
• 13 U.S. and State primary highways run through the region
• Charlotte is home to over 300 trucking firms
• 40 percent of the nation's 100 largest trucking firms have operations in Charlotte
Rail & Intermodal
• Largest consolidated rail system in the U.S.
• 300 trains pass through Charlotte each week
• Hubs for CSX Transportation and Norfolk Southern
• Links to 27,000 miles of rail systems between the region and 23 other states
Port & Intermodal Facilities
• Inland port that handles more than 32,000 containers annually
• Easy accessibility to Port of Charleston and Port of Wilmington
• Charlotte Intermodal Terminal is the first fully operational inland container staging and storage facility operated by a port authority
• Norfolk Southern TBT, Norfolk Southern CSX, and RSI Leasing all have intermodal facilities in Charlotte
GETTING AROUND
CHARLOTTE AREA TRANSIT SYSTEM
As quickly as Charlotte has grown, so has the area's public transportation provider, the Charlotte Area Transit System (CATS). CATS serves a six-county region with daily services while also advancing regional transit planning. Serving more than 23 million trips each year, CATS operates bus, light rail and vanpool routes, as well as services for the disabled. All CATS vehicles are handicap accessible and contain bicycle storage.
The Charlotte Transportation Center, located near the Spectrum Center in uptown Charlotte, serves as the main hub for all radial bus routes and the LYNX Blue Line light rail line.
The LYNX Blue Line opened in 2007 as the region's first light rail service. Running adjacent to South Boulevard, the line runs from the city center to Interstate 485 in the southern part of Mecklenburg County. Its 15 stations vary from walk-up stations to park-and-ride stations with space for as many as 1,100 vehicles. Running every 10 minutes in peak periods, LYNX offers a consistent trip time from the farthest station to the city center.
The Blue Line is currently being extended 9.3 miles to northeast Charlotte, terminating at UNC Charlotte. When the line is completed in 2017, the vibrant neighborhoods of South End, Uptown, NoDa and University City will be connected like never before.
CHARLOTTE DOUGLAS INTERNATIONAL AIRPORT
Charlotte Douglas International Airport (CLT), home to the second-largest hub of newly merged American Airlines and US Airways, offers nonstop service to 151 destinations, including Dublin, Frankfurt, London, Madrid, Munich, Paris, Rome, Toronto, the Caribbean and several Mexican cities. More than 700 flights leave Charlotte daily.
CATS offers an express service to and from the airport throughout the day. The route runs frequently between the Charlotte Transportation Center and the airport terminal with a few stops in between, utilizing dedicated buses modified to accommodate visitors who may be traveling with luggage.
Whether catching a business flight to Europe or just trying to get across town, Charlotte's has the transportation assets to fit the bill. Charlotte-Douglas international airport (CLT) offers more than 700 daily flights to more than 150 national and international destinations. The city's position at the intersection of two major interstate highways puts Charlotte within a day's driving distance of more than half the U.S. population.
The Charlotte area has a robust and growing public transit system. With the addition of the 9.3-mile Lynx Blue Line light rail in 2007 linking southeastern Mecklenburg County with uptown, interest in transit ridership surged. Today, Charlotte area residents take more than 100,000 daily rides on the Charlotte Area Transit System's (CATS) 73 bus and rail routes each day.
In 2017, the Blue Line Extension will connect Charlotte's Center City with the 27,000-student University of North Carolina at Charlotte, passing through the city's Applied Innovation Corridor and NoDa arts and entertainment district along the way.
In addition to several traditional taxi companies and more than 60 limousine and car service companies, ride-sharing services such as Uber and Lyft have also expanded their presence in Charlotte in recent years.
100,000 DAILY RIDES ON CATS
330 South Tryon Street, Charlotte, NC 28202 704.378.1300 charlotte.global @cltecondev and @cltchamber TRANSPORTATION
330 South Tryon Street, Charlotte, NC 28202 704.378.1300 charlotte.global @cltecondev and @cltchamber
Sports and Recreation
Charlotte is an ideal place for millennials, families, sports fans, arts enthusiasts and outdoor lovers. From professional sports teams to miles of greenway trails to museums, there is always something to do in Charlotte. Lake Norman, the biggest manmade lake in North Carolina, spans the north end of the county while the amusement park, Carowinds, attracts people to south Charlotte. The city's mild climate makes it perfect for outdoor activities and competitive events most of the year. Charlotte hosts many foot races (5K and 10K) annually, and a marathon has been run every year in Charlotte since 1977.
CHARLOTTE IS THE IDEAL PLACE FOR SPORTS FANS AS THE HOME TO: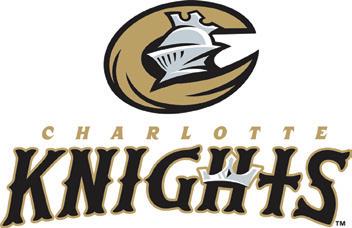 MLL
PHOTOS
NFL RACING NBA AAA Baseball AHL
USL PRO Soccer
BY DAVID JAFFE
Sensational Sports and Recreation
WITH THE NFL'S CAROLINA PANTHERS and the NBA's Charlotte Hornets calling Charlotte home, this city is the pinnacle for professional sports as well as recreation and tourism. Whether it is a mountain bike ride along a trail or world-class golf at the Wells Fargo Championship, 50 laps in the pool or 600 laps at Charlotte Motor Speedway, there is something for everyone. Charlotte spectators can cheer the home team in just about any sport and enjoy the city's many beautiful parks, specialized facilities, annual festivals and other community events.
The city's mild climate makes it perfect for outdoor activities and competitive events most of the year. Charlotte hosts many foot races (5K and 10K) annually, and a marathon has been run every year in Charlotte since 1977. For those needing variety in their competitive workouts, Mecklenburg County is home to three major triathlons, which attract more than 1,750 participants each year.
The Catawba River and its system of man-made lakes provide many activities for water lovers. The river is home to the new U.S. National Whitewater Center, which is an official U.S. Olympic Training Site. Located just 30 minutes north of the city, Lake Norman has 520 miles of shoreline and is the state's largest man-made lake. Sailing, wind surfing, boating and fishing are just a few of the activities to be enjoyed on this 34-mile long lake.
Spectacular Spectator Sports
Charlotte is a national sports hub, home to NFL, NBA, NASCAR, AAA baseball, MLL (lacrosse), USL (soccer) and an NHL/AHL affiliate.
NFL — The Carolina Panthers panthers.com
Bank of America Stadium, in downtown Charlotte, has 73,778 seats and had the eighth highest attendance of all NFL teams for the 2013 season. The $187 million state-of-the-art facility, designed specifically with football in mind, gives every spectator a clear view of the playing field.
This team began when NFL owners unanimously selected Carolina as the 29th NFL franchise on Oct. 26, 1993. Just 10 years later in 2003, the Panthers played in Super Bowl XXXVIII against the New England Patriots. In 2013, the Panthers finished 12-4 and clinched their third
NASCAR — Stock Car Racing charlottemotorspeedway.com nascarhall.com
Charlotte is the "pit stop" for all things NASCAR and was chosen as the home of the new NASCAR Hall of Fame and museum in 2006. The $195 million facility opened in 2010 and is located in the heart of downtown Charlotte.
Charlotte Motor Speedway is the largest sports facility in the Southeast and is recognized as one of the finest NASCAR facilities in the U.S. It is also used for race team testing and automobile manufacturing research. The Speedway has 140,000 permanent seats and capacity for nearly 40,000 more spectators in the infield of the 1.5-mile super speedway. As one of the busiest sports facilities in the country, Charlotte Motor Speedway hosts three series of racing:
• Sprint Cup Series: NASCAR Sprint All-Star Race, Coca-Cola 600 and Bank of America 500.
• Nationwide Series: Dollar General 300 and History 300.
• Camping World Truck Series: North Carolina Education Lottery 200.
The Coca-Cola 600 has the second-largest attendance of all sporting events in the nation.
NFC South division championship in just 19 seasons as a franchise.
©PATRICKSCHNEIDERPHOTO.COM
©PATRICKSCHNEIDERPHOTO.COM
MORE THAN 72,000 FANS REGULARLY ATTEND PANTHERS HOME GAMES.
Mecklenburg County Park and Recreation Department parkandrec.com
Mecklenburg County has more than 210 parks with tennis courts, swimming pools, golf courses, community centers, bowling alleys, picnic areas, ball fields, fitness trails, mountain biking, fishing, soccer fields, disc golf courses, playground equipment, skate parks, a dirt bike track, and an indoor water park, which opened in 2002. Specialized facilities include the Latta Plantation Park with its equestrian center, raptor center and canoeing. Numerous organized sports programs are available to residents of all ages. For information concerning the Mecklenburg County Park and Recreation Programs, call 704.336.3854. The parks Locator Map can be found at maps.co.mecklenburg.nc.us/website/parklocator.
The Mecklenburg County Park and Recreation Department also operates the pools and gyms at the Mecklenburg County Aquatic Center. Featuring a 50-meter pool and a 25-yard pool with handicap accessibility, this outstanding facility offers an incredibly wide variety of programs for all ages and abilities. Charlotte also offers other public and private facilities for swimming. Visit charmeck.org for further information.
The YMCA of Greater Charlotte is one of the largest YMCA programs in the country with 19 facilities and more than 150,000 members (ymcacharlotte.org). The metro area is also home to a variety of private gyms, indoor rock walls, in-line and ice hockey rinks and many other facilities to stay active all year long.
Golf
An avid golfer does not have to drive far to find quality golfing in the Charlotte area. Two of Golf Digest's top courses in North Carolina are in Charlotte at Charlotte Country Club and at Quail Hollow Club. Charlotte has 21 private and 80 public and semi-private golf courses.
Disc "Frisbee" Golf
The Charlotte area has become a haven for disc golf and has 22 disc golf courses for the public to enjoy. The Charlotte region hosts at least two major tournaments a year and currently has the most and finest quality courses of any city in the U.S.
Mountains or Beach: Only Two Hours Away
There are an unlimited number of attractions within hours of Charlotte. For those who love to stroll amidst natural splendor and view spectacular mountain
scenery, a drive along the Blue Ridge Parkway is less than two hours away. The North Carolina mountains are also home to several ski and snowboarding areas, which offer fun and challenging slopes. Adventure in the mountains continues throughout the year with whitewater rafting hitting its peak season in the spring and rock climbing, backpacking, camping and mountain biking trips possible almost year round.
In addition, the Pinehurst-Southern Pines area, the golf capital of the world, is only a short two-hour trip. Steeped in tradition, the eight courses of Pinehurst proper are renowned for their quality and subtleties. Its premier course, Pinehurst No. 2, is rated as having some of the finest greens in the world.
Cuisine and Culture is Always on the Calendar
Charlotteans love to socialize and celebrate; as a result, the community calendar is full of events (charlottesgotalot.com). These include Speed Street, a huge outdoor festival held downtown in conjunction with NASCAR's Coca-Cola 600 race. The Carolina Renaissance Festival and the Loch Norman Highland Games are hosted in nearby Huntersville. In the fall the Festival in the Park features arts, crafts, music and entertainment in a setting of full, fall colors. Cultural celebrations occur at different times throughout the year, including Greek, Italian, Indian, Native-American, Latino and Asian festivals. The Taste of Charlotte Festival each year celebrates local cuisine and attracts top celebrity chefs to the area, and the Charlotte Shout Festival also offers a celebration of the arts and culinary exploration.
To receive a free brochure about North Carolina's many exciting and diverse attractions, call 1.800.VISITNC.
6/14 ©PATRICKSCHNEIDERPHOTO.COM
4020 Yancey Rd.,
| www.cbi-nc.com Charlotte Chamber Economic Development 330 S. Tryon St., Charlotte, NC 28202 USA 704.378.1300 | charlottechamber.com | @cltecondev
CBI partners with our clients to fully understand their business and workplace needs and develop premier interior solutions that integrate seamlessly into their business models and fit their unique work enviroments.
Charlotte, NC 704.525.7630