HEALTHCARE
We are an innovative, award-winning, national construction management firm, specializing in healthcare construction. Since our inception in 1996, we have completed over $4 billion of construction across the United States and the Caribbean Islands. We are one of America's fastest-growing companies, according to Inc. 5000, and are listed on ENR's Top 400 Contractors list annually. DeAngelis Diamond (DD) is dedicated to providing our clients with a streamlined building process that highlights our safety, efficiency, technology, and highly skilled teams. Our mission is to develop authentic relationships and have a positive influence on everyone we meet. WHO WE ARE LICENSED IN 37 STATES 16 SEGMENTSMARKET 7 LOCATIONSOFFICE
104 DD ACADEMY CLASSES OFFERED ANNUALLY 250+ AWARDS & COUNTING 2,000+ HOURSANNUALLYVOLUNTEERED
Surgery
scheduling, one combined schedule of care, one electronic medical record, and one patient portal. INPATIENT & ACUTE CARE $84M | ESTERO, FL | 164,000 sq. ft. LEE HEALTH VILLAGE AT COCONUT POINT
Emergency
Recovery Care Center, Laboratory, Imaging, Rehab Therapy, Cardiac Testing, and Physician Office Spaces.
connectivity—one registration, one point
treatment.
healing,
This health and wellness destination is the only medical center in southern Lee County addressing the service gaps around the area. Facilities include a Healthy Life Center, Free-standing Department, Outpatient Center, Services focus on health, and Patients experience convenience through the hospital's system, "five ones" of health care of
NCH 5TH & 6TH FLOOR BUILD-OUT | $6M CITRUS MEMORIAL HOSPITAL HELIPAD & TRAUMA CENTER | $1.7M SMH HYBRID OR #21 | $1M HALIFAX HEALTH MEDICAL CENTER | $1.5M WESTSIDE REGIONAL MEDICAL CENTER PACU RENOVATION | $3.1M VENICE REGIONAL MEDICAL CENTER CVICU RENOVATION | $1.5M NCH DNH CENTERAVENTURARADIOLOGYINTERVENTIONALRENOVATION|$650KHOSPITAL&MEDICALEDEXPANSION|$11M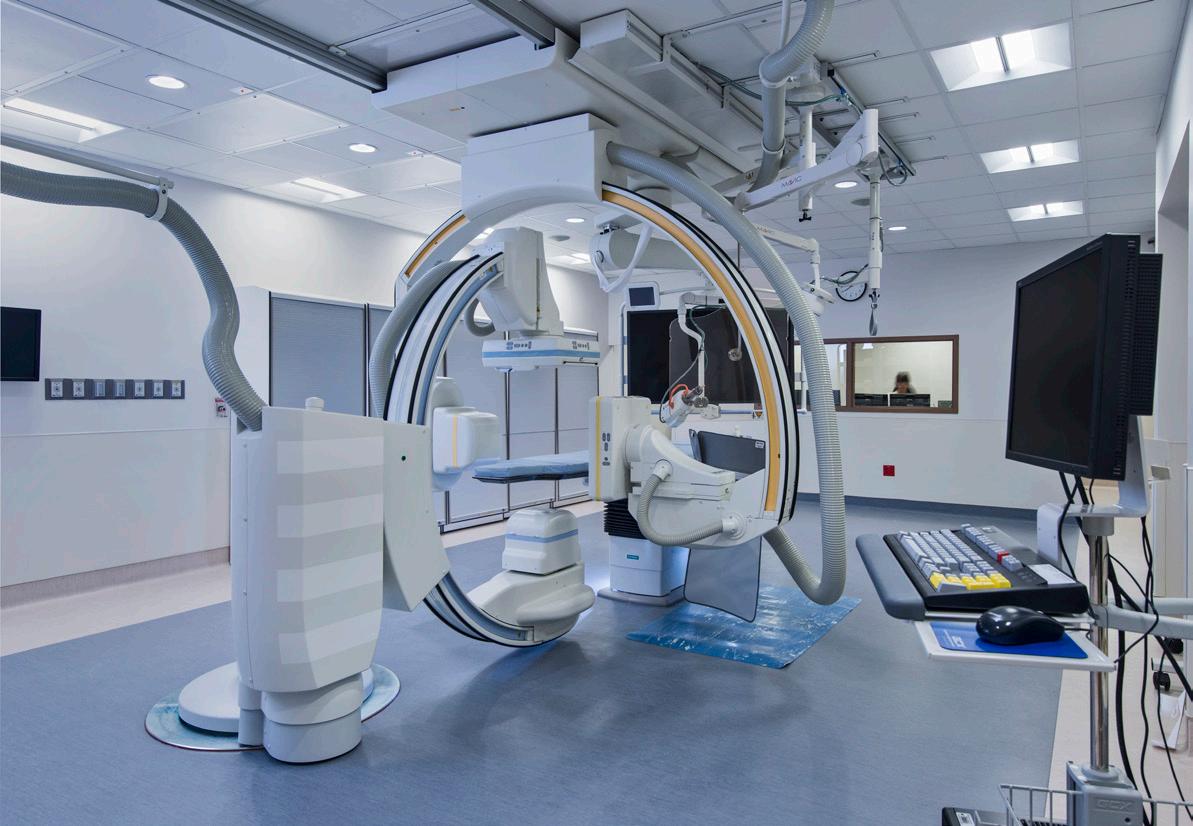 INPATIENT & ACUTE CARE
IN THE LAST 10 YEARS WE HAVE COMPLETED 200+ ACUTE CARE PROJECTS
This project is a 105,000 sq. ft. 140-bed tertiary-care hospital that is a Center of Excellence in cardiac surgery, cardiology, and orthopedics. Health City was the first project of its size on the island and was completed with an aggressive 12-month construction schedule. Over the next decade, the hospital plans to expand to a 2,000-bed facility. The hospital consists of semi-private and private patient rooms, an ICU suite, three operating theaters, one hybrid operating theater, lab, imaging suite which includes an MRI, gamma camera, nuclear med, and CT room, dental area, full kitch en, dining area and all required support space. The goal is to provide high-quality, affordable healthcare for patients in the Caribbean region and Americas.
HEALTH CITY CAYMAN ISLANDS
$40M | CAYMAN ISLANDS | 105,000 sq. ft.
FREESTANDING EDs & ASCs NAPLES COMMUNITY HOSPITAL FREESTANDING ED HCA FREESTANDINGLUTZ ED $5.2M | LUTZ, FL 10,820 sq. ft. $16M | NAPLES, FL 43,000 sq. ft.
HCA HUNTER'S CREEK FREESTANDING ED $6.5M | ORLANDO, FL | 13,100 sq. ft. SURGERY CENTER OF NAPLES $3.6M | NAPLES, FL 14,500 sq. ft.
$23.5M | WESLEY
|
North Tampa Behavioral Health is a 45,800 sq. ft. 50-bed behavioral health hospital and inpatient treatment center consisting of 26 psychiatric patient rooms with support space, a gymnasium, outdoor basketball court, and a full kitchen. The project was impressively completed 113 days ahead of schedule. A few years later, DD completed a 34,700 sq. ft. double-decker unit, expanding the hospital to 80,500 sq. ft. CHAPEL, FL 80,500 sq. ft.
NORTH TAMPA BEHAVIORAL HEALTH HOSPITAL AND INPATIENT TREATMENT BEHAVIORALCENTERHEALTH CENTERS
CENTERPOINTE HOSPITAL OF COLUMBIA | $18.5M TRUSTPOINT HOSPITAL OF MURFREESBORO | $35M ACADIA DESERT HILLS OF NM MODERNIZATION | $16M
$16M | NEW ORLEANS, LA | 65,000 sq. ft.REHABILITATIONHOSPITALREHABILITATIONCOBALT HOSPITALS
REHABILITATIONLAFAYETTEREGIONALHOSPITAL $10.5M | LAFAYETTE, IN 48,000 sq. ft.
MEDICAL OFFICE BUILDINGS $4M | NAPLES, FL 9,740 sq. ft. HEALTHNEIGHBORHOODCLINIC LEE HEALTH WOMEN'S & CHILDREN CLINIC | $2.5M GRIDLEY MEDICAL CENTER | $4.5M COOL SPRINGS PLASTIC SURGERY CENTER | $4.6MGENESIS CARE (MULTIPLE PROJECTS) | $9M+
16,000 sq. ft. $3.1M | NAPLES, FL JOINT REPLACEMENT INSTITUTE ARTHREX, INC. WELLNESS FACILITY | $14M BABCOCK RANCH WELLNESS CENTER | $4.8M RETINA CONSULTANTS | $1M MOFFITT PATIENT AMENITIES PAVILION | $1M COSMETIC FAMILY DENTISTRY | $1M BREAST CENTER OF NAPLES | $700K
NAPLES, FL 6635 Willow Park Drive Naples, FL 34109 o: 239.594.1994 FORT MYERS, FL 12553 New Brittany Blvd Fort Myers, FL 33907 o: 239.594.1994 SARASOTA, FL 2601 Cattlemen Road, Suite 404 Sarasota, FL 34232 o: 941.952.3846 ORLANDO, FL 111 N. Orange Avenue, Suite 1650 Orlando, FL 32801 o: 407.367.5173 BIRMINGHAM, AL 2871 Acton Road, Suite 101B Vestavia Hills, AL 35243 o: 205.977.7798 NASHVILLE, TN 2179 Edward Curd Lane, Suite 202 Franklin, TN 37067 o: 615.922.3995 DETROIT, MI 39555 Orchard Hill Place, Suite 235 Novi, MI 48375 o: deangelisdiamond.com248.513.6112