EDITORIAL
OB Trucks, like bicycles, are for summertime: during the summer season, competitions and sporting events, concerts and shows multiply, and that is why TM Broadcast wanted to approach some of the most relevant companies both in the European scene and in the EMEA area: Broadcast Solutions from Germany, Toutenkamion and AMP Visual TV from France, and Media Mania from the United Arab Emirates, will tell us about the latest developments and projects in which they are immersed.
And, as during the summer it is usual to have more free time to reflect, the reader will find in these pages two articles on two current issues: quantum computing - how much do we know about this subject - and HDR - where is HDR in Broadcast TV now?
Parallel to the time of year with more light in our days, in TM Broadcast International we will review one of the most important resources of audiovisual production, lighting. It is a factor of great impact
when it comes to building narratives, highlighting spaces or marking the focus of attention in any type of production. Because of this, among these pages the reader will find an article that will bring you closer to one of the most relevant equipment when lighting remotely and controlled: lighting consoles, also known as controllers and / or lighting tables.
Finally, we close the issue with the laboratory of two useful tools, the Clouzen Tainer portable back up unit and the Bronine ultra-fast chargers for cameras, with up to 4 ports. These are simple and efficient devices, designed to make shooting as easy as possible, without increasing the investment.
Because the essential thing is to know the market and all the possibilities that are available to creators and broadcasters, we hope that this August issue will provide you with the inspiration and energy you need to come back in September with your batteries fully charged.
Until then, enjoy your summer.
3
Editor in chief Javier de Martín editor@tmbroadcast.com Key account manager Patricia Pérez ppt@tmbroadcast.com Editorial staff press@tmbroadcast.com Creative Direction Mercedes González mercedes.gonzalez@tmbroadcast.com Administration Laura de Diego administration@tmbroadcast.com Published in Spain ISSN: 2659-5966 TM Broadcast International #120 August 2023 TM Broadcast International is a magazine published by Daró Media Group SL Centro Empresarial Tartessos Calle Pollensa 2, oficina 14 28290 Las Rozas (Madrid), Spain Phone +34 91 640 46 43
Outside Broadcasting is growing up
Up to the present time, providing for new formats or advances in compression performance announced an update of outside broadcast (OB) provision. Now the global stage is considerably more complex, and service providers need to consider additional factors, including readiness to adopt new technology, outsourced service provision and, last but not least, costs optimization.
New technical developments as IP brings flexibility to Outside Broadcast, but it presents unique challenges as covering programmes creatively, comprehensively and to the highest quality standards.
Interviews with:
Media Mania
Broadcast Solutions Toutenkamion
SUMMARY 4 News 6
25
5 Technology and creativity hand in hand HDR BROADCAST TV 56 Test Zone Clouzen Tainer and Bronine Chargers 64 Slashing CAPEX, OPEX, & energy rates using the latest 'green' video encoding technologies, by MediaKind 72
Vizrt launches new automated channel branding solution
The new solution, replacing Viz Multichannel, is called Viz Channel Branding and introduces greater control, stability, and visibility for automated channel branding and promo needs
Vizrt has announced the release of Viz Channel Branding, aims to open a new era of automated and scalable channel branding, promo, and marketing control for broadcasters across linear playout, FAST channels, VOD, and OTT.
There has never been a more significant threat to audience retention and advertising revenues, with research suggesting up to 50% of audiences "zap" to other content during ad breaks and traditional broadcaster viewing forecasted to shrink to below half (48%) of total video viewing by 2028. Building a strong and recognizable brand and ensuring viewers are kept informed is more important than ever to help broadcasters win and retain audiences.
Automated and scalable branding
Viz Channel Branding is a tool in the constant fight for viewer retention and audience growth.
Replacing Viz Multichannel, it introduces far greater automation, control, stability, and visibility for your branding and channel cross-promotion needs across all linear and on-demand outputs. On-screen branding events are dynamically built using metadata, rules, and conditions, while tight integrations with traffic and automation systems ensure frame accurate and correct playout regardless of changes to programming.
With Viz Channel Branding, it's never been easier to keep viewers informed and engaged, and to build and maintain a consistent and high-quality brand image that viewers will recognize, value, and be loyal to.
Complete visibility from a single screen
Viz Channel Branding's new Channel Deck™ gives operators complete confidence that branding is being played out correctly and on time through a dedicated window. Providing
complete visibility across any number of channels, users can see the planned branding and the result, providing a single source of truth for what's coming and any potential issues.
Enhanced user experience
A fresh and modern user interface makes it easy for both existing and new users to navigate the system so operators can focus on creating compelling content that keeps viewers informed, engaged, and coming back for more.
Enhanced stability, integrations, and failover support
At the press of a button, the new Failover Helper web app provides easy failover to a redundant system to guarantee the continuity of channel branding and promos in the event of a technology stack failure, ensuring viewers are always kept informed.
NEWS | PRODUCTS 6
Magewell releases control hub cevice and stream management software
The successor to the Magewell Cloud platform, Control Hub provides centralized configuration and control of multiple Magewell streaming and IP conversion solutions.
The Control Hub software can be deployed on-premises or in the cloud and supports Magewell hardware products including Ultra Stream and Ultra Encode live media encoders; Pro Convert NDI® encoders and decoders; the Pro Convert Audio DX IP audio converter; and the USB Fusion capture and mixing device. Users can remotely configure device parameters, monitor device status, trigger operational functions – such as starting or stopping encoding – and perform batch firmware upgrades across multiple units of the same model.
Control Hub converts between RTMP, SRT (in caller or listener mode), RTSP and transport streams (delivered over UDP or RTP).
Three tiers of the full Control Hub software are available for purchase as perpetual licenses to meet customers' specific needs for the number of managed devices, stream conversion channels and stream conversion outputs. Control Hub Basic offers management of up to 20 Magewell hardware devices and supports up to 5 stream conversion channels comprising a total of up to 20 outputs. For larger-scale deployments, Control Hub Plus supports up to 50 Magewell devices, 25 streaming channels and up to 50 total converted output streams, while Control Hub Pro supports 150 devices, 50 channels and 150
total conversion outputs.
A Lite version is also available for customers or integrators requiring device management (up to 20 devices per license) but who do not need stream conversion. Multiple Control Hub Lite licenses can be combined to manage a greater number of devices in increments of 20. A 14day trial version of Control Hub is also available for evaluation purposes.
Existing customers who purchased Magewell Cloud MC 50 or Magewell Cloud MC 150 licenses can redeem a code for a free upgrade to Control Hub Plus or Control Hub Pro, respectively.
The Control Hub software is delivered as a Docker container and can be deployed on public cloud infrastructure or the customers' own server. 
NEWS | PRODUCTS 8
MAGEWELL CONTROL HUB DASHBOARD
Ikegami introduces UHK-X600 multi-role HFR HDR camera to European broadcasters
Ikegami Electronics (Europe) has chosen IBC 2023 in Amsterdam as the European launch platform for the latest addition to its Unicam XE range of broadcastquality cameras. A highlight of the product demonstrations on the Ikegami stand will be the new UHK-X600 multi-role camera which is designed for pedestalmounted, tripod-mounted or over-the-shoulder operation.
"The design brief was to create a camera which gives broadcasters and production companies the freedom to update to latestgeneration high frame rate high dynamic range equipment that matches their current mode of operation while retaining the
option to add UHD capabilities if or when they choose," says Michael Latzsch, Broadcast & Professional Video Division Manager at Ikegami Europe.
Incorporating three 2/3-inch oversampling UHD CMOS sensors, the UHK-X600 delivers 1000 TVL resolution, minimal aliasing, plus 2000 lux sensitivity at F11 (50p). Standard features include full support for Hybrid Log Gamma HDR with the ability to select between BT.2020 and BT.709 chroma spaces. Global shutter imagers minimise artifacts when televising LED screen walls or flash/strobe illuminated stage environments.
Measuring a compact 34 x 24.5 x 15.5 cm and weighing only 5 kg, the UHK-X600 accepts a wide range of B4 lenses and supports chromatic aberration correction, vignetting correction, ramping compensation and remote control of backfocus when the latter is also supported by the lens.
Core of the UHK-X600 electronics is a power-efficient ASIC which encapsulates a wide range of high-grade video processing functions. When combined with the Ikegami BSX-100 type-S base station, the camera optionally supports simultaneous output in UHD and HD video formats. 
NEWS | PRODUCTS 10
IKEGAMI UHK-X600
Taiwan's TV and film industry, transformed by Cyans LED virtual studio supported by Brompton Technology
Harvatek, a Taiwanese supplier of LEDs, has collaborated with an experienced local equipment distributor to establish a joint subsidiary called Cyans Visual Creative Co., Ltd, in what appears as an exciting development for Taiwan's broadcasting industry.
The Cyans LED Virtual Studio is the country's very first virtual production (VP) facility placed within a broadcasting station and it's built inside the Formosa Television station (FTV) in the Linkou district, a hub for film and television productions in New Taipei City. The studio boasts the highest specifications, adhering to the Netflix Partner Center standard, and features industryleading LED processing provided by Brompton Technology.
Offering a great span of virtual production and realtime integration services, the Cyans LED Virtual Studio caters to a wide range of
commercial events, including press conferences, product launches, online activities, and small-scale concerts. Moreover, it is a versatile option for capturing dynamic shoots, including commercials, films, dramas, music videos, and other productions.
"In light of the growing global virtual production market, our goal with Cyans LED Virtual Studio is to provide Taiwanese film and television production teams with a cutting-edge, tailor-made environment that addresses their creative production needs," says Peter Hou, General Manager at Cyans
Visual Creative Co., Ltd. "Through the seamless integration of software and hardware, we strive to unleash creativity and drive the virtual production trend in Taiwan."
The studio offers a suspended LED main screen, the only one of its kind in Taiwan, ensuring a seamless display that greatly minimises moiré effect during shooting. Measuring 18.5m wide by 5m high, the LED wall is constructed with high-quality P2.3 Harvatek LED panels. "By using Harvatek's LED panels and industry 'gold standard' LED processing from Brompton, we are able to fulfil the technical
NEWS | STORIES OF SUCCESS 12
requirements for any virtual production (VP) or extended reality (XR) applications," explains Hou. He adds that the floor LED and ceiling LED can be conveniently adjusted based on production requirements, providing flexibility in capturing various shooting angles.
With high-resolution shooting capabilities and multi-camera frequency-based multi-angle operations, the Cyans LED Virtual Studio supports up to four cameras for live broadcasting.
Leveraging Unreal Engine with Virtual Cam and Physical Cam, both virtual and physical zoom modes can be empowered for enhanced production. Additionally, the use of a tracking
system significantly streamlines post-production time for the team working at the studio.
When choosing an LED processing solution, Brompton Technology was the preferred choice right from the start due to the performance and reliability of its Tessera products. "One key factor that cemented our decision was Brompton's unique Dynamic Calibration technology, which ensures accurate colour representation and HDR capabilities for LED displays," continues Hou.
Taking full advantage of Brompton's Tessera software feature set was another advantage for the team and allows them to meet the specific
requirements of a variety of use cases, offering flexibility and optimal performance. For Cyans, some of the most notable Tessera features include Frame Remapping, which makes it possible for multiple cameras to see different content when viewing the same LED screen at the same time; ChromaTune for making precise adjustments and corrections to the colours in incoming video signals; PureTone to compensate for any non-linearities, ensuring true, clean, accurate colours and neutral grey scales; and ShutterSync®, an industry-first, patented processing feature that automatically adjusts the timing of the LED refresh to match the preferred camera setup –.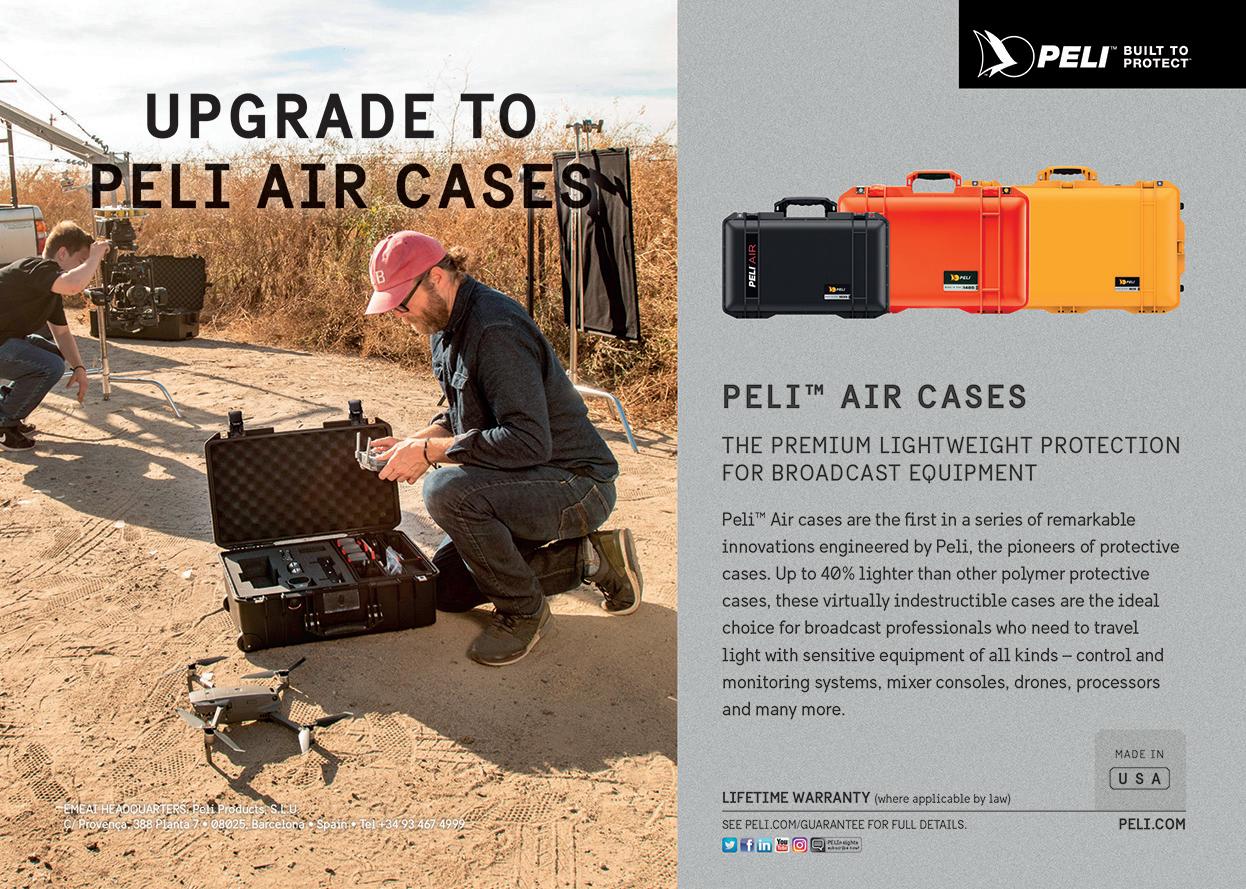 NEWS | STORIES OF SUCCESS
CP Communications counts on Pliant Technologies'
CrewCom system for a series of high-profile events
Pliant Technologies' intercom solution supplies the audio quality and reliability required for multiple deployments; to name only a few, CP Communications will use CrewCom system in production of events as NYC Marathon, NBA Finals or the Super Bowl
Pliant Technologies and CP Communications, company specialized on the supply of high-quality live event production solutions to the premium sports, entertainment, corporate, and news markets, have a long established an alliance in collaborating on intercom systems for many high-profile events, including The NYC Marathon, the Super Bowl, The NBA Finals, the All-Star Game and World Series, as well as the Westminster Dog Show, among others.
"One of the benefits of using CrewCom is it's scalability — it can be a very simple intercom solution or we can ramp it up to be a very large-scale deployment, with the ability to sync and coordinate with multiple systems," says Brian Ready, systems engineer, CP Communications. "For CP Communications, the typical users of CrewCom run the gamut of production, from stage managers to audio technicians to lighting. The gear is being used daily and over the long term it is robust and reliable. Our
customers find it to be very easy to use, especially with its one-toone relationship between the talk and listen buttons. There is no need to scroll through menus to get to what you need."
With CP Communications working on such a wide range of events and venues, the available frequencies often change from event to event, and from venue to venue. "We like that CrewCom operates in the 900MHz range since the usable frequency spectrum is a commodity, but with the 900 band, for the most part, it's usable nearly everywhere," says Ready. "The ability to also use 2.4GHz really helps for those venues operating in the 900MHz band."
For the New York City Marathon, Pliant's CrewCom system was deployed including 18 users at the start and an additional 18 users at the finish line for communications to and from technicians working in their respective locations. The finish line was set up in a traditional production scenario, with a booth communications kit that
was interfaced to the CrewCom system and then brought back to the production truck. The starting line was more intricate in that all aspects of the production, including cameras and audio, were brought back via fiber optics or IP to the finish line – with the show being produced from the finish line. This also included all the content captured from the smart cars that were located throughout the marathon route. CP Communications managed both the domestic broadcast as well as the international feed.
This year, CP Communications also took on the NBA Finals with the help of Pliant and its CrewCom system. A variety of the brand's products were deployed for this event, including 20 conferences of wireless PL (Party Line), three program feeds into the system, 40 radio packs [RPs], 14 radio transceivers (RTs) and three control units [CUs].
CP Communications and Pliant have also been involved with the Super Bowl for several years. For last year's event at SoFi Stadium, CP worked directly with the NFL
14 NEWS | STORIES OF SUCCESS
Event Frequency Coordinators to provide the wireless intercom for the pregame show. Working in conjunction with the other parties involved with the game itself and the NFL Network's CrewCom system, CP Communications utilized the Pre-Game Pliant CrewCom system as the master sync source for all of the production teams using the CrewCom systems. All three intercom systems were synchronized with CP Communications utilizing Pliant's CrewNet network as the conduit, so there was no RF conflict with so many systems and users operating in one area. While the pregame and the game TV compounds were separated, there was a consistent intercom
communications flow throughout all aspects of the event to allow for a seamless production.
CP Communications also utilized Pliant's CrewCom system for a series of events surrounding the MLB All-Star game, including the Home Run Derby and the Future's Game. For these events, two CrewCom control units, 14 radio transceivers, and 24 Radio Packs were used. ESPN then deployed another 20 packs and two CUs to manage those events that ESPN was involved in. CrewCom was also part of the system that CP Communications deployed for the MLB Draft. In addition to football and baseball, CP Communications also works with Turner and ESPN to supply several game day packages for
the NBA and the NHL, each with a CrewCom system included. CP Communications also utilized Pliant's SmartBoom headsets and its FleXLR Gender Adapter.
In addition, CP Communications relied on Pliant for the 2023 Westminster Kennel Club Dog Show at the Billie Jean King National Tennis Center. CrewCom was also deployed at this event, which included two CU's, 24 radio packs and 14 antennas throughout the venue.
"The ability to configure the system offline with its CrewWare software and then export that drawing as a PDF for an onsite tech, really saves on time and potential set up errors," adds Ready. 
NEWS | STORIES OF SUCCESS
AWS and FOX join forces for AI-fueled highlights
Amazon's open source Media Replay Engine (MRE), the key to success: the engine is the main tool used for building groundbreaking recap feature and Catch Up With Highlights
New tech advances make viewers more demanding; sports fans have come to expect a dynamic viewing experience due to digitization and continued advancement of broadcast delivery technology. And this comes from all kind of users; whether streaming a game live or recording to view on-demand, audiences are increasingly looking for standout elements in the coverage of their favorite games, from compelling graphics and data insights to timely replays and highlights.
Besides, when the games are some of the most anticipated
in sports, the stakes are even higher. Rising to the occasion, FOX built and deployed its new AI-powered Catch Up With Highlights feature ahead of its US broadcast coverage of the FIFA World Cup Qatar 2022™.
Leveraging Amazon's open source Media Replay Engine (MRE) framework for automating video clipping and replay generation, alongside Amazon Web Services (AWS) infrastructure and solutions, Catch Up With Highlights is an end-to-end solution that can ingest broadcast streams, identify valuable match moments
through AI-trained computer vision, and then encode delivery streams with metadata across user devices. With AWS already the foundation of Fox Corporation media workflows, the development team was able to stand up the complex new feature in about eight weeks.
FOX's Vice President of Data Products and Machine Learning (ML) Strategy, Phil Martin, who led the Catch Up With Highlights development and first deployment, shared, "Over the last five years our team has had tremendous success with unlocking the power of data
16 NEWS | STORIES OF SUCCESS
through the building of advanced and intelligent platforms and products. In addition, we've really rallied around the idea of revolutionizing fandom. We believe that sports should be enjoyable and accessible for everyone, which is why we've designed our platform to make it easy to engage with and enjoy. Our Catch Up With Highlights feature is a great example of this philosophy. We understand that the level of play at events like the World Cup is exceptional, and we wanted our feature to reflect that standard. To achieve this, we developed a cutting-edge AI technology to create a highlights engine that can dynamically retell the game's story in real-time, highlighting key moments and events as they unfold. This ensures that our users can stay up-to-date with the action and experience the excitement of the game, no matter where they are. Prior to and through this journey, AWS has been a trusted partner of ours and together we were able to take another step forward in revolutionizing fandom with data all while on the world's biggest sporting stage."
Upon launch, the feature ran seamlessly with very little human input. Martin and his team built Catch Up With Highlights to continually optimize the highlight recap video as the game progressed, retelling the game story upwards of 20 times per match with event-driven updates. This approach ensured that the viewers would be able to access a comprehensive recap of the game to date, available via the FOX Sports app on connected TVs and mobile devices. Incremental improvements were rolled out based on performance, such as adding a thumbs-up or down; and event enhancements, including shots saved and penalty kicks. Ultimately, 731 recap videos were published autonomously across 61 matches.
The Catch Up With Highlights workflow includes AWS Lambda event-driven serverless compute, and computer vision with Amazon Rekognition. Sports data is housed in an Amazon DynamoDB NoSQL database, then piped into MRE. Live video is quickly delivered to viewers via AWS Elemental MediaConnect, with videos stored in Amazon Simple Storage Service (Amazon S3), and Amazon ElastiCache for caching live clips.
RTVE productivity, enhanced by Broadcast Solutions' hi human interface
Public broadcaster RTVE integrates intuitive systems control by Broadcast Solutions for outside broadcast fleet; hi human interface, provided by Unitecnic, Broadcast Solutions' partner in Spain, offers a fresh and intuitive approach to systems control through its user-friendly graphical interface
server cluster, while control can be hosted on any devices using standard web browser technology.
Broadcast Solutions, media systems integration group, has recently announced that it installed its innovative hi human interface system into RTVE's largest outside broadcast truck, which is operated by the Spanish national broadcaster. This stateof-the-art system has already been deployed in other vehicles within RTVE's fleet, proving its reliability and effectiveness.
The hi human interface revolutionizes systems control in several ways. Firstly, it leverages auto-discovery and template-based configuration technologies to significantly reduce the installation and set-up workload. During the initial installation in a 24-camera truck with advanced production capabilities, commissioning was completed in less than two days.
Additionally, Unitecnic provided comprehensive technical training to the RTVE operational team.
Secondly, hi human interface
offers a familiar environment for users. With its simple graphical user interface, anyone comfortable with a smartphone can seamlessly manage complex productions, overseeing all the equipment in the outside broadcast chain. Furthermore, hi effortlessly detects, manages, and controls Dante, NDI and SMPTE 2110 networks within the same user-friendly environment.
Built on a modern distributed software architecture, hi human interface is compatible with almost any platform. For the largest OB trucks in RTVE's outside broadcast fleet, redundancy is ensured through a high availability three
The first truck equipped with hi human interface is already in service, successfully handling major television hits such as Los Premios Goya and Benidorm Fest, as well as large-scale sporting events. Initially, RTVE and Unitecnic's contract covered three trucks, while a second contract is now in place for an additional five.
According to RTVE, hi human interface has greatly simplified the delivery of rapid changes in configuration between vastly different productions, making it the ideal solution for their OBVans needs.
Humphrey Hoch, hi human interface product manager said, "hi human interface, a revolutionary control system that goes beyond conventional solutions. Designed to make work easier for individuals, hi human interface allows for effortless configuration and requires minimal training. With this groundbreaking system, users can fully focus on their work without the fear of complex systems." 
18 NEWS | STORIES OF SUCCESS
Eurovision Services employs Appear X Platform for live contribution of a major tennis tournament in Paris
Just two Appear X10 units were needed to deliver Eurovision Services' live HD channels from the tournament in France, limiting energy consumption and saving on shipping costs and power usage while minimising on-site production space –without compromising on quality or latency. The density and flexibility of the X Platform enabled Eurovision services to seamlessly encode and deliver its live feeds while easily scaling to meet increased volumes of camera feeds.
The X Platform's ease of configuration and operational resilience empowers broadcasters and service providers globally to deliver live contribution, enabling nextgeneration remote production and distribution workflows. It seamlessly blends industry standards such as HEVC/AVC, ST-2110, JPEG XS, Zixi, and highcapacity SRT, with an equally broad array of processing, Network Address Translation (NAT), and firewall functions.
The X Platform includes Appear's ECx110 modules for HEVC ultra-low latency encoding and decoding. It is the only compression solution on the market to offer ultra-low latency,
HD, and UHD compression with SDI and ST-2110 uncompressed I/O, at scale and with 1RU or 2RU short-depth chassis options.
Thomas Bostrøm Jørgensen, CEO, Appear, said: "We're proud to have been entrusted by Eurovision Services to provide live contribution feeds for this prestigious tennis tournament, which includes multi-codec support, firewalling, and SRT capable compression technology. The power and efficiency of the X Platform means it's continually ranked top of the industry when it comes to density, format options, and breadth of security.
We look forward to continuing our work with Eurovision Services and supporting more of the world's most-loved live sporting events."
As part of Appear's 'groundto-cloud' vision, the X Platform enables media companies to send signals from cameras at an event to a cloud production platform without the need to send a mobile unit and accompanying production team. In primary distribution and video transport to and from the cloud, the platform enables costefficiency through transport over the internet. 
19 NEWS | STORIES OF SUCCESS
During the tennis tournament, Eurovision Services deployed Appear's X Platform to deliver live 1080p HD channels capturing action from the tennis courts and press conference interviews
Moov brings Wimbledon Broadcast Services' new virtual set to life with InfinitySet
All rights holders used the virtual studio during the tournament to broadcast live interviews and programs
Moov, a UK-based sports and event graphics company, has again used InfinitySet, the realtime 3D graphics solution, to provide Wimbledon Broadcast Services (WBS) with a new virtual set and the most advanced Augmented Reality features currently available using Epic Games' Unreal Engine.
The main goal was to recreate a virtual garden on an outdoor rooftop that simulates the actual garden of the Wimbledon building, where players could sit and be interviewed by broadcasters from around the world, offering new ways of interacting with the audience, thus enhancing the storytelling capabilities during the recently completed edition of the tournament, taking advantage of the endless possibilities offered by Brainstorm's virtual technology.
Created around a chroma key studio, Wimbledon's new virtual set expands the available space beyond its physical boundaries, employing a technique called set extension, which allows new virtual spaces to be created around a small real set, in effect creating a 360º circular studio. This also allows for alternate camera shots, more space to add infographics and, of course, greater Wimbledon brand presence. InfinitySet brought added value in its flexibility to change, adapt and make last minute adjustments.
The studio has several Sony PTZ cameras and to ensure quality output each camera was paired with an InfinitySet system with Unreal Engine and Black Magic's Ultimatte chromakeyer. In addition to providing an indoor option during rainy weather outside, the studio was
also used extensively at the end of the day when it was either too cold or too dark to conduct outdoor interviews. The studio was available to all rights holders during the tournament, with several Eurosport regions among the most prolific users of the studio, conducting interviews with players in person and sometimes also via Zoom. Among the dozens of TV channels that also used the virtual set for their interviews and live connections were TV Globo, Movistar +, CCTV, Sky TV, Sports TV, NHK, Super Sport, Star Sports, ESPN, Tennis Channel and, of course, the BBC.
David Alexander, Brainstorm's commercial director, adds: "Along with Paul Vanlint of Storm Broadcast, our distributor in the UK and Ireland, we have worked with Moov on many projects, but what they have done on Wimbledon 2023 is on another level! Moov has a very talented team who know our products inside out and how to get the most out of their many features and capabilities, whether it's InfinitySet or Aston, our graphics system, or even Neuron, which integrates graphics and their management into NRCS systems. We are delighted that Moov has once again used InfinitySet, our flagship software, for such a prestigious and world-renowned sporting event as the Wimbledon Tennis Tournament". 
20 NEWS | STORIES OF SUCCESS
Gravity Media will deploy a wide range of OB units in the context of its new partnership with NBC Sports
In order to support NBC Sports' coverage of Big Ten football and basketball, Gravity Media has recently announced a new partnership with the north american broadcasting company
Gravity Media, the global company specialized of complex live creative production and media services, will deploy its latest mobile unit, called Aspen, together with its flagship mobile unit, Columbus and another new S-Class with the same specifications as Aspen, which is in progress; all of these movements are in order to join the fleet to support NBC Sports' coverage from 2024.
The assignment begins with the start of this year's College Football season with a game at The Big House, Michigan Stadium in Ann Arbor.
NBC Sports announced its Big Ten schedule for the first three weeks of the 2023 football season last month as well as select games later in the season. Last year, NBC Universal and the Big Ten Conference announced a landmark 7-year agreement for NBC and Peacock to become the exclusive home of Big Ten Saturday Night football, beginning in 2023. Peacock will also serve as the exclusive home for eight additional Big Ten football games each season as well as dozens of college basketball games.
Over the course of the agreement, Gravity Media and NBC Sports engineers, in concert with NBC Sports' producers and directors will employ innovative tactics from traditional FullProduction on site to RemoteConnected techniques at NBC Sports' state-of-the-art facility in Stamford, Conn. The production techniques were designed and perfected by NBC Sports' and Gravity Media's Broadcast Engineers in test case college events last season.
Sean Seamer – Gravity Media's President in the USA commented:
"Gravity Media's HD mobile units offer the very latest in technology and we are excited to begin a substantive partnership with NBC Sports. We provided facilities for the Peacock Classic
basketball game between Baylor and Gonzaga last December, but this Big Ten agreement opens a new, deeper chapter in our relationship. Gravity Media has been capturing college sports action across the U.S. for more than 10 years, supporting thousands of high-profile sporting events including bowl games. We are looking forward to building on this experience with NBC Sports."
Ken Goss – NBC Sports EVP Studio & Remote Production commented:
"We are excited NBC Sports is expanding its technical facilities partnership with Gravity Media as part of a multi-year agreement, in which they will provide mobile units for our upcoming Big Ten coverage." 
21 NEWS | STORIES OF SUCCESS
LiveU explore further partnership with Sky Deutschland for Special Olympics World Games 5G multi-cam and Cloud production Proof-of-Concept
Sky Deutschland and LiveU once again highlighted the efficiency and ease of use of 5G with IP-bonding marking this tech as a preview of a thrilling future
LiveU and Sky Deutschland further developed their alliance to create a multi-cam, 5G and cloud video production proofof-concept (POC) at the recent Special Olympics World Games. The event, held in Berlin from the 17th-25th June, is "the world's largest inclusive sports event" where "thousands of athletes with intellectual disabilities compete together."
Both Sky Deutschland and NEP, who were providing services at the Games, also used the LiveU EcoSystem with its IP-video field units more widely to bring engaging and dynamic footage from other events across the Games.
Sky Deutschland and LiveU have a longstanding relationship, reaching beyond the traditional customer/solution provider connection to include multiple 5G trials, involving football and handball, designed to highlight the ease-of use, flexibility and cost-effectiveness enabled by using 5G for media contribution. Working with both the Local
Organising Committee (LOC) and a 5G service provider to create a private 5G network, and expanding upon its venue consulting role, the broadcaster identified the table tennis tournament as being ideal for this POC.
Alessandro Reitano, SVP Sports Production, Sky Deutschland, said, "This is an important multiday global event with a powerful inclusivity message and, with the support of the LOC and LiveU, we saw this as an ideal chance to further highlight the future of contribution and production using 5G. The beauty here was that broadcasters and OB companies – as well as other technology suppliers – could see 5G contribution in action, supported by the efficiency and flexibility of IP-bonding and the very easy and quick set-up time, and contrast it with more traditional workflows."
The table tennis tournament ran from the 19th June through to the final day of the event. The broadcaster deployed the LiveU
EcoSystem with a multi-cam LU800, in four-camera mode, plus three LU-Smart equipped smartphones to capture the event. The feeds from the LU800 were, as with the feeds from the smartphones, encoded and sent to Munich, where they were decoded by two LiveU decoders. Vision mixing occurred in the cloud with the final output made available to both the Director of the World feed and also to Sky Deutschland's unilateral feed.
Reitano said, "The Special Olympics was an inclusive event, not only in terms of the competition itself but also the cr. There's still too much dependency, in our view, on traditional transport mechanisms. This needs to change to fully allow the use of shortened, and far more flexible workflows. We see demand growing from broadcasters who want to use 5G and IP-bonding at major events to drive more extensive and diverse coverage. Using 5G and LiveU opens up a whole new world of possibilities. The need is there." 
22 NEWS | BUSINESS & PEOPLE
IBC appoints Mark Smith as Council Chair
IBC has appointed Mark Smith as Chair of the IBC Council. The Council is a long-established advisory group drawn from senior media and entertainment (M&E) executives. Its role is to advise IBC on key strategic issues. Smith will chair his first Council meeting during IBC2023, which takes place in the RAI Amsterdam on 15th-18th September.
Smith has spent more than 30 years in the technology and events sector, focused on industry-level technology evolution, innovation programmes and M&E initiatives. As Communications and Marketing Director for the
GSMA, the industry organisation that represents the interests of mobile network operators worldwide, he was a key part of the team that acquired and grew Mobile World Congress (MWC) as it became one of the biggest technology shows in the world.
Over the last decade, he has focused on the intersection between the communications and M&E sectors. His experience has helped him launch and develop the now-established IBC Accelerator Media Innovation Programme, which brings together pioneering media companies and leadingedge technology partners to
collaborate on solutions that address real-world challenges and drive advances across a range of areas. 
Telestream announces the appointment of Alex Keighley as its new Chief Revenue Officer
Telestream's global sales teams and play a pivotal role as the organization looks to scale and execute its strategic roadmap.
Telestream® has announced the appointment of Alex Keighley as Chief Revenue Officer. Reporting to Telestream CEO, Rhonda Bassett-Spiers, Keighley will lead
For the past 30 years, Keighley has held senior positions with media owners and news organizations such as AP, News International, and Reuters, as well as playing a significant role in the growth of well-known technology brands, including Avid, Bitcentral, and Grass Valley. He brings a proven track record of steering successful regional and global sales teams
through periods of growth and building strategic relationships with clients and partners. Since joining Telestream in December 2020, Keighley has led the Telestream US sales team, working with customers across the whole spectrum of networks, studios, live and post-production companies, station groups, and streamers.
Based in California, US, Keighley replaces Benjamin Desbois, who has left the company to take up a senior position within the broadcast industry. 
23 NEWS | BUSINESS & PEOPLE
EMG UK announces Nick Dyer as new Head of Sales
are fully aware of the company's capabilities, achievements and culture. He also aims to collaborate closely with EMG's diverse business units including EMG Connectivity, specialist camera company ACS and interactive solutions developer, Origins Digital, in order to create a more unified approach to service delivery. Furthermore, he will be part of the team working on Environmental, Social, and Governance (ESG) policies and will contribute to EMG's international outreach efforts.
EMG has announced the appointment of Nick Dyer as EMG UK's new Head of Sales. With a career spanning nearly three decades, he brings an unrivalled depth of knowledge and technical experience to the role, backed by a proven track record for business development. His role at EMG UK will be to enhance the company's leadership in delivering high-quality content to audiences around the globe.
Dyer began his career as an audio broadcast engineer in 1996
before moving to CTV in 2002, gaining experience across the whole business, most recently as Senior Unit Manager working closely with clients in Technical Planning & Delivery. As Head of Sales, he will lead the company's sales team, leveraging his extensive technical experience to further the company's growth.
Well-respected in the industry for his in depth understanding of technical delivery, Dyer will help build EMG's presence in the US market, ensuring clients
Commenting on his appointment, Dyer said, "Starting this new role as Head of Sales during another busy year of international events including the Champions League Final, the Open Golf Championships and Wimbledon Championships is an exciting prospect. I look forward to working closely with my colleagues across the business and building on the excellent track record we have developed in recent years."
"Nick is a seasoned professional whose technical knowledge and vast experience of client delivery will prove invaluable to EMG as we build for future growth," said EMG UK Sales Director, Angela Gibbons. "We are delighted to have him on board to lead our sales team as we implement plans to expand our diverse client portfolio and continue to grow." 
24 NEWS | BUSINESS & PEOPLE
Up to the present time, providing for new formats or advances in compression performance announced an update of outside broadcast (OB) provision. Now the global stage is considerably more complex, and service providers need to consider additional factors, including readiness to adopt new technology, outsourced service provision and, last but not least, costs optimization.
New technical developments as IP brings flexibility to Outside Broadcast, but it presents unique challenges as covering programmes creatively, comprehensively and to the highest quality standards.
In a market that is obviously in transition, every broadcaster should make the right choices for critical deployment factors since a wrong way could mean staying out of the market. On the other hand, if a company take on too high a risk it could be immersed in an abrupt learning curve evaluating technology, exploring service infrastructure and different standards and best practices at a solutions level. And let's not forget budgeting control and costs reducing.
In this fast-paced environment, it is essential that broadcasters have reliable, flexible tools that fit seamlessly in to their operations and offer ease of use and familiarity as personnel shift and move between productions. This stage ask for more information and sharing knowledge, and this is way TMBroadcast brings its readers different insights about outside broadcast industry from different outstanding companies as Media Mania (UAE), Toutenkamion and AMP Visual from France or Broadcast Solutions from Germany.
25
OB
OB| MEDIA MANIA 26
OB| MEDIA MANIA 27
Media Mania is a major player on United Arab Emirates, developing its own solutions and OB trucks and offering broadcasting services for all the Middle East region. They have covered Football World Cup, World Economic Forum or the Arab world's first interplanetary mission to Mars, on July, 2020. And they are growing. TM Broadcast had the pleasure to interview Roland Daou, Media Mania CEO, to know how the company evolved and in what stage are its Outside Broadcast units right now.
The first question is for our readers to know better your company, how long since you started as a broadcast company?
I came to UAE first time, it was 1996. Then, at 2001, I start to go all over the world for a few years, producing, filming, doing entertainment show for a few years. Then, I decided to come back to UAE, because it was a good place, and there's opportunities. Then, in 2001, after I went all over the word for a long trip, I came back to UAE, and then I joined a company that we do production.
We were having projects all over the world, but after few years, one or two years, I decided to start up my own company here. Though because there was a need for broadcasts. Like anything you want to do, like any outside broadcasting, you need to have OB vans or any production or anything. That's why I started, and then it was little bit small try and beginning.
Then, it took few years to pick up, because the market was growing in different ways. Usually, it was TV station only that own big trucks and all these equipment.
28
OB| MEDIA MANIA
Not everyone has an idea about broadcasting, and it is big investment. It's not something easy, and it's risky, because you have to follow the technology, you have to pick the equipment. Then, by 2015, we decided to start coachbuilding ourselves. We decided to build our truck, where we started. Before it, we were buying and selling vehicles.
That's so interesting.
By 2015, we took the decision that we want to be the first people in UAE building OB vans from scratch. I mean, drawing, building, coachbuilding, installation, cabling, everything.
Right. So did you develop everything related for
Outside Broadcast?
Yes, picking the equipment, the right equipment. It was good. It was like challenging the people because there were some people that believed in us, and other people that did not, because we're not UK, we're not like America, where they have more market there…
29
OB| MEDIA MANIA
But you did know the market and requirements here, in UAE.
Yes. We took the decision to start building the OB trucks. We are the only company that
build vans, we train people, we rent the mobile units, and we do services for TV station. This is the whole idea. We speak Arabic, and this is multinational.
Because you know the language and the culture. Yes. The reason why we're so close, whenever you get something. We are in UAE, but we are too close to anywhere.
Well, now that was another question about the lack of skills and how does Media Mania manage to include talent but you already answered that you have your own plan for training your staff.
Yes, we train our staff. There are lots of people, they think that internet, and small streaming equipment will replace OB trucks. It could be, but not on a sport scale, not on big projects, proper production, like if you're doing marathon or big events, you could use remote camera and maybe remote production, like cloud or something. It could be an option, but even in this situation also, you still need operators, and you will still need the expertise managing the equipment, you still need people to know what are they doing. Broadcasting, it's not only the trucks, it could be flyway, it could be truck, it could be LCR, it's a global service, it's not like one part of the service, it depends about how you build your relation with TV station, with
30
OB| MEDIA MANIA
the clients, with producers. It could be like all kinds, but it depends on people and talent.
It's a good initiative to create from zero, to build the team and coaching them. My following question is, how do you develop your trucks? I mean, what kind of partnerships have Media Mania established, in order to deploy the latest tech on the market?
See, when we decide to build the cars, there is a few phases. You have to do market study, you have to do research, and you have to check who's your
target and who you want to serve. For that reason, we start picking our equipment. We have all categories, and all our fleet is up to, maybe we have six trucks plus a few flyaway kits. We depend on the customers.
We have from normal small trucks that can do normal jobs like easy jobs, to the biggest event even, and sports event. Sports is the most delicate production, where you have to use all your lenses, replays, and all your equipment. It needs heavy equipment and proper stuff. Entertainment, you need to have music, it's big. That's why we start
We are the only company that build vans, we train people, we rent the mobile units, and we do services for TV station. This is the whole idea. We speak Arabic, and this is multi-national.
picking our equipment, so we have diversity in the company. We do eSports, and we do football sports, and we do entertainment, we do cultural events, we do races, marathon, so different types of jobs. When you are a TV station, you have your equipment in one place, but when you are a service provider, you need bigger niche and wider range of services to offer.
You have to spread your wings more, and you have to please the clients more. You have many customers, and everyone has own taste or his own requirement.
So your company is very flexible.
Yes, we're very flexible. Exactly. We have affordable
31
OB| MEDIA MANIA
equipment, but expensive equipment too, to meet the budget of all the producers, and ultimately the producers, they are our salesman. For me, honestly speaking, I'm TV director, I do sports. That's why, when we start the company, it was like, I want to build something that serves my work and the way I like it. This is where we started and it went very well, and we
serve lots of directors and producers.
We try new things together because they are friends, and they work as my salesmen, because whewhen you wear the hat, the producers' or the director hat, you know what you want, and what make you happy and whatnot. We try to know their taste and ways, and meet their budgets, meet
their requirements in a fixed budget, so this is why we are flexible, and we like to please everyone.
Recently we could read that Media Mania insert 4K HDR in its OB vans.
Yes. During pandemic times we saw that technology can help us but at the same time, final viewers got used to
32
OB| MEDIA MANIA
different ways of delivering, maybe with a low quality. In the meantime, technologies were advancing a lot. So, after pandemic things went again were they were and companies started to implement new tech.
All our customers want the high quality, they want the latest, with all the details and high-quality deliver. When you sit and watch in your TV, you want to see the best quality, you want to see proper, so that's why-- You have to follow the trend, especially regarding sports. See, in this part of the world, to be honest, we have a lot of sports events, and government really, really give good attention for the new generation, and support the sports, and support the education sector, and so on.
When you do all this kind of things, you have to present the proper quality, or the best quality, so people can see it. We are building history, because in 10 years we are going to see a big leap in technology development, as it was when cassettes disappears as CD's were introduced in the market.
I see my kids watching the old things, "Oh, what's this? Why the quality is not good? Why
this? Why that?" So you have to follow the technology, and keep on trying new things.
So your company is always learning and adapting.
Yes. Everything is going digital. Everything is going HDR, everything is going that to the highest level, so you need to follow and keep your clients, keep yourself updated in order to keep your client updated too, and make them happy, so this is basically the whole idea.
What do you think of NDI protocols for the compression and transport media video, do you think NDI is going to stay in the market?
Of course. Nothing will leave. See, people always go further, not backwards. For sure, there will be more discover things. They will discover more and better things, NDI will be improved as everything will be. It's the same with, from that age, we went to SP to digital. Digital to SD, SD to quad 4k, and now we're going to 12G 4k and 8K, like all the camera providers, they are coming now with big sensors and more details.
NDI was something. See, to be honest, with people that they
33
OB| MEDIA MANIA
Everything is going digital. Everything is going HDR, everything is going that to the highest level, so you need to follow and keep your clients.
don't know, they tell you, "Oh, what is the different? Why the OB is more expensive?" When using the 12G, and using the cable, and implementing everything to have highquality, and delivering a very good picture, you increase the costs; it's not something cheap.
You pay, you invest a lot in your cabling, in your thing, even in network, even in routers, so proper broadcast equipment is not cheap. There is some equipment are affordable, yes, I do
understand. For talk show, for small things, even for medium size, okay, but when you produce a big event, you need to go higher. Let's say NDI, we use a lot of NDIs in our eSports, because when we do eSports, you have to connect many people. You have to connect many computers and this way equipment has proper use, and it'll serve you. I think now the world is going to a mixing zone, where you mix the broadcast with the digital world with like NDI, eSports, digital, everything, the internet use, the cloud.
And we could see that Media Mania offers every service, even virtual producing.
Yes, virtual technology is trendy. I think it's going to be a mix of everything, so it's up to you. Before we go to produce movies, you have to go to every single location. Now, we're using a new technology like the screens, the things, it depends about what you like, and what you want to do. Let's say, Tom Cruise in his last movie, he jumped six times. He made it three. He could make it on chroma, and make
34
it CGI, but it depends on what you like, and what you want, and what you can afford, it's his production. And the higher you invest, the higher you get. The return of investment, and to who you want to present it, so that's little bit.
So Media Mania are always investing in new technology.
We are in a place, where we are holding the bars from the middle, like we have the new generation, the new technology, and the old, like we're trying to bridge the old
and the new, the past with the future. We don't know what is going to happen, but we have to keep walking, going forward, and see what the future get us.
When you produce events for Africa, for Middle East, you have to bear in mind that there are high temperatures to deal with. Does your fleet integrate any special solutions for cooling, in order to get over the heat?
When you go to any coachbuilder-- Usually, people,
either they buy used car, and they import it. They import it to this region, and they work with it, or they go to brand new manufacturer, and they build the car based on this region specification.
So you build your equipment with the regional specific requirements.
Exactly. That was the first challenge. Before we start coachbuilding here, we had a few challenges, because we got cars, and the cooling was not ready for this part of the world. We faced some problems and challenges, but we solved them.
You developed your own solution.
Exactly. One of the things, to do all the solutions that you needed for this part, it's costly, it's taking time outside. Always the client, they are busy and they want their things very fast, they wanted for yesterday. But to build a car, that will take at least six months to a year, then you need to ship it, and then you need to approve the design. That process will take a long time, so by traveling, going, emailing, conference call, checking the things.
35
OB| MEDIA MANIA
Before we start coachbuilding here, we had a few challenges, because we got cars, and the cooling was not ready for this part of the world.
When we decide, maybe we're not an international player yet, but for our service that we are providing in the region, we got the edge. When we decide to do an OB van, we have different type of vehicles. We have extendable car. We have a small size, medium size, and extendable, like a big van, so to produce, and to make these trucks, if you want to keep going and come, it will take you time.
We cut the edge between time ourselves, because we got projects we want to deliver, we want to reach that target, in the exact moment. We only have time, and time is a luxury that we cannot afford.
Time is gold.
That's why we start building here. Of course, nobody will know your need better than you. As I told you, I started the whole idea, because I direct, and I do small job and I do big job. When we start, we thought "I want an OB van that serves my purpose without high cost. Not to be very expensive but fast, and able to go to anywhere". The idea started little a bit small, and we started developing from there. That's why we know our place now. We know what we want to use.
You know your territory. Exactly. We know how big the walls should be, how to make it, how to isolate the car, isolate the equipment, make everyone comfortable, working under 50 degrees. It's not that easy. You have to maintain, keep everything working properly. This is a challenge also. That's why cooling is one of the main issues.
A lot of good work. Let's come back with a tech question. Do you think it will be possible in the near future to produce all coverages, or all events on IP without increasing costs? How long until it will be fully implanted?
See, 12G and IP, people, they say that IP is cheap, and the other is not but if you want to use proper IP servers or routers, you can minimize the equipment somewhere but you will pay a lot in your proper router, because everything should be planned. For an IP coverage, everything should be planned. Outside broadcasting, it's the same as using an iPhone. After you used your iPhone, and you want to shift to another new brand, it's not going to be easy. It's going to be a little bit of conflict, because not all
components are compatible. It's the same as happens with OS as Window and Mac, or Android and iOS.
You need to standardize the process.
Exactly. The IP is something good. I'm not saying, "No". It's amazing. Let's say, in our job, when you do IP, it's good.
36
OB| MEDIA MANIA
Maybe in Europe, or any part of the world, they are used to it, because they start to have infrastructure for this. Here, as a company, today we are covering football, and the director want his setup this way. Tomorrow, you will go to cover a tennis game, or cricket, and it will be another setup.
It's like you finish nighttime with this job, and immediately you need to go and installing directly to do second production. It depends. Sometimes in the season, team and trucks are working from place-to-place, maybe there is not even 24 hours between.
So you think it will take a long time to standardize for going full IP.
Exactly. To reconfigure everything with IP, I think this, it's going to take more time on the engineers and all this, but I'm not saying IP is not going to stay. It's just we will need to integrate all tech and workflows. Now, you're using everything with its controller; if you take Lawo audio mixer, you can control it from anywhere. If you take, let's say, your Ross audio video mixer, you can control it. Even Sony camera, even your engineer can control it from any place. Even let's say, Clear-Com, you can use your mobile phone and put the Clear-Com, and you can use the real ClearCom system.
You mean there are solutions to help manage broadcast equipment that make it easier to produce any event.
The network and computer and software, this mix between hardware and software make things easier on people, and this is good. But until you will have a proper generation with IP knowledge, it won't be of common use. Let's say, Blackmagic as in example, they are providing easy-to-use equipment for influencers, but when you have a router with a low transmission power, 300 or 500 Mb, just to configure this IP by 12G or 3G, whatever, by cable, by hardware… It demands expertise. By the end, it's a software, and this one goes to this way, and you have hardware to connect.
When you go IP, just to configure this, it will take time. When you go on site it's a challenge for the team to achieve all the integrations.
Of course, the next generation, of course, is going to use IP, and will understand the IP very well, because from the age of three or four they will be using this tech.
In comms, everything evolves fast. When we got the beeper, it was wow. When we started using satellite phone, wow, it was something…
I'm sure that you remember when we used to go around all
37
OB| MEDIA MANIA
over the world for filming, and we had the satellite mobile. It was something unusual.
Now, kids work with mobile phone, they're used to. They're generation Z that will be full digital and they'll play easily with it. For us, we are doing that transition, and I think we're doing good.
Finally, I would love to know details about a case of a special coverage your company has done recently. The one that is more telling, or the one that you find more obstacles, and you overcame it.
Every coverage has its own, even if it's small, it has its own requirements. Let's say when we went to produce Football World Cup, we were there giving our trucks for worldwide TV channels.
But I'm thinking on Mission to Mars, it was one of our best works. I was directing this, as we were the host broadcaster giving the feed for many TV channels. We used the OB vans for this, coverage when they reached to Mars. We are doing very big events, and every coverage is a challenge. It may seem easy but come and make it under 50ºC degrees here. You always
meet challenges when you cover like 100 kilometers, or 120 kilometers by sea, live. It's not something easy as only RF engineers understand the signal and can see and decide where to go, what to do.
So every production has it special requirements.
Last week we were doing here the Tom Cruise's last film premier. Yes, he was in Abu Dhabi. Even we were the host broadcaster. He came back to the same place where he shot his movie. Some people they were thinking, "No, this is something, maybe it's not real." No, he shot here, he came back, real airport, real place.
We have lots of big events here that ask for outside broadcasting. Especially, when you have big conference, like World Economic Conference. We are part of this, and we do provide services for different events, each one in its kind.
I would like to add a little question about, can you share with us if you have a referent company in tech advances?
See, honestly speaking, we have different conditions here but we have all the knowledge, talent and
technology here at our disposal. Now, we are starting to grow here, the business started to grow among all the countries in GCC, and they are trying to make it easier to cross borders and all these.
Okay, let's say in Europe there are no borders, you cross from place-to-place, so that is easy.
That, it was not so easy here. We can say, we serve and we expand very fast like people outside to invest, and now we are reaching international level.
Maybe now you see every now and then UAE Warriors, and worldwide champions coming to compete in UAE. You see lots of teams coming, Barcelona, Real Madrid, they are coming to play here. You see Egyptian Super Cup, also coming here. It's starting to be a big step. For sure, UAE
38
OB| MEDIA MANIA
When we went to produce Football World Cup, we were there giving our trucks for worldwide TV channels.
government spent a lot of money to put the UAE on the World Map, and this is very noticed, and we are in a place that give us opportunity.
It's ready infrastructure, so we are expanding. We have friends in EMG, in NEP, and we have worked with them. We work with them, and we serve them, collaborate and share knowledge. Maybe they use us in this part, we use them in other parts.
You have to take in account that here we're a small
investor. We may have big companies, investors and shareholders, and countries that come and invest. It's starting to develop. Before, it was few country in GCC focusing on big event, and big sports event. You could count them with one hand. Now, it's starting to expand, and it's not only to UAE.
In Europe or United States population is big. Here, the whole population in UAE it's 11 million people, plus Saudi that is 35. If you combine them both, they are not as
much as Europe, as much as America or Canada. They can be as similar to one country.
But now it's expanding. People start to give attention to sports, to big music or cultural festivals, attracting the international market, getting international spectacles. But it's going a little bit slower. That's why we cannot watch out what are other companies doing in Europe or America, because we are different markets and we go at a different pace. 
OB| MEDIA MANIA 39
OB| BROADCAST SOLUTIONS 40
OB| BROADCAST SOLUTIONS 41
TM Broadcast speaks with Rainer Kampe, CTO at Broadcast Solutions, one of the largest system integrators in Europe. Mr. Kampe told us about recent developments and share with us his views about the future.
Mr. Kampe, as our readers know already your company, Broadcast Solutions, we don't need you to make an introduction on Who Are You, but we would like to know what are the
main developments that Broadcast Solutions has done during the last year.
In the last 12 months, we have delivered one- the biggest ever OB van, which we have ever built to South Africa which is a fully IP SMPTE 2110
In the last 12 months, we have delivered one- the biggest ever OB van, which we have ever built to South Africa which is a fully IP SMPTE 2110 OB van.
42
OB| BROADCAST SOLUTIONS
OB van. Because of the road regulations in South Africa, it's 2 meters longer than what we are used to build or to have in Europe, and it's even higher. For us, it was the biggest OB van ever built. On the other hand, it was the biggest IP system or IP OB van we have built.
We are very proud that our control solution, which we developed, we started to develop a couple of years ago is the core system controlling the IP infrastructure.
This is a fully SMPTE 2110 IPbased OB van and fully NMOS controlled. With our control system, we have our own high-availability NMOS registry deployed in that OB van in a high-availability cluster. From a technology point of view, most of the vendors are using the Easy Sony NMOS registry which might not scale to that size, and we developed a standalone NMOS registry service in a high availability cluster.
It's a lot. This year was productive.
Yes. On the other hand, in this year we started with cloudbased systems, especially GV AMPP, Grass Valley GV AMPPbased systems, and we won a couple of very big projects, mainly in terms in the field of playout and repackaging content.
These are big developments. How do you develop OB trucks and integrate these technical
43
OB| BROADCAST SOLUTIONS
advances? You share knowledge with or have any partnerships with other suppliers, other manufacturers?
One of our core ideas is to partner with our suppliers to be a reliable partner and therefore when we develop new systems, we have a close relation with them and they are helping us and they're willing to help. On the other hand, they benefit from our experience from the field.
I guess this relationship help you research and take in account about requirements of your
clients and work on how to fulfil them with suppliers, sharing knowledge and challenges.
We try to develop ideas, what could be beneficial for our customers because we have a better market overview than our customers. We try to develop ideas and innovations and present them to our customers and to check if that would be a valuable thing for them.
This makes the industry grow. This is sharing. It's collaboration. It's collaboration.
This question maybe a little tricky, but can you tell me what supplier you always trust on because you are sure it's going to do the work?
That's a very tricky question, but… Yes, there are some key suppliers with which we work since many years. It is based on mutual trust and personal relationships and longterm developing systems and helping them in improving their products. We are a long-term partner with Cross Valley, as well, as Sony.
I'd say because of our German
44
OB| BROADCAST SOLUTIONS
origin, it has always been easy to communicate and relate with the brands like DirectOut, Riedel, and Lawo as well. For the software support, we worked closely with CALREC as well. We are a privately owned company. That's our core. There are other privately owned companies on the market like Ross, like Riedel which share the same vision. This goes perfectly together. A vision of Ross, a vision of Riedel.
Sharing the vision and the language always facilitates workflows. My next
question is related to your crew. How do you train your crew for broadcasting for the OB trucks? Do you have a training program or career development plan, or do you take the talent from outside?
From our history, I have been an OB Van engineer and an EIC, and so we had very good relations to operators and on the other hand Media University. Our core idea was always to get talents on board, which know the production, and production experience. Coming from the technical production side as
45
OB| BROADCAST SOLUTIONS
We are currently integrating an NDI in our control solution to control NDI systems. That shows that we believe in NDI, but we believe in open standards and we believe that standards like ST 2110, proprietary standards like NDI, and Dante will stay because there's a purpose for that.
an operator, vision engineer, audio engineer, we trained them in designing systems.
This is the benefit for our customers that our engineers know how productions work. They come from the production perspective and help the customer to build the best possible work or tool for his production.
We can say that you take people with talent and knowledge that you train in the specific solutions and the specific workflows developed in your company. Yes.
Do you think NDI is here to stay?
[laughs] That's like looking
in the glass bowl. There is a certain market for NDI. We are currently integrating an NDI in our control solution to control NDI systems. That shows that we believe in NDI, but we believe in open standards and we believe that standards like ST 2110, proprietary standards like NDI, and Dante will stay because there's a purpose for that. They are
46
OB| BROADCAST SOLUTIONS
We have an engineering team which works especially on aircon and sustainability of the trucks, and truck build.
quite useful tools for certain sizes of production. They are not the solution for all needs but for certain needs. Therefore, NDI will stay.
You spoke about super size OB track for South Africa SuperSport. I wanted to know if you are integrated to incorporate any solutions specific for that
region, for the climate, maybe the weather, maybe the circumstances. You mentioned before that long roads in Soutth Africa asked for a larger and longer OB truck. Do you integrate any specific developments for each region?
I think that is one of our core benefits for the customer.
47
OB| BROADCAST SOLUTIONS
We have deployed a lot of OB vans for various regions. For hot climates, for humid climates, we have deployed-for northern areas. We have an engineering team which works especially on aircon and sustainability of the trucks, and truck build.
We developed a special solution for that. We have developed a solution for a very cold climate to help the aircon and we developed aircon systems for very hot climate like MiddleEast climate. We have an engineering team dealing with
these tailor-made solutions for different climates, for different regions.
In terms of sustainability and environment care, what actions do you integrate in the OB trucks? That's a bit difficult to answer because we need to integrate what is on the market in terms of power consumption, but together with the customer, if the customer is willing to invest in greener technology, we give advice and we help them to find the right products.
What we do have done, which is not about sustainability, but on health and environment we developed air purifying solutions and fresh air solutions for our OB vans this was due to COVID. We tried in a very early stage to help our customers to work in these very dense conditions like in an OB van with enough fresh air and with purified air.
That sounds good. Okay, my last question was going to be about fully IP but you told me that the last of the trucks you developed was fully IP, do you think
48
OB| BROADCAST SOLUTIONS
the market is going to be fully IP in the next season, in the next year maybe, or how long until we can produce everything all IP without increasing costs?
What we currently see, you have to differentiate, you mentioned NDI which is an IPbased solution as well which is on a lower price level, and with a compressed format we have SMPTE ST2110 too… I mean, we will see different standards living side by side for different
production needs but more and more of the devices will be standard IT devices be it standard FPGA platforms or be it standard CPU/GPUbased platforms and the streaming format or the transport format in between these units can be SMPTE ST 2110, uncompressed can be compressed, can be NDI can be…
It will be evolving according to the industry tech development.
Yes. That's the thing, definitely, we'll see but the green cable still has its attraction because it's rock solid and easy to use. Finally, we would like to know details about one case of special coverage, in which you met a lot of obstacles but you overcame it and how did you do it?
One of the most complicated things we have done was two IP-based OB vans for a Belgian customer because the commissioning started right at the time when COVID came, and we did the complete commissioning of that OB van with all the manufacturers in COVID times and all the manufacturers and all the different entities which had to work in this OB van usually work on-site in the OB van, we were working remotely and some of the engineers were in Australia, some in the United States… This was a 24/7 job to deliver all the requirements, better said, to ensure all the access to the different units and to coordinate all that remote work and connections… It's the most complicated work I remember, due to COVID times. 
49
OB| BROADCAST SOLUTIONS
Toutenkamion is a French company with a long history on developing all kind of mobile units for every requirement; they realized more than 2.000 special vehicles delivered into 40 countries in the world acting in the most complex fields such as defense, security, medical and, of course, broadcasting. Its OB Trucks are equipped by AMP Visual TV, a French technical company that specialize in broadcast technology, and among its clients we can find France Television, Euromedia, RTBF, Nigeria TV or TVN. TM Broadcast spoke with Stephane Girerd, Toutenkamion CEO, and asked about his vision about the future of the OB van market.
Photos copyright AMP Visual TV
OB| TOUTENKAMION 50
First question for our readers is, how did Toutenkamion and when did Toutenkamion started in the broadcast market?
We started in the broadcast market in 1995. That's when we designed and built our first broadcast truck because it was a request from a prospect which is called France TV in France. This is how it started. Then we had been very busy in I997-1998, with many broadcast trucks because of
the World Soccer Cup, which was held in France in 1998 and which we won, by the way.
We remember, congratulations.
That was a long time ago. That's how Toutenkamion started. Because we have a special way of designing our trucks, at this time, we were much faster to do the design and more agile compared to our competitors in France. After two or three years, we
were the only one company in France able to do OB trucks left.
We saw you have health, catering, military trucks, all kind of trucks. We are focusing on Outside Broadcast. We know you have an alliance with AMP Visual TV for developing the trucks. How these trucks are developed?
They're developed jointly between AMP Visual TV design
OB| TOUTENKAMION 51
team, their sales team, and our design team. It started in 2009, this partnership with AMP, since when we have developed our way of working together on our partnership. A few years ago, they were in every week during the design and the manufacturing phase. Since then, we have developed building blocks, and now we add them up, and it's easier. So, we go faster in terms of design and manufacturing. That's how we worked with them a few years before. There was a third part included in the design a system integrator which was always part of the deal. Now we work directly with AMP Visual TV.
AMP. Which technologies you use to build your OB trucks?
I'm talking about what kind of platforms do you trust on? What kind of protocols do you usually work with?
We design and we manufacture a rack-ready trucks. It's customer choice to adapt and to transfer the platforms and the networks, and so on. Our aim is to actually offer them OB trucks in which
Equipment Latest OB Truck Millenium 9 (developed between Toutenkamion and AMP Visual TV)
Millenium 9 made its first performance in Nancy for the broadcasting of France-Germany match of French women's handball team on BeIN Sport.
The latest mobile work tool developed by AMP Visual TV in collaboration with Toutenkamion is not only efficient but also allows the teams to have optimal working conditions in a spacious and comfortable environment.
It was designed and manufactured on the same model as the Millenium 3, 4 and 6, delivered before to Toutenkamion.
Each OB van has a total capacity of 27 people, in an area of 49 m² including a 16 m² extension.
A mobile unit is composed of an entrance and 5 workspaces:
Video production, accommodating 14 people, with 6 in the extension
VIP Audio Technical, located in the extension Vision, including cold and technical bays
Cameras : 16
Recorder(s) : 6 VTRs
Audio mixer : STUDER VISTA 8 / YAMAHA O2R96
Video mixer : SONY MVS 7000x
Servers : 8 EVS XT-3 8-channel servers
Length : Semi: 13.90 m + Towing vehicle: 16.50 m
Width : Fully expanded: 4.53 m / Fully stowed: 2.50 m
Height : 4.00
52
OB| TOUTENKAMION
they can adapt any kind of platform and technology. The main important points in our design are the weight, the insulation because it has impact on air conditioning needs.
There are also standards so that they can plug in any kind of equipment and also very easy way for connecting and putting all the cables and so inside the truck for the wiring of the cable of the truck. No special technology. A company like AMP, they will change the technology inside the truck many times during the lifetime of the truck. Some of our OB trucks, the latest one, are still being used, so they're almost 20 years older, and they have already had many tech-lives.
So you can change, and you can apply any technology, any platform in your OB trucks.
Exactly. Exactly. It's more question on powering the signs of the power installation and the power of the air conditioning installation.
Can you change these technologies for an event or for another?
Yes. Most of our customers, that's what they are asking for easy way to unplug and plug other equipment depending on the number of cameras, the number of servers they need. It has to be very easy. All the accesses have to be very easy for the users so that they can connect. With IP technology now, it's even easier because now there is only one kind of connecting way for all this equipment.
Aside from the technology, how is your team built and trained? Which skills they have?
It's mainly internal training because there's no school for learning on how to design and build OB trucks. It's only internal training, and it's also because we have a strong share of the market in France which means that we always
have OB trucks to build so that we can keep training our new employees, and that's the way we do it. Secondly, we go more and more into details during the design phase to make sure that development is very accurate to the design, I would say. We can also have people who are less trained working on this kind of very complicated trucks.
Do you think it will be possible in a near future to produce all coverage on IP without costs increase?
For now, I think nobody is ready to move to full IP. People think it's too risky. Technology is not mature enough yet. That's what I understand from our customers, but might move to full IP in the coming years. Most probably, because again, it's more agile. You can switch equipment much more easily. For now, we have built a new one full IP OB truck last year. That's all, and the ones where I agreed trucks with some IP parts and some standard broadcast connecting and the equipment.
So you believe it will be full IP in a few years.
Yes. I know that already some OB trucks are equipped to this full IP technology, but
53
OB| TOUTENKAMION
For now, I think nobody is ready to move to full IP. People think it's too risky. Technology is not mature enough yet. That's what I understand from our customers, but might move to full IP in the coming years.
people-- I don't know. It looks like the biggest players are still afraid of moving to 100% IP technology. We will see.
What suppliers and manufacturers do your company trust always with no doubt?
We do not provide the equipments, but I know most
of our customer work very frequently with major brands and players in industry.
We would love to know the details about a case of special coverage your company has done recently. The one case you think is more telling about what problems can you find and how did you
resolve them.
This case was for AMP, they were in a hurry because they needed two big, big trucks ready for the coming 2023 Rugby World Cup in France, and we developed a double expanded OB truck from the design of a simple extended OB truck we had just produced for them. We were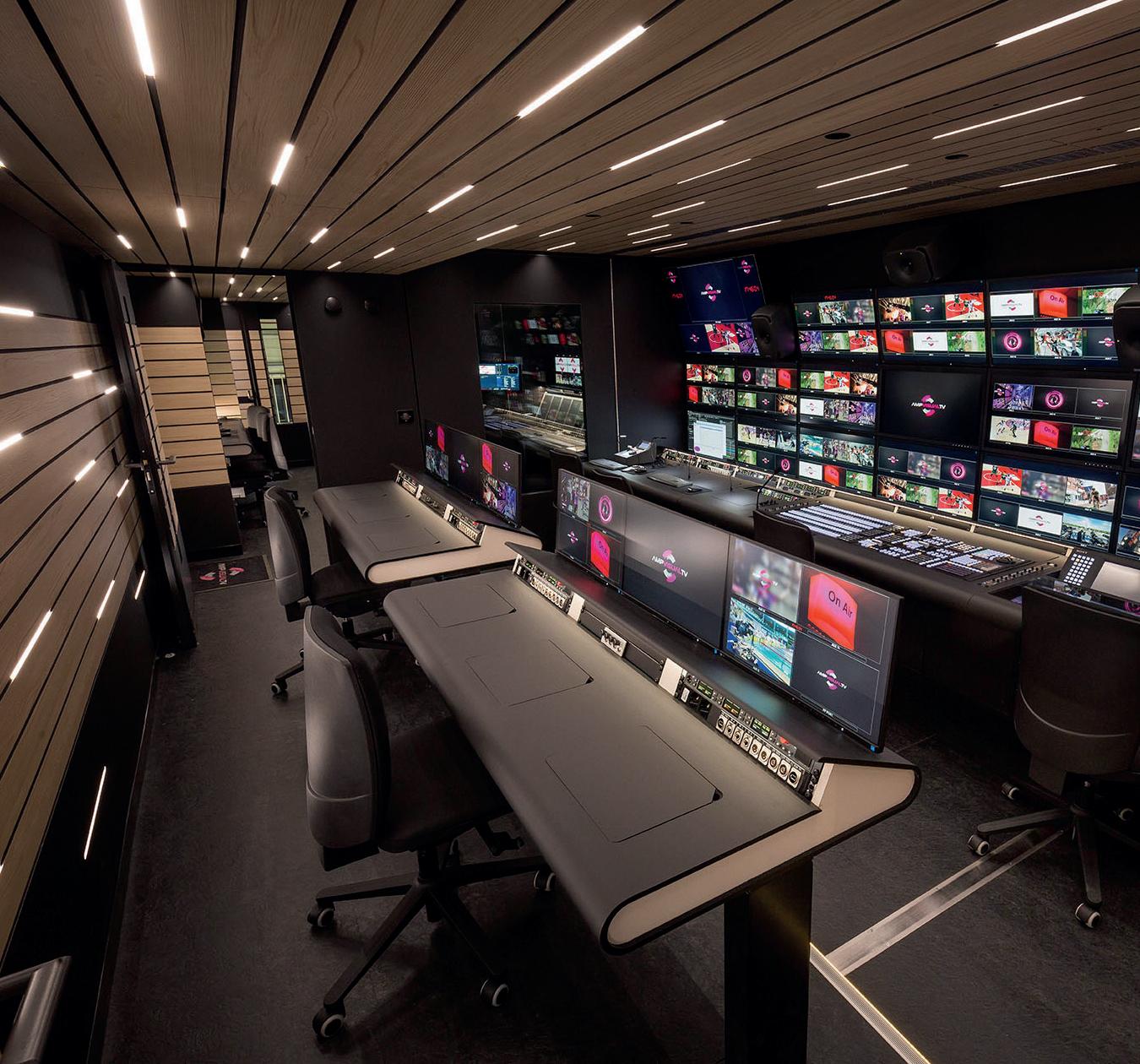 54
OB| TOUTENKAMION
able to reuse major part of the design and to capitalize on the experience we had with the simple expanded, the singlesided truck.
You are doing workshops, how are your workshops?
Actually, we have 30,000 square meter of workshop dedicated to manufacture
special trucks. In total, we have about 45,000 or 46,000 square meter of workshop in four different locations but with the same kind of knowledge in each team. We, I mean, people, I mean, welders, painters, all the kind of knowledge we need to build these kind of OB trucks.
Our main workshop is located about an hour and half south of Paris, where are located the biggest fleet of OB trucks in France, which is very convenient for our customers in order to get maintenance and modifications, because sometimes they need some modifications when new technologies are being used or first implemented.
It's a way to put together ideas and sharing knowledge, maybe.
Yes. Exactly.
Finally, what do you think is the future for OB trucks? What's next? What tech development is taking OB to the next level?
I hope the future for OB trucks is to be brilliant with a lot of OB trucks to deliver but unfortunately, I don't think it'll be like that. I think due to the
Our main workshop is located about an hour and half south of Paris, where are located the biggest fleet of OB trucks in France
fact that technology is moving very fast to IP technology, we might see remote adaptation to procure more and more with stadium equipped. They will just need to move the cameras with the cameramen, and these stadiums will be connected directly with fiber to main broadcast centers in big cities. This means it will reduce the number of required OB trucks for big events.
That's actually what our customers think. It looks like it's not ready yet. The technologies and the people are not 100% ready for the moment, but that's how we imagine the future. We will still need some broadcast events for special events where there's no need to connect these places remotely forever, but yes, the market will be reduced for sure. 
55
OB| TOUTENKAMION
Most professionals in the audiovisual broadcast sector already know -in one way or anotherwhat HDR is. Firstly, because the world of photography, smartphone capture and fixed-image retouching techniques have accelerated the use and enjoyment of this type of technology; secondly, because manufacturers of audiovisual equipment, both for professionals and consumers, have made this term popular in their promotional and marketing campaigns.
But, at what point is HDR on Broadcast TV? We will learn through this article how HDR is gradually conquering the current landscape of professional audiovisuals.
TECHNOLOGY| HDR 56
By Carlos Medina Audiovisual Technology Expert and Advisor
Every time a technology is developed there are many factors that determine its level of success and implementation. In the image/ video scene, we have been experiencing many changes in recent years. Some, with greater luck, have been accepted, used and seen feedback of high satisfaction among users/viewers, such as, for example, the resolution of images/videos. In a very short time we have gone from SD (PAL= 720 × 576; NTSC= 720 × 480) to FHD (1,920 x 1,080 pixels), 2K (2,048 x 1,080 pixels), UHD (3,840 x 2,160 pixels), 4K (4,096 x 2,160 pixels), or even 8K (7,680 x 4,320 pixels) throughout all phases of the audiovisual process, from capture to reception, distribution and broadcast of contents.
Surely, resolution is a notion that is easier to understand, or at least to assume. This is one of the main reasons for its success. So then, what's going on with HDR?
The first thing is to know what we are talking about.
HDR stands for High Dynamic Range. It is a technology that is harder to understand
since it involves knowing and grasping other technical parameters. Simply put, HDR allows for greater tonal richness between illuminated and dark areas in an image/ video in terms of exposure.
The purpose behind this technology is to provide greater realism to the image being viewed. Therefore, we want to improve the recording and playback of the maximum values/levels for white, gray and black (what we usually refer to as brightness or luminance). When we watch HDR videos, our assessment is usually conveyed through such popular expressions as "such a good quality", "everything looks so good", "how vibrant the images are" or "what a strength", among others.
Brightness or luminance is measured in "nits", or candelas per square meter (cd/m2); thus there are variations from very dark values -0.00005 nits- to very bright values -about 10,000 nits or more. Therefore, HDR involves working with images with greater nit ranges as compared to SDR (Standard Dynamic Range), that is, it
works with a range that goes from the maximum level of brightness, which corresponds to pure white, to the minimum level, black.
For example, a TV whose maximum brightness capacity is 100 nits and a lowest value of 0.1 nits has a contrast ratio of 100/0.1 i.e. 1000:1 (standard in HD TV). If the maximum brightness is increased up to 400 nits while keeping the black level at 0.1 nits, we will get a contrast ratio of 4000:1. That is, the contrast ratio and therefore the dynamic range have been increased. Thus, we get a new visual experience in the perception of images/videos and come a little closer to what happens with human vision when looking directly at reality. *Thus, the viewing experience increasingly comes closer to the direct perception of reality by the human eye.
The implementation of HDR means having control of this technology during all phases of audiovisual production. A clear improvement as compared to the use of SDR, where the result of an image showed "high areas -white level- that were burned" and/ or "pasted in blacks or dark areas".
TECHNOLOGY| HDR 57
The HDR format involves in some way reinventing the TV or, at least, changing the rules of the game for production of SDR (Standard Dynamic Range) content. FHD/ UHD images feature some modifications in issues such as:
 The improvement in capture devices, both regarding sensitivity of the sensors and in the way of processing images using the different logarithmic gamma curves existing in the audiovisual market.
 Full image standardization with a color depth (bits per pixel - bpp) below 10 bits or greater.
 Working with new color spaces that are wider under ITU-R BT.709, ITU-R BT.2020 and/or DCI-P3 standards.
 Knowledge and practice of illuminating with logarithmic gamma curves and raw images.
 The final finishing process of the image and color-grading in the visual content.
 Implementation of codecs that allow the dissemination of HDR for different deliveries.
 Using SDR/HDR and HDR/ SDR production workflows in parallel.
 Marketing of HDRcompatible viewing devices, i.e. monitors, video projectors and consumer televisions (whatever the technology used: Full LED, Nanocell, OLED, OLED+, QLED…).
All broadcast organizations are strongly committing on UHDTV and HDR production, as recommended by the International Telecommunication Union (ITU), the American Society of Film and Television Engineers (SMPTE), the Consumer Technology Association (CTA, the former Consumer Electronics Goods Association - CEA), the Moving Image Expert Group (MPEG), the BluRay Optical Discs Association (BDA), and even VESA (Video Electronics Standards Association).
The HDR TV standard reminds us of some situations experienced in the past when implementing a new technology, that is, the appearance of several solutions and denominations in a short period of time, for example:
HDR10
In August 2015, the Consumer Technology Association (CTA) announced this open standard (no need to pay license fees) for the adoption of HDR, supported by most manufacturers, distributors and content creators, including Sony, Samsung, LG, Sharp, Vizio, Hisense.
Its main features are the use of the Electro-Optical Transfer Function (EOTF) in the SMPTE ST 2084 standard, a Rec. 2020 color space, color luminance up to a maximum of 1,000 nits, color depth of 10 bits and global image instructions in addition to a single layer of content with static metadata and a minimal interface to GET signal – HDMI 2.0a.
This system has no backward compatibility with SDR TVs, although it is the most widespread standard, and even mandatory on UHD BluRays.
58
TECHNOLOGY| HDR
All broadcast organizations are strongly committing on UHDTV and HDR production
In April, 2016 the UHD Alliance (a partnership made up of different industry sector, including major movie studios, manufacturers of consumer electronics and technology companies as well as content distributors) established the Ultra HD Premium certification to ensure a correct HDR10 implementation with the following resolution features:
3,840 x 2,160, color depth of at least 10 bits, BT.2020 color space, maximum luminance of more than 1,000 nits, black level of less than 0.03 nits and implementation of the SMPTE ST 2084-EOTF standard.
The main creators and distributors of HDR10 content are Netflix, Amazon Prime Video, VUDU, HBO, Google
Chromecast Ultra, Playstation 4 PRO, Xbox One, Vimeo, You Tube. And the Hollywood studios: Fox, Warner Bros., Paramount, Sony, Lionsgate.
HDR10+
2017 saw the updating of the HDR10 format, thanks to the cooperation between Samsung, 20th Century Fox and Panasonic which has Amazon Prime Video as the major streaming service provider.
The great novelty is that it features dynamic metadata, which allows to adjust the settings of the scene parameters frame by frame. This new functionality is called Dynamic Tone Mapping; it integrates the HEVC x265 codec, an HDMI 2.0 connection and is supported by UHD Blu-Ray.
DOLBY VISION (DV)
This is a reference and a standard in HDR, which draws on the conclusions obtained from a series of experiments with viewers so as to determine how much dynamic range human vision needs. The result was that a satisfactory level (90%) is reached by playing back within a range of 0 to 10,000 nits.
59
TECHNOLOGY| HDR
Dolby labs have determined to use the BT.2020 SMPTE ST-2084 standard, color luminance up to a maximum of 10,000 nits, 12-bit color depth (allows to use 68 billion colors) and partial metadata instructions per individual frame.
It features backward compatibility with SDR TVs and is -optionally- HDR10 compatible TVs. It is also optional on UHD Blu-Rays. This standard has an added cost that usually affects consumers, due to the need to pay for a special Dolby Vision chip, a certification process and playback licenses.
The main creators and distributors of HDR Dolby Vision content are Netflix, Warner, Universal Pictures, Amazon Prime Video, VUDU, Google Chromecast Ultra…
The Hollywood studios: MGM, Sony, Warner Bros. Universal.
HLG
Hybrid Log-Gamma (HLG) is a standard sponsored by British public broadcasters BBC and Japan's NHK. One of its great successes for implementation is the compatibility in SDR/ HDR environments with REC 709 for terrestrial, cable and satellite television transmissions. It is an open
standard (no need for license fees). It uses a hybrid logarithmic gamma (HLG) Electro-Optical Transfer Function (EOTF) with no metadata and 10-bit color depth.
Its distinguishing factor is that it is mainly geared towards live content, on television or sports broadcasts, for example, during the 2020 Tokyo Olympics.
Advanced HDR
This is the proposal from one of the technological giants directly associated with cinema, Technicolor (HDR Technicolor), and for the time being it has not caused any impact, although it relies on the support of content creators. Since CES 2016, Philips became its great ally,
and this resulted in the SLHDR1 format (formerly Prime Single).
It is backward compatible with SDR televisions, through an external decoder device. It uses the Electro-Optical Transfer Function (EOTF) of the SMPTE ST 2084 standard and includes a single layer of content with static and dynamic metadata; as usual, it is also optional in UHD BluRay.
HDR Converter
It is not an HDR standard as such, but a technology developed by LG for its televisions that allows converting and scaling a content from SDR to HDR by emulation, in which basically some settings are retouched, such as contrast, to give the image an HDR feel.
60
TECHNOLOGY| HDR
VESA DisplayHDR
It is simply a certification for proper HDR compliance within the field of monitors. VESA's DisplayHDR and DisplayHDR True Black specifications provide an important benefit for the screens industry and end consumers.
It consists of an open industry standard to determine the quality of HDR viewing on monitors so as to determine what is the image quality that we will have on each screen.
There are three levels of certification: DisplayHDR 400 (low range), designed for laptops, DisplayHDR 600, for mid-range laptops and monitors, and DisplayHDR 1000, for high-end equipment.
The path is not being easy due to a myriad of solutions that are being proposed, which in many cases can confuse both professionals when generating content or marketing HDR images and videos, and end users when it comes to buying a television set, updating the technical equipment or enjoying audiovisual proposals on their screens.
Even in the field of consumer products, many manufacturers use proprietary names that continue to cause
confusion: Samsung with SUHD Precision Black Pro; Panasonic under Dynamic Range Remaster; LG with Wide Color Led; Sony with X-tended Dynamic Range; Philips by naming it Bright Premium and Micro Dimming Premium, among others.
However, it is necessary to highlight the effort that these manufacturers of TV sets and video projectors are making to introduce the HDR ecosystem in our homes with screen devices capable of showing 1,000 nits of brightness at color depths of 10 bits or even with 17 bits, although Dolby continues to recommend reaching 4,000 nits to achieve incredible images.
In the broadcast TV sector, the International Telecommunication Union published recommendation ITU-R HDR-TV, BT.2100-0, so professionals are under two standards worldwide: Hybrid Log-Gamma (HLG) and Perceptual Quantizer (PQ), which are then translated into the different above-mentioned denominations.
Finally, when producing and marketing in a broadcast environment, it is essential to determine whether we want to maintain compatibility
between an SDR/HDR stream or also use static or dynamic metadata.
And, regarding standards, there are releases that already support the assurances provided by HDR production for the professional sector:
 ARIB STD-B67 Essential Parameter Values for the Extended Image Dynamic Range Television (EIDRTV) System for Programme Production.
 EBU Tech 3320 User Requirements for Video Monitors in Television Production. Version 4.1 (9/2019).
 ETSI TS 103 433-1 HighPerformance Single Layer High Dynamic Range (HDR) System for use in consumer electronic devices.
 SID ICDM IDMS 1.1 SID International Committee for Display Metrology (ICDM) Information Display Measurements Standard v1.1.
 ITU-R Rec. BT.601-7 Studio encoding parameters of digital television for standard 4:3 and wide screen 16:9 aspect ratios. ITU-R. March 2011.
 ITU-R Rec. BT.709-6 Parameter values for
61
TECHNOLOGY| HDR
the HDTV standards for production and international programme exchange. ITU-R. June 2015.
 ITU-R Rec. BT.1886
Reference electro-optical transfer function for flat panel displays used in HDTV studio production. ITU-R. March 2011.
 ITU-R Rec. BT.2020-2
Parameter values for ultrahigh definition television systems for production and international programme exchange. Oct. 2015.
 ITU-R Rec. BT.2035
A reference viewing environment for evaluation of HDTV program material or completed programs.
 ITU-R Rec. BT.2020-2 Image parameter values for highdynamc range television for use in production and international programme exchange. July 2018.
 ITU-R Rec BT.239011 (03/2023) High dynamic range television for production and international program exchange.
 ITU-R Rec. BT.2124
Objective metric for the assessment of the potential visibility of colour differences in television. ITU-R. Jan. 2019.
 ITU-R Rec. BT.2408-0 Operational practices in HDR television production. ITU-R. Oct. 2017.
 ITU-R Rec. H.273 Codingindependent code points for video signal type identification, 2016.
 ITU-R BT.2381-0 (07/2015): Requirements for High Dynamic Range Television (HDR-TV) Systems.
 ITU-R BT.2077 Real time serial digital interfaces for UHDTV signals.
 OpenEXR High-dynamicrange scene-linear image data and associated metadata format. www. openexr.com.
 SMPTE ST 2036 1 Ultra High Definition Television Image.
 SMPTE ST 0196-2003
Motion-Picture FilmIndoor Theater and Review Room Projection - Screen Luminance & Viewing Conditions.
 SMPTE ST 0431-12006 D-Cinema Quality
- Screen Luminance Level, Chromaticity and Uniformity.
 SMPTE RP 0431-2-2007
D-Cinema QualityReference Projector and Environment.
 SMPTE ST 2084:2014 and CEA-861.3-A-2016: High Dynamic Range (PQ) Electro-Optical Transfer Function of Mastering Reference Displays. SMPTE 2014.
 SMPTE ST 2086:2018 Mastering Display Color Volume Metadata Supporting High Luminance and Wide Color Gamut Images.
 SMPTE ST 2094-0:2017 and CEA-861-G: Overview Document - Dynamic Metadata for Color Volume Transformation. DOI: 10.5594/-SMPTE.OV20940.2017.
62
TECHNOLOGY| HDR
The success of HDR means that technology and creativity shpuld go along hand in hand, a conversational dynamic between the research drive of new image quality options and the requirements of increasingly demanding viewers.
 SMPTE ST 2048-1 2048×1080 and 4096×2160 Digital Cinematography Production Image Formats FS/709.
 SMPTE ST 2065 4:2013 ACES Image Container File Layout. HDR Production File Format.
 SMPTE ST 268-2 DPX format extensions for high dynamic range and wide color gamut pictures.
 VESA DisplayHDR: VESA High-performance Monitor and Display Compliance Test Specification (DisplayHDR CTS). Rev. 1.1 (2019).
 ARIB STD-B67 (2015, Japanese standardization agency): Hybrid Log Gamma (HLG) Essential Parameter Values for the Extended Image Dynamic Range Television System.
The Advanced Television Systems Committee (ATSC), under the ATSC 3.0 terrestrial transmission, the MPEG Committee under the HEVC standard, DVB Europe and the Society of Cable and Telecommunications Engineers (SCTE) are already working on the preparation of HDR standards for dissemination of this type of content.
Any professional in the audiovisual sector, both in the broadcast field and in digital cinematography, must be clear that HDR is a technology that has to be taken care of throughout the entire work process (HDR Workflow): from origin and development of the project (Project Development), through pre-production, contribution (production, recording/ shooting and post-production), delivery
(distribution, broadcast and/ or retransmission) and, of course, up to the displays or image output devices used by end users or viewers (monitors, televisions, tablets, cell phones…).
The HDR standard has very important implications in regard to all the decisions that have to be made to obtain quality broadcast content. At present, we must continue to promote HDR content versus SDR content, given the level of satisfaction generated by their enjoyment. However, this is a boost that still needs collaboration between the players involved in the technology (developers, engineering, equipment manufacturers…) and those who promote visual creativity (producers, directors, photographers, camera operators, postproduction and color grading technicians…).
The success of HDR means that technology and creativity shpuld go along hand in hand, a conversational dynamic between the research drive of new image quality options and the requirements of increasingly demanding viewers. 
63
TECHNOLOGY| HDR
Clouzen Tainer & Bronine Chargers
TEST ZONE| CLOUZEN TAINER AND BRONINE CHARGERS 64
Effective aid for creation
We have had the opportunity to test these novelties: simple and efficient devices, designed to make shooting much easier, without the need for large investments.
Text: Luis Pavía
Normally we tend to focus our attention on large equipment that is essential and fundamental in image creation activities such as cameras and optics. And no doubt they should be at the heart of our decisions. But we must not fail to consider that around them there are a plethora of accessories and devices that contribute to improving the efficiency, reliability and even the workflow of production.
And while it is true that we can invest in accessories as much as our budget allows us to, doing so while achieving a balance between profitability, efficiency, improvement of the workflow and reliability is not an easy task.
On this occasion our thanks go to importer/distributor NEOVIDEO, who has made it easier for us for a few days to try some novelties that, in view of their features, seem especially interesting.
The first of these, Clouzen Tainer, a name gives few clues to its purpose, is an interesting stand-alone backup device. What is it about?
Conceptually it is very simple: a handheld device, with an internal battery and a card reader to make copies of our contents without the need for a computer.
Benefits? The main one is the ease of replicating our memory cards by copying them directly to an internal SSD NVMe disk (optional), to an external disk through a USB3 port, or uploading them directly to one of the most popular cloud storage media: DropBox, GoogleDrive and OneDrive.
Best of all, it does not merely to make a simple copy of files; our Tainer has its own patented technology, X-Copy, which facilitates speeds of up to 400 MB/s, also integrating the copy and verification function. This ensures that the copy has been made correctly, because an automatic check is made on 100% of the data transferred.
Connections featured are:
Two memory card sockets: one SD type (UHS) and one XQD type, also suitable for CFexpress Type-B cards.
TEST ZONE| CLOUZEN TAINER AND BRONINE CHARGERS 65
Three USB ports: a type-C port to charge your battery or connect to a computer; a USB3 to connect an additional card reader or an external disk; and a USB-2 designed for the Wi-Fi dongle or direct connection to the mobile, to access the cloud through a router or our own phone.
Last, a 10/100/1000T Ethernet port allows direct connection to a network or cloud directly at top speed.
All this can be found in a device that fits in the pocket; 106 x 75 x 24 mm in size, less than 200 gr in weight, its 3,500 mAh battery enables completing the transfer of
more than 1 Tb of data with a single charge.
By the way, with regards to charging, it also supports charging from autonomous power-bank type batteries, thus facilitating long times of use even in environments without any electrical outlets available. Finally, it also comes
66
TECHNOLOGY| HDR
with a silicone protector that increases its resistance when conditions of use become somewhat more difficult.
Operation is very simple: The entire control is carried out by means of a single rotating dial to select the menu options, and also through short or long presses on the same
dial. Photo and video content can be viewed on the builtin screen, and although its purpose is not to assess the final quality of the image, it is very useful when identifying files or previewing videos.
Our test unit had an optional 2Tb internal drive, but the system is capable of handling capacities up to 32Tb. We liked very much the fact that the computer can be opened by simply removing two screws and therefore users can install the disk by themselves without difficulty. And even, were it necessary in the future, replace the battery with a new one, thus extending the life of our investment without the need to resort to a specialized technical service.
The graphical menu is very simple and intuitive, allowing us to select data source (between the integrated card readers or whatever we have connected to one of the USB) and output (internal disk, cloud service or external disk). Naturally, to use any of the cloud services, identification and connection must be done previoulsy through the configuration menu. But once we have it, it remains available in memory for future connections.
Our test unit had firmware version 1.0 but, by the time these lines see the light, it is expected that version 1.1 will be available, one of whose improvements is especially desirable. According to manufacturer information, this update will enable multicopy functionality, allowing contents to be dumped to internal and external disks simultaneously. In addition, there are other features such as official native support in cloud platforms, customization of
67
TECHNOLOGY| HDR
It does not merely to make a simple copy of files; our Tainer has its own patented technology, X-Copy, which facilitates speeds of up to 400 MB/s, also integrating the copy and verification function. This ensures that the copy has been made correctly, because an automatic check is made on 100% of the data transferred.
folder names, and the app to connect directly to the mobile phone.
The menu contains the main options: device settings, external disk access, cloud access, internal disk access, Wi-Fi access, app access, and sound settings. Each of them opens, as can be expected, the logics in each section. And as soon as we connect a memory card, we immediately have the options to select the destination of the copy.
As for transfer speed, this is always depends on multiple factors, from the speed of our own cards to the selected disk or the bandwidth of
our connection or mobile coverage, if we upload content to the cloud. But certainly this speed is not hampered by the transfer capabilities of our Clouzen Tainer and its X-Copy technology.
In any case, having in your pocket (literally) the ability to get a verified copy of contents in such a simple, safe, fast, comfortable and compact way will provide an extra peace of mind and reliability.
And, moving on to the second piece equipment, we find a battery charger system. We all know what this is and surely we know multiple models with very different characteristics, qualities and prices.
So, what makes Bronine chargers different? Their modular design allows solving many of the frequent difficulties in something as necessary as charging batteries. And they go a step further when it comes to using the latest technology to optimize charging and extend the life of our precious batteries.
In this case, the functionality is divided into three sections: first, the charging unit itself, which houses all the control electronics and the display with information on charging state; then, the power supply, which supplies power to the charging unit; and finally, the
68
TECHNOLOGY| HDR
support unit for housing the battery.
And what's the point of doing it that way? We will see now, but we already told you that the result is more than attractive.
In regard to the control unit, there are two models, with 2 and 4 output ports respectively. That is, a single control unit is able to independently and simultaneously charge up to
4 batteries, whether identical or different, and using a single power input connector. On its screen it shows us detailed information on the charging state of each of them, not only by means of the tradtional battery icon, but with precise voltage data in v and intensity in mA.
As for the power supply, again there are two models with two different powers 45w and 65w. Not because each control unit requires one or
the other, but depending on the power required by the batteries we want to charge.
Here it should be noted that the connection between power supply and control unit is made by a single USB-C to USB-C cable supplied with the control unit. This facilitates that in certain circumstances, and provided that the energy source provides sufficient power, we can even use "power-bank" batteries to recharge our equipment.
69
TECHNOLOGY| HDR
Their modular design allows solving many of the frequent difficulties in something as necessary as charging batteries. And they go a step further when it comes to using the latest technology to optimize charging and extend the life of our precious batteries.
The only thing left is the adapter, the socket where to insert our battery, having a wide catalog for the most frequent models (both in photo and video) from most brands: Sony, Canon, Nikon, Panasonic, Olympus, Fujifilm,
The modular battery system seems to us a practical, versatile and very suitable solution for those situations where you have to handle many different batteries, thus simplifying management without losing reliability. And maintaining a very comfortable and light size and weight.
70
TECHNOLOGY| HDR
Conclusion
Both the Clouzen Tainer copy system and the Bronine modular battery charging kit offer us considerable safety, flexibility and comfort without the need for a soaring budget or overloading our backpack. They seem particularly suitable to us as the material, technical and human equipment is reduced to meet the budget.
The modular battery system seems to us a practical, versatile and very suitable solution for those situations where you have to handle many different batteries, thus simplifying management without losing reliability. And maintaining a very comfortable and light size and weight.
And on the other hand, the simple fact of being able to walk out of a shooting or a photographic session with one (or more than one) copy of the memory cards, the fact that these copies are verified, doing so without depending on a laptop, and that even the device itself can then connect to another computer behaving in that case as one more disk, are features more than enough to put it very high on our wish list.
May not the lack of means, or budget constraints, limit our creations.
GoPro, drones DJI, and lithium-ion cylinders. These are connected directly to the control unit through a wireless magnetic coupling.
For those instances in which, due to the size of the battery, the adapters do not have physical space next to each other, there are also magnetic connection cables, which allow separating the adapter from the control unit while maintaining all its functionality.
When using them we have discovered curious details about the design. We liked some of them, such as the adapters gently coupling together so as to transport them in a compact block in a more comfortable way. And one with some room for improvement, such as relocating the ports along all sides of the control unit to dispense with the interconnect cable even when charging large NP-F batteries from Sony or BP-A from Canon.
What are the benefits of this system? We can think of several: the first is the smart management of the charging process, although this feature is already available from other brands. What these brands do not have is the possibility, by means of a single plug and a single charger, to manage the charge of up to 4 batteries simultaneously, regardless of brand and model. But what is definitely attractive, given its longterm flexibility, is maintaining the entire system even when it comes to renewing or expanding equipment, simply by adding the right socket to the new batteries.
Keep in mind that, thanks to their simplicity, the prices of most of these sockets are around €11, and even the few most expensive models are at €14. To get an idea, a complete kit with charger, two-port control unit, and two sockets is priced around €100. And if we choose most expensive set with 65w feeder, 4-port control unit and four battery sockets, the amount would not reach even €180 (prices before taxes on the importer's page as of July 2023). 
71
TECHNOLOGY| HDR
Slashing CAPEX, OPEX, & energy rates using the latest 'green' video encoding technologies
By Max Owen, Director of Sales Engineering EMEA at MediaKind
TECHNOLOGY| MEDIAKIND 72
The adoption of real-time streaming experiences such as live events, interactive video, cloud gaming, video communications, and virtual worlds is soaring. Meeting this demand with CPU-based codecs can often be expensive and inefficient, unnecessarily boosting CAPEX, OPEX, and carbon emissions generated by CPU based encoding. In a breakthrough for the video processing sector, organisations can tap into GPU-based solutions that substantially trim down operating costs, capital expenditure, and energy usage. This innovation ensures the delivery of top-notch picture quality and optimizes rack density while offering a user-friendly experience. This development highlights our industry's commitment to meeting the most stringent environmental, social, and governance (ESG) benchmarks and supporting everyone in helping to reduce their carbon footprint.
GPU vs. CPU
The task of video encoding is notorious for its massive power consumption, often taking up to a third of a data centre's computing power. Until now, it's been a significant challenge to ensure optimal performance quality without skyrocketing costs and CO2 emissions. However, GPU-based solutions propose an efficient approach that optimises energy usage and significantly reduces emissions during the video streaming process.
A series of tests comparing GPU and CPU-based encoding found that the GPU solution could liberate main CPUs for other tasks while achieving an impressive 70% energy savings on average.
Three separate scenarios were tested for efficiency, with three different profile sets: The HD OTT scenario comprised five different resolutions, 60 and 30 frames per second (fps) rates, and H.264 codecs. Bitrates ranged from 200kbps for 320x180 to 5Mbps for 1920x1080HD. The UHD OTT profile had a frame rate of 60 fps and HEVC codec at 16Mbps, and
TECHNOLOGY| MEDIAKIND 73
the broadcast/IPTV profiles with two resolutions - HD at 7.5Mbps, and SD 2.5Mbps MPEG-2, at 30fps:
Scenario 1: CPU vs, GPU for HD OTT with 5 profiles
Running with a CPU only model required 4 standard servers to handle the 16 HD channels with their associated profiles. When the GPU based solution was used (including the servers CPU capability), the server count fell to just one server.
This meant a drop in the average power consumption per channel from 138W to 40w a 71% reduction
Scenario 2: CPU vs, GPU for UHD with 1 profile
In this scenario, each UHD channel typically requires a whole server to encode one channel. However with the GPU solution installed,
the same server could then manage 5 channels. The power consumption per channel therefore dropped 76% (488w vs 115w)
Scenario 3: CPU vs, GPU for Broadcast (2 profiles)
Finally, running a broadcast HD and SD version of the same services in a single
74
TECHNOLOGY| MEDIAKIND
server delivered 12 channels per unit, a huge 48 channels HD AND SD channels could be ran in one server with the GPU cards added – with power use per channel 71% lower by comparison.
Results also found that the technology achieves reductions of about 65% for the encoding servers, making it ideal for businesses looking to optimise their data centre infrastructure. Using less power – by an average of almost 75% vs CPU-only in each scenario – the equivalent power per channel metric was
as low as 13W for an IPTV HD channel (30FPS) and 78W for a UHD OTT profile (60FPS) – it reduces cooling requirements and associated costs as well. The carbon dioxide saved versus the CPU-only version was also an average 54 tonnes across the three GPU-accelerator combinations tested.
GPU-based solutions fully support the H.264 and HEVC codecs and do not require any complex implementation for customers to deploy them. Companies can bring their own servers, so there
is no reliance on bespoke hardware either. The solution can be deployed on their own servers, and the channels can be managed from the same interface with the same licensing model.
To sum up, we can see that environmentally friendly video encoding is essential for the sustainability of the streaming industry. GPU-based video encoding technology offers a way to reduce the carbon footprint of video streaming while also providing significant cost savings for content providers.
75
 TECHNOLOGY| MEDIAKIND