CHANGING THE WAY WE DO BUSINESS
Black Owned SMALL BUSINESS EXPO
A DanieBJones Event
2023
Prince George's County Sport & Learning Complex, Landover, MD
ABOUT THE Black Owned SMALL BUSINESS PO
FAMILY Owned & Operated SINCE 2016
Meet Our
TEAM
Created by Thomas and Danielle Jones
Meet
of
DanieBJones
Events LLC, the Black Owned Small Business Expo (BOSB) gives black small business owners a place to collaborate, network, sell and promote their products and services to an audience specifically designed for them The BOSB Expo has expanded to include small business resources, workshops and seminars geared toward business and personal development, all to help start-up businesses and entrepreneurs explore the possibilities and opportunities that are available. The BOSB Expo is held twice annuallyBlack Friday (Also known as Small Business Saturday) We are hrough our events but year round through our network
s we grow we are constantly looking to expand into other
DanieBJones LLC is a premier Marketing, Event & Business Management Organization with a focus in small and start -up businesses and community events. We pride ourselves in hosting events that leave lasting impressions on all attendees. From expos, to festivals to business branding, we work hard to ensure that we exceed expectations while sparking change through personal engagement To learn more about DanieBJones visit our website at: www daniebjones com
TRAVEL
Its All About the Wrist
JayMedia Publishing
Jazzy's Fancy Gems
Joy of Beauty
Joys Perfection
JP'S CRAFTY FARM & ESSENTIALS, LLC
Kamosé
Krazekandlez
Kreative Klutches Boutique
Kurated, with Love
LeAnn's Home Made Cheesecakes
Legacy Quilts and Art
Legit Styles Clothing
Limited Stylez by Sophia
Lincoln Heritage Life Insurance
Little Treasures Feathers
Earrings
Lofty Stories LLC
Love You First Wear
Handcrafted
Manami Symone - A Collection of
Books from the Heart
MelzAccessoryBar
Millionaire Mastermind Institute
Mindful Mane & Body Care
Mochas Boutiquee LLC
My Melanin Crafts
Nice Things Boutique
NubianArtwork
Protagein Quill & Co
Raising Vaginas
RareGlo Organic Shea Products
Right Next Door Roc Tha Body Designs LLC
Royal Fai7h LLC
RoyaltyMC LLC
S J S ENTERPRISE SERVICES CORPORATION
Saffire Bleu Samson Properties
Sankofa International
Serenity by Sereta, LLC
Signal Four Apothecary LLC
Small Business Development Center
So Harpie & Haysie
Soulful Blessings Candle Co.
Southern Belle Cleaners
Speak EZ for Kids & Jessieca
Montgomery, Author Spicy DEEzaster Jewelry & Accessories
Stick-It-To-Me! Pin Cushions
Stilote Luxury Handbags
Surrender Candle, LLC
Sweet Indulgence Mini Dessert Bar
Sweet Organix by Cheree Sweets by Shy
Tea Lover's Cafe
Teo Brand
The Johnson Leadership Group LLC
The Laundry Basket LLC
TionneSkin
T-Mobile for Business
Unique Beauty Supply Boutique
YOLO Health and Wellness, LLC
YvonneEx Designs
2023SpringBlackOwnedSmallBusinessVendors Prince George's County Sports & Learning Complex, Landover Md 2 Ladies & A Juice A Known Jewelry Addelo Adrienne's Unique Treasures Afrique Fashion House LLC Afrotika Arts Anewskin Aesthetic Clinic and Medical Spa BAMM'S SAUCE Beardiful Oil Beloved J Public Speaking Firm BEL's Body Essentials Boujee Couture By Ray Black Diamond Publishing/Author Erika J Gibson Blessed 24:7 Gift Shop Blk Oasis co. Bright'n SUNNY Creations ButterflyLoveFifty1LLC Buxton Shique Cakelady Desserts Caribbean Breeze Tree Celestial Adornments Charles County Chamber of Commerce Chique Niche Cortland Jones Enterprises Creative Chaos Studio LLC Culture Beads Collection, LLC Curlnista Custom Strands Danielle's Herbs Delkis Collections Derreq Player Portraits & Printing DMV CHILL Dr C Moss DRESS REHEARSAL DTD Enterprises, LLC EST 818 Skincare EUGINA'S XCESSORIES Everlasting Memories by J Rene' LLC Everyday Bluff EXIT Flagship Realty Favoring Grace Knit Crochet LLC Fedele Nero Fedora Palace Google Pixel for Business Graced by Glam - Paparazzi Accessories Green Energy LLC H&KCreations Halz S Enterprises, LLC Hard 2 Oppose Publishing HerSol Beauty Honeycomb Bijoux Housing Options & Planning Enterprises Inc Howell's Standard Hugee Corporation Infuzed with Booze Innervisionsartgroup INTELE
SUPERIOR SOLUTIONS FOR STRATEGIC GROWTH
Small Business
Main Stage Hot Spot
10:30PM
DTD Enterprises, LLC
DTD's Enterprises LLC is a multi-solution company offering a wide range of services From grant writing and business development to expansion planning, we have the tools, experience, and expertise to help you grow your business
11:00PM
Sweet Indulgence Mini Dessert Bar
SIMDB is a dessert bar experience Our specialty is miniature dessert cups in an assortment of flavors
Conceptualized, imagine an assortment of mini dessert cups, boxed and presented similarly as an assortment of chocolates, donuts or cupcakes
Danielle's Herbs
Danielle's Herbs Health Wellness and Hair Care is an all natural herbal company that uses Alkaline and Ayurvedic herbs to promote Healthy Hair, a Healthy Body, and a Healthy Sex Life We offer Loose Leaf Teas, New Growth Hair Oils, Aphrodisiacs, Tobacco Alternatives, and Fragrances
1:00PM
Serenity by Sereta
Serenity by Sereta is a self-care and mindfulness business Created to promote wellness of the mind, body and spirit We offer personal care products made by hand and meditation services Some of our offerings include, body scrubs, body butters, bath soaks and a self-care box
1:30PM
Raising Vaginas
The idea behind "Raising Vaginas" is to provoke an evolution in parenting To help cultivate a COMMUNITY that empowers our girls with the knowledge they need to be able to develop self love before they decide to love someone else romantically I want to create a sex positive culture that raises our girls (and boys) to be aware of pleasure without having to share a sexual experience prematurely with someone else In my book, I share helpful ideas on ways to have those difficult conversations to help our boys to develop a level of RESPECT and appreciation for the female body, its functions, and capabilities outside of sex, and, to help our girls navigate those life experiences with POWER!
2:00PM
Royal Fai7h LLC
We are a Holistic Metaphysical Spiritual Shop based in Upper Marlboro MD We provide products and services We have crystals, sage, incense, bath soaks, home essential sprays and jewelry We also provide reiki and chakra energy readings on site We will break down how Chakras, Reiki and energy shifting can shift your vibes and life to a more healthy road
2:30PM
We are an aesthetic medical clinic located in DC We offer a range of services such as laser hair removal, chemical peels, body sculpting, Botox, fillers, Microneedling, body sculpting etc
Highlights
11:30PM Anewskin LLC
withHallieR Williams
Business Development Center Community Update
Small
& Franchising
Changing the Way We Do Noon Day Panel
with Mark Wells
Entrepreneurship
BUSINESS!
Business Financing Solutions info@rightnextdoor.biz Right Next Door serves the financing needs of small and medium-sized businesses and real estate investors across the United States! With our network of commercial lenders, we're able to fund businesses in all industries. Programs Equipment Loans/Lending • Equipment Leasing • Construction Equipment • Office Equipment • Heavy Equipment • SBA Loans • Debt Restructuring • Pay Any Day/Cash Advance Sales Leaseback •UnsecuredBusinessLoans •BusinessLinesofCredit • Business Acquisition Financing • Accounts Receivable Financing •RealEstateFinancing •CommercialBridgeLoans •Fix&FlipFinancing •SecuritiesBasedLending •ChurchFinancing •MedicalWorkingCapital (202) 597-2637 info@rightnextdoor.biz rightnextdoor.loan
Small Business
DIRECTORY LISTING
EST818Skincare
@EST818Skincare est818skincarellc@gmail.com
EST818Skincareisaskincarebrandtailoredtoallallskintypestoenhance yournaturalbeautyaswellasencouragingselfcare.
SweetIndulgenceMiniDessertBar
@bedessert_chic_SIMDB nikia@sweetindulgemdb.com
SIMDBisadessertbarexperience.Ourspecialtyisminiaturedessertcupsin anassortmentofflavors.Conceptualized,imagineanassortmentofmini dessertcups,boxedandpresentedsimilarlyasanassortmentofchocolates, donutsorcupcakes.
SignalFourApothecaryLLC @Signal4ApothecaryLLC swillis@signal4llc.com
SignalFourApothecaryLLCproduceshandcrafted,veganproductsforhair andskincare.SignalFourApothecaryhascraftedsevensignaturescentsfora rangeofproduct:beardoils,beardbalm,andbodybutters.
LincolnHeritageLifeInsuranceCompany dvine19566@aol.com
LincolnHeritageLifeInsuranceCompanyoffersproductsandservicesthat takesthestressoffyourbeneficiary(s)onwhatcouldbeconsideredthe worsedayoftheirlives.
AfriqueFashionHouse @afriquefashionhouse afriquefashionhouse@gmail.com
WecreatearangeofcontemporaryAfricanprintdresses,jumpsuits,andtwopiecesandclothingformen,womenandkidsofallsizesandshapesthatare allsourcedandmadeinGhanaandMDUpperMarlboro.Ouraimistoinfuse eye-catchingAfricanstyleintoyourwardrobetobeworncasually,foranight out,orforformalevents.Withvividpiecesthatarebothvibrantand affordable,wecustomtailoreachpiecetoensureourclothingflattersyour bodytype,comfortablyandconfidently.
HousingOptions&PlanningEnterprise(HOPE) @hope_hopefinancial www.hopefinancial.org
H.O.P.E.(HousingOptionsandPlanningEnterprises,Inc.)isanHUD-certified housingcounselingandcommunity-basedorganizationinPrinceGeorge's Countythataimstopromoteequalaccesstohousingforallpersonsthrough counseling,education,advocacy,andcommunityrevitalization.Their programsaredesignedtomeettheneedsoflow-to-moderateincome,Black, Indigenous,andPersonofColor(BIPOC)individualsandhouseholds.
Kamose' @kamosellc kamoseshea@gmail.com
KamoséisacompanythatsellsanddistributesallnaturalorganicnonGMO productsmadebyourcommunity,fortheentireglobalcommunity. Wesell thebestsuperWhippedSheaButter,organicteas,books,soap,andlipbalms
2Ladies&AJuice @2ladiesajuice 2ladiesajuice@gmail.com
Ourgoalistoprovideindividualswithcold-pressjuices,whichcould continueimprovingyouroverallhealthorintroduceindividualstoahealthier lifestyle.
AnewskinLLC @AnewskinLLC clinic@anewskinmedspa.com
WeareanaestheticmedicalcliniclocatedinDC.Weofferarangeofservices suchaslaserhairremoval,chemicalpeels,bodysculpting,Botox,fillers, Microneedling,bodysculptingetc.
T-MobileforBusiness jamar.martin@t-mobile.com
Wirelesscommunicationsservices,productsandbusinesssolutions.
ManamiSymone-ACollectionofBooksfromtheHeart teeteetoe@aol.com
AuthorofaBook"STOPBULLYING,BEAFRIEND,STANDUPANDSPEAKOUT
HugeeCorporation
@HugeeCorporation
phugee@hugeecorporation.com
Hvac-Sheetmetal-Aerosealductsealant
Heatpump-gasfurnaces-miniSplits-VRP-VRF
A water based, sugar free, no preservative protein and collagen quencher in liquid and powder form.
@Protagein
silkysullivansr@gmail.com
WeareaCryotherapycompany.WespecializeinCryosculpting, PainManagementandRecovery.
EverlastingMemoriesbyJ.Rene'LLC info@everlastingmems.com www.everlastingmems.com
EverlastingMemoriesbyJ.Rene'LLCisaweddingplanningandcoordinationservice basedinFortWashington,MD.Withoveradecadeofexperienceguidingcouples throughtheirweddingneeds,EverlastingMemoriesbyJ.Rene'LLChasawealthof experiencetosharewithyou.Wecreateatailoredapproachtoeverycouple.Above all,wewantyoutoenjoyeverymomentofyourlong-awaitedoccasionaswetake careofthebackgrounddetails.
CustomStrands @custom_strands_ customstrands.1@gmail.com
CustomStrandsisabusinesswithintegrityandavisionthatbelievesinproviding1st classhaircareandcustomerservice.Whichiswhycontinuededucationisimportant. ProvidingservicessuchasHairandscalpAnalysis,Hairlossandscalpmaladies treatmentsfromaHolisticapproach.Stillservicingclientswithtrendycutsand styleswhileofferingproductsforretail.
HerSol @HerSolBeauty info@hersolbeauty.com
HerSolBeautyoffershandcrafted,veganhairandskincareproductstohelpyou lookandfeelgoodfromoursoultoyours!Ourproductsincludebodybutters, scrubs,oils,massagecandlesandmore!
SerenitybySereta @SerenitybySereta contact@serenitybysereta.com
SerenitybySeretaisaself-careandmindfulnessbusiness.Createdtopromote wellnessofthemind,bodyandspirit.Weofferpersonalcareproductsmadeby handandmeditationservices.Someofourofferingsinclude,bodyscrubs,body butters,bathsoaksandaself-carebox.
Fedele
Nero
@FedeleNero Fedelenero@yahoo.com
WelcometoFedeleNero!Ablack-ownedfashionbrandrepresentingtheDCCulture. Iam BriscoeFedele,LeadDesignerandCEOofFedeleNero(fa-del-laneh-row).We areknownforembracingyourstylewhileremainingloyaltoourcommunity,Fedele Neroseekstoprovideafashionplatformforthe"averageperson"toexpresswho theyareandwhotheyseektobecome."FedeleNero"isderivedfromtheItalian language,bringingthemeaningof"faithfulandloyal"(Fedele)toa"black"(Nero) brand.Ourlabelindicatesadedicationtoprovidinganexclusiveculture.Ourtheme colorsof"BlackandWhite"representthecontrastbetweengoodandbadwhile displayingthevalueineachopposingcolorbecomingone.Whetheryourstyleis casual,sophisticated,urban,oreclectic,FedeleNerofitsyourflavorandwilladda tasteofmambosauce,fromtheDCCulture.
Unfortunately, death is the one thing that we cannot predict, prevent, evade or avoid However, we can and must prepare for the inevitable. Although it is not an easy discussion, it is one that I am able to assist you and your loved ones with!
Lincoln Heritage Life Insurance Company® offers products and services that takes the stress off your beneficiary(s) on what could be considered the worse day of their lives These products include, but are not limited to:
Approved claims paid in 24 hours
Funeral planning assistance for your beneficiary
·Price shopping (up to 3 funeral homes) with Funeral Consumer Guardian Society
Free contract review
Optional Accidental Death & Dismemberment Protection
·Optional Child rider coverage
·Whole Life coverage designed for a special purpose
Regards, Debra Seals-(202) 258-6158
Kristy Porter – (571) 575-5165
"Your agents for life"
202-258-6152
DSC101
DMVCHILL @DMVCHILL
Whatdoes it mean to "be dessert chic " ?
Beingdessertchicmeansbeingyourtrulyauthenticself. Alittlebitsassyalittlebitsweet,daring,bold,cuteandpetite,whatever yourflavoris…embraceit,loveit,holdontoit,andbedessertchic!
Dessert chic is having a humble heart and passion for others. Dessert chic is being more concerned about impact, rather than income.
Dessert chic is putting you and your family first.
Dessert chic is finding joy in all the little things in life.
Dessert chic is waking up on a rainy day with a smile on your face and sunshine in your heart.
Why C o
s
IMDB?
Empowering women
Giving back to the community
Tastes amazing
Makes you feel good
Unique product
Perfect for all occasions
Woman owned
Black owned small business
Our best selling
&
most popular flavors
That's my Strawberry Shortie right there!
Twisted Bananas, Crazy in Love
O'reo, I'm in love with Brownies and Cheesecake
Chocolate is my addiction, that's my truth
Orange Dreams & Sweet Cream
My Ginny Pie, she's the Apple of my eye
To be a dessert chic company. To ignite feelings of joy in everyone we meet by making really good, quality desserts, served in a unique and fashionable way. To inspire you to find a reason to celebrate every moment, take a minute and enjoy the sweet little things in life To savor the flavors of love, joy and happiness with every single bite We want to make people happy by serving amazing mini desserts made with love and inspired by passion
What is the Product?
3 oz miniature dessert cups in an assortment of 20+ flavors all prepared from scratch with natural and locally sourced ingredients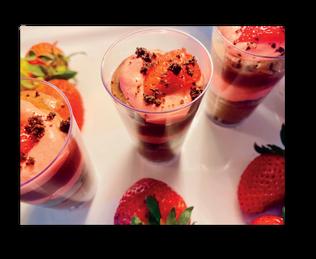 Dessert bar displays for events, gatherings and corporate functions (product & service: weddings parties, etc) Sold individually, by the ½ dz. or whole dz
Retail sales
Online sales
Partnerships/marketing/gifting
Wholesale/dessert distributor
Bulk dozen discounts for 3+ dozen purchases
wiitth SIMDB
O h u o r e ic M g is S sion
P
r n
$4 25
i
single, $26 ½ dz , $49 1dz, 3+dz $48/dz Wholesale (10+ dz)w/ 3 0r more 0rders 30% discount
DOYOUNEEDHELPWITHYOURHOUSINGSITUATIONOR FINANCIALHEALTH?IFSO,THEREISH.O.P.E.!
Housing Options &Planning Enterprises, Inc. (H.O.P.E.) is a non-profit, HUD Approved Housing Counseling Agency dedicated to helping individuals and families find and keep affordable housing that meets their needs. Founded in 2005, our high-quality programs and services are designed to foster both self-sufficiency and neighborhood stabilization throughout Prince George's, Baltimore, and Southern Maryland Counties. H.O.P.E., Inc has provided affordable housing resources to individuals and families while simultaneously creating financial well-being in the communities we serve.
H O P E 's work has stimulated economic growth, fostered strong participation of disadvantaged populations in the economic wealth of the community, and generated a robust workforce
Has a HUD-approved housing counseling agency committed to promoting equal access to housing and capital for all persons through counseling, education, advocacy, and community revitalization, H.O.P.E., Inc. offers a wide range of programs and services designed to foster self-sufficiency, wealth building, and housing that meets the needs of the community we serve. These include:
First-Time Homebuyer Class
One-on-One Counseling
Foreclosure Intervention Counseling
Credit Counseling
Development/Revitalization Program
Tax Preparation Services (Volunteer Income Tax Assistance, or VITA)
Small Dollar Consumer Loans
Small Business Owners and Entrepreneurs, now there is a new and exciting way to sell your products and services and access many of the resources from the expo plus more! Create your own personal online store in the marketplace today to sell and network with business owners consumers from all over the world. Shop, Sell, Save and more right in this one stop site for all your business needs. We offer live webinars on various topics related to business development to help ensure your continued growth! It's completely FREE to sign up. To learn more about upcoming events and online opportunities visit www.blackbizplace.com Prefer to have us set your online site? Email us at info@blackizplace.com Join the Marketplace Join the Marketplace Join the Marketplace Take your BOSB Expo experience to the next level... Check out all the businesses you see here and more in our online Marketplace! Marketplace! Marketplace! www.blackbizplace.com WAIT... WAIT...