INTERNATIONAL PROTECTIVE SERVICE
Securing safety and security in Malibu and beyond
Zuma Jay
Celebrating 50 Years of Malibu's legendary surf shop
august/september 2023 magazine
TRI B U .CO M
"PROVIDING PEACE OF MIND IN AN EVER-CHANGING WORLD" IPSGLOBAL.COM (424) 218-6371 22837 Pacific Coast Highway, Suite D ∙ Malibu, California 90265 "THE RIGHT COMPANY, AT THE RIGHT TIME" • 24/7 Armed response • Residential and commercial • Proactive marked vehicle patrols • IPS works with ANY alarm monitoring company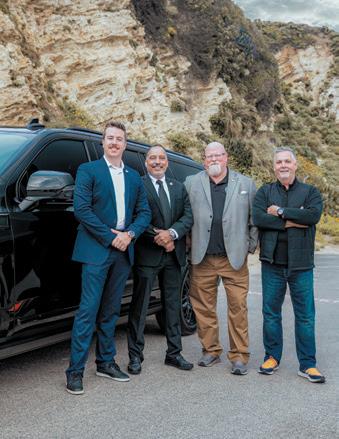 aug/sept 2023
safety and security in Malibu and beyond
International Protective Service Securing
The International Protective Service team.
Photo by Steve Geldman
Jefferson Wagner in front of his Zuma Jay surf shop.
COVERS 62 46 50 Years of Zuma Jay
50 years of Malibu's legendary surf shop 10 Malibu Times Magazine
Photo by Samatha Bravo
ON THE
Celebrating
VISIT OUR DESIGN SHOWROOMS AND OUTDOOR LIVING SPACES 25001 Pacific Coast Highway, Malibu, CA 90265 • (310) 317-9922 malibumarketdesign.com
in this issue in every issue Legendary Heinrich Brother Lifeguards 30 People: Trio patrolled Zuma Beach for nearly 60 years Surfrider Gallery Presents 32 Culture: Renowned Photographer Connie Conway Autumn in Malibu 44 A transcendent turn of the seasons Eating with the Season 38 Symphony of flavors celebrating the season's shift Publisher's Letter and Contents 61 A tribute to the beauty, essence, and safety of home Cozy Comforting Colors 66 Home decor accents preparing for Autumn aug/sept 2023 contents Robby Krieger 36 Doors guitarist headlines exclusive festival Malibu Glass & Mirror 68 Where luxury living meets unparalleled ocean views Minas Gerais, Brazil 52 Treasure trove of culture, history, and enlightenment From Roosevelt Highway to the 1 34 History: Fascinating history of Pacific Coast Highway In The Know 73 Ultimate products and services for the home editor's letter 14 crossword 78 calendar 76 ad directory 80 malibu scene 18 loving malibu 26 last look 82 eyes on malibu 79 44 12 Malibu Times Magazine
As the golden days of Summer slowly wane, and August gently transitions into September, we find ourselves preparing for the embrace of Autumn in Malibu. It is a season of change, not only in the weather but also in the rhythm of our community. Our friends and neighbors return, seeking solace from the bustling Summer season in our quaint beach town. As a new school year approaches, we celebrate with our little ones, witnessing another year of growth and cherishing the precious moments of their childhood. There's something magical about the joy of a child's love—it's pure, unconditional, and like none other. Watching them learn and evolve is an honor we must never take for granted. We are not just raising kids; we are nurturing the minds of the future, sowing the seeds of greatness in the fields of possibility. In this issue, we celebrate the achievements of Malibu's children, from their graduations to the adventures they embarked on during the Summer months.
Malibu is a place of history and legacy, where time seems to stand still amidst the ever-changing world. Zuma Jay's 50th celebration reminds us of the nostalgia that surrounds us, but it also prompts us to consider the impact of time on our beloved town. The Malibu community has rallied together to preserve the essence of this beachside haven, ensuring that its charm endures for generations to come. As we flip through the pages of historical photographs, we recognize that while the world outside may have evolved, the heart of Malibu remains steadfast.
In an effort to savor and appreciate our community even more, we have decided to transition the Malibu Times Magazine to a bi-monthly format. This means that you, will now be greeted with this August/September issue, followed by October/November, and so forth. This change will allow us to share more of the true essence of Malibu as it unfolds.
As the Autumn Equinox approaches on September 22, we are reminded of the beauty of this astronomical event. Earth's tilt on its axis as it orbits the Sun causes the Equinox. On this day, we find ourselves aligned with the cosmos, witnessing the transition from Summer to Fall in the Northern Hemisphere. The sun gracefully crosses the celestial equator, and day and night share the sky in perfect harmony, revealing the delicate balance of nature. As we enter this new season, let us find inspiration in enjoying the simple pleasures of our community. Take long walks on the beach, savor the breathtaking sunsets over the horizon, and connect with one another in meaningful ways. Autumn in Malibu offers us a chance to slow down, to appreciate the beauty that surrounds us, and to create lasting memories with our loved ones.
Let us cherish our family and friends, for they are the pillars of support that make our lives rich and fulfilling. Let us be present in each moment, knowing that time is a fleeting gift that should never be taken for granted. Together, we can embrace the changing seasons, the evolving world, and the precious bond that ties us all together.
As we bid farewell to Summer and welcome the allure of Autumn, let us carry the spirit of community and togetherness in our hearts. May we cherish the past, celebrate the present, and embrace the future with open arms. Here's to a season of gratitude, love, and abundant joy in the company of those we hold dear.
"Autumn's embrace paints the world in hues of warmth and nostalgia, as nature's grand finale unfolds, whispering the beauty of impermanence and the artistry of letting go."
– Anonymous
from the publisher
Mirac, Nic, Hayley & Maximus
Mattson
14 Malibu Times Magazine
PUBLISHER • EDITOR IN CHIEF
Judy Abel, an award-winning journalist for The Malibu Times Newspaper, has called Malibu home for 25 years. A former LA radio broadcaster, she enjoys spending Summer days at the pier, either observing surfers or paddling on a stand-up paddleboard.
Emily Scher, with a degree from the School of Visual Arts, Emily's background lies in FX computer animation for feature films. Additionally, she possesses a passion for capturing people's stories through photography.
Elyse Glickman, a versatile journalist and editor, covers diverse subjects worldwide such as gastronomy, wine, wellness, business profiles, interior design, and fashion. She was a Senior Editor for C-Suite Quarterly magazine, focusing on food and travel.
Samantha Bravo, the Assistant Content Editor for The Malibu Times Newspaper and an aspiring photojournalist based in Los Angeles, California. She kickstarted her journalism career at the Pierce College Media Arts Department.
Steve Geldman, writer and photographer with over 40 years of experience, specializes in automotive photography but also explores other genres like food, architecture, and landscape. His work appears in publications like Calabasas Style Magazine, Driven World, and Malibu Times.
Hayley Mattson
BUSINESS & PRODUCT DEVELOPMENT
Nicholas Mattson
SALES
Mary Abbott, Dorie Leo, Anthony McDemas Linda Perry, Kaleb Rich-Harris
SALES COORDINATOR
Cami Martin
EDITORIAL COORDINATOR
Kaylie Carafelli
LAYOUT & GRAPHIC DESIGN
Evan Rodda, Neil Schumaker Anthony Atkins, Jen Rodman
CONTRIBUTING WRITERS
Elyse Glickman, Elizabeth Hickcox
Judy Abel, Allie Lebos
CONTRIBUTING PHOTOGRAPHERS
Emily Scher, Steve Geldman, Samantha Bravo
ADMINISTRATION & BILLING
Lukas Johnson
DISTRIBUTION
Robert Thomas
CONTACT
THE MALIBU TIMES
24955 Pacific Coast Highway, Suite A102, Malibu, CA 90265 MAIL: P.O. Box 1127, Malibu, CA 90265
Editorial: 310.456.8016 | editorial@malibutimes.com
Advertising: 310.456.5507 | sales@malibutimes.com
Accounting: 310.456.8016 | office@malibutimes.com
Malibu Times Magazine is published five times annually. All rights reserved. Reproduction or use of contents in whole or in part without the written permission of the publisher is prohibited.
Malibu Times Magazine is locally owned by Nicholas and Hayley Mattson Designed and Printed in California ©2023 The Malibu Times malibutimesmag.com Facebook • Instagram • Twitter @malibutimesmag
our contributors
16 Malibu Times Magazine
published and powered by 13 STARS MEDIA aug/sept 2023 magazine VOL 20 • ISSUE 5
MALIBU LITTLE LEAGUE CELEBRATES CLOSING DAY TRIUMPHANTLY
The Malibu Little League Closing Day was a joyful celebration that marked the return of two significant elements from the league's history: the Little League Parade and the beloved Malibu snack shack. The festivities commenced at the Malibu Village parking lot, where floats representing different teams adorned the area with colorful decorations. The parade, led by a firetruck and city officials in a classic Cadillac, proceeded through the Civic Center while spectators cheered, waved, and took pictures of the enthusiastic children. Parks and Recreation Commissioner Alicia Peak played a key role in reviving the parade, providing a memorable experience for the kids, who thoroughly enjoyed the event. The day continued at Malibu Bluffs Park with a carnivalthemed Closing Day featuring face painting, photo booths, bounce houses, and various sports activities. Carnival snacks like popcorn and cotton candy were available, but the highlight was the return of the Malibu snack shack, where Chef Dane Skophammer served mouthwatering burgers, hot dogs, and burritos. The Closing Ceremony honored council members and city staff for their support, while players received trophies and awards for their efforts throughout the season. League President Nick Shurgot was celebrated for his retirement with special gifts. Overall, the season was deemed a resounding success, with impressive growth and strong community support, fostering a sense of family and camaraderie among the players, families, and coaches. The league looks forward to even greater growth and excitement in the upcoming season. To read the entire article, visit malibutimes.com.
malibu scene
Malibu Times Magazine 18
Photos By Samantha Bravo