MARCH 2023 carmelmonthlymagazine.com Celebrating 25 Years of the COLLECTIVE PUBLISHING PUBLICATION MONTHLY FARMERS MARKET CARMEL
3 CARMEL MONTHLY MARCH 2023 WE'LL BRING OUR SHOWROOM TO YOU! ALL SOFT WINDOW TREATMENTS ARE CUSTOM MADE IN OUR OWN WORKROOM WITH THE HIGHEST QUALITY WORKMANSHIP 3162 E. SR 32 WESTFIELD • 317.896.3833 adkinsdraperyshop.com SHUTTERS BLINDS SHADES DRAPERIES MOTORIZATION Adkins Family-owned for over 40 years Draperies & Blinds 25%-30% SAVE FREE IN-HOME CONSULT & INSTALL ON SELECTED BLINDS & CUSTOM-MADE DRAPERIES 317.660.1107317-344-9844 www.BodyOutfitters.com 720 Adams St #120, Carmel, IN 46032 675 S. Main St Zionsville, IN The Change You Need! $160 Offer Expires 4/30/23 NEW CUSTOMERS ONLY Coupon Code: CM0323 Only 10 Available 6 Solo Sessions Personal Training · PERSONAL TRAINING · 30 MINUTE SESSIONS · DEGREED & EXPERIENCED TRAINERS · NO CONTRACTS
CARMEL
PUBLISHER / Neil Lucas neil@collectivepub.com / 317-460-0803
EDITOR-IN-CHIEF / Neil Lucas neil@collectivepub.com / 317-460-0803
PUBLISHER / Lena Lucas lena@collectivepub.com / 317-501-0418
DIRECTOR OF SALES / Lena Lucas lena@collectivepub.com / 317-501-0418
HEAD WRITER / Janelle Morrison janelle@collectivepub.com / 317-250-7298
Business Spotlight is sponsored content.
For advertisement sales call Lena Lucas 317-501-0418 or email lena@collectivepub.com
COLLECTIVE PUBLISHING, LLC PO BOX 6326 - FISHERS, IN 46037
Stay informed on news and events in Carmel by following us on Twitter and Facebook

CARMELMONTHLYMAGAZINE
CarmelMag @CarmelMag carmelmonthlymagazine.com
4 CARMEL MONTHLY MARCH 2023 22 COVER STORY Celebrating 25 Years of the Carmel Farmers Market
Story Writer // Janelle Morrison MONTHLY
Cover
MONTHLY
6 Campaign Spotlight: Sue Finkam for Carmel Mayor: A Bright Future for All 10 Actors Theatre of Indiana Presents: Mr. Confidential 12 Spyro Gyra Will Highlight the Inaugural Carmel Jazz Fest Weekend at the Palladium 14 Civic Theatre: The Sound of Music 16 Center Presents: Kevin Nealon 18 The City of Carmel: An Overview of a Decade of Growth and Prosperity 1996–2006
TICKETS ON SALE NOW! Call the Center's Fifth Third Bank Box Office 317.843.3800 Scan for Tickets MASTERWORKS 5 Sat., April 22, 2023 | 7:30 pm Sterling Elliott, cello CSO POPS Sat., May 6, 2023 | 7:30 pm Respect: A Tribute to Aretha Franklin Media Partner Hear 'In Rowan Oak' by UIndy's Dr. John Berners on April 22! Media Partner Concert Sponsor Concert Sponsor
Sue Finkam for Carmel Mayor:
A Bright Future for All
Sue Finkam is a proven executive business leader with a diverse professional background that includes marketing, healthcare operations and human resources leadership. Finkam became active in leadership roles at the state and national levels. This taught Finkam valuable listening and advocacy skills that she puts to use right here in Carmel. Finkam is also a devoted wife to Joe and mom to Drew.
FA SMART, SAFE AND SPECIAL COMMUNITY inkam spoke about why she decided to run for City of Carmel Mayor, and she shared more about her plan to include the community's input as stakeholders as well as the steps she will take to meet the needs of the diverse and remarkable Midwestern city.
"This election will define Carmel for decades to come because of the direction [the election] is going to take us in going forward," Finkam stated. "I'm passionate about Carmel and have worked in the community since 2005 and for 12 years as a city councilor. I love this community and its commitment to excellence across the board. I want to be the driver that keeps this community smart, safe and special."
Finkam defined her priorities should she be elected to a higher office and named Carmel's next mayor.
"I want to be the leader that residents and businesses count on to take this fine community to the next level, focusing on public safety, collaboration and fiscal responsibility," Finkam expressed. "I was
an EMT at one point, so I'm committed to public safety. Additionally, I want to make sure that we have smart development and that we don't just have run-ofthe-mill commercial districts. We want to keep Carmel special and a community that stands out from other communities. We can do it in a way that keeps our community special and inclusive — inviting everybody to the party."
Finkam added, "It is personal to me, and I recognize that it's personal to most people. I want to make sure that we're the best run city in America that provides the most value possible to its residents, and I want to take us there."
SMART AND PURPOSEFUL GROWTH
Carmel experienced exponential growth over the last two decades, and Finkam is focused on making sure that the community maintains its positive reputation as a business-friendly city that boasts high-achieving schools, green spaces, world-class entertainment venues and infrastructure while also being inclusive to the 102 languages from 78 countries that make up Carmel's diverse population.
6 CARMEL MONTHLY MARCH 2023
CAMPAIGN
"Culture is very important to me," Finkam said. "I'd like to explore how we are engaging our families to make sure that they are successful. Their kids have several services provided to them through the schools, but what about services for their parents who are trying to work and make a life here in the community? If elected mayor, I would love to create an international center that is focused on arts, food, culture and — more importantly — economic development."
Finkam continued, "We need to be very smart about future developments throughout Carmel. We need more 'for sale' products; we need a 7th fire station, and we need a master facility plan. There's a lot of expensive needs coming up that are necessary to delivering the best essential services possible. We need to take care of our needs, and then we can create opportunities to fulfill our wants as well."
Finkam explained that one of her first acts as Mayor of Carmel would be
to conduct a community-wide comprehensive survey as well as one for the city employees.
"We need to listen to our community," Finkam stated. "For 28 years, it's been Jim's vision. It needs to be our vision moving forward — yours, mine and the entire community's."
Finkam discussed that if elected mayor, she would also focus on "working smarter" as it pertains to city departments and available technology.
"I want to be an agile leader and create agile programs that can quickly move with the market," Finkam shared. "I have a plan for a 'Communiversity' that would offer certificate programs that would be responsive to the workforce changes. I also want to make sure that we invest more in our IT infrastructure, so that we can have data at our fingertips to make more informed decisions when it comes to using data."
When asked why Carmel residents should vote for Finkam on May 2, she
replied, "Together, we will ensure our taxpayer dollars are used effectively and efficiently to make Carmel the best place in the country to live, work, raise a family and retire. And together, we can keep Carmel special."
For more information about Sue Finkam for Carmel Mayor, visit suefinkam.com.
• ENGAGING RESIDENTS
• PROTECTING OUR HIGH QUALITY OF LIFE
• COLLABORATING WITH COMMUNITY LEADERS, RESIDENTS AND BUSINESSES
• ENSURING A STRONG FISCAL POSITION
• INVESTING IN ECONOMIC DEVELOPMENT
• ENHANCING WORKFORCE DEVELOPMENT
7 CARMEL MONTHLY MARCH 2023 SCAN FOR VOTING INFORMATION @SUEFINKAM @SUEFINKAMPAGE WWW.SUEFINKAM.COM PAID FOR AND AUTHORIZED BY SUE FINKAM VICTORY COMMITTEE BUSINESSWOMAN. COMMUNITY LEADER. MOM. FOR CARMEL MAYOR ON MAY 2!
SUE FINKAM FOR CARMEL MAYOR
*Paid for and Authorized by Sue Finkham Victory Committee
At Feinstein's, enjoy upscale dining and cocktails in an intimate venue. Feinstein's delivers patrons a unique entertainment experience unlike any other in the Midwest!
& 04/15
& 04/22
& 05/06
&
Scan
Lianne Marie Dobbs — Why CAN'T A Woman...? | Male Broadway Standards With A Female Twist
Josh Kaufman — Truth Be Told | Season 6 Winner Of NBC's The Voice
Jazz Brunch: Easter Day Edition W/ Blair Clark | 11:00 a.m. Show
Freeform Concert Series — JD Eicher W/ Sadie Johnson & Cory Williams | Free Entry
Enchante | Burlesque
Morgan James | Appeared in 5 Broadway Shows & Julliard Trained Singer
Drag Me To Brunch | Drag Brunch 11:00 a.m. & 2:30 p.m. Show
Baby Grand Entertainment Presents: Dueling Pianos | Live Human Jukebox Experience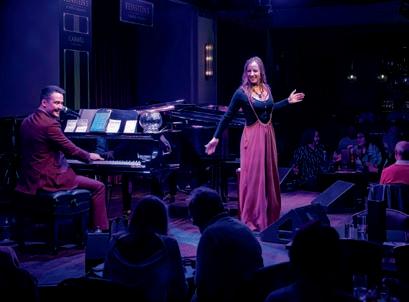 Marilyn Maye | Legendary 94 year-old singer
Select Sound Presents: Ear Candy | Carmel High School's Elite Acapella Group
Freeform Concert Series — Katie Pederson W/ Emma Peridot | Free Entry
DECEPTION: An Evening of Magic & Lies | Magic Show
Amanda McBroom W/ Michele Brourman | Greatest Cabaret Performer Of Her Generation
Alexandra Silber - The Hour Of Pearl | Grammy Nominated Artist Singing Folk, Jazz, & Broadway!
Clint Holmes - Between The Moon & NYC: The Songs Of Peter Allen | Grammy Nominated Artist
Freeform Concert Series — Arts Fishing Club W/ Homes At Night | Free Entry
Lonnie McFadden | Kansas City Jazz Performer & Tap Dancer
04/01 04/08 04/09 04/12 04/13 04/14
04/16 04/19 04/21
04/23 04/26 04/27 04/28 04/29 05/05
05/10 05/12
05/13
@FeinsteinsHC 1 Carmichael Square, Carmel, IN 46032317.688.1947 for a chance to win 2 tickets to a May show at Feinstein's!
9 Cereset® helps your brain relax and reset itself, enabling you to achieve higher levels of well-being and balance throughout your life. • overcome worry & anxiety • restore hope & happiness • releases "stuck" stress • enhance learning & memory • experience restful sleep • increase energy & performance Learn more at cereset.com Book now in Carmel 317.922.7588 Relax your brain. Reset your life. Intro to Cereset $99 Special CALL FOR A FREE CONSULTATION & 3D RENDERING OF YOUR GARAGE | 317-300-4824 | www.theGarageTheory.com // LET'S TALK ABOUT GARAGE STORAGE shelving & racks • cabinets • overhead storage As Seen On
Actors Theatre of Indiana Presents