BRI DIXON Editor
ALIX AVERITT Head of Photography
WHAT'S IN MY BAG?
LETTER FROM THE EDITOR
From sprawling vintage markets to the designer stores of King Street, there's no denying that Charleston is an epicenter of fashion. at's what made me so excited for the very rst Fall edition of e Yard's fashion magazine. Each and every year, students jump at the opportunity to help out with this magazine, showcasing their personal style and interests in the world of fashion. To my wonderful volunteers who made this magazine happen in such a short amount of time: thank you for all of your hard work– it was de nitely worth it. And to my amazing, irreplaceable sta : thank you for dealing with my tangents, my disorganization, and most of all, for awlessly meeting every challenge that came our way.
is magazine is an ode to Charleston fashion, driven and inspired by our student body. I am constantly astounded by our campus' creativity, and I hope we captured it well within these pages. I eagerly invite you to enjoy our beautiful photoshoots and excellent articles, all composed by students themselves. Explore one of Charleston's most popular thrift markets, 84 ea, or read up on plus size fashion. Browse the looks of our yearly Hampden shoot, or check out our celebration of Charleston nightlife style. e inspiration for each of these articles and shoots comes from you all, as well as what you're most passionate about. I sincerely hope you love this edition of our fashion mag as much as we loved making it.
Margaret Bruce Editor-in-Chief Class of 2023
6 queer fashion in america
21
gender norms in fashion
the hampden shoot 28 class of '23 39
ONTENTS. . .
C
Queer Queer Queer Fashion in America:
Paying homage to queer fashion history
By: Lara O'Dell
Some fashion theorists–yes, they exist–believe that fashion is a trickling phenomenon that indicates class. Essentially, some believe that fashion trends are a decision made by society's elite and then trickled down to the plebeians (that would be us). ink Miranda Priestly's monologue about the color cerulean in the Devil Wears Prada. And while the space of haute couture can be discussed on its own, the streets of America are witness to a rich evolution of fashion trends, especially queer fashion. Fashion has been a foothold of queer identity for centuries. From the 16th century to the 21st, queer trends have served as symbols of safety and expression in America. Queer expression through clothing has been a way to break through the oppression of heteronormative society. Following the Stonewall Riot of 1969, the Gay and Lesbian Liberation Movement called for acceptance, equality and vocality of the LGBTQ+ community. It ushered in a huge rise in expressing queerness through clothing. e streets swelled with protests led by queer people wielding posters and, eventually, the gay pride ag: a symbol of equality. is era birthed modern iconographies of queerness, like Doc Marten wearing lesbians, tted pants on gay men and David
Bowie's androgyny. Queer people have been toying with the limits of gender expression throughout history, especially through fashion. Historically, these muddy gender presentations were often found at the butt of the joke or, worse, at the hands of violence. And while trans people are still threatened by physical, emotional, and of homophobia, it is not untrue to say that current culture is experiencing a surge in the rejection of gender roles and strict gender expression. RuPaul's Drag Race is at its most viewed in years, and Harry Styles sells out stadium after stadium. While we watch mainstream culture accept and include fashioned elements from eras of extreme exclusion, like elements of drag and gender-bending clothing, we must not let the originators of these elements of expression go unnoticed. We can not enjoy the trendiness
queerness is experiencing without discussing the hate that birthed these trends.
e people noticing and commenting on this trend are not just a niche group of overcritical Millenials.
e New York Post went viral for publishing an article titled, "Dressing like a lesbian' is sexy, 'powerful' new trend, fashion expert says." is speci c article went viral for reasons that the publication was probably not anticipating. e article explicitly states that "straight-identifying women are swapping out their 6-inch heels and rib-crushing corsets for Dr. Martens boots and knitted sweater vests." From paparazzi shots of Bella Hadid on the streets of New York to red-carpet moments, suits and androgyny on women are everywhere. As the New York Post put it, "sapphic style" is now garnering positive attention and ling its way onto the racks of Urban Out tters and other stores of the like.
e stereotyped images of straight and queer women in the New York Post's article are both problematic. But the article uses those archetyped versions of women to argue that straight women braving the public in something not bone-crushingly feminine is great for queer visibility.
I argue that women who face no possible oppression for their sexual identity can do nothing for queer visibility. Especially not from just wearing a di erent silouette than previously popular among them. Articles posing queerness as the next new fashion trend waters down the rich history of LGBTQ+ expression
Identity is not a trend.
through clothing. Trends come and go; by nature, they are cyclical. Celebrities garnering fame and popularity by donning queer clothing pieces are simply reading the trend cycle. When this trend cycles out, they can shed themselves of their "queerness." Identity is not a trend. For LGBTQ+ people, queerness will never cycle out. To take advantage of current attitudes about fashion that rejects the gender binary is to disregard its history. It is to disregard the secrecy of basement drag balls, the subtle signals of queerness in green carnations pinned to lapels and trousers in public rather than skirt silhouettes. It is to ignore centuries of queer people navigating their own identities in the face of hostility and erasure.
e LGBTQ+ community does not have to be grateful for false acceptance or representation in the form of commoditization. ere are ways to appreciate the history of queer fashion and its current rise in popularity that do not diminish it down to a catchy buzzword. Educate yourself and others on the people who originated these clothing trends and their meanings. Step out of the trend cycle completely and embrace your individual style. And de nitely skip the big brand pride section and pay tribute to those who came before queerness was trendy.
7
FA(S)T FASHION Does the Fashion Industry Hate Plus Sized Women?


by Madison Como
e modern fashion industry is notorious for having inconsistent sizing across and even within brands, and sizing inconsistencies are elevated for plus sizes. Depending on who you ask and what the brand is, the ranges of plus sizes can vary drastically. Sometimes, brands will classify anything over a size ten as plus size, while others will classify it as anything over a 12 or 14. Similarly, in small, medium and large size ranges, some brands will classify an XL as plus size, while others will start this range at a 1X. For the sake of this article, I will not be adhering to any binaries of plus size because if the fashion industry isn't going to do a great job of classifying it, then why don't we just reject it altogether? If you often can't nd your size in most retail stores, or can only t in the few larges and extra-larges they carry, then you can be classi ed as plus size if you want to be.
Growing up, I always saw my role models and many other women regulated to baggy, oversized silhouettes because that was only options available in their sizes. We can all remember the long tunic, cheetah print cardigans and ill- tting skinny jeans that plagued plus size fashion in the late 2000s and early 2010s. While options have allegedly become more diverse, have they, really?
When I saw low rise jeans come back into fashion in 2021, I knew that shit was about to get way worse for plus size people. And guess what? I was right. Torrid, one of the most well known brands to cater exclusively to the plus size market, released their Y2K inspired fall line while showcasing the aesthetic on larger body types. While the models in this campaign still t the brand's image, they still showcased their at stomachs and idealized hourglass gures, and were shockingly thinner than previous Torrid models.
is trend towards downsizing plus size is even shown in high fashion. Research by e Fashion Spot observed that there was an increase in plus size representation on New York
Fashion Week runways from 2016 to 2020, but after the pandemic, representation decreased– by a lot. In Fall 2022, roughly ve percent of model castings t in the plus size category, and while speci c statistics on model diversity in Spring 2023 shows is not out yet, there were still similar complaints about the lack of body diversity on the runway. Furthermore, these designer brands are not even creating clothing in expanded size ranges. According to InStyle's Spring 2023 report, the various fashion weeks showcased 327 di erent designers and 70% o ered options in up to a size 12, but only nine percent o ered any garments in a size 20 or over.
It isn't radical to say that all people, no matter their size, deserve to be able to purchase clothing that ts and makes them feel comfortable. Furthermore, clothing is not just fabric to protect yourself from the elements anymore– I mean, it's
2000 B.C.E, it's 2022, guys. What we wear on our bodies is tied to how we are perceived by others and ourselves. Clothes are a way for people to express themselves or their culture and even gain social prominence. We are more likely to notice and compliment a fashionable person on how they look, but we can also spot when someone is wearing something way out of style, especially when they do it a lot. Being unfashionable can lead to someone being ignored and teased. in people, however, are much more likely to have access to stylish options because the trendy brands cater to their sizes, and trends are showcased on thin bodies in the rst place.
e negative implications of our clothing is heightened when we look at the intersectional identities that a ect and are a ected by being plus size. A study by Katherine M. Flegal found that White people were more likely to be thinner
not
"It isn't radical to say that all people, no matter their size, deserve to be able to purchase clothing that ts and makes them feel comfortable."
than Black and Latinx people, and in a similar study, Katherine Mason found that people with lower socioeconomic status were more likely to be overweight than wealthy people. Furthermore, larger bodies are discriminated against in job-searching. Business casual clothing is almost always essential to landing a job, even outside of white-collar work, but there is a lack of professional attire that is o ered in larger sizes. Compounding this, Emily Cummins and Linda Blum reported that people believe that professional attire looks better on thinner people. is limited access and bias against larger bodies in certain types of clothing can make it di cult to enter the workforce, further subjugating fat people, which in turn are more likely to be a part of an already marginalized group.


Having non-inclusive sizing is not only super fatphobic, classist and racist, it's also just plain stupid. As of right now, around 20% of sales in the fashion industry fall in the plus size category, but current surveys show that the average American is a size 14 and around 67% of the population is plus size. ese statistics make it safe to assume that the seemingly low percentage of the fashion industry is not a problem of low demand, but instead, a problem of limited availability. e few brands that have consistent options in larger sizes are often unethical fast fashion.
By now, everyone knows the dangers of extreme fast fashion companies like Shein, Pretty Little ing, Fashion Nova and so on. In order to save the world from literally burning before we reach the age of sixty, while also trying to promote fair working conditions for everyone, most people want to make the conscious decision to try and limit their fast fashion consumption, while participating in more sustainable options like buying from ethical brands or secondhand. is, however, is not an option for many plus-sized people. Often, the only options for people that don't t within the 00-10 size range are from these fast fashion brands. Ignoring the obvious e ects of this on the planet and the laborers that are producing these clothes, there is also an impact on the individual consumer. When the only options are cheaply made clothes that last all of three wears, then the cycle of overconsumption can become exhausting, expensive and disheartening. Sustainable fashion itself can be fatphobic. ese brands, while sourcing their products more ethically, often o er less sizes than large fashion retailers and designer brands. And, they are often a lot more expensive.
As bleak as all of my words so far may seem, there are still a ton of ways for us to celebrate our own style in just what so happens to be a larger body. Although nding fashionable options may be harder for plus size people, coming to the College of Charleston (as dominated by skinny people as it may seem) has helped me nd my own style and nd new ways to participate in trends. I have met some amazing students
11
that have helped me embrace the fact I am larger than the ideal body type that has been cast upon femme presenting people, and I can't t into a majority of the clothing options at trendy boutiques and large fashion retailers that cater to smaller sizes. Even though it may seem like the fashion industry is trying to oust us from wearing anything stylish, plus size students here are super innovative. rough my research of scrolling through web pages and asking students what they do to get their super cool clothes, I have found that there are so many ways for plus size people to participate in fashion. Borrowing, trading, thrifting, shopping at ethical stores that carry extended sizing ranges like Levis (online only) and Warp & Weft, and even buying from fast fashion websites are all ways we can nd what we want to wear in sizes that t.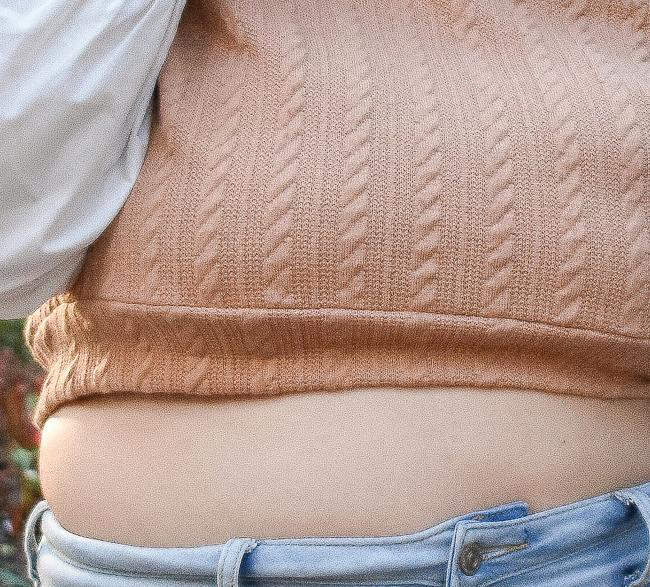 FASHION
TRENDS
at Are Making a Comeback
by Anna Rowe
13
fall fashion trends - fall fashion trends - fall fashion trends - fall fashion trends - fall
Are you searching for advice on fashion? Look no further! Stay on top of fashion trends this fall by taking a look below. Walk down the streets of Charleston in style, leaving people to wonder who that fabulous and chic person could possibly be.
Strut Your Stu as a Ballerina…
Hear me out on this one: ballet ats. No, not actual ballet shoes, but cute and feminine ballet ats. ey're comfy AND stylish– a fashionista's dream come true. Pair them with a long skirt, a statement blouse and BAM! Out t made.
Bold in a Blazer…
You've probably caught on by now that 2000's fashion trends are circling back around. is one is a must: blazers. Honestly, they're timeless. ey will elevate your out t in SECONDS and you look like the most intimidating person walking down the street. Blazers with an LBD, a mini skirt, jeans or even blazers on their own are a sure re way to dominate fashion.
Don't forget, fashion is what you make it. I like to see it as a way to express my mood and a way to show my creativity. Take these trends and make them your own. Mix and match. Experiment. Explore. Fashion is uid and there is no right or wrong! Besides, who knows what trend will be recycled next?
As Low as You Can Go…
As I stated before, it is the season of skinny jeans. But not high rise skinny jeans, oh no no. Low rise. e kind of jeans where you can kind of see the top of your thong. A little daring and sexy. A little peak. It's even better when they're bedazzled. Now, that's a look. Instead of rocking a crop top with your favorite pair of low rises, try a simple tank and some kick ass shoes to add to the 2000's air.
Body Art Anyone?
Now, I believe this one is a fashion statement because anything on your body is fashion. Tramp stamps, anyone? Personally, I think they're badass and will be absolutely perfect with the aforementioned low rise jeans. If you need any inspiration, just look to Instagram in uencers Cherry Kim and Maria Bernard. ey KILLED the vibe.
Where to look:
Pinterest. Always and forever. You can nd anything creative on this app, and I hope to be buried with it next to me. It has everything from out t inspiration to hairstyles. Personally, I think a bulk of my inspiration comes from Pinterest. If you want to start expanding your closet, look no further. Instagram. Start stalking! (Maria Bernard, Danielle Spencer, Katie Daley, Olivia Hirst [my favorite], Men with Street Style). Instagram is a great tool when trying to gure out your style and a great place to start. Some of these accounts have the coolest and kickass style and I hope to one day be as daring as they are.
Depop. A go to. It's sustainable, trendy, and if you have an idea of what you want, you are guaranteed to nd it. Some of my favorite pieces have been from Depop, and for half of the price.
fall fashion trends - fall fashion trends - fall fashion trends - fall fashion trends - fall
Dont forget, fashion is what you make it.
F*CK THE PAPS
in conclusion...
IN
GENDER ROLES FASHION
by Isabelle Morse
21
In society, there are a lot of stereotypes that are associated with men and women separately, but an important issue that is overlooked today is the negative relationship between gender and fashion. Girls wear pink, and boys wear blue. Girls wear skirts, and boys wear pants. e generalities of fashion are rooted so deep in society that even those wearing the clothes might not even notice them. Genderbased fashion is intertwined in all aspects of society, from the workplace, to how a random person at a co ee shop perceives you and your intellectual ability based on your clothes. It is essential to start a conversation about fashion stereotypes and their e ect on people, while also breaking down the importance of being able to express yourself in your wardrobe. roughout this article, we are going to explore the common stereotypes and misconceptions of men and women's fashion, while highlighting the importance of breaking gender norms in clothes.
Before we get into the more complex aspect of gender and fashion, let's explore why there is a clear di erence between what is assigned as "women's fashion" versus "men's fashion." A major aspect of women's clothes that make it classi ed as female-geared is how the piece is more likely to have a shape to it. For example, if you enter any clothing store, like the GAP, a person can immediately tell which section is classi ed as "women's" based on the cut of the shirts and by how items are designed to tighten at the hips and accentuate breasts. Although sometimes it can be nice to nd clothes that are tighter, it can be di cult to shop in a society that subconsciously pushes the idea that sexy, tted clothes are the only option. Sometimes when I walk into a store, I just want something comfy and loose, but there have been times where I could only nd that particular style in the "men's" section– which is infuriating. According to Justine de Young at Fashion History, the reason behind this tighter clothing can stem back all the way to the 17th century and even earlier, where women would wear tted dresses in order to "create the desirable silhouette of the time." Over the years, women's fashion expectations have evolved to an extent. Yet, they still have that " tted" style due to over-sexualization of women. is generalization that women should wear tighter clothes than men is so embedded into society that you see it in most fashion brands, but also the emphasized di erence of men's garments. If a man were to wear a tighter- tting piece of clothing, someone might jump to an assumption about them based on their out t, just because it is stereotypically more unusual for them to wear such form- tting clothes. Tight and loose clothes are both great options as they help people express themselves through their out ts. However, the important takeaway is that it should be a personal choice of what style a person wants to wear, not something they have to buy because a brand assumes that is the cut a speci c person should receive.
e stereotypes that separate what is assigned as "women's fashion" and "men's fashion" do not stop there, with the common generality extending past the cut of the clothing, onto the color of it as well. An assumption as old as time: pink is a girl's color, and blue is a boy's. When it comes to clothes, this assumption de nitely plays a role. What is assigned as "women's fashion" typically includes brighter colors than what is assigned as "men's fashion." If a person were to walk into a clothing store, the assigned "women's section" would most likely include pinks, purples, greens, yellows and other eye-grabbing colors, while the assigned "men's section" would most likely include blues, whites, blacks, grays and other colors that are described as masculine. Even while writing this article, my point continues to be proven– as I was doing research for this piece on a fashion website, there was a comment from an unknown user that asked if men could pull o purple. e fact that whether a man can "pull o " purple or not is even a question is an example of everyday bias. Men must stay away from something classi ed as a more "feminine color." Until there is no color stereotype embedded in fashion, it will make people more hesitant to express themselves in what they want to wear. A common (and ignorant) misconception that goes hand-in-hand with color stereotypes in fashion is that men who wear bright colors mixed with adventurous out ts/clothes are not straight. Frankly, someone's sexuality is no one else's business, but the fact that society jumps to the conclusion about an individual based on the colors, cut and style of their clothes is ridiculous. It's probably why more men don't wear brighter colors and bold out ts, as they don't want to deal with the unnecessary assumptions that will be made about them.
Harry Styles and Shawn Mendes are two well-known pop culture gures who are con dent in wearing bright colors, leading to people making assumptions about their sexuality. So many people take it upon themselves to assume their sexuality based on the colors and cuts of their out ts, which encourages the stereotype that only women can wear bright accent pieces.Anything di erent is unusual and could have a hidden meaning. ese assumptions must be tiring for individuals who face these stereotypes based on the colors they wear alone, which further leads people to sink into wearing the colors associated with their gender. People who don't want to draw any extra attention to themselves follow what are classi chance to fully express themselves, which can negatively a ect their mental health. want to break gender norms, further worsening the relationship between gender and fashion altogether.


Similar to how the cuts and colors of clothes are commonly assigned to a speci an individual dresses in the workplace can heavily a ect how they are perceived by their coworkers, employers or clients. In more professional settings where individuals are expected to follow dress codes, those guidelines can be extremely limiting for people who want to break gender norms in fashion. Dress code rules will often require that men wear pants and button-ups, while women's guidelines will focus on the style, cut and length of their dresses or skirts. puts everyone into categories, expecting that men will want to wear khaki pants and that women will gear toward skirts and dresses. Dress codes in the workplace need to be updated so that everyone feels comfortable wearing what they want to express themselves. It makes sense that, in a workplace, everyone needs to dress professionally, but a man can still do that in a skirt or owy pants. Guidelines of clothing for jobs often put restrictions on a man's selfexpression through assuming their preference is pants, while also assuming that women will choose a skirt instead of a pantsuit. Obviously these options are all valid, but instead, it would embrace all gender-identities
and non-binary individuals if we didn't try and create dress codes based on what is proper for "men and women," and instead just say it as a whole what is proper and improper for a work place. Putting these restrictions on dress codes enforce these gender norms into society further, continuing the belief that a man cannot be taken seriously in a dress, and a woman should embrace their femininity in dresses and skirts. In reality, some women might not be taken seriously if they don't if they don't dress "professionally," like in a pantsuit. Many people still view women as less than, as if their dress and ects their intelligence. While dresses and skirts are encouraged, men view them as too feminine and think less of women for wearing them, so which does society want? What would bene t a woman more? ese assigned gender norms in fashion limit people and their choices as those around them might perceive them as lesser than based on their out ts in the workplace. And, those gender norms in fashion that are thought to make a person most "presentable" are instilled at such a young age. I went to a Catholic school for eight years, and the dress code never grew with me. Girls were forced to wear skirts and dresses, while boys were given khakis and a polo. My friend, who was wearing khakis, was dress-coded because she was a girl in pants. It was de nitely an eye opener to me of how restricting gender norms in fashion were. It seemed unfair, because what if one day I felt like wearing ese gender norms a ect what is perceived as professional and presentable for men and women's fashion, hindering their ability to be themselves. However, a person should wear what makes them comfortable, regardless of gender.
choice to wear makeup a pants? ese
e fact that gender norms in fashion ect whether another person takes you seriously or not comes down to people's underlying prejudice–, whether they realize it or not– about what a person should dress like. is prejudice was seen in recent media, when Harry Styles wore a dress for the cover of a Vogue magazine. He looked great; however, some other people didn't think so– like conservative political commentator Candance Owens. Owens saw Styles' out t choice for the magazine and took to Twitter to voice her concerns,
saying, "In the west, the steady feminization of our men at the same time that Marxism is being taught to our children is not a coincidence," and, in a later Tweet, "It is an outright attack. Bring back manly men." is statement implies that' just because Styles is wearing a dress, he is therefore less of a man. By making this comment, she is talking about gender and what makes up a man, and opened up her argument to include how men cannot be feminine in life, let alone fashion. If an individual wishes to identify as a man, their fashion should not determine whether that is correct or not. A man should not have to dress "masculine" to be taken seriously. Teen Vogue chimed in to say: "a manly man is one who respects himself and those around him enough not to worry as much about what makes him a good man as he does about what makes him a good human—an individual." ey later solidify that statement by adding, "wearing a skirt certainly can't undo that." In essence, a man shouldn't feel like less of a man in a skirt. If anything, he should feel proud, because he is comfortable expressing himself amidst ack from others who don't understand.
Harry Styles' 2020 Vogue cover went viral on Twitter following Owen's "manly men" comment, adding to his already astronomical level of fame. However, it is essential to remember that these gender norms in fashion have been broken by many other well-known individuals, such as Tommy Dorfman, Billy Porter, Miley Cyrus and Ruby Rose, as well as, just as importantly, everyday people who wish to be
their true selves in terms of fashion. Sometimes it is hard to break the normalities and expectations of everyday life, as society can make it hard to feel comfortable in your own skin and preferences. People are afraid of change, which reinforces this negative relationship between gender and fashion. However, it's important to recognize agents of change who break age-old gender norms in their fashion choices.
rough the stereotypes of fashion, individuals are restricted, face unfair judgment and feel limited in their self-expression. In order for everyone to feel comfortable in their own skin, gender norms in fashion simply shouldn't exist. ese norms put people in a box by setting standards that don't apply to everyone. I am a big supporter of self-expression, as I believe it is a key to nding happiness and becoming comfortable in one's own skin. In fact, this idea is academically supported, with research conducted by the Georgetown Behavioral Health Institute con rming that self-expression allows us to understand ourselves better and process our emotions. I know from experience that, if I am wearing something I feel comfortable in, I am in a much better mood, as I feel con dent and happy with myself. Breaking these gender norms in fashion can be tricky,as they are something so instilled in society. is makes it important to support those around you in their self-expression choices– it's what you would want if you were in their shoes. We as a society must acknowledge these out t stereotypes for individuals, and the negative expectations of gender norms in fashion in order to allow everyone to feel supported, appreciated and comfortable to be themselves.
New York Fashion Week is a monumental event that occurs every year to showcase designer collections. From the time it was started in 1943 by Eleanor Lambert, NYFW has been an atmosphere that encourages uniqueness and gives the spotlight to designers. Originally designed as a way for fashion to be accessible to everyone during the time of World War II, NYFW has grown into a national event that has become a cherished moment for the fashion industry. is year's NYFW occurred from Friday, September 9th through Wednesday, September 14th, 2022, and featured over 100 di erent designers.
NYFW launched on Friday with the eccentric collection of Proenza Schouler. e collection centered around a minimalist theme with a hint of fringe and ru es. Model Kendall Jenner was featured in the show wearing a white fringed out t. Bella Hadid was featured wearing a gold dress alongside Jenner. e apparel of Proenza Schouler was not limited to the runway, as it was also featured in street style. Actor and model Hari Nef was photographed wearing a nude colored blazer and pants between shows. ere is no doubt brand Proenza Schouler has been a big in uence on the course of fashion throughout the years, with the duo Jack McCullough and Lazaro Hernandez as the designers of the collection.
e second day of the show– Saturday– featured many designers including Jason Wu, Dion Lee and Prabal Gurung. Wu is a famous designer and artist best known for designing the dress Michelle Obama wore to Obama's inauguration back in 2009. His collection on the runway was central to the idea of out ts being a ordable to everyone and having con dence in what is worn. His own look for his show was very chic and simple, focusing on the curves and edges of the models. Lee's fashion took a turn toward a more rebellious appearance. e color scheme ranged from green to black to red, making a bold imprint on the day. Comebacks including mini skirts and leather were a major style incorporated. Lee's style was overall fun and brought the sexy back into comfy. Gurung had quite an unforgettable showcase, featuring his runway in a United Nations plaza. Gurung has been a very active voice for the oppressed, making his performance unique. erefore, Gurung's out ts were bold, metallic, and an exposure for the people who feel like outcasts. e second day of NYFW had a signi cant importance, and it was de nitely not one to
New York Fasion Week REVIEW
be taken lightly.
e third day, Sunday, had more important designers. Sunday held a virtual experience for the Tommy Hilger brand. e show was streamed from the gaming universe of Roblox. With the event being centered on the future and creativity, users were immersed into the behind-the-scenes of the show, as well as witnessing live art. e fashion of the runway was mixed bold colors and revamped old styles, which added a ashy touch–unique to the future generation. e legendary drummer for Blink-182, Travis Barker, closed o the show with an original song, special to Tommy Factory. With attendees such as Kourtney Kardashian and Shawn Mendes, this event was surely not one to miss.
e designer Carolina Herrera was presented on Monday. Previously known for dressing First Ladies such as Michelle Obama and Laura Bush, Herrara's fashion week show was just as inuential as the others. Herrera previously turned over her job to designer Wes Gordon, who keeps the Herrera fashion alive. In an interview with the New York Post, Gordon explained the inspiration of the show: "In a world that can be dark and scary and unpredictable, it's okay for some things to just be pure joy and beauty." e style, based upon the novel e Secret Garden by Frances Hodgson Burnett, was a perfect combination of owers to add to anyone's spring collection.
One out t, in particular, was worn by Karlie Kloss. Kloss wore a yellow dress with pink owers on it, along with pink earrings. Although the days contained more design brands that were important, Tommy Hil ger and Carolina Herrera were the two that helped make NYFW an experience to remember.
e fth day of NYFW, Tuesday, included the brands of Snow Xue Gao, Foo and Foo and a Puma experience with Futrograde. Snow Xue Gao, which was launched back in 2017, displayed out ts containing mixed patterns and colors. Inspired by lower Manhattan, this style was very unique in comparison to the other brands. Snow Xue Gao presented clothes to represent culture and being true to yourself. Another brand, Foo and Foo, was also presented on Tuesday. Foo and Foo was founded by Elizabeth Hil ger, daughter of Tommy Hil ger. Foo and Foo's style revolved around "going out" out ts that keep you cool. Hil ger designed the collection in a way that heat will not a ect your style choices. e use of mesh allows the out ts to be for the millennials who love to party, but still want to look fashionable. To nish o the night, there was a three part event by Puma. rough "Futrograde," Puma made its comeback to the runway. Puma was once looked at as just a sportswear brand, but has since gained a street-style look that is worn in everyday outings. Bringing back the past was encouraged on the runway, which is not new to the present generation. It was something that held nostalgia, and it is what made Puma's event so important. Its rst section was focused on past styles, such as tracksuits and suede pants. Puma sneakers were featured in this section, including the platform sneakers that have been a popular trend. e second section focused on the present by showing collaborations that have been done recently, particularly with di erent communities. With the styles being a bit overreaching, Vogue explained this part by saying, " is portion of the show was the most visually compelling in terms of a fashion proposal." e third section was a jaw dropping moment in terms of uniqueness. One out t was an in ated jacket that was to infer the excitedness towards the future, but the fear that surrounds. Overall, Tuesday held designers that had great shows and ended with an unforgettable night designed by Puma.
e conclusion to NYFW was held on Wednesday. e brands LaPointe and Markarian were shown, with Tom Ford closing out the night. LaPointe was started by Sally LaPointe in 2010. According to NYFW.com, which
explains the background of each designer, "Lapointe is an active supporter of the fashion and apparel industry in New York City, producing all garments with local businesses and artisans." e LaPointe collection exuded a contemporary, energetic atmosphere. Because of the bright neon and brilliant colors, the clothing became a nighttime look. Another brand that was showcased on this day was Markarian. e designer for the company, Alexandra O'Neill, started her brand in 2017 and has since been able to dress the First Lady Jill Biden when President Joe Biden was inaugurated into o ce. For fashion week, Markarian leaned towards a "cute" style, as it contained pinks and sweaters. e bulk of dresses in the presentation also suggested that the collection is intended for special occasions like weddings or parties. Concluding this special day was the collection of Tom Ford. Ford does not take this timidly, as he brings out disco-focused pieces. Bringing back late 90's style, Ford brought optimism to the audience through the collection. Alongside other models was Gigi Hadid, wearing a green sequin tank layered with a brown silk oversized suit jacket, blue sequin pants and dark blue heels. Hadid's out t is a model of how dynamic Ford's styles were. e exhilarating conclusion to NYFW was the ideal way to nish the week.
New York Fashion Week 2022 "left no crumbs," as social media would say, and gave the audience more optimism for the future of this nation. e versatility of the week to include other cultures into the fashion was a signi cant positive aim. is year held the largest amount of African-American designers yet, hinting at the increase of diversity in the fashion industry. Although there is still more progress to be made, it is a step in the right direction. All-embracing, NYFW 2022 stole the spotlight establishing its bold déjà vu imprint on the upcoming fashion for Spring 2023.
SHOOT 2022 THEHAMPDEN


Interview by Margaret Bruce
Every year, our sta eagerly awaits the Hampden Shoot. Since its inception, this shoot has been a valuable part of each and every CY Fashion Mag. It never fails to become the lifeblood of our issue, driving our inspiration and excitement. We're more proud than ever to bring 2022's annual Hampden shoot to you– our rst Fall edition ever.
Located on King Street, at the epicenter of Charleston shopping, Hampden Clothing stands out against countless fast fashion depots. With their add-ons James and Small, Hampden is hard to miss. e store features countless designer garments, from elegant gowns to the freshest footwear to– you guessed it– the classic Estelle wine glasses and Boy Smells candles. From the New York Times to Vogue, Hampden's reach extends far beyond the Lowcountry, inspiring bold, fashionable women across the country.
Behind the magic of it all is Stacy Smallwood. You'd probably recognize her from seeing her strut down King Street in the coolest designer garments, or even on Hampden's Instagram story, as she checks out the latest from New York or Milan. Smallwood opened Hampden over 15 years ago. She drew inspiration from designer brands pushing luxury retail in a new direction. " ey were creating a new path that wasn't designer, such as Louis Vuitton and Gucci," writes Smallwood, "but wasn't as contemporary as simply jeans and t-shirt brands." She saw this as a path to introduce a new market through Hampden, introducing new designers to Charleston fashion.
One of Smallwood's main motivations is the empowerment of women through their clothing. "We all have to get dressed every day," she explains,
"but many women simply stare at their closet in the morning and feel defeated." Women across the world are all faced with this di culty, having to wear clothes that might not t or fail to make them feel con dent, which can a ect their entire day. Not feeling comfortable in your clothes can make an already hard day even worse, or ruin a really exciting one. Smallwood recalls helping women through this experience, recounting dressing a woman following her double mastectomy to helping a bride get ready for her wedding. "In the dressing room, women are often at their most vulnerable as they have to undress and begin to share their stories," says Smallwood, "and I feel grateful to help them get dressed and feel more empowered to take on their day." At Hampden, the goal is to make a woman leave feeling beautiful, both inside and out.
Smallwood is both grateful for her past and excited for the future. "So many dreams have come true since opening Hampden in February 2007," she writes. Looking at Hampden's repertoire, one can see how that's certainly true. e company has been featured by some of the biggest names in fashion, from the New York Times to Harper's Bazaar to Vogue, and so on. Designers from across the globe have come to Charleston to connect with Hampden's clientele. Smallwood herself has attended fashion weeks in some of the design capitals of the world, from New York to Paris. She's also had amazing opportunities working in costume design for television, as well as being a stylist for NBC Sports Network. When looking toward the future of Hampden, Smallwood writes, "I think my dreams are now focused more on evolving with the technology changes that are happening so quickly." She is excited for the possibility to expand the company's reach
even further through their website, Hampdenclothing.com.
When asked what she would say to those interested in beginning their career in the fashion industry, Smallwood o ers this piece of advice: "today is a great day to start!" Dedication and willingness to go far and beyond are crucial, as well as the ability to embrace starting at the bottom. "It doesn't mean you will always stay there," she says, "but what it does allow you is an opportunity to learn every aspect of the business." According to Smallwood, that knowledge is invaluable as one works their way up the ladder. It's important to know the reasons behind everything that goes on in the fashion industry. She also recommends a good hunger for success, which, she writes, "means you are willing to go the extra mile, stay late or come in early, and always say yes."
She warns that the fashion industry is a tough one, but those who are willing to truly put in the work are those who will achieve their dreams. is is evident through Smallwood herself, whose incredible dedication and hard work have built Hampden into a nationwide empire.
CY Fashion is extremely lucky to have this opportunity to work alongside Hampden in putting this shoot together. It was an absolute pleasure seeing what Smallwood has to share about her company's inspiring success story. As a team of mostly women, we're honored to repay our gratitude for Hampden's ability to empower us to feel beautiful in our clothes. And as a fashion magazine centered in Charleston, we'd be remiss not to pay homage to this key piece of Charleston fashion. So, it is with immense pride that I invite you to check out this year's Hampden shoot–it's one you won't want to miss.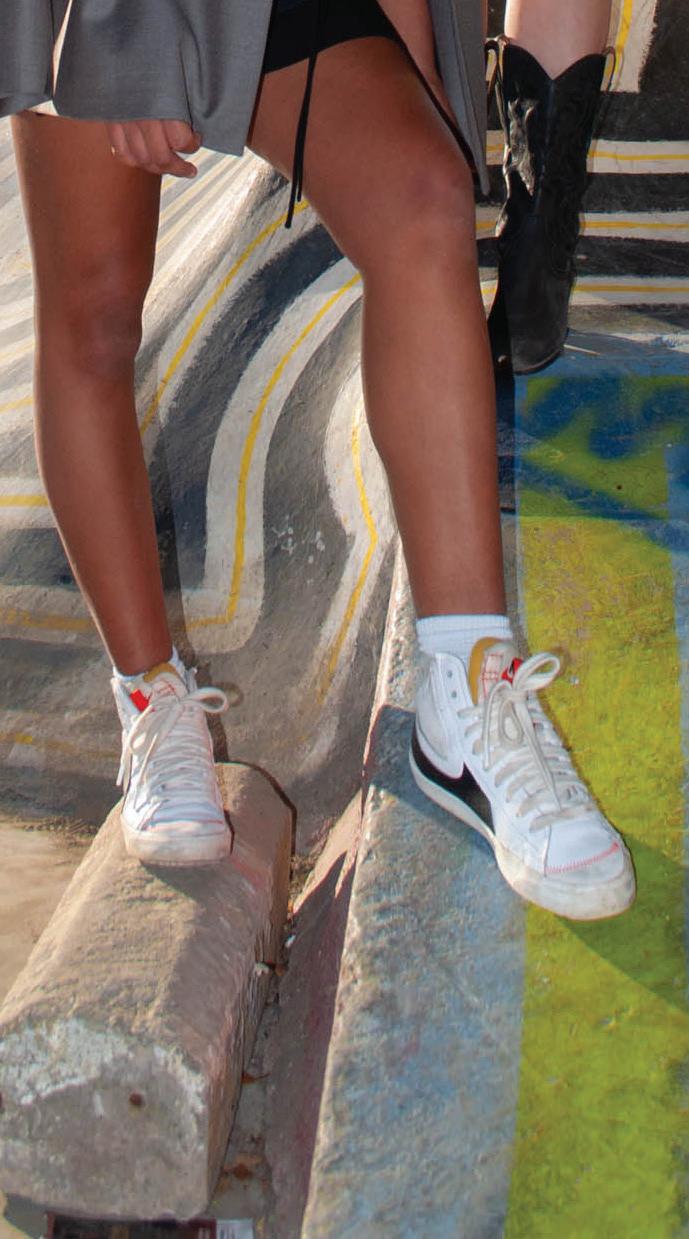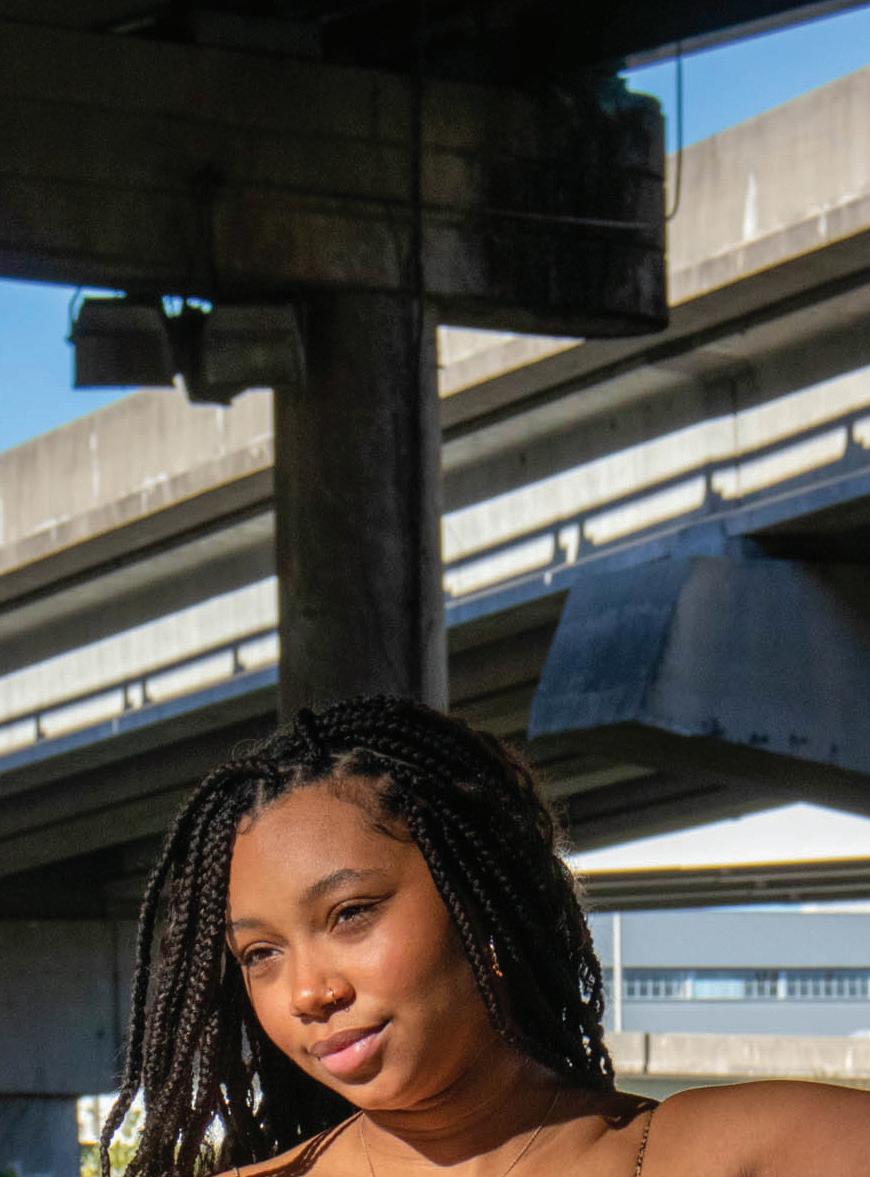 SHOE
By: Corinna Baker
In the world of an accelerated trend cycle and hyperconsumerism, one has to ask: what does it really take to become a brand that can withstand the test of time? With brands like Shein producing more clothing in a day's time than ever before, as well as clothing items becoming worldwide fads, then subsequently going out of style in the next month, it becomes hard to keep up. Without the money and resources, average people are not able to maintain this level of consumption. Many shoppers are trying to stay sustainable with their purchases, buying timeless and quality products, but this is becoming increasingly di cult. One brand that I have always consistently relied on for my casual sneaker needs has been Converse All Stars. For as long as I can remember, I've had at least one pair– usually more– of high top Converse in my closet. While the design or color will change here and there, the shoe is nevertheless the same. So, in a world of constantly changing trends, how has Converse maintained relevance with the same shoe design for over 100 years?
Well, that's no easy question to answer. It all starts with a rubber company, called Converse– which may ring a bell. In 1908, they were manufacturing rubber, obviously, but they soon ventured into the shoe game, creating rubber shoes of the galoshes and duck boot sort. en, in 1917, the company was looking for a product to make yearly work for their seasonal workers. Coincidentally, the sport of basketball was taking their home state of Massachusetts by storm. Courts were popping up all over urban areas and college campuses, and the sport was gaining traction as a new pastime for Americans. With the sport's birthplace being roughly 100 miles from Converse headquarters, a new business venture was upon them: a shoe made
speci cally for basketball.
us the All Star was born, or, at the time, the "NonSkids." is sneaker was revolutionary for the game, not only for the increased ankle support, but also the diamond tread on the cushioned sole that allowed players to pivot quickly in all directions. While this was all new and great, it wasn't necessarily the innovative design that put Converse on the map, but their progressive marketing. ere were no in uencers or commercials at the time, but there were basketball teams. So, shoe companies in the early twentieth century created clubs. For example, one today could be called the Nike Shoe Company Basketball club. ese teams would go around the country playing games, all whilst wearing the shoes that sponsored them. Of course, Converse had to get in on this. But what they did di erently was the clinics they would hold for coaches and players, in addition to just playing the games. ese clinics would teach people about the sport of basketball, then following it, Converse would take everyone to the local sporting goods store and have them order Converse shoes. is got more people and teams wearing the shoes.
Now, who was behind this genius marketing for Converse, you may ask? Well, it was none other than Chuck Taylor himself, whose name you may recognize from being printed on Converse shoes for all these years. While we may know Chuck Taylor by the shoes, at the time he was more well known for his basketball skills. He was part of the semi-pro team the Firestone Non-Skids, before joining the company as a salesman at Converse. Taylor even played for Converse's team, which is when he would hold the clinics. He genuinely loved the sport and the company, which was continuously proven through his persistent drive and passion.
e company went on to dominate the eld of basket-

1908-2022 1908-2022 1908-2022 1908-2022 1908-2022 1908-2022
ball shoes for years to come as the iconic white model with red and blue accents was introduced as the o cial shoe of team USA for basketball's rst appearance at the 1936 Summer Olympics in Berlin. e shoe was then adopted as the o cial training shoe for the US military during WWII. Apart from the introduction of the white model, the rst major innovation to the shoe came in 1957 with the introduction of the "Oxford," or, as you may know them, the low top Converse. is allowed increased ankle mobility for those who need it. It was the Oxford that kickstarted Converse's introduction into other realms outside of sports. While Converse was still dominating the market well through the 60's, in 1971, they released their rst colorful pairs of sneakers. eir intent was to allow better coordination with team colors and jerseys, but, unbeknownst to them, this would solidify Converse's role in the casual shoe industry for the long run.
It was around this time where 'Chucks' entered the fashion scene– or the exact opposite of it. Converse became the shoe of choice for punks in the 1970's and metalheads in the 1980's. ey were an anti-establishment and anti-fashion statement according to many wearers at the time. e Ramones were early known fans of the shoe, with bands like Nirvana, Blondie and e Sex Pistols following suit. Famously, Kurt Cobain was almost always pictured wearing a pair of Converse. Just as the shoe was comfortable for running up and down a basketball court, it was also useful for moshing and dancing all night long. Punk rockers of the 70's and 80's took Converse in as their own and t them to their aesthetic. ey were going for a very industrial look– the more worn, the better. When society said to only wear sneakers in the gym, artists and music lovers alike decided to go against the grain and used Converse as their own political ploy. Tommy Ramone famously said: "In the 70s, it was rebellious to wear sneakers
outside of the gym. Doing that was anti-establishment. It was punky and snotty to wear sneakers instead of shoes."
While all was well and dandy for a time, it wasn't long before the company hit a wall. ey still weren't fully ready to abandon their athletic dreams of the past, but come the 21st century, Converse were obsolete on the court. en in 2003, Nike Inc. rescued Converse from bankruptcy for a whopping 305 million dollars. Although it came at a price, Nike was able to completely turn the brand around, having collaborators in more recent years and moving towards an aesthetic and individual approach to the brand. is paid o big time with sales being upwards of 1.4 billion dollars in 2012 (compared to a measly 205 million dollars reported in 2002, not long before the transfer), according to BBC.
is brings us to today: Converse is thriving as much as ever, with revenue steadily increasing the more time goes on. e brand has expanded widely since its 1917 debut, boasting collaborations with brands such as Comme Des Garçons, Golf Le Fleur and O -White, only increasing its prevalence in pop culture in recent years.
Chuck Taylors brought something new to the table that we hadn't seen before. It was everyday people wearing "athletic" shoes for comfort as a statement against society. While jarring at the time, Chucks entered the mainstream and revolutionized the shoe game. Eventually, sports shoes became a staple in most every American's wardrobe. It's not often you see a single item of clothing survive through so many generations without changing a single thing about the design other than
1908-2022 1908-2022 19081908-2022 1908-2022 1908-2022 1
GAME
37
a tweak here or there. In this case, the product really speaks for itself. e Converse Chuck Taylor All Star will forever live in American fashion, and I personally don't see them going anywhere anytime soon. Chucks are a breed of timelessness that brands can dream of achieving, but so little do. It is a small subcategory only occupied by a few brands with some other examples including Levis, Brooks Brothers and even Vans over a much shorter timespan.

So to answer the question, how did Converse maintain relevance all this time? It was through genius marketing at the start that Converse solidi ed their place in American culture. However, it was really the wearers that made Converse what it is today. By bending the rules and making Converse t them and their desires, the shoe changed meanings completely. is opened the door for creatives and revolutionaries alike to come together in expressing their individuality and passions through what one may just see as a plain black sneaker. And for just being a plain black sneaker, I'd say Converse has made its name pretty notorious in the midst of American culture and attire.
Wearing a pair of Converse makes you feel like you are part of something bigger than yourself. You're wearing the foundations of basketball, a piece of punk rock history as well as yourself, all wrapped into one rubber
soled canvas shoe. Converse are an excellent example of the transformation of American culture over the last 100 years, and they have stood the test of time, maintaining relevance through many culture shifts. For a shoe that has remained relatively the same for over a 100 years, and one of the most popular shoes in the country, it still makes wearers feel so uniquely themselves, with every pair meaning something di erent to Converse fans country-wide. It is the sense of individuality brought about by Converse that keeps buyers coming back for more time after time.
Trend Cycles:
WhatCanWeExpect?
By Amelia Brown
As we bring another year of fashion seasons to a close, it is in proper form that we recap the trends that have surfaced–and resurfaced–over the course of 2022. I am someone who has dabbled in fashion and observed what becomes "in" and "out" since I began experimenting with my own identity through clothing. I have been a proponent (sometimes victim) of timeless and eeting trends over the years, becoming intimately familiar with what we know to be the "trend cycle". At rst, it was every twenty years that a trend came back into style. In the mid 2010s, it was the mom-jean aesthetic from the 80s. In direct opposition to the skinny jeans chokehold just years prior, mom jeans gave way to a comfy, artsy grandma aesthetic that many teens saw as a new and unique way to express themselves. is same form has been repeated in the 2020s with the resurgence of Y2K aesthetics. Where you would not have caught most young women wearing a waistline below the belly button in the 2010s, it has become standard and almost uniform to sport a lowrise cargo pant to class. Low rise bottoms, arguably the poster child of 2000s fashion, sported by Christina Aguilera, Destiny's Child, Jennifer Lopez and Gwen Stefani are making their way back onto our Pinterest boards. Just as this 20-year cycle becomes comfortable, though, there is evidence to suggest that fashion has become too proli c to be con ned to this timeline.
Fast fashion and the need for the next new thing has put an immense amount of pressure on both luxury and a ordable clothing brands to produce and be ahead of the curve. Because of this, we can see the cycle is starting to condense itself to a ten-year cycle. If you are on the right side of TikTok, you may have seen a quirky, well-spoken, 30-something trend analyst by the name of "oldloserinbrooklyn" (Mandy
Lee). Lee, having much more professional prowess and experience in trend prediction, echoes these same thoughts. In a January interview with Vogue, Lee predicted that indie sleaze and twee aesthetics would come back with force this year. From my experience, the original icons of these styles were celebrities like Sky Ferreira and Taylor Swift, as well as the concept of "the hipster". e amalgamation of these aesthetics was, essentially, Tumblr in its 2014 prime. If mid 2010s Tumblr fashion coming back into fashion unnerves you, this next trend prediction may come as a shock.
As bone-chilling as it is to admit, the ballet at is coming back. Molly Goddard, Ferragamo, and Simone Rocha debuted their 2022 renditions of the shoe on Spring 2022 runways, with others closely following suit. Some may see it as a natural follow-up to the Margiela Tabis that have quietly crept into 2020s street style. For those that do not know, "Tabis" are a heel with a hoofed toe, giving a camel-toe shape to the traditional ballet at. Slowly but surely, we will see more celebrities aunting the revived at in 2023.
Looking forward, with regards to the trend cycle, it appears that this accelerated recycling of trends will soon collapse in on itself. More than ever, we are seeing pieces, like the House of Sunny dress or a blue cropped blazer with fur, that are breaking the internet one minute and forgotten about the next. What happens when we can't keep up? e answer–an emphasis on personal style and expression. Trends are self-destructing and renewing themselves at such a rate that it is no longer sustainable – for the environment or the wallet – to parallel them in your own wardrobe. us, we look inward. What styles, aesthetics and time periods am I personally a fan of wearing? is push to introspect on one's clothing expression has attracted a lot of people to the racks of thrift stores, handmade pieces and hand-me-downs for a budget-friendly answer.
2023CYFASHION CFASHIONCLASSOF LASS OF 2023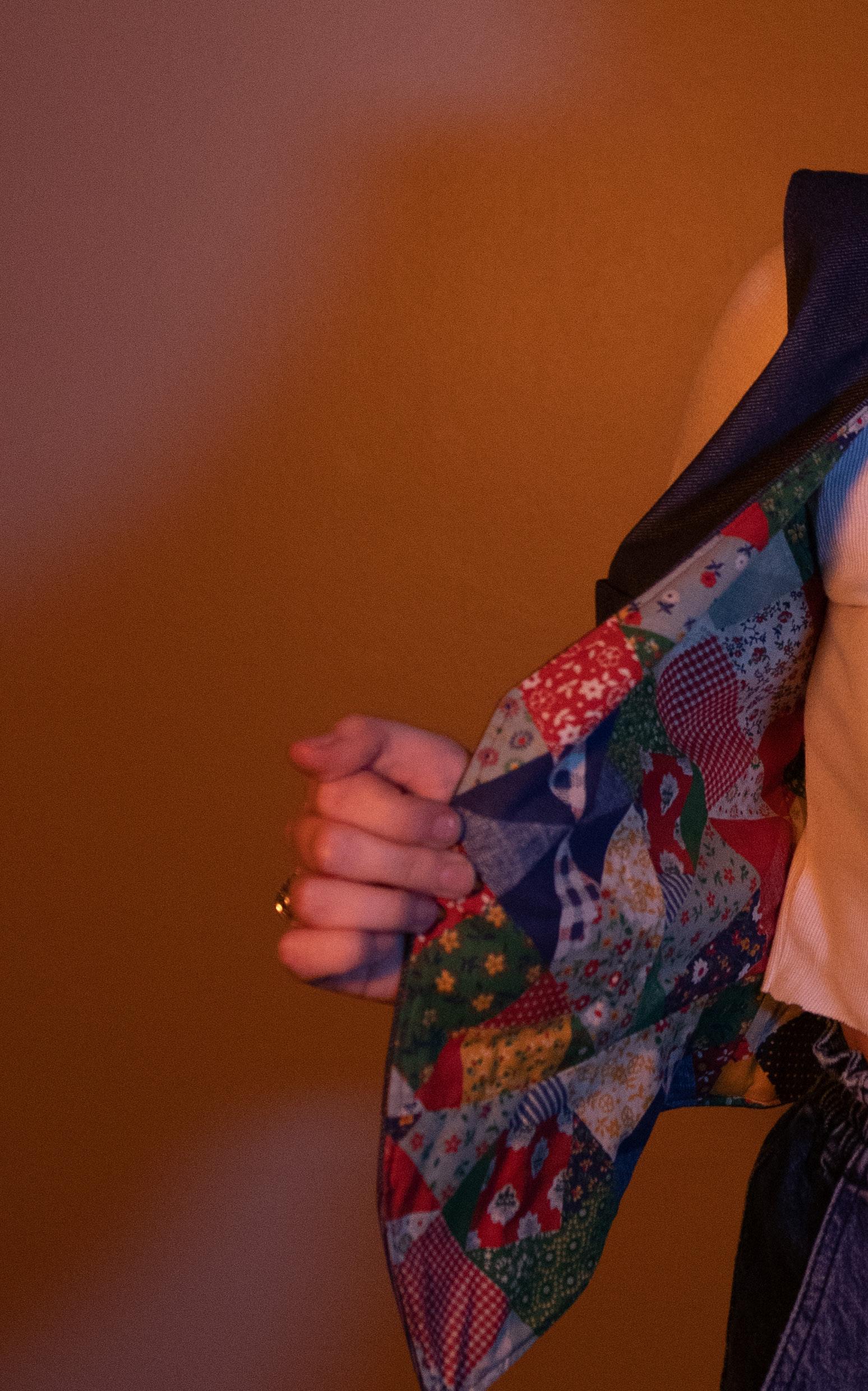 byTylerMcCormack
FASHIONCLASSOF2023
OF2023CYF 2023 CY
CL
FASHION
LEWIE NASBY
Year: Junior
Major: English, minoring in Writing, Rhetoric, and Publication Requested Posing Music: "Venus as a Boy" by Bjork
Where does your style come from?
When I was in Michigan, I kind of realized that my brothers had this dynamic of just wearing whatever was available, but I saw my mother and the choices she made as a person and I wanted to do that, I wanted to stand out of that masculine space and be something also masculine but more vibrantly masculine. en, I did theater and my theater coach was like if you don't feel silly youre doing it wrong–and I was like wait… yes! Exactly!
Who are some of your style icons?
I started to get into Angel Blue and hysteric glamour in high school, but I never had the funds to do it. I also got really interested in how during the 90s, di erent cultures were incorporated into American style, and whether that was for better or for worse. Obviously, Gwen Stefani in her era was really problematic, and using those cultures was not necessarily like paying credence or respect to those cultures. So I'm learning from that but also seeing how ingenious it was to take parts of used clothes, and stitch ing them together and nding this beautiful feminine and masculine energy. I also love Carol Burnette. I want to be Carol Burnette, but like masc Carol Burnette.
@baseBalL_lover0222
BRANDON ALSTON
@birthday_BoY_BrAnDOn, @fresh.PrincE.Fits
Year: Junior Major: Theatre, concentrating in Costume Design
Requested Posing Music: "Doing It To Death- Pts. 1 & 2" by The J.B.'s
Where does your style come from? I went through a lot of di erent, random styles in high school to kind of gure out where I wanted to go, heading into college. I had a grunge phase, a prep phase, pretty big emo phase, just bouncing around. Junior year, I landed in the thrift world. End of junior year was probably the last time I bought clothing from an actual store–from then on, it was all thrifted, Depop. In college, I started to get into style icons I really liked: Tyler the Creator, A$AP Rocky, and kind of the idea of mixing tech and workwear with vintage and streetwear, and nding where that all intersects. How did you start Fresh Prince Fits? Freshman year, I was majoring in Computer Science. I was struggling throught that, and at the same time, I was taking Costuming I. Half my homework was just sewing, and the other half, I was struggling through coding. Whenever I'd get bored of coding, I'd go to the shop, and I'd just sew. I was having so much fun– it was my way to decompress from the world. I was spending so much time there, they were like, "You're kinda good at this, you've been doing it for a while–why don't you switch majors?" Next thing you know, I was just making pieces for myself and adding stu to my closet. I was just making friends with Dennis Wright (@wrxghtbros) and others who also had their own reworked businesses, and I was like, wait: I have this giant surrounding of clothes around me all the time, and also, 84Flea and all these big pop up markets have grown. All my friends were like, "You should get in on this."
KAI MCKOY
@noekai08
Year: Freshman
Major: Psychology, minoring in Neuroscience Requested Posing Music: Anything by Lana Del Rey
Where does your style come from?
I've always wanted to dress nice. I always had a problem with school dress code. It started in like 9th grade, and it just gradually became my own style. I'm still trying to gure it out. I take inspiration from Tiktok, Pinterest, things like that. I had like a Gossip girl moment with the blouses and skirts, a little preppy. Right now, I'm trying to achieve fairy vibes.
I feel like I've always had a unique style–people would always comment on what I would wear, so I thought, "Oh this is de nitely, not the norm." e comments egged me on to be myself. When older adults would say I was showing too much skin, it just made me want to do it more. In class, sometimes I feel like I do too much, because other college kids wear crewnecks and shorts and go on about their life, and I dress up!
When I look at clothes, it's like: who do I want to look like most? I look at TV, movies, and I see characters whose style I really like: when I was a little girl, it was Rocky from Shake it Up.
CAMILA CARRILLO
Year: Junior Major: Studio Art, Art History Requested Posing Music: Bad Bunny
Tell us about your style journey. I feel like when you're a kid, you wear so much fun stu , and then by the time you get to middle school you're like this is all so drab, this is all so horrendous... you lose yourself a little bit. I also feel like puberty in general, you're guring out, like, how do clothes t me, especially as a queer person; I didn't know if things were com fortable or not. But revving up to high school, it was like, "OK, now we're nding things that t, nding things that feel good." Especially thrifting, and selecting pieces that are gonna last a long time. I hate fast fashion. ere's no point in having a ginormous closet full of clothes you're never even gonna touch. My clothes are things I wear on a daily basis.
What do you look for when thrifting?
I'm not the kind of person who has a thing in mind when I go in to the thrift store. Whatever happens, happens, but I'm always on the hunt for cargo pants, anything I can t into. You know when you're a kid, and you shove a bunch of rocks in your pockets? I was that kid who just had rocks and all sorts of stu falling out of their pants. I still carry a bunch of stu everywhere. Whenever I have to nd my phone, I'm like, "It's here somewhere, I swear!"
I don't have time for Depop. I bought one pair of pants o of Depop and they came out as little ca pris– stop! ey said they were jeans! It also feels too Instagram–I don't know what to search. I also like to feel stu –if it doesn't feel soft, I can't.
@_CherRyfAnta_
84FLEA-TURE 84FLEA-TURE
By: Lara O'Dell
In recent years sustainable fashion popularity has skyrocketed, Charleston is no di erent. Maybe it is due to our generation's environmental anxiety or our collective individuality complexes, but thrifting and second-hand clothes have de nitely found their place in the Charleston fashion scene. Pop-up sales, porch clothing swaps and fashion markets are all staples in our community.
84 ea, which comes around every month or so, is one of the best second-hand clothing markets out there. It began in the summer of 2021 run by two local vintage sellers, Selective and Red Rose Vintage. Since then it has continued to be one of the most popular vintage markets in the Charleston area. Each market hosts an array of new and unique sellers from around South Carolina and beyond.
e crowd that shows up for 84 ea is a representation of the best individual fashions in Charleston. You're sure to get inspired, and probably a little jealous. e sellers, too, present an amalgamation of vintage from anywhere and everywhere. is time, we wanted to shine a spotlight on some of our favorite sellers and market goers.
e owners of 84 ea take pride in bringing together sellers who are passionate about selling authentic vintage clothing. When asked about their favorite aspect of the Charleston fashion scene, they said the younger generation.
e youth of Charleston largely support the second-hand scene in our community, and 84 ea loves being a part of that growing community. Although 84 ea has had a massive impact on vendors and vintage lovers alike, the owners can't say they were expecting this outcome. 84 ea started as a way to give local Charleston vendors a place to gather and reach a larger audience. While it absolutely accomplishes that goal, it has boomed into something much larger. e anticipated event hosts vegan food trucks and live DJing to feed and entertain vintage shoppers.
84 ea is, at its core, a market that centers sustainbility and slow fashion. It is a perfect representation of the fashion sported by Charleston youth.
47
Fashion Favorites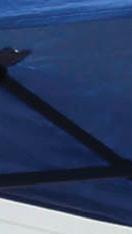 49
Seller Standouts
is is the owner of Far Out Findz. Her booth has been all over the Charleston vintage market scene, and we were so excited to see her at 84 ea. If you nd yourself at the Far Out Findz booth, make sure you check out her shoe collection.
is was Pannerpete Vintage's rst time selling vintage at 84 ea. Usually, you can nd them at Columbia's Saturday market. eir booth was over owing with a massive collection of vintage clothing, belts, purses and jewelry that they have been collecting for years. If you ever nd yourself in Pannerpete Vintage's booth, I have to recommend you go straight to the denim section.
By Briana Dixon
Charitable causes can look a number of ways, from bake sales, donating, car washes– but how about dressing up? College of Charleston students Rose, Nicky and Anarchy took me on a road trip to do just that.
Cosplaying is an art of emulating a character, be it ctional or not. Cosplaying can be just a hobby or even a full-on job if you please. As someone who is far from veteran cosplayer status, it was certainly a knowledgeable trip to be with such talented artists. On that note, we hit the road to Rock Hill, SC to meet up with the fellow college students who were our fellow "castmates."
e theme was Princess and Princes, which led me to think there would be a large amount of children at this event… that was an understatement. e event was to encourage the donation towards the festival to continue its over 60 years of festivities.
e Come-See-Me festival is a frog themed event, which, unfortunately for me as a certain Frog Princess, made me the victim of constant questions on my Disney Trivia knowledge.
e morning of the event was lled with princesses piled in bathrooms to nish nal touches and help one another get into costume. Some of us were even working on our voice impressions.
We nished our nal touches and all split up to get to the event. We certainly caught the eye of many bystanders on our way to the event– less children, more adults looking very confused. Once we made it, we were all pushed to our dressing rooms to rehearse the do's and the don'ts of staying in character– after all, we can't crush a child's imagination.
Cosplaying meant not just looking like a character, but rather becoming that character, personality-wise.
More than
Dress-up
" Do: Interact and take pictures with as manypeopleaspossible. Don't:Breakcharacter. " " Do: Knowyourcharacter(afterbinging thePrincessandTheFrogforaweek,I thinkIprettymuchcheckedthatbox) Don't:Strayfromyourgroup. "
Do: Interact and take pictures with as many people as possible.
Don't: Break character. Do: Know your character (after binging the Princess and e Frog for a week, I think I pretty much checked that box)
Don't: Stray from your group.
After getting the gist of the rules, it was showtime and boy, was I nervous. For the next 2-4 hours, we were no longer college students, but Princess and Princes going out for a stroll.
Accompanied by kids' excited screams, we did our princess and princely duties while some of us were getting tackled by kids and adults alike, and others were questioned by the unlimited imaginative curiosity of children.
My favorite question, perhaps: "Did you really kiss a frog?" accompany by a face of disgust. I which I replied with a similar face "Yes."
It was an event to remember, to see kids and adults alike light up with joy to see us there. is moment truly made me believe that getting involved
with others to do an activity bigger than ourselves is one of the best things you can do.
While traveling back, I talked to Nicky about what cosplaying meant to them: "I started this journey cosplaying to channel creativity and free time into a hobby that has a tangible outcome. Nothing is greater than seeing the product of my hard work… and the many friends I've made in the cosplay community. While it is nice to grow an online following from cosplaying, it is even greater to do such an enjoyable hobby with my friends." ough just a newbie, I certainly feel the same sentiments and hope others can nd something that truly can make not only others, but themselves happy.
SUPPORT THE NEIGHBORHOOD
SUPPORTTHE NEIGHBORHOOD
APB
APB
APB
WRITERS ANNA ROWE ISABELLE MORSE HAILEY GRIFFIN CORINNA BAKER AMELIA BROWN LAYOUT DESIGN ERIN HENNINGER KATE MAGEN ENARA LAMARQUE LOPEZ HAMPDEN SHOOT PHOTOS: ALIX AVERITT CHARLOTTE OTTAIANO MODELS: CAROLINE HIERS CHAELA MORRIS PLUS SIZE FASHION SHOOT PHOTOS: ISABELLE MORSE MODELS: RUBY BENNETT BLAKESLEY RHETT NIGHTLIFE SHOOT PHOTOS: ALIX AVERITT MODELS: JORDYNN PINCKNEY VASILEAH TSANTES APB SHOOT PHOTOS: MADELYN PRICKETT MODELS: DENNIS WRIGHT SYMONE PORTER CLASS OF 2023 SHOOT PHOTOS: ALIX AVERITT ANNIE MORRAYE ELEA CHATEAU 84 FLEA SHOOT PHOTOS: MAY LEBBY THOMPSON JULIA COSTANTINO STAFF MARGARET BRUCE TYLER MCCORMACK ALIX AVERITT LARA O'DELL MADISON COMO DEVIN DEHOLLANDER BRIANA DIXON 59