THE BEST Summer Camps FOR KIDS
JOIN THE FUN AT OUR VIRTUAL CAMP FAIR THROUGH MARCH 31
STEPS SMALL
A wasted crown of broccoli here, a spoiled chicken breast there, it all adds up for climate change. THERE'S STILL HOPE.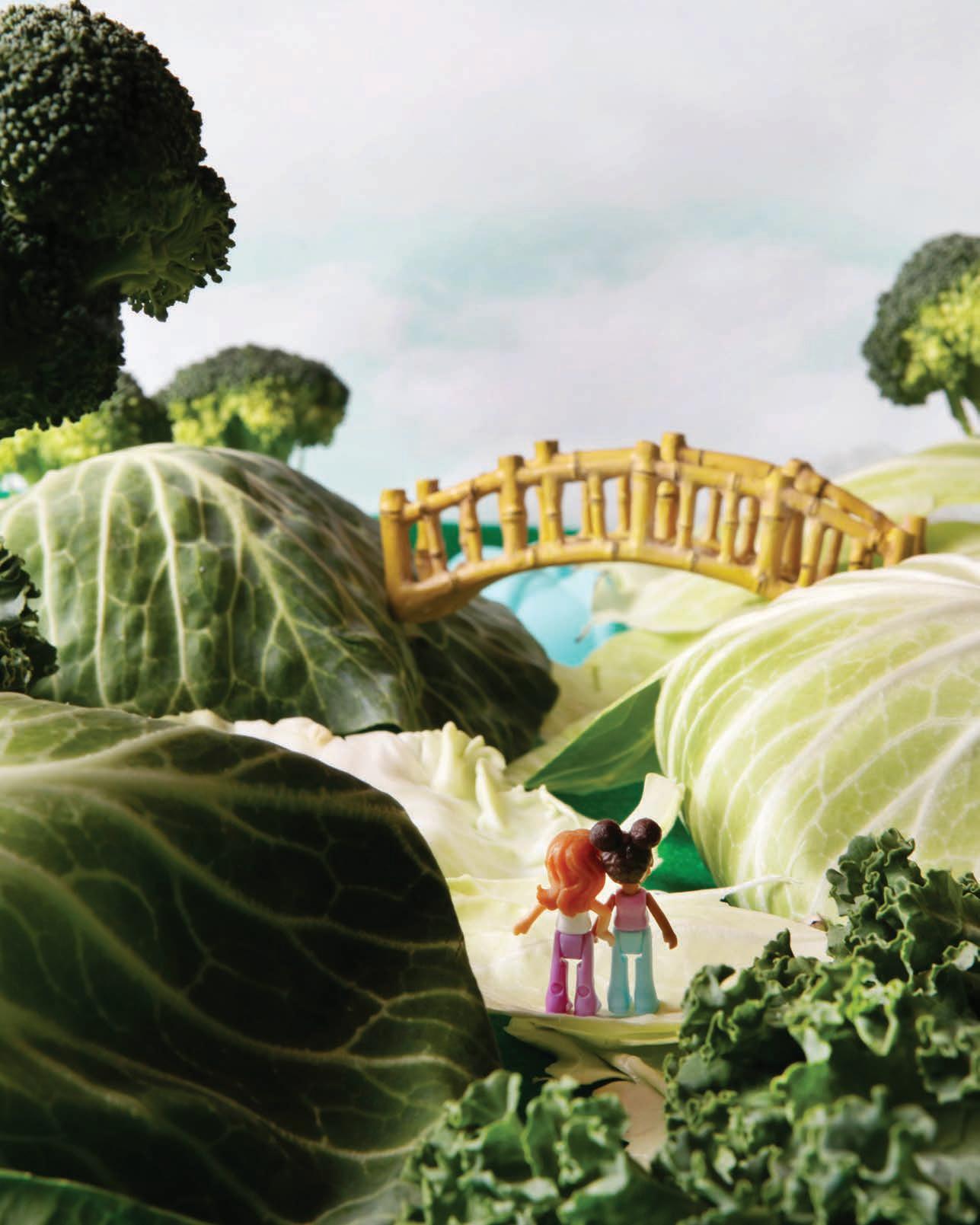 +
SPRING BREAK GETAWAYS
STAYCATIONS
MARCH/APRIL 2023 ChicagoParent.com
Give us your feedback in our annual reader survey and help us provide the very best content for you. Not to mention, there's a chance to win $250! What
You
of chicago Parent?
Do
Think
7
8
9 Help for Those Little Accidents: Pelvic floor therapy is having its moment.
MARCH/APRIL Inside ChicagoParent.com/ Subscribe Get exclusive, local parenting advice and inspiration you won't find anywhere else from Chicagoland's original parenting influencer. SUBSCRIBE TODAY!
those little "smart links" throughout the issue?
your portal to extra content, videos, pics and more to
on your phone
your camera over the code and
for a tappable link to
Test it out with the Subscribe link below! 1 Year (6 issues) $16 37 Features
Notice
They're
explore right
–no app needed! Simply position
wait
pop up.
Handpicked
Hello Spring. Try this simple, cute craft with your kids.
That Springy Clean Feel: Things nearly everyone forgets to clean.
10 Bookworm Battle: Readers voted for their favorite independent bookstores.
to Do
miss.
Spring break staycation
Fun for kids with special needs.
Getaway: Spring break dreamlands.
My Mantra: Find out what one local mom has on repeat. 14 Gaslighted
or not, parents of children with special needs can be made to question their sanity, judgment, even their own memories.
Life: Stephanie Thompson
suburban mom is creating a community of special needs moms and fun opportunities for their kids. 12 18
Land Each year, millions of tons of food wind up in American landfills where it contributes to the climate change crisis. It's a huge global problem, but there are bite-size steps busy families can take to be a part of the solution. 23
Camp
to weed through your options and pick the best one for your kid. + SPECIAL ADVERTISING SECTION The Best Summer Camps for Kids Virtual Camp Fair Month Begins March 1 SEE THIS TAG: These stories highlight special needs. On the Cover
11 504 vs. IEP: Accommodations available to help kids succeed. Things
33 Events not to
34
fun from A to Z. 36
37
38
Intentional
Real
This
Waste
The Search for the Optimal Summer
Learn
Photo by Lauren Jeziorski
BY KATINA BENIARIS
Tell Us What You Think!
Our annual reader survey is the perfect way to share your thoughts directly with us. Answering this survey also helps us create the quality content and resources you're looking for. Did we mention it only takes 10 minutes — and you'll be entered to win $250? We value your thoughts and your time!
EDITOR'S PICKS
Developmental Milestones in Children, According to CDC
5 Ways to Talk About Race with Kids
New Family Play Treehouse at Lincoln Park Zoo
Surprising Secrets for Happy Couples
Self-Esteem Activities to Boost Your Kid's Confidence
VISIT:
EDITOR'S PICKS VISIT:
Indoor Rock Climbing Spots for Kids
Unique DIY Workshops to Get Creative
Family-Friendly St. Patrick's Day Events
Fun Things to Do During Spring Break
Family Neighborhood Guide: Bronzeville
Nature Centers to Enjoy a Breath of Fresh Air
@theadventuresofdx3
CHICAGOPARENT.COM/LATESTISSUE CHICAGOPARENT.COM/LATESTISSUE
To read any of the stories on this page, hover your phone's camera over the smart link or visit the site above.
WIN BIG in March at our ParentEd Talk
Enter for a chance to win a SNOO or a Happiest Baby gift card! At our March 22 ParentEd Talk, A Parenting Playbook for Raising the Happiest Kids on Earth with Jessica Joelle Alexander, we're giving away one SNOO Smart Sleeper Bassinet (valued at $1,695) and one $500 Happiest Baby gift card, courtesy of Happiest Baby. Only March 22 attendees are eligible for prizes.
ChicagoParent.com
Online FOLLOW US
Photo by @gabrielledphoto
4 MARCH/APRIL 2023 CHICAGOPARENT.COM
Share your pics! Tag your family moments on Instagram with #ShareChicagoParent for a chance to show it off here. Don't forget to follow us @ChicagoParent
How do you limit food waste in your home?
Read about one of the big culprits in our climate change crisis on Page 18.
As hard as I tried to get my picky kids (and husband!) to try different food, I ended up throwing away so much. At one point, I also was making three to four different meals a night and knew that had to stop. Making matters worse, they all absolutely refuse to eat leftovers. So, while I really hate it, I feed my family the same meals every week, allowing me to shop for exactly what I need and know will be consumed. No waste, but it does get so boring."
"
" "
I used to over-purchase produce at the market and then we wouldn't eat a lot of what we bought, so I really do try to be realistic about what I buy these days. For example, I know my son will eat an entire bag of green apples in one week and I'll have at least one banana per day so I'll buy those but might hold off on other produce I feel I "should" eat that week. I've gotten a lot better about meal planning, too, which really does help. I know what I need for each meal and then peek at the pantry and refrigerator to see what I need to add to my grocery list."
CEO & PUBLISHER: Alexis Bourkoulas
Content
VP OF MARKETING AND CONTENT: Julia Elliott
EDITOR-IN-CHIEF: Tamara L. O'Shaughnessy
CONTENT MARKETING MANAGER: Kim Kovelle
AUDIENCE DEVELOPMENT MANAGER:
Katina Beniaris
SENIOR EDITOR: Claire Charlton
ASSISTANT EDITOR
Nikki Roberts
CREATIVE DIRECTOR: Kelly Buren
SENIOR GRAPHIC DESIGNER: Lindsey Lawson
PHOTOGRAPHER AND GRAPHIC DESIGNER: Lauren Jeziorski
AUDIENCE AND SALES DEVELOPMENT
ASSISTANT: Kari Zaffarano
CONTRIBUTORS: Danielle Braff, Cheryl Eugenio, Sara Funk, Cortney Fries, Paris Giles, Thomas Kubik, Cheryl Leahy, Steffy McCourt, Lori Orlinsky, Stacey Winconek, Lainey Yehl, Kelly F. Zimmerman
PRINTER: Walsworth, St. Joseph, Mich.
Sales / Administrative
SENIOR MARKETING STRATEGIST: Dawn Ferencak
BUSINESS MANAGER
Amy McIntire
SALES ASSISTANT: Carlos Figuera
SPECIAL PROJECTS: Ruth Robbins
"For me, limiting food waste starts at the grocery store. Instead of stocking up with big grocery hauls, I try to make a few smaller trips during the week. I realize this isn't the greatest time management strategy, but it helps me stick to a grocery list and only buy the fresh ingredients I will need for the next few days. At home, I organize my fridge so that perishable items are all in one area. I place the newest grocery items in the back so that I always reach for what needs to be used first. I use this same method when it comes to using leftovers. When the food that needs to be used is right in front of me every time I open the fridge door, I find myself thinking up creative ways to use it."
all things family in Chicagoland by signing up for our weekly enewsletters packed with trending stories and fun things to do. Simply scan this smart link.
We limit food waste by purchasing for the week at our local farmers market even in the winter. Our meals are based around what is available at that time. The scraps go to our chickens, our goats who especially love banana peels, apple cores, pumpkins and more, or the compost pile."
HELLO! From Our Team To Yours ZOE COMMUNICATIONS GROUP, ALSO PUBLISHER OF: Chicago Parent is published by Zoe Communications Group, a certified Women's Business Enterprise by the Women's Business Enterprise National Council (WBENC), the nation's largest third-party certifier of businesses owned and operated by women. Articles and advertisements in Chicago Parent do not necessarily reflect the opinion of the magazine. We do not assume responsibility for statements made by advertisers or editorial contributors. The acceptance of advertising by Chicago Parent does not constitute an endorsement of the products, services or information being advertised. We do not knowingly present any product or service that is fraudulent or misleading. ©2023 Zoe Communications Group. No portion of this publication may be reproduced in any way without written permission of the publisher. GUIDE TO COLLEGE PLANNING GUIDE TO HELPING YOUR AGING PARENTS We Want to Hear From You Tell us what you think of our latest issue. GENERAL QUESTIONS Info@chicagoparent.com STORY IDEAS AND COMMENTS editor@chicagoparent.com DISTRIBUTION REQUESTS distribution@chicagoparent.com ADVERTISING advertise@chicagoparent.com 332 S. Michigan Ave., Suite #LL-M974 Chicago, IL 60604 708-386-5555 ChicagoParent.com We hope you'll like our magazine.
you do, please subscribe (see Page 3 for details)! Plus, stay in the know about
If
"
" "
" " " "
5 CHICAGOPARENT.COM MARCH/APRIL 2023
CRYSTAL LAKE
The City of Crystal Lake inspires all with captivating cultural activities, local shopping and dining. Families can come for a day or stay for a lifetime because Crystal Lake has something for everyone.
THE CLEAR CHOICE IS CRYSTAL LAKE
When it comes to quality of life and standard of living, Crystal Lake, Illinois is the clear leader. Thirty-five miles out from O'Hare Airport, this charming city is home to nearly 40,000 people. With excellent schools, lakes and outdoor recreation spaces, and ample shopping and dining experiences, Crystal Lake is the perfect place to call your own. Here, you'll never run out of unique experiences!
Crystal Lake's location makes it a great place for families to live. Not only is the City of Crystal Lake close to O'Hare International Airport, but it's also close to downtown Chicago, which is easily accessible from two Metra train stations in town. This means families have easy access to all of Chicago's world-class amenities, like museums, Navy Pier and, of course, the beautiful beaches of Lake Michigan.
Crystal Lake boasts top-rated schools from elementary to college level. Elementary School District 47 and Community High School District 155 are two of the best public school systems in the region. Crystal Lake is also home to two colleges, McHenry County College and Columbia College-Crystal Lake.
OUTDOOR ADVENTURE
Crystal Lake has ample opportunities to experience fun, indoors and outdoors. For those seeking an outdoor family adventure, look no further than Three Oaks Recreation Area, which has hiking trails that are open year-round to walk, hike, run and bike. Planning a big group? Rent a beautiful picnic pavilion.
Three Oaks Recreation Area also offers summer beach fun, a splash pad, fishing, even scuba diving! Families can even rent boats and paddleboards. Or, spend time at the namesake Crystal Lake and enjoy its picturesque beauty.
A major attraction at Three Oaks Recreation Area is the Quarry Cable Wakeboard Park. Located on the North Lake, The Quarry Cable Park is a 32-acre cable wake park complete with jumps and other features. This family-friendly cable park offers summer classes and private lessons. For families and anyone looking to stay on land, sand volleyball courts and the Lakeside Bar and Grill await. During warm weather, the patio is open with live music every Friday and Saturday night.
SHOPPING AND DINING
In historic downtown Crystal Lake, locally owned, one-of-a-kind shops, restaurants and entertainment venues attract community members and visitors, making downtown the heart of Crystal Lake.
Local owner of Wear Did U Get That, Stephanie Ormsby, couldn't imagine a better place to grow her business and raise her family. "I own a business here in Crystal Lake, but I've lived here for 35 years and raised my family here. Between the schools and the different activities that are going on year-round, it's a wonderful place for everyone," she says. "Not only is it a great place to have a business, but it's a great place to live."
The cultural scene is also thriving in Crystal Lake. Raue Center For The Arts welcomes music, live theater and more to the downtown venue. The Dole Mansion and Lakeside Arts Park bring live music, art and festivals to the lakefront.
Beyond the successful small businesses in downtown, the City of Crystal Lake is also expanding on the national business front with recent plans to bring in fast-growing brands such as Guzman y Gomez, Crumbl Cookies, Summer Moon Coffee, Orange Theory and more in the next year.
CHICAGO PARENT TOP TOWN
READ MORE ABOUT City of Crystal Lake: Love Where You Visit, Love Where You Live CLEARLYCRYSTALLAKE.COM
Bits of fun, inspiration and cool finds for you
Hello Spring!
Ready to shrug off the winter blahs? So are we!
The warmer temps mean heading outside with your littles for longer stretches. Whether you do a great explore or a jaunt around the block, plan to bring a little nature back home.
Here's an easy craft to try together.
While you're out, encourage the kids to pick some early spring flowers that appeal to them (yes, even the prettier weeds count!) Let their collection dry between books for about two weeks.
Then on a rainy spring day or one of those days you just need to keep everyone busy, cut out two circles of clear contact paper, put the flowers or greenery between the sheets, then glue the circle between a couple of simple (& cheap) craft store rings.
Voila, a pretty spring keepsake!
1 2 3 4 5
Handpicked
Get so many more fun ideas to welcome spring back at ChicagoParent.com/ LatestIssue.
7 CHICAGOPARENT.COM MARCH/APRIL 2023
That Springy Clean Feel
Things everyone forgets to clean
BY CHERYL LEAHY
Spring symbolizes new beginnings, a time to clear out the physical and metaphorical dust. Clutter and grime have a way of affecting your mental health, and tackling a task that might have been overlooked too often in the past can be particularly satisfying.
But even in a top-to-bottom spring clean, there are a few things busy parents might miss.
Garbage cans
If you have ever lifted a garbage bag out of your trash can and caught a whiff of what lies below, you know that it can get super stinky. First of all, using higher-quality trash bags that aren't prone to ripping can keep liquids and goo contained.
To wash your trash receptacle, don some rubber gloves and rinse it out. Then use a disinfectant spray to kill the germs and neutralize the smells, scrubbing the sides and bottom thoroughly. Let the can dry completely before using again.
Sprinkle some baking soda in the bottom to help with odors in the future.
Washing machine
Hard water and detergent build up inside of a washing machine, and dirt tends to cling to these deposits.
According to HGTV, the easiest and least expensive way to do this is with two household items — bleach and vinegar, used separately (never mixed!). Set your machine to hot and let it fill with water. Add a quart of bleach and let the washer run for a minute to mix. Then, open the lid and let the mixture sit in the machine for an hour. When time is up, close the lid and let the cycle run fully. After the machine has drained, repeat with one quart of vinegar instead.
After the cycles have run, wipe down the interior of the washing machine with equal parts vinegar and water.
Spices
If your spice rack contains the same spices that it came with and you received it as a wedding gift a decade ago, it is definitely time for a spring cleaning.
Alex Wilkens, VP of Product for The Spice House (thespicehouse.com), goes by this rule of thumb: "Buy enough spice to get you through six months to up to one year. Whole spices will last much longer than ground spices — once you grind the spice, now you are creating more surface area, and the volatile compounds within the spice are released."
But replacing your entire spice rack with high-quality spices can get pricey, so he recommends starting with the basics: Black pepper, cinnamon, garlic powder, onion powder, a seasoning rub, Italian herbs and chili powder.
Unused tech
If you still have your flip phone from the '90s sitting in a box in storage, it's gotta go. Tech that is just collecting dust isn't made for the garbage can, though. Electronics can contain hazardous materials and need to be disposed of properly. Check with your municipalities for any annual electronic disposal days. Make sure to wipe all of your personal data before handing it over, though.
CHERYL LEAHY
is a mom of two who can be seen in lifestyle TV segments across the country sharing the latest products and services.
alldressedupwithnothingtodrink.com
@cjalldressedup
1 2 3 4 5
HANDPICKED 8 MARCH/APRIL 2023 CHICAGOPARENT.COM
Help for Those Little Accidents
Pelvic floor therapy is growing in popularity among postpartum women
BY LORI ORLINSKY
If you've had a baby, chances are coughing, running or laughing might trigger a bladder leak. And thanks to the TikTok community (and experts like The Vagina Whisperer), pelvic floor therapy — a medical fix for these TMI problems — is finally having its moment.
Once a taboo topic, there's been a recent movement to normalize the narrative for this postpartum stage.
"Every woman should have pelvic floor therapy after a pregnancy, no matter the mode of delivery," says Melisa Lott, Chicagoland high-risk OBGYN. "There's a lot of healing that our bodies need to do after a delivery and the pelvic floor is one of the most impacted from carrying a baby. Taking the time after a delivery for pelvic floor PT can have a long-lasting positive impact in prevention of chronic pelvic pain."
What is pelvic floor therapy?
Pelvic floor physical therapy is the branch of physical therapy focused on conditions that relate to the pelvic floor. This includes urinary function, bowel function, pregnancy and postpartum, pelvic pain and sexual function.
The goal of pelvic floor physical therapy is to restore a higher level of mobility, movement and healthy function. In cases of pain or discomfort, therapists identify muscle trigger points and tight connective tissues that may be causing the problem.
What sets PFPT apart from other fields of physical therapy is that pelvic floor physical therapists are trained to perform internal pelvic floor muscle exams.
"The pelvic floor is a unique area that has muscles and these muscles help control bladder, bowel and sexual function, which is what makes it a little more unique and sometimes intimidating for individuals, but it shouldn't be," says Physical Therapist Dr. Kimberly Vincent with Advocate Health Care.
Benefits of pelvic floor therapy
Many women suffer in silence, whether it be pain with intercourse, difficulty with bowel movements or urinary leakage.
Vincent says although pelvic floor therapy has been around for decades, it has been lacking awareness
and has taken time for physicians to recognize the benefits, and in turn, for patients to be offered it, which is covered by most insurance plans.
"People talk about their knee pain, back pain and shoulder pain, but most people don't talk about bladder or bowel problems or difficulty/pain with intercourse," says Vincent. "I think the influx of people coming now is awareness and empowerment. People are becoming more aware that having bladder, bowel or pain symptoms is not normal and there is treatment for it."
What to expect
During pelvic floor therapy, a physical therapist who specializes in pelvic floor health will evaluate your strength and mobility (especially in your core and lower body) and prescribe exercises or treatment that can help with your specific type of pelvic floor dysfunction.
Vincent says that while pelvic floor therapy can be extremely successful, it is important to remember that this type of therapy isn't a quick fix.
"Pelvic floor physical therapy won't solve all of your symptoms or problems overnight, but often
individuals start to see improvements right away," says Vincent. "It does take commitment and effort on the part of the patient, but the pelvic floor therapist will work with you to develop a program that fits your schedule and gives you success."
LORI ORLINSKY
is a mom of three who discovered pelvic floor therapy after the birth of her third baby. She is a frequent Chicago Parent contributor and award-winning author of several children's books, including Being Small, Balloons for Tiger and The Adventures of Lefty and Righty: The Windy City
1 2 3 4 5
"It is so important to remember that while we are caring for a baby, we need to remember to also care for ourselves during the fourth trimester."
HANDPICKED 9 CHICAGOPARENT.COM MARCH/APRIL 2023
— Dr. Melisa Lott
Bookworm Battle
Our readers voted for their favorite bookstores
BY KARI ZAFFARANO
Celebrate National Reading Month in March by exploring with the kids all of the new and used bookstores throughout Chicagoland. To help get your reading journey started, we asked our Instagram followers to nominate and vote for their favorite bookstores in their communities. Wow! We got so many great ones.
Here are the four that ranked at the top for followers.
Volumes Bookcafe
These quaint independent bookstores are run by a family of book lovers. Sisters, Kimberly and Rebecca, have brought their passions for learning and reading into their communities. Be sure to pick up an espresso or local beer or wine and a baked good while you're there. Children's story times take place on Tuesdays at the Wicker Park location and on Saturdays at the Gold Coast location.
900 N. Michigan Ave., Chicago, and 1373 N. Milwaukee Ave., Chicago; @volumesbooks
Open Books
Check out Chicago's first nonprofit bookstore. All proceeds support literacy programs. Shop from more than 70,000 books in-store and online. You can donate your books there, too, by either visiting the store, using the drop bins in Chicago or using the store's free pickup service.
2068 N. Milwaukee Ave., Chicago, 651 W. Lake St., Chicago, and 905 E. 19th St., Chicago; @openbooksltd
Get to know our communities' reader-nominated, wonderful independent bookstores at ChicagoParent.com/ LatestIssue.
Madison Street Books
Madison Street Books is a woman-owned and independent bookstore in Chicago's West Loop. It only sells new books, but does have a consignment program for authors hoping to sell their books there. It offers events, too.
2523 N. Kedzie Blvd., Chicago; @madisonstreetbooks
Unabridged Books
This store has created a space that is welcoming for kids and their caregivers. The collection is wide-ranging, diverse and carefully curated,, containing an approachable mix of beloved classics and newer titles that you might not find at a larger store. In the summer of 2020, Unbridged made the decision to contribute to organizations that work towards achieving racial justice in America. It offers book clubs, meet and greets and other great events each month.
3251 N. Broadway, Chicago; @unabridgedbooks
is Chicago Parent's Audience & Sales Development assistant as well as its calendar coordinator. She is a boy mom always on the hunt for fun for other families. @keepupwithkari
KARI ZAFFARANO
Photo by Madison Street Books
Photo by Unabridged Bookstore & Patrick Garnett
Photo by Veronica Billedo
HANDPICKED 1 2 3 4 5 10 MARCH/APRIL 2023 CHICAGOPARENT.COM
Photo by Volumes Bookcafe
504 vs. IEP
BY STEFFY MCCOURT
Parents know their child best. And when they notice them struggling in school due to special needs, anxiety or ADHD, it can be heartbreaking and frustrating not knowing where to turn for help. While most parents of children with special needs are likely aware of an Individualized Education Plan (IEP), some might be missing out on accommodations their child can receive even if they don't qualify for an IEP.
The 411
The IEP and 504 each offers accommodations and services to children in school. While both ensure that a child with disabilities has access to a free and appropriate public education, there are some differences.
The first step to getting your child an IEP or a 504 is to document school struggles. The more data you can supply the school, the easier it will be to create a plan that best meets your child's needs.
An IEP requires a team of educators to collect data that shows a child needs specialized education services. The evaluation is needed even if a pediatrician has already made a diagnosis. It covers a range of special needs, including emotional, visual, hearing, speech and language, autism or physical or intellectual impairment.
If granted, an IEP includes specialized education services, including a teacher consultant who touches base with a student and their goals multiple times per year. It could also include a separate class or a set-aside amount of time where students get to work towards educational goals with a specially trained teacher.
If the school finds that a child doesn't fit within the umbrella of an IEP, the student might still be able to obtain a 504, which requires a school to offer accommodations, modifications and services. A 504, which arose out of the Rehabilitation Act of 1973, has no age limit and can follow a child through college and into their career, if they desire.
The 504 law falls under the Office
of Civil Rights whereas an IEP falls under the Department of Education.
Before moving forward with a 504, it's a good idea to research accommodations that may benefit your child. Create a list of the accommodations and bring them to the planning meeting with school staff.
Common accommodations are preferential seating or extended time on homework or tests. Your child might benefit from a guaranteed break in the day or using a fidget. An accommodation could include taking tests separately from the rest of the class or to even have tests read aloud.
Before the planning meeting, you may find it helpful to pursue outside testing. Many psychologists offer testing that will provide your child's team with another excellent resource when developing a plan that is a perfect fit.
Finally, don't get discouraged. If either an IEP or 504 is denied, the school or individual teachers might be willing to make "unofficial" accommodations to help your child succeed if you ask.
STEFFY MCCOURT
is a mom to three active boys. She is a teacher and frequent Chicago Parent contributor.
1 2 3 4 5
Some might be surprised to learn other accommodations are available to help their child succeed
HANDPICKED 11 CHICAGOPARENT.COM MARCH/APRIL 2023
HOW TO HELP:
The Special Needs Mom Squad needs volunteers for events and welcomes monetary donations to provide discounted tickets to events for more families.
specialneedsmomsquad.com
REAL LIFE: STEPHANIE THOMPSON
A Very Special Moms Squad
BY TAMARA L. O'SHAUGHNESSY • PHOTO BY THOMAS KUBIK
Stephanie Thompson remembers the night her son, Danny, got an official autism diagnosis at 5 when he started school. While she says she knew it was buried deep inside him, after having him in an alphabet of therapies five times a week since he was 18 months old, seeing and hearing the word just made it too emotional, too real.
After getting him into bed that night, she settled in for a frustrating hunt for answers on the internet. "It was exhausting," she says. She didn't find the answers she so desperately sought, but a kernel of an idea began to pop. Why not create a group of other parents going through the same thing?
"It started from sitting in the living room, a desperate mom looking for others to talk to, bounce ideas off, to find out what the heck do I do now," she says.
That kernel soon became the Special Needs Mom Squad, a growing group of special needs parents (yes, dads and grandparents are embraced, too) sharing resources and working together to create judgment-free events to give their kids all the fun they might otherwise miss out on. At the same time, she got her special needs financial planning designation to help others plan for the future; she says she and other special needs parents can't just focus on today, but must plan for the what-ifs should something happen to them.
"I know what it feels like to be overwhelmed, what it feels like when they are talking about your child, what it feels like to be an advocate," she says, adding she just went through Danny's latest IEP meeting.
The goal with Special Needs Mom Squad is to bring organizations with
FAST TALK FAST TALK
the tools and resources to families who need those tools and resources, all while building a community willing to share expertise on next steps — with a mix of fun for the kids.
As a new mom when Danny was born 10 years ago — "the most beautiful thing that I've ever put in my hands" — she chalked his fussiness up to colic until doctors noted at 18 months he wasn't checking all the developmental boxes. "Danny to me, he's Christmas every day. You don't know if he'll have a setback or that aha moment."
But she and her husband, Joe, and little sister, Annaliese, 6, are behind him 100 percent.
"Danny brought so many things I didn't know existed in me as a person. I always hear you only get what you can handle. You know what? He showed me things I didn't know were there," she says.
She took some time to share her thoughts on special needs.
THE HARDEST PART ABOUT BEING A SPECIAL NEEDS MOM:
"As a mom, the unknown, the roller coaster of emotions. My goal for anyone is to be the best that they can be and my job as a parent is to take those obstacles and move them out of the way so that they can be as successful as they can be. I also know that the world is not rainbows and butterflies and it can be cruel. I want to prepare them for that."
But the hardest part, she admits, is the constant what-ifs in her head at night, when she wakes up and worries about their future should something happen to her and Joe. There's also the struggle to balance
everything, to be a great wife, wonderful friend, great mom, keep the house clean. "What happens if you don't take care of you?"
AND THE BEST PART:
"Watching them flourish and knowing that they want the same thing you do, that you are a team doing this together. It makes you feel like (you're) on Cloud 9, 10 and 11 just to see your child flourish."
WHAT YOU WANT OTHER PARENTS TO KNOW ABOUT SPECIAL NEEDS PARENTS:
"Have a broader outlook on things," she says. "Don't judge. It's as simple as that. It's the Golden Rule, treat others the way you want to be treated."
Many parents with children with special needs feel isolated because they don't want to be judged, so a kind word or gesture means a lot, she says.
BIGGEST NEED IN THE SPECIAL NEEDS COMMUNITY RIGHT NOW:
She is on a mission to make sure all schools share with parents the game plan for special needs kids in the event of an active shooter or other crisis at school.
She'd also like to see lawmakers re-evaluate income limits for special needs people while also streamlining the process to apply for disability income and SSI to make it less exhausting for parents, to find ways to provide families more support after their children age out of the school system at 22 and to reconsider health insurance enrollment periods to accommodate a new diagnosis.
YOUR MOM SUPERPOWER:
"Advocacy. I'm a mama bear. … It doesn't matter if you are the president or a movie star or my neighbor, if something's going on and it needs to be addressed, we're going to talk like people do."
PARENTING MOTTO:
"You can't do everything. As parents we feel so pressured to be that parent. Don't feel like you have to do that. The only person you have to impress is yourself. Love yourself first and then everything else is easy."
THE BIG GOAL FOR YOUR KIDS:
To see them live the life they are meant to live in a world where they can be whatever they want to be, she says.
BEST ADVICE FOR OTHER MOMS OF KIDS WITH SPECIAL NEEDS:
"You are never alone. Just the moment you think you are falling apart, you are never alone. We all share a silent bond with each other." Don't be afraid to ask for help or advice, she says.
YOUR GUILTY PLEASURE:
"I love to craft. I'm a Michaels kind of gal."
13 CHICAGOPARENT.COM MARCH/APRIL 2023
GASLIGHED BELIEFS?
I THE PROBLEM? FACTS?
I CRAZY? GASLIGH
AM
AM
BY DANIELLE BRAFF
Terry Matlen has self-diagnosed herself with having IEP PTSD.
And many special needs parents may be able to relate.
Matlen, a mom of a child with special needs, says she arrived at each IEP — from her daughter's preschool years through her post-high school years — with such severe anxiety and later depression, because she and her husband were constantly being told they were the problem.
"I was known as 'the angry mom' by the school officials because though I was physically ill, anxious and angry at each meeting with special education staff, I still fought so hard for my daughter's education rights," says Matlen, who also is a licensed medical social worker.
She's not alone.
While there haven't been any large-scale studies specifically about gaslighting in the special needs arena, there's been plenty of anecdotal evidence that it's routinely occurring. Gaslighting is a type of psychological abuse where a person is made to question their sanity, judgment or even their own memories and reality.
Gaslighting for parents of children with special needs also happens because others may be misguided in their attempts to try to make them feel better, or to reassure them that the concerns they've noted about their children are unfounded or are likely to be outgrown over time, says Corrie Goldberg, a licensed clinical psychologist and the founder of Shore Therapy Center for Wellness in Chicago.
"Although these reassurances may be well-intentioned, they can ultimately cause confusion, distress and doubt for the parent, undermine their attempts to advocate effectively for their child, and delay or prevent the child from receiving needed interventions and support," Goldberg says.
This is exactly what happened to Matlen, whose daughter suffers from brain damage. Nearly 100% of the time, Matlen says, educators and administrators deflected her concerns and pushed the blame onto her and her husband — or denied that the problems existed.
"It's more than common; it's generally a given," Matlen says. One time, Matlen's daughter was placed in a fifth grade classroom although she was reading at a first grade level. Her teacher gave her a fifth grade exam, which she failed, and she received a big red "F" on the front of the exam paper.
"How much more can one destroy the self-esteem of a child who doesn't fit in, can't keep up, is shunned by teachers and fellow non-disabled students?" Matlen asks.
Shannon Davis, a physical therapist and certified autism specialist, had a similar situation when she attempted to identify her daughter's needs for reading support. Davis approached the first grade teacher and was told not to worry about her reading, as this happens to all kids when they are in bilingual classes.
After spending thousands of dollars in private assessments showing vision impairments and learning delays, Davis managed to convince the school that her daughter needed help.
"I was not crazy — she does have something going on," Davis says. But
TED
GASLIGHED GASLIGH
Intentional or not, parents of children with special needs can be made to question their sanity, judgment, even their own memories
15 CHICAGOPARENT.COM MARCH/APRIL 2023
GASLIGHED T
it wasn't so easy. Davis was informed that her daughter wasn't impaired enough or delayed enough to receive support. After she unleashed her "momma bear advocate" and threatened legal action, her daughter received the vision, occupational and speech therapy she needed.
MISUNDERSTANDINGS AND ISOLATION
Often, special needs parents are gaslighted because other parents don't understand the complex needs special children have — and as a result, the other parents may view the behaviors and learning challenges of special needs kids as misbehavior or bad parenting. That's when the other parents may gaslight the parents of special needs kids, explaining that if those parents were just stricter, for example, then their children wouldn't have any issues, says Mo Mulla, the founder of Parental Questions, a family-run blog providing resources for parents.
This frequently makes parents feel isolated and alone when it comes to advocating for their child's needs in school or at home, because so few people are willing or able to comprehend what it takes to care for a special needs child, Mulla says.
Sometimes, even special needs parents don't completely understand their children, and as a result, gaslighting unintentionally occurs here, too.
"It's not always with malice, it's often just survival or getting through a situation," says Lisa Lightner, a special education advocate and lobbyist.
For example, let's say you're out in public, Lightner says, and your child says that it's too noisy, too bright, too smelly, that they're hungry, they're hot, they're cold — and we respond with, 'You're fine, we're leaving soon.'
But your child is not fine: They just told you they were not. Instead of validating their feelings, we told them that those feelings don't exist.
"What if instead, we chose our words more carefully? 'I know it's very noisy in here, it's bothering me, too. But we need to stay here and watch the end of your brother's game, and then we'll go home,'" Lightner suggests.
WHAT TO DO
Gaslighting in any form is harmful: It makes you question everything, doubt yourself and have imposter syndrome, Lightner says.
When you're faced with an IEP team and you have a concern that the team insists doesn't exist, it's very isolating. Then, when parents network with other special needs parents and realize that they're not crazy, that they're not imagining things, it ruins their relationship with the school, Lightner says.
There are, however, some things you can do if you believe you're being gaslighted.
Matlen became very involved in her daughter's education. She joined the Parents Advisory Committee so she could attend monthly meetings with the special education directors to help develop and offer feedback on the special education services in her district. She also developed parent groups so that other parents have a voice in determining what was best for their kids as a group. She engaged with the media to cover stories of some of the events she faced or witnessed and she attended school board meetings.
"I led groups of other disgruntled parents so we'd have a voice," Matlen says.
She suggests that other parents start by educating themselves, learning the rules and regulations that protect children with special needs. Check out the Council of Parent Attorneys and Advocates to start, she suggests.
Once you've learned about your child's rights, you can reduce the negative impact of gaslighting from other sources, Goldberg says.
"Seeking out information from books, online resources, support groups or specialized professionals can help families feel validated in their experiences, and can better prepare them to advocate effectively, and call out gaslighting when they experience it, rather than be stopped by it," Goldberg says.
"SEEKING OUT INFORMATION FROM BOOKS, ONLINE RESOURCES, SUPPORT GROUPS OR SPECIALIZED PROFESSIONALS CAN HELP FAMILIES FEEL VALIDATED IN THEIR EXPERIENCES AND CAN BETTER PREPARE THEM TO ADVOCATE EFFECTIVELY, AND CALL OUT GASLIGHTING WHEN THEY EXPERIENCE IT, RATHER THAN BE STOPPED BY IT."
-Corrie Goldberg
proudly presents
ParentEd Talks
March 22, 2023
A Parenting Playbook for Raising the Happiest Kids on Earth
Speaker: Jessica Joelle Alexander
April 18, 2023
The Habits of Highly Effective Adolescents
Speaker: Christine Carter, Ph.D. and Laura Kastner, Ph.D.
Register for our virtual ParentEd Talks series ChicagoParent.com/ ParentEdTalks
2023
17 CHICAGOPARENT.COM MARCH/APRIL 2023
39%AmericanThefoodwastedinhomesmakes upabout39%ofallfood waste.Source:Feeding America
Waste Waste
30%representMeat,poultryandfishthemajorityof foodwastedinvalue,at about30%.Source:U.S. DepartmentofAgriculture
63.1 MILLION TONS
In 2018, an estimated 63.1 million tons of food waste was generated in the United States.
Source: U.S. Environmental Protection Agency
24%
Food represents 24% of landfilled municipal solid waste. Source: U.S. Environmental Protection Agency
35% foodIn2019,35%ofthe consumptionproducedforhuman wentunsold or uneaten in the U.S. Source: ReFed
land land
$1,500
The average four–person household throws away $1,500 worth of groceries each year. Source: U.S. Department of Agriculture
It's a ritual that's familiar to most American households: As fresh groceries come in, it's out with the old. That bunch of soggy spinach, the forgotten takeout leftovers, the palm full of ground meat that was too meager to turn into a dish — it's all chucked into the trash.
Aside from the wasted money and the icky feeling that comes with the knowledge that millions of Americans face food insecurity, food waste has measurable negative impacts on the environment and climate change.
Food is the most common category of material dumped in American landfills, according to the U.S. Environmental Protection Agency. Sure, food scraps decompose quickly compared to inorganic materials like plastics, but when food breaks down in a landfill, it releases into the atmosphere methane, a greenhouse gas that's 25 times more powerful than carbon dioxide when it comes to trapping heat in the atmosphere, which warms the planet.
And that's saying nothing of the resources used to get discarded food to landfills and the space it takes up once it gets there.
BY PARIS GILES • PHOTOS BY LAUREN JEZIORSKI
$285 BILLIONIn2019,theU.S.spent $285billiononfoodthat wasultimatelywasted. Source:ReFed
However, the problem of food as it relates to climate change starts long before that apple core or moldy bread gets tossed. Think deforestation. Trees, which pull carbon dioxide from the atmosphere, are chopped down to give way to cropland or space for industrial livestock production. Those are what the industry calls upstream climate effects, notes Susan Miller–Davis, associate director of the Food Recovery initiative at Joint Venture Silicon Valley, a nonprofit network focused on innovation.
"What people in the industry call 'downstream effects' is when any organic material, whether it's yard trimmings or anything, but especially food, ends up in landfills where it decomposes anaerobically," or without oxygen, Miller–Davis says.
Picture the tightly–packed, piled–high environment of a municipal landfill. The methane produced by that particular decomposition process "doesn't stay in the atmosphere as long as carbon, but it is super potent," Miller–Davis explains.
Each year, millions of tons of food wind up in American landfills where it spews potent methane gas into the atmosphere, contributing to the climate change crisis. Food waste is a global problem to which we all contribute, but there are simple, manageable steps busy families can take to be a part of the solution.
19 CHICAGOPARENT.COM MARCH/APRIL 2023
Waste Land
Creating a New Food Culture
When food shopping…
Buy frozen veggies.
Fresh produce may taste and look better, but studies suggest that, in general, most frozen and canned fruits and vegetables retain many of their vitamins and nutrients. But watch out for added sugar or salt. And unlike their fresh counterparts, which last mere days, frozen or canned veggies can be shelf (or freezer) stable for years — and are often cheaper.
Avoid bulk shopping.
It may be more convenient to plan one big shopping trip to load up on everything your family could possibly need for the foreseeable future. It's also true that bulk shopping tends to be cheaper, but you could be paying for it on the backend if you're throwing out food that you didn't get to in time.
Miller–Davis says it helps to shop in smaller batches and with a clear plan of what you'll use when. If going grocery shopping every few days feels impossible, consider taking advantage of delivery services like Instacart or Shipt and have groceries from your favorite store dropped right to your door whenever you're ready for them.
Shop at farmers markets. For the freshest food that'll last longer at home, shop locally when you can. If you can get that meat or produce home before it's been shipped across the country (or the world), then you'll buy your family that much more time to enjoy it before it spoils.
Don't be a perfectionist. Here's the ugly truth: When given the choice, consumers will almost always reach for the prettiest produce. Our brains tell us that's the best one, but that's not always true. How many times have you gotten a pristine piece of fruit home only to cut it open and discover that it was all looks and no substance? Just because it's not perfect doesn't mean that it's not delicious — or at least perfectly fine to eat.
Support initiatives like Imperfect Foods or Misfits Market that rescues less–than–perfect or surplus foods and delivers them to you for cheaper. Or consider taking a chance on that spotty cucumber that no one else wants.
Local Mom Solution
Loss happens throughout the food system from production to distribution to retail to consumption. It's a global problem that can feel overwhelming and out of your family's control, but there are pretty easy steps that all families can take at the market, at home and dining out to be a part of the solution.
When back at home…
Don't be ruled by date labels. Aside from baby formulas, sell by and use by dates on foods aren't regulated by the government. They're essentially made up by manufacturers and meant to indicate peak freshness and flavor — not whether the item is safe to eat. Avoid tossing out what may be perfectly fine food because the date stamped on the side has passed. Instead, rely on your senses, suggests Jackie Suggitt, director of capital, innovation and engagement at ReFED, a nonprofit dedicated to ending food waste across the food system. Look at it, smell it, taste it. If it seems fine, then it probably is.
Get creative with odds and ends. Miller–Davis has been known to use those cauliflower leaves for garnish or turn carrot tops into pesto. Wilted but not–too–far–gone greens make great additions to soups and stews, and you can absolutely throw that overripe fruit into your morning smoothie. Before you make another trip to the market, shop your fridge first and get creative.
Websites like BigOven, SuperCook and MyFridgeFood allow you to generate recipes based on the ingredients you already have on hand. If all else fails, prepare every-
thing that needs to go, lay it out buffet style and call it a smorgasbord night. The kids are guaranteed to get a kick out of the randomness.
Prioritize older foods. Just like grocery stores set the older stuff up front and center, consider doing the same with your fridge or pantry at home. Her kids are grown up but when they were home, Miller–Davis would stick a bin in the fridge labeled "eat soon" for all the things that were close to going bad. And she'd type up a simple template identifying everything that was inside the fridge and ask the family to cross out what they ate for a clear picture of what was left to avoid food getting missed and buried in the back only to be rediscovered during the next deep clean.
Invest in a countertop composter. Despite best efforts, not every scrap of food brought home can be consumed. New cities are adding government–run composting programs all the time, but if you're not in an area that offers it yet, a kitchen composter could be a convenient alternative. Instead of it decaying in a landfill, an automatic composter can turn organic food waste and other compostable materials into nutrient–rich soil in days.
"Very passionate and into this. Compost! Makes such a big difference especially with little kids."
20 MARCH/APRIL 2023 CHICAGOPARENT.COM
– Kimmie, @kimmie.noel
Local Mom Solution
"Pasta Monday, Taco Tuesday, same each week. No guessing on ingredients or portions."
When in restaurants…
Hold the extras. Grabbing lunch and really only in the mood for the sandwich and not the fries or chips that come with? Ask about a la carte options. Or if you're a pickle hater and likely to toss out the spear that they toss in, ask them not to include it. And when dining out, if the bread basket doesn't get touched for whatever gluten–free, keto–friendly reason, then consider asking your server not to bring it to the table.
Box up leftovers right away. If you're dining out with toddlers that tend to pick over their food leaving behind a bunch of bitten–into chicken nuggets and coughed on tater tots that no one is going to want to eat later, ask for a box at the beginning of the meal. Pack up what they're not likely to eat before they can get their adorable little hands on it, and that way you've got leftovers that anyone in the family can dig into.
Local Mom Solution
"Save chopped up veggies for broth/stock."
The Bigger Picture
The United Nations Environment Programme released a report in February 2022 that detailed how a warming climate is leading to more frequent and intense wildfires, and affecting the health and life cycles of plants and animals — and, of course, the lives of humans. Beyond the grocery store and the kitchen, we can be a part of the broader effort to lessen food waste and, in turn, its effect on the environment and the climate.
On a philosophical level, Suggitt says, "We don't necessarily value food as we should." Food is relatively cheap and, for most of us in the western world, pretty easy to come by, which makes it disposable.
A wasted crown of broccoli here, a spoiled chicken breast there, but it all adds up — in dollars and in methane.
Suggitt thinks COVID–19 and the near–empty shelves that Americans witnessed at the beginning of the pandemic have perhaps helped to shift our collective mindset and put a little more respect on food. More broadly, as people are seemingly becoming more conscious about what and how much they eat, local, fresher fare that lasts longer will hopefully become more appealing and that overindulgent, fill–your–plate mentally less passe.
In the meantime, consider donating to or getting involved in nonprofits like Suggitt's ReFED or Project Drawdown (Miller–Davis recently spent time at Drawdown as a research fellow) that employ data–driven solutions to lessen food waste and slow climate change.
Food recovery organizations and programs, like Feeding America, are also popping up in cities and towns across the nation, rescuing food before it ends up in landfills and redirecting it to people for whom food is not so easily accessible.
As of Jan. 1, 2022, people and businesses throughout California are required to separate organic material (food scraps and yard waste) from other garbage. Nothing like that in your area? Help the kids write letters to their representatives.
Whatever your tastes, there's a food waste solution for that.
– Catie, @canigrelli
"Mom smoothies – scoop leftovereverything from toddler breakfast and blend."
– Annie, @anniejdavidson
Local
Mom Solution
– Khallilah, @khallilahrenee
BY
Our virtual camp fair is back for a third year – bigger and better than EVER. This year it's open online for a WHOLE month! That gives you more time to kick back on your couch, check out the area's coolest camps and plan your child's dream summer.
FEATURING:
Day Camps
Overnight Camps
Special Interest Camps
Camps for All Budgets
FREE ADMISSION WIN $250
camp
PLANNING A FOR YOUR CHILD HAS
SHOWCASE YOUR CAMP! Visit ChicagoParent.com/CampFairBooth
NEVER BEEN EASIER SUPER SUMMER
REGISTER AT CHICAGOCAMPFAIR.COM REGISTER AT CHICAGOCAMPFAIR.COM Get exclusive updates and a
to
chance
toward your child's
costs CAMP FAIR Virtual Virtual
CHICAGO PARENT'S SPONSORED
Search Optimal Summer Camp
The for the Optimal Summer Camp
Learn to weed through your options and pick the best one for your kid
BY KELLY F. ZIMMERMAN
Years ago, Hannah Bloom's mom gave her what some may call a simple parent hack for summer survival: kids should come home at the end of the day tired, happy and dirty.
Bloom, who has three kids ages 10 and under, has used this advice
to guide her summer camp search throughout the years. Like many parents, she relies on summer camp during the weeks and months when school is out, and while her kids' ages and interests have played a role in where she sends them for camp each year, her priority is a place that offers "good old-fashioned summer fun."
Remaining fun-focused may seem
like a simple mantra to follow, but with the number of camps available to choose from, the task may be quite daunting. Take your pick from the local park district or YMCA, science camps, arts camps, overnight camps, religious camps and the options are endless. Next factor in cost, hours and availability. How does a parent even know
where to start?
Whether you are seeking a camp that focuses on wholesome fun or a program that hones a specific skill, a camp that offers week-to-week flexibility or one that provides optimal coverage for working parents, there are some questions you may want to investigate before making your decision.
Here are just a few to get you started
23 CHICAGOPARENT.COM MARCH/APRIL 2023
Optimal Summer Camp
Does the camp follow a play-based approach?
Bloom's mom was definitely on to something. According to Denise Duval Tsioles, Ph.D. and licensed clinical social worker, any camp you pick should have an element of play tied to it — even the ones that have an academic- or skill-based focus.
"Play is really the way that children learn and grow and develop," Duval Tsioles says, naming a number of skills that play helps to hone, from coordination to creativity. "It helps develop a child's physical, emotional and social and cognitive skills, and camps can really provide a lot of that opportunity for play, whether it's a specialized camp or a regular camp."
If you're worried about the summer slide that can result from the months out of school, Duval Tsioles says not to worry too much. It's more important to provide kids with some freedom and opportunity to try things on their own.
"I think parents just get so worried that kids are going to lose something over the summer. But they really won't," she says. "You're gaining a tremendous amount when you allow kids the opportunity to play."
This play-based approach can apply to any type of camp, even ones that specialize in coding, music or any other type of activity.
Can the camp accommodate your child's specific needs?
Going to camp can be an overwhelming experience for a child, no matter what type of camp they plan to attend. Therefore, Duval says, it's important to consider your child's temperament and ask the camp whether or not it has the proper supports — and staff — in place to
accommodate them.
While certain generalized camps may receive funds to provide inclusion, support services or even one-on-one aides, there are circumstances where a specialized camp may be a better fit, says Colette Marquardt, executive director of the American Camp Association, Illinois.
For example, she says, camps that service kids with illnesses and disabilities may provide access to medical equipment and professionals that can support the campers throughout their day. Certain programs may even have adaptive equipment and activities like ropes courses and climbing walls, allowing kids to thrive in an environment that's 100% catered around their needs.
There's also the social-emotional benefit to these specialized camps.
"There's a place in all of our camps for all of those children," Marquardt says. "Most of those camps will make accommodations. But there's a benefit in those specialized communities, especially for the campers to feel connected to other people who have shared experiences."
If you are searching for a camp that services communities with disabilities or other medical or special needs, you may be able to find what you're looking for in the American Camp Association national database. If your child requires specific accommodations from accredited staff of a certain degree, it may also be worth asking your pediatrician if they can make a recommendation for an organization that can help support those needs.
Has the camp established elements of safety and trust?
If you're still lacking confidence in your camp choices, consider looking to the American Camp Association for guidance. Camps that are accredited through the association have met or exceeded particular thresholds, such as background checks, staff ratios and training, and even best practices around aquatics.
It's also important to note: Accreditation is optional.
"Leaning towards and looking at accredited camps is definitely a benefit to families because of the added steps," Marquardt says. "Accreditation is a symbol that the camp is willing to go above and beyond what's required of them."
Even so, it's reasonable to be apprehensive about dropping off your kids at a new camp for the first time, so some parents lean in to other resources they can trust to make the best decision: fellow parents.
Megan Knee typically gravitates
Get in on the fun at Chicago Parent's Virtual Summer Camp Fair Month at ChicagoCampFair.com. You'll find resources and dozens of camps, including day camps, specialty camps and overnight camps, eager to give your kids the best summer of their lives.
toward enrichment-focused camps for her 6-year-old son. He's gone to bike camp, STEM camp and a ninja warrior camp, but the common thread connecting all her decisions has been reputation. Rather than search for a particular credential, Knee checks to make sure the camp has good reviews or a good rapport with other families in her network.
"I only go for established camps," she says. "If it was their first year and it was a dropoff (camp), I would be nervous."
Which camp is best for your family this year?
Remember: Your camp choice this summer doesn't have to be the choice for the rest of your child's life. Over time, family schedules and childcare needs may change, as may your child's interests or developmental needs.
For now, a happy dropoff and pickup may be enough for you and your kids — and that's OK.
"When you're a parent, this is what you want," says Chrysa Toulis, a mom of two. "You want to see your child being happy, especially when they're not with you 100% (of the time.) It's good to see their smiling faces when you pick them up."
"Play is really the way that children learn and grow and develop. It helps develop a child's physical, emotional and social and cognitive skills, and camps can really provide a lot of that opportunity for play, whether it's a specialized camp or a regular camp."
The for the
— Denise Duval Tsioles
Search
24 MARCH/APRIL 2023 CHICAGOPARENT.COM
SPECIAL ADVERTISING SECTION 25 CHICAGOPARENT.COM MARCH/APRIL 2023
GUIDE Summer Camp
Camp Anokijig
Overnight/Away Camp, Specialty Camp
Ages: 7-16
SPONSOR
MSI Camps
Day Camp, Specialty Camp
Ages: 5th-9th grade
Where: 5700 S. DuSable Lake Shore Drive, Chicago
773-684-1414 • camps@msichicago.org msichicago.org/explore/whats-here/ tours-and-experiences/msi-camps/ Spring, summer and even Saturdays, we have your plans covered! Say goodbye to boring breaks. With camps for explorers, makers, tinkerers and everything in between, MSI has fun programs that spark everyone's imagination and keep curious minds fed.
Bennett Day Camp
Day Camp
Ages: 4-16
Where: 955 W. Grand Ave., Chicago 312-236-6388 • summercamp@bennettday.org info.bennettday.org/summer-camp
Bennett Day Camp provides an enriching atmosphere that enables campers to develop self-identity, leadership skills and a lifelong sense of adventure. Campers and counselors participate in field trips, team sports, music, arts, scientific discovery and water play in a collaborative culture.
Where: W5639 Anokijig Lane, Plymouth, Wisconsin 920-893-0782 • anokijig@anokijig.net anokijig.com
Outrageous fun is around every corner at Camp Anokijig! Since 1926, it has nurtured independence, character and confidence in campers as they build positive values, friendships and life skills through their camp experience. It offers a huge variety of traditional activities for campers to self-direct their own camp experience, build self-esteem and create an enriching week of summer camp. Specialty programs offered, too. Convenient, overnight one-week co-ed sessions available.
Camp Deerhorn
Overnight/Away Camp
Ages: 6-16
Where: 3725 Deerhorn Road, Rhinelander, Wisconsin 800-713-3130 • deerhorn@deerhorn.com deerhorn.com
This is a third-generation family-owned boys' summer camp nestled in the Northwoods of Wisconsin. It was founded on the words of The Deerhorn Creed, written by our grandfather in 1930. It teaches that "manliness requires kindness" and that we should "spread sunshine and good cheer, just for the fun of it." Everyone lives the Creed every day at Deerhorn by being while having a blast in activities like horseback riding, water-skiing, archery and sailing or just hanging out on the beach with the camp dogs!
Camp Galileo
Day Camp
Ages: Rising K-Rising 10th graders
Where: Multiple convenient locations in Chicago, North Shore, Northwest Suburbs and Western Suburbs 800-854-3684 • info@galileo-camps.com galileo-camps.com
Camp Galileo engages rising K-10th graders in creative STEAM-inspired projects and active outdoor games. The dynamic staff inspires kids to turn ideas into reality, collaborate with peers and play hard outside. Stanford research shows that kids who participate in Galileo's curriculum tend to persevere at unfamiliar challenges, share their ideas more freely and respond better in the face of failure. Optional extended care 8-9 a.m. and 3-6 p.m. Enroll during Early Bird registration and save $50 per week!
Camp Kamaji for Girls
Overnight/Away Camp
Age: 7-15
Where: 32054 Wolf Lake Road, Cass Lake, Minnesota 218-556-1805 • kat@kamaji.com kamaji.com
Kamaji is a sleepaway, summer camp for girls, owned and operated by a local Chicago-area family! Kamaji is a kid-centric, fun-filled place to unplug and reconnect, learn new skills like horseback riding or sailing, be silly, grow independence and make life-long friendships with people from all over the world.
SPECIAL ADVERTISING SECTION 26 MARCH/APRIL 2023 CHICAGOPARENT.COM
SPECIAL ADVERTISING SECTION With a subscription, your local parenting advice and inspiration comes to you! Everything you need to keep your Chicagoland family busy and yourself sane — ready when you are. 1 Year (6 issues) – $16 CHICAGOPARENT.COM/SUBSCRIBE NOW AVAILABLE BY SUBSCRIPTION! Hover your phone's camera over the smart link above or visit We take care of you. You take care of them. 27 CHICAGOPARENT.COM MARCH/APRIL 2023
GUIDE Summer Camp
Camp Newaygo
Day Camp, Overnight/Away Camp, Other
Ages: 5-17
Where: 5333 S. Centerline Road, Newaygo, Michigan 231-652-1184 • campbiz@campnewaygo.org campnewaygo.org
Camp Newaygo has been providing amazing outdoor experiences in West Michigan since 1926. There is nothing like spending summers on Pickerel Lake, singing songs and making friends surrounded by woods and nature. Girls Overnight campers, Co-Ed Day campers and families enjoy a variety of activities in an inclusive setting including a 1,000-foot zipline, archery, kayaking, ceramics, fencing, outdoor cooking, paddleboarding, sailing, swimming, tubing, ukulele lessons, wilderness trips and more. Also look at Camp Newaygo for Family Camp, Mom and Me Weekends and Girlfriends' Getaway.
Camp Nicolet for Girls
Overnight/Away Camp
Ages: 7-17
Where: P.O. Box 1359, 16040 Hwy. 70 East, Eagle River, Wisconsin 715-545-2522 • campnicolet@gmail.com campnicolet.com
Have a fun and educational summer adventure in Wisconsin's beautiful Northwoods! International camp family with top-quality instruction in water skiing, horseback riding, sports, sailing and much more. Exciting tripping opportunities, leadership training, family-owned and established in 1944. Recognized as a Pioneer of Camping, Camp Nicolet is celebrating its 79th year of excellent camping tradition. Accredited by the American Camp Association. Offering traditional three-, four- and seven-week sessions.
Camp O at the O-School
Day Camp, Specialty Camp
Ages: 6-15
Where: Sonia Shankman Orthogenic School, 6245 S. Ingleside Ave., Chicago
773-420-2900 • campo@oschool.org
oschool.org/programs/camp-o
A supportive and structured day camp for young people who require additional supports to access the joys of summer camp. Camp O thoughtfully embeds social and emotional learning into camp activities. A low staff to camper ratio (1:4) allows for increased interaction and supervision with highly qualified and trained staff
members. Campers will partake in joy and silliness, discover new interests, make friends, build confidence and help create a dynamic Camp O community.
CodeWizardsHQ Virtual Camps and Classes
Day Camp
Ages: 8-18
Where: Virtual 800-213-2417 codewizardshq.com
CodeWizardsHQ offers the most fun (and effective!) virtual coding camps and classes for ages 8-18. Hands-on interactive learning and highly-rated instructors provide an experience students love. Minecraft and Roblox-themed coding camps are perfect for gamers interested in coding. Three-week accelerated classes cover the same content as the structured program. Students can complete three full courses in one summer. Learn Python, JavaScript, HTML/CSS, Scratch and Java.
Game On! Sports Camp 4 Girls & Game On! Sports Camp 4 Boys
Day Camp, Specialty Camp
Ages: Girls K-8th grade, Boys K-5th grade
Where: Chicago and Glencoe 847-229-9959 • info@gameonsports4girls.com gameonsports4kids.com
Girls: Empowering girls of all abilities through sports. Learn and play multiple sports daily in a warm, fun and spirited environment. Confidence-building programming designed to shape girls strong in body, mind and team.
Boys: A unique multi-sport experience like no other, this camp integrates confidence-building and empowerment into each day. Campers will learn and play multiple sports daily in a fun, spirited environment designed to shape boys strong in body, team and character.
Immersive Structured Literacy
Summer Camp at Redwood Literacy
Day Camp, Specialty Camp, Educational
Ages: Rising 2nd graders-Rising 8th graders
Where: 410 S. Michigan Ave., Unit 306, Chicago 773-309-4524 • admissions@redwoodliteracy.com redwoodliteracy.com/summer-camp
Looking for significant learning gains this summer? Join the six-week Immersive Structured Literacy Sum-
mer Camp. Students receive intensive intervention in reading, writing and assistive technology. We have options in Rogers Park, Oak Park and Millennium Park with sessions either in the morning or afternoon.
Jellystone Park Camp-Resort
Overnight campground and resort for family summer camp vacations
Ages: 4-12
Where: 8425 Hwy. 38, Caledonia, Wisconsin 262-835-2565
reservations@jellystone-caledonia.com
jellystone-caledonia.com
An award-winning, family-friendly campground & resort nestled in the woods. With lodging for a wide array of families, it offers four different cabin types, full hook-up campsites with water, sewer and electrical plus primitive sites for tent camping. Camping guests have access to entertainment and amenities, including a heated swimming pool, water park, mini-golf, bathrooms and showers, laundry facilities, gift shops, groceries/supplies, Wi-Fi access and supervised kids program.
Lillstreet Art Center
Day Camp
Ages: 3-16
Where: 4401 N. Ravenswood Ave., Chicago 773-769-4226 • lillstreet@lillstreet.com
lillstreet.com
Lillstreet Art Center offers a wide variety of summer camps for children and teens in multimedia and specialized art forms, including ceramics, photography, sewing, metalsmithing, printmaking, drawing, painting and digital art.
Lincoln Park Zoo Summer Camps
Day Camp
Ages: 4-14 (Grades PreK-8)
Where: 2400 N. Cannon Drive, Chicago 312-742-2056 • camp@lpzoo.org
lpzoo.org/youth-programs/zoo-camps
Calling all nature nerds and animal lovers! Lincoln Park Zoo camps and programs are here for the summer. Campers in rising grades PreK-5 will explore the zoo and learn about animals and how the zoo cares for them, as they make new friends and spend time in the great outdoors. Campers in rising grades 6-8 will explore the relationships between animals, humans and ecosystems through team-building and immersive learning — all at your zoo.
SPECIAL ADVERTISING SECTION 28 MARCH/APRIL 2023 CHICAGOPARENT.COM
SPECIAL ADVERTISING SECTION 29 CHICAGOPARENT.COM MARCH/APRIL 2023
GUIDE Summer Camp
Porchlight Music Theatre Summer Camp
Day Camp, Specialty Camp
Ages: 4-17
Where: 2330 N. Halsted St., Chicago 773-777-9884
rebeccah@porchlightlightmusictheatre.com porchlightmusictheatre.org/summer-camp
Calling all Broadway-loving singers, dancers, and writers! Join Porchlight — Chicago's home for music theatre — and learn from the experts all about music, drama, dance, writing and more while practicing teamwork, communication and problem-solving. Camp meets at the DePaul School of Music and students perform on a collegiate stage. Payment plans, scholarships and financial aid are available. Chicago Parent families can use code PARENT for $100 off their camp purchase.
Snapology Summer Camps
Day Camp, STEAM Camp
Ages: 4-14
Where: 3701 N. Ravenswood Ave., Suite 247, Chicago 312-622-0981 • chicago@snapology.com embed.snapology.com/licensee/58/events/location
Snapology offers the best STEAM camps in the area. The camps are made for both fun and learning, utilizing one of the world's most exciting toys: Lego. It has camps inspired and associated with many of the top games, activities, movies and more. It offers robotics camps, technical camps and even camps for the Pre-K kiddos. Your kids will love the fun camp topics and themes — just don't tell them they're educational.
Spanish Camps - Instituto Cervantes
Day Camp, Specialty Camp
Ages: 4-16
Where: 31 W. Ohio St., Chicago 312-335-1996 • info.chicago@cervantes.org
chicago.cervantes.es/en/cervanteskids_spanish/ workshops_camps_spanish.htm
The 2023 Instituto Cervantes Summer Camps program is designed to provide children of different ages the opportunity to learn Spanish in a rich, stimulating and motivating environment that fosters enjoyment and curiosity. Children will learn Spanish in a safe atmosphere where they will feel comfortable and free to actively participate. Students will be nurtured and encouraged to communicate in Spanish.
Stages Chicago
Day Camp, Specialty Camp
Ages: 3 years old-Grade 8
Where: 1255 S. State St., Unit 1808, Chicago 630-967-8463 • info@stageschicago.com stageschicago.org/summercamp
What do you get when you combine the magic of Broadway with the fun and freedom of summer? The ultimate Summer Camp experience! Whether your child has taken performing arts classes in the past or they are simply looking for something new to try this summer, Stages is for your family.
StoryStudio Chicago Youth Summer Writing Camps
Day Camp, Specialty Camp
Ages: 5th-12th grade
Where: 4043 N. Ravenswood Ave., Suite 222, Chicago 773-477-7710 • info@storystudiochicago.org storystudiochicago.org/youth-creative-writingsummer-camps
StoryStudio is proud to offer multiple week-long writing workshops for young scribes. With the talented instructors, young writers can expect to learn elements of writing, build friendships and community with fellow peers, and get feedback on their creative works. Check out different sessions, a mix of online and in person, ranging from creative writing to comedy to screenwriting.
Summer at Santa Catalina
Day Camp, Overnight/Away Camp, Specialty Camp
Ages: Grades 3-9
Where: 1500 Mark Thomas Drive, Monterey, California 831-655-9386 • summercamp@santacatalina.org santacatalina.org/summercamp
Summer at Santa Catalina is dedicated to the mental, emotional and spiritual growth of girls through experiential education. Day and resident summer camp offered for girls in grades 3-9 including a five-week musical theater program. Santa Catlina intentionally build the camp community to create opportunities for campers to try new things, build independent and creative thinking skills, and gain a sense of personal and community responsibility.
Summer Skate Jam with Little Ripper Skateboarding Day Camp
Ages: 6 and older
Where: Wilson Skatepark, Chicago littleripperskateboarding@gmail.com littleripperskateboarding.com
The program is a day skateboarding camp. Parents
drop off children at a Chicago outdoor skatepark (this is usually at Wilson Skatepark) at 9 a.m. and pick up at 1 p.m. Instructors teach children of all levels how to skateboard with each other. This will be the third summer hosting this program. The leaders have a designed four-hour program that includes group skateboarding, individual training, skateboarding education, exercise and much more.
The Field Museum Day Camp
Ages: K-8th grade
Where: 1400 S. DuSable Lake Shore Drive, Chicago 312-665-7200 • explorercamp@fieldmuseum.org fieldmuseum.org/summer-camps-programs
Spend the summer making discoveries at the Field Museum! Field Explorers Summer Camps are perfect for curious minds in grades K-8. Campers get the chance to join museum experts and scientists on guided explorations of the museum's exhibitions and collections to find answers to their own scientific questions.
WeHaKee Camp for Girls
Overnight/Away Camp
Ages: 7-17
Where: N8104 Barker Lake Road, Winter, Wisconsin 715-266-3263 • bob@wehakeecampforgirls.com wehakeecampforgirls.com
WeHaKee Camp for Girls, located in northwestern Wisconsin, is a camp open and accepting of girls from all walks of life throughout the United States and around the world. The camp's goal is to make girls feel welcome and comfortable the moment they arrive at summer camp. Whether they're horseback riding, water skiing, dancing or roasting marshmallows, at Camp WeHaKee it's all about building great relationships. New campers can save up to $600.
Wildcat Sports Camp
Day Camp, Specialty Camp
Ages: 1st-6th grade
Where: 2311 Campus Drive, Henry Crown Sports Pavilion, Evanston 847-491-7314 • wildcatcamp@northwestern.edu nurecreation.com/wildcatcamp
As one of the North Shore's best multi-sport day camps, Wildcat Sports Camp offers campers the exciting experience of learning and growing through exercise and sports. Each day campers are introduced to various games and activities while emphasizing teamwork and sportsmanship. Wildcat Sports Camp is administered on Northwestern's Evanston campus.
SPECIAL ADVERTISING SECTION 30 MARCH/APRIL 2023 CHICAGOPARENT.COM
SPECIAL ADVERTISING SECTION 31 CHICAGOPARENT.COM MARCH/APRIL 2023
SPECIAL ADVERTISING SECTION 32 MARCH/APRIL 2023 CHICAGOPARENT.COM
Things To Do
FREE
March 1-31
Virtual
Chicago Parent's Virtual Camp Fair Month
Get to know dozens of day and overnight camps at Chicago Parent's Virtual Camp Fair, sponsored by Museum of Science and Industry. You'll be sure to find one or more to be a perfect fit for the best summer ever. ChicagoCampFair.com.
FREE
March 12 Chicago
Get ready to fill those Easter baskets with eggs! We're updating the Easter Egg Hunts frequently so check back often to get all of the details on the fun. ChicagoParent.com/ EggHunts.
Southside Irish Parade
Cheer during the largest community-based parade outside of Ireland. Parade starts at 103rd and Western Avenue and heads south to 115th and Western. It has a zero-tolerance of drunkenness or bad behavior. Noon. southsideirishparade.org.
March 3-5
Rockford Hot Wheels Monster Trucks Live Glow Party
Thrill at watching Monster trucks battle in the dark. Spectacular laser light shows and Hot Wheels toy giveaways, too. 7:30 p.m. Friday, 12:30 and 7:30 p.m. Saturday and 2:30 p.m. Sunday. $34-plus. BMO Center. hotwheelsmonstertrucklive.com.
March 15-
May 5 Chicago
Chicago Kids Company presents The Tortoise and The Hare
Enjoy a one-hour musical adaptation that features a cast composed of professional actors, colorful costumes and scenery, singalongs and audience participation. For ages 2-10. Times vary. $15-$20. Beverly Arts Center. chicagokidscompany.com.
March 9-12
Evanston The Lion, the Witch and the Wardrobe
See the magical world of Narnia brought to life in this unforgettable dance production, presented by Evanston Dance Ensemble. 7:30 p.m. Thursday-Friday, 1 and 4 p.m. SaturdaySunday. $15/Thursday preview, $25/adults, $15/children and seniors. Josephine Louise Theatre, Northwestern University. wirtz.northwestern.edu.
FREE
March 18
Lemont
Lemont St. Patrick's Day Weekend Festival
Celebrate with Irish dance performances, bagpipers, live music, workshops and more. Registration required. 11 a.m.-6 p.m. The Forge Lemont. forgeparks.com.
Begins March 10
Chicago
Mozart Immersive: The Soul of A Genius
Experience the world premiere of this show. Visitors see Mozart's compositions in a new way, with captivating visuals built around the auditory experience with the assistance of Midjourney AI. Times vary. $18-plus/adult, $8-plus/child. Lighthouse ArtSpace Chicago. mozartimmersive.com.
March 31-
April 2 Chicago
C2E2 2023
Enjoy cosplay and pop culture, along with celebrities, unique exhibitors, comic artists and authors at what is dubbed "the biggest geek party in the Midwest." Prices vary. Check website for times. McCormick Place. c2e2.com.
Begins April 15 Chicago
The Very Hungry Caterpillar Show
See a menagerie of more than 75 puppets in this performance of The Very Hungry Caterpillar based on Eric Carle's beloved book. For all ages. 9:30-11:30 a.m. SaturdaysSundays. $35.25. Chicago Children's Theatre. chicagochildrenstheatre.org.
FREE March 11 Chicago
Chicago St. Patrick's Day Parade
Celebrate St. Patrick's Day with the dyeing of the Chicago River and the massive parade that follows. The parade starts at Balbo and Columbus and heads north on Columbus. Security has been increased with checkpoints to enter the parade route. No coolers, alcohol or water bottles allowed. 12:30 p.m. chicagostpatricksdayparade.org.
Through April 23
Skokie
The Negro Motorist Green Book
Dive into the history of The Green Book with artifacts, images, business signs, postcards and other firsthand accounts. 10 a.m.-5 p.m. $18/adults, $6/ages 5-11, free/under 5. Illinois Holocaust Museum & Education Center. ilholocaustmuseum.org.
Hover your phone's camera here, no app required!
Chicago Parent's Virtual Camp Fair Month
Mozart Immersive: The Soul of A Genius
Photo by Kyle Flubacker
The Very Hungry Caterpillar Show
Please check events before heading out. Plus, easily find even more fun for your family at ChicagoParent.com/Calendar. 33 CHICAGOPARENT.COM MARCH/APRIL 2023
Photo by Russ Rowland
An A to Z Spring Break Staycation
Don't
BY CHERYL EUGENIO
Can't get away for the spring break? Well, have no fear, because we all know Chicagoland offers plenty of fun for families. Here are some amazing ideas that are easy, creative, budget-friendly, and best of all, FUN!
AImmerse yourself in art at WNDR Museum with more than 20 interactive and multisensory installations. Or visit an art museum you've never been to. Elmhurst Art Museum and the Museum of Contemporary Art (free on Family Days the first Saturday of the month) are both great options.
BWatch butterflies flutter all around you at Peggy Notebaert Nature Museum, then stop by the museum's new playspace.
CGo camping. Camp in your own backyard or find a camping (or cabin) site if weather allows (or even if it doesn't).
DDrive over the border. Short trips to Kenosha, Janesville, Lake Geneva, Milwaukee, Indiana Dunes and New Buffalo can all be done in a day.
EExplore a new-to-you downtown area. Lemont, Naperville, Geneva, St. Charles, Woodstock and Long Grove are all great options.
FTry a foodie flight when you can't decide what you want or you just want it all!
let FOMO keep you and the kids from having a blast right here at home
EPhoto by Cheryl Eugenio
APhoto by New Pixel Films, Andrew Phan and Viet Phan
THINGS TO DO 34 MARCH/APRIL 2023 CHICAGOPARENT.COM
Photo by Cheryl Eugenio
GTry Geocaching. It's a great way to hit the trails and look for treasures!
HStay at a hotel. Even if you can't stay the entire time, sometimes staying at a hotel with a pool for a night or two is all you need to escape from reality.
ITake advantage of Chicago's melting pot and visit the different international neighborhoods, including Chinatown, Greek Town, Pilsen and Little Italy just to name a few. Don't leave without trying new food or treats.
JBecome a Junior Ranger. Indiana Dunes National Park, Starved Rock and Pullman National Monument all have Junior Ranger programs.
KGet your kicks on Route 66. Did you know that Route 66 started in Chicago? Highlights include roadside attractions and nostalgic food spots. Kids will love a stop at the Route 66 themed playground at Harvester Park in Burr Ridge.
LHead to the lake. The water may be too cold for a swim but playing or picnicking in the sand is just as fun.
MGo on a mural hunt. Downtown Elgin, Skokie and Aurora all have Insta-worthy pieces. Surprisingly, murals can also be found at shopping centers like Mellody Farm in Vernon Hills and Westfield Old Orchard in Skokie.
NTry something new. New museum, new food, new experience. The options are endless.
OChallenge the family at an obstacle course park. South Ridge Park (Hoffman Estates), Meineke Park (Schaumburg) and Commissioners Park (Streamwood) are just a few options.
PSpend the day park hopping, then end the day with ice cream.
QSpend quality time during the break together doing something each family member loves.
RRetro fun. How about rollerskating or slot car racing? Both are fun options nearby.
SGo on a sculpture walk. Some notable favorites include Chicago Athenaeum International Sculpture Park, Nathan Manilow Sculpture Park and Skokie Northshore Sculpture
KWTDitch the car and hop on the train. Choose a color on the L for an day out adventure or pick a destination and jump on the Metra to explore.
UUnplug and visit a new library. Most offer spring break programs. Tip: Many libraries also offer play areas that kids will love!
VVolunteer as a family at places like Feed My Starving Children or Bernie's Book Bank.
WDO go chasing waterfalls. Waterfall Glen Forest Preserve, Lake Katherine, Starved Rock and Matthiessen State Park are all magnificent in the spring.
XIndulge in eXtreme desserts. Jojo's Shake Bar and Dawg Park are a couple fun ones!
YHave a YES Day!
ZHead to a smaller zoo you've never visited like Cosley Zoo or Randall Oaks Zoo or re-visit everyone's favorite, Lincoln Park Zoo, which has a new baby lion.
Park.
Photo by Cheryl Eugenio
Photo by Cheryl Eugenio
35 CHICAGOPARENT.COM MARCH/APRIL 2023
Be extra adventurous and take a Route 66 trip for as far as you'd like. Find our fun guide at ChicagoParent.com/LatestIssue.
Very Special Fun
Looking for something to do with your child with special needs? Check out our list of ideas
BY KARI ZAFFARANO
As a parent of a child with special needs, it can be difficult to find events and activities made just for them. If you're looking to find a community of people that you and your child can connect with, check out these events made just right for families to meet.
SENSORY SEEKER SUNDAY
Address: The Insect Asylum, 2870 N. Milwaukee Ave., Chicago
Cost: $15-$20
Every Sunday, The Insect Asylum offers a sensory activity for children. Each week will introduce something new and children can enjoy free play and explore the museum afterwards. Get tickets ahead of time.
EVERYONE AT PLAY
March 19, April 23
Address: Kohl Children's Museum, 2100 Patriot Blvd., Glenview
Cost: Free
Families with children with special needs are invited to the museum to explore the exhibits while it is closed to the general public. It also has a quiet room for stimulation breaks. Pre-registration is required.
ADAPTIVE PLAY TIME
March 12, April 16
Address: DuPage Children's Museum, 301 N. Washington St., Naperville
Cost: $17, free/under 1 and members
This monthly event provides a modified environment for play and learning for children and their caregivers. It is intended for families with disabilities, on the autism spectrum and/or with sensory processing disorders. Pre-registration is required.
OPEN PLAY
Address: We Rock the Spectrum, 10123 Grand Ave., Franklin Park
Cost: $14/child, $12/sibling discount
This indoor playground has sensory-friendly equipment for ages infant to 13 years old to use. Monthly memberships and package deals are available.
AMC SENSORY FRIENDLY FILMS
Addresses: Various locations in Chicagoland
Cost: $4.99/ticket
Perfect for a child with sensory processing issues. Every month, the theaters show family-friendly movies with the lights on and the sounds lower than usual.
SENSORY SUNDAYS
March 5, April 2
Address: Chuck E. Cheese, various locations in Chicagoland
Cost: Free
On the first Sunday of every month, the play area will open two hours early for children with autism or sensory sensitivities. It will have reduced lighting and noise.
SENSORY GARDEN PLAYGROUND
Address: 2751 Navistar Drive, Lisle
Cost: Free
This playground is certified autism friendly. It features a sound garden, sculptures, tree top swing and more to come. It is being developed in phases as funding becomes available.
SPECIAL NEEDS SCREENINGS
March 5, April 1, 15, 22
Address: Studio Movie Grill, 301 Rice Lake Square, Wheaton
Cost: Free
Enjoy a free movie with the volume low and lights turned on. Children are allowed to move around, talk and even dance during the show.
Photo by TK Photography
THINGS TO DO 36 MARCH/APRIL 2023 CHICAGOPARENT.COM
Photo by Shane Cleminson Photography
Spring Break Dreamlands
Sleep surrounded by favorite characters, art and animals in these incredible kid-themed hotel rooms
BY CORTNEY FRIES
Family vacations mean dialing up the fun, and nothing is cooler than a hotel room decorated with the kids' favorite characters or hobbies, immersing you in art, music and other interests. Check out these awesome family suites that ensure extra-sweet dreams.
Drivable Artsy Overnight in St. Louis
Characters and Amusement Galore in Orlando
Orlando boasts almost endless entertainment for kids and families. Continue the excitement into the evening hours and surround yourselves with storybook landscapes such as Finding Nemo, Cars, The Lion King and The Little Mermaid at Disney's Art of Animation Resort. In the Cars suite, enjoy a couch that looks like a red car bench. In The Little Mermaid room, you'll find shell chairs and ocean-themed curtains. The Finding Nemo family suite pops with bright colors. Rest easy in the jungle of The Lion King family suite.
Send the kids to dreamland in missile-shaped beds in Gru's Laboratory, part of the Despicable Me kids suite at Loews Portofino Bay Hotel. Savor a separate room with king bed for the parents and a total 800 square feet for the family to spread out. Then, see if you can stop giggling at Universal Studios Florida riding Despicable Me Minion Mayhem.
Dolphin and Turtle Hideaways in Clearwater
Escape to oceanfront Wyndham Grand Clearwater Beach for dolphin- and turtle-themed rooms inspired by the Dolphin Tale movies. Book the Clearwater Marine Aquarium Package to stay in the new Mavis the Sea Turtle or Winter the Dolphin bunk rooms with views of the Gulf. Not only will the kids enjoy the décor, but they'll score Winter the Dolphin and Sea Turtle plushies and two general admission tickets to the Clearwater Marine Aquarium. Plus, feel good that a portion of the proceeds will be donated to the aquarium to help care for rescued marine animals.
Angad Arts Hotel is the first hotel in the world where you can choose one of four color rooms based on emotion. Feeling free? Go for a blue room. Red is for finding your power. Green is for rejuvenation and yellow is for curiosity. Choose from standard rooms to double bunk rooms and suites. Curated art exhibits and a Play Room with board games and musical instruments that guests can play make for a memorable, inspiring visit.
Wolf Dens and Kids Cabins at Great Wolf Lodge
The whole wolf pack will be howling when you stay in a themed room at one of the many Great Wolf Lodge locations across the U.S. Splash in the water park and partake in family-friendly activities during the day, then slumber in the Wolf Den Suite in Gurnee, Illinois, which features a cave-themed sleeping area, or the KidKamp Suite in Traverse City, Michigan, which has a tent-themed bunk bed area.
Kids can nod off in Gyrosphere beds when you stay in the Jurassic World suite at Loews Royal Pacific Resort. Then brave the thrilling Jurassic World VelociCoaster at Universal's Island of Adventure, if you dare.
Aspiring rock stars will swoon over the Future Rock Star suite at the Hard Rock Hotel at Universal Orlando Resort. There's a separate room for two kids with a stage that changes colors under their feet and memorabilia from current artists.
Princess and Pirate Sleepovers at LEGOLAND Resorts
Lego lovers will fall for the amazing pirate, kingdom, Lego Friends and Lego Ninjago-themed rooms at LEGOLAND hotel locations. Not only are the sleeping quarters super cool, but kids will be psyched to meet characters, play in giant Lego bins and kick it at dance parties.
THINGS TO DO
Photo courtesy of Wyndham Grand Clearwater Beach
Photo courtesy of Angad Arts Hotel
Jurassic World kids suite at Loews Royal Pacific Resort
THINGS TO DO 37 CHICAGOPARENT.COM MARCH/APRIL 2023
Despicable Me kids suite at Loews Portofino Bay Hotel
SARA FUNK
is a Chicagoland wife and SAHM to five. Her mission is to bring awareness to a better lifestyle through clean food and products while spending quality time with family. She says: "It's tough work but someone's got to do it!"
@sarajfunk

MY MANTRA | How I Make It Through The Day ART BY LAINEY YEHL 38 MARCH/APRIL 2023 CHICAGOPARENT.COM
Photo by Little Blue Barn Photography