www.diggers.LIVE January 2023 excavators backhoes construction construction machinery construction equipment #15 Destination USA: Las Vegas bound for World of Concrete & CONEXPO Business Insider With Adam Hindle, Head of Sales at Approved Hydraulics A MECALAC revolution coming soon in 2023 The Equipment Engagement With Wayne Ridings, MD of BMC Buckets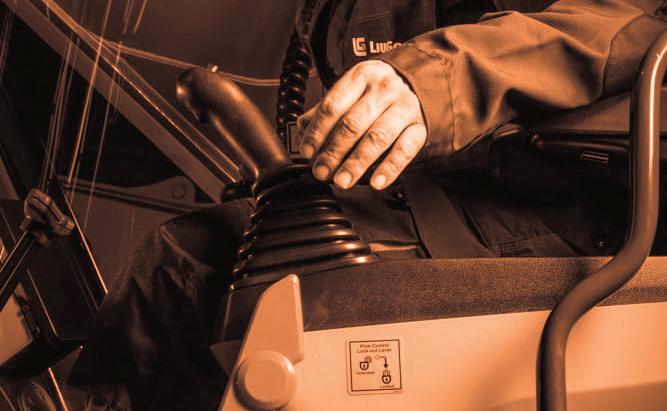 info@liugong.co.uk 02392 123 392 www.liugong.co.uk FROM 1.8 TO 95 TONNES THE ALL NEW F-SERIES BREAKS THE MOULD. SCAN THE QR CODE TO DISCOVER THE DIFFERENCE GROUND BREAKING DESIGN TOUGHNESS CONTRÔL INTELLIGENCE
Greetings and happy new year.
Thank you for supporting us into our fourth calendar year.
I took the decision to stall this issue by about a week, so as not to get lost in the seasonal jamboree. I felt that presenting this to our readers and the industry now would work best for our audience.
We begin 2023 as we do every other year with our Las Vegas prep. As I write, the 49th edition of World of Concrete begins in a matter of days and then its over to CONEXPO (also to be held at the Las Vegas Convention Center) a couple of months later.
This year we have prepared even better, with an investment in new technology. Being able to offer you this printed magazine bimonthly, we are making our strongest leap into video yet. We look forward to expanding our reach to you via YouTube and our socials and possibly even VR. Watch this space.
News on some of this year's international industry events is to be found from page 20.
Also, in issue 15 we have our EQUIPMENT ENGAGEMENT feature with BMC Buckets owner Wayne Ridings and our BUSINESS INSIDER interview is with Approved Hydraulics' Adam Hindle.
Our 'Bearded Excavator' Lloyd Peckham has been pond digging in Southwater among other things, as you can read on page 38.
With a whole host of other news and appointments, I sincerely hope you enjoy.
Looking ahead to 2023 domestically, we have both the Executive Hire Show and Plantworx on the horizon. We are involved in promoting the latter event and I look forward to seeing you at both in the first half of this year. If not, you can read about them in Diggers LIVE and watch on Diggers
LIVE TV via YouTube.
It's safe to say my team and I are looking forward to this year.
3 DIGGERSLIVE
WELCOME
EDITORIAL TEAM Ben Chambers ben@chambers.media toby@chambers.media DESIGNERS Nicki Chambers nic@chambers.media Joe Bers joe@globalnews.media Alex Jarrett GENERAL ENQUIRIES info@chambers.media 01903 952 640 SALES Luke Chaplin luke@globalnews.media 01903 952 643 Nathan Sandford nathan@globalnews.media 01903 952 642 PRODUCED & PUBLISHED BY Global News Media Ltd Suite 5 & 6 Chapel House 1-6 Chapel Road, Worthing West Sussex BN11 1EX ben@chambers.media 01903 952 640 Diggers LIVE is published six times a year by Global News Media Ltd Articles and information contained in this publication are the copyright of Global News Media Ltd and may not be reproduced in any form without the written permission of the publishers. The publishers cannot accept responsibility for loss of, or damage to, uncommissioned photographs or manuscripts. www.diggers.live International Affiliate Official Publication Ben Chambers
NEWS
CONTENTS
Susie
New
66 34 20
• SaMoTer SaMoTer webinars kick off in the run-up to exhibition in May Introducing SaMoTer Lab – the technological heart of the event • CONEXPO–CON/AGG Exhibition space sells out Focusing on the next level of sustainability in construction CDE announces plans for CONEXPO Doosan to introduce new global brand and products 34
Adam Hindle, Head of Sales of Approved Hydraulics 14 12
EQUIPMENT
Wayne Ridings, Owner and Managing Director of BMC Buckets DIGGERSLIVE 4 www.diggers.live
6
Rubble Master awards Red Knight 6 full UK dealership Former Construction Equipment Association chief receives MBE in New Year Honours
Burrage awarded OBE Blue Machinery becomes UK distributor for VTN attachments
CPA Chief Executive appointed
EVENTS
BUSINESS INSIDER
THE
ENGAGEMENT
38
BEARDED EXCAVATION
Following on from his account in November's Diggers LIVE, Lloyd Peckham brings us up to date with the Bearded Excavation story
Tribute to Mick Payne, AKA Thunderbird 2
42 INDUSTRY
• Keep on Trucking…with Ferne Jones
• Hire
Contract Plant Rental profile H&C Plant Hire invests in fleet of 20 JCB backhoe loaders
• Clive McNally, General Manager of J MAC, makes a short but successful visit to bauma 2022
• Hyundai reintroduces brand with hydrogen and electric concepts at bauma
• Operation Europe: Rokbak targets France and Germany
• Chris Ward of A-1 Auto Transport on transporting heavy equipment long distances
• Manitou adds ECV (Emissions Compliance Verification) initiative to CESAR security marking scheme
• Lighthouse Construction Industry Charity lunch raises £224,000 for construction families
• Plant Machine Control profile
• Rokbak RA30 excels at German gravel pit
• Weaver Plant goes from strength to strength with Kubota
• Ritchie Bros purchases Maltby site with further development plans
• Dennis Kottman, Head of Marketing at Surplex, presents a brief history of excavators and a look to the future
• Contractor purchases first JCB 245XR in Northern Ireland
The UK's Only Live Demo Construction Equipment Event in 2023 BOOK NOW! • Attracting 450 Exhibitors and 15,000 Visitors • Live demonstrations across the site • Exhibition zones including machine innovation and technology Supporting a safer, smarter and more productive industry. Call Angela now
07807 623640 or email angela.spink@plantworx.co.uk More details at www.plantworx.co.uk FOR THE INDUSTRY, BY THE INDUSTRY 13-15 June 2023 East of England Arena and Events Centre,
DIGGERSLIVE 5 www.diggers.live
-
Peterborough.